Brian's Beach Cottage

(moved in 1/7/2010)

(g)
I moved into my Pacifica beach rental on 1/7/2010. I have always wanted to live somewhere that I could open the window and hear the waves crash, and I stumbled upon this rental and pounced on it. Below are some pictures and descriptions about it. It is on San Pedro Point, Pacifica. Click on any picture for a much larger version.
Here is a view out the main window at the surf and surfers in Pacifica.

A panorama of the insides of the cottage:

It is located in Pacifica, California which is about 10 miles south of San Francisco. A map of the location is shown below: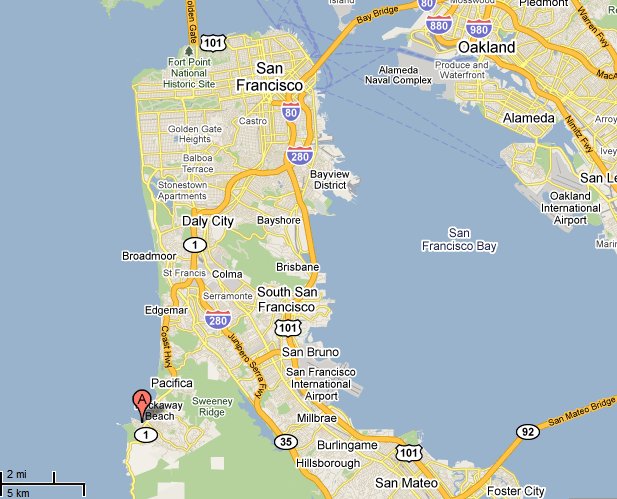 Here are some interesting links about the area, and things to do:
Below are some more random pictures from around the weekend of Jan 31st, 2010 which was the highest tide (and lowest tide) of the year. Below is a panorama of the lowest tide of the year.

Below is a high tide to compare with the above picture.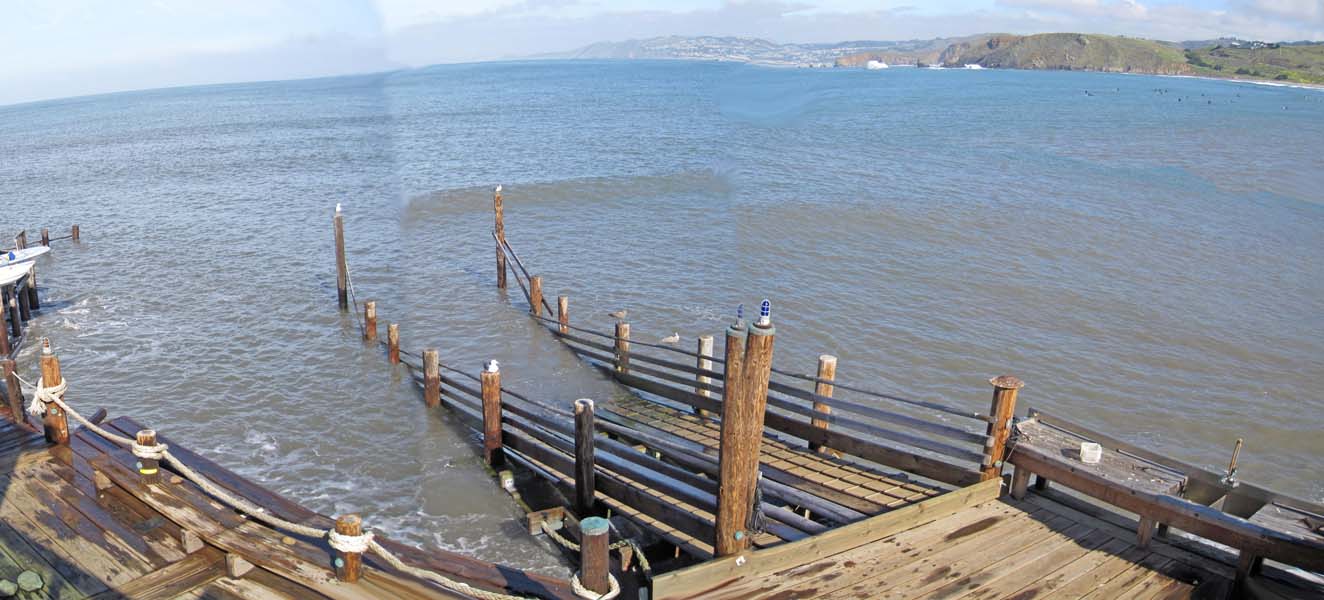 A picture of the beach near Pedro Point at low tide.
The dock I live on, which is at Pedro Point, Pacifica. This is an unusually low tide which is why I can stand where people normally surf.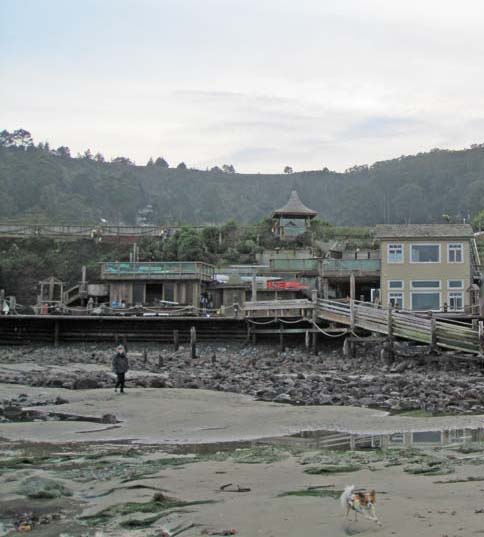 At this particularly low tide, there are hundreds of starfish (Sea Star?) seen clinging to rocks. Click on the picture below for a version NOT marked up with red arrows and much larger.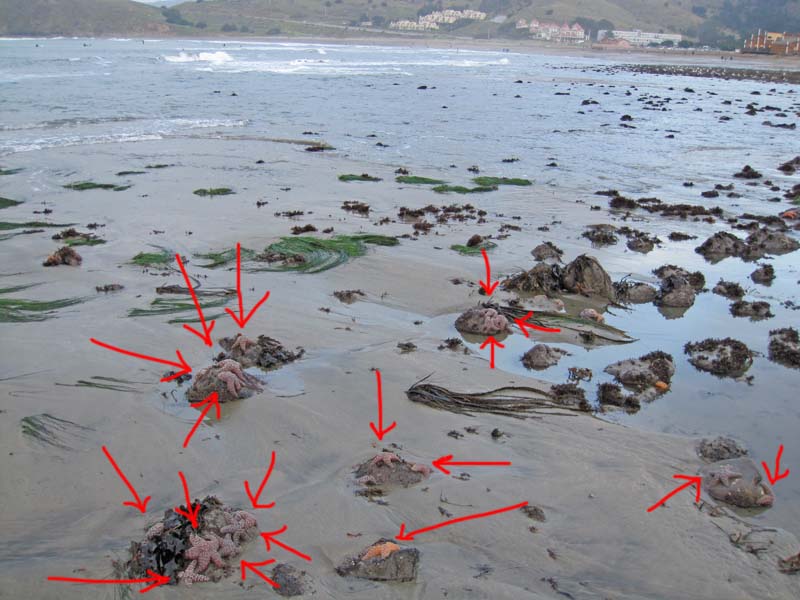 Below is 305 Shoreside Drive, Pacifica, but picture taken from the beach at low tide looking up at the house I live in.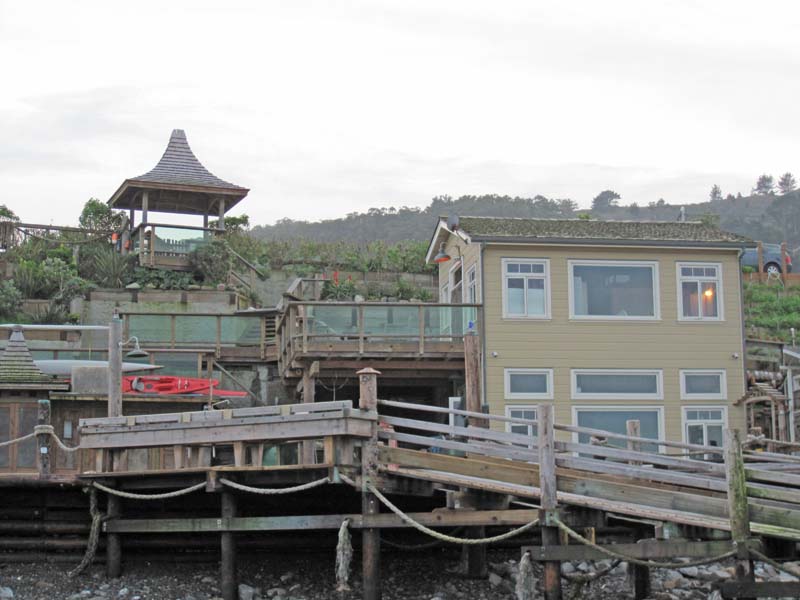 Another picture of the rest of the dock at this very low tide.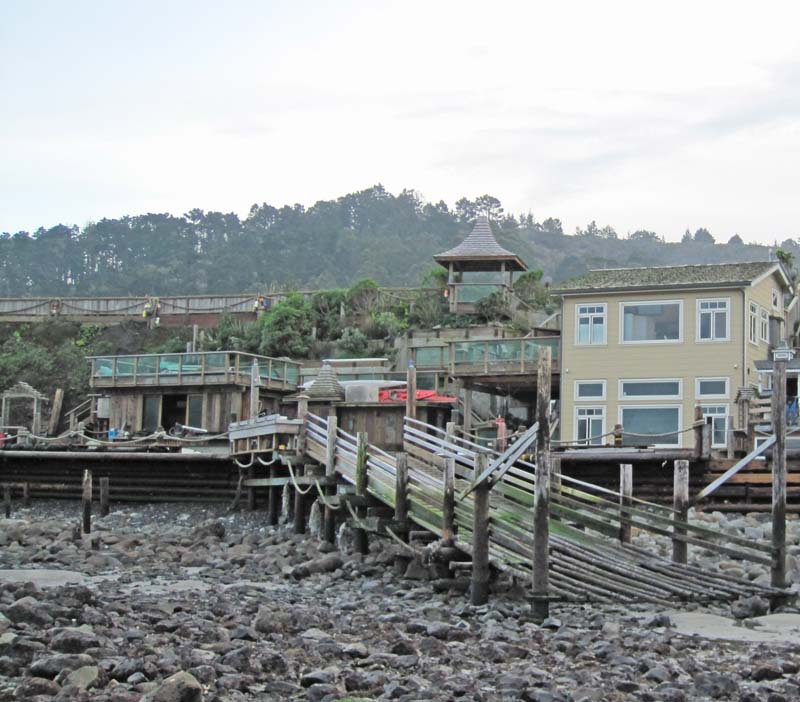 A lone duck swimming in the creek that is spilling into the ocean here in Pacifica.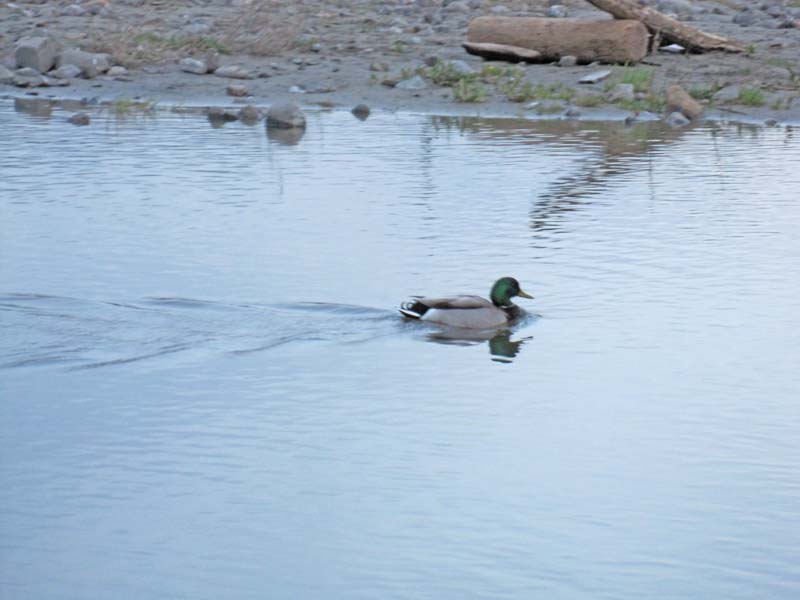 Just around the corner from my home is the furthest out location on "Pedro Point" which is Shelter Cove, Pacifica. This private strip of beach front land is only accessible by a walking path, the residents need to hike in their groceries. The road leading there washed out 10 years ago (?). There used to be a bar and restaurant named the "Clipper Ship" here.

Shelter Cove, Pacifica, from above.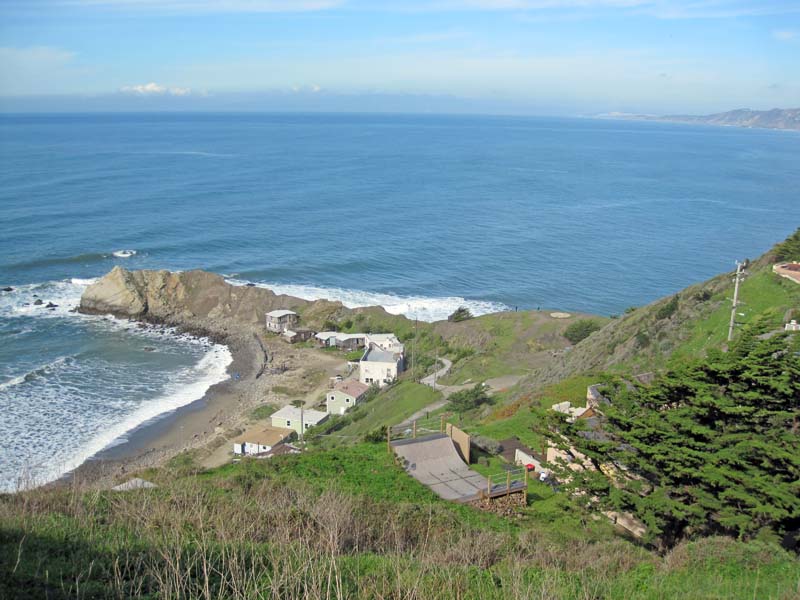 On 3/17/2010 a swimmer went missing off the coast in Pacifica. Below are two pictures of a coast guard cutter looking for the swimmer. A coast guard helicopter also passed by in the air every 10 minutes or so looking.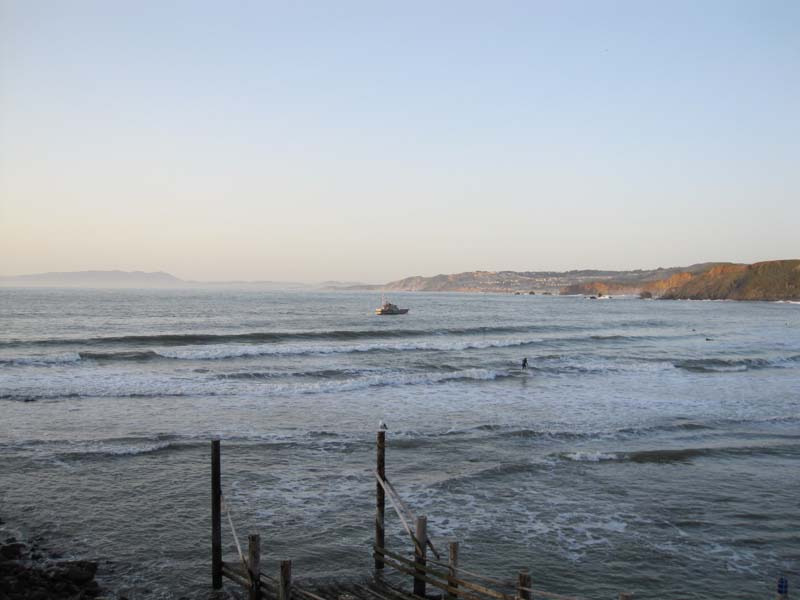 Here is a zoomed in look at the same boat: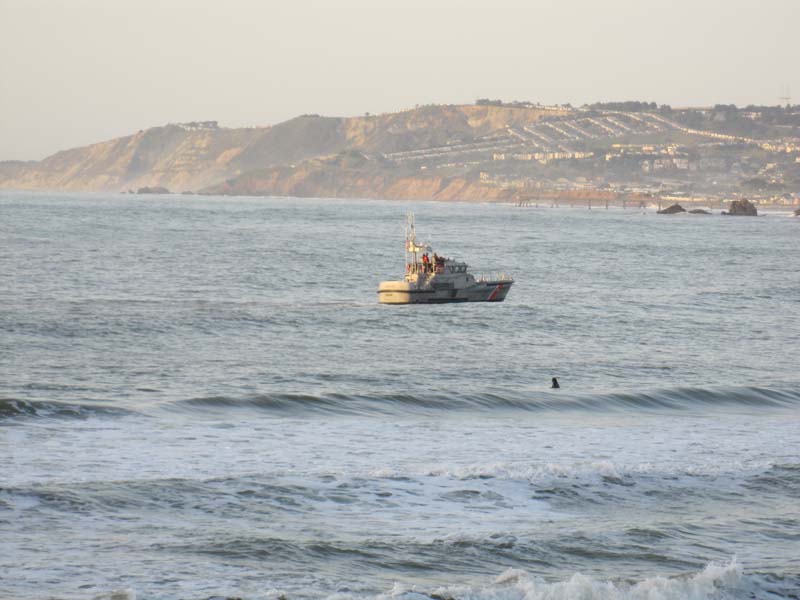 This next picture is a FABULOUS picture of the dock in a storm in October of 1998 taken by a resident of the boat docks (not my picture). Passed on to me by Sada.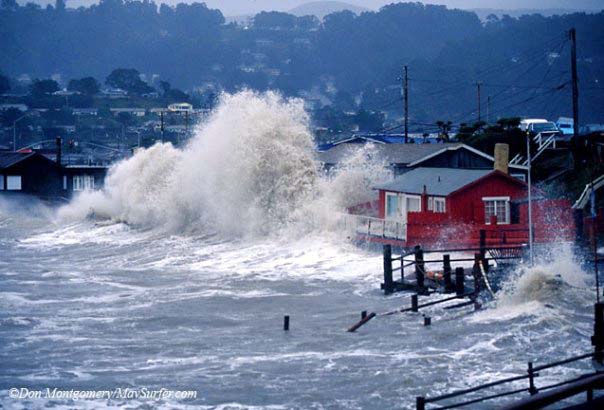 Back to modern times, this is January 2011, Katherine and Chou Chou walking on the beach back towards the cottage as the sun goes down.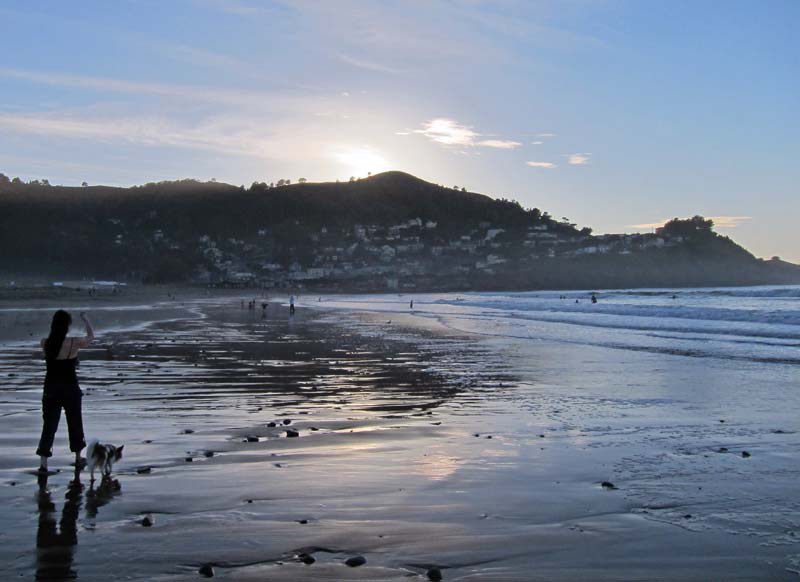 The flame throwing flower was put up on a pole for a party, and a few months later the pole broke in the high winds. Here is Jim taking it down on March 27, 2011: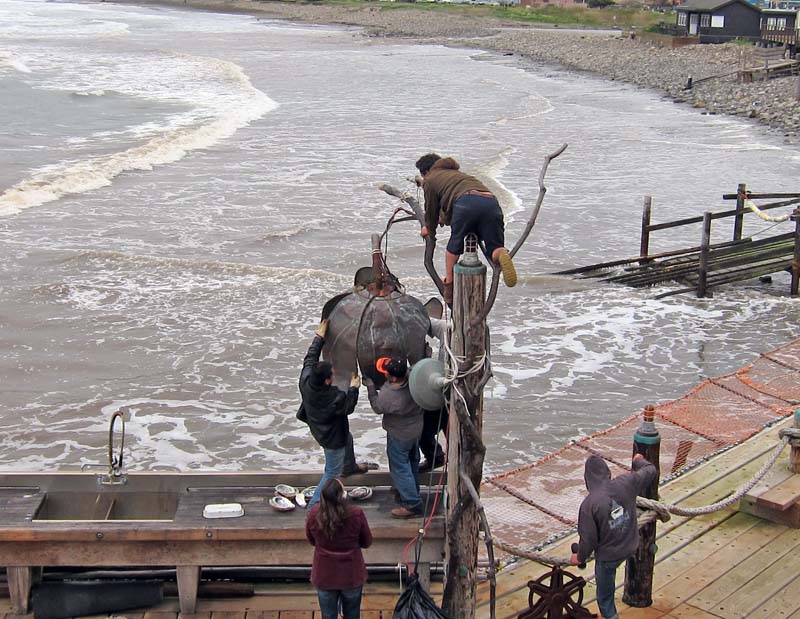 Seen on webcam at 7:20am on Wed, June 15, 2011 by Rick:
Two dogs on paddle surf boards with their owners, seen on Tuesday, June 28th, 2011. The water was very calm.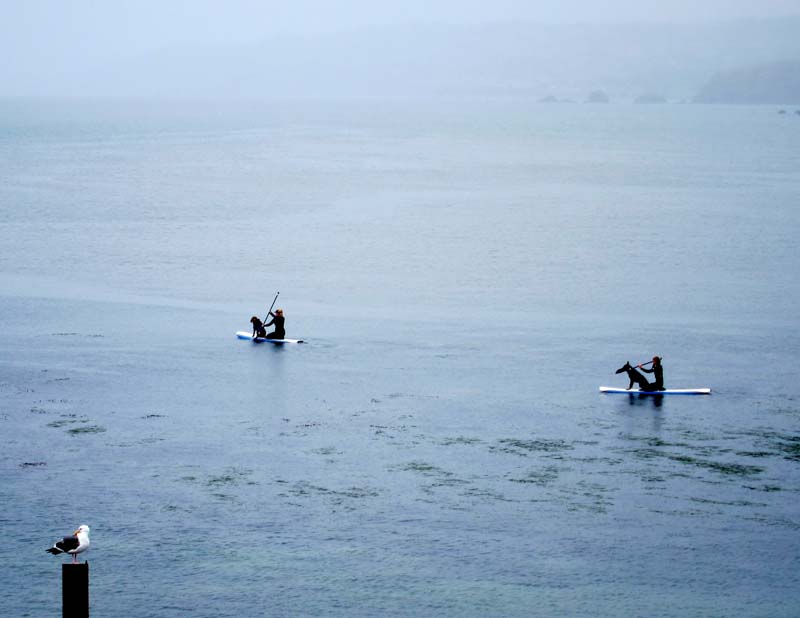 One of the owners and dogs capsized, below is a series of pictures showing them recovering.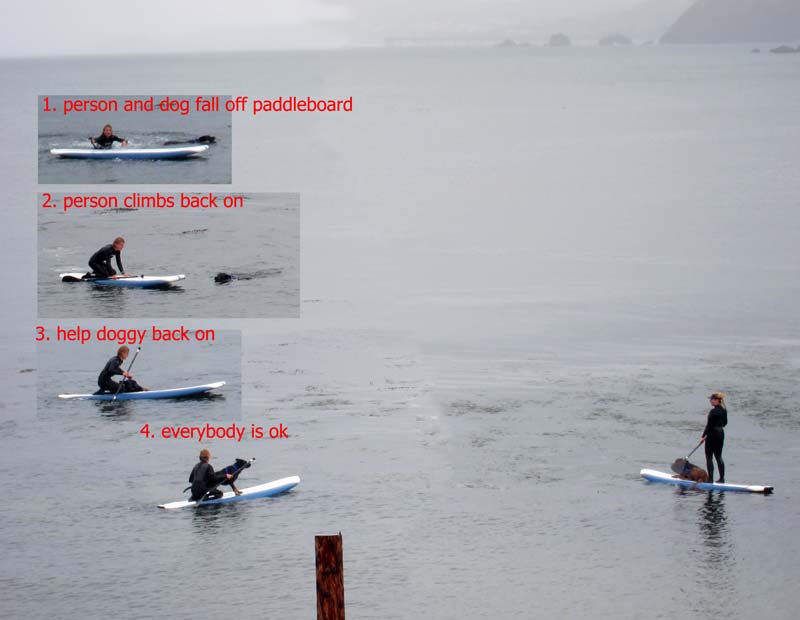 On 7/17/2011 a JetSki owner launched a JetSki from Linda Mar beach in Pacifica and ripped around in the surf for an hour towing a friend on a small board. It was the very first JetSki I had ever seen on this beach, I assumed they were banned here (probably are!)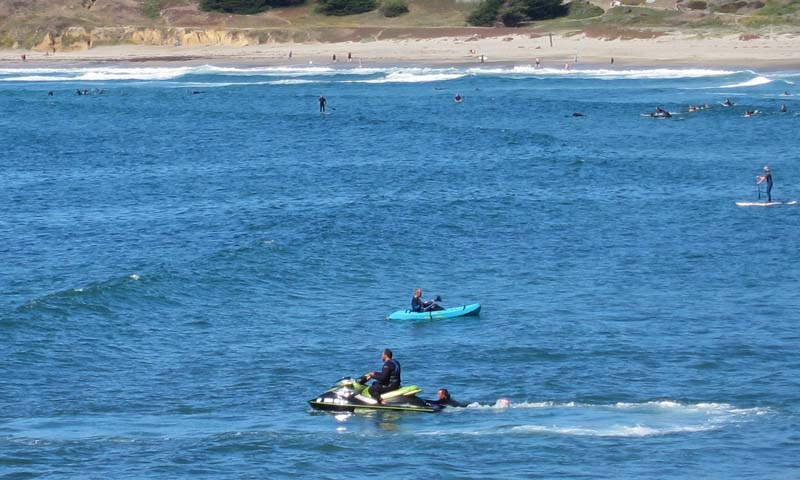 On 7/18/2011, Monday, around noon the weather was really nice with calm seas, so I went for an hour paddle in my sea kayak. Here is a picture back at "The Docks" in Pacifica where I live.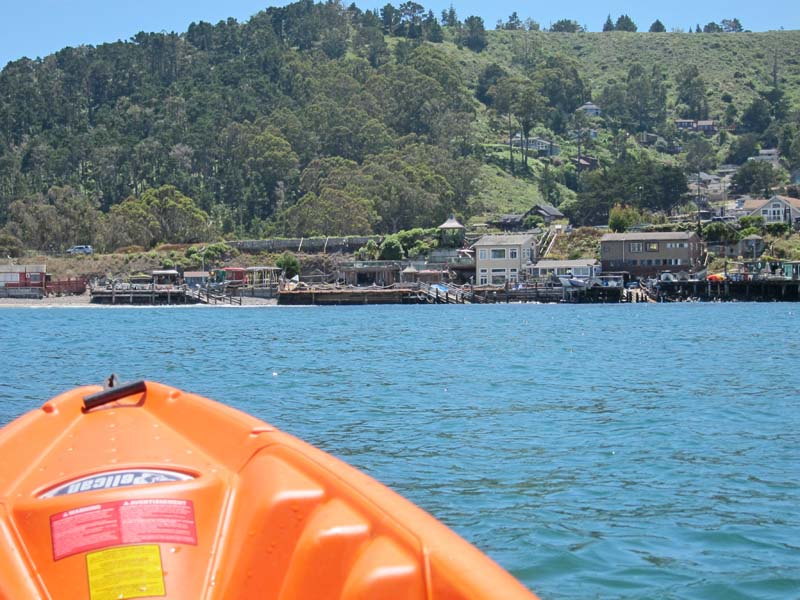 Same subject matter, just from further away from the docks.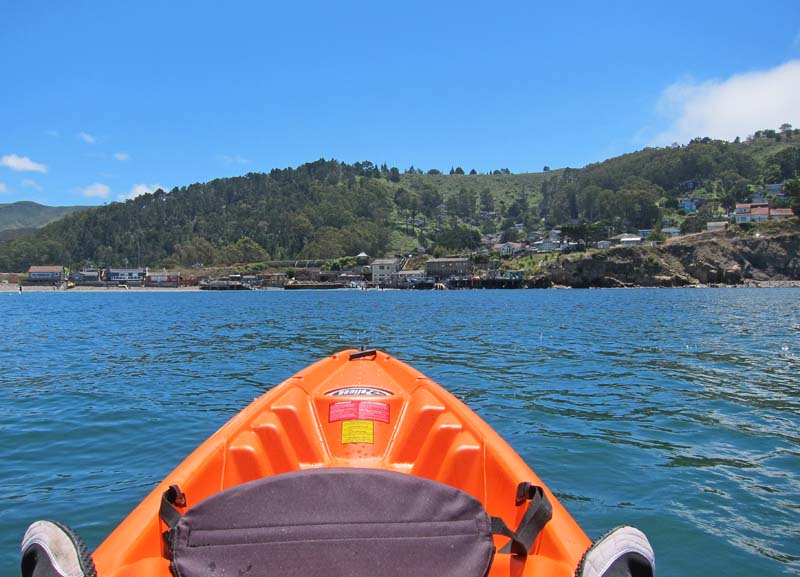 This is the tip of "Pedro Point" in Pacifica, picture taken from my sea kayak.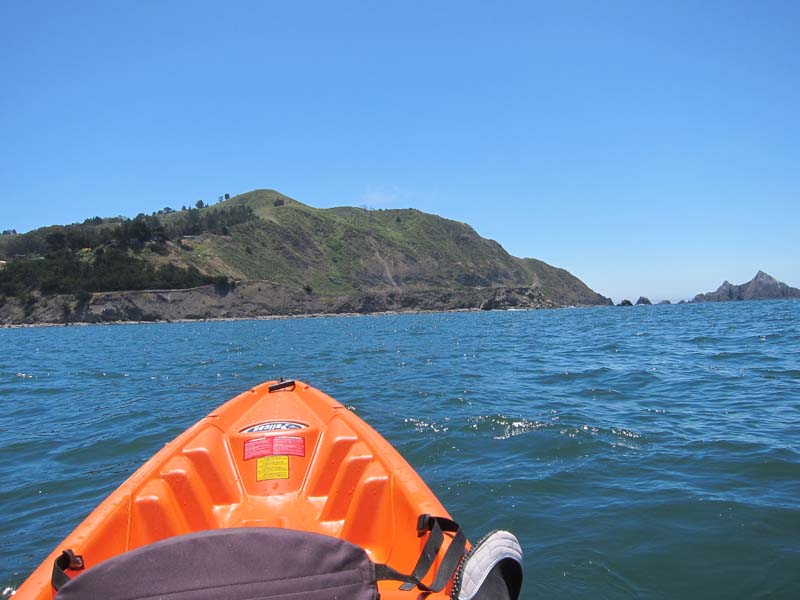 Awesome little surfer seen on 8/1/2011 surfing out front of the docks. Click here for a high quality QuickTime original.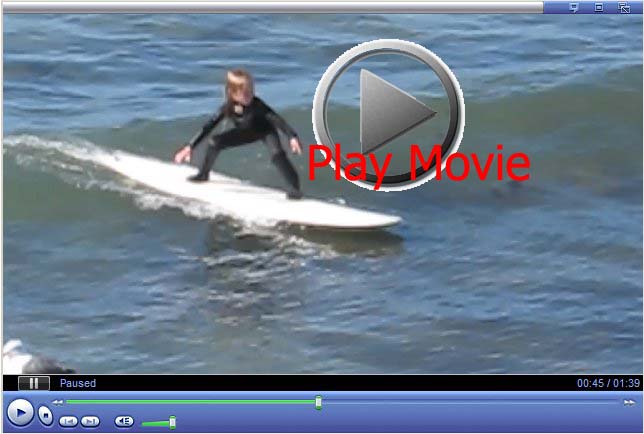 The picture below was taken soon after I took possession of the downstairs guestroom, it is "Kahn The Stuffed Tiger". You can see more pictures of Kahn at the very bottom of this web page.

On 10/25/2011 a film crew used the dock as a background for a scene in the 2012 surf movie "Of Men and Mavericks". Here they are on the beach. Notice the guy with the camera, the two guys sitting down staring ahead are actors?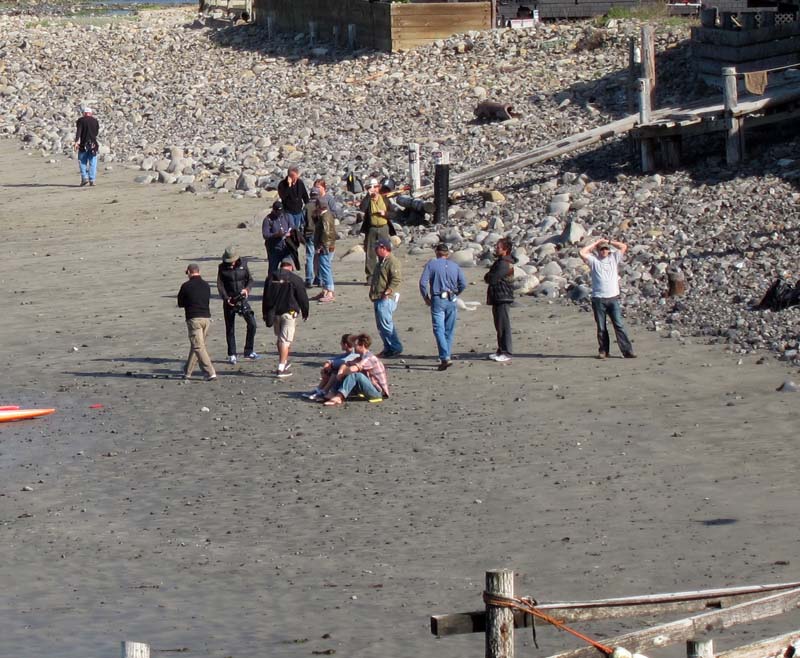 Another: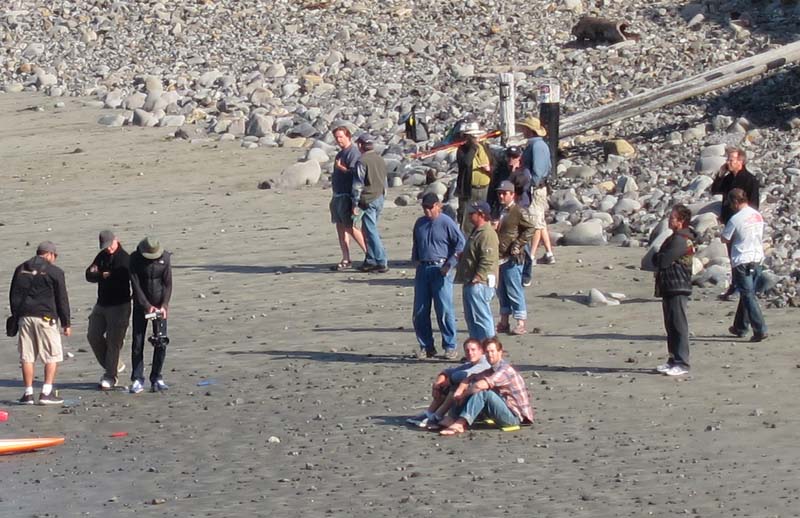 In the picture below they are filming the movie. I didn't take this picture, I copied it off another website for safe keeping here.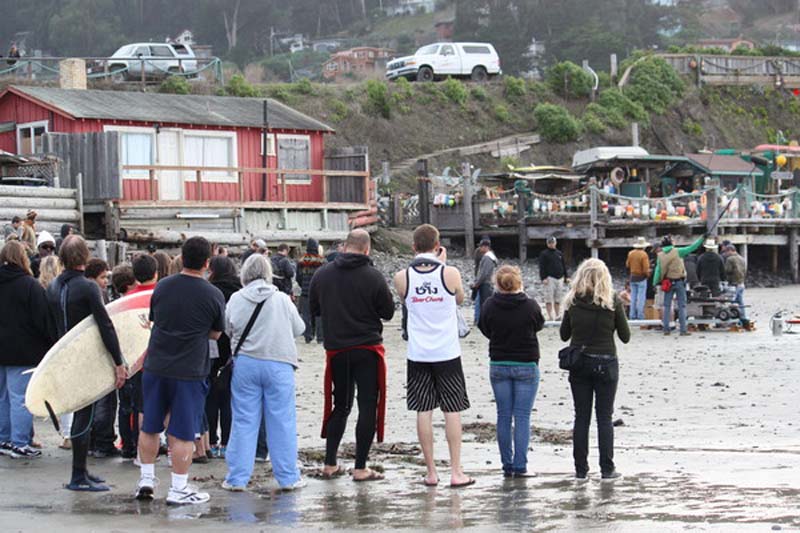 Below is Gerard Butler with the Pacifica boat docks behind him. I didn't take this picture, I copied it off another website for safe keeping here.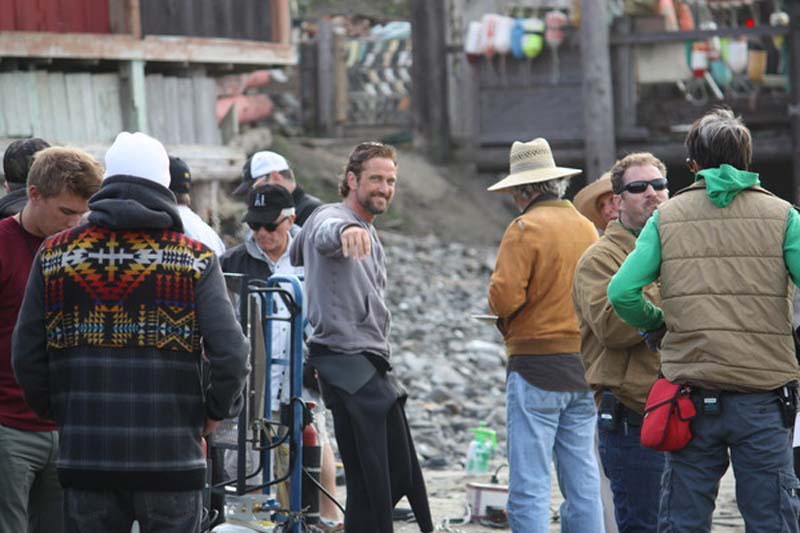 I received my new Canon SD100 camera on January 4th, 2012, and here is the very first picture I snapped of a sunset in Pacifica: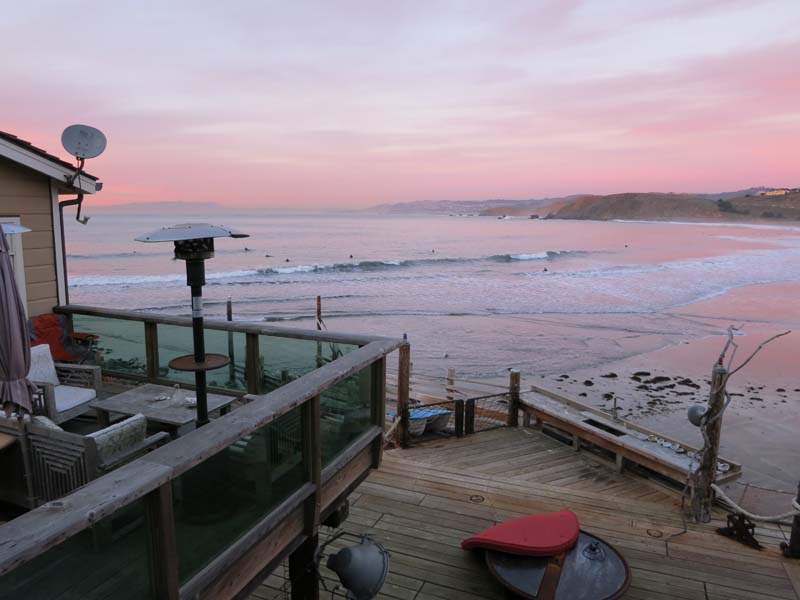 The moon rising over Linda Mar Beach in Pacifica, California on Sunday, January 8th, 2011: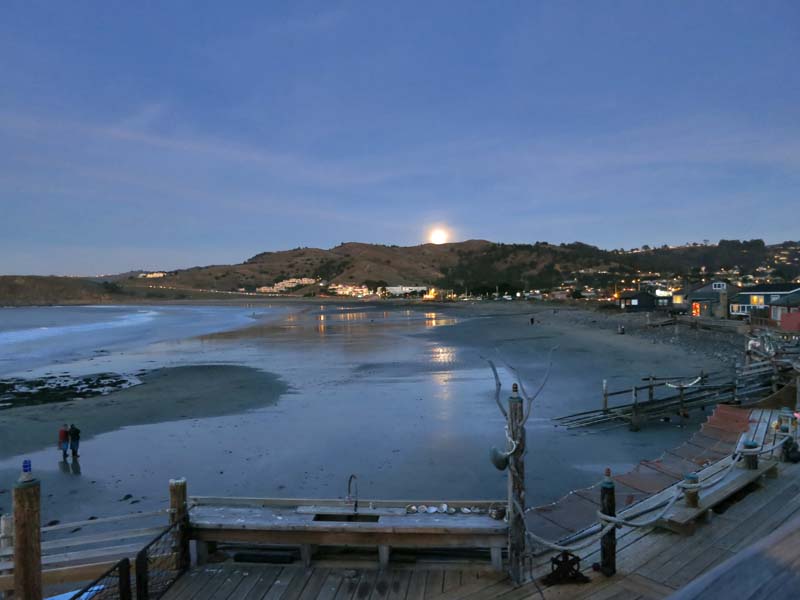 On 6/6/2012 Scott Keeler came by with his nice camera and stayed in the guest house with Pixie and took the following pictures: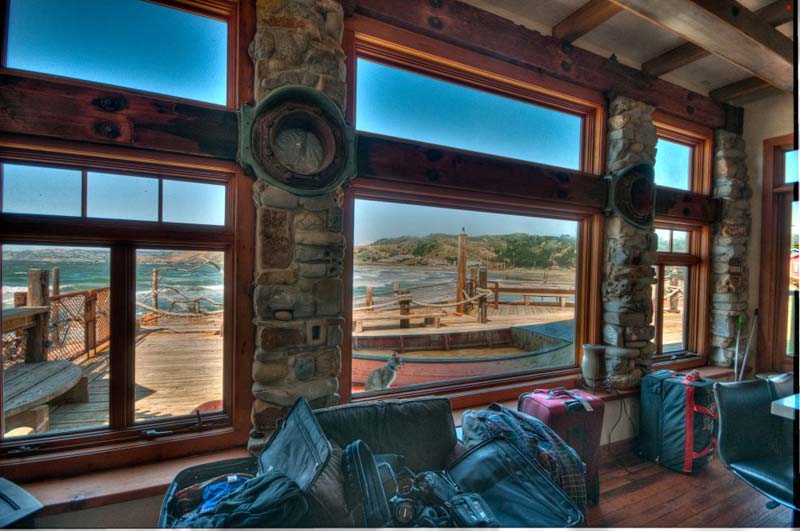 Picture below by Scott Keeler.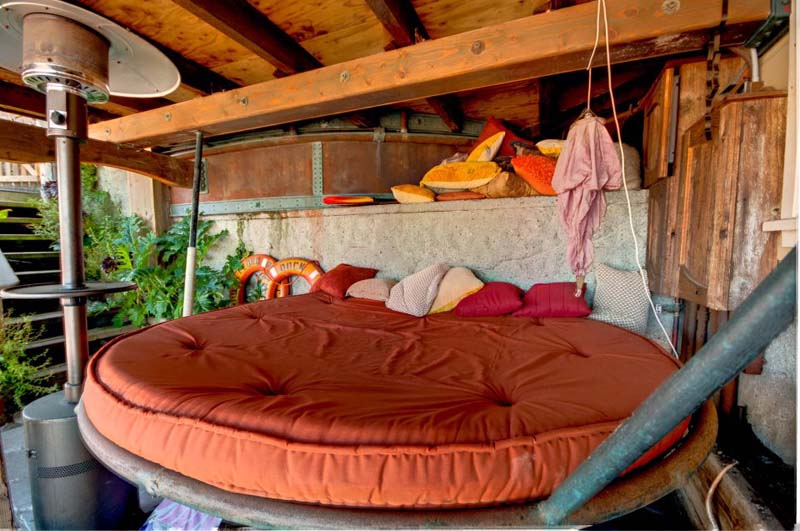 Picture below by Scott Keeler.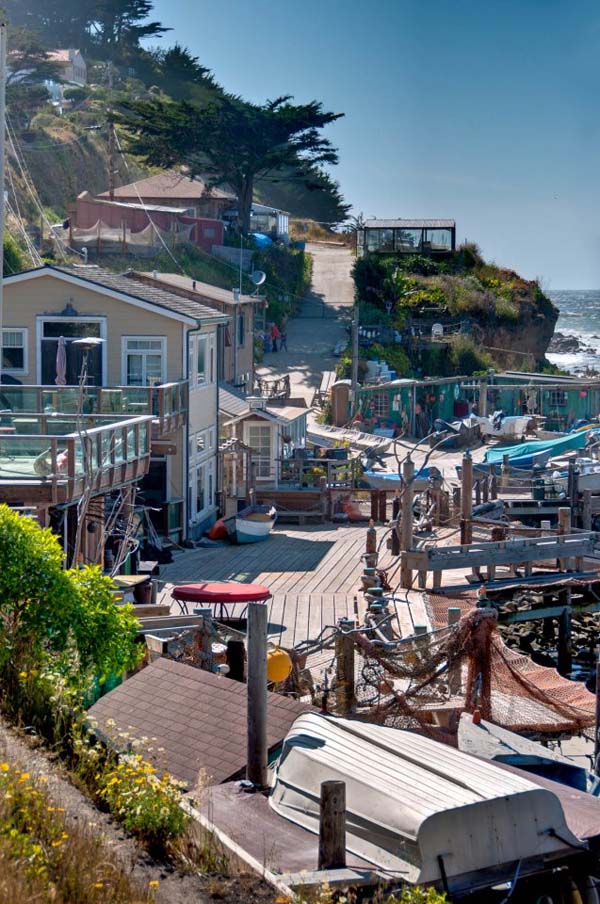 Picture below by Scott Keeler.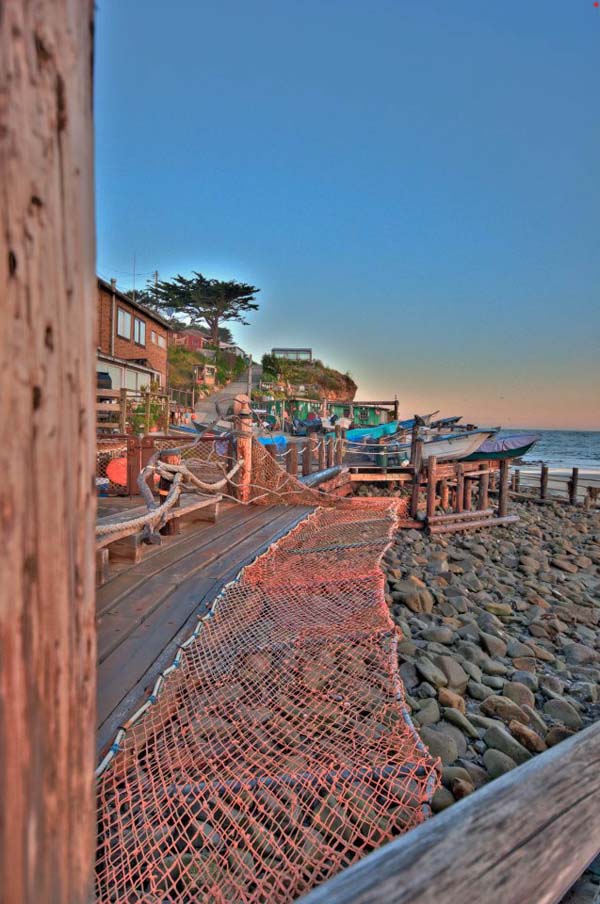 Picture below by Scott Keeler.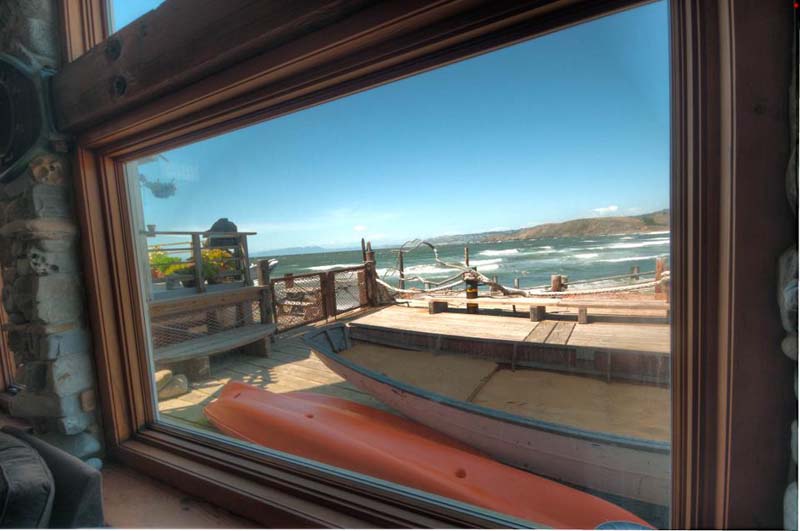 Picture below by Scott Keeler. On the paddle board is Jim Kibblewhite.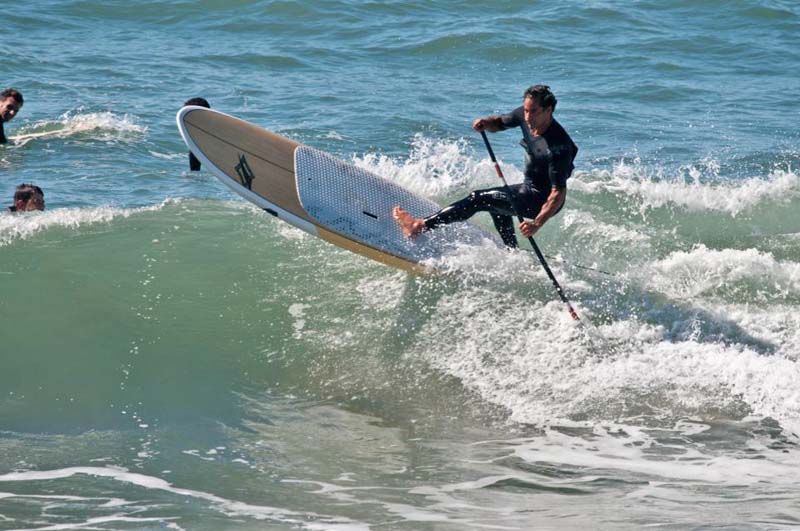 Picture below by Scott Keeler.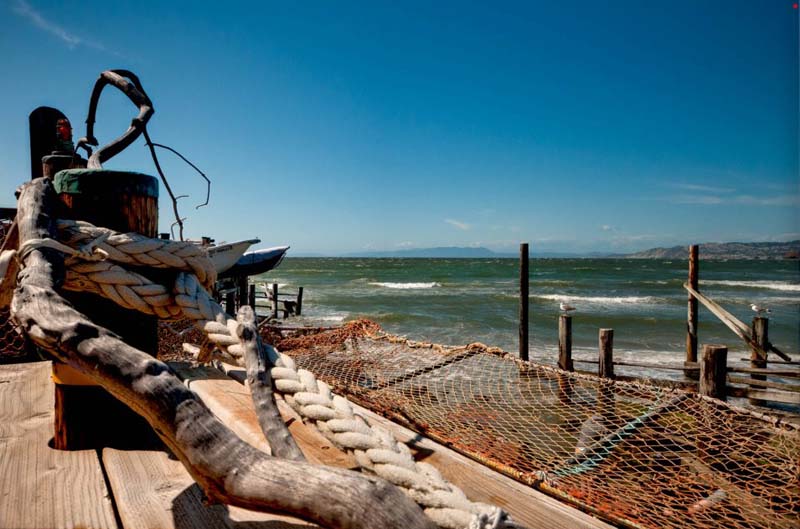 Picture below by Scott Keeler.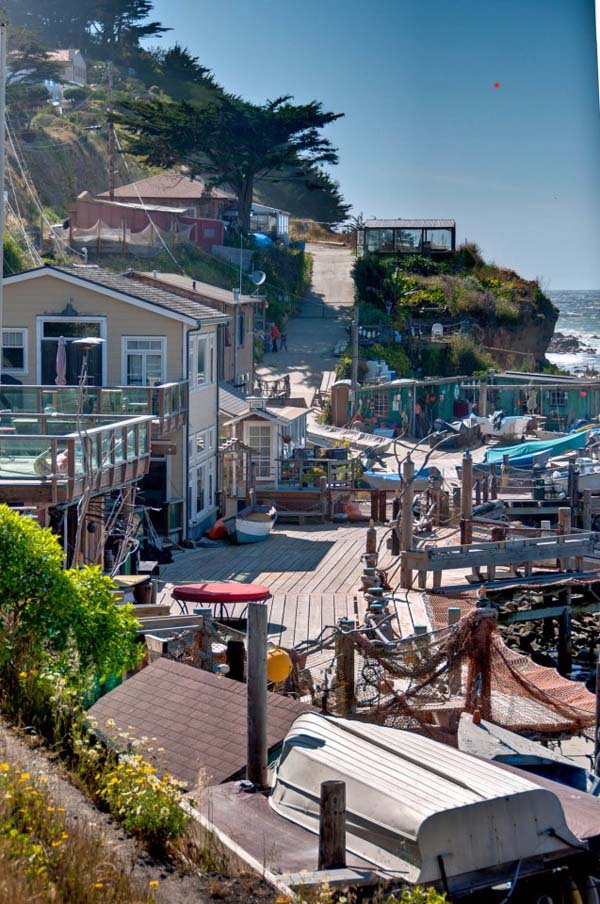 Several dolphins playing in the surf on the morning of Wed, 6/20/2012, the one below accelerated to catch the wave and surf.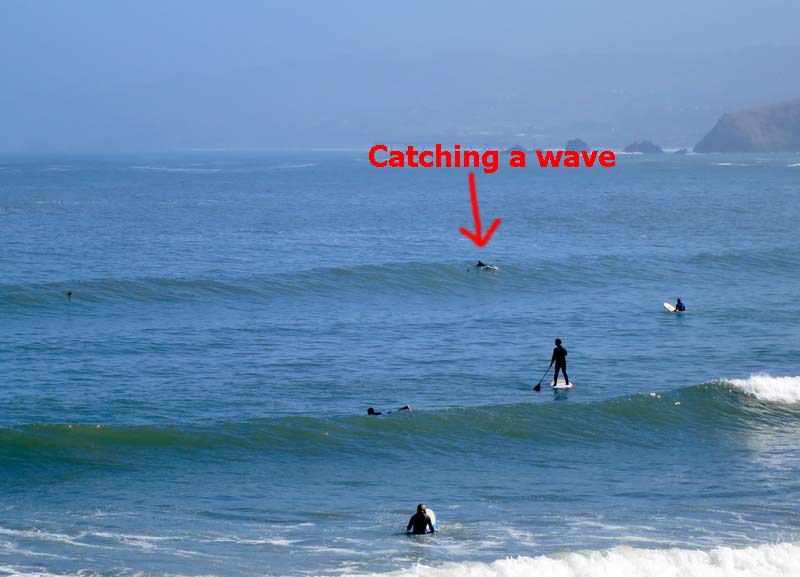 A dolphin close in with some surfers, Linda Mar Beach, Pacifica, CA.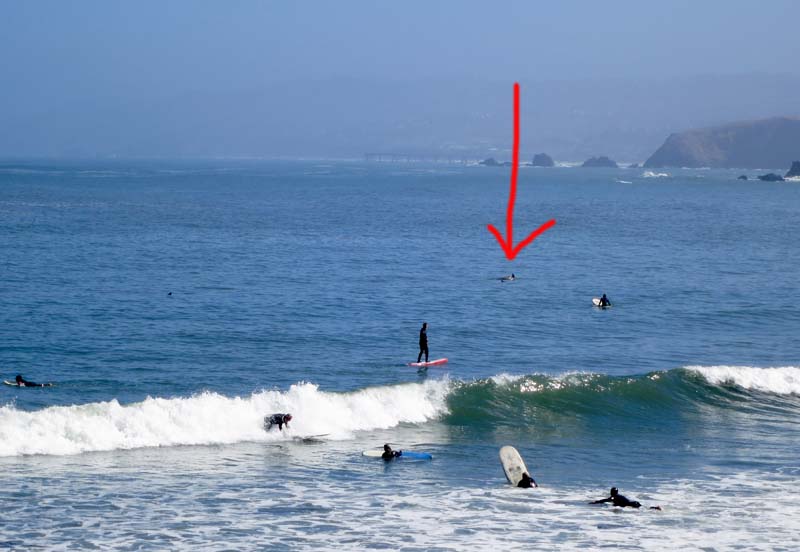 Dolphin.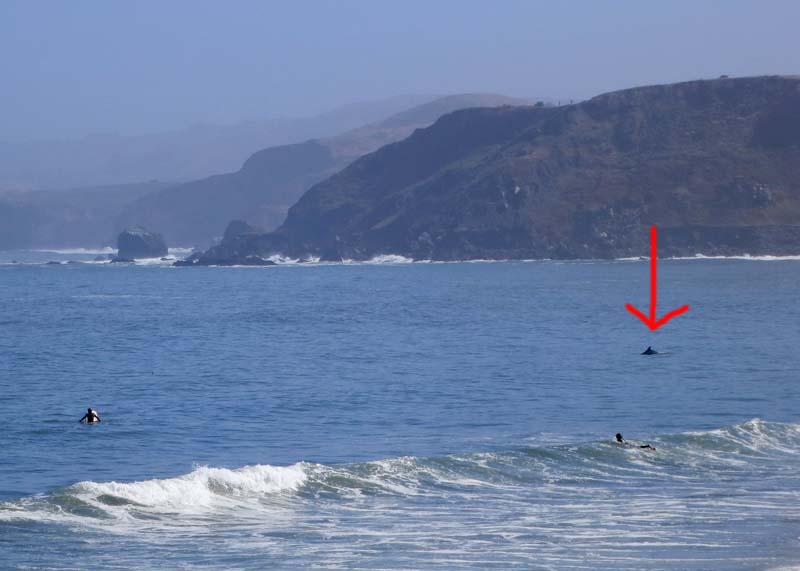 The sea air is hard on anything metal, here we are replacing my Loewen Windows that are rusted to pieces.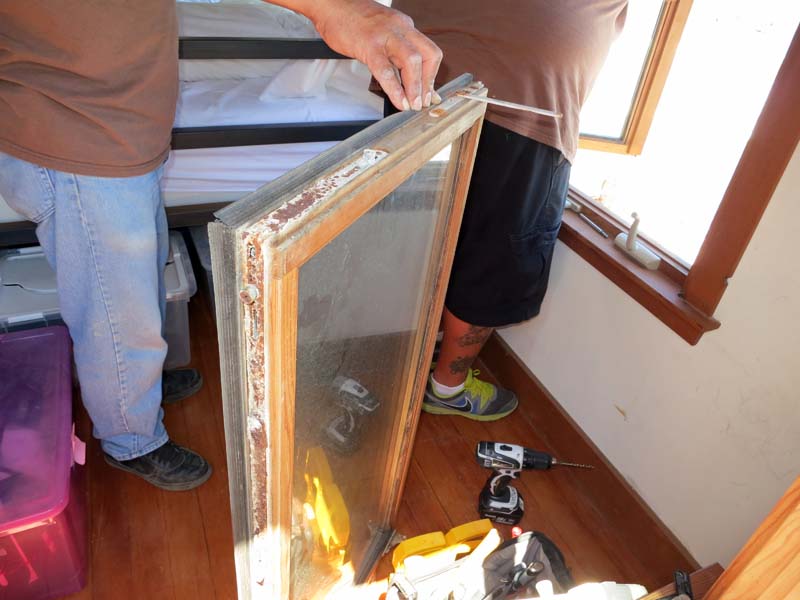 One more closer: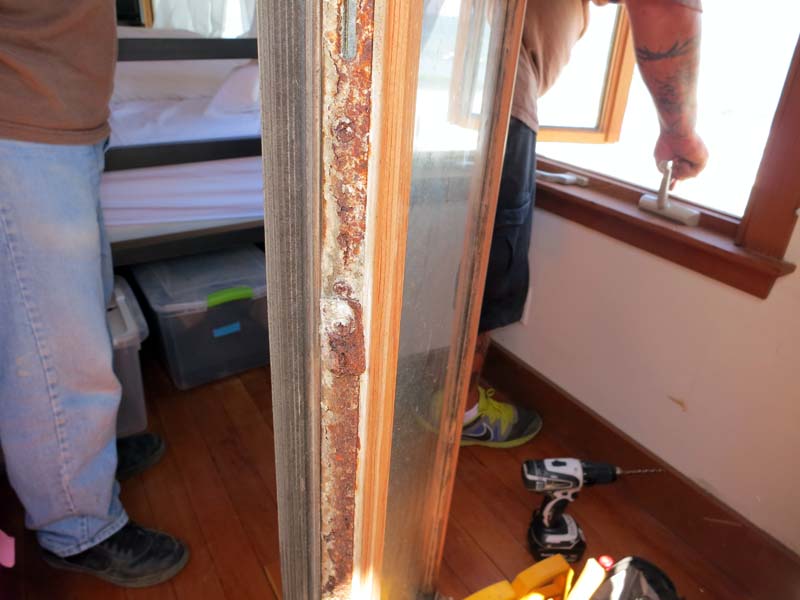 Tiny little surfer seen on 9/23/2011 surfing out front of the docks. Click here for a high quality QuickTime original.
On December 12, 2012 (12/12/12) at 8:30am a double rainbow appeared, here it is from the deck: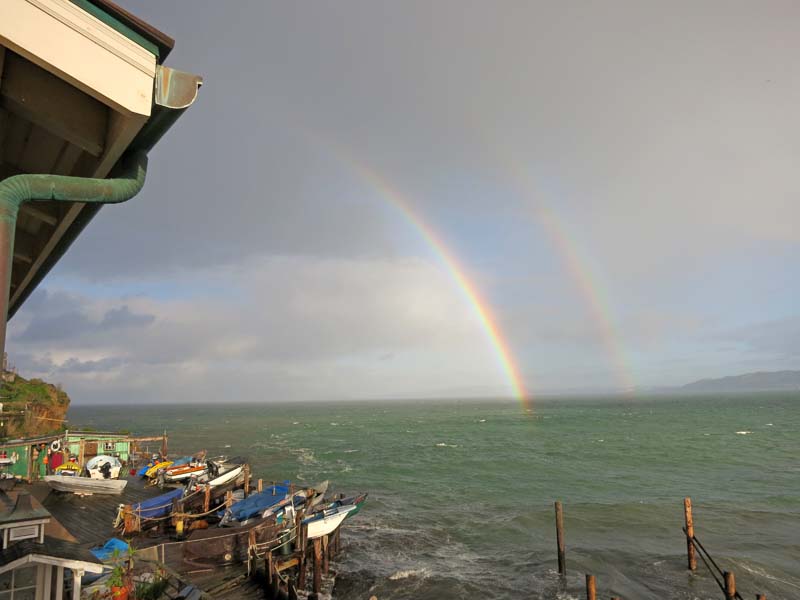 A close up (zoomed in) of the same rainbow: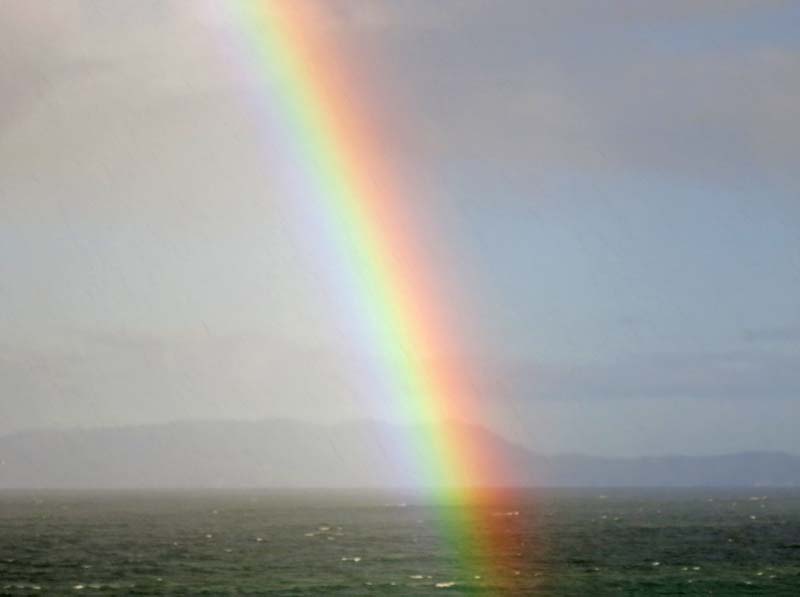 Christmas dinner, December 25, 2012. Tania Stoose, Katherine Chung, (me - Brian) and Tofu our new kitten.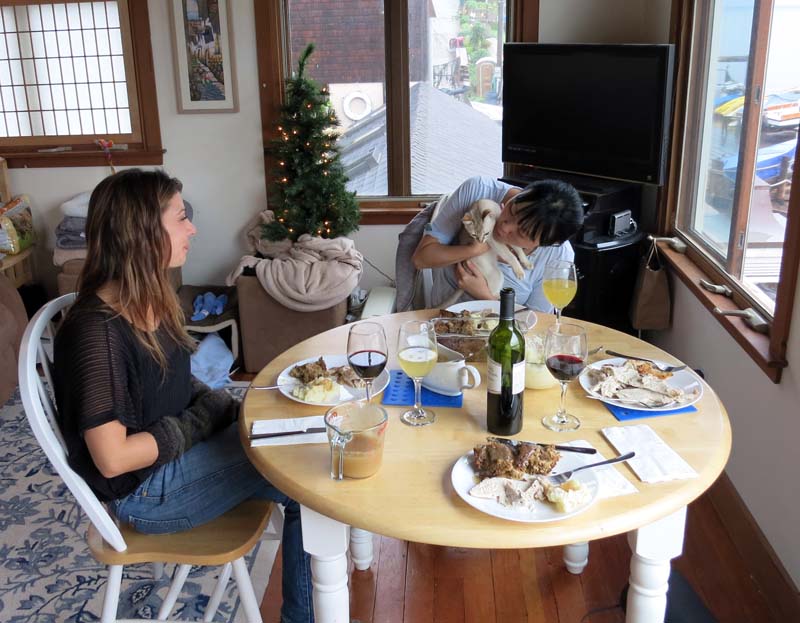 On March 4th, 2013 a Sailboat beached itself on Linda Mar Beach out front of our window, here is a shot from somebody else (shows our house in the background):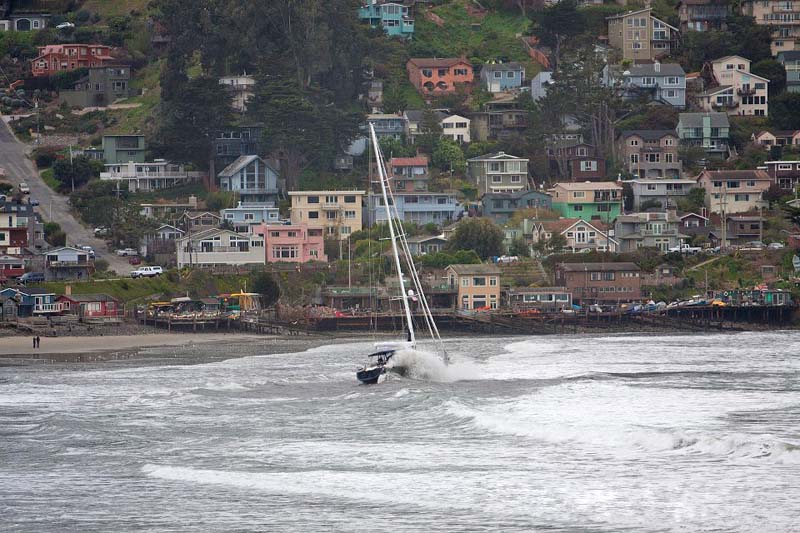 A rainbow (almost double rainbow) appeared at 6:30pm on 3/30/2013.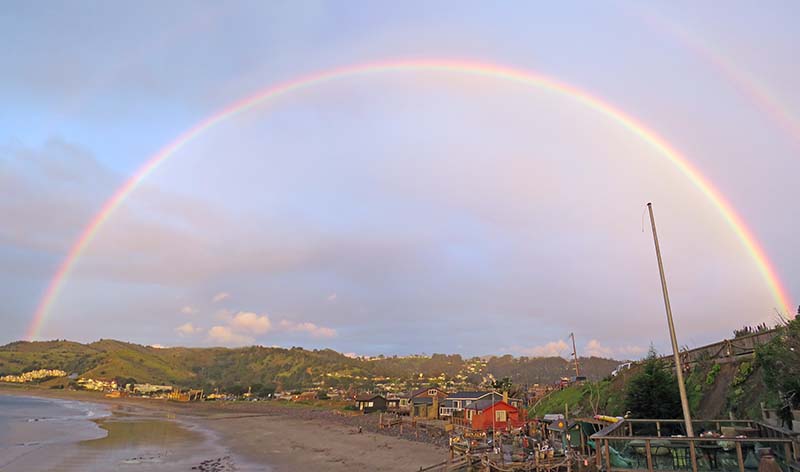 4/13/2013 - Saturday - waffles on dock. Below from left to right is Yev (black shirt), Cherie (in light hat facing away), Sam (blue hat facing away), Mercedes (red shirt), Cole (facing away at the railing), Andrea (facing away in big floppy hat) and Erica on the far right with hand supporting her face.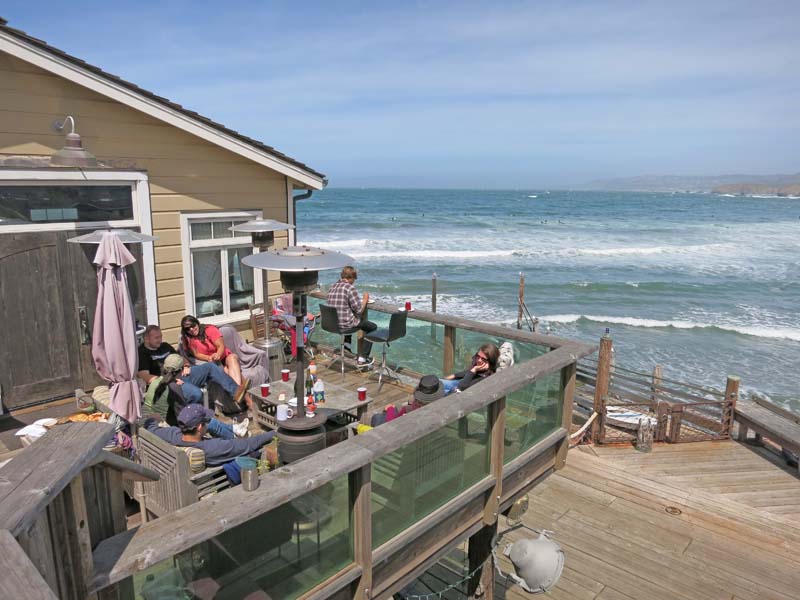 Same crowd, different angle.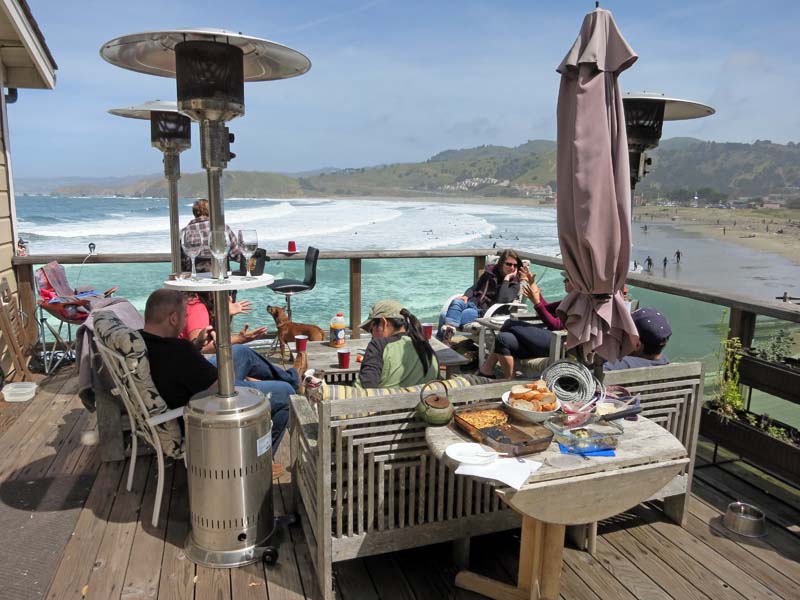 Dolphins seen out in the bay on 5/4/2013: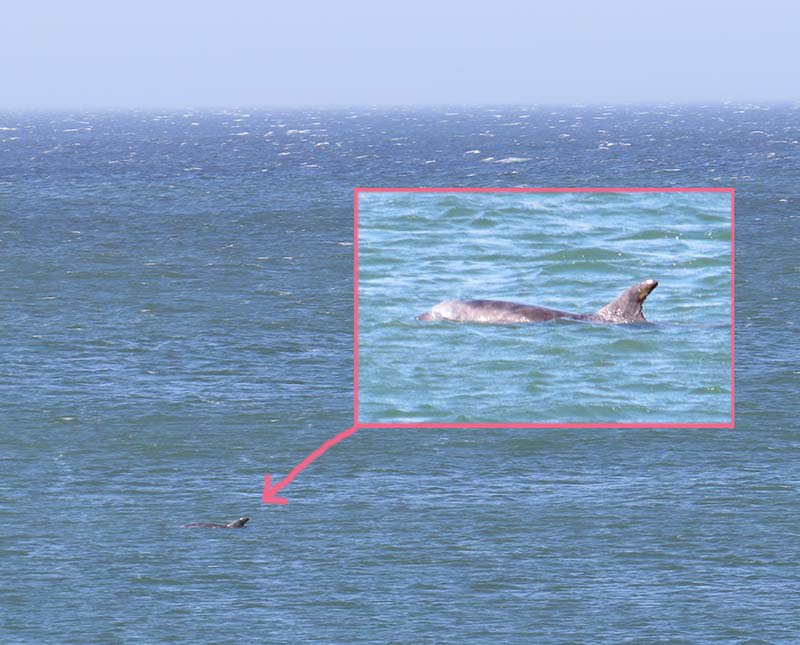 Erica Falk listening intently to Katherine speaking on 5/2/2013:
An informal gathering turned pretty big on 6/22/2013 (see guest list for pictures of Kyle), below is Jessie:
On the morning of 6/30/2013 I went for a walk at sunrise to take this picture of Pedro Point, Pacifica, California:

7/21/2013 - Jeremy Mustille and Phoenix surfing together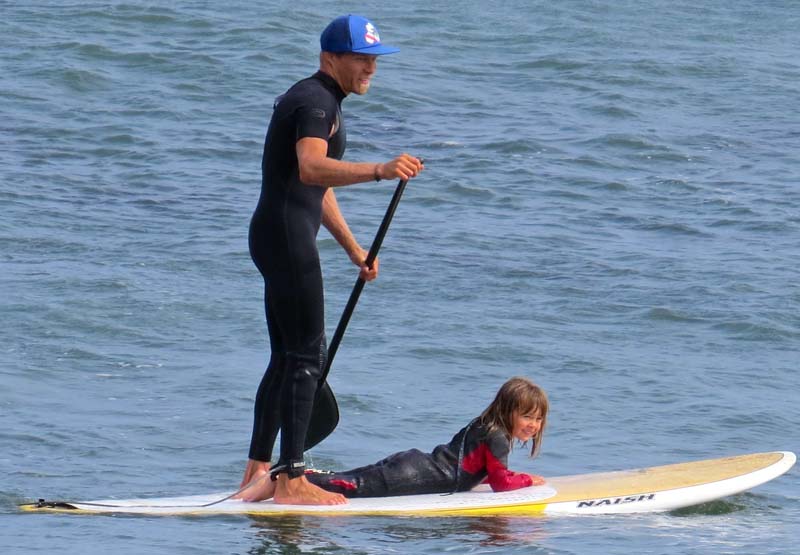 And below is a movie of Jeremy and Phoenix catching a wave on the same day as above: Click here for a high quality QuickTime original.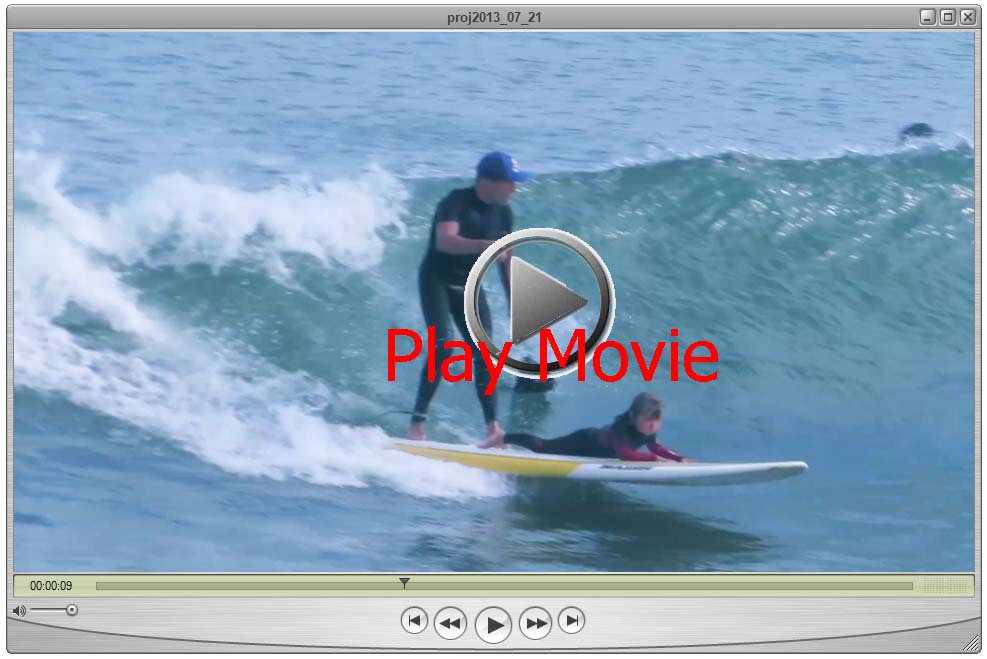 11/26/2013 - Simple thanksgiving with Yev, Katie, Brian, and Katherine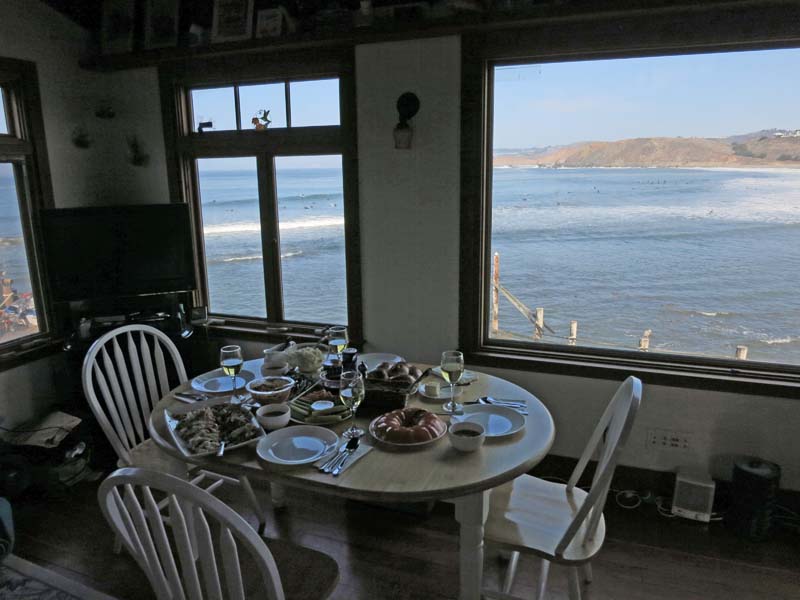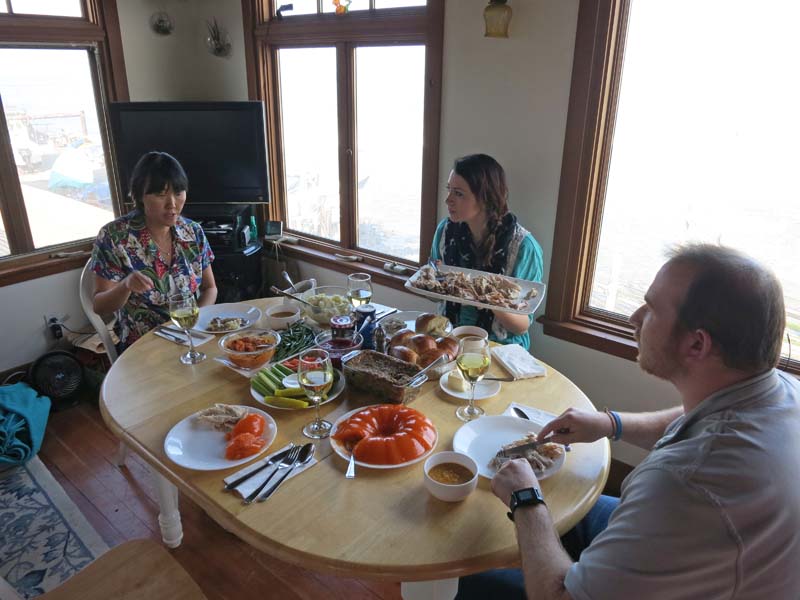 All done!