2010 Europe Motorcycle Trip (Picture Set 9/22/2010 - 9/26/2010)
(9/22/2010 - 9/26/2010 from THIS TRIP)

On this page are pictures and descriptions from 9/22/2010 - 9/26/2010. These are mostly pictures of Corsica on a motorcycle. Click on any picture or panorama for an ENORMOUS version. Click here to go to the homepage and get a description of what this is all about.
I woke up the morning of 9/22/2010 in my hotel room at the Hotel Capo Rosso just outside Piana Corsica. Click here for a Google map pointing out the location of the hotel. Below is the view out my hotel room window.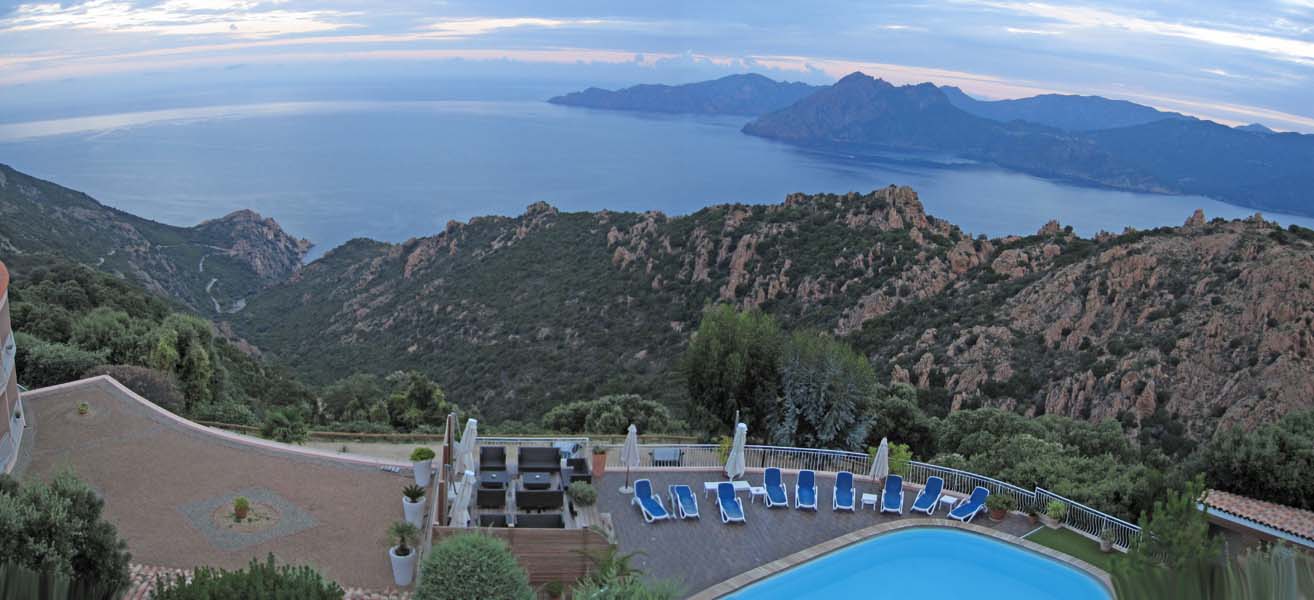 In Corsica, dogs just walk out in the highway and sit down. Here is one now. I think this is the dog Katherine befriended, then it took a small pee on her luggage to mark its territory.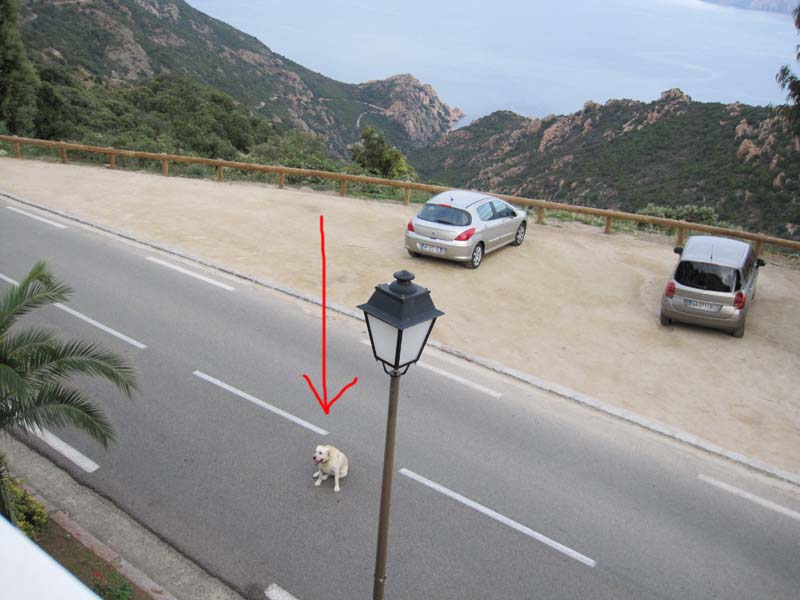 Here we all are getting ready for the day of motorcycling.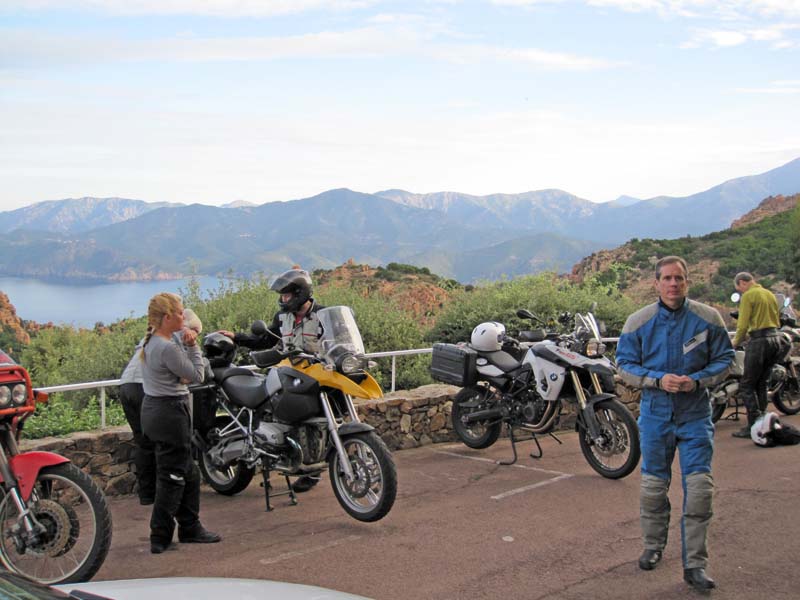 And away we go! We took the mostly inland route, but any route in Corsica goes by the water a little.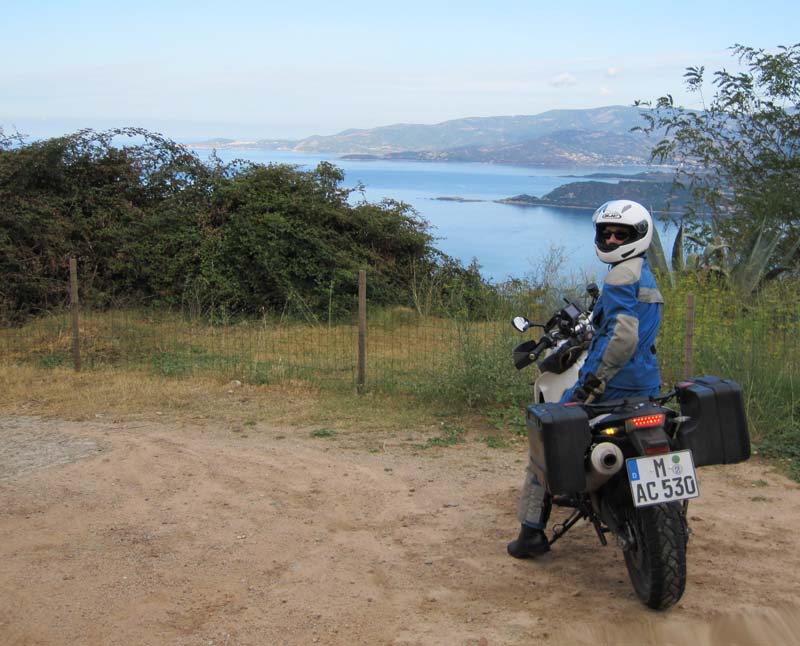 This plaque commemorates Louis Capazza who was born in Bastia Corsica. He went up in a hot air balloon as early as 1886.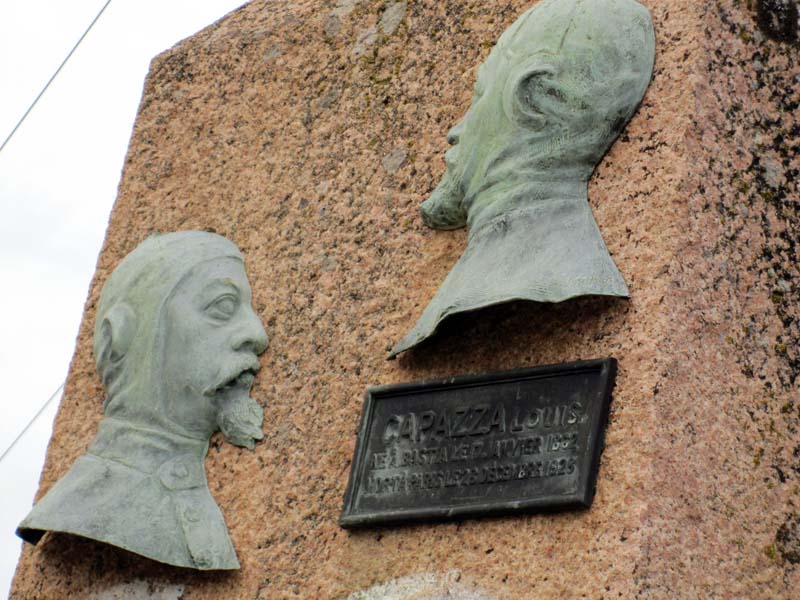 We wanted to each lunch at this pretty little spot, but they were not open for lunch yet. This is at Punta di Vescu in Corsica. Click here for a Google Map of the location.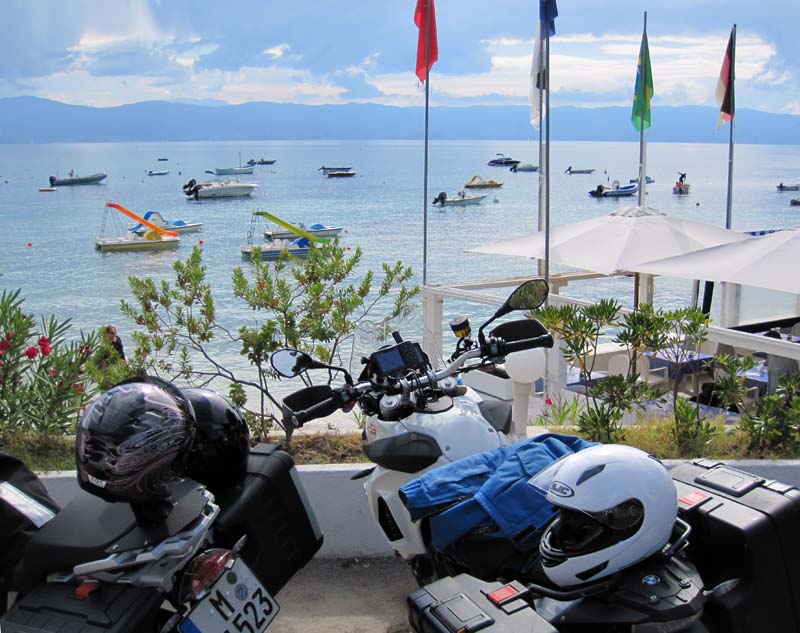 Since that lunch spot was closed, we motorcycled up into the hills along our route, took a small detour and found a WONDERFUL lunch spot pictured below. That is Katherine Chung and Brian Beach eating lunch, notice the cute dog under Katherine's chair peeking out.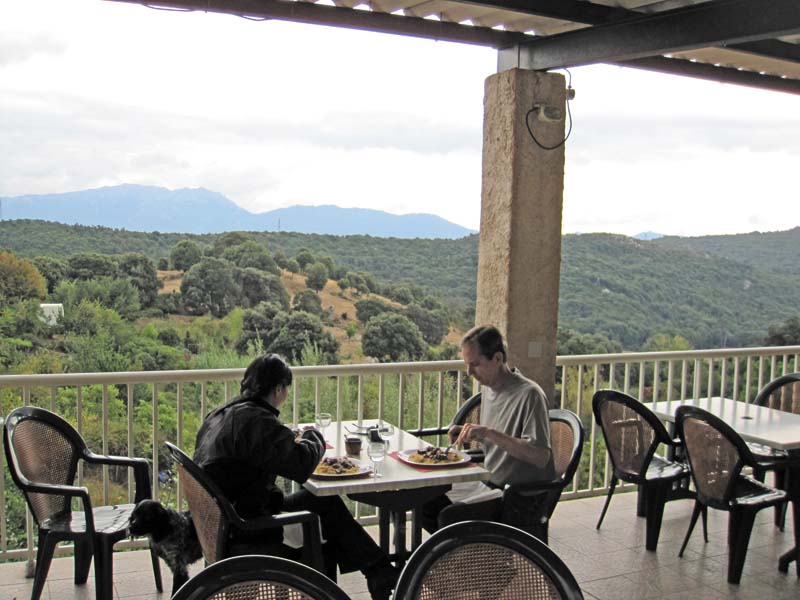 As we finished lunch, this INCREDIBLY CUTE little girl tried to lift this puppy into the pickup truck. I took several pictures but it cannot capture how adorable it was as she fumbled with the puppy.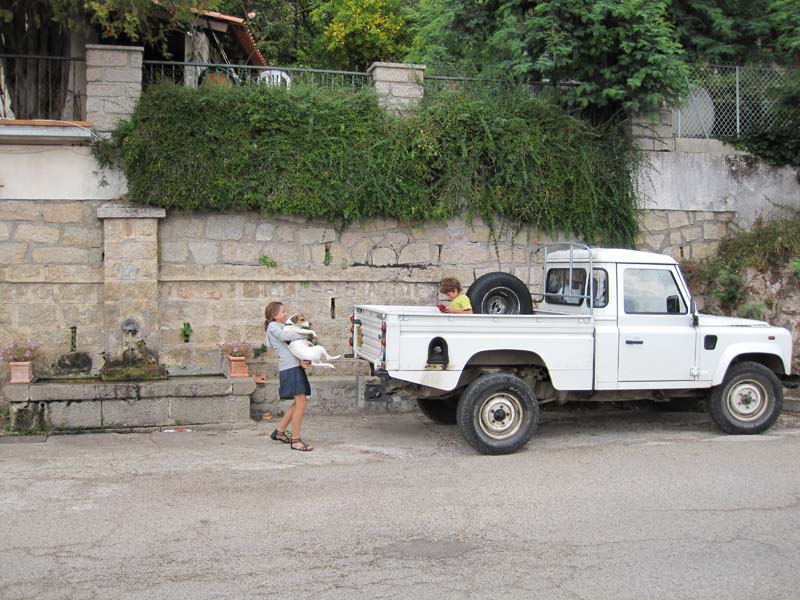 A close up as she smiles and tries to lift the puppy into the pickup truck. I like the little girl's sandals, I missed them at the time because the puppy was so cute.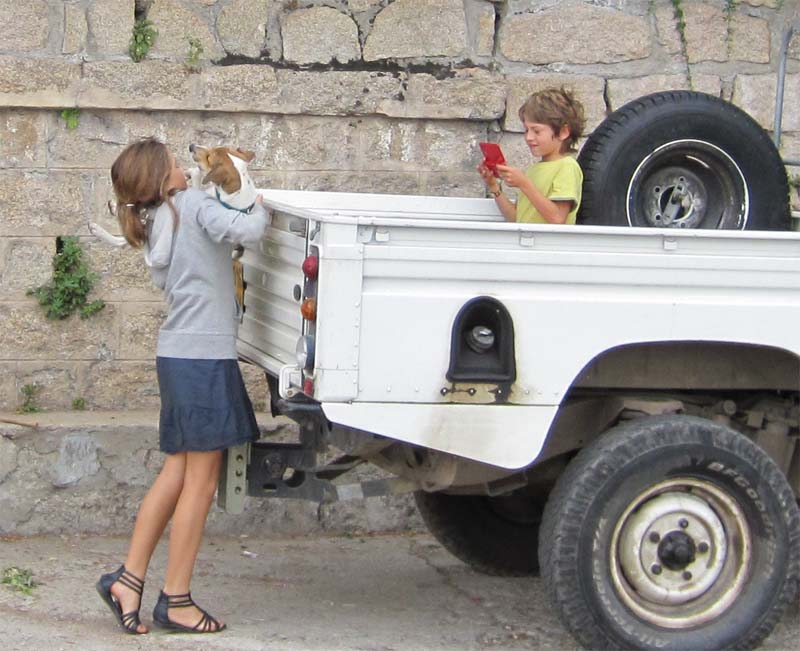 I can't believe the puppy puts up with the little girl. :-) This whole process continued for 45 seconds.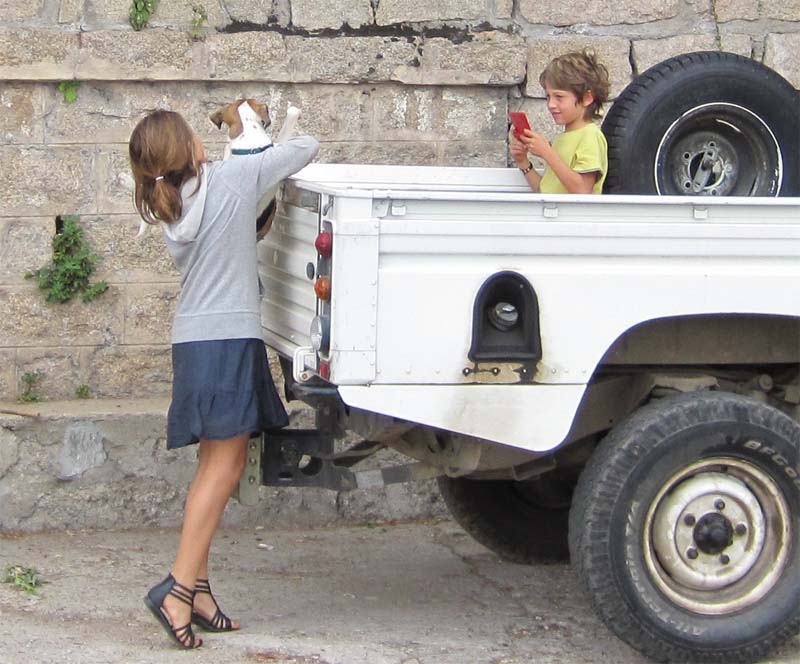 I can't find this location on the map, but here is a picture of the small restaurant we stopped at in a tiny little unknown town in Corsica. The service, views, and food were wonderful.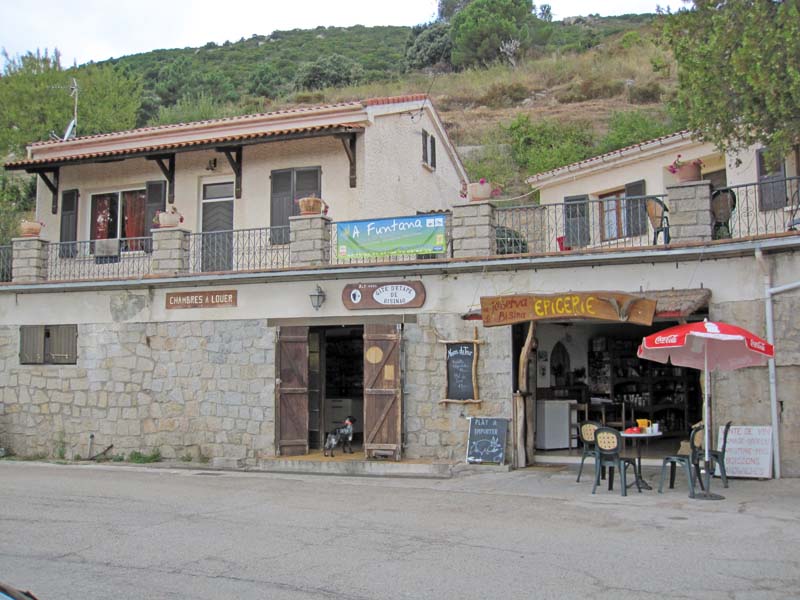 A little after lunch, here we are motorcycling along.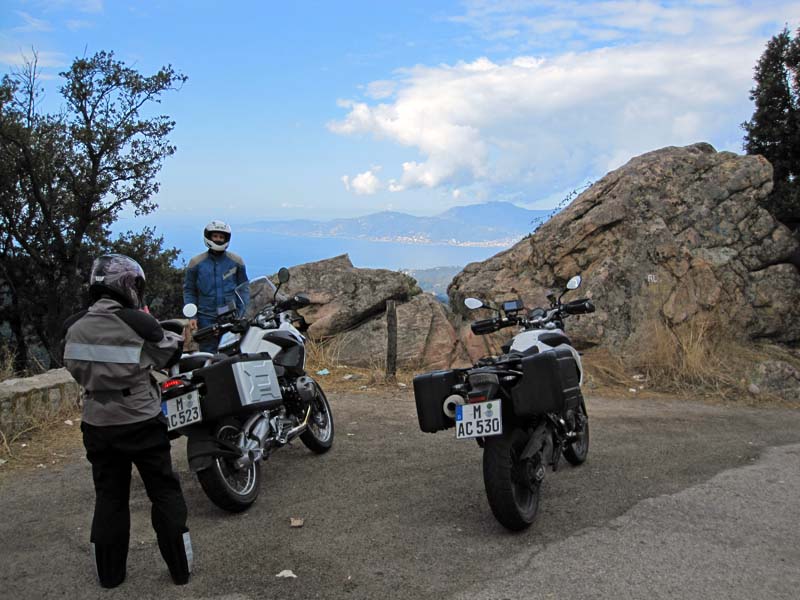 Corsica road signs are in both French and in the Corsican Language. MANY of the road signs have the French spraypainted out, like the signs below. I think it is a sign of regional pride, although Corsica lost its independence to France several hundred years ago (18th century). The amusing part is that the Corsican language is almost extinct, fewer and fewer people can read or speak it anymore.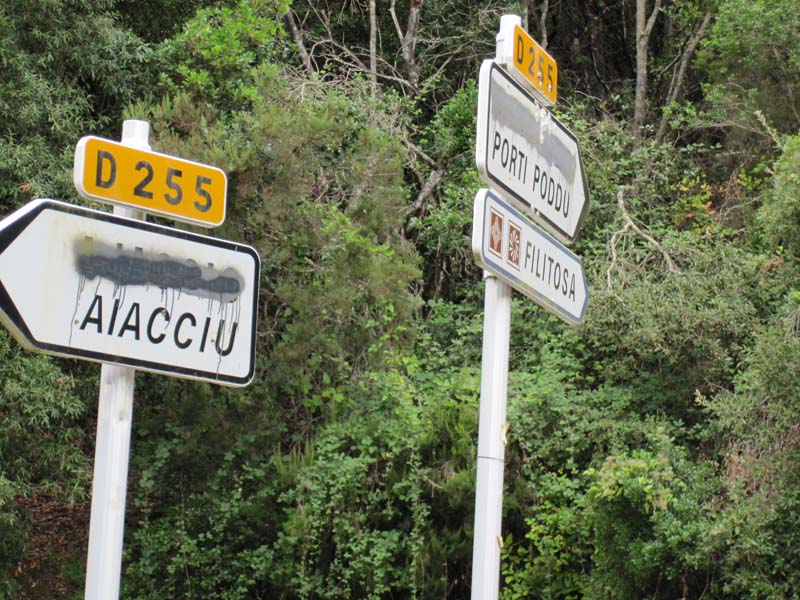 A close up of Brian Beach, motorcycling in Corsica.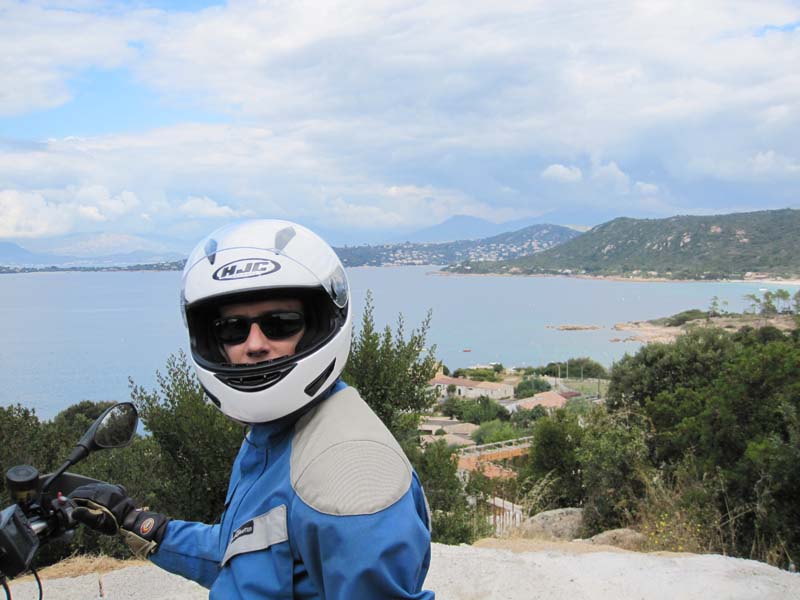 Random big view of country side with ocean in background in Corsica.

We arrive into the next hotel, this one is Hotel Roc e Mare in Propriano Corsica. To be honest, this hotel was a dive with dirty carpets and not much staff and really was past its "Use By Date". But the views were very pretty from every room.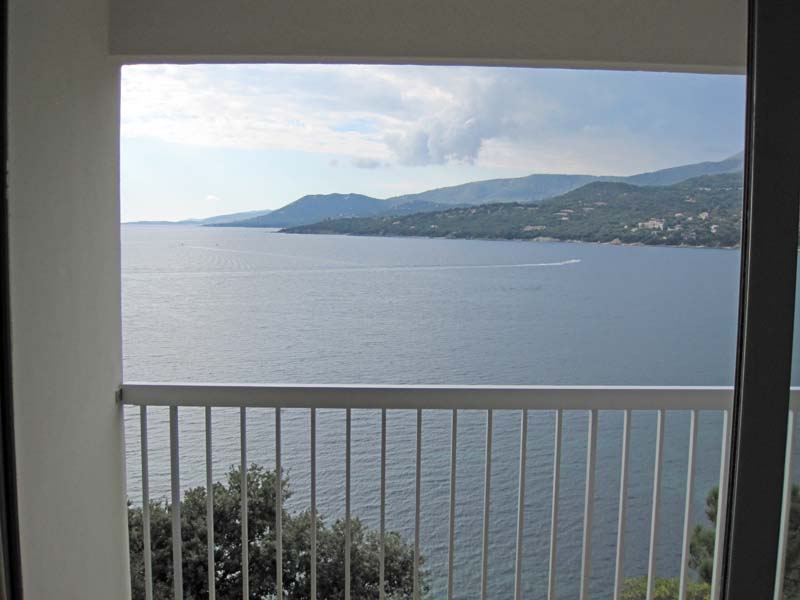 A view from the room of the beach not far away.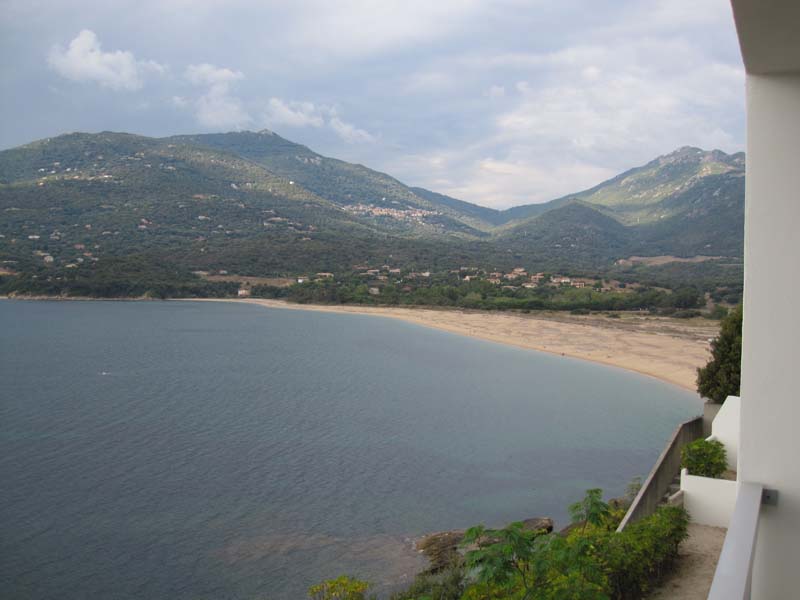 The motorcycles in the parking lot of Hotel Roc e Mare in Propriano Corsica.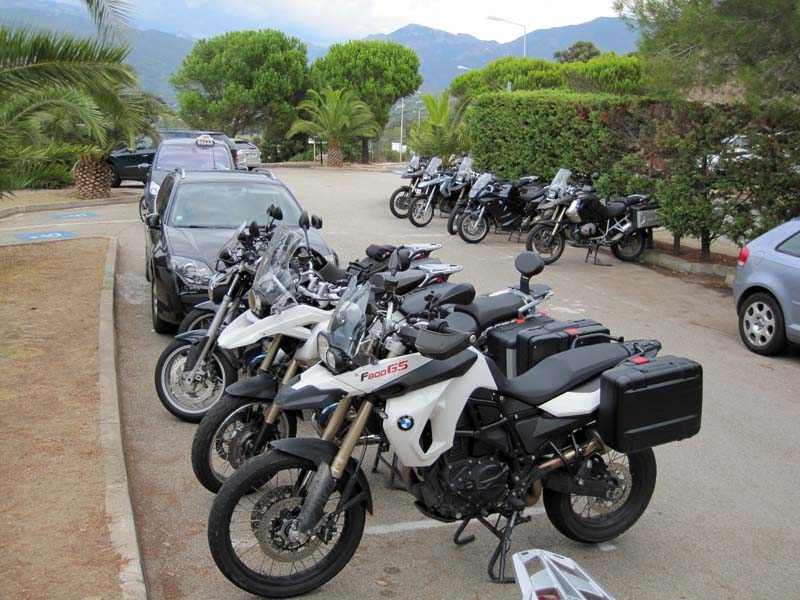 I was exploring the hotel grounds, and found this old crappy staircase that looked like it headed to the water. It *DID* head to the water, but maybe 50 years ago.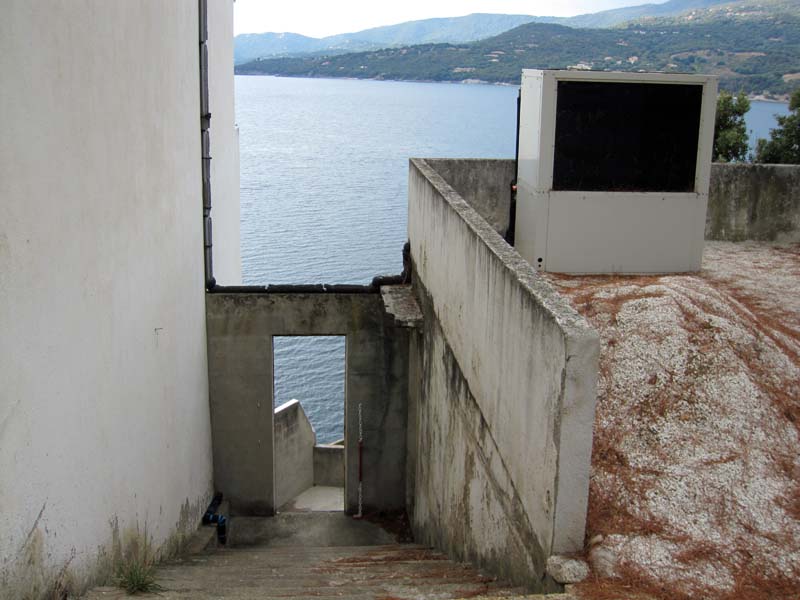 Here is where I got held up by overgrown bushes over the staircase. Lower down on this page I climbed around and have pictures of the bottom of the staircase.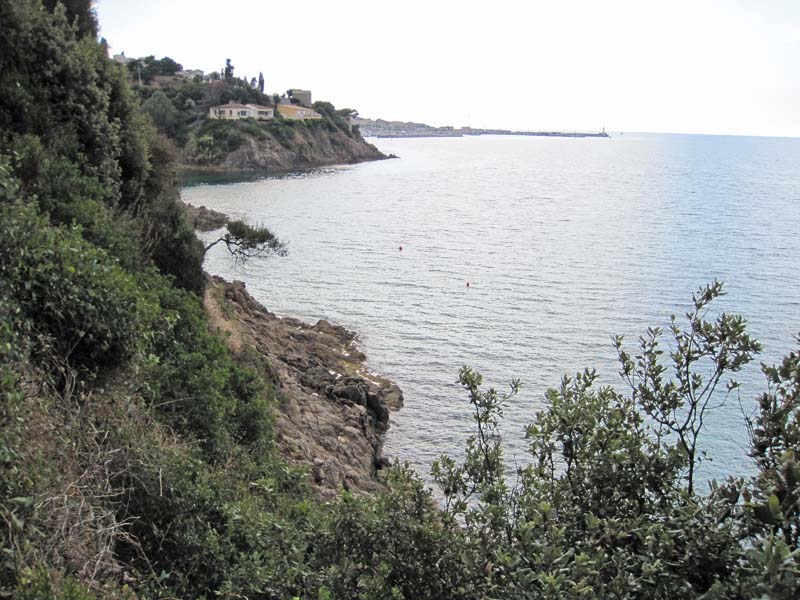 There was ANOTHER way down that leads to this very pleasant little beach area private to the hotel.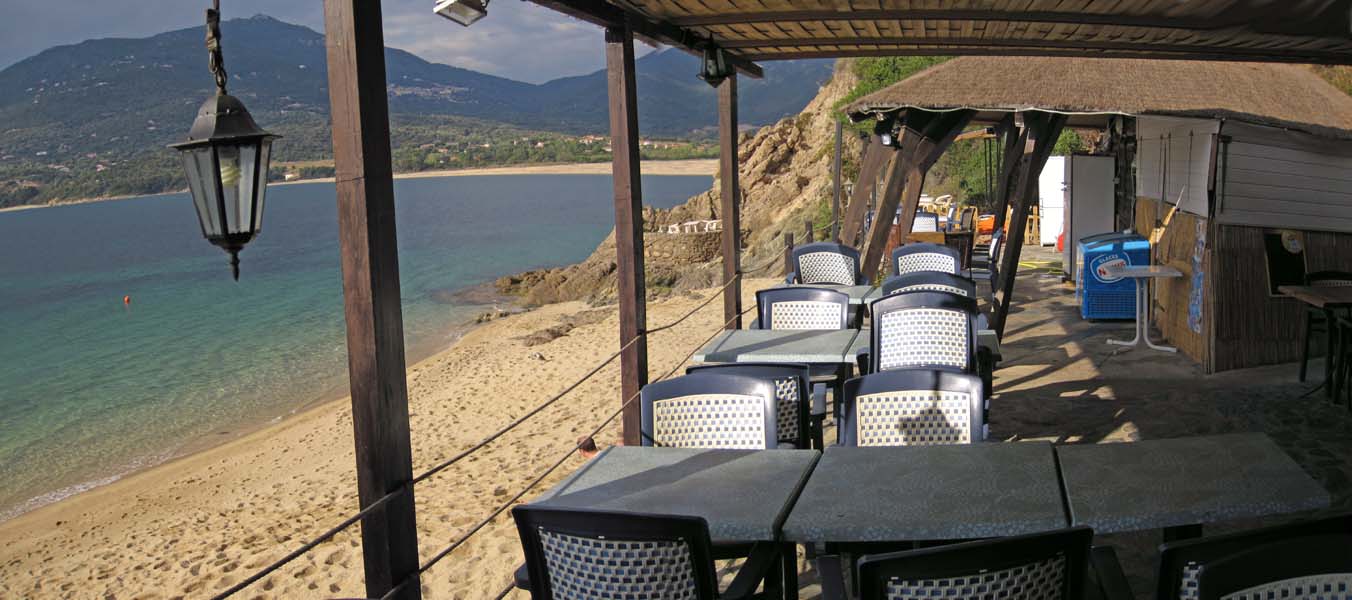 A picture of the same area from the opposite end. Very pretty, except for the overweight European tourists in speedos on the beach. :-)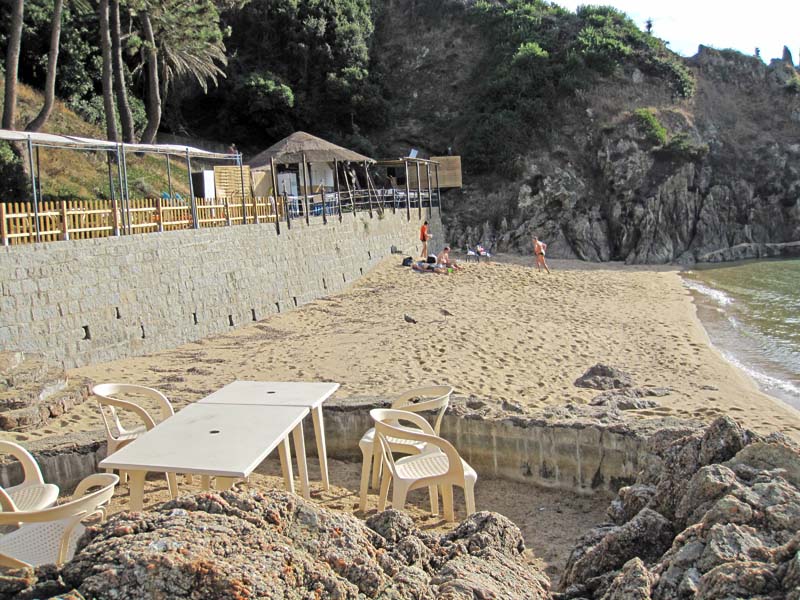 I climbed around the front of the cliff, and found the old stair case that I was at the top of earlier. With just a few hours work it could be opened, and be a very pretty way down the cliffs, I have no idea why it was let to get overgrown!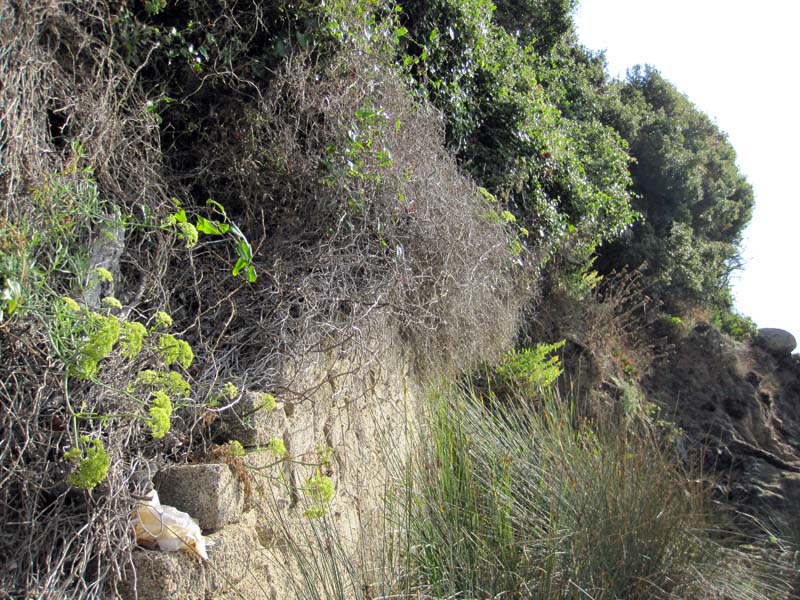 A picture of the cliff with our hotel at the top.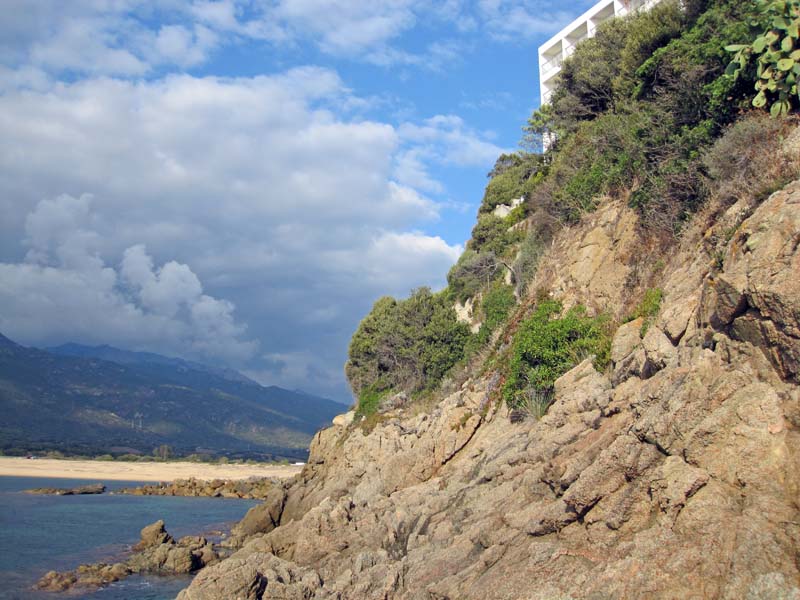 Another picture of the hotel from down below at water's level. That is hotel Roc e Mare, kind of a dive.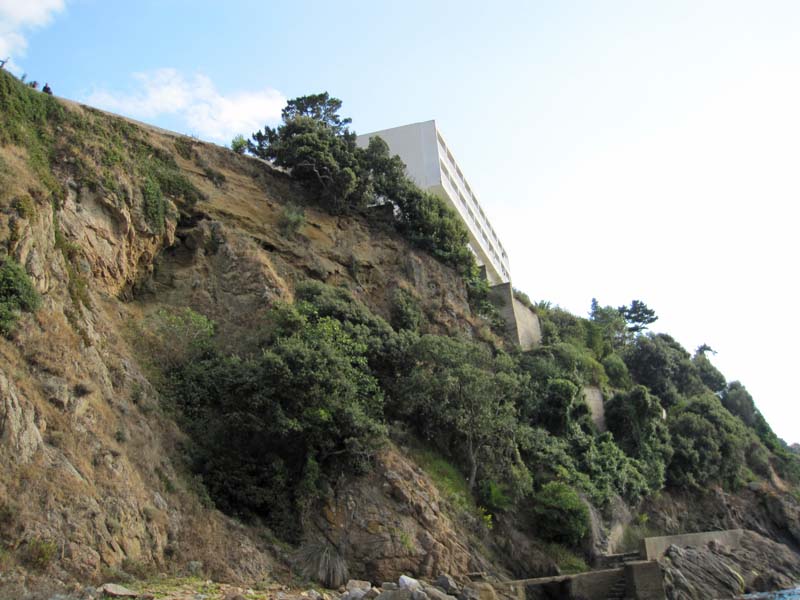 I took off my shoes and socks and waded out to this rock. You can see my shoes in the picture below.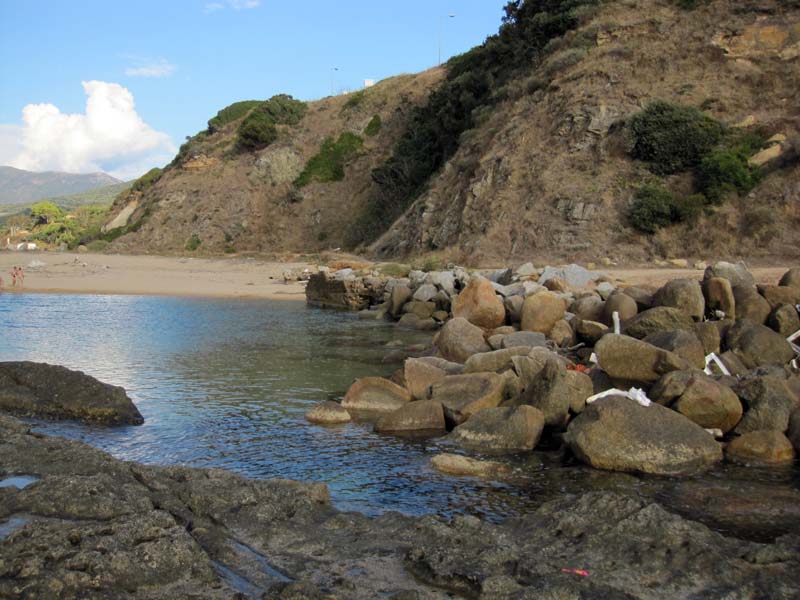 Corsica is kind of like the USA back in the early 1970s with trash just strewn in certain places. Here is a GORGEOUS natural beach, and a garbage dump at one end. Corsican's are strange.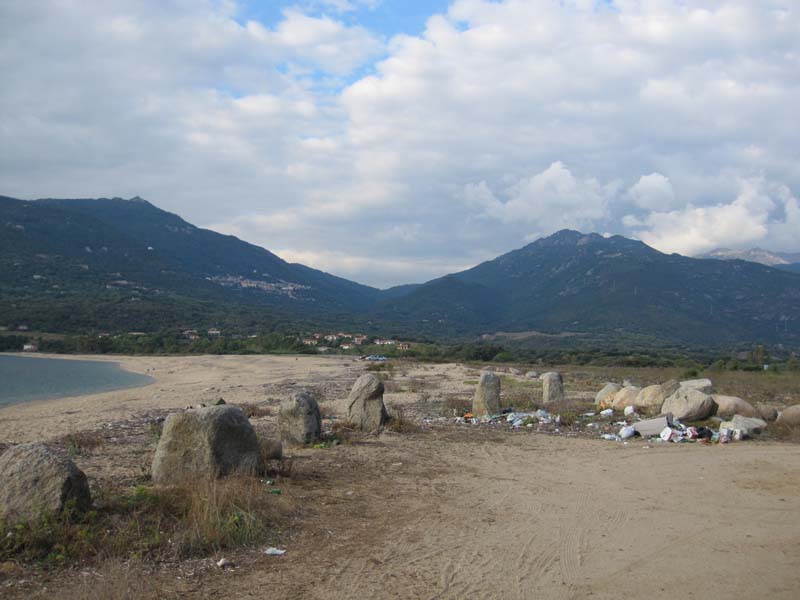 Katherine Chung at sunset.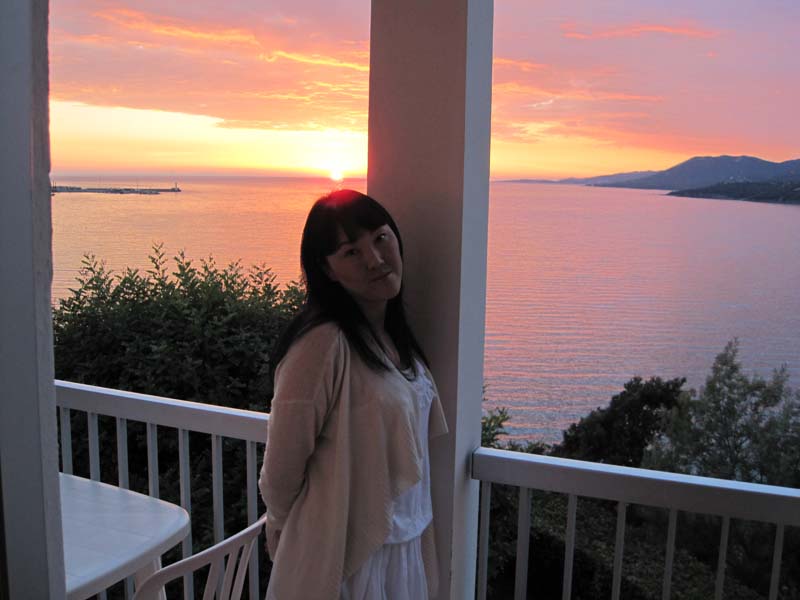 We walked a few blocks down to a restaurant on the beach in Corsica. Here we are at the group dinner.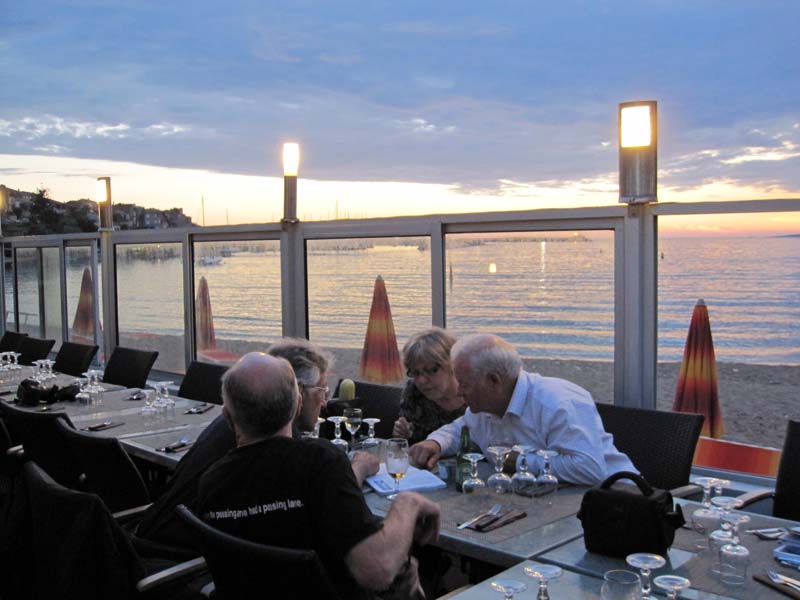 That ends the day of 9/22/2010. The next morning of 9/23/2010 I got up and took this picture from my hotel room.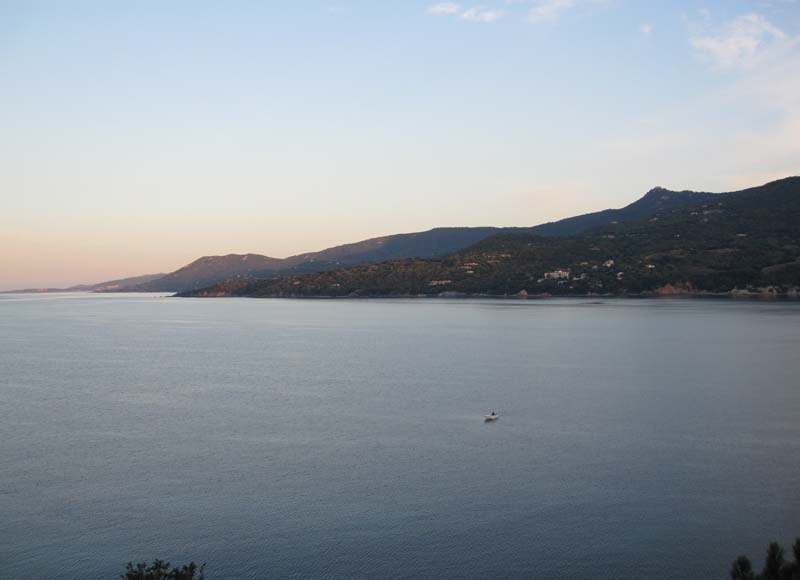 Breakfast at the hotel Roc e Mare in Corsica. The picture below is washed out because I had to brighten it just to show the faces. That is Brian Beach on the far left, Scott Keeler in the middle, and Paul Moreton on the right.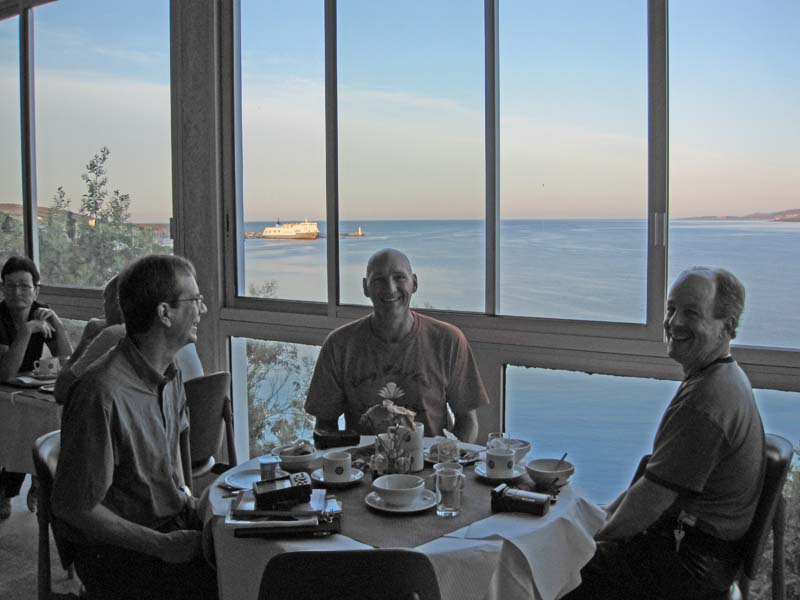 Motorcycling along, here are two motorbikes and a girl in Corsica.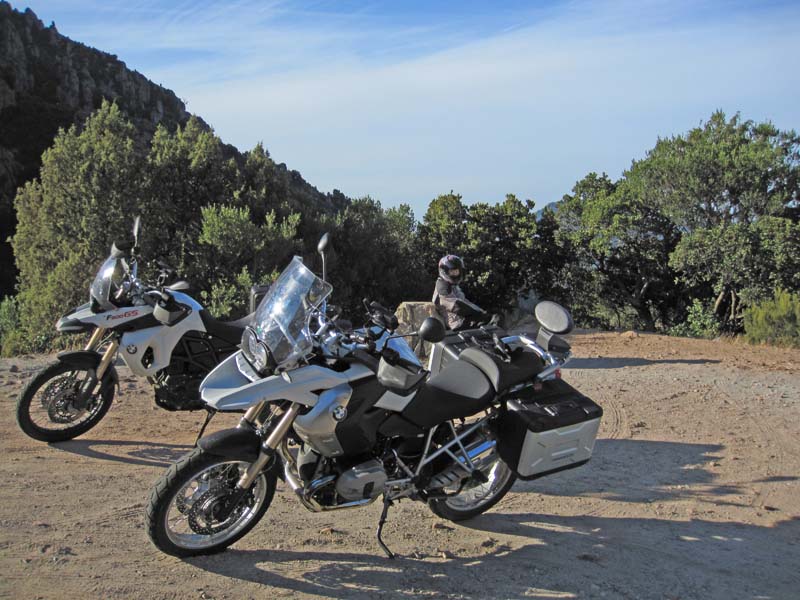 Random pretty view from the hills in Corsica.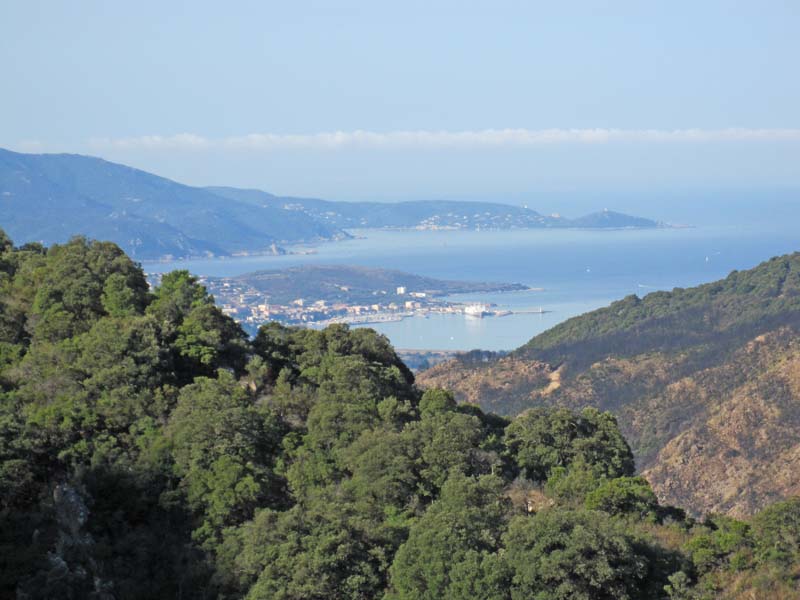 Cows by the side of the road, picture by Katherine.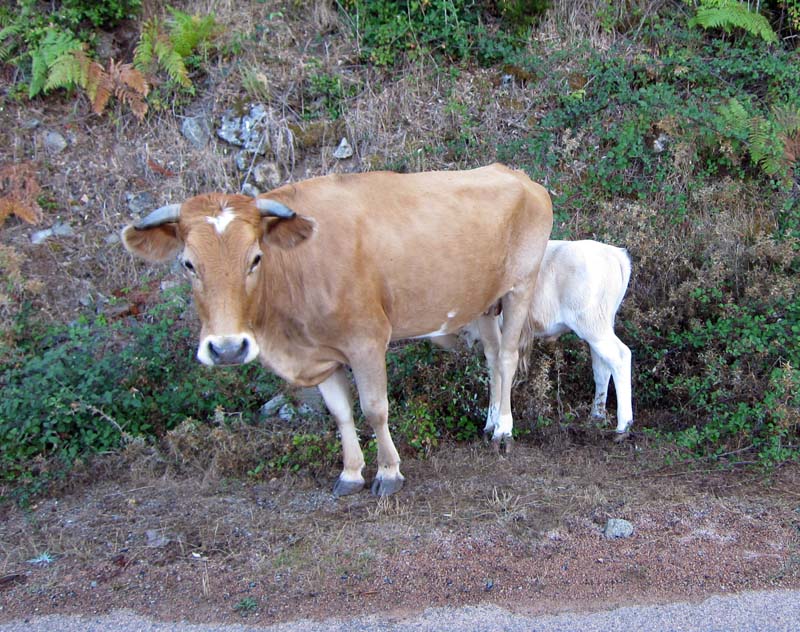 Bicycles and pigs in Corsica. Picture by Katherine.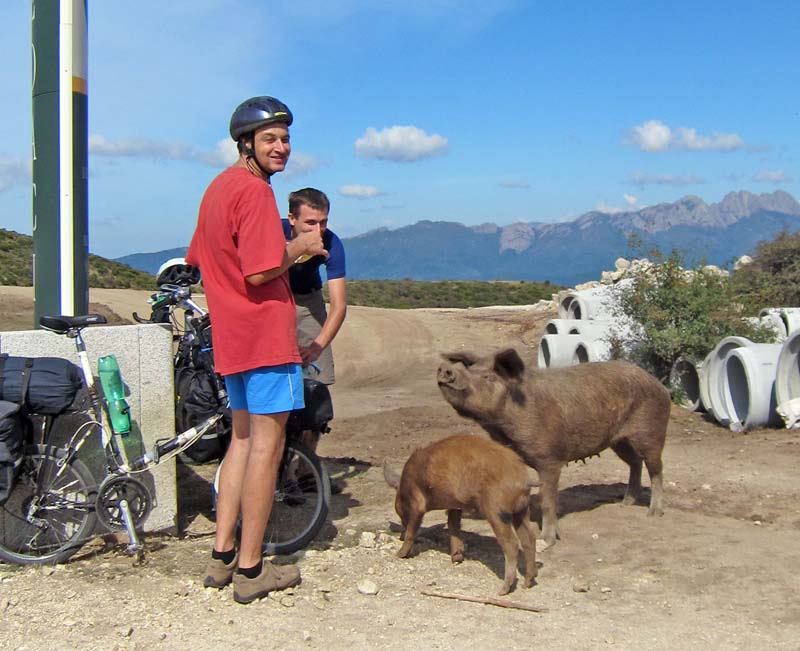 Two motorcycles and a switchback in Corsica.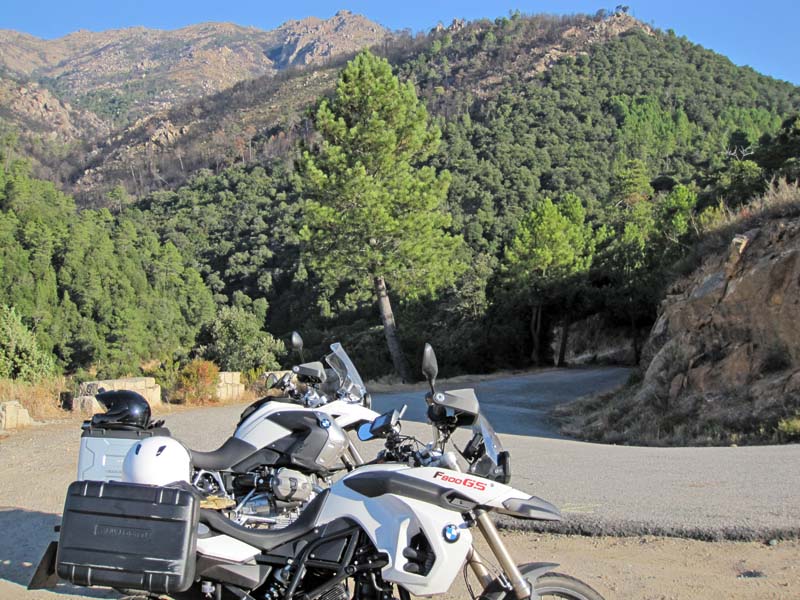 An old wrecked car in a corner on a mountain road in Corsica. In Corsica, they just kind of let old junk lie around.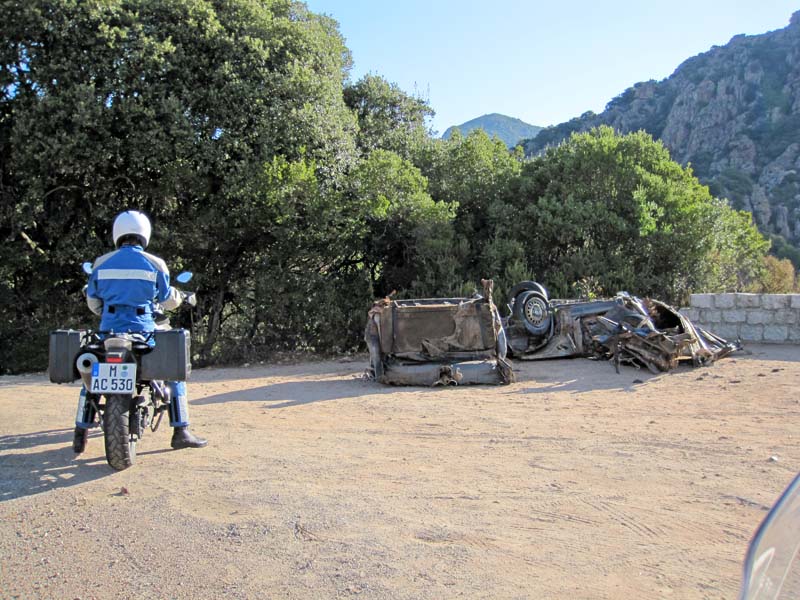 Here we are at Col de Sio in Corsica, and there is a plaque. I have no idea what it says.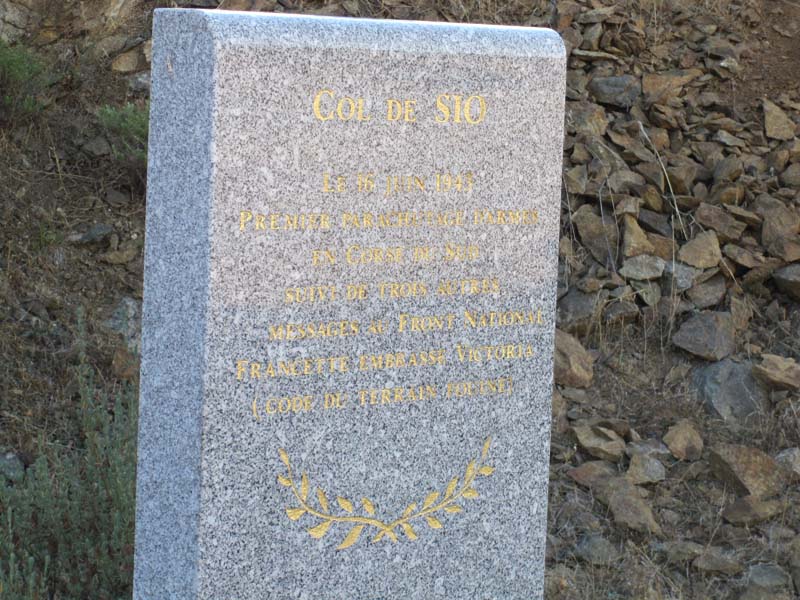 Corsica has TONS of bees and honey. Below is a picture of what I think are bee hives in Corsica.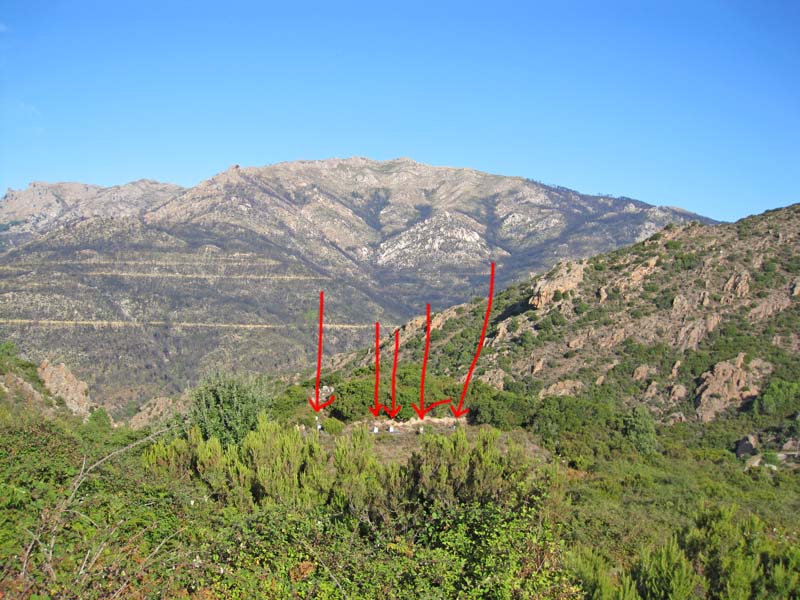 A zoomed in close-up of the bee hives in Corsica.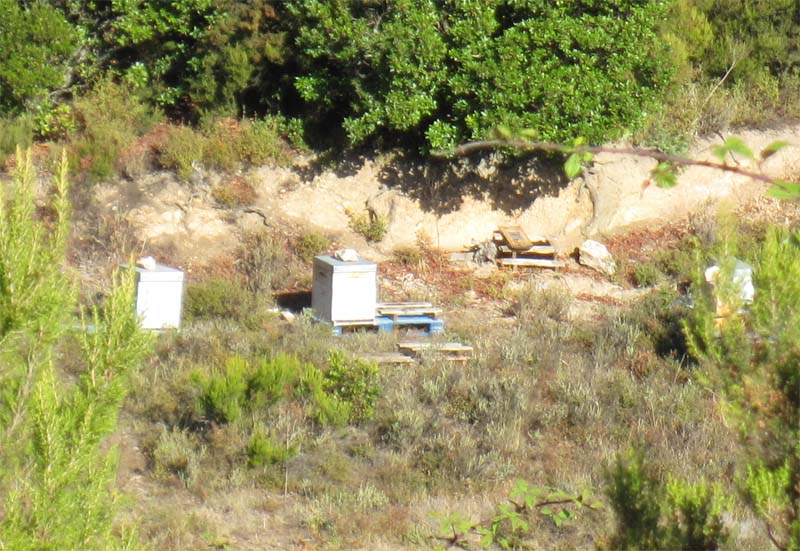 We needed a bathroom, coffee, and gas break and this little cafe was a really ideal spot. Unfortunately I cannot find it on a map yet, but I'll keep looking. That is Katherine Chung in the picture below taking off her motorcycle gear.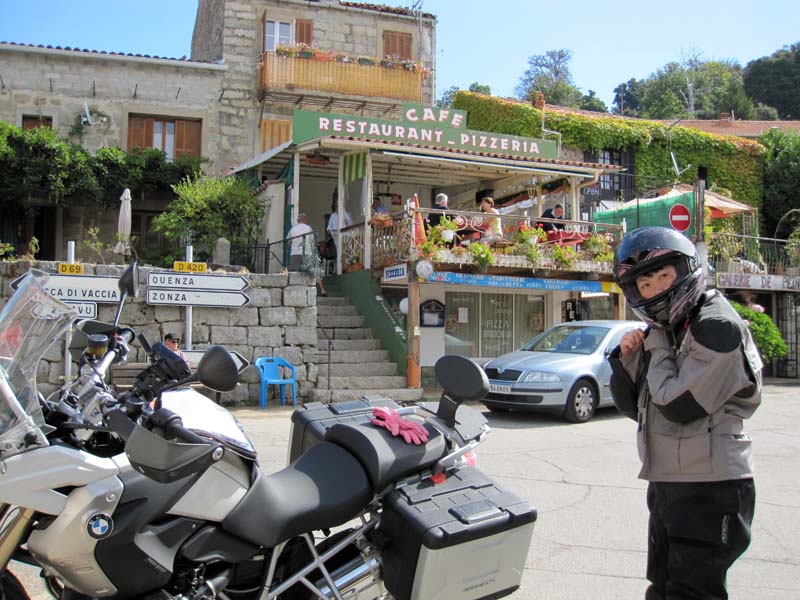 The restaurant did not have any croissant, but when we asked the restaurant owner saw this van driving by (the local croissant van) and shouted to him, and below you see Brian Beach walking down to purchase a croissant. This is a super cute little town, very helpful, with mobile croissants.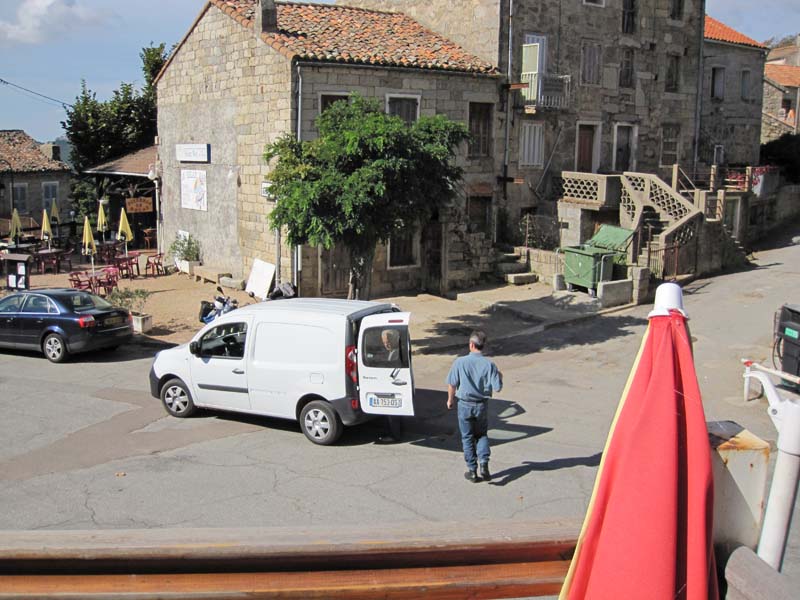 Here Brian Beach is buying a croissant from the mobile baker in this little town.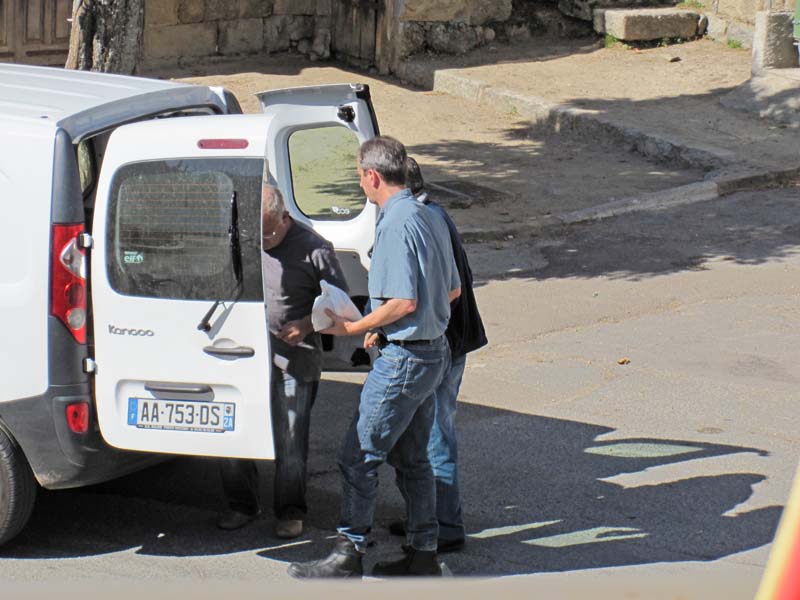 In Corsica dogs just hang out in the middle of the road. Here is one now:
We cross up over a rough road, here is Brian Beach in front. Picture by Katherine.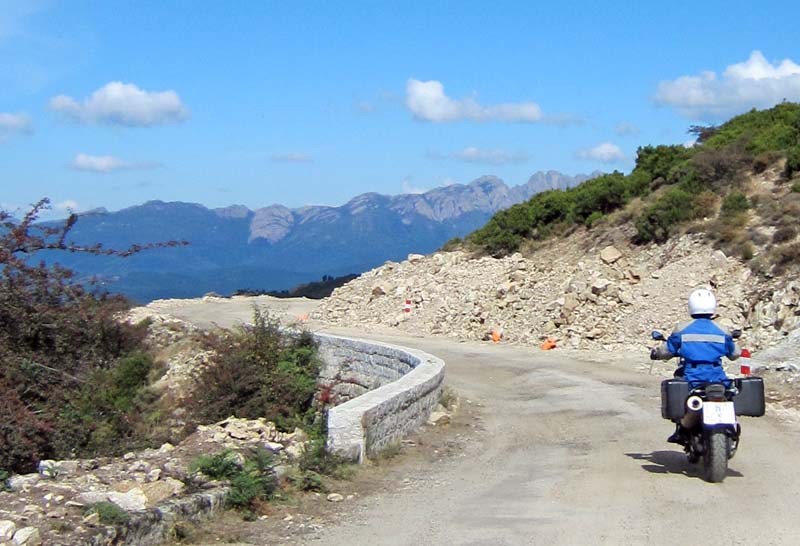 A big inland view of Corsica mountains we just drove through on our motorcycles.

Action shot of Brian Beach coming up on some cows while motorcycling in Corsica. Picture by Katherine.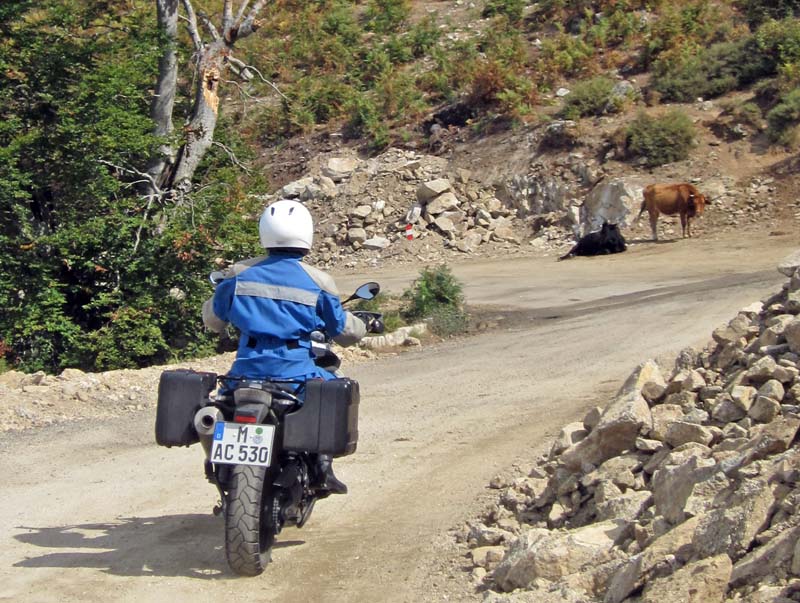 Another shot as Brian Beach navigates through cows on his motorcycle in Corsica. Picture by Katherine.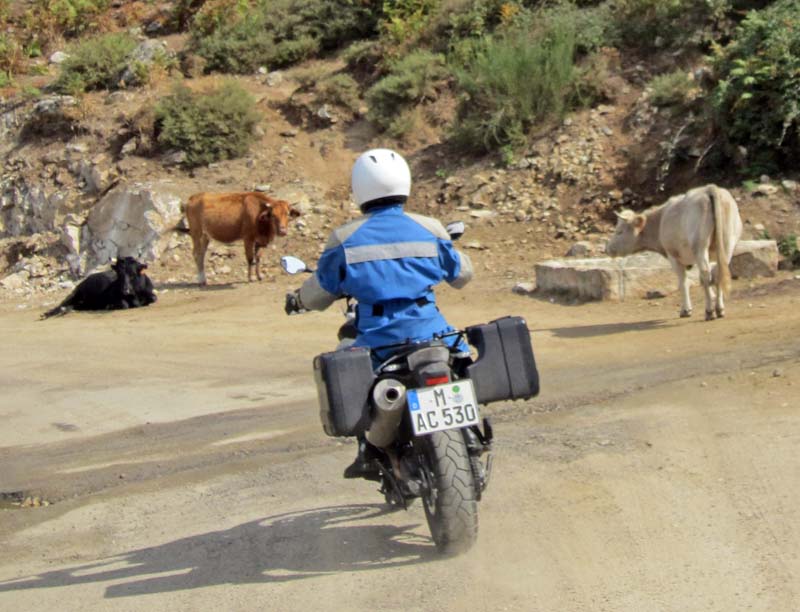 Brian Beach on a high mountain rough road in Corsica. Picture by Katherine.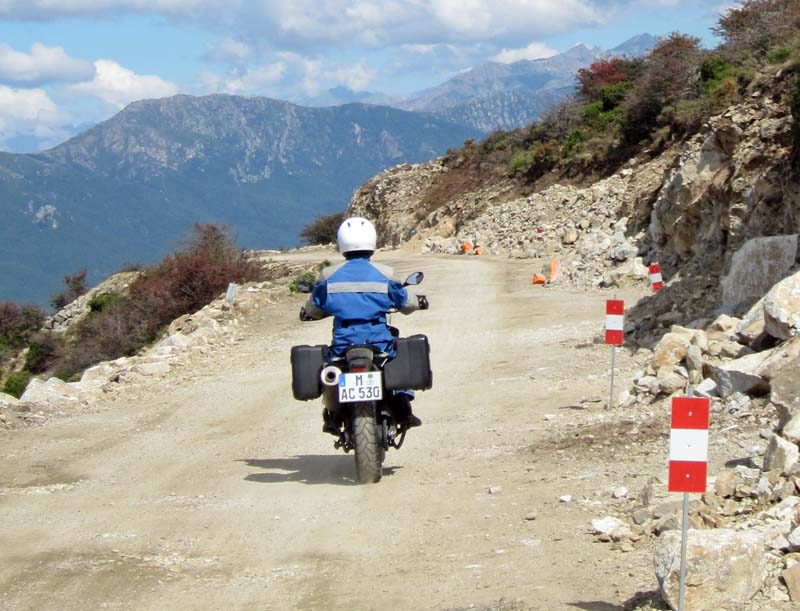 We pass by road construction all the time up here, picture by Katherine.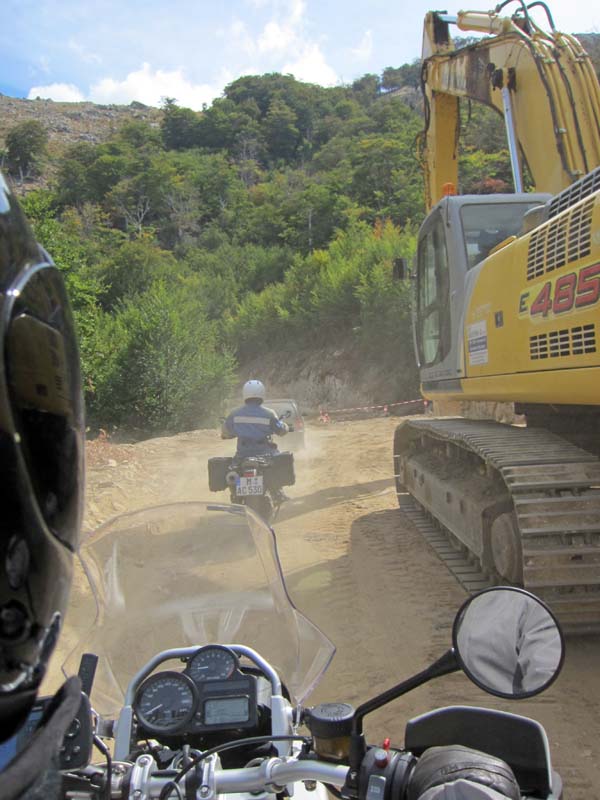 We stopped for lunch at Bocca Di Verdi in Corsica, pictured below.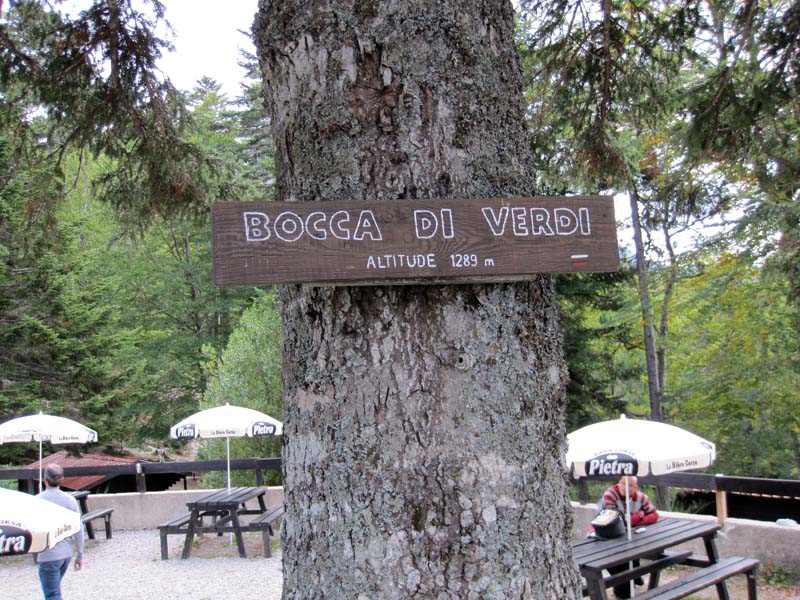 Bocca Di Verdi in Corsica, they cook the meat for lunch over a wood fire! It was very good, and fun to watch.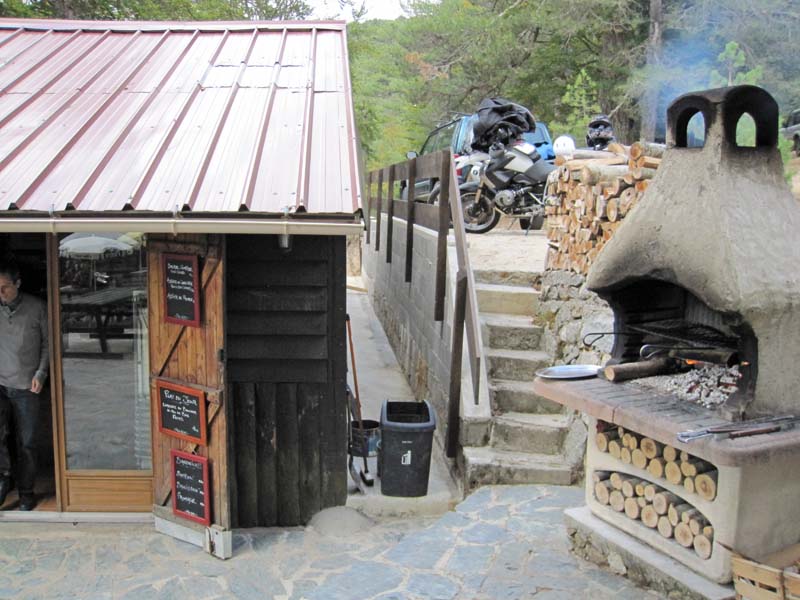 Here is the Corsican chef preparing our meal over a real wood fire.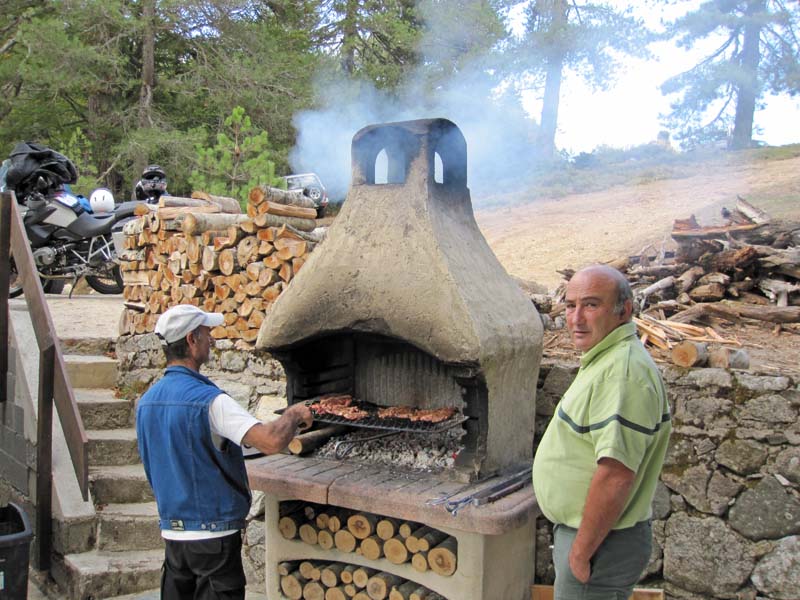 Katherine Chung and Brian Beach waiting for lunch in Corsica.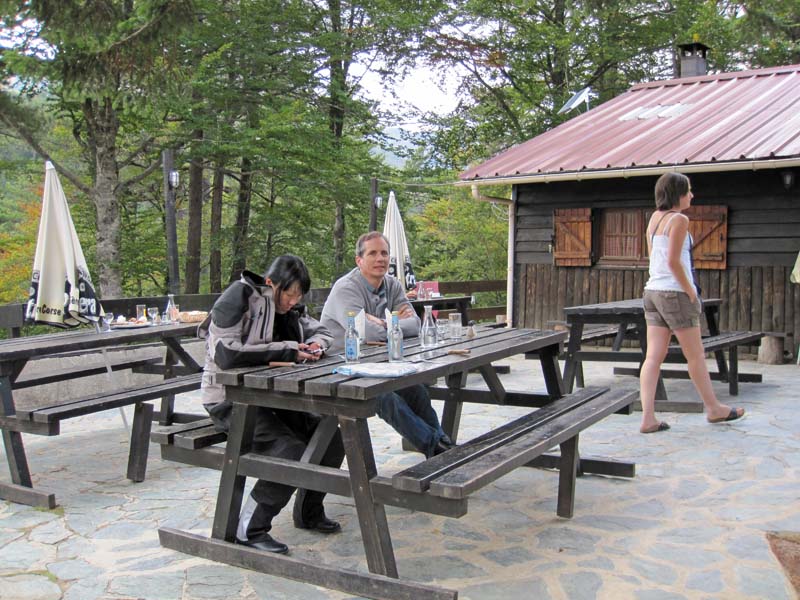 Here is Katherine Chung in a scenic mountain pass in Corsica.

Two Brians (myself in grey and Brian Beach in blue) take pictures of the crazy roads and canyons in Corsica. Picture by Katherine.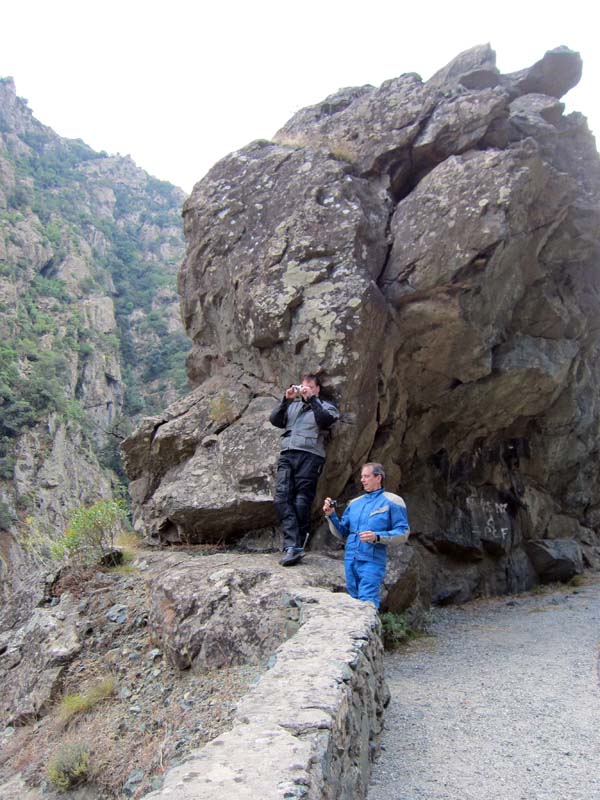 The road construction and repair is amazing, and looks like it is pretty much continuous in Corsica mountains. If click on the picture below you can see the construction and stones and crazy engineering it takes to build these roads.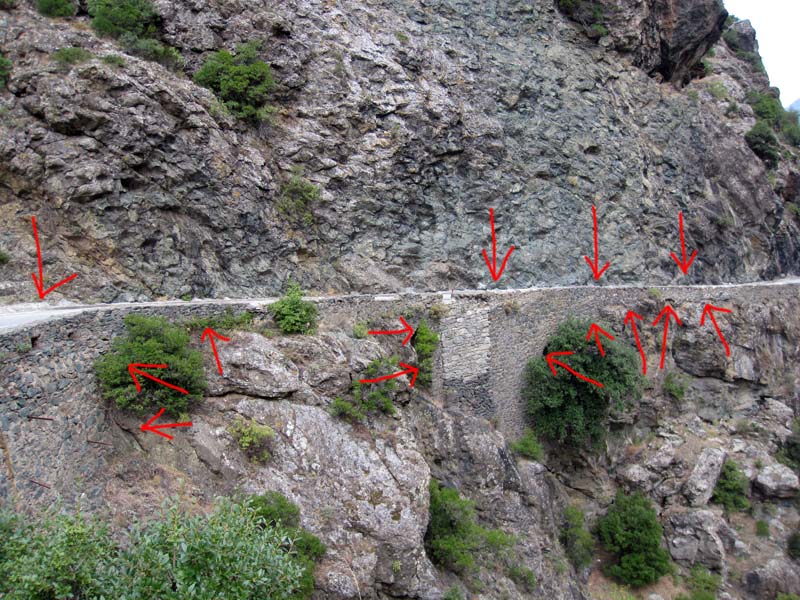 Same crazy Corsican canyon road, different perspective: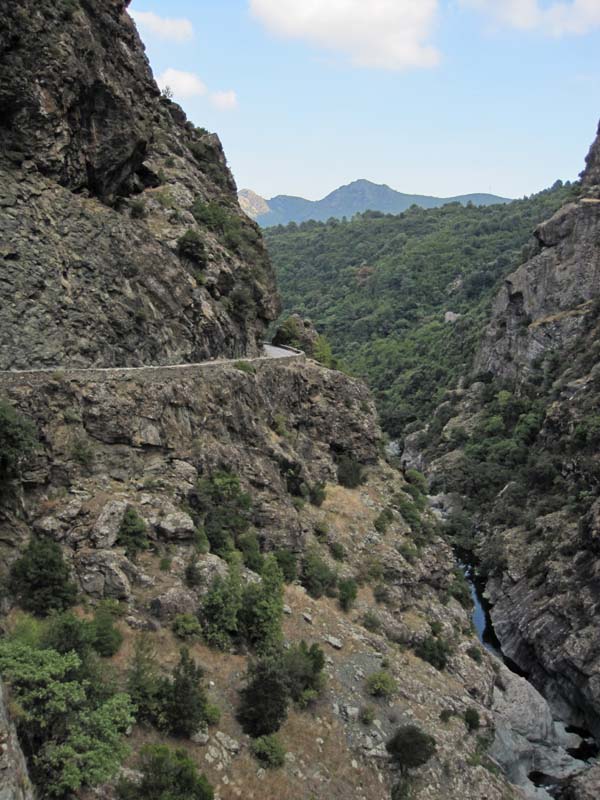 Same road, looking up the hill instead of down the hill: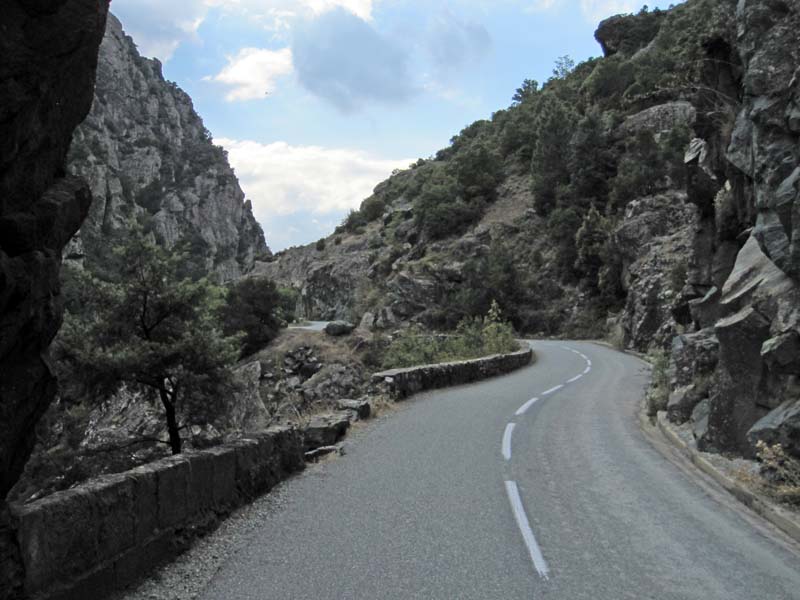 Below is a five minute video of this absolutely gorgeous motorcycling area around Ghisoni, Corsica. Click Here for a very high quality QuickTime Version (Windows users probably cannot play QuickTime!) The guy in blue in this movie is Brian Beach, and the video was shot by Katherine Chung while sitting on the back of my motorcycle.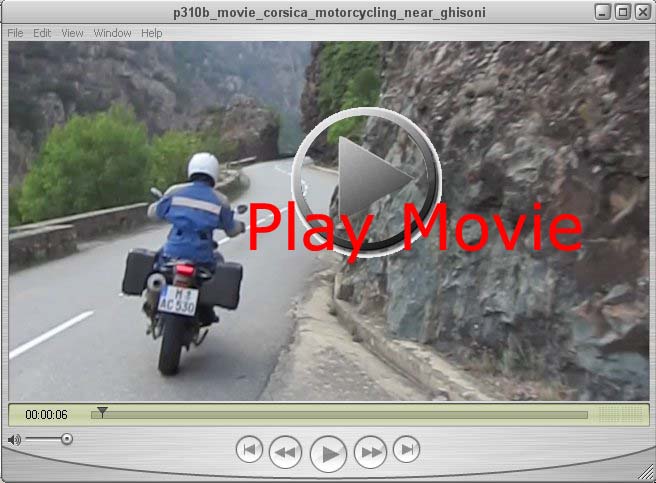 Col de Sorba in Corsica.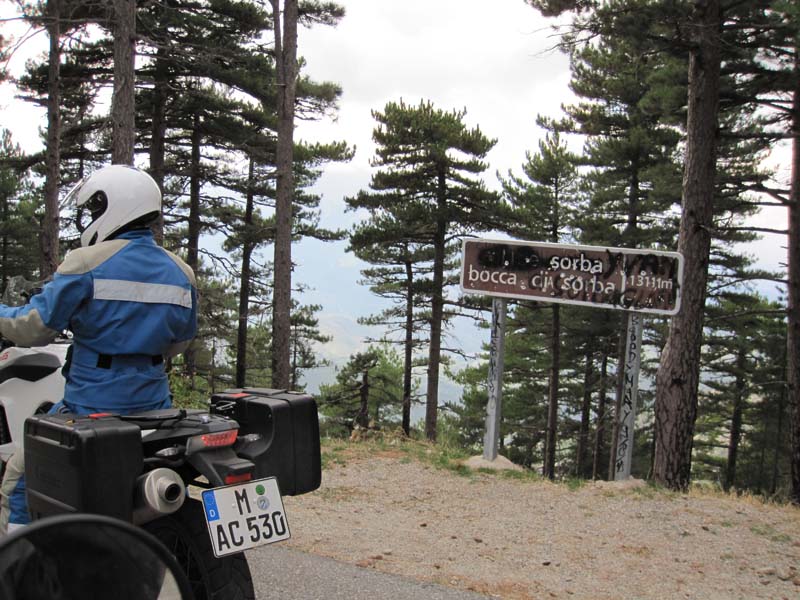 Brian Beach motorcycling in front of a wooden guard rail in Corsica.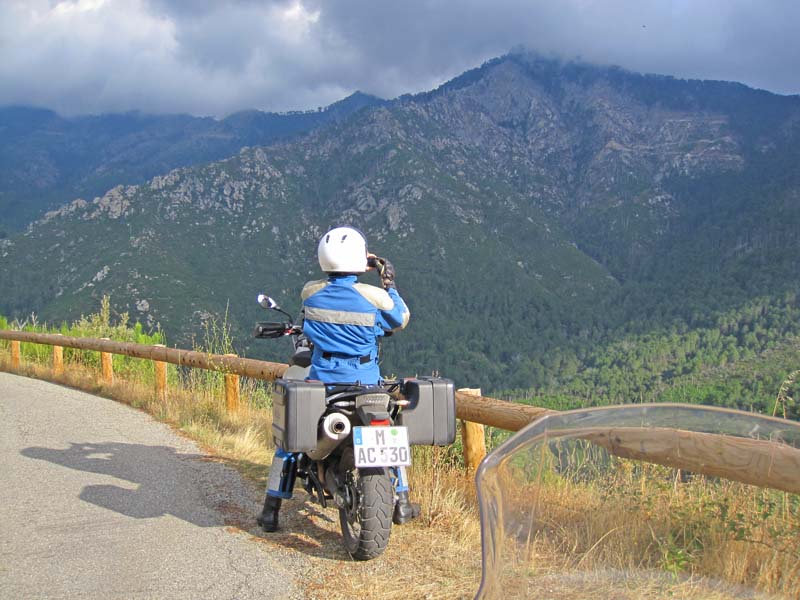 This Corsican was on a Moto Guzzi motorcycle in Corsica, as we went by slowly Katherine took this picture below as he gave us a thumbs up.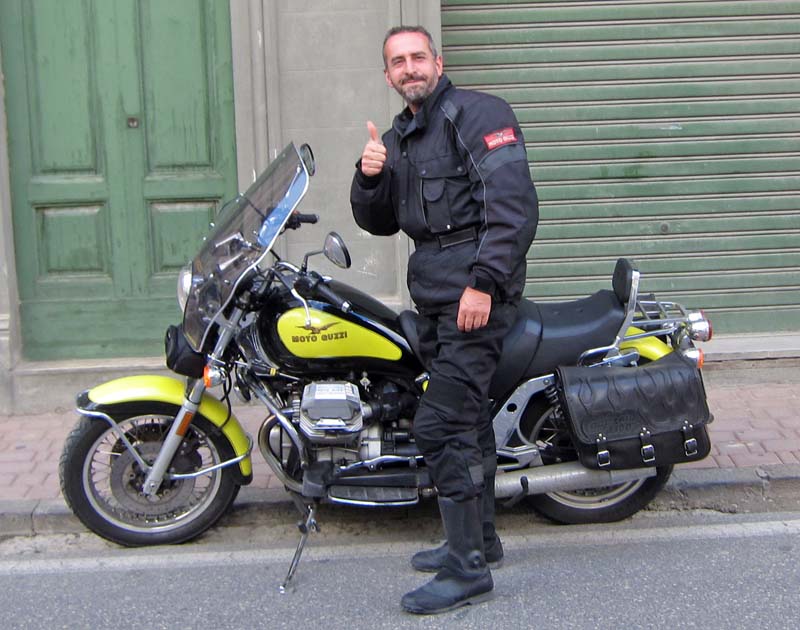 We arrived into Hotel Dominique Colonna, just outside of the town of Corte in Corsica, France.

Outside the hotel on the patio, catching up, relaxing, planning tomorrow: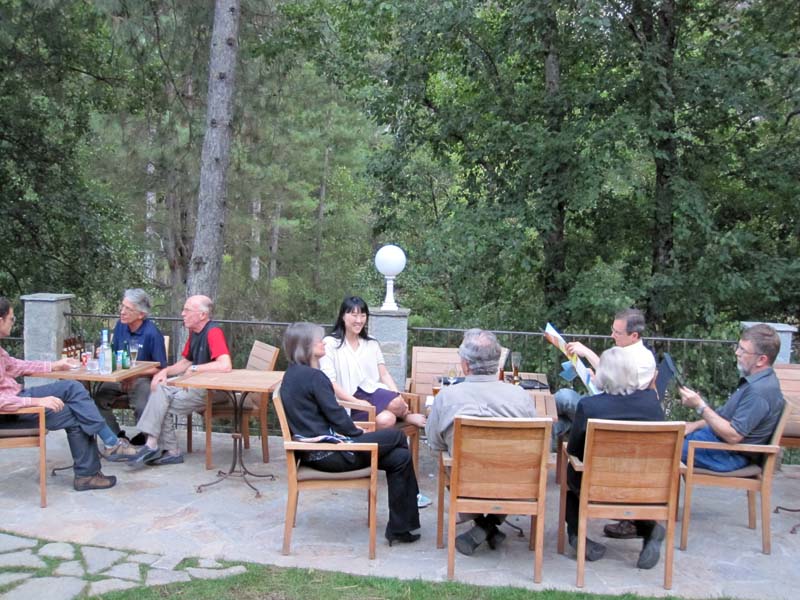 Another two front wheel scooter called a Piaggio MP3, we saw a decent number of these on our trip, this one was in the hotel parking lot in Corsica.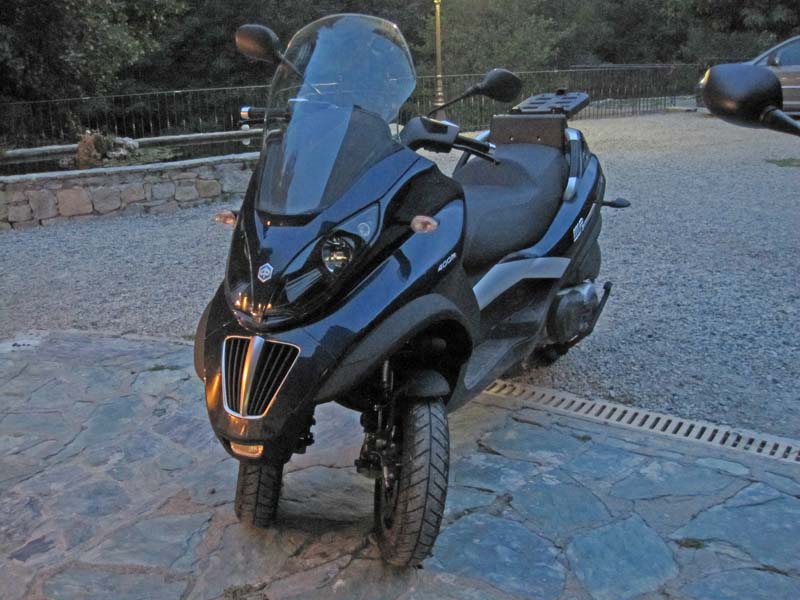 That ends the day of 9/23/2010. The next day we got up and walked around the cute little "old town" area of Corte, Corsica. Below is a slightly open square. There is a church on the right side of the picture.

Walking inside the church, you can see a tomb with a wax figure in it lit up.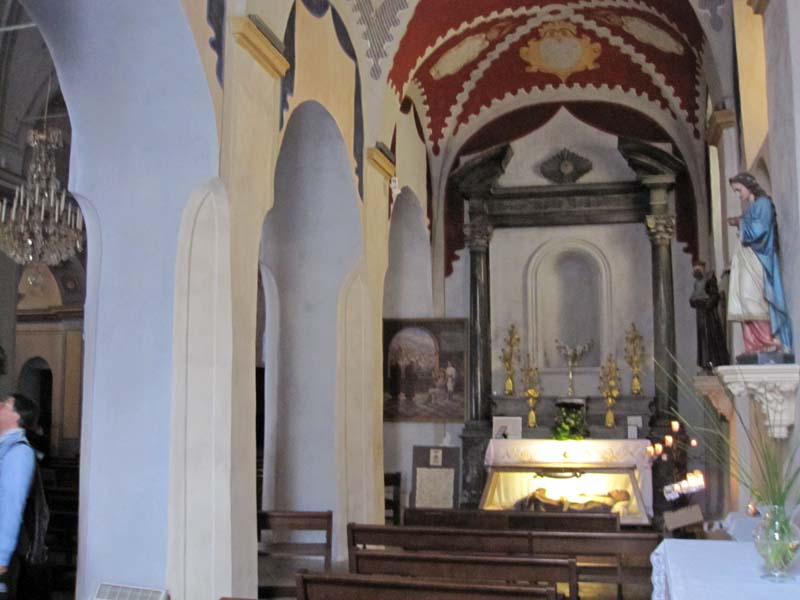 This wax body in a church in Corte, Corsica seems to be the "Saint Theophile de Corte" which Wikipedia lists as "Saint Theophilus of Corte".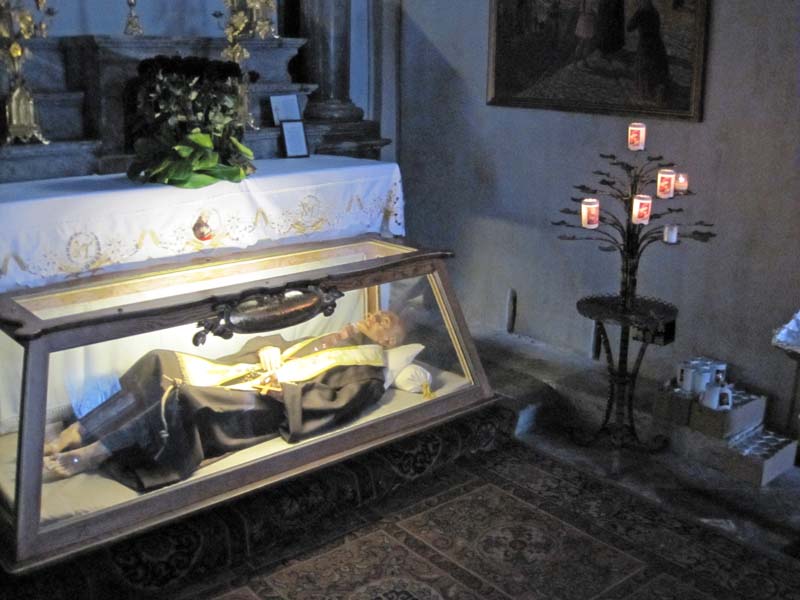 This plaque on the wax tomb in a church in Corte, Corsica says that "Saint Theophile De Corte lived from 1676 - 1740".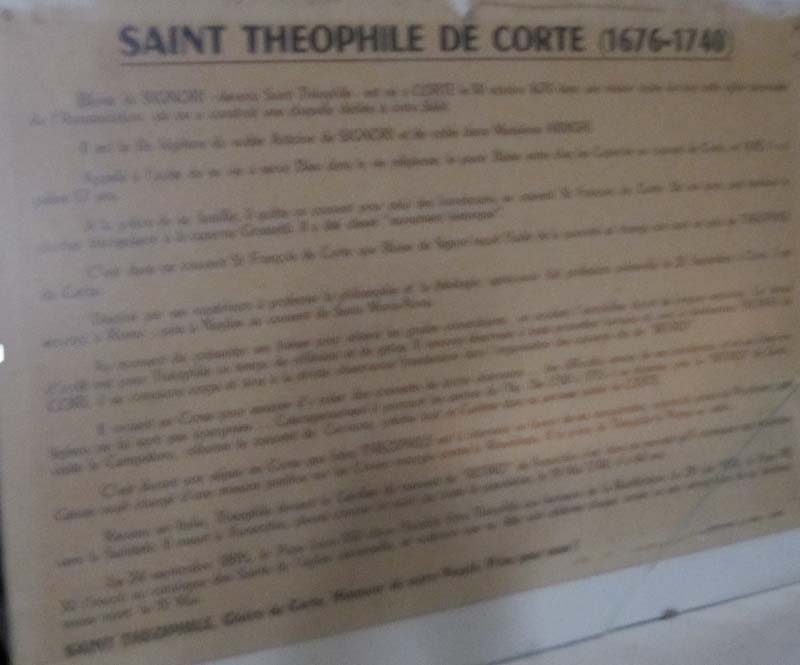 The main stage in the church.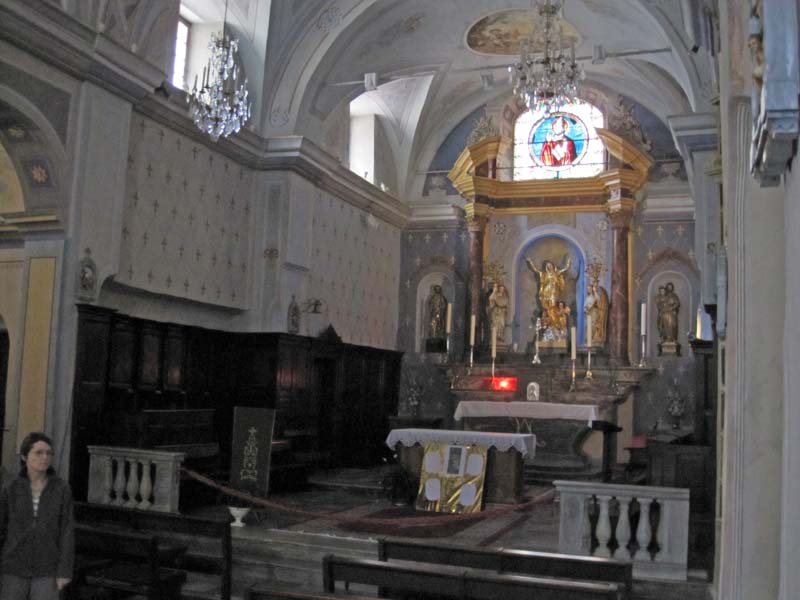 Katherine Chung pets a kitty cat in Corte, Corsica, France.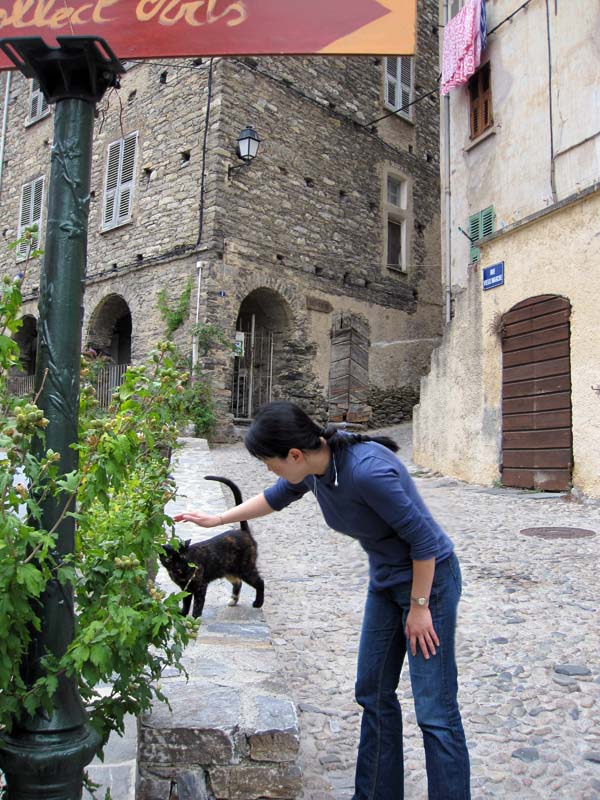 This hurts my brain a little, but there is a touristy little bus built in 1990 that impersonates a 1890s era steam train through the streets of a town from 1690. I don't know why they would do this.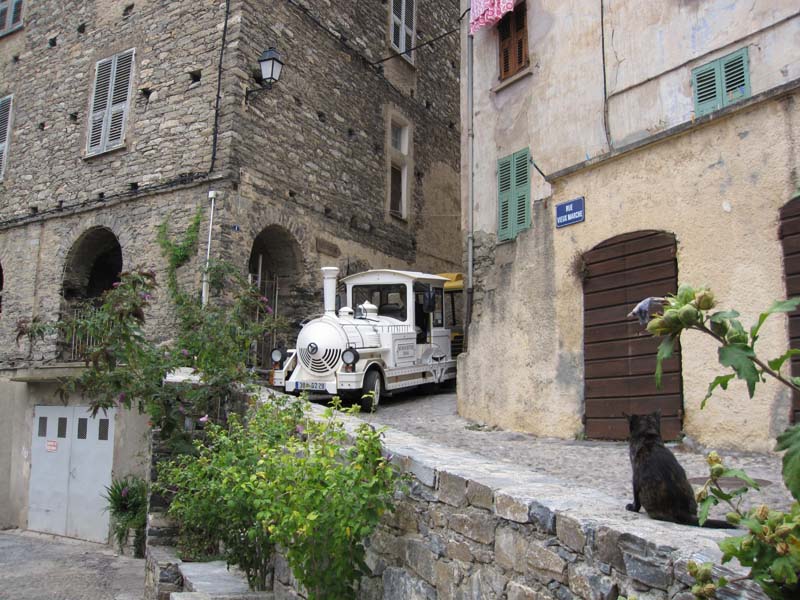 A closer up shot of the weird touristy train thingy in Corte, Corsica.
We walked up to the observation tower in old town Corte, Corsica to look around and take some pictures.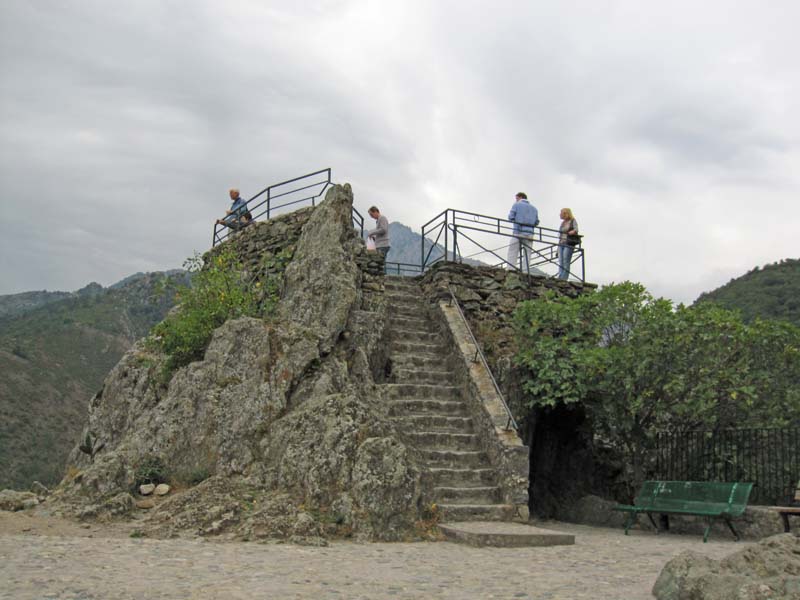 This is a pretty famous angle on the Fortress (Citadel) tower in Corte, Corsica taken from the observation deck. Click here for Google map which includes the location of the Fortress (Citadel) in Corte, Corsica.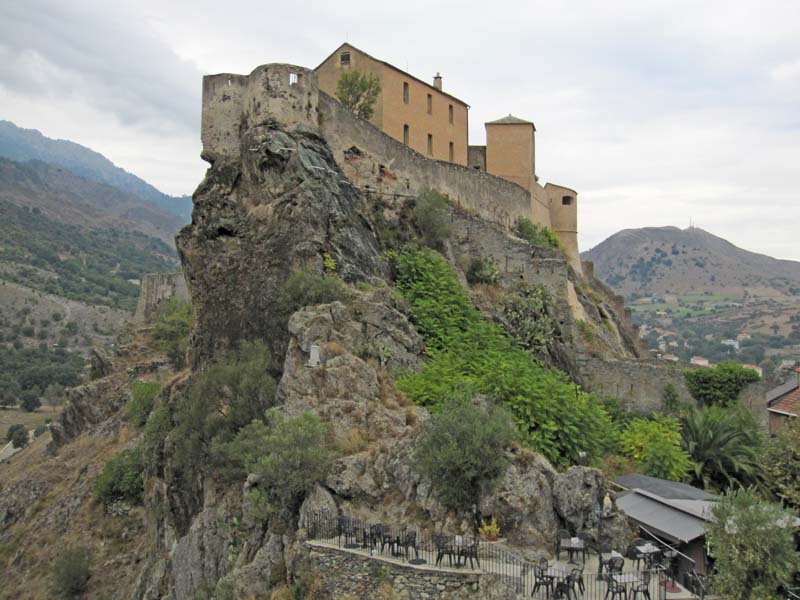 Gretchen (blonde pig tails) and Rob Beach leaning back against the railing on the observation deck in Corte, Corsica.

While waiting for other members of our motorcycle tour to arrive, Katherine and I watched these adorable little kittens living destroy a BMW convertible's soft top. I think they lived there, the tires on the BMW were flat.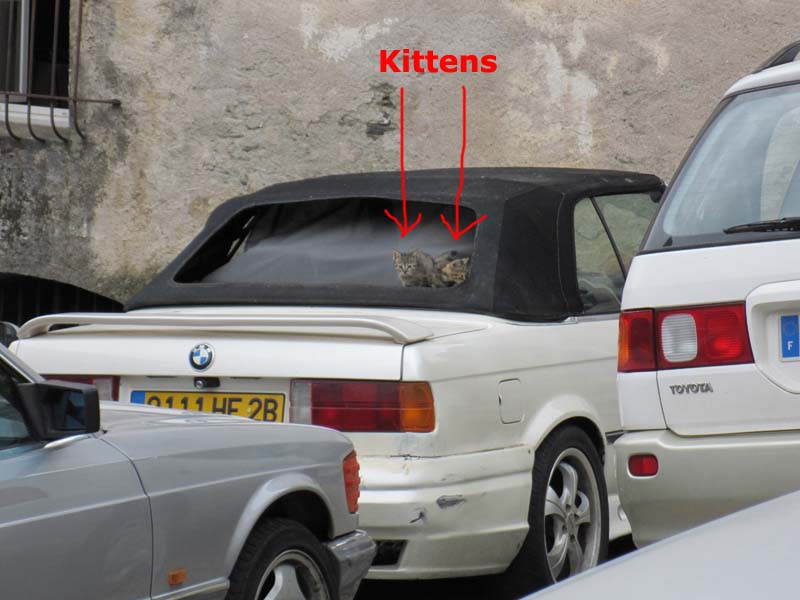 Super cute kittens playing on a convertible BMW.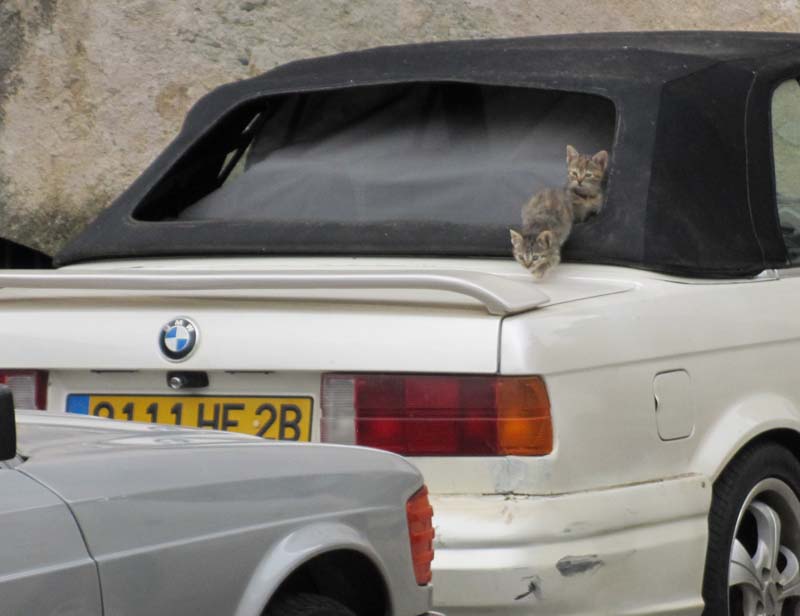 The super cute kitten below is hanging upside down from the BMW's convertible soft top. The mother of the kittens came and carried the kittens away to another location.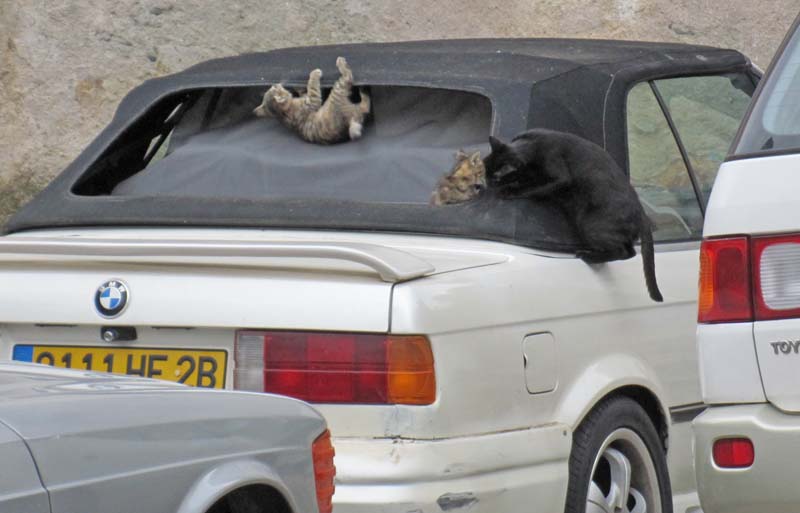 Back under way, we line up here to get on the ferry in Bastia to leave the island of Corsica.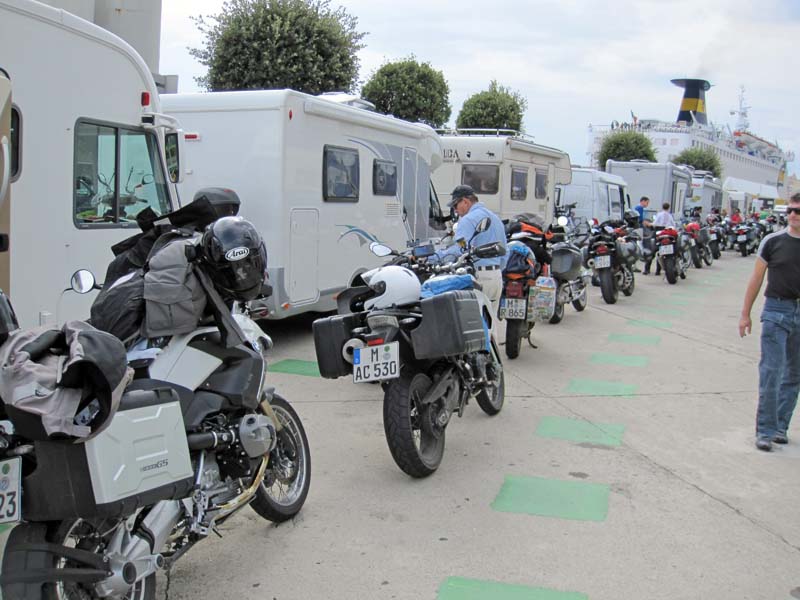 Below shows (again) how the motorcycles are restrained inside the ferry by tying them against the wall.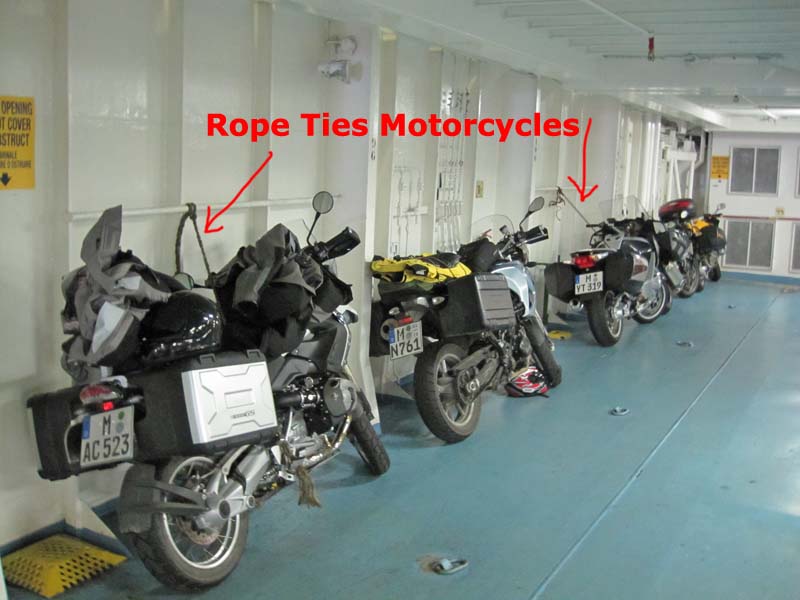 A picture from the deck of the ferry in Corsica.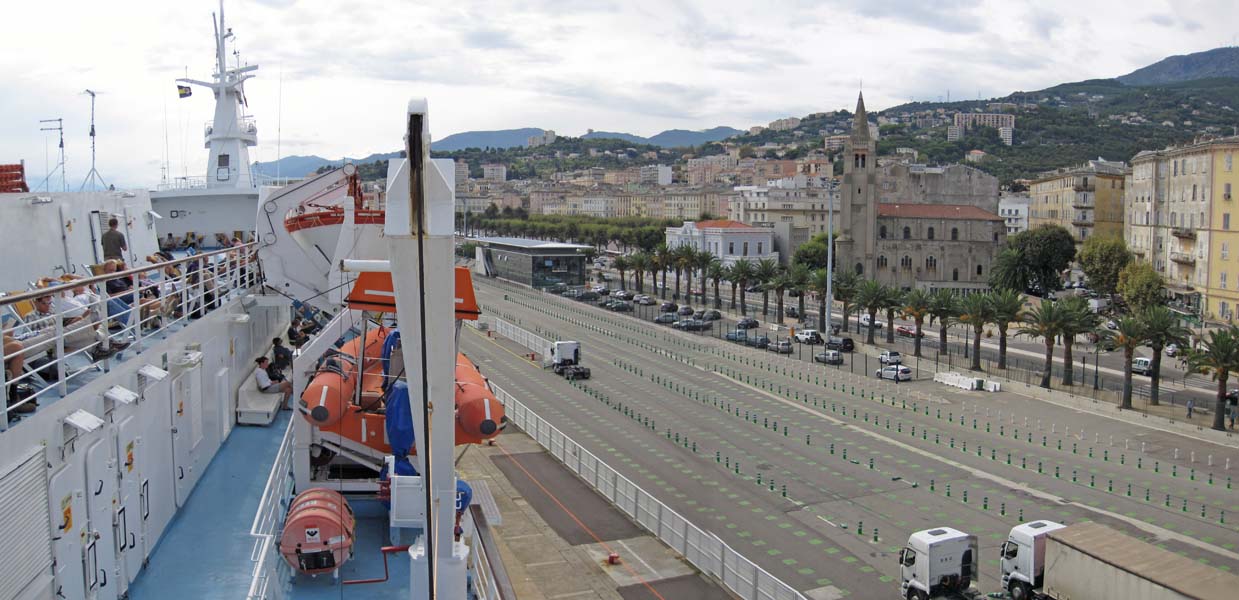 A view over the life rafts.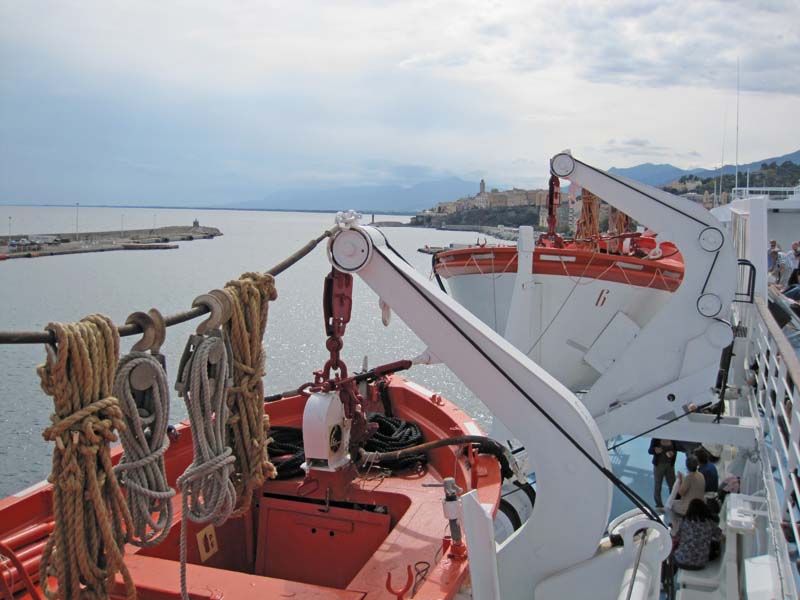 Although it is a ferry, it is a ferry between Corsica (a French territory) and Italy and therefore the cafeteria serves EXCELLENT food by our American standards. :-) Below Katherine picked up a little tray with a delicious lunch and is reading a book.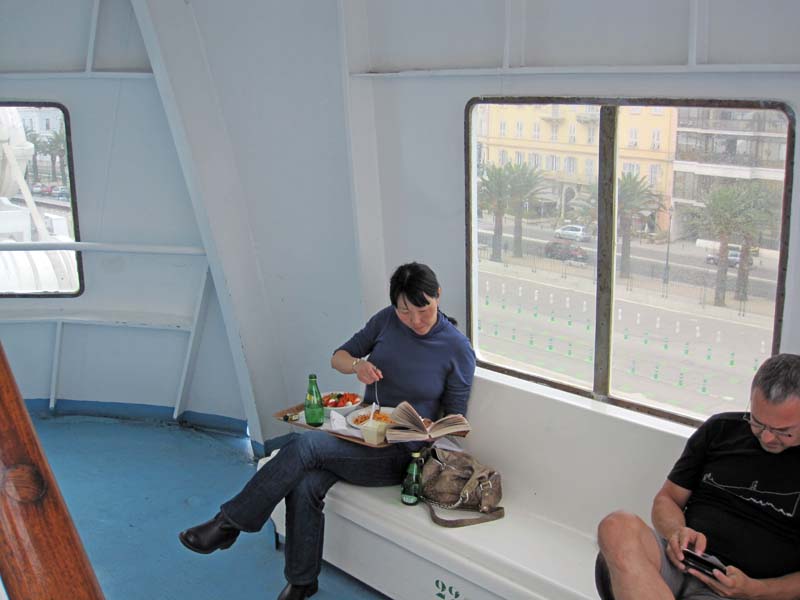 Leaving Corsica behind!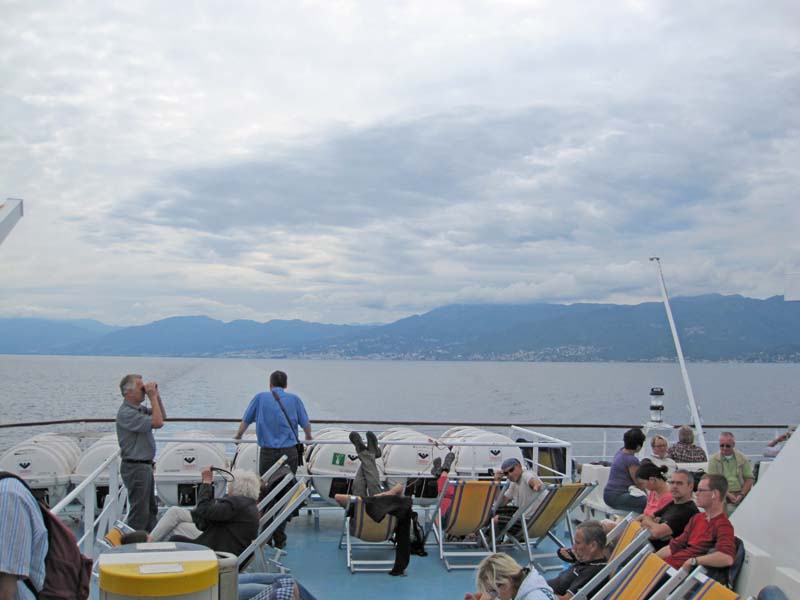 Brian Beach working on BOTH his iPhone and iPad at the same time.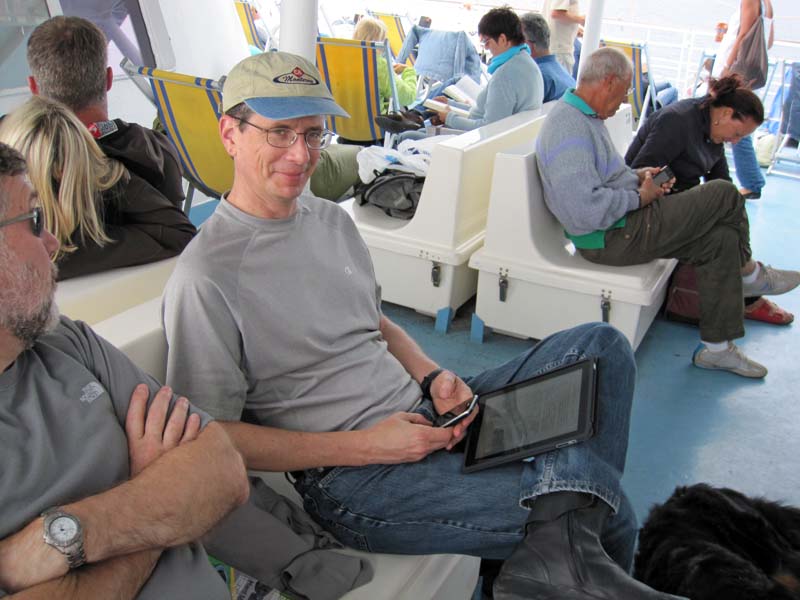 The very top most deck on the ferry.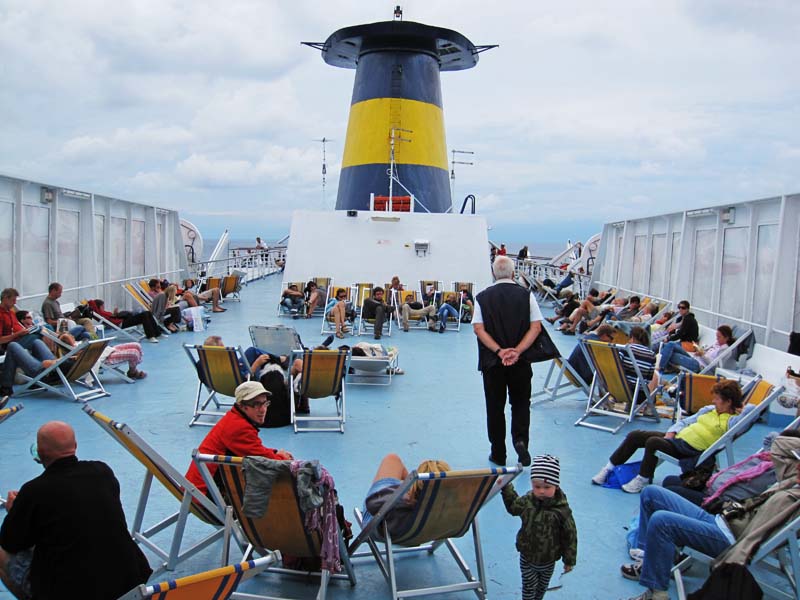 Below Gretchen plays with the one-inch-by-one-inch touch screen on a iPod nano I brought along. She was immediately obsessed with it. :-)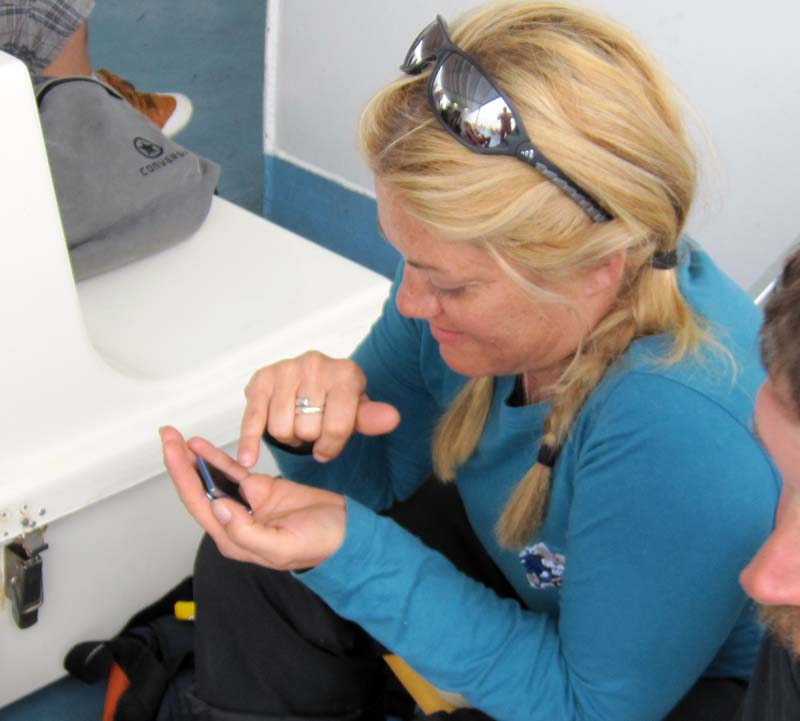 A sailboat passes the ferry going the opposite direction out in open water between the Corsica and Italy.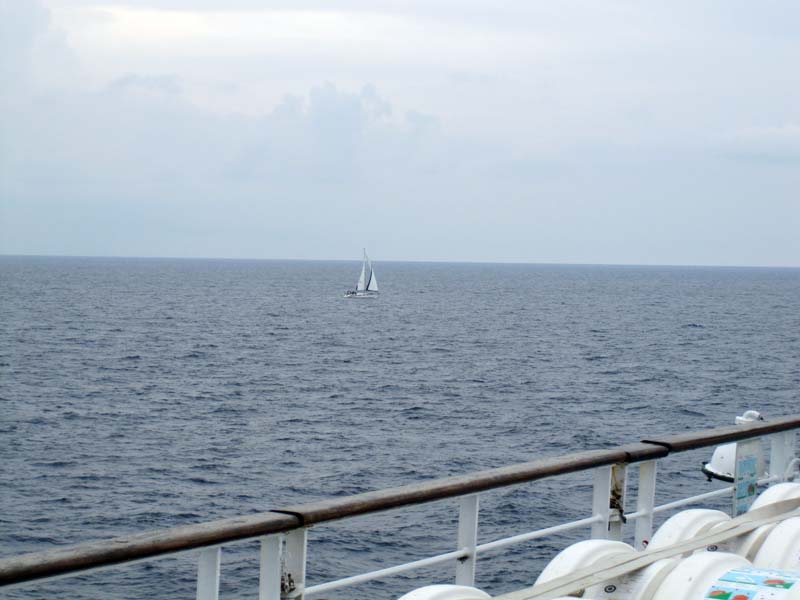 The Corsican Ferry is driven back and forth the 3 hour journey by one captain, then a special "harbor captain" or "harbor pilot" is brought in on a speed boat to drive the final little tiny bit as it docks. Here the speed boat has JUST dropped off the harbor pilot and is pulling away, this is done many times a day and they are very smooth at the whole operation.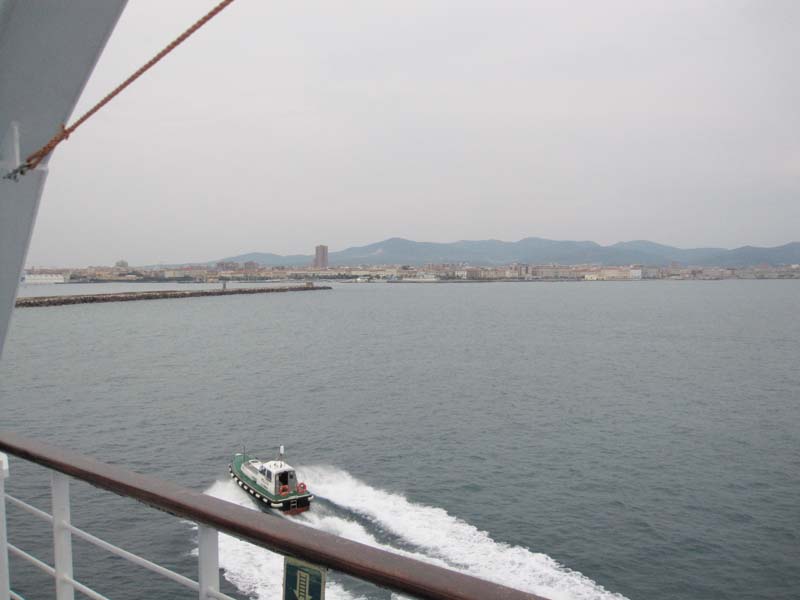 When we go back down into the ferry it is 110 degrees and the cars are just PACKED IN TIGHT. Look at the red circle below to see that I cannot even straighten the motorcycle off the center stand until the car pulls away.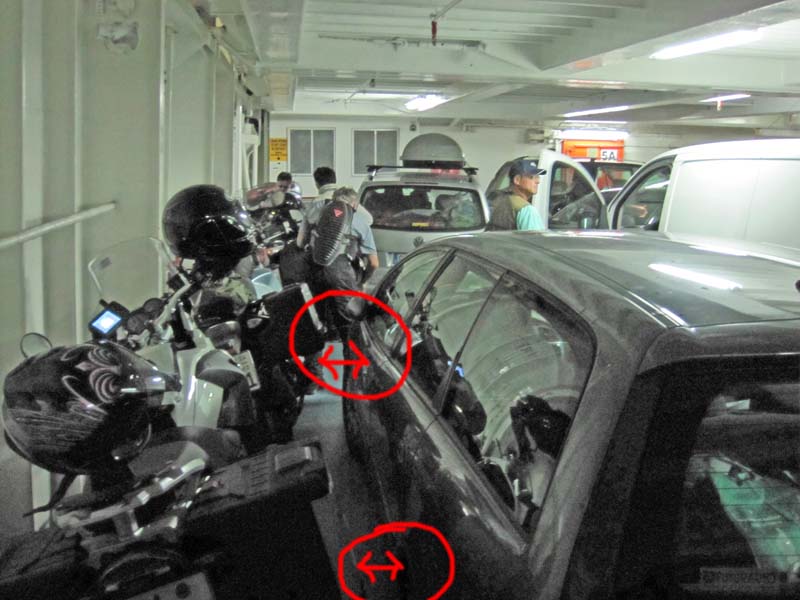 This car next to my motorcycle is towing a Zodiac style rubber raft. I only have this blurry picture. As he pulled away the rubber raft pushed up against my motorcycle, this is how tight it is on the Corsica ferry.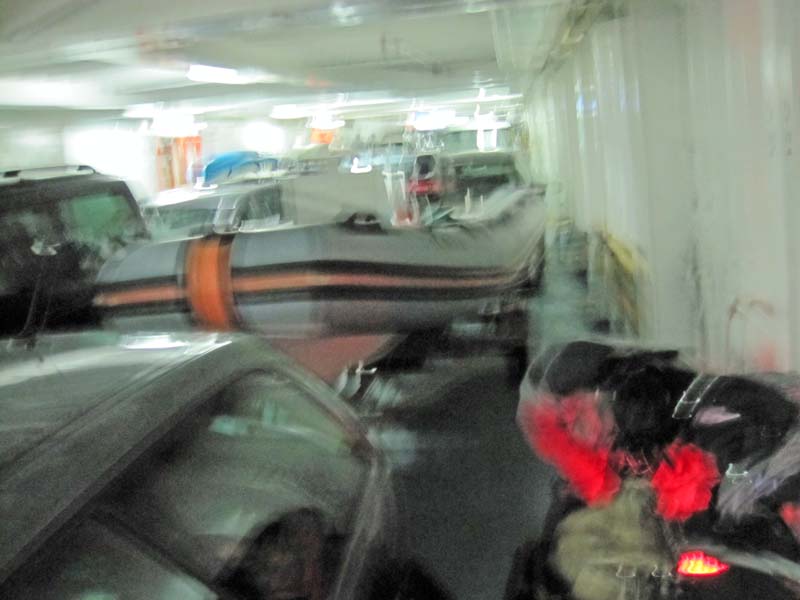 Late at night we finally get into Lucca Italy and have dinner that finishes up at about midnight. The ferry was two hours late in getting in, which is what caused the push into the late night. Below is Rob (Bud) on the left, and Rob (Doc) in the middle and Dana on the right almost cut off.
On the far left is Dana, Lisa, then Rob leaning in and Gretchen on the far right front in green. We are at Ristorante Rousseau il Doganiere in the town of Lucca Italy. Click here for a Google map of the location of Ristorante Rousseau il Doganiere in Lucca Italy.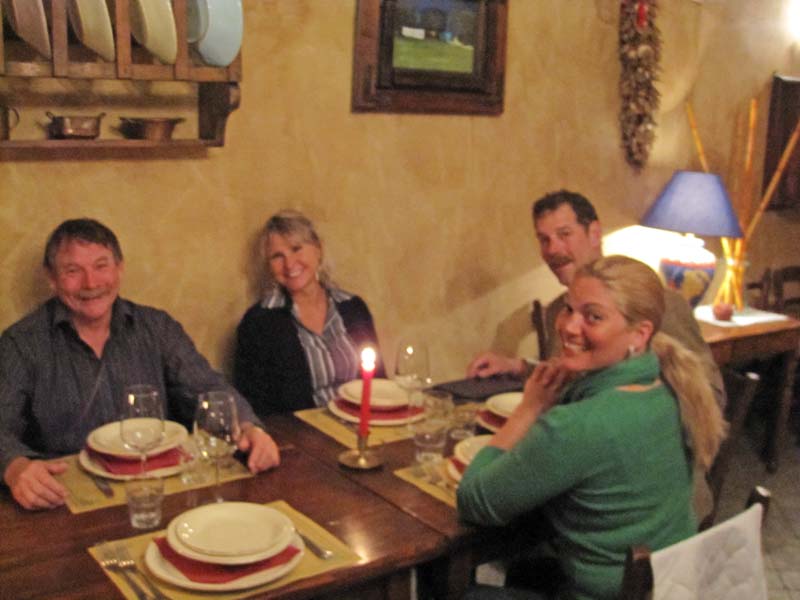 The rest of the table of tired by happy motorcycles in Lucca, Italy.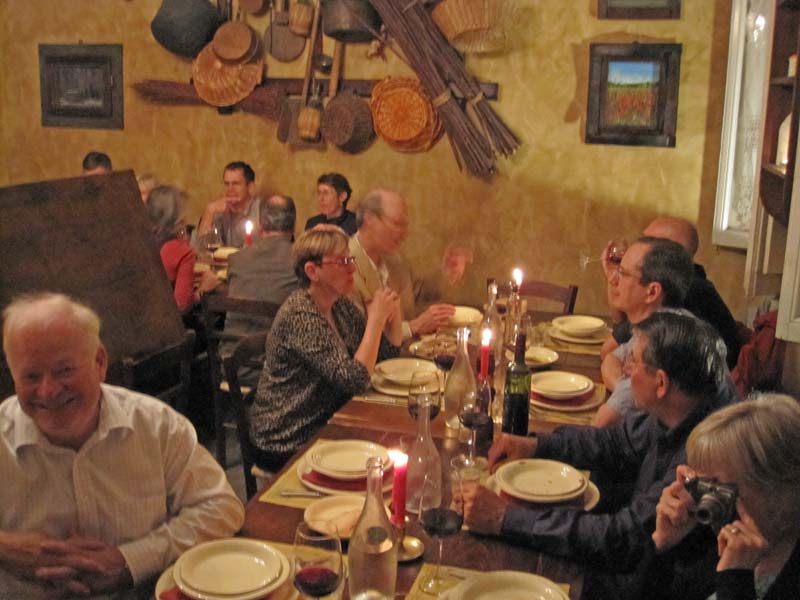 The final table of motorcycles at Ristorante Rousseau il Doganiere.
It is time to catch a cab to go home, and below is a picture of the front of the Ristorante Rousseau il Doganiere where I'm standing out on the street and Gretchen is leaning out the window.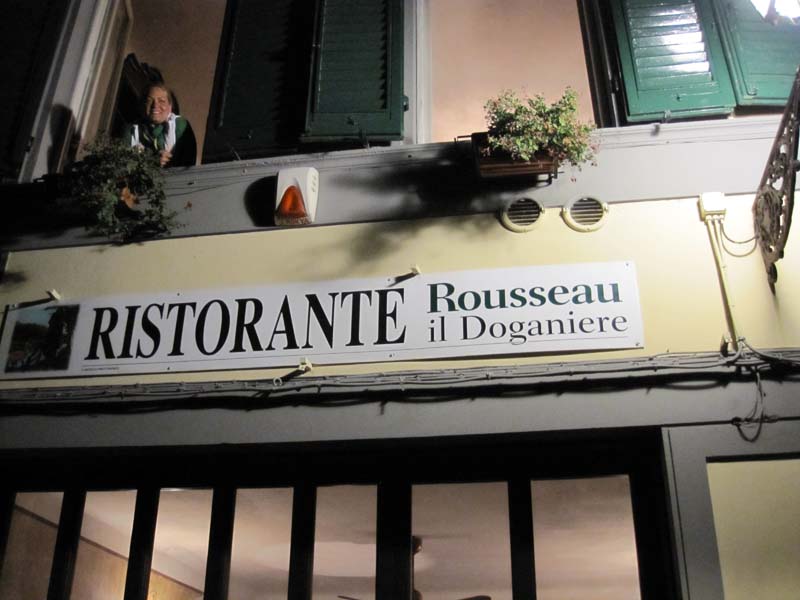 A couple minutes later, Gretchen bends forward to get in my picture of the street in front of Ristorante Rousseau il Doganiere in Lucca Italy.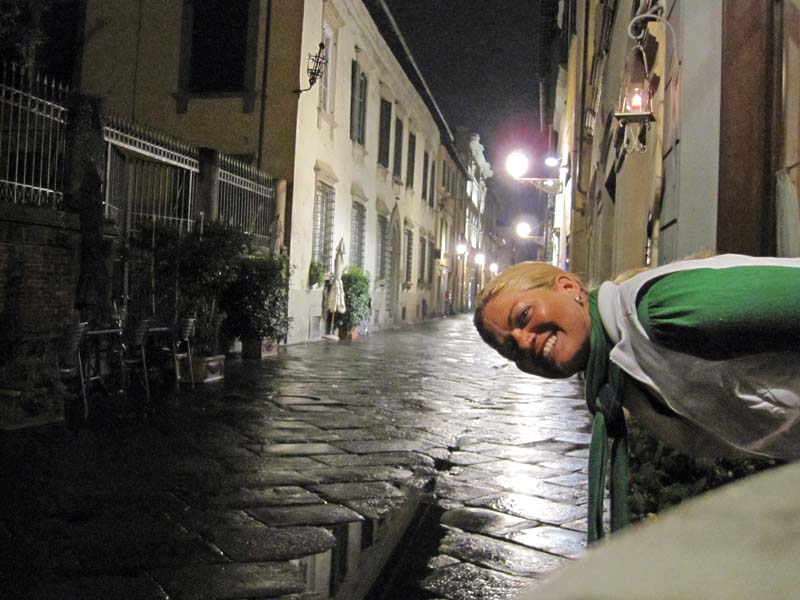 That's the end of 9/24/2010. The next morning we get up to walk around Lucca Italy which is a pretty town with an ancient medieval wall. Below we are eating breakfast in Hotel Albergo Celide in Lucca Italy. Click here for a Google map of the location of the Hotel Albergo Celide in Lucca Italy.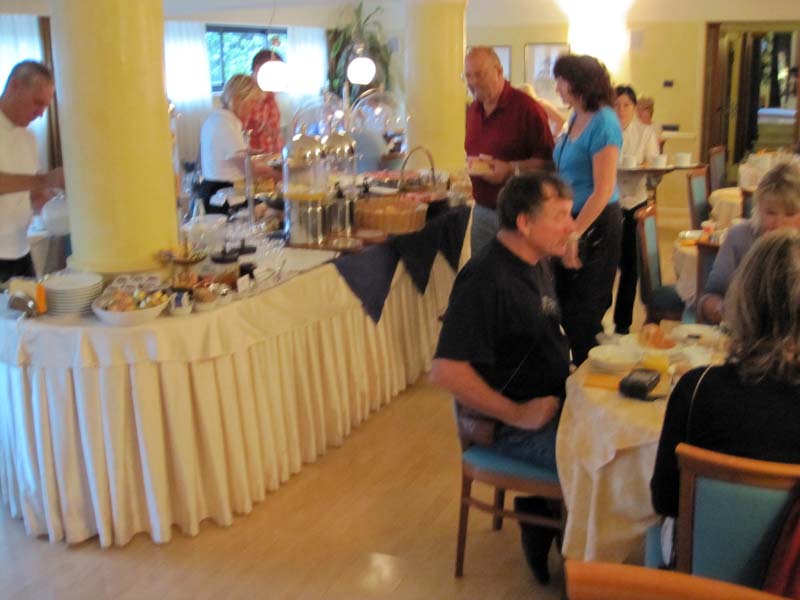 Lucca Italy is has a beautiful little old town surrounded by the original 14th or 15th century walls. Now you can stroll along the tops of the walls with a pleasant view as shown below.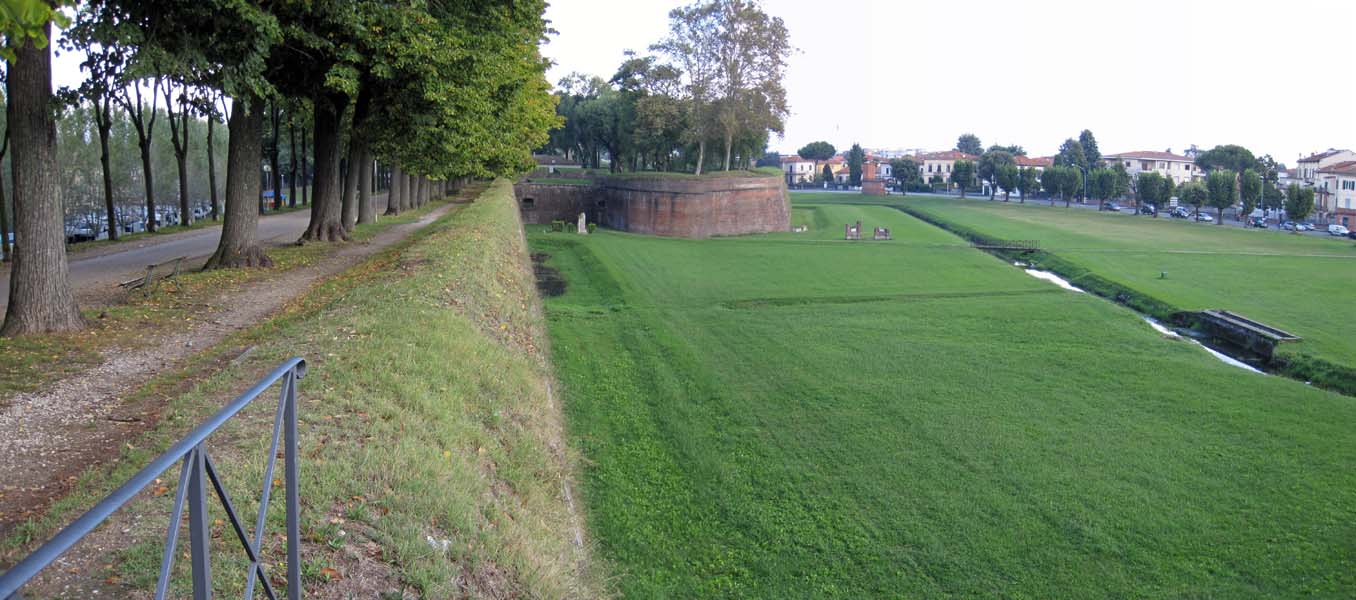 Another view of the old wall surrounding old town in Lucca Italy: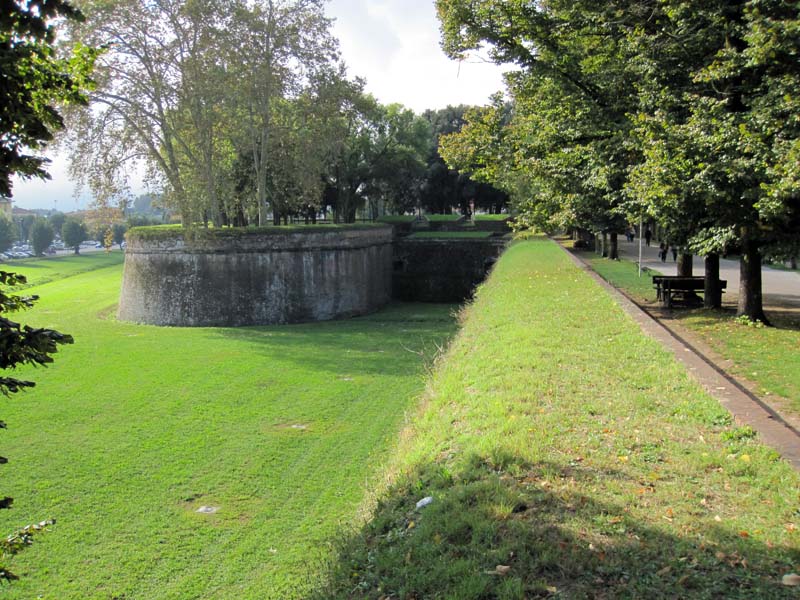 Another view: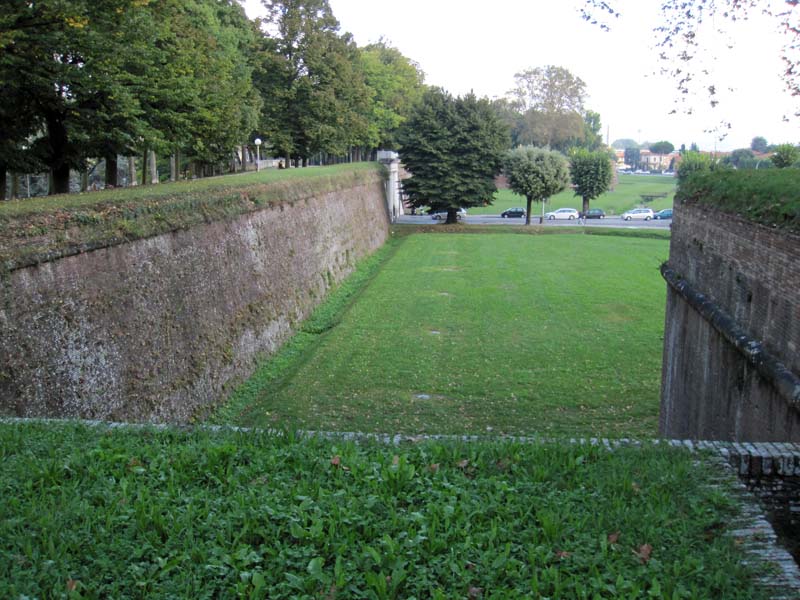 The old wall surrounding the old section of Lucca Italy has some murder holes and old iron gate entrances and storage areas, not sure any body knows what these areas were originally for.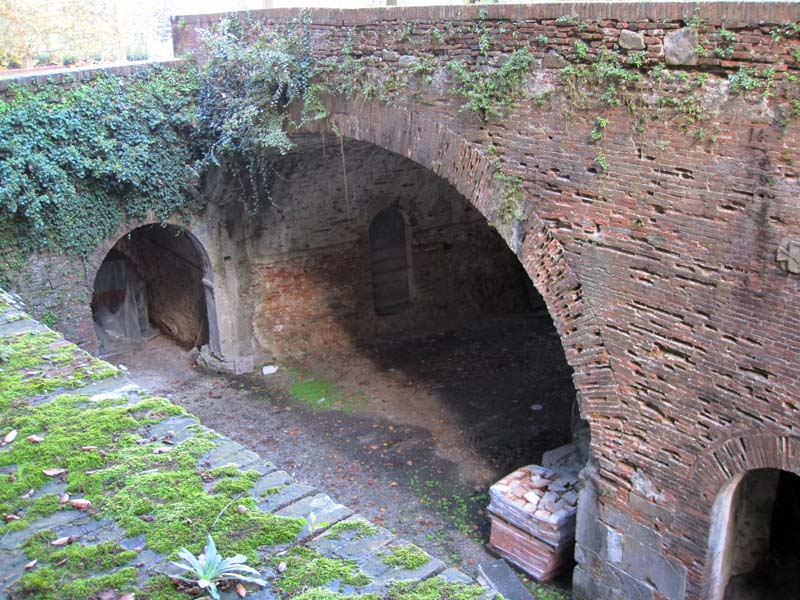 The back side of the original defensive wall in Lucca Italy has nice sloping walls and gentle stairways to walk up to get up onto the wall.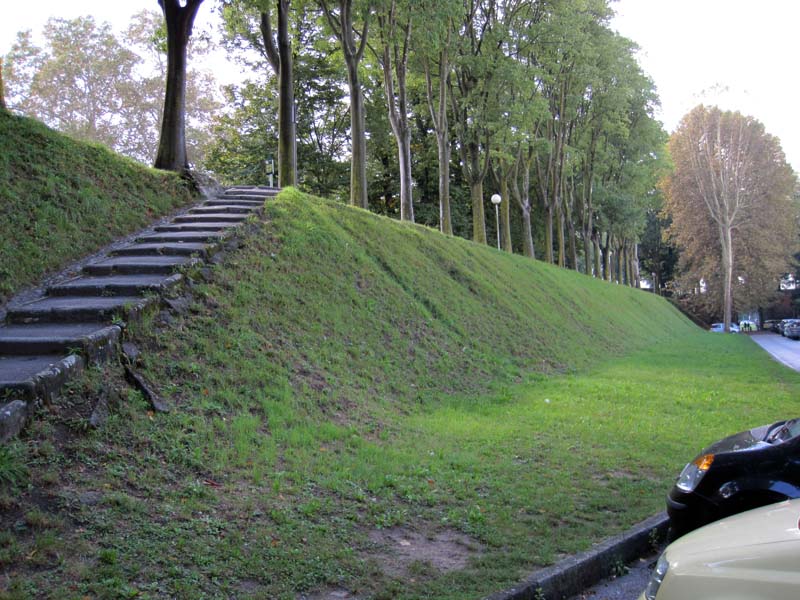 Katherine and I set off on our own for the last day of driving motorcycles, and here we are in wine country south of Florence, Italy.

A wind turbine outside of Florence, Italy: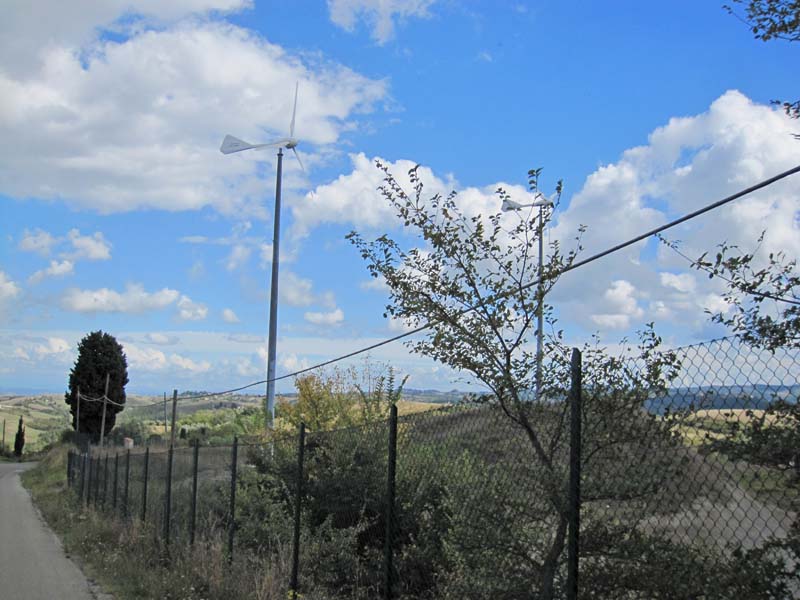 A random castle outside of Florence, Italy.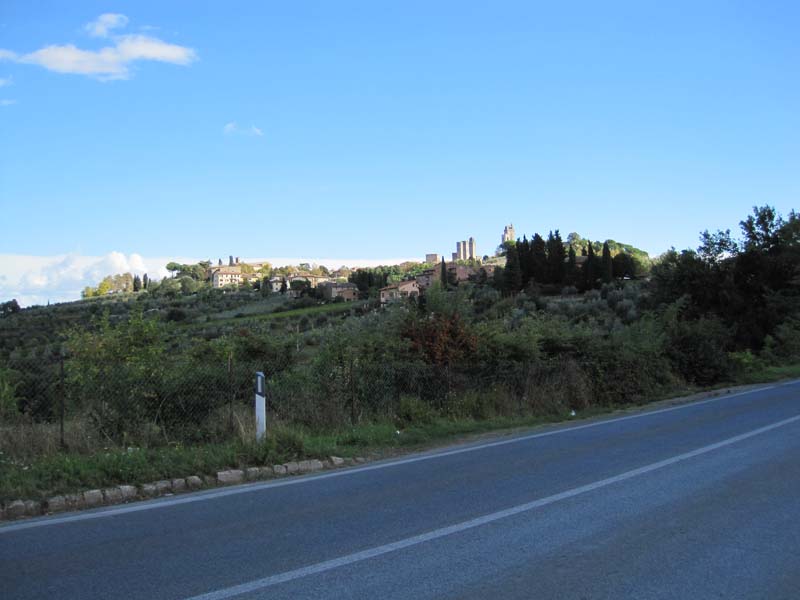 A close up of the random castle outside of Florence, Italy.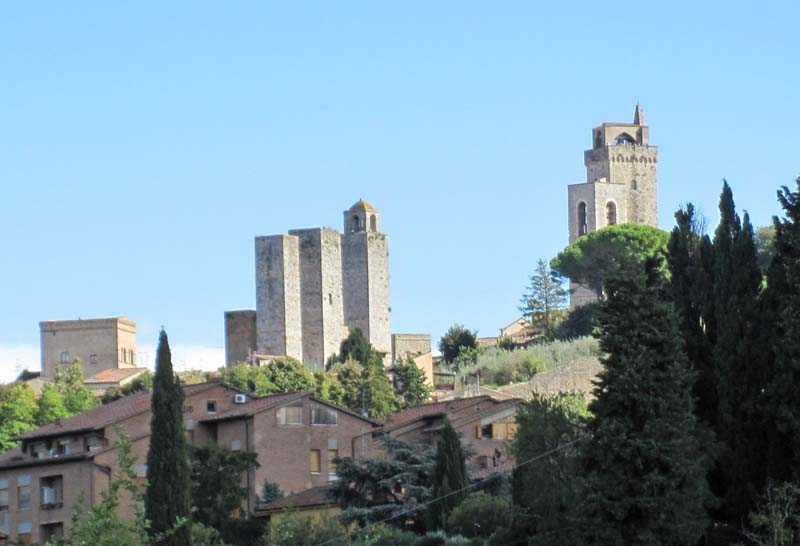 Katherine Chung drinking a red bull to wake up on the last day of motorcycling on our two week trip.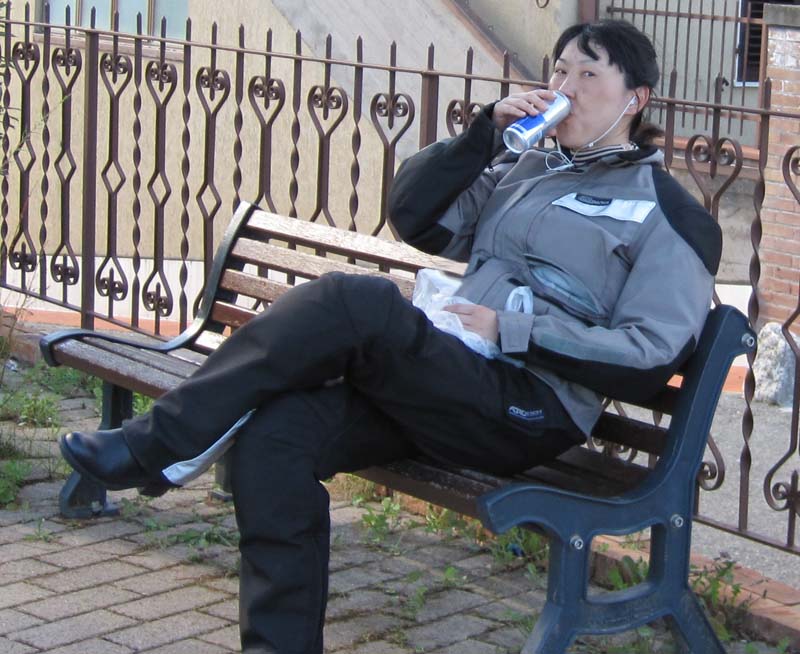 Motorcycling around Florence Italy.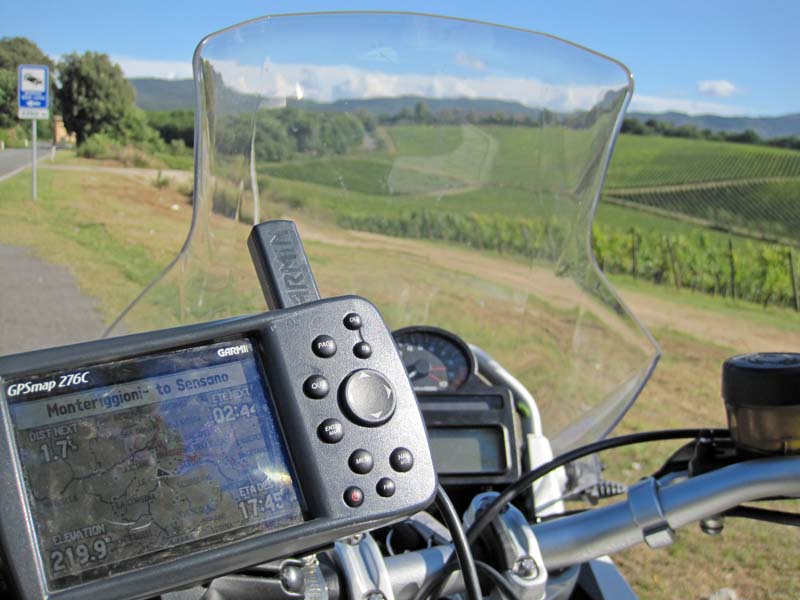 Some vineyards south and east of Florence, Italy.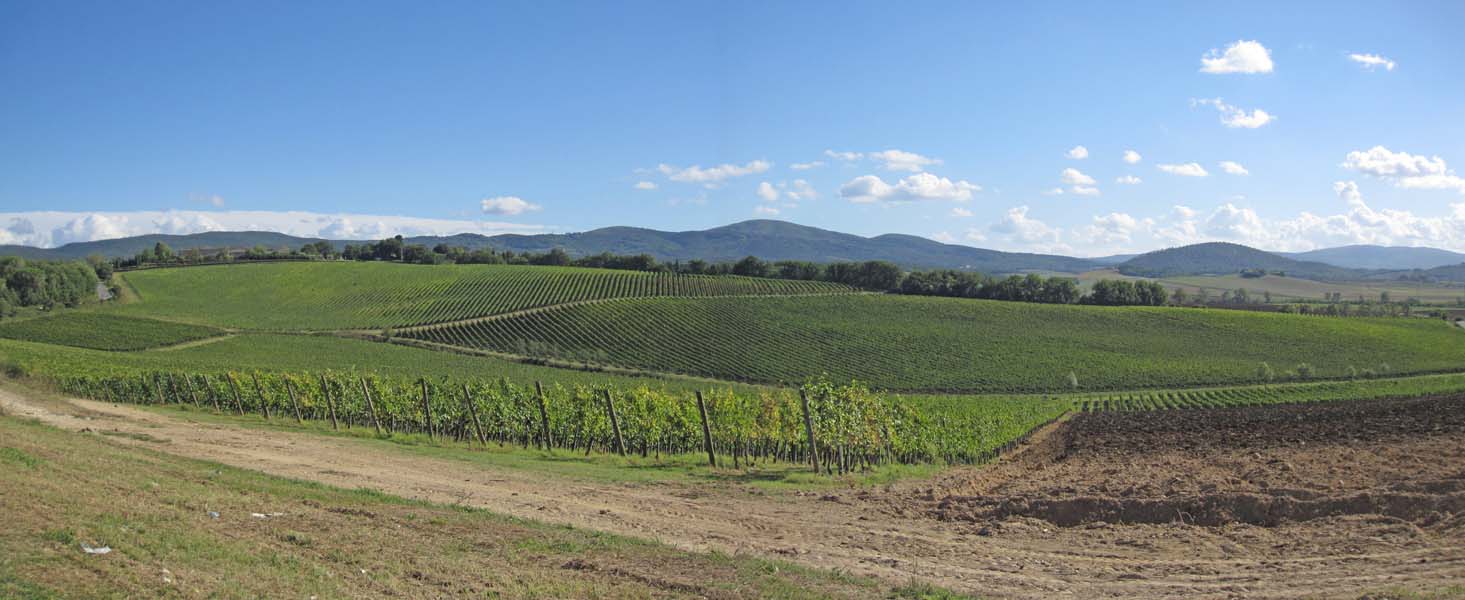 More vineyards.

Katherine and I stopped for Gelato at this little town.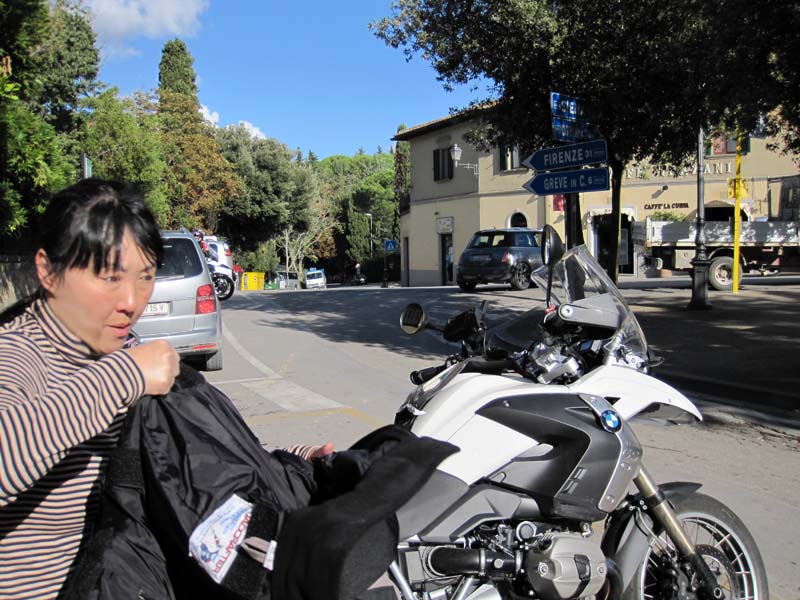 Caffe Terzani is where we stopped for Gelato (gelato pictured below);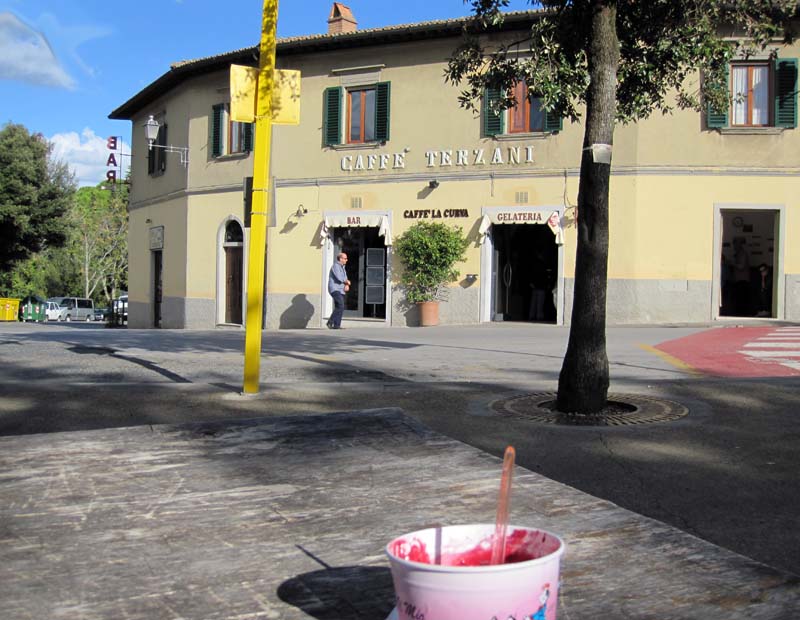 Katherine Chung puts on her motorcycle helmet in Piazzale Michelangelo which provides a pretty view over the city of Florence, Italy. Click here for a Google map location of the place to get a view over Florence Italy.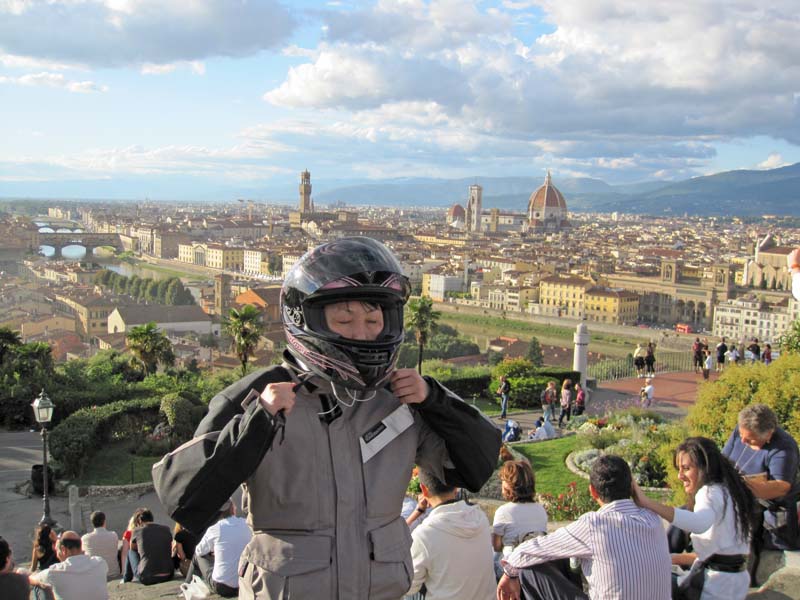 Brian putting on his gloves. Picture by Katherine: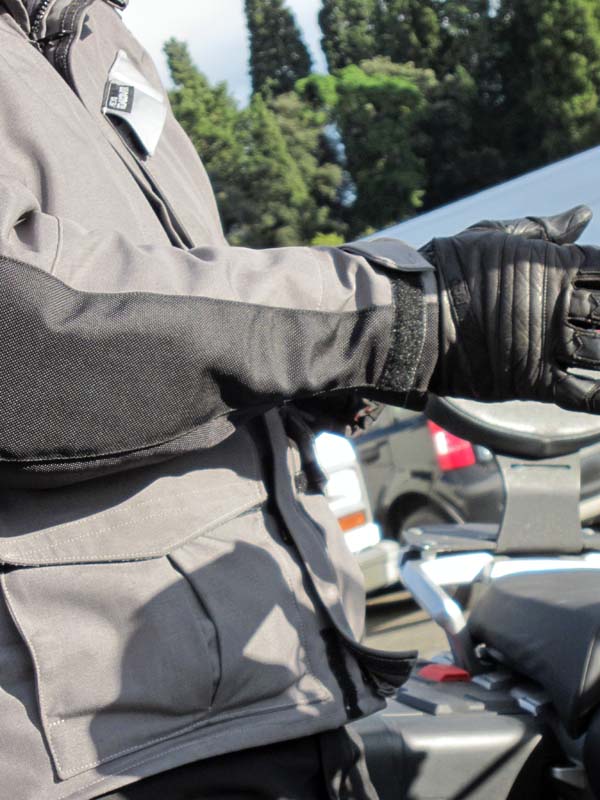 A couple takes wedding pictures overlooking Florence Italy from the scenic Piazzale Michelangelo.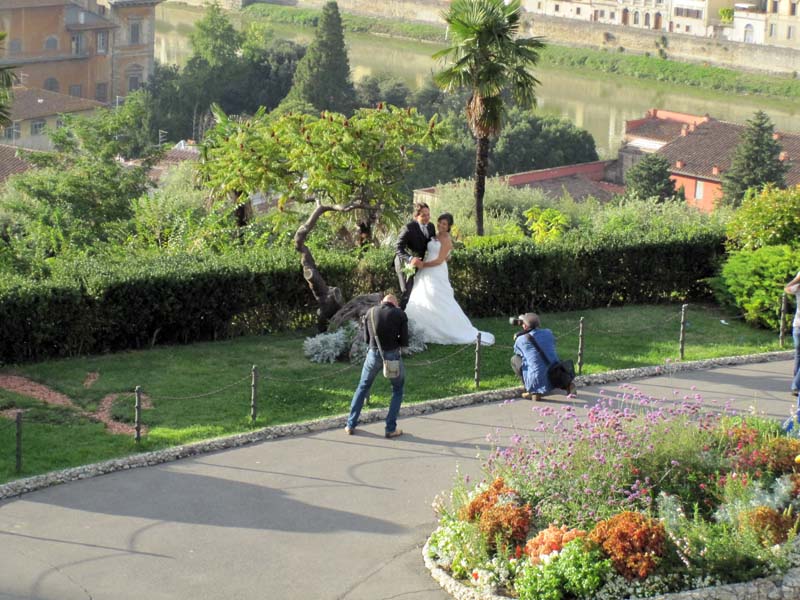 A panorama of Florence Italy taken from Piazzale Michelangelo.

Finally we end the trip by arriving at Hotel Villa Aurora in Fiesole Italy. Here is the group eating dinner, Steve Lange in blue facing the camera.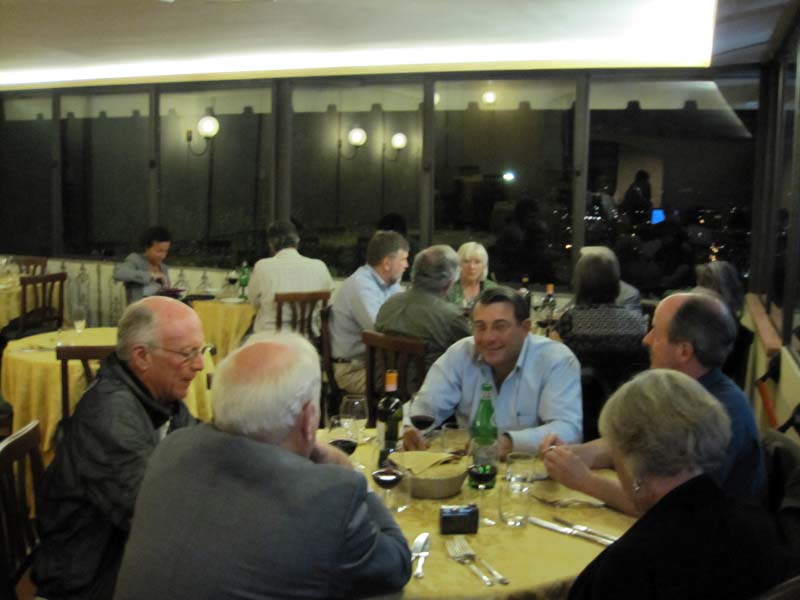 Rob Beach (owner and tour guide of Beach's Motorcycle Adventures) stands up to make some comments and hand out some awards.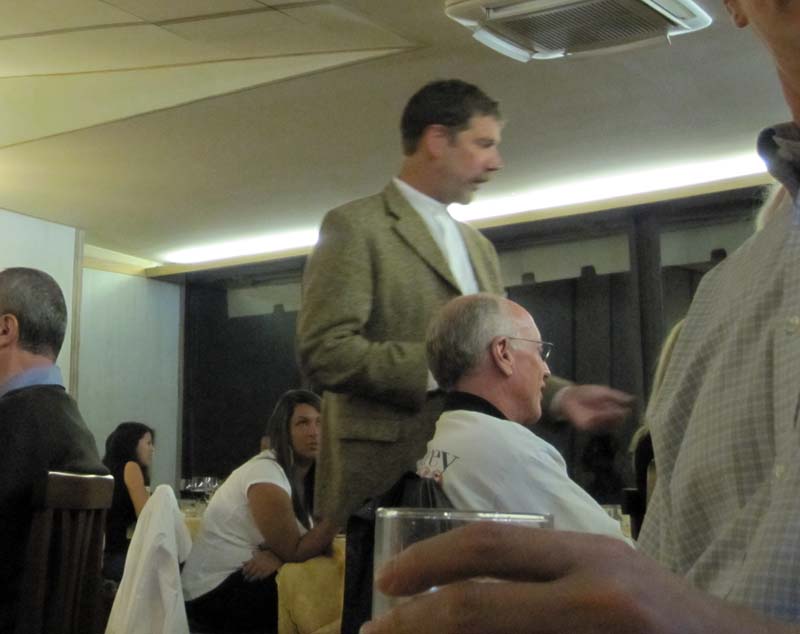 Here is my scanned award. This is my 6th tour with this tour guide (7th European Motorcycle trip in my life).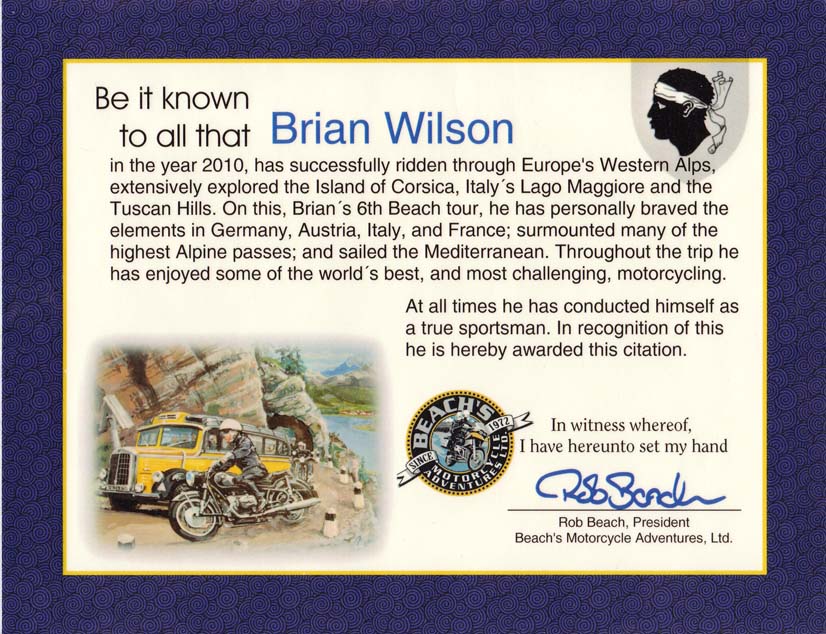 That's the end of 9/25/2010. The next morning we get up and fly home! Below is Florence Italy from our hotel garden.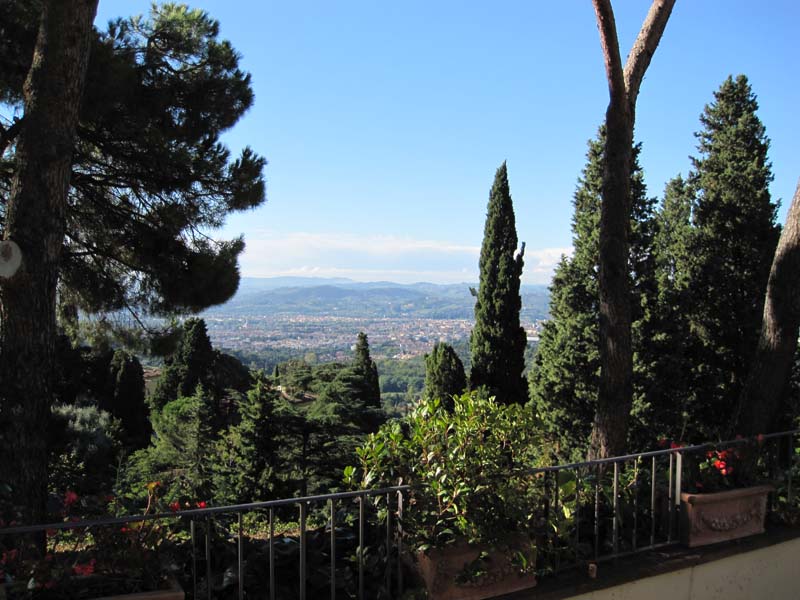 As I pack to go home, it is time to bury my old friends, the motorcycle boots that have come apart on this trip (the sole disintegrated with time and was repaired but just can't hold anymore). These boots have kept me warm and safe and been with me through motorcycling through the 14 countries below over the last 11 years and I loved them dearly. There was no reason to bring them all the way home just to throw them away, and I felt it was a fitting tribute to bury them in Italy which has some of the most scenic, spectacular, aggressive, and challenging motorcycling in the world. You served me well - now Rest In Peace my old friends.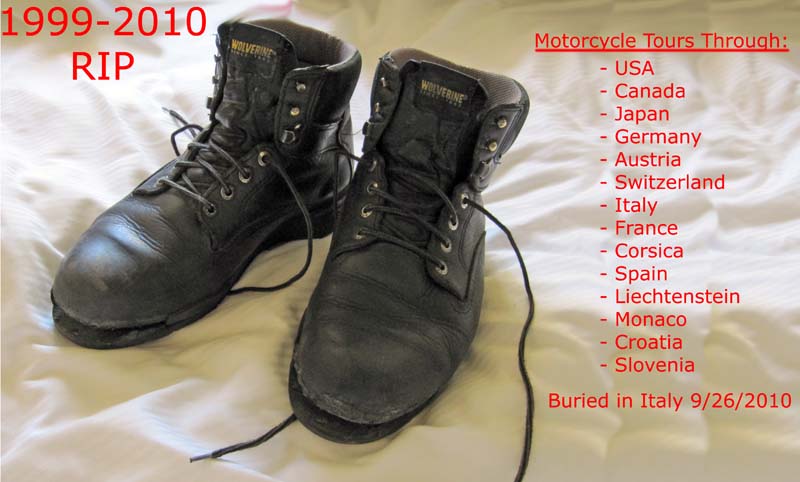 We load up in the Taxi to go to the airport. These taxi drivers are really amazing to navigate and survive driving in Florence Italy day after day.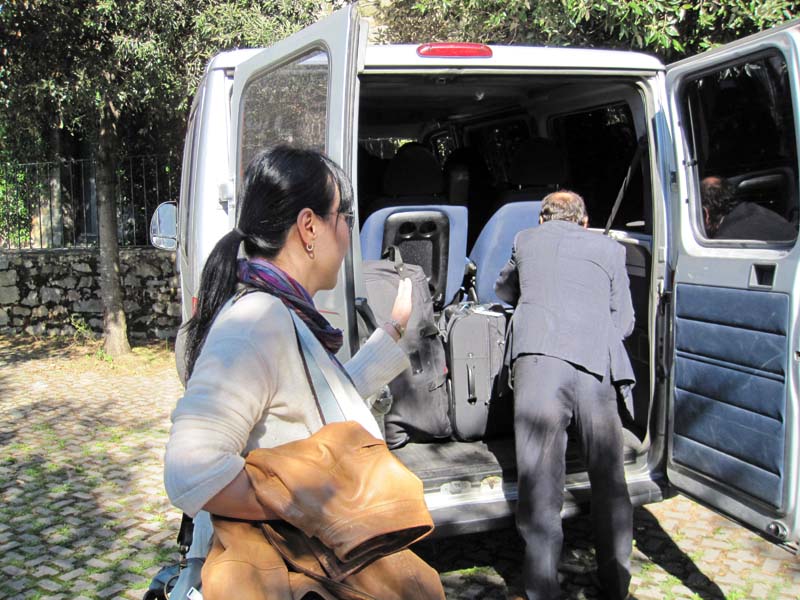 Here we are on our way to the Florence Italy airport.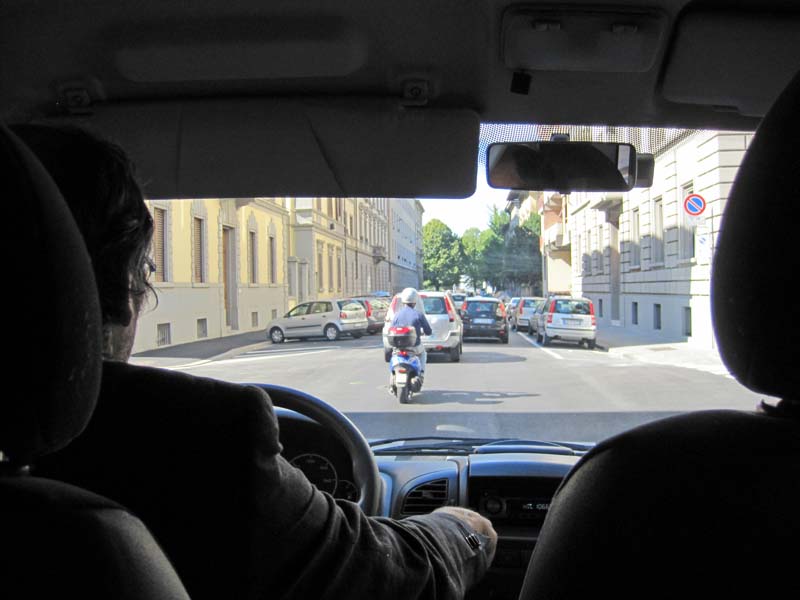 And airborne! Bye bye Europe!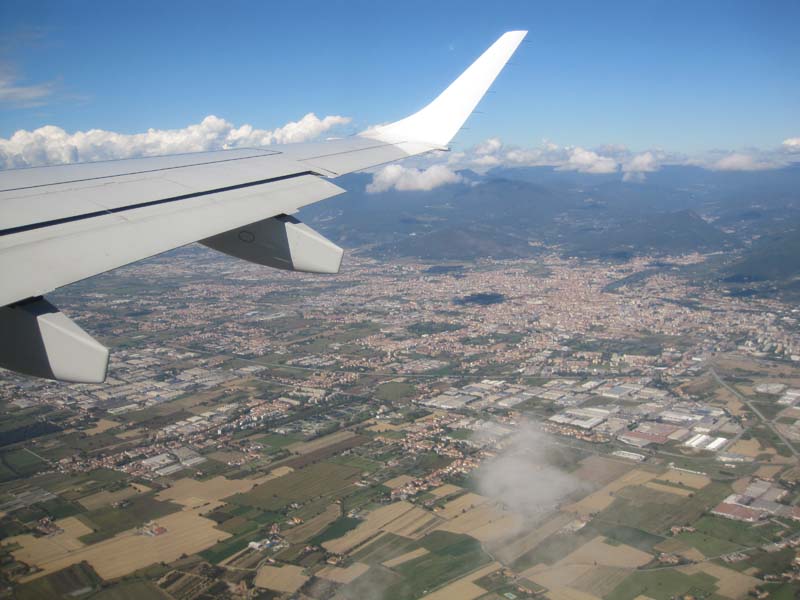 And hello San Francisco: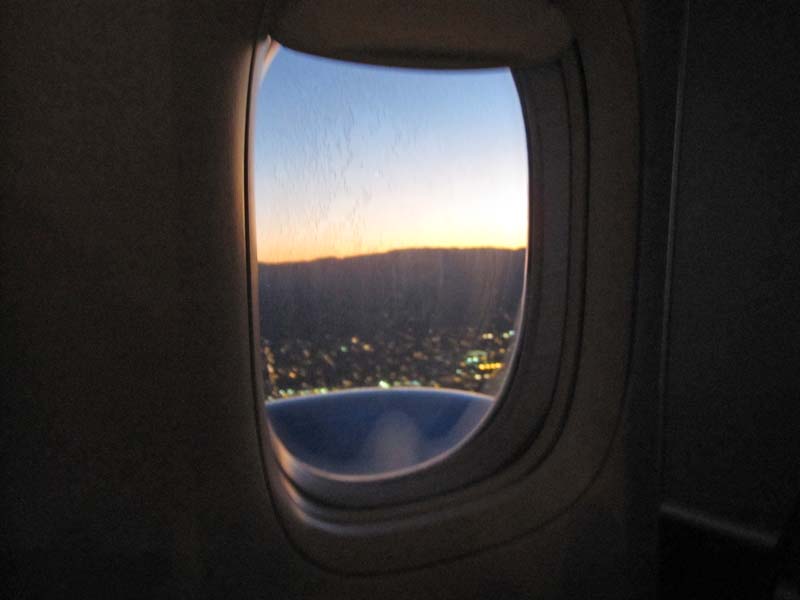 Waiting for a taxi in San Francisco airport, that's our luggage we (ok, mostly Scott Keeler, thanks!) lugged all over Europe and Corsica.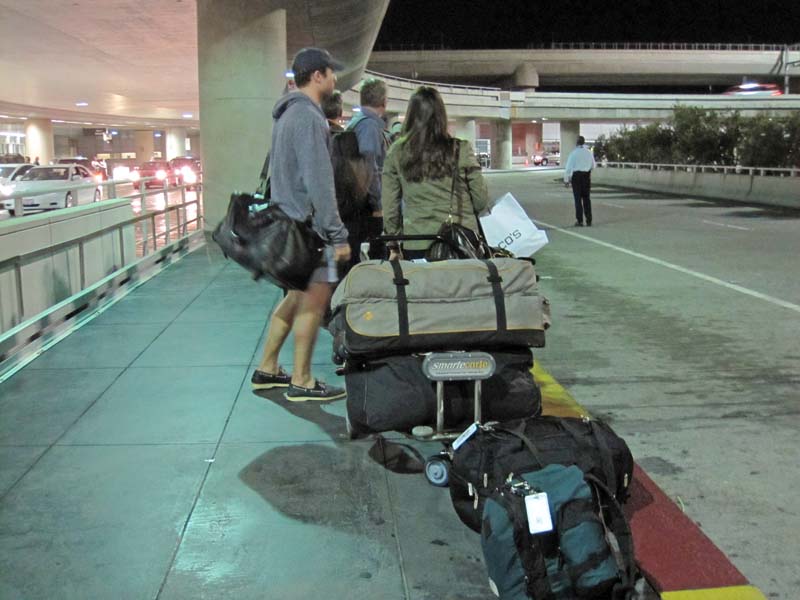 And we're done! I hope you enjoyed a little of the content on these pages, I enjoyed creating them.
Return to 2010 Europe Motorcycle Trip Top Level