2006 Canada Motorcycle Trip (Picture Set 7/8/06 - 7/10/06)
(7/8/06-)
On this page are pictures and descriptions from 7/8/06 - 7/10/06. Click on any picture or panorama for an ENORMOUS version. Click here to go to the homepage and get a description of what this is all about.


(Read a personal description of Backblaze here.)
Packed and ready to launch! This seems to be what I'm taking for a 3 week trip. Hope I didn't forget anything...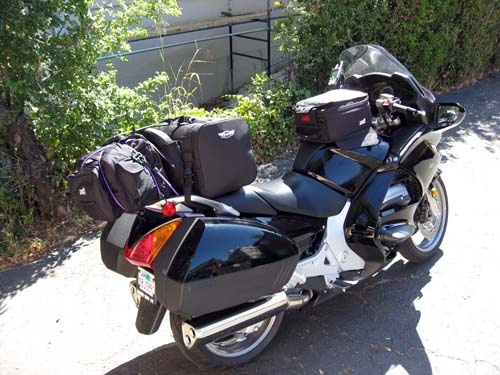 A quick 30 minute ride up California Highway 280 later, here I am about to cross the Golden Gate bridge (picture from the tourist viewpoint just south of bridge).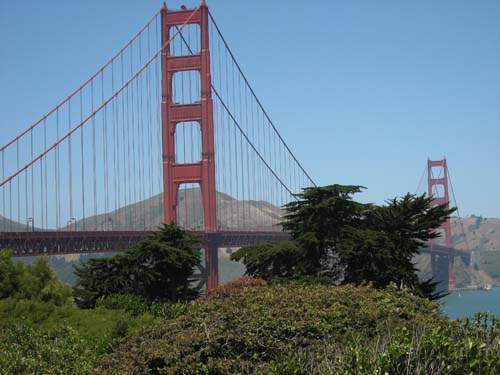 Across the Golden Gate, and finally reach California Highway 1 just north of San Francisco. It's 70 degrees, no cars, and wide open.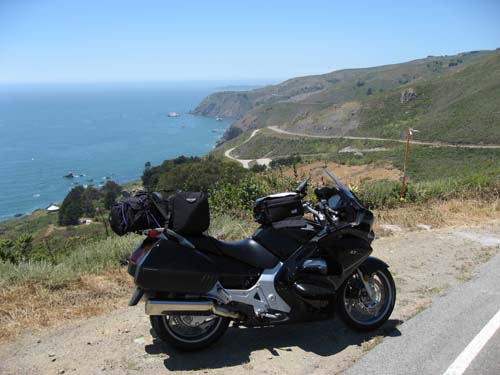 I stopped for lunch in Bodega Bay at this little pier/restaurant.

Several hours later, entering Fort Bragg (Casey's hometown, I have never been here before).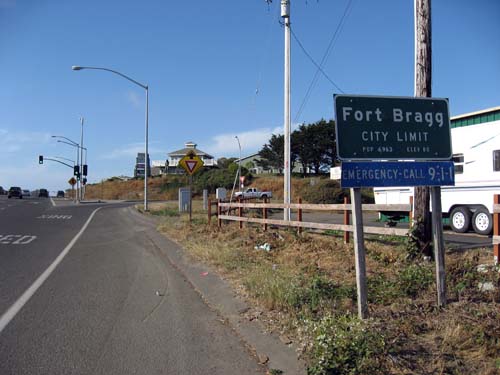 At the very top of California Highway 1, just south of Eureka, it joins up with 101. The section of road on highway 1 leading up to 101 is spectacular motorcycle road. At this point my trip has about 230 miles on it.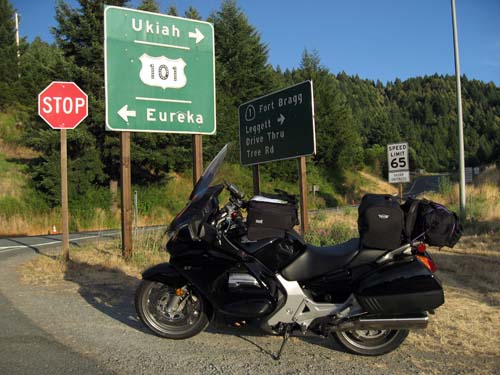 I stayed the night of 7/8/06 at the lovely Motel 6 in downtown Eureka. I met a couple of nice motorcyclists out from Wisconsin when I pulled in. I'll probably be chasing them all the way back to Wisconsin along Highway 2 up along the Canada border.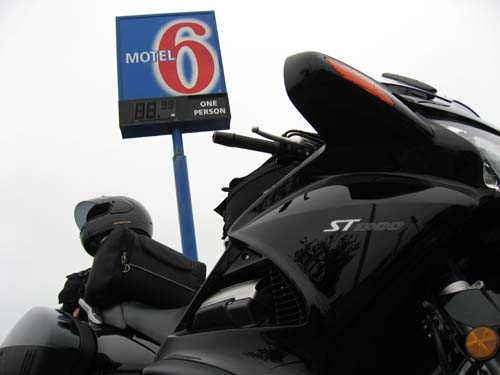 The next morning (7/9/06) I got up early and road the 4 hour loop of east on California Highway 36, then back to the coast west on California Highway 299. Highway 36 is famous, and listed on http://www.pashnit.com as "the best road in California". It was pretty fun, extremely long and uninterrupted, and I have to admit there weren't any cars (or cops) to be found anywhere on it, and this was on Sunday! But I'm not willing to call it "the best", there are other roads that are also very very fun in different ways. If you like sweeping fast 35-45 mph turns (taken at 55-65 mph), highway 36 is probably the best, but if you are looking for more challenging 15 mph hairpins you won't find any on this road. Below is a picture of my bike at the turn-around point near Weaverville.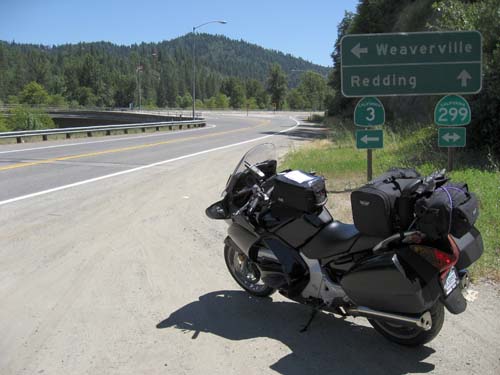 Whew, after a 4 hour loop going in a big circle, I stopped in Trinidad, California for lunch. I have never been here before, it's small and beautiful. Below is a panorama of the Trinidad Harbor from up in the town.

I ate lunch down on the pier with this view (restaurant just behind me in this photo).

Heading north, here I am crossing over into Oregon (where I was born).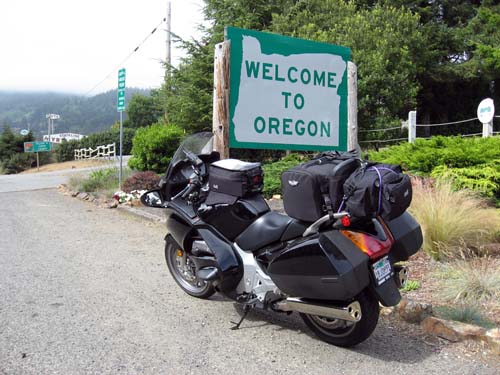 In this picture along the Oregon Coast, Highway 1, you can see "Heceta Head Lighthouse" in the background.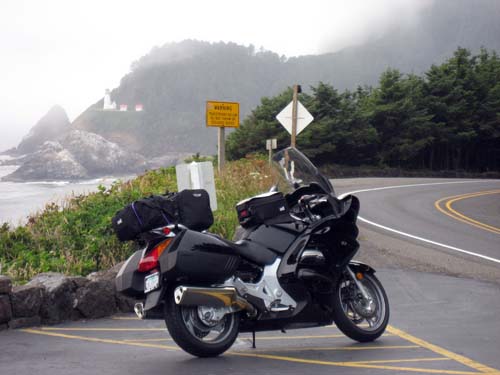 Same picture as before, just trying a panorama.

Another mile down the road, and this sign explained what this was. I followed the sign down to the beach.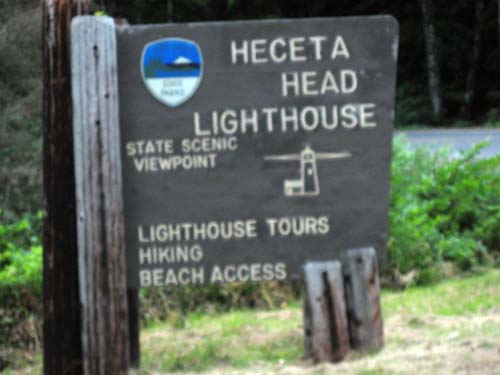 Picture down by Heceta Head (the lighthouse is hidden). The reflectors on my ST1300 are glowing because the flash went off, because the sun is going down. It's about 8:15pm when I took this.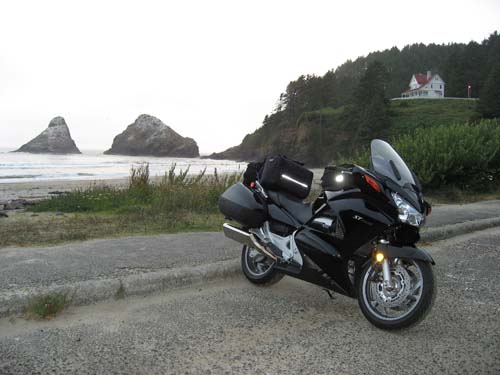 Same picture as above, just trying a panorama for effect.

I turned right at Waldport, Oregon, on Oregon Highway 34 (the "Alsea Highway"). This photo is of the summit sign that says "Summit Coast Range, Elevation 1230". If you look closely at the dash of my ST1300 motorcycle, you can see that this picture was taken at 10:17pm and that I have driven 1,448 miles in the first two days of my Canada trip, and I haven't found Canada yet! (Click on the picture below to read the dials.)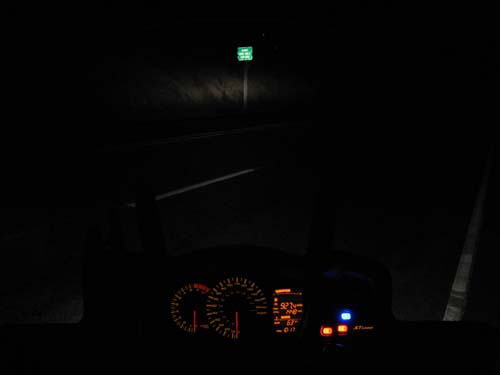 A mile or two later, a sign to Marys Peak, Oregon. I'm only a few miles from my home, Marys Peak was where I first learned to drive corners on a motorcycle. It's the highest point in the Oregon Coast Range at 4,097 feet, and the road leading up there is the most like the European Motorcycling Alps that you'll find within 30 miles of Corvallis, Oregon. :-)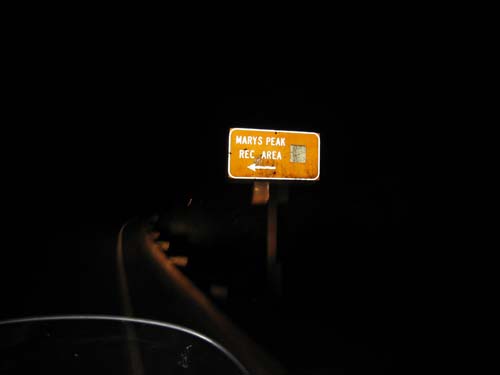 I arrived into Corvallis on 7/9/06 at 11pm. That was a LONG, wonderful day of riding (about 14 hours).
The next morning, 7/10/06 here is a picture of my ST1300 in front of my parent's house.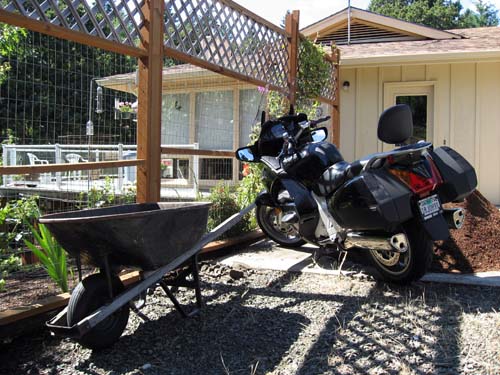 Below is a panorama of my my parents main living area.

And their deck.

And my parent's dog Benji.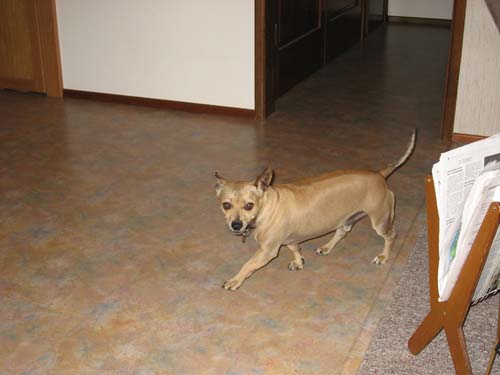 (Read a personal description of Backblaze here.)
Return to 2006 Canada Motorcycle Trip