2006 Canada Motorcycle Trip (Picture Set 7/11/06 - 7/13/06)
(7/8/06-)
On this page are pictures and descriptions from 7/11/06 - 7/13/06. Click on any picture or panorama for an ENORMOUS version. Click here to go to the homepage and get a description of what this is all about.


(Read a personal description of Backblaze here.)
On the morning of 7/11/06 I drove by Salem, Oregon to see Bruce and the sod farm I still own a little part of. In this picture I stopped by "Bethel School District 24 J" which is the one room school house where my father went to school outside of Salem, Oregon.
Here is Tyler Wilson hard at work on my land (actually I share ownership with about 9 other cousins on this land). They are cutting the sod to be delivered to people's homes for their yards.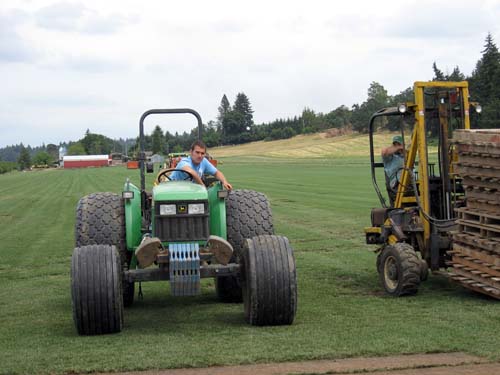 This was a hill of trees my whole life, but the trees needed to be harvested (got too old) so Bruce had them cut down.

Later that day (7/11/06) I met up with some old friends of Omar Steinberg and Sarah Steinberg in Portland, Oregon. They are brother and sister. Below is a picture of Omar and Sarah.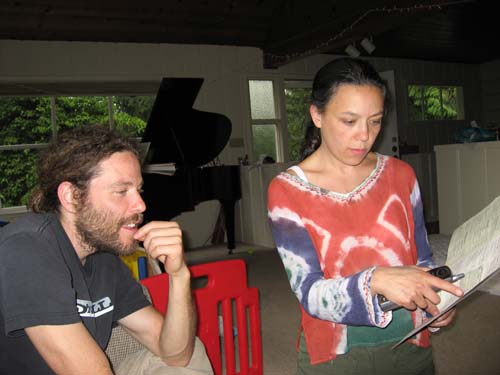 The next morning (7/12/06) I got up early in a little Oregon fog, and drove up the Columbia River Gorge to my sister and brother in law (Mark & Cheryl) in Clarkston, Washington. I had driven the Gorge on the Oregon side many times, so I decided to take the Washington side on my motorcycle which is Washington Highway 14. Here is a picture along the gorge on Highway 14 (Washington side of Columbia) in the morning fog, very pretty.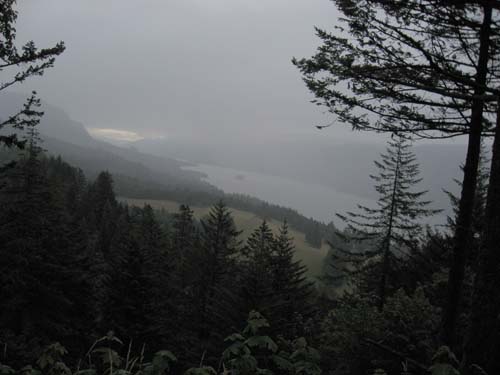 A panorama from the same spot on Highway 14 (Washington side of Columbia).

A little further along on Highway 14 (Washington side of Columbia) at the first dam. Oregon gets a huge amount of power from hydro-electric, and a lot comes right out of this river (the Columbia). This is the Bonneville Dam.

Google is building a $2 billion datacenter in "The Dalles, Oregon". Here is a little sign marking the spot. Google is building it here for the cheap power, and the river to supply water for cooling towers.
Here is a picture of "The Dalles Dam" which is why Google came here. Cheap clean power, plus water for cooling the world's largest datacenter.

Random panorama of the Columbia River Gorge.

Further along, another dam. This one is the "John Day Dam". This photo taken from Washington Highway 14, the Washington side of the Columbia Gorge.

A boy and his dog (Nathanael, my nephew, and the family dog Molly).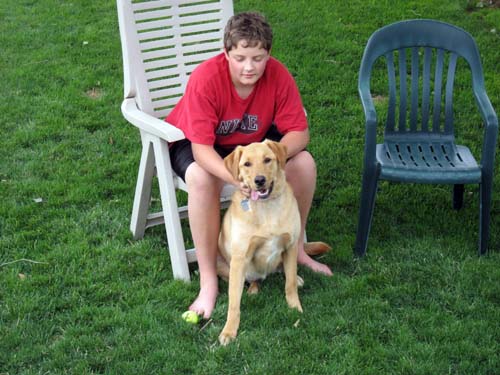 A panorama of Cheryl and Mark's back yard.

I took Katie (my niece) for her very first motorcycle ride. Look closely at the floppy tiger ears on my helmet.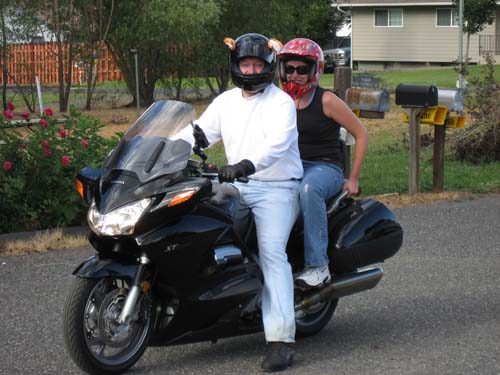 Then I took Nathanael on his first motorcycle ride.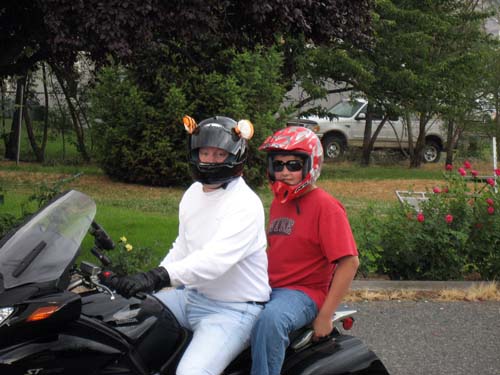 The next morning (7/13/06) I got up and drove up to Tonasket, Washington on my way to Canada. My cousin Doug and his wife Mariliz live in Tonasket. Mark recommended some roads and routes to get there, and below is a picture of what the motorcycle drive was like. COMPLETELY open, no cars for hours on end, endless twisty roads in fabulous new condition going off into the distance. Below is a section of Highway 261 in Eastern Washington.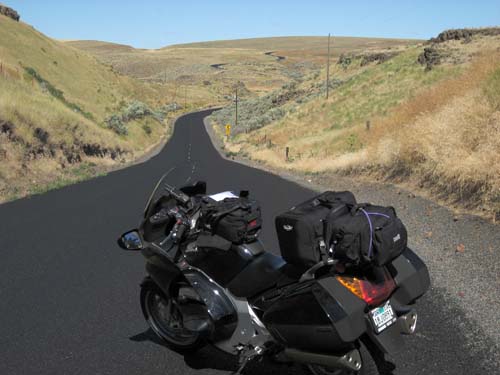 I stopped trying to get an internet connection at this Starbucks in the middle of nowhere, Eastern Washington. I think this is "Moses Lake". I didn't get an internet connection, but the coffee was good.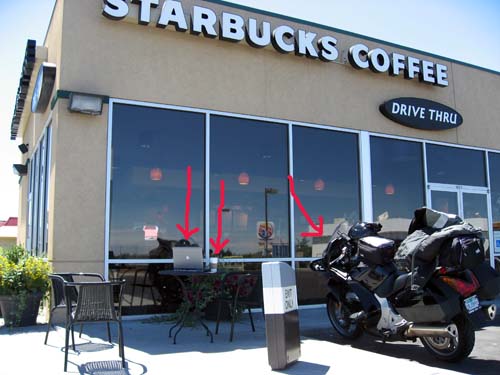 I arrived at Doug & Mariliz's home in Tonasket around 5:30pm. Below is Mariliz and their two dogs greeting me. The dogs names are: Joy and Roxy.
The whole family: Doug (my cousin), Mariliz, and their two children Camille and Angelina.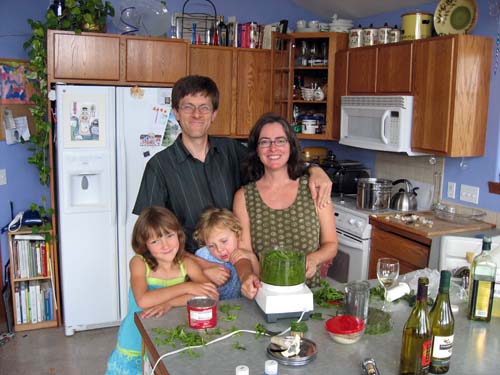 This is a panorama of their home & property just outside of Tonasket. The view out their living room is of their property, which ends down at the line of trees you can see peeking over the white railing.

A panorama from outside of their property, which is about 32 acres.

Camille and Angelina holding one of their cats, Daisy.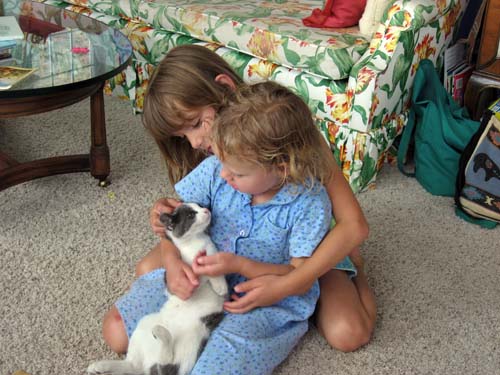 Photo from their back deck.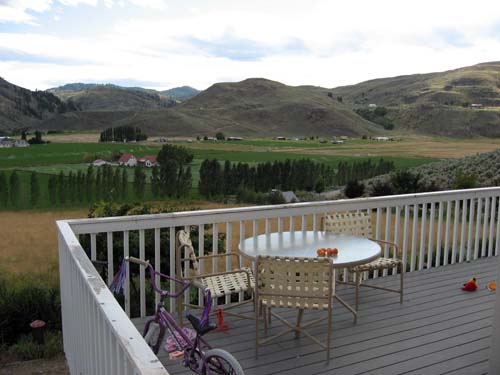 On the morning of 7/14/06, Marizliz, Camille, and Angelina and I walked up their hill to view the town of Tonasket. Below is a panorama including Mariliz, Camille and Angelina and in the background is the town of Tonasket.

As we walked back down to Doug and Mariliz's home, I took this photo. You can see their home closest, and the valley behind.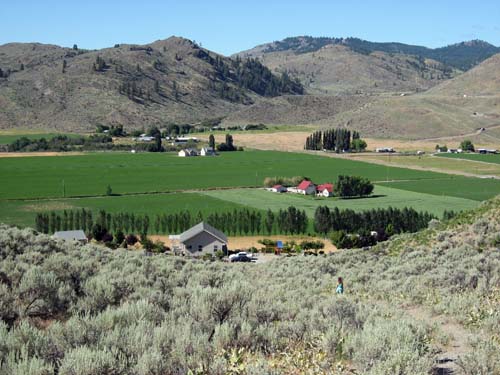 Getting ready to ride out, this is Camille playing with my motorcycle helmet.
Then Angelina playing.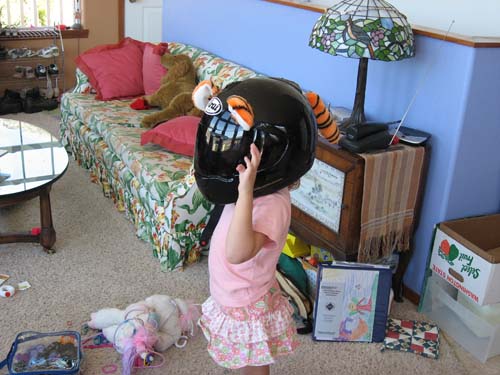 Click Here for Next Set Of Pictures
Return to 2006 Canada Motorcycle Trip


(Read a personal description of Backblaze here.)