2006 Canada Motorcycle Trip (Picture Set 7/18/06 - 7/21/06)
(7/8/06-)
On this page are pictures and descriptions from 7/18/06 - 7/21/06. Click on any picture or panorama for an ENORMOUS version. Click here to go to the homepage and get a description of what this is all about.


(Read a personal description of Backblaze here.)
I spent the day of 7/18/06 in Calgary, getting the motorcycle serviced and resting.
In the morning of 7/19/06, I left Calgary and backtracked a little driving my motorcycle to Banff on Highway 1 (Trans Candadian Highway) and then Canada Highway 93 South through the Jasper Park to Radium Hot Springs.Radium Hot Springs. From there south on Canada Highway 95 to Sparwood, then East on Canada Highway 3 through Fernie and Crowsnest Pass. About then it got pretty flat and pretty straight, and I booked east on Canada Highway 3 to spend the night in Medicine Hat, Alberta, Canada. Below it shows the route as "A", "B", "C", "D".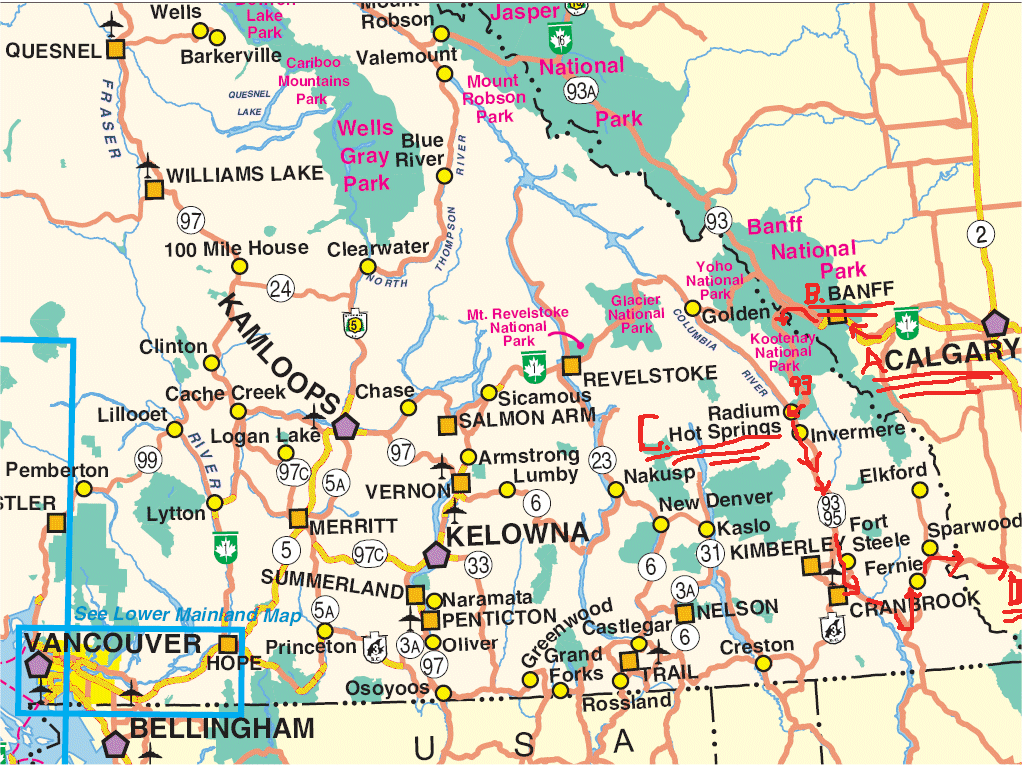 The drive down Canada Highway 93 (from "B" to "C" on the map above) includes going through the Jasper Canadian National Park, and crossing the continental divide. Here I am at the continental divide with my Honda ST1300 motorcycle.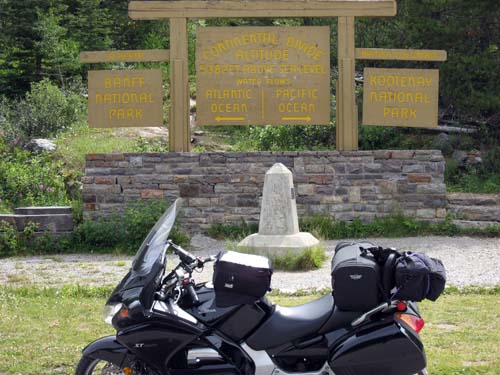 Close ups of some signs in Jasper Canadian National Park near the continental divide. Click on these to zoom up to a more readable version.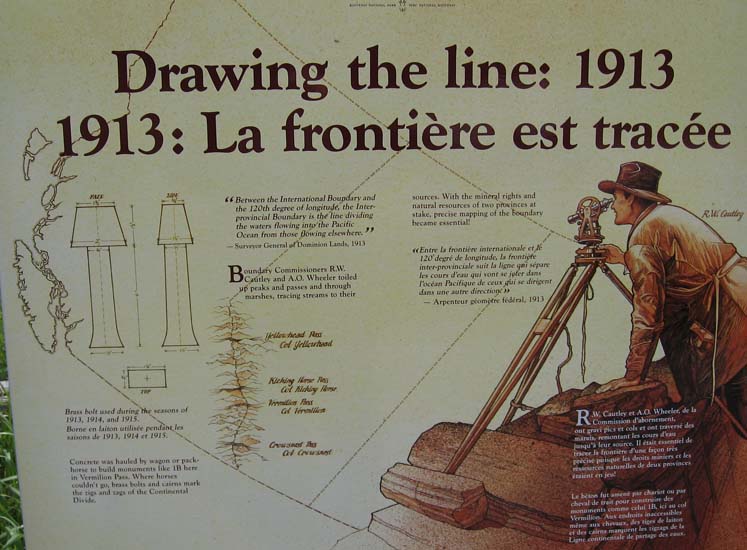 Another close up of some sign in Jasper Canadian National Park near the continental divide. Click on these to zoom up to a more readable version.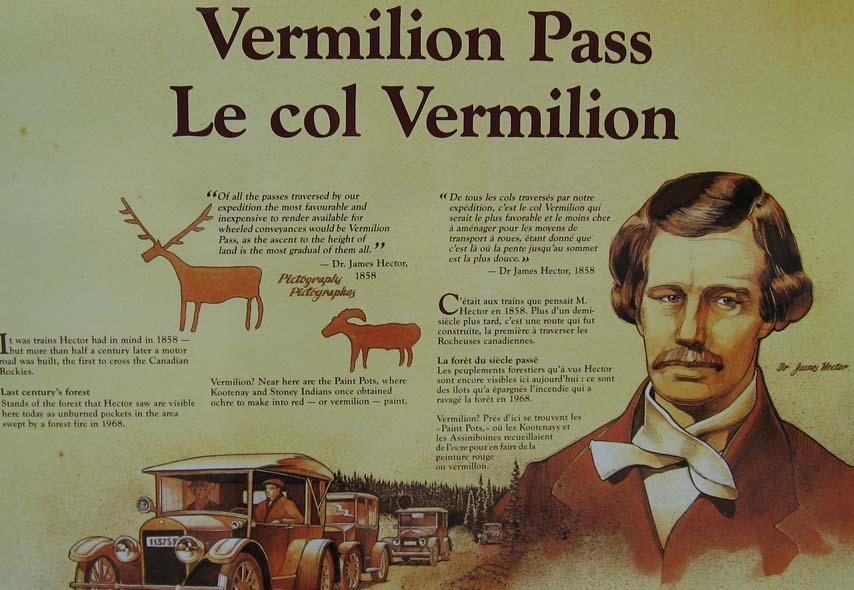 A little way along Canadian Highway 93 in Jasper Canadian National Park, these mountain goats were on the road.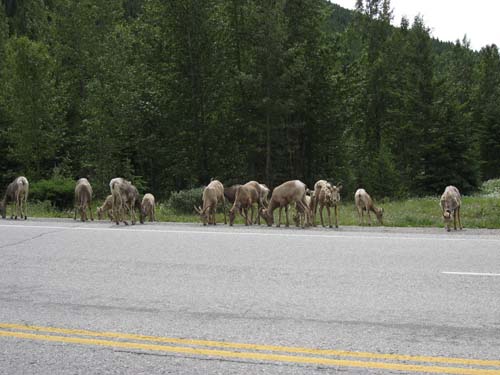 A closeup.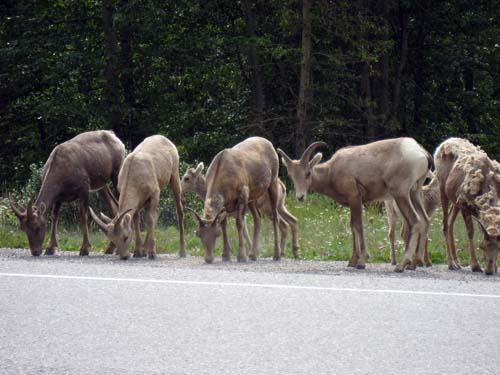 A little further along, there were two rams (male mountain goats) with full curls of horns (antlers?). Below is one of them. Notice they seem to have "tracking collars" on.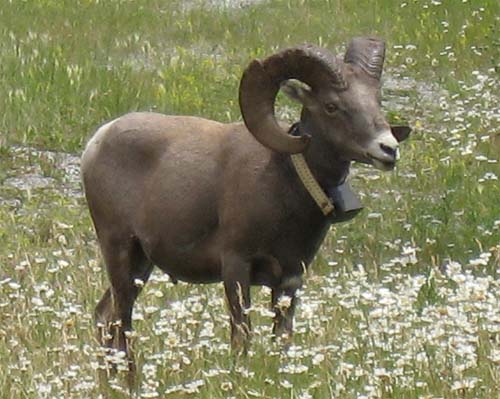 The other was sitting on a shelf 30 yards above the highway, here he is. He also has a "tracking collar" on.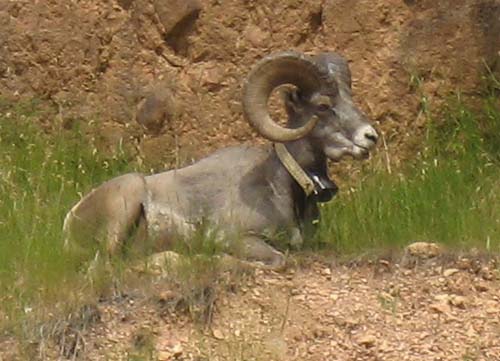 After Radium Hot springs (point "C" on the map above), I went through Fernie and Crowsnest Pass in Alberta, Canada. About then it got pretty flat and pretty straight, and I booked east on Canada Highway 3 to spend the night in Medicine Hat, Alberta, Canada. Below is a panorama showing the road, and the terrain. This *NOT* motorcycle country, I'm the only motorcycle out here. As you go out east from the Canadian Rockies it just flattens and straightens out.

On the morning of 7/20/06 I got up in Medicine Hat, Alberta, Canada, and drove my motorcycle east to Moose Jaw, Saskatchewan, Canada, then drove directly south across the Canada/USA border to visit my cousin Karen Linder's home in Montana. The motorcycle drive east to Moose Jaw was flat, straight, and boring, not good motorcycling, not even much to see other than BIG wide open farmland. Below is a picture of my ST1300 in front of the "Welcome to Moose Jaw" sign.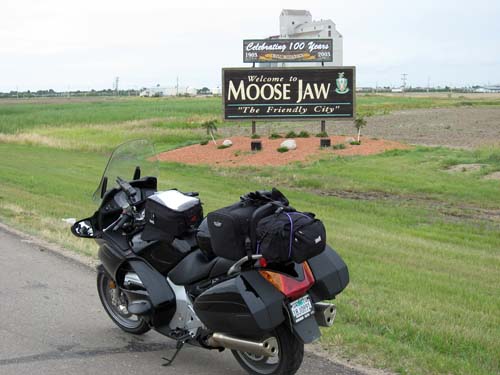 I saw a "Tim Horton's Drive Thru" (click here for a different sign) to stop in a "Tim Hortons", which are ALL OVER Canada. I had never heard of them, yet in Canada they are more common than McDonalds. It seems to be a huge chain of half-donut shop, half sandwich shop. Cheap, and actually pretty good, I'm impressed. I got a donut, sandwich, and cup of coffee (picture below). Notice the plates say "Tim Hortons", the coffee cups say "Tim Hortons", even the soap dispensers in the bathrooms say "Tim Hortons".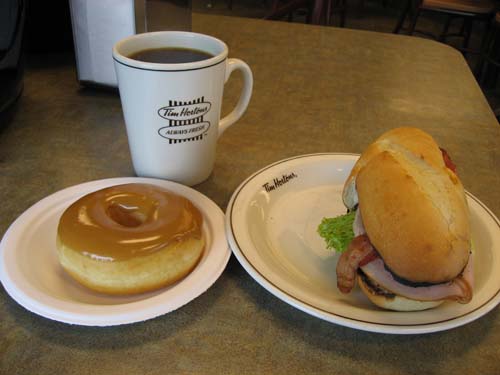 Headed south from Moosejaw towards the US border I hit a little rain. You can see in the picture below the rain clouds stop as you enter the US.

Passing through the "Scobey Montana Border Crossing" into the USA.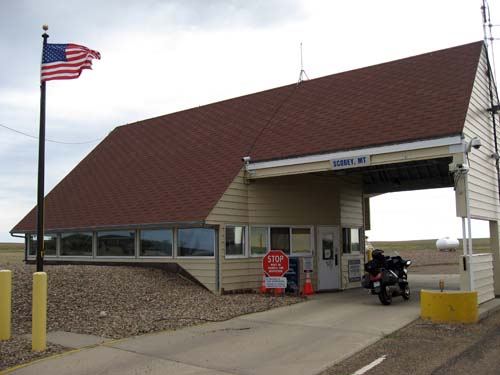 16 miles south of the border to Scobey, Montana, then east 12 miles to Flaxville, Montana, then my cousin Karen and husband Kip Linder and family live 7 miles due south of Flaxville. On the way I stopped on Flaxville Main Street to take a picture.

As the sun goes down on 7/20/06 here is my motorcycle in front of Kip and Karen Linder's house outside of Flaxville, Montana.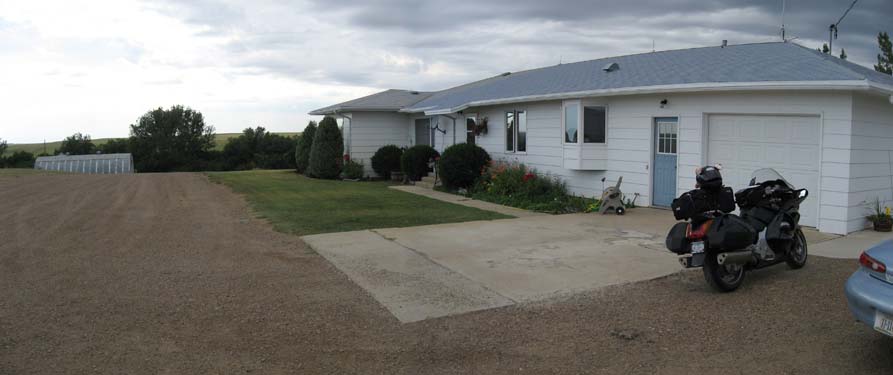 Below is a panorama from the next day (7/21/06) from a step back showing more of where their house is.

Kip and Karen's living room.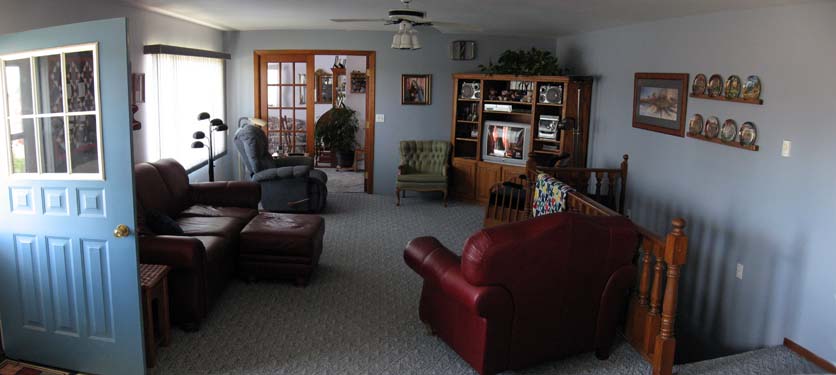 Kip Linder, Karen Linder, and Mariah at breakfast.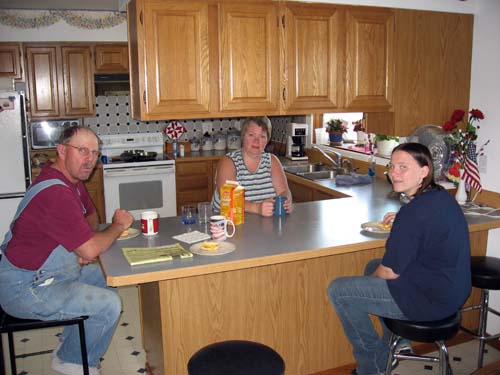 Karen borrowed my camera and took this next picture to include me on the right.
After breakfast, Kip took me on a small tour of a few spots on his ENORMOUS farm. Kip and his family ("Linder Wheat Ranch, Inc.") farm wheat -> thousands and thousands of acres of wheat. Below is a shot out the front of the pickup driving along the gravel access roads.
Kip took me to this high spot so I could get a view. Use your horizontal scrollbar to go right to left, or click on the panorama below to see a larger version. Did I mention they farm thousands of acres? Below is a 360 degree view (the pickup appears twice) where Kip and family farm *MOST* of what you see in every direction (and then a whole lot more you can't see). There are a few parcels here and there owned and farmed by other farmers. As land and smaller farms come up for sale, Kip's family has been able to buy them to connect their farmland as much as possible. What you see below is lots and lots of wheat, about 3 weeks before harvest. We are standing on a section that is CRP (Conservation Reserve Program) so it is not planted in wheat, it just grows wild grass.

Below is a picture as you head north into Flaxville. When I drove by this spot the day before I didn't realize that Kip owns the "Wheat Elevators" in the picture below. When you harvest thousands of acres of wheat, you need lots of places to store it. The "Elevators" are big storage units.

A close up of the wheat elevators.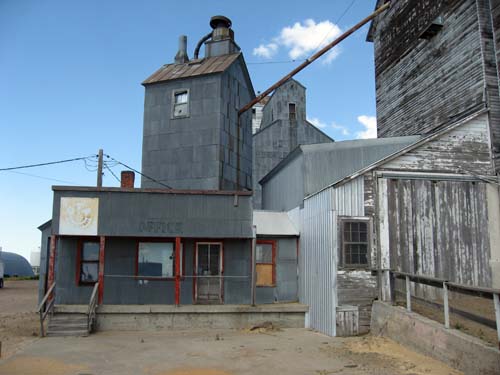 Kip on the left inside the elevator. Trucks pull in and dump wheat on that grate on the floor, and it is "elevated" up and run through a system of tubes to be put in the correct storage bin.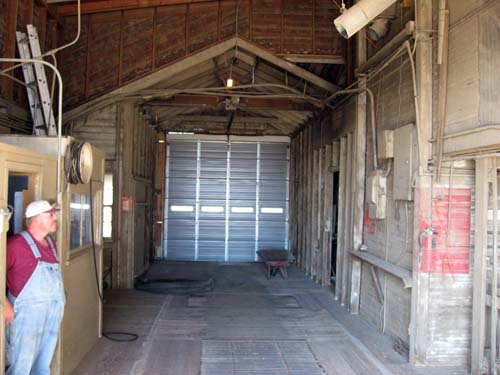 In the picture below, you can control which silo or bin the wheat is put in by operating the controls marked "C" (you can see numbers on the belts leading up from the letter "C". If there is a problem, like you need to fix something 60 feet up in the bin system, a person can stand where it is marked "A" below, step on a foot release lever and hoist on the rope marked "B" and up you go in this human lift. I tried it, and went up about 20 feet.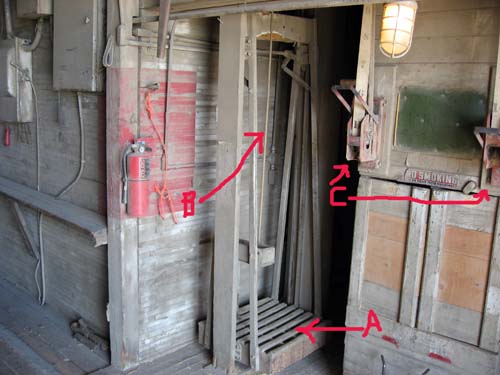 Below is the end product-> wheat. This is a pile of maybe 50,000 bushels of wheat in a Quonset hut elsewhere on Kip's property. It can be stored this way for years if necessary.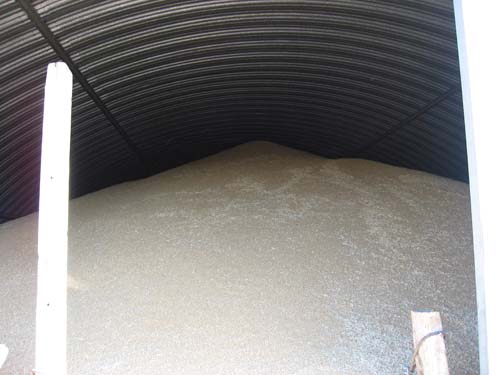 Below is a panorama that includes the Quonset hut from above. Also notice below the 3 swathers (cuts the wheat and lays it down in rows) and 2 tractors. What I realized for the first time was how many vehicles Kip and his 2 brothers own to farm this much land. They must own something like 35 or more cars, pickup trucks, semi-trucks, swathers, combines, forklifts, to operate this farm.

Kip with his brother's dog "Buster".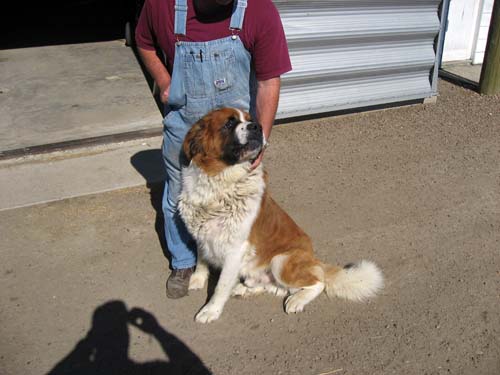 When the Quonset huts aren't filled with grain, you can store other things in them. Below are some more of the vehicles and farm equipment Kip owns.

Kip says the truck on the right is the oldest operating farm truck a (1961?) Chevrolet (model?). It is used as a (water?) sprayer?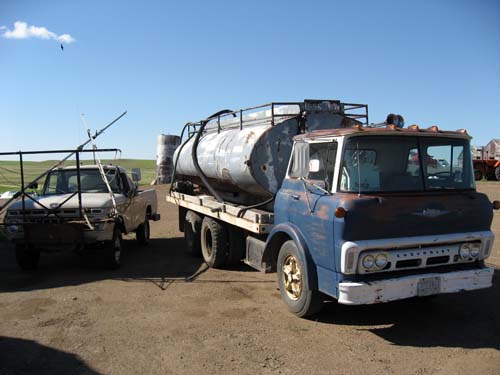 More farm equipment below.

This is the K-12 school in Flaxville, Montana. It was shutdown this past year (the children get bussed an extra 12 miles to the larger town of Scobey). Kip and his brothers attended this school, and Kip and Karen's children also attended for several years. At times one grade in this school might have had a single person in it, or up to 8 or 10 children in one grade.

Below are two homes for sale in Flaxville, Montana. You can own the home on the left for $350, and the one on the right for $500, and then each year you would owe the government anther $80 or so in taxes to continue owning them. That's it. No, that's not a typo -> home ownership in the USA for $350 *TOTAL*. Where I live in Palo Alto, California these home would easily be worth over a million dollars each (to be torn down and build a new home on the spot). In Palo Alto the owners might pay around $15,000 each year in taxes to continue owning it.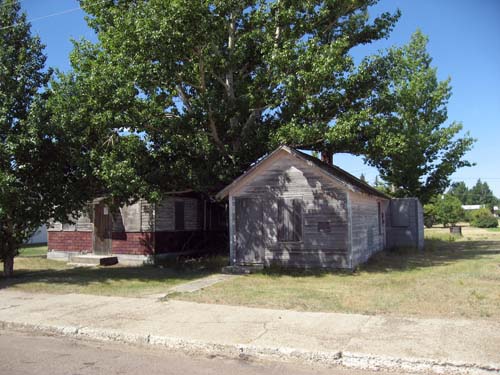 The next day (7/22/06), back to Canada! It was a pretty boring day of driving. Below is a picture as I pass into a new Canadian province-> Manitoba.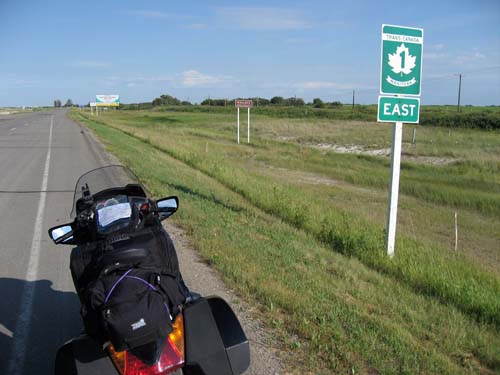 I took this panorama a little east of Winnipeg, Manitoba, Canada. It is closer to an area called "Portage la Prairie". These clouds looked suspiciously like they were going to form a funnel, and lighting was going off every minute or so. It was very localized, sunshine all around it.
I stopped at a Super 8 Motel in Winnipeg, Canada on the night of 7/22/06. The last non-smoking room they had left was the "jacuzzi suite", and I talked them into giving it to me for the price of a regular hotel room (it was late, they probably wouldn't rent it otherwise).

Driving the motorcycle all day (especially in curvy roads and mountainous roads) is hard on my feet. You shift gears on a motorcycle by putting your big toe under a lever and pulling up, you brake by leaning your foot on another lever. To avoid blisters, when my feet get little "hot spots" I tape them up with medical tape. Below is a picture of my right foot at the end of the day. Hi Sarah!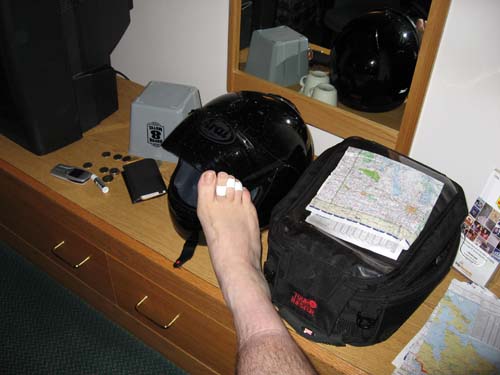 Click Here for Next Set Of Pictures
Return to 2006 Canada Motorcycle Trip


(Read a personal description of Backblaze here.)