2006 Montana Hunting
(10/19/06 - 11/04/06)

(Click on any picture to see an extremely detailed version. About 200k in size.)
This year a few of us went hunting first at Custer National Forest in Montana for deer, then later we went on to the East Fork of the Bitterroot River to hunt for Elk. Click on any picture for a much larger version. To download GPS files with important hunting locations marked, click Jennifer Parents GPS Location, or GpsLocationsHuntCowCreekMontana, or GpsLocationsHuntBitterrootMontana. In those zip files are DUPLICATE files, one in "GDB" format and one in "MPS" format (you will only need one or the other). These were created with Garmin MapSource Topo maps on Garmin Rino GPS units. Email me if you need any explanation or help.


(Read a personal description of Backblaze here.)
Bruce and I drove to Montana from Oregon. On the way, we stayed overnight at Bruce's wife Jennifer's parents, Joe and Ruth Stickrod at their brand new home outside the town of Ennis, Montana. Below is Joe Stickrod, Bruce Wilson, and Ruth Stickrod.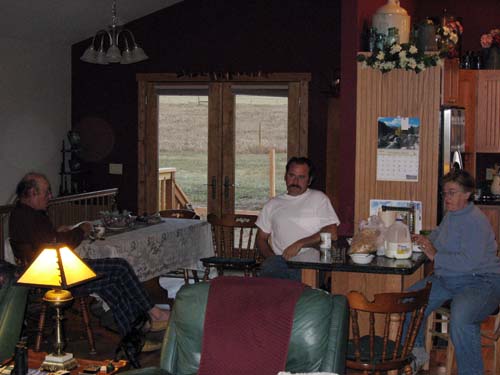 Joe and Ruth's very friendly dog "Pooky Lou" is pictured below in their living room.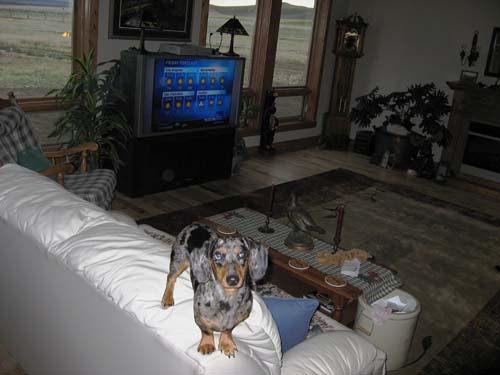 The view out the front living room window of the Stickrod home.

A panorama of the Stickrod living room.

The kitchen.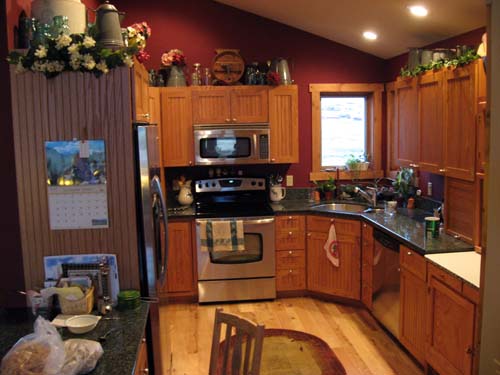 And the outside of the new home.

As we left on 10/20/06, a few miles from the Stickrod home is the small town of Ennis, Montana. Below is a picture of mainstreet.

It started snowing as we drove towards Custer National Forest in Montana. The picture below taken out the front of the pickup.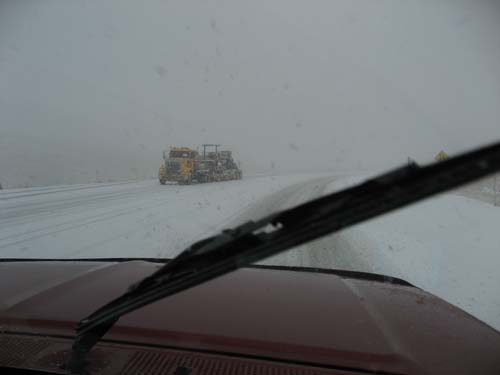 Bruce needed to order some parts related to his job, so we stopped at the Trebro Company Headquarters (http://www.trebro.com) in Billings, Montana. Trebro makes sod harvesting automation equipment. Click here to read more on their website about their products. I sat in one of their harvesters and took the following picture of the controls, which include DUAL joysticks that make it look like some space age flight simulator (my knees can just be seen in light blue in the picture below).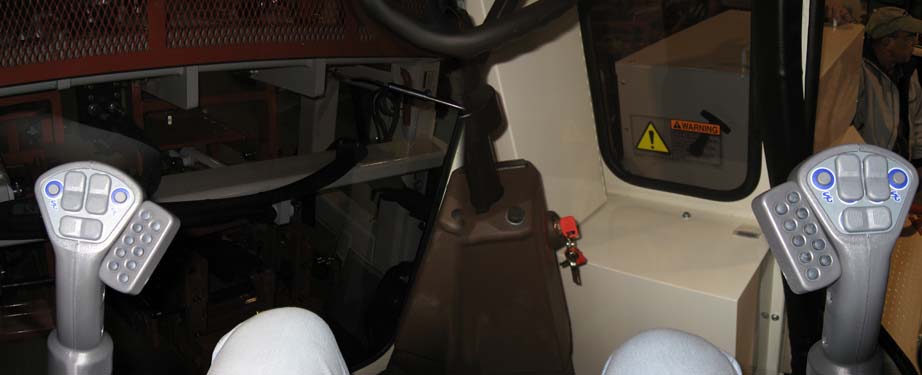 Later on we arrived at Ashland, Montana, just outside of Custer National Forest Montana.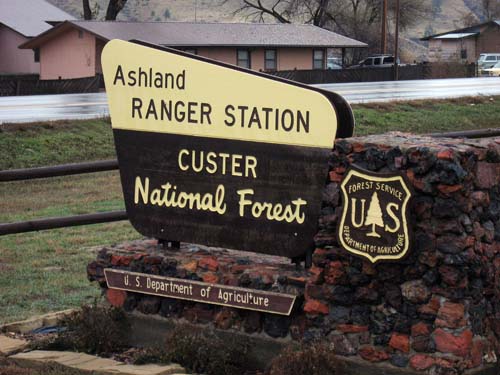 Below is a picture of our pickup and trailer carrying our ATV.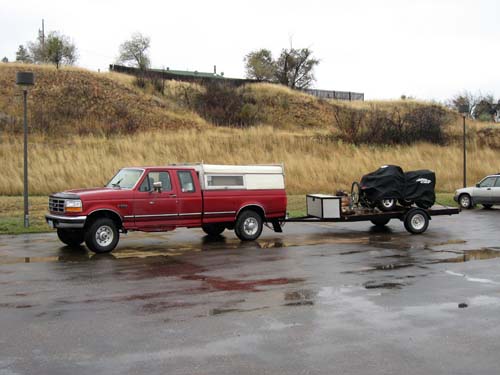 Driving into Custer National Forest, we drive by this deer by the side of the road. Hunting season doesn't open for another day, but it looks like there are deer around! (Click on the picture below to see a zoomed in version where the deer is more visible.)
We setup camp, and I had Steve take this picture of me in my scarf that my girlfriend Sarah made for me before the trip.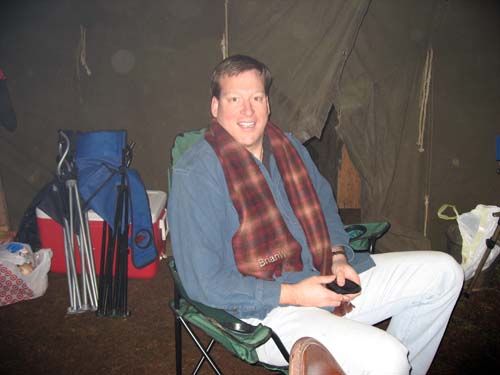 The next morning (10/21/06) is the day before hunting season opens, and we ran a few errands and scouted out the countryside (we have never been to Custer National Forest Montana before). Some snow fell the night before, below is a picture of our hunting camp at Custer early in the morning.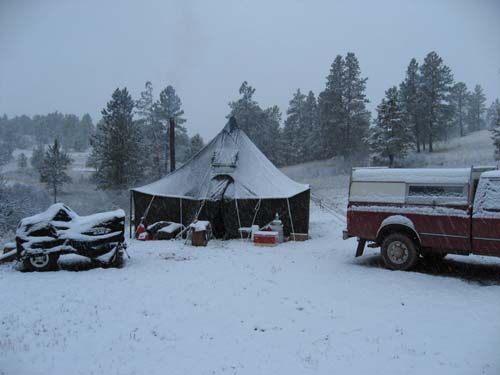 Same picture, a little wider and a little later when the sun was up more to see a panorama.
The picture below is taken inside the tent before our first breakfast. Steve Sanders on the left is cooking bacon and eggs on the wood stove, Bruce on the right warming up by the fire.
We drove around Custer National Forest, Montana, scouting were we were going to hunt deer the next day. Below is a picture I took while driving along. Notice the GPS on the pickup dash, along with a video iPod. :-)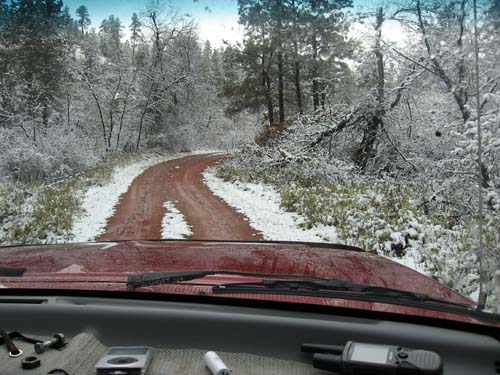 The next morning, 10/22/06, opening day for deer season here in Custer National Forest, Montana. Dawn is a good time to hunt, so we get up before light and get out to the areas we scouted the day before. Below is Bruce loading up on his ATV to drive out for the day's hunt.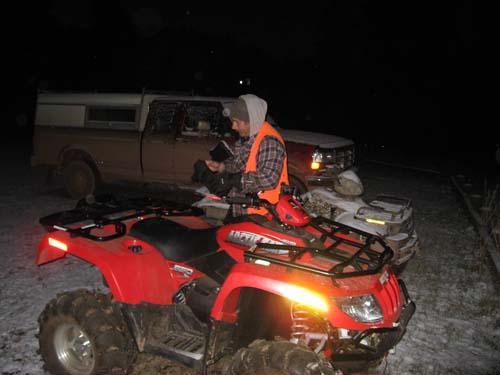 The picture below I took as I began my hunt.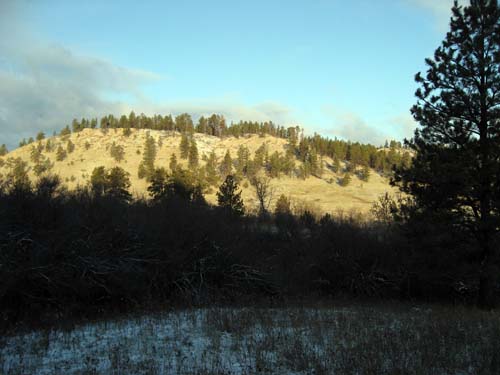 About noon on opening day I eat lunch at the side of this meadow. Earlier in the morning I saw a couple deer run across this meadow, so I circled back to camp out on the perimeter and watch.
The picture below is classic. After walking around all day, I came back to the road and found a clear set of tracks walking down the middle of the road by where I parked my ATV. If I had just stayed here, I would have seen this animal walk by.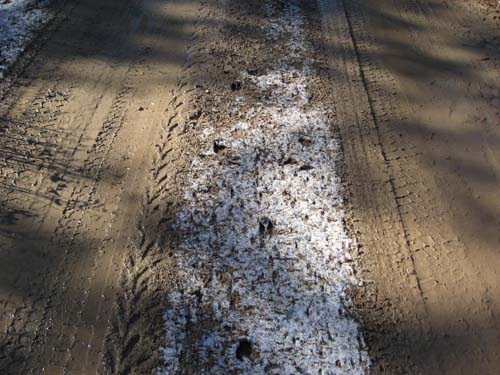 New hunting location, I took a break here looking at this view.

The next few pictures were taken during a 15 minute period as I came across some deer. Since it was only opening day, I decided not to shoot a doe (female deer). Bucks (male deer) have antlers and are larger providing more meat. There were no bucks in this group of deer, so I took pictures instead and watched them for 15 minutes before they saw me and ran away. Look in the picture below to see the deer right in the center.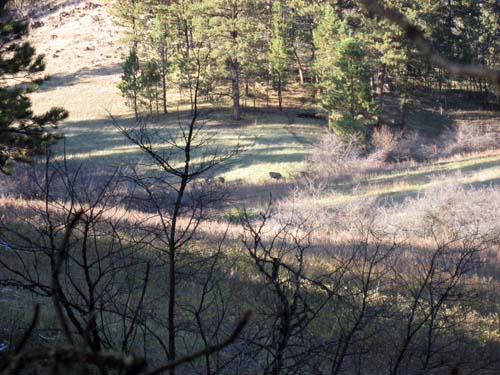 A whitetail doe in the picture below. Whitetail is a type of deer, in this area we see "whitetail deer" and "mule deer", although there are many other types like reindeer and blacktail deer.
Several deer in the picture below pointed out with red arrows.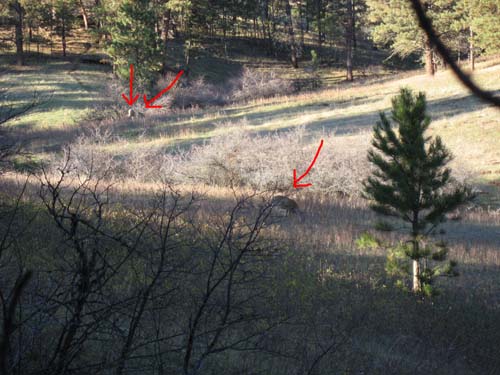 My cousin Chip was in this area hunting we me, and slowly walked up to this meadow directly across from me (so the deer are between us). Below you can see Chip in his hunter orange, with two deer in the foreground that have not seen him yet.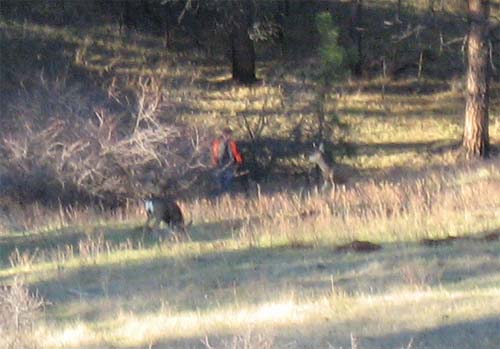 Chip standing quietly near this doe.
Chip slowly advanced until the deer finally realized he was there. The picture below shows a deer staring straight at him.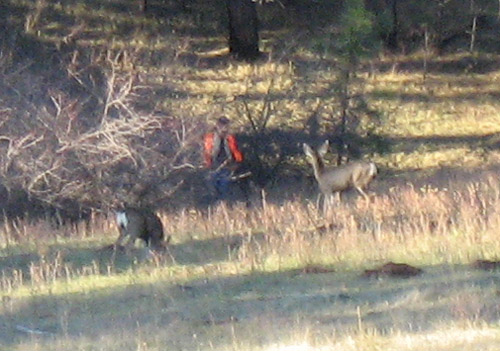 Eating breakfast inside the tent before dawn on 10/23/06. Bruce on the left, Steve in back, and Chip on the far right. We started getting up at 3:30am, it takes about 2 hours to get ready, and that way we could leave camp at 5:30am which is about two hours before dawn at 7:30am when you could plausibly take a shot safely.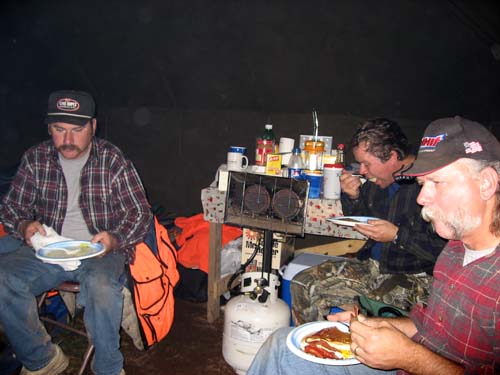 Chip holding Bruce's gun, while Bruce starts the ATV to head off at 5:30am for the morning's deer hunt.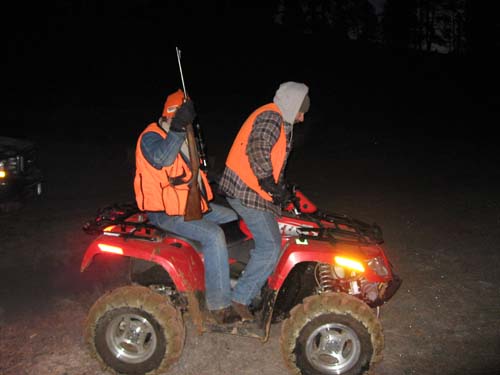 The two ATVs head off into the darkness (I lightened the photo below so you could make something out).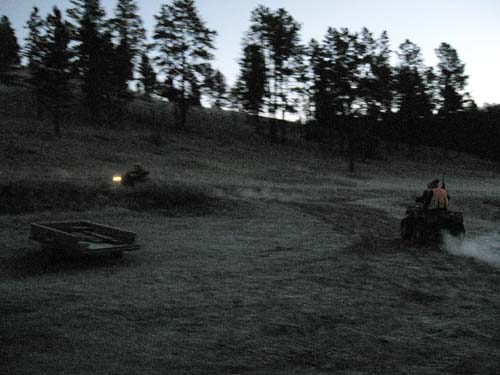 I took the pickup that day and headed down the road near "Horse Creek". Before I got very far, I spotted these deer (including a buck with antlers) across the wide open, so I changed my plans and spent a couple hours circling around trying to get near enough for a shot at them.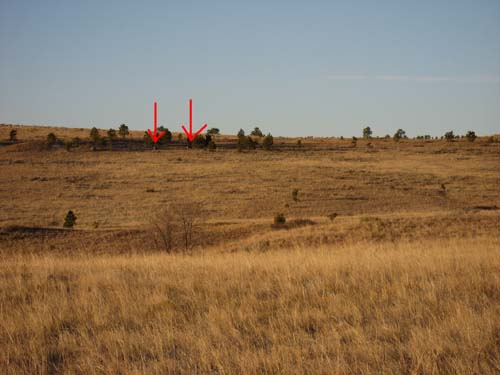 After getting out of the pickup, and circling around on foot out of site of the deer for 90 minutes, I came up over this ridge hoping to see the deer. Of course, they were long gone. :-) So I took the panorama picture below.

I hoofed it back to the pickup directly, shown below in this picture where I left it 2 hours ago to try to sneak up on the deer.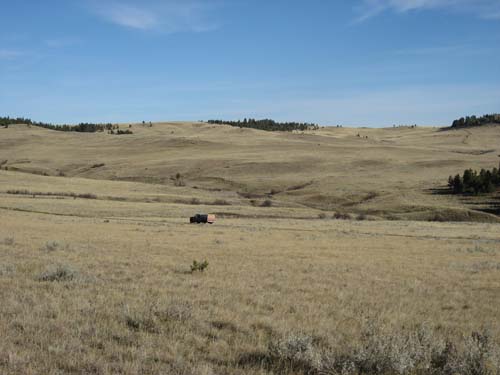 Later in the day, I hunted deer in this area between Horse Creek and Cow Creek, in Custer National Forest, Montana.

At the end of the day, here are Chip and Bruce back from the day's hunt. Chip just bagged a deer! So they grab some rope and other supplies and head back out to pick it up.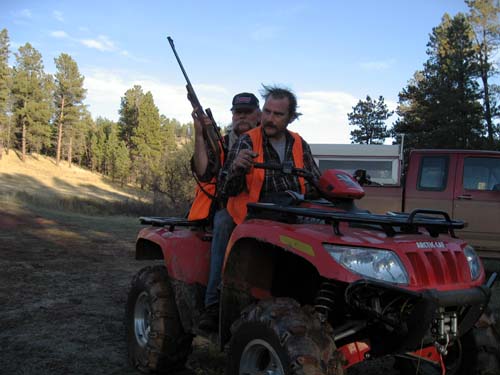 Chip with his buck strapped to the ATV with rope to bring back to camp. The deer has been field dressed at this point.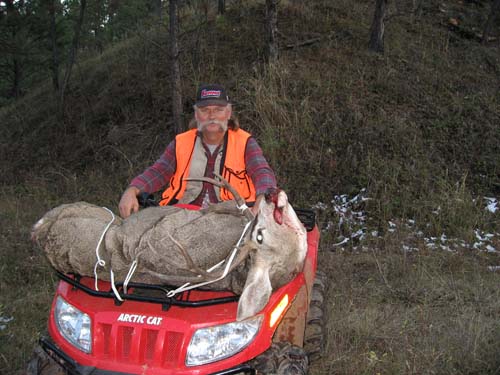 Ok, most people will want to skip this link, but if you are curious about seeing how to skin a deer, you can click on the link here. WARNING: this is EXTREMELY GRAPHIC and bloody, you probably do not want to read this. But if you do, click here to see Chip skin a deer. Enter at your own risk!!
Ok, after skinning and washing out the deer, we hang it to freeze solid right away that night. Below the meat is hanging in a game bag.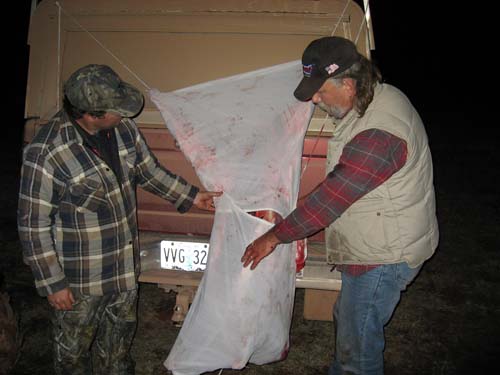 The next day of 10/24/06, Bruce shot a doe (it was our last day of deer hunting). I took the picture below following Bruce to help pick it up.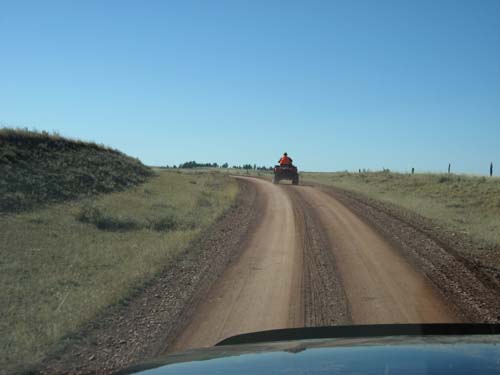 Showing the Eastern Montana Red Dirt on the pickup, with the ATV in the background.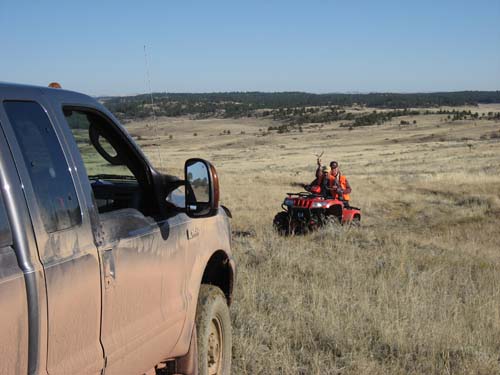 The end of the last day of deer hunting, I visit the same clearing I saw several doe deer in before. They are no longer here.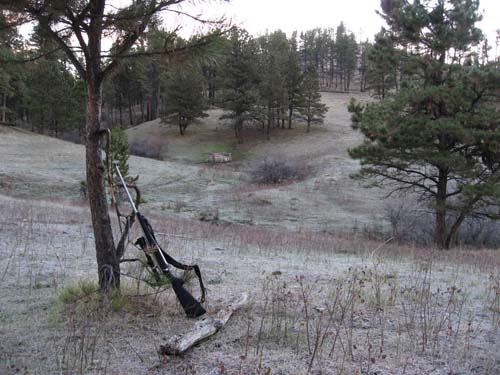 Packing up camp, the morning of 10/25/06.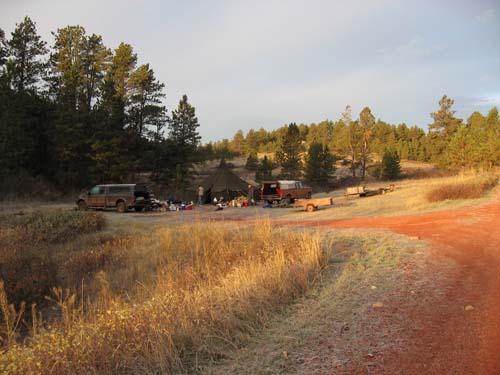 Below you see camp all packed back up into the pickups, we're ready to head to the Bitterroot Valley of Montana to hunt Elk.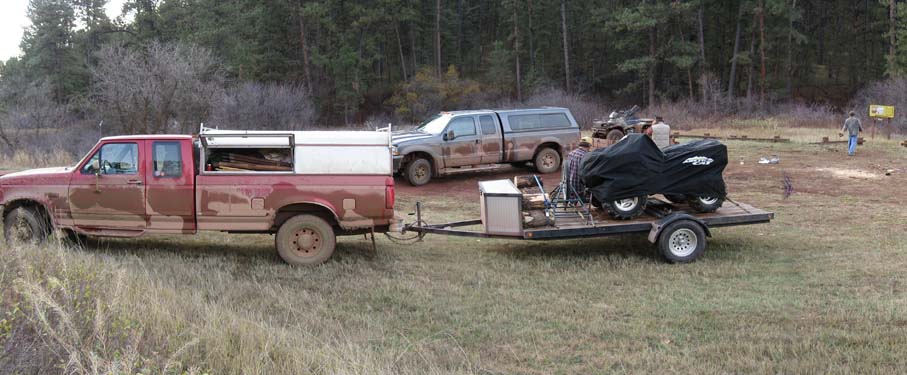 We stop back an Ennis, Montana to get a shower and spend the night of 10/25/06. Below you see the sunset through the windows in the Stickrod living room.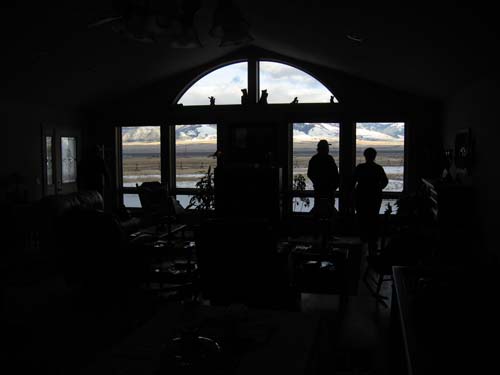 The next morning of 10/26/06 I took the following 3 pictures of the sunrise.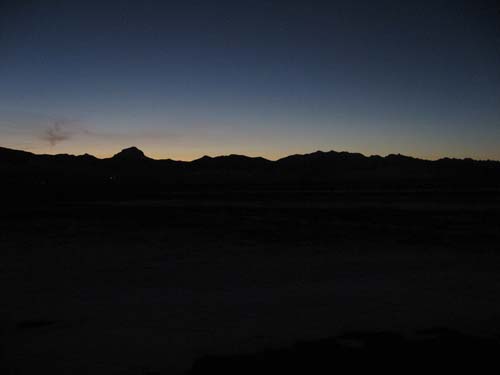 A little later.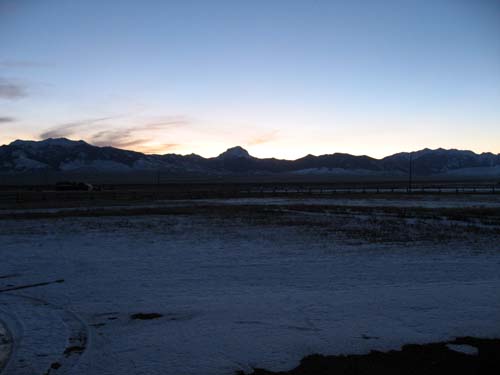 A little later.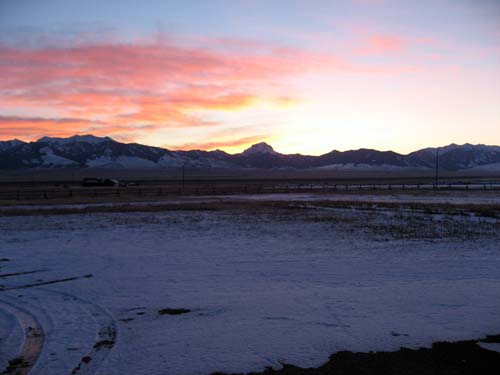 The dog and cat were playing, it was very cute, so I took this picture and the video below.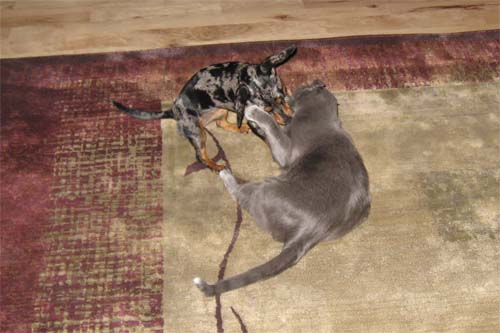 Click on the video below which will download a ZIP file (JUST WAIT AND WAIT, IT WILL COME, TRUST IT!!!!!) Then unzip it and play the WMV video of the dog and cat playing together.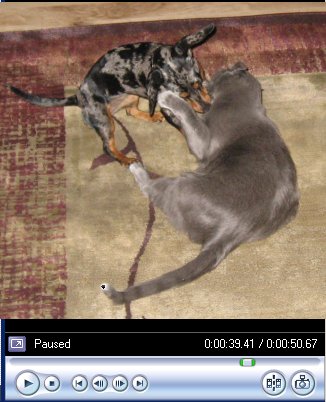 Driving over to our elk hunt, we drove through this herd of cows and cowboys on the road.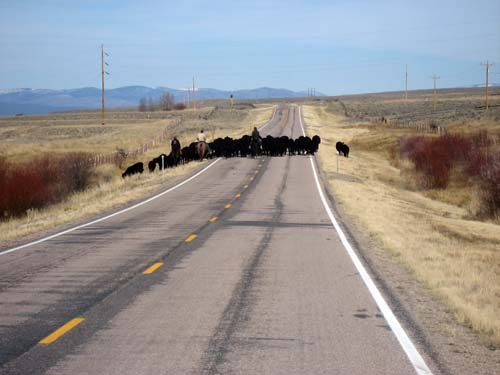 Closer up. The dogs you see in the foreground would nip at the legs and heels of the cows to get them to move along.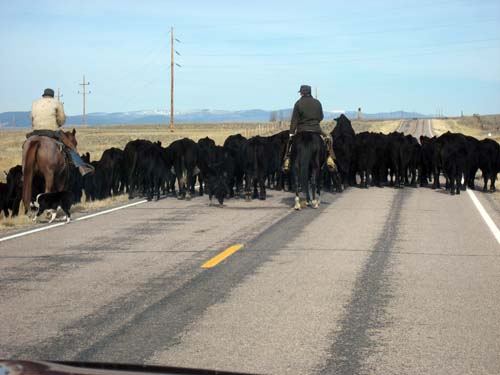 We had to push through the cows.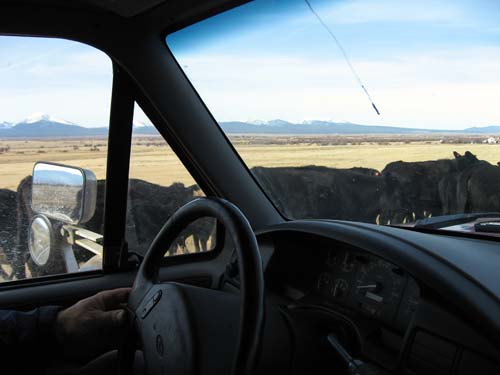 Arriving at the town of Sula, which consists of exactly one store, a post office, and a campsite. I like the bears below which during hunting season are dressed up in hunter orange.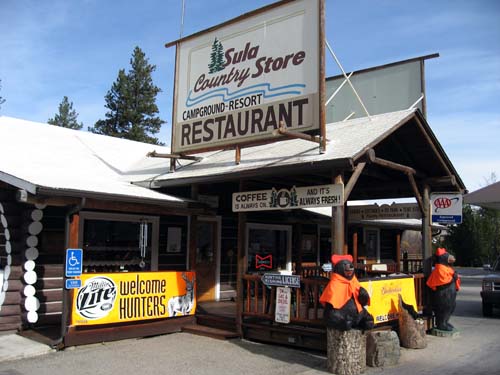 Here we are back again after 3 years!! Click HERE to see the exact same spot 3 years earlier. The picture below is taken as we start setting up the tent for a week and a half of elk hunting in Montana.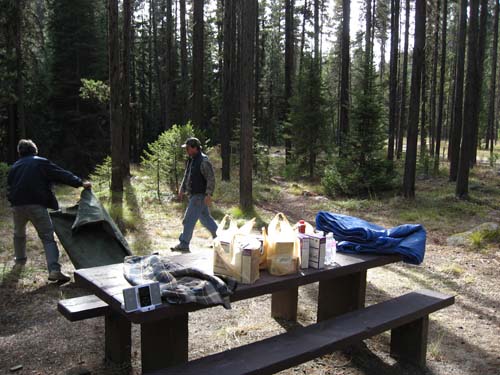 Finished setting up the tent.
The next picture taken that night (10/26/06) as we decide where to hunt elk the next day. Steve Sanders on the left, Bruce Wilson in the middle with the flashlight, and Chip on the right. We have all been here several times, and they are looking at topo maps of the area figuring out what to hunt tomorrow.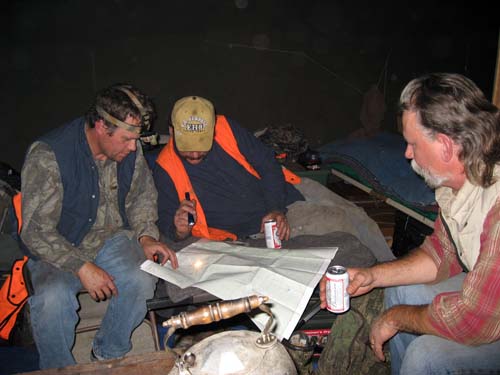 The next day on 10/27/06 we hunted for deer in Montana on the East Fork of the Bitterroots. I walked from camp up to where Chip and Bruce parked the pickup at the start of their hunt, and along the way I found a great old closed logging road. The red arrows below point at piles of "sign" (animal droppings). This road had trees growing in the middle of it showing it had been unused for 10 years or more.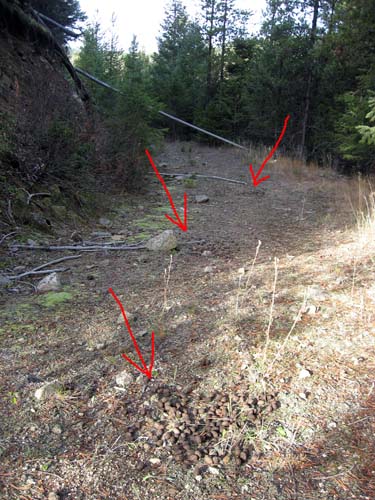 Below is a panorama of the country we are hunting in.

Below is some sort of bird, maybe a "grouse"? If you know what this is, please email me and tell me. It was wandering around on the ground, it didn't seem to fly.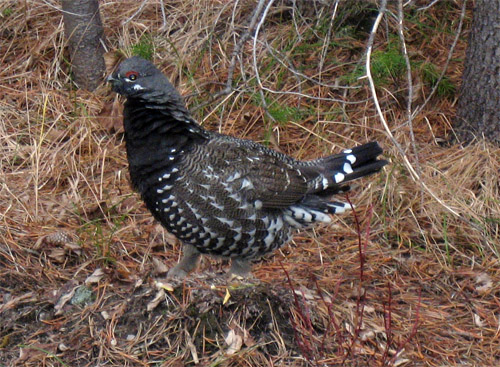 Another picture of what I think is a "grouse".
The previous day, Chip found a ton of Elk tracks crossing over a saddle at a certain place, so on 10/28/06 Chip got up to that spot and sat watching it, hoping an Elk would pass. Two hours into his wait, I wandered past and took this picture.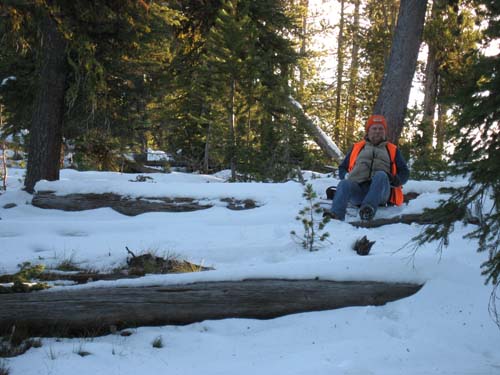 Just past Chip, the trail is VERY pretty, although that is about 8 inches of snow and makes it difficult to walk quietly.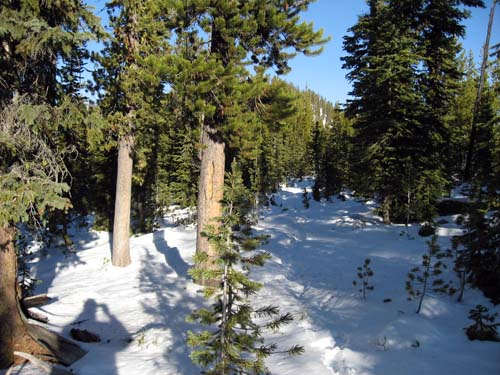 Panorama of some of the terrain we are hunting in.

Another picture.

On 10/30/06 I took the picture below of what we call "Chip's Obsession" (that saddle he saw lots of elk tracks in). Chip wanted somebody to hunt it every morning around dawn. Below is a picture showing fresh snow, and no new tracks.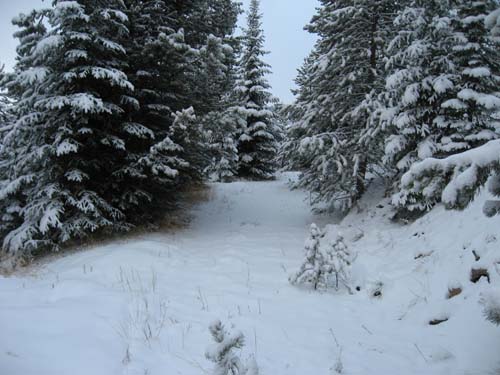 This next picture is a self portrait of me (Brian) taken with the "timer" feature of my camera, near sunset.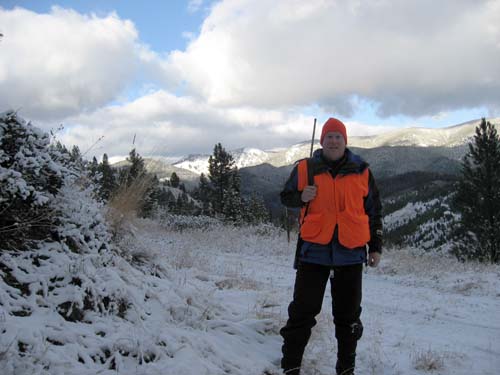 The next day on 10/31/06 I hiked up to the top of Johnson's Rim, walking by the McCart Lookout Firetower in Montana. Bruce took this picture of me at the bottom of the hill as I started up (I went up alone).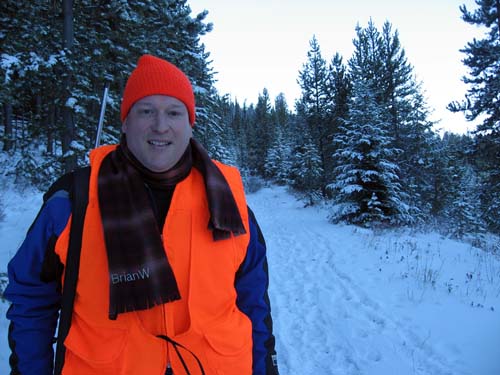 Same place, but in front of the Johnson's Rim sign.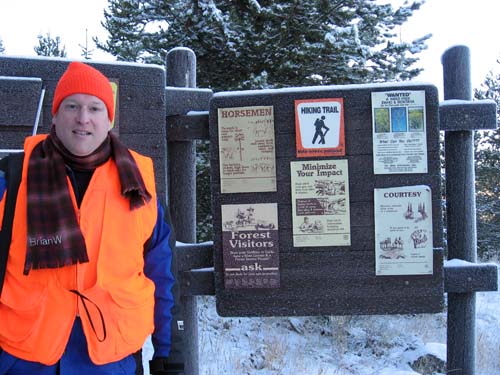 Use your horizontal scrollbar to see FAAAAR to the right in the picture below to see the McCart Lookout Firetower in Montana. Click here to read about the McCart Lookout, or also click here to read a different website on it. This is about a third of the way up to the Continental Divide and Johnson's Rim in Montana.

I came across this woodpecker, I had never seen one before so I took a little movie of him pecking away.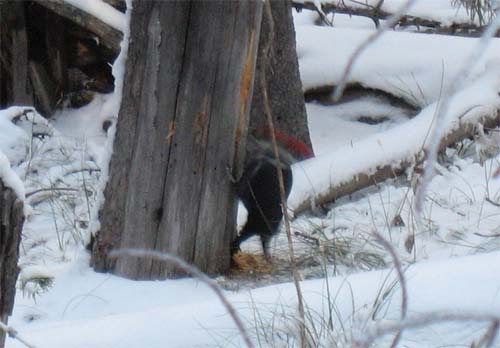 Another picture of the woodpecker.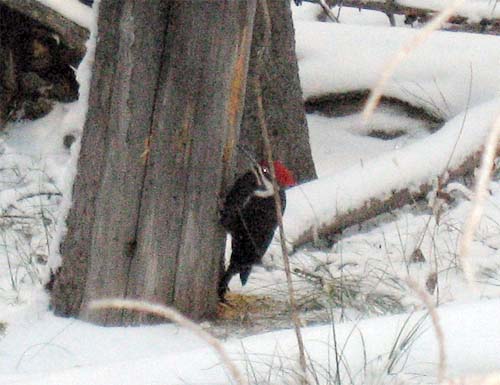 Click the movie below to download a ZIP file (JUST WAIT AND WAIT AND WAIT, TRUST ME, IT WILL COME DOWN!!!!) You will need to unzip it, then play the movie, which is in WMV format. The movie shows the woodpecker pecking away at the tree.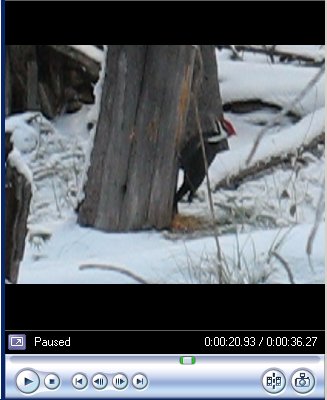 After I scared him away, see the hole the woodpecker left in the tree (also notice the sawdust from the hole at the base of the tree).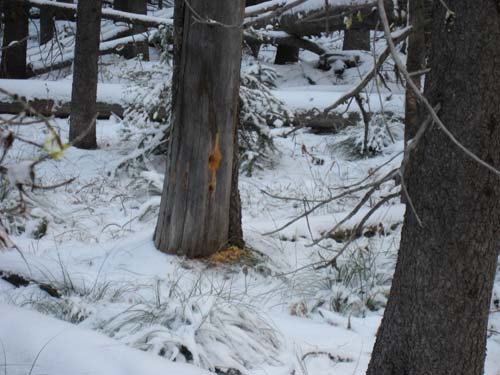 Up in the hunting area we call "the burn" (it burns when lighting strikes).

I found a huge number of elk tracks here, but never saw the elk. Below are the elk tracks and elk beds I found.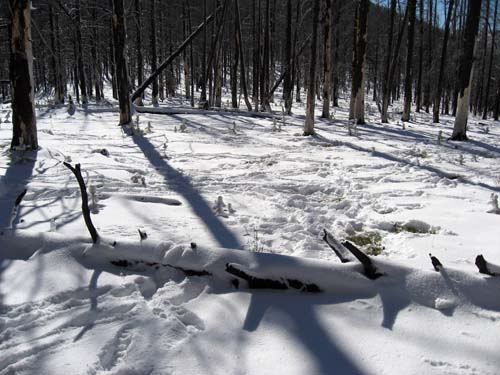 Beside the trail were these little paw prints (pictured below). If you know what these are from, email me and tell me. Maybe a bobcat?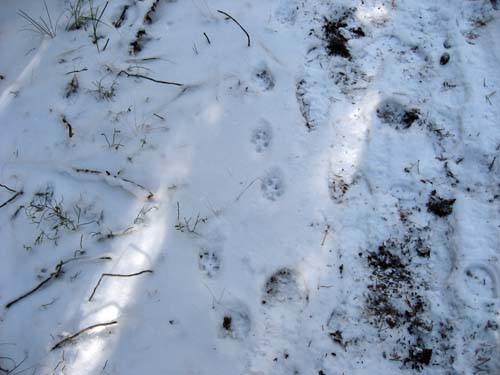 My foot shows you how small these little paw prints in the snow are.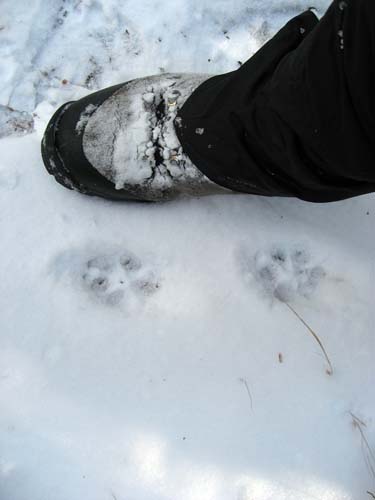 This next picture was taken the morning of 11/1/06. During the night it got so cold that our Diet Mountain Dew cans stored outside the tent exploded with big BANG noises. You can see the broken cans in the picture below, and the slushy concoction the explosions left behind.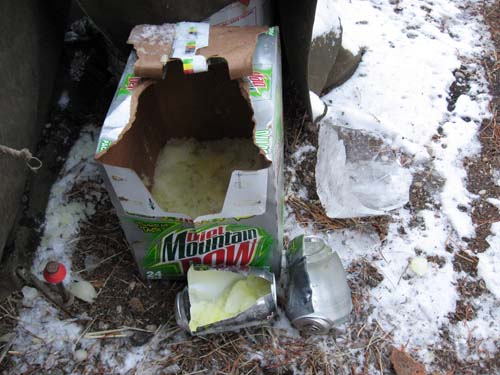 I took the day off from hunting and hiking, and hung out in camp all day. I built the fire shown below outside so I could sit outside the tent and read a book. Notice I still kept my rifle handy in case an elk wandered through camp. :-)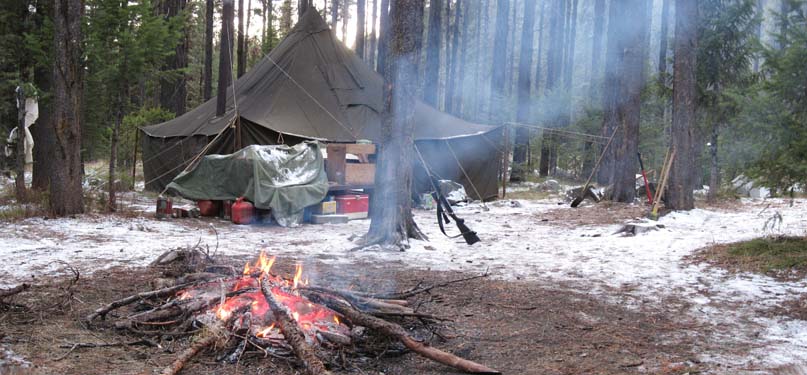 That night Bruce came home late and cold, and warmed up by my outside fire.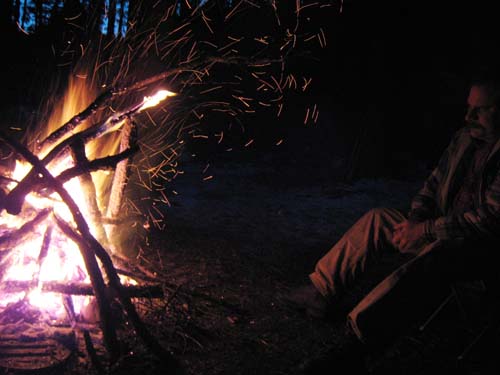 Last picture of the fire.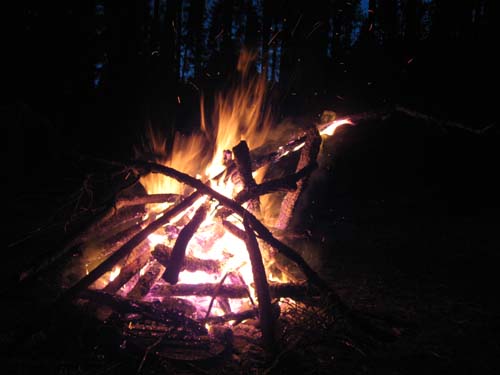 We got up 11/2/06, the last day of hunting, and drove around to a new area we had never hunted. A guy we met on the road had recommended it, and we can shoot "cow elk" here (female elk). Below is a picture of sunrise as we drive up into the new hunting area near Wisdom, Montana.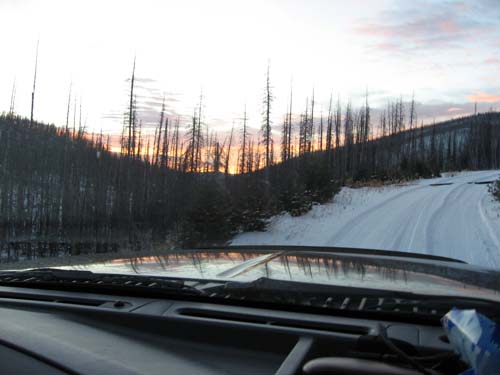 Sunrise.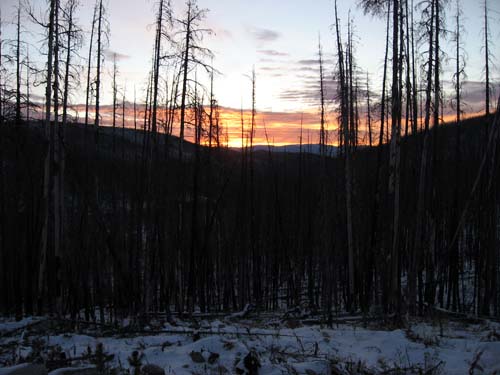 At the end of the day, we ran into the Mountain Sheep (including some full curl Ram Mountain Sheep) that are seen in the area of our base camp every year.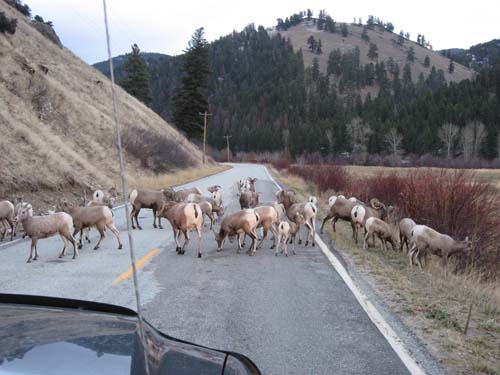 Below are three of the Ram Mountain Sheep in a field right next to us. This picture contains one ram that is almost full curl, a 3/4 curl ram and a 1/2 curl ram. (I'm told you start measuring the curl at the base of the horn, just above the eyes. If the horn circles clear around and makes it back to this point, it is a "full curl" RAM.)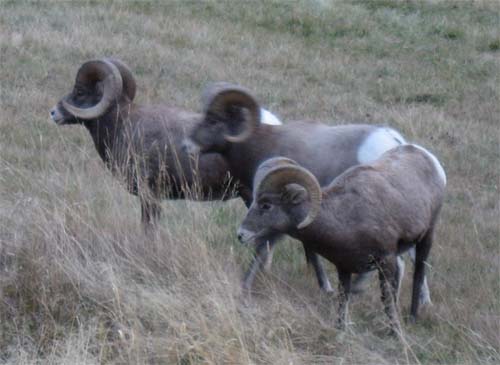 I got the following diagram of what is a "full curl ram" from Alaska game regulations: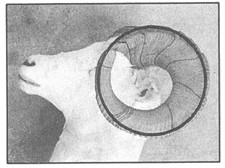 "A full curl ram describes a circle... takes an average of 8 years to grow this long."
Click the movie below to download a ZIP file (JUST WAIT AND WAIT AND WAIT, TRUST ME, IT WILL COME DOWN!!!!) You will need to unzip it, then play the movie, which is in WMV format. The movie shows the Ram leaping over the fence.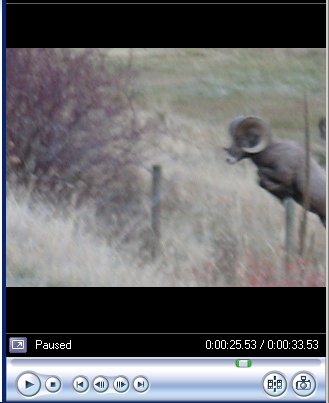 A final picture of some of the mountain sheep.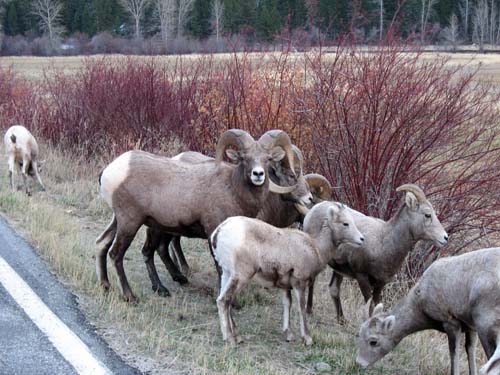 On 11/3/06, we packed up the campsite and drove home. Below shows the empty site where the tent was.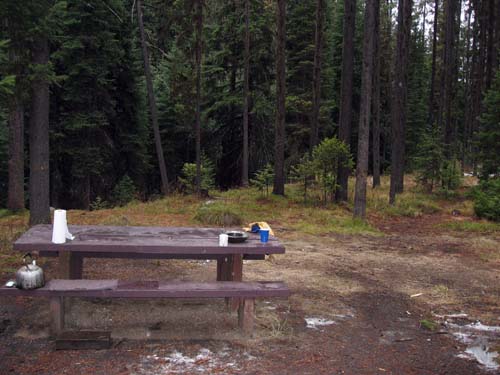 All packed up in the pickups, almost ready to leave.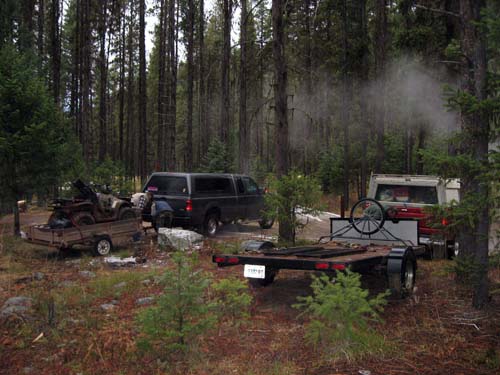 Down the road, we picked up the deer meat we had a butcher in Hamilton cut up and package and keep frozen for us a week ago.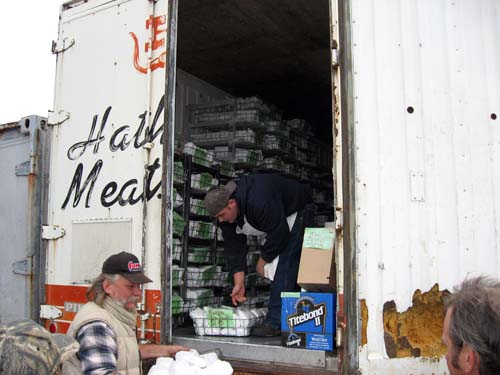 I stayed at Bruce's house overnight, and then drove home to Palo Alto, California on 11/4/06. Below is a picture of "Chester", Bruce's dog.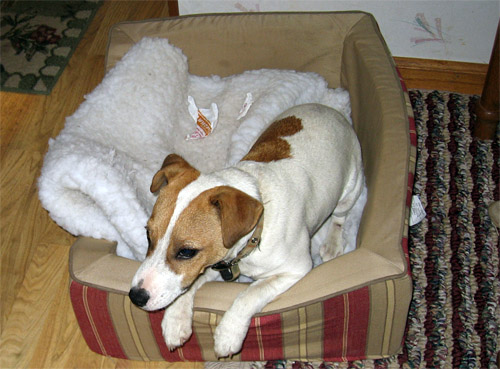 I saw these guys on the way home, called the "Hellbent California Motorcycle Club" and took this picture. While I don't ride a Harley Davidson, and don't dress this way, I have ridden motorcycles for years and I appreciate the style of these guys. It's all good. Click here to learn about my motorcycles.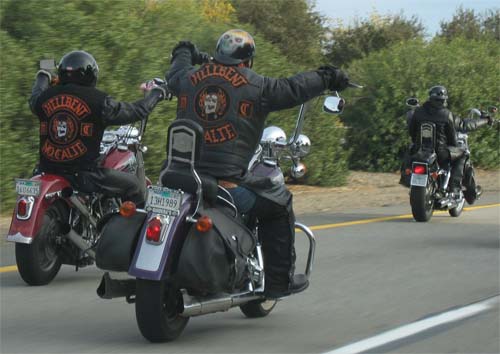 Final picture of a sunset as I drive towards home.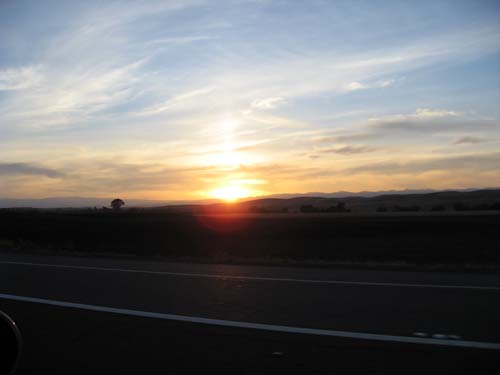 Reminders and Lists of Things to Bring
This section is not for you, but for me, so I can remember things the NEXT time I go hunting in 3 years. :-)
Stop US Mail while gone
Setup Email Auto-Reply
GPS - Load GPS with Maps
Compass - backup when technology fails
Hard-Copy Maps (Topos, Roadmaps)
Bring extra FRS/GMRS Radios, one for each hunter
Fire starting materials - Bic lighter, waterproof matches, wax soaked cotton, magnesium strip
First Aid Kit
Silver Space Blanket (emergency warmth)
Camera/Tripod/Camera Charger
Sunglasses
Sunblock
Batteries
DC to AC Car Converter
Green Day Glow Marker Tape (mark trails & kills)
Electric Tape for covering tip of gun barrel (a low tech trick to keep out moisture, mud, etc)
Tents (Dome/Bivy Sack)
Cot
Sleeping Bags (two bags, one for padding on the cot)
Thermarest sleeping pad
Flashlights (Maglite, LED keychain, Headlamp)
backpacks - day pack, and overnight and meat pack
folding chairs (like cloth ones with drink holders)
water bottles
REI water purifier/filter/pump for overnights
Ultra-lightweight butane cook stove for overnights (plus fuel)
Pots and pans for above cook stove
Powerbars
Caffeine Pills - when the day goes late, nothing like powerbars and caffeine to help out!
Individual Coffee Packets (dip in hot water like tea bags)
Dry Stew for overnights
Gun
Bullets for Gun
Hunt Permit
Orange Hunter Vests (one to wear, one fits on day pack, one extra)
game bags
nylon parachute cord (to hang game)
Knives (pocket knife, hunting knife)
sharpening stone
Moleskin/Medical tape for blisters
Toilet Paper (prepared in little day pack bundles with handiwipe)
Towels
Pillow
Travel Alarm Clock
Small Umbrella
white garbage bags - for laundry, and for game meat, etc
glasses & case for glasses
eyedrops
earplugs
iPod & iPod Speakers
reading book
Clothing Section:
Hike boots
Gators
Totes
Jackets (North Face Shell, Fleece, Rubber Rain Coat?)
Rain Pants
Poncho (it's small, might as well)
Chamois Shirts
Levis
Shirts
Gloves
Orange Hat
Belt
REI high tech long johns
Meals Ideas Section:
Sloppy Joes
Hamburger Patty, potatoes, cream of mushroom soup
Tacos
Stew mix (just add beef)
Hamburger Helper
Breakfasts are traditionally eggs, blueberry pancakes, and bacon
Lunches are sandwiches, cookies, more cookies, lots more cookies, a ton more cookies.
Things to Remember Section:
Hand wash pan has a hole
Coffee pot has a hole (the old traditional coffee pot)
Build a drying rack for the stove!! (Steve mentioned he wanted to do this?)
Repair top of stove - need new panel (being manufactured as I write this)
8 inch long "bic style" lighter for white gas lamps, tired of stupid old fashioned matches.
Modify an orange vest with Velcro or zipper pockets to keep more stuff safer


(Read a personal description of Backblaze here.)