2007 Mini Ski-Epic Page 2

(1/4/2007 - 1/28/07)


(Read a personal description of Backblaze here.)
On 1/16/07 I drove up to stay in Salida, Colorado, which is near the Monarch Ski Area. Below is a picture of the drive, which was very pretty. Do you ever wonder who is driving while I take these action pictures? I often wonder... :-)

Another picture of the drive as I left New Mexico and crossed into the Rocky Mountain territory of Colorado. Behind me is fairly flat terrain, and in front you can see the big mountain ranges looming up.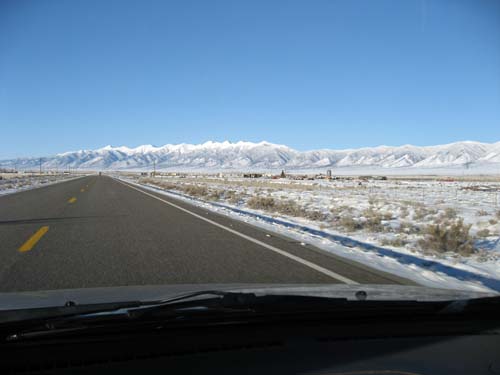 On 1/17/07 I skied Monarch Ski Area, near Salida, Colorado. It was pretty cold, so I couldn't take many pictures (stopping to take the camera out of my jacket was painful :-). Below is a picture from the parking lot of the base area of Monarch. The ski area is a medium size area, kind of short (not enough vertical). You make a quick run, then back onto the lift. There is a lot of good terrain, it's just short on vertical.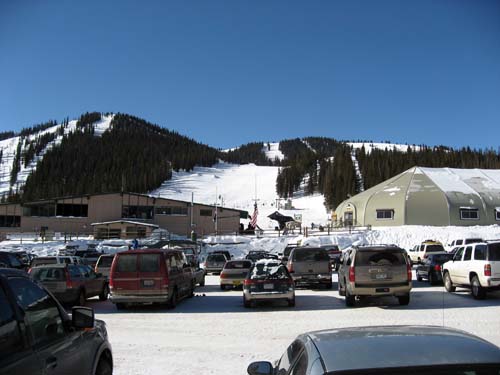 Here is a trail map for Monarch Ski Area (click on the picture below for a more readable version):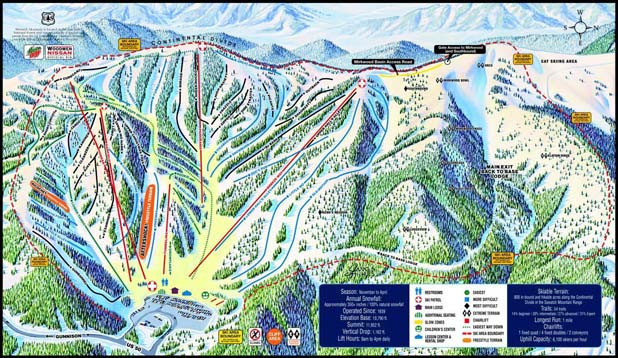 Below is a panorama from near the top. You can see the parking lot down at the bottom of this picture.

A picture showing the parking lot.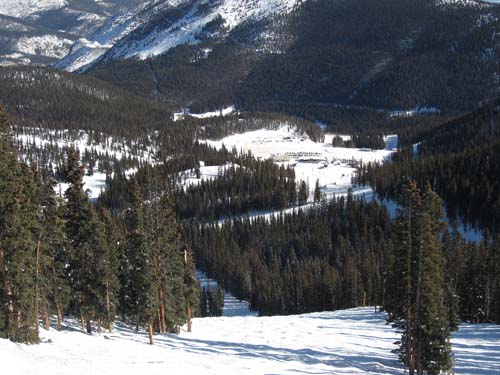 A picture showing the chair lift and some of the terrain.
After skiing, I drove to Nederland, Colorado to stay for the night. It was a pretty drive north, up on Colorado Highway 119.

On 1/18/06 I skied Eldora, which is near the town of Nederland, Colorado. Eldora is also only 20 minutes away from Boulder, Colorado. Below is a picture just as you turn off the main "Eldora Road" up towards the ski area.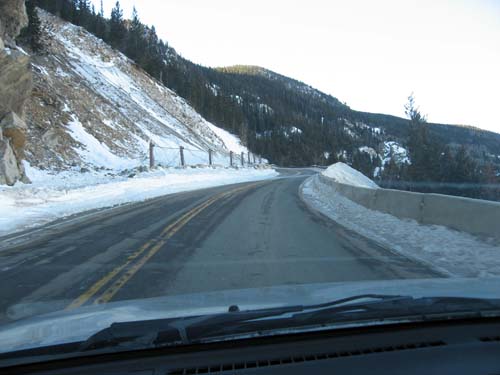 A picture of the parking lot and base facilities at Eldora, Colorado. Eldora has the nickname "Windora" because it can be windy. This day it lived up to its name with 10 - 15 mile per hour winds. One woman I rode up the lift said they had to shut the lifts down because of 45 mile per hour winds a couple weeks before. It was also fairly cold this day, and on a weekday, so very few skiers were out and around.

Here is a lift map of Eldora Ski Area in Colorado (outside of Boulder, Colorado). Click on the map below for a much larger, more readable version:
A picture at the top of Eldora, Colorado showing some choices in runs as you get off the very first lift which is called "Challenger".

Later in the day, more on the far skiers left at the top of "Corona Chair", some of the signs to the advanced terrain at Eldora Ski Area, Colorado.
This is a picture of the top of Corona Chair, at Eldora, Colorado.

There is a little hut called "The Lookout" to warm up and buy some food at the top of Corona Chair, I stopped in just to warm up because it was so cold.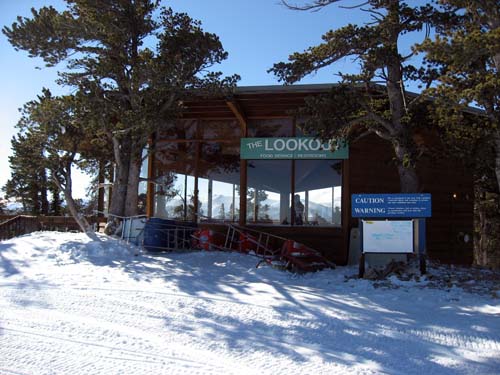 A picture of the base area from above at Eldora Ski Area, Colorado.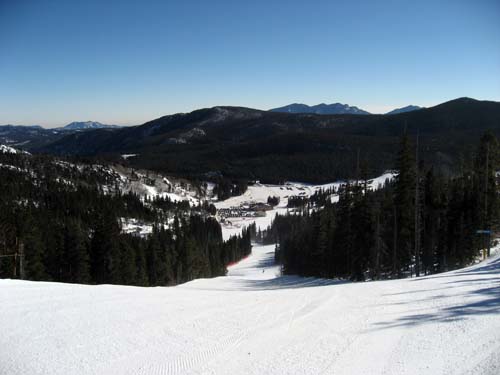 On the weekends they fire up both of the lifts shown below which adds some bandwidth. But really they should rip these ancient lifts out and put in some high speed detachable quads or possibly a 6-man chair here.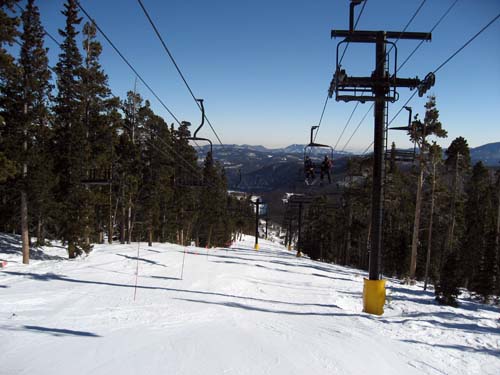 After leaving Eldora and driving south on Colorado Highway 119, I went through "Black Hawk, Colorado". I have no idea what this is, but it was like a miniature Las Vegas, built up with HUGE brand new casinos. I'm assuming it is American Indian Casino land.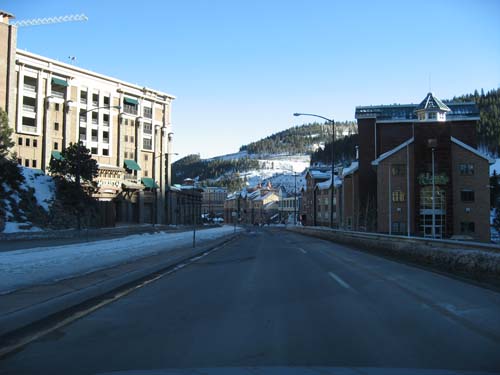 Below is another picture of "Black Hawk, Colorado", an enormous built up set of brand new casinos in the middle of nowhere on Highway 119 in Colorado.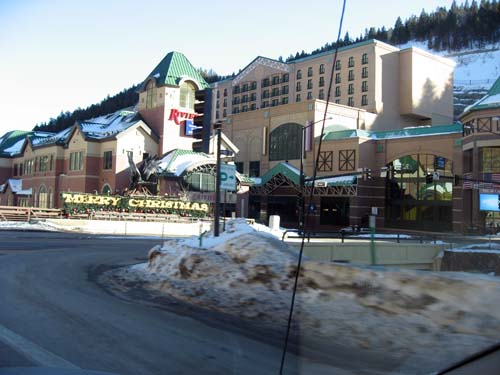 Colorado Highway 119 runs south from Nederland, Colorado directly into I-70. It is very pretty. Below are two pictures out the front of my Sentra as I motor along.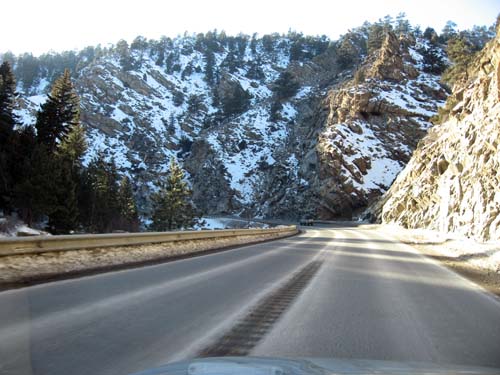 There are several of these tunnels on Highway 119.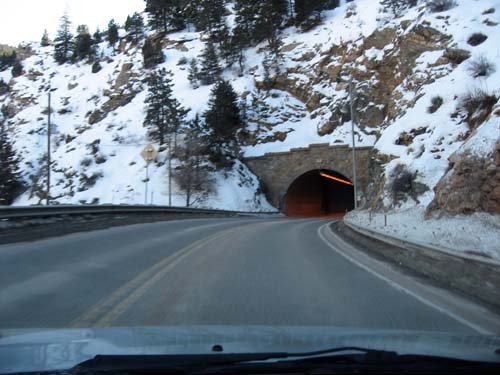 On 1/19/07 I got up in Vail, Colorado and skied at Vail for the next three days. Below are some pictures. I have to say that Vail ROCKS!! And I mean that in a holistic way, not just the mountain (which is the largest ski area in the United States). What I mean is that Vail is great AT EVERYTHING. The town is always a fun, friendly, party time. On the mountain the smallest details are perfect, like there are glove baskets and kleenex in every bathroom. The lift tickets are the most expensive in the world at $85/day, but I was stuck on a lift for 10 minutes, and at the top of the lift they handed out free lift tickets for the inconvenience! Contrast this with my $52 lift ticket at AngelFire New Mexico (3 small lifts) where they shut down THE WHOLE RESORT and still told me to screw myself and that they had the right to keep all my money. Vail charges top dollar then DELIVERS the top ski experience of anywhere I've ever been, so I really feel their lift tickets are actually under-priced. Here is my challenge to you -> go eat lunch at Two-Elks lodge at the top of the mountain at Vail, stop in their marble tiled immaculately clean bathrooms there, then ski down into the famous Vail back bowls and then you send me an email and tell me it wasn't worth $85 for that. In that email, please tell me the lift ticket price and the location of where you would PREFER to ski, and I promise to go there and check it out.
Below is one of the famous back bowls of Vail. Vail has something like 3 main big back bowls this size, then they have now opened up (in the last 3 years since the last time I was here) another couple new bowls one of which has some fabulous tree skiing I really enjoyed. Just to pause on that for a second -> in the last 3 years Vail has opened up as much NEW terrain as most ski areas have total. Vail has put in more high speed detachable quad chairs in those new areas as most resorts have total. This is an amazing mountain. Some criticize that it is a little flat and doesn't have enough "extreme" terrain, and as a percentage of total area I would have to agree. But most skiers don't need (or want) the extreme stuff, and even if they do you can find it here and there at Vail if you look for it.

A picture taken from the lift of another back bowl. The ridge you see in the far distance is the top of the ski area, the town of Vail lies ever FARTHER past that ridge by a half mile.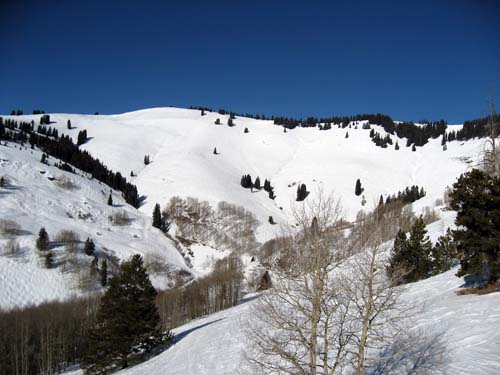 The panorama below is from the top of Vail, pointed mostly back towards the town of Vail. (One of the back bowls are seen on the far far right of this picture.)

A picture of the groomed expanses at Vail. They "buff" an enormous amount of area, lots of skiers appreciate this (and we all appreciate it when it hasn't snowed in a while).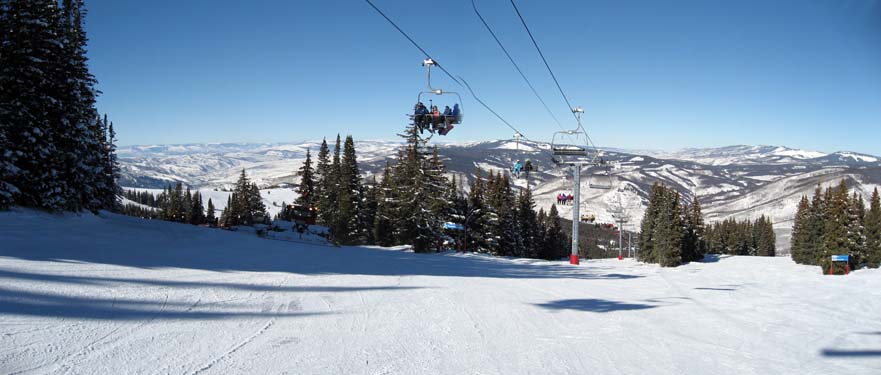 A picture of a chair lift. This is Friday, and every high speed quad is full. Still, the mountain is so big I was actually skiing a lot of time completely on my own with very few other skiers arouund.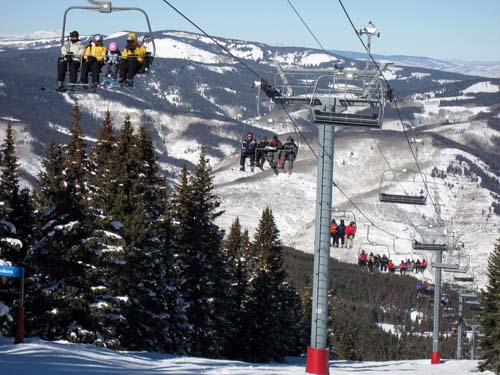 To buff (groom) this much ski area, there are armies of these snowcats crawling around grooming all of the time, 24 hours a day at Vail. I wanted to take a picture of a column of these things (you would see this sort of column of 10 or more grooming machines drive by every few hours no matter where you were).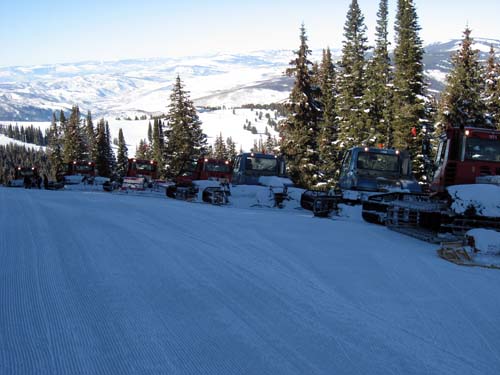 A close up of the Vail grooming machine. It smoothes the snow down to make it easier/more pleasant to ski on (tracked snow can setup and become ice and hard to ski on).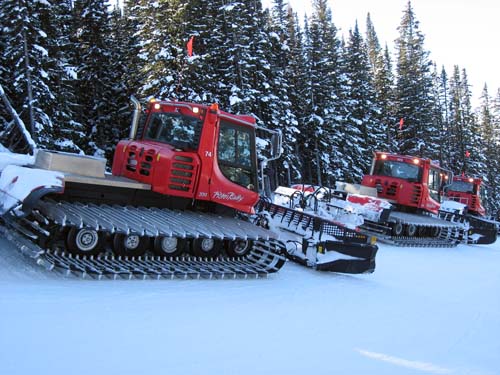 The picture below shows "Mid-Vail" which is a lodge complex half way up the mountain (at the top of one set of lifts, and yet at the bottom of another set of lifts). Every time I saw a sign for "Mid-Vail" I would think of one of my favorite Gary Larson "Farside" cartoons about "MidVale School for the Gifted".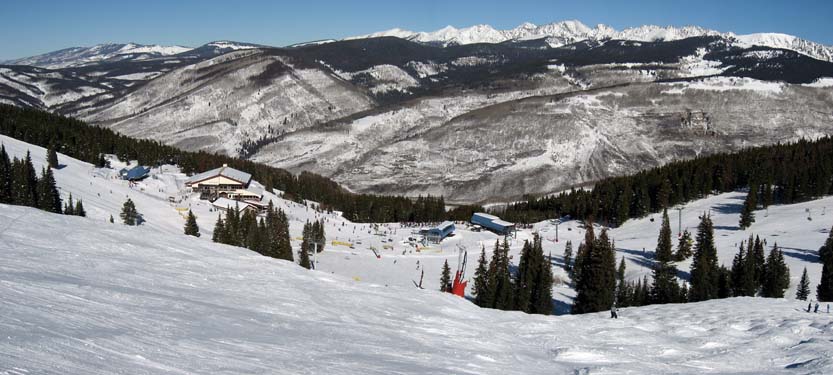 Here is the Gary Larson "FarSide" cartoon I kept thinking about (yes, it is spelled slightly differently). This cartoon slays me. :-)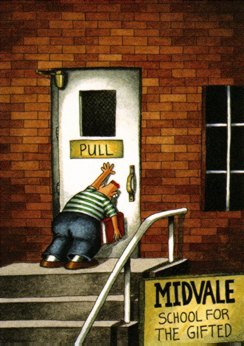 Signs pictured below at Mid-Vail in many languages.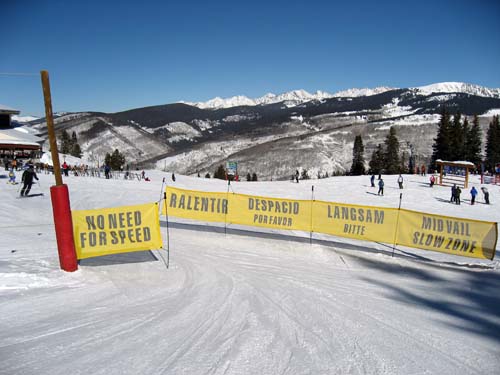 Yes, below is a picture of urinals in a bathroom at Vail, I'm obsessed. :-) I just wanted to show all you other ski area owners HOW TO DO IT RIGHT!! First and most important, notice that there are boxes for gloves and goggles above the toilets. This might seem obvious to every skier (that you need a safe place to put your goggles and gloves while you use the facilities), but in 80 percent of ski areas they do not provide this sort of nice touch! (Yet they charge almost as much and pretend they are as well run as the best ski areas?) Second, look closely at how immaculately clean this bathroom is. It's amazing. And over and over again, no matter where I was on the mountain, you would find this same cleanliness and convenience.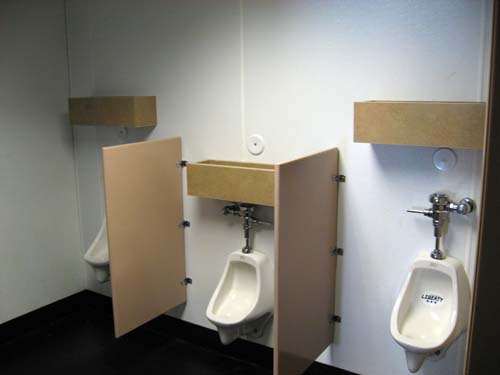 Another picture from a different bathroom (this one happens to be at Two Elks, at the very very top of Vail mountain). Look at how there are facial tissues above the hand dryers? Look at how EVERY box is perfectly positioned, and EVERY box has tissue? It's cold out, noses drip, goggles need to be wiped off, and Vail is trying to provide the very VERY best experience. I have never seen any other ski area on earth try this hard (most don't even try at all!)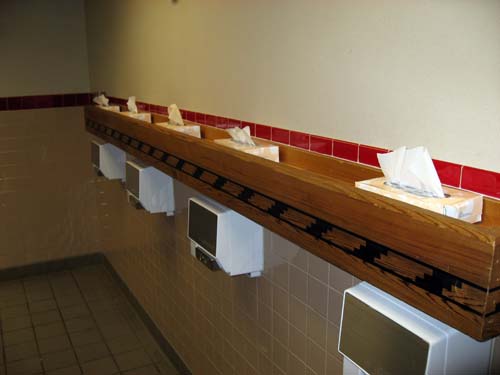 A picture of "Lionshead" from the Vail Gondola. This is one of two main launching areas into the mountain.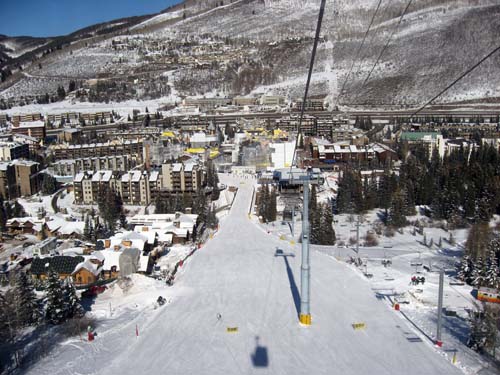 Many of the larger, better ski areas have a "Children's Fun Zone". Vail has a ton of of these sprinkled around the mountain, so I went on a camera excursion to find as many of them as I could and take pictures. Don't think I'm suffering through these, I actually LOVE skiing in the Children's areas, I think they should build them bigger for adults (like in the picture below I have to crouch to ski through the "Crazy Coyote's Get Away Tunnel"):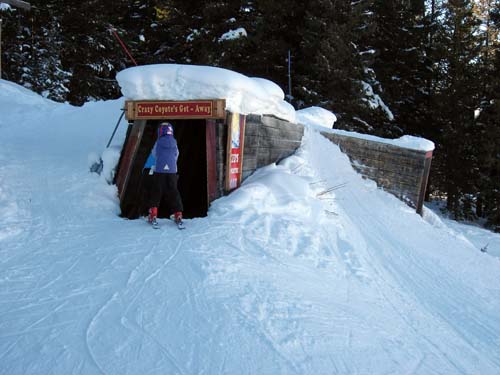 A picture below of a kid leaving Crazy Coyote's Get Away tunnel.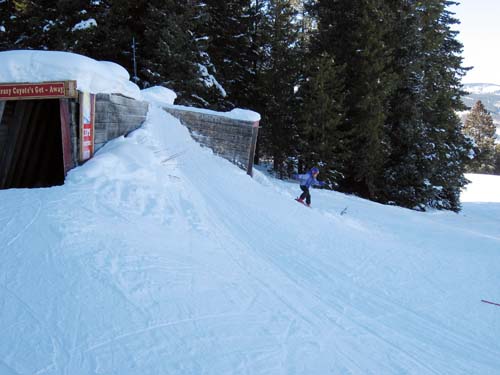 A little while later is Crazy Coyote's Tree Adventure (I guess at Vail "Crazy Coyote" means it is for children?)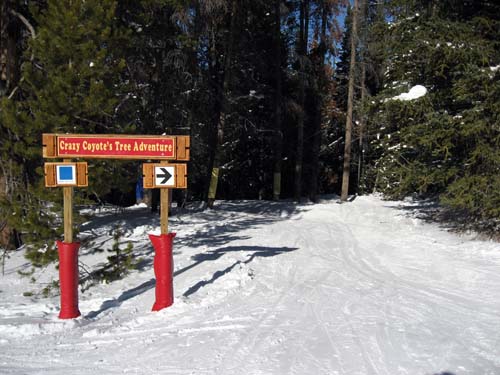 "Chaos Canyon" is another Children's Fun Zone at Vail.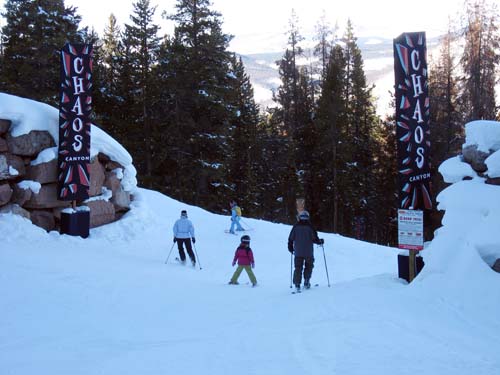 One of the runs inside Chaos Canyon at Vail is pictured below "Tornado Alley":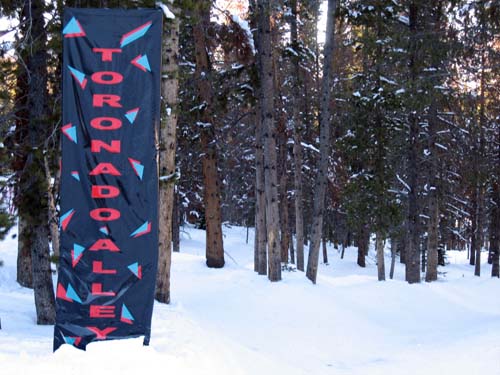 The "Magic Forest" for children at Vail:
Further along, the "Sherwood Forest" for children at Vail. The general theme here is a lot of trees and a tight roller coaster trail weaving through them, with some animated characters standing around (look closely in the picture below to see a beaver or some such thing). Easier for kids on small short skis.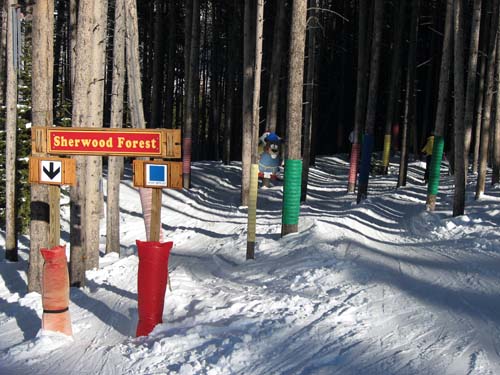 I don't know what the rainbow below signifies, but it was in a children's fun zone at Vail.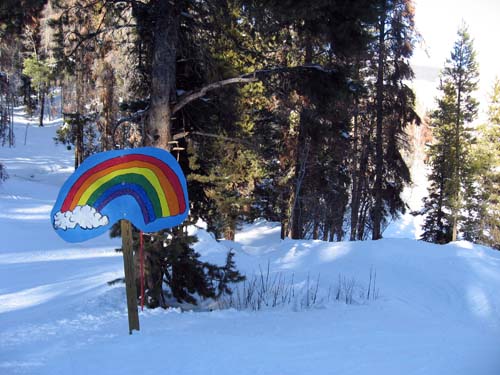 This "fort" can be skied through and is filled with nooks and crannies. This fort is called "Animal Kingdom's Secret Passage".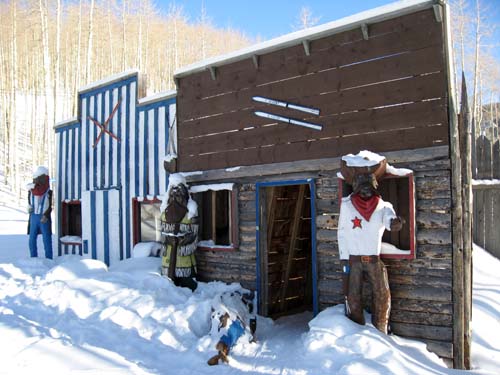 The same fort (called "Animal Kingdom's Secret Passage") from the back side. This is at Vail, Colorado.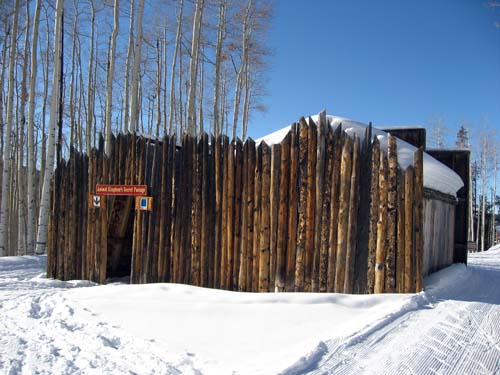 Below is a panorama of the town of Vail, Colorado, taken from the ski hill late in the day (you can see the shadows creeping in). The big highway there is Interstate 70.

Other ski areas have "rope tows" for beginners, which are short lifts on flat terrain to teach beginner skiers how to slide on the snow. Vail has the escalators shown below (known as "magic carpets"). These are a nice touch (again, Vail tries the hardest).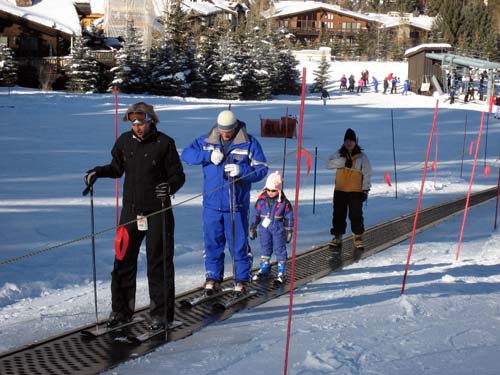 I had never ridden one of these, so I went for a ride. :-) Below is a picture of my skis riding up the escalator at Vail.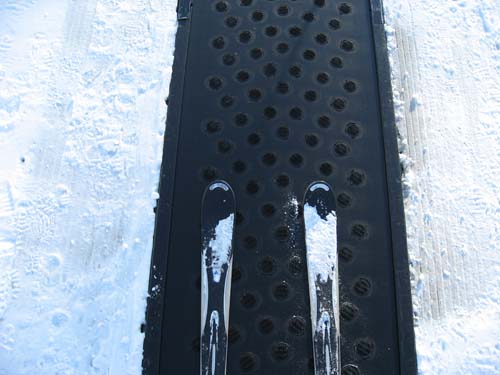 A picture as I ride along.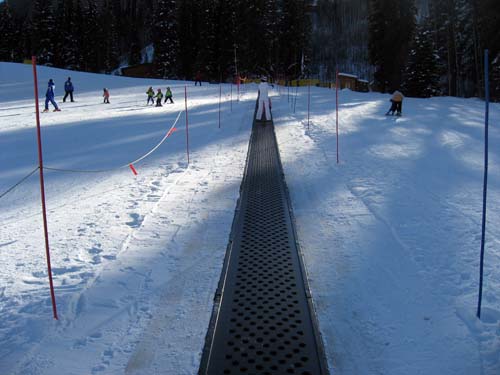 A couple pictures of Apollo Park Lodge interiors at Vail. This is the cheapest place in Vail to stay, but is conveniently located walking distance to the lifts. My kind of place (I've stayed here a couple times in the last 10 years.) That's a gas fireplace to the left of the TV, and out the deck window you can see the ski mountain (the glare in the picture prevents seeing it too well).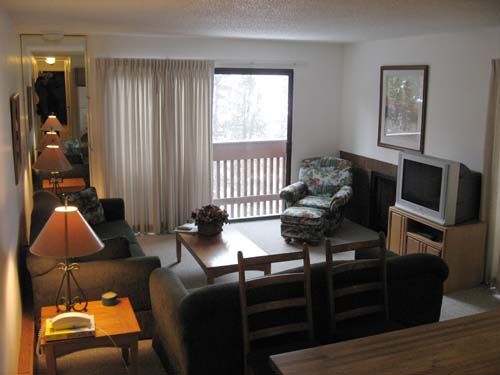 A picture of the Kitchen (the second half of the main room seen above in this one bedroom condo). A little dated and a little simple, but pretty clean and again, cheap and walking distance to the lifts.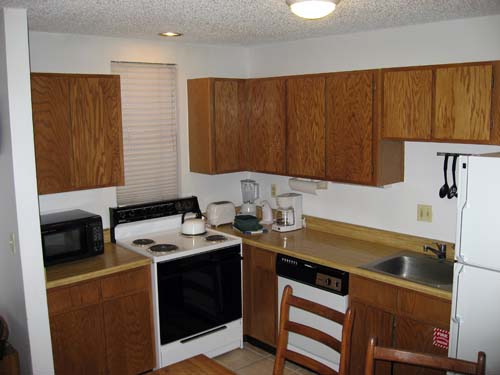 On the third day I skied Vail, Colorado, I came across this snowboard park with some random kids jumping BIG AIR off this jump. It's one thing to see this in ski movies, but to watch some random guys do it (and crash a bunch) is very impressive. Look at the snowboarder below and how he is something like 20 feet up in the area (he just came off that jump to the right with the blue flag).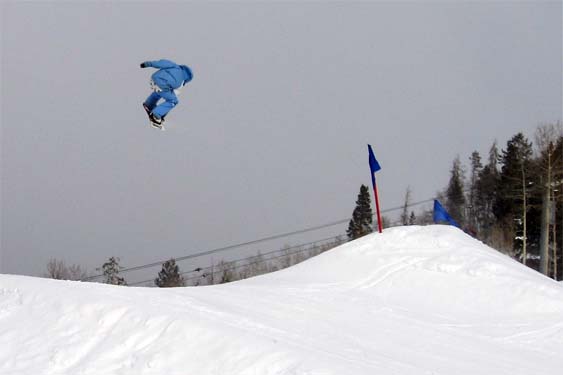 Zoomed out so you can see the whole jump layout.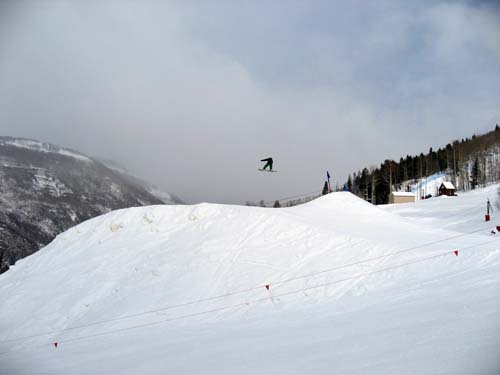 Another snowboarder getting seriously big air seen below.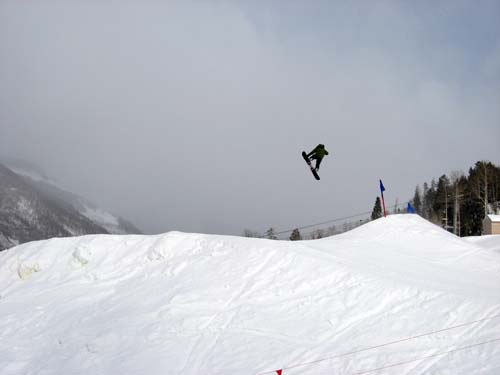 I took a little movie of several of the jumpers (edited together), click the movie player below to watch it (it is large and might take a long while to download).
At the end of the day, my Nissan Sentra and skis about to drive away from Vail, Colorado.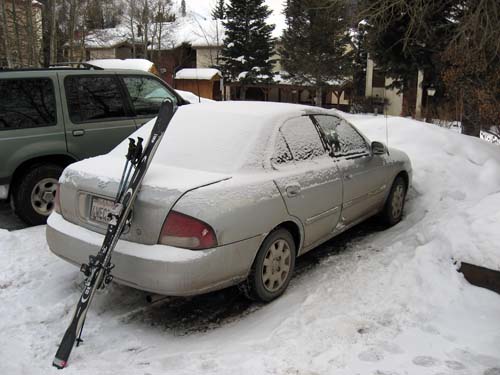 I stayed over night in "Green River", Colorado (a very inexpensive town of 800 residents and 10 cheap hotels and nothing at all to do). I got up on 1/22/07, did some laundry in lovely downtown Green River where I met a golf pro who says you can golf year round in Green River, and drove on to Salt Lake City, Utah.
On 1/23/07 I skied at Alta which is a ski area 20 minutes outside of Salt Lake City. Below is a picture of the "Albion Base Area", Alta, Utah. Alta is QUITE unique in several ways, owned and operated by private set of families that have been operating it for years in very strange and unique ways. First of all, they do not allow snowboarders, making it one of about 3 ski areas on earth that ban snowboarders. I think it's silly, at this point everybody knows snowboarding is an established, normal sport. I think the last few ski areas are doing it just as a marketing ploy, but Alta is so strange it . Another uniquely Alta "thing" is they have a fairly low lift ticket price of $52, even though their mountain is world class. Many skiers consider Alta kind of a Mecca to be visited at least once in your life for it's steep, extreme terrain. Another crazy unique Alta ski area thing is that they do not have any "safety bars" on ANY of their lifts. They must PAY MORE for LESS SAFETY (because no lift has been manufactured for years without any safety bars, I assume Alta is paying enormous amounts of money to have them removed). One of the ski patrol members I rode the lift with replied to my comment about the lack of safety bars by laughing and saying "Welcome to Alta!". Below is a picture of the "Albion Base Area Lifts" where I loaded in the morning. A final thing I can think of that is unique (and a bit crazy and dangerous) about Alta is that they don't believe in marking single-black-diamond runs separately from double-black diamond runs. A double-black diamond run is the hardest, most dangerous run on any mountain, and every other ski mountain marks these. At Alta, they lump together single-black-diamond (which most intermediate skiers can hobble down relatively safely) with some of the angriest, gnarliest, most dangerous double-black diamond slopes in the world that only a handful of skiers are capable of surviving the descent. This essentially means that to ski Alta, you either have to avoid all double-black slopes, or you cannot ski anything you have not "scouted" in some way ahead of time (like from the ski lift). I'm not sure what the owners are trying to achieve with this. Again, "Welcome to Alta, have a nice day, good luck with survival because you're on your own." :-)

As I rode up the Sunnyside lift in the morning, a picture backwards over my shoulder of the Albion Base Area at Alta, Utah.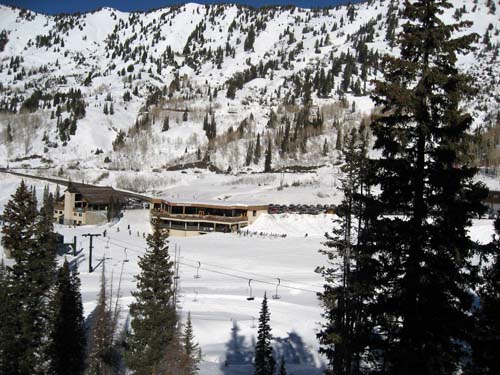 The panorama below was taken from the top of the Sunnyside lift (actually only half way up the Alta mountain, another lift goes the rest of the way).

Ok, now at the top of Alta, this bowl below me is at the top of the "Sugarloaf Lift" at Alta, Utah.

Below is a picture of the "Wildcat Base Area" at Alta, Utah. Picture taken from the slopes above it.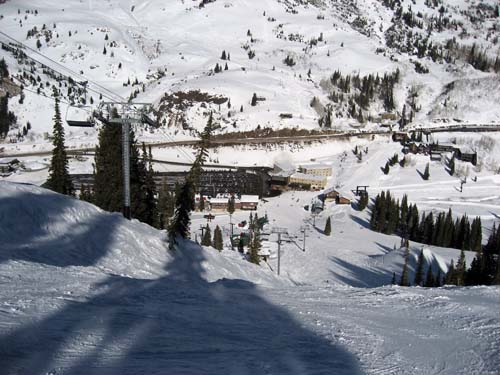 I don't know the three skiers in the picture below, but I liked how the three buddies stopped to take in the scenery here at Alta, Utah.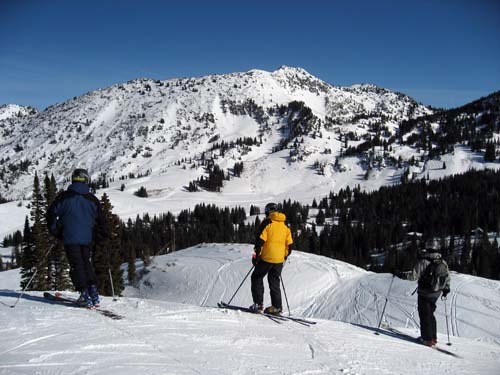 I ate lunch at Alf's Restaurant, and sitting on the deck I took the picture below. Look closely at the red arrow, it is pointing at a skier who traversed in from the left of the photo to his current spot, then dropped straight down from where he is in this picture. That's some steep STEEP Alta terrain, look how big that mountain is compared with the little tiny skier. (Click on the picture below to zoom in.)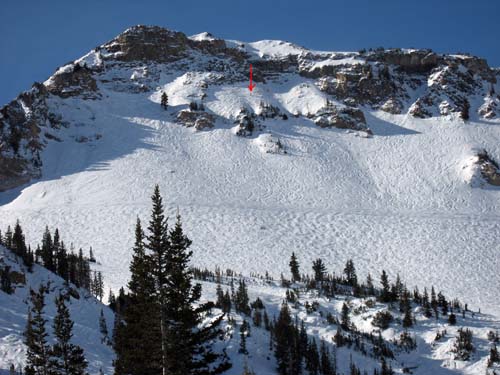 This is the same picture as above, just without the red arrow. Can you find the skier without it?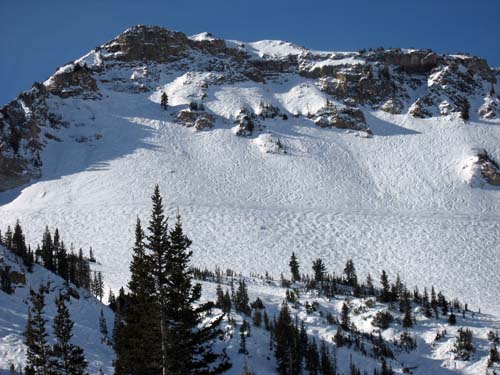 The picture below is off the back of Alta Ski Area, Utah. Taken from the top of the "Collins Ski Lift" at Alta.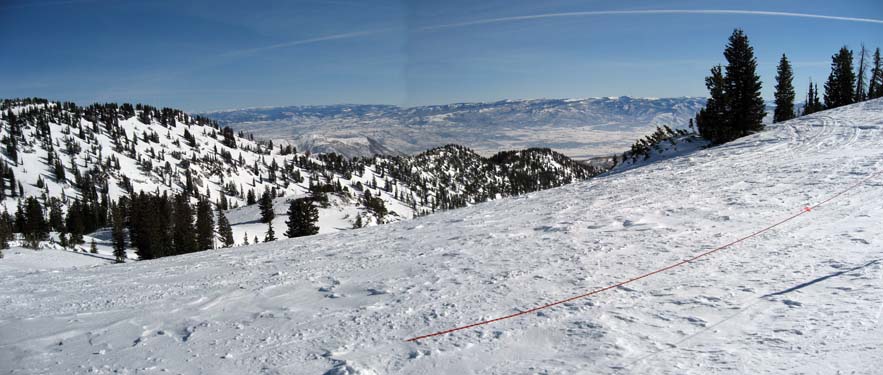 Below is a plaque that describes what you see in the picture above.

Random nice day at Alta Ski Area, Utah.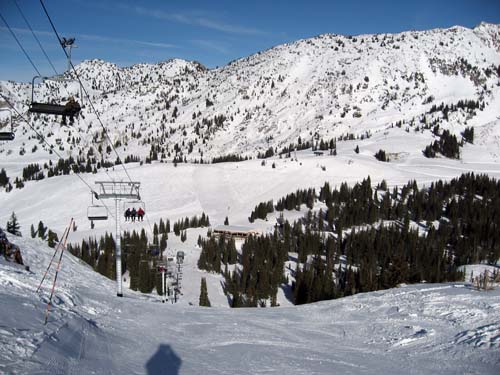 It wasn't a fabulous snow day, but I had to do a few black diamonds at Alta just to say I did them. :-) I dropped down into this chute, I think it is called "Nina's Curve".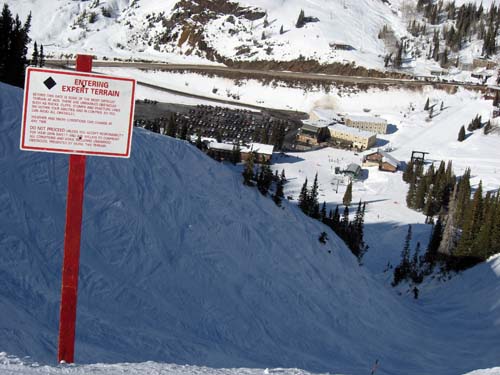 At the end of the day on Tuesday, 1/23/07 after skiing at Alta, Utah, I drove to Park City, Utah to stay with my buddy Mike Chow. This is the week of the Sundance Film Festival, so Mike was in town for a bit of skiing and a lot of films. :-)


(Read a personal description of Backblaze here.)