reddit.com Case Study

(this page created 5/30/08)
Summary
My silly personal vacation photo webpage (Amsterdam Bicycles) got picked up on "reddit.com" (http://www.reddit.com), rose into the top 10, and the traffic hits on my servers went crazy.
Traffic Spike Graph because of Reddit
I use "Google Analytics" (a free service from Google) where you put a little java script code on each web page and Google can then track and graph lots of interesting statistics about your web pages. Below is a screen shot from Google Analytics showing the traffic spike on May 29, 2008 when suddenly I got into the top 10 on reddit.com:

Below is the "longer tail" version of the graph above, it shows how the load only lasted for a couple days, then dropped:

Below is a graph from the "Godaddy" admin page showing bandwidth usage: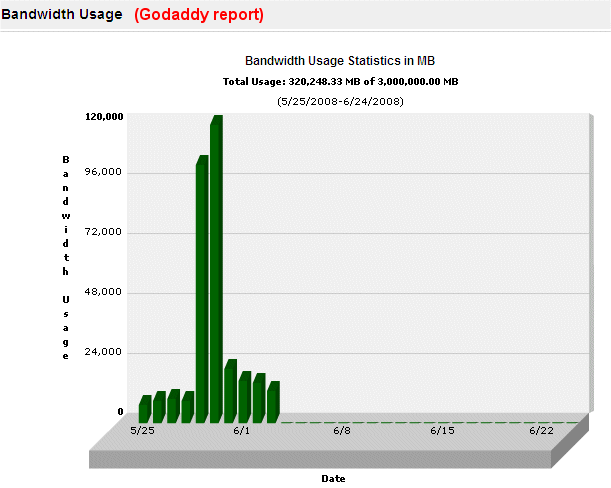 What the load did, how Godaddy handled it
My website is hosted by Godaddy, because it's cheap (starts at $3/month). I have a "Premium Hosting" plan which is a shared server but up until now had handled the load fine. The day of the reddit.com article (ranking?) the only way I knew there was any problem was that when I tried to visit my own website, I would get "error" messages like "503 error - Service Temporarily Unavailable - The server is temporarily unable to service your request.". Even worse, sometimes the website WOULD load, but not all the images would load, people thought I had broken links. When I called Godaddy support, they said there was nothing they could do for me! At least nothing that would have any effect for the next 24 hours! There was no way I could pay more money and get my site to keep up with the bandwidth. Godaddy offered to move me to the next level of service which was a "managed dedicated virtual server" or something like that, but it would take at least 24 hours to setup, and it would cost me around $400 / month!! Even worse, it would mean I would have to do a whole lot of system administration -> I'm capable of this, but I don't want to spend the time doing it, that's why I pay for hosting, I just want to serve up simple HTML page with simple pictures of my vacations.
Here is a screen shot of what happens when you exceed your hosting plan's bandwidth at Godaddy. I feel this is just unprofessional, why not contact me or give me the option of paying more money for more bandwidth?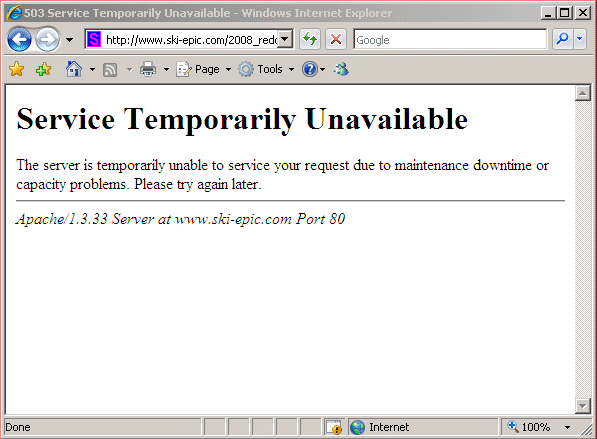 Below is a screen shot of when this web page was #2 on reddit.com: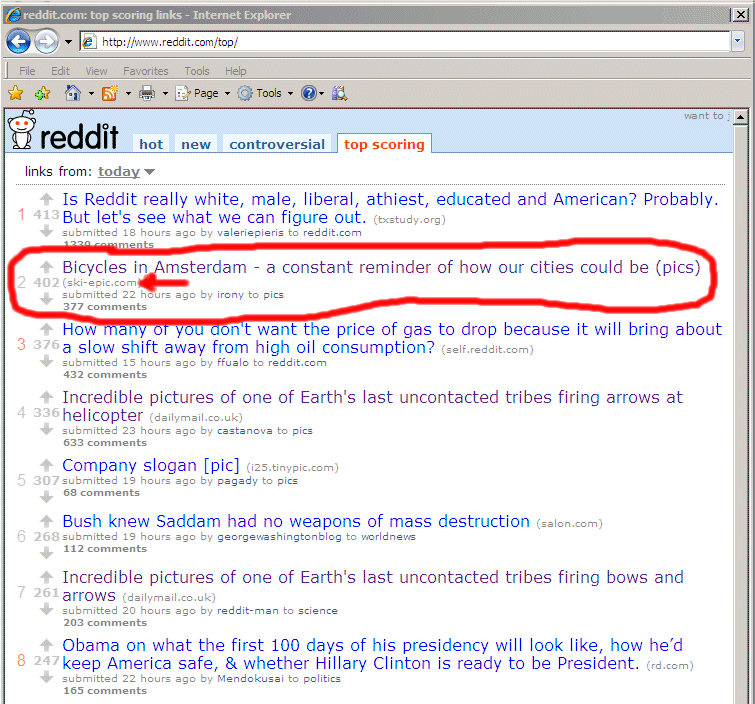 That's it.