2011 Peninsula Debutante Ball

(6/18/2011)
On Saturday, 6/18/2011 Melanie Marie Louise Galindo-Huaume (along with 18 other young ladies) was presented to society at the 2011 Peninsula Debutante Ball. On this page are some pictures and videos of the event. The event was held in the Mediterranean Ballroom at the Crowne Plaza Hotel in Palo Alto, CA. Click on any picture below for a higher quality original.
A débutante is a young lady from an upper class family who has reached the age of maturity and is now presented to eligible bachelors and their families so she can get married. Just to be utterly clear on how I view this: I think it is an anachronism and a bit silly in a modern internet world, but I was invited and I adore Melanie (who I have known for 12 years) enough to wear uncomfortable rental clothing and show up and support her. Along the way I got some great pictures of an unusual event, so away we go....
Below I'm looking into a mirror getting dressed before the event (picture taken by Katherine). I figured I should take embarrassing pictures of myself since this is the first and probably last time in my whole life I have ever worn a tuxedo with tails. :-)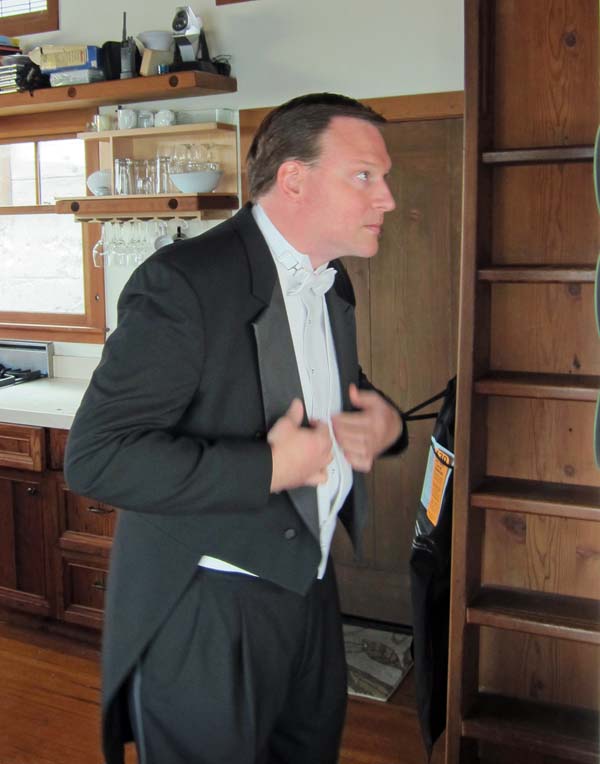 Fully dressed in rental clothing, out on the front porch of my house. I look like a butler.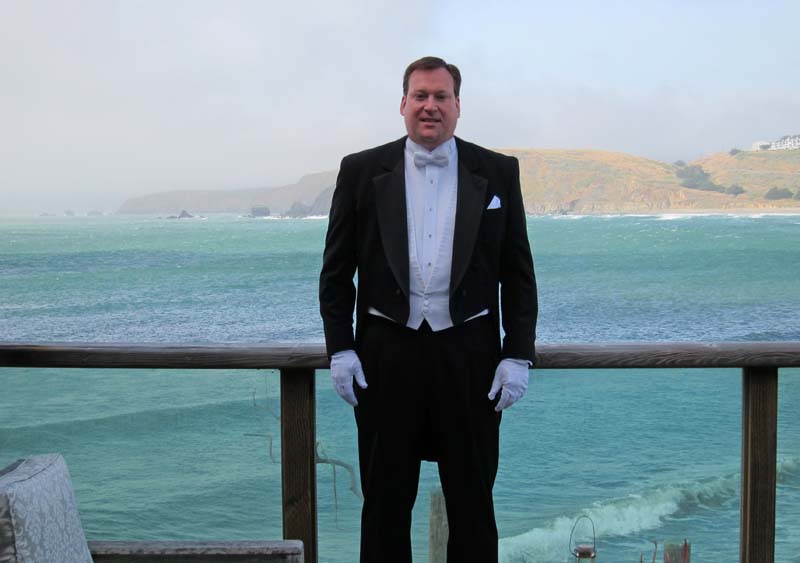 Action shot by Katherine, I like how it is a little more natural.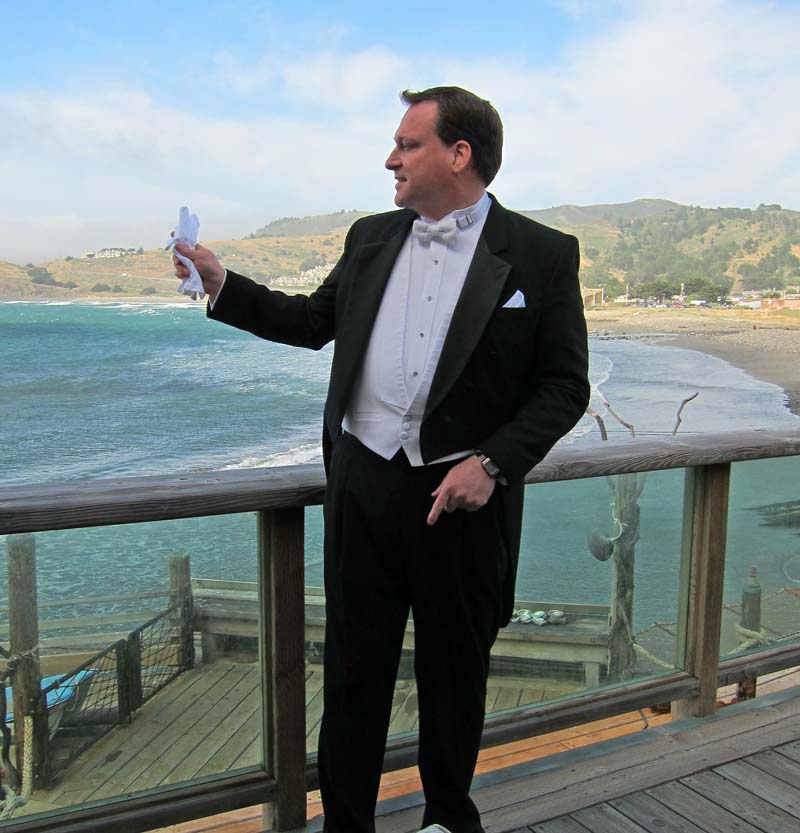 A few minutes later I arrive at the Crowne Plaza Hotel in Palo Alto, CA. This is the room immediately outside the ballroom and I'm looking for my group. I'm lost, but I figure since we're all wearing tuxedos this cannot be far away from the correct location. :-)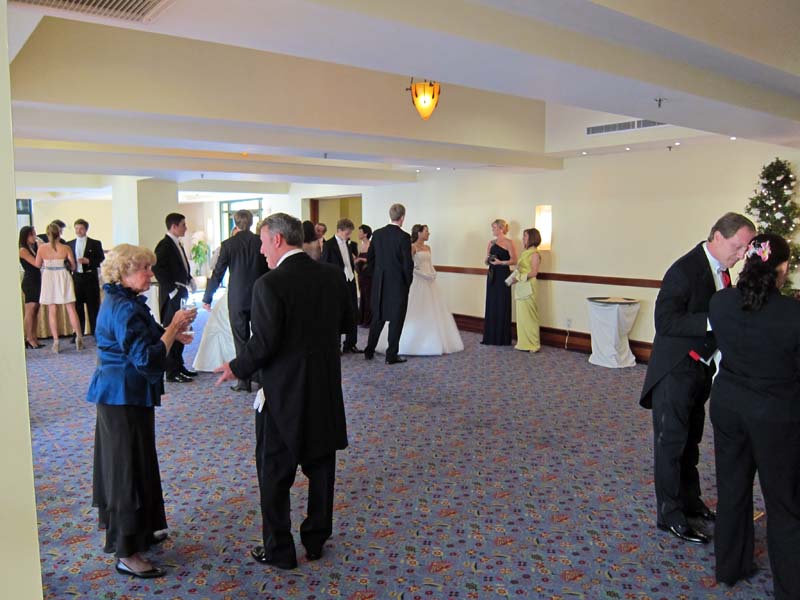 Here is the scanned in "Program of Events" (click here to see the entire document, or click here for highest quality 300dpi original). Also click here to see the RSVP and donation levels ($275 just to attend the event, "Sponsors" listed in the program gave $500, "Patrons" gave $750, and "Benefactors" gave $1,000 or more):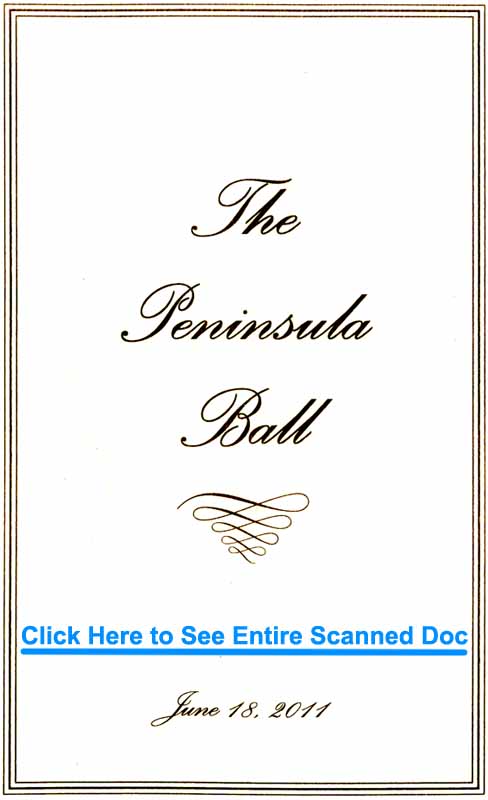 In the courtyard of the Crowne Plaza Hotel, I see my group in the distance.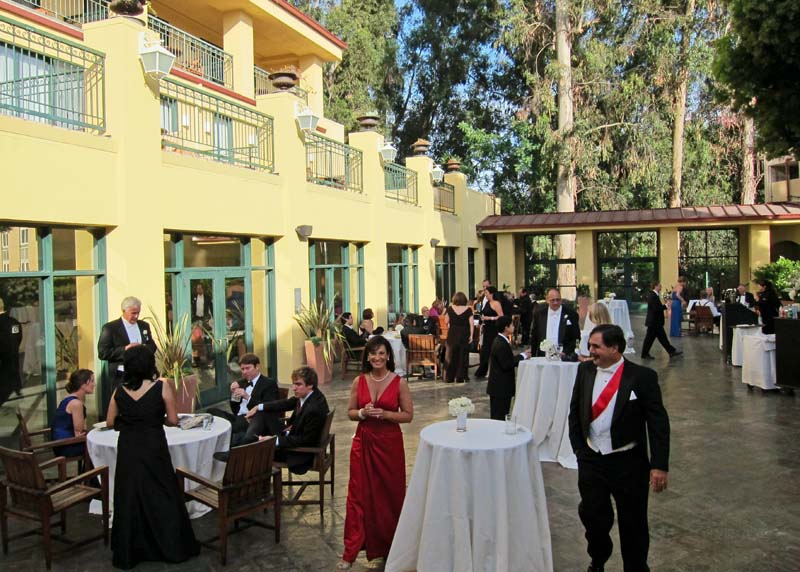 On the far right below is Christina Galindo, her daughter Melanie is our debutante.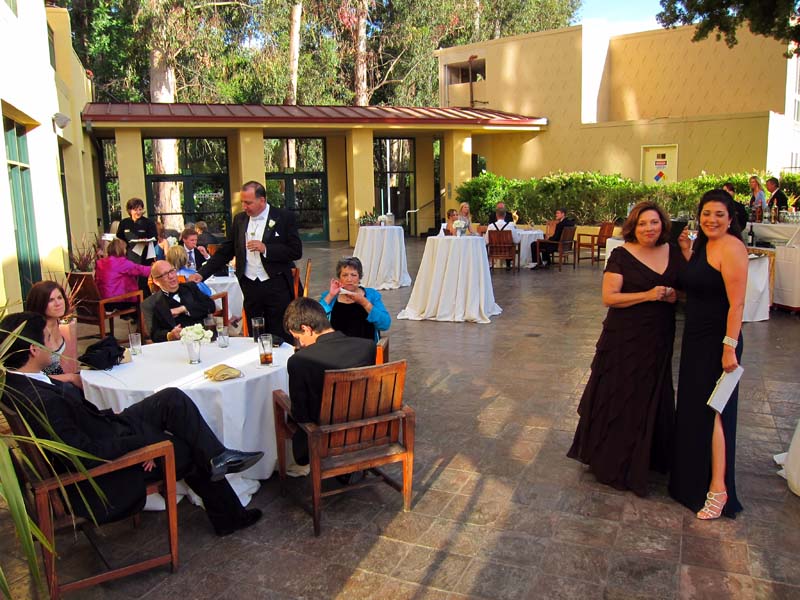 A panorama of the scene.

Random photo, you can see my reflection in the window if you look closely.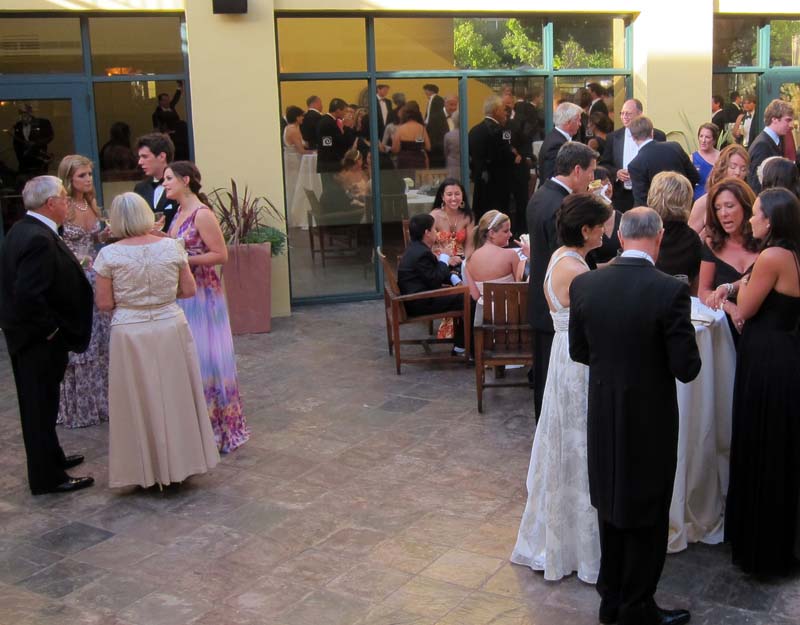 Various people gathering waiting for the main ceremony.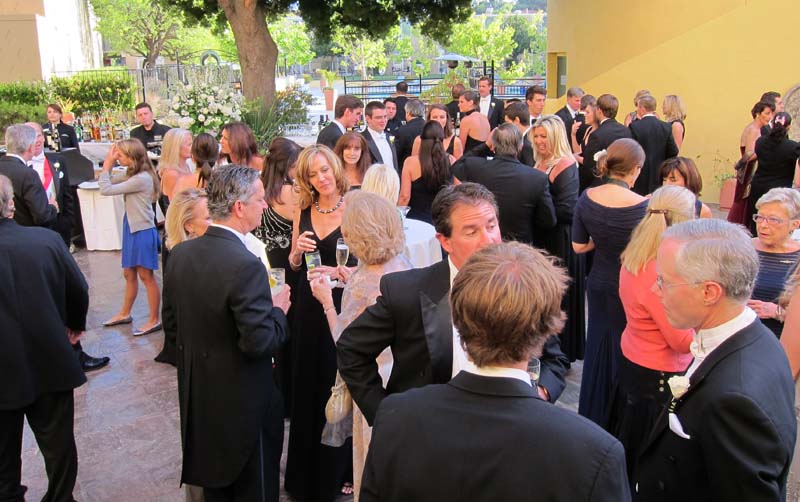 I don't know these ladies, they lined up for a photo taken by an iPhone, and I jumped in and took my own photo. :-)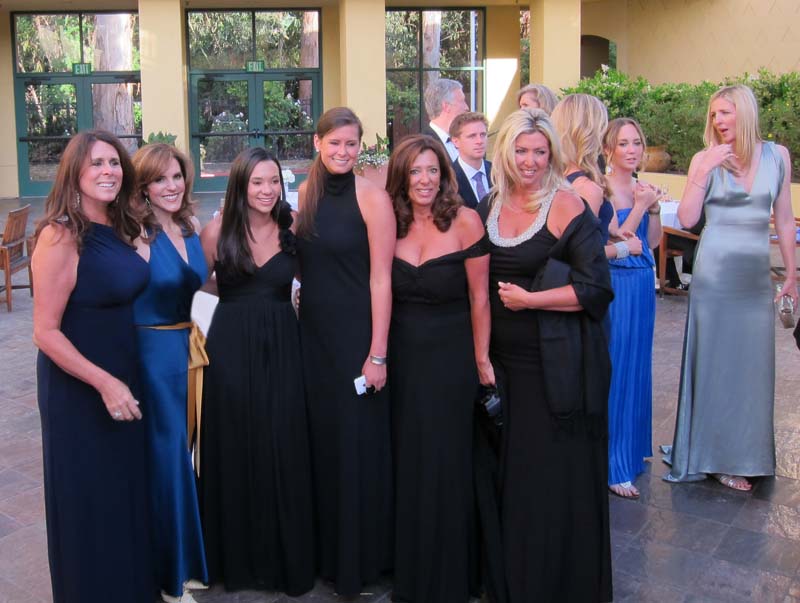 Christina and friends.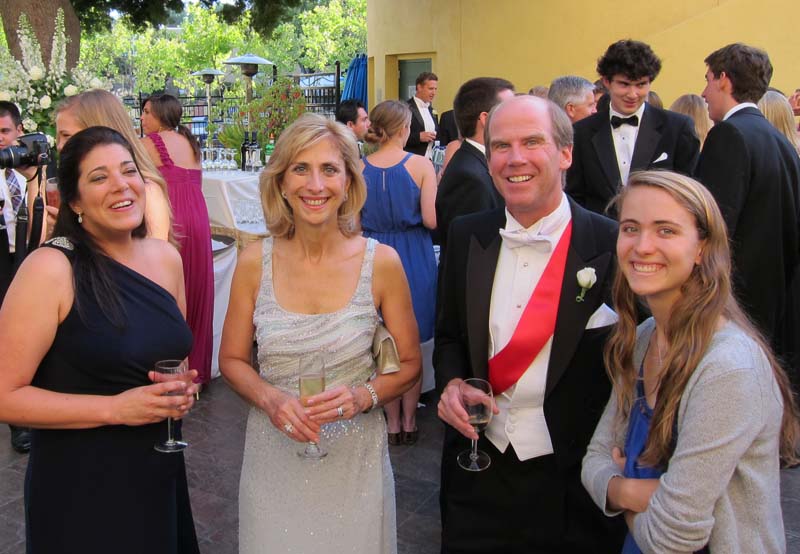 I snuck into the ballroom ahead of time and found the debutantes were getting pictures taken in advance. It is like a big group wedding or something.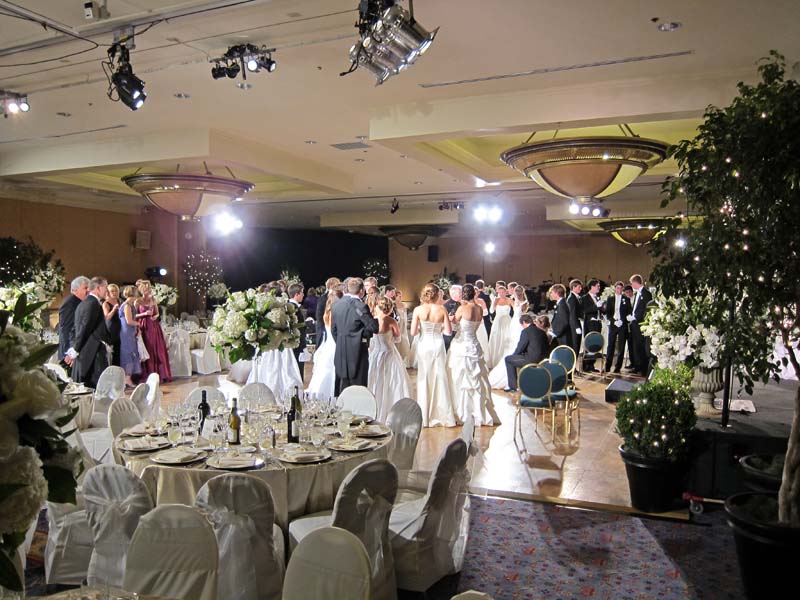 A closeup of the gathering of debutantes.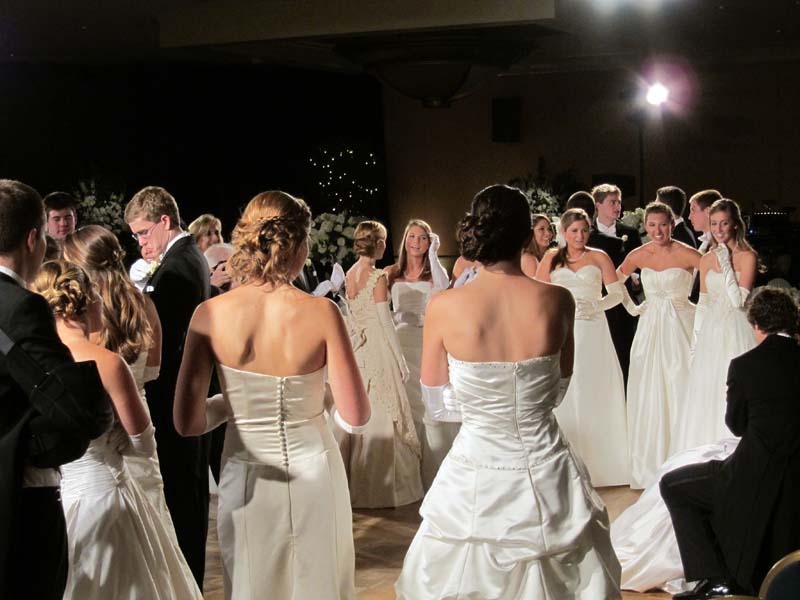 That is me on the left, Christina's mother next to me.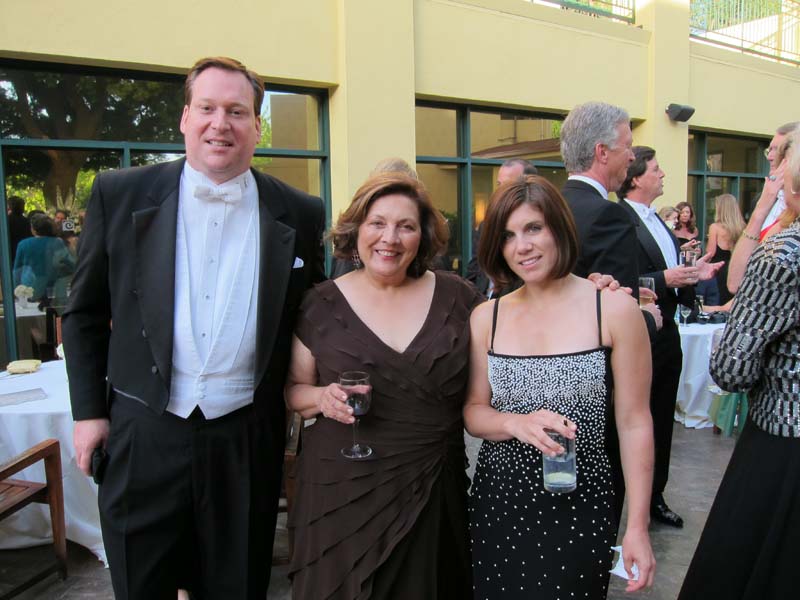 The "receiving line" at the Peninsula Debutante Ball in Palo Alto, CA. Here all the guests are entering the main ballroom to start the ceremony.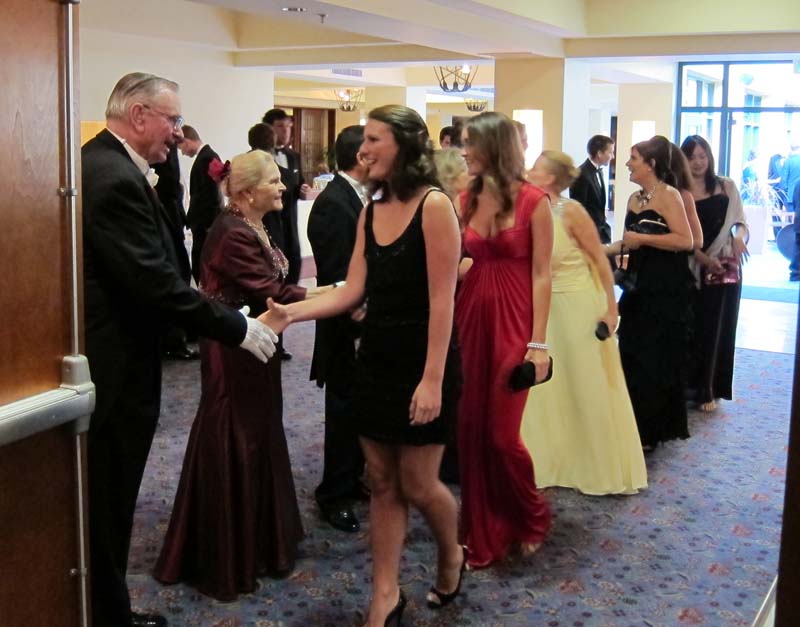 More pictures of the receiving line, our group is coming up.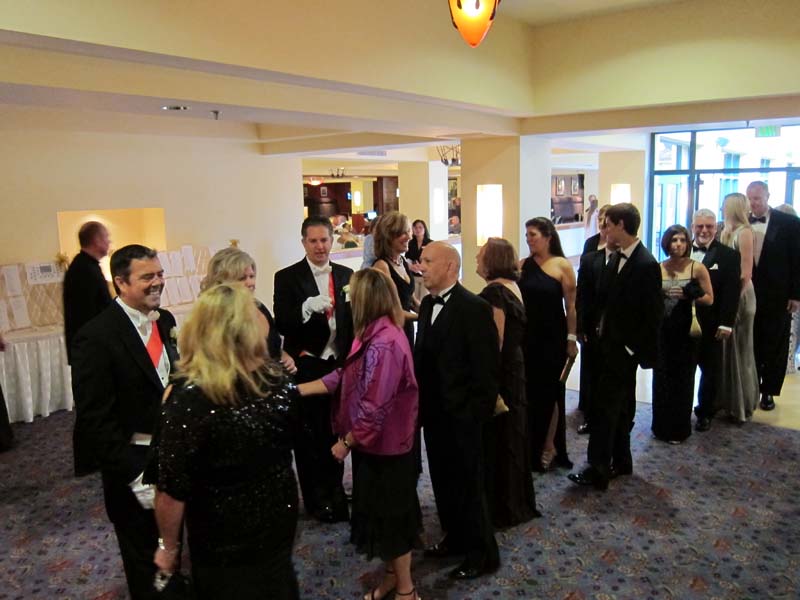 Christina shakes this man's hand in the receiving line.
Gathering in the main ballroom.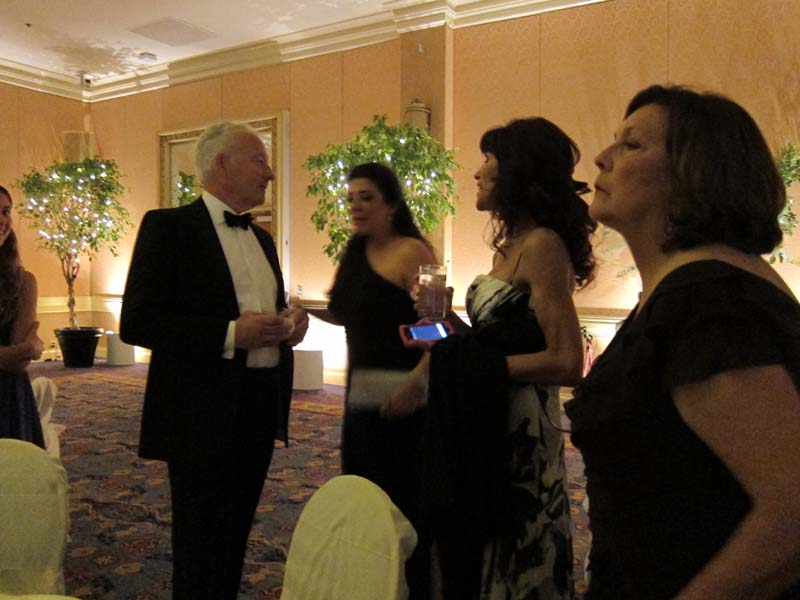 The ceremony begins, the announcer on the podium (red sash) announces stuff as it occurs (like introducing each debutante).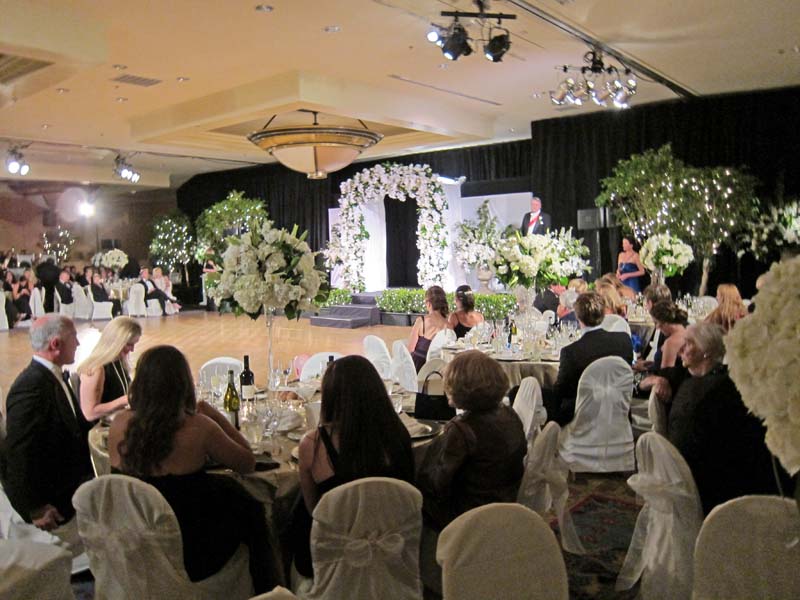 Each debutante has two men associated - the "escort" (their date) and the "presenter" (usually their father). Below each of the escorts walks in FIRST (before any of the debutantes show up).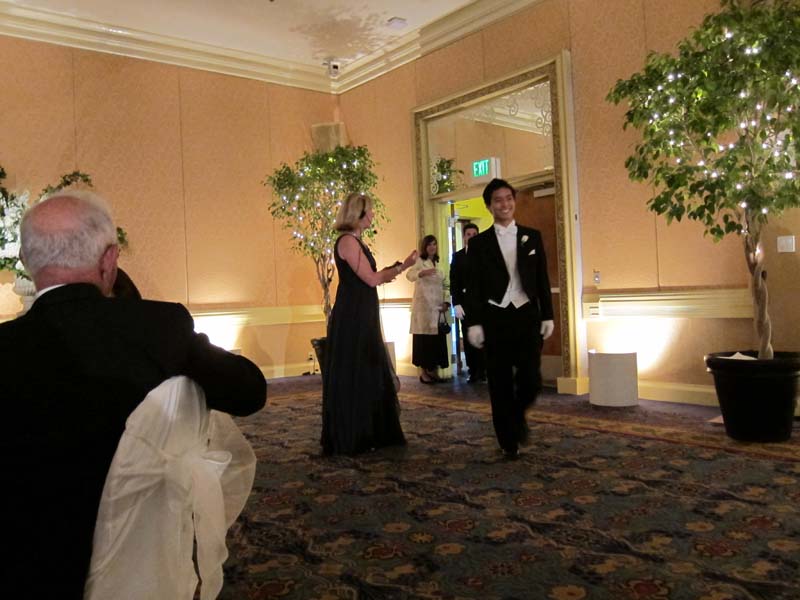 Now each Debutante is introduced. They start by being announced in the big flowery head stage seen below, where all alone they stand and do a curtsey. Their presenter then shows up and walks them around the room.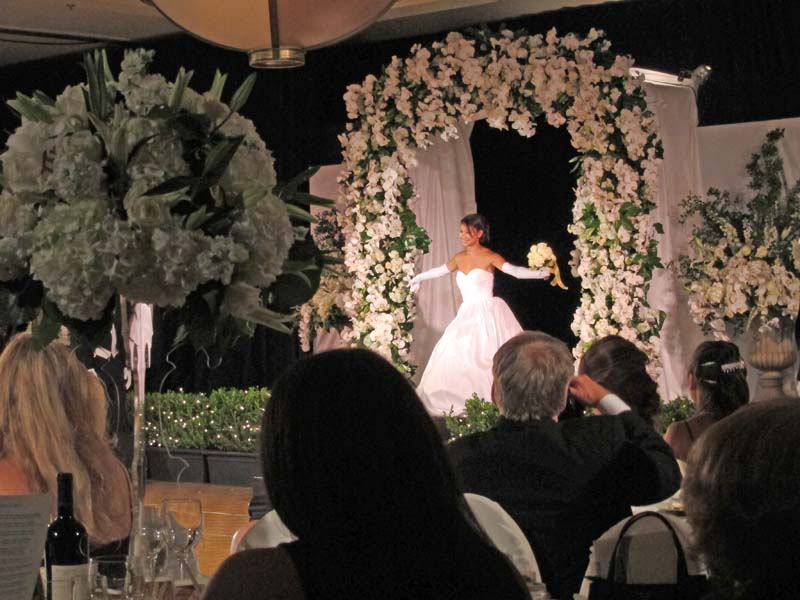 Below is Melanie (our debutante that we are here to support) with her "presenter" Jay (Melanie's uncle).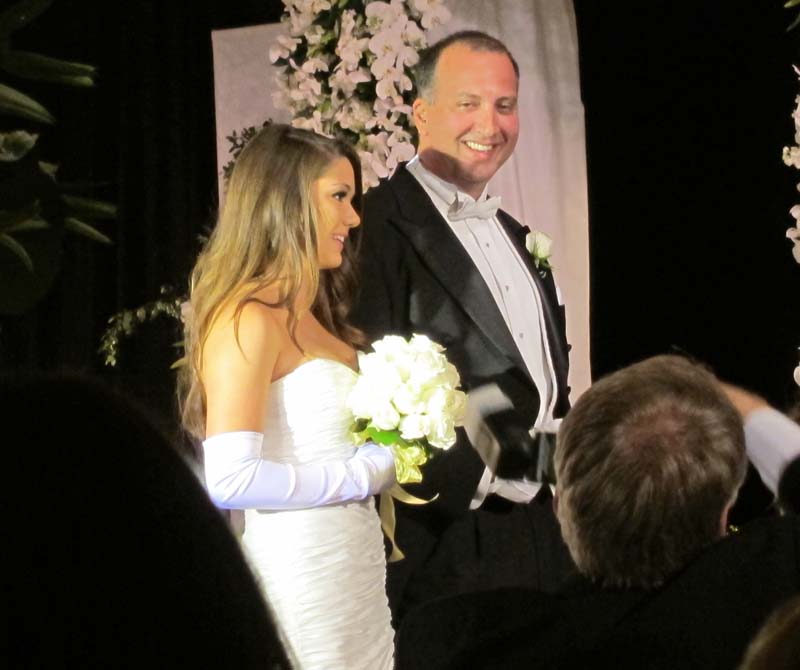 Below is a 3 minute movie showing highlights of the 2011 Peninsula Debutante Ball, including Melanie's presentation (that's Melanie below!) Click Here for a QuickTime original movie of higher quality (WARNING: Windows Users probably cannot play QuickTime!!)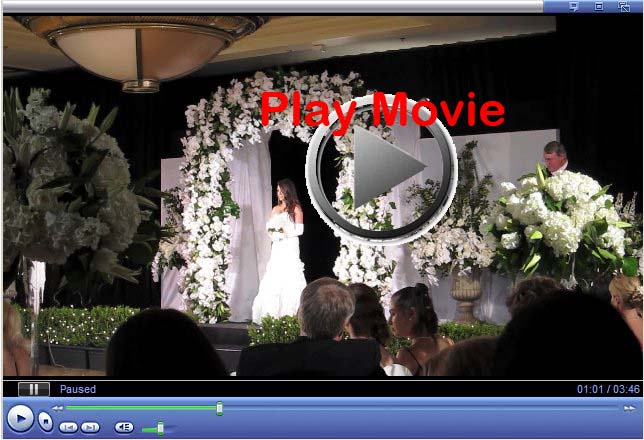 Another debutante being presented. This goes on for all 19 debutantes, one by one.
Here all of them stood on stage with the presenters, but I'm zoomed in on Jay and Melanie.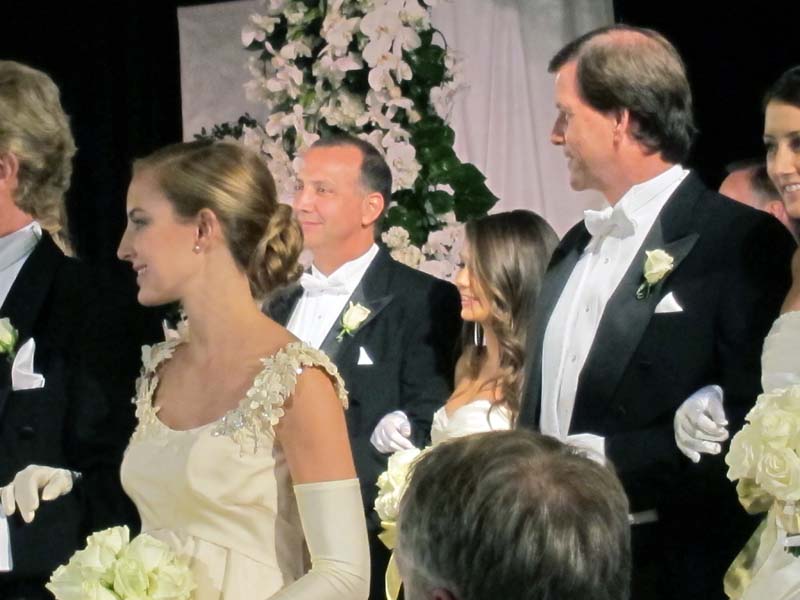 Here is a zoomed out photo showing all on stage at once.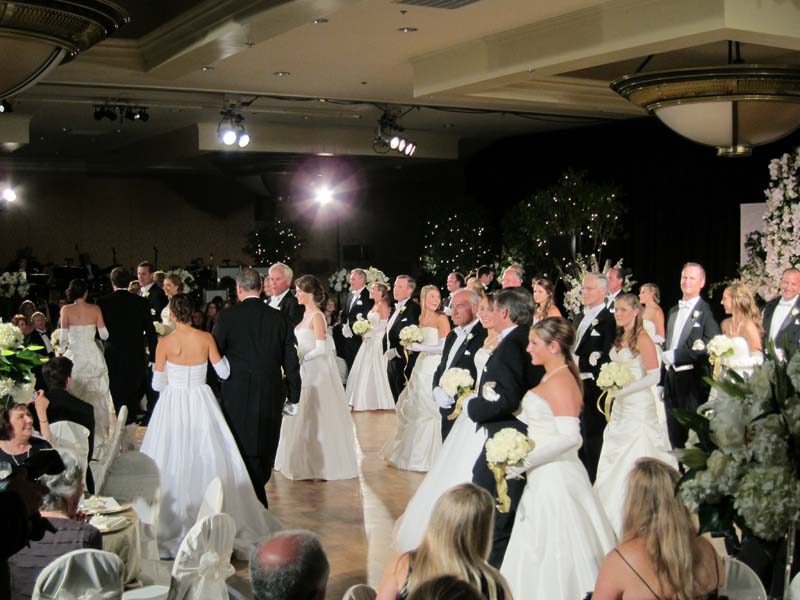 They file out of the room, we got lucky and Jay and Melanie walked right past our table so I got the picture below.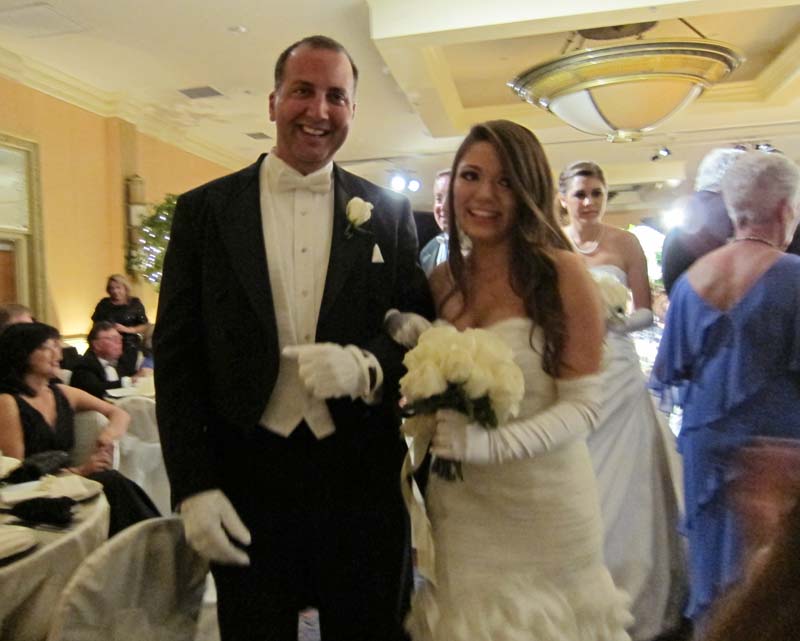 A little while later the debutantes came in with their "escorts", seen below standing to be viewed.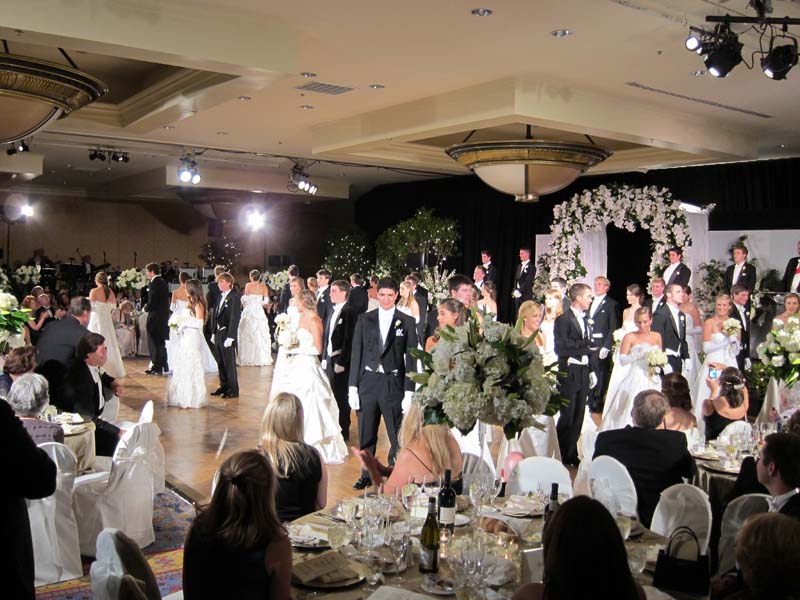 The escorts and debutantes danced a short dance together.
Finally dinner! The main pressure and ceremony are all over. Melanie and her escort are across our table from us.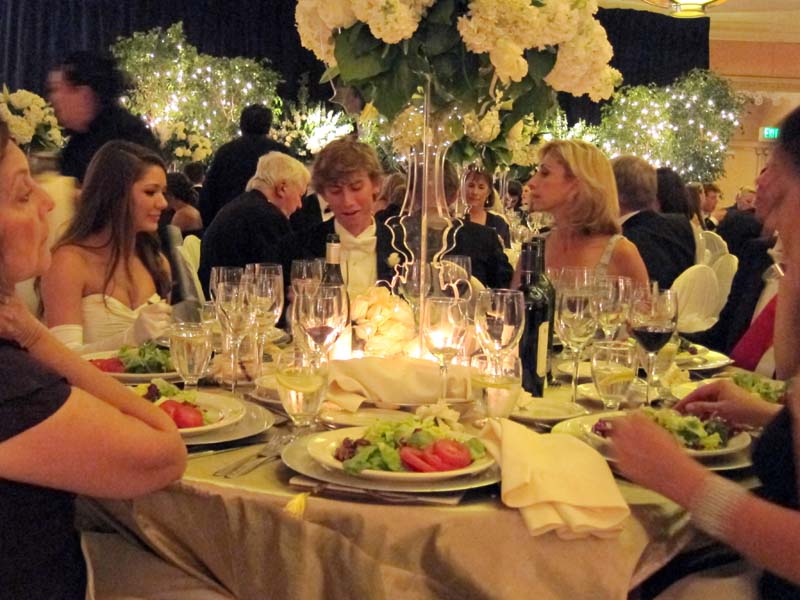 Dinner, that is Christina (Melanie's mother) on the far right.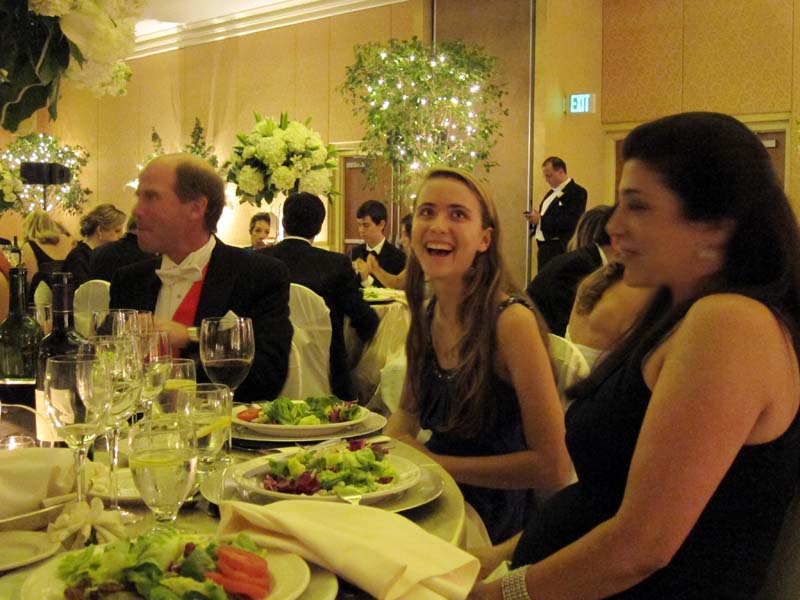 A picture of the entire ballroom during dinner.

Melanie and her escort.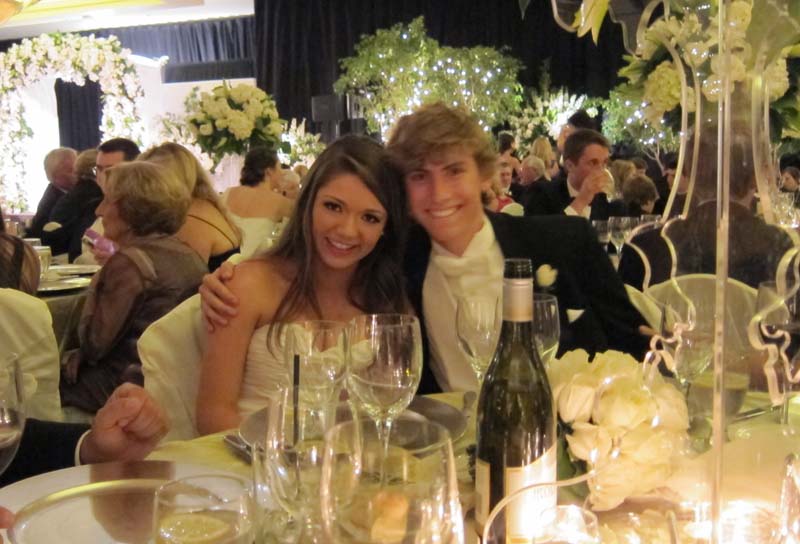 "The committee" which runs this whole shin-dig.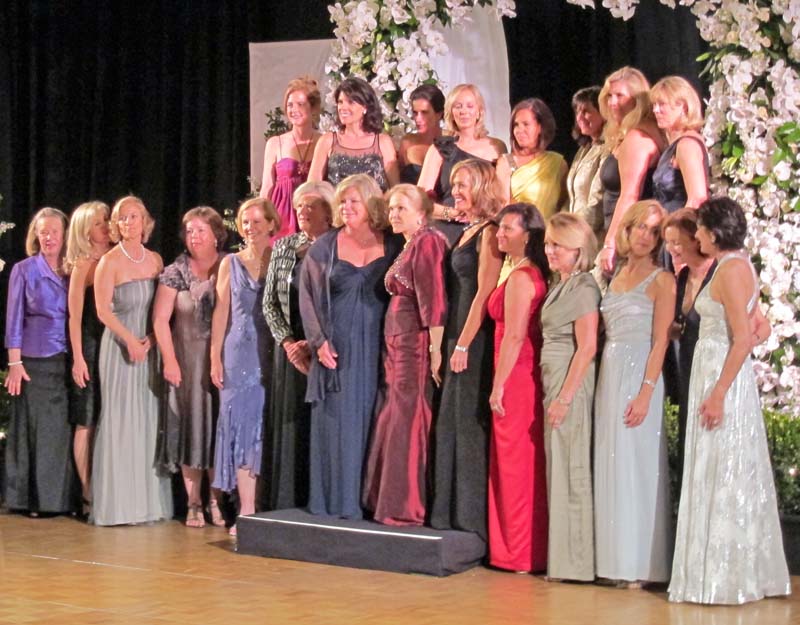 Melanie with two friends.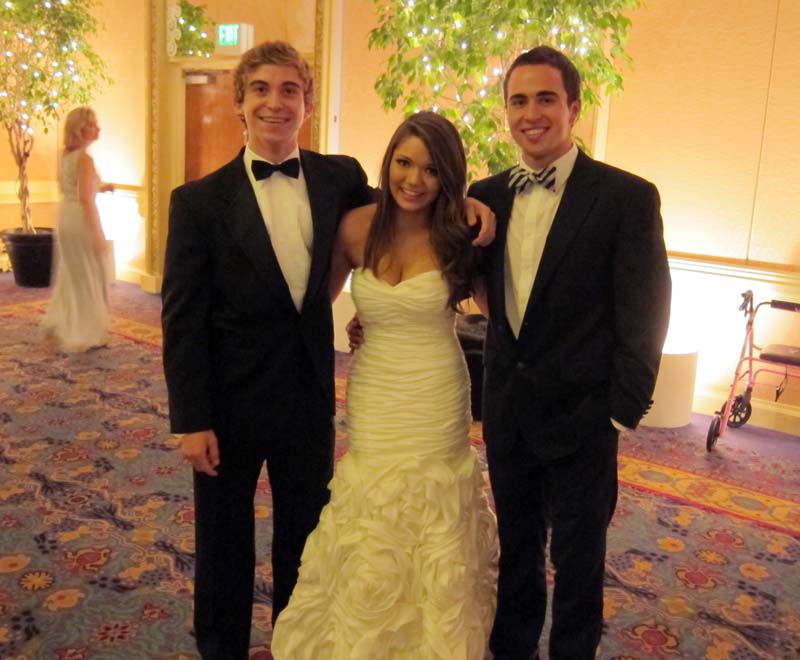 Melanie with 4 friends and her mother Christina.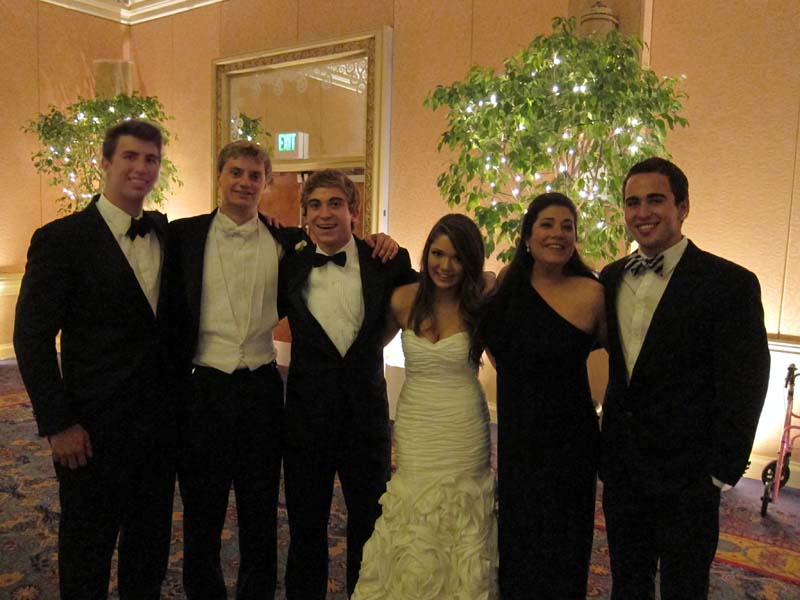 After dinner, the dance floor is opened to the general party, and everyone dances into the night.
All done!