2015 Mike Moxness Memorial Service in Los Angeles

(2/20/2015)
My friend (and relative by marriage) Mike Moxness passed away from cancer on Sunday, February 8th, 2015. He was 50 years old and lived in Thousand Oaks California for the last 20 years of his life, working for Amgen during that time. Mike's memorial service was on Friday, February 20th, 2015 at the OrAmi Synagogue not far from his home. Some pictures from the memorial service are included below. Click on any picture below for a higher quality original. You can watch a video of the memorial service here: http://www.ustream.tv/recorded/59072464
Rabbi Paul Kipnes officiated the memorial and the Cantor (piano and singing) was Doug Cotler. Several family and friends stood up and spoke at Mike's memorial, in order:
Molly Moxness (Mike and Debbi's daugher)
Doug Bailey (childhood and lifelong friend)
Randy Wilson (college roommate and lifelong friend - Randy and Mike married sisters Ramey and Debbi Echt)
Mark Gruman (close friend and work colleague at Amgen)
David De Castro (close friend)
Aaron Moxness (Mike and Debbi's son)
Mike Moxness's memorial was held at OrAmi Synagogue located at 26115 Mureau Rd, Calabasas, CA.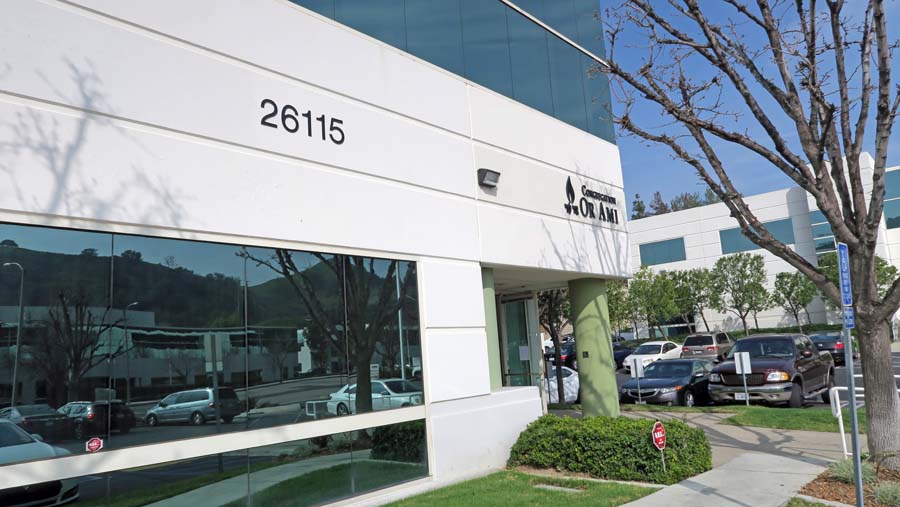 We arrived an hour early, and this is the empty main sanctuary before people showed up. That's Ari Echt-Wilson helping to setup.
Debbi Echt (Mike's wife of 25 years) arrives. Dan Levi (David's sister's son) is standing on the right, and Ari Echt-Wilson is in the lower right of the picture with braided hair.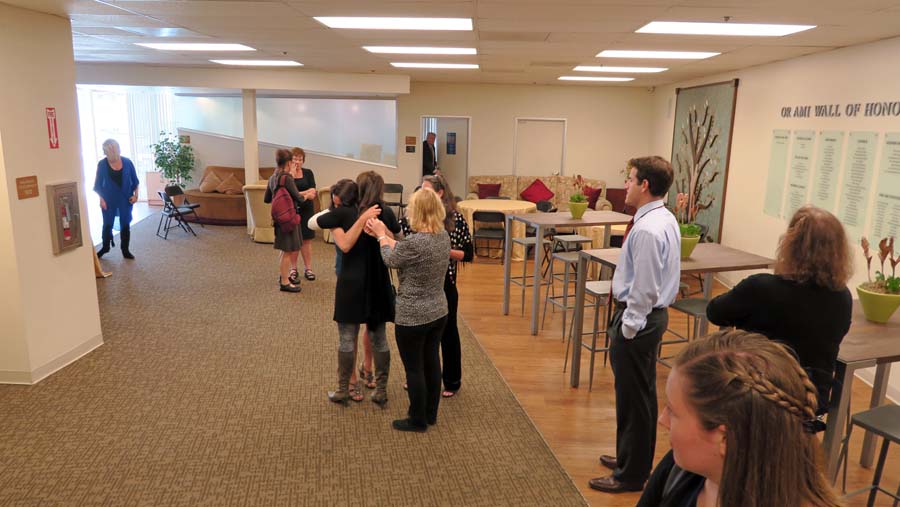 Guests begin to arrive, on the far lower right of this picture holding a coffee cup is Randy Wilson (my brother). Randy and Mike married sisters Ramey and Debbi.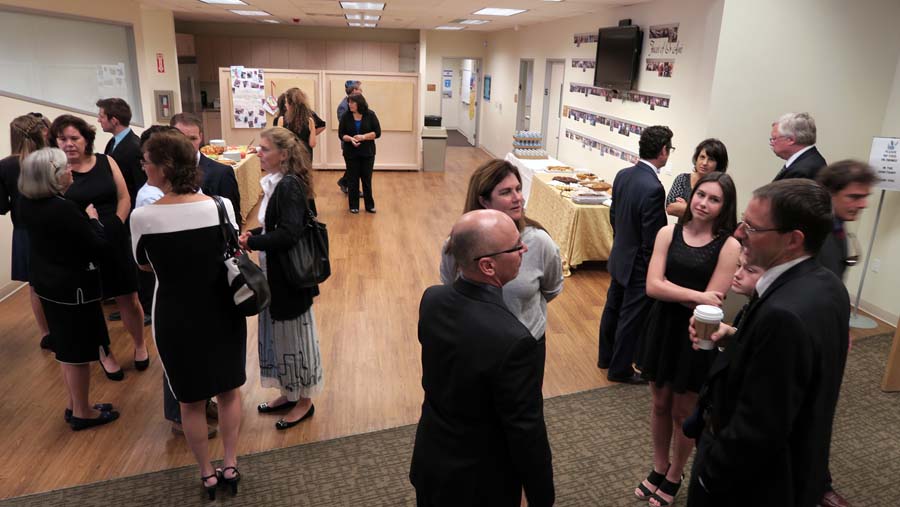 On the far left with straw in his mouth is Chuck Flacks, to Chuck's right is David Echt (Debbi's father facing away with right arm extended) and in the middle in jacket and plaid shirt is "Big" Ari Echt who is Debbi's brother.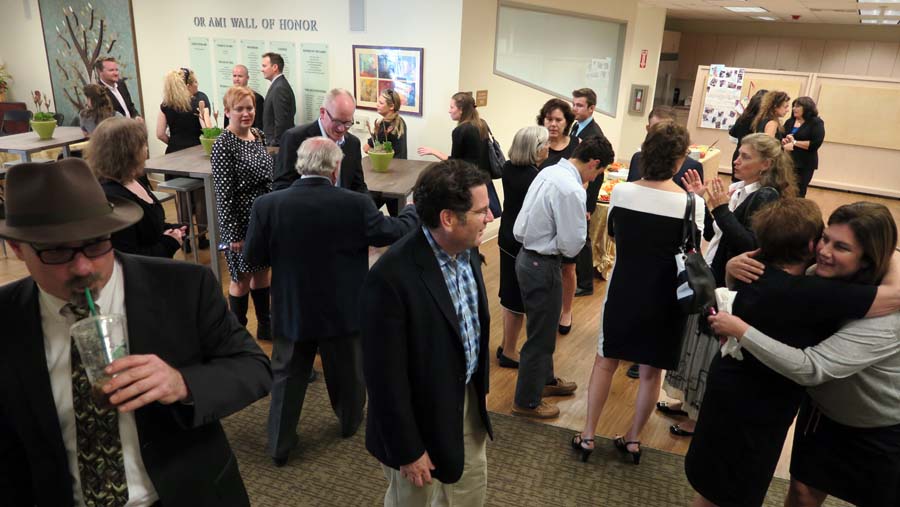 Guests waiting.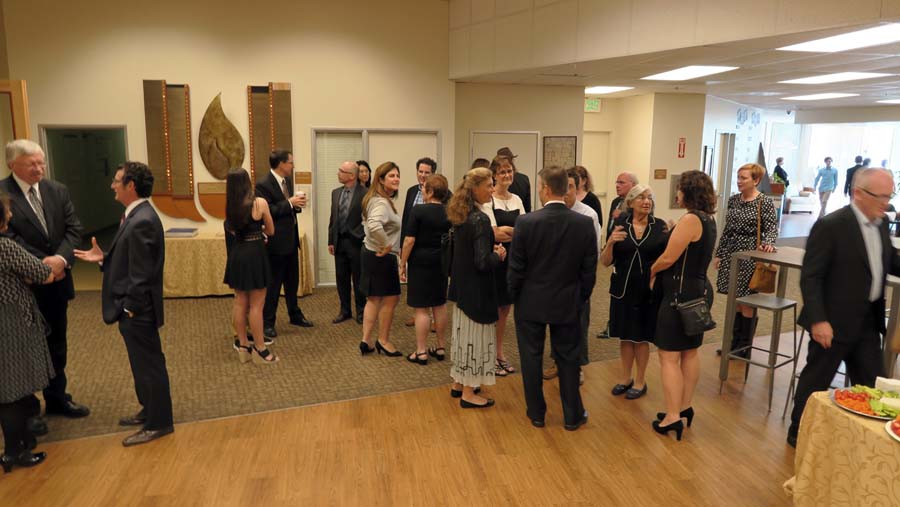 Almost time for the memorial.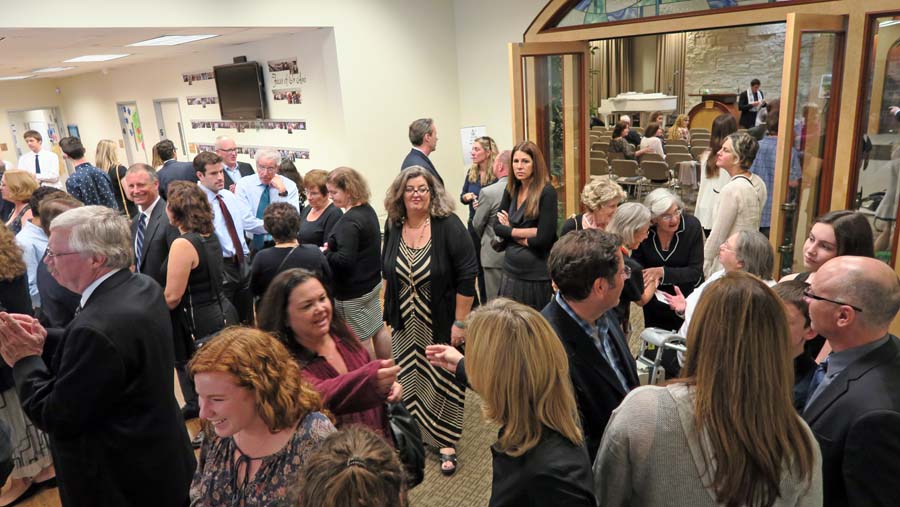 As I walk into the sanctuary I take this quick picture to my right of Zak Klobucher (white shirt and tie). On Zak's left is Misty Bordofsky, and on his right are Pam Dinaberg and then Zak's wife Leslie Dinaberg and then Sarah Weld.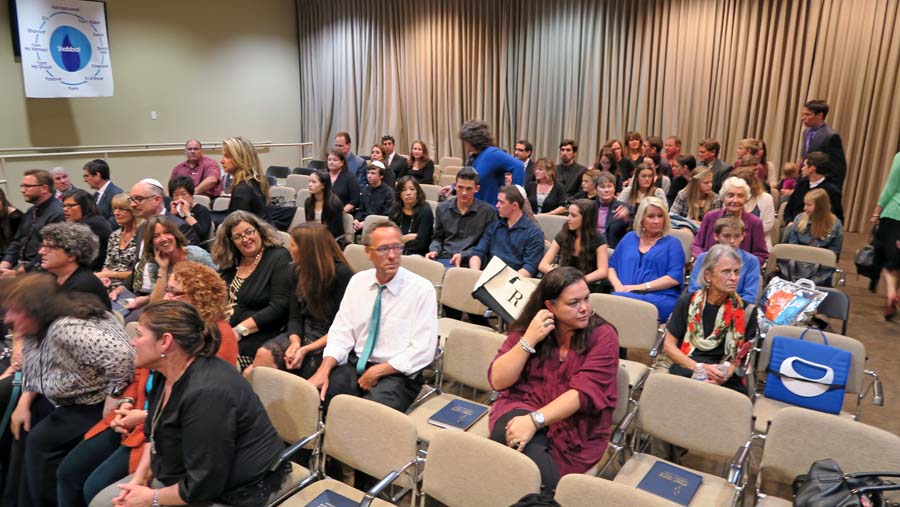 We go to our seats.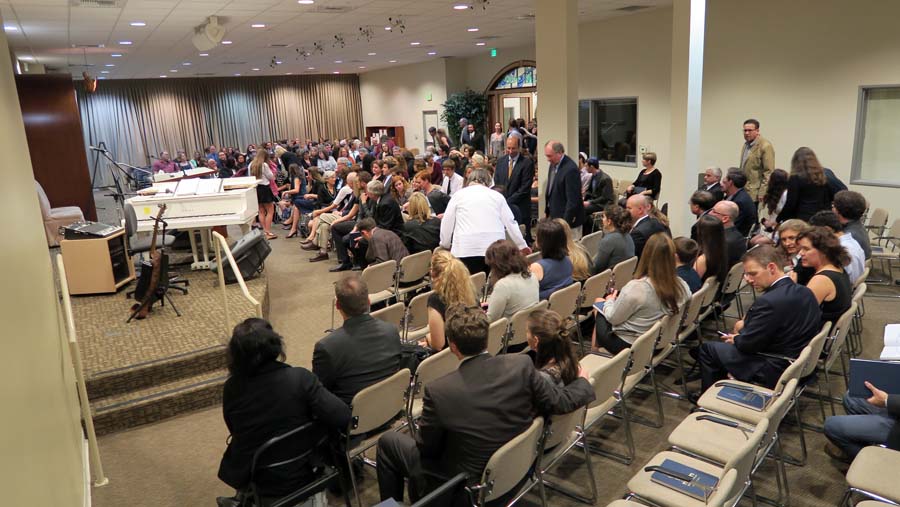 After a few words from Rabbi Paul and a song from Cantor Doug, the first person to speak is Molly, Mike's daughter who is 14 years old in the picture below.
The next person to speak is Doug Bailey (pictured below). Doug is a medical doctor and childhood and lifelong friend of Mike's.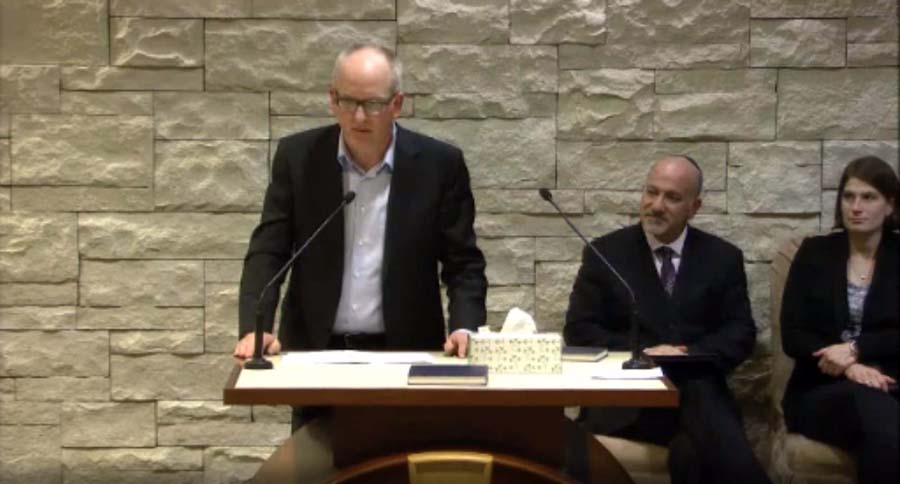 The next person to speak is Randy Wilson. Randy and Mike were roommates in the PhD program at Stanford from 1987-1991. They lived together in 82D Escondido Village, Stanford, CA with first Alan Noble and then later Mark Buntine. Mike and Randy married sisters Debbi Echt and Ramey Echt. Below is a picture of Randy at the podium.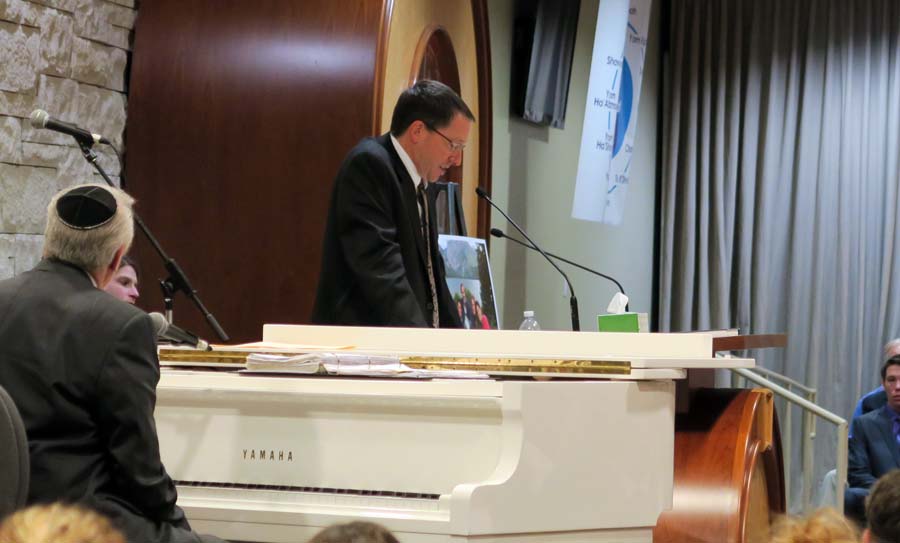 A zoomed out picture showing Randy Wilson talking about Mike Moxness at Mike's memorial service.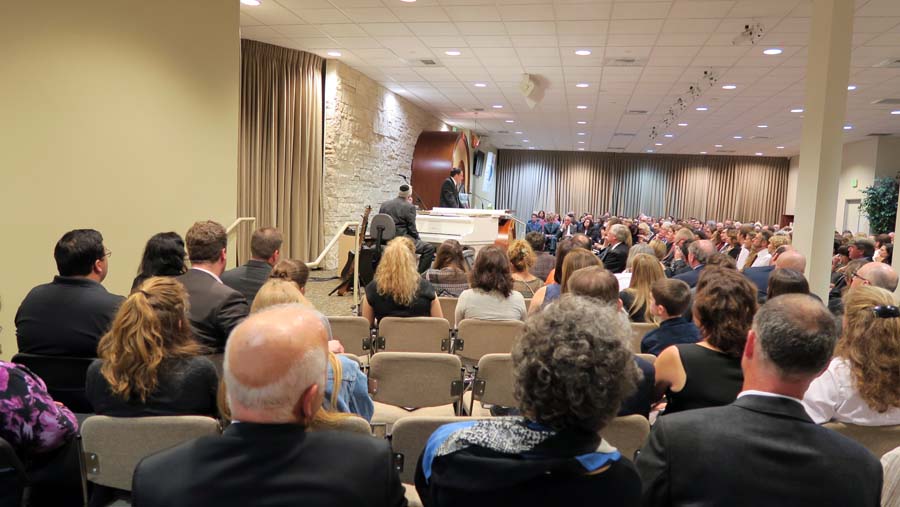 This is a transcript of Randy's Eulogy:
As a chemist, scientist, and rationalist, Mike Moxness knew that life always ends in death. It's the circle of life. DNA, cells, and bodies naturally decay. To a scientist, death is expected, a certainty, almost mundane. As Jim Morrison said, "no one here gets out alive." But the human in all of us says that Mike's time came way too early.

The miracles are the beginnings. Mike and I were randomly placed together as roommates at Stanford and made fast friends, to my lifetime good fortune. Ramey and I might not be together without Mike's early help; I'll spare you the sordid details. Mike and Debbi meeting and falling in love is a miracle, as are Aaron and Molly. Several dogs considered Mike a miracle as well. All of these things are guaranteed to end, but the beginnings are miracles. I was honored to be holding Mike's hand when he left us, but I was more honored to help him meet the love of his life.

Compared to the rest of us nerds, Mike was an overachiever with women. He was smooth, confident, always well dressed, tall, handsome. But he put his all into relationships; when he broke up with whoever, he took it hard, and he would lie on the couch all day with a Price Club bottle of whiskey. So Yenta, I mean Ramey, decided that Mike needed to meet Debbi, her sister. Ramey arranged excuses to all go to Ashkenaz, a dancing place in Berkeley. Afterwards, we all went back to Ramey's house, where the only real place for Mike and Debbi to crash was on futons on the living room floor in front of the old fireplace. Within weeks, Mike said he was the happiest he had ever been; he reported to us that "She is my dream woman." We never saw Mike with a bottle of whiskey again.

I'd like to tell you an iconic story. One Saturday, Mike, Mark, Ramey and I, and some other friends drove up to La Honda to hot tub at Alan and Reed's house and play pool at Apple Jacks, the local bar. Driving away after midnight, a woman was hitchhiking, and we stopped. She was drunk and disheveled. She looked inside Mike's Ford Fiesta in fear, saying "Frank isn't in there, is he?" Her story was jumbled, but something like: Frank had given her a ride up, they had fought, and she was afraid he would find her. But Mike's little car was already illegally packed, and she decided to wait at a nearby pay phone for a friend who was going to pick her up. We debated for the half­hour winding ride whether there was anything more we could have done for her.

At home, the rest of us went to sleep, but Mike was torn with guilt. We didn't see him again until late Sunday morning, when he was washing blood off the bumper of the Fiesta. He had driven back up to La Honda, never found the woman, hit a deer on the winding road, searched his soul watching the sunrise at San Gregorio State Beach, came home, and went to church, which he hadn't done in a couple years among us heathens.

That night was quintessential Mike. As Debbi and the kids will corroborate, Mike was a caretaker and provider; we never worried about them because we knew Mike would take care of them, just like he wanted to help that woman in La Honda. He had a robust moral compass. Religion and ethics were very important to him. He didn't just go to church, and later to temple; he took the teachings to heart and applied them throughout his life, his family, his community, needy strangers, and the planet. A year into grad school, he learned that tropical forests were being razed to grow cattle, and "rainforest beef" was banned from our apartment. (I lost 20 pounds.) Even his career was focused on making the world better for people. He drew deeply from his midwestern family tradition: taking care of people, working hard, doing the right thing, worshipping, earning people's respect quietly, and putting his beliefs into practice.

Everyone knows Mike loved to hike. Surrounded by nature; the physical exertion; making the dogs happy; his long, lean, strong legs devouring the miles. I hiked with him in the Ventana wilderness, Big Basin, Tahoe, Yosemite, Sequoia, and Wildwood across the street from their house. Looking back, I think part of the attraction was that hiking is enjoyable, hard work. It's that midwestern thing again: work is good, something to be savored.

At the end, Mike was still working hard, and held on for days after all the doctors thought he could. Debbi and I joked about his midwestern grit. Although it was tough at the time, I think he was helping us all one last time, and providing for our emotional well­being. While Mike lay there, he helped us to start grieving. When he died, we weren't thinking "Oh no, Mike died." We were thinking "it's finally over," and we were already starting the healing process. It was Mike taking care of us one last time.

Mike gave a speech at my 50th birthday party a few months ago, complete with Powerpoint of old pictures and quotes from our lives together. I can't actually repeat any of it here: it's too offensive. All the kids learned way too much. But that's the Mike I plan to remember. So serious and analytic most of the time that when he cracks a joke, especially an off­color one, the surprise multiplies the humor. A skilled craftsman with words, with analysis, with wry humor, and with people. A great guy.

Some people seem to think miracles are impossible things that happen. As a scientist like Mike, I define miracles as extremely improbable, extremely positive events, that occur anyway. By that definition, Mike Moxness coming into my life was a miracle for me. And by a not­so­scientific induction from my sample size of one, and looking around this room, I think Mike was a miracle for many of us.
---- End of Randy's Eulogy --------
The next person to speak at Mike Memorial service was Mark Gruman (sp??), a close friend and co-worker at Amgen.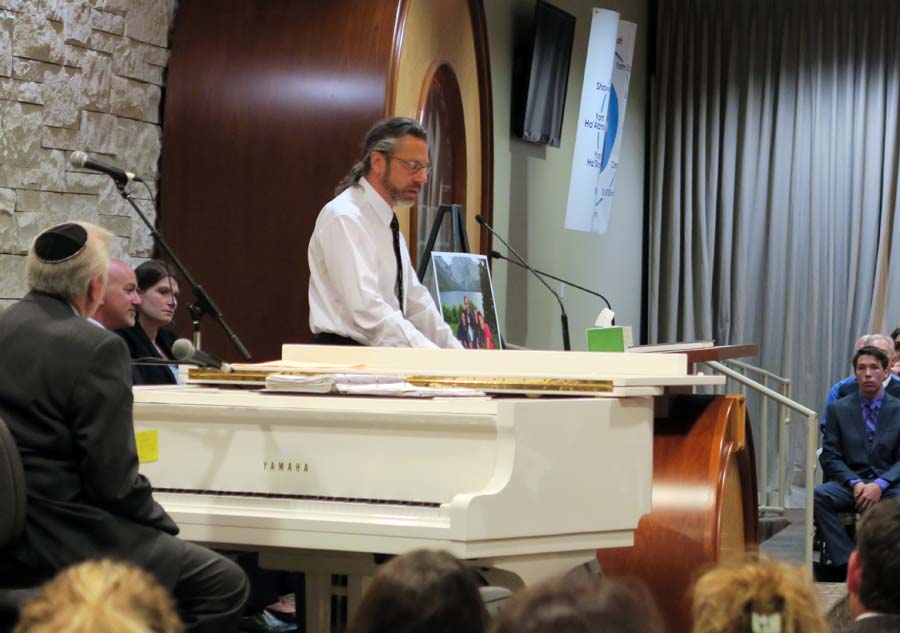 The next person to speak was David De Castro, a close family friend.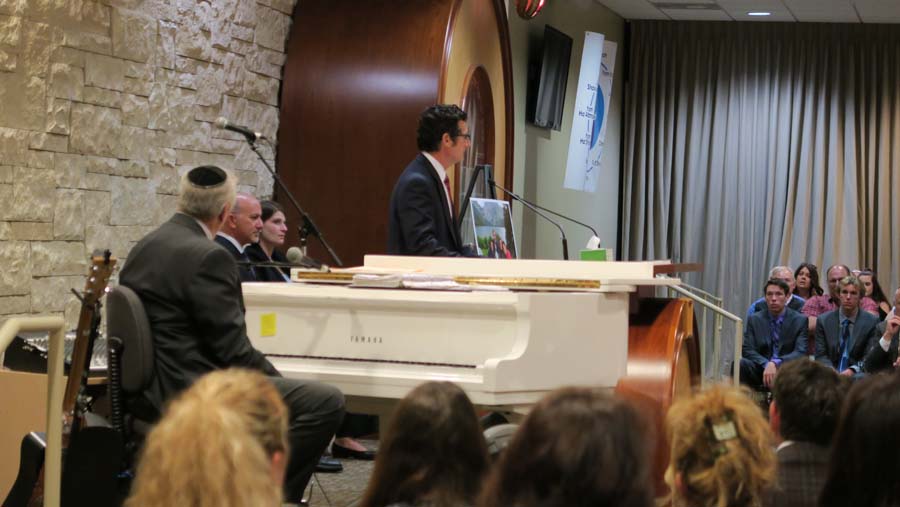 The final speaker at Mike's memorial was Mike's son Aaron Moxness, seen below.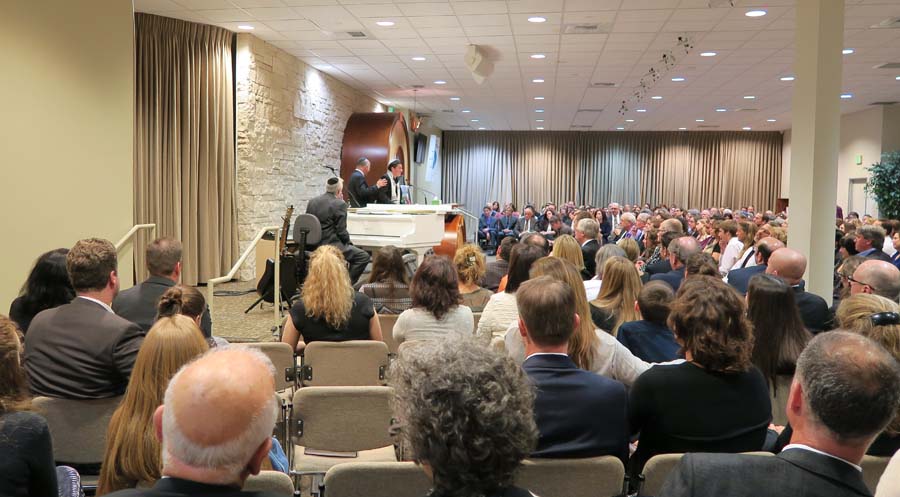 Below is a close up of Aaron Moxness speaking at his father's funeral. Aaron is 17 years old in this picture and will graduate high school in a few months.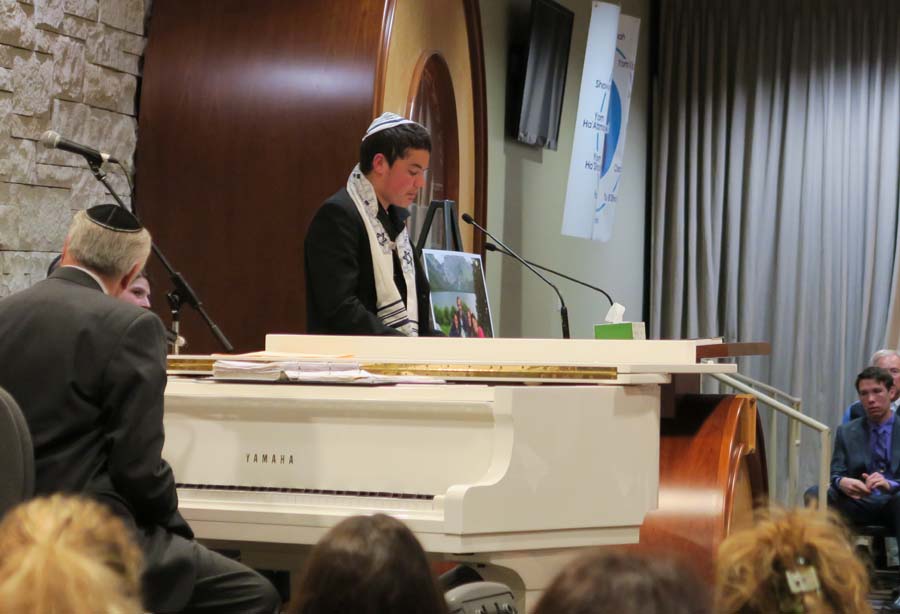 Rabbi Paul speaks directly with Debbi (in blue dress) while friends stand close.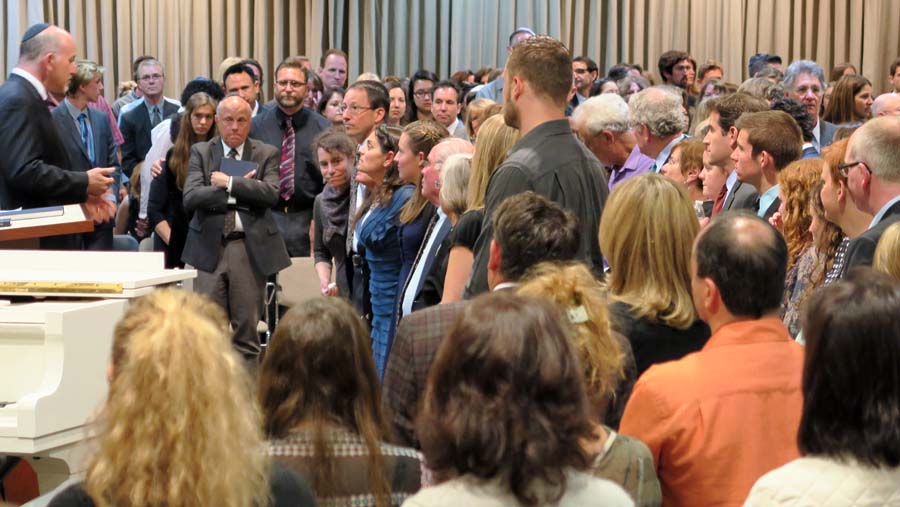 As the memorial service comes to an end, people go out into the reception area for food and a slide show by Molly.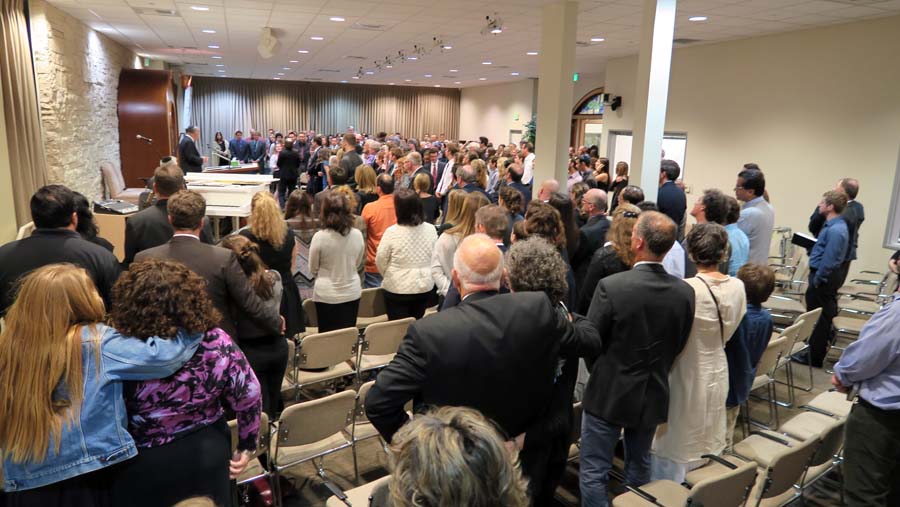 This picture of Mike and Debbi's family was displayed in the Synagogue. From left to right that is Aaron Moxness, Mike Moxness, Molly Moxness, and Debbie Echt.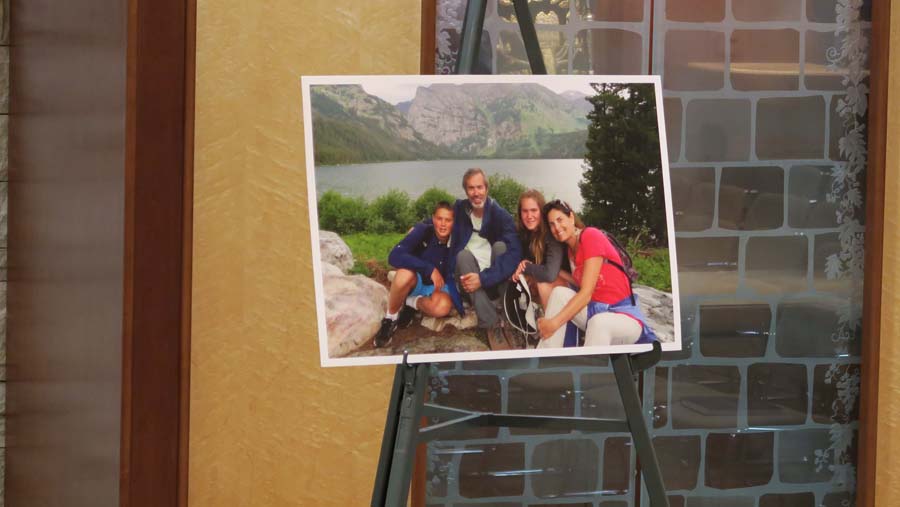 After the memorial service, friends and family spent a few more hours reminiscing and saying goodbye to Mike and having some food.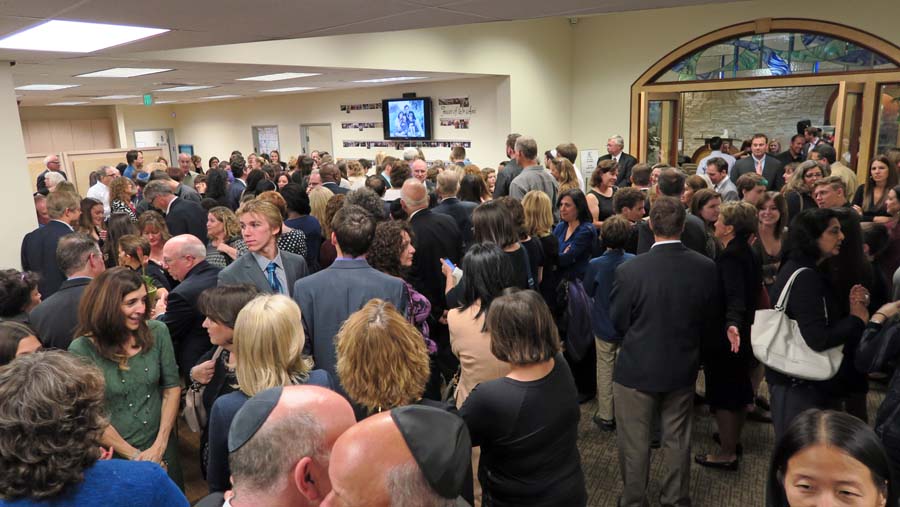 THAT IS IT FOR THE MEMORIAL SERVICE!! BELOW HERE ---> are is a more personal account of how Brian Wilson and Katherine travelled to the funeral to attend. Not very interesting for most people, but a complete record for our own purposes, you can stop reading if you found this page because you knew Mike.
============ CUT HERE for travel details of Brian and Katherine ==================
Katherine and I live near San Francisco, California which is a little over 300 miles in California to where the memorial service was held. We attended the memorial by doing a one day trip - flying up in the morning and home at night. Below is the first picture from our morning when we are in SFO (San Francisco Airport). We have just parked and we are taking the Air Train to the terminal from the parking garage, this picture is taken out the side window of the Air Train.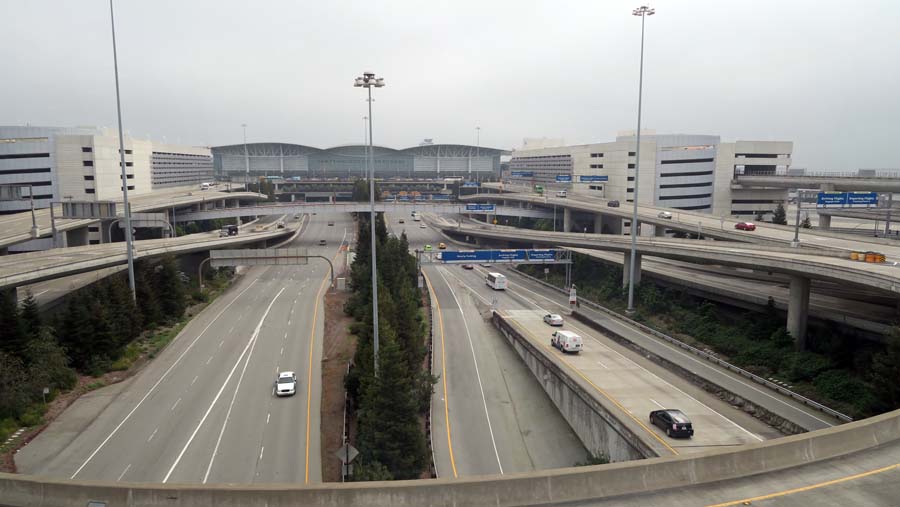 We are on the Air Train at SFO (San Francisco Airport). Katherine below is bored waiting for the train to arrive at the final terminal.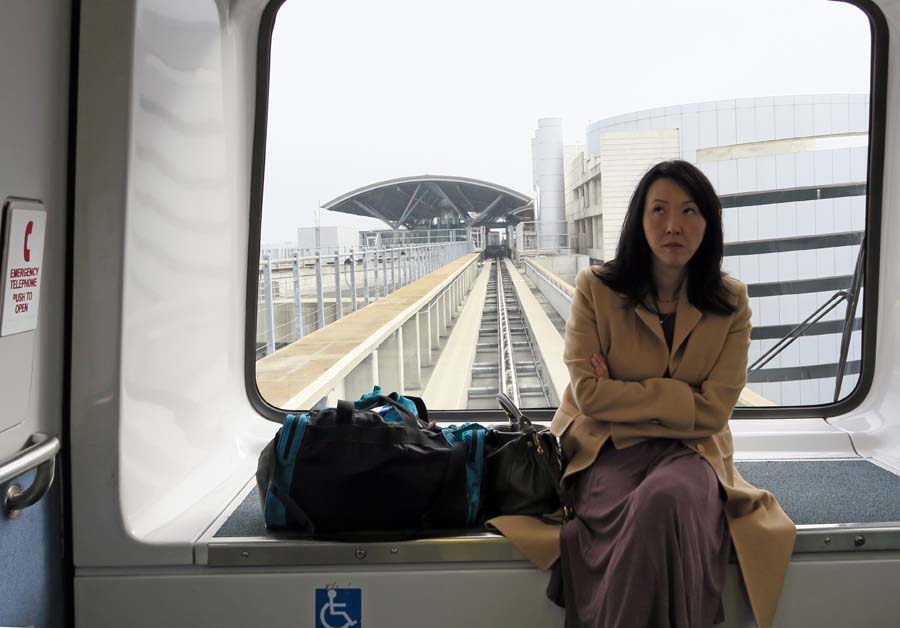 The picture below shows the "TSA Precheck" is a complete failure, the line to get through TSA Precheck is LONGER than the regular line and takes more time. It makes a lot of sense that it is a badly run program for two reasons: 1) Everything associated with commercial aviation is badly run by incompetent people, and 2) TSA is spectacularly bad because it's run by the government. The government isn't good at very many things, this is a great example.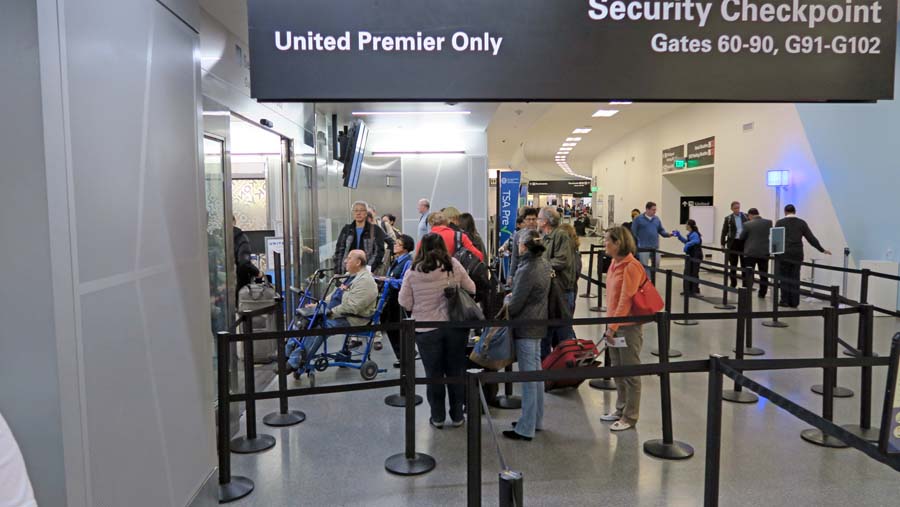 Katherine "opts out" of the full body scanner in the picture below. This means she gets a pat down of her body, below is a movie of what that entails.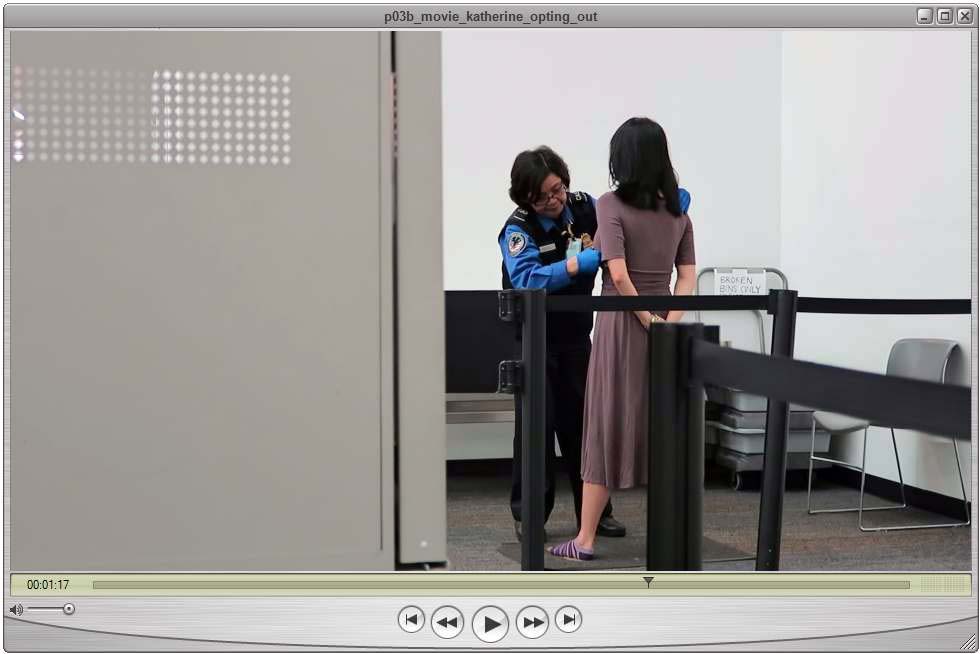 When we arrived in Los Angeles Airport (LAX), I had requested a "convertible" from Hertz. It's Los Angeles and the weather was 74 degrees and I thought it would be nice. Well, they gave us a Porsche Boxster Covertible which is interesting for two reasons: 1) I have never driven a Porsche before so I thought it would be interesting to try, and 2) Hertz requires 4 forms of identification to rent the car! That was a huge surprise and I was totally unprepared for this, and I barely had enough cards in my wallet to satisfy this requirement. Below "Linda" from the Hertz rental counter in LAX is holding my four forms of identification and credit cards, I asked her if I could take her picture holding my cards.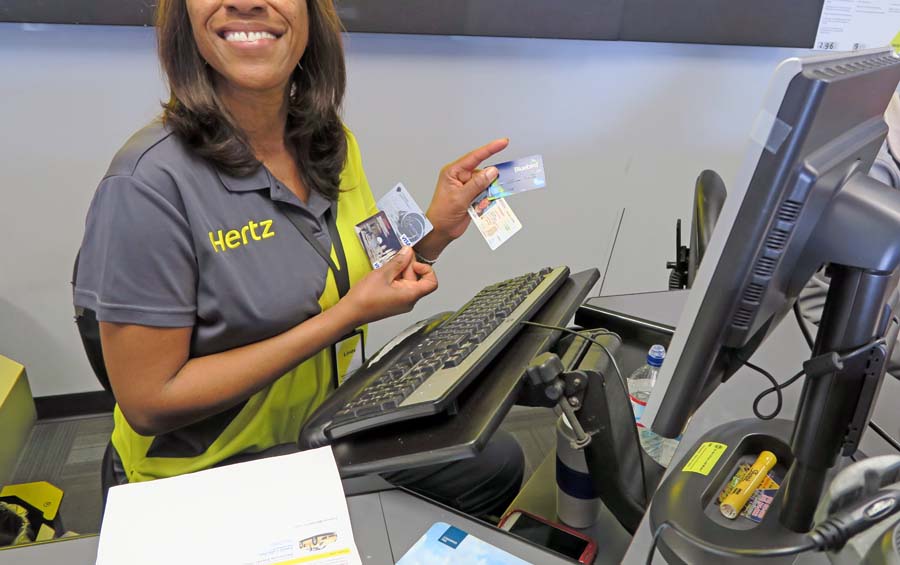 And.... here is the mid-engine Porsche Boxster in really super bright red they gave us for the day. We were told there are two trunks, but I only figured out how to open the rear trunk (seen in the picture below). The rear trunk is kind of small, but it was large enough to hold the "day bag" we were carrying.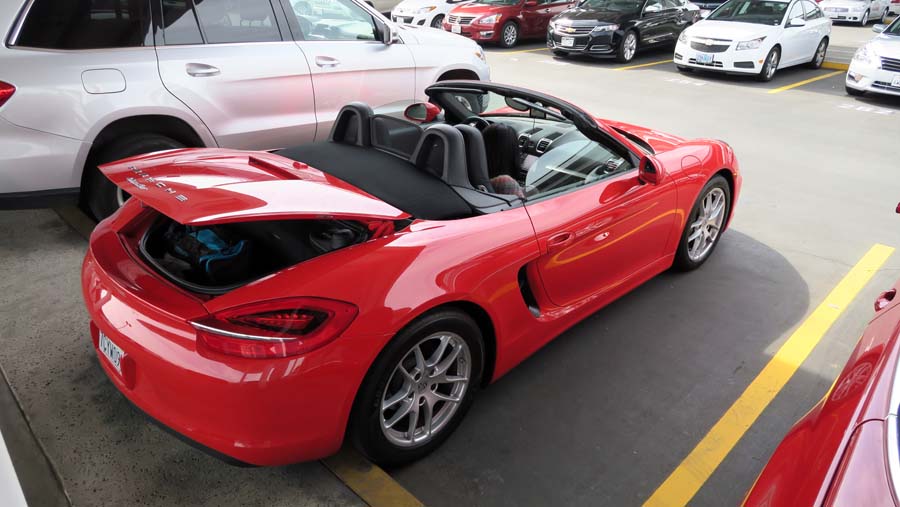 We arrived into Los Angeles at 12:30 and we needed to get a little food for lunch and we're in a rush, so we swung by the McDonalds near the Hertz car rental place for a fast burger. I like this picture of a Porsche Boxster at a McDonalds.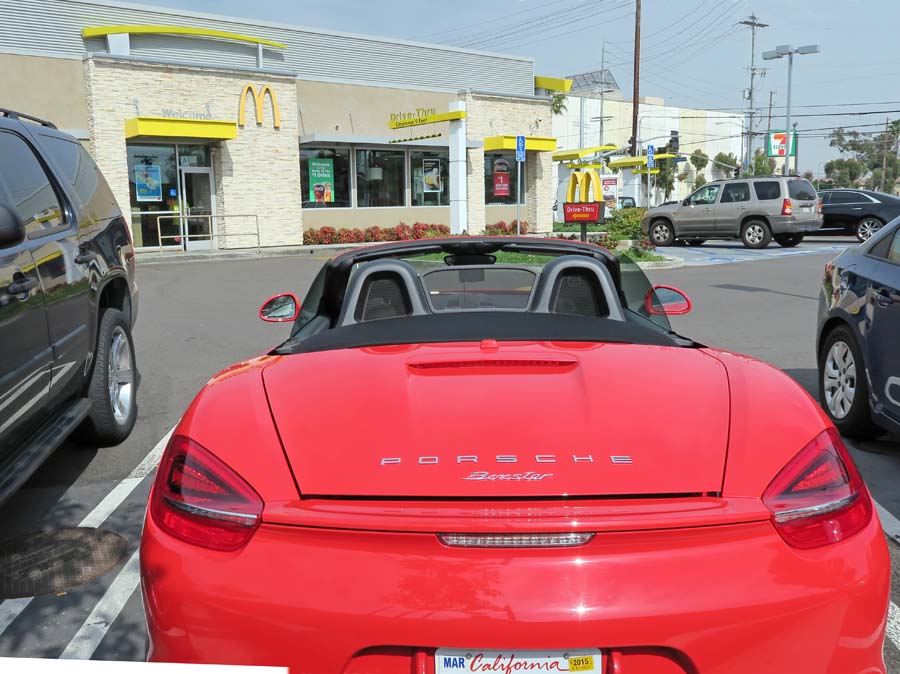 A few miles down the road, and Katherine takes over driving. Katherine grew up in Los Angeles and doesn't feel I drive aggressively enough to be safe. :-)
The speedometer reads "64 mph" on the dash in front of Katherine driving the Porsche Boxster.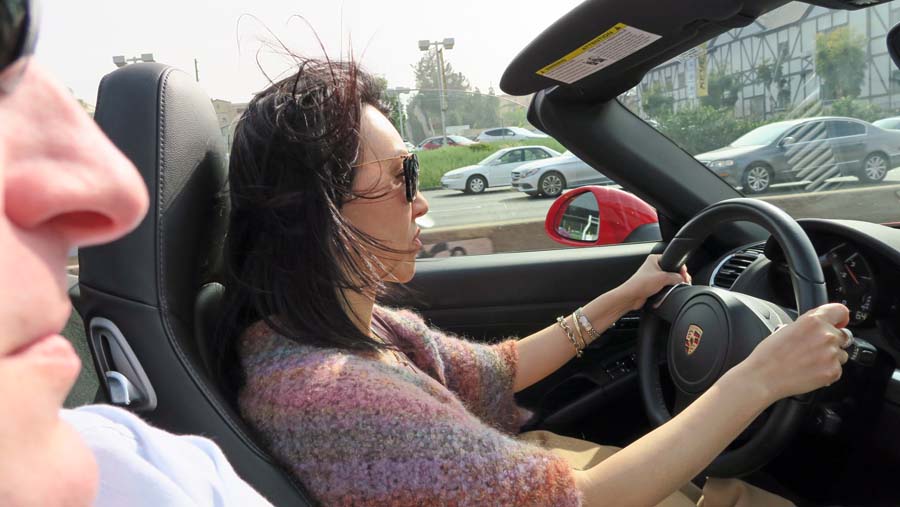 Pros on the Porsche Boxster - I liked these things:
- Lots of finished touches like dual climate control (passenger different from driver) and side glove boxes, clear displays, etc.
- Once inside the seats and sitting down they were fairly comfy and you felt nice in the cockpit.
- Super sporty looking - if you are into that sort of thing - probably too much of a "statement" for my boring taste.
- Once at highway speeds (70 mph), very stable, like EXTREMELY stable, felt great!
- Cornered nicely - I feel bad we didn't actually run around on any curvy roads, because it did seem like fun when cornering.
- When you pushed down on the accelerator the "engine note" was amazingly throaty and beautiful roar, like a video game of some high end car.
Cons - Disliked:
- Super sporty looking - it felt strange showing up to a memorial service in a stupid flashy car.
- Some non-standard controls - like you insert the key to the LEFT of the steering column. All of these you would learn if you owned the car, but why be non-standard? It makes switching back and forth with other cars (like when you rent a car while travelling) harder and non-intuitive, even dangerous in high pressure situations. It's silly and serves no purpose, the designers are going out of their way to be different which is annoying, not innovative.
- Acceleration wasn't impressive, despite the throaty roar the engines made the car didn't ACTUALLY leap forward (I'm used to an electric car so I'm spoiled).
- This was an automatic transmission and it was jerky and random and not smooth and not powerful - might be better with a manual transmission?
- Horrible for an old big tall man like me to climb in and out of the cockpit. Your butt is like 8 inches off the ground and your feet slide forward into the cavern. Getting out makes me look like I'm escaping from a car wreck, I practically fall out onto the pavement when finally dragging my feet free. (Yes, I realize a young 24 year old 5'6" man might desire all this and it's like consumer reports reviewing a McLaren F1 and saying it lacks trunk space and gets bad gas mileage, I'm just being honest here!)
That's it! We arrived at LAX at noon, drove for an hour to Mike's memorial service arriving at around 2pm, and departed at 7pm and drove an hour back to the airport and flew out of LAX at 9pm, arrived home by 11:30pm.
All done!
Return to Ski-Epic home pagee.