2017 Virginia Wilson Memorial Service

(1/14/2017)

Virginia Latshaw Wilson (March 21, 1934 - December 23, 2016)
On 11/14/2017 Brian and Katherine joined the rest of our family to celebrate the life of Virginia Wilson. The ceremony was held in First United Methodist Church of Corvallis, Oregon. Click on any picture below for the highest resolution (biggest) version.
Click on the picture below to play the one hour long video of the actual memorial service. Click here for the highest quality original (for Apple Macintosh only). CLICK HERE FOR HIGH QUALITY AUDIO ONLY. SCROLL DOWN SLIGHTLY for the paper program to follow along. Click here for Virginia's obituary in the Corvallis Gazette-Times (a copy is preserved down below):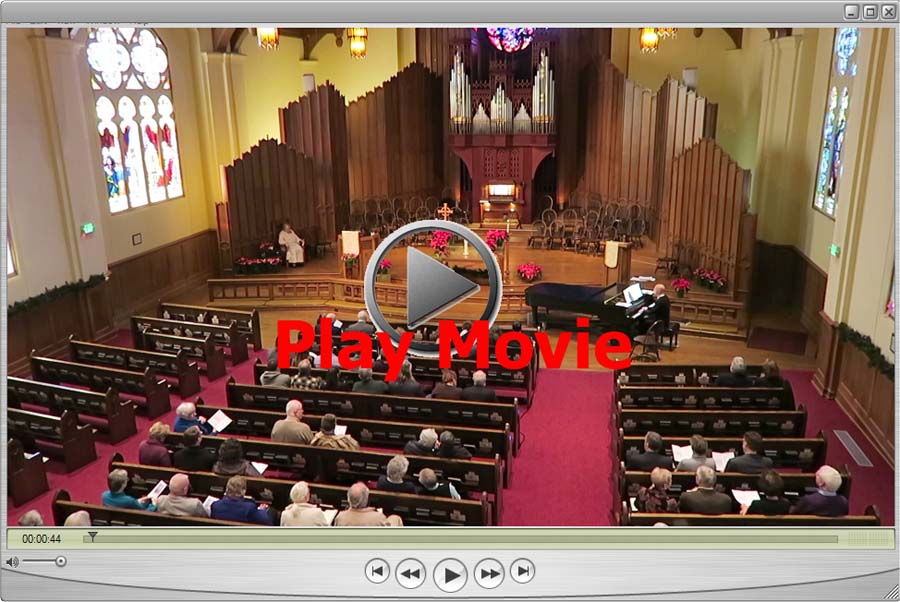 Here is the paper program to follow during the above memorial service: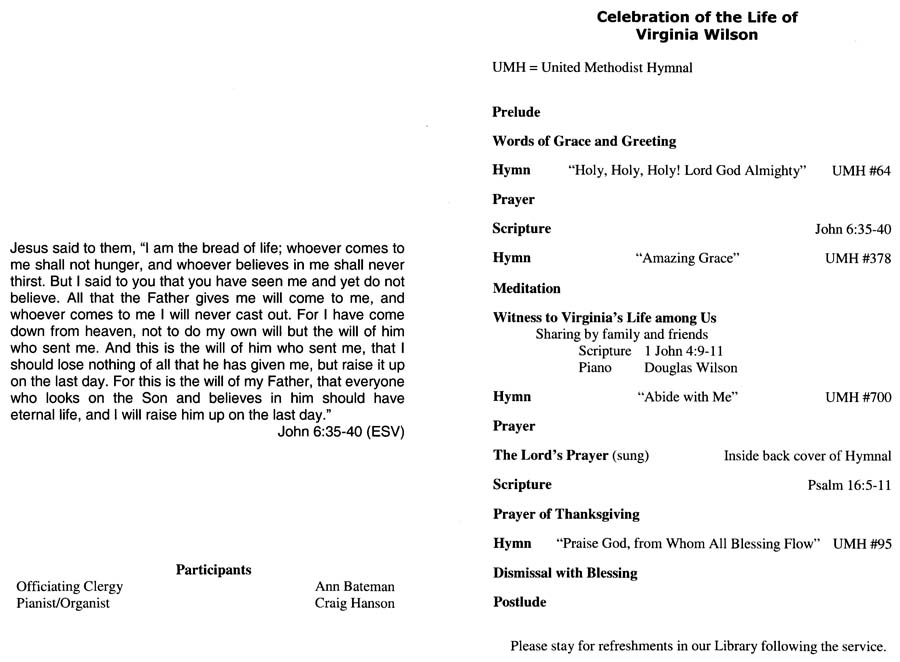 The cover of the paper program: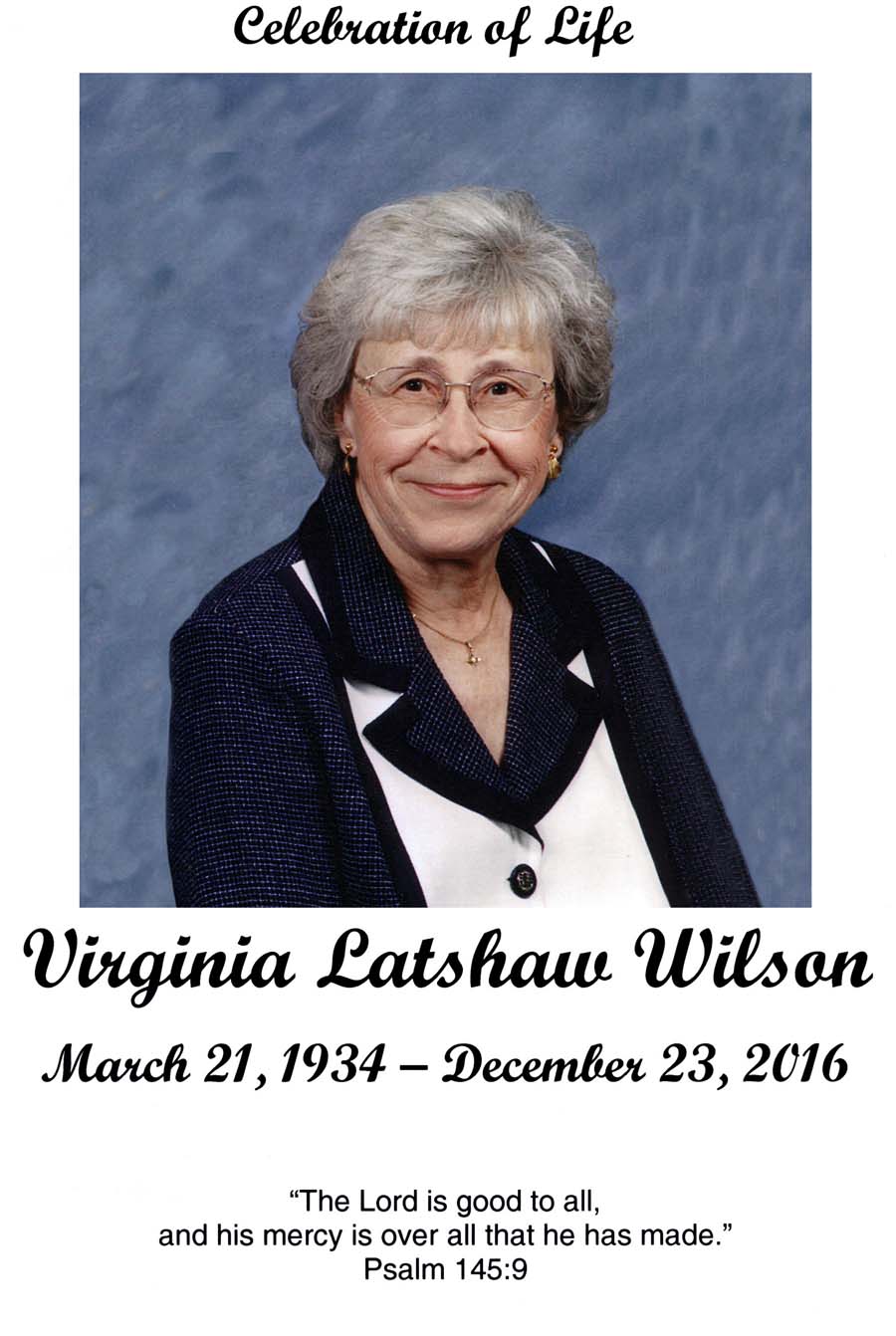 (Originally appeared on Dec 29, 2016 at http://www.gazettetimes.com/albany/news/local/obituaries/virginia-wilson/article_1eb97ffe-d537-5823-9012-cbb66954e741.html
Preserved here for safe keeping):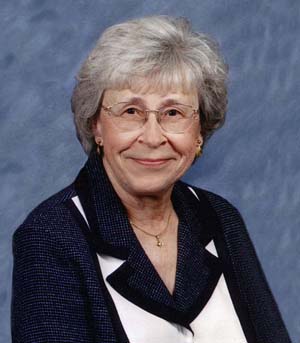 Virginia Wilson Obituary (March 21, 1934 — Dec. 24, 2016)
Virginia (Latshaw) Wilson was born March 21, 1934, to Florence and Stanley Latshaw in Pottstown, Pennsylvania. She died in Corvallis on Dec. 24, 2016, in the care of T's Heart Elder Care. She was a loving wife and mother, and taught mathematics at the secondary and junior college levels. She is survived by her husband, Howard; three children, Cheryl, Randall and Brian; four grandchildren, Catherine, Nathanael, Ari and Eli; and siblings Miriam, David and Carol.

The first of four siblings, Virginia grew up in a Pennsylvania Dutch home, working on the family farm. She enjoyed school and excelled at it, graduating from high school with high honors. After graduating from Pennsylvania State University, she taught junior high mathematics for a few years outside Philadelphia. Virginia met Howard L. Wilson when they were graduate students of mathematics at the University of Illinois, Urbana, Illinois. They were married Aug. 27, 1960.

For many years Virginia's highest desire was to manage her home, nurture her children and support and love her husband. She accomplished all of these, providing her family with a safe and caring home. She cooked, she celebrated, she mourned, she offered advice, she traversed with care and sensitivity her children's adolescent years. She supported Howard in his desire to work overseas, living in Papua New Guinea with the family in 1971 and '72. She welcomed wholeheartedly her son-in-law, Mark, and daughters-in-law, Ramey and Katherine, and her grandchildren she treasured. Compassionate and self-sacrificing, she quietly and consistently thought of others before herself.

Virginia returned to the professional world, working at OSU and then teaching algebra at LBCC, from which she derived much satisfaction and where her patience was much appreciated.

In retirement she was able to travel the world with Howard. She volunteered at the OSU Thrift Store for many years. A long-time member of the First United Methodist Church in Corvallis, she served in a variety of ways through the years — as an organist, with the United Methodist Women, and on the Congregational Care Team. Her faith was an integral part of who she was, and her dearest friends were members of the church.

Though her last years were clouded by dementia, her compassionate spirit remained to the end. Her family is thankful to have had such a wife, mother and grandmother.

A memorial service will be at 10 a.m. Saturday, Jan. 14, at the Corvallis First United Methodist Church.

In lieu of flowers, contributions can be made in her name to Benton Hospice Service or The First United Methodist Church of Corvallis.
[End of obituary]
Here are the "Guest Book Pages" scanned in (click on any page for the most zoomed in version):
Ok, below this point are photos from our trip in more chronological order. The first one below is Katherine and I (Brian) are on the "Air Train" in SFO Airport heading towards the terminal. We start out every trip pretty much the same. The picture below was taken the day before the memorial service at about 8am as the sun is rising over SFO.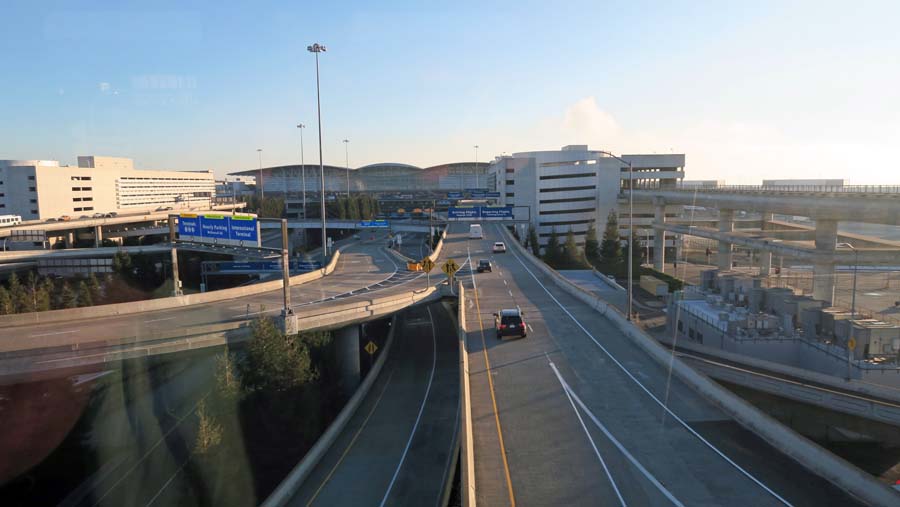 Click here to see a movie of Katherine "Opting Out" of the Backscatter X-Ray Machine so she gets a "Pat Down" by security people. We do this every time we fly.
We arrive into Corvallis, and the night before the funeral some family are in town so we meet at "Fireworks Pub & Pizza" (sign seen below).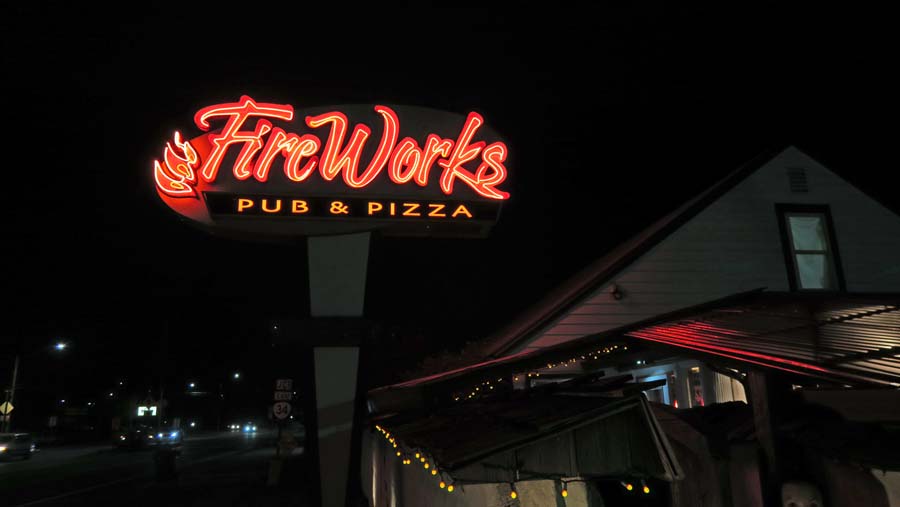 Here we are just gathered inside Fireworks Pub & Pizza. At the closer of the two tables below, from left to right around the table there is: Ari Echt-Wilson, Eli Echt-Wilson, David Latshaw (Virginia's brother), Cheryl Wilson (Virginia's daughter), Karen Linder (born Karen Wilson, Virginia's niece), in red plaid shirt Bruce Wilson (Karen's brother) and slightly hidden in the back right corner is Gail Crawford, then Ralph Wilson (Karen and Bruce's brother), then last in long black hair lower right corner is Katherine Chung.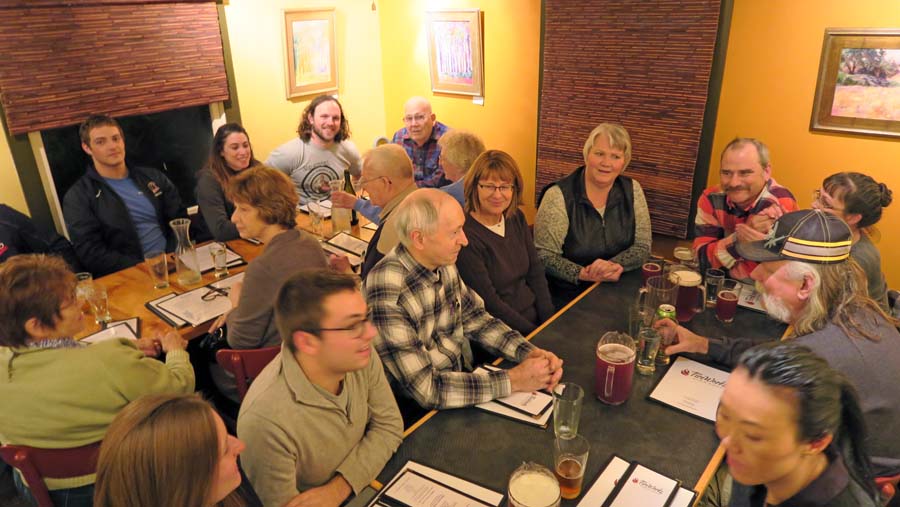 Below at the far table is: Mike Norris (Mark's stepfather) in white beard and glasses on the far left, then smelling the beer is Mark Hoffmann (Virginia's son-in-law), Nathanael Hoffmann (Virginia's grandson), Catherine Grace Hoffmann (Virginia's granddaughter), Zack McCarley, Howard Wilson (Virginia's husband), Marcia Hoffmann (Mark's stepmom) in blue sweatshirt, Ray Hoffmann (Mark's father), Mark's sister in law Margo in tan sweater, facing away and Jan Norris (Mark's mother) in green shirt facing away.

Another picture of the family crowd.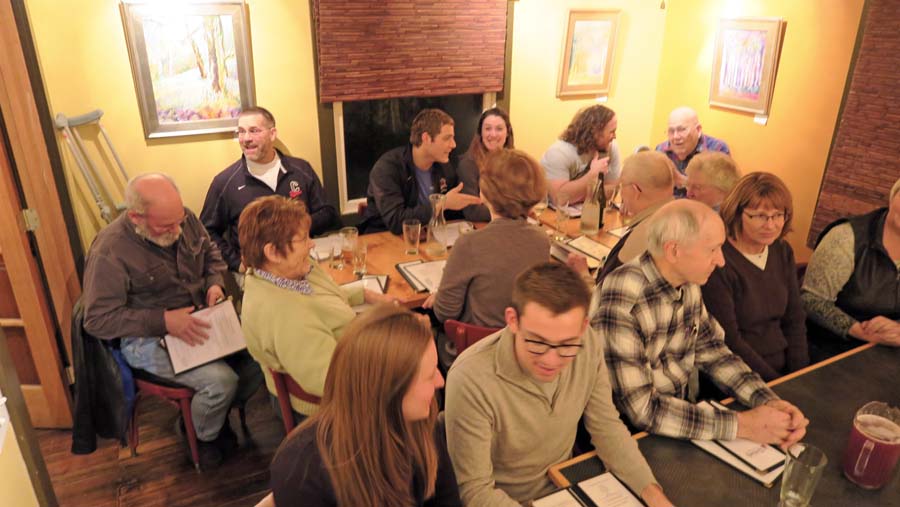 Katherine took this picture which includes me (Brian Wilson) on the far far right in very light green shirt.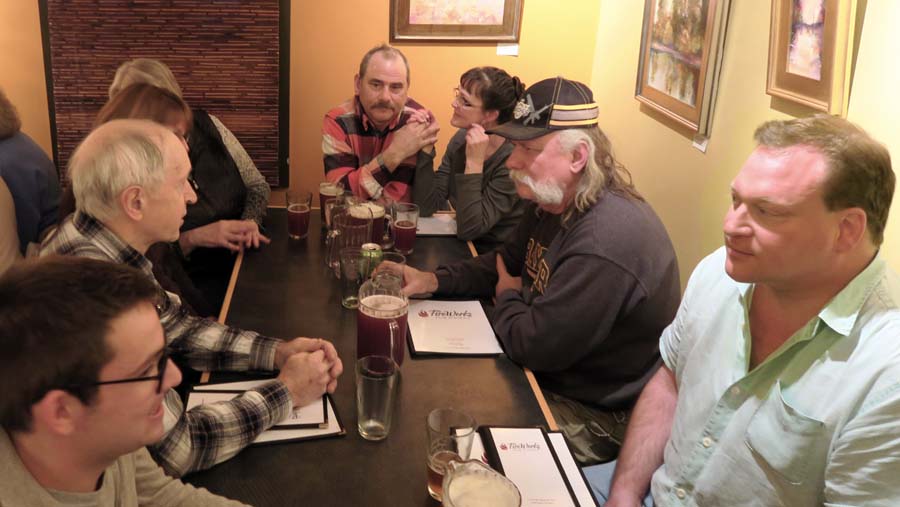 This restaurant is called "Fireworks Pizza" because of the wood fired oven contraption seen below, which allows them to make one or two pizzas at a time.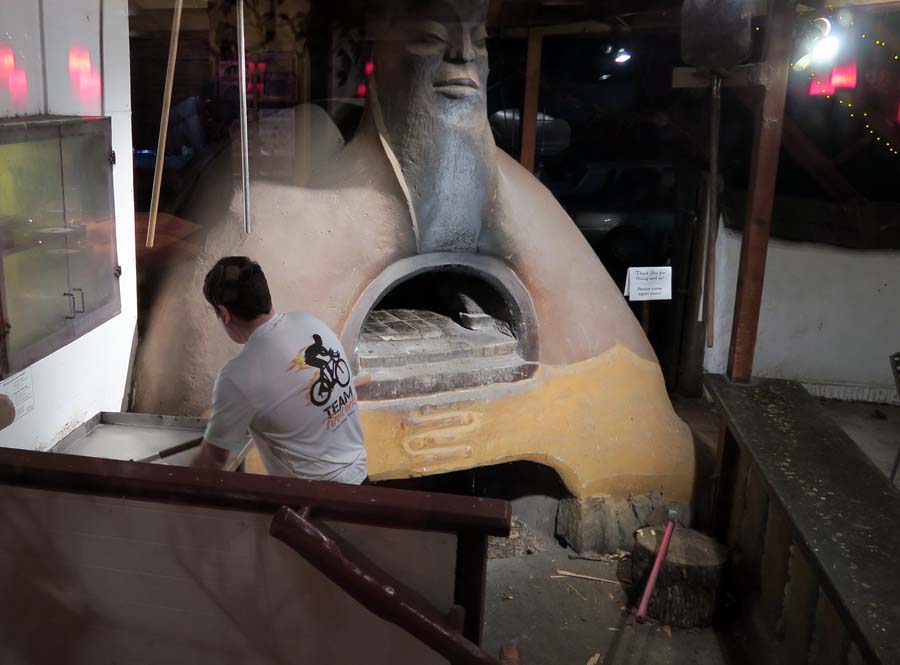 The next morning we get up and attend the memorial service. Below is the First United Methodist Church Sanctuary where the service was held. (Picture taken from balcony.) I grew up attending this church and sat in this sanctuary every Sunday morning.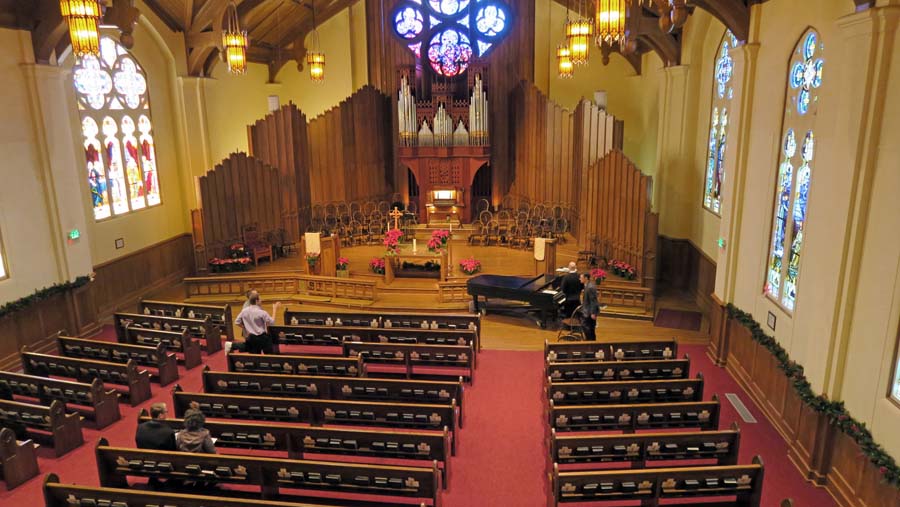 Here are a few guests milling around before the ceremony. In the picture below, it is the only photo I have of Travis Wilson at the ceremony (far left in back in sweatshirt sticking his tongue out).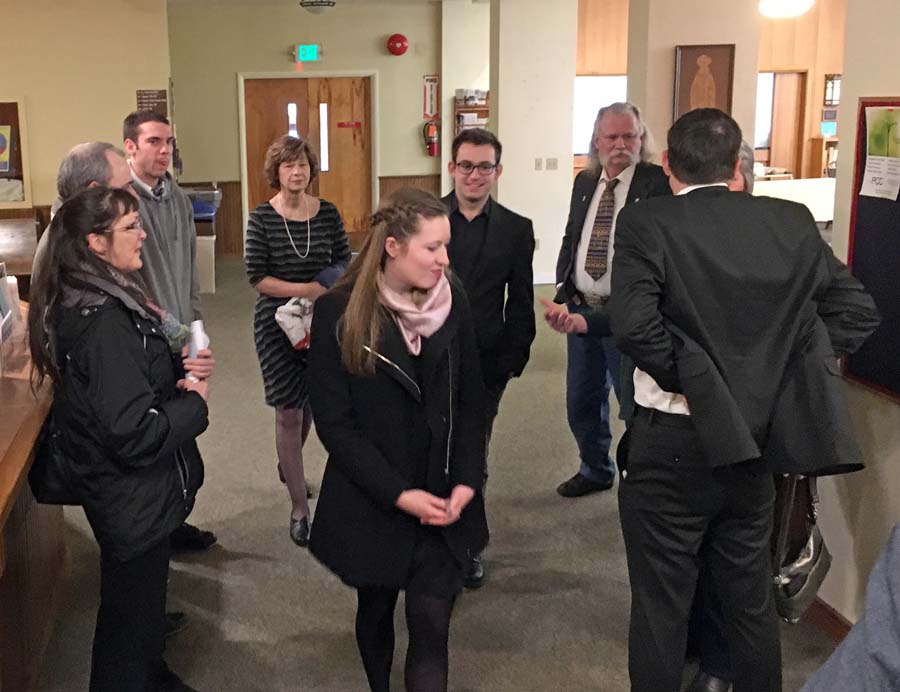 Howard Wilson (Virginia's husband) arrives and is greeted by his grandson Eli Echt-Wilson while Ari Echt-Wilson looks on.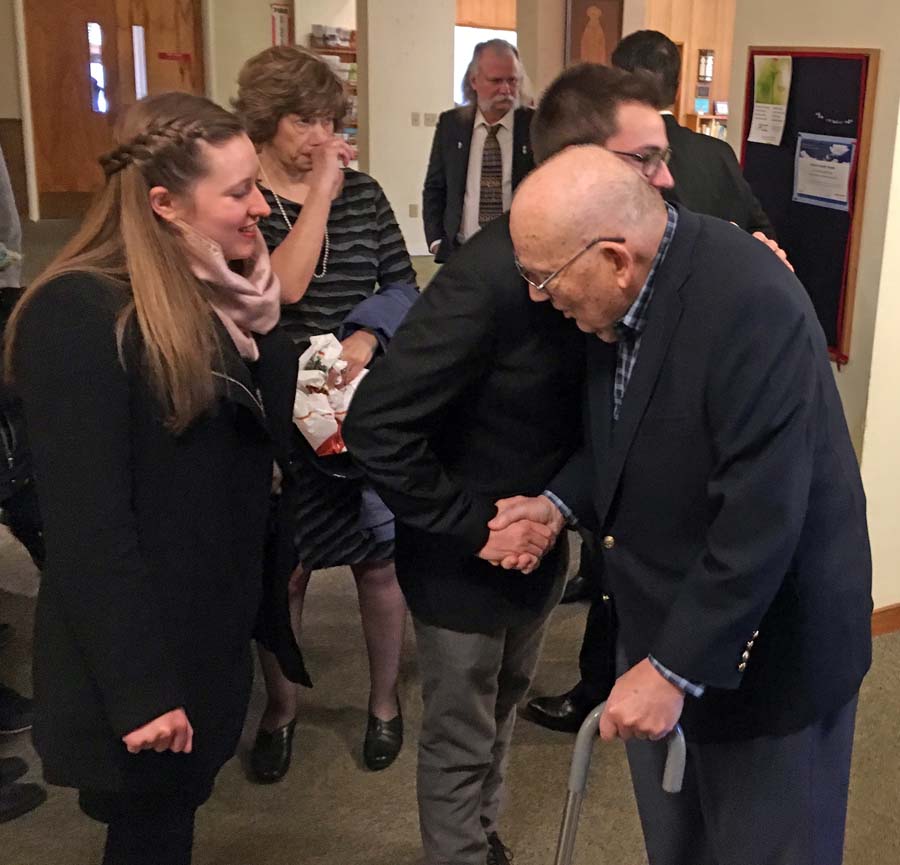 The ceremony is about ready to start, I'm standing at the altar looking backwards into the Sanctuary here.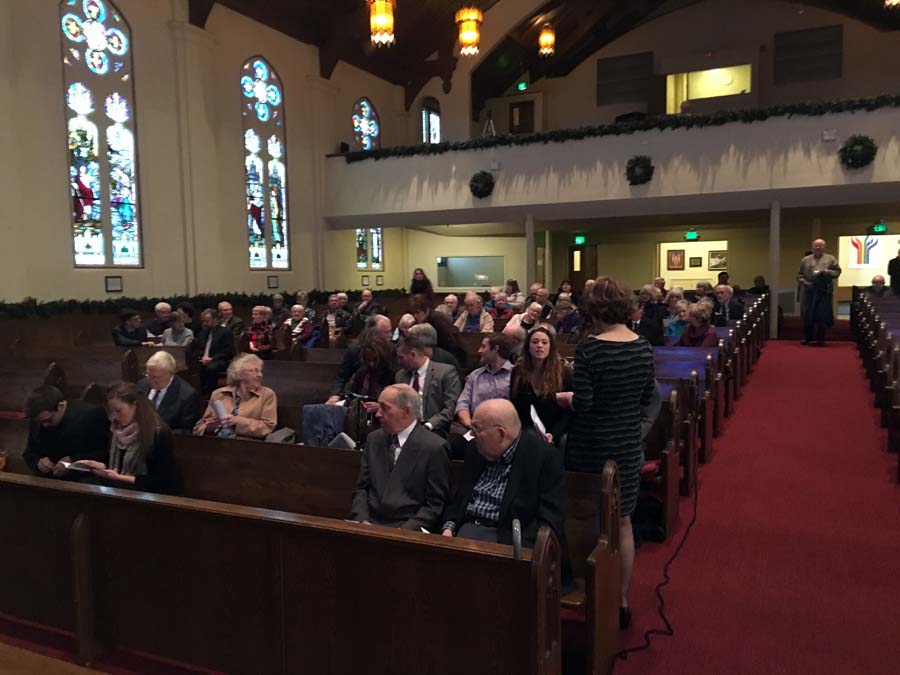 One last picture then I have to run up to the balcony to record the video on the tripod (you can see in front of the left door to the balcony).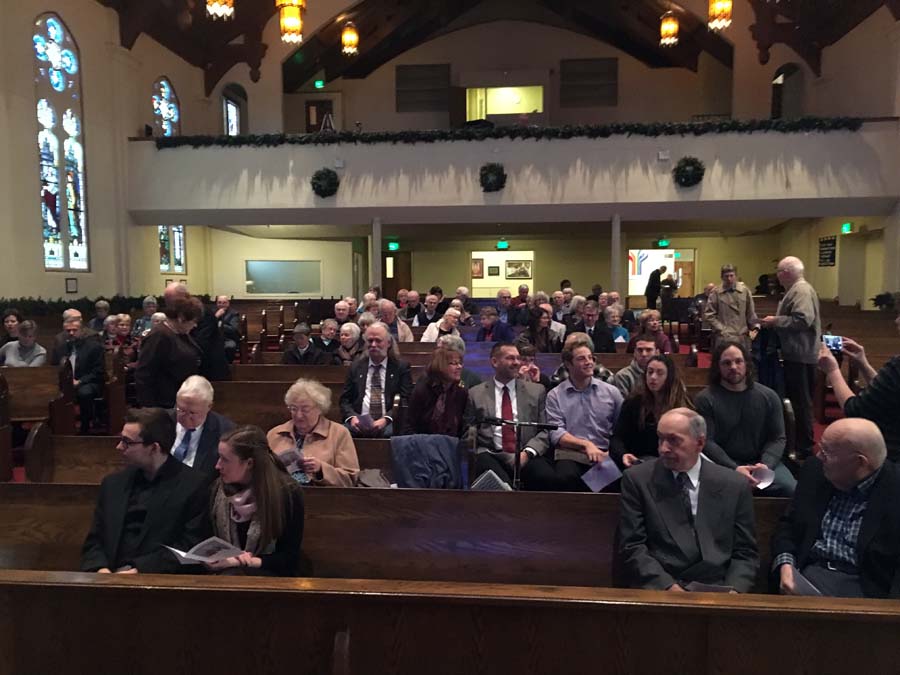 The video below is the one hour long service. THIS IS THE SAME VIDEO from the top of this web page, I just include it here in case you skipped over it and it is in time order here. Click here for the highest quality original (for Apple Macintosh only). Click here the paper program to follow along.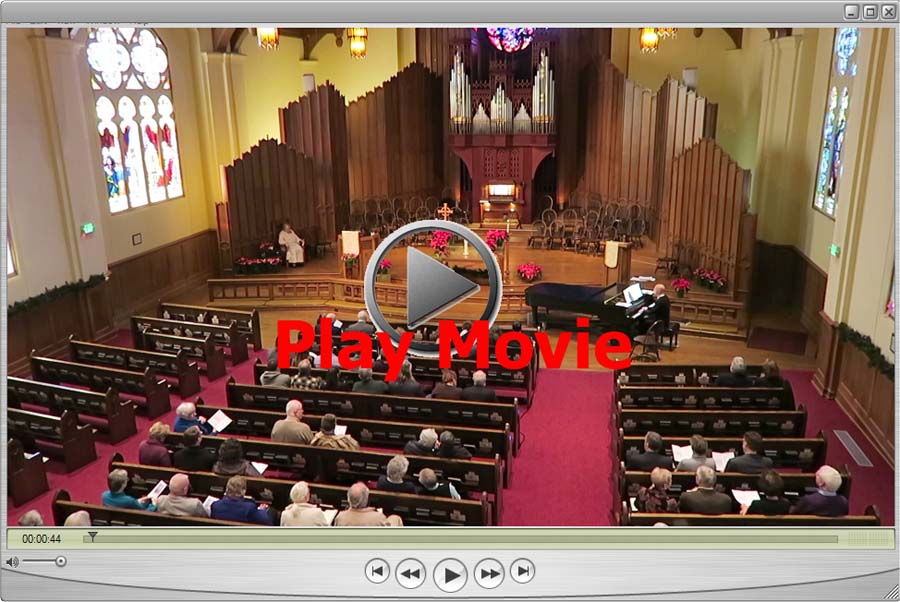 When I was growing up, after every Sunday service there was red punch and sometimes cookies served in the waiting area. Families would mill about talking. We did that out of tradition (see below). I notice "Superintendent Tom Wogaman" came (blue turtleneck and cane). He was the Corvallis public school superintendent (top man) of "School District 509J" when I was K-12 in Corvallis. I also shook hands with James (JJ) Jones who was a boy scout leader when I was a boy scout in this church but I don't quite see him below.

After the one hour service and red punch, we took the opportunity to take a few group photos since we rarely get this many of the cousins together. Here are the three rows of this photo:
Front Row: Randy Wilson, Nathanael Hoffmann, Howard Wilson (with cane), Eli Echt-Wilson
Middle Row: Dee Ann Wilson, Gail Crawford, Katherine Chung, Ramey Echt, Ari Echt-Wilson, Cheryl Hoffmann
Very Back Row: Catherine Grace Hoffmann, Bruce Wilson (face mostly hidden behind Gail Crawford), Brian Wilson (tallest in back), Doug Wilson (glasses), Ralph Wilson the 3rd in long mustache (some family call him "Chip"), Karen Linder (green sweater), Greg Wilson, and Mark Hoffman on the far far right (leaning on a scooter because he recently had his right ankle replaced).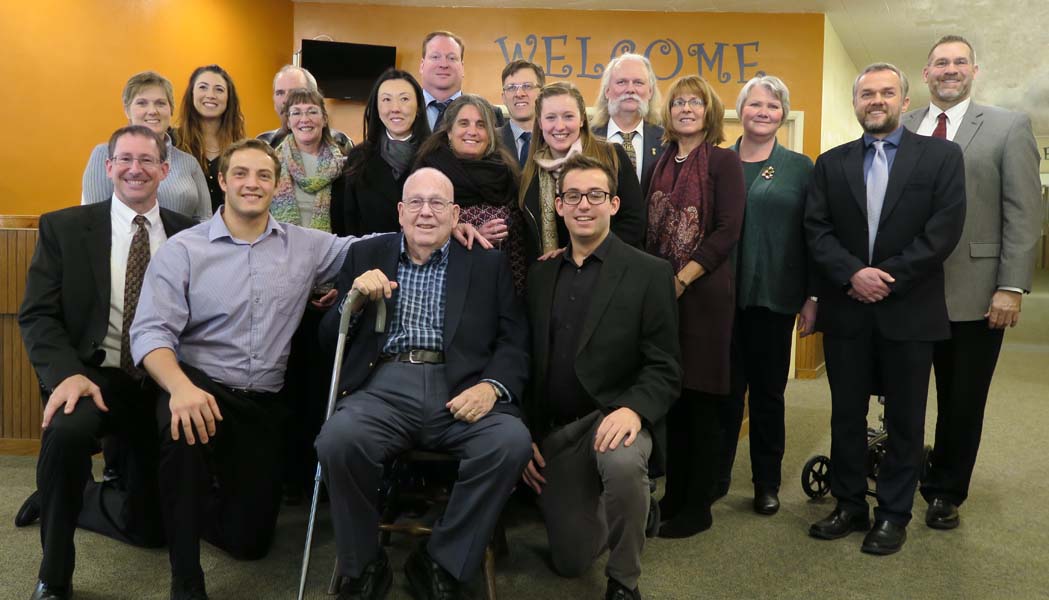 Compare the above to this picture from 1992 at Dee Ann's wedding virtually every single one of the people above is in the photo below (there are two exceptions). Virginia Wilson is in the photo below in a bright red dress:

The picture below is all cousins (no husbands or wives). From left to right: Bruce Wilson, Doug Wilson, Karen Linder (born Karen Wilson), Ralph Wilson the 3rd, Dee Ann Wilson, Brian Wilson (tallest), Cheryl Hoffmann (born Cheryl Wilson), Randy Wilson, and Greg Wilson on the far far right.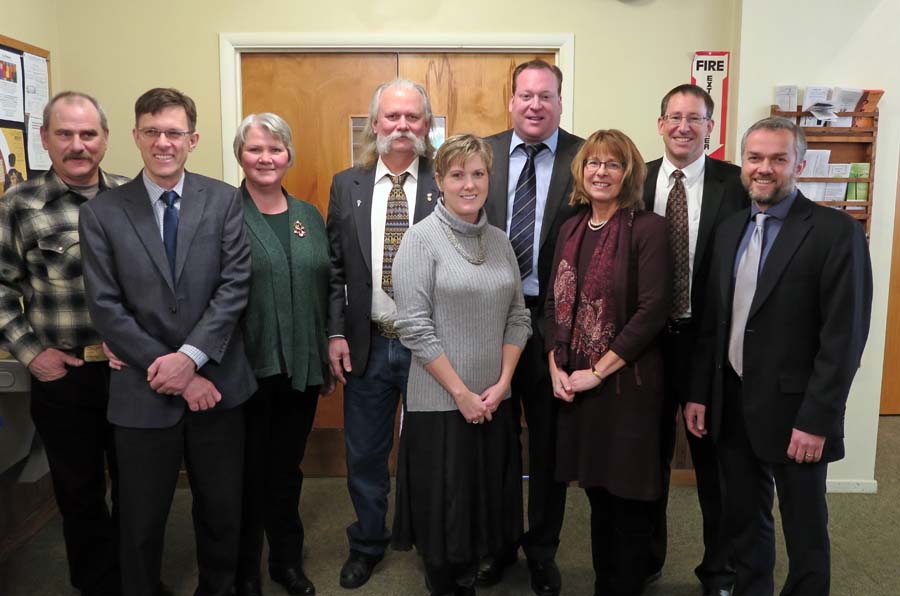 Random picture: Eli Echt Wilson on far left, then Ari Echt-Wilson, then Brian Wilson, then Randy Wilson on far right. Brian and Randy are brothers.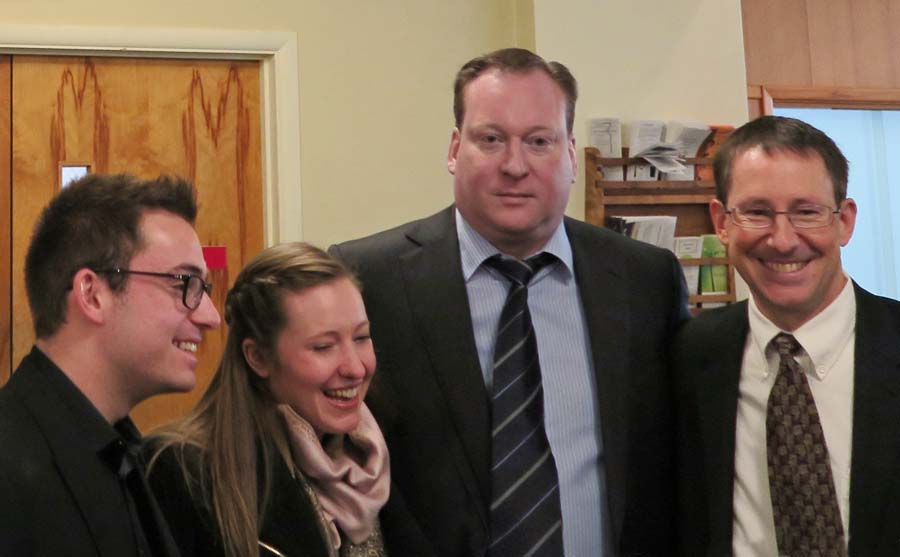 Below is a wide picture of the "Table of Memories" that was setup to honor Virginia's life:
Doris Waring and Richard Waring meet Katherine Chung for the first time. Katherine has a super-power where even if she doesn't know the camera is pointed at her from behind her eyes are almost always closed in pictures. :-)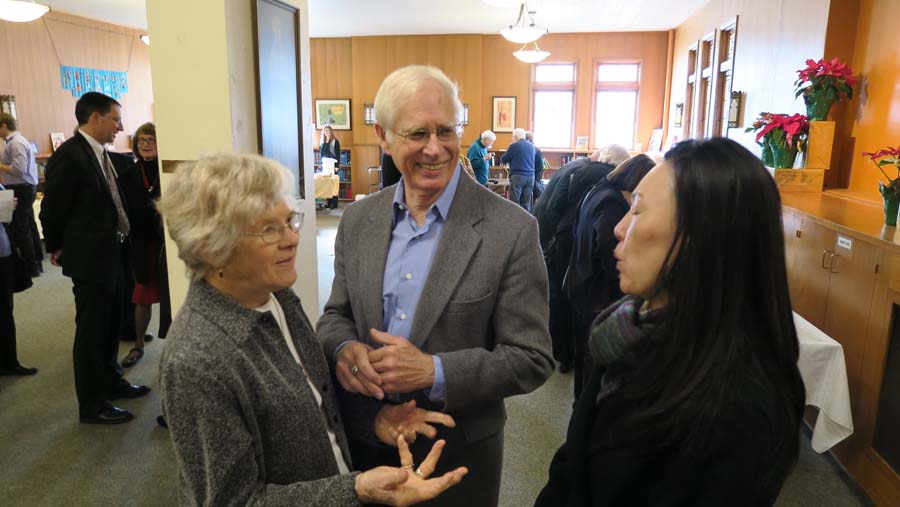 I was smart and took several pictures (I know about Katherine's hidden super power), here is a better photo: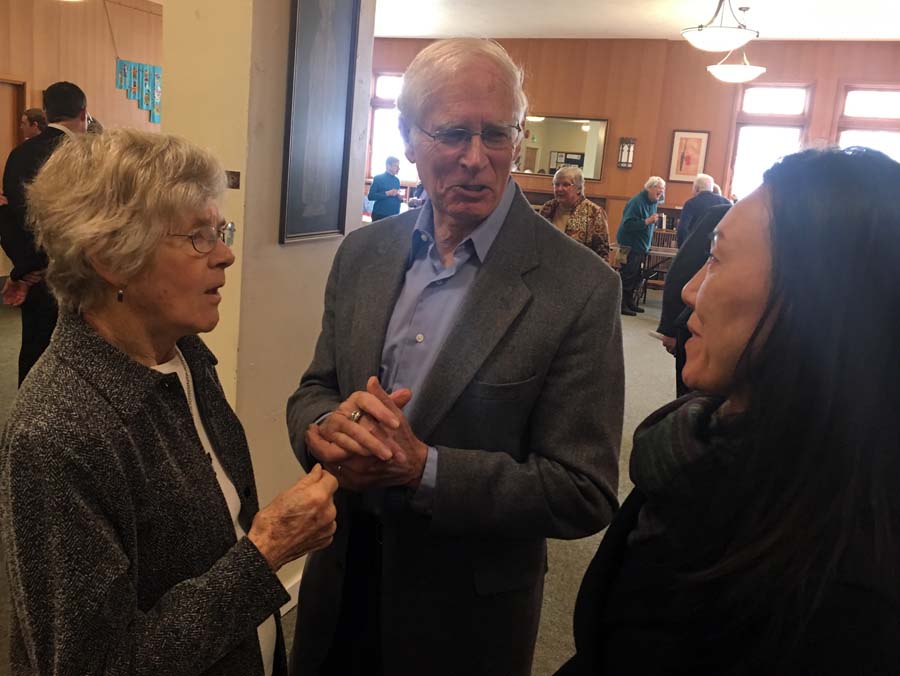 From left to right: Karen Linder in green, Doug Wilson, somebody COMPLETELY obscured by Doug, Dee Ann Wilson, then Jan, Zack McCarley, and Cheryl Hoffmann on the far far right.
Wayne Simons (son of Irvin Simmons) on the left in red jacket talking with Howard Wilson on the right.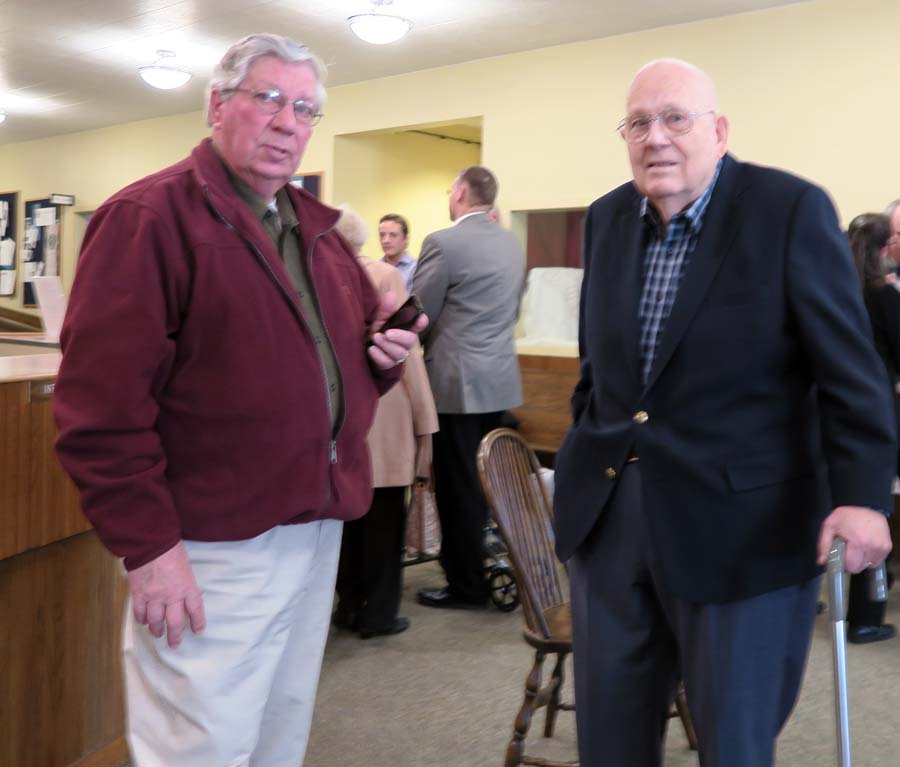 After the memorial service, it was a little after noon and so some of family stuck around in Corvallis for a lunch at "The Old Spaghetti Factory" in Corvallis Oregon.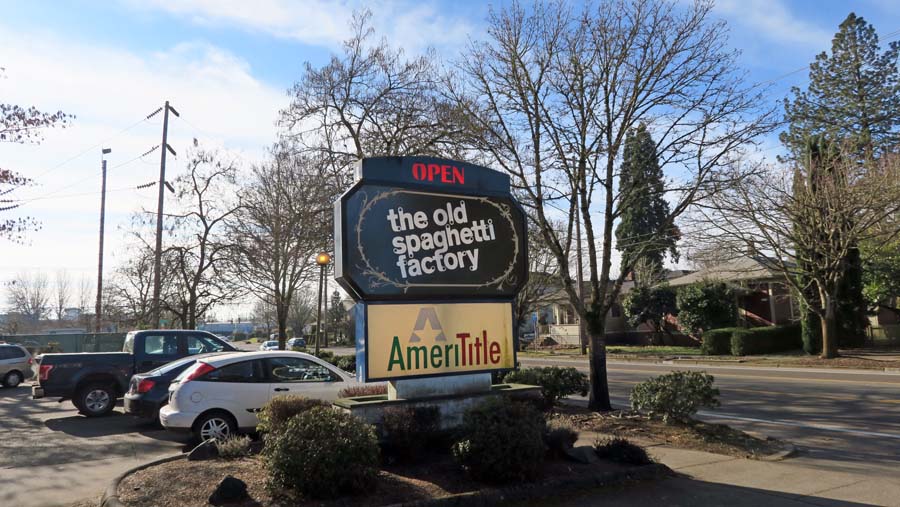 Here we all are gathering for lunch after the memorial service.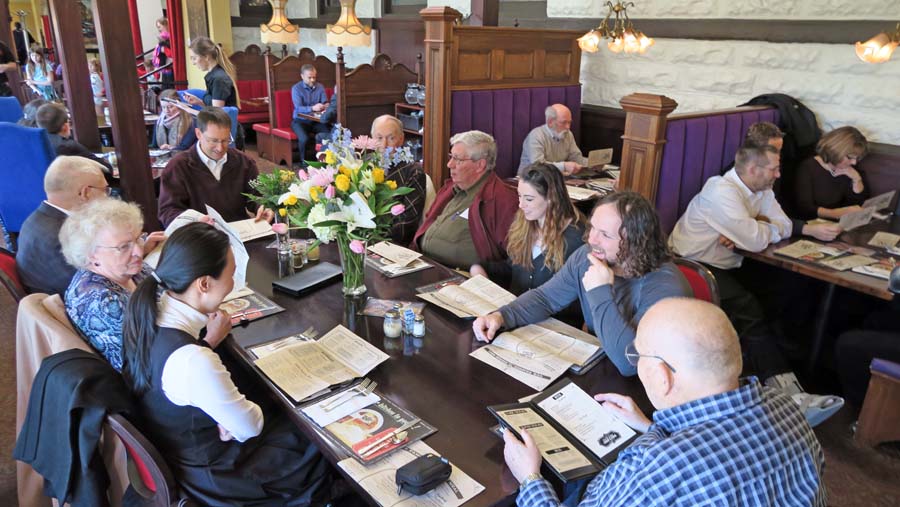 Eli Echt-Wilson, Ramey Echt, and Ari Echt-Wilson with her eyes closed.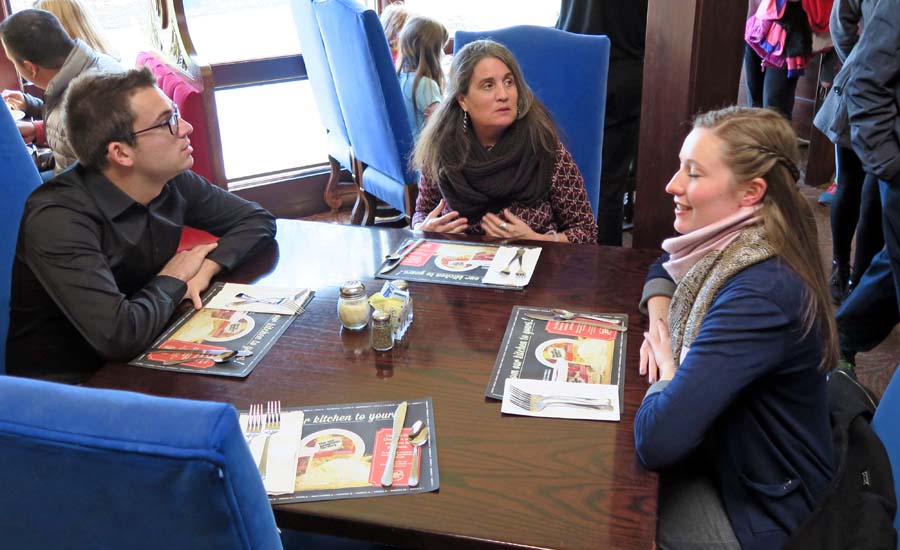 Greg Wilson, Dee Ann Wilson, Chip Wilson, Doug Wilson. Greg, Dee Ann, and Doug are brother/sister/sibling while Chip is their cousin.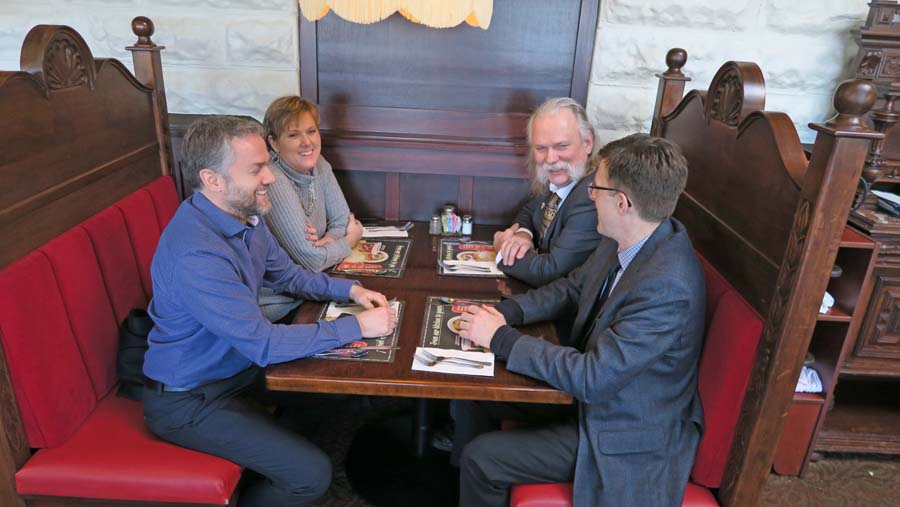 Starting with Howard and going counter clockwise: Howard Wilson, Zack McCarley, Katie Hoffmann, Wayne Simmons, David Latshaw, Randy Wilson (with glasses talking with David), Ray Hoffmann, Macia Hoffmann, Katherine Chung.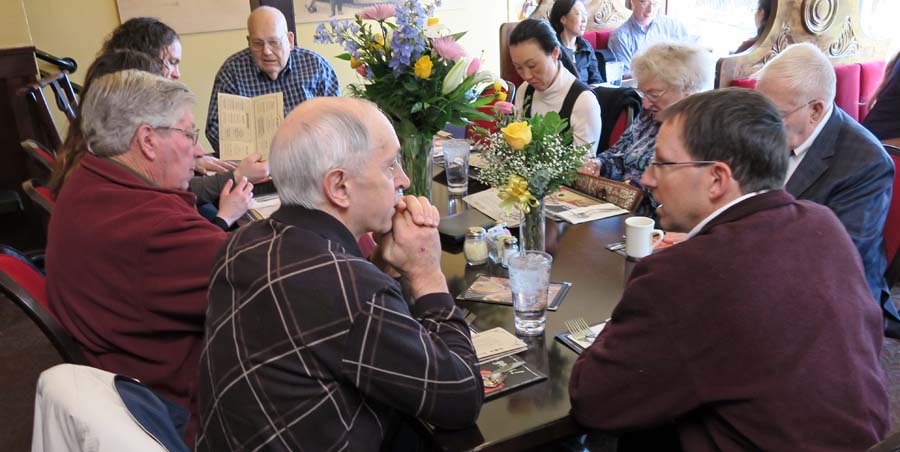 On left of the booth is Mike Norris, and on the right of the booth are Margo on the left and Jan Norris on the right.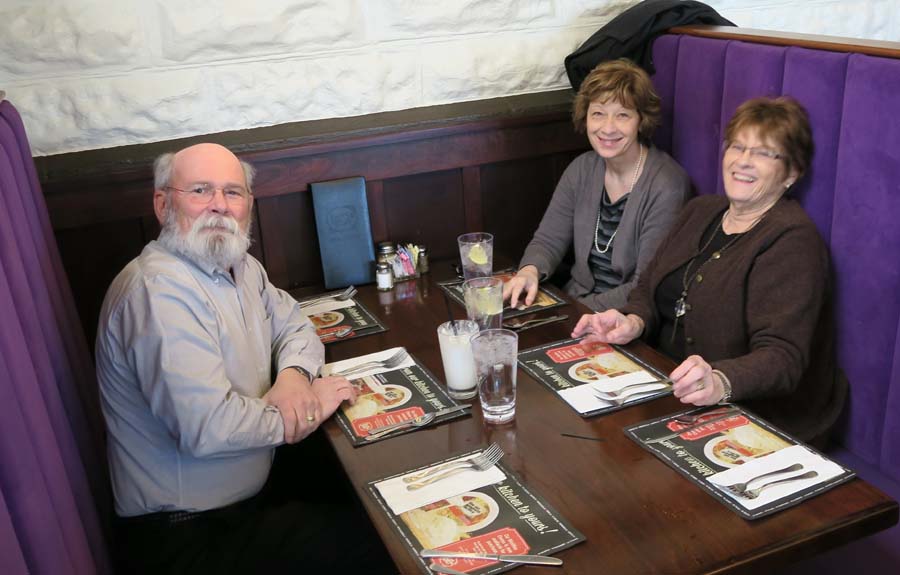 From left to right around the table are: Mark (closest on the left), Nathanael, Cheryl, Karen, Gail Crawford, and Bruce (Bruce is closest on the right).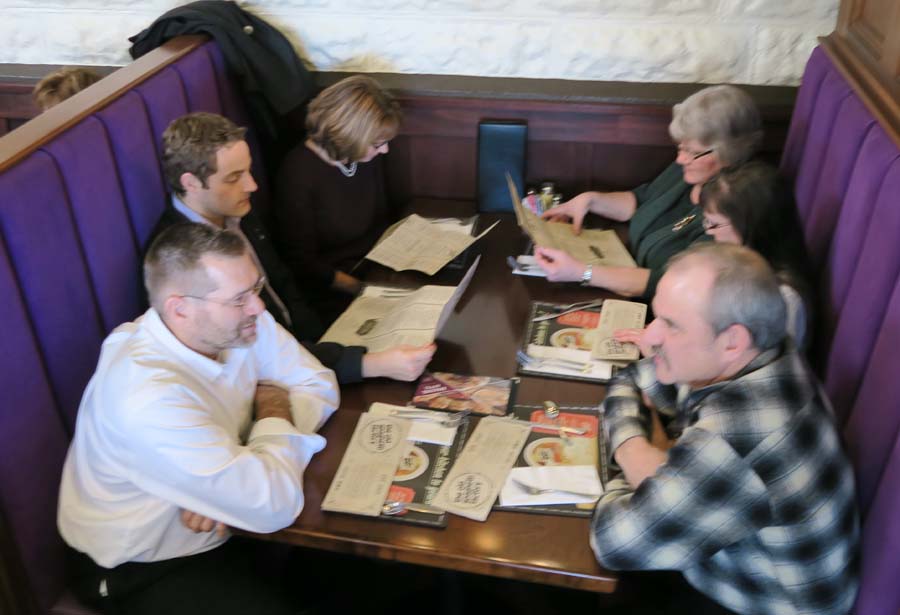 Another picture of the same table. This one has a better photo of Gail Crawford who keeps getting hidden. :-)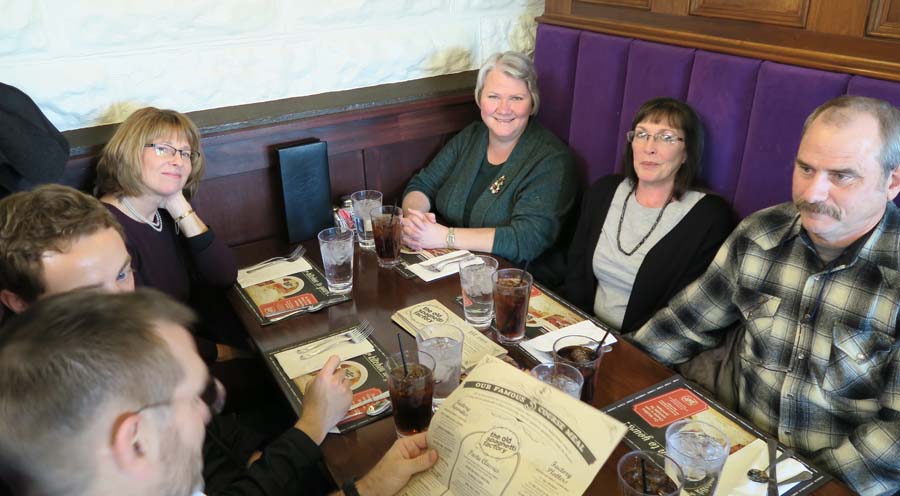 Zack talks with Howard while Katie looks on.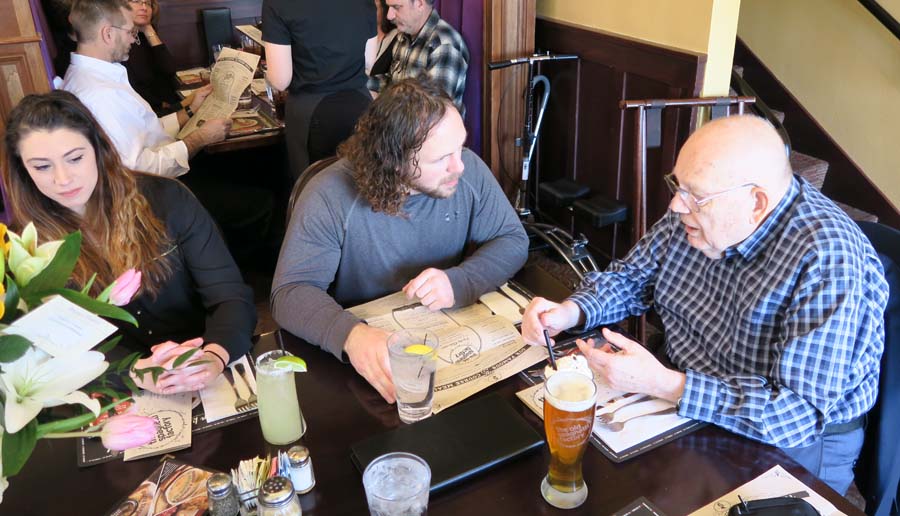 The food arrives.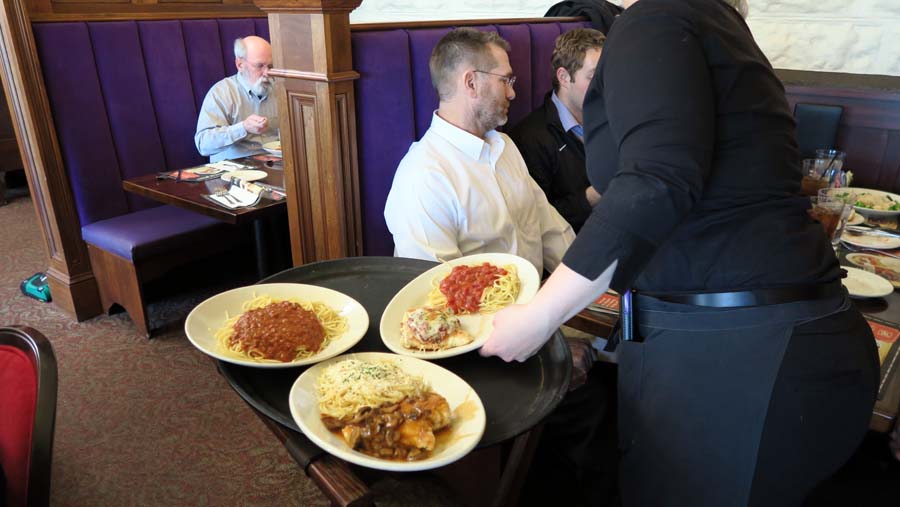 At this point (2:40pm on Saturday, January 14th, 2017) Katherine and Brian (author of this web page) had to eat pretty fast, and go drive to the Portland Airport to fly home to San Francisco. The roads and conditions were pretty good until just a few miles short of the Portland Airport. There was actually snow by the sides of the road and patches of solid sheet ice on the highway (HW 205). Katherine took this picture below out our windshield: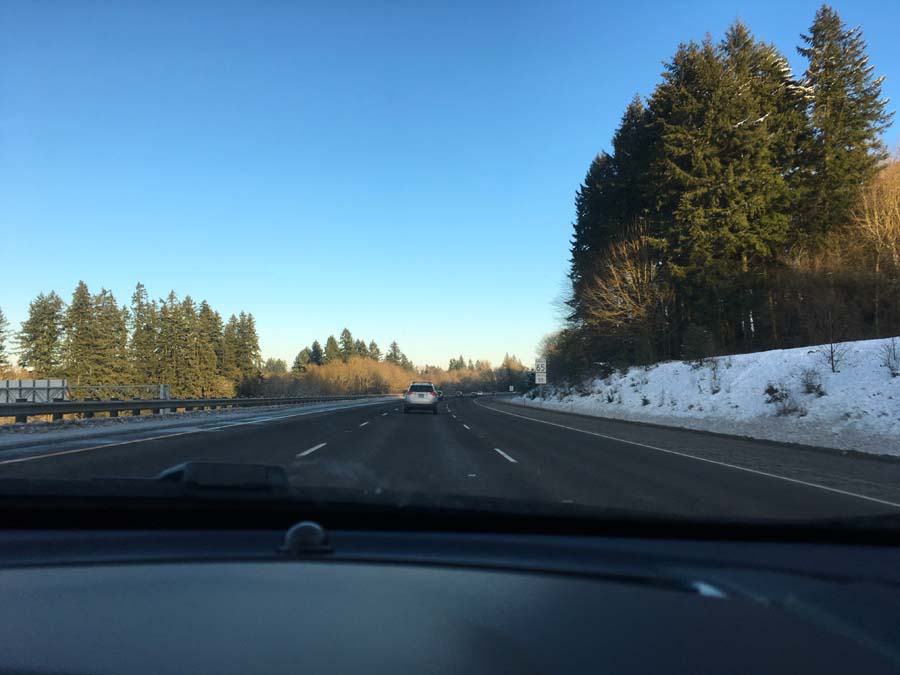 I was glad to get their safely and make our airplane ontime. Below we are pictured in Virgin America's domestic first class just before departure. I'm a big guy and have medical issues (DVT and PE) and coach seats keep getting smaller so we always try to fly first class when we can. Virgin America is quite arguably the very VERY best American domestic airline that ever existed (look at the legroom below), but it recently was purchased by Alaska Airlines so all of this is coming to an end very soon. I wanted to ride Virgin America one last time before they are dismantled: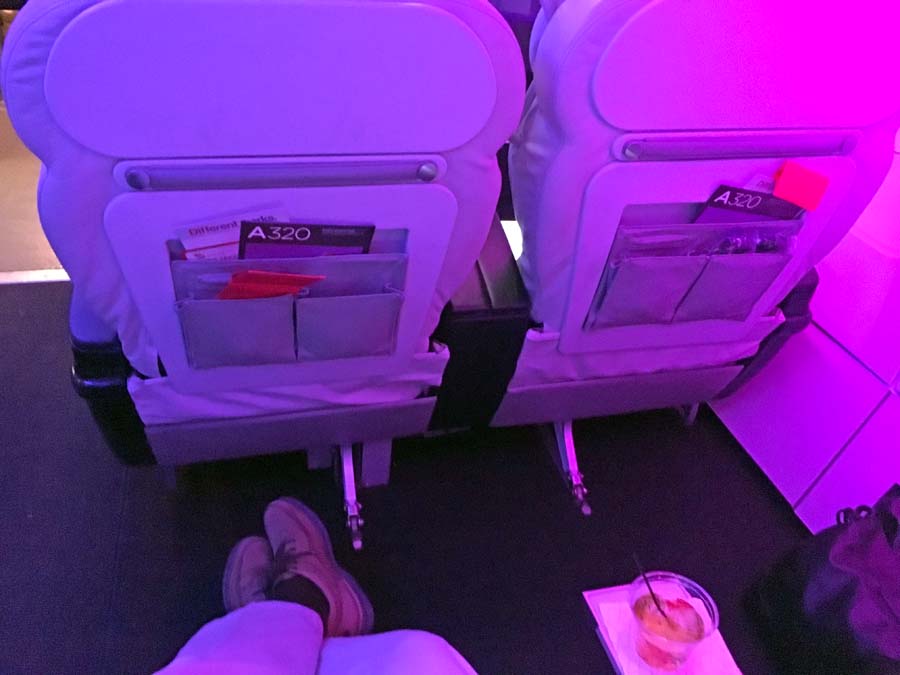 Flew home to SFO (San Francisco Airport) and went straight to bed after a physically and emotionally exhausting couple of days.
I wasn't there, but the people that remained fired Uncle Ralph's Cannon (video below). Click here for the highest quality original.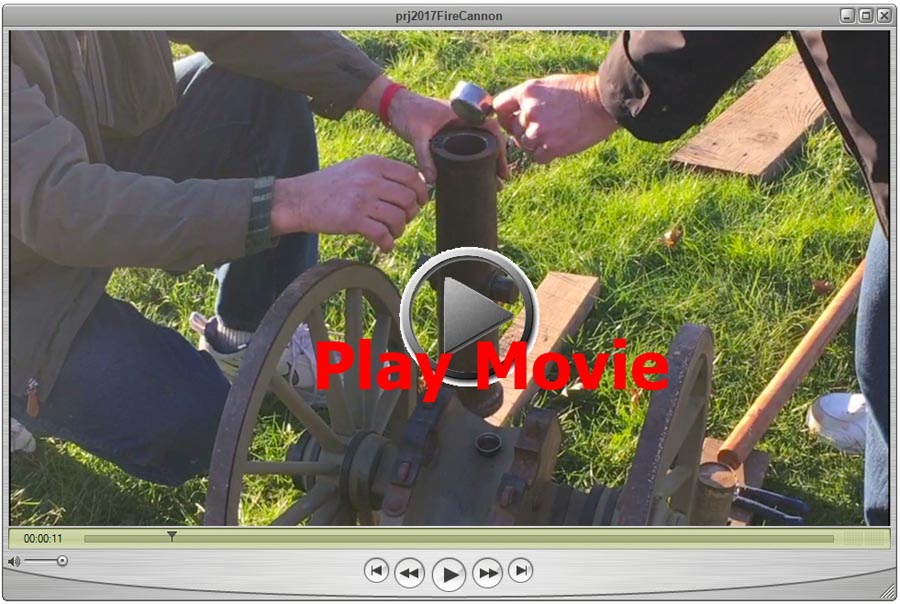 That's it!