2019 Eli Echt-Wilson Stanford Graduation

(6/16/2019)



On 6/16/2019 Eli Echt-Wilson graduated from Stanford University. Eli majored in Computer Science. Click on any picture of the largest "original" that I have. First of all, here HERE IS A PROFESSIONAL PHOTO ALBUM by real photographers (not me!): https://news.stanford.edu/2019/06/16/stanford-commencement-weekend-2019-pictures/
Next, here is the mass ceremony Stanford University 128th Commencement, Sunday, June 16, 2019 at 9:30am in the Stanford Stadium: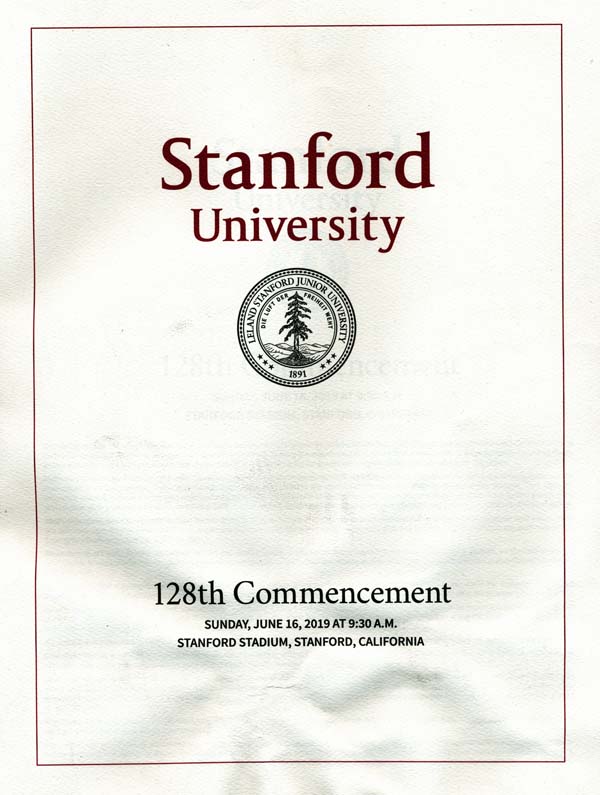 The "Program of Events" page inside the above pamphlet: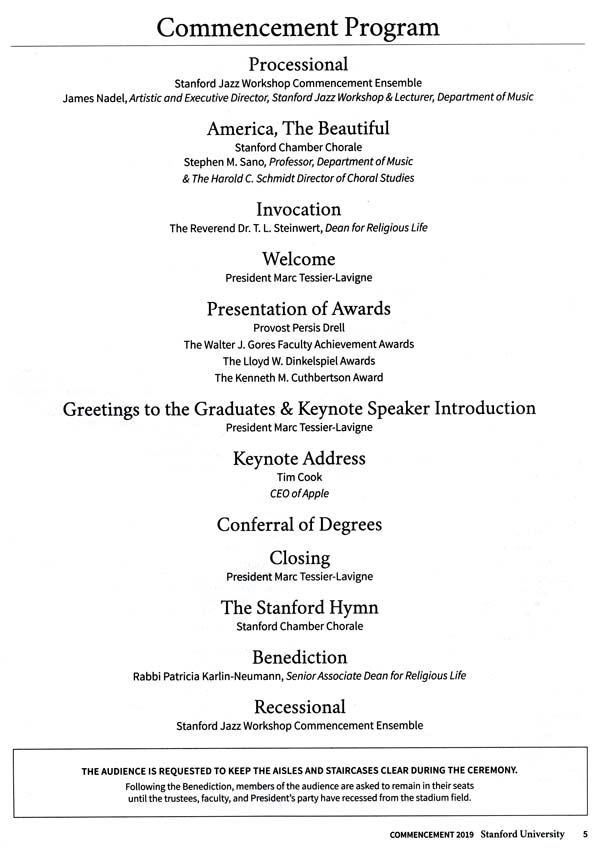 Then in the afternoon, there was a "Computer Science Specific" program to hand each recipient their diploma, that program is below: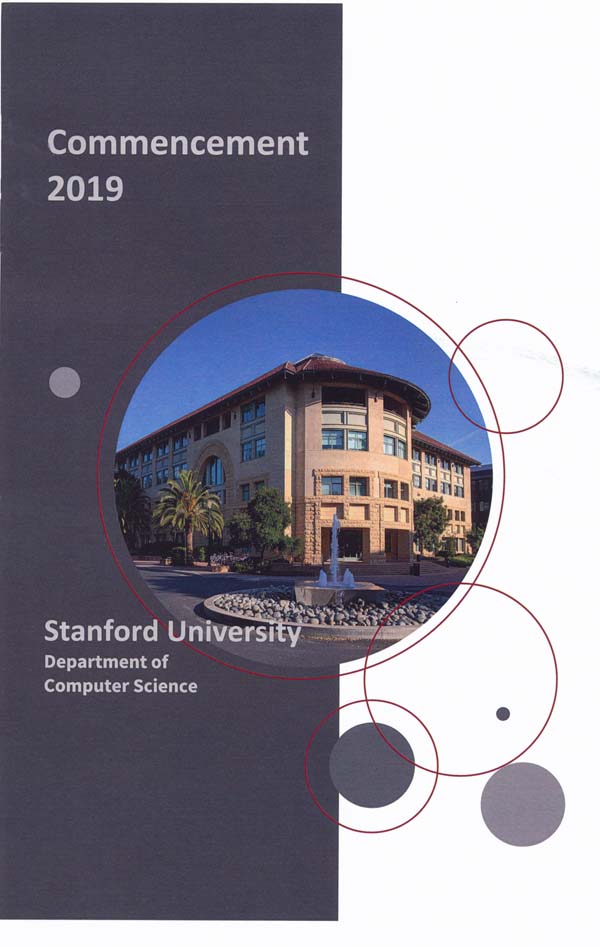 The "Computer Science Specific" ceremony was in Frost Amphitheater.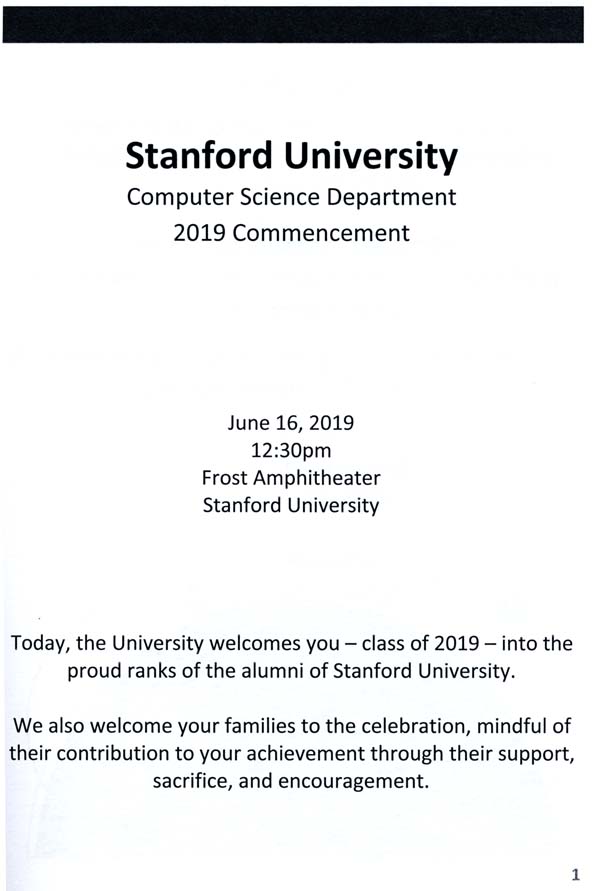 Below is the "Program of Events" for the Stanford Computer Science graduation: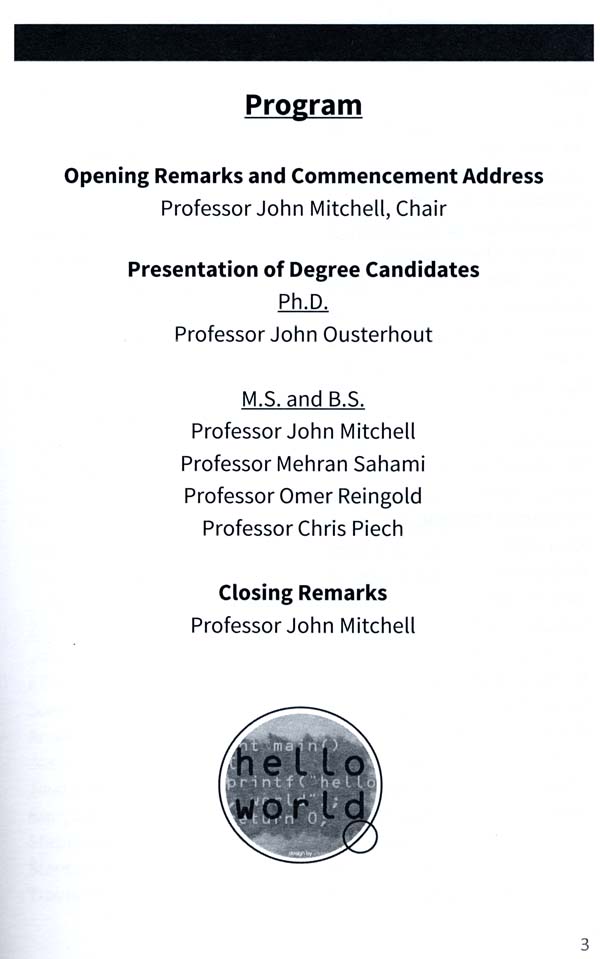 Below Eli Echt-Wilson's name is highlighted in the program.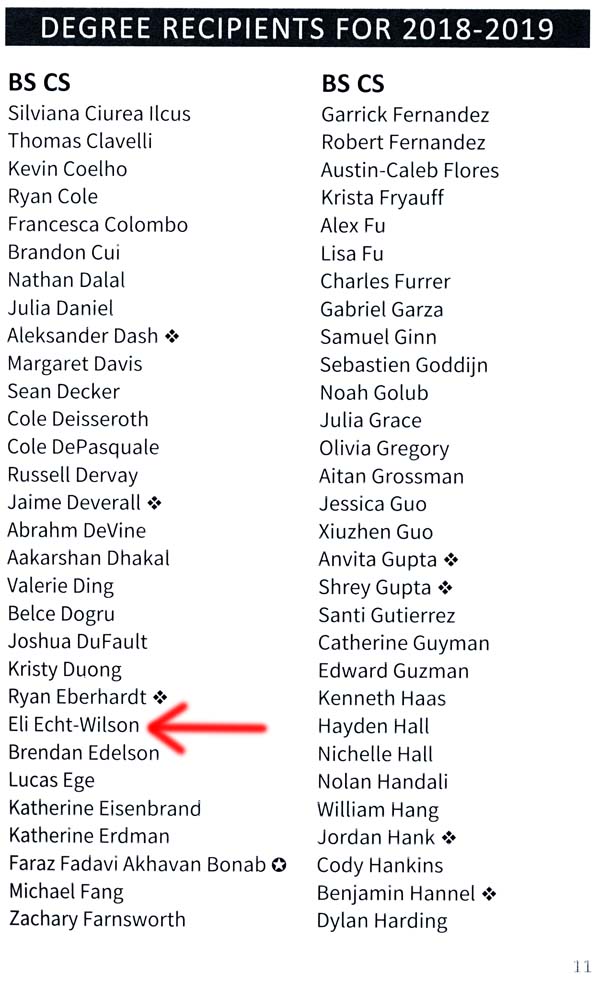 Before we got to the day of graduation, on Saturday 6/15/2019 Eli's parents hosted a dinner.
Ramey Echt and her mother Carole Echt. In the background in red dress and glasses is Liz Horrell (George Horrell's mother).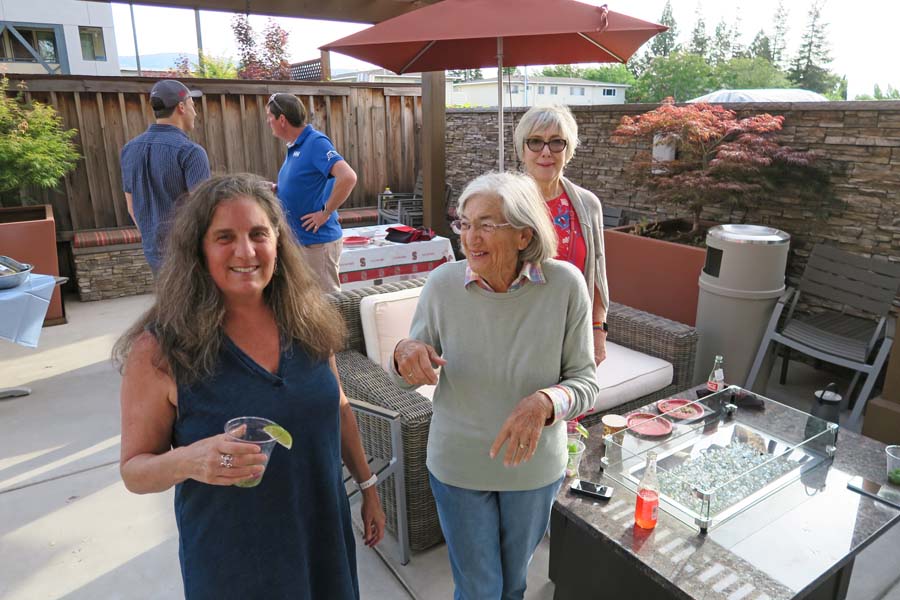 Ramey, Eli, and Molly talking. In the background George Horrell talks with his father Barry Horrell.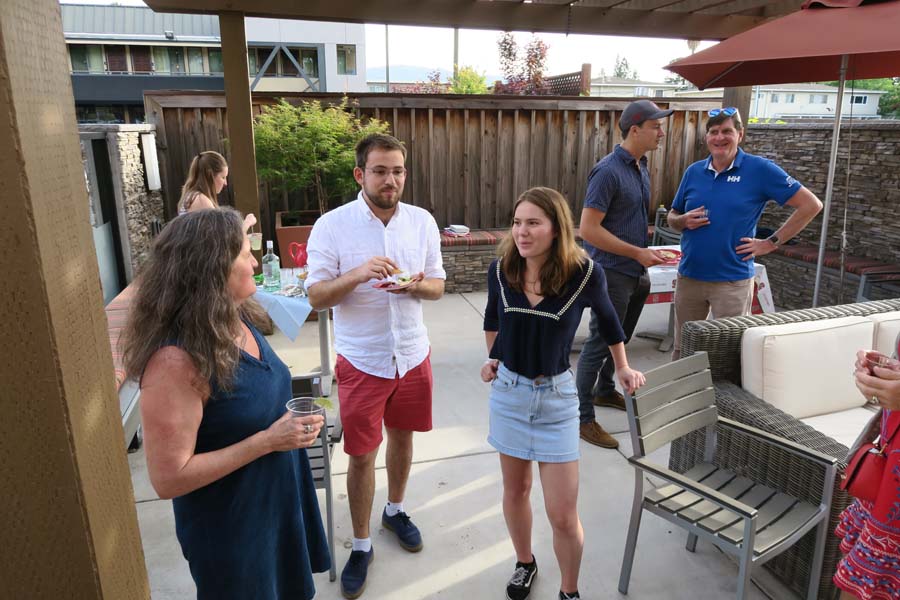 Ari Echt-Wilson talking with her grandfather Howard Wilson (in wheelchair).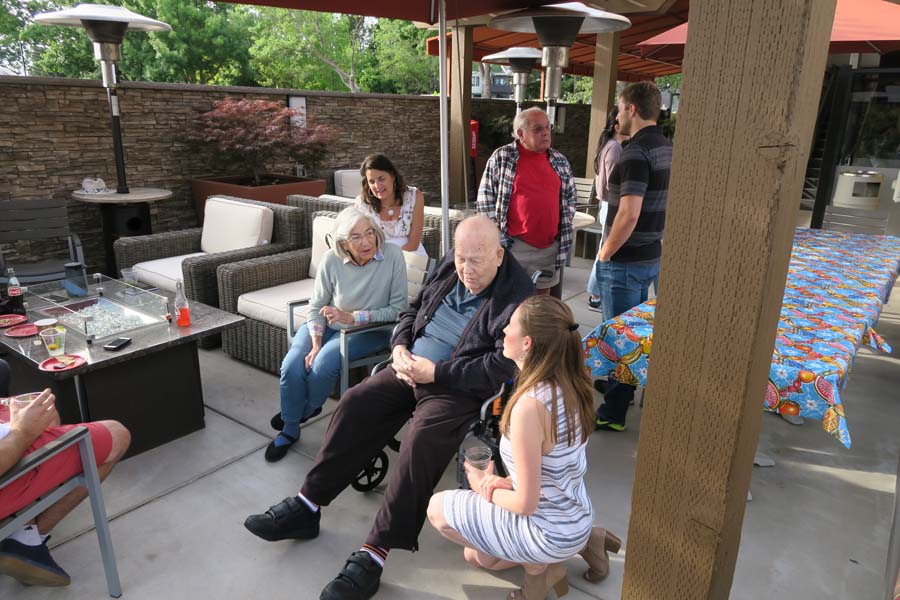 Family talking.
Katherine Chung talks with Randy Wilson.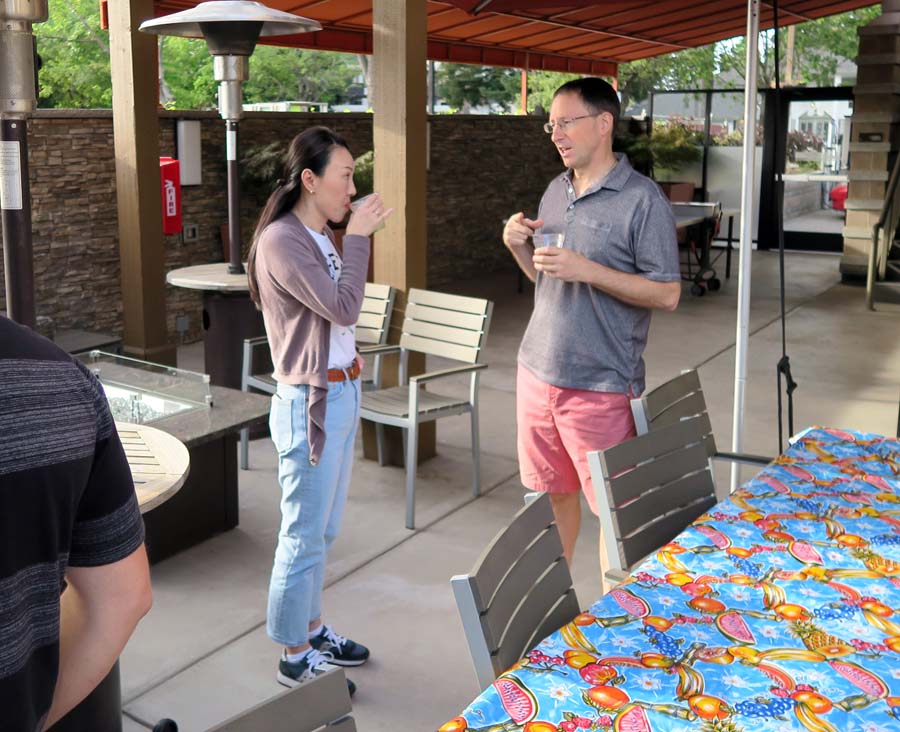 Nathanael Hoffmann (on left) and Howard Wilson (with handkerchief).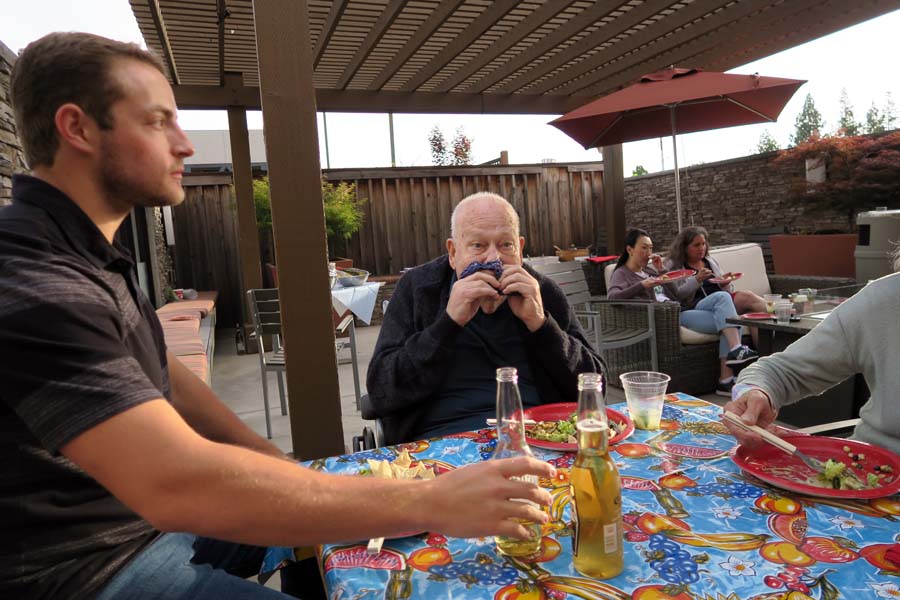 David Echt talks with Barry Horrell.
Gathered around the table.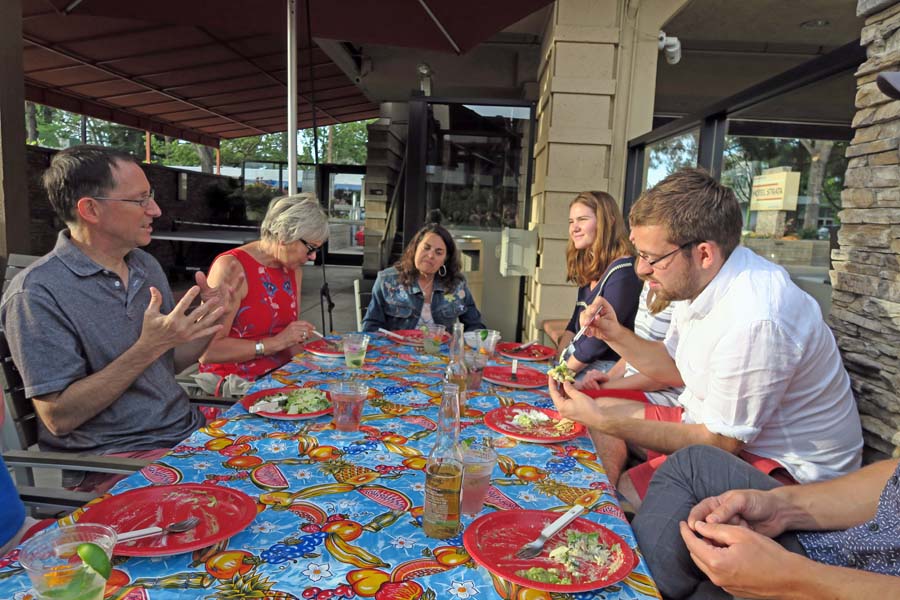 George Horrell.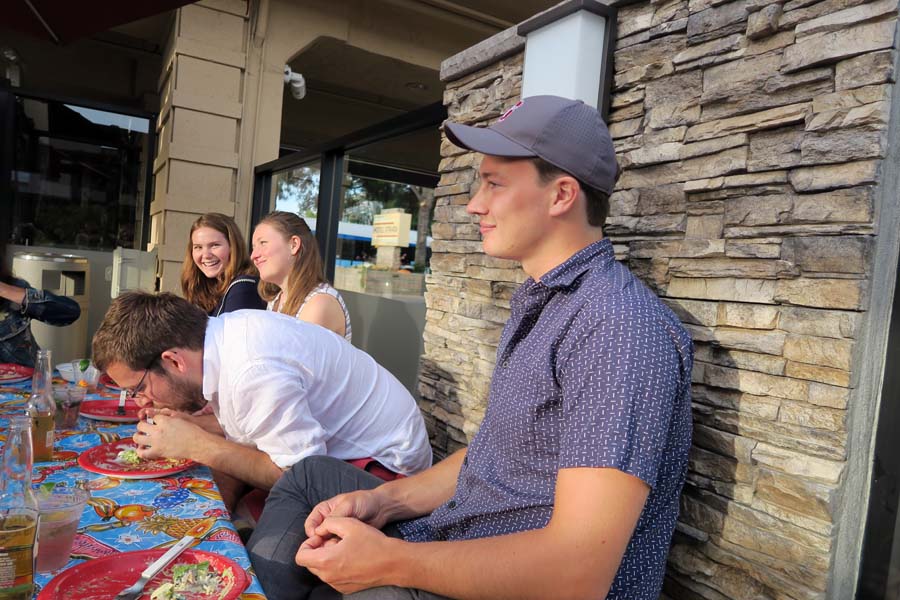 Katherine Chung and Ramey Echt share a quiet moment away from the mayhem.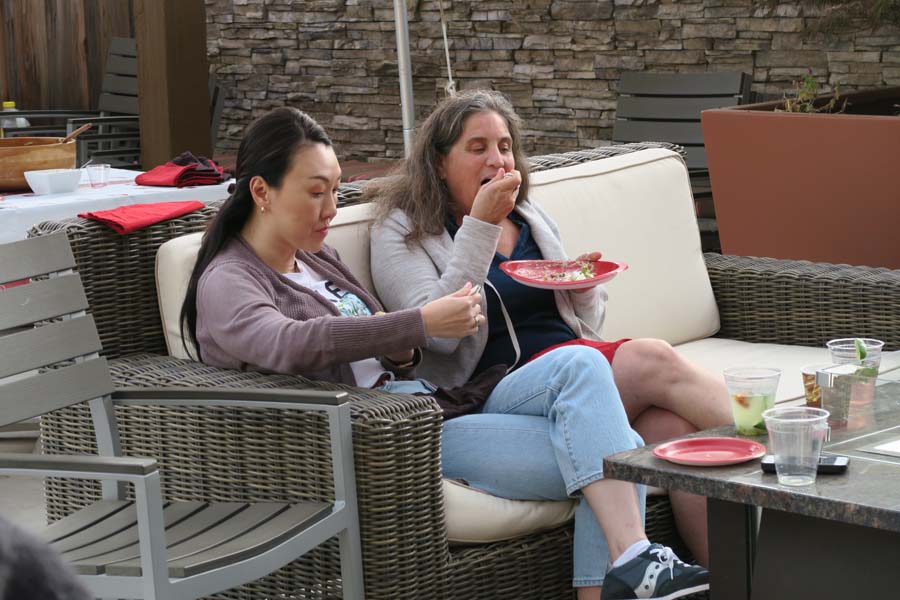 George Horrell (standing up) between his parents Barry and Liz.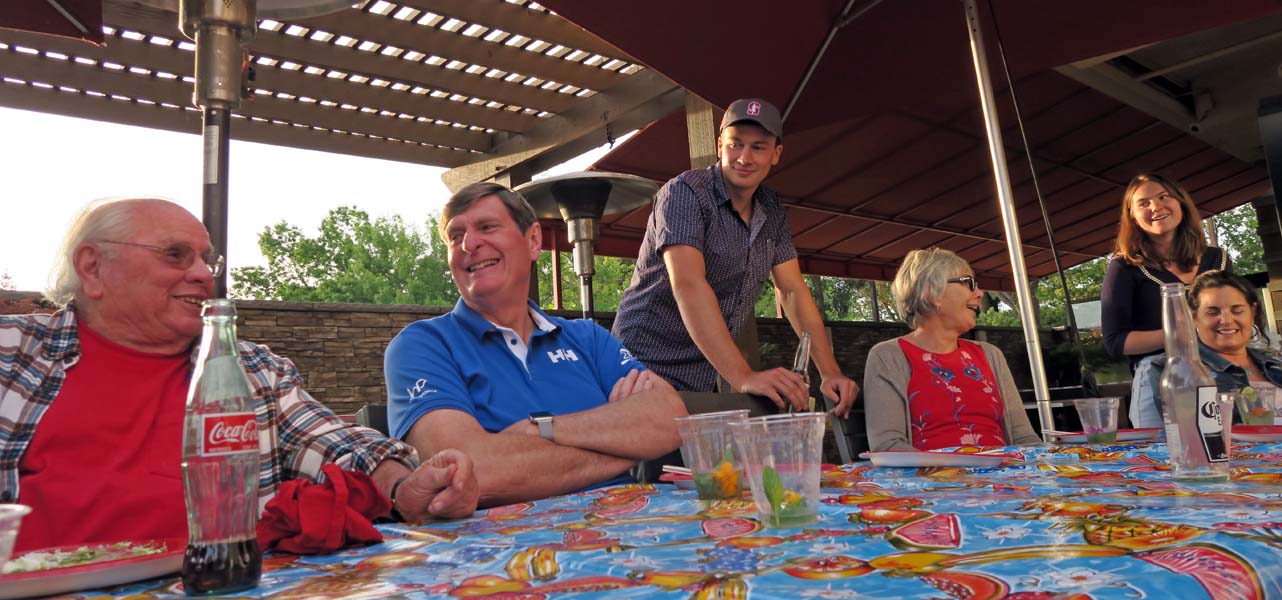 Family and friends around the table.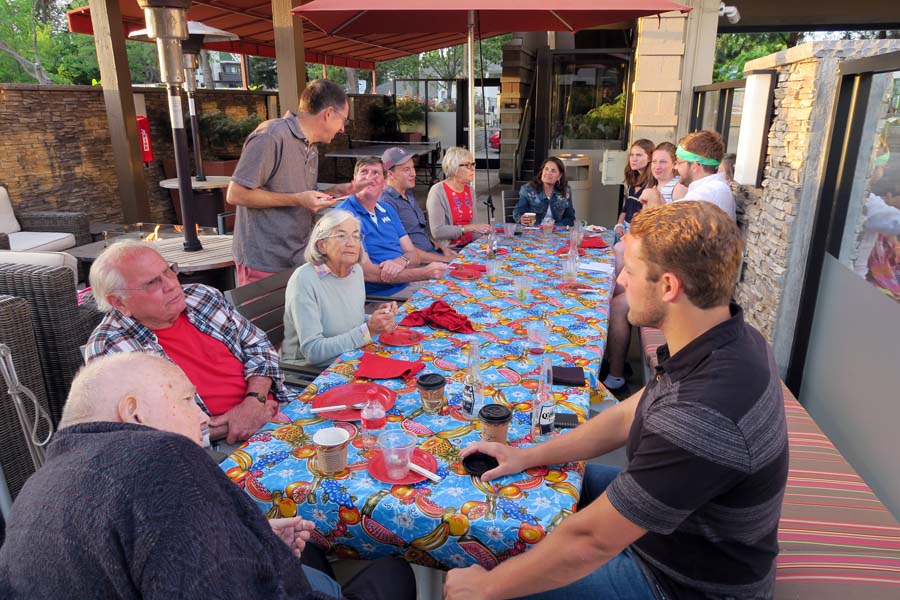 Three women watch Eli intently.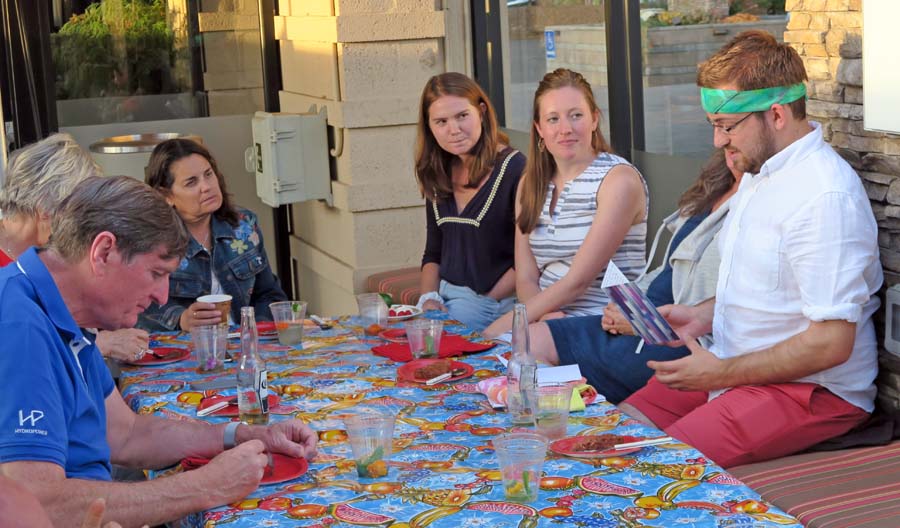 Eli Echt-Wilson.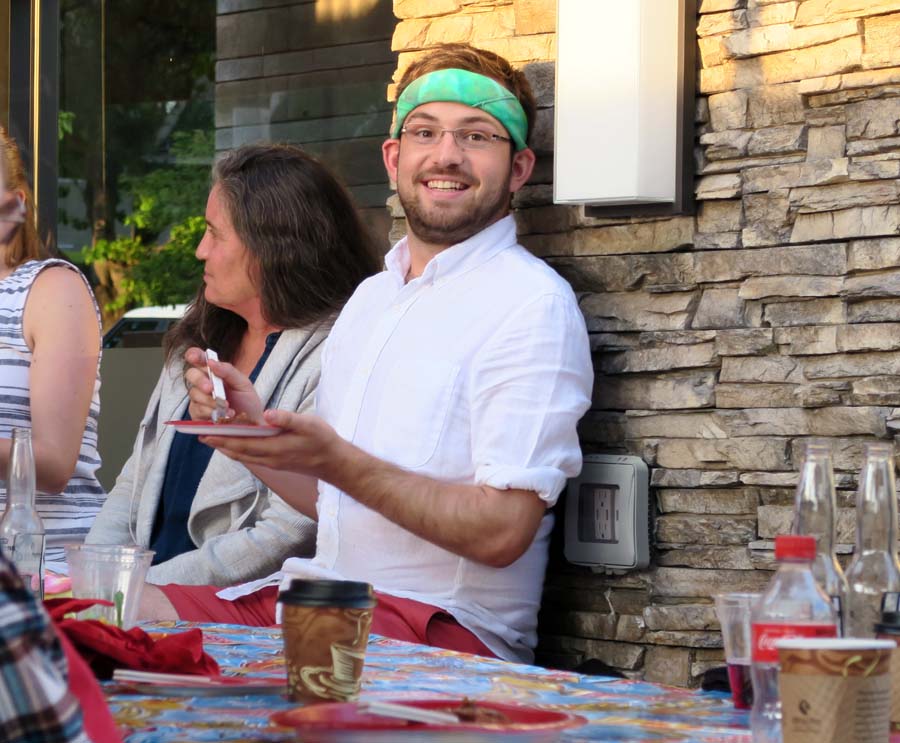 Mother and daughter. Debbi Echt and her daughter Molly.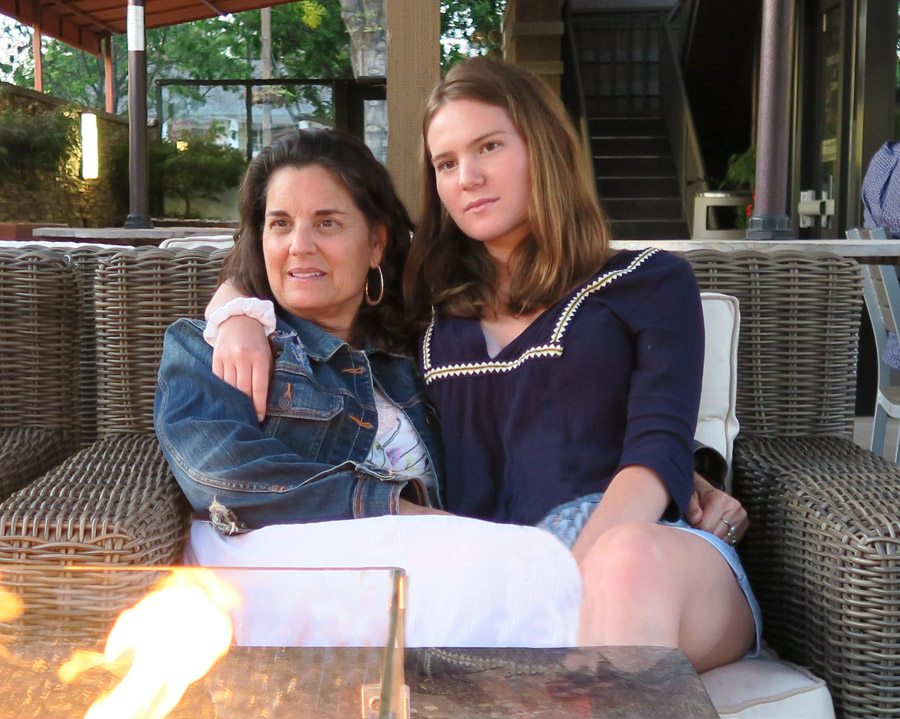 And when they realize I was taking their photo.... they eye me with disdain. :-)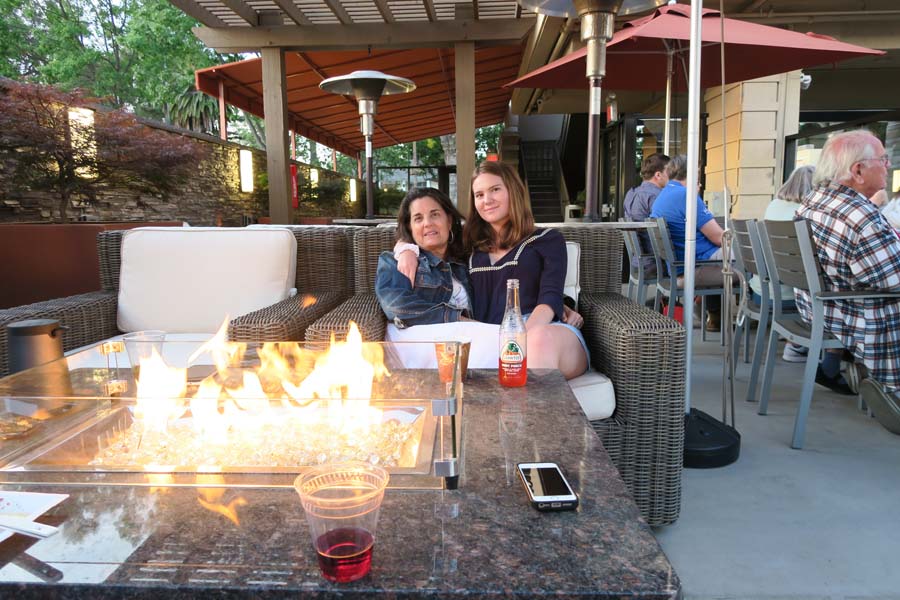 The next morning, the "big day" of graduation (June 16, 2019) the main "centralized" ceremony is in the Stanford Stadium. Here is our view of the stage. We might as well be in Alaska viewing this. :-)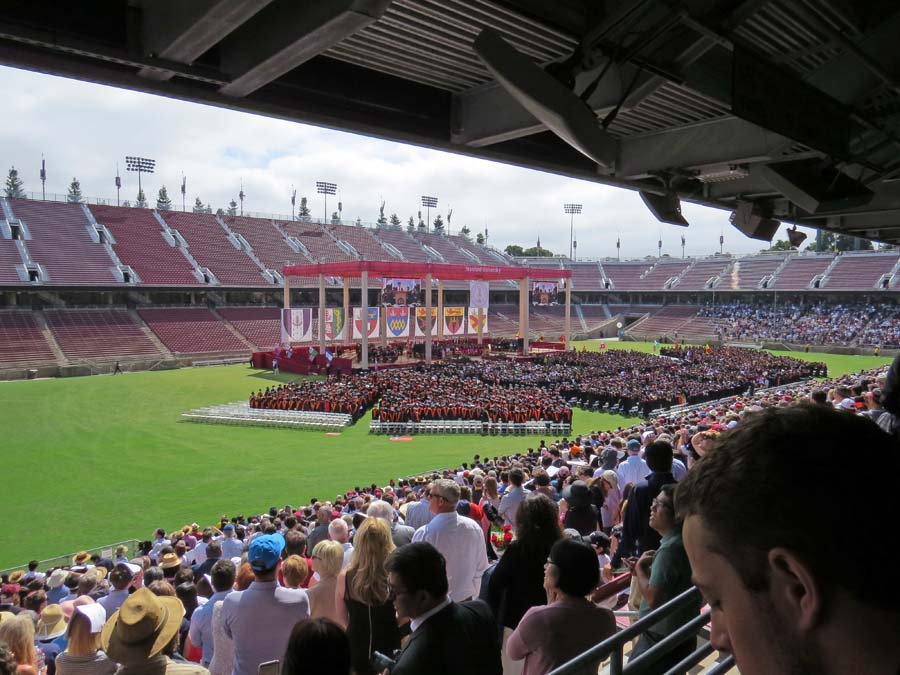 My telephoto lens reaches out and sees Stanford President Marc Tessier-Lavigne speaking at the podium, and that's Apple's (terrible) current CEO Tim Cook to Marc's left (our right). Tim Cook is in the process of killing Apple by making very bad decisions. He actually removed the headphone jack from the iPhone, he removed the "home" button which most people found useful just to be mean and spiteful, and then he created a $999 monitor stand to mock Apple customers!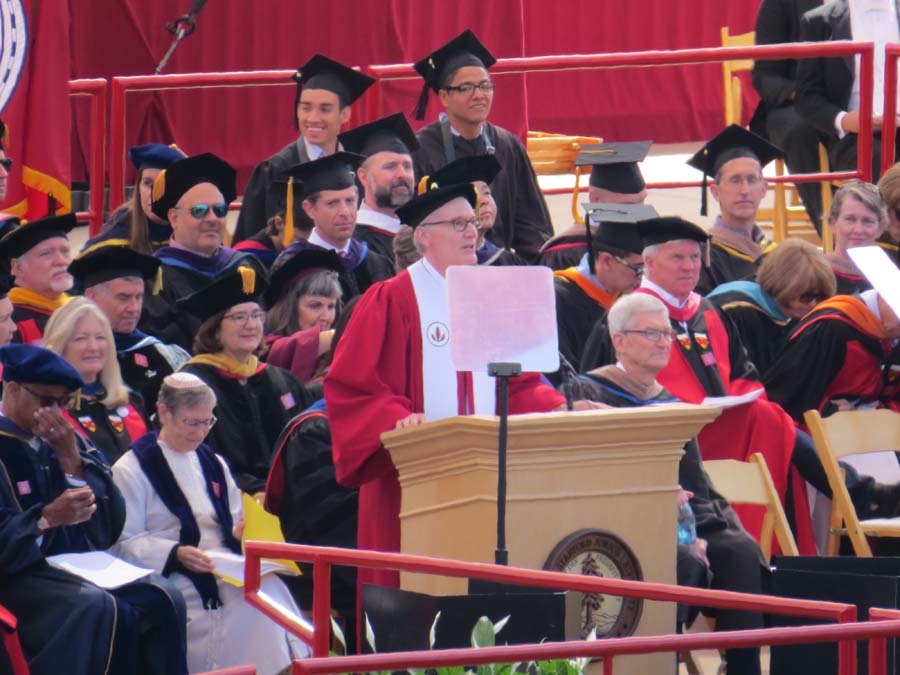 Another picture of the Stanford Stadium.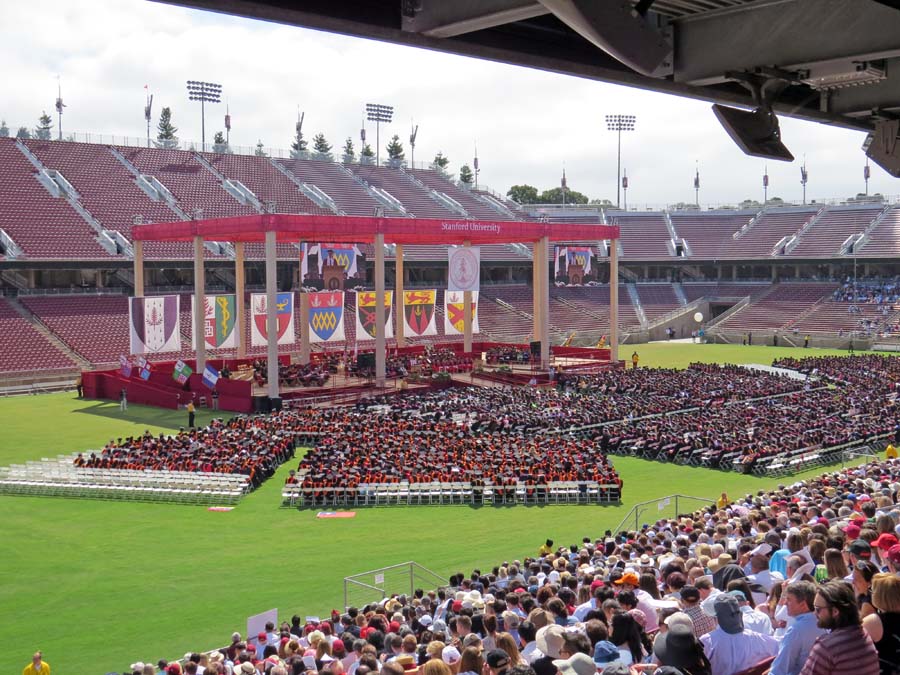 I climbed up to get a better view and took this panorama.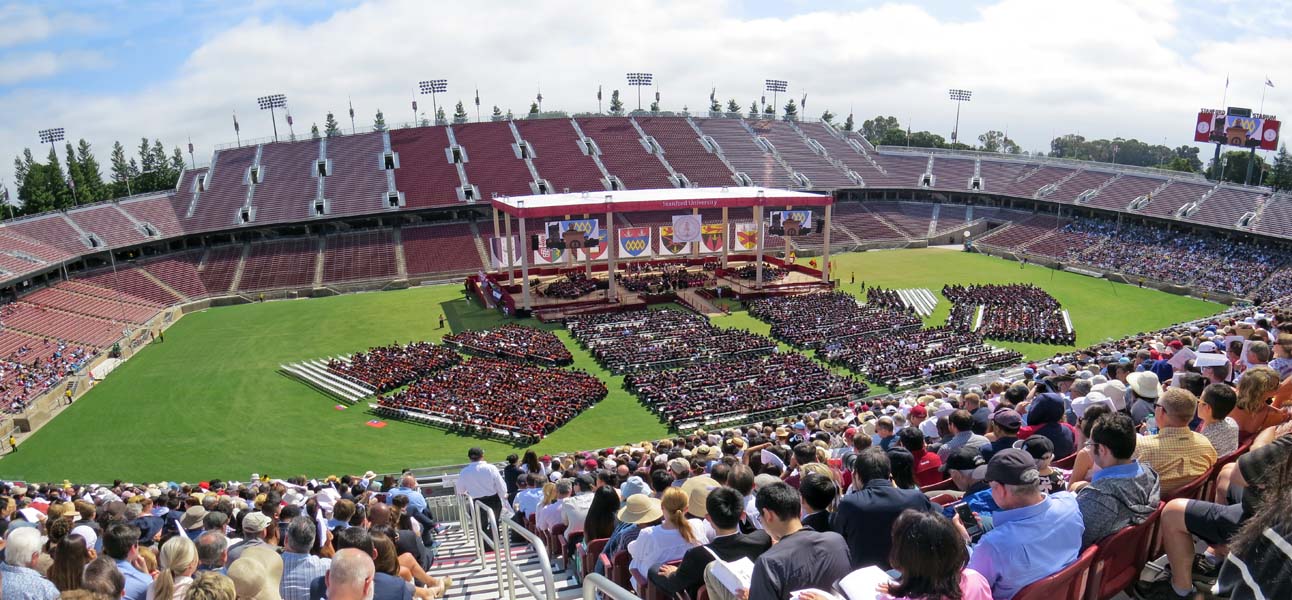 Howard Wilson falls asleep during Tim Cook's "talk". In Howard's defense, Tim Cook is really bad at public speaking, and is very boring, and put most everybody asleep. If you listened closely, Tim Cook was also saying crazy, crazy things. Tim actually said "A lot of people out there are taking credit for things other people did." Oh my gosh, Tim is the biggest criminal in this regard! Steve Jobs and Steve Wozniak built Apple (a couple times) and Tim Cook is only there to ride that airship into the ground, then bury it, and then cut it up into little pieces and burn the pieces, and the whole time Tim thinks he did something of value and created Apple?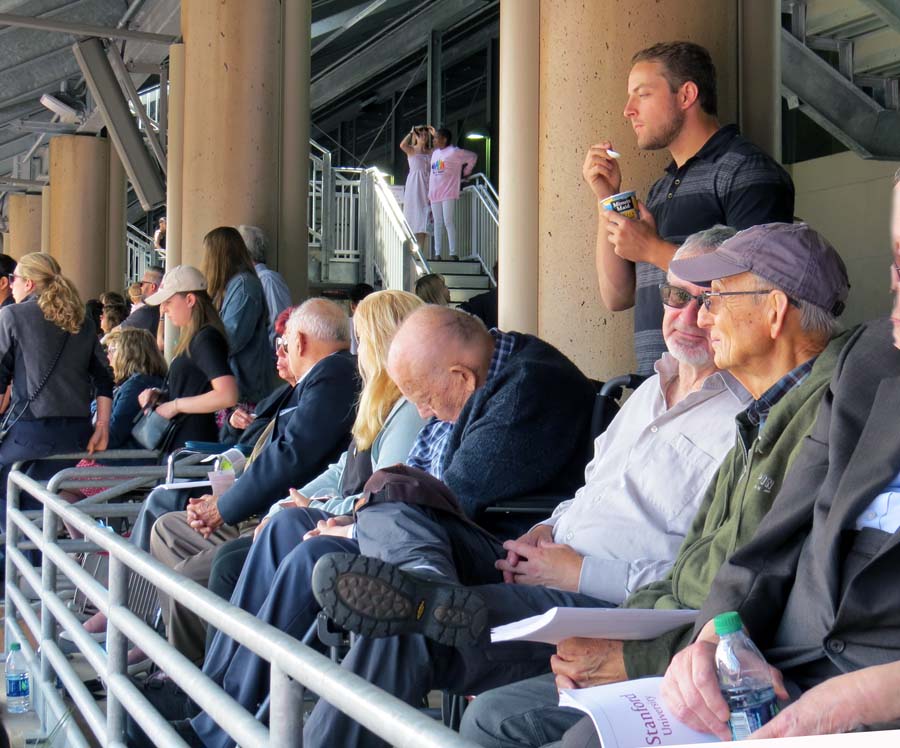 This is my picture of Tim Cook just making crap up and lying to the crowd. Tim thinks he is fooling people, but everybody knows he is destroying Apple and has no idea how to save it. Guess what? The next iPhone will be thinner!! Way to not innovate Tim! Way to ruin a great company with bad products, you tasteless loser! By the way, I used to work at Apple, and still use some of their products (the ones created by smart and good taste engineers before Tim Cook started destroying the company).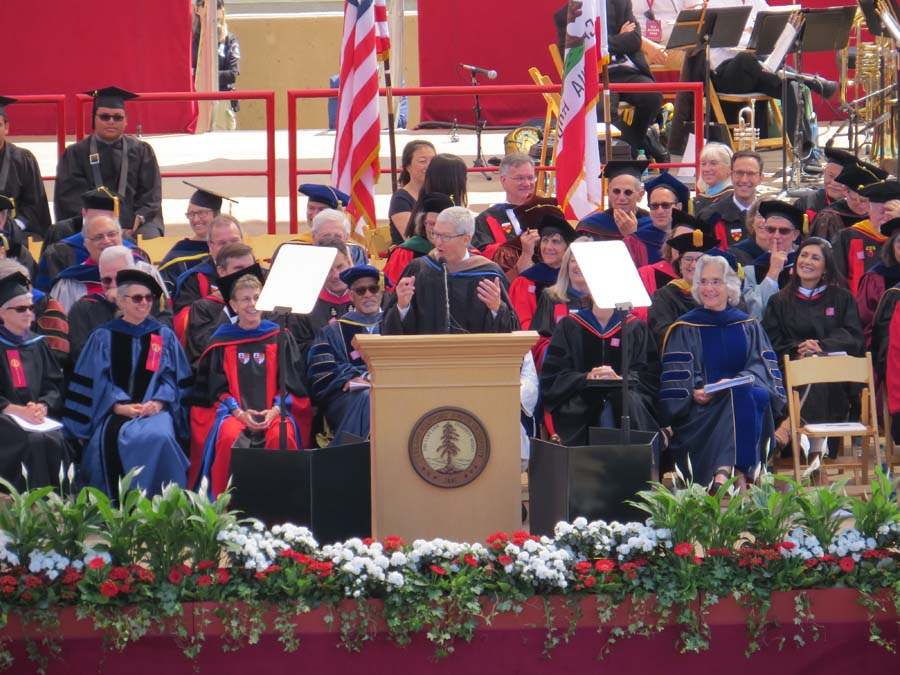 There is a rule that a lot of people use when watching Tim Cook speak to know if he is doing something bad for Apple's future. The trick is this-> if his lips are moving, Apple is doomed.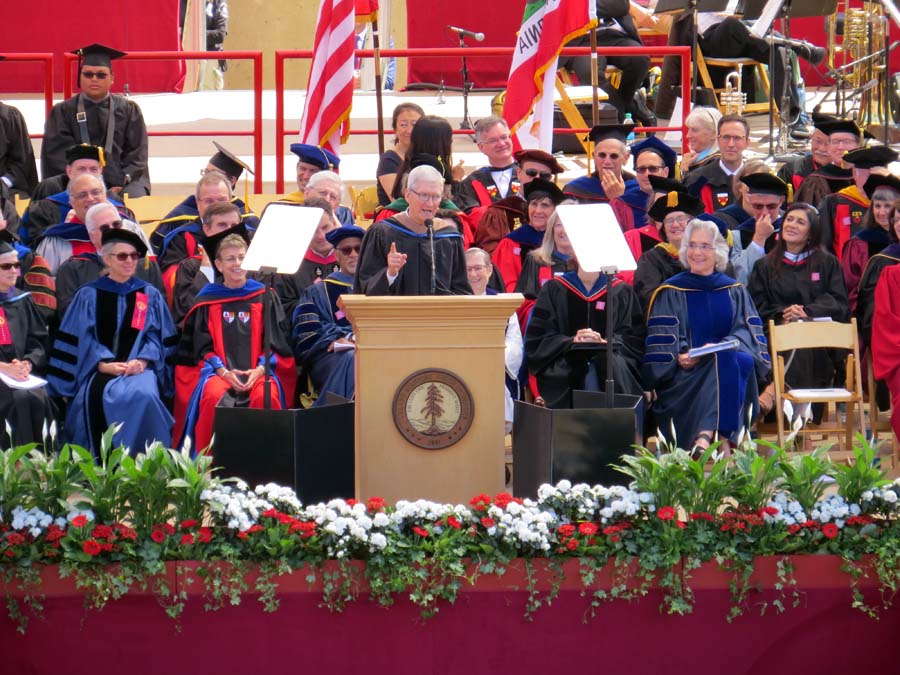 After we enjoyed enough of that, we cut out a little early to get some lunch at our house. Below Howard Wilson is exiting the stadium, and security guard Katherine Chung is on point looking serious for business.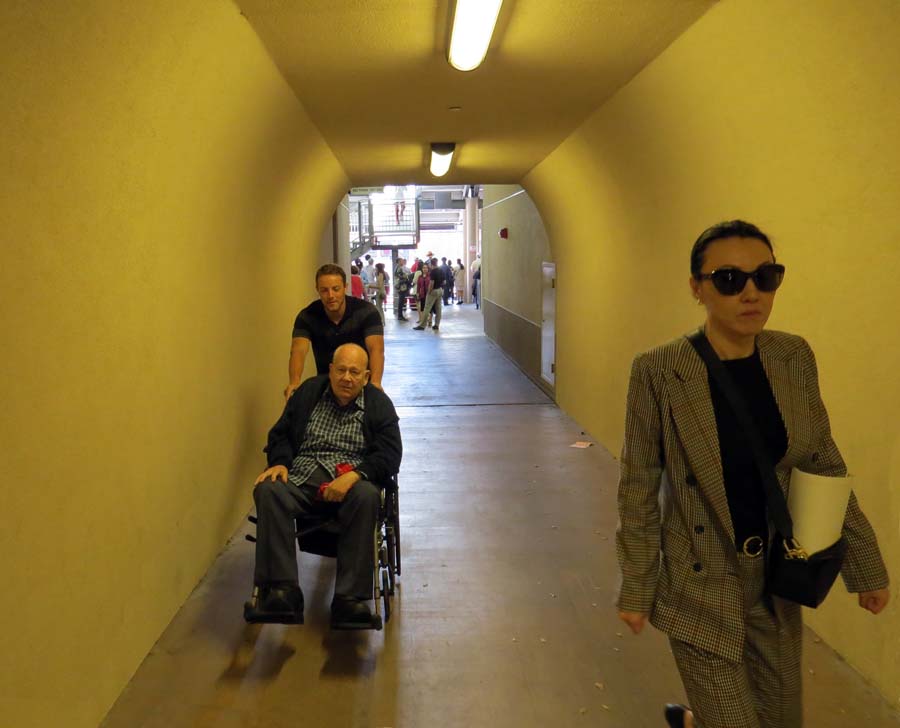 In the afternoon, the Stanford students all break up into individual departments. The "Computer Science" department is in Frost Amphitheater to receive their diplomas.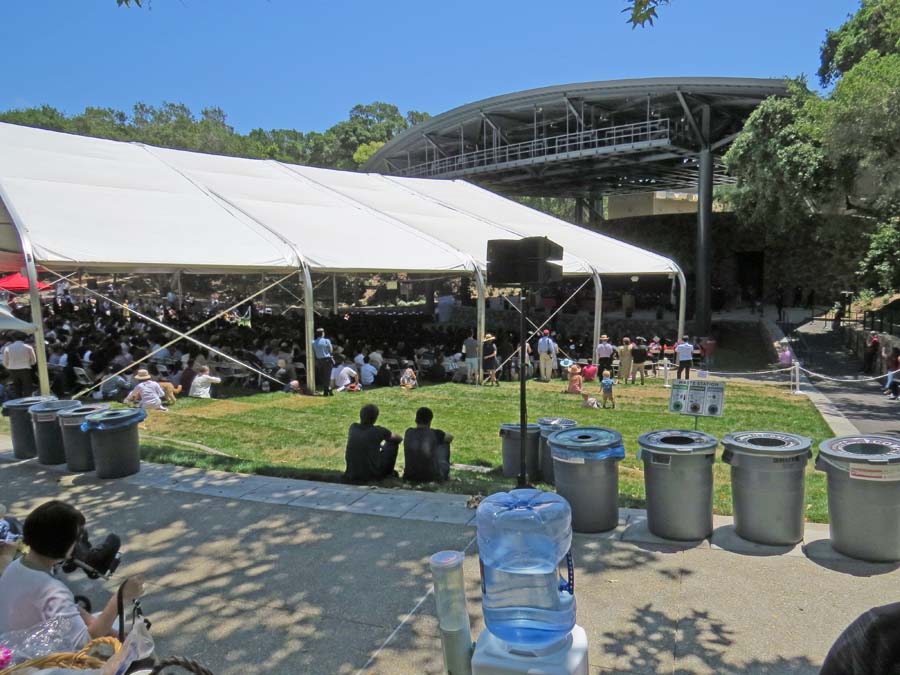 Below is Nathanael's profile in Frost Amphitheater.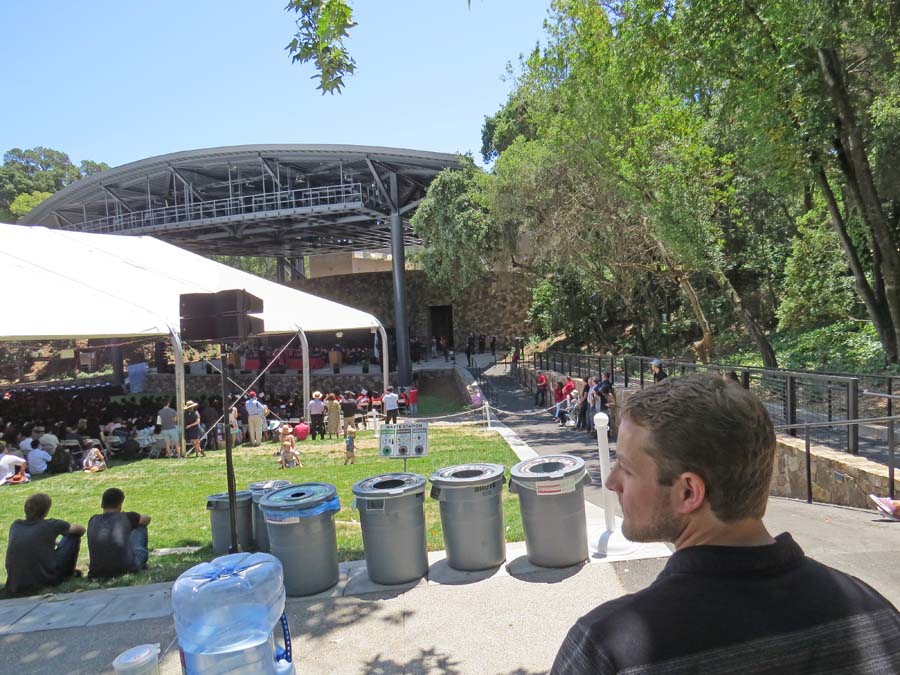 Eli walking towards us IMMEDIATELY after receiving his diploma, as a Stanford graduate.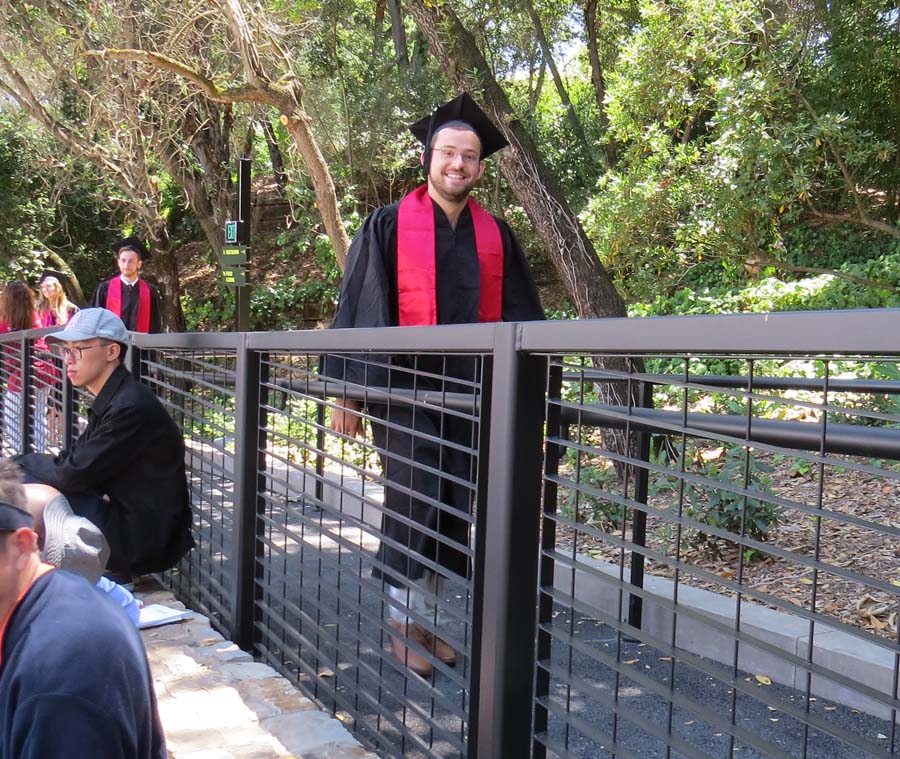 George Horrell is now a newly minted Stanford graduate.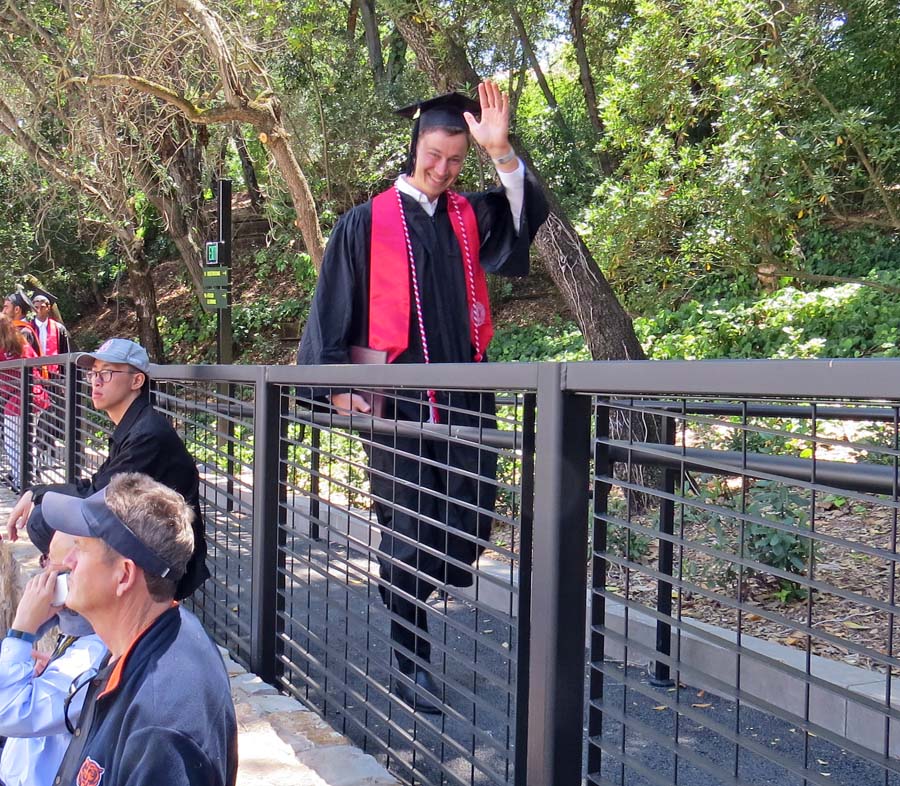 Eli Echt-Wilson and his grandfather Howard Wilson. Howard Wilson now has a complete track record - 100% of all of his children and also grand children now have college degrees. Eli was the final one. Howard has also attended every graduation ceremony of every one of his children and grand children. (Howard was also a University Professor for 30 years at Oregon State University.)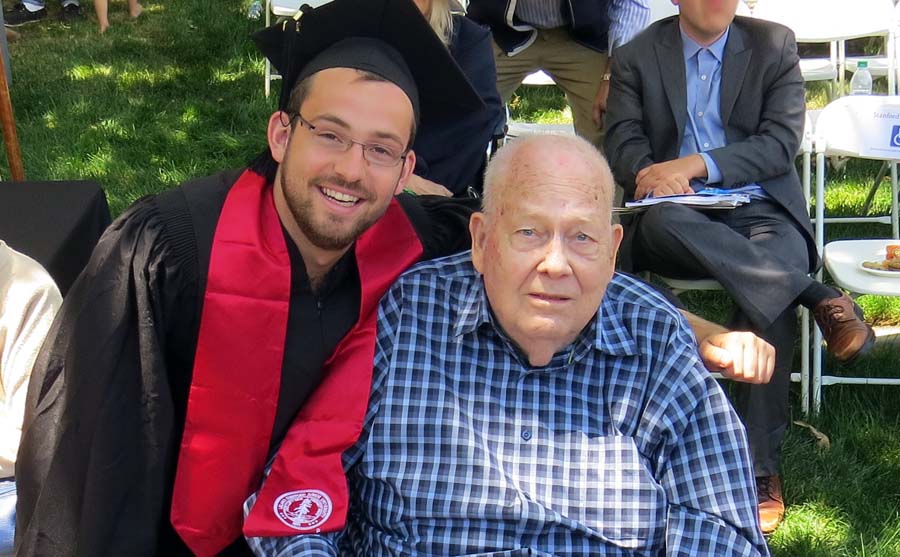 Howard Wilson and two of his grand children. Eli Echt-Wilson graduated this day, and Nathanael Hoffmann is travelling with Howard to make this trip possible.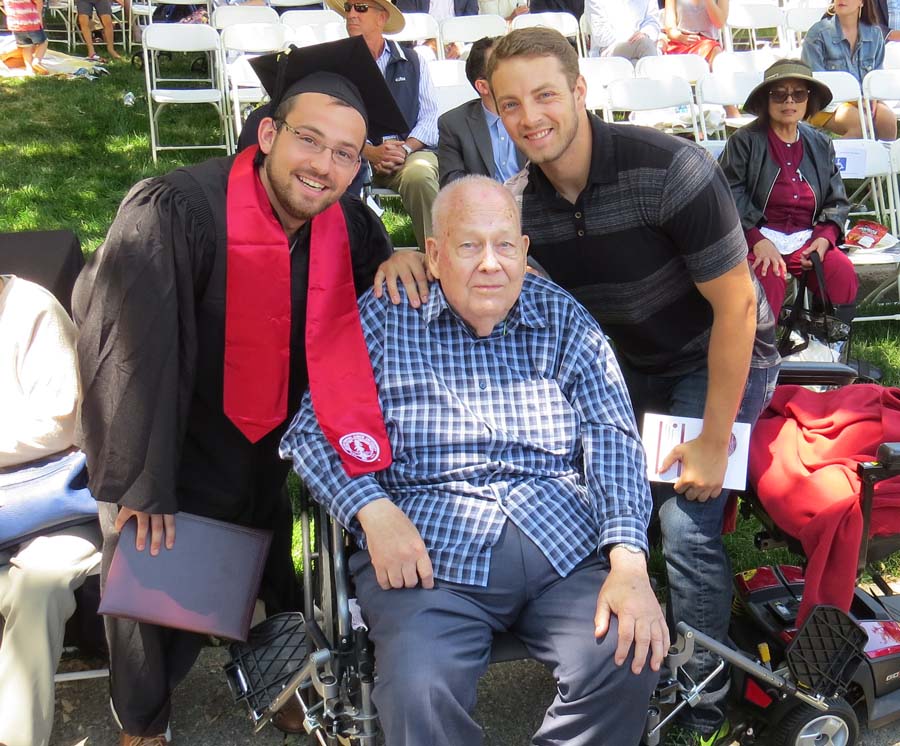 In the picture below, Eli is showing off his valuable diploma. (He didn't actually get the diploma when he walked through.)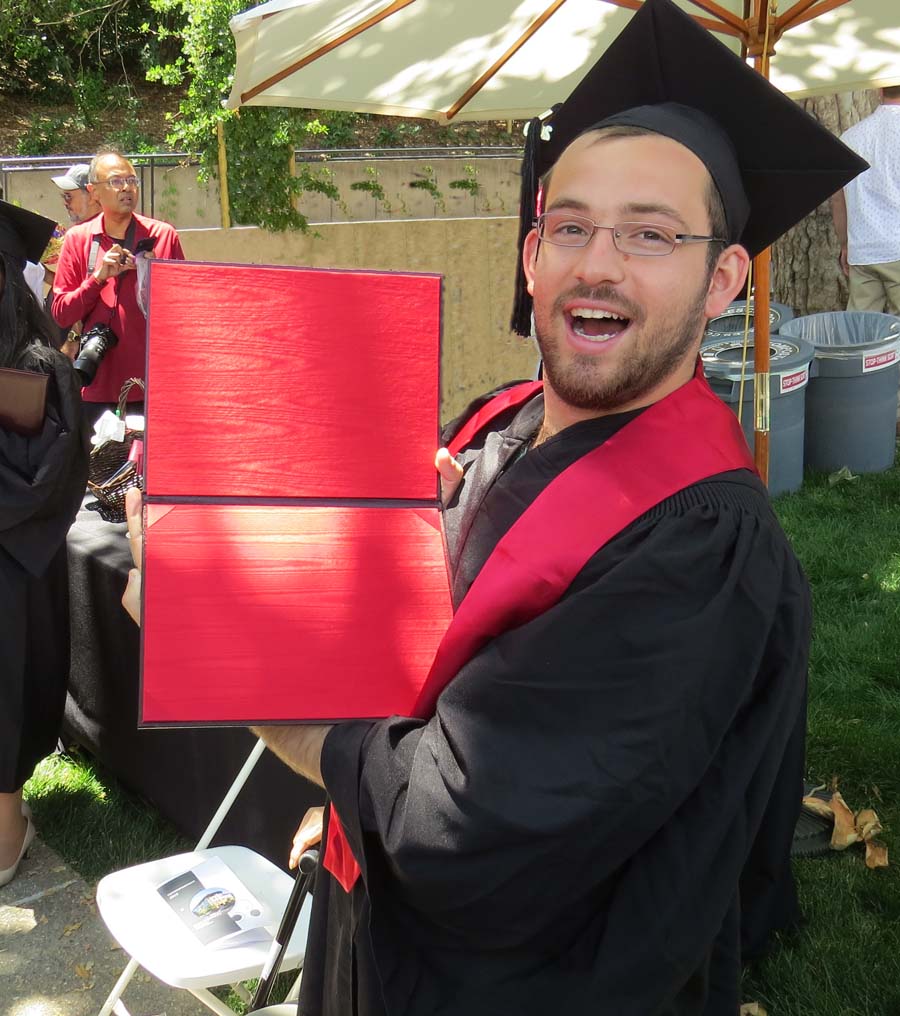 Some of Eli's family welcoming him as a new graduate.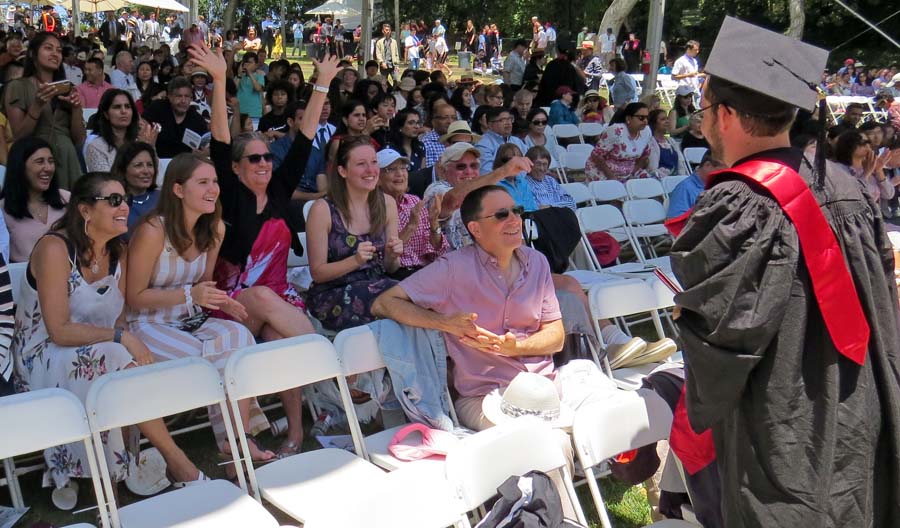 Eli's family is happy, but strange.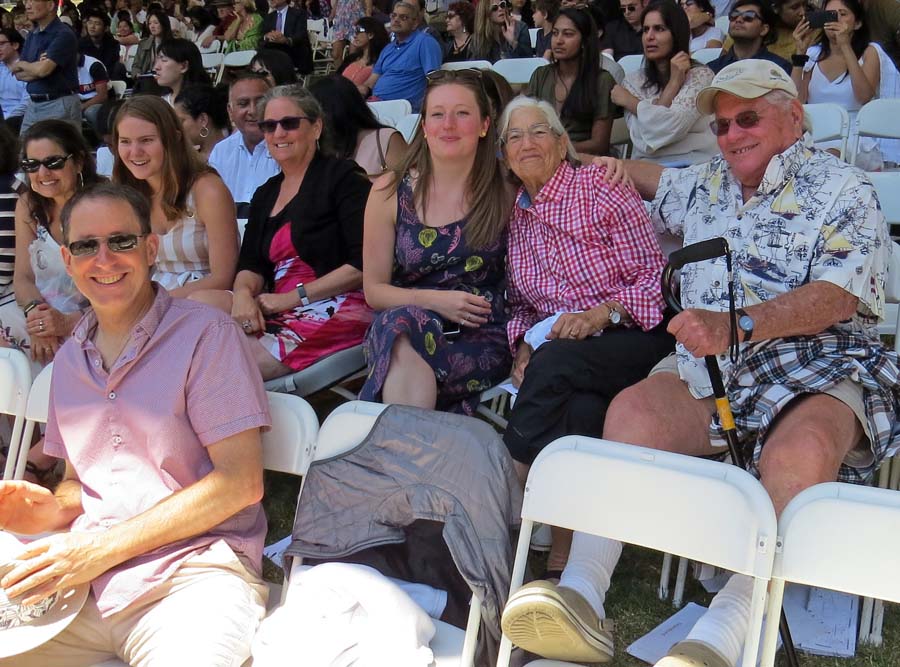 Ari Echt-Wilson with her grandparents Carole Echt and David Echt.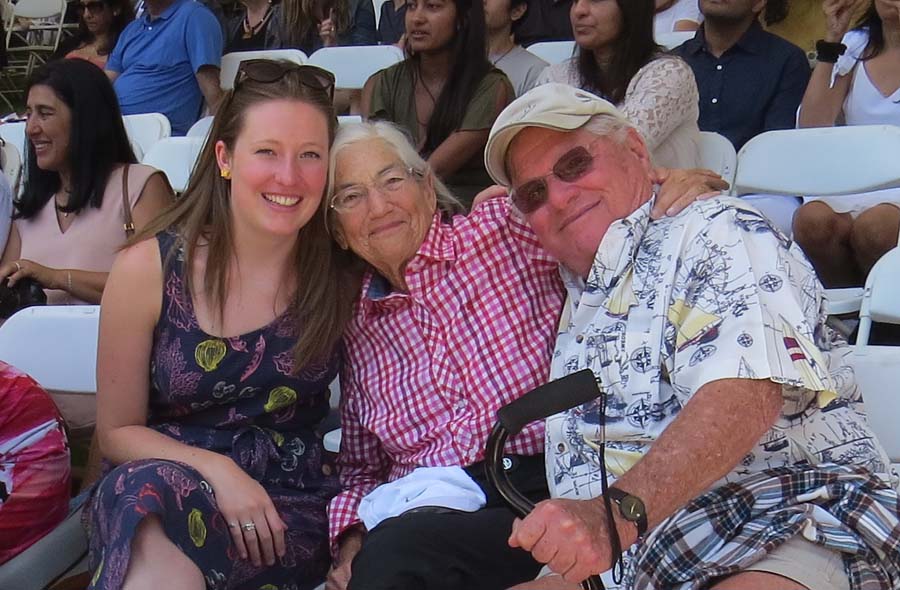 George Horrell and Eli Echt-Wilson newly minted Stanford graduates.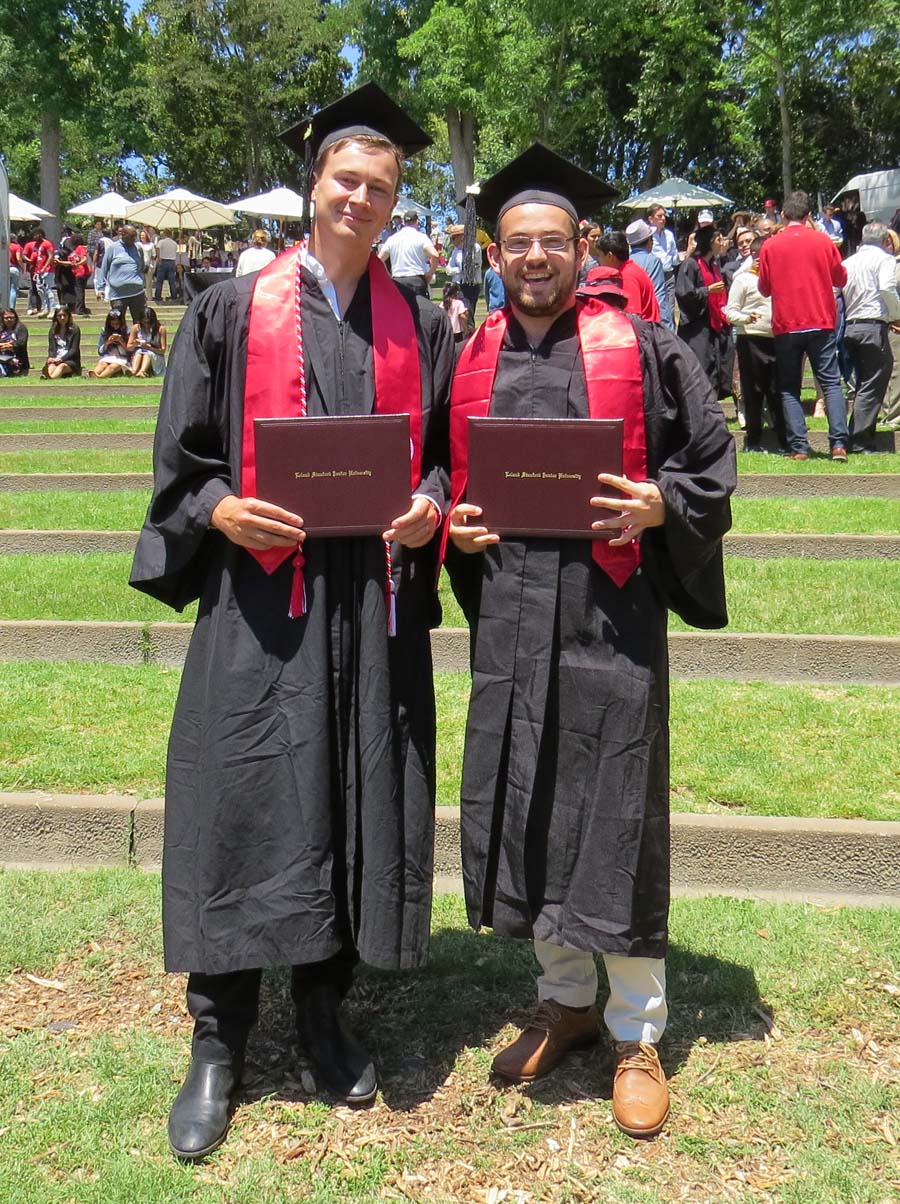 Eli Echt-Wilson flanked by his parents Ramey Echt and Randy Wilson.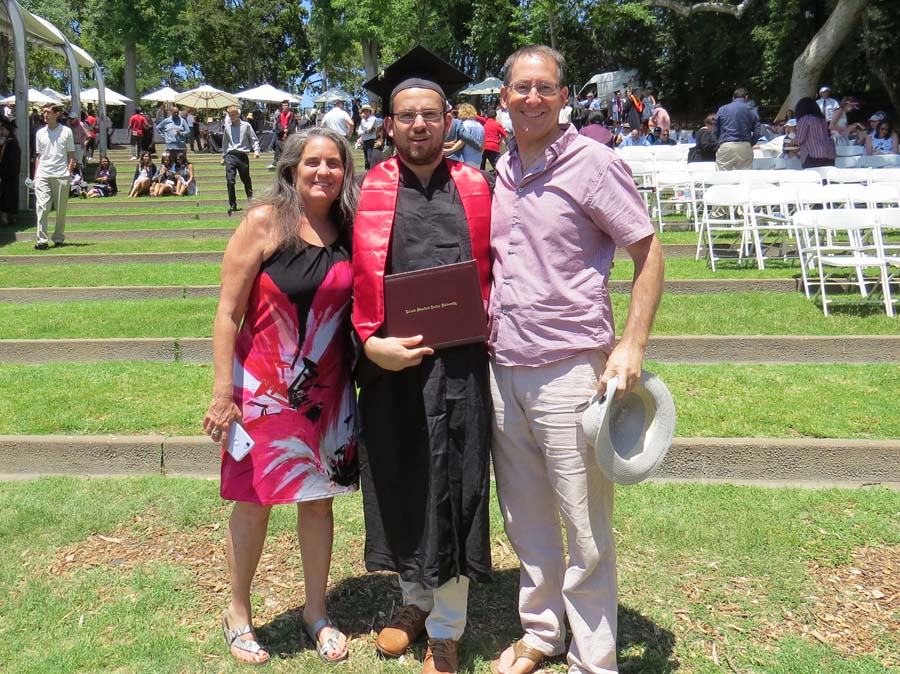 More pictures of Eli with his two parents.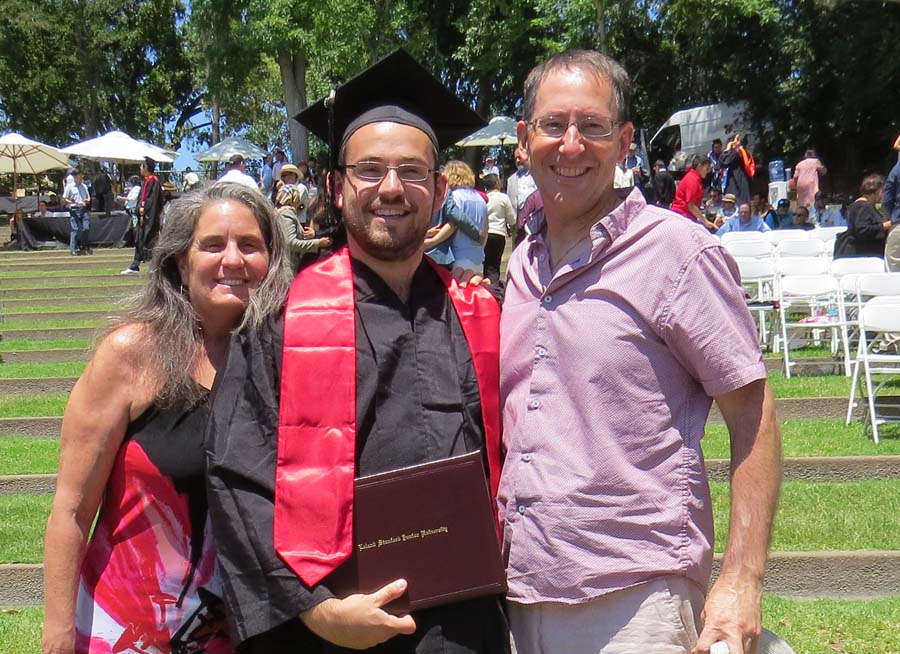 This is kind of a strange picture: it is Eli's nuclear family and one uncle (me). :-) I have no idea why this combination of people would be in a picture, but whatever. From Left to Right: Ari Echt-Wilson (Stanford graduate), (Uncle) Brian Wilson (in blue shirt in back who is a Stanford graduate and alumni), Ramey Echt, Eli Echt-Wilson (newly minted Stanford graduate) and Randy Wilson (PhD from Stanford).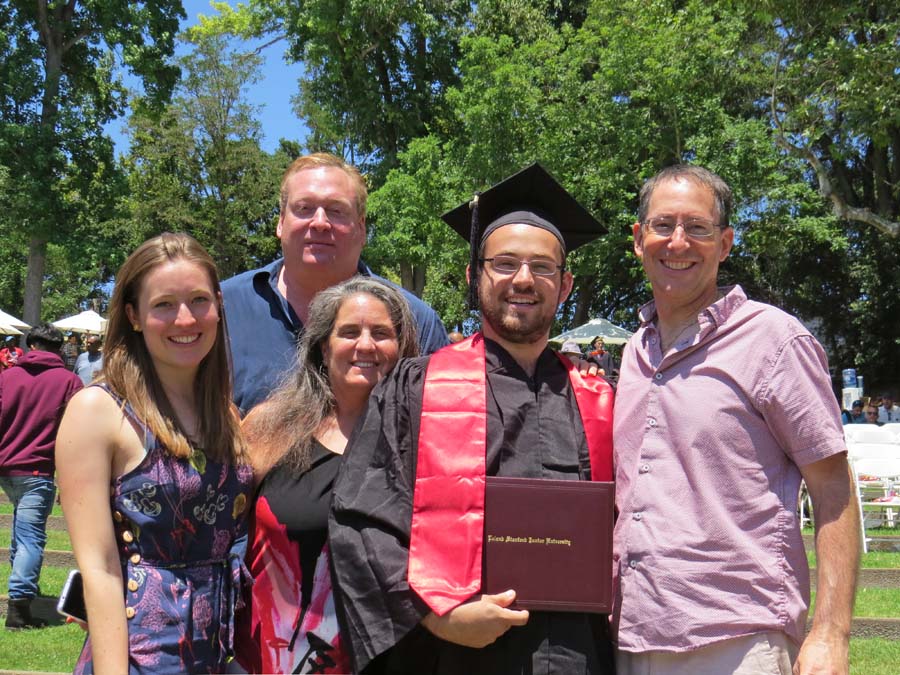 Back to the nuclear family.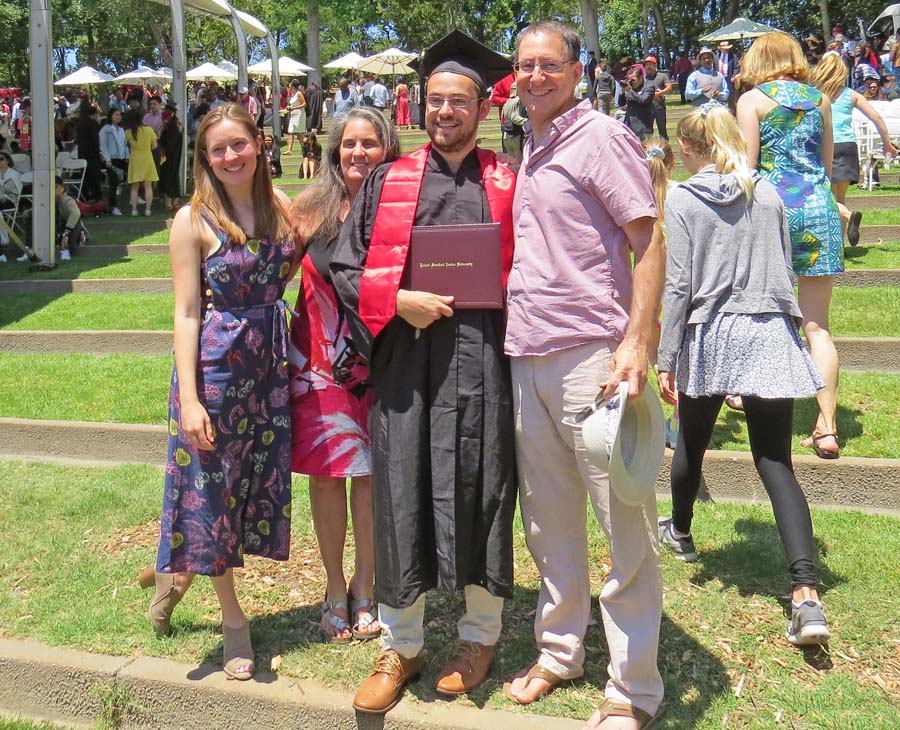 Eli and his grandparents David (with a funny hat trick seen below) and Carole.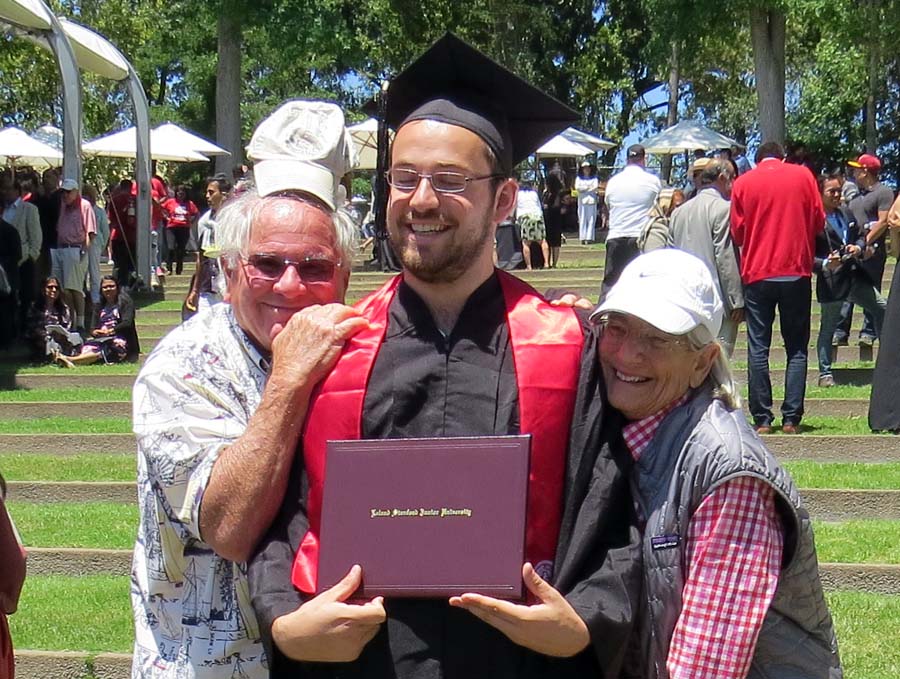 Eli and his cousin Molly Moxness and his aunt Debbi Echt.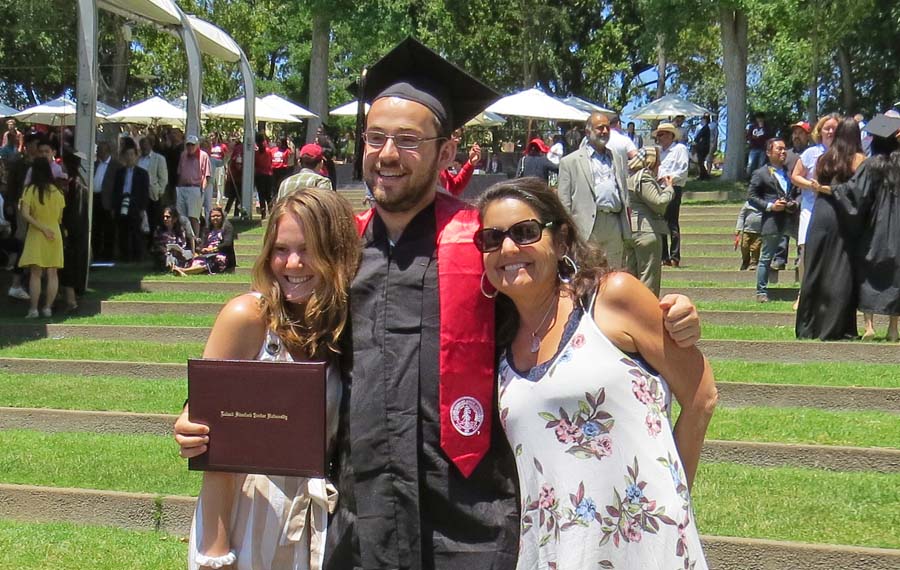 Eli and his sister Ari 'miring him.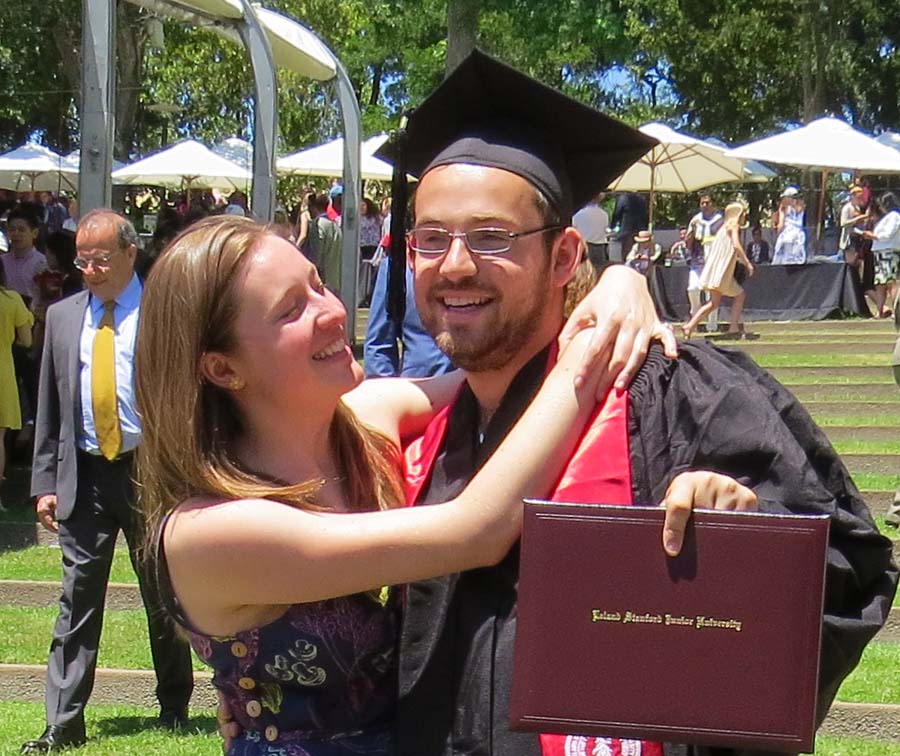 Randy and Ramey having a quiet talk with Nathanael Hoffmann in Portola Valley while Howard Wilson naps in his chair in the corner.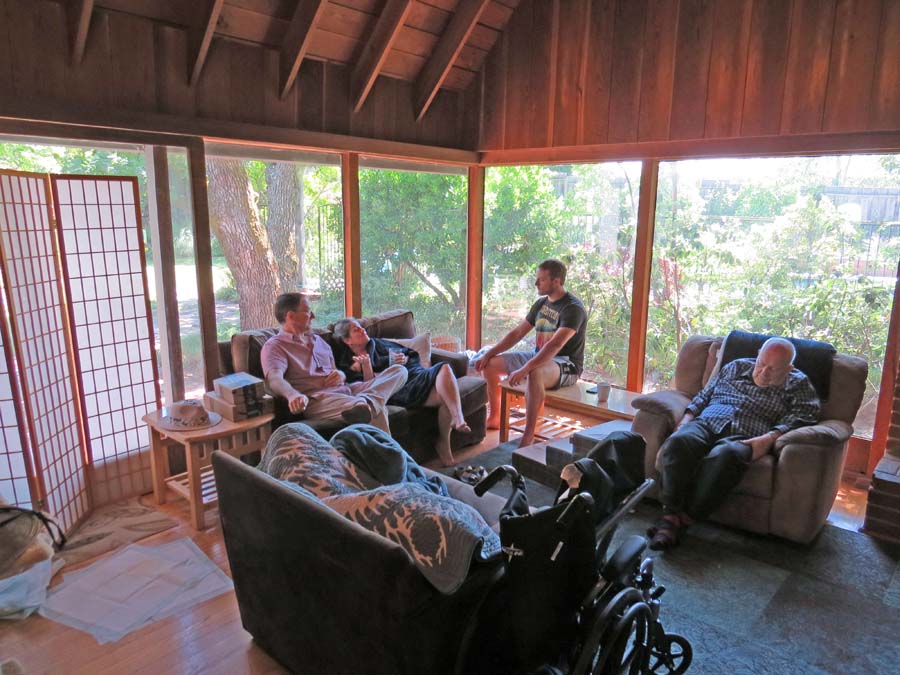 At the end of the day, we had a pool party at Brian and Katherine's place in Portola Valley. Here are some pictures. Below from left to right is: Eli Echt-Wilson (with soda), Randy Wilson (Eli's father in hat), Ari Echt-Wilson (Eli's sister in the blue chair), Debbi Echt on the couch, and Carole Echt (Eli's grandmother in white baseball cap).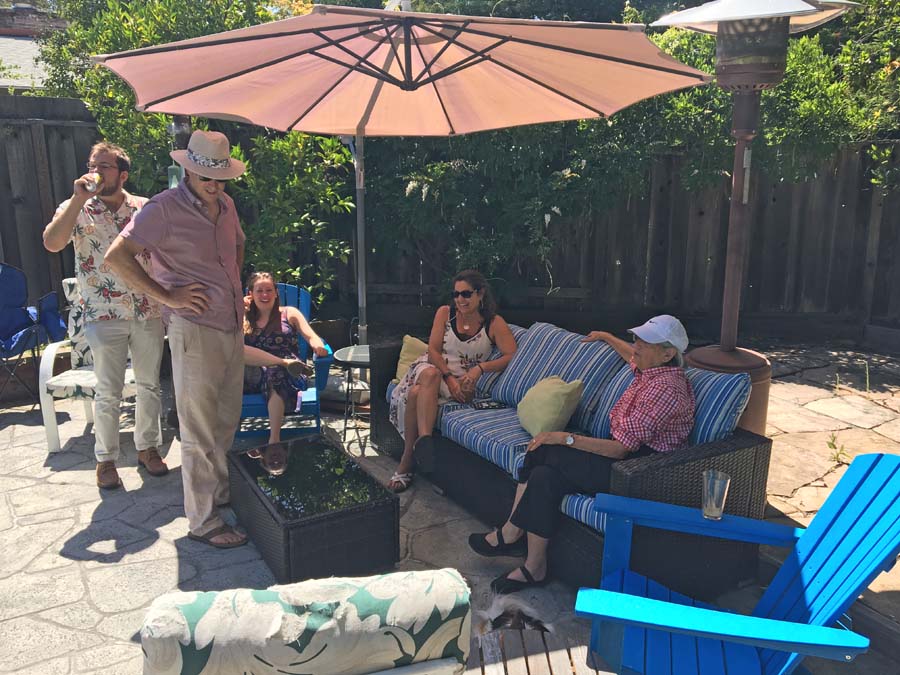 In the picture below from left to right: Ari Echt-Wilson on far left, David Echt (Eli's grandfather on couch with baseball cap), Eli Echt-Wilson, Molly Moxness (in stripes) Eli's cousin, Debbi Echt, Katherine Chung (in brimmed hat sitting on ground), and Carole Echt in red checked shirt on far far right).

Talking around some food.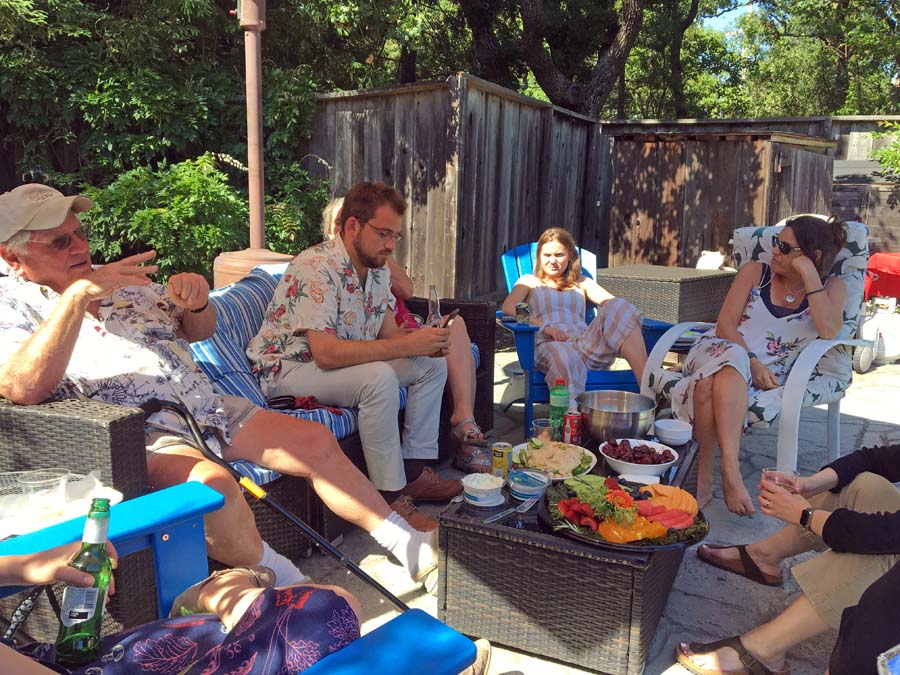 In the picture below, Alexa Romano with the green wreath around her neck showed up! She is a long time friend of Eli's and graduated Stanford the same day.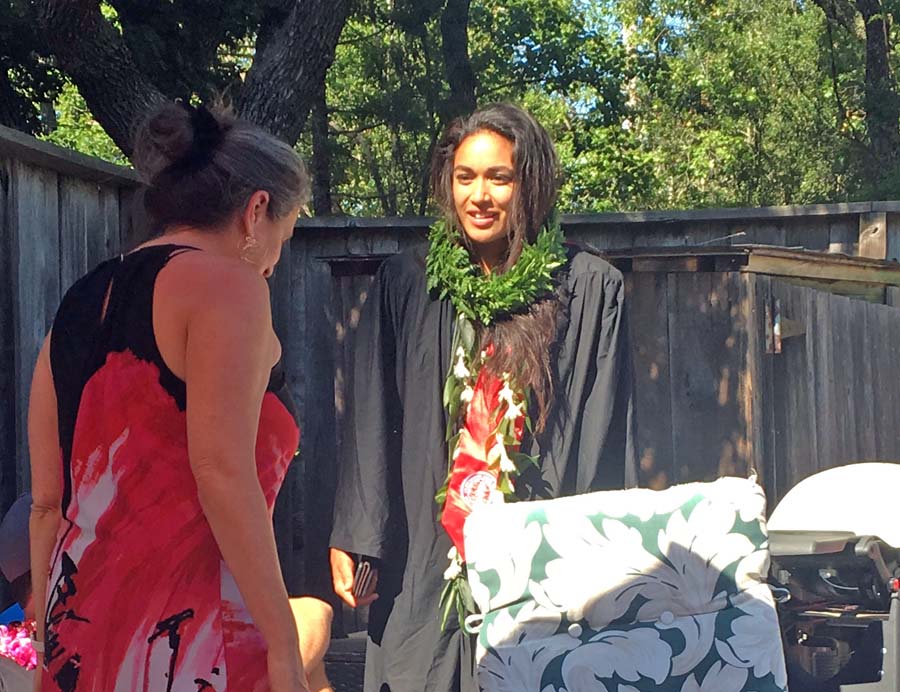 Kate Rydberg also graduated from Stanford this same day and showed up to the party.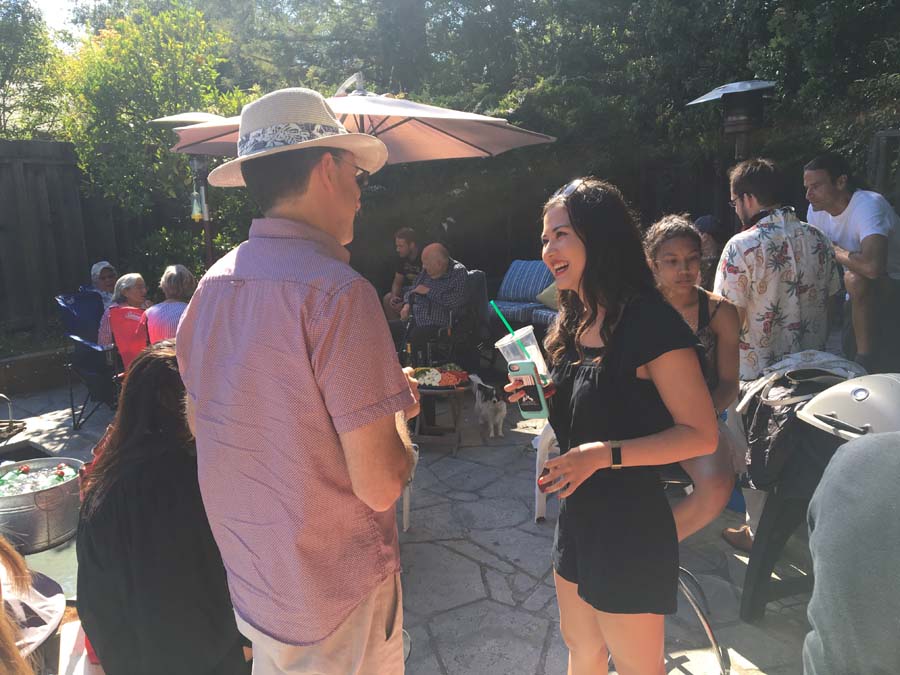 George's parents showed up (mother far left, father in red shirt on blue Adirondack chair). Howard Wilson (Eli's grandfather) is in wheelchair with cane. Behind Howard is Nathanael Hoffmann.

Alex Romano (in white T-shirt) talking with Eli (in red wreath).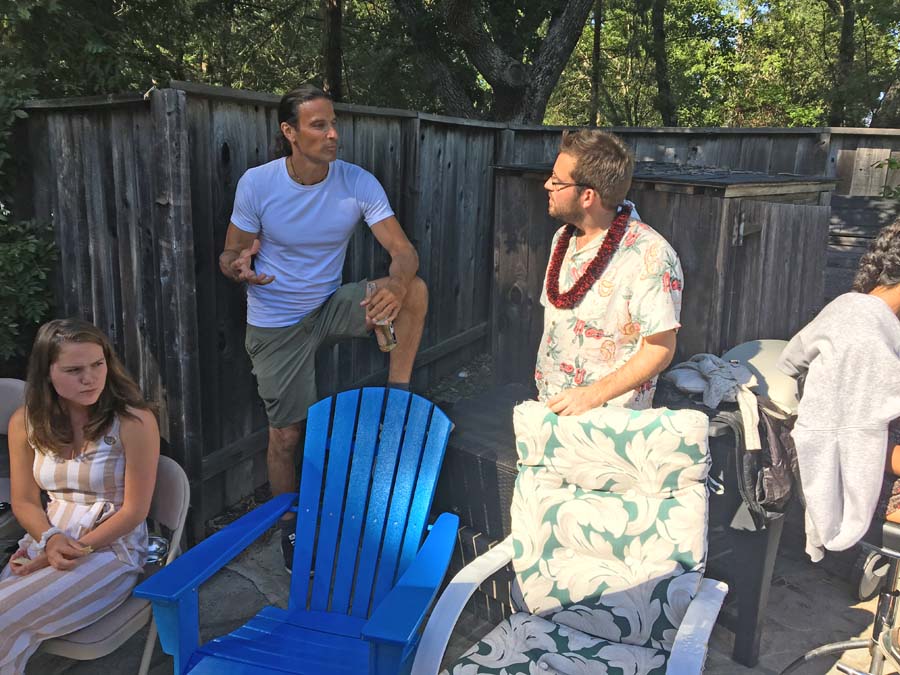 Vera Romano sipping on a straw talking with Ari Echt-Wilson at the table with the red table cloth. Katherine Chung is holding blue striped beach towels.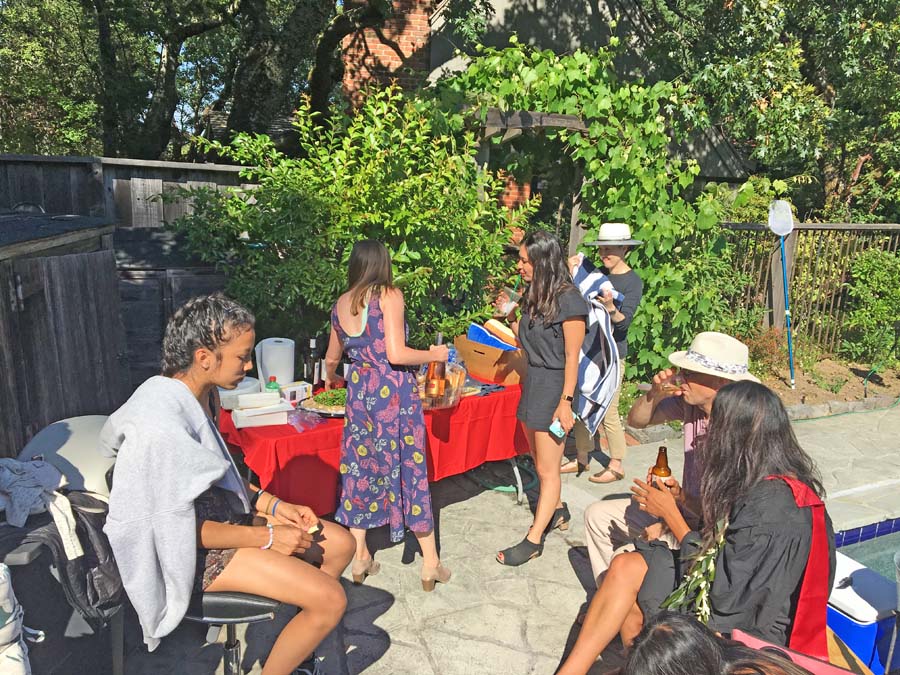 That's it!