2021 Austin "The Great Blizzard of 2021"

(2/15/2021)



On Valentine's Day night, Sunday, 2/14/2021 it started snowing in Austin, Texas in what came to be called "The Great Blizzard of 2021 in Austin Texas" where it snowed 4 inches - 6 inches deep with no wind at all and about 29 degrees Fahrenheit. Because these unimaginable low temperatures and that much deep deep snow had never been seen by any Austin resident before in their lives, it paralyzed the city, and over the next 6 days caused the utter collapse of Austin civilization into anarchy and chaos. Here is the row of dominos that fell in order to cause the calamity:
So there you have it, The Great Blizzard of 2021 in Austin Texas, and the efficient response by our government of blaming others instead of solving any of the problems, and what the Texas politicians did to take charge of the situation.

DISCLAIMER: The above content is satire, fueled by my bitterness that the electricity in our family's house went out for more than 3 days. Ok, on to the pretty pictures of snow in Austin!

At around 1:30am on 2/15/2021 our house lost electrical power (along with almost 50% of Austin residents) and we did not gain it back for the next 3+ days, and after that it blinked on and off randomly. Click on any picture below for a larger "high resolution original" version:
Below is the basic record of events that unfolded at our house:
Sunday, February 14, 2021 - a light snow falls 4 inches deep and temperatures of as low as 29 degrees Fahrenheit were recorded, no wind.

Monday, February 15, 2021 - President's day - I discover I own the only set of automobile tire snow chains in the entire state of Texas.

Tuesday, February 16, 2021 - Because I watched a lot of the TV show MacGyver in the 1980s, I converted our Smartcar into a electrical generator to power our Google Fiber Internet using a Swiss Army Knife and duct tape

Wednesday, February 17, 2021 - Hunger begins to set in in our household because DoorDash and UberEats refused to bring us food, in desperation we resort to preparing our own food from our refrigerator (shudder)

Thursday, February 18, 2021 - Electrical power returns to our home, yay!! But it sporadically drops to zero for 5 minutes at a time, boo!!

Friday, February 19, 2021 - We are running out of Netflix shows to watch, things are getting desperate.

Saturday, February 20, 2021 - life is returning back to normal, power stayed on all day

Below Are Some Pictures:
The picture below is out our front door early in the morning of February 15, 2021:
This picture below is of the South Lamar Blvd in Austin Texas near the corner of South Lamar and Goodrich Ave. The picture is taken facing south.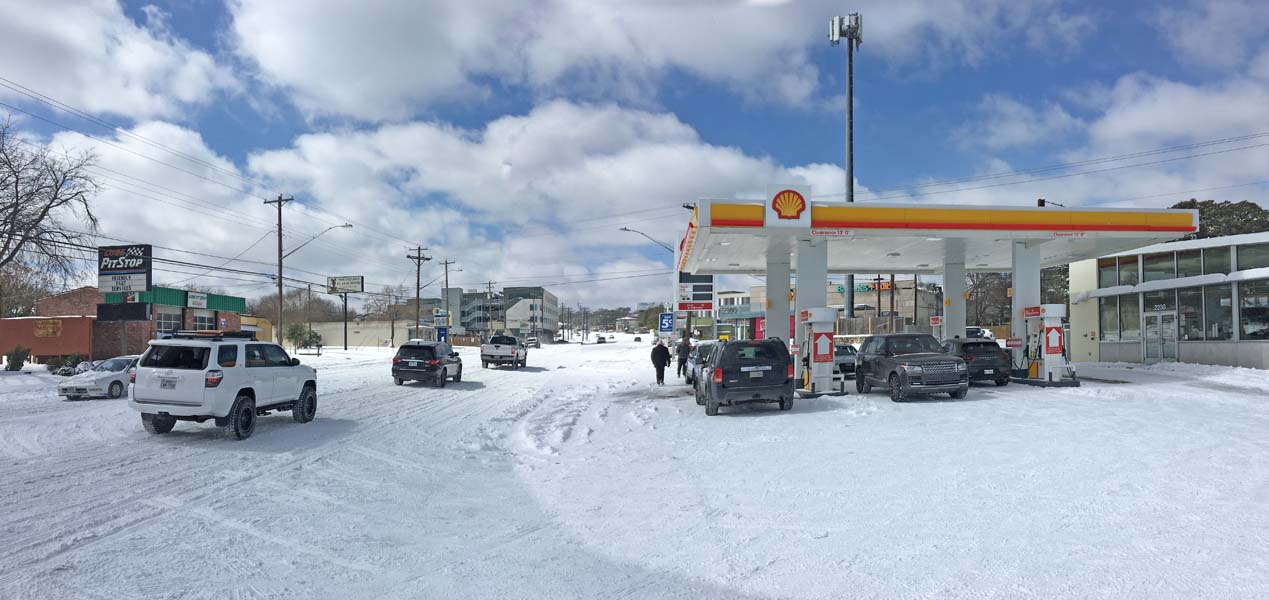 The picture below is of the same spot but facing North towards downtown Austin.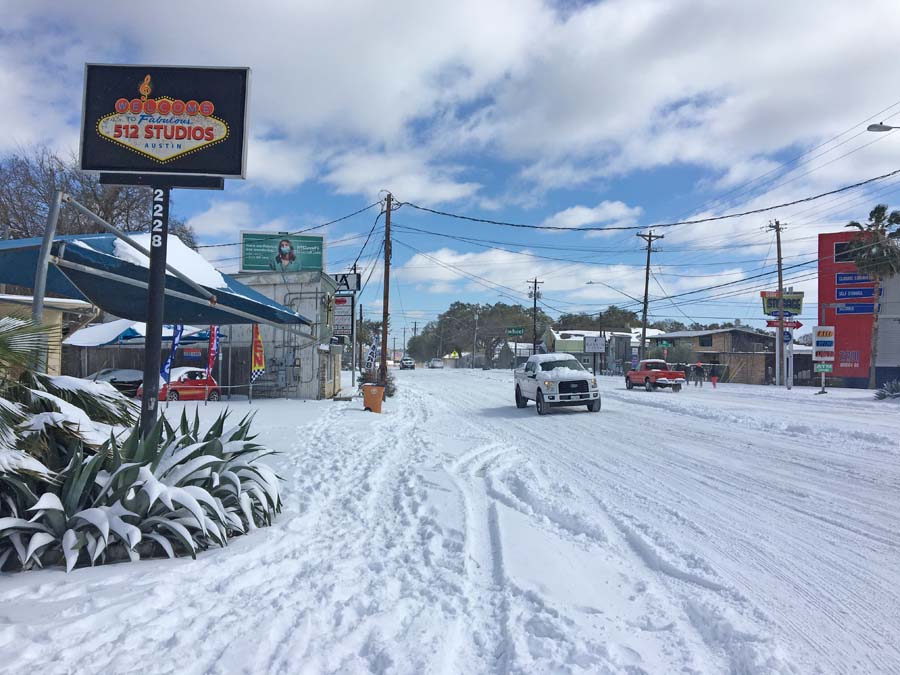 A picture of my Smartcar with tire snow chains on the back (drive) wheels. Technically these were snow chains for my 2002 Nissan Sentra, but in AMAZINGLY bad timing, after putting it off for 4 years, I dropped the Sentra off at the Nissan Dealership to get a new clutch put in the day before the snow started falling. (Doh!!) Anyway, I was lucky they fit pretty well.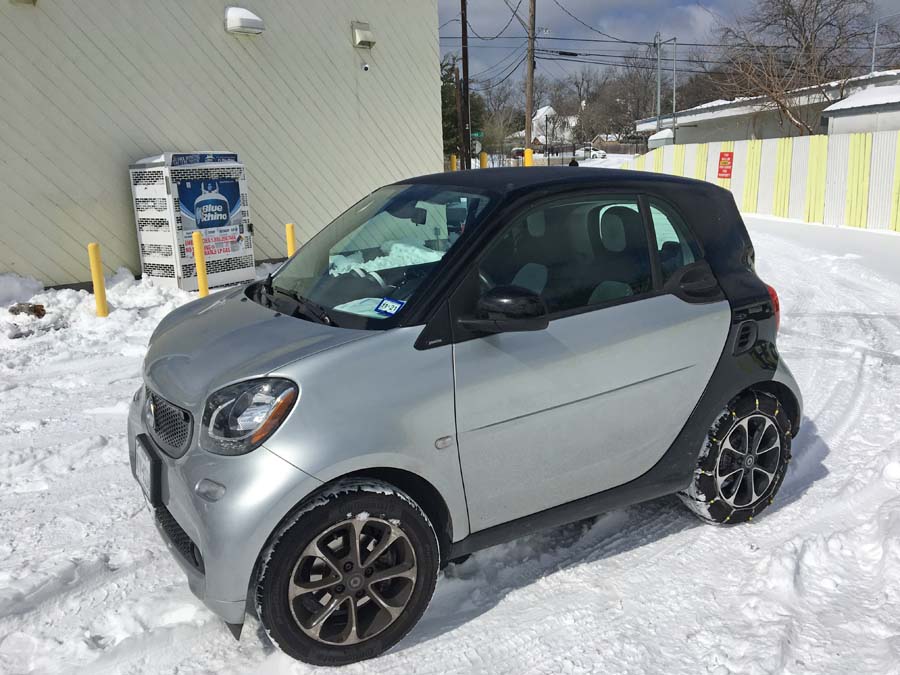 Below is a movie of driving around in the Smartcar in the snow. Click here for the very highest quality original (requires Quicktime):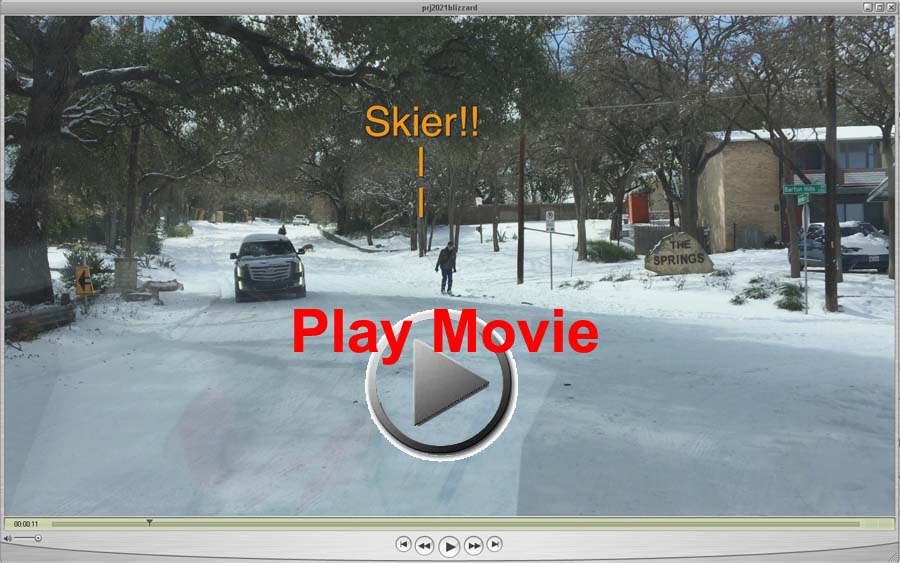 The fuzzy low light picture below is how we keep warm. Since the electric power is off our central heat doesn't function. But by firing up to 7 burners on the top of our stove, it heats up the house quite nicely. We shut them off at night, and half the time during the day because it gets too warm.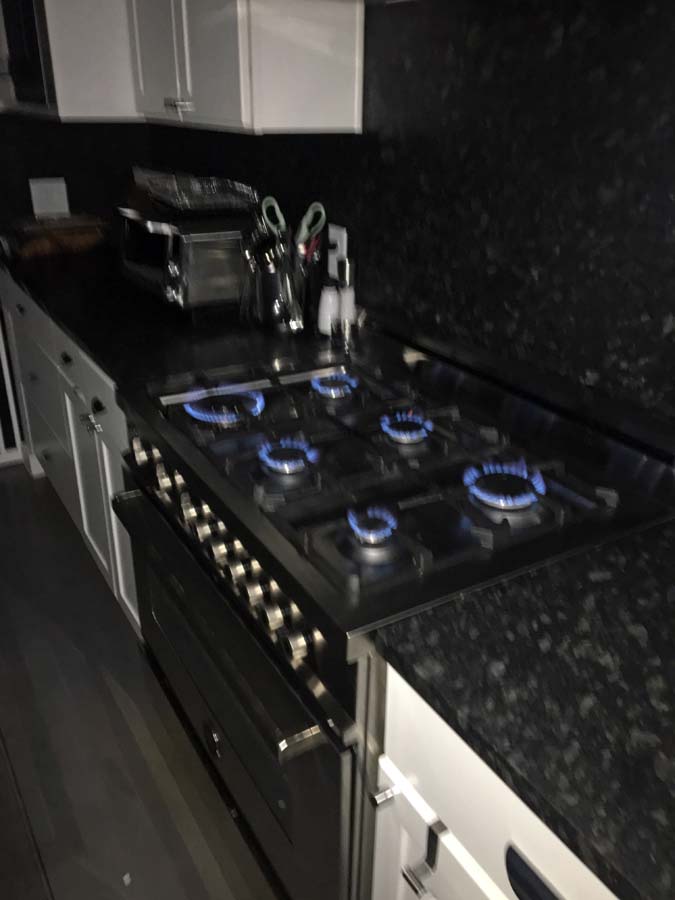 A scenic picture of my 2016 Gas Smartcar with tire snow chains.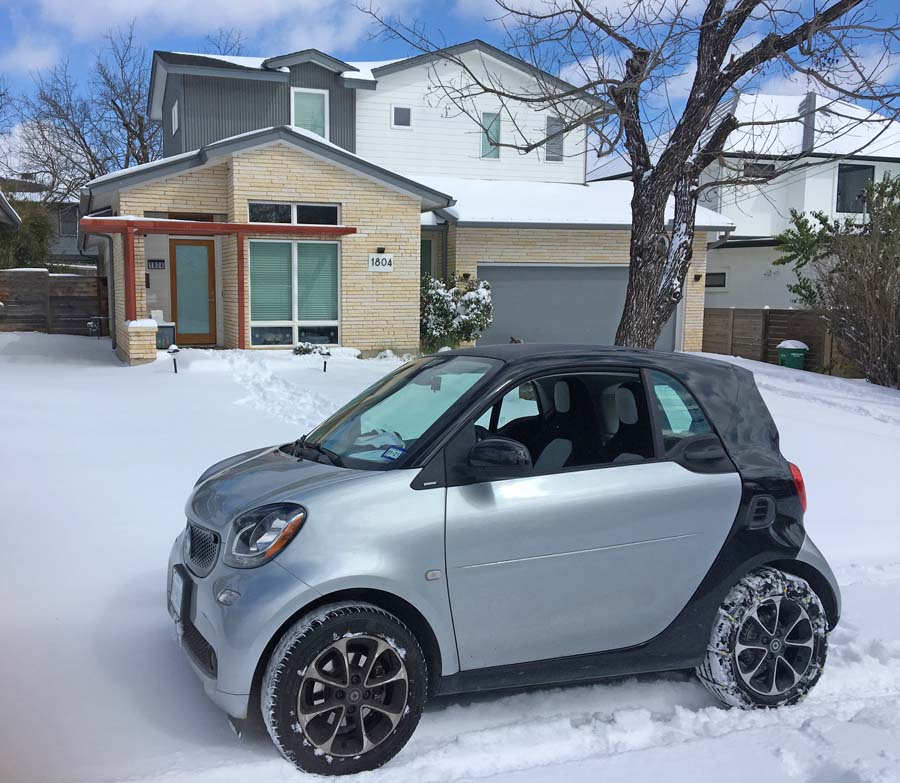 A close up of the Smartcar with tire snow chains (technically these are "tire cables"). I prefer the cables to actual chains. Don't get me wrong, the chains are "better" for grip, but they are a rougher ride on dry pavement and hard ice. The cables make a nice balance of grip vs smooth ride.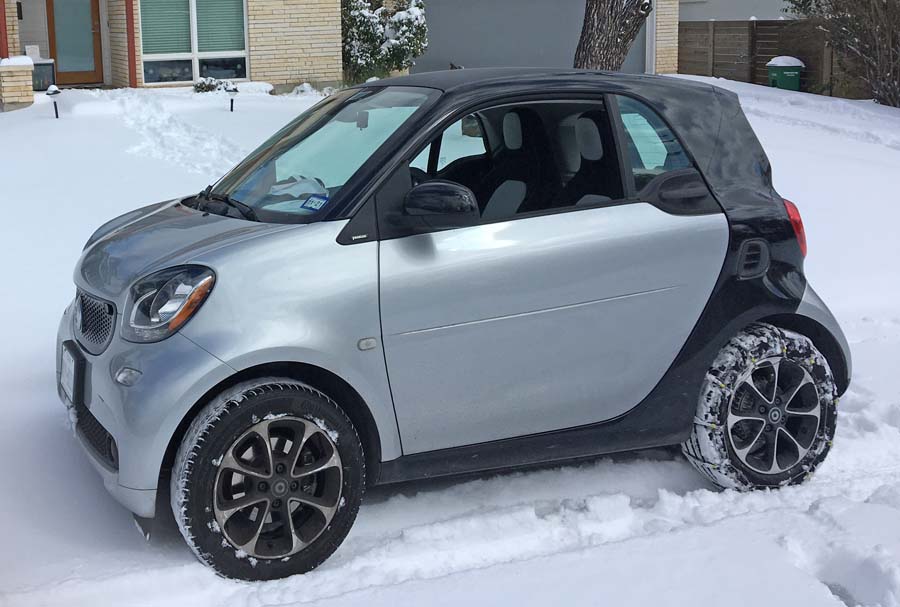 I ran an errand to go get propane for our BBQ in the Smartcar. These businesses don't have electricity, so all transactions were in cash, not credit card, and the local businesses would round to the nearest dollar to make change fast and easy.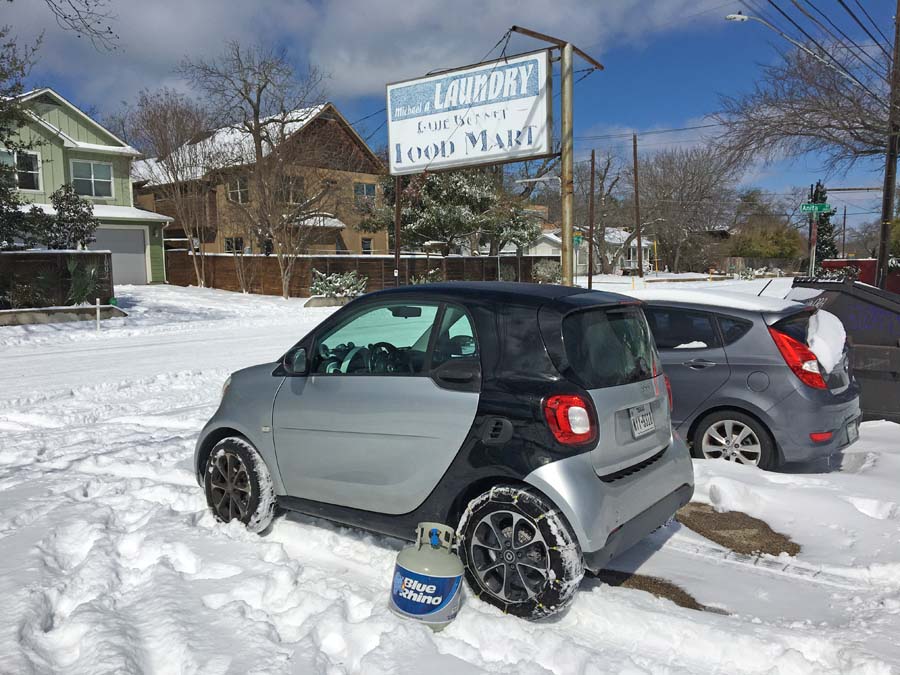 I have a "dog bed" in the back of the Smartcar for Chou Chou and Ava (our two little Papillon dogs). It makes an extremely convenient holder for a propane cannister.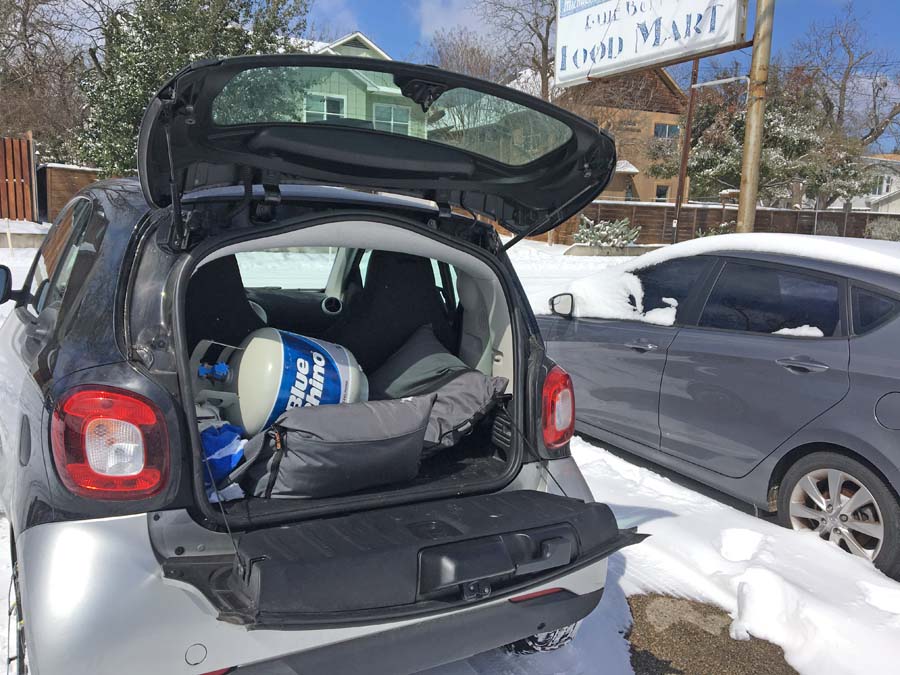 Below is how I generate a precious 300 Watts of electricity in a power outage using my Smartcar as an electric generator.
Ok, so I use the 300 Watts of precious electricity to power up our Google Fiber internet, the WiFi HotSpot we use, the piezoelectric lighter on our natural gas hot water heater, the 10 port USB device charger for all of our phones and iPads, my 11" Macbook Air, and I even powered up the garage Nest security camera to watch the car idling remotely. :-)
In the picture below, you can see my Smartcar operating as a generator. It is idling (notice the running lights are on in the garage), and the thing pointed to by the red 1. in the picture below is the "BESTEK 300W Power Inverter" plugged into the cigarette lighter socket in the car, the thing pointed to by the red 2. in the picture below is the "CHAFON Emergency Lithium Battery", and the thing pointed to by the red 3. in the picture below is the 50 foot yellow extension cable running into our main house under a door THAT IS CLOSED to keep the carbon monoxide out.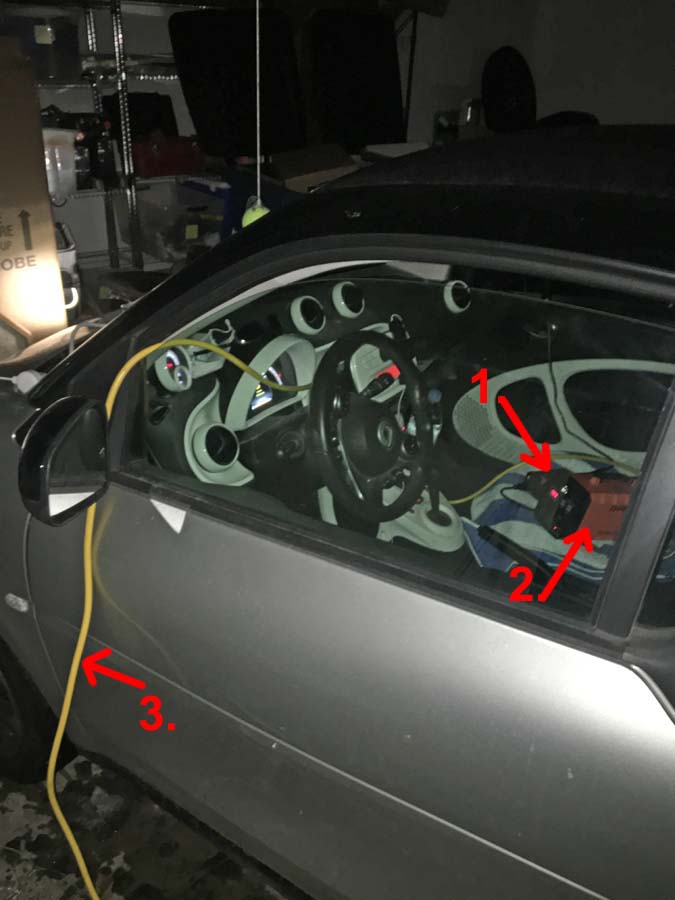 I took a drive around the neighborhood, in the picture below I am on Bluebonnet Lane in Austin Texas.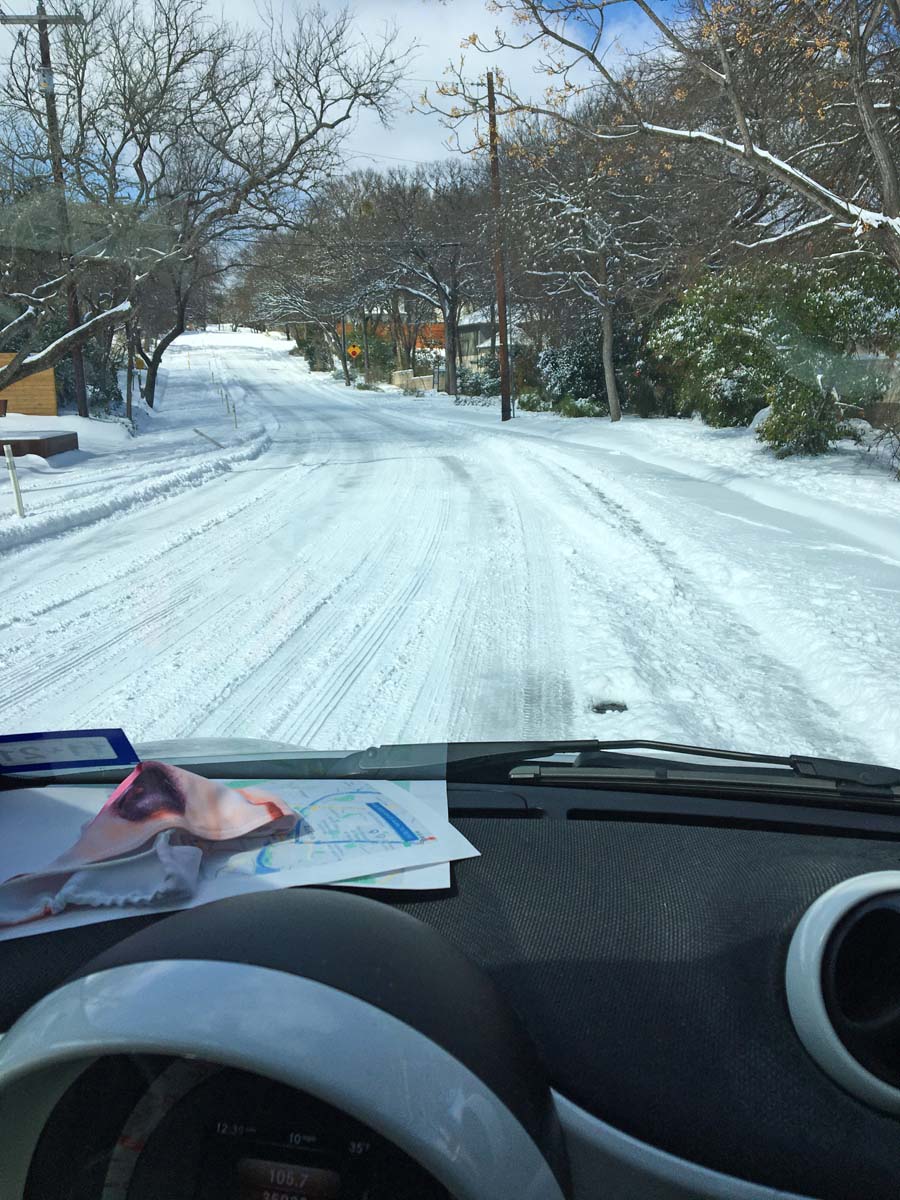 Below is a picture taken of snow in Zilker Park in Austin Texas, you can see downtown Austin sky scrapers in the distance.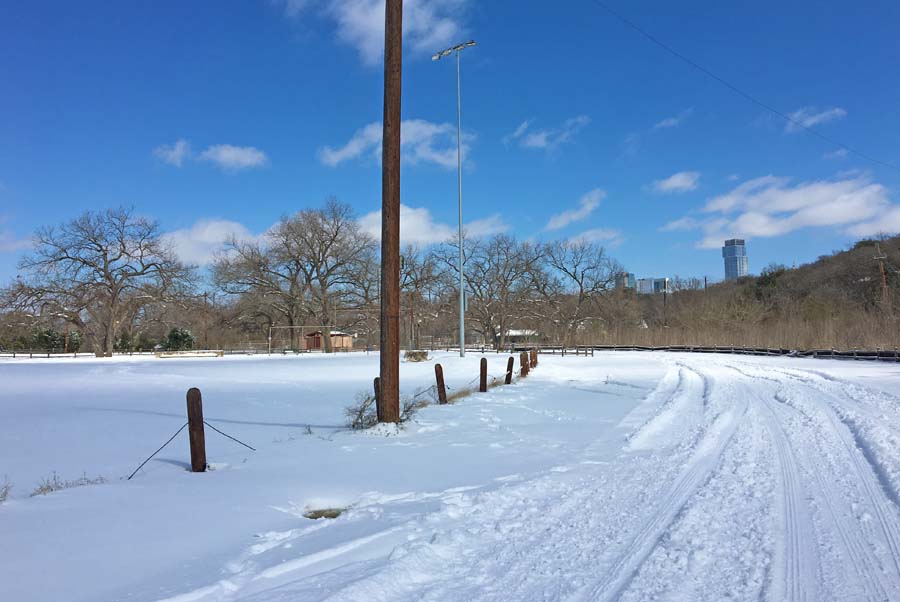 This picture below was of some skiers right at the corner of Zilker Park, at the very corner of Barton Hills Dr and Azie Morton Rd. Map link here: https://goo.gl/maps/eS9ywXUtNtSDZzDc6 This was also the location of the bottom of a make-shift ski hill where skiers slid down the Azie Morton Rd hill that ends right here. Then were towed up to the top by knobby tire 4 wheel drive pickup trucks with a tow rope attached to the trailer hitch.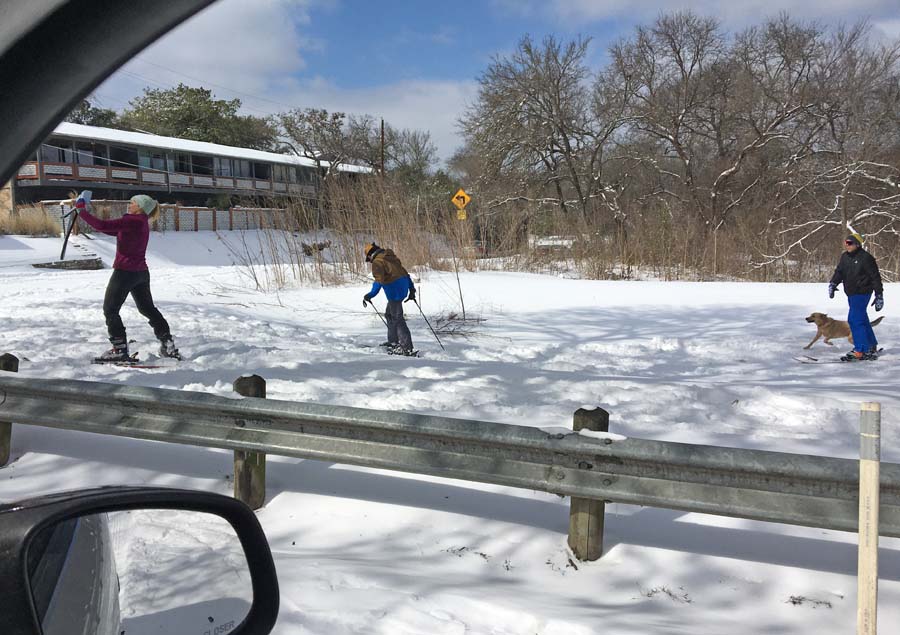 The next day I was about to turn onto Congress Ave, and here came these two little mini dirt bike motorcycles on the snow and ice. The riders had both feet out to stabilize themselves from falling. The bike in the picture below looks like a 1981 Honda Z50R to me, but I'm not sure.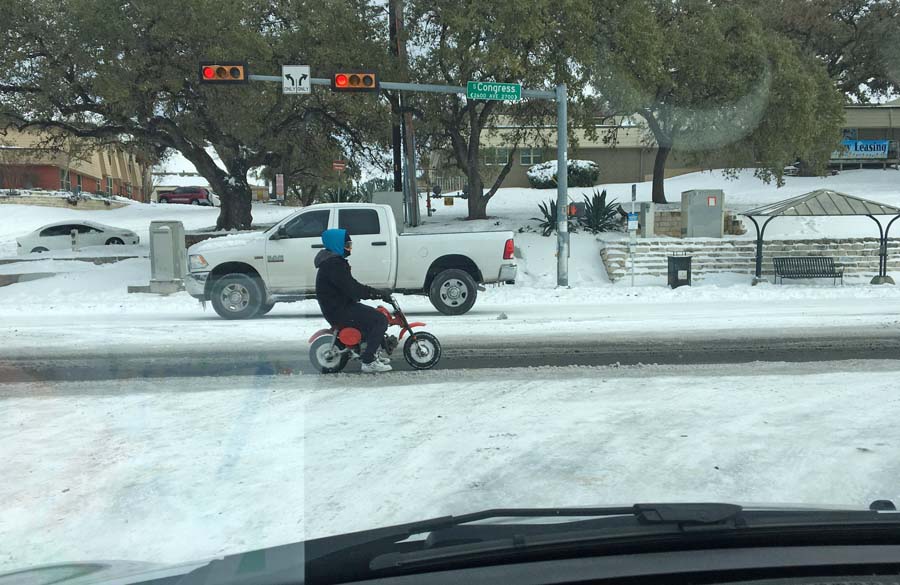 The second rider is seen below in purple whizzing by as I took this picture. The picture below looks like a 1985 Honda Z50R to me (notice the "Z" on the blue motorcycle seat). Sometimes these were referred to as "Mini Trail' or "Monkey" bikes.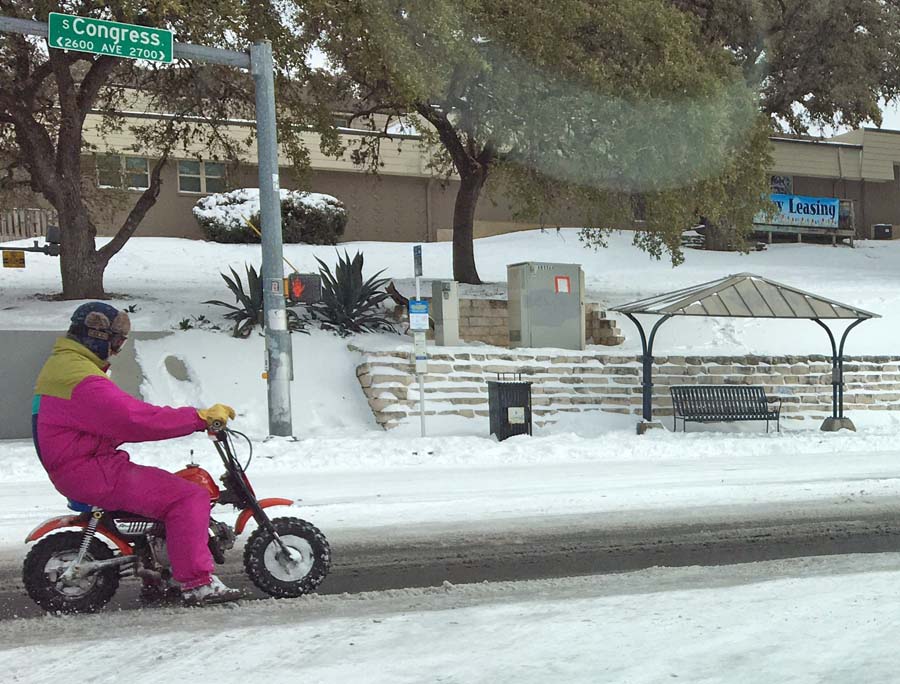 The picture below is looking down 1st street at the corner of Peacock Lane and 1st in Austin. I am facing North, you can see the skyscrapers from downtown Austin in the distance.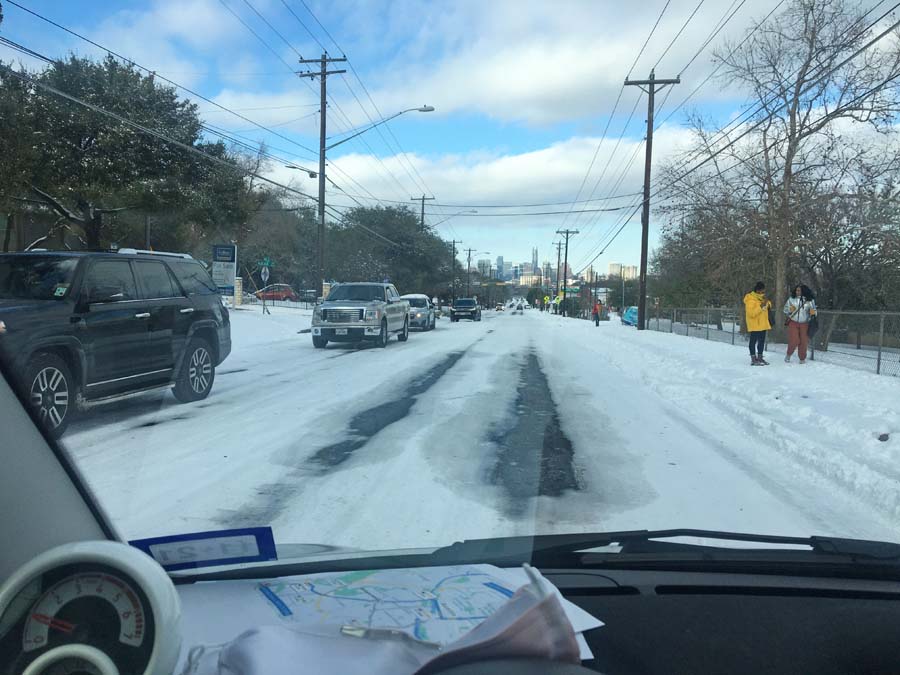 A little further along down 1st street near the corner of Powell Cir and 1st.
A snowman in Austin Texas has to be rare. Two is even more rare.
By the end of Wednesday, the shelves in the 7 eleven looked like this picture below. There were long lines at EVERY food store, and because locals didn't want to drive there was a lot of foot traffic at the little mini marts, gas stations, and 7-elevens. Long lines, and no food left.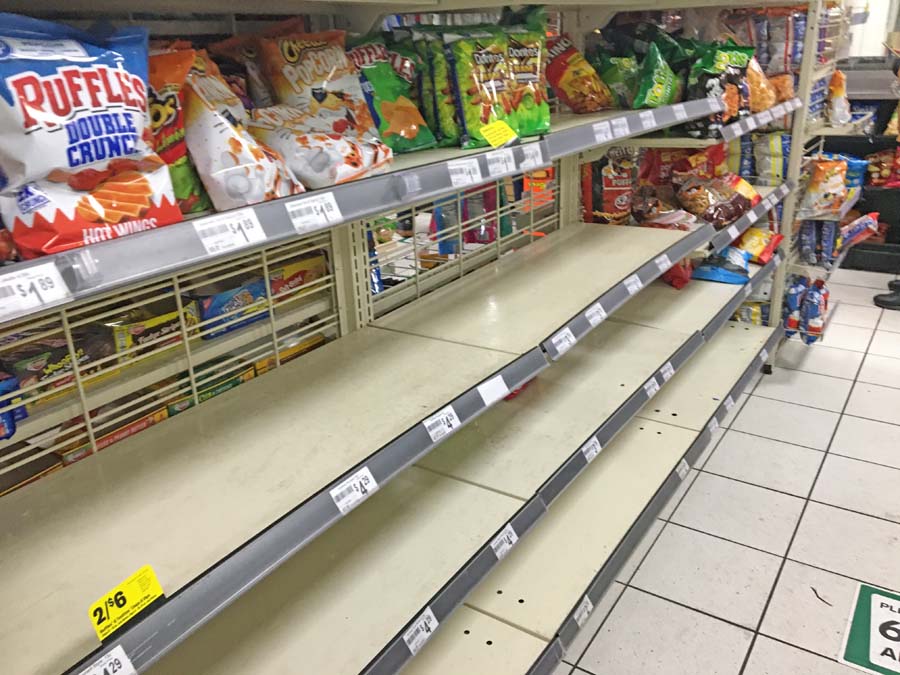 Another shelf in the 7-eleven. I like how there are some olives and Nutella left, that's about it. And some hot sauce. I'm not sure what you can make out of that, but I expect it will all be gone by tomorrow and then people are going to get hungry.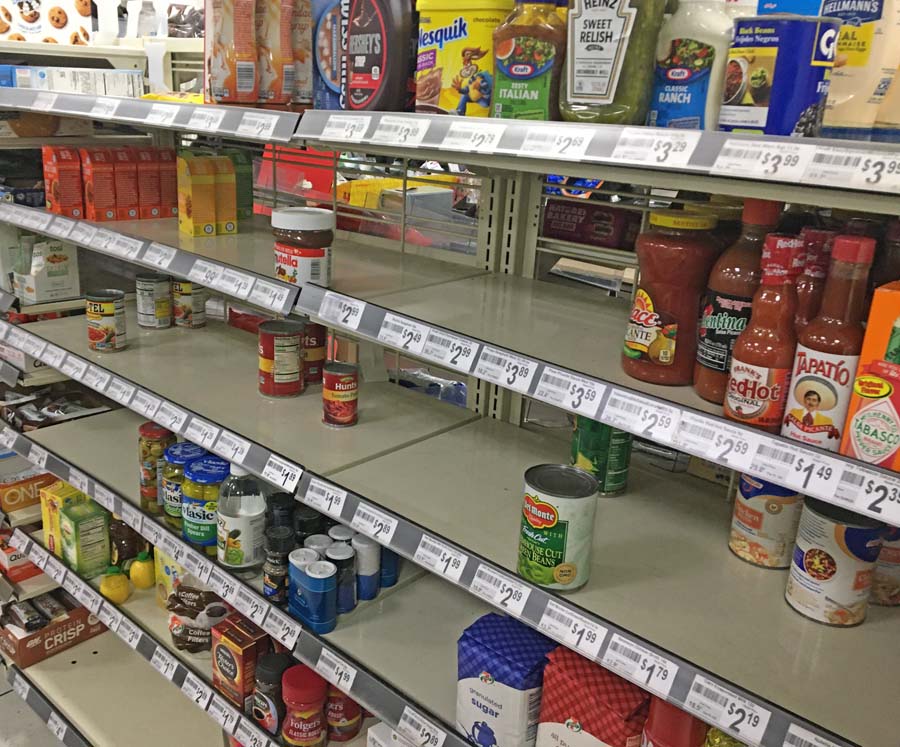 A final picture of a man hole cover covering the water cut off in a neighborhood yard. Water pipes were bursting all over the city, so people need to know where these cut-offs are.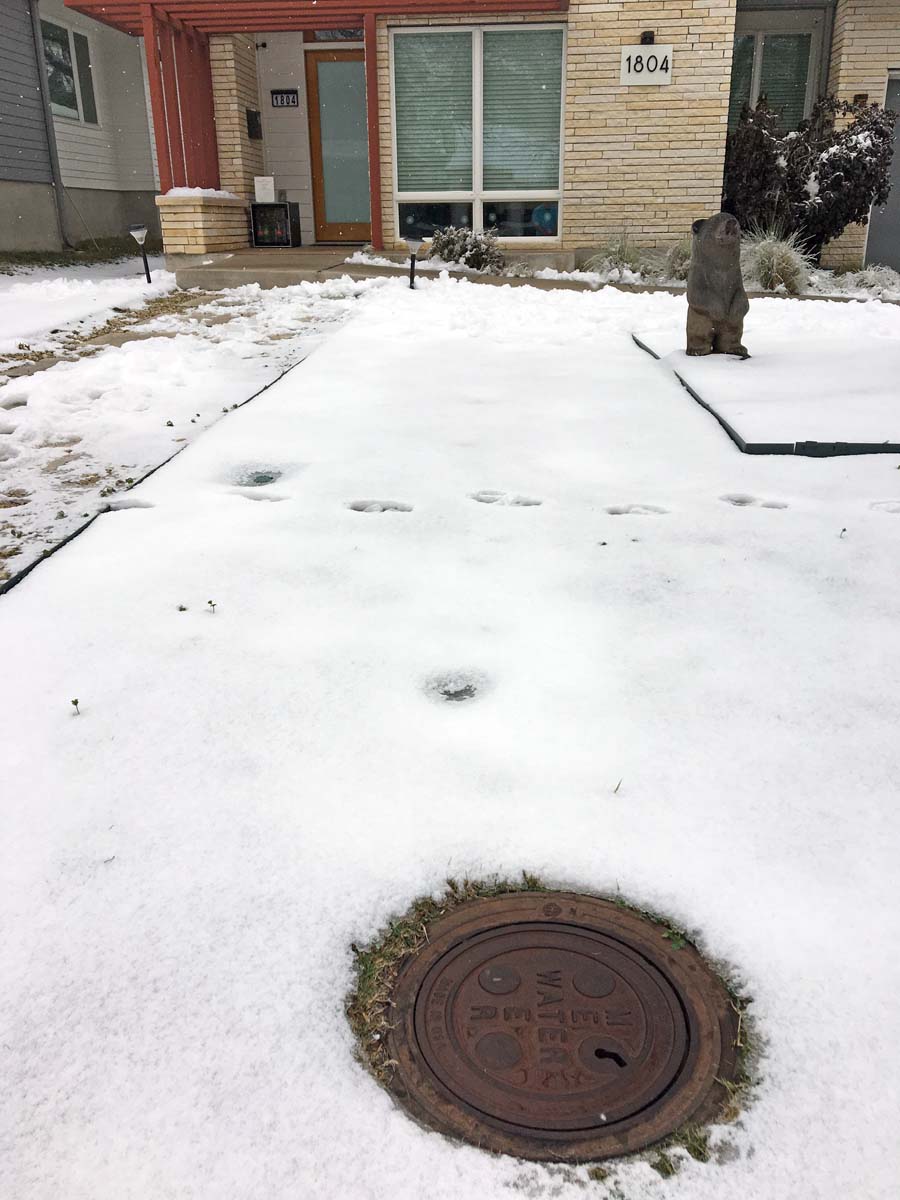 All done!