2022 Austin City Limits (ACL)

(10/9/2022)



On Saturday, October 10th, 2022, Brian and Katherine wandered over to Austin City Limits (ACL) to listen to some music, see the singer Pink perform, and people watch. It was fun. Below are some pictures of the crowds.
First, a 60 second movie of some of what we saw. Click here for the very highest quality version.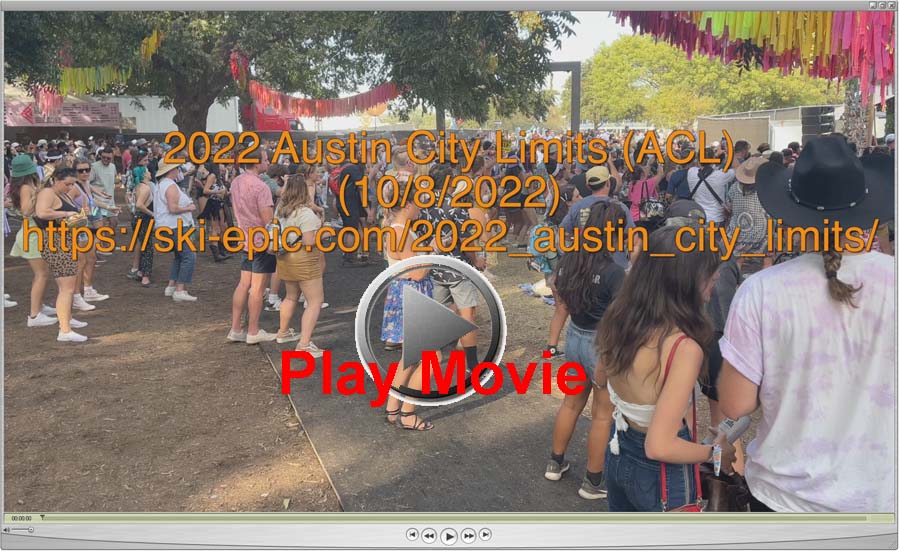 Below are pictures! In the first picture below we are walking through the front gate entering the music festival.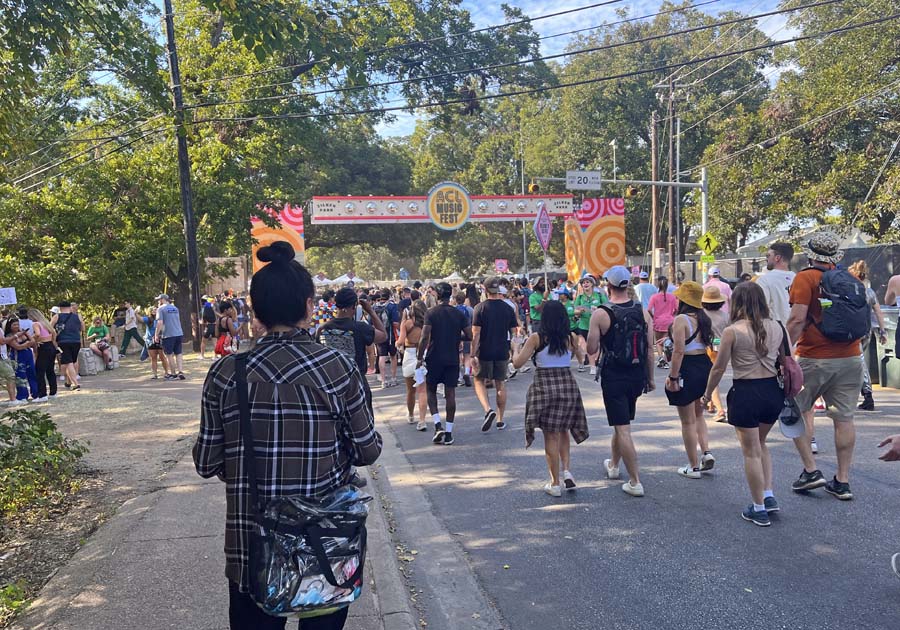 Right past the front gate, these police were sipping Liquid Death (it's water) and were very heavily armed watching people enter. They were the only security I saw all day.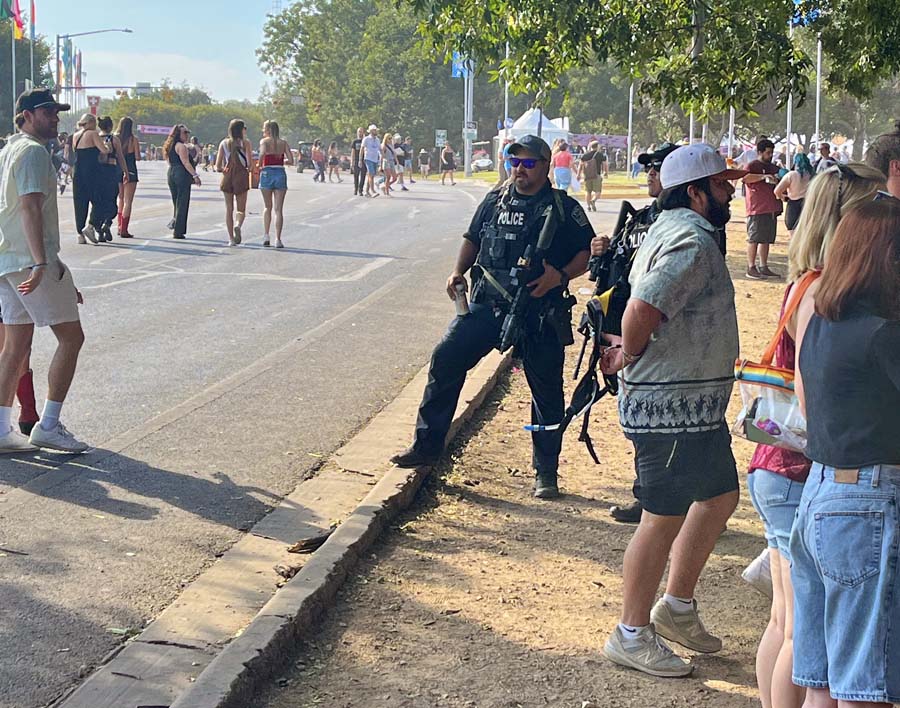 A map of the venue I took a photo of so we could navigate.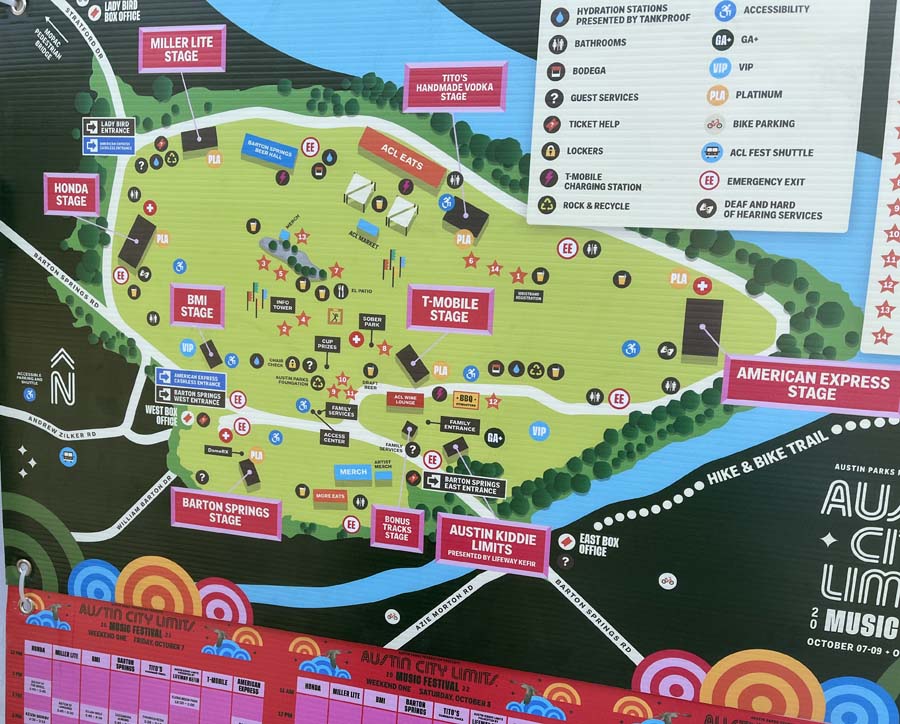 And the schedule: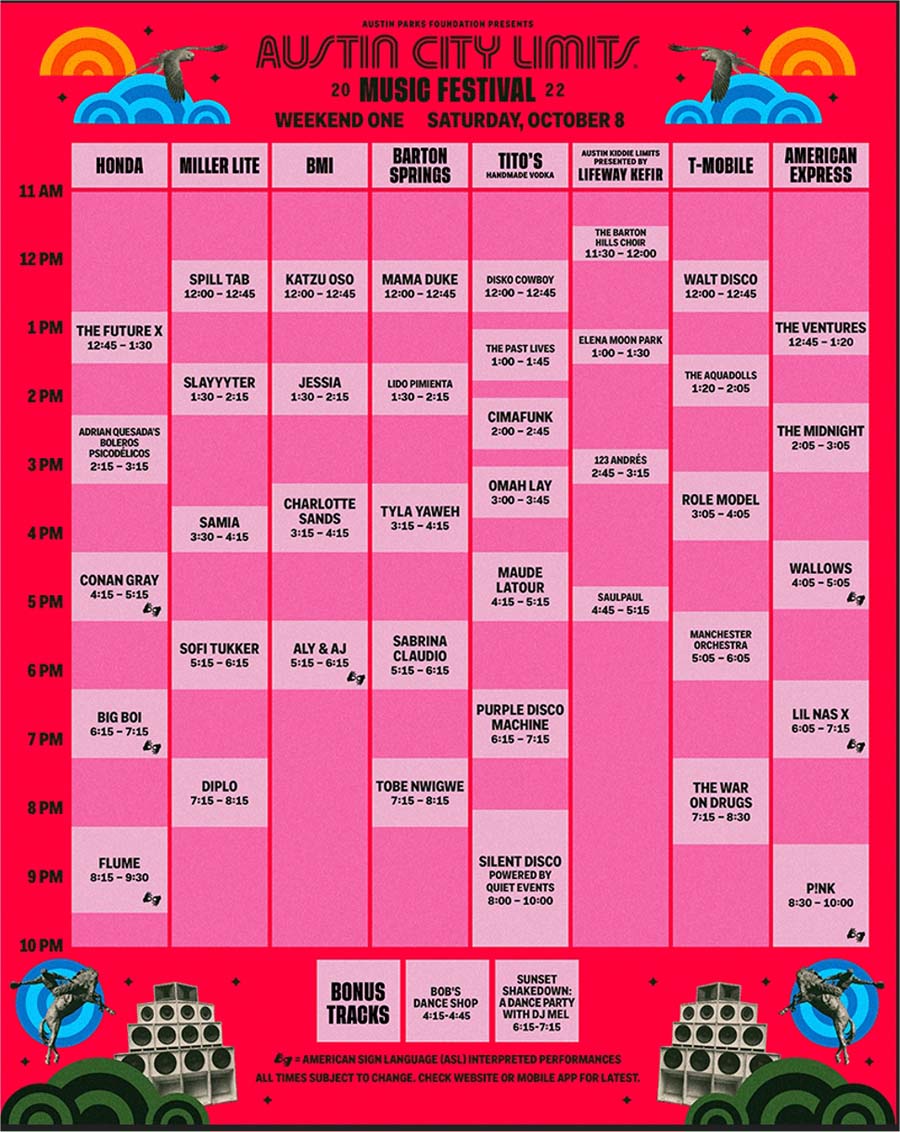 A random picture of the crowds walking around at Austin City Limits 2022. About 75,000 people attend each day. The stage below is the "American Express" stage.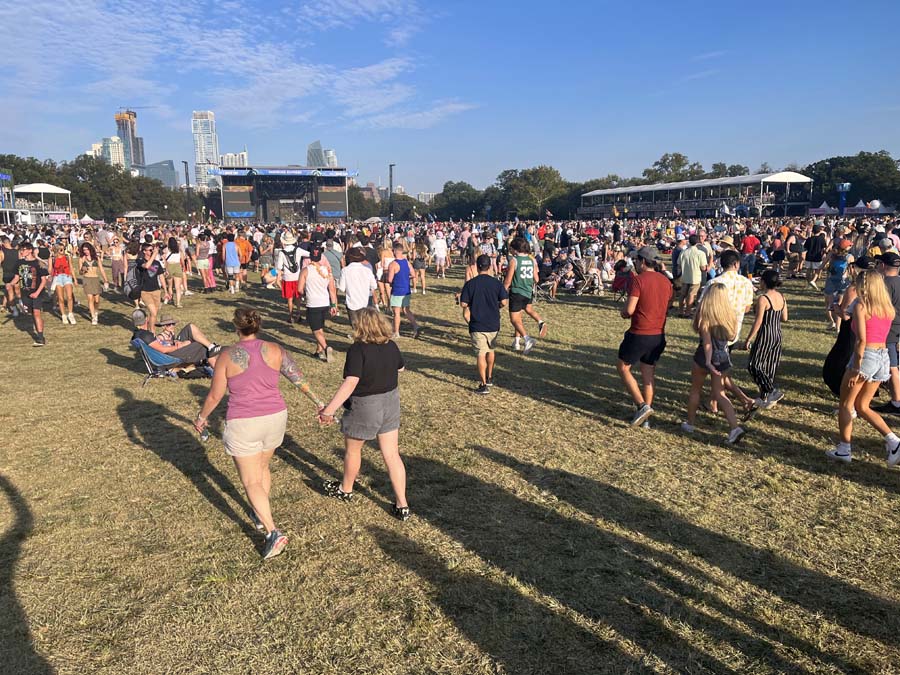 Below are the porta potties in the VIP area at Austin City Limits (ACL). They had the same exact number of women's rooms as men's rooms, you can tell because each trailer has one of each. This is VERY disappointing, it is an absolutely classic concert blunder. Women take a little longer, so you always need more women's stalls. So there were no lines for the men's rooms, and a very very long line for the women's room. Everybody, and I mean EVERYBODY knows you need more women's rooms at concerts. And to "fix this" all they needed to do is draw a dress on the symbol of a man on one of the trailers. The organizers dropped the ball here.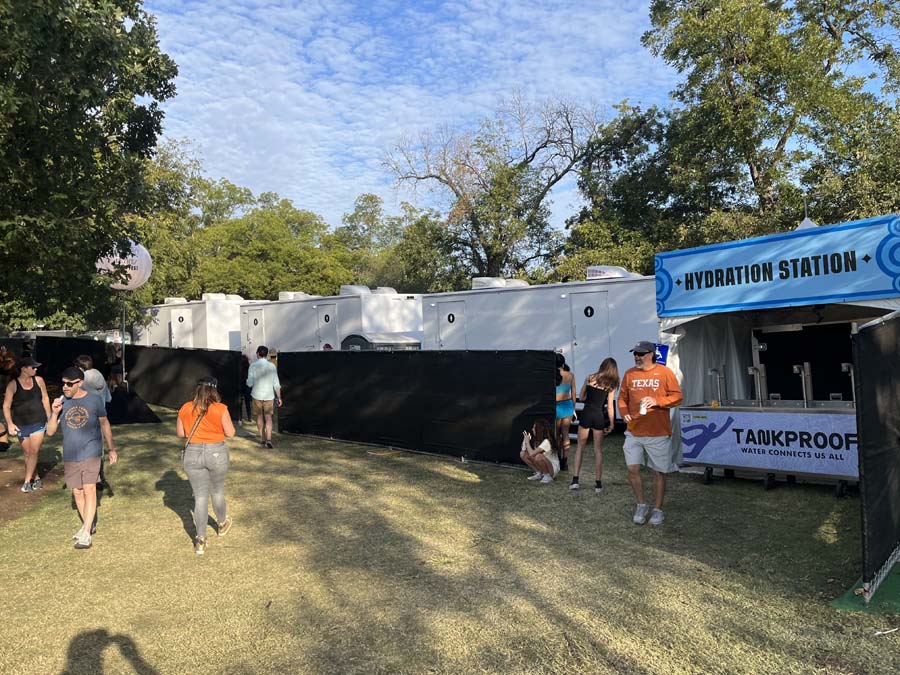 A picture of the people wandering about.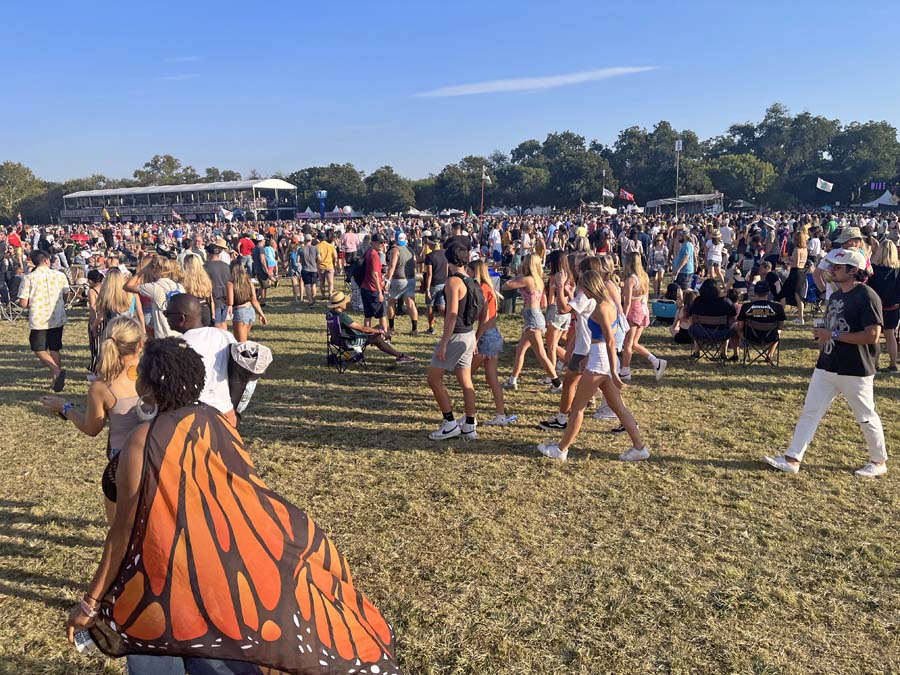 They setup some flags, lots of people took photos here, and I have a fear of missing out on a good picture. :-)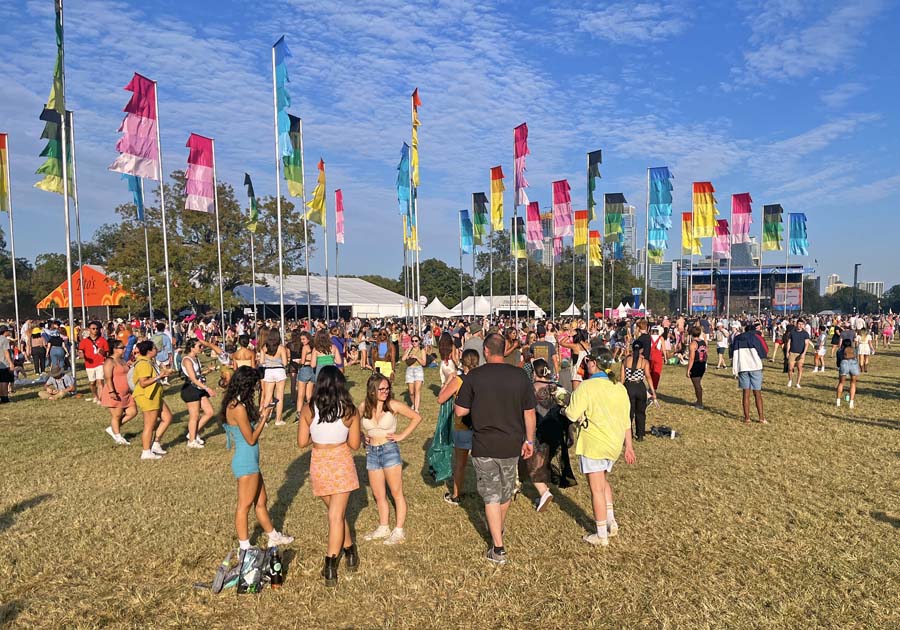 We wandered over to the Honda stage, which was PACKED with people.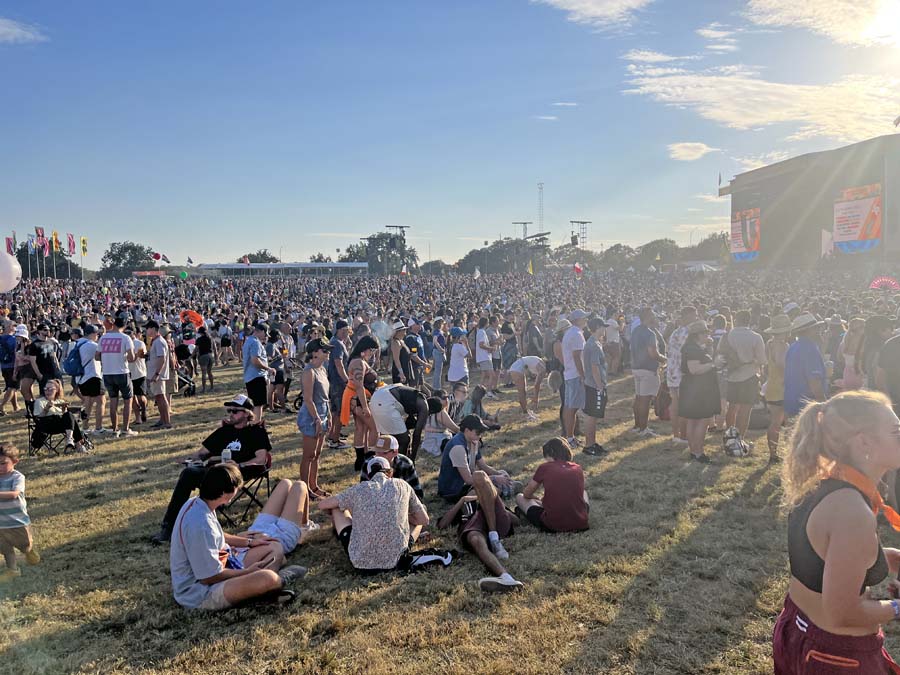 Another picture of the Honda stage area.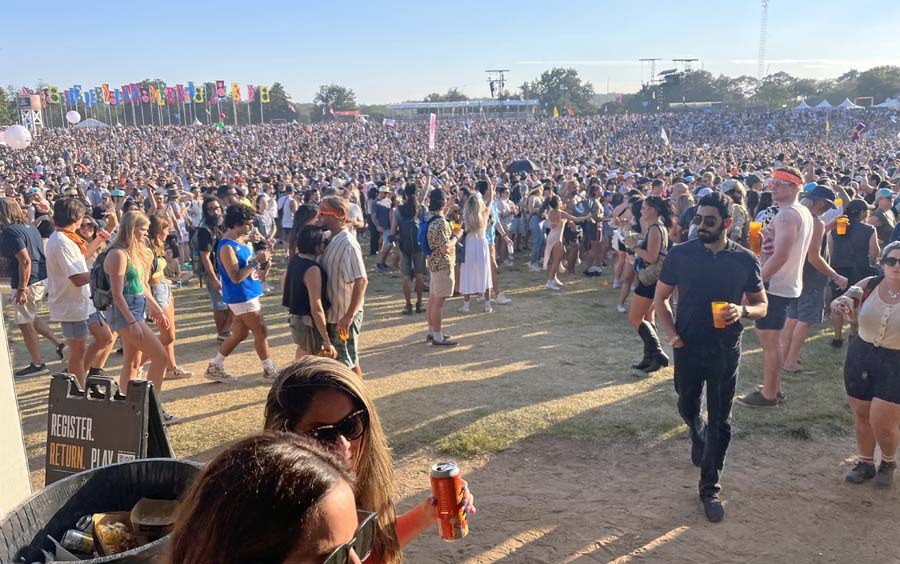 A panorama of the Honda stage showing the crowd.

We had some food and waited for the singer Pink to start at 8:30pm. Her show is about to start on the stage in the picture below. You can see Austin's skyline to the right and behind the stage.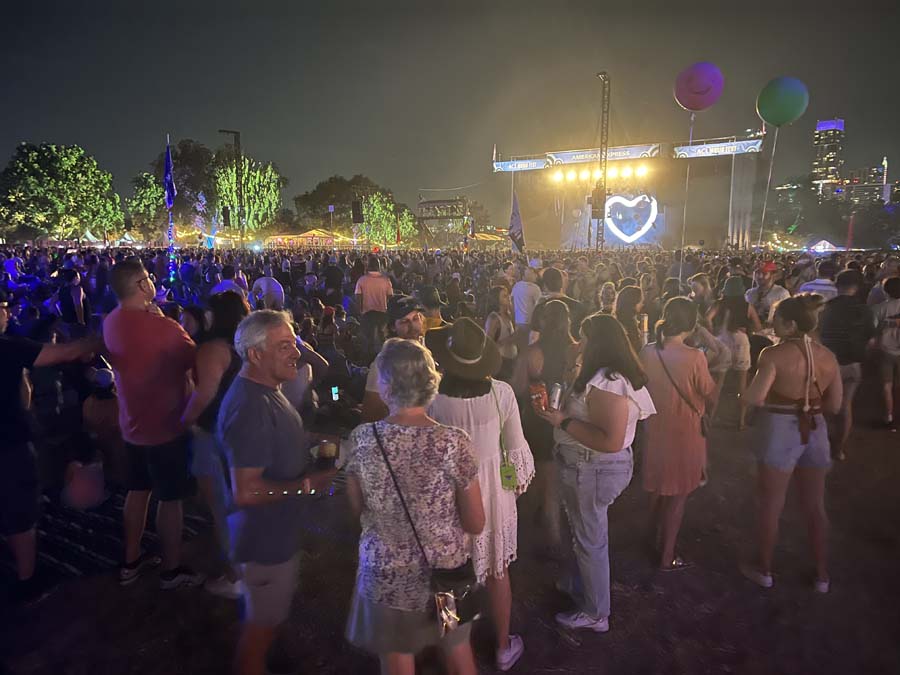 That's it! That's all the pictures and movies.
Possibly Useful Things to bring to a Concert Festival: (this isn't for you! Stop reading! I'm old and forget things.)
- Light chairs (Katherine was happy with Cliq Chair but it needs a carry strap to make it a backpack, if Brian was going to hang out a bunch he might want chair arms and cup holder)
- foam ear plugs
- battery operated fan if weather is hot
- clear "concert" plastic man purse
- Avalanche poles or some sort of telescoping pole with flag - to locate friends in crowds
- alcohol wipes to clean hands for eating
All done!