2023 Cancun Trip

(9/6/2023)



On Tuesday, Sept 6, 2023, Katherine and Brian travelled to Cancun, Mexico. It was our first visit to Cancun. Click on any photo for a much larger highest resolution original I have.
The first picture below is just waiting in the Austin airport for our flight to depart. It is a short, direct, nonstop flight, about 2 hours. Very easy travel.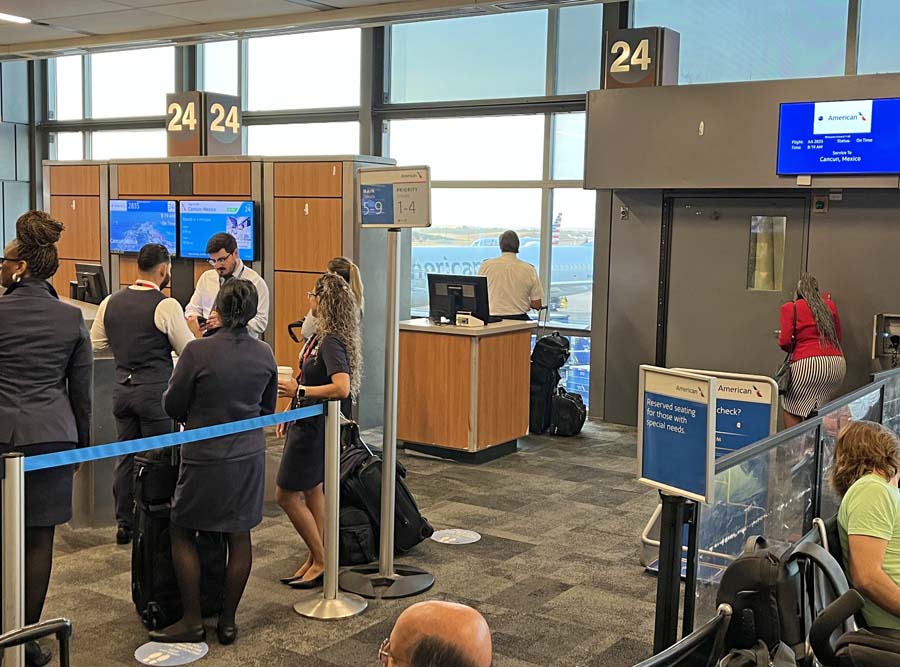 Picture out the airplane window as we are landing in Cancun.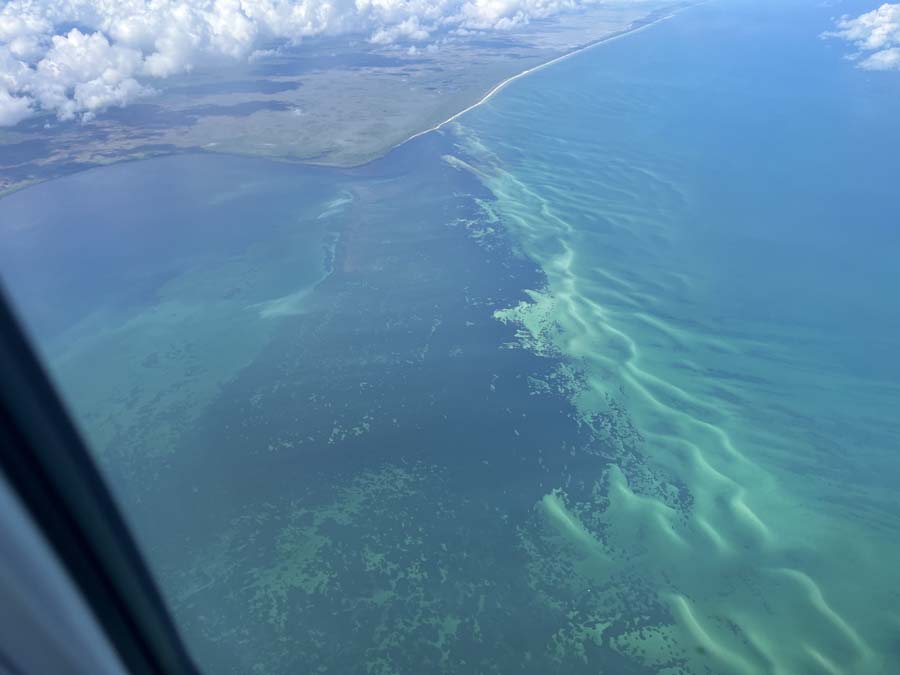 Now over land, you can see ENDLESS jungle with these little "cleared" areas and the highways. I'd love to know more about those cleared areas. Some even look like small landing strips for tiny airplanes because they are long and not wide. Like a road that starts and ends in the middle of nowhere in the jungle for no apparent reason.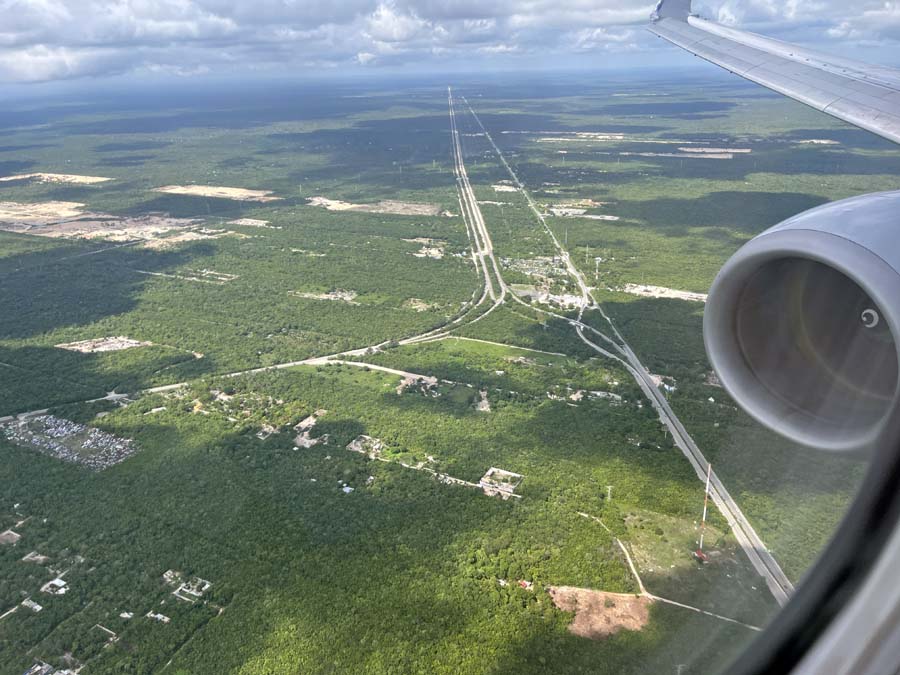 Welcome to Mexico!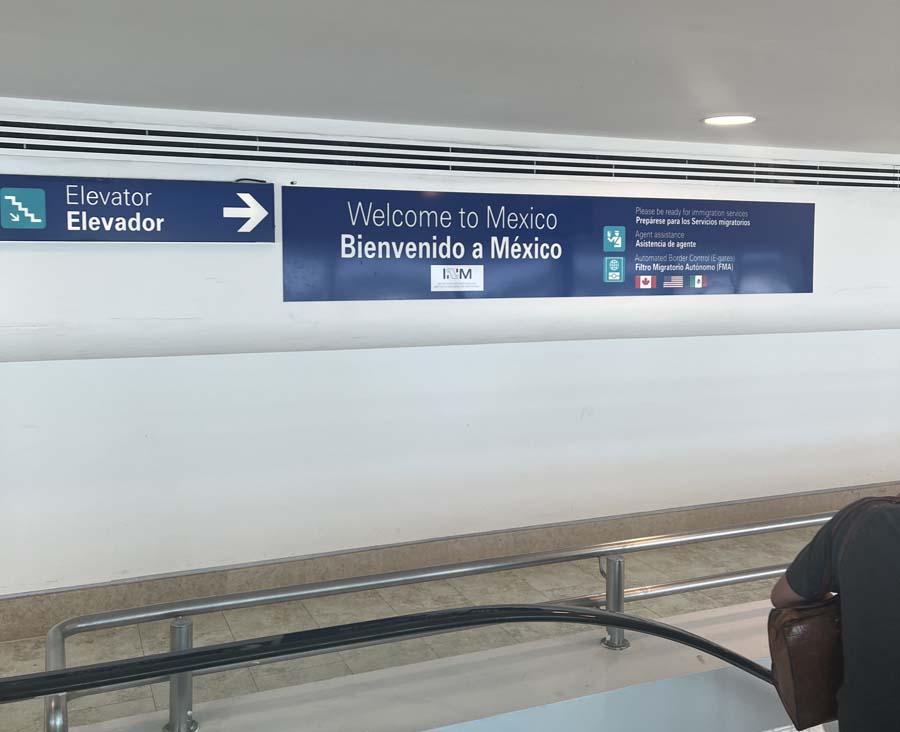 There is this super sleazy thing in most Mexico tourist airports I just don't understand. INSIDE the airport, just before you leave, the Airport allows all these scammers (by renting them legit looking spaces) to attempt anything (mostly lying) to "trick" tourists who haven't seen this before into buying a condo in Mexico. It's absolutely bizarre. All of the people you see below are simply lying trying to get us to talk with them, saying things like "Oh, looking for a taxi? I can help." Then when you walk with them they start selling you a condo, or a condo tour, or whatever. If a tourist is polite, they are trying to wait until they get to the taxi part, but there is no taxi, they cannot call you a taxi, the whole situation is INSANE. Eventually 100% of all tourists reach some point where to escape they have to be "rude" and just walk off and they always, under all situations, have to figure out the taxi ride or shuttle themselves. Because none of the people in the picture below do anything but lie and sell condos. Based on their level of lying, I'm pretty sure none of the condos actually exist, so it's just an illegal con artist scam. The thing I cannot fathom is why not allow tons of other illegal and lying scammers, why does every airport in Mexico think this is the **ONLY** illegal/lying thing they should sell? Why not sell fentanyl by the pound here? Or fake fentanyl? Or sell magical unicorns you can pickup as you depart Mexico later? Why only condos that don't exist and waste everybody's time?
Katherine and I have seen this in other airports so we just kept walking as they accused us of being rude and trying to engage, LOL.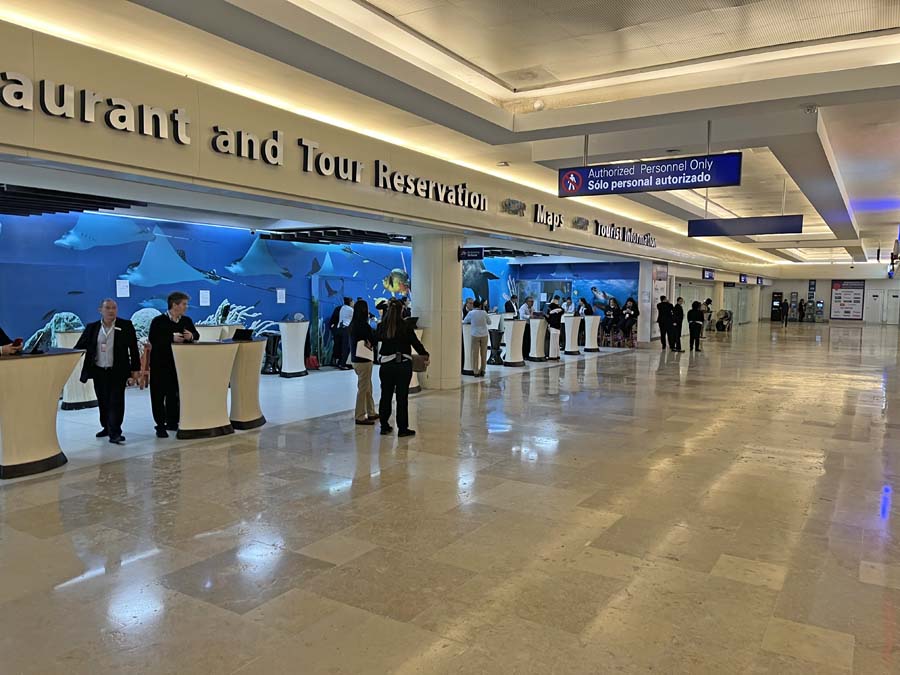 We were early (around noon) and could not check into our hotel until 3pm, so Katherine and I went on a little adventure. Our hotel was "Sun Palace Hotel and Resort" at the south end of the Cancun resort strip. So we randomly picked a beach front restaurant at the NORTH end of the resort strip to go have lunch. We went to the "La Palma Beachfront Hotel and Club" near the ferry, picture below. The people in the picture below are waiting for the ferry to take them to an island offshore. Some have big bags of roller luggage with them fresh from the airplane.

Below is a zoomed in picture of the location we ate lunch.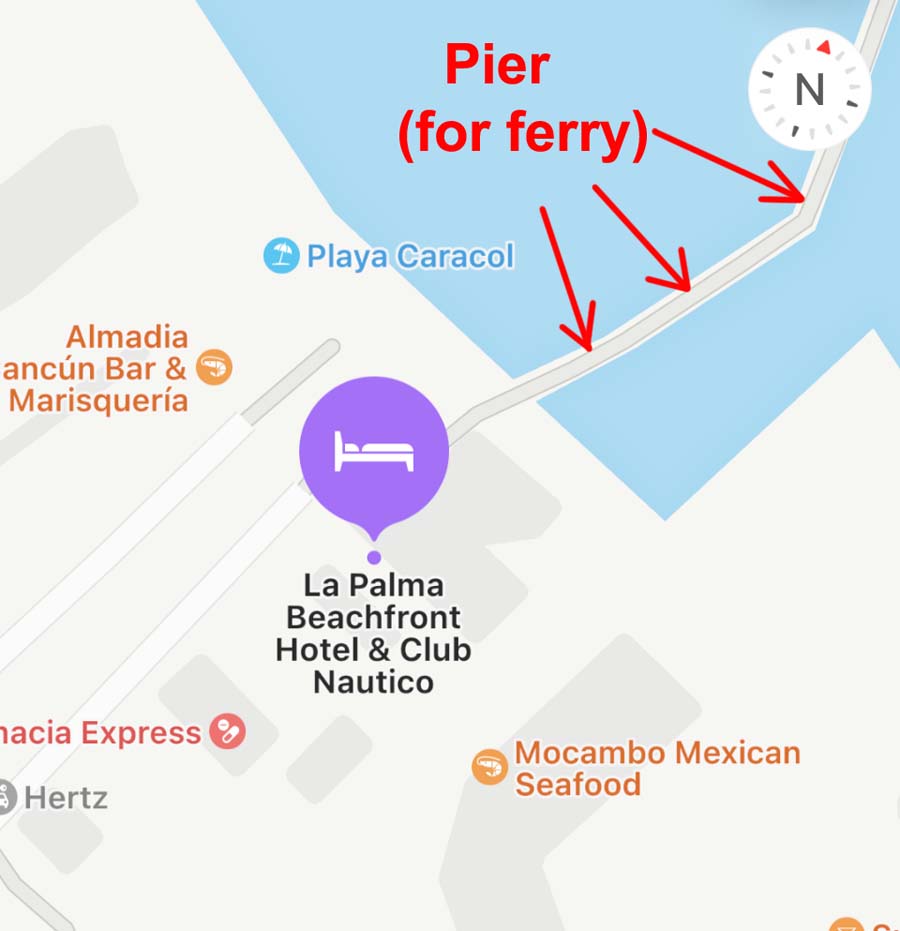 It rained for a few minutes while we were there, picture below.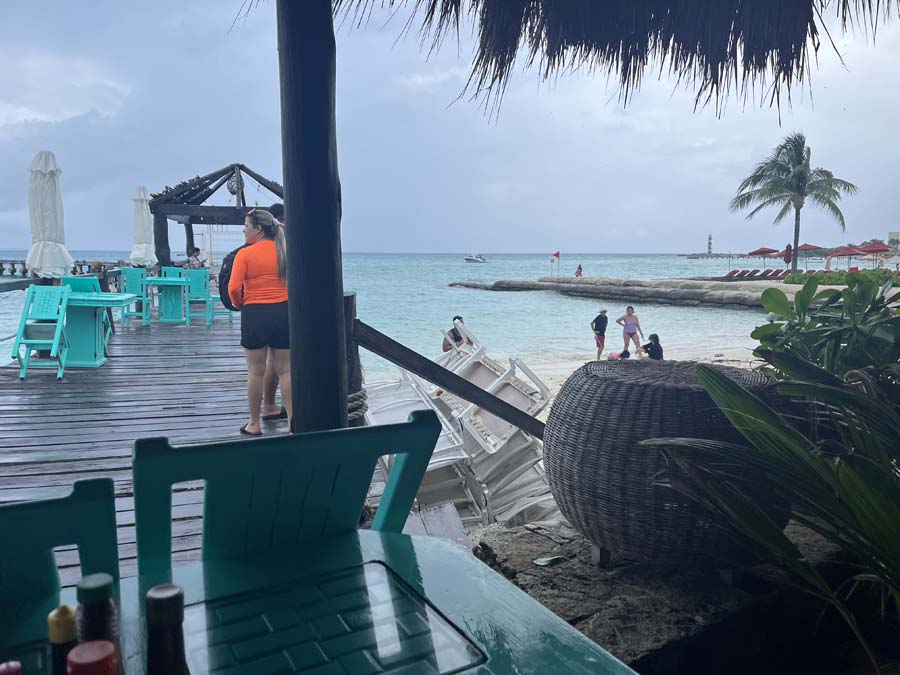 Later after we checked into our hotel, below is a picture from our room (in Sun Palace Resort) of sunset on September 5, 2023.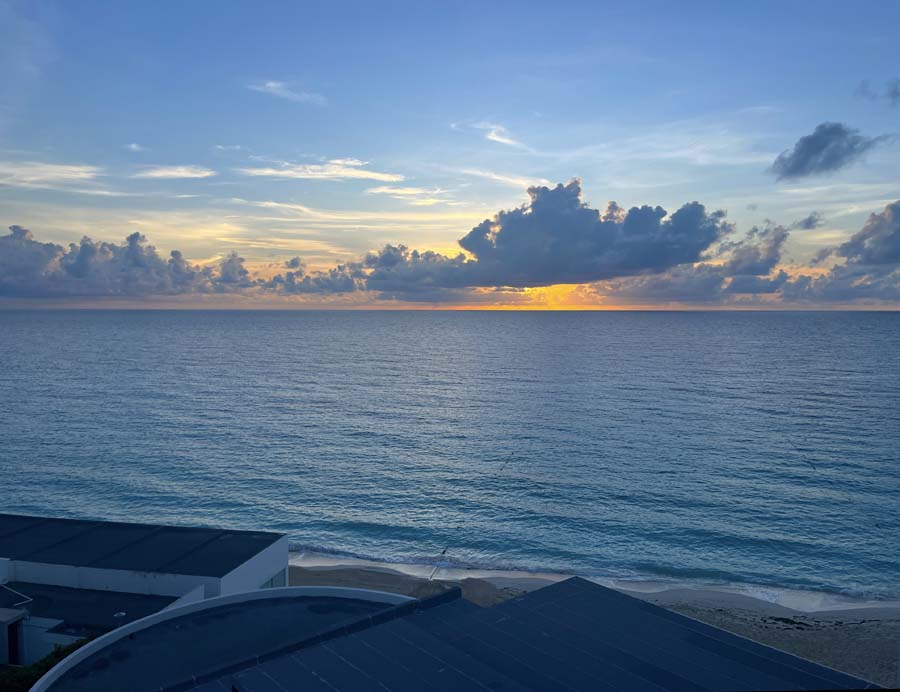 The next morning I took a couple of pictures from our various balconies, this one is facing the OTHER direction which gives you an idea of how thin the "resort strip" is. It is like 200 yards wide, and 8 miles long. And just a solid non-stop block of one resort after another. I honestly have no idea how to pick one resort over any other resort, they all seem about the same.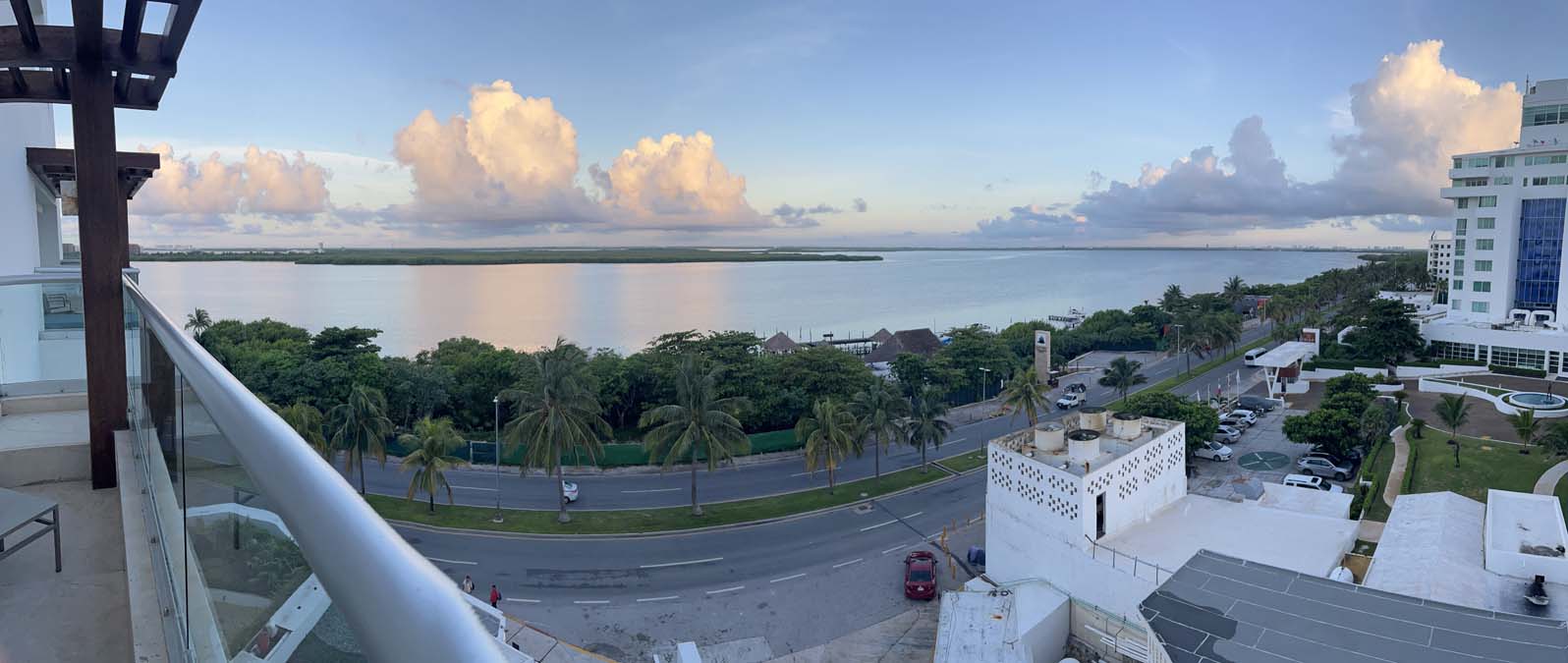 A picture from one of our hotel's balconies.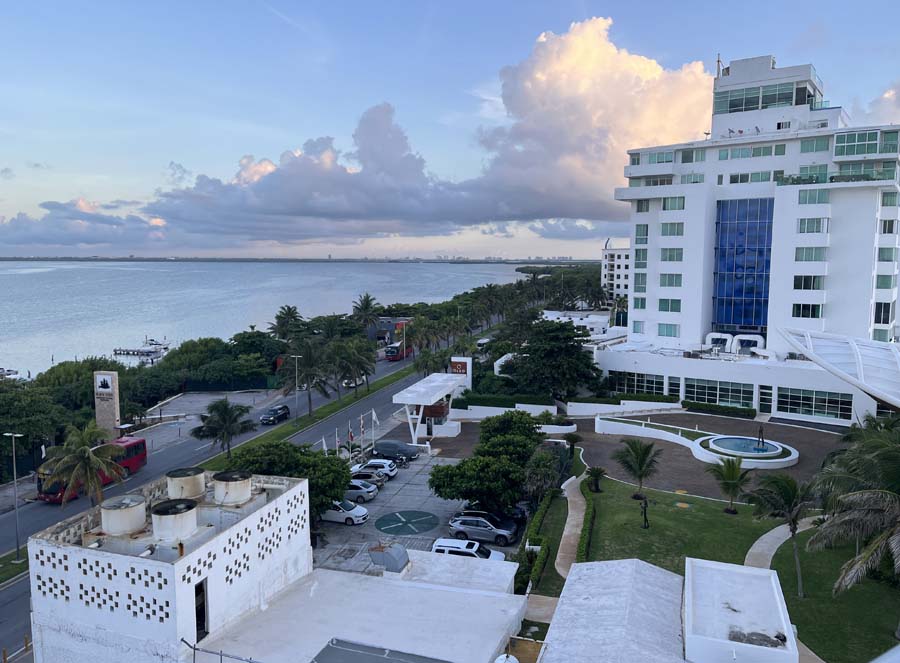 Random other picture in the middle of the day from one of our hotel balconies looking out to the ocean.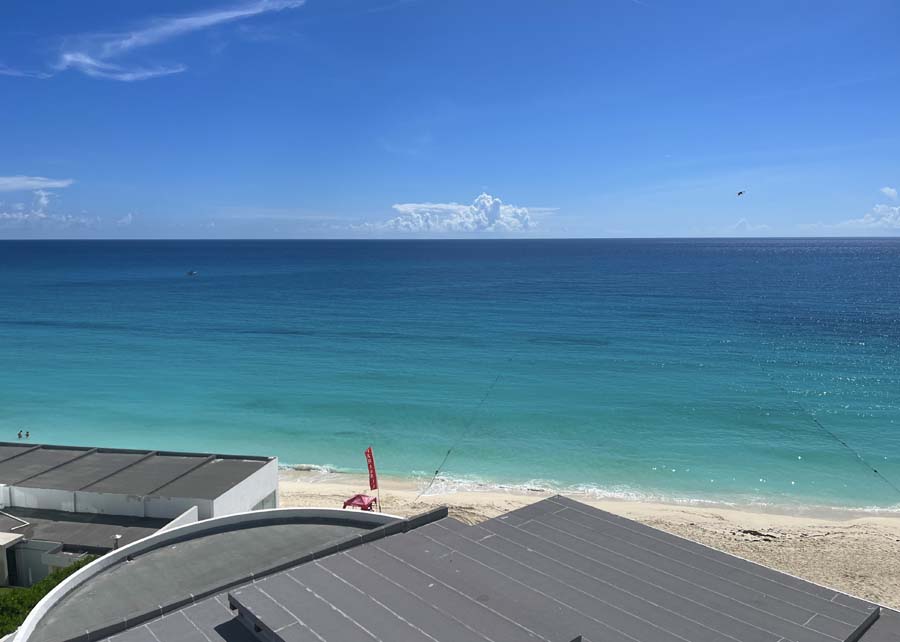 Our room came with a "all you can drink, totally for free tequila bar", pictured below: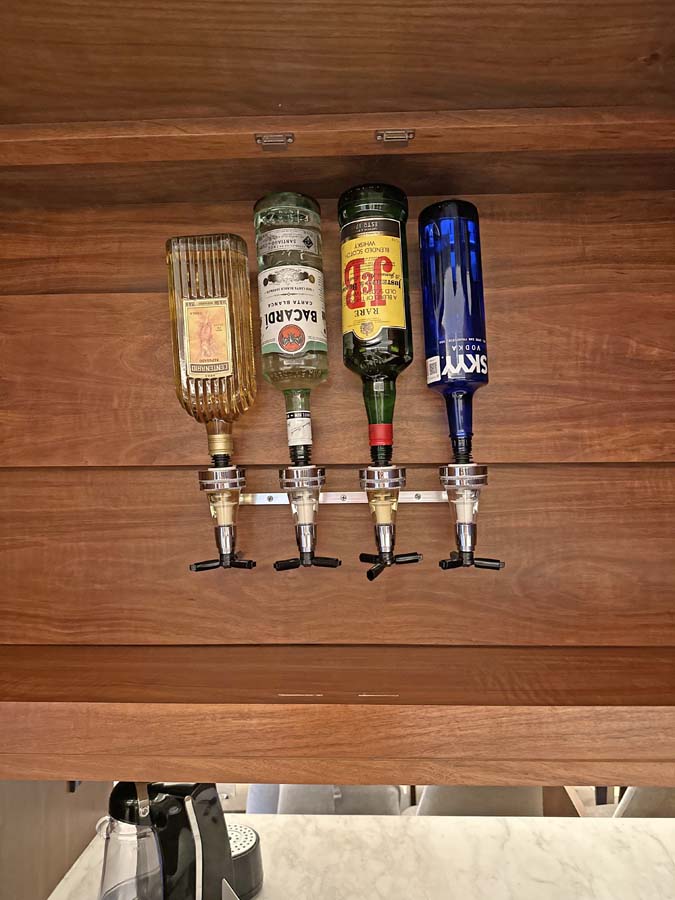 On September 6 we decided to hire a taxi to drive us 37 miles south of Cancun to "Playa del Carmen" which is a scenic little town our friends recommended. Below are some billboards along the way.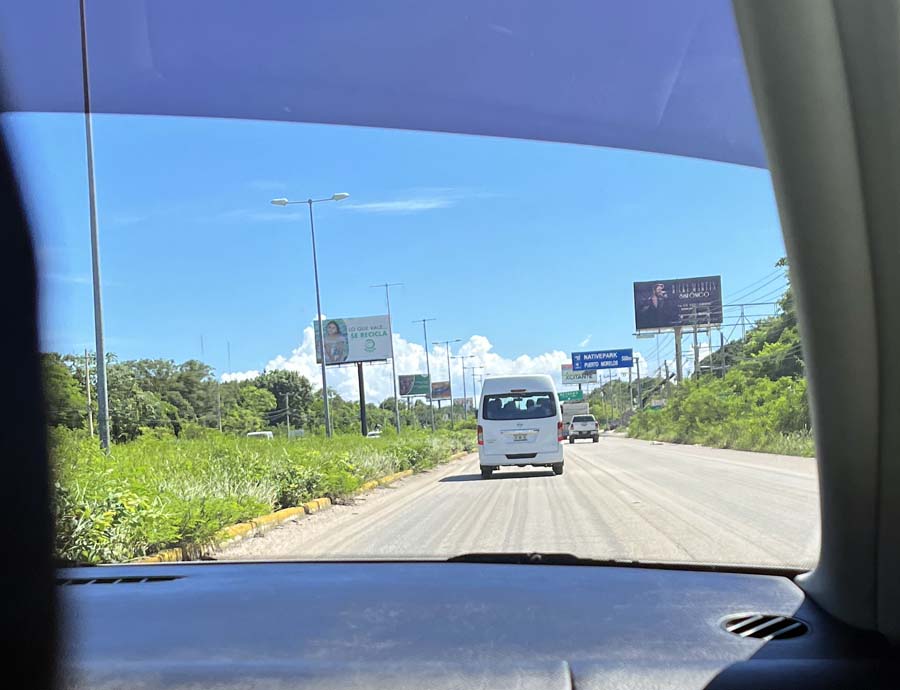 A picture of our taxi driver.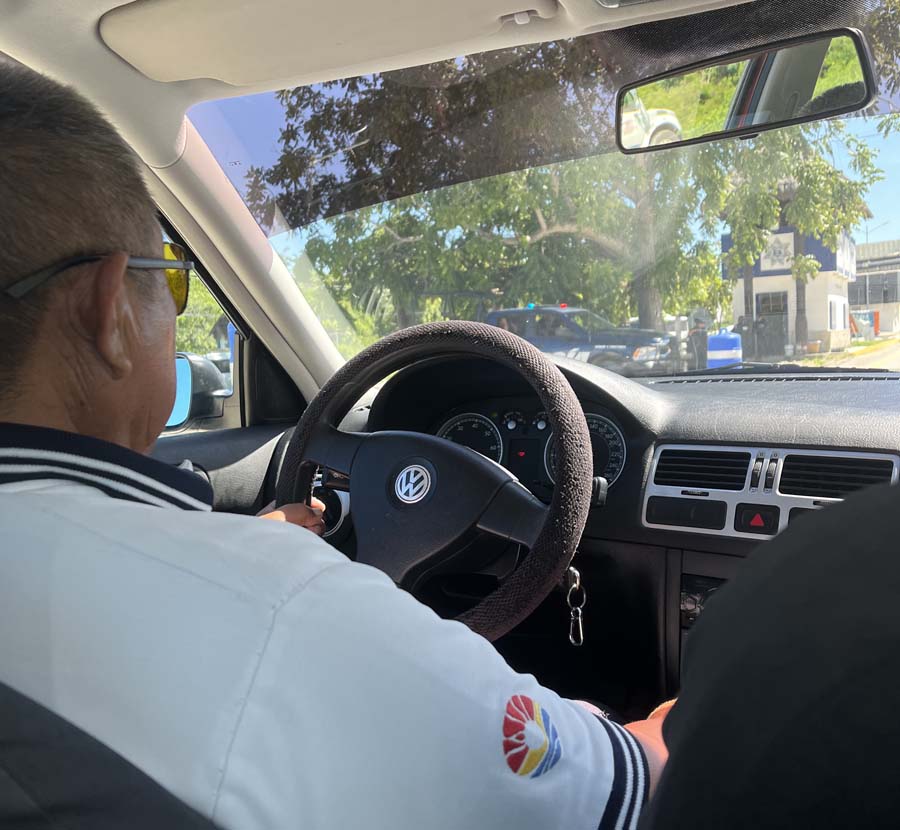 Here we arrive at "Mvngata Hotel and Rooftop Club". We didn't stay at this hotel, but we had lunch at their beachfront restaurant, and later toured the rooftop club area.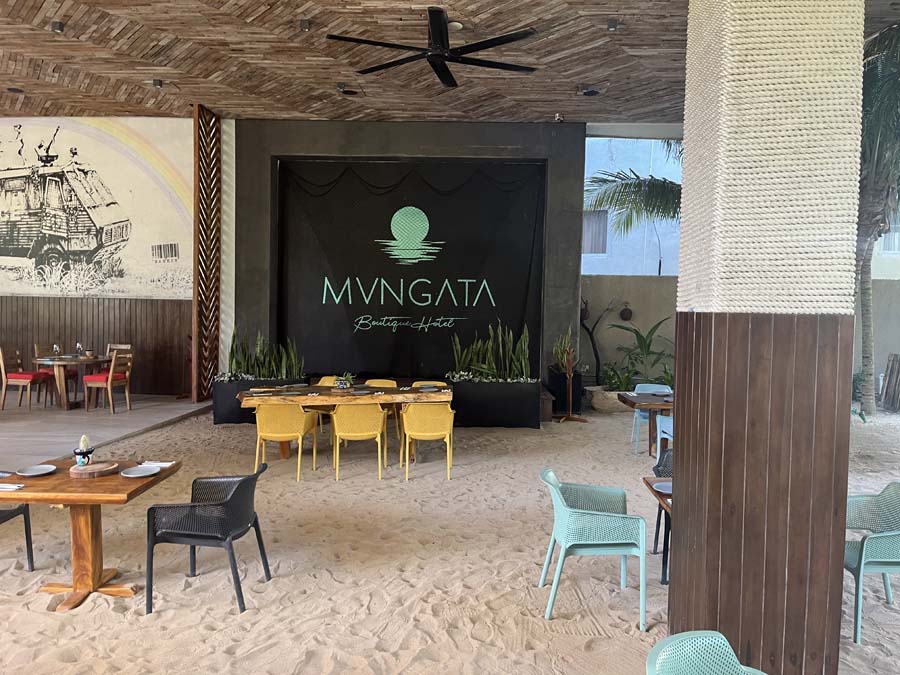 Where we ate lunch. It was very scenic.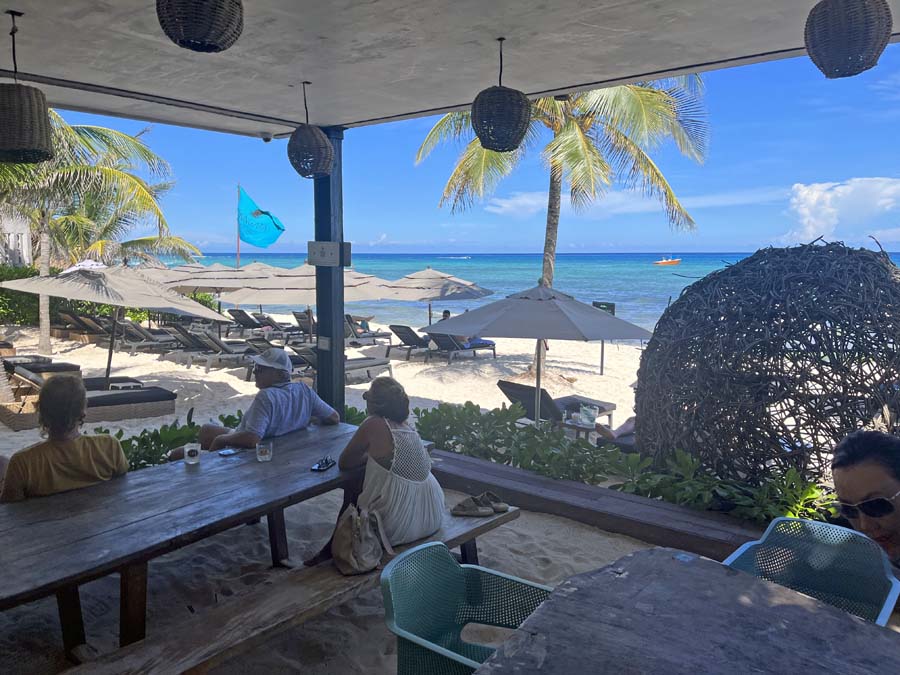 There was a dog wandering around that the restaurant staff didn't seem to "shoo" away. It was very sweet.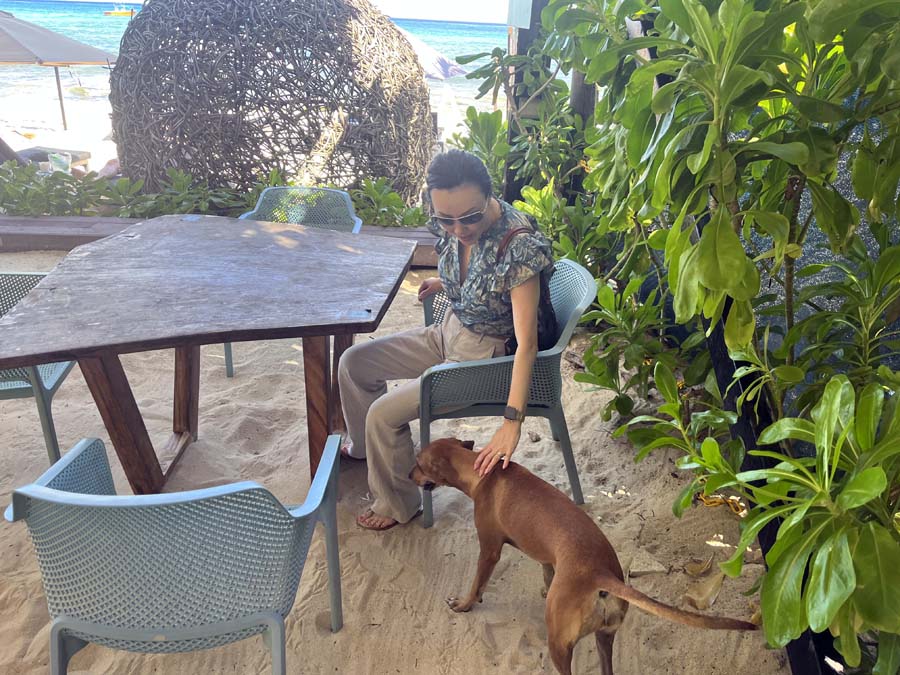 Katherine saw somebody else with a coconut with a straw, so we ordered one (picture below). I drank a coconut this way 50 years ago in Papua New Guinea but have not had one since, LOL.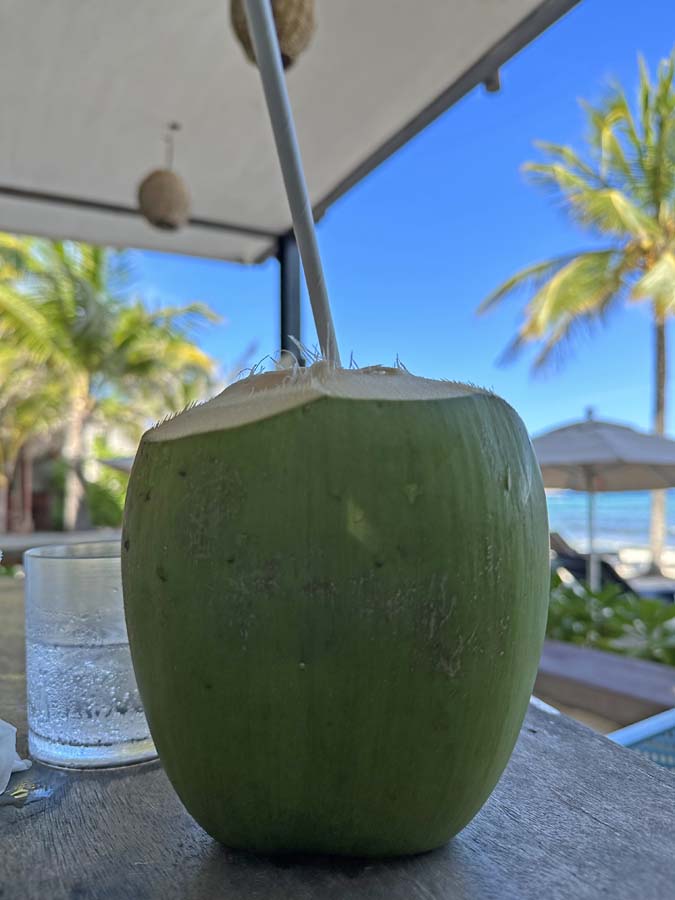 Below is a panorama taken by standing on the beach right there in front of the hotel. The beach is totally "straight" in a line, it just looks like a big "V" because of the panorama effect.

A sign on the beach.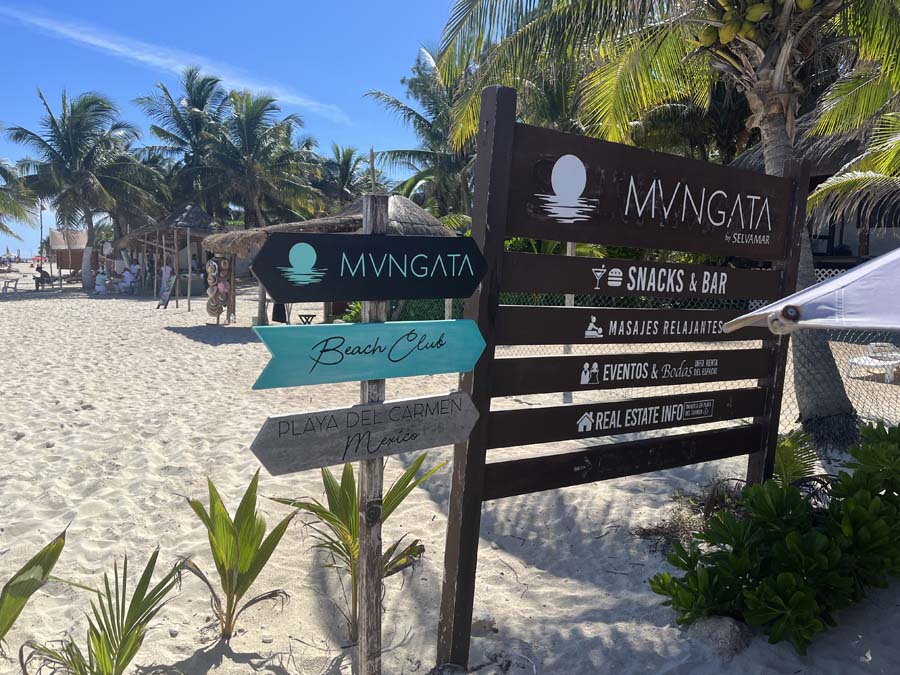 There was parasailing going back and forth in front of us. Below they are "reeling in" the current tourists (or possibly launching them, doesn't matter). There were also jetskis CONSTANTLY zooming back and forth in this area, which I think is fun and something to watch.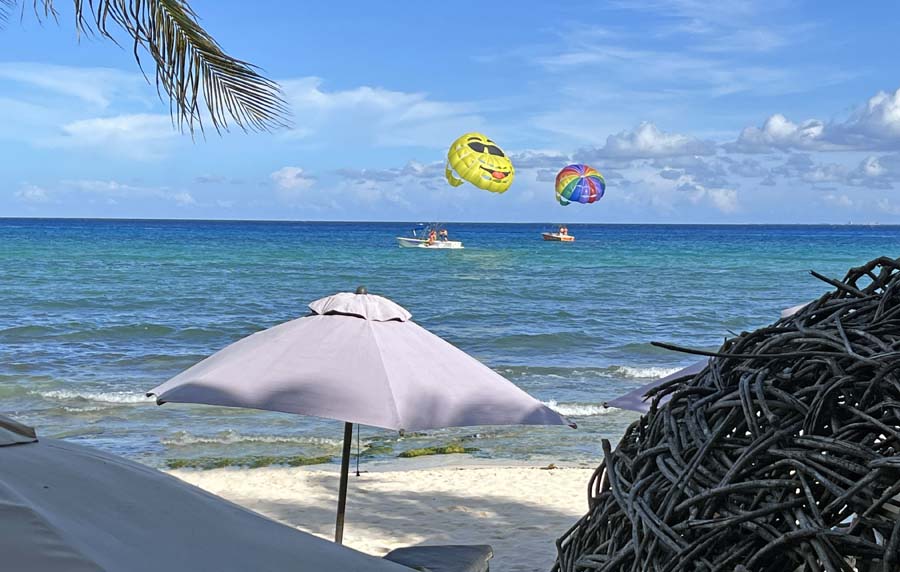 These two armed guards walked by a few times. I have no idea what requires handguns on a beach, but it's Mexico.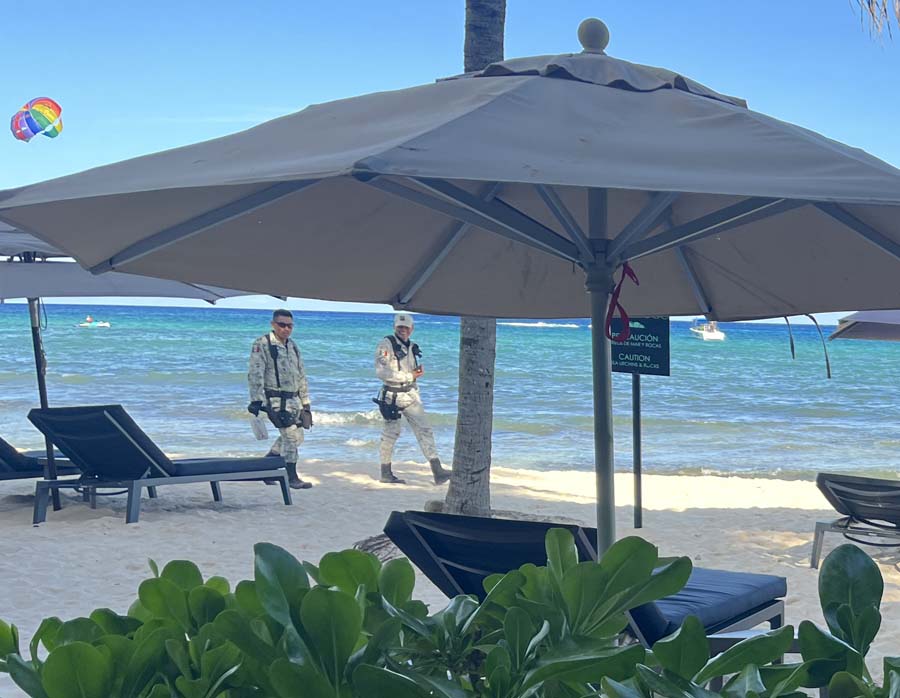 Before we left, we got a tour of the rooftop club area. Below we're walking up to it (after taking an elevator up 4 stories).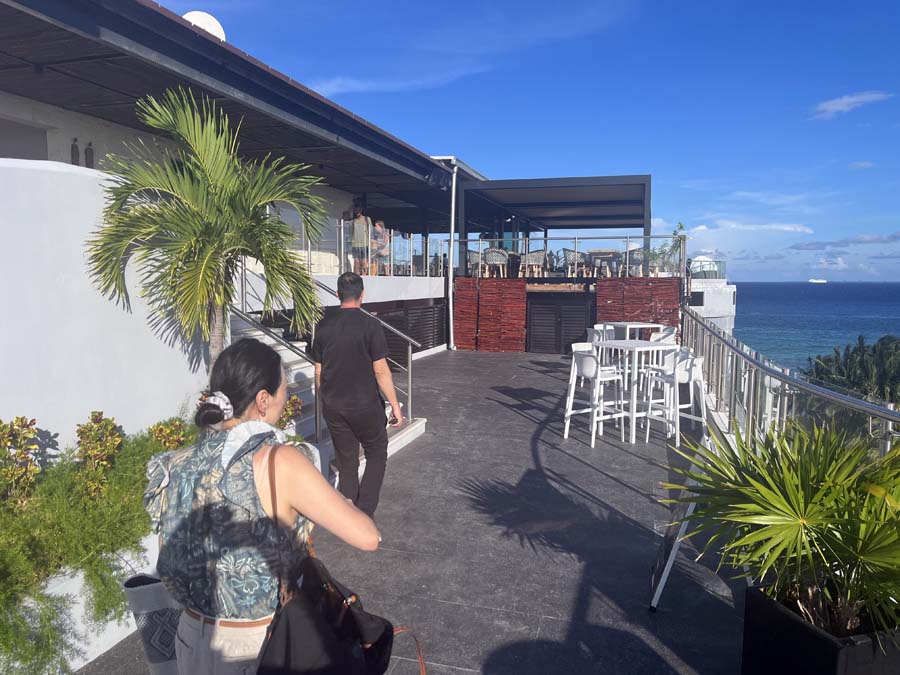 A very short 15 second movie below just showing what the rooftop bar and infinity pool look like. Highest quality original here.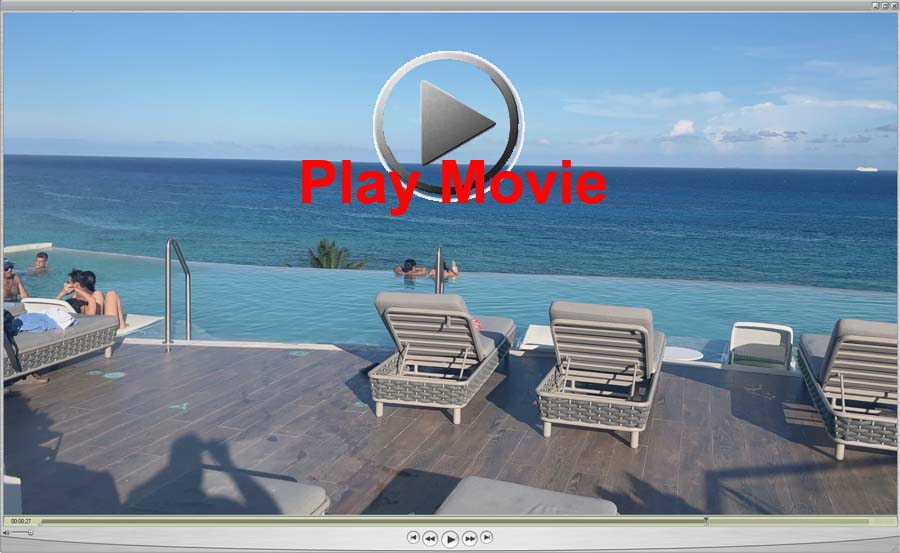 Below we are departing to fly home, and the picture below is inside the Cancun Airport. Kind of nice, colorful, fun shopping to be honest.

Waiting for our flight, Katherine and I had a cocktail in a skeleton's head at "Guy Fieri's American Kitchen Bar". I have no idea what the deal is with the skeletons in this region, but they sell small plastic dog skeletons that are creepy, and serve drinks in skulls.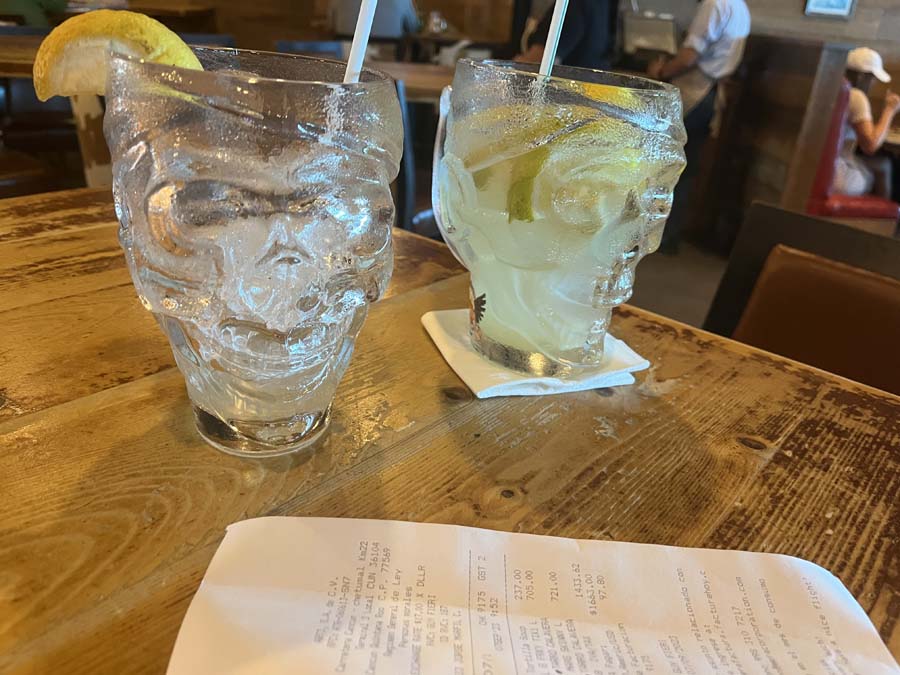 A close up of the logo on the glass so I could remember.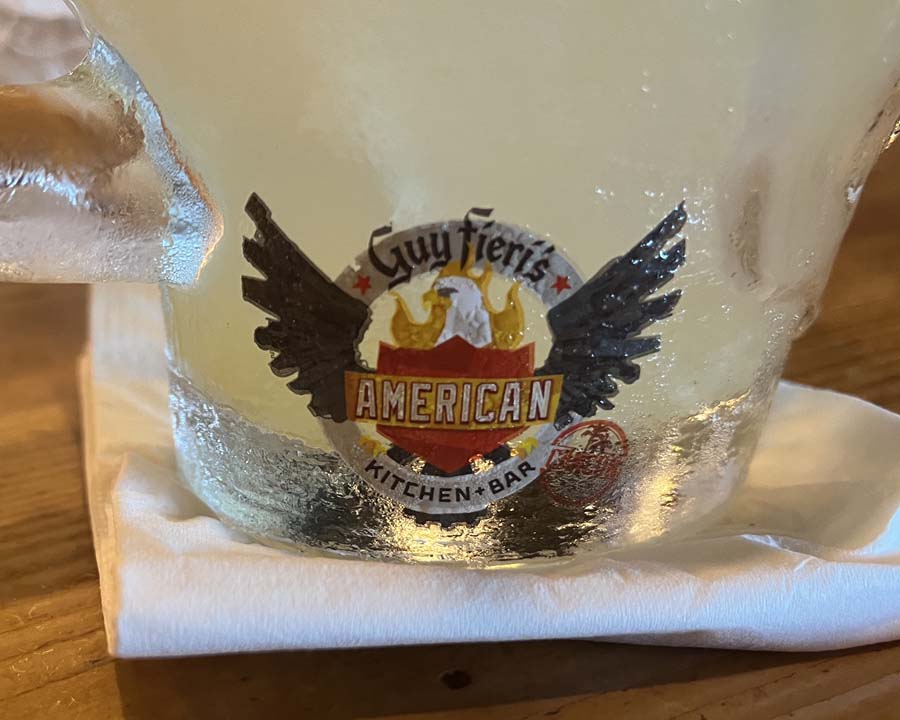 The picture below is taken out the airplane window as we depart Cancun. You can see a LITTLE tiny ship down below. There are actually a few of them kind of in a line, they might be ferries?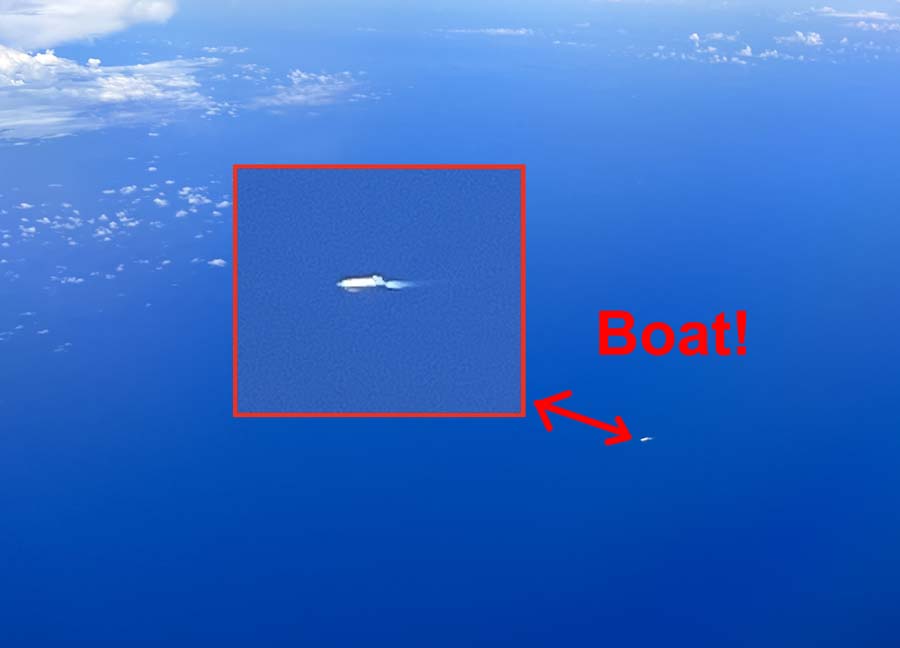 Mexico Tourist Vacation Trip Notes (things to remember):
These are not for you, they are for Katherine and I to look at NEXT time we go away on a weekend trip to Mexico...
If the destination is Cancun, some people like staying on the island "Isla Mujeres". It means "Women Island", LOL.

Possibly bring a small umbrella - either for the sporadic rain showers or to keep the sunshine from beating down on you.

Brian needs a VERY lightweight, small, shoulder bag or fanny pack or backpack that when empty can be rolled up inside his luggage. This is for half day trips, or beach excursion, or whatever. Holds a towel and bottle of water, or whatever.
That's it! That's all the pictures and movies. All done!