2023 Howard Wilson Memorial Service

(11/4/2023 - 11/5/2023)

Howard LeRoy Wilson (December 8, 1932 - August 18, 2023)



On 11/4/2023 Brian and Katherine (and Eli) flew together from Austin to Corvallis, Oregon to joined the rest of our family to celebrate the life of Howard Wilson. The ceremony was held in the Elks Club of Corvallis, Oregon. Click on any picture below for the highest resolution (biggest) version.
The video below is two-parts. The first bit is from the actual memorial service, and the final bit is spreading Howard's ashes at the headwaters of the McKenzie River: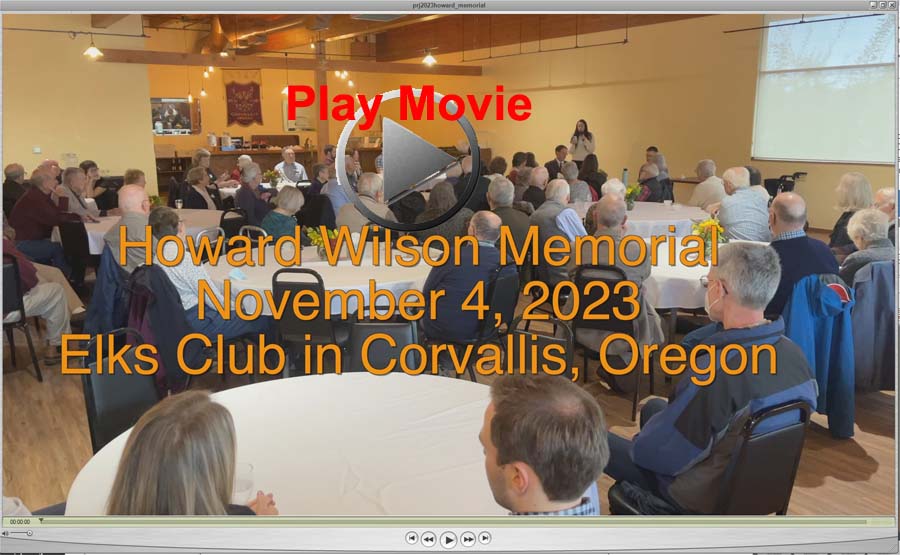 Howard Wilson's obituary (you can find one online version by Clicking Here.)
Howard LeRoy Wilson
December 8, 1942 - August 18, 2023
Howard LeRoy Wilson was born December 8, 1932 and died peacefully at Corvallis Caring Place in Corvallis on August 18, 2023. The second of three sons, Howard was born to Ralph and Erma Wilson in his grandmotherís bedroom in Polk County, Oregon. His parents raised him on their 52-acre farm seven miles east of Salem, through the Depression. They survived on produce from the garden, butter his mother made, meager income from grain and seed farming, and any extra work his father could find. Howard was his motherís chief chicken helper, and after his chores were done he remembered he was free to roam the rocky hillside waging wars with imaginary enemies.

He attended the one-room Bethel Elementary School for grades 1- 8. After the first grade he was the only student in his grade until he graduated. He voraciously read all the books in the school library, ordering as many as he could from the mobile truck that came around every month. He attended Parrish Junior High for 9th grade, followed by Salem High (the only one in town then). Every morning Howard and his older brother Ralph Jr. would ride into town with their father, who was by then the manager at Ford Valley Tractor Company. They would be dropped off at 14th and D Streets, and walk on to the high school.

After graduating in 1950, Howard attended Willamette University. Between working summers at a grain warehouse and his fatherís generous support, he was able to graduate in four years with a degree in Mathematics, continuing on for a fifth year to earn his teaching certificate in 1955. He remembered Dr. Chester Luther with great respect, as the one who taught him how to be a teacher. During his time at Willamette Howard enjoyed managing the football, basketball, and baseball teams, keeping score and stats.

Howard taught mathematics (not math!) for one year at Ashland High School before being hired by Eastern Oregon State College, who needed a mathematics instructor badly enough to hire him before he earned a Masterís degree. During 1956-1963 while teaching at EOSC, he completed his Masterís degree and began work on a PhD through a National Science Foundation program at the University of Illinois. While there he met Virginia Latshaw, also studying through the NSF program. They married in August 1960.

Howard began teaching at Oregon State University in 1963 and taught mathematics in the Science Education Dept. for 30 years, retiring in 1993. After finishing his PhD he came on as an associate professor, later earning a full professorship, serving as associate chair and head advisor for 10 years, and then lower division head until retirement. He advised numerous students over the years, taking great delight in his international students. During a 1972-73 sabbatical, he chaired the Mathematics department at Goroka Teacherís College in Papua New Guinea through UNESCO. On a return trip to Goroka in 2008, he was remembered and celebrated by staff now teaching there.

Following retirement from OSU Howard worked for Hewlett-Packard, training teachers across the nation to use the new HP handheld graphing calculators in their classrooms. He and Virginia enjoyed many trips during those years, several through Elderhostel Ė Howard was a life-long learner. He was a PBS addict, an avid Democrat, and a strong proponent of education. He was also a man of the soil all his life, cultivating a vegetable garden, fruit trees and flowers Ė beautiful dahlias - wherever he lived. His grandkids loved his fruit leather. He enjoyed having citrus trees in his yard when he and Virginia lived as snowbirds for some years in Cathedral City; homemade marmalade became a passion then.

Howard and Virginia were long-time members of First United Methodist Church of Corvallis. They were active for many years in various capacities, including the 4F group with whom they enjoyed pinochle, camping, and other outings.

After Virginiaís death, Howard lived the last part of his life at Corvallis Caring Place. He considered it his home and was warmly supported, with the help of Evergreen Hospice, through the end of his battle with congestive heart failure.

Preceding Howard in death are his wife Virginia, his parents Erma and Ralph Wilson Sr., his brother Ralph Jr. and wife Shirley, and younger brother Walter. He leaves behind his daughter Cheryl Hoffmann (Mark), son Randy Wilson (Ramey Echt), son Brian Wilson (Katherine Chung); grandchildren Catie, Ari, Nate (Elizabeth), Eli; and great-grandson Owen. We will miss him.

There will be a memorial gathering at the Corvallis Elks Lodge on Saturday, November 4 at 11:00am. Please come to celebrate and share your memories of a fine man.
[End of obituary]
Some photos from the memorial and surrounding events below:
Right as we arrived into Portland Airport (PDX), Katherine/Eli/Brian picked up Ari (who flew in from France) near the Portland airport, and then we drove south to Salem where some of us met up at Restlawn Memorial Gardens at 201 S Oak Grove Rd, Salem, OR to bury Howard's ashes: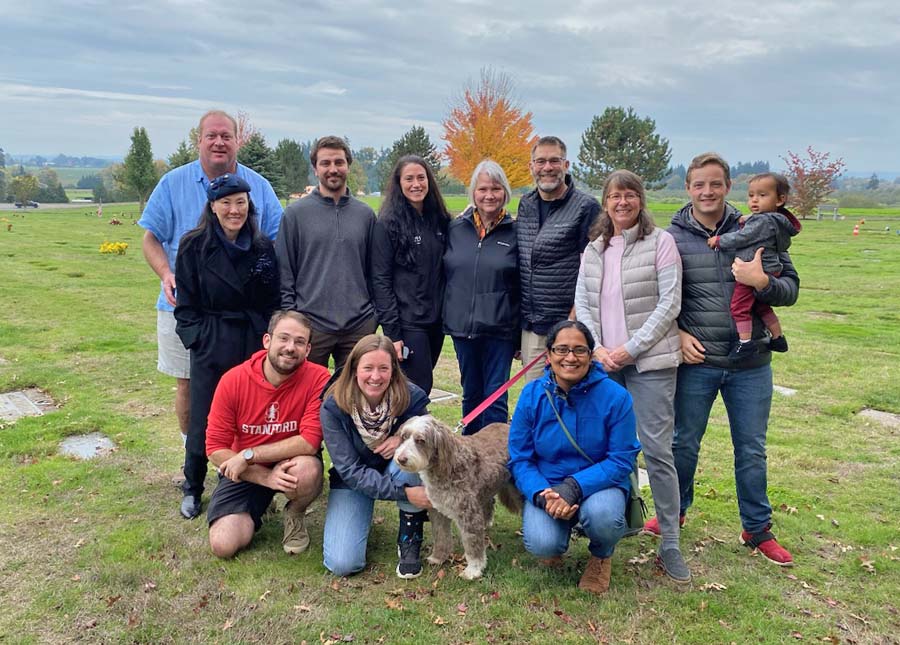 This isn't the memorial service, this is the "burial". Just very close family, and this little mobile stage. We did the same thing for our mother Virginia (Howard's wife) when she passed. Click Here to see that.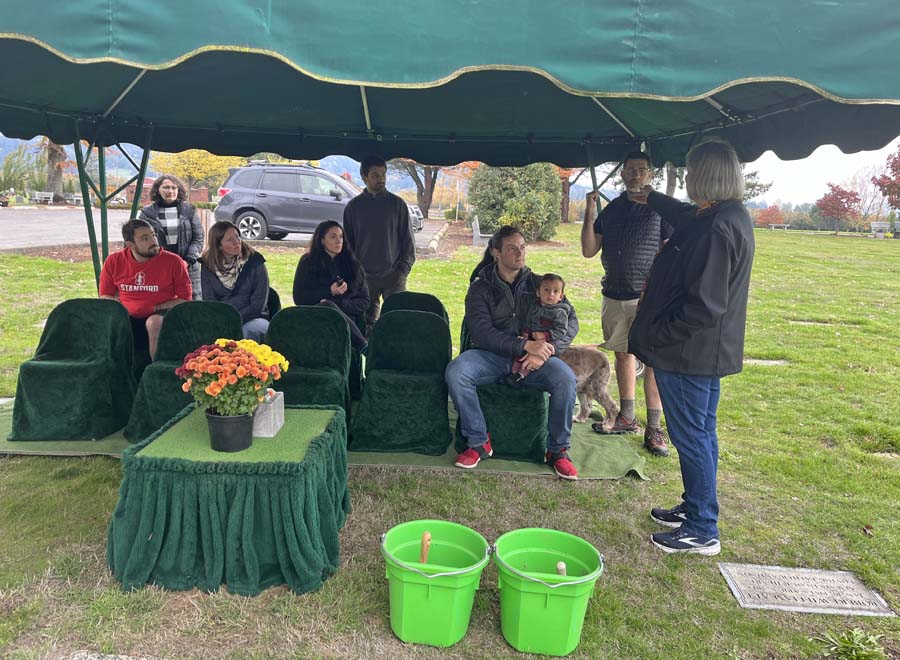 Nathanael helped put his grandfather Howard's ashes in that little hole...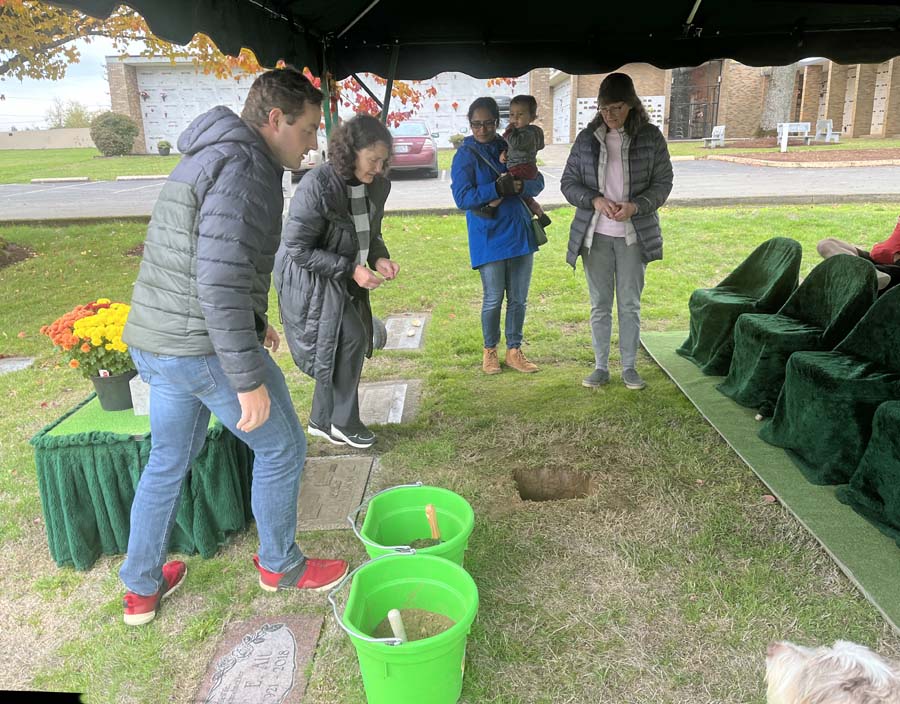 If people wanted to, they could sprinkle a little dirt on the grave. Below Karen Linder is doing that.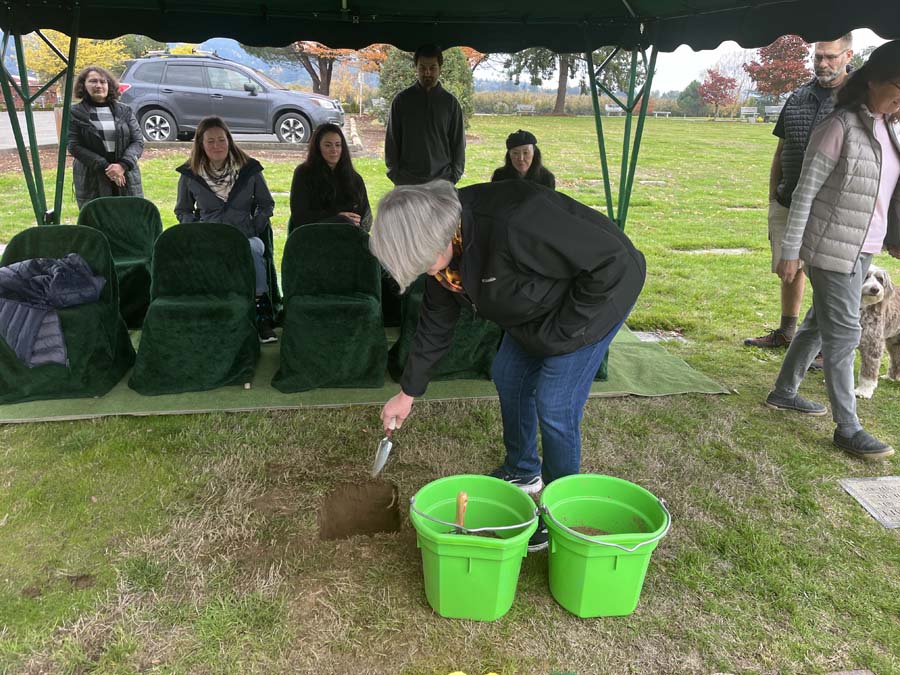 A picture of the headstone. Virginia Wilson (Howard's wife) was buried here in 2018 and at the time this headstone was created. Now they will fill it out with Howard's date of passing.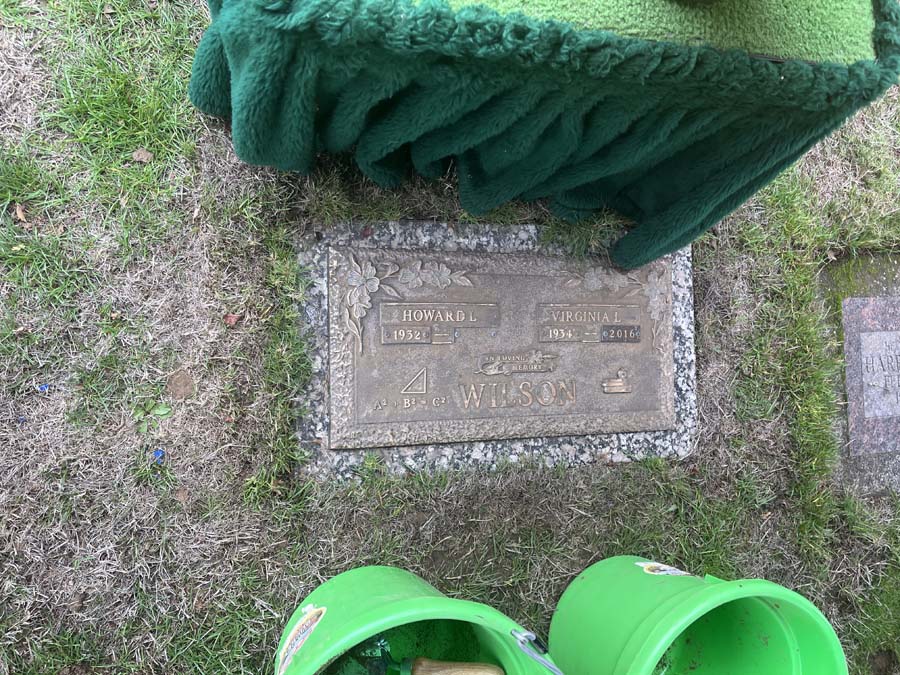 The next day at 11am, Saturday, November 4, 2023 we had the memorial at the Corvallis Elks Club #1413 located at 1400 NW 9th St, Corvallis, Oregon. Eli helped me setup a slide show on the big TV.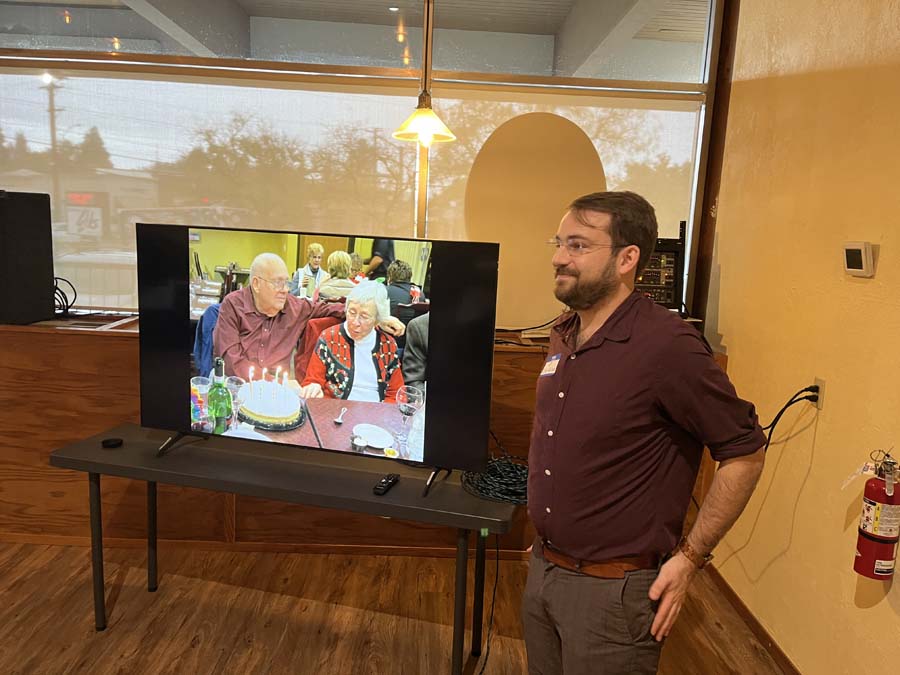 Kind of panning across the room from left to right I took a few pictures of the crowd.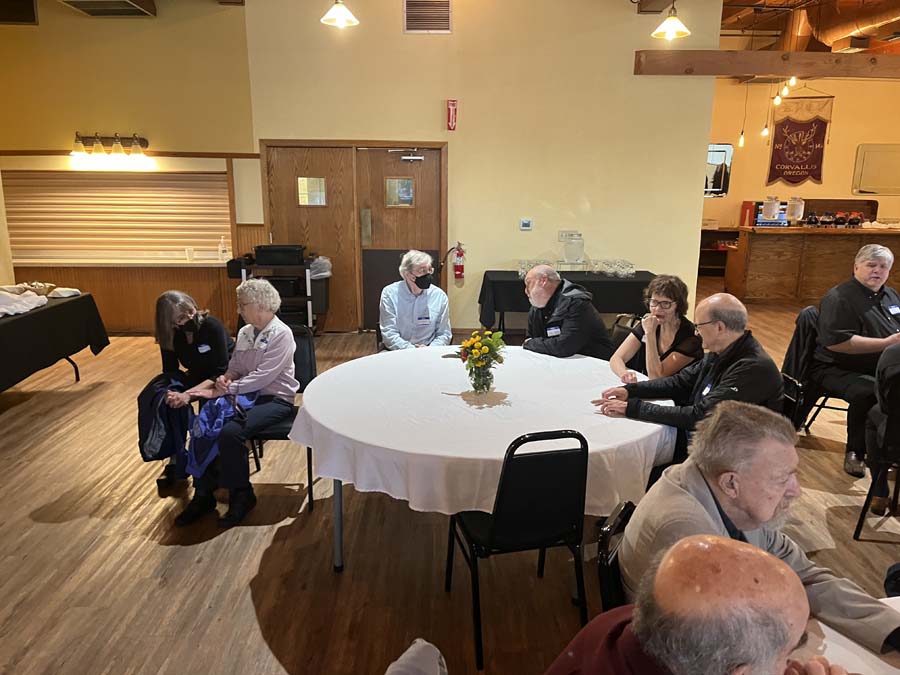 Crowd 2: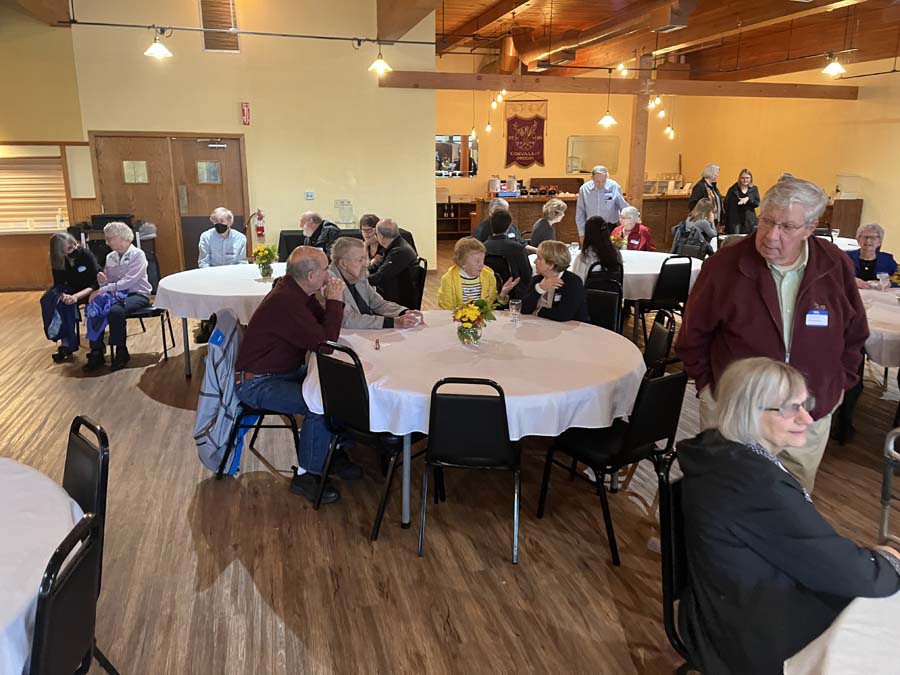 Crowd 3: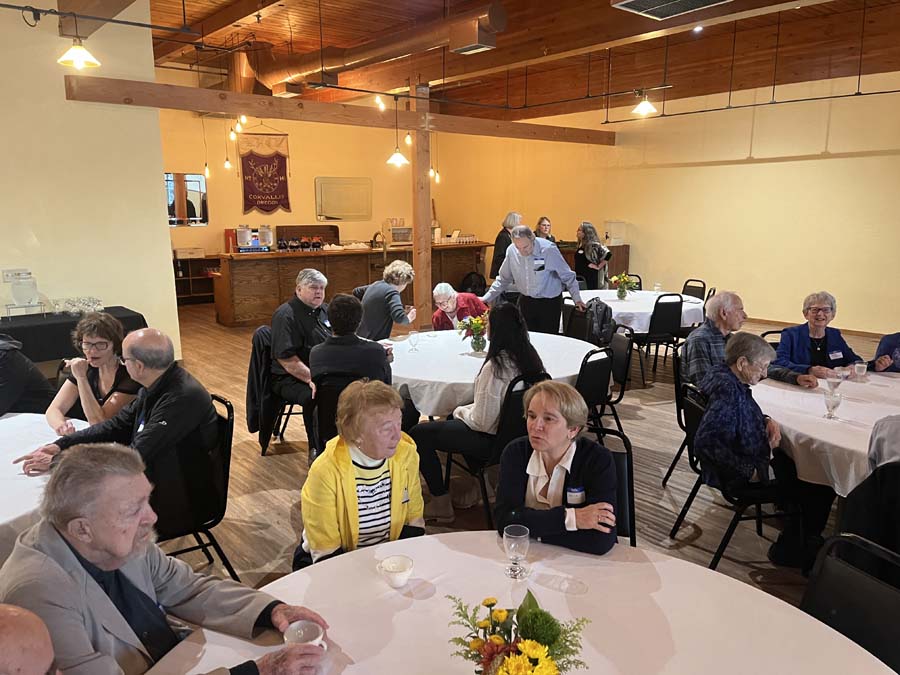 Crowd 4: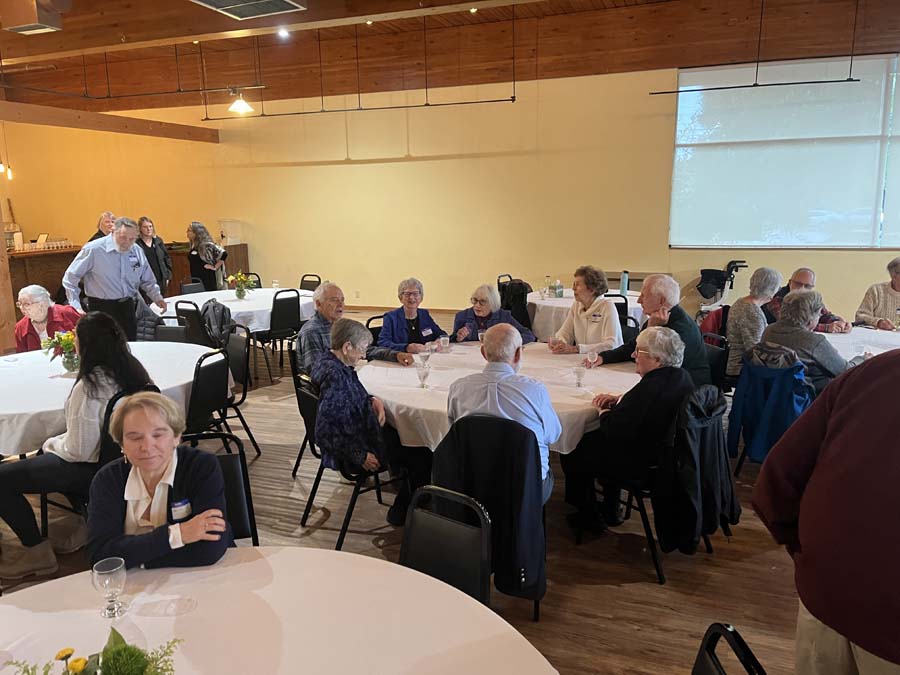 Crowd 5: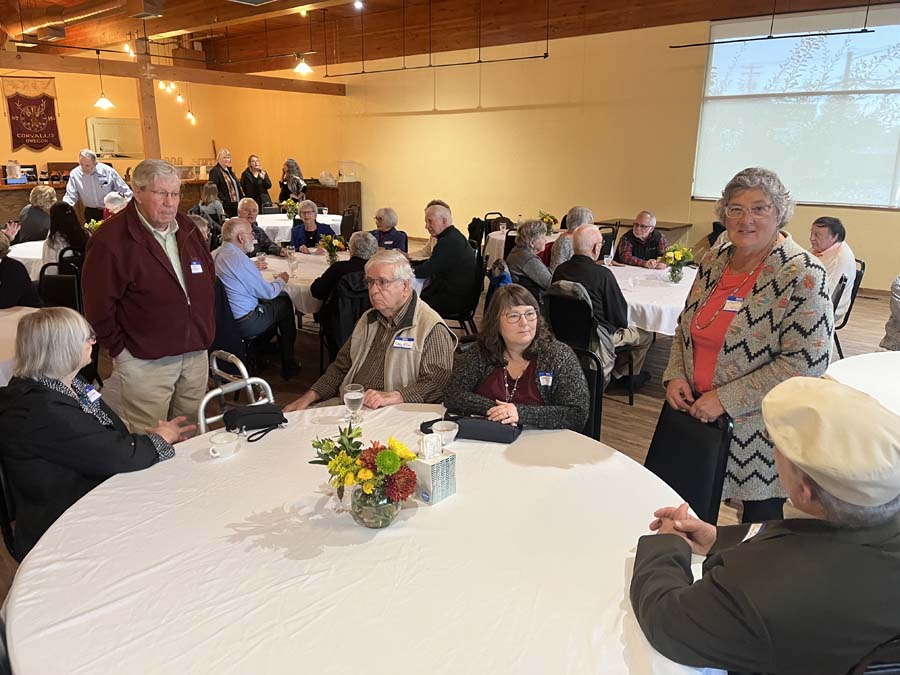 Crowd 6: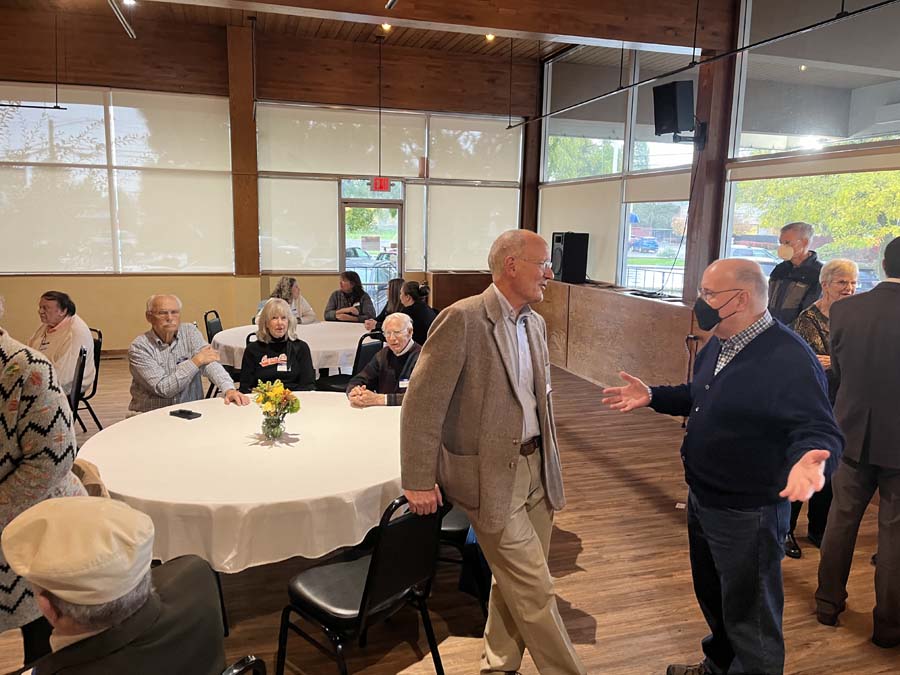 Crowd 7: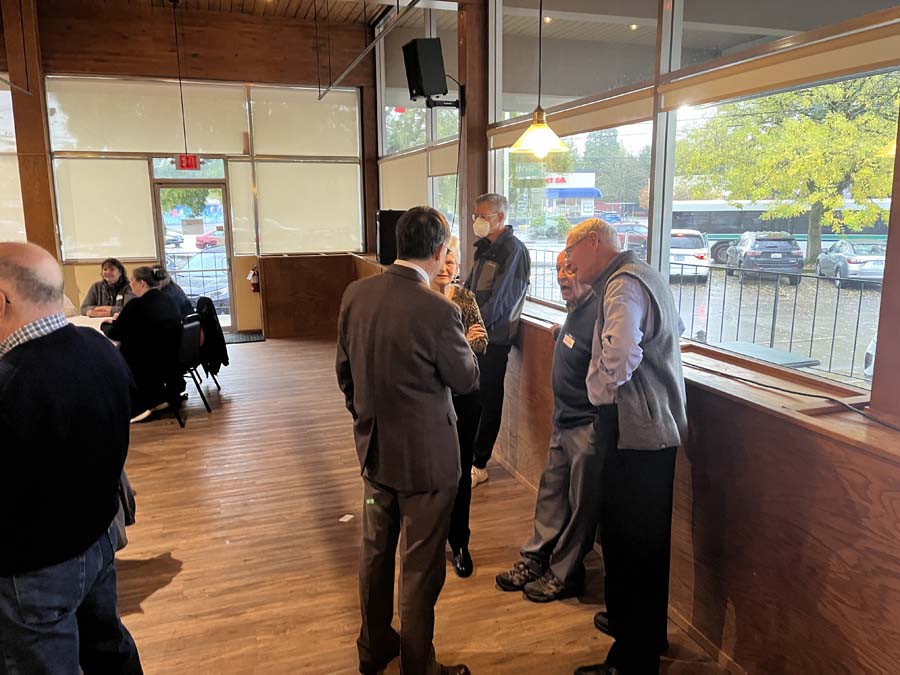 After the memorial service it was just down to a few of us. We gathered in our hotel lobby (Courtyard by Marriott in Corvallis) and a few family took this picture below together.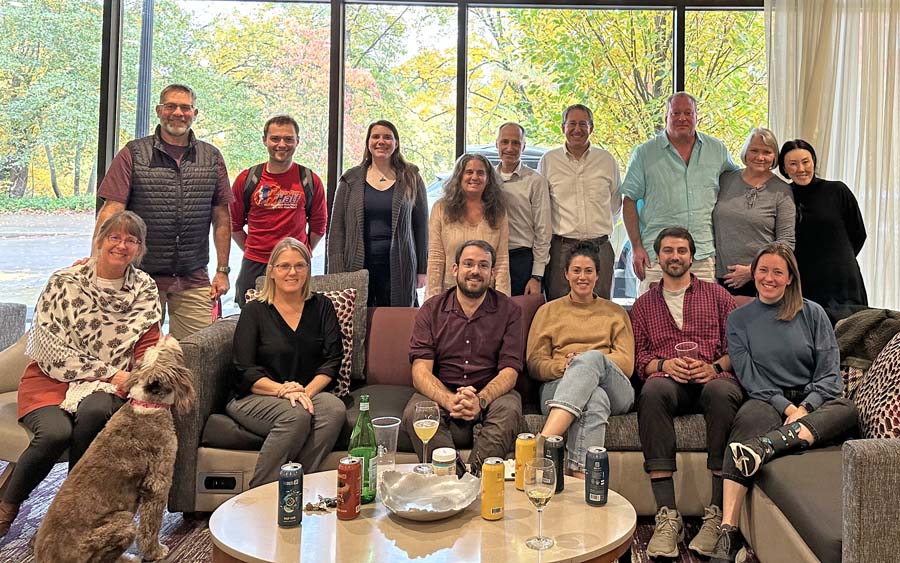 Walking two blocks to dinner with the crowd above, we noticed the fall colors of the trees. The river in the picture below is the "Willamette River" about at 400 SW 1st St, Corvallis, Oregon right outside the hotel.
Same location facing up the street to see more trees.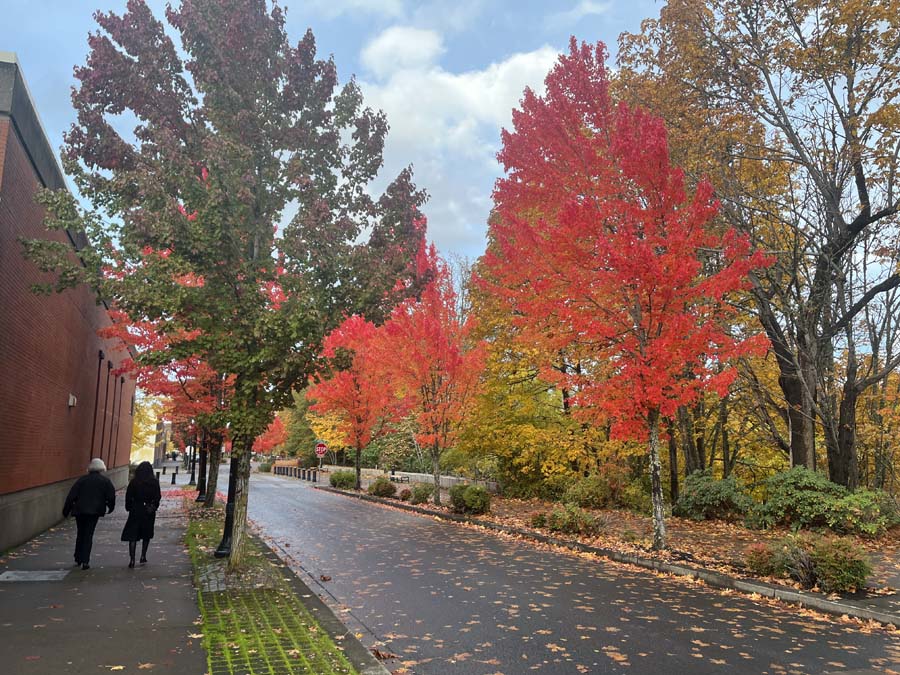 Now facing back down the street.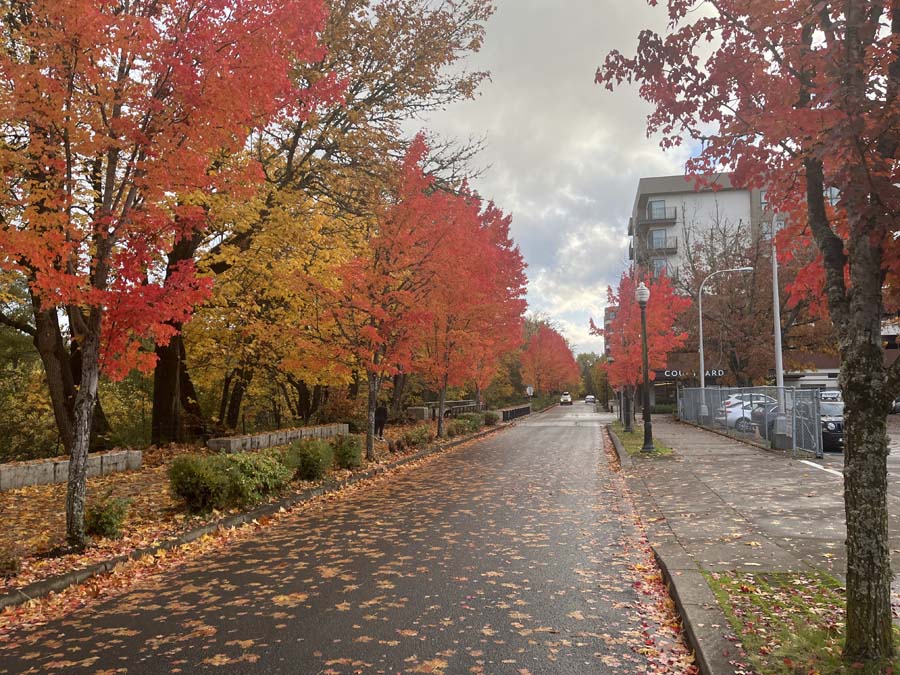 We had a relaxed dinner at "The Brass Monkey" at 130 SW 1st Street, Corvallis, Oregon. Below Cheryl, Jessica, Katherine, and Ari are all drinking from a drink with a fire burning at the center called a "Volcano" or something like that.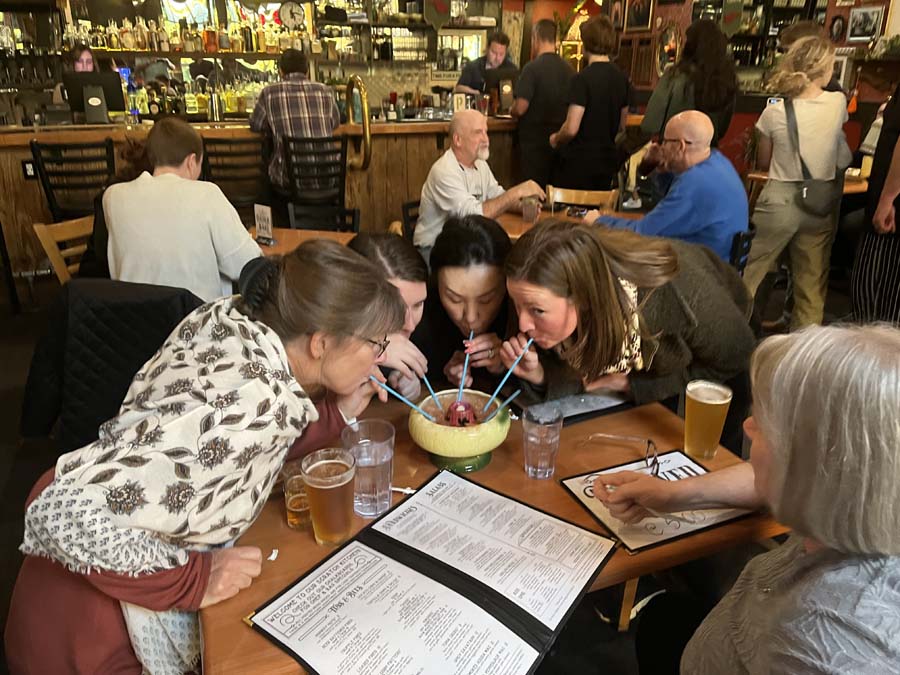 The next day Katherine, Eli and Brian drove back to the airport for their flight home. We passed by the farmhouse where Howard Wilson grew up, and where we played as kids. It is still owned by family that works the farm. The original Salem farmhouse is seen below, with an iconic tire swing on the tree. I swung from a tire swing hung from that tree 50 years ago. Jessica Wilson and Gail Crawford served us all lunch and then we wandered around the property. Eli picked up some Hazelnuts off the ground (the current farm produce).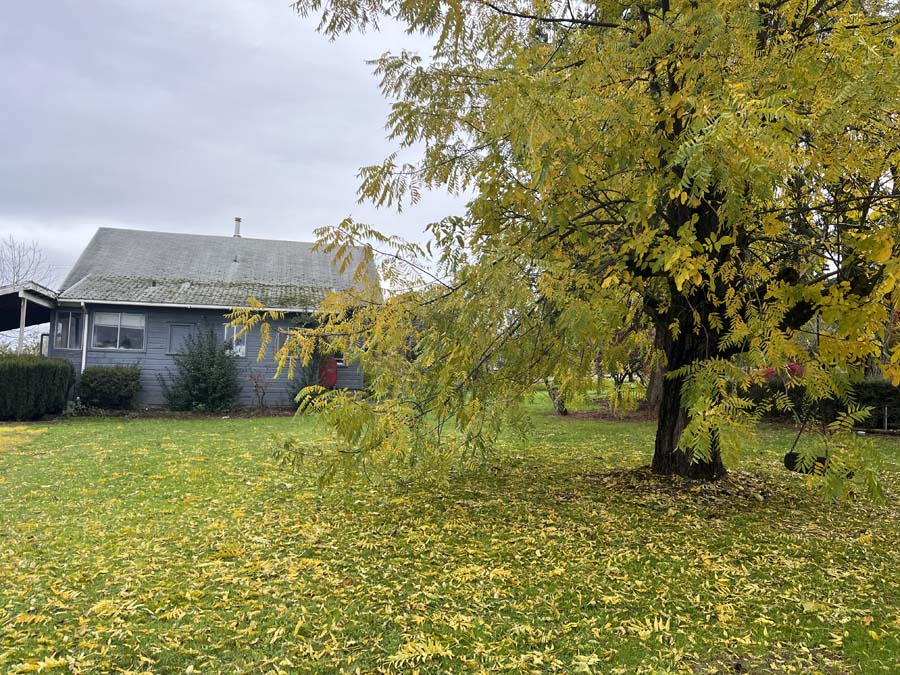 Our family farm (now owned by my cousin) has grown several things over the years. I worked there when it grew "grass seed" for lawns. Later it grew sod for lawns. And most recently it is growing Hazelnuts (known locally as Filberts). The brand of spread that our family farm Hazelnuts goes into is called "Nutlicious Hazelnut Butter". My cousin who owns and runs the farm gifted me the container of it below. The picture below is TSA taking it away because they suspect it is highly explosive. (It is not explosive.) Katherine took a picture and I ordered the same container of EXACTLY the same product from online so I could try it.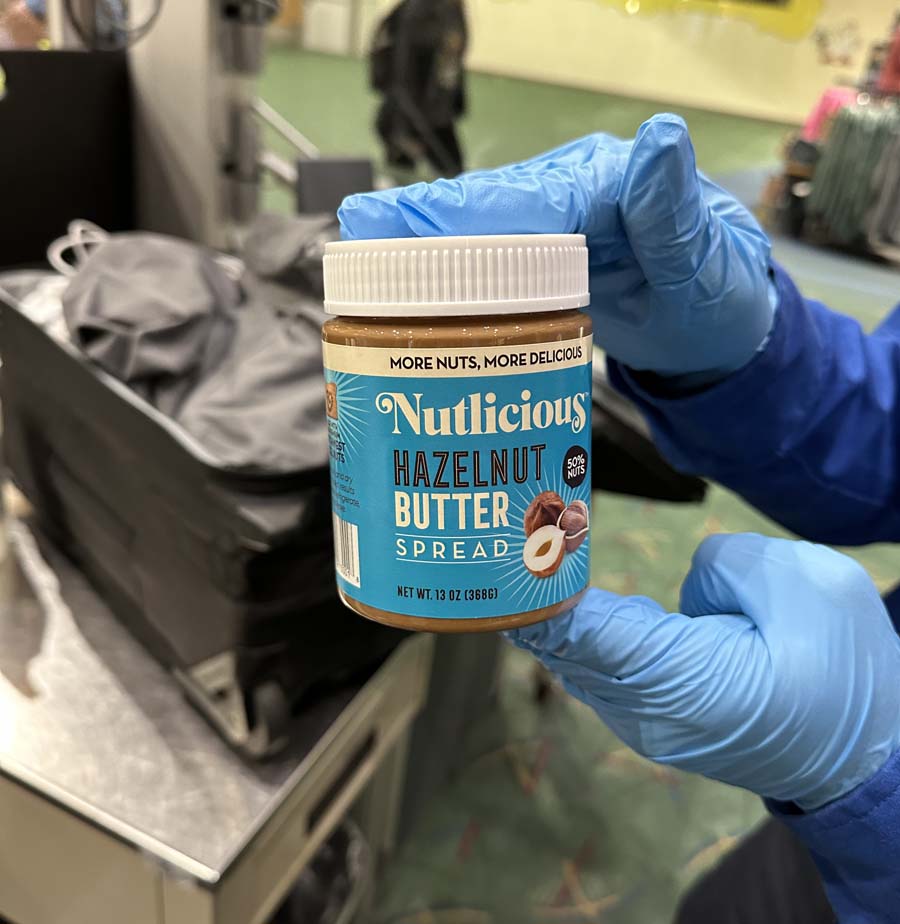 All the slides are below lower down on this page, but here is a video of the "slideshow" shown at the memorial service: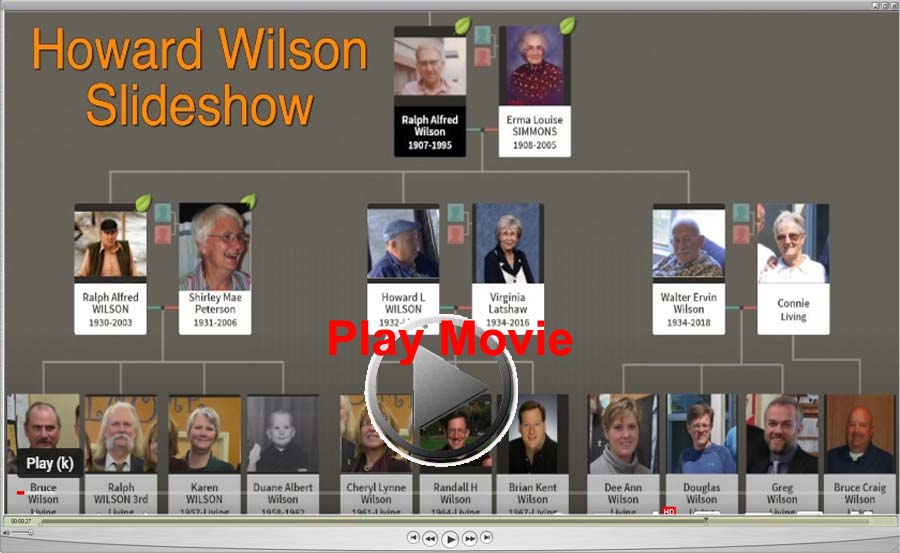 Slides from the memorial service slide show are seen below: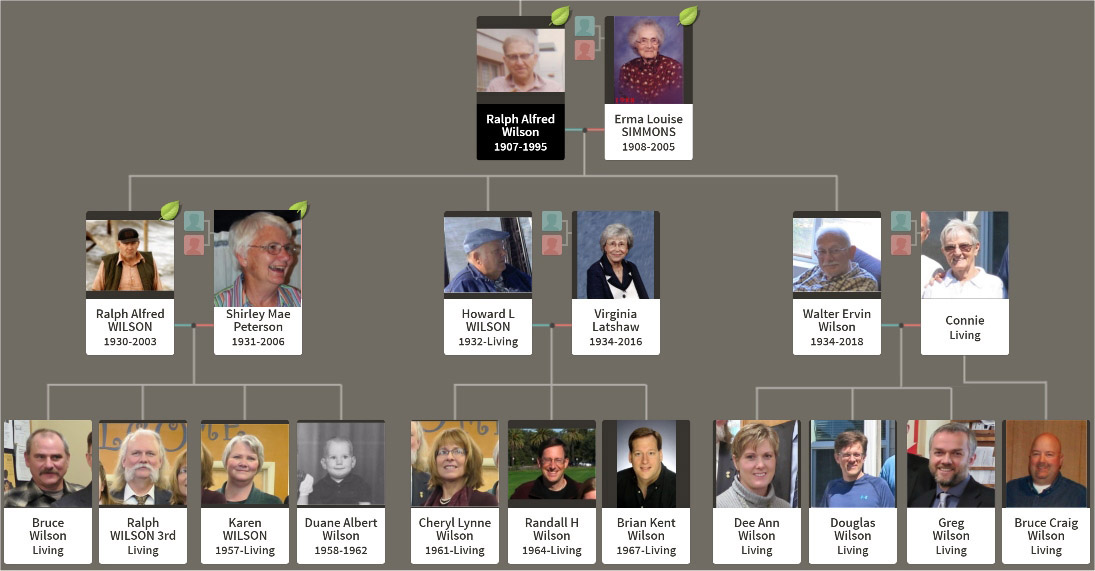 The slides below from the slideshow all appear in APPROXIMATELY time order of Howard Wilson's life. Some of the exact dates are not known.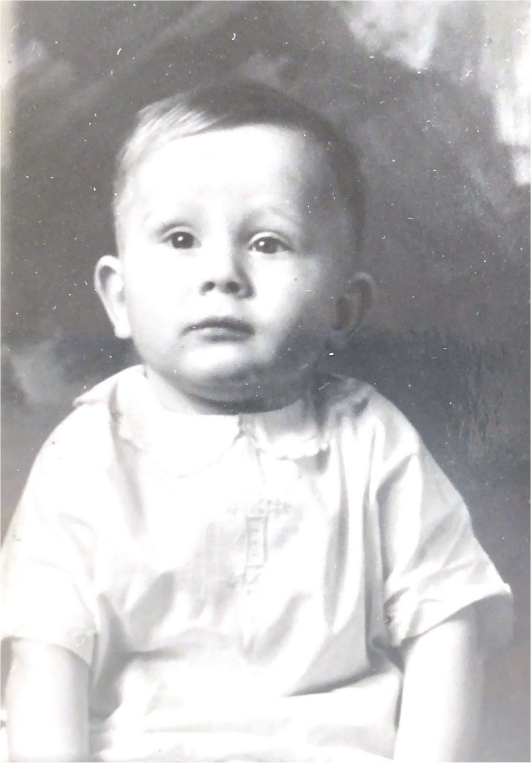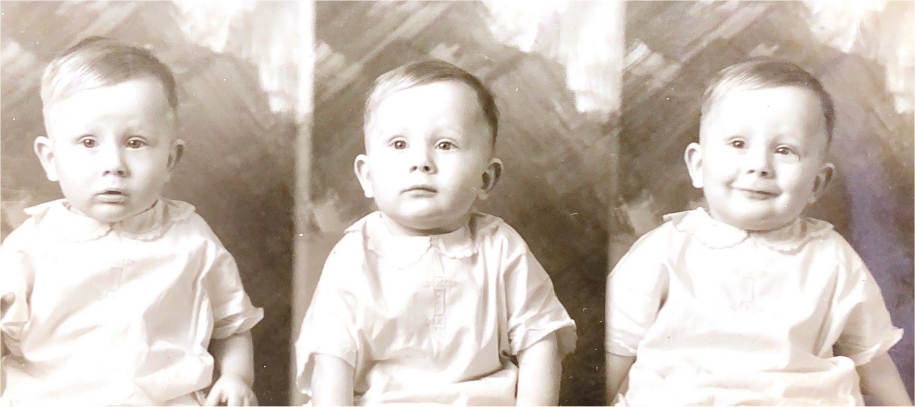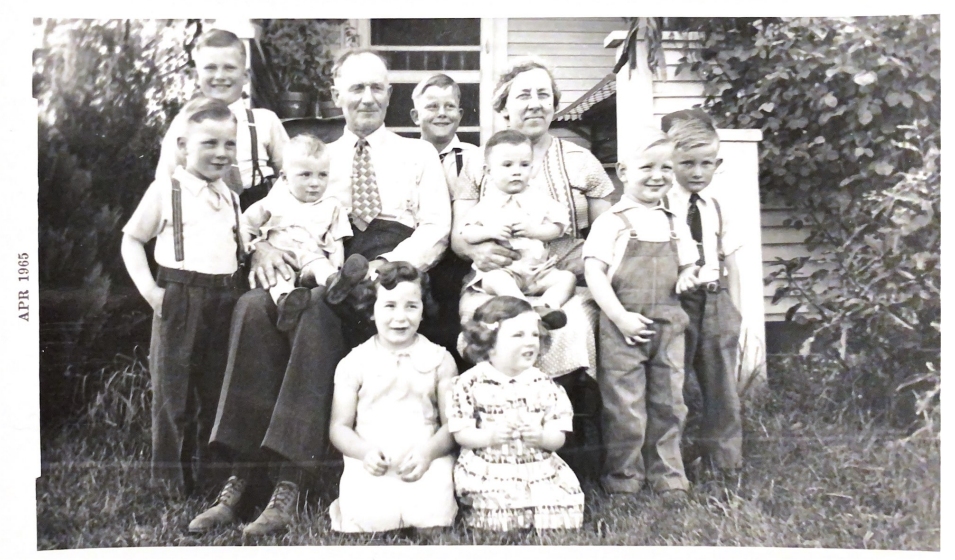 The picture below is Howard Wilson (on far left) with his two brothers: Walter Wilson is in the tree and Ralph Jr is on the right. You can tell by their sizes that Ralph Jr was born first, then Howard, then Walter.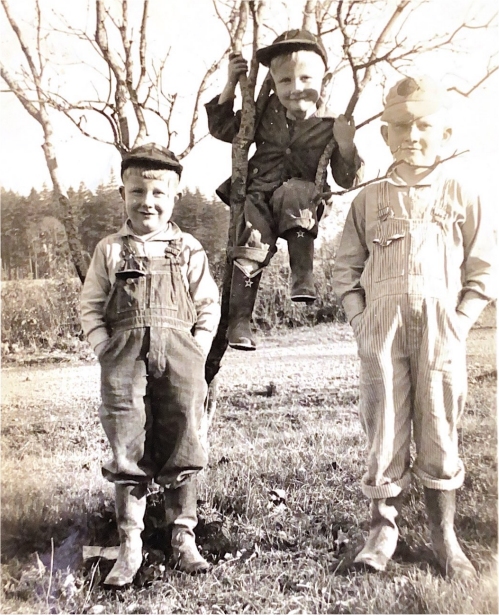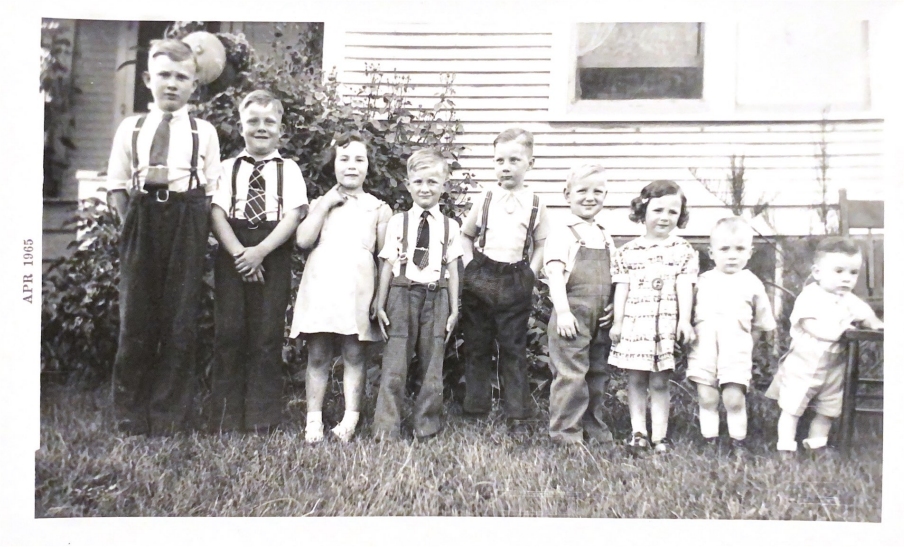 From left to right: Howard, Walter, and Ralph. Three brothers. This picture is sometime around 1940 - 1945.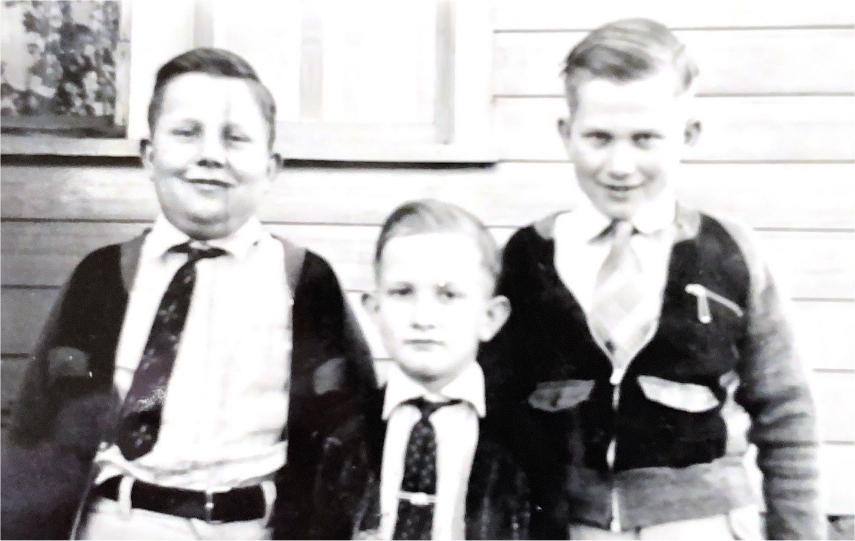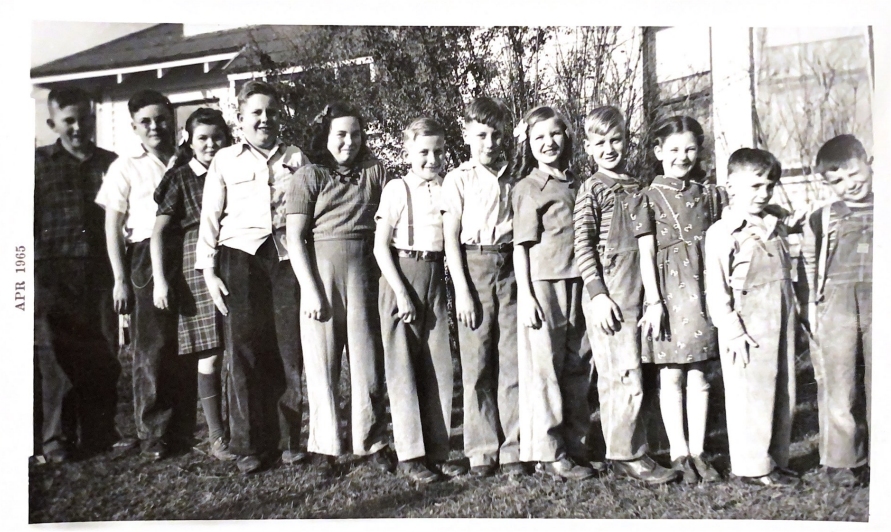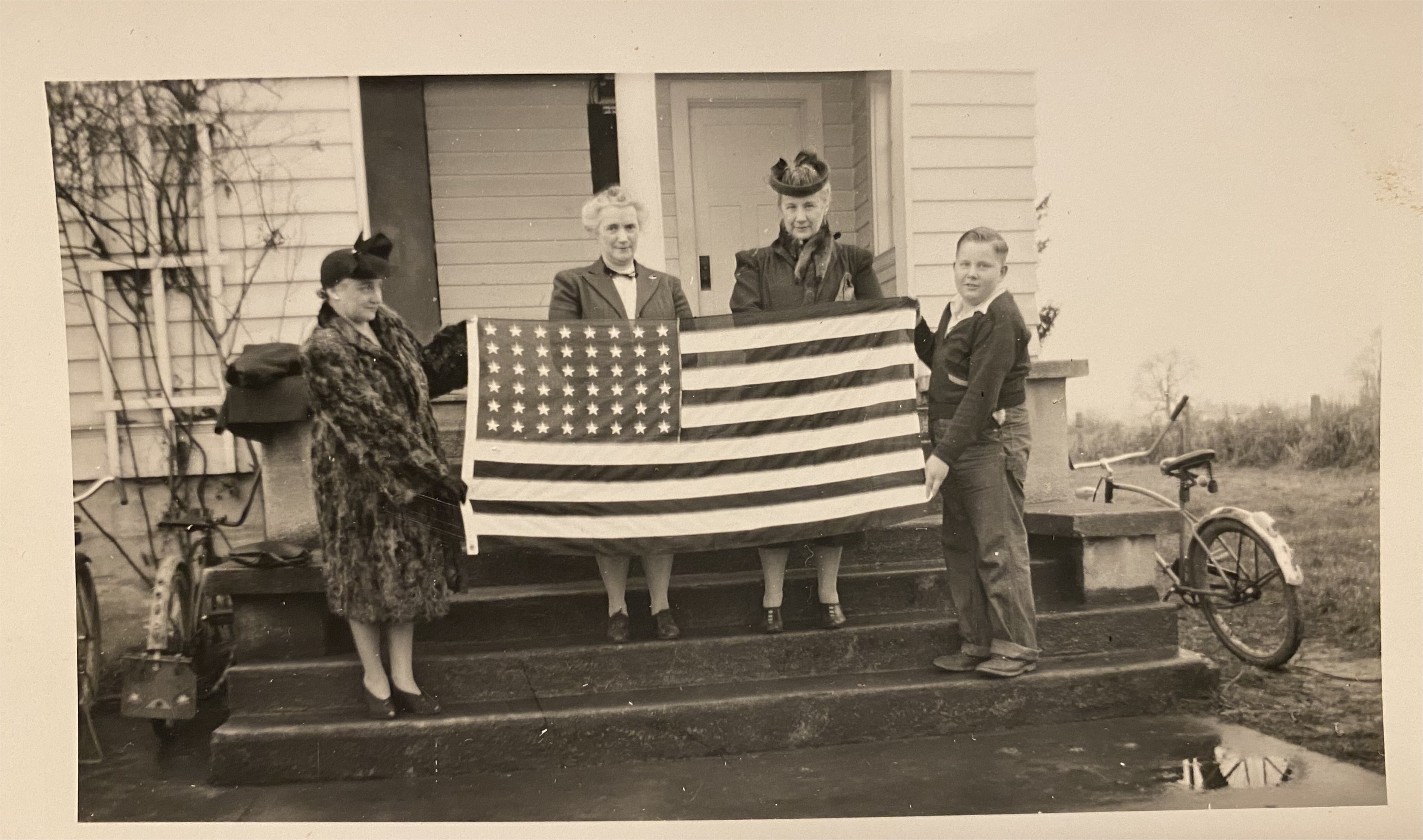 Howard Wilson with chickens.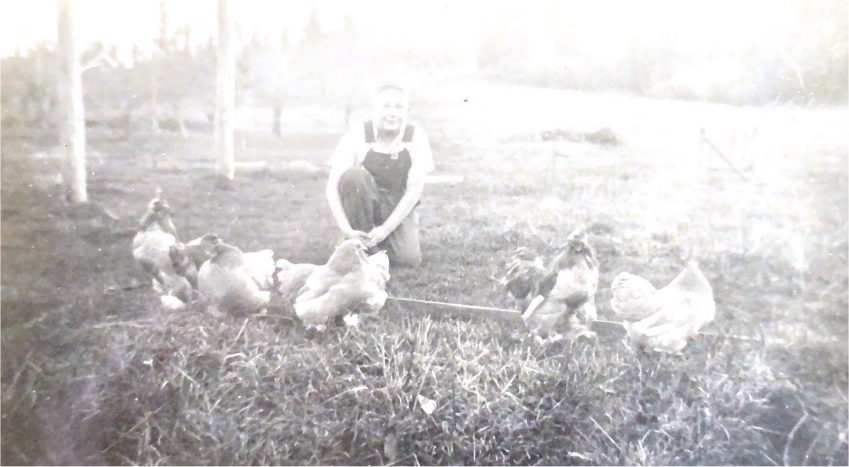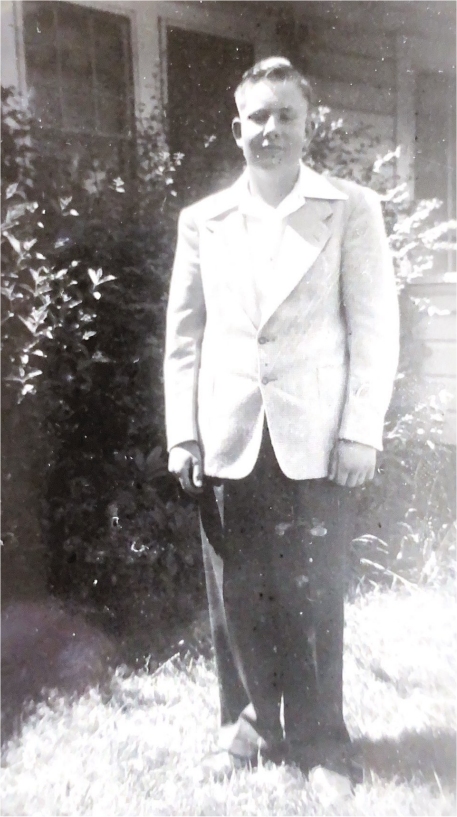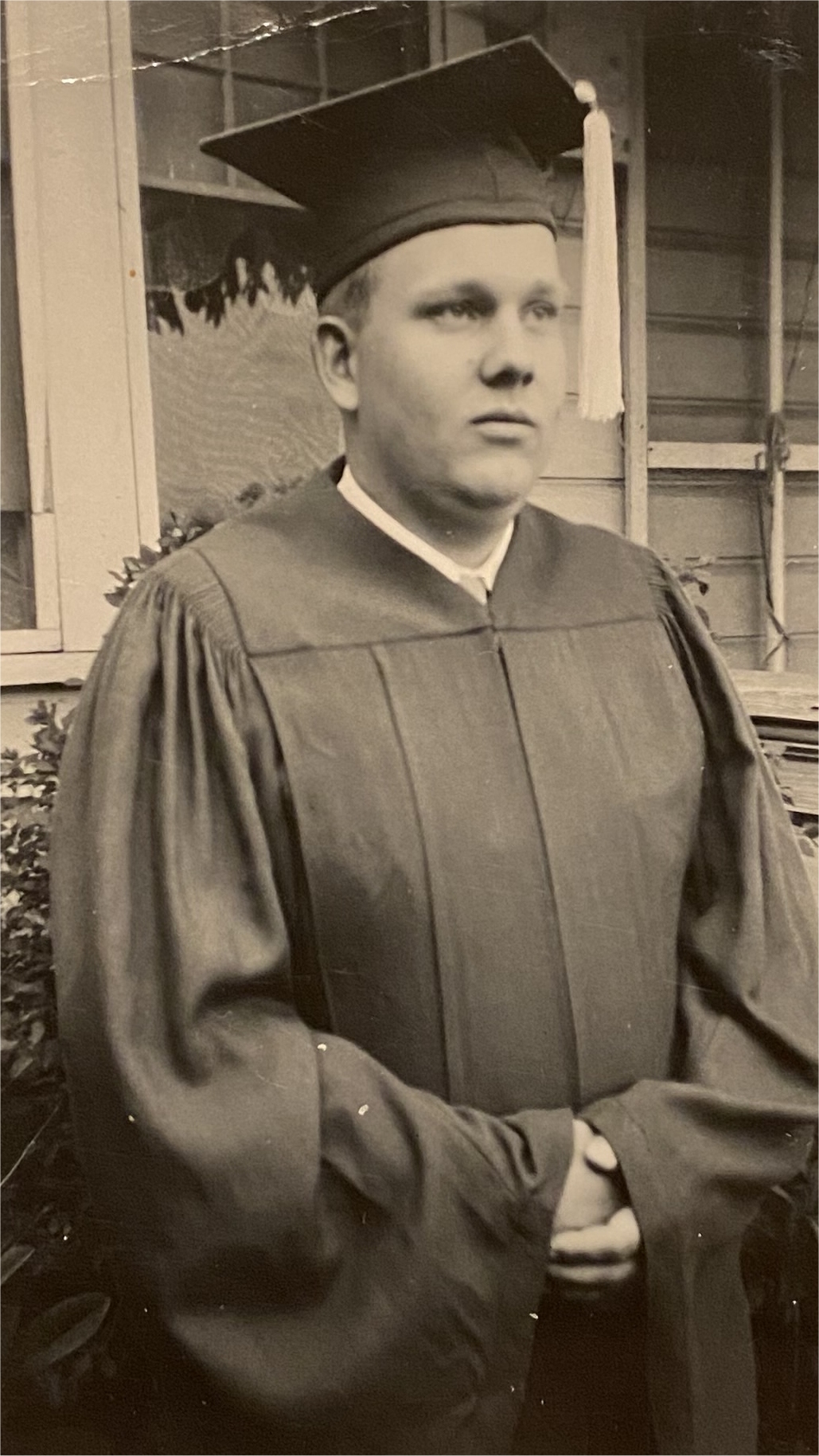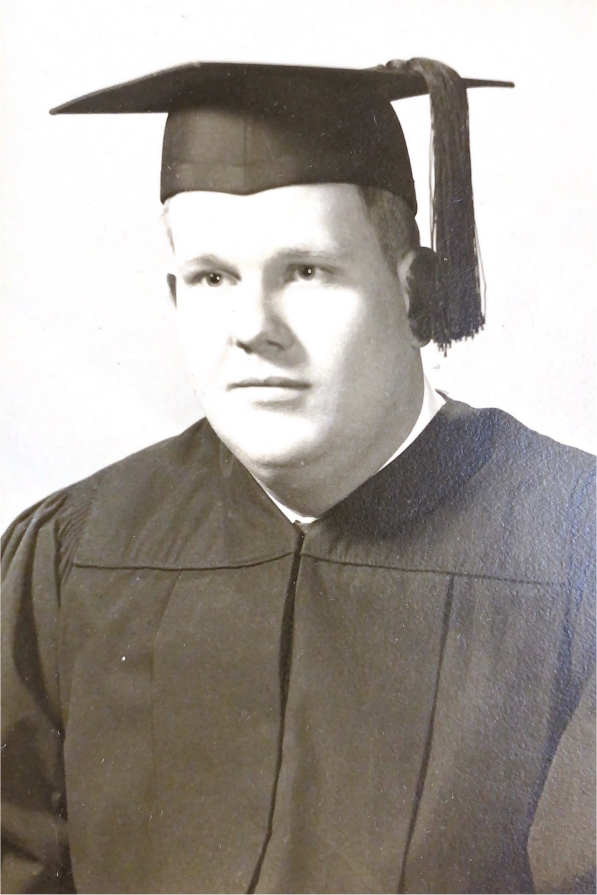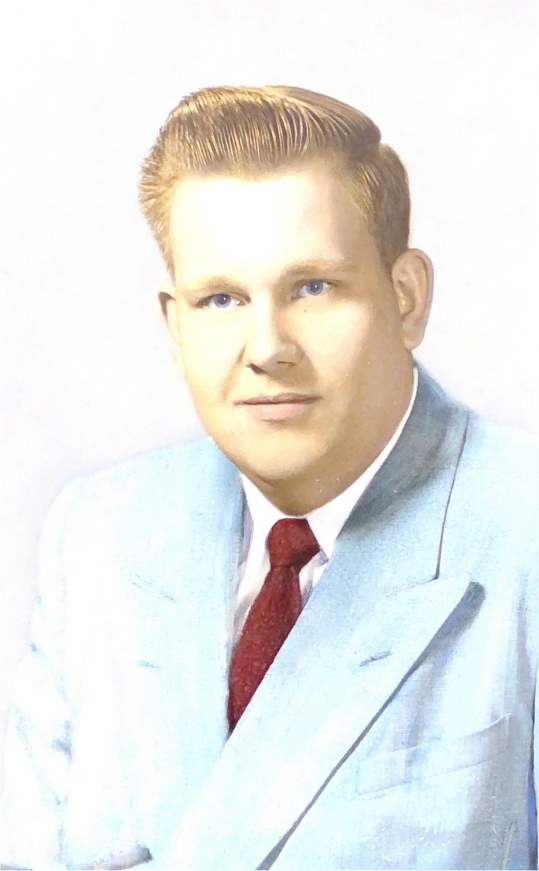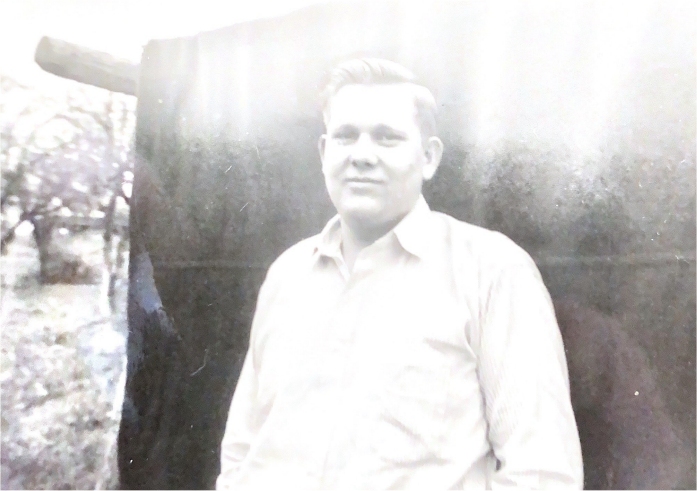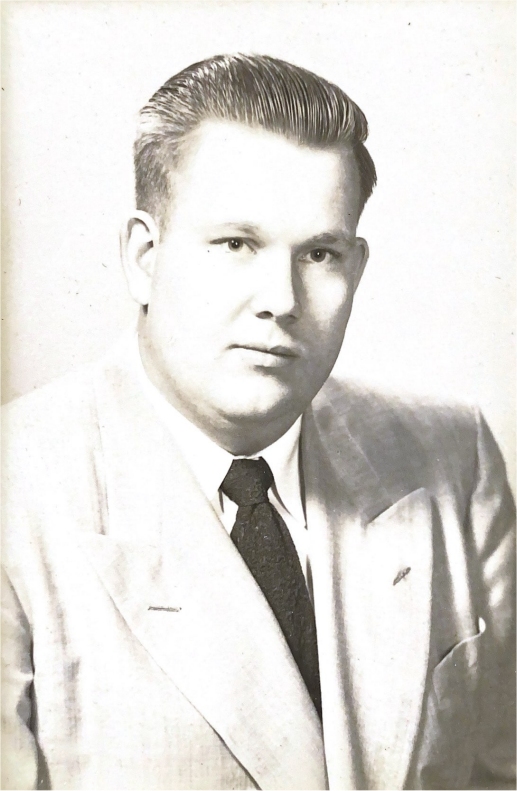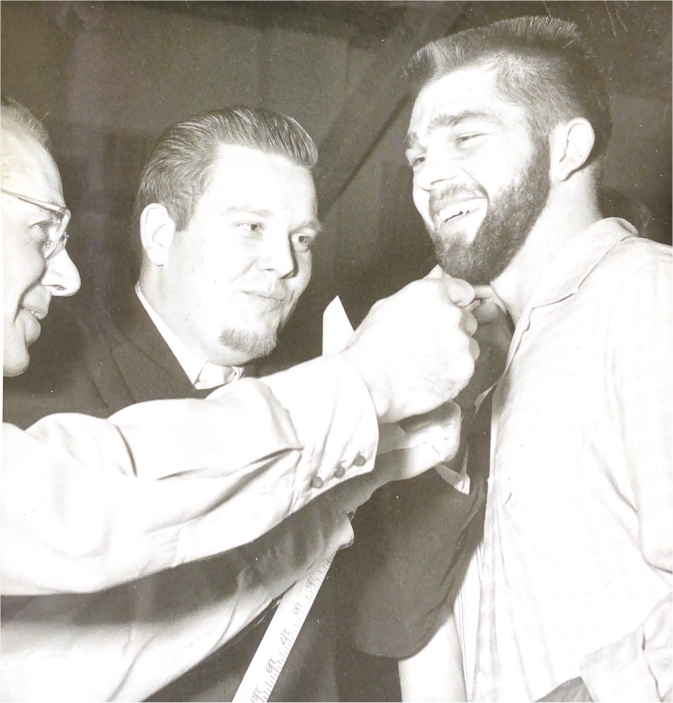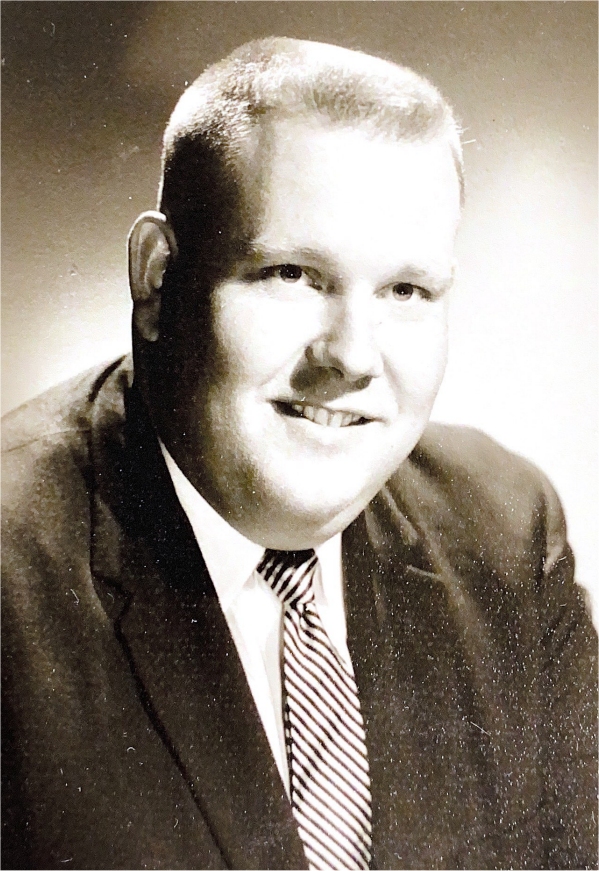 Howard Wilson married Virginia Latshaw in August of 1960.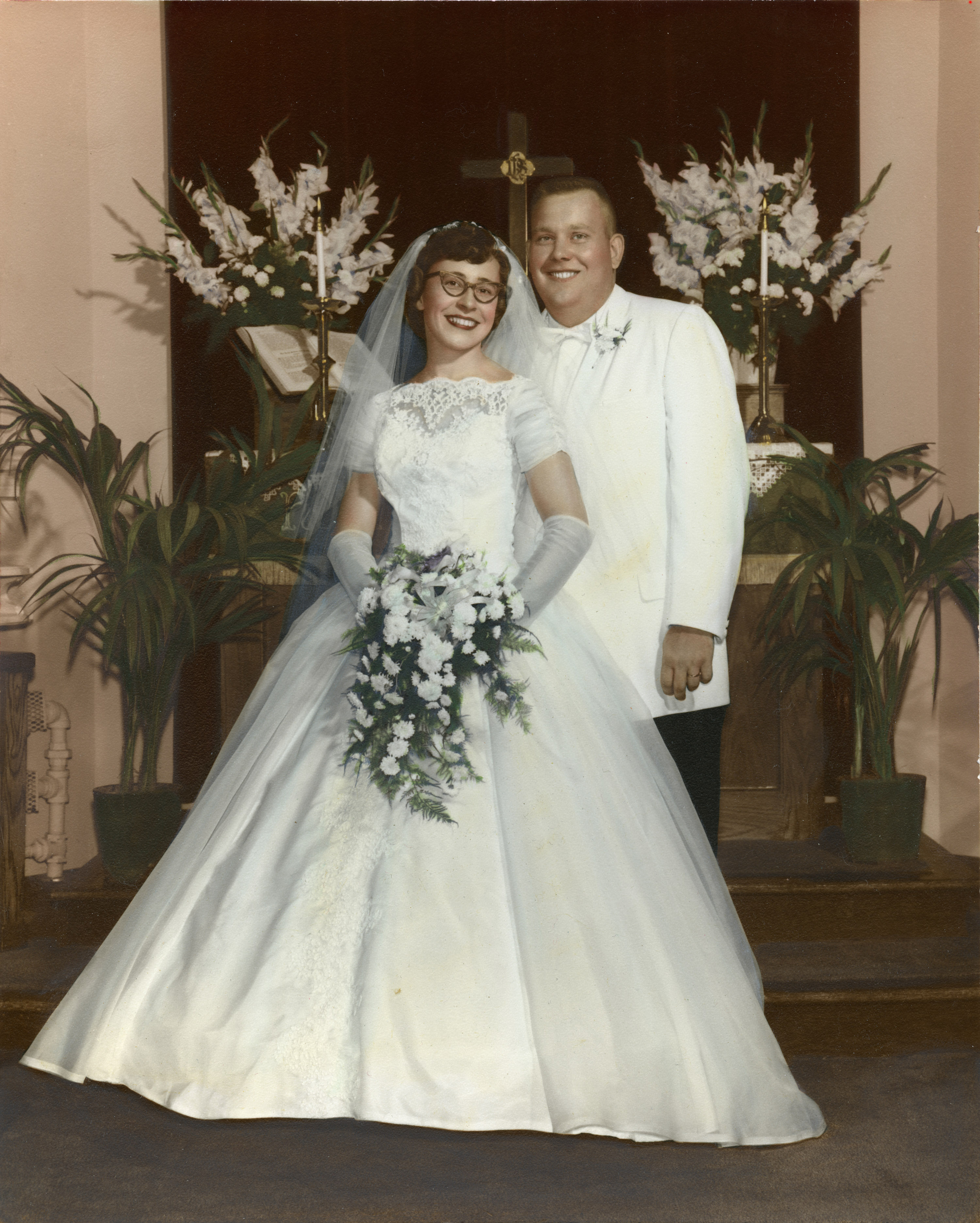 The two women on the far left of this photo are Carol Latshaw, then Miriam Latshaw, who are Virginia (the bride's) sisters. On the far right is clearly Ralph Jr (Howard's older brother) and on the other side of Howard is Walter his younger brother.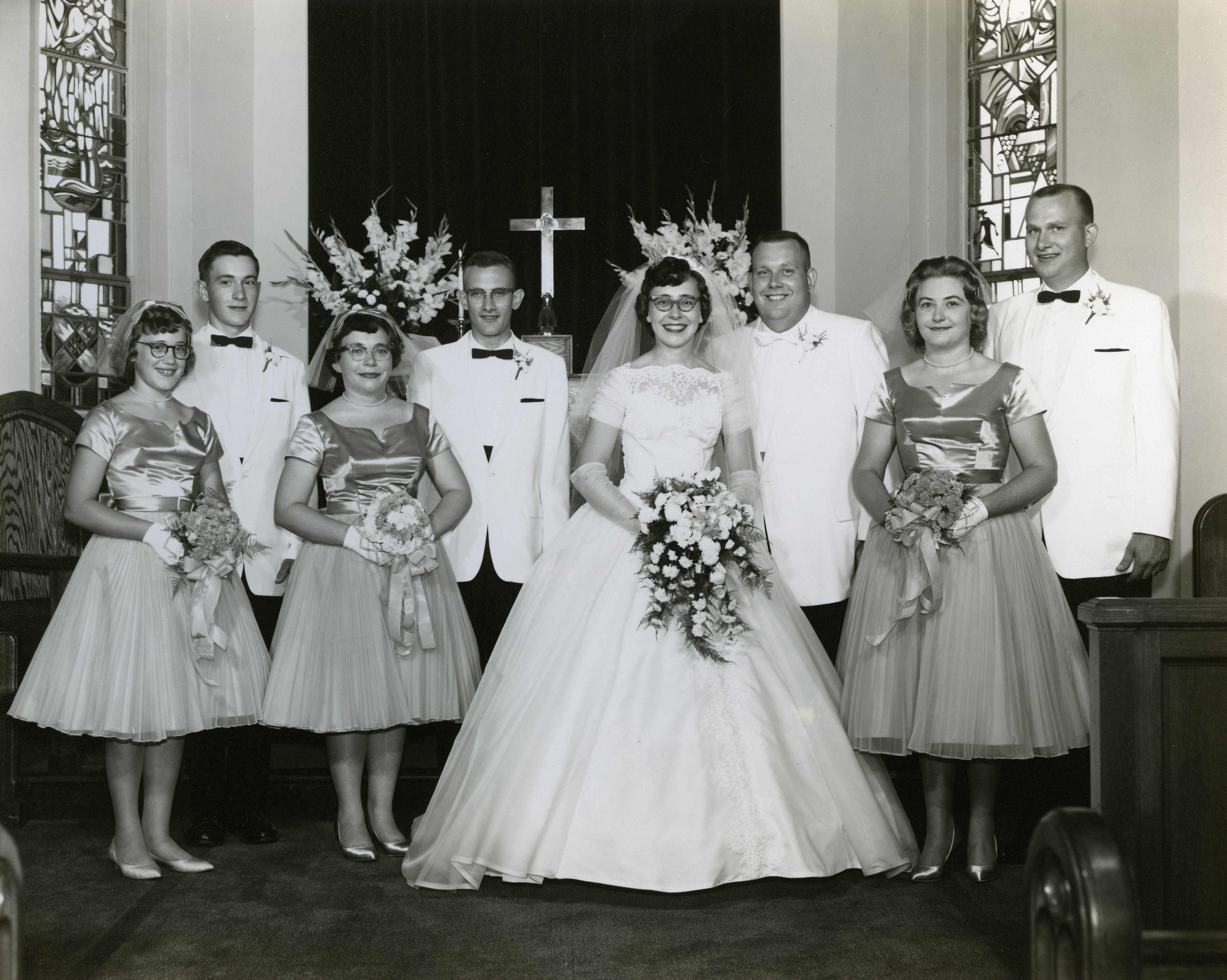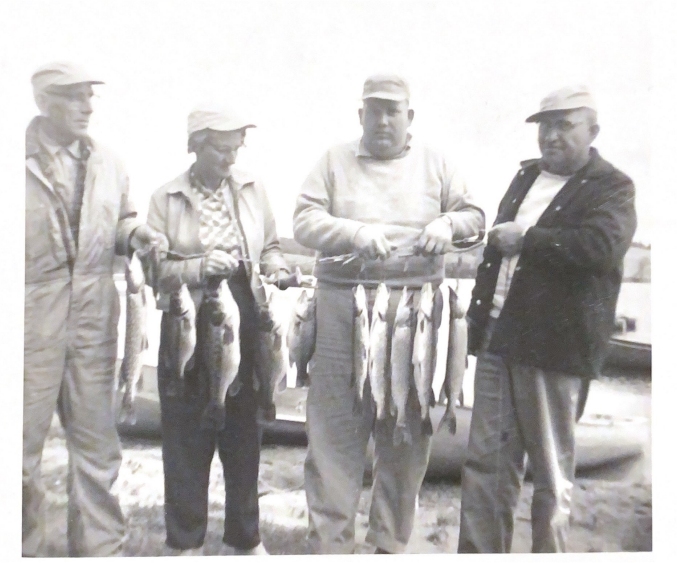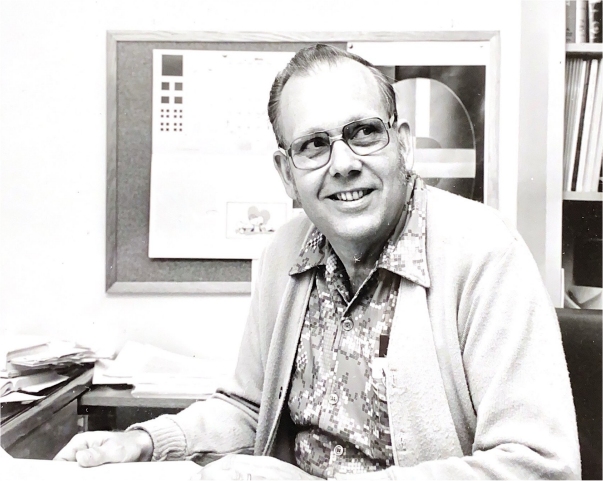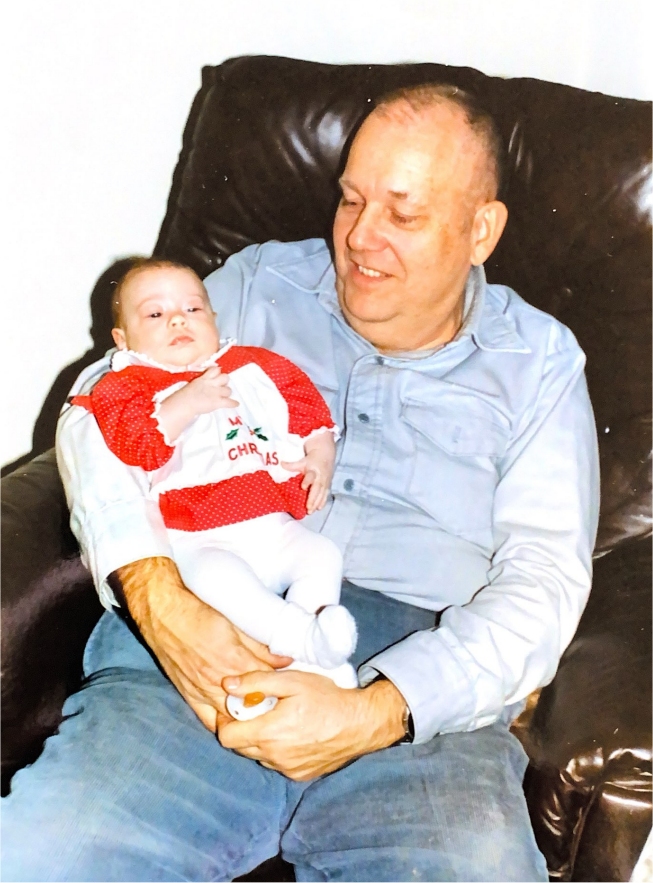 From left to right: Brian (me), Randy, Virginia (in front), Cheryl (in back) and Howard. Our family when I was growing up.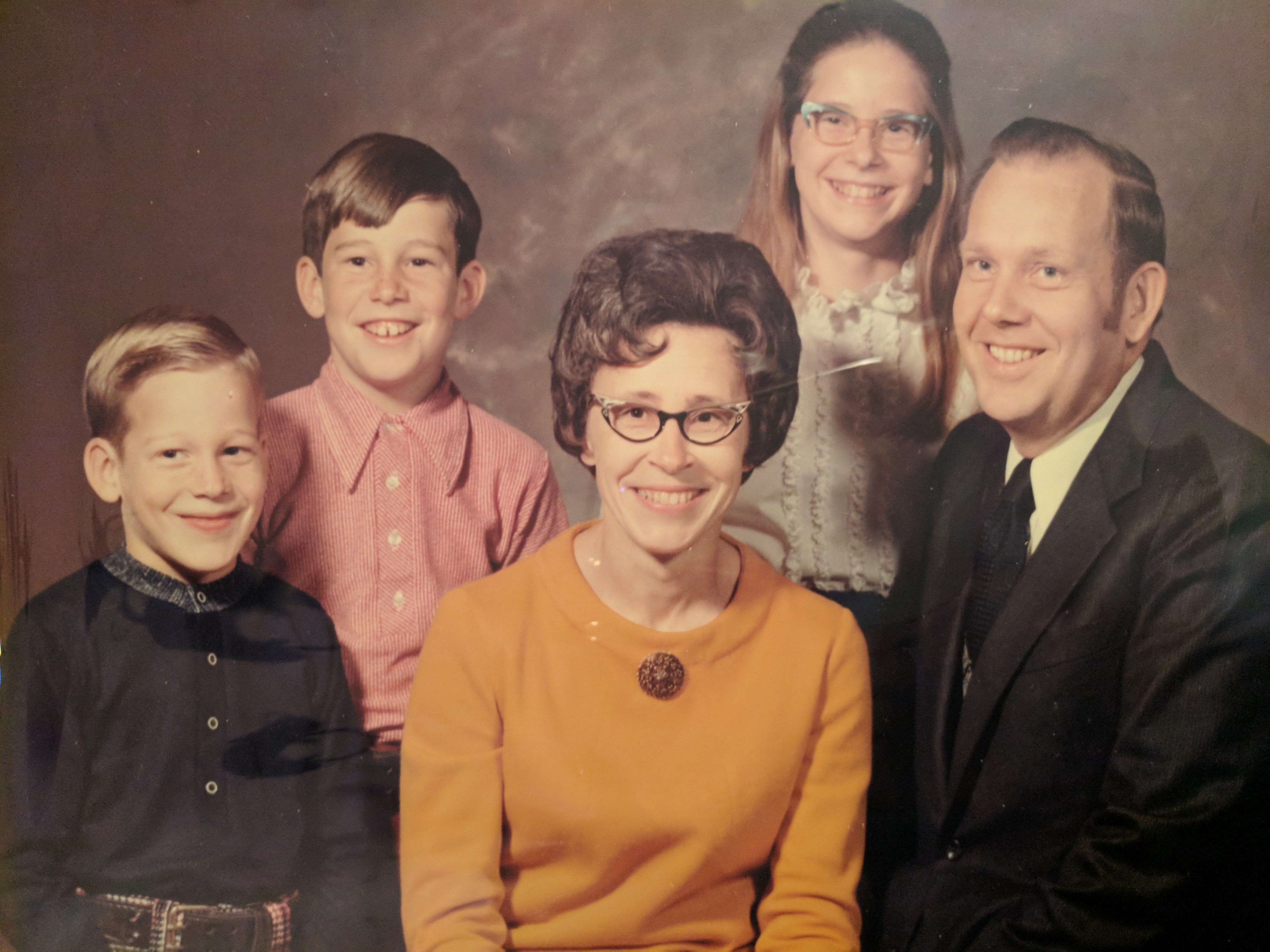 The picture below is from 1972 and is taken in Papua New Guinea.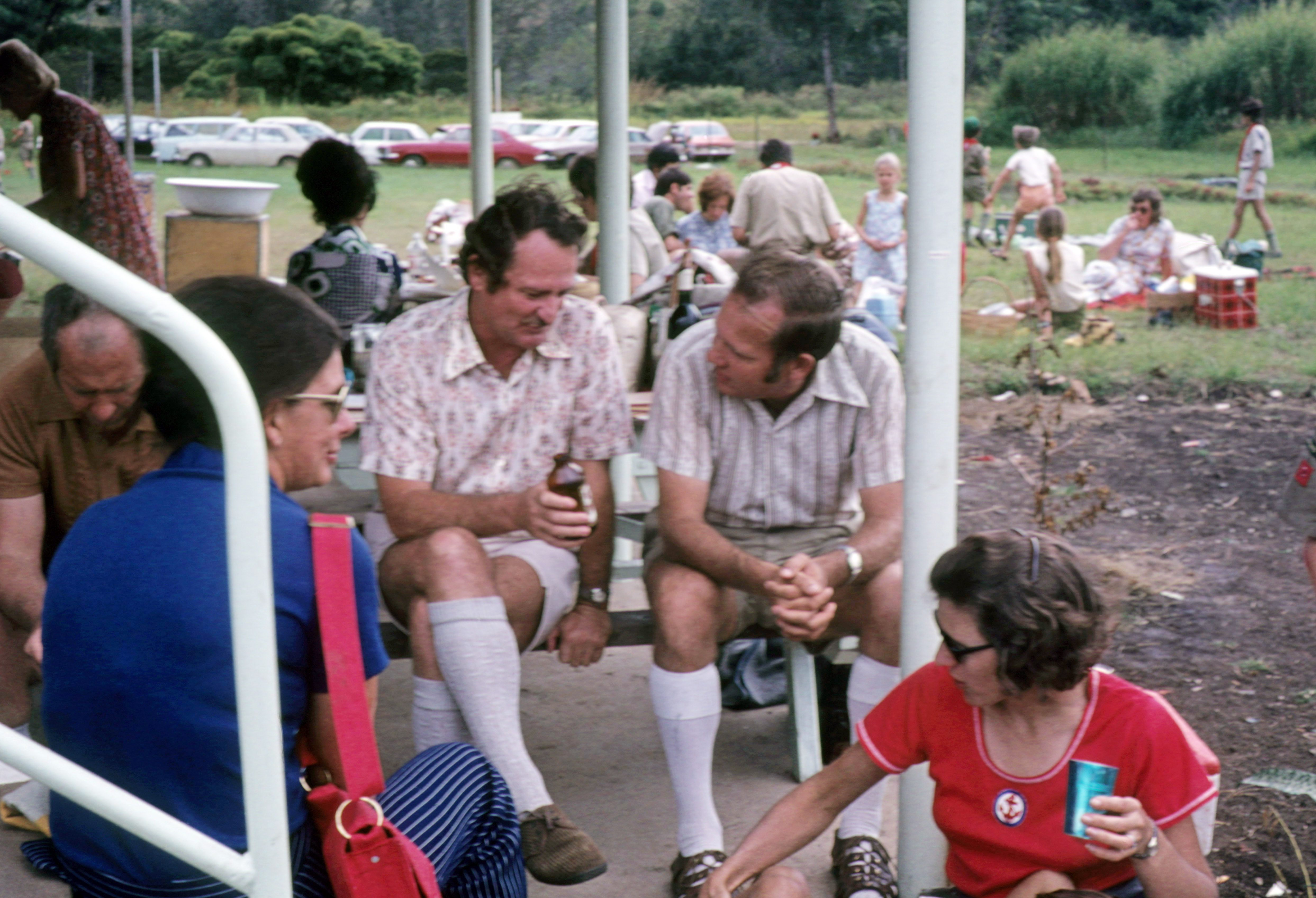 The picture below has our family of 5 all in it most likely swimming in Madang, Papua New Guinea.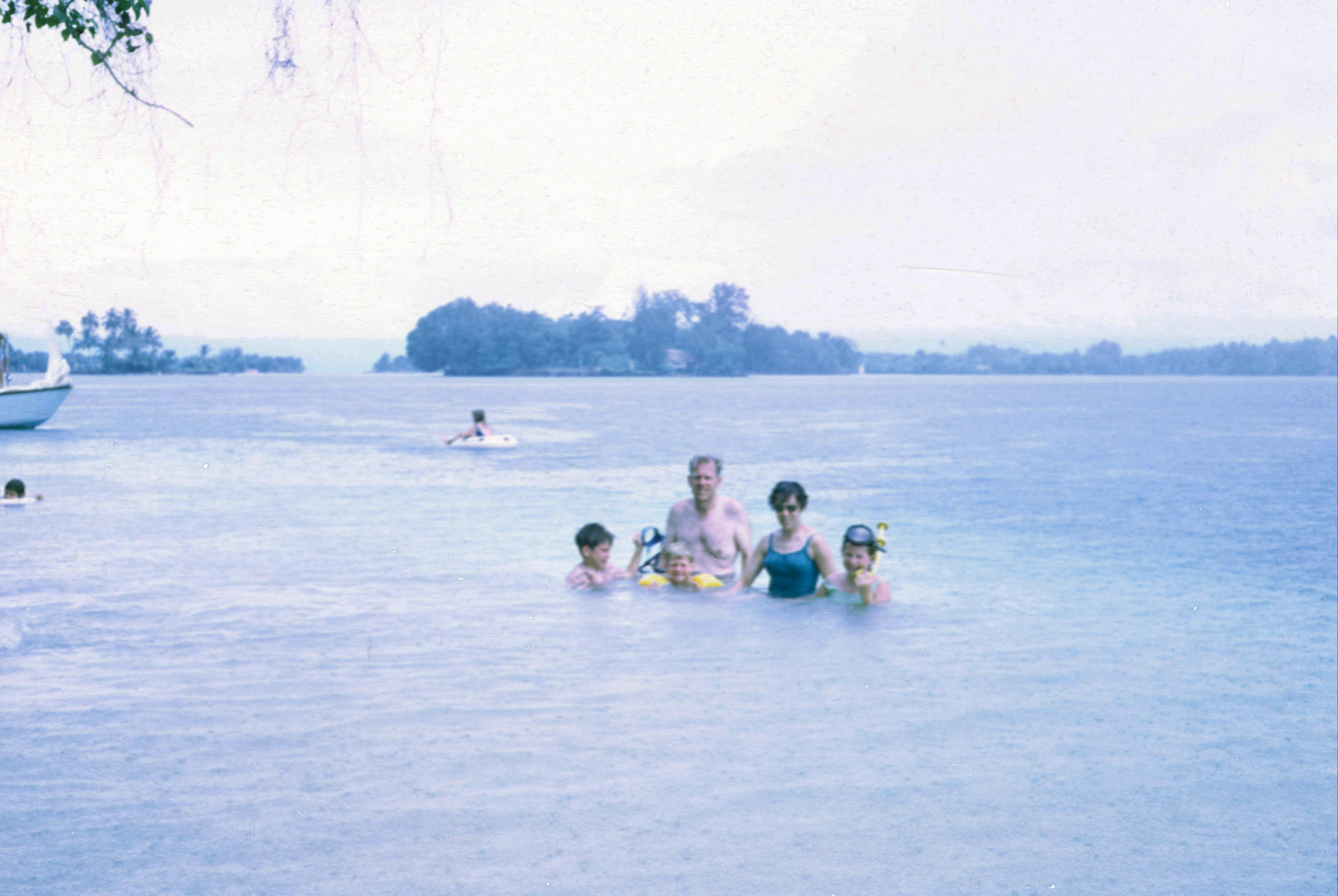 My brother Randy in red shirt, Brian (me) on the far right, and between us is my Grandfather, Ralph Wilson. So there are three generations in this photo. My grandfather was a farmer all his life, and always wore overall fishing in his retirement. My father would also wear overalls, but I didn't see him do it very often, only fishing and sometimes to work in the yard.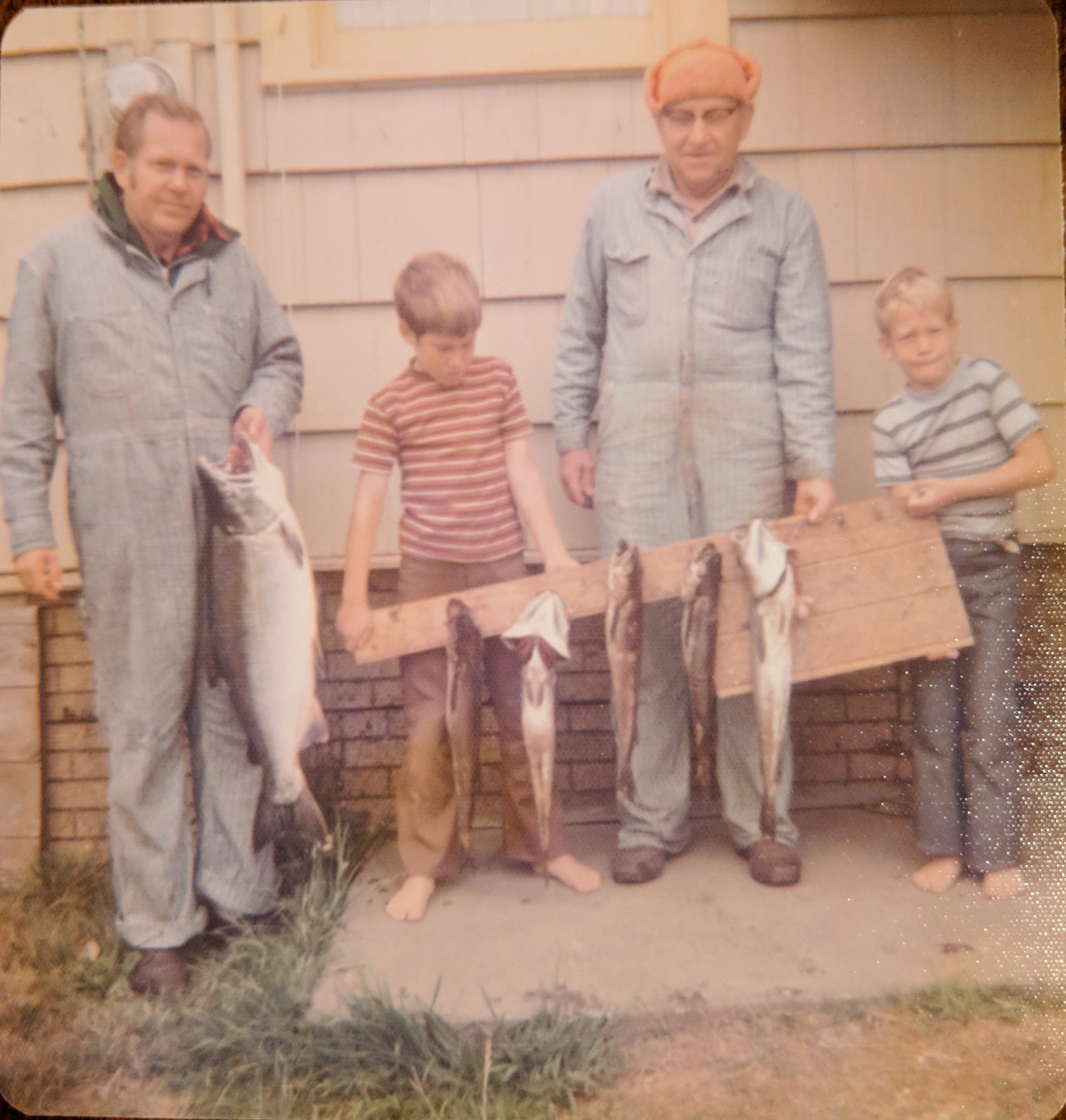 Our family of 5, and the picture is in front of the Salem Farmhouse. Howard wore a pocket protector with pens and pencils in it practically my whole life, certainly all the years he worked as a mathematics/education professor.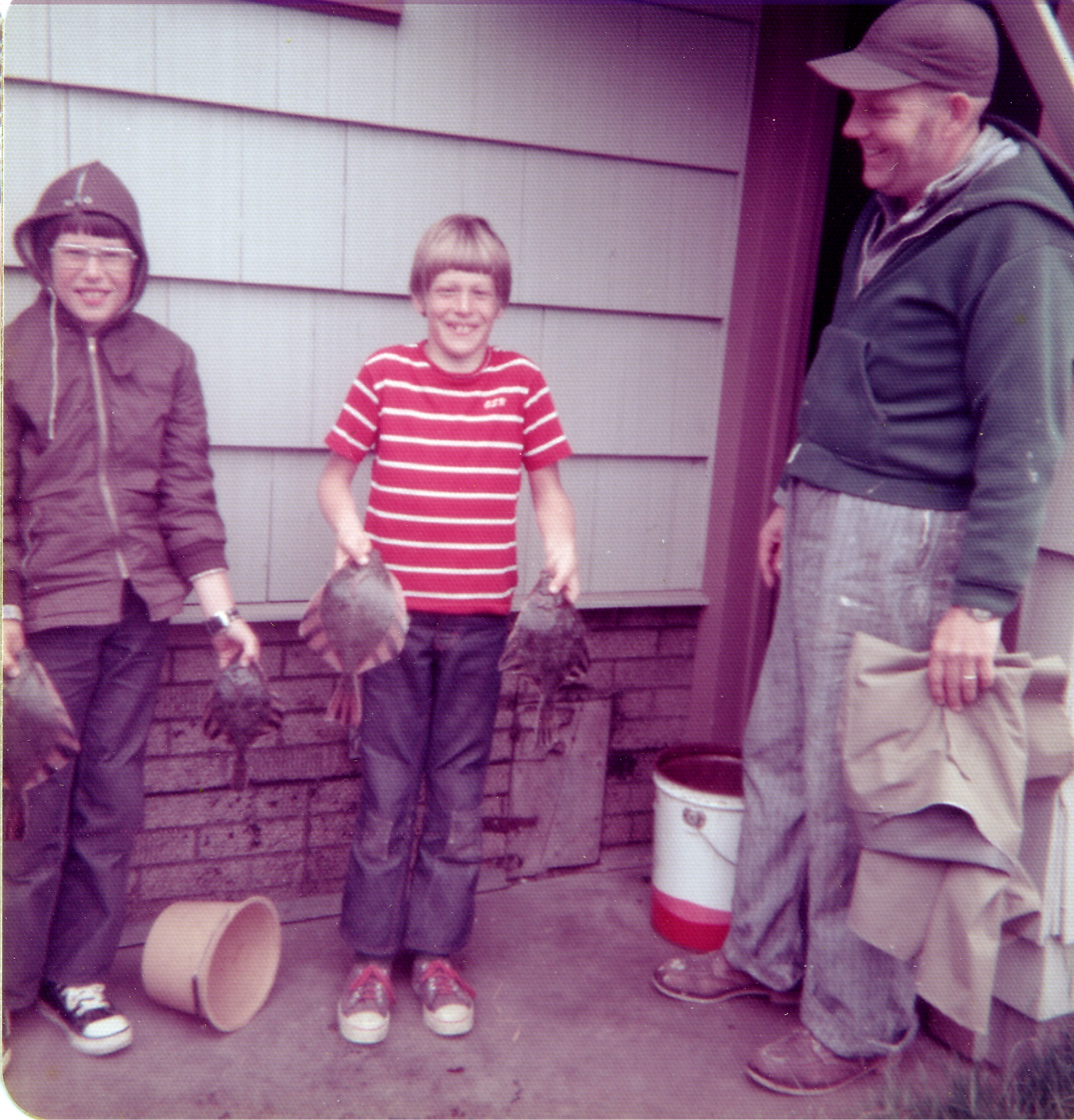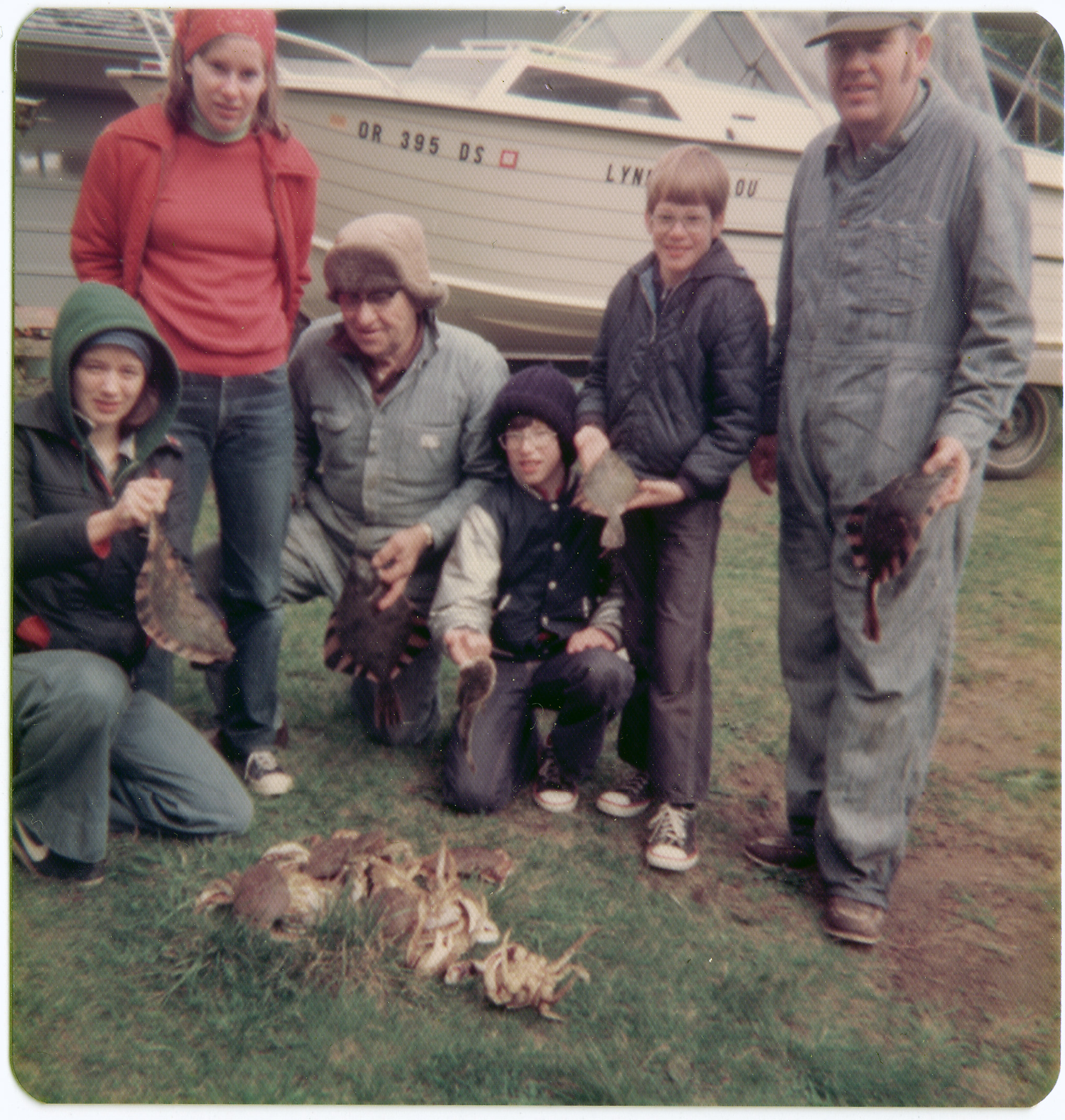 The photo below is interesting because it has BOTH of my grandfathers in it. My mother's father Stanley on the far left, and Ralph is on the far right just behind me (in blue hoodie).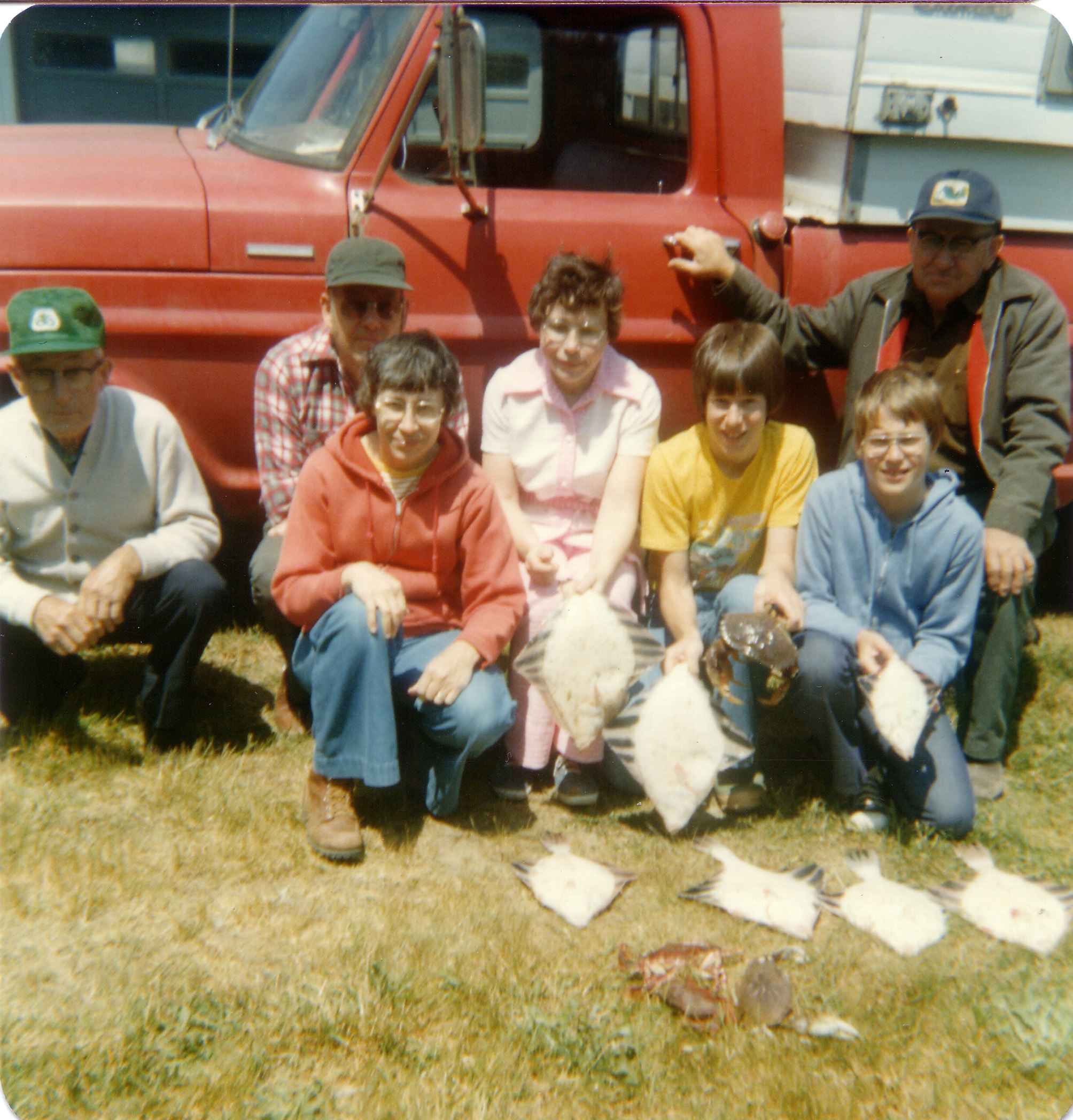 Howard Wilson with his daughter Cheryl at her wedding.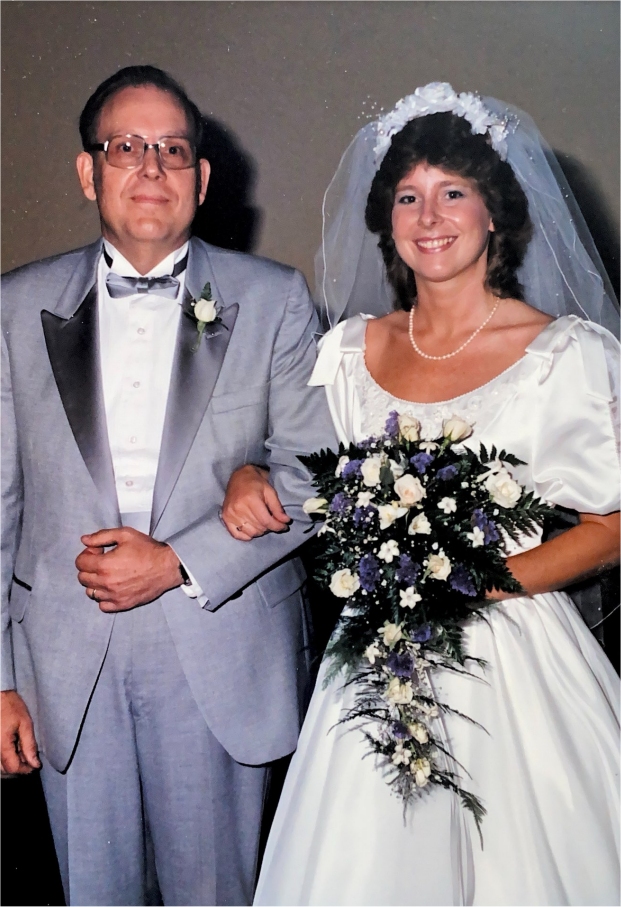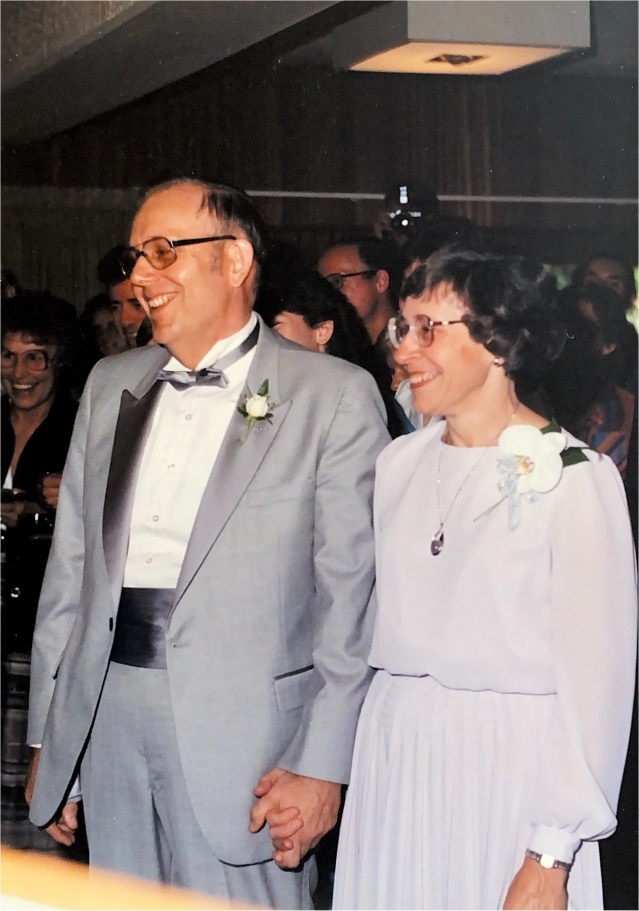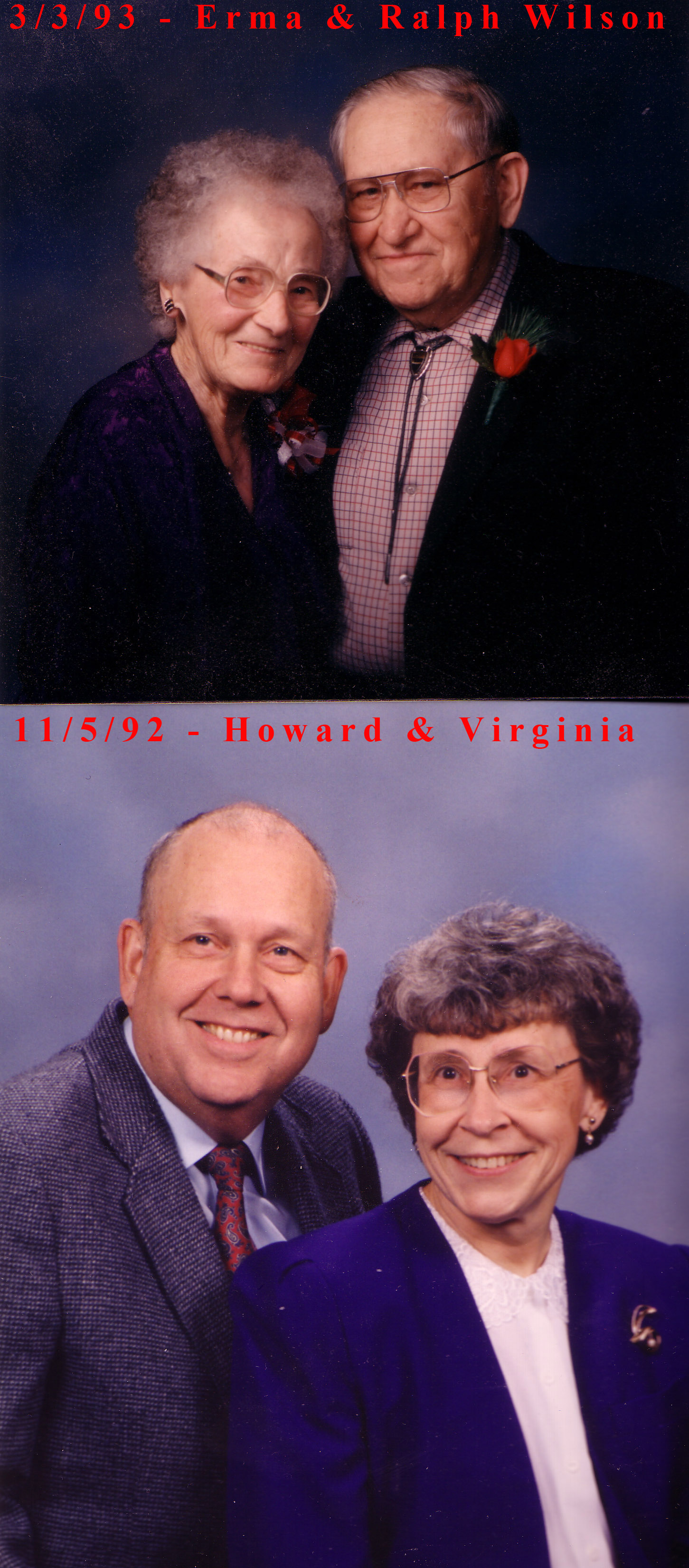 I have always liked the picture below. My father's dad is the oldest guy sitting in front, and hist three sons and wives are in the photo, then everybody you see is basically his three sons' children. It's a big family tree.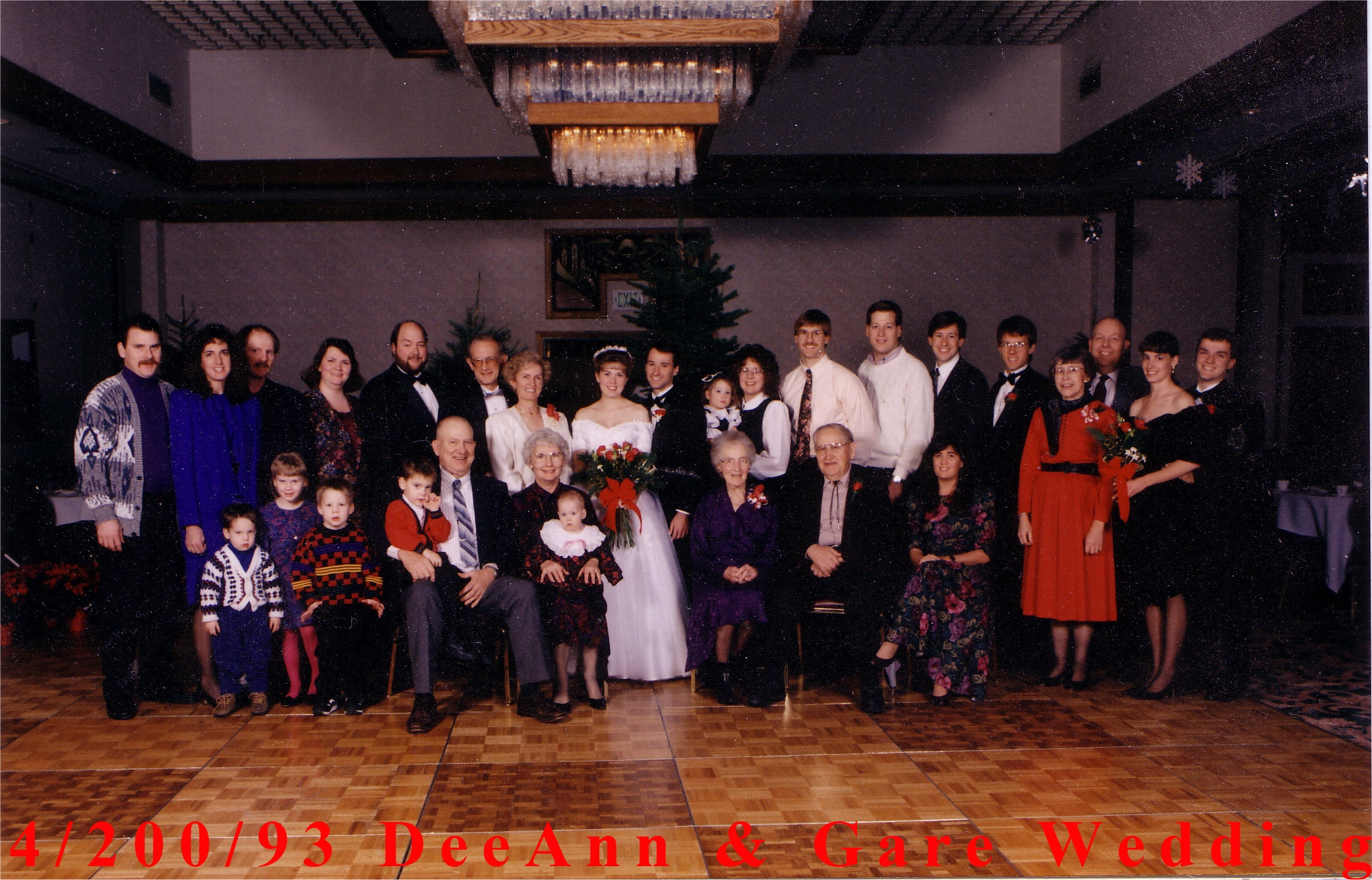 Randy Wilson's wedding to Ramey Echt. Howard Wilson on the far left. I forgot that Catie attended as a 5 year old.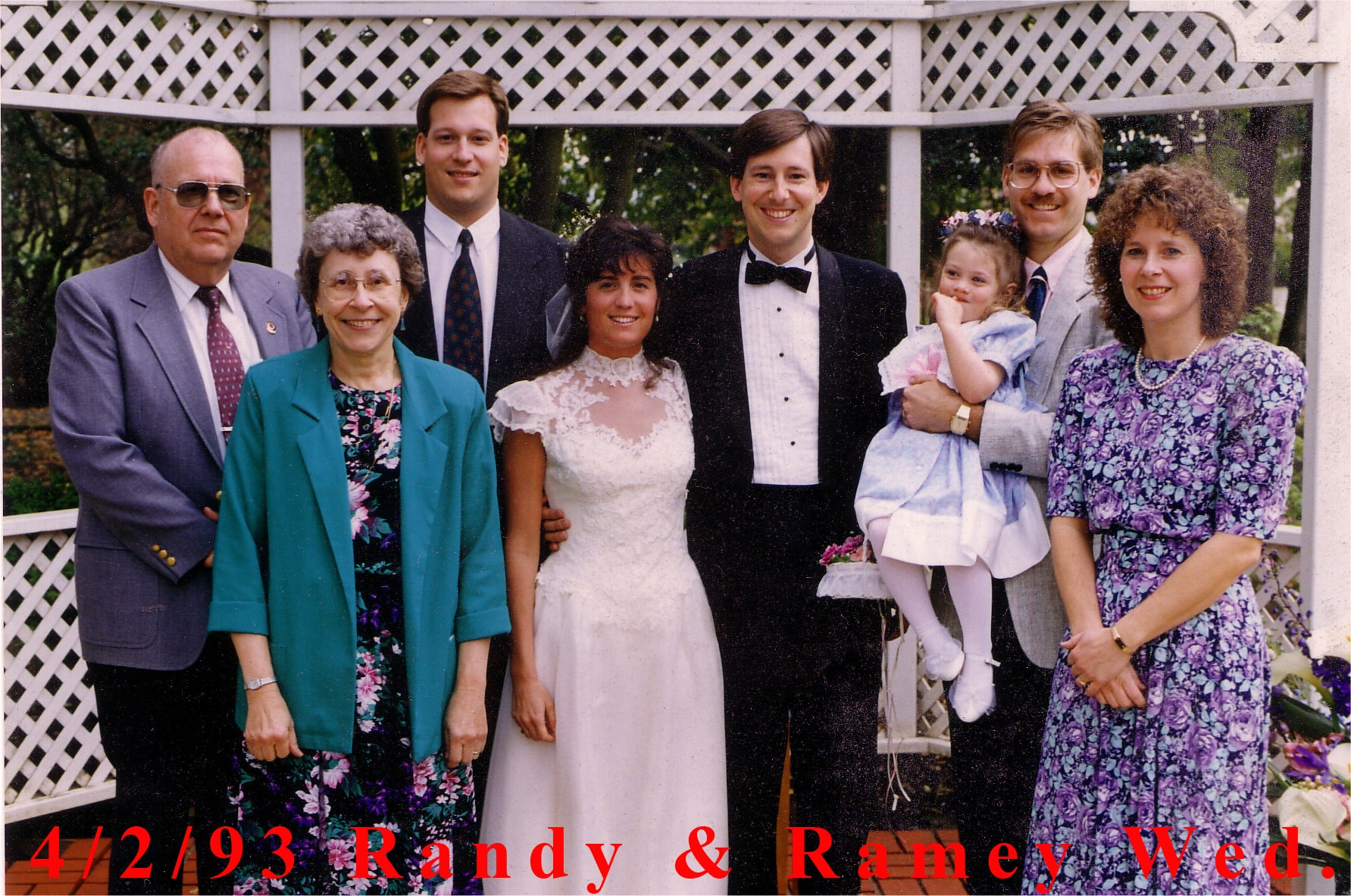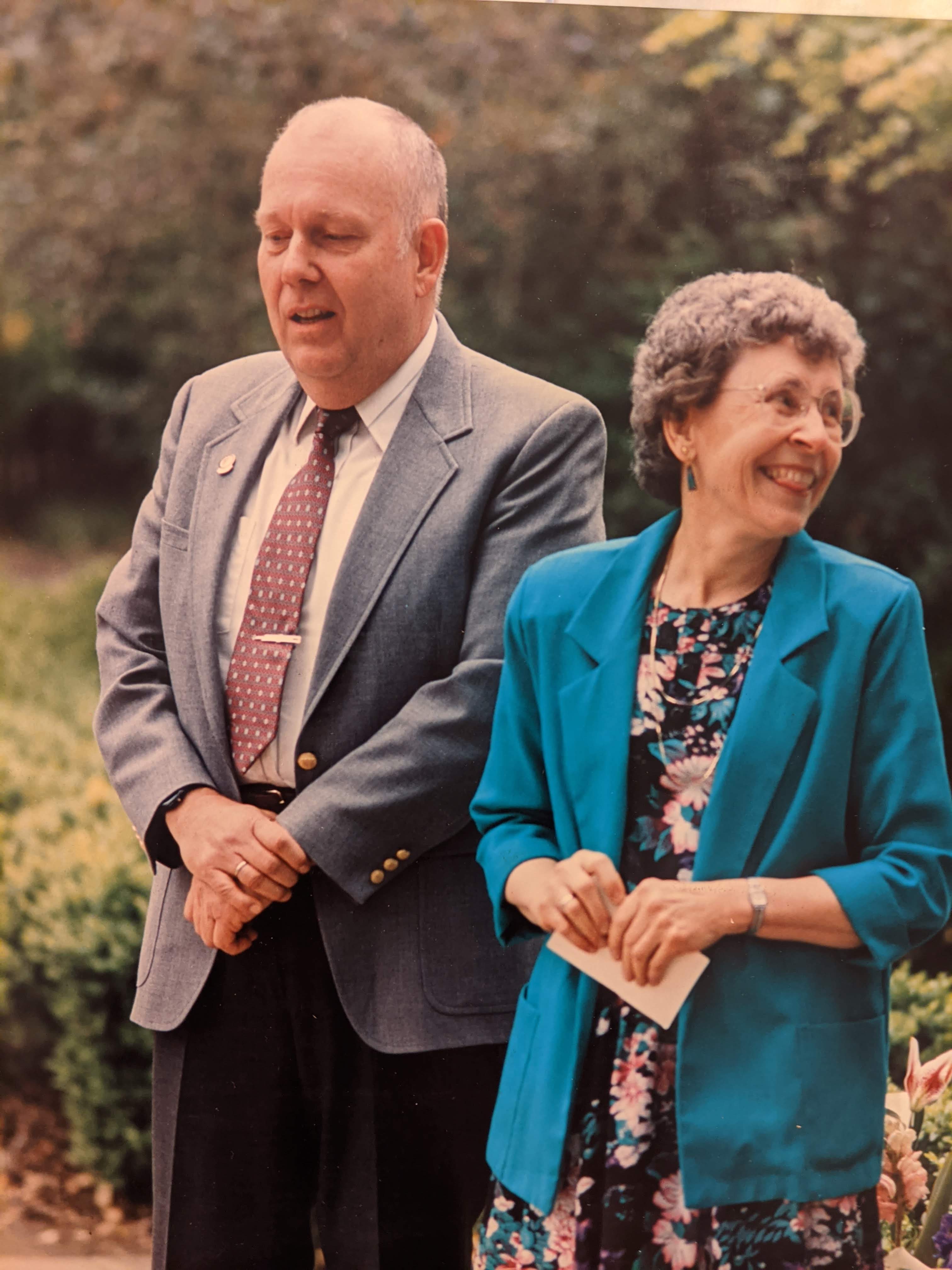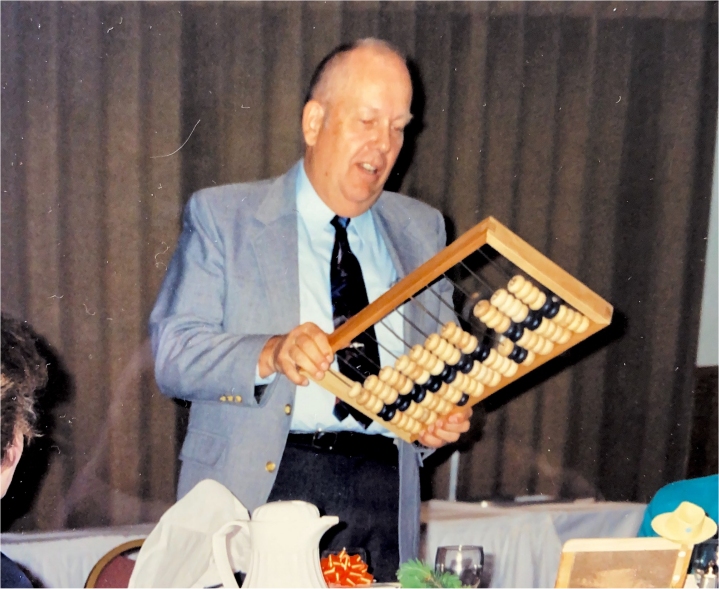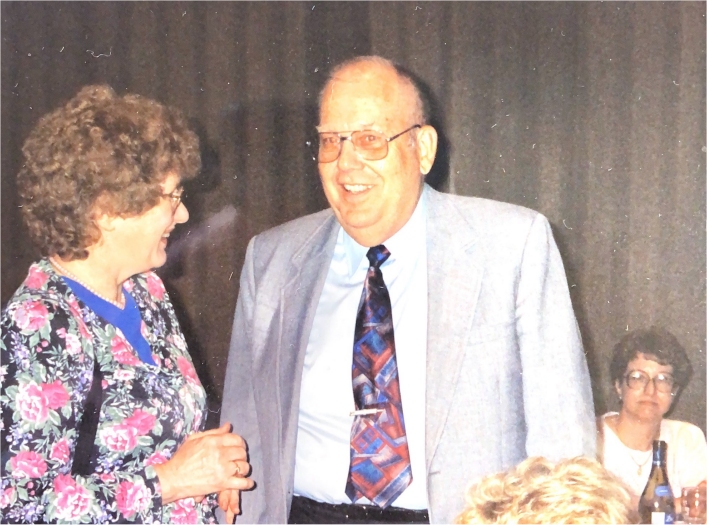 That looks like Catie in cow shirt, Ari Echt-Wilson in red, and Nathanael Hoffmann on far right.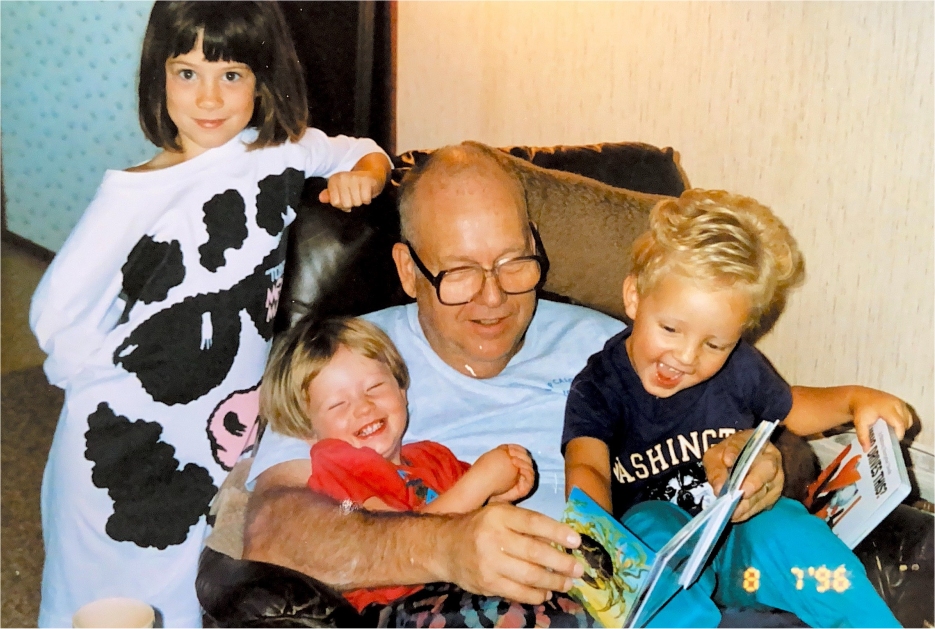 Ari and Nathanael are cousins, and on family reunions they tended to stick together.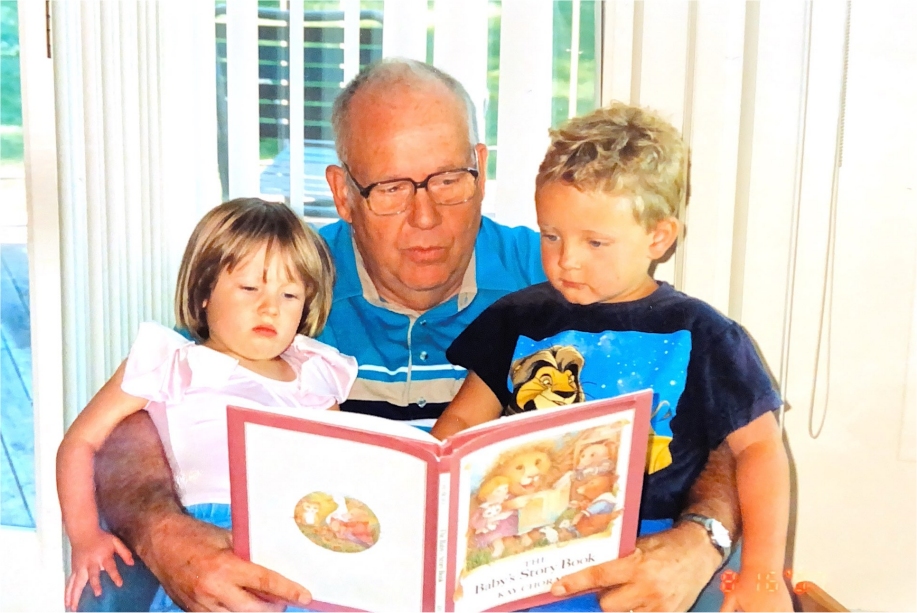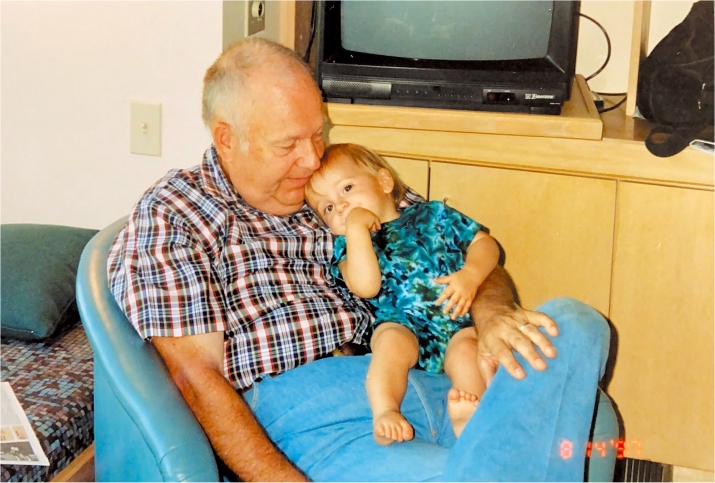 Catie and Nathanael in a wheelbarrow.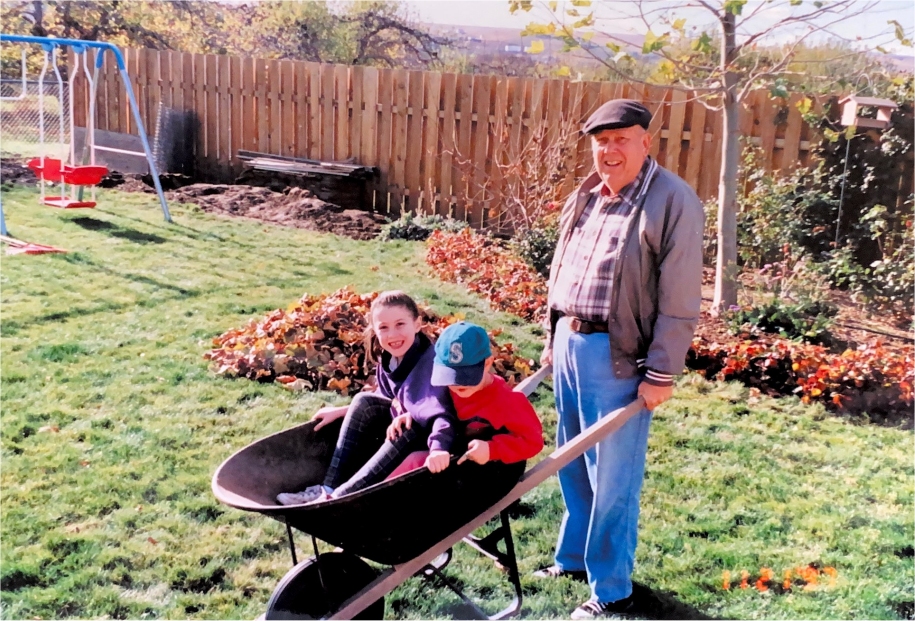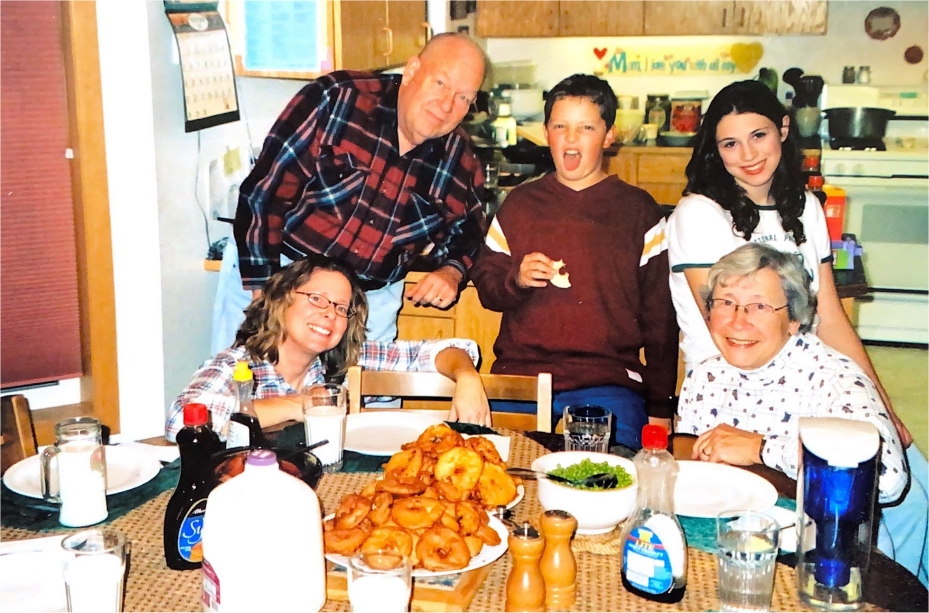 I owned (and lived on) a boat in San Francisco Bay for just a couple years around 2001. The picture below is taking my father out on a boat ride.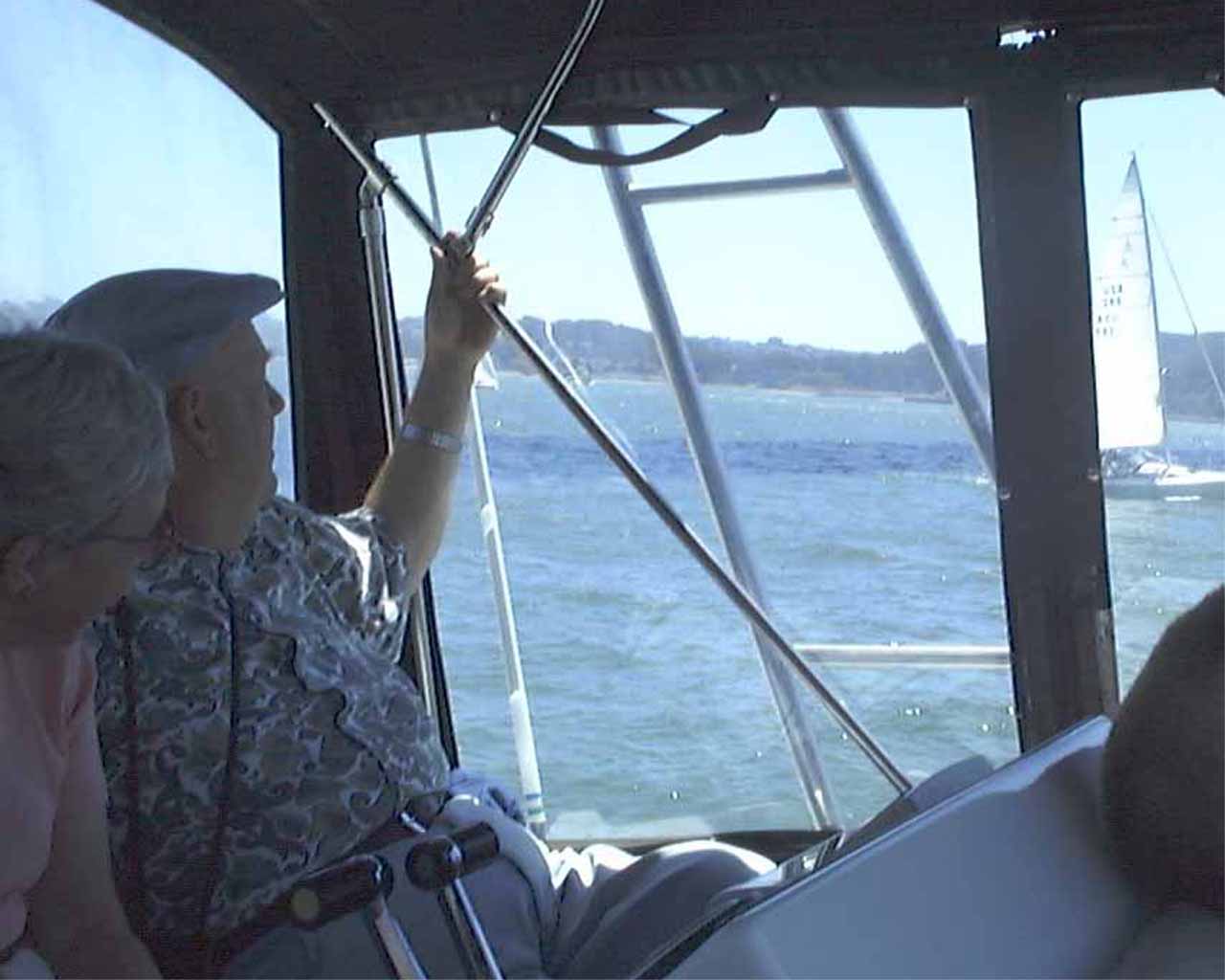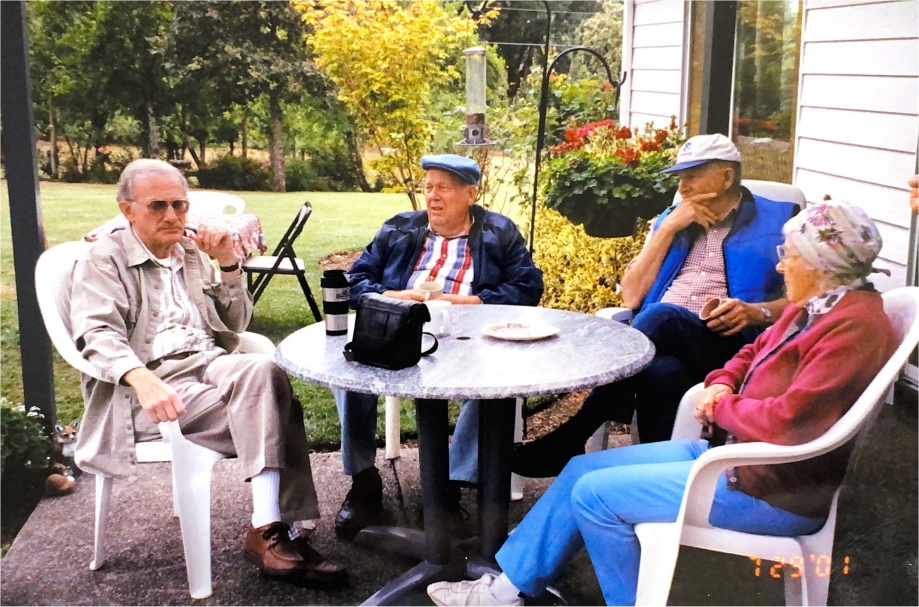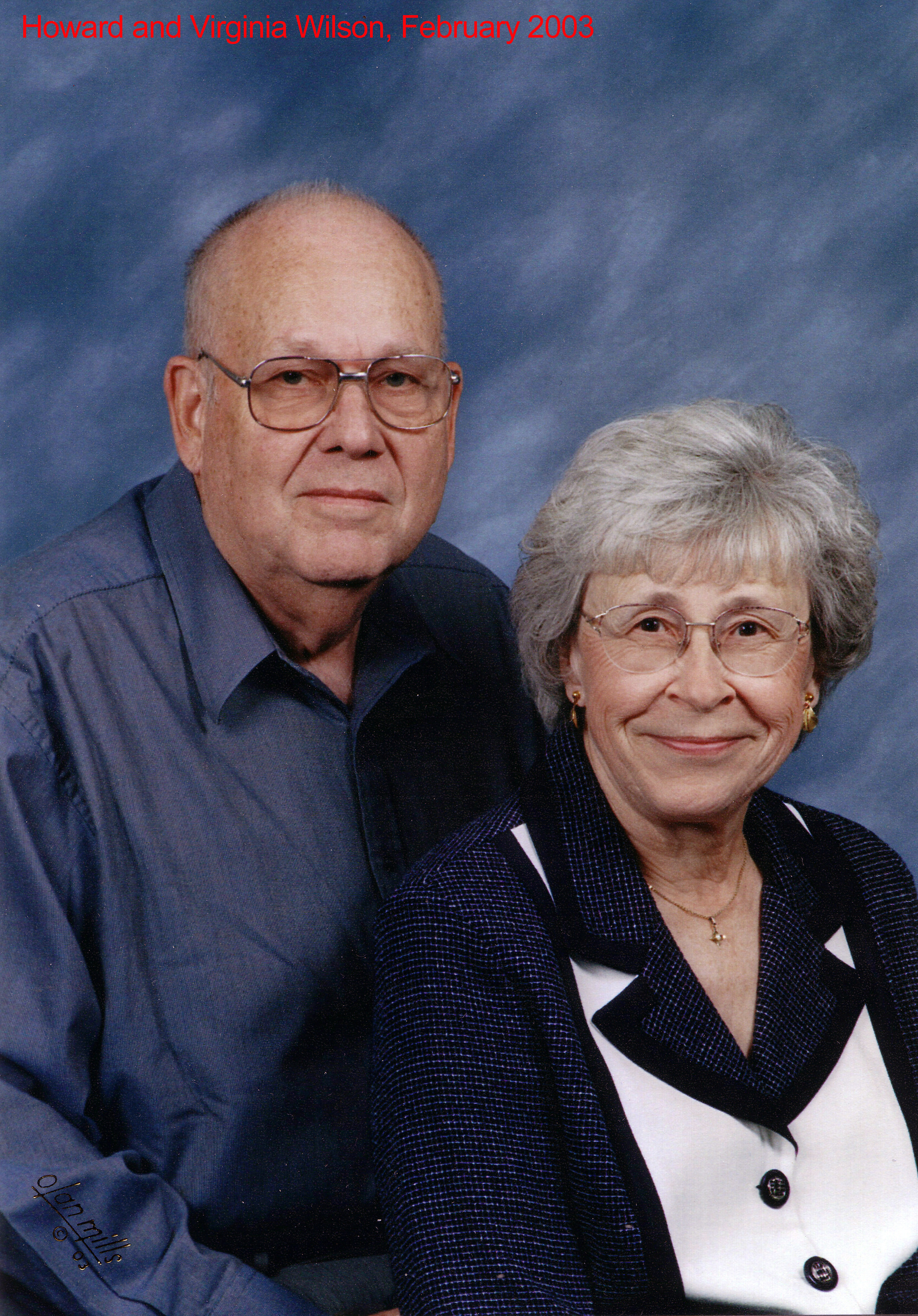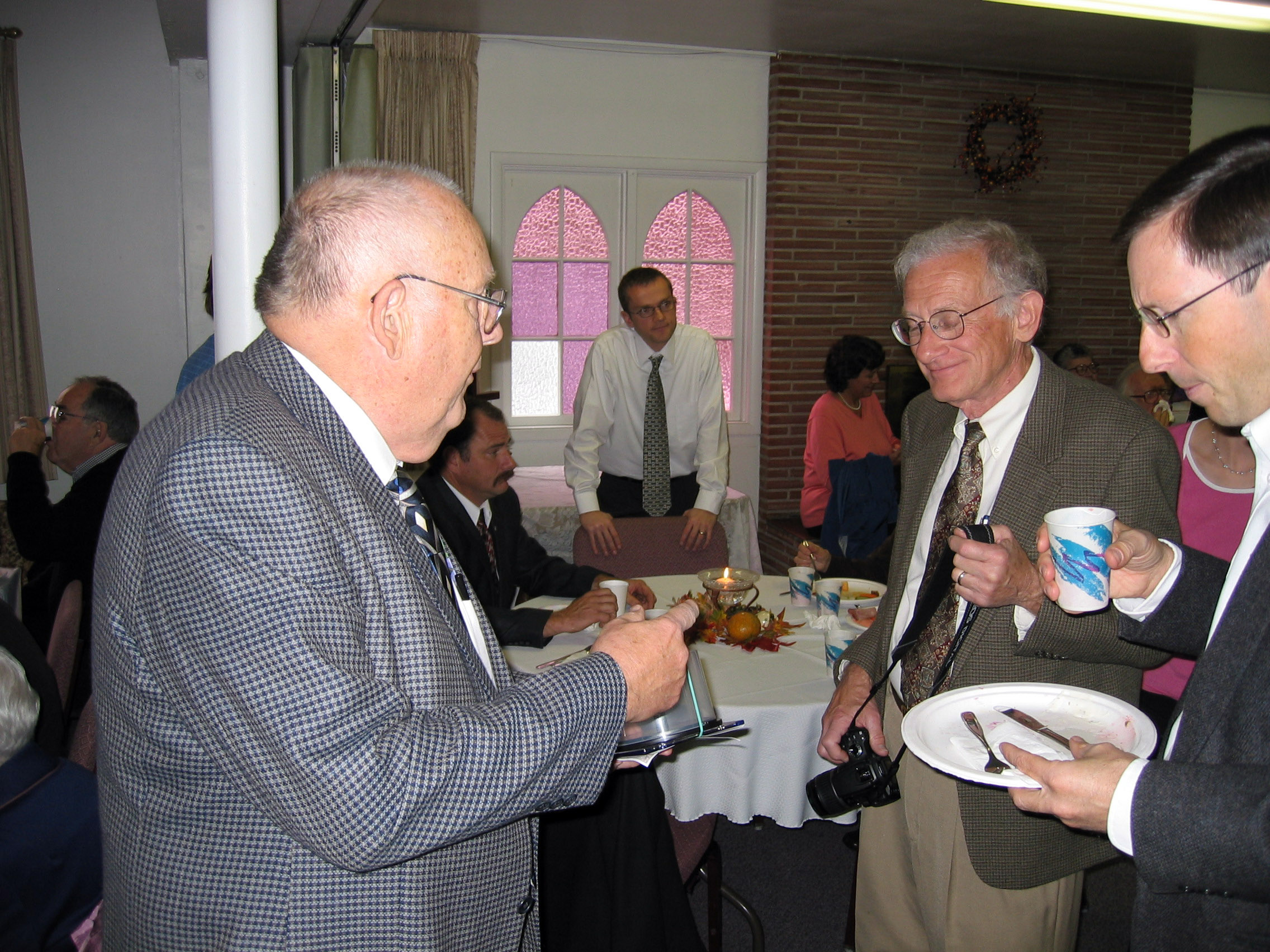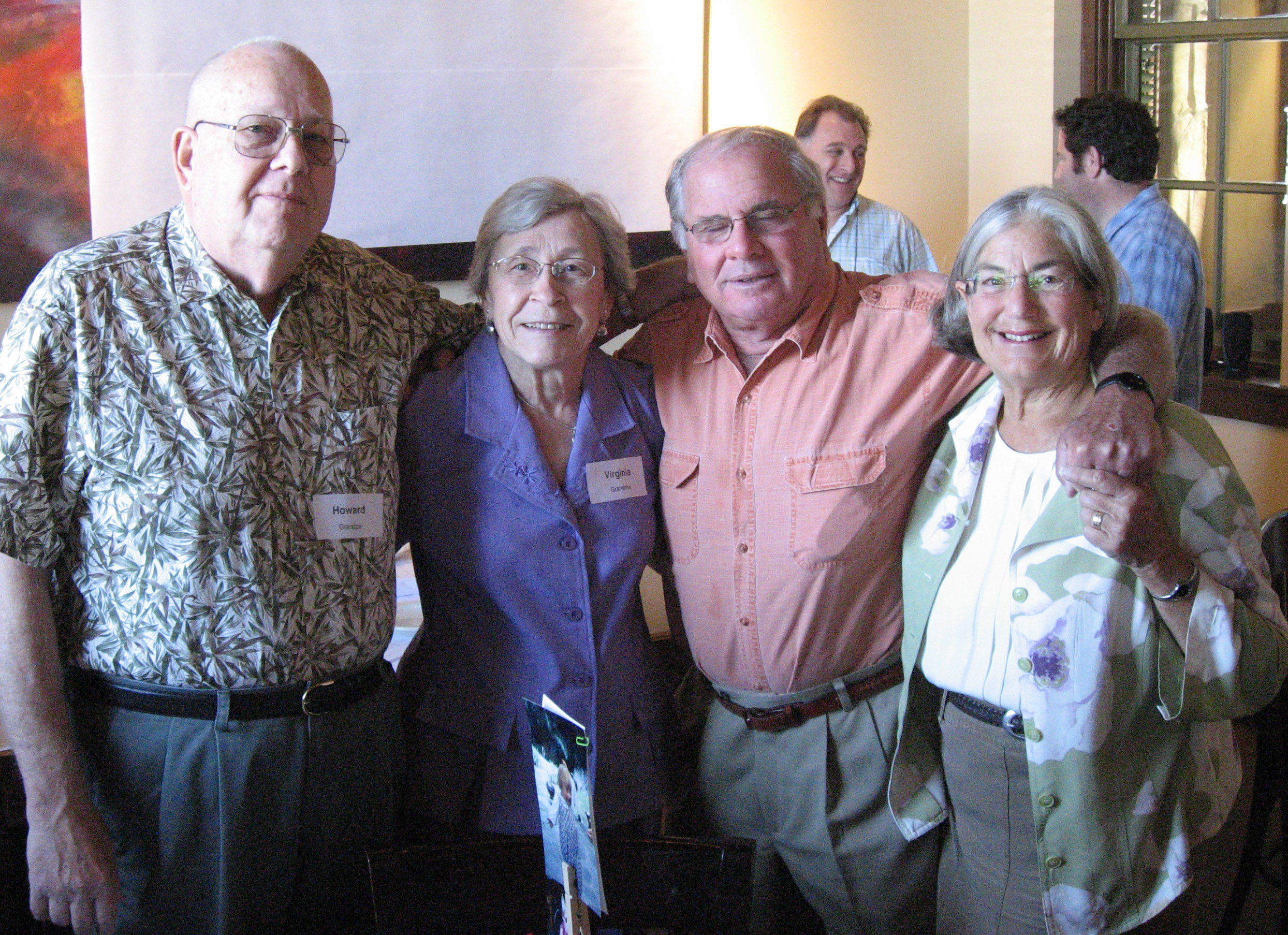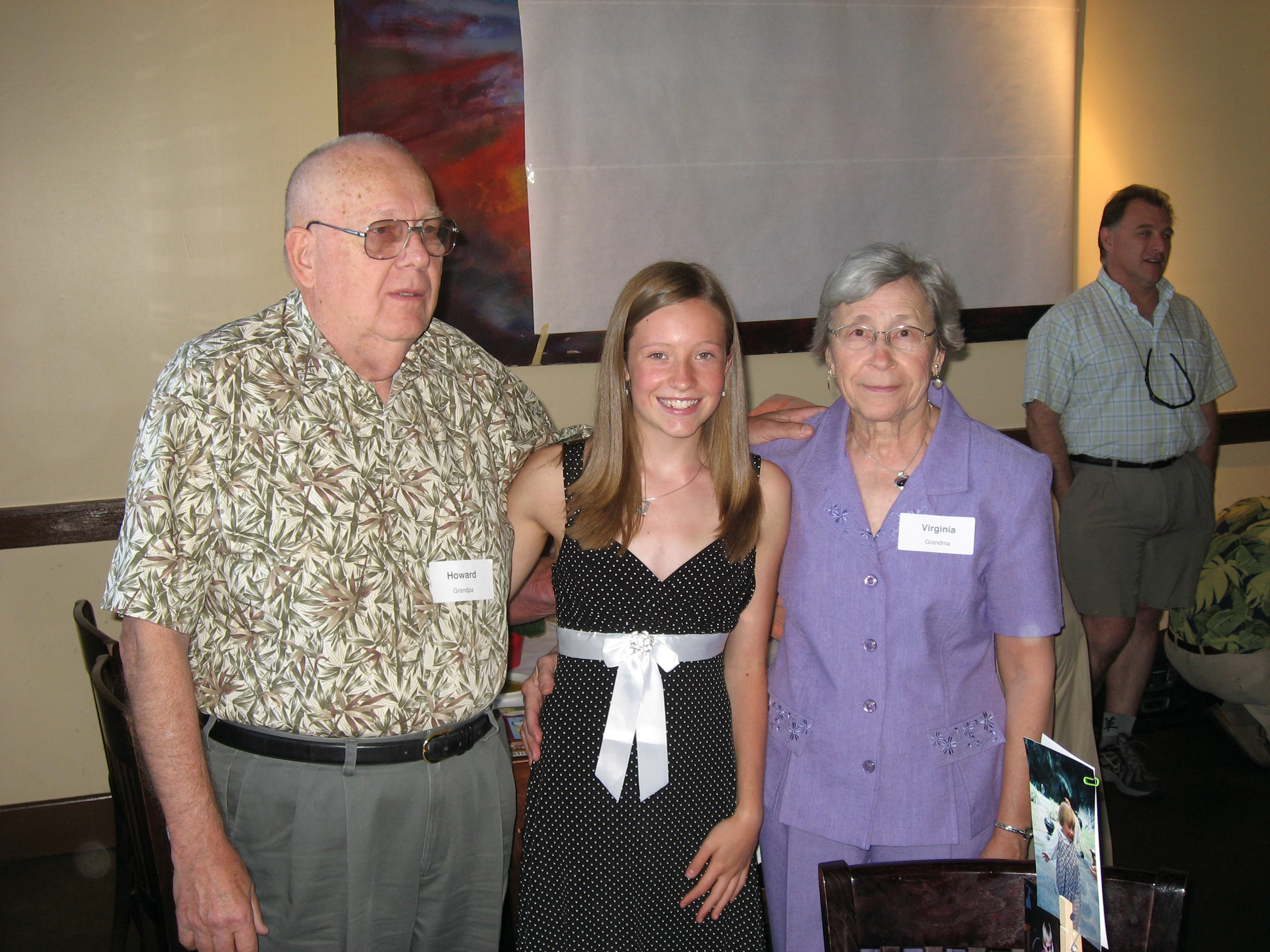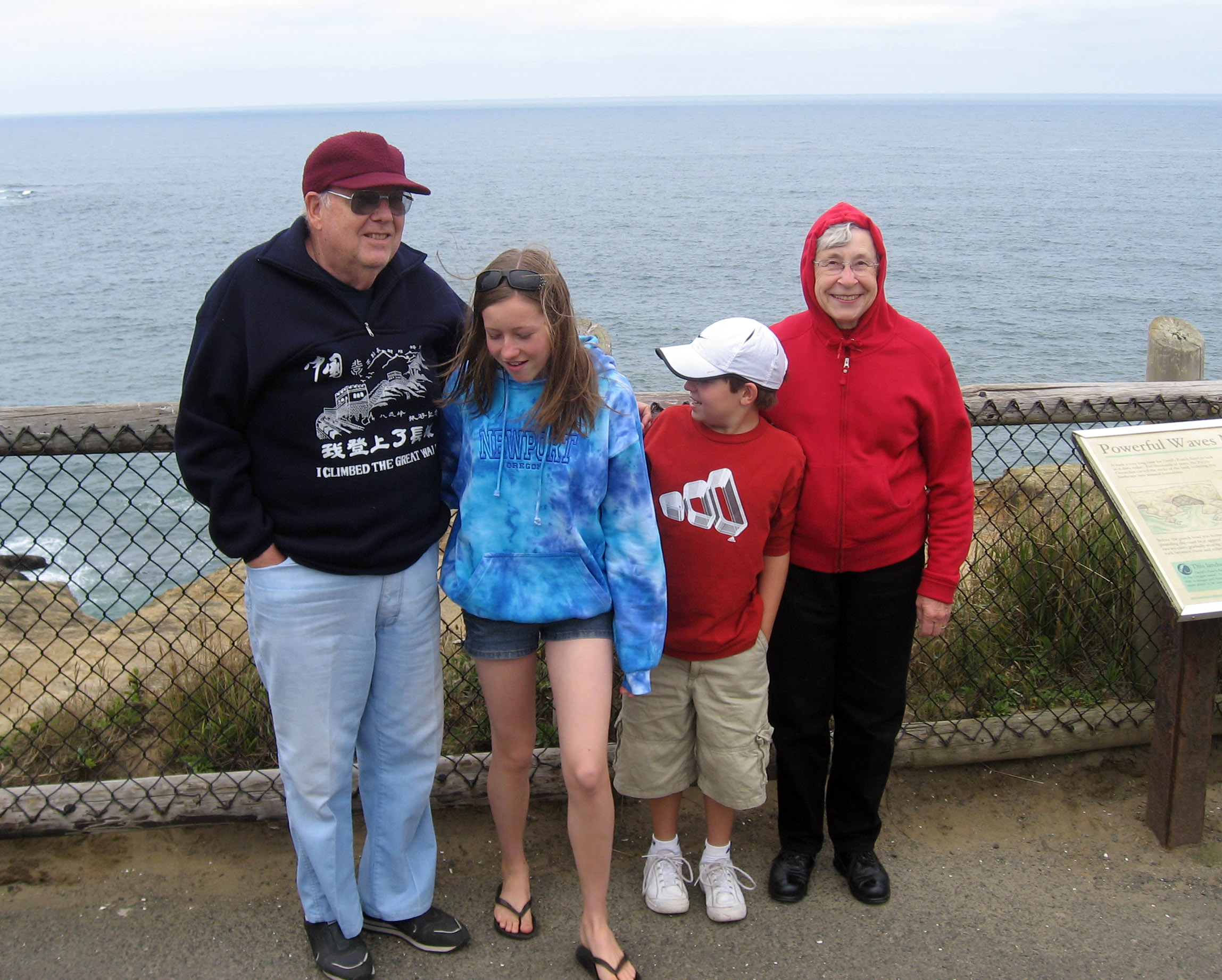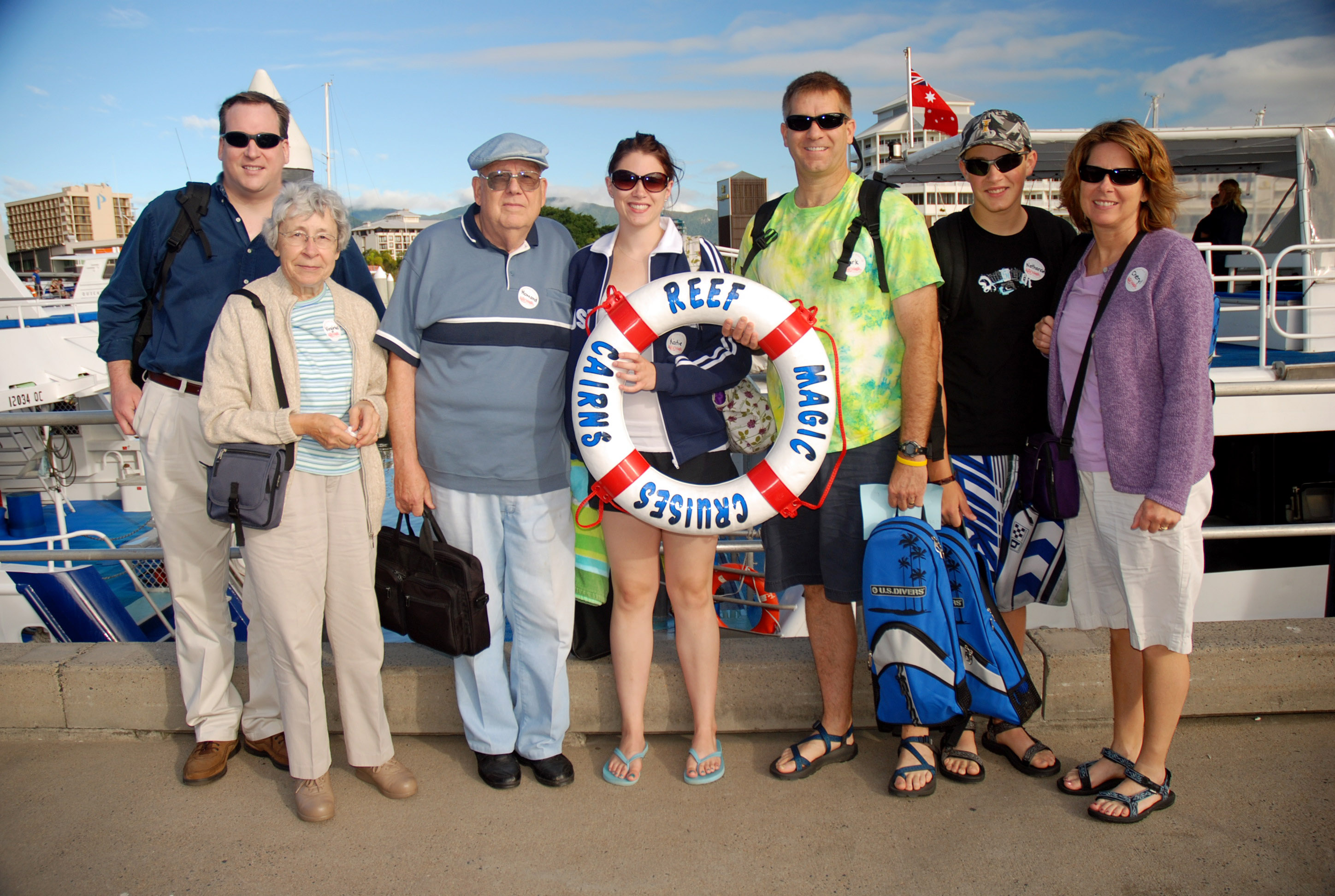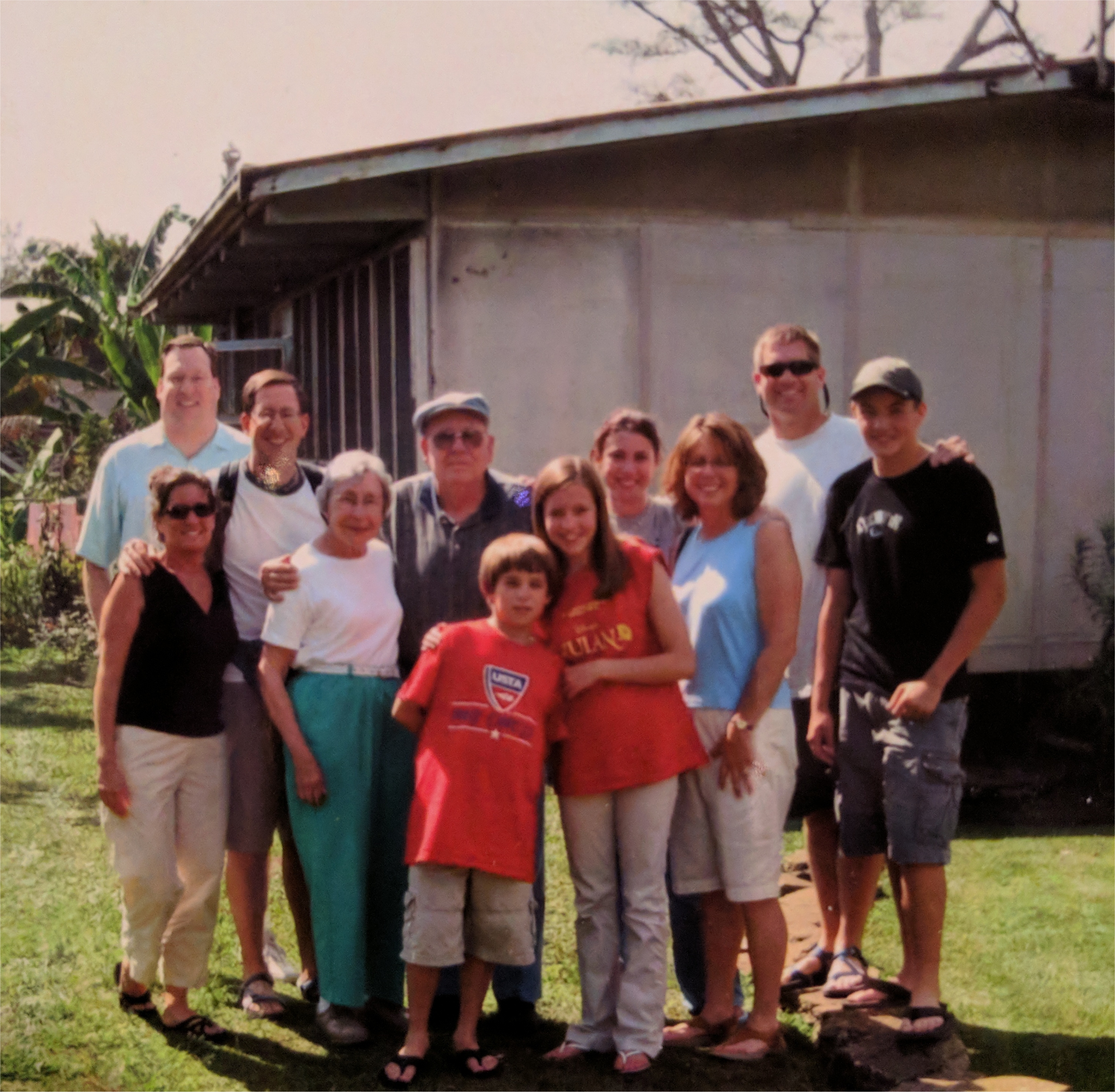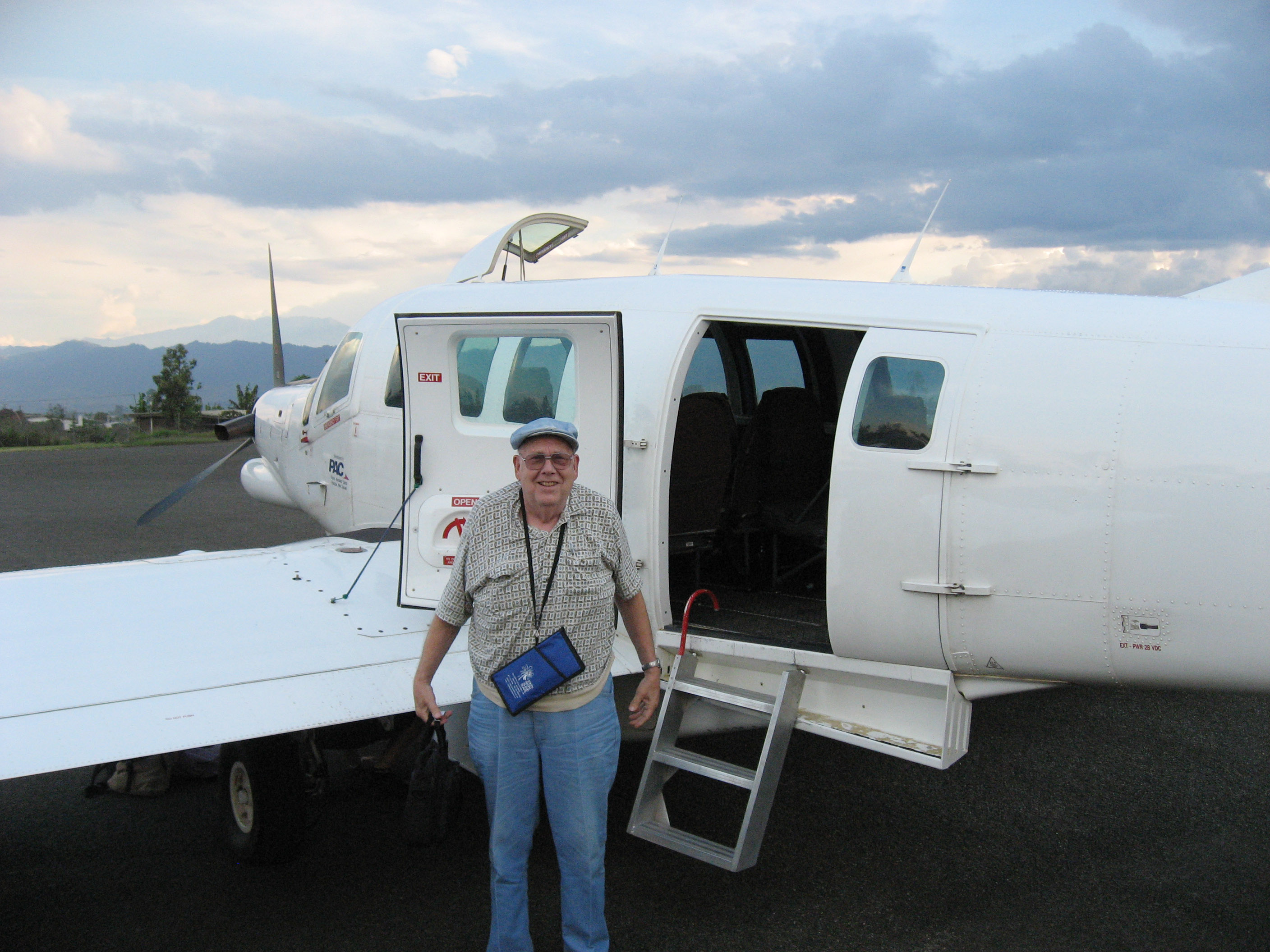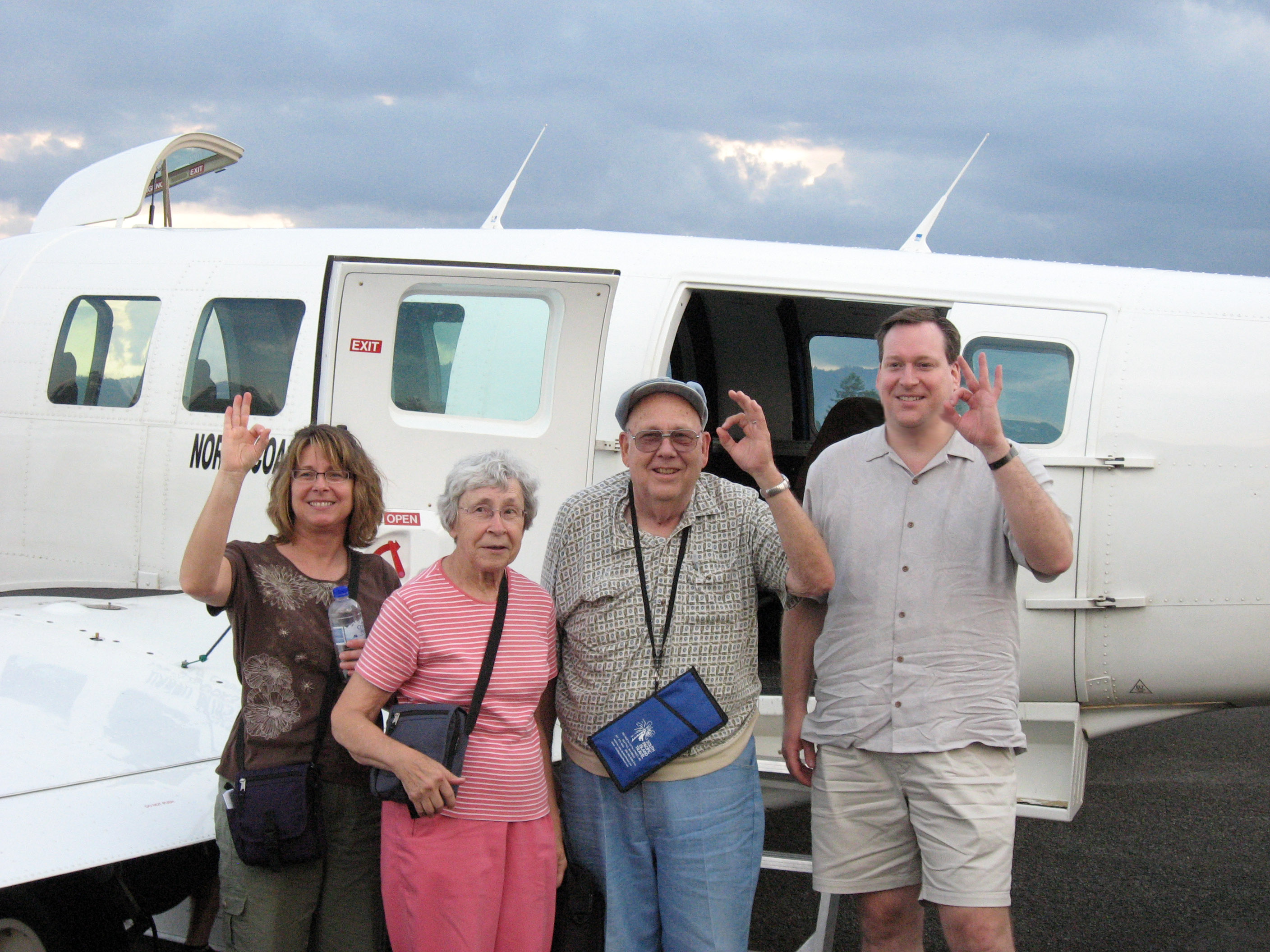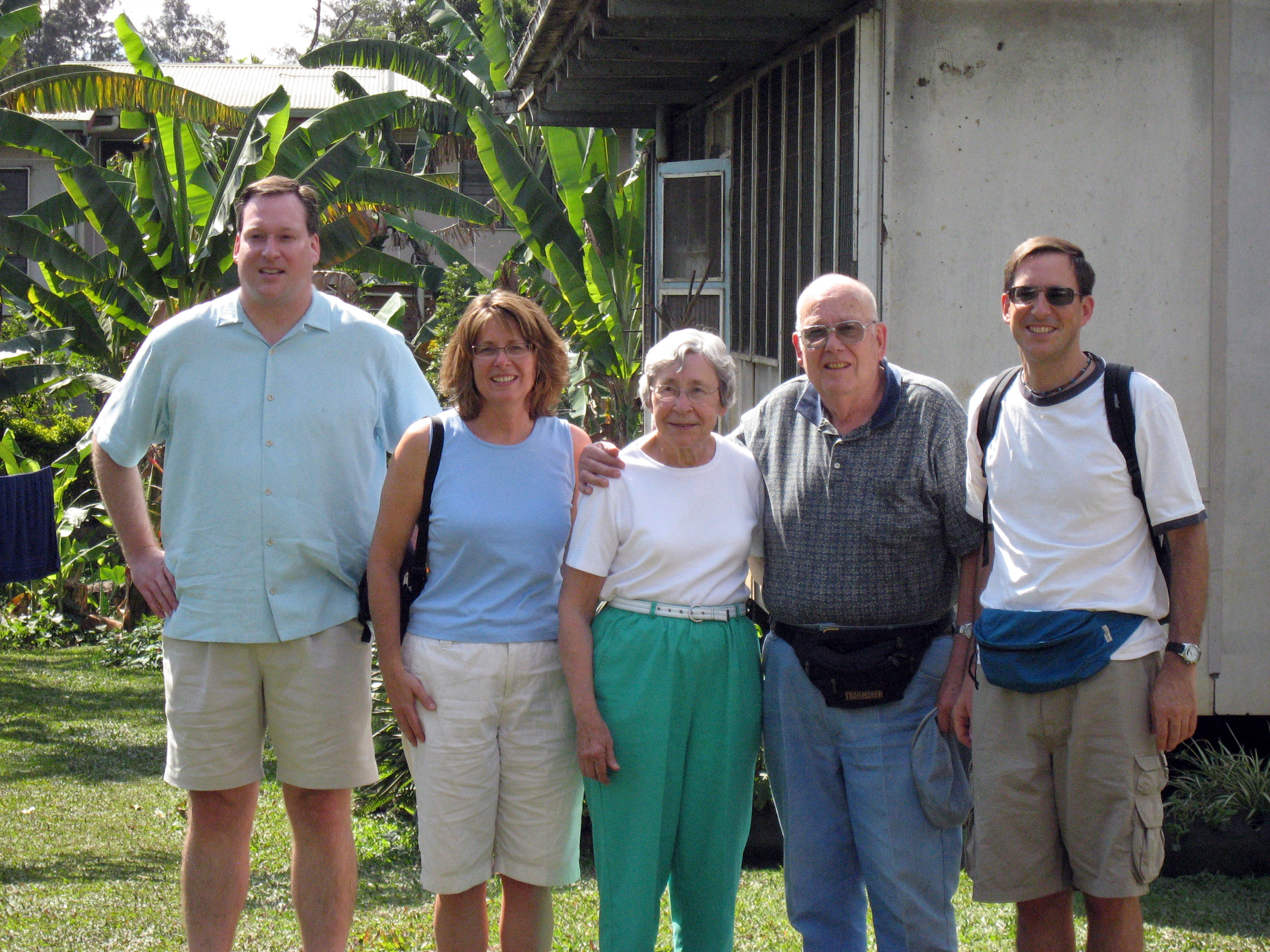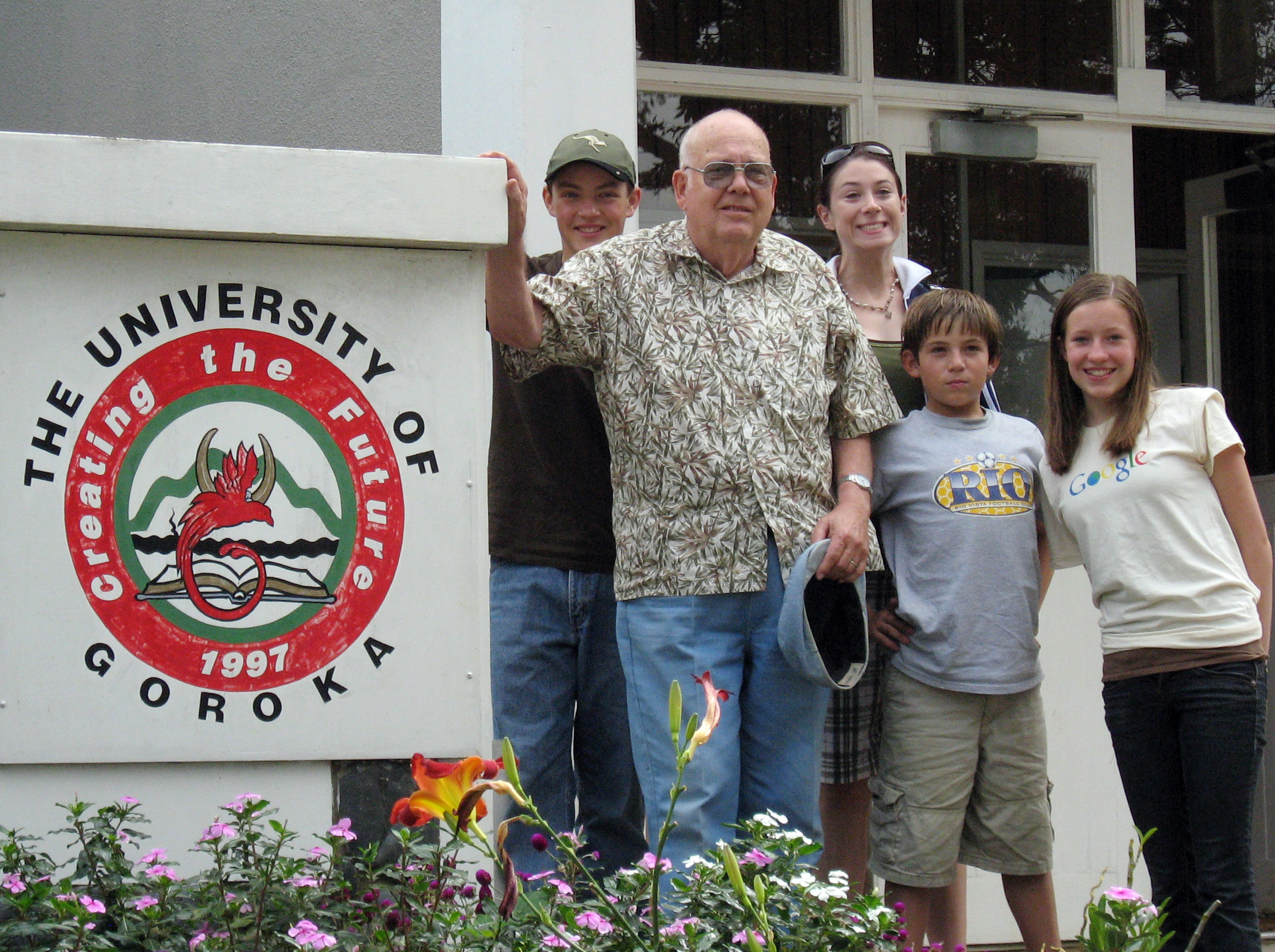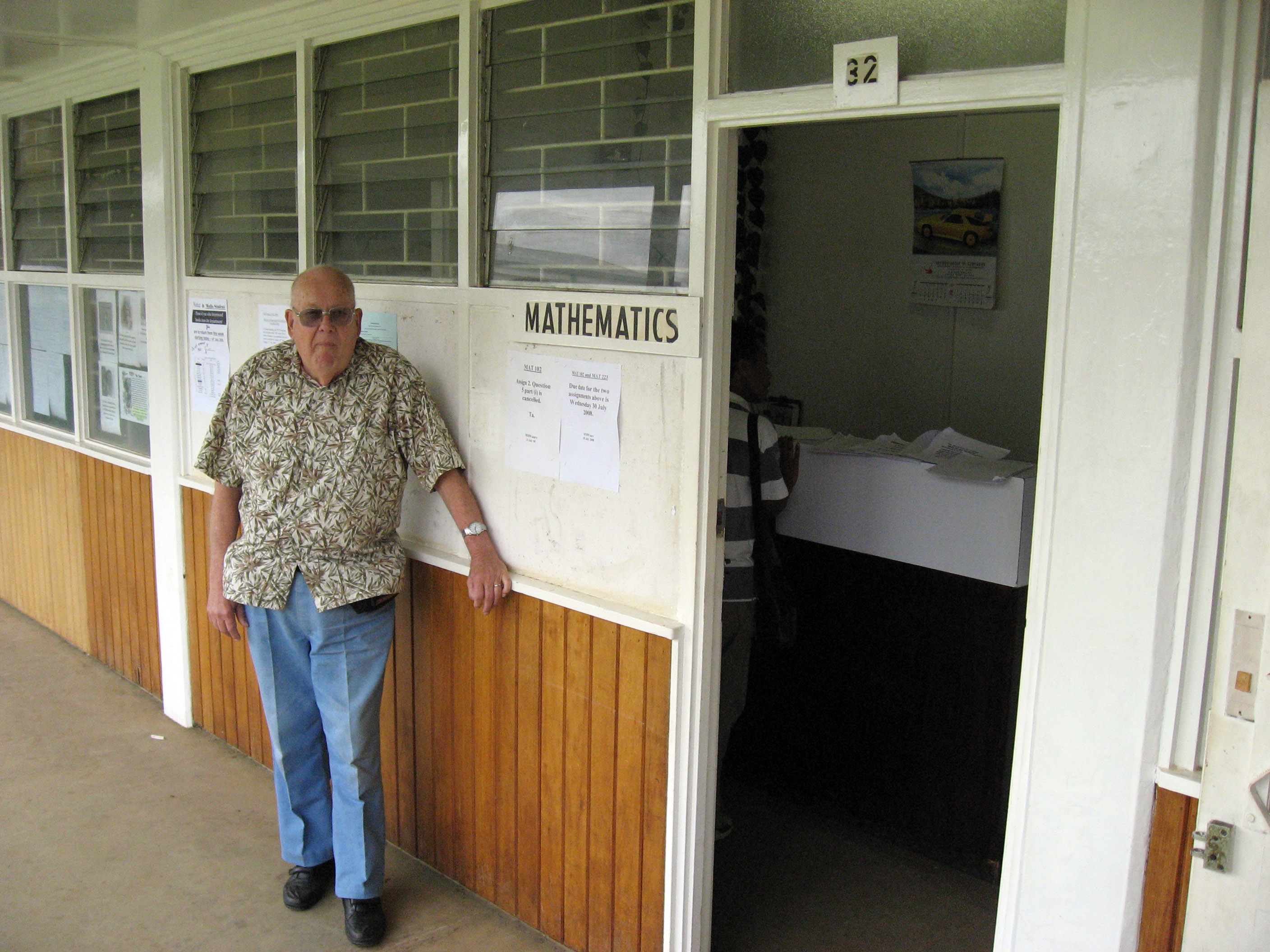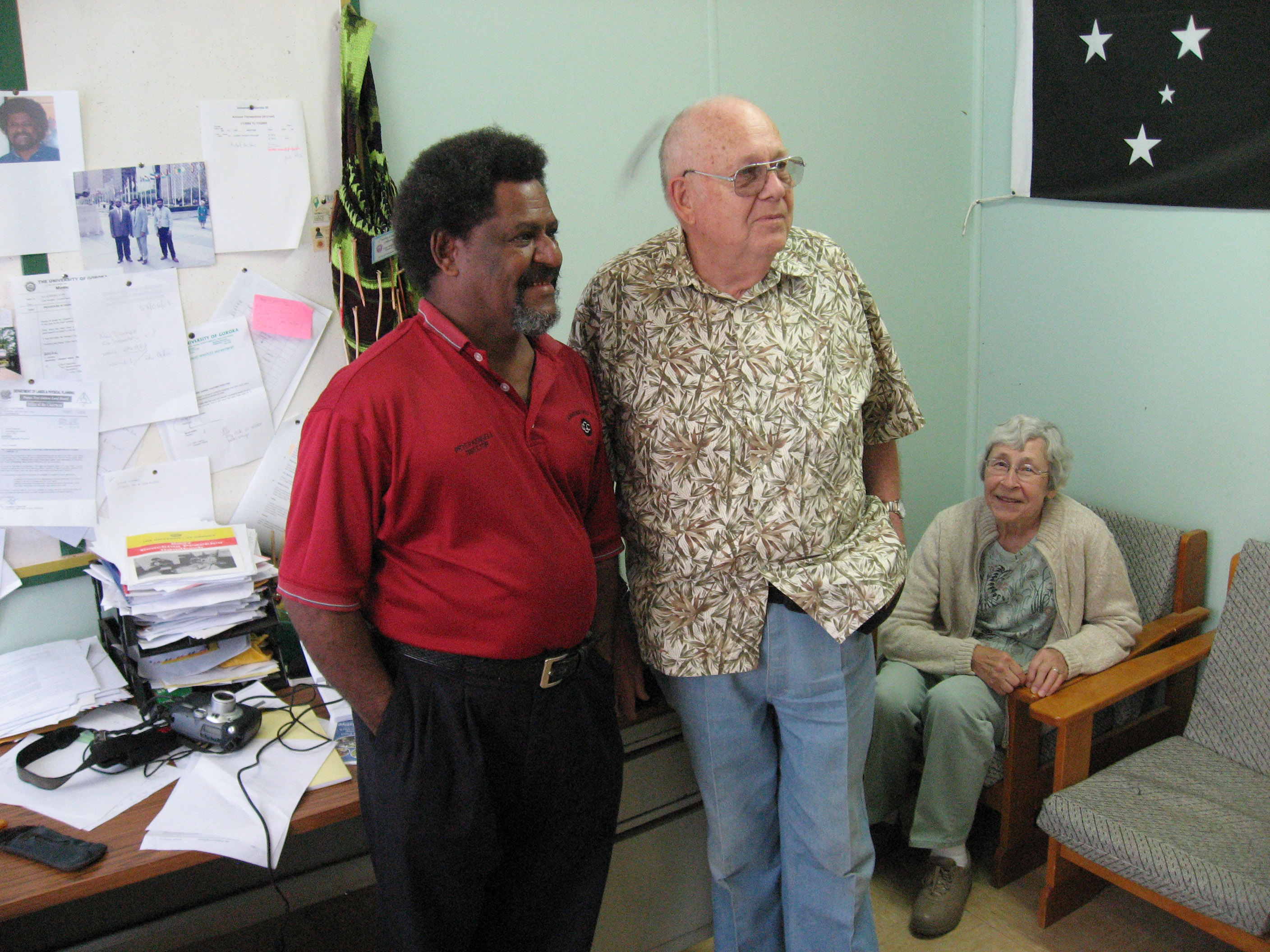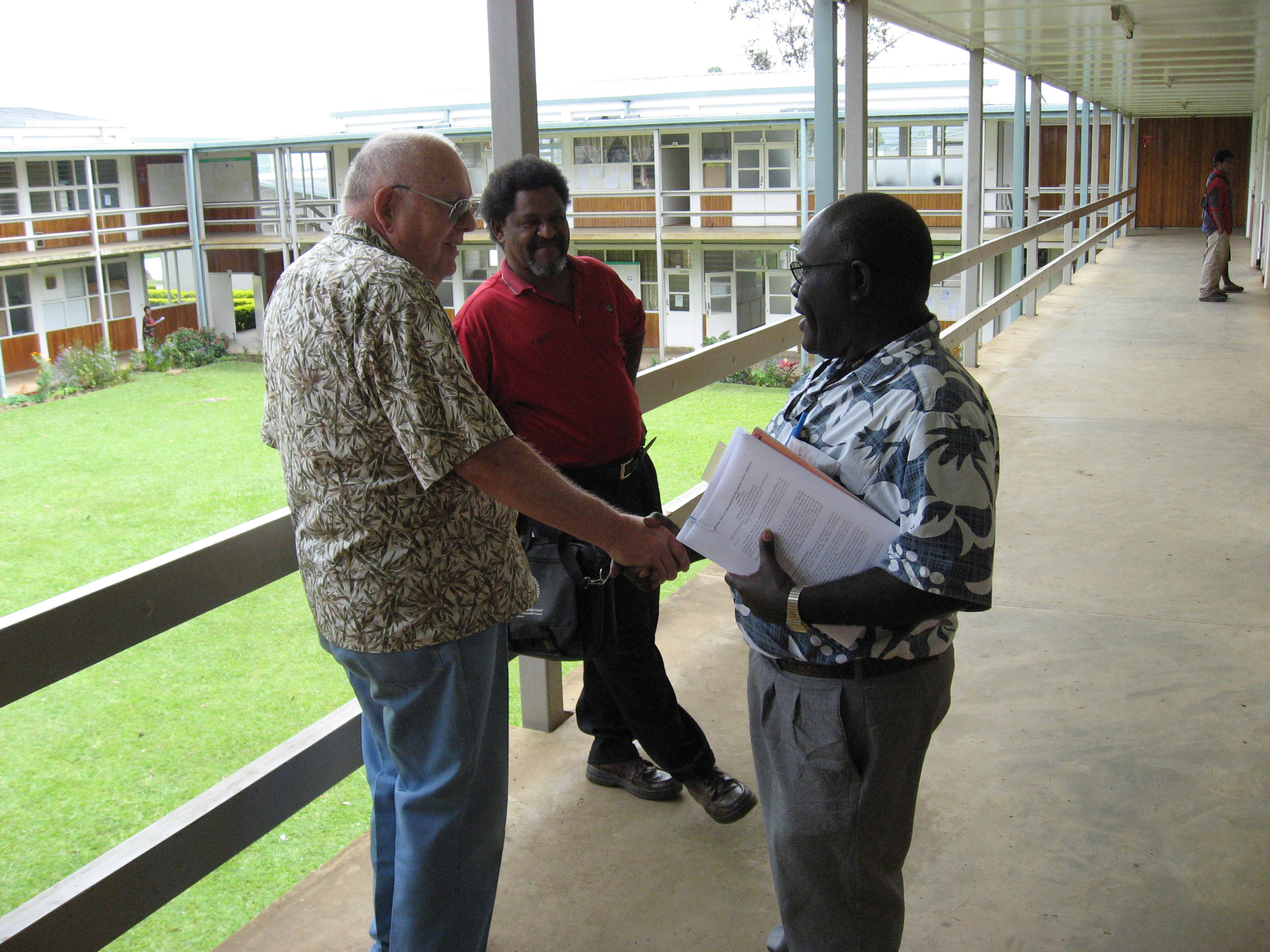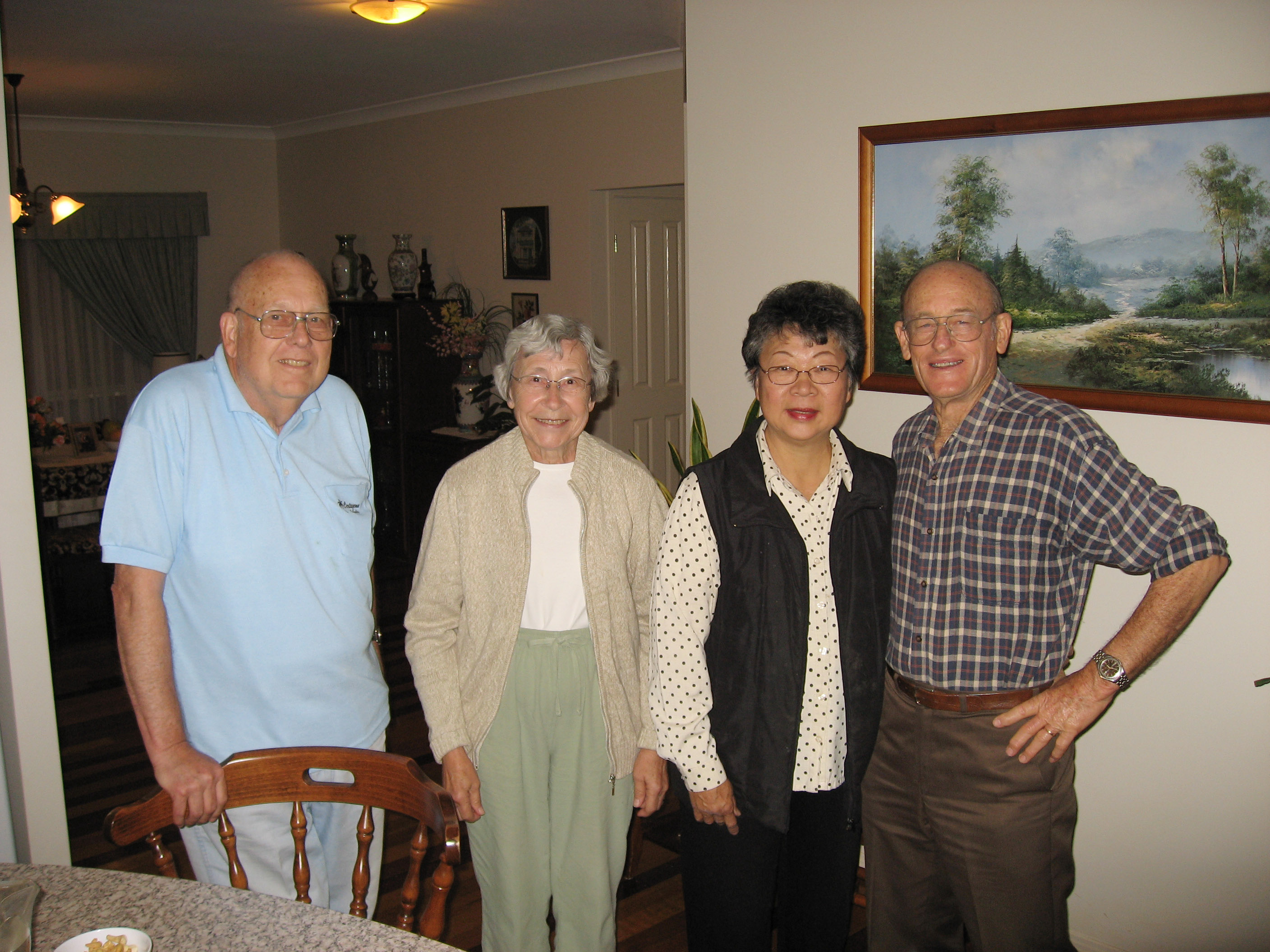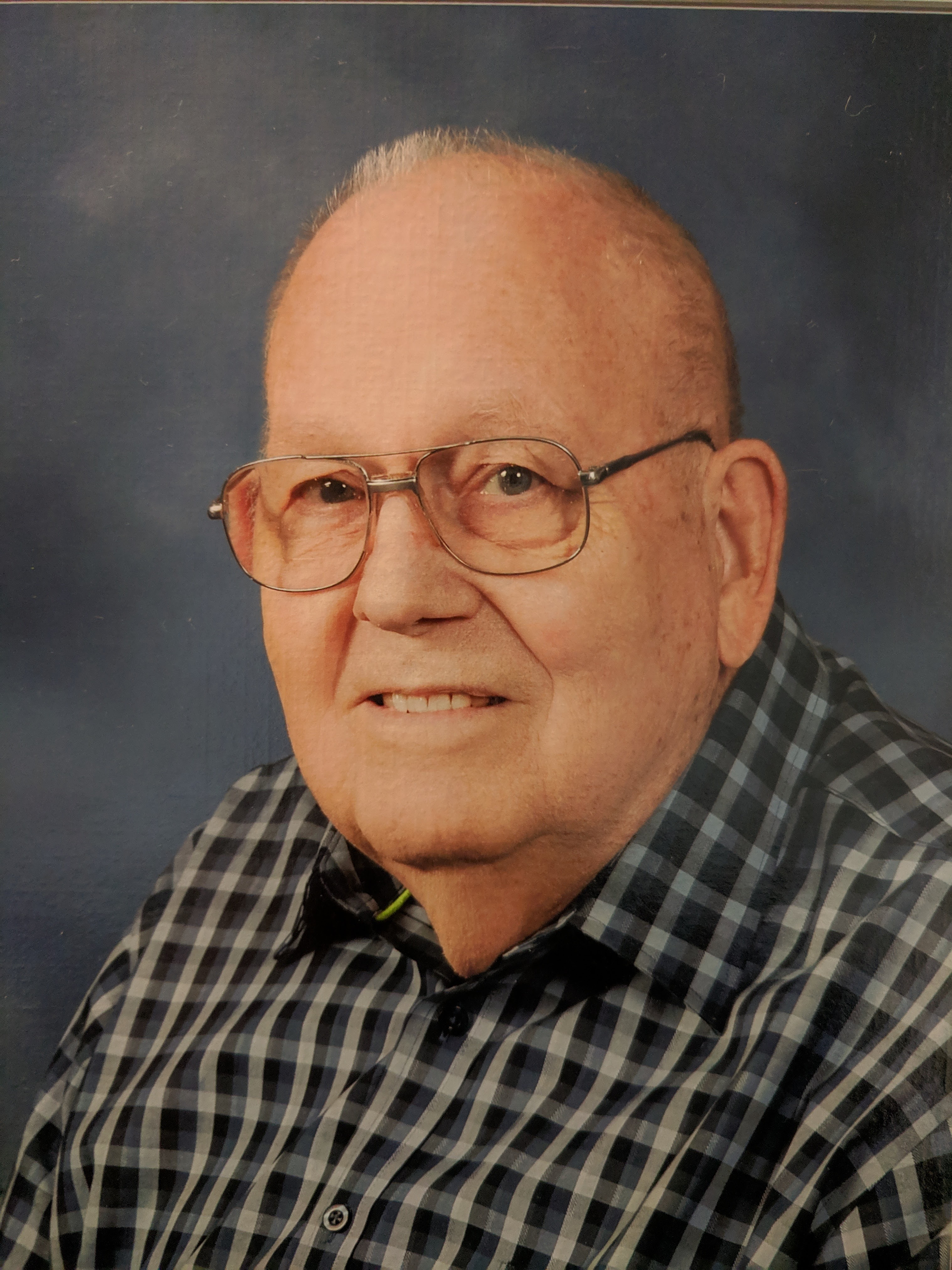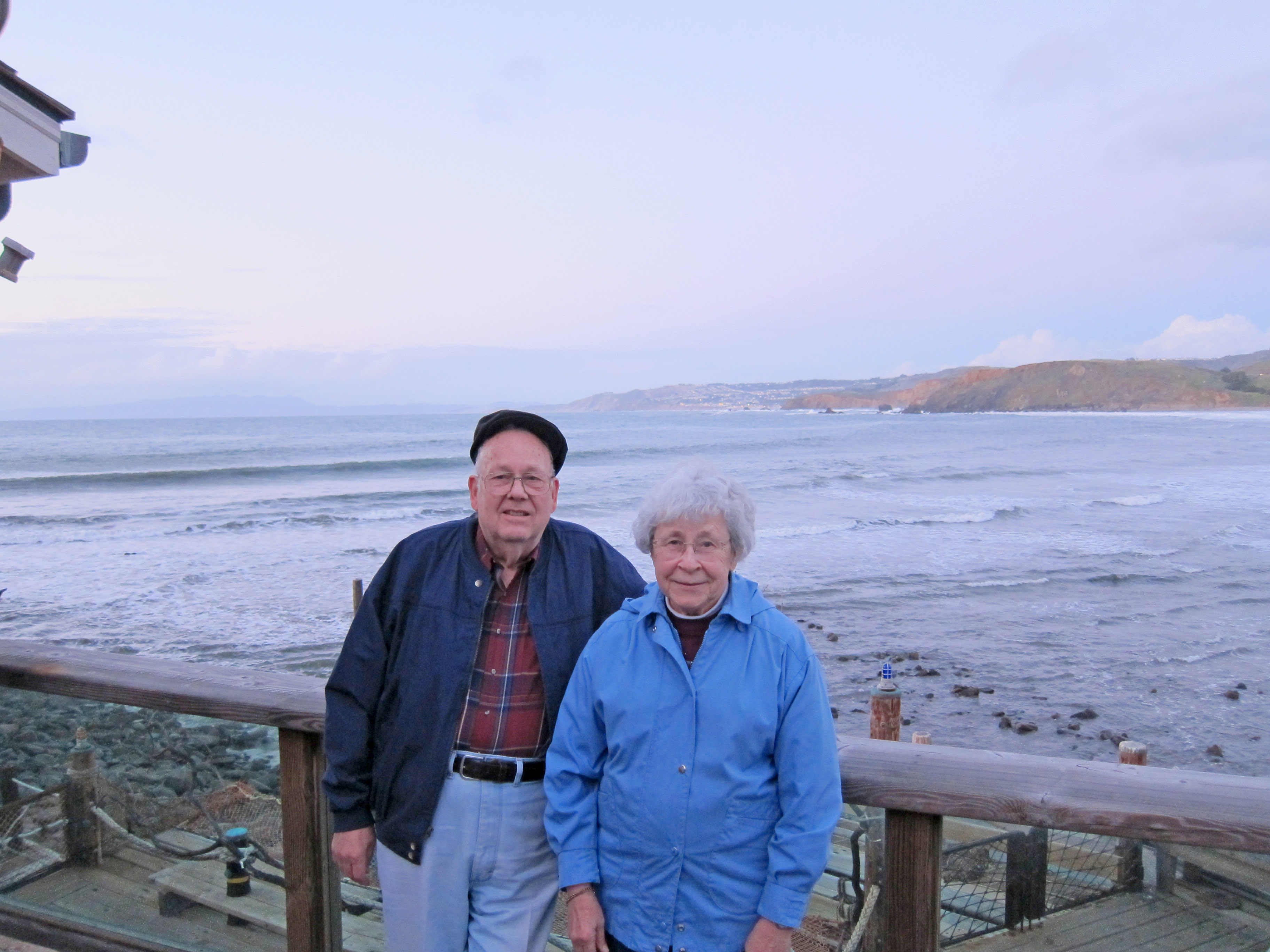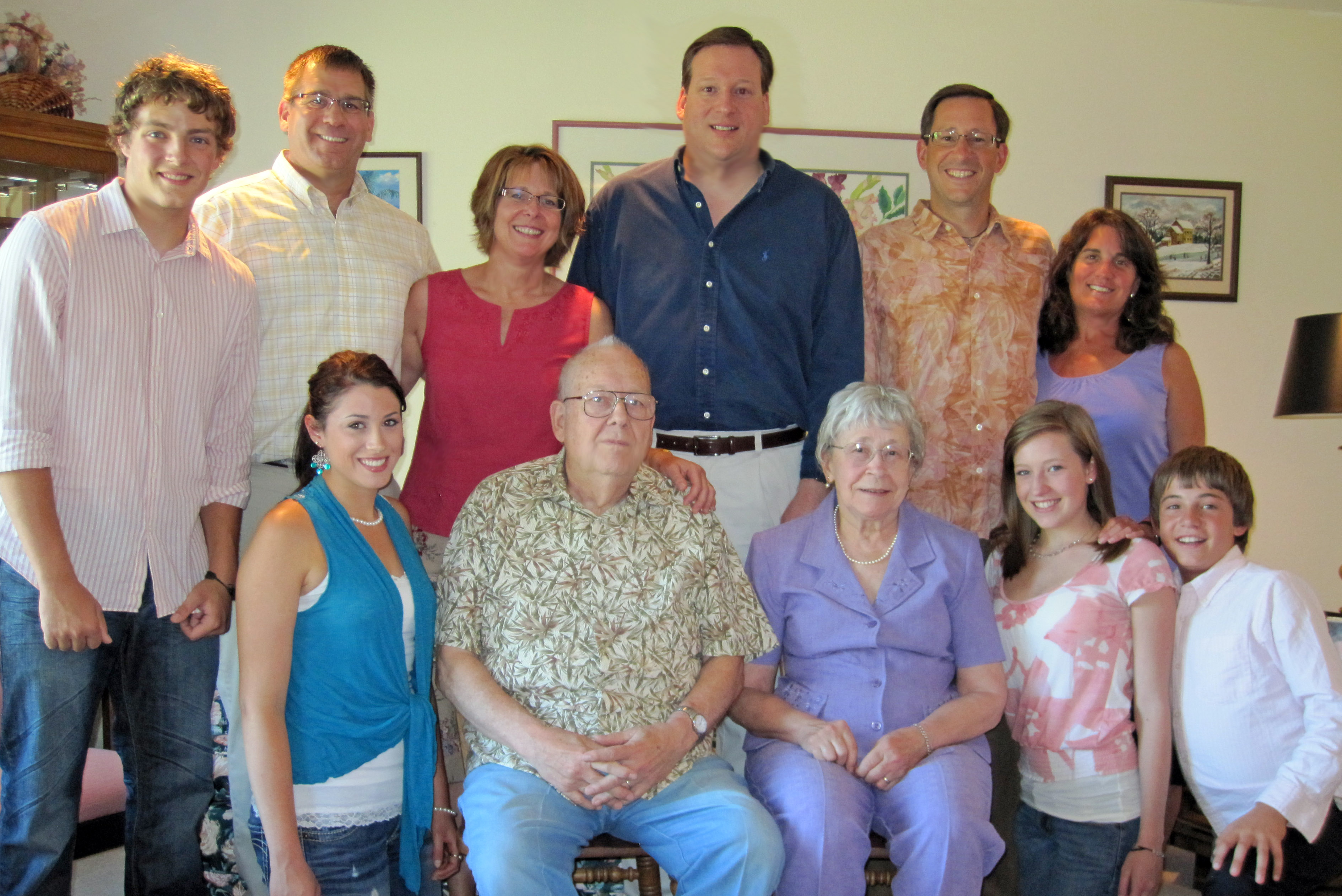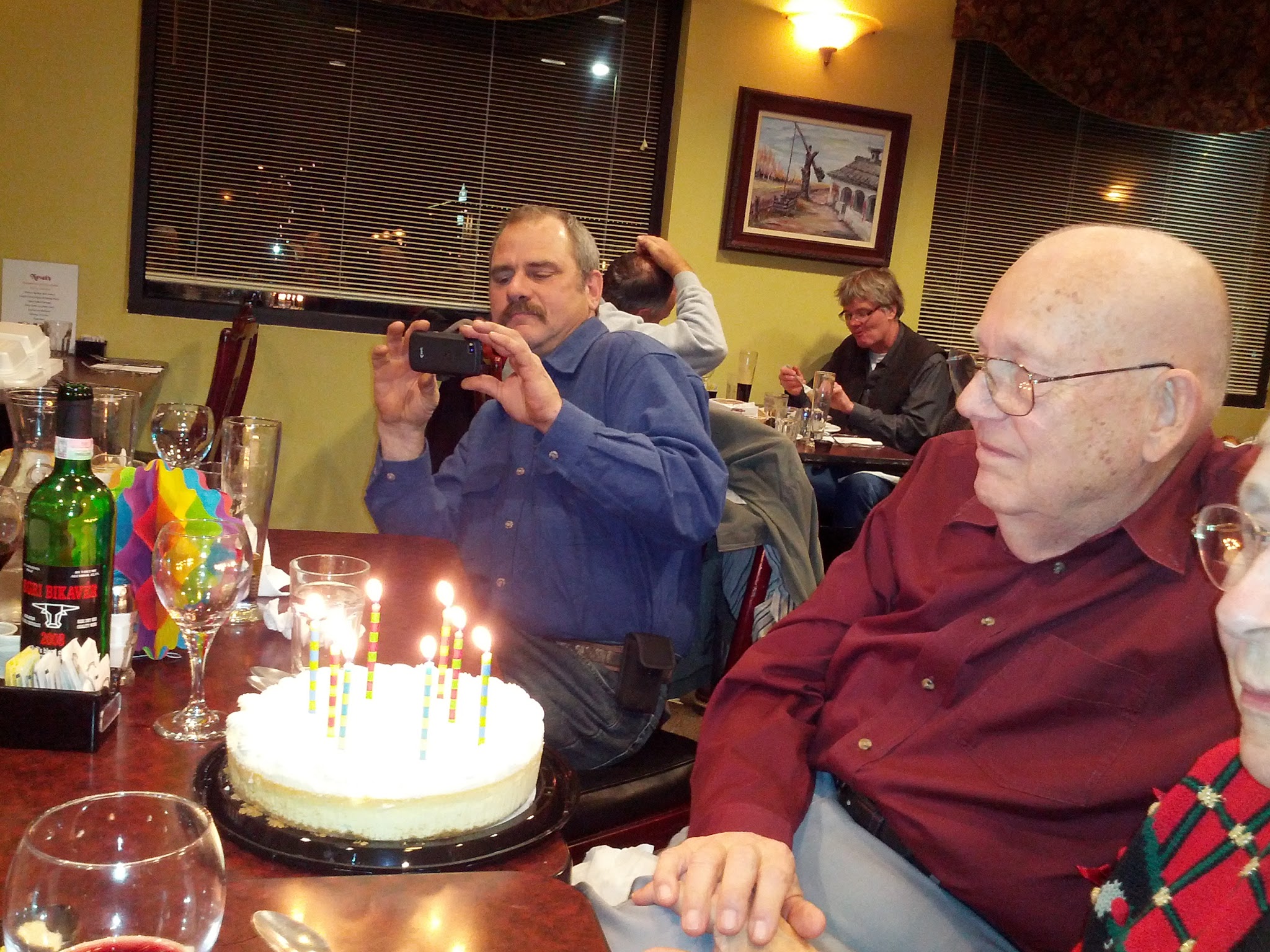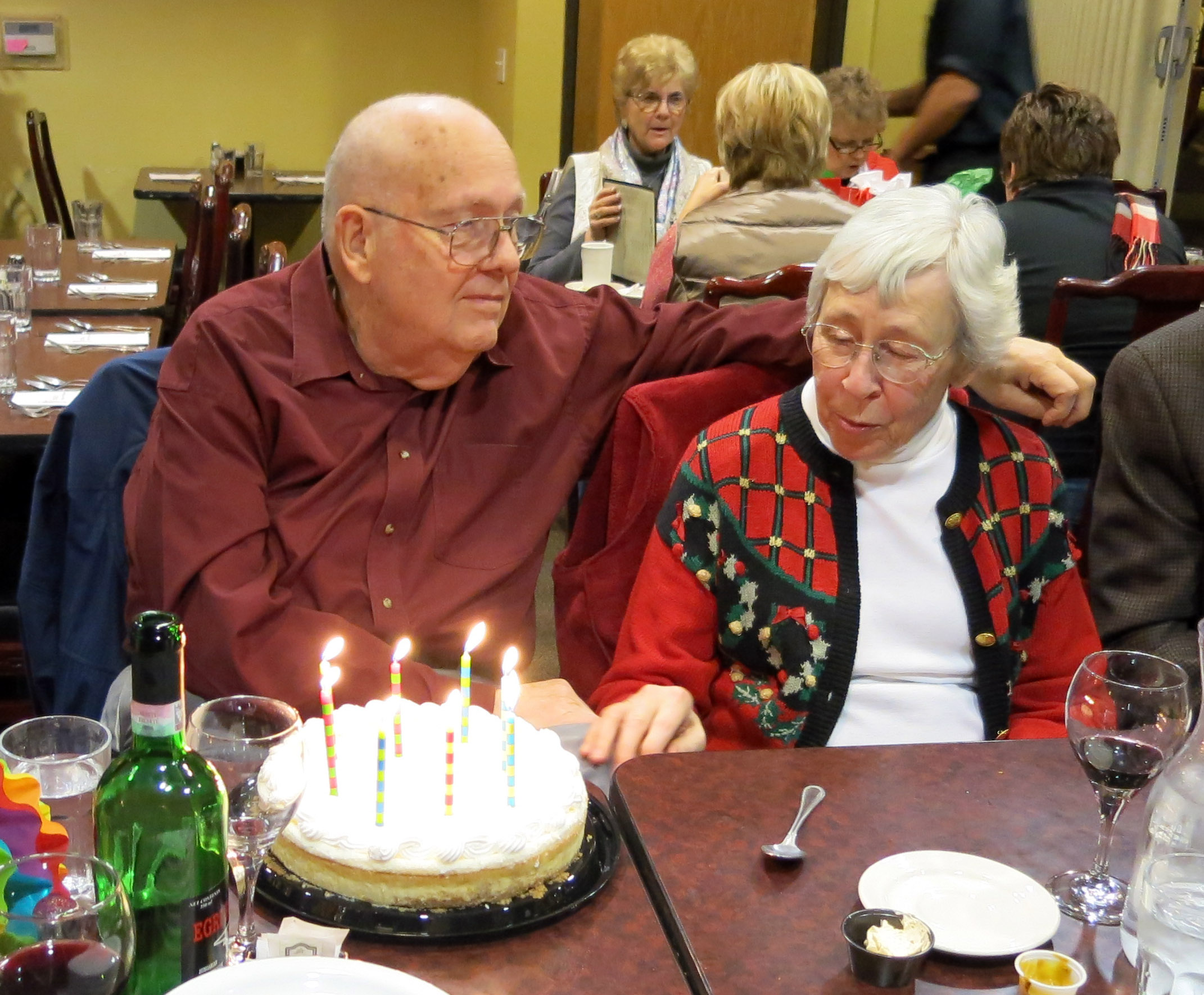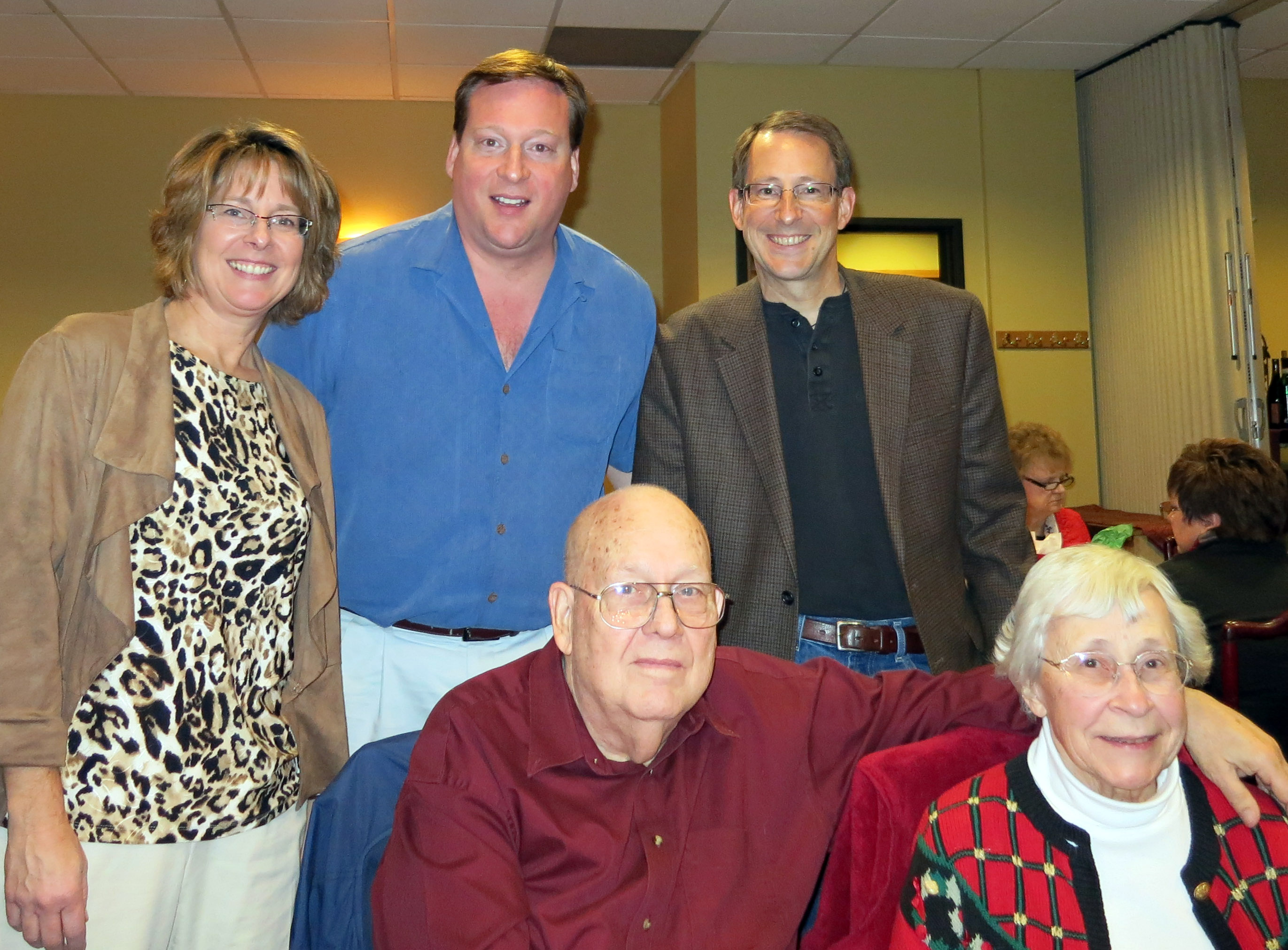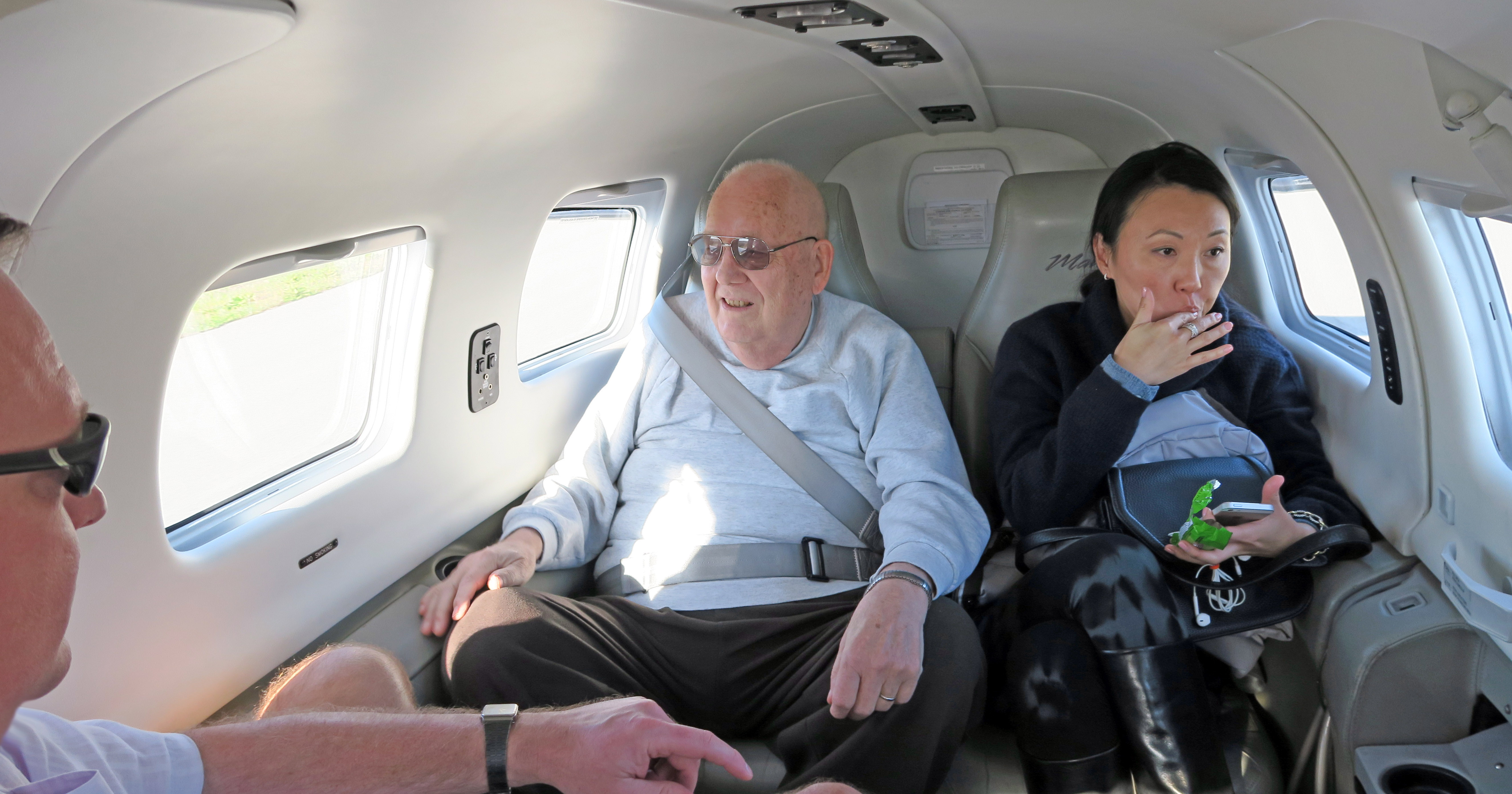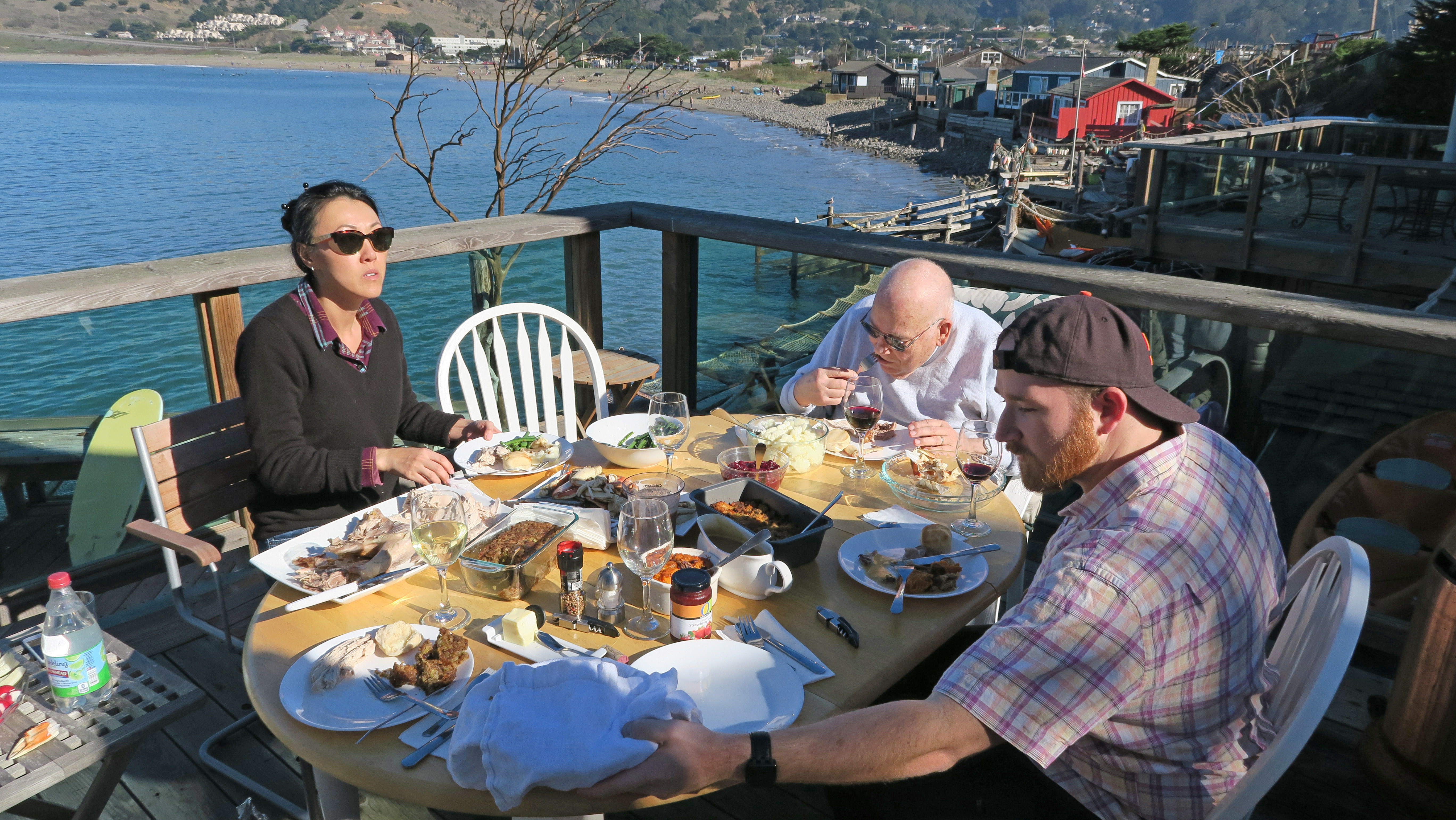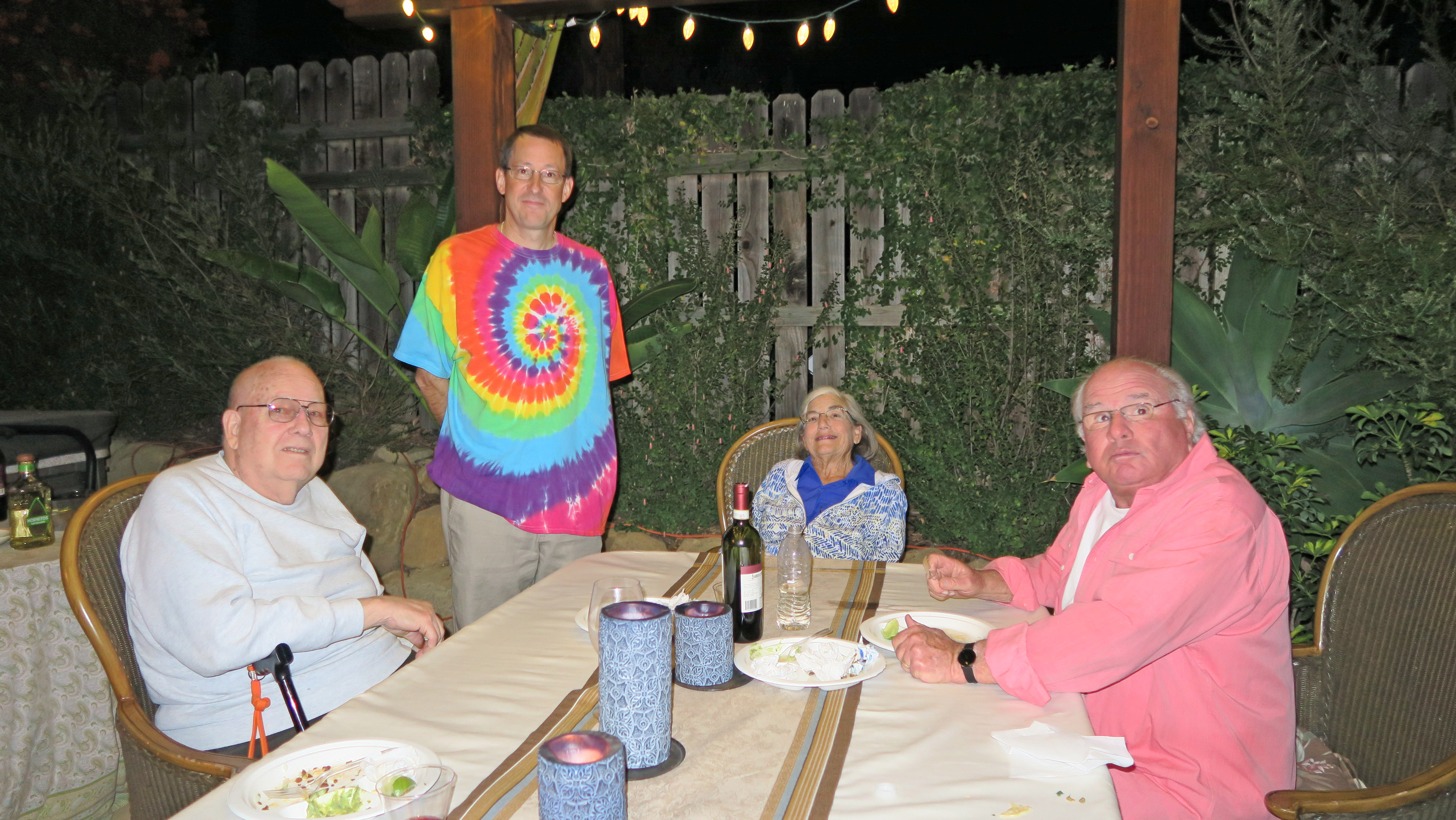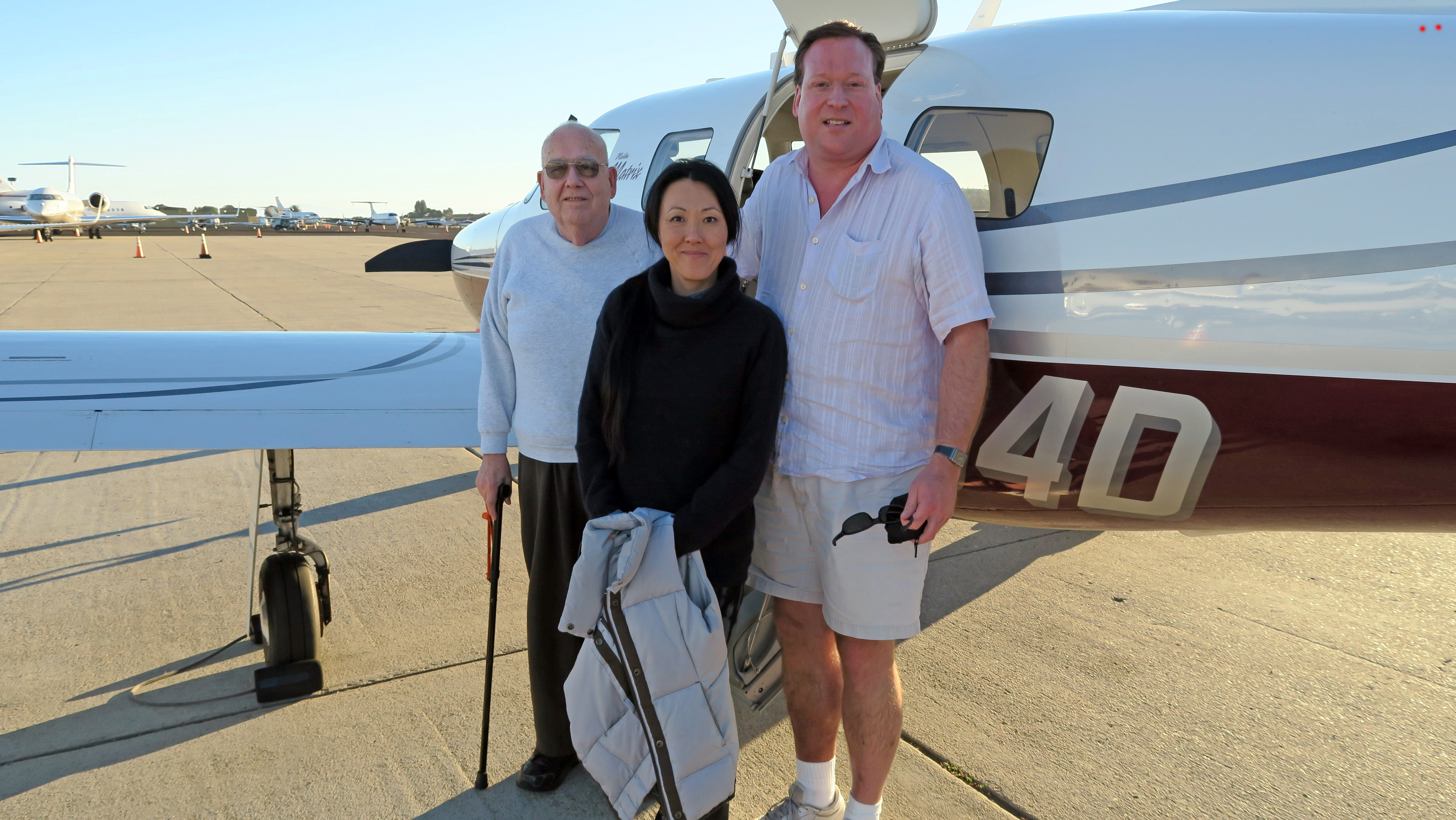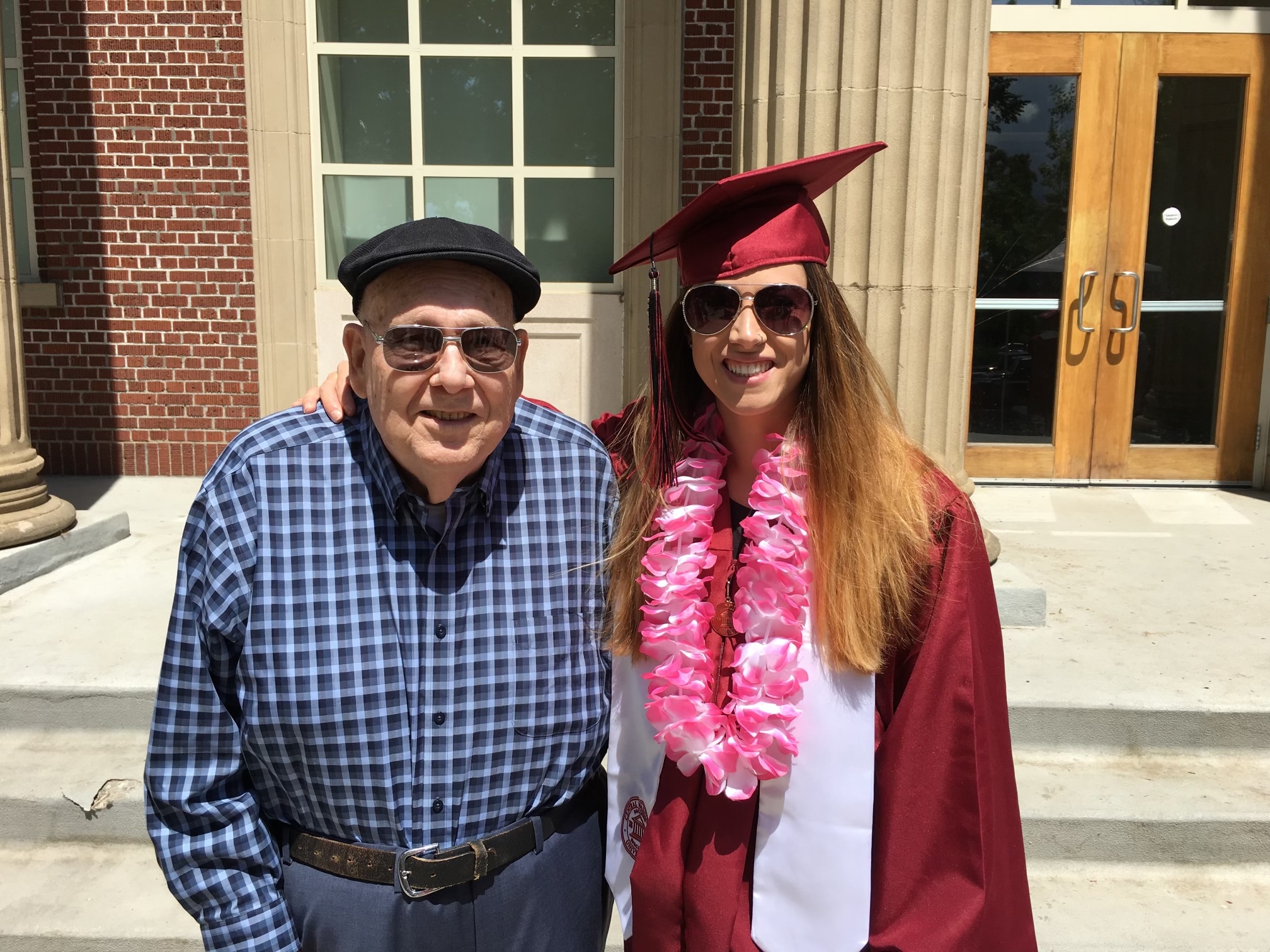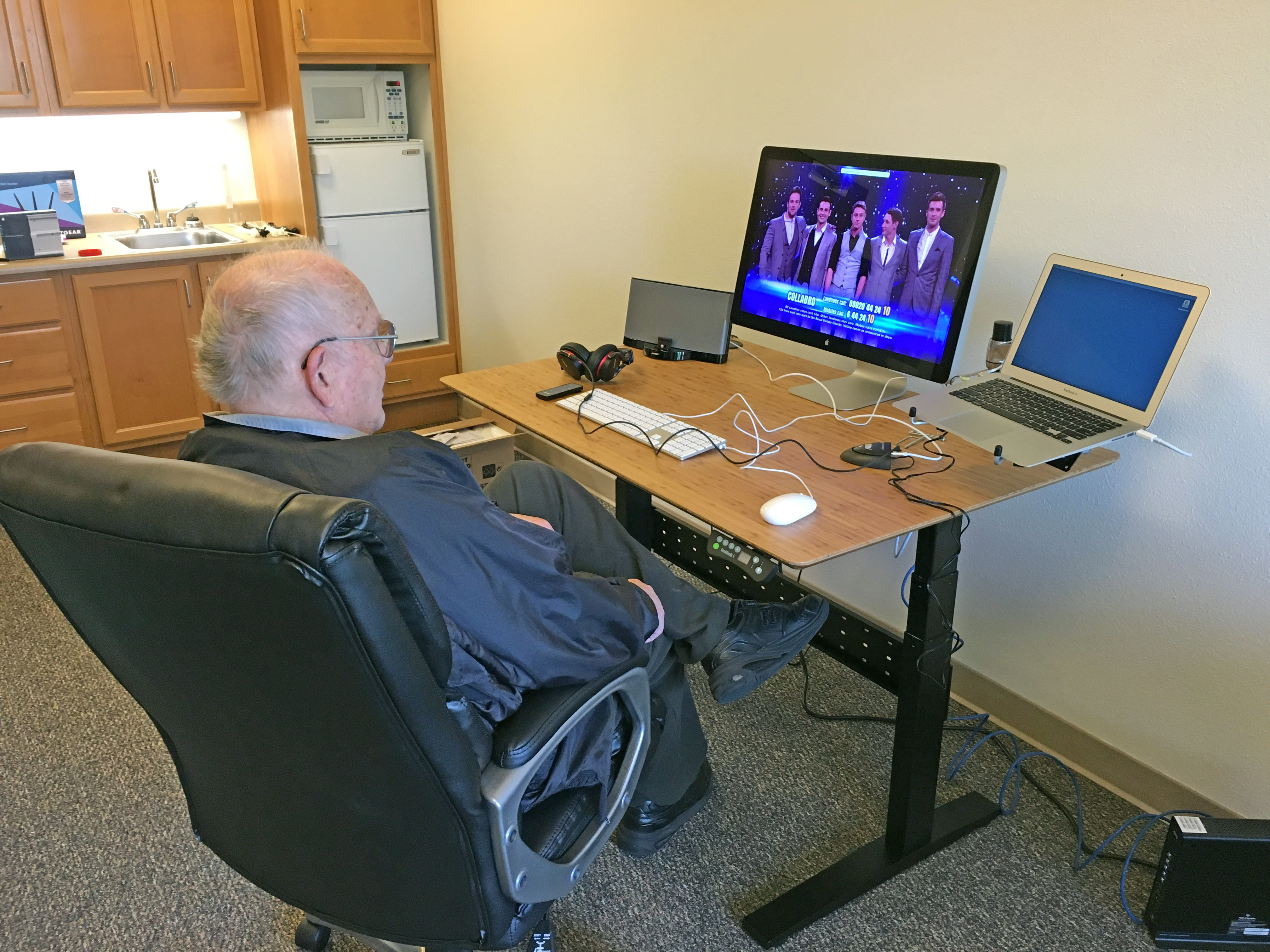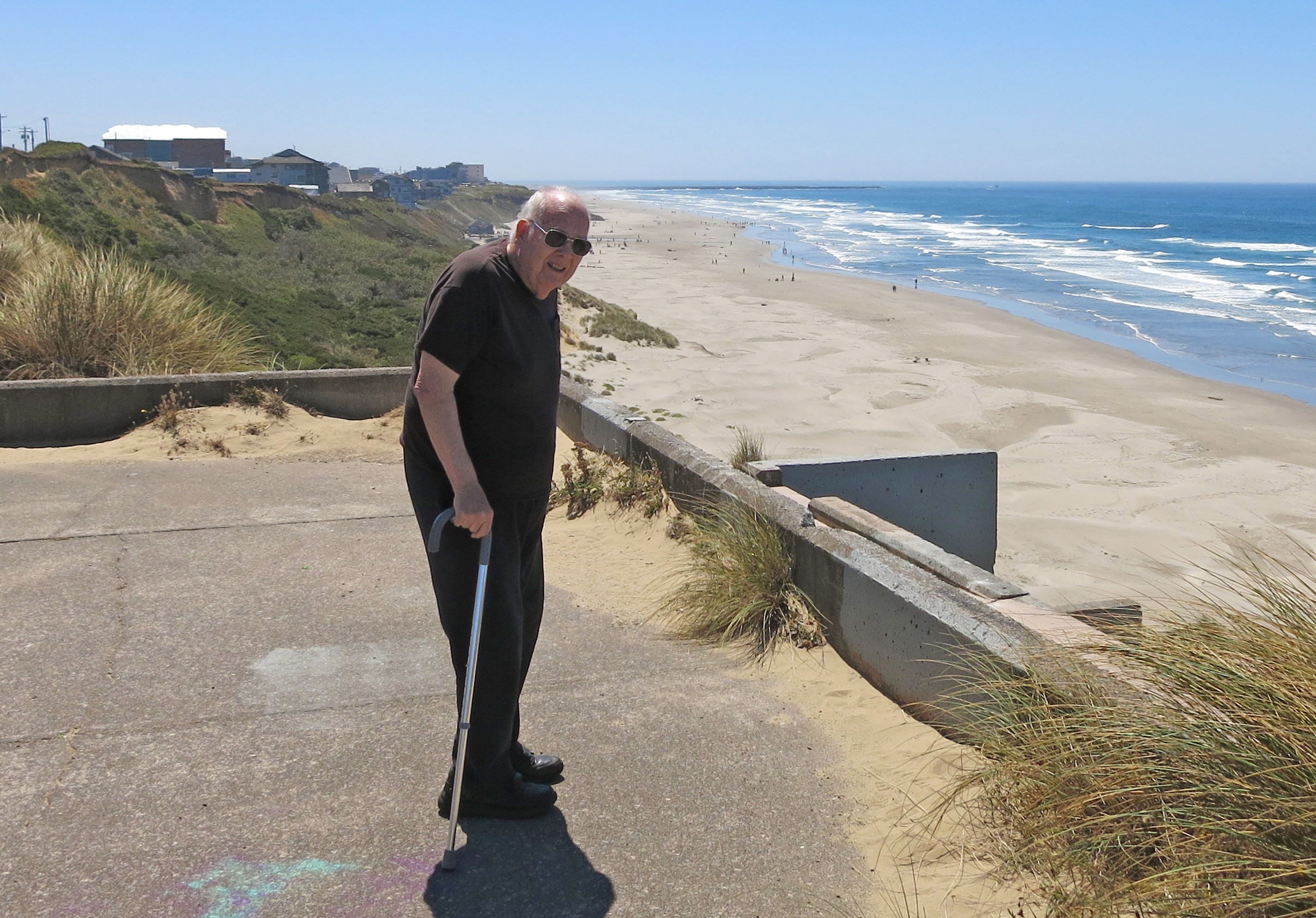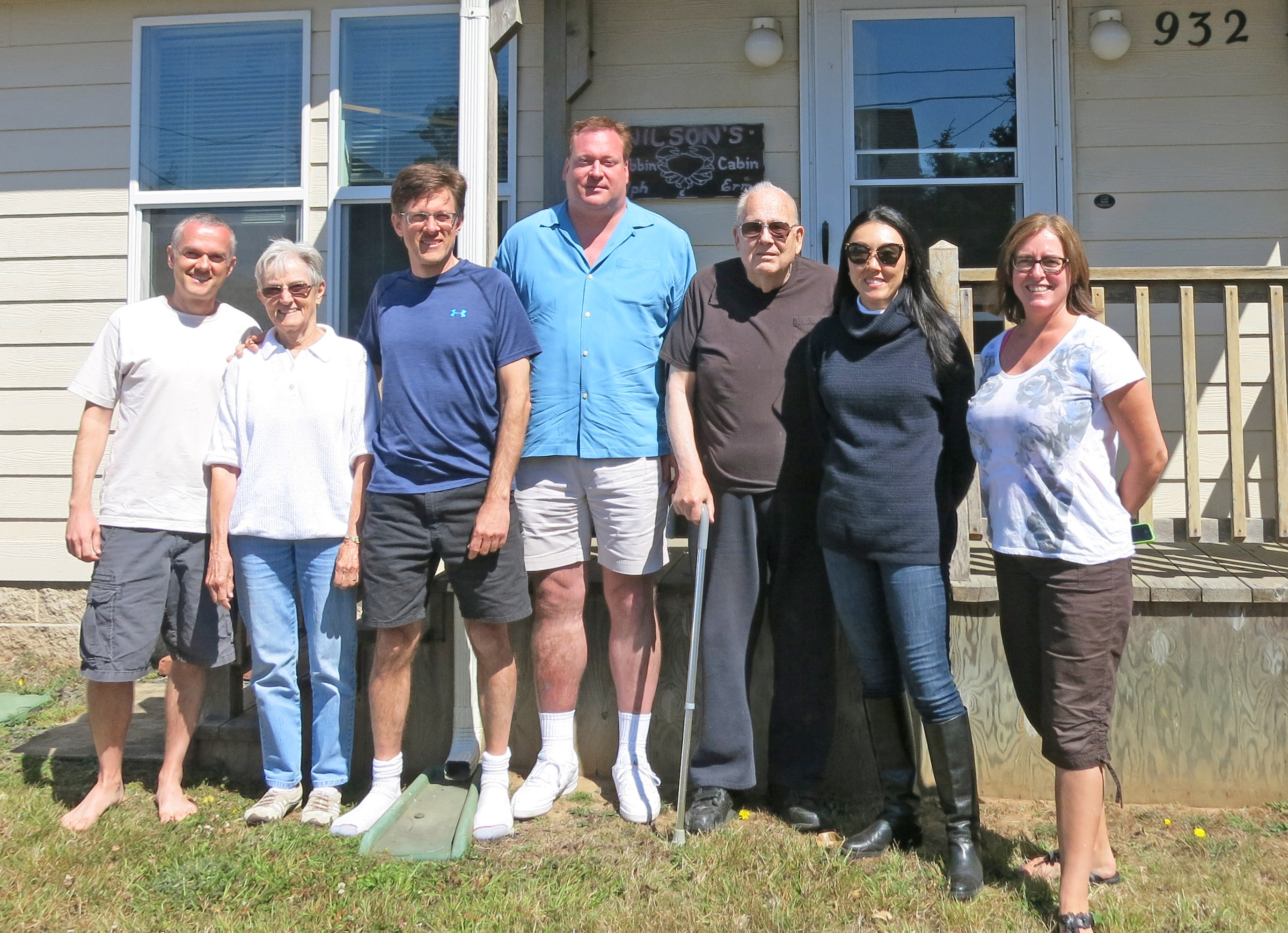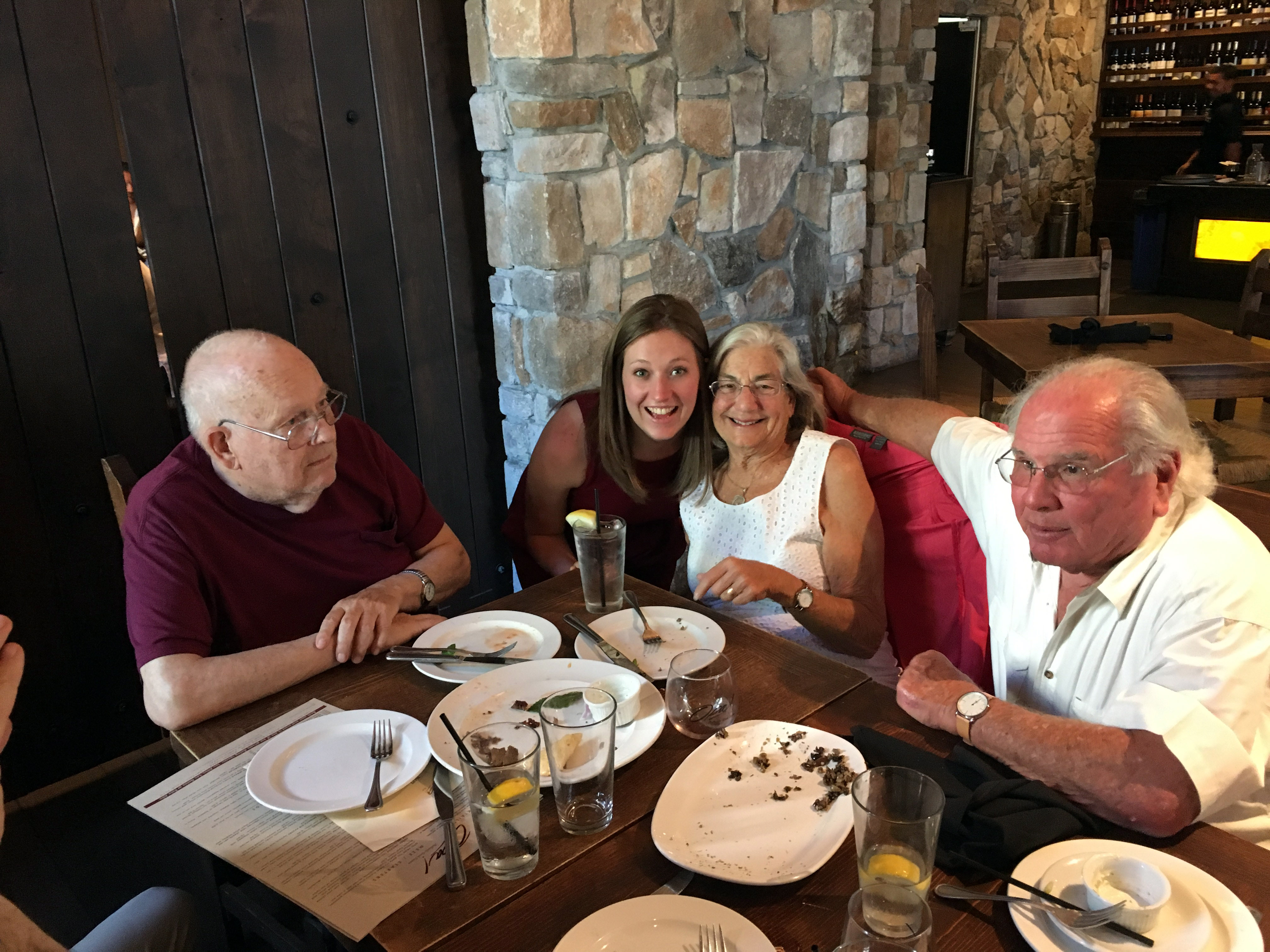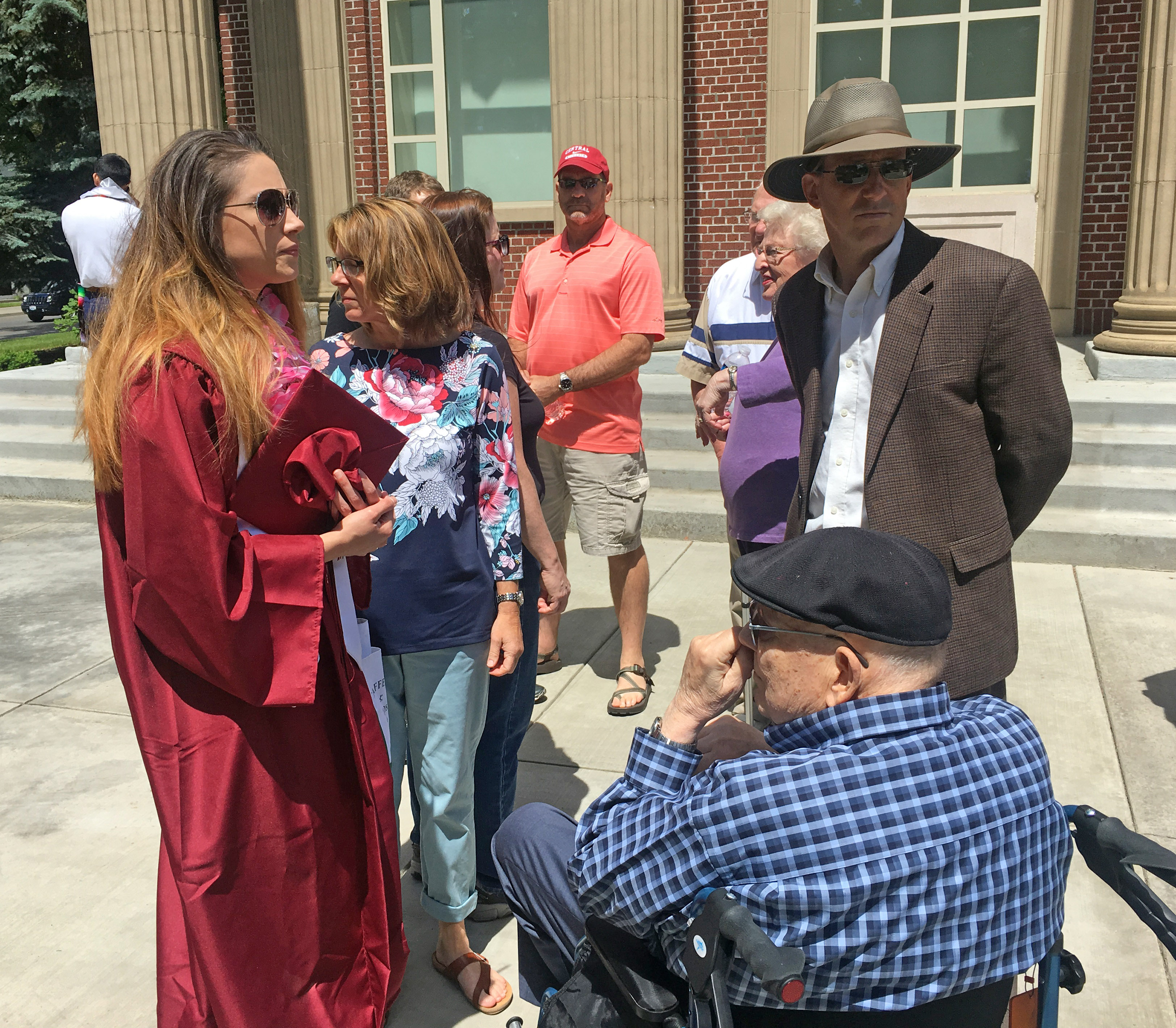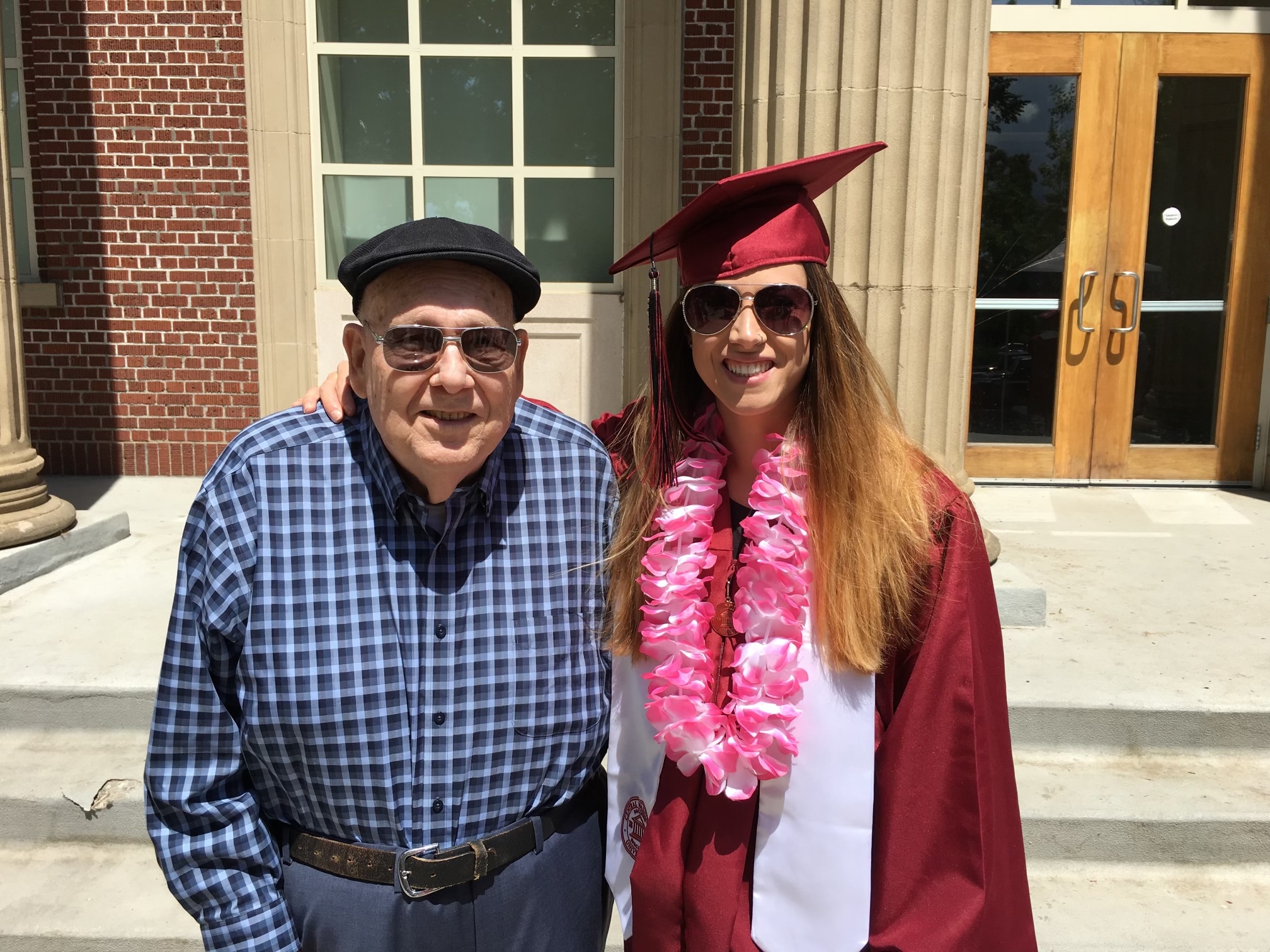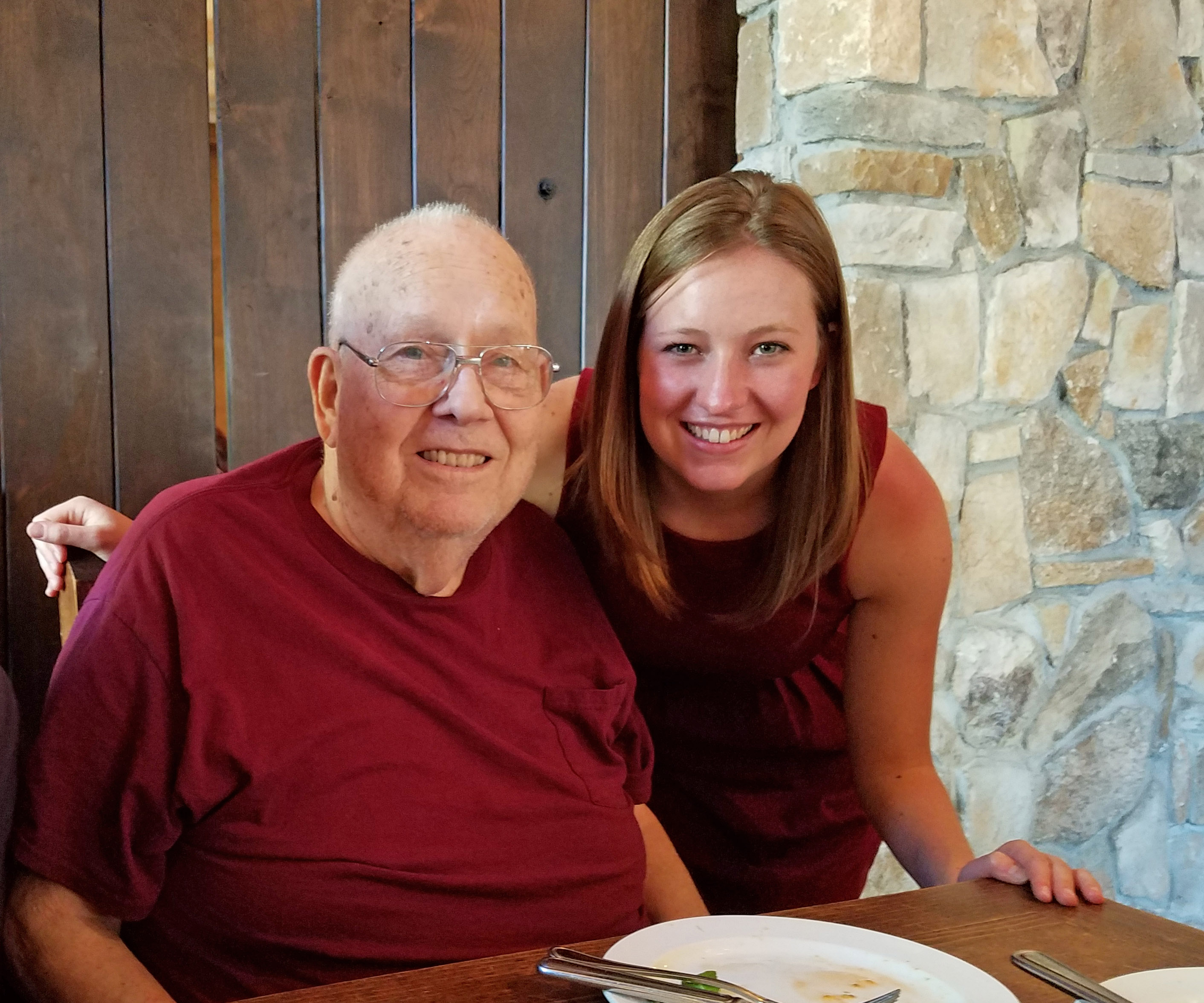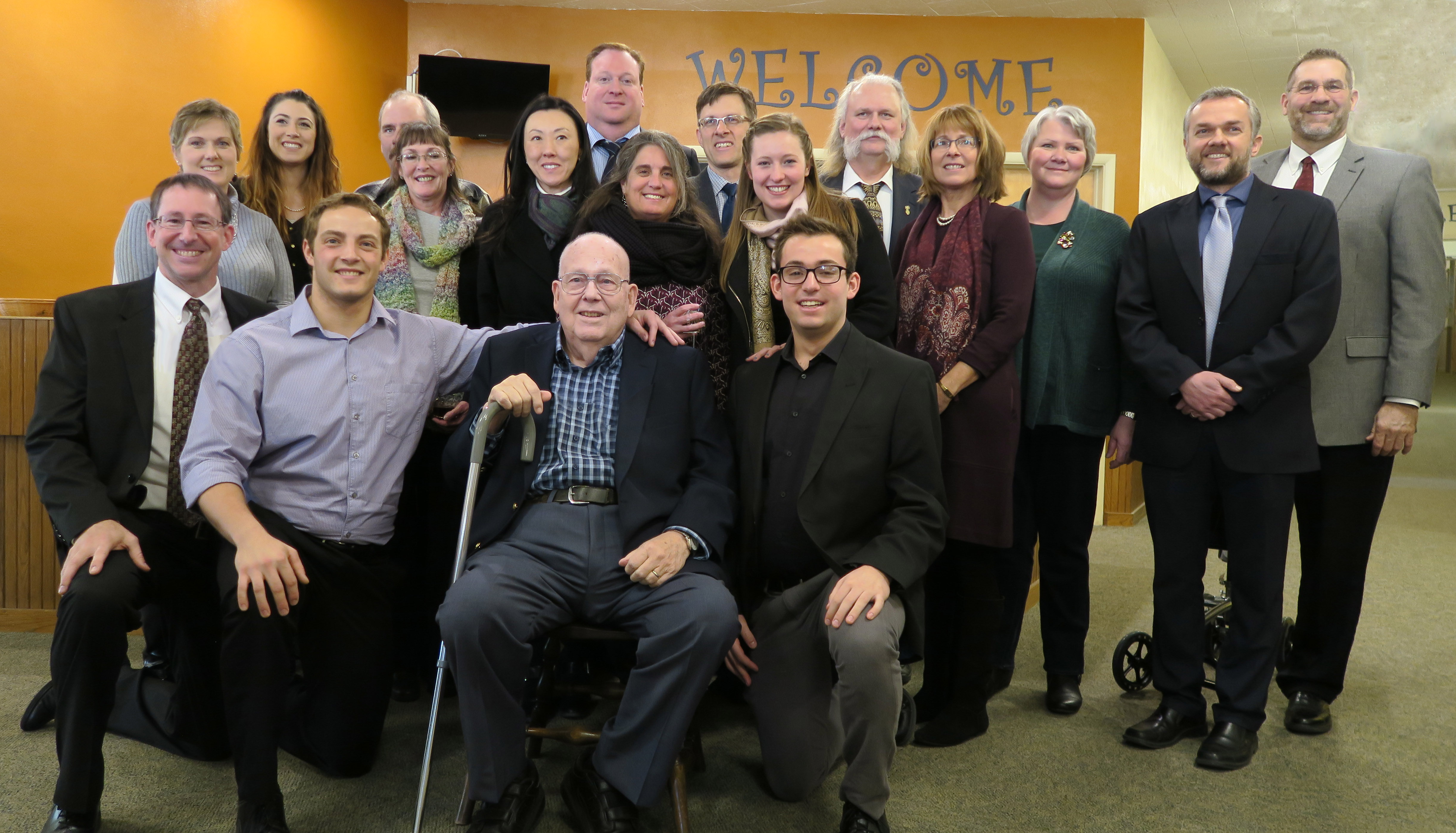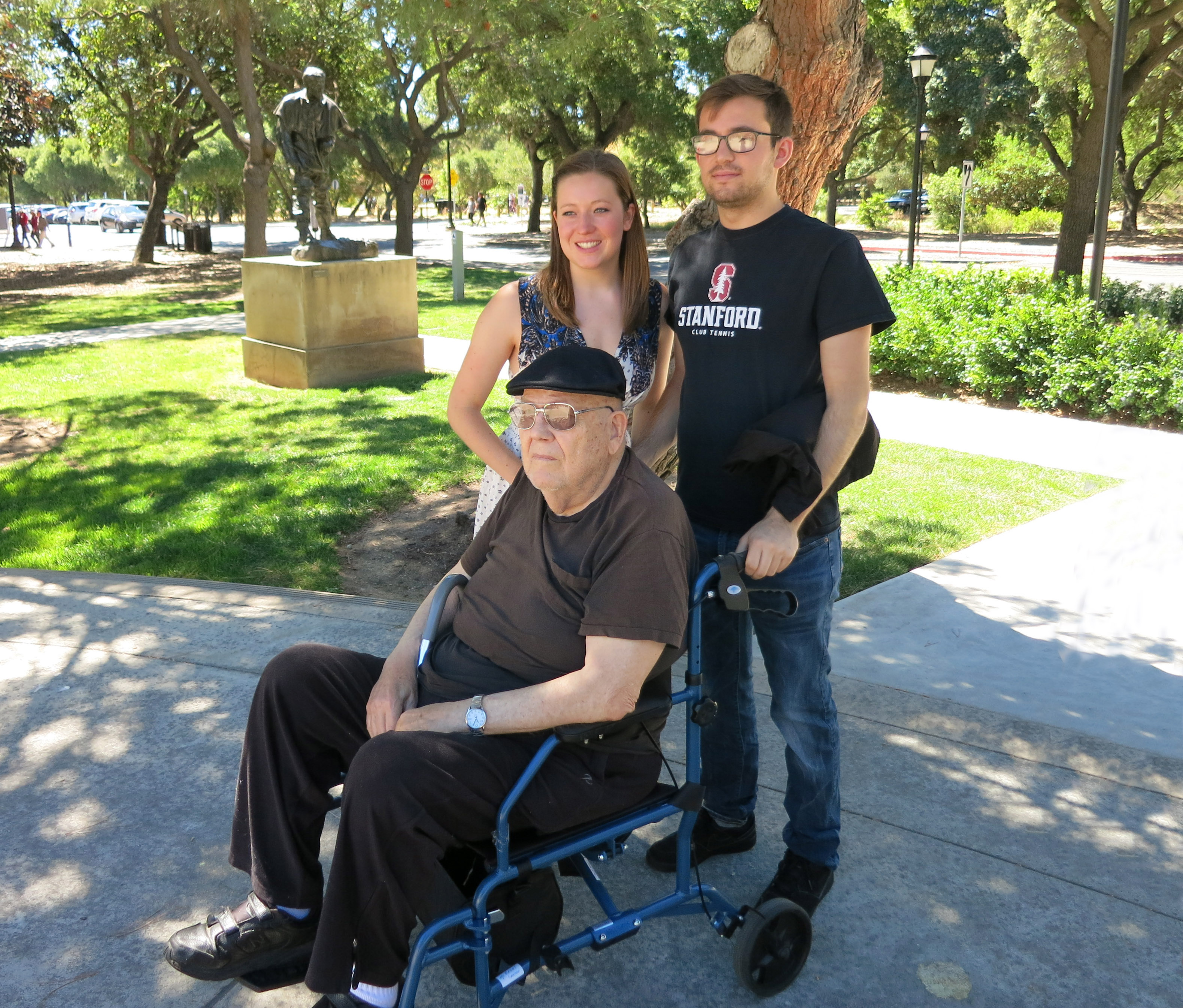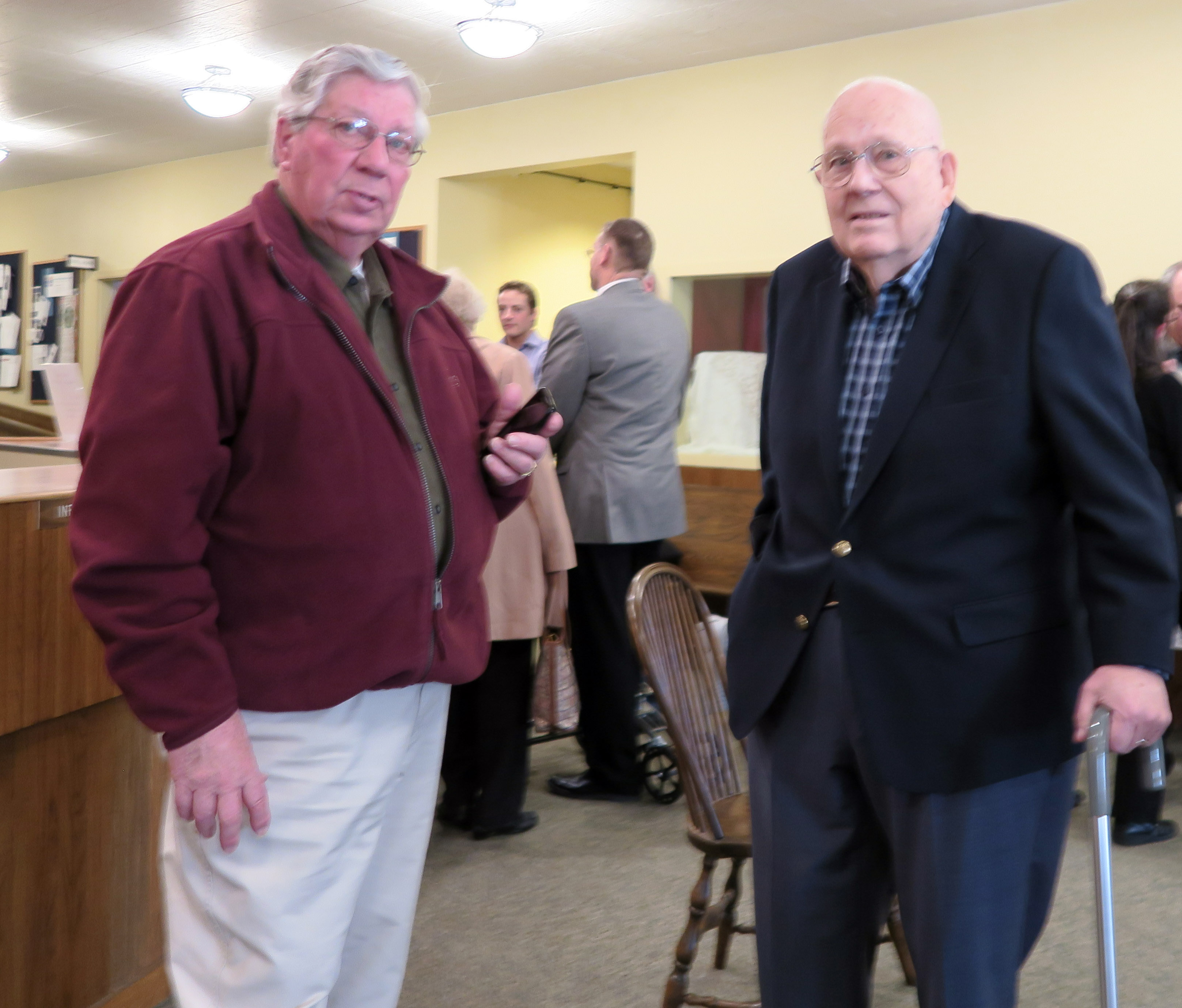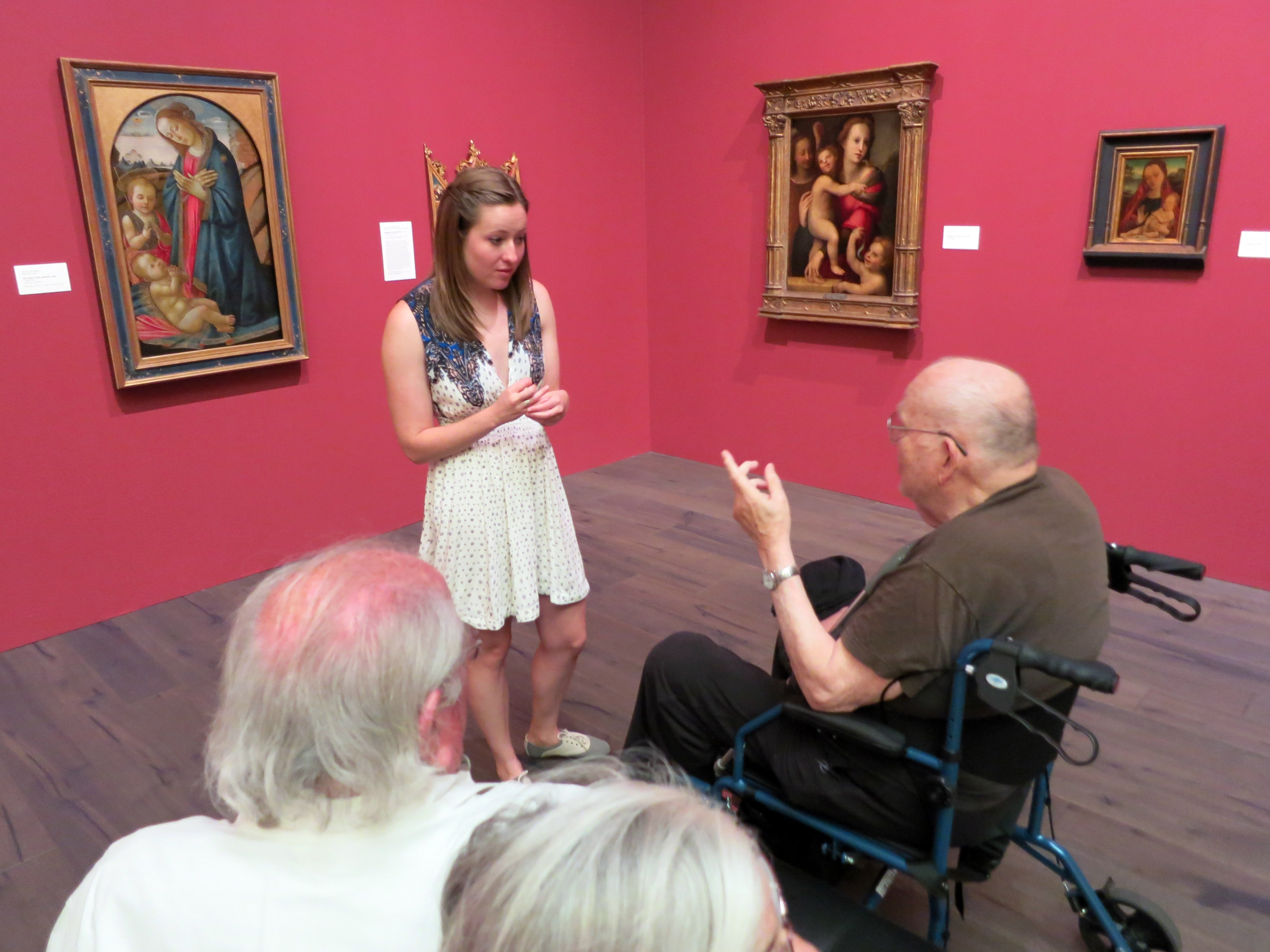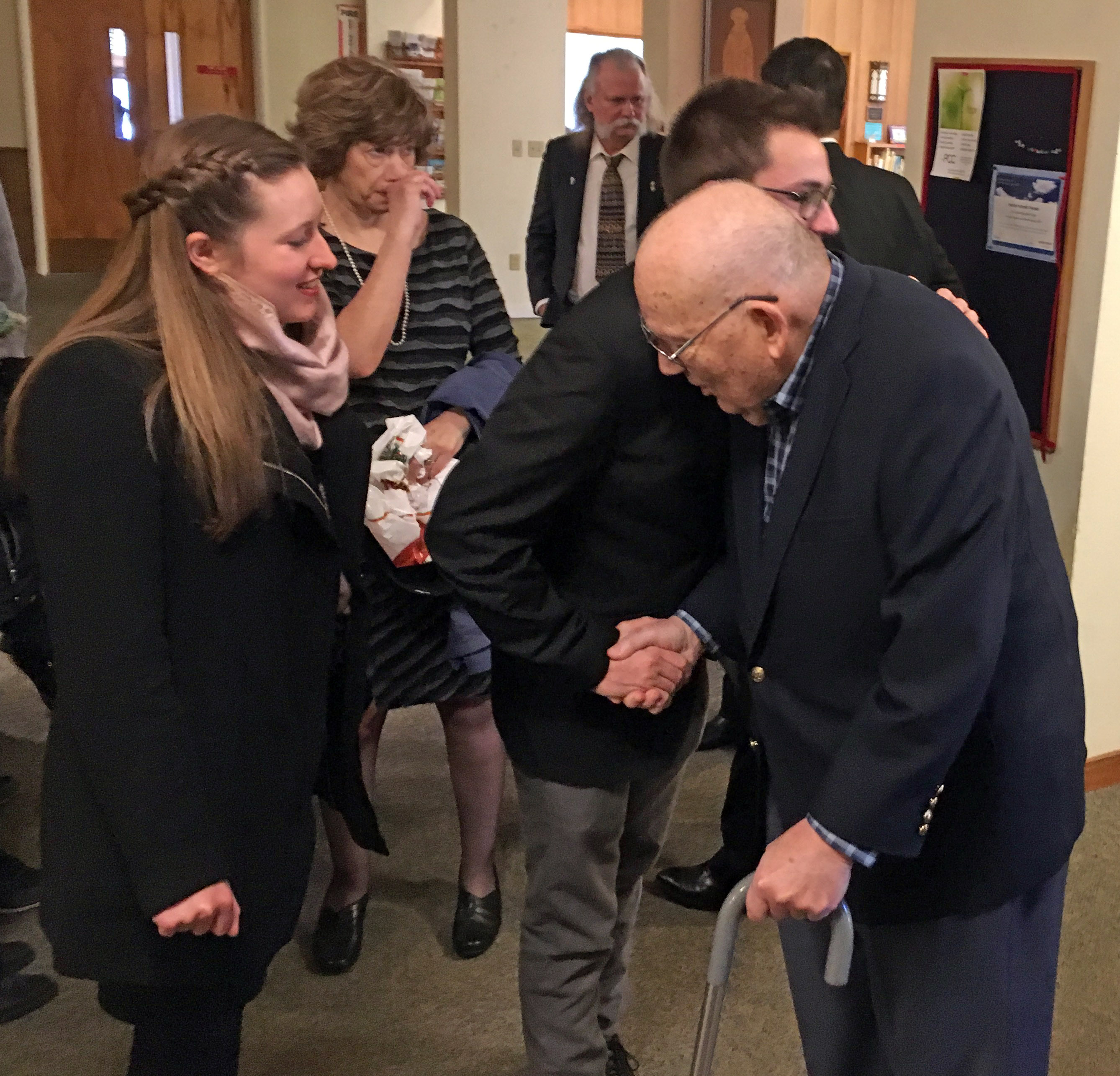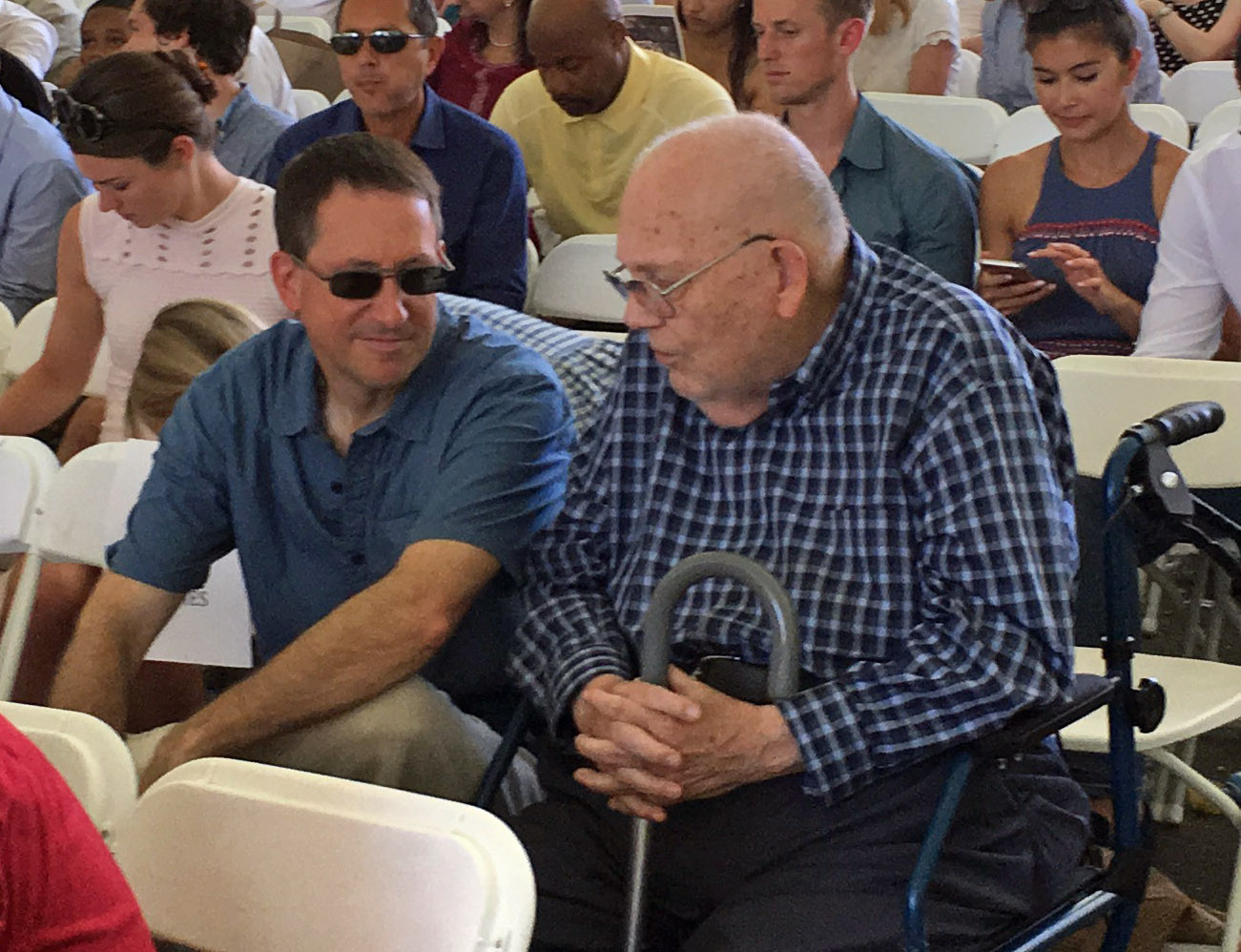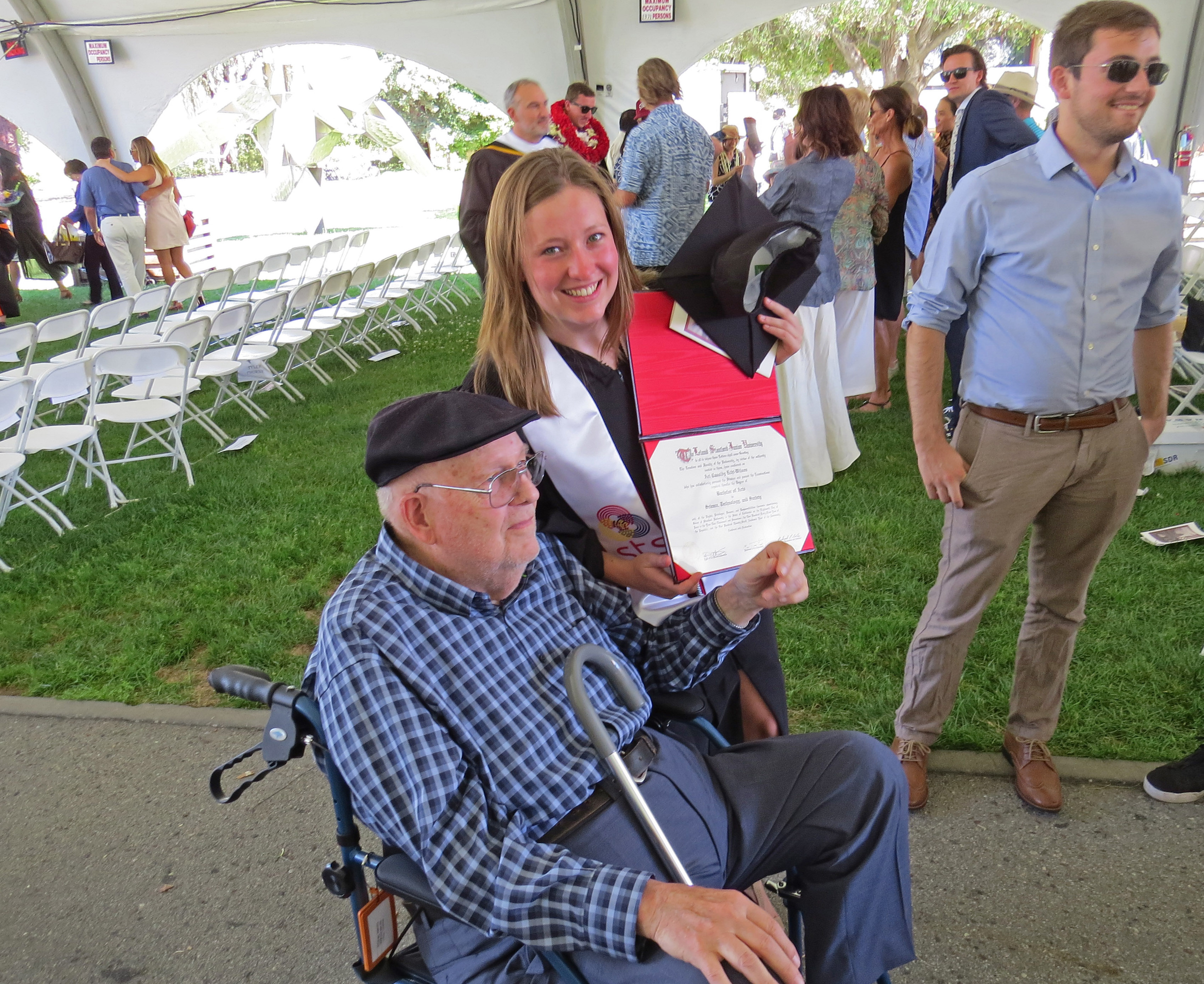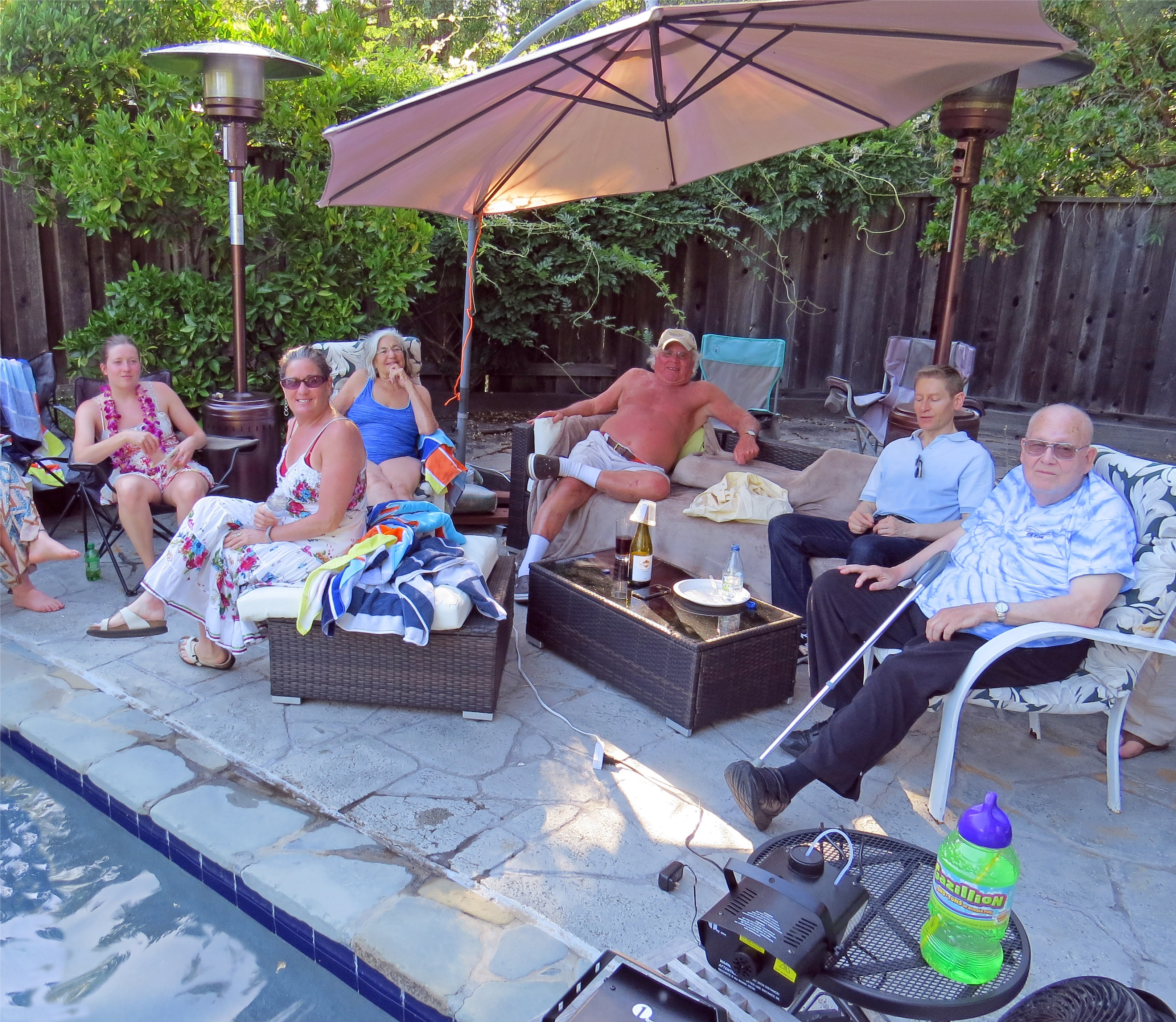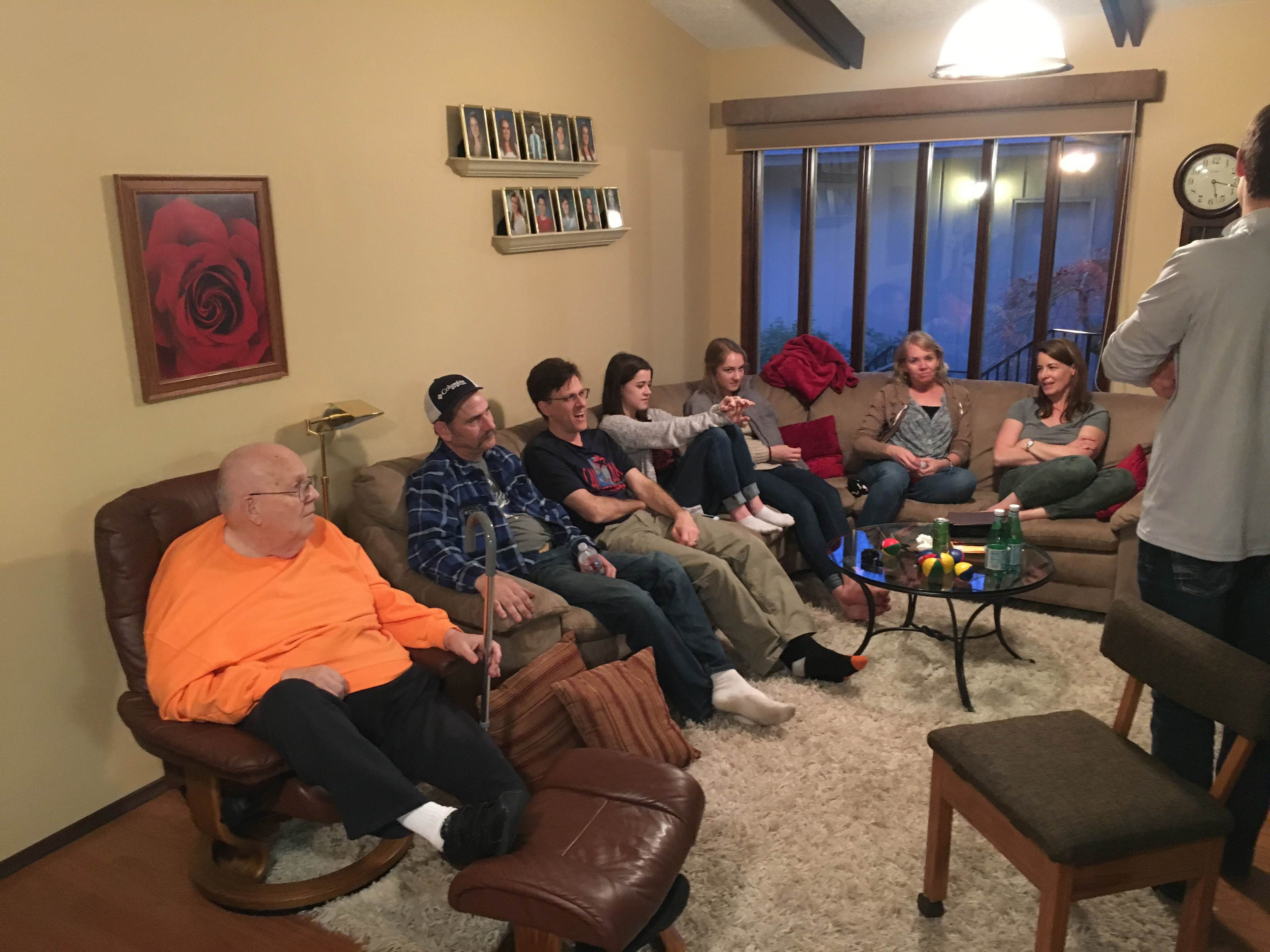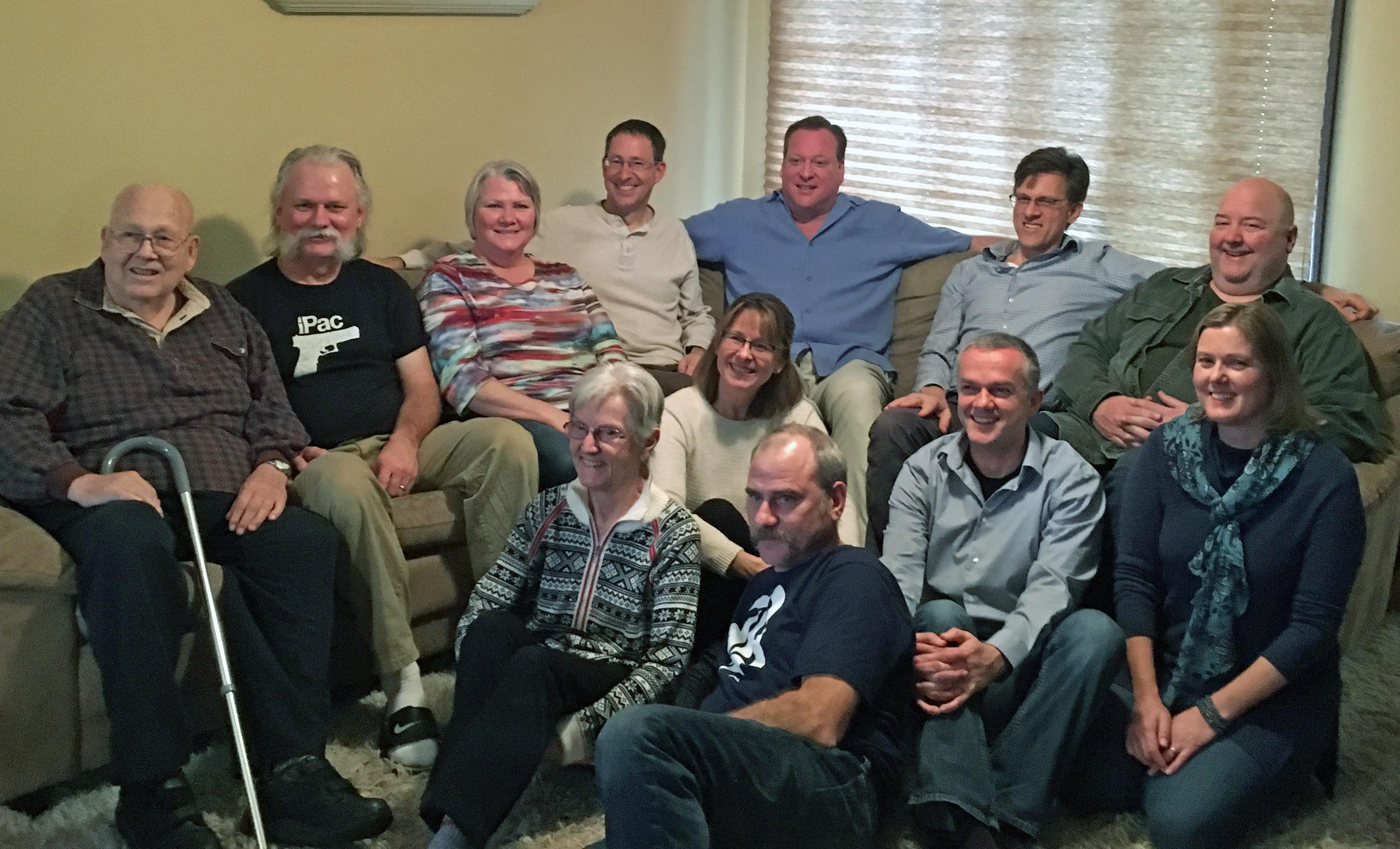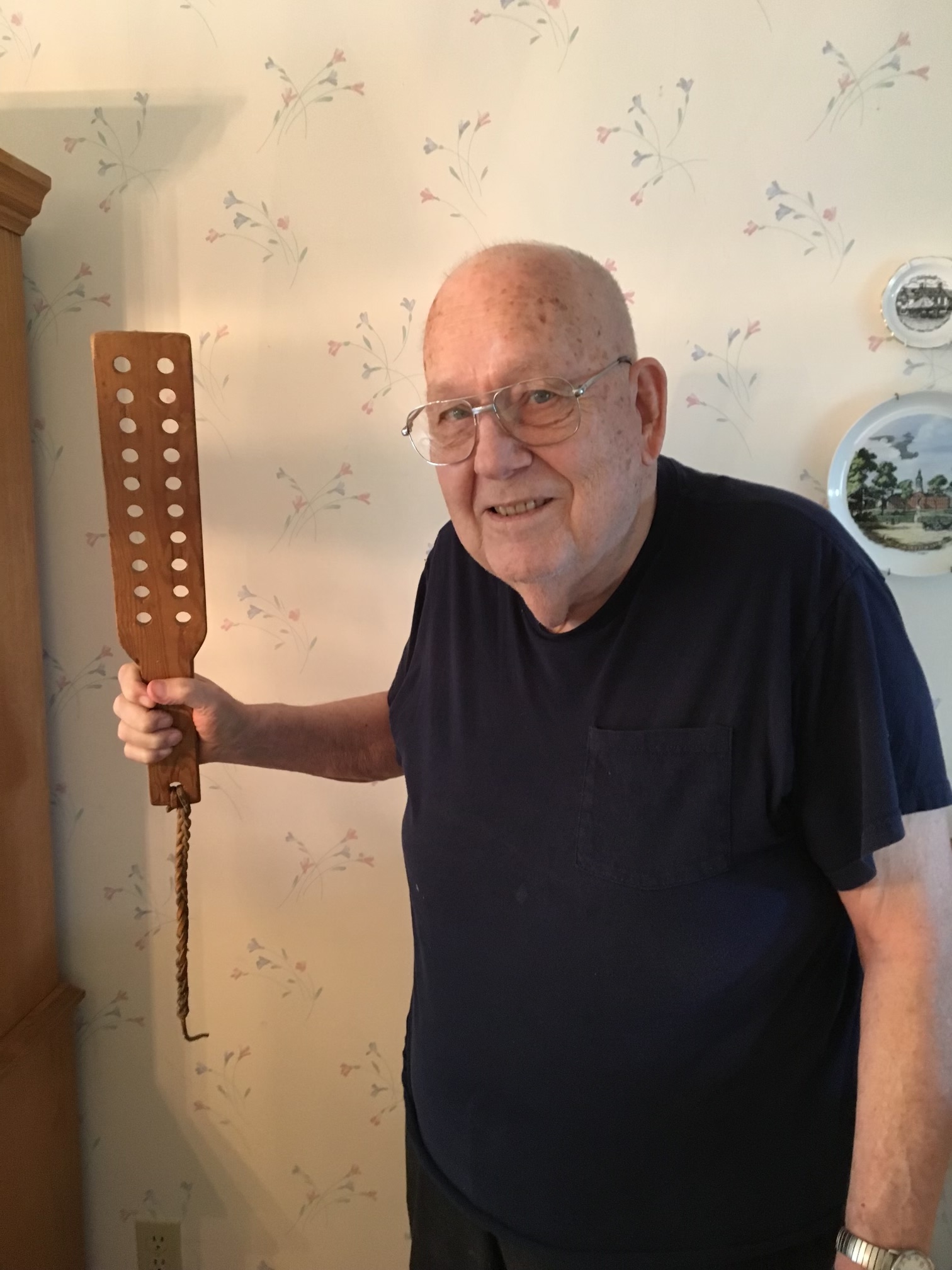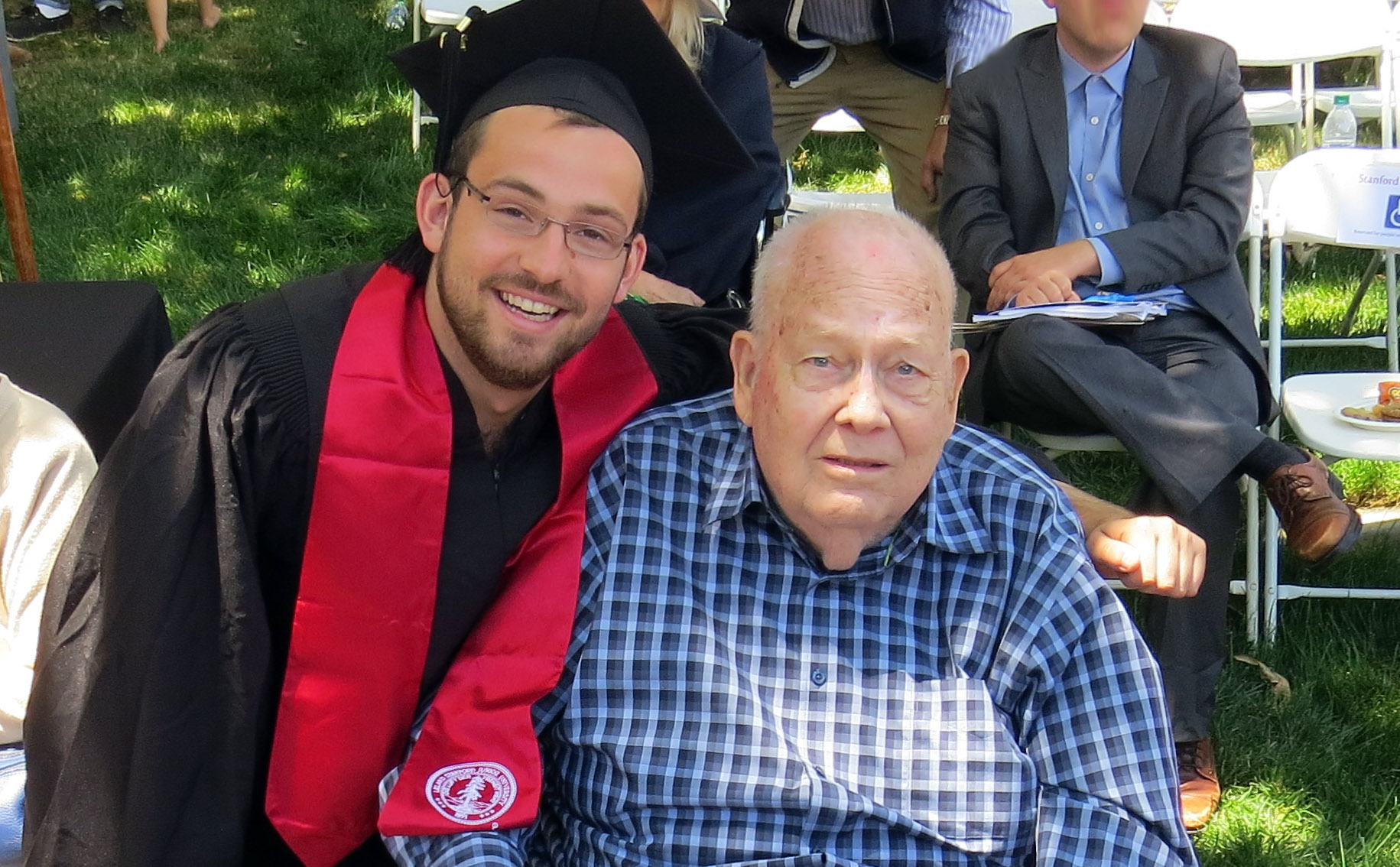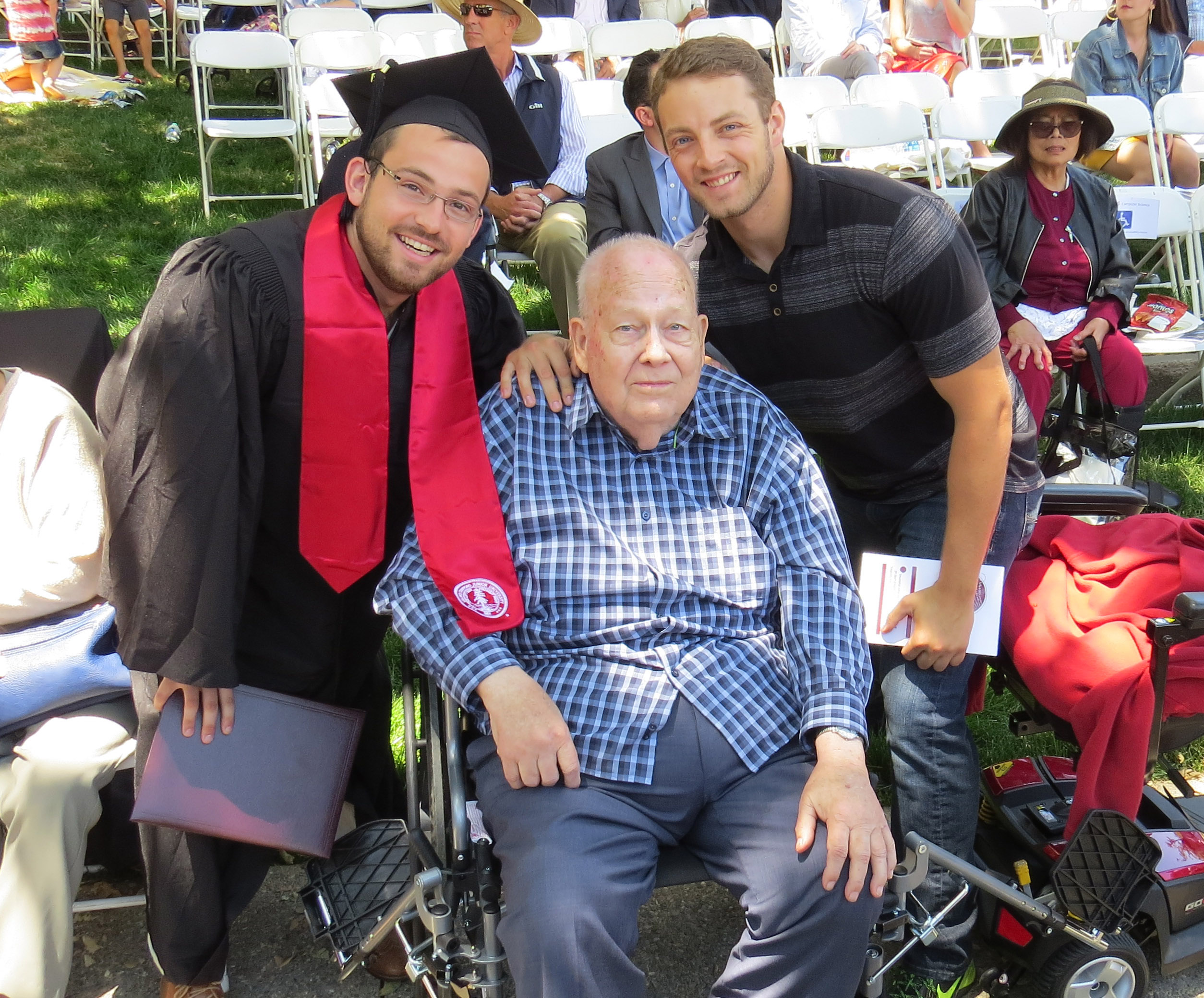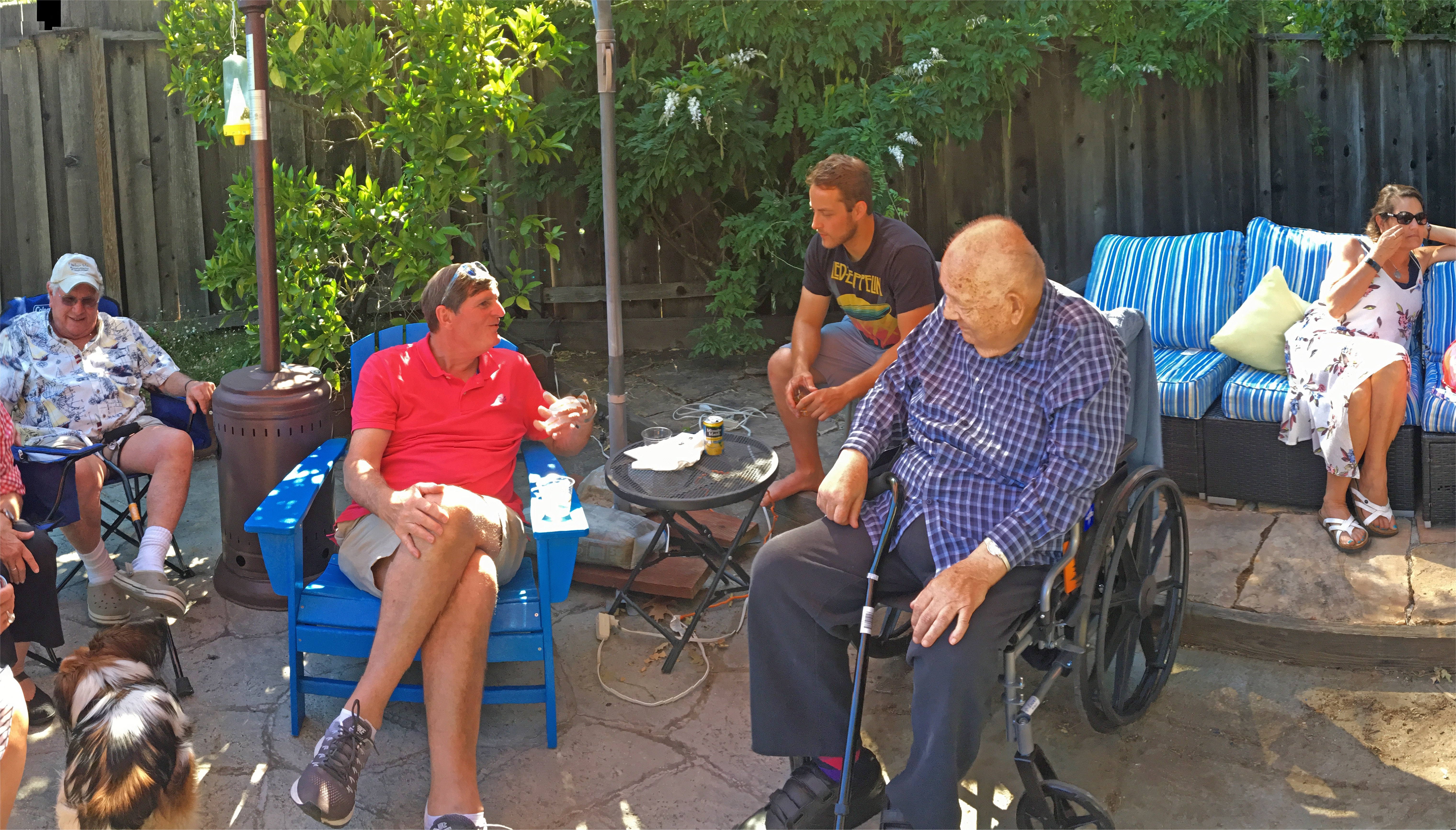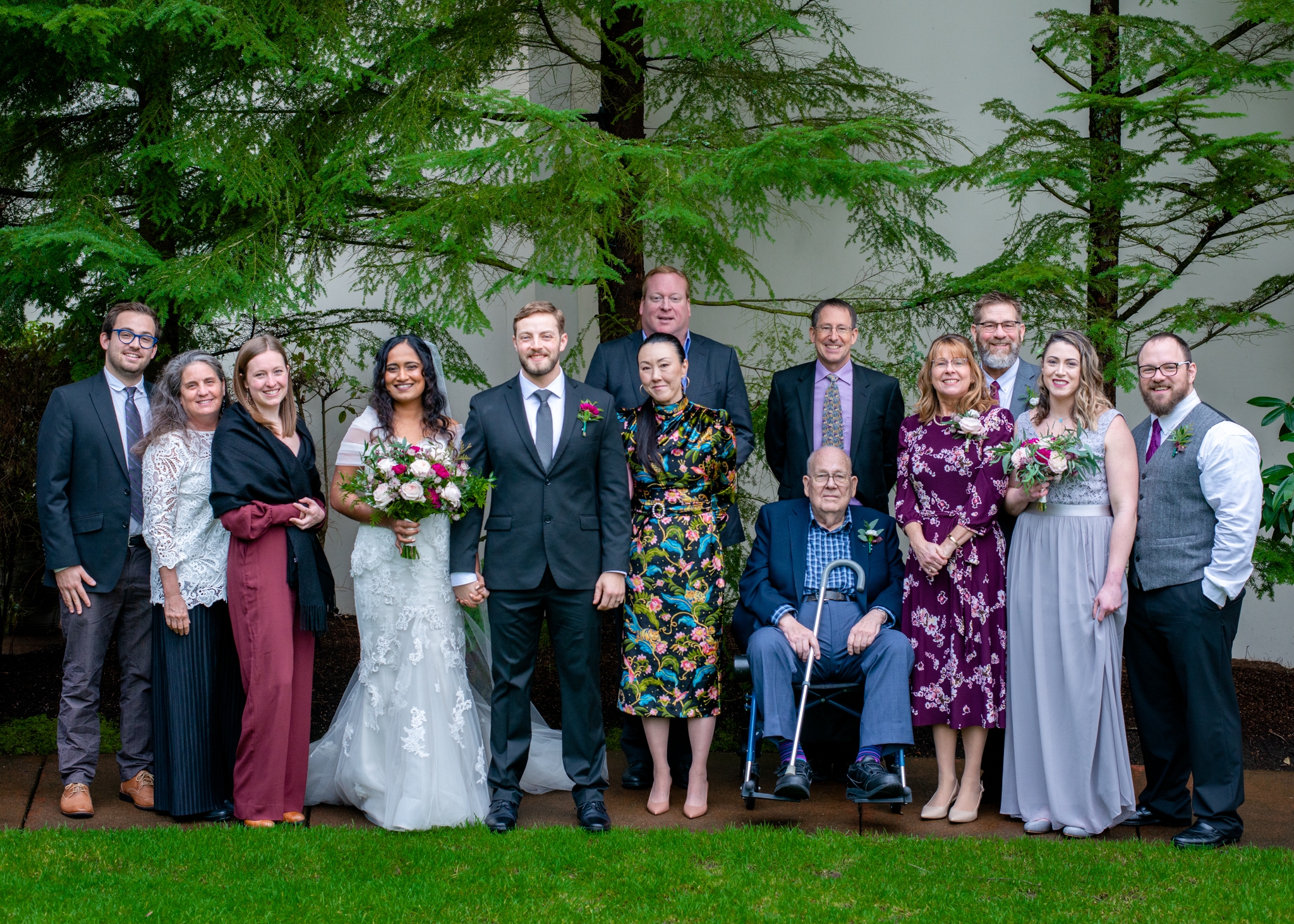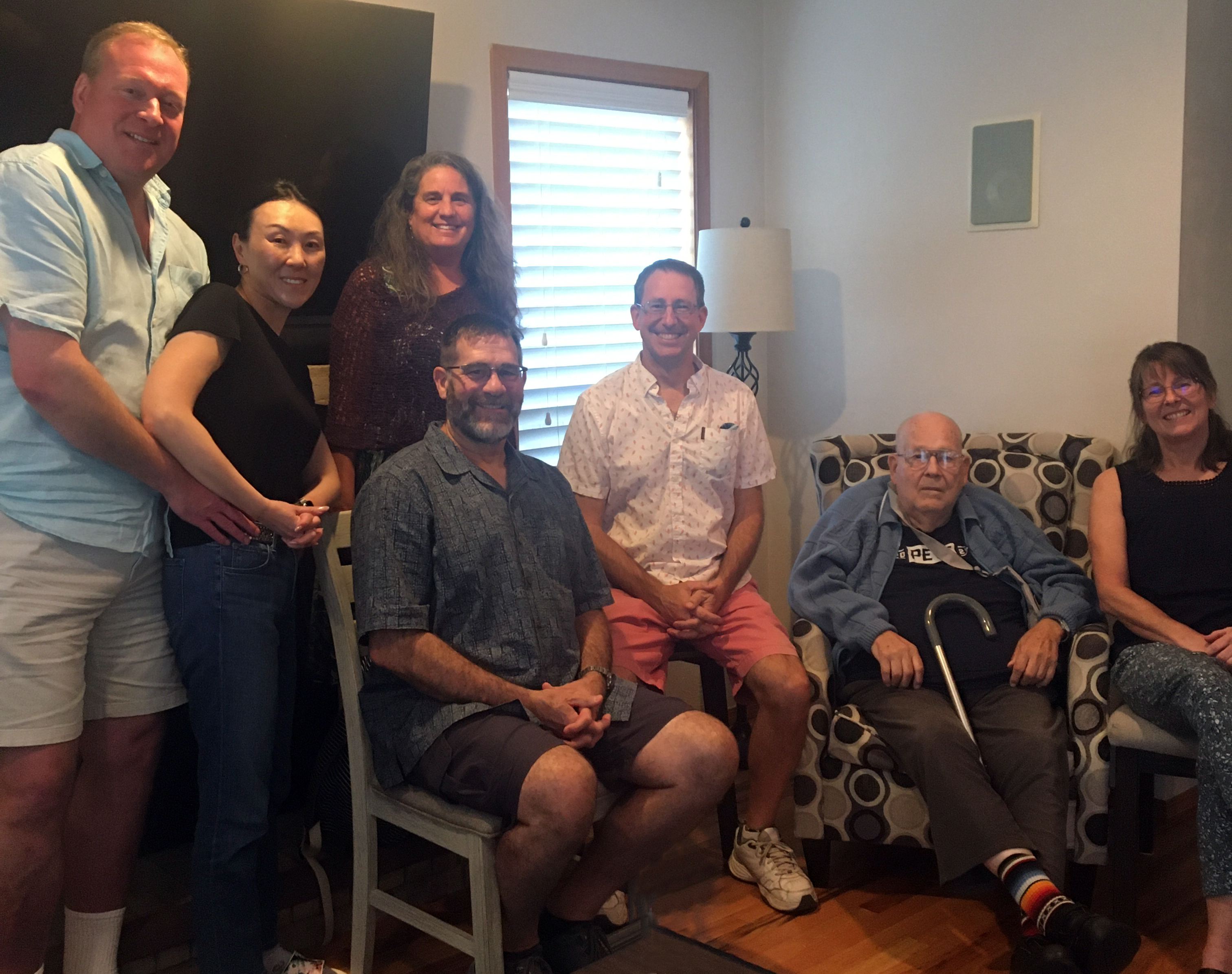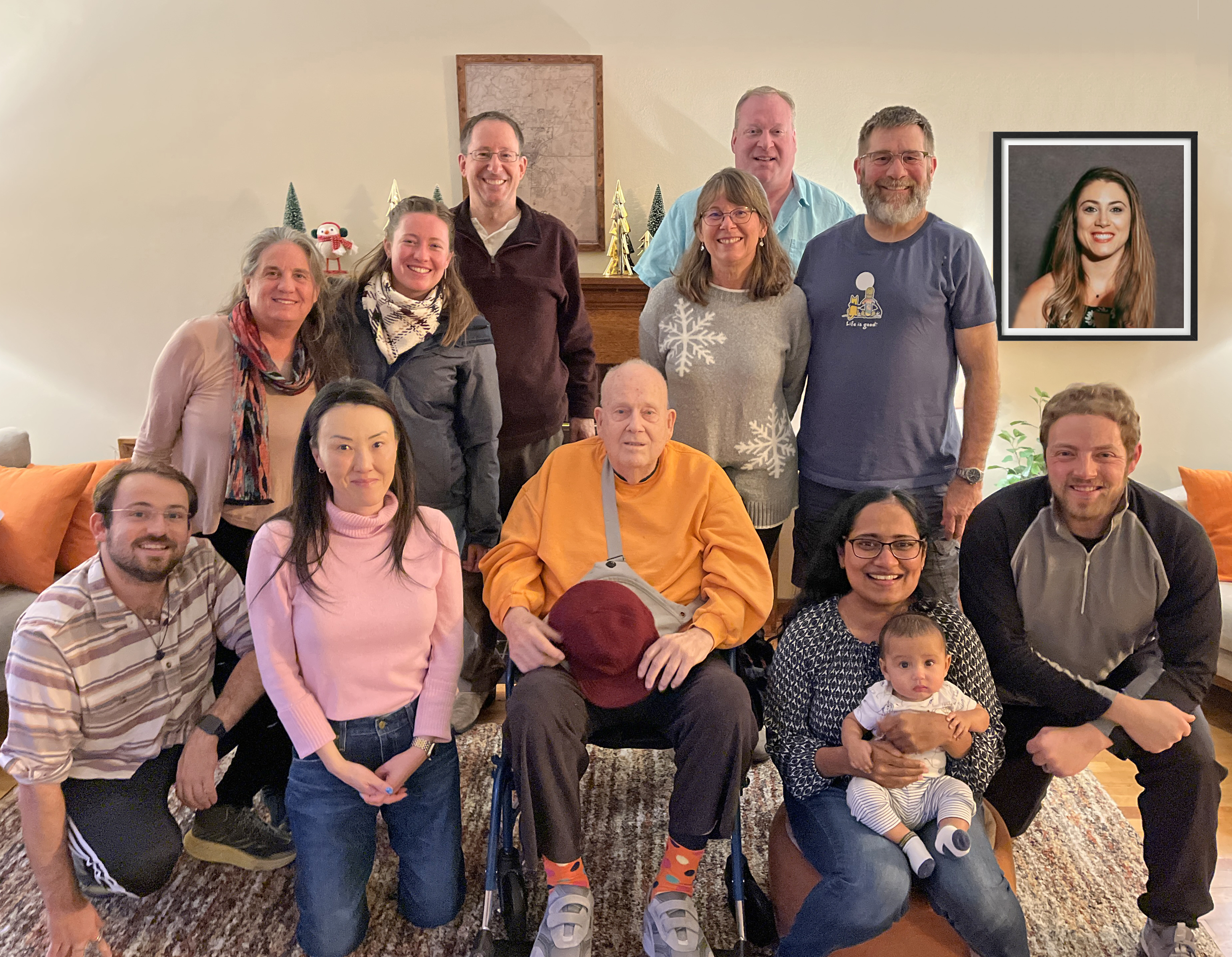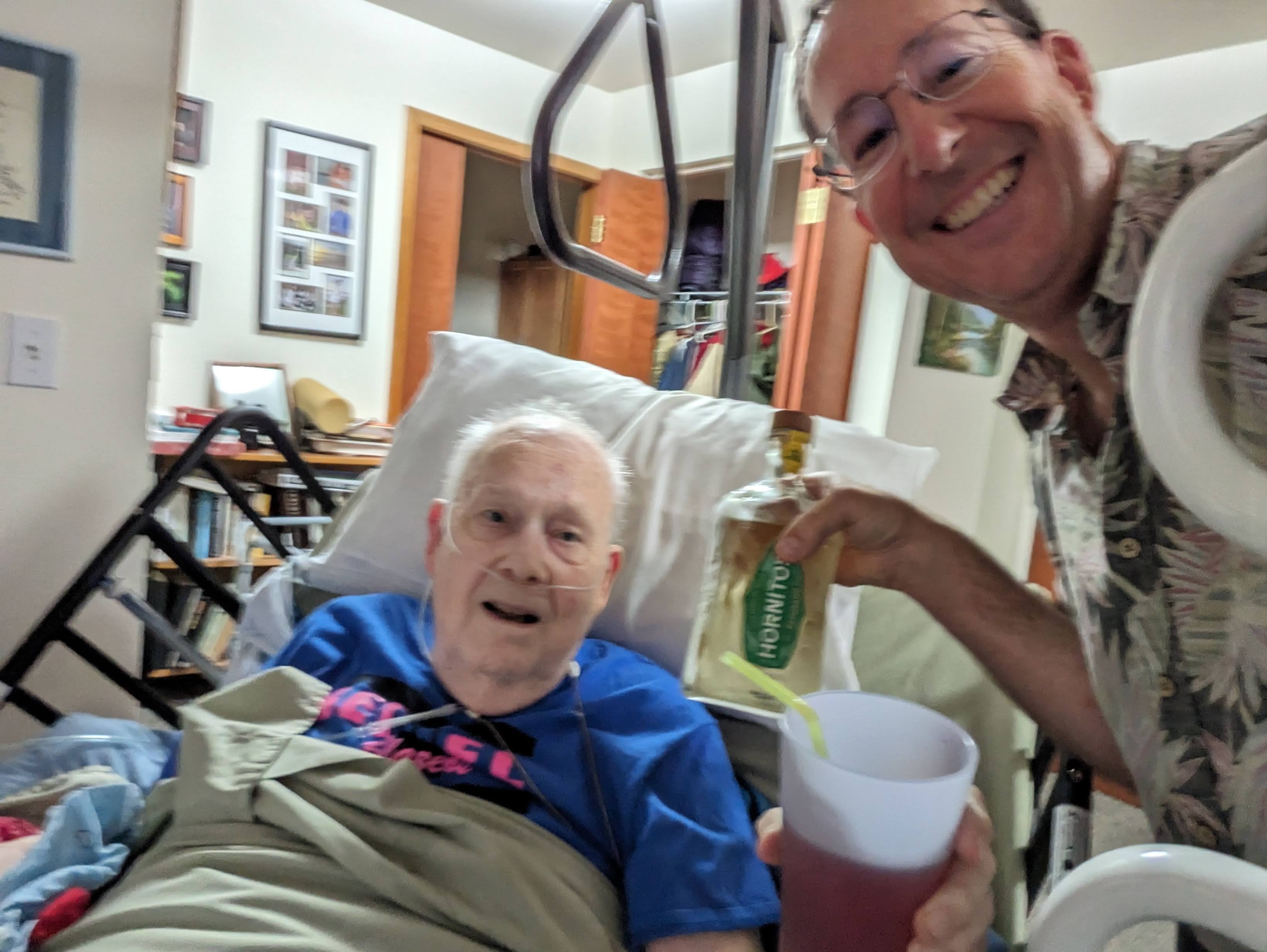 That's it! That's all the pictures and movies. All done!