2023 Visit Lia in San Diego

(8/8/2023)



On Tuesday, August 8, Katherine and Brian travelled to San Diego to visit Lia. Click on any photo for a much larger highest resolution original I have.
Katherine and I stayed at the "Catamaran Resort Hotel" in San Diego. Below is a picture of their lobby. I have the distinct feeling this resort was really nice when first built (or last renovated), but everything felt a little "tired" about it at this point. Our room had a splash of red sticky liquid (not blood) on one door. In the bathroom in our room was a blue piece of tape just stuck to the wall randomly, the type you use to mask for painting. The room layout and view was VERY nice, including a little kitchenette with cupboards. But they didn't have a single dish or silverware or coffee filters or anything. The carpet was dingy and old. It could all be "fixed" with some love and care...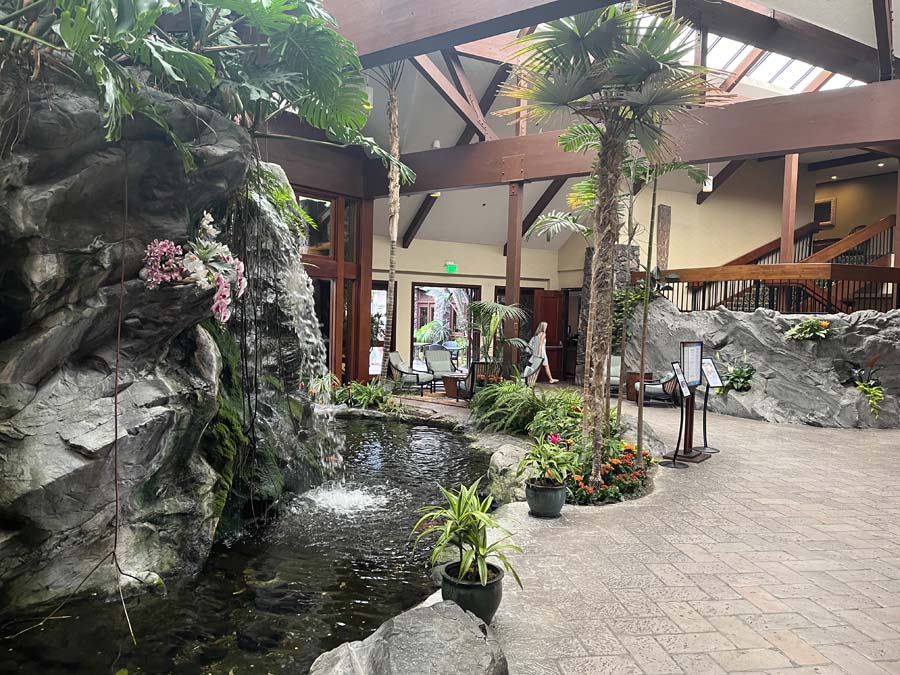 Outside the lobby on the way to our rooms had a bird cage with parrots inside!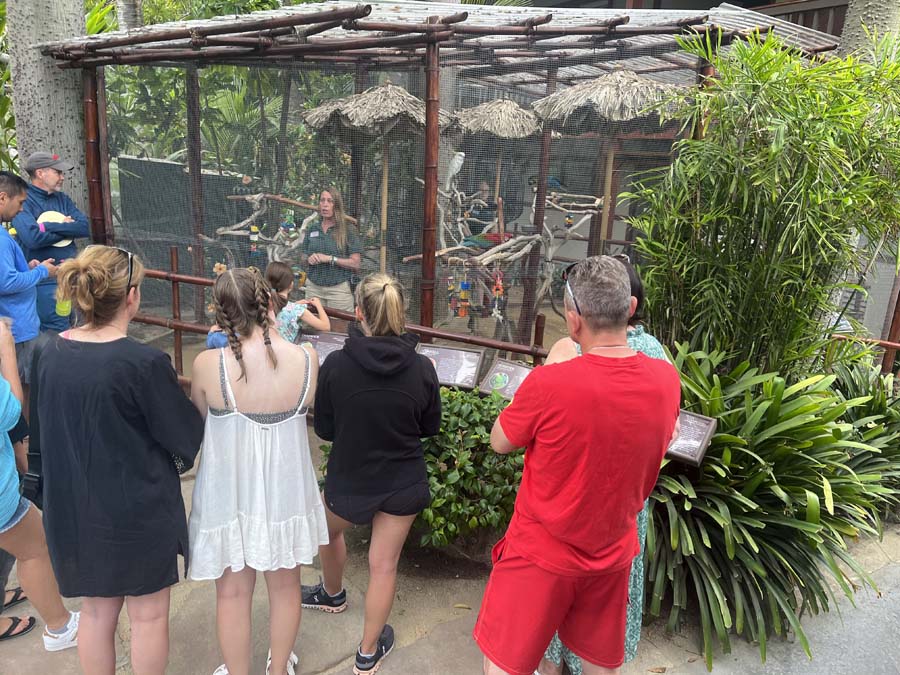 Below is the view out our window at the "Catamaran Resort". Great view, great location.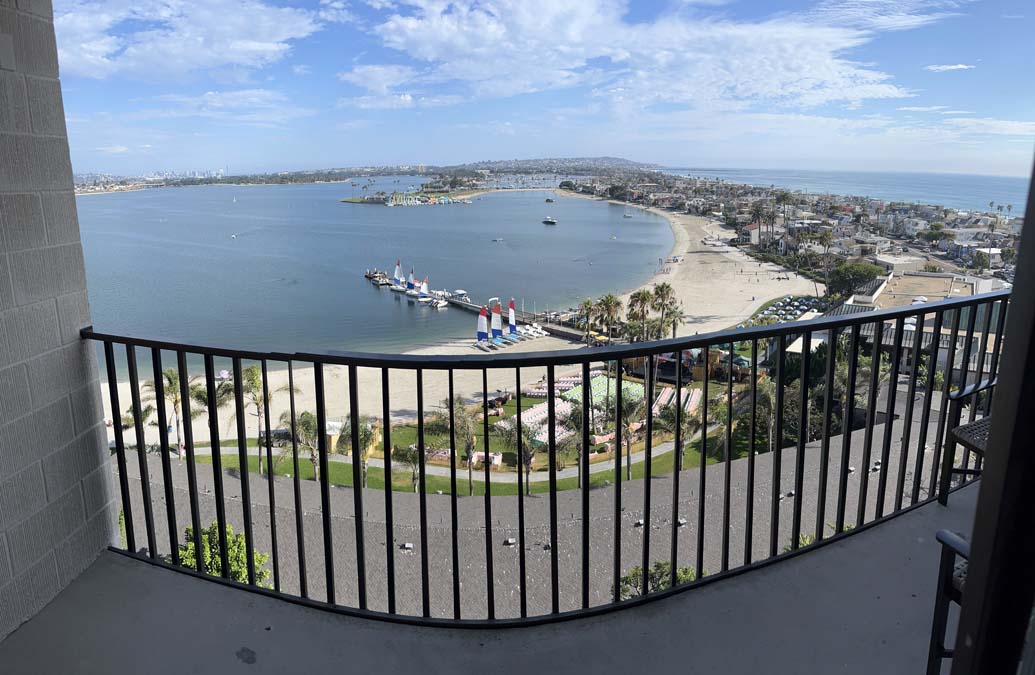 The next day (August 9, 2023) we went for a 3 hour powerboat ride in San Diego Bay. Our captain was "Captain Paul", and we hired the boat and captain through "San Diego Boat Cruise". We were very happy with the experience. Below is our particular boat, the "Miss Jen II". It was built in 1996 and is a 50 foot Sea Ray "450 Sundancer".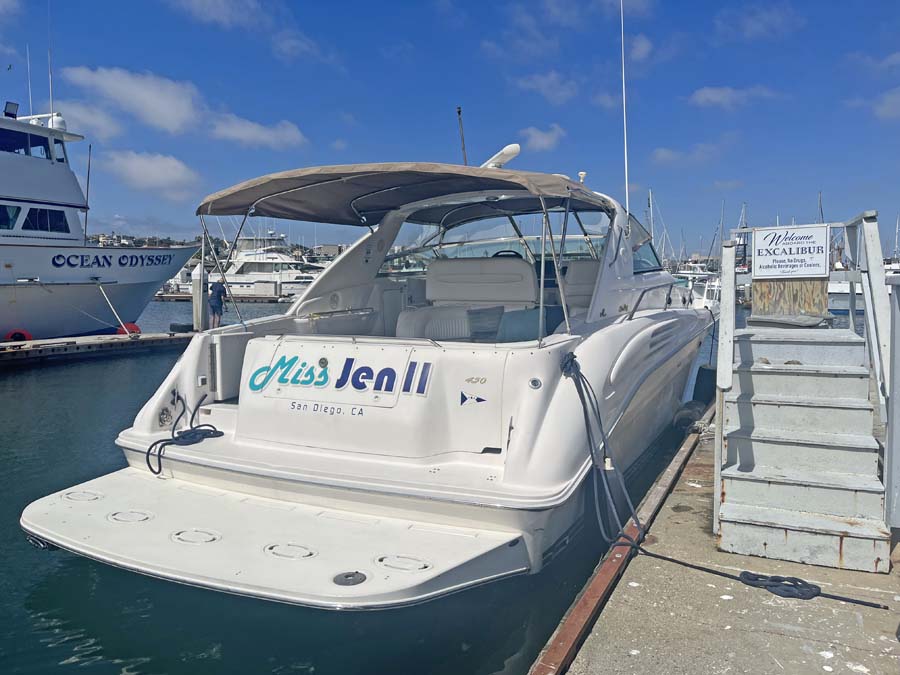 Below is the route we took. We boarded at "2803 Emerson St, San Diego, CA". Map link: https://goo.gl/maps/qJkrvpjwivtGKEAC8 Then we went around in a circle looking at all the stuff in the San Diego Bay. It's a very pleasant way to spend 3 hours.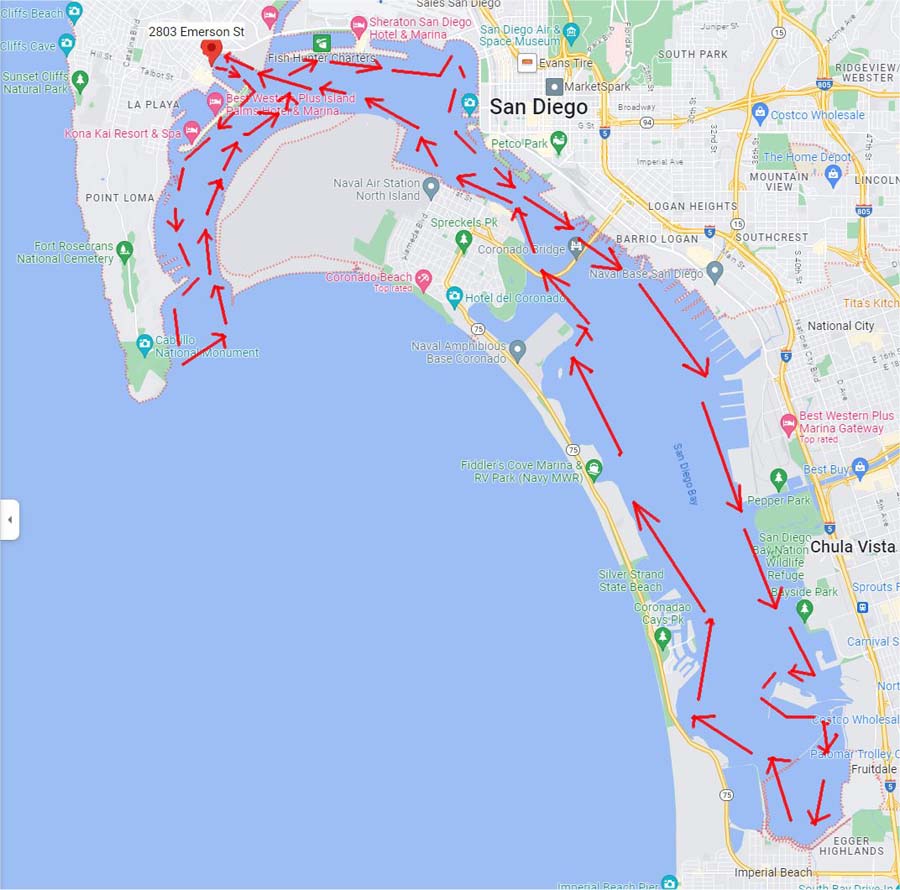 Lia and Katherine waiting to depart.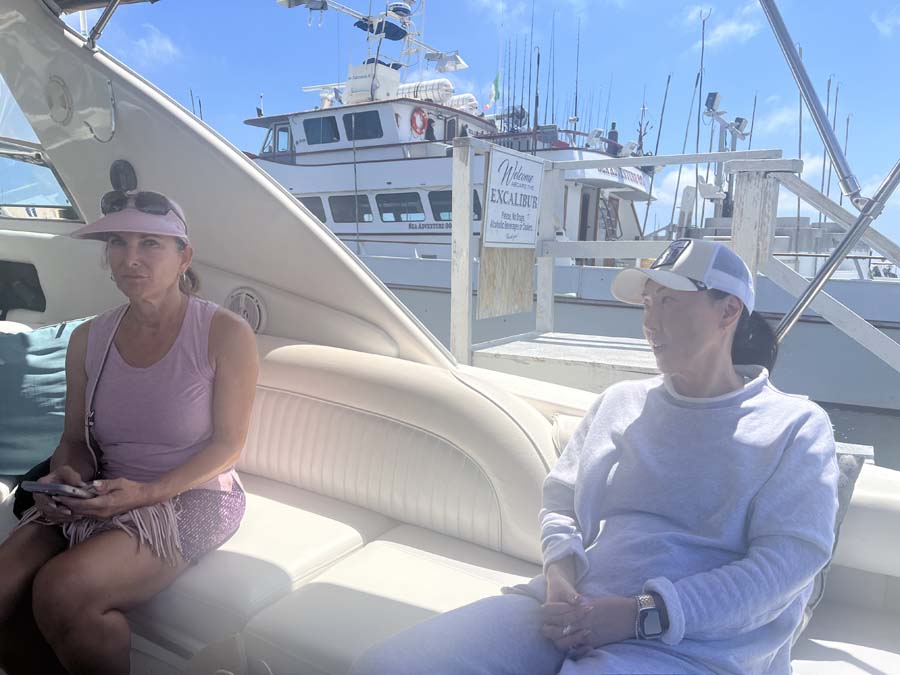 On the right is the Kona Kai Resort.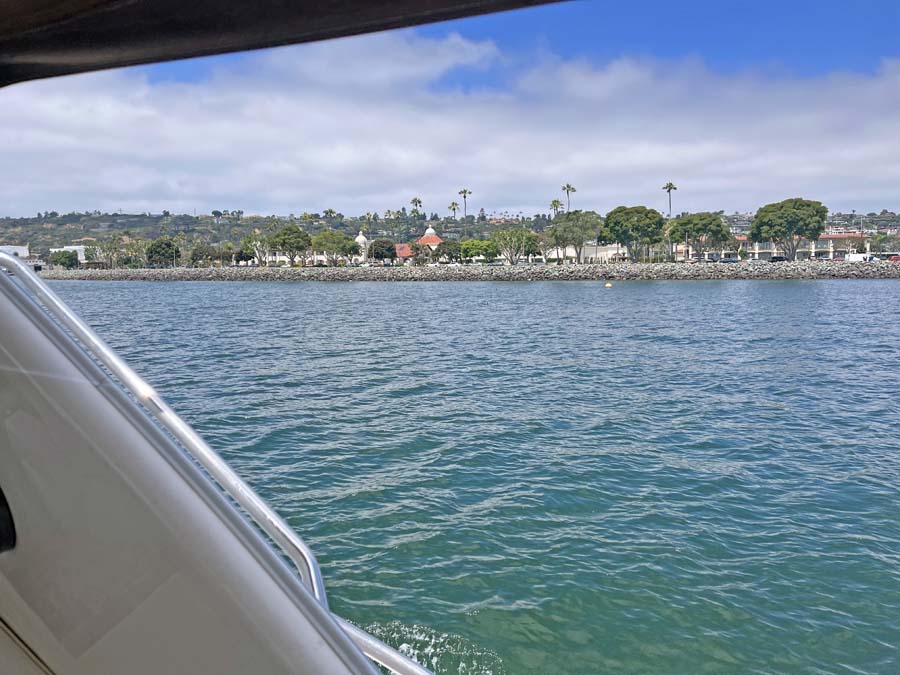 A picture of Captain Paul piloting the boat.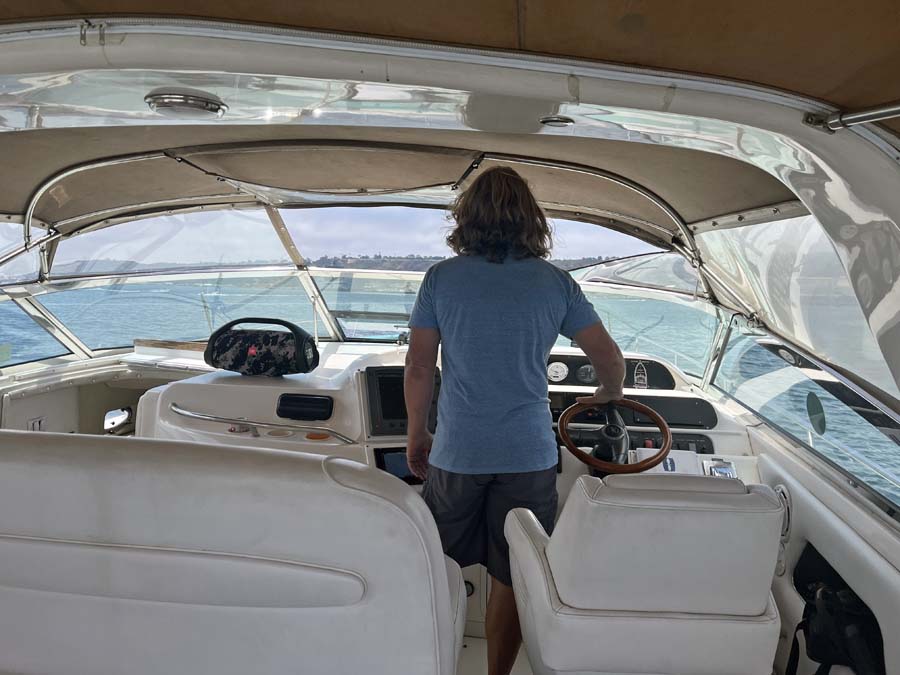 We pass by the San Diego Naval Base Point Loma. "Ballast Point" is in the picture, famous for a particular brand of beer. :-)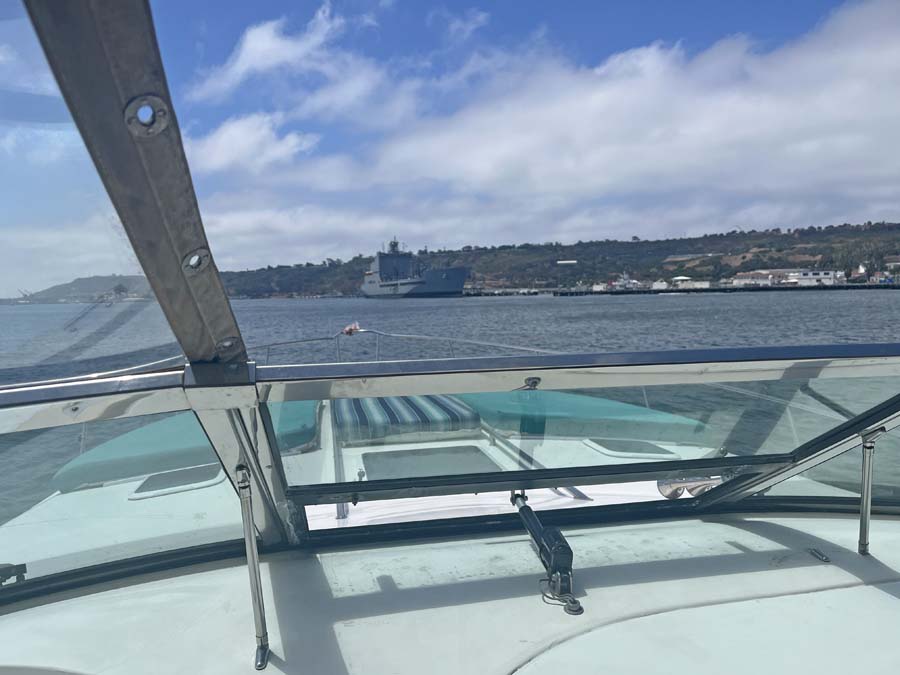 Below is the San Diego Degaussing Pier Base Point Loma: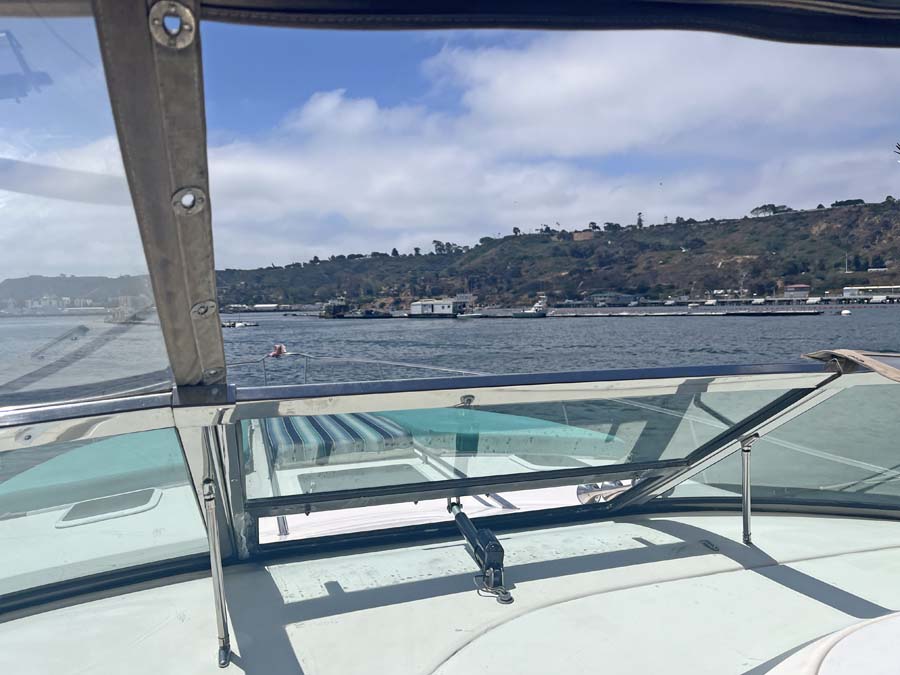 There are sea lions hanging out doing what sea lions do. Katherine and I call them "Oar Oars" from the sound they make.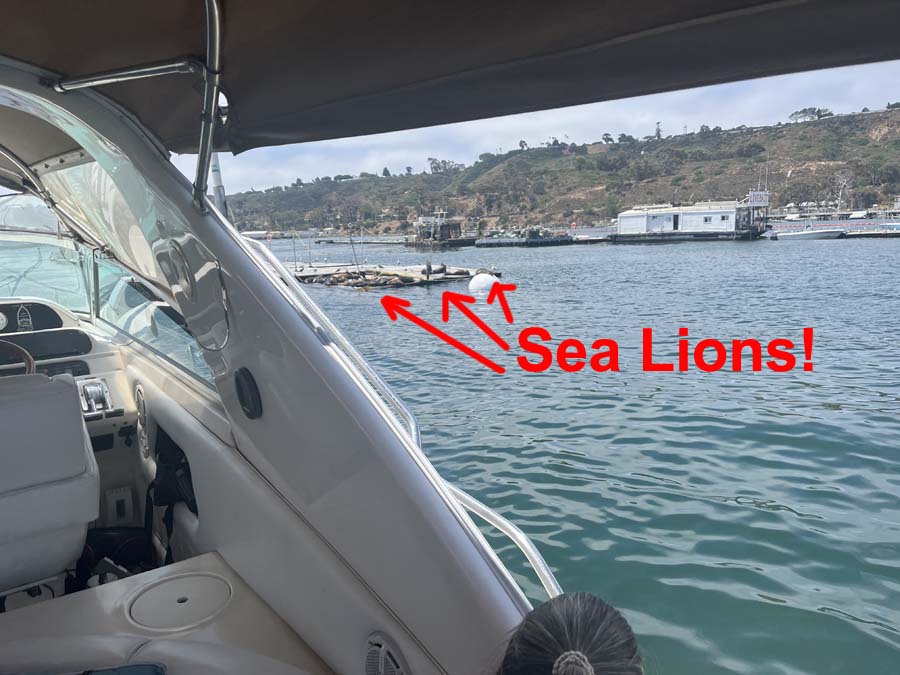 A closer up picture of the sea lions. The one on the white ball is my favorite.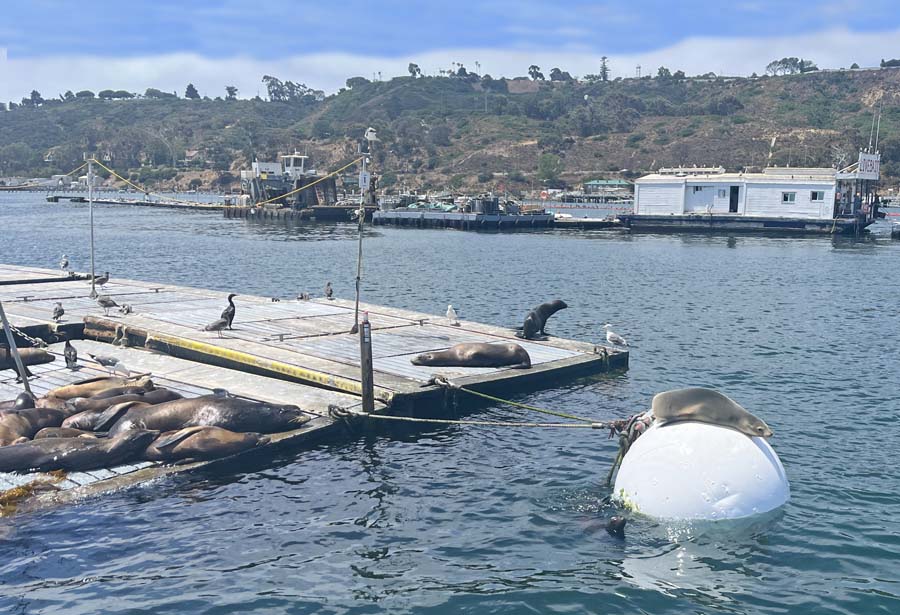 Below is a place holder when I have time to edit a small movie of the sea lions.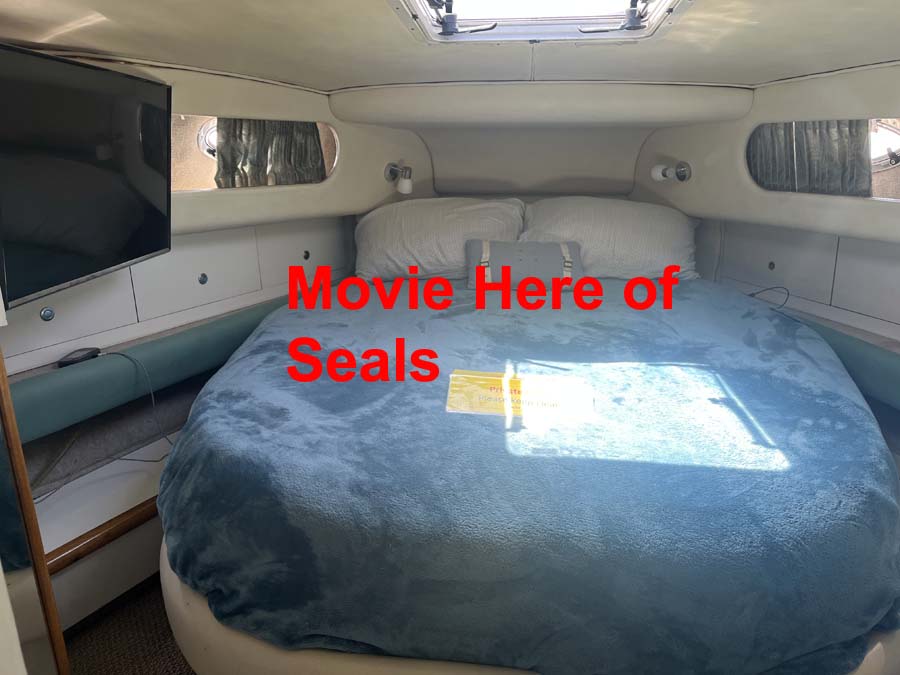 A few pictures of the boat here. This is the biggest cabin on the boat, it is in the bow of the boat.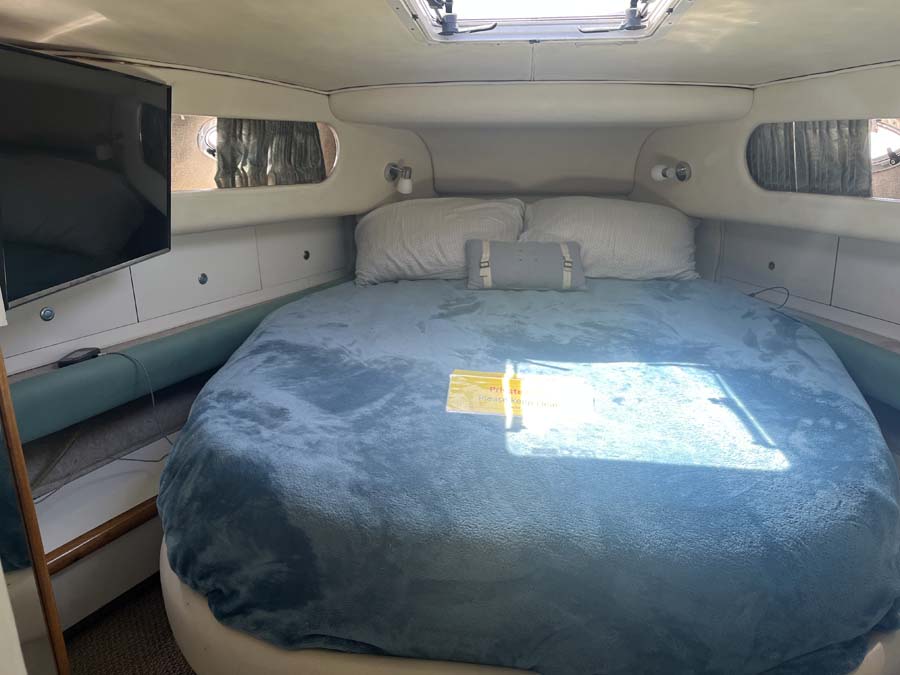 This is the main salon (living room) of the boat, and you can see the second bedroom through the door.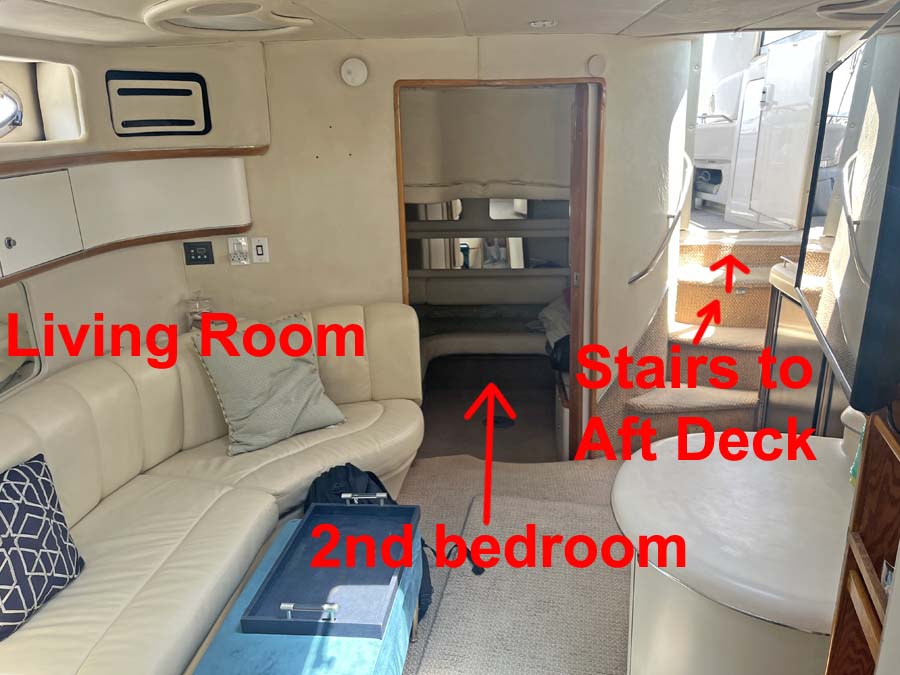 Katherine and Lia drinking champagne, while Captain Paul works.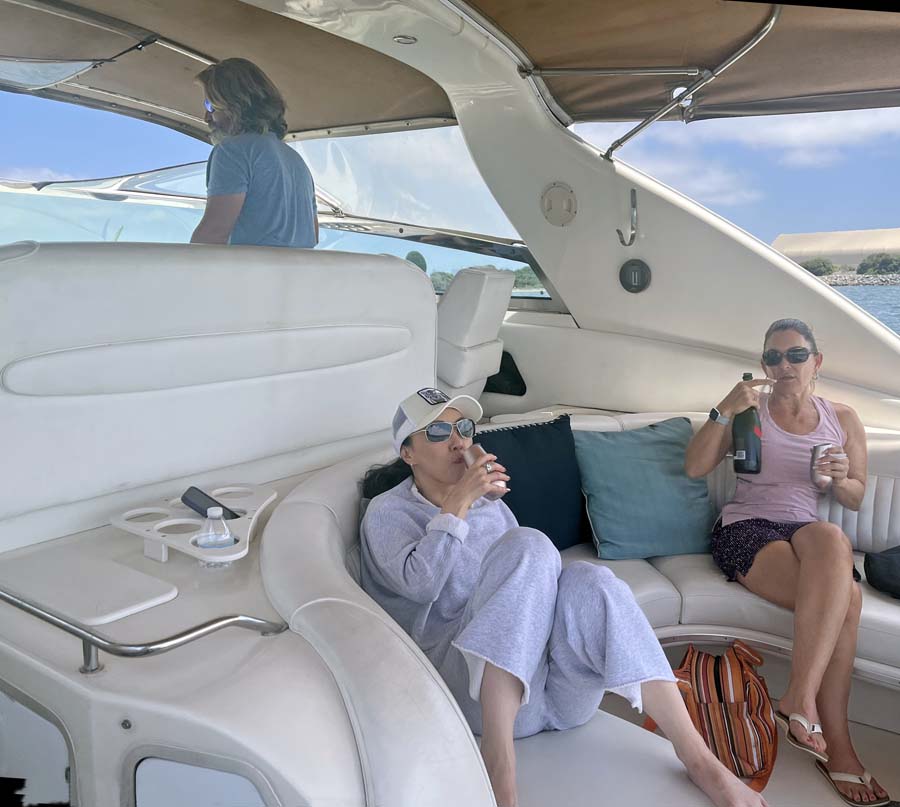 The San Diego downtown skyline.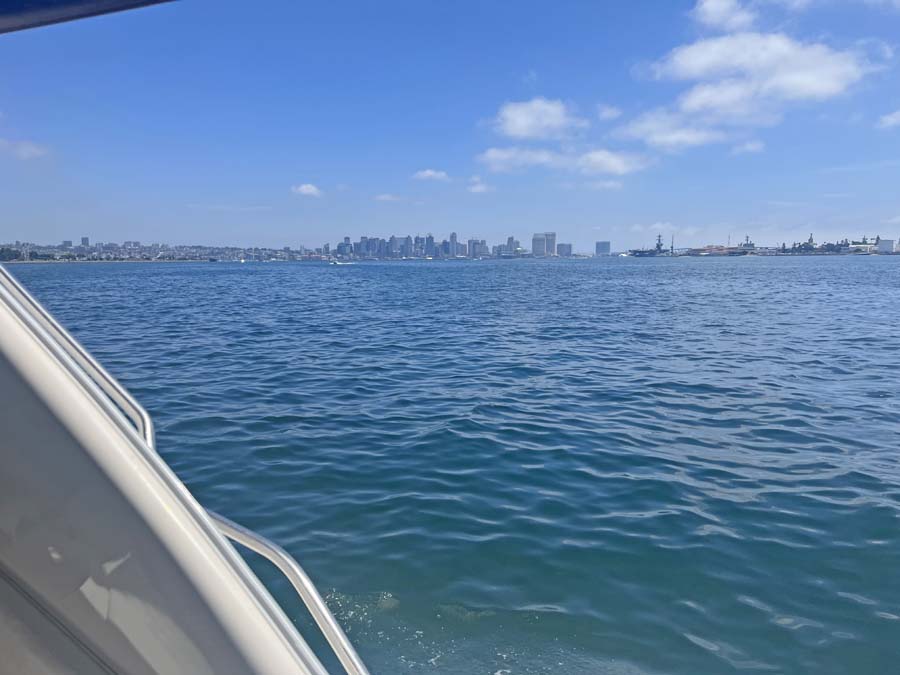 Captain Paul talking with Lia. Lia has an uncanny sense when I'm going to take a picture and turns and smiles.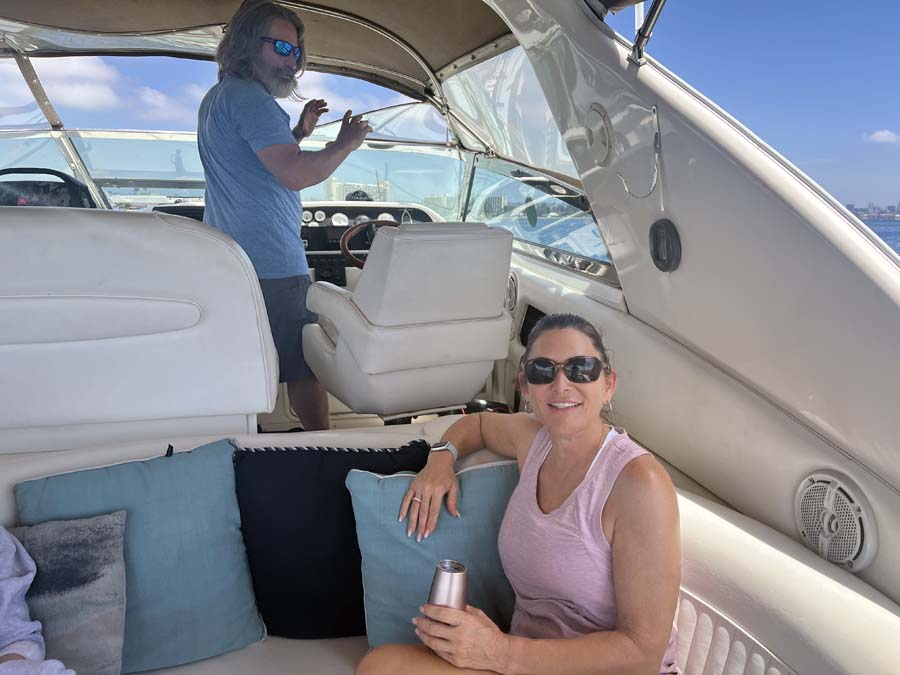 Closer view of the San Diego downtown skyline.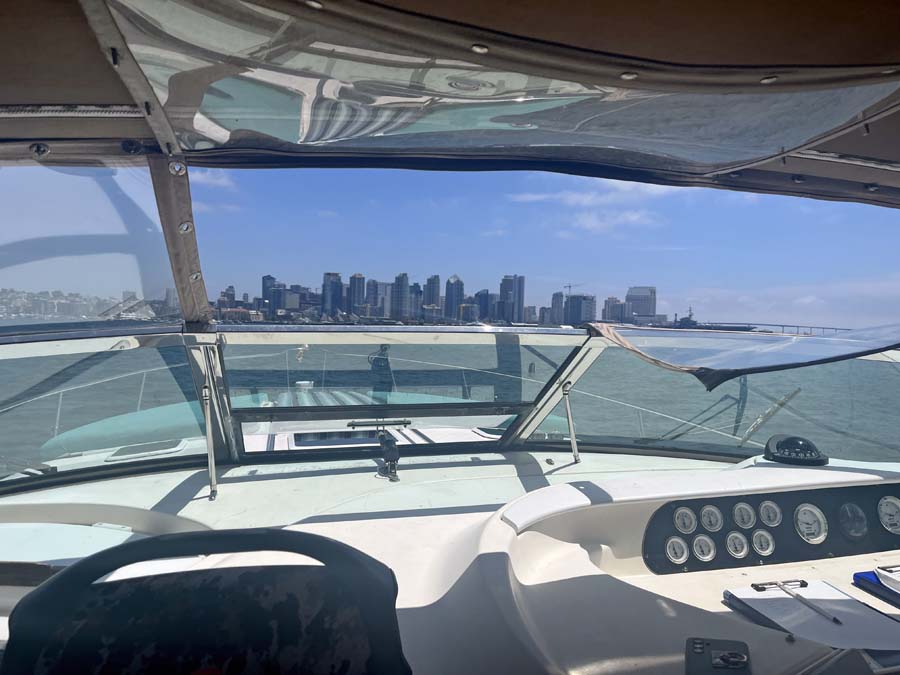 The old sailboat on the right is the "Star Of India". I forgot what the old boat in the middle behind the Star of India is. The Star of India was built in 1863 and the hull is made out of iron! I really doubt that's a good idea, iron is very brittle and corrodes in sea water. I guess it lasted this long though. The boat was built in England (well, "Isle of Man") and has sailed all around the world, including to India and New Zealand.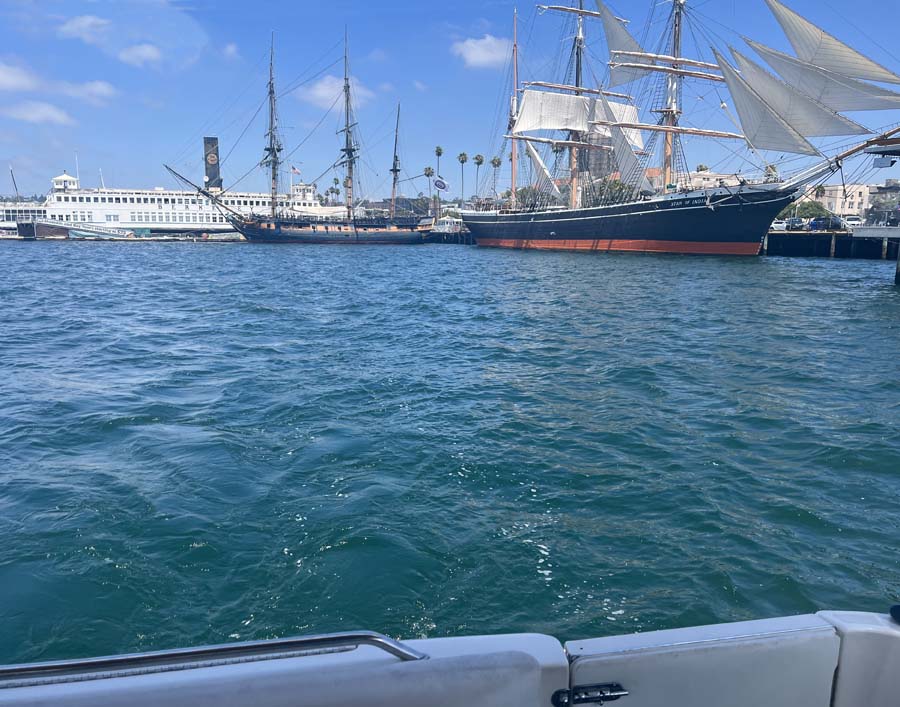 Here we are looking up at the "USS Midway Aircraft Carrier".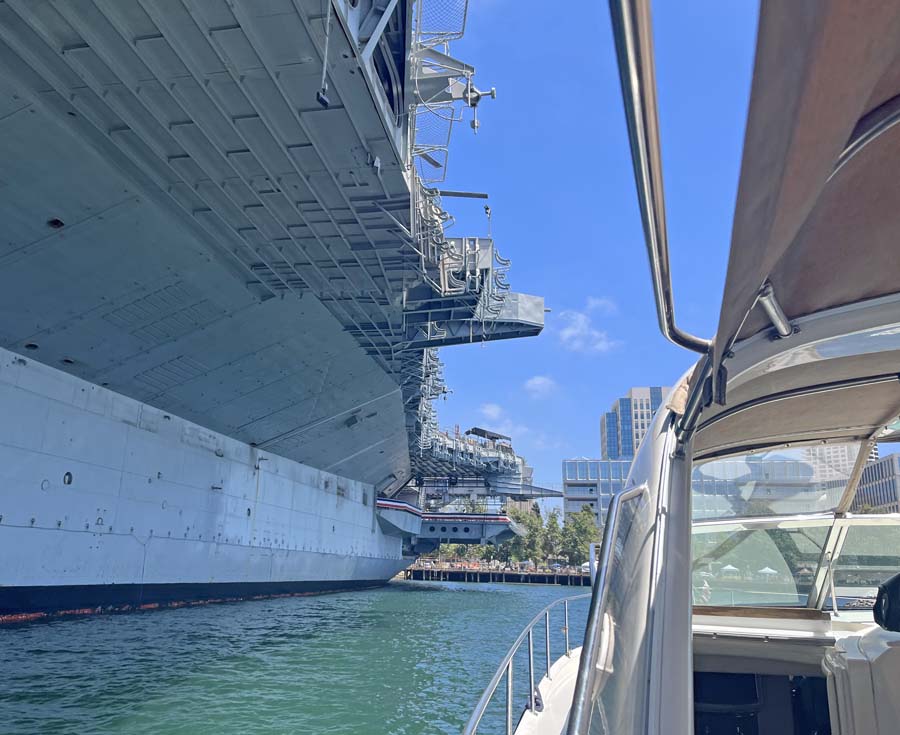 A little while later we pass by the "The Rady Shell at Jacobs Park".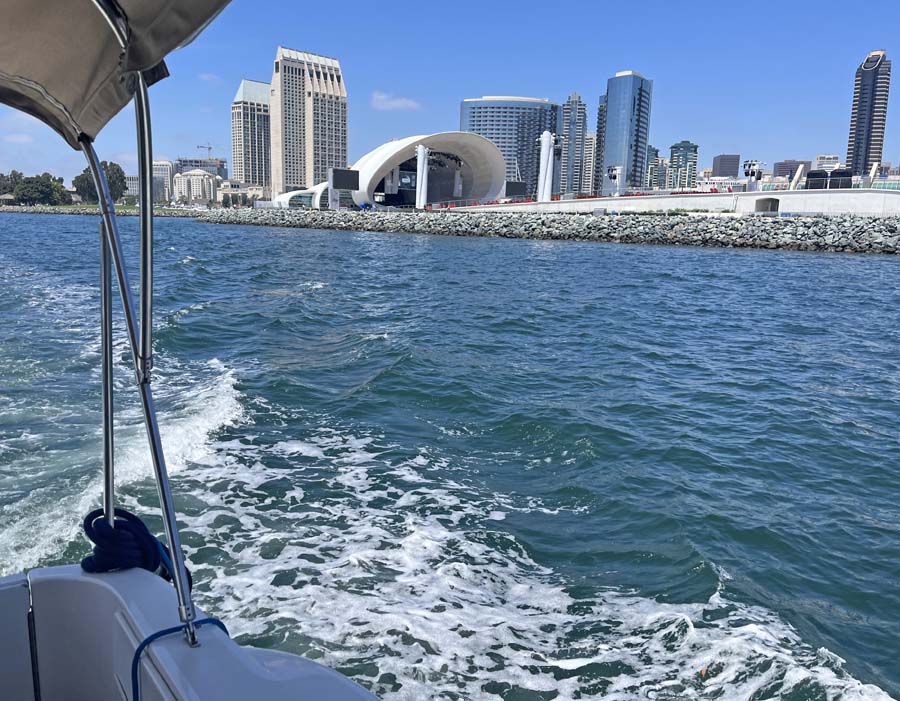 Passing under the "San Diego Coronado Bridge".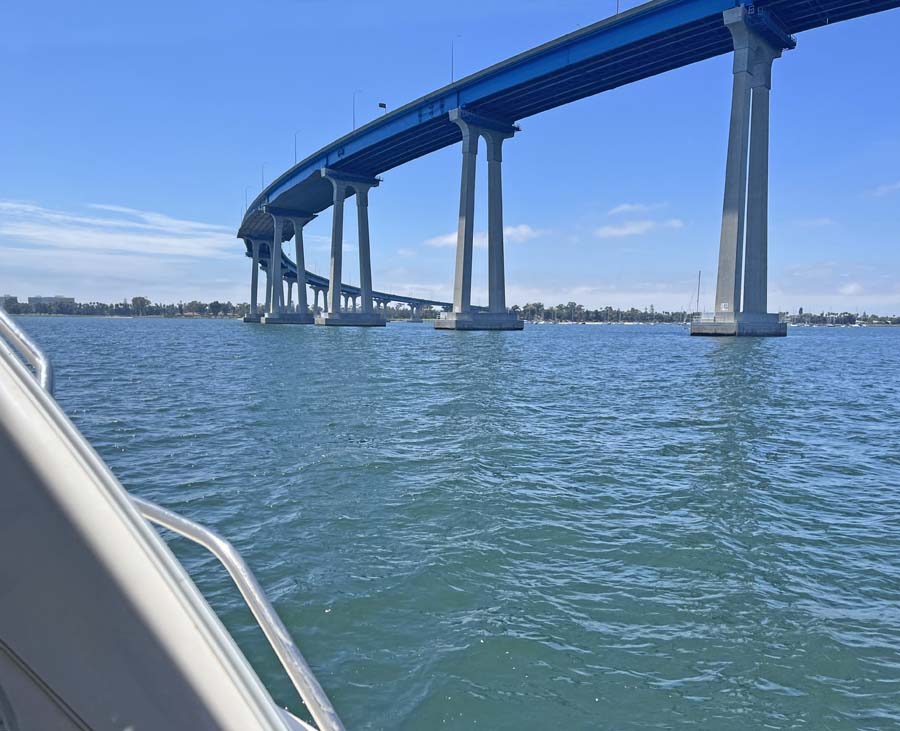 I think the aircraft carrier below is the "USS Air Craft Carrier Nimitz".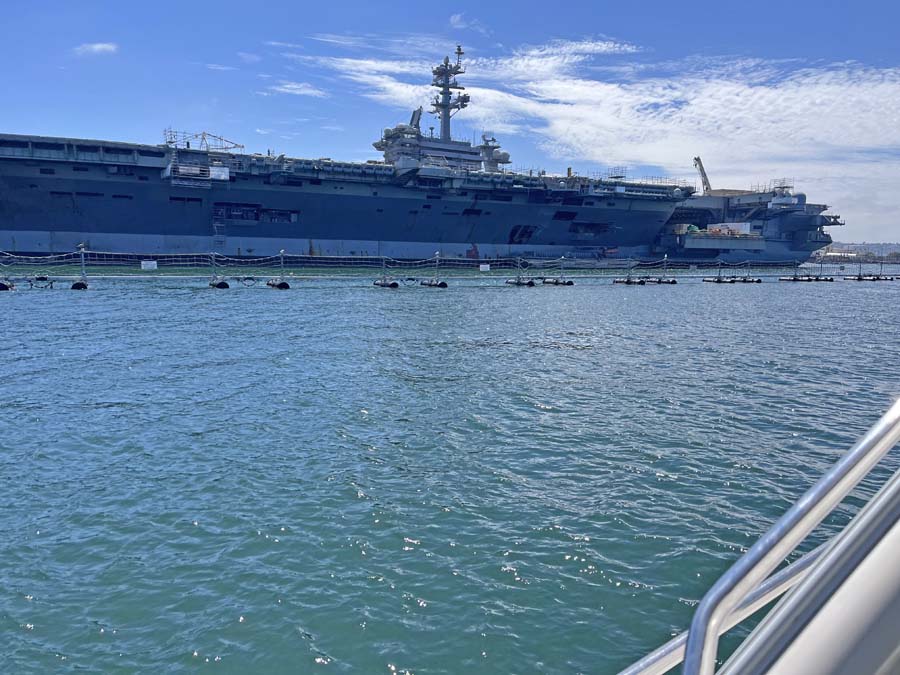 Just kicking it toodling along in San Diego Bay.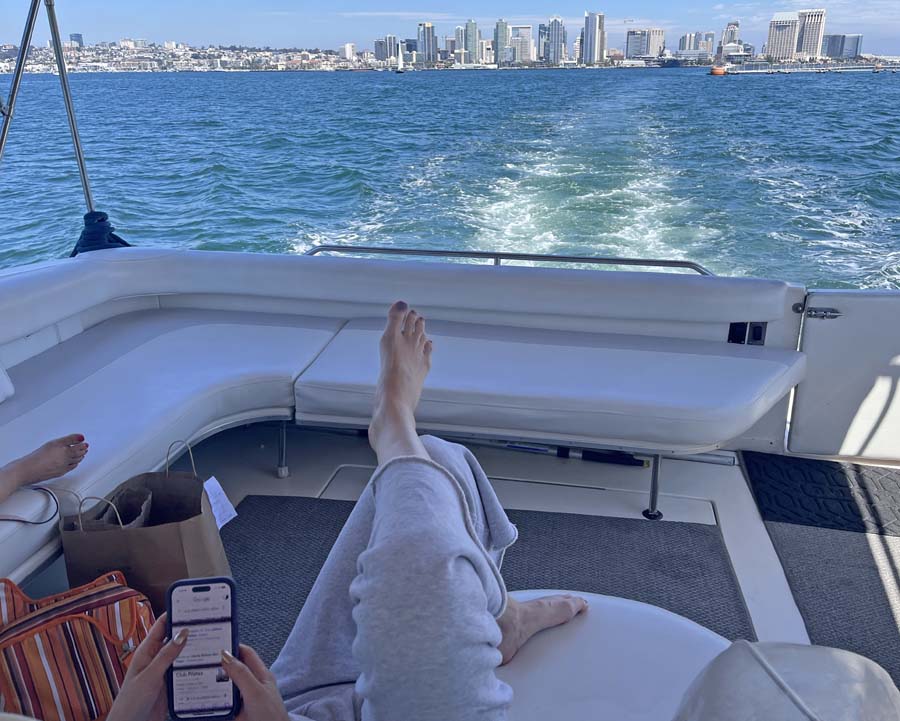 We pass by some military helicopters.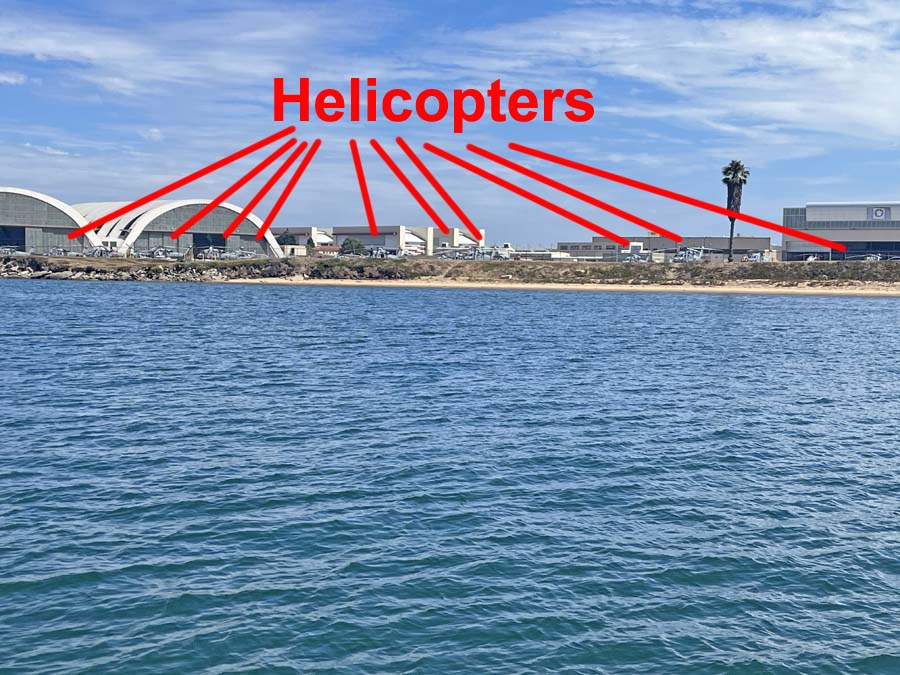 We have lost Katherine, LOL. She is playing a video game on her phone.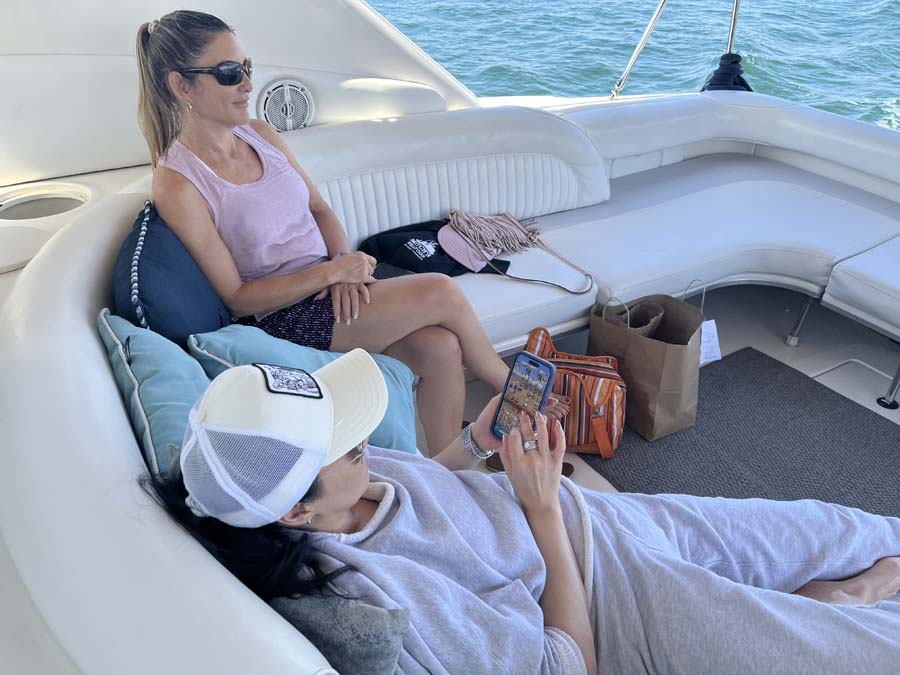 As we head home, we see a bunch of sailboats. Click on the picture below to zoom in.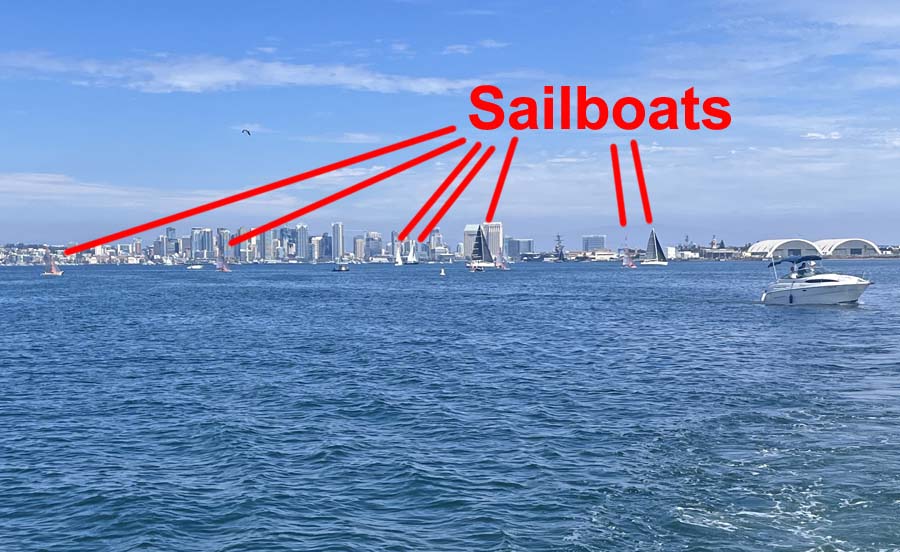 That's it! Bye bye boat.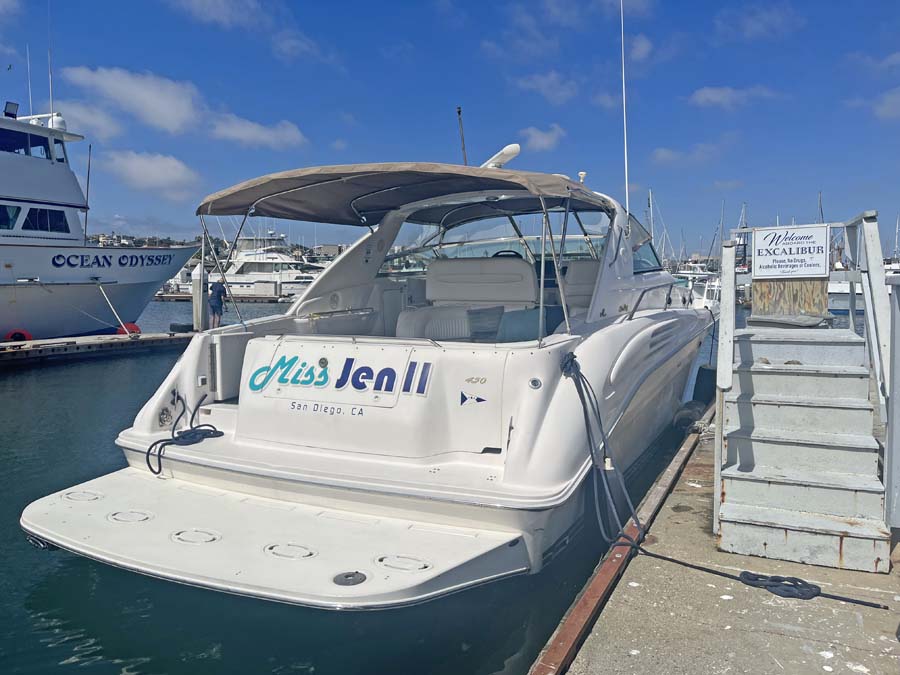 Later that day at Lia's house, I wanted to take notes on this sliding glass wall she has (see below). This is a "NanaWall". Their instagram is: https://www.instagram.com/nanawallsystems/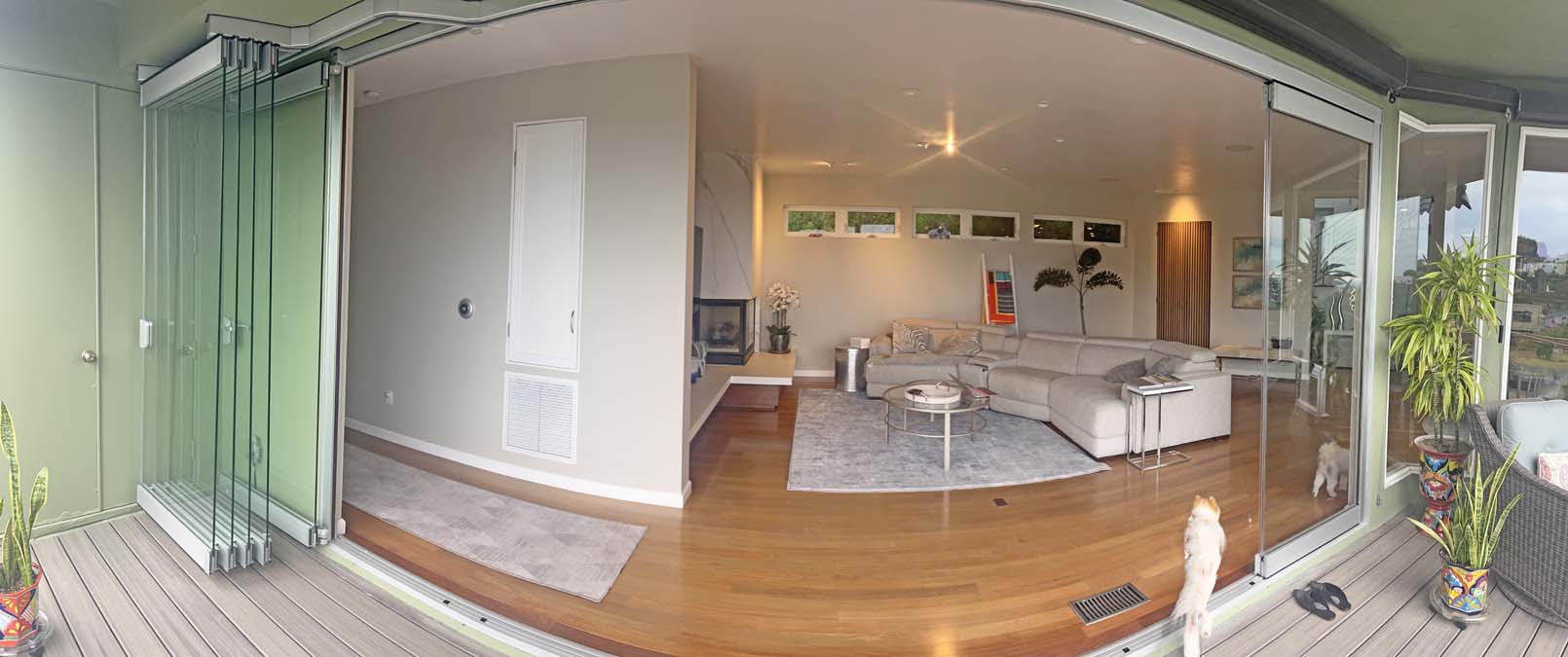 A close up of how the glass wall stores when it is all open.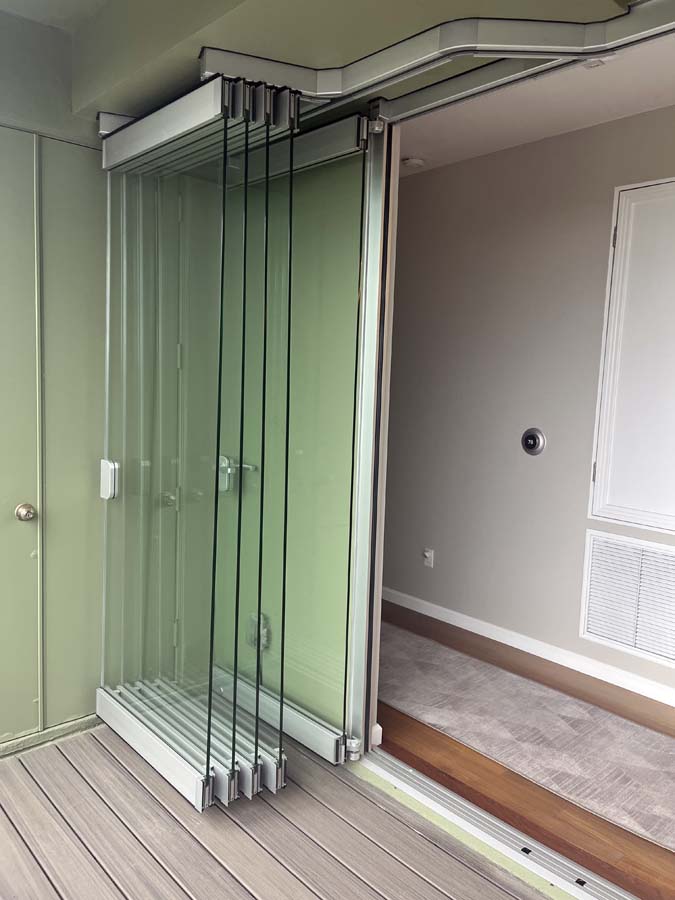 Lia owns a little Pomeranian named "Angus". Angus is ridiculously cute.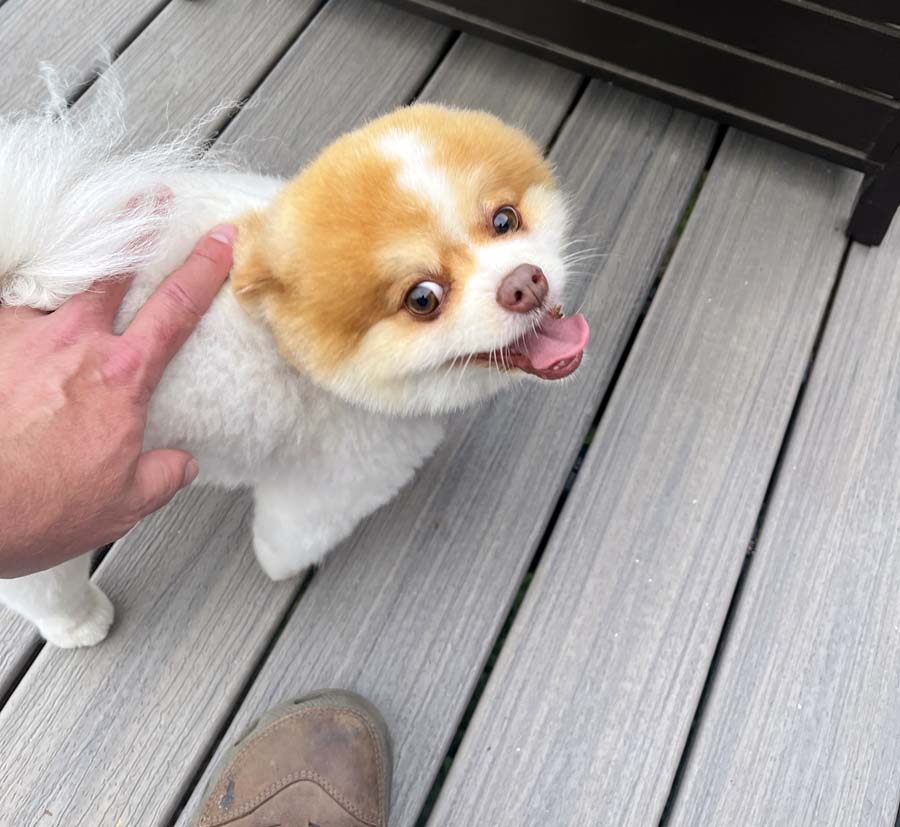 Another picture of Angus hanging out.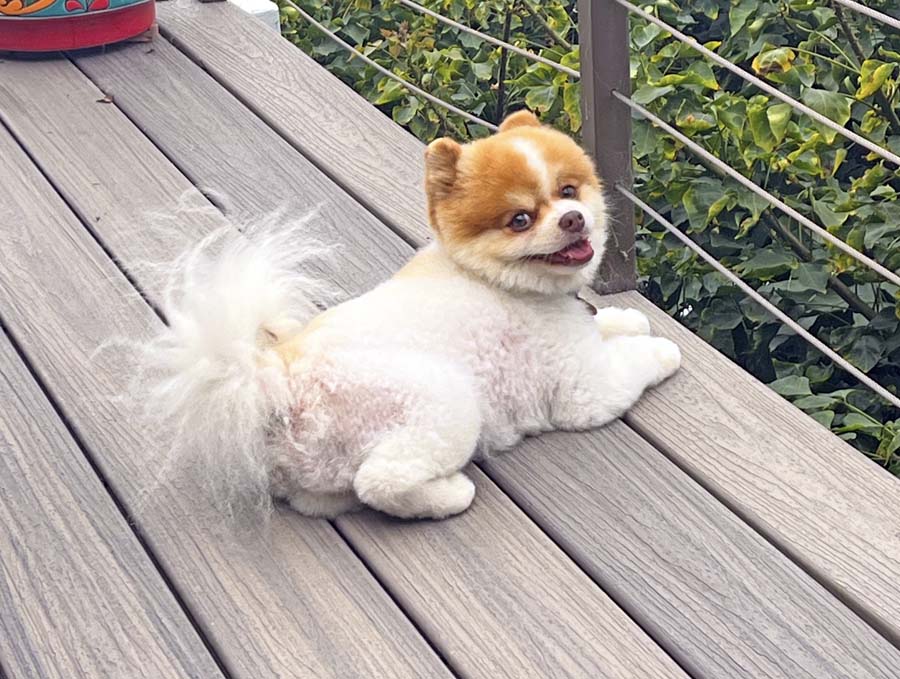 From left to right: Van, Lia, Buddy (the dog), and Katherine. Buddy was adopted at an older age, he mostly sleeps.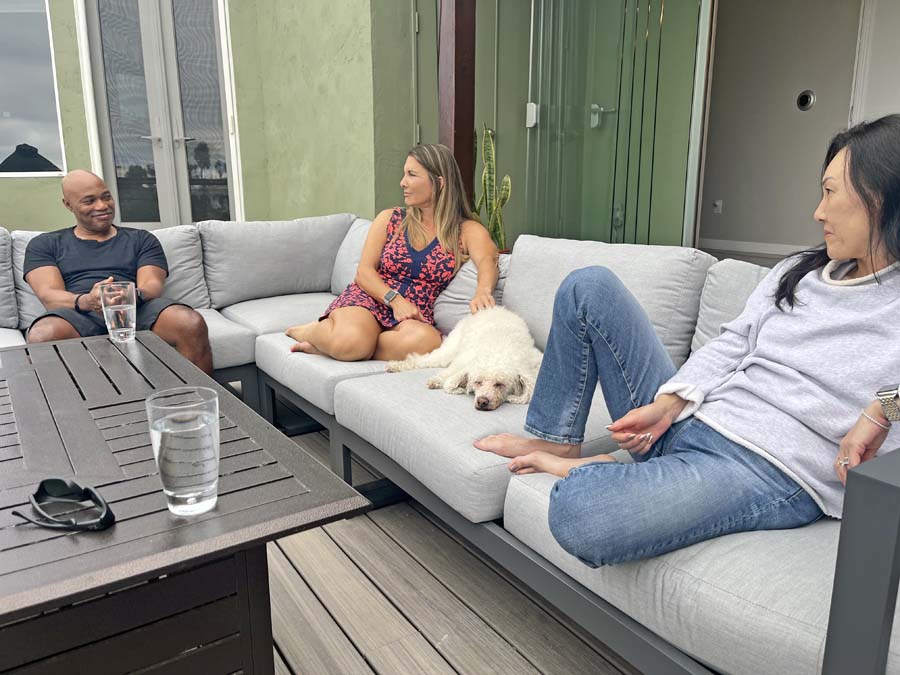 The view from Lia's deck out over San Diego Bay. You are looking at the spot we cruised in the boat earlier that day.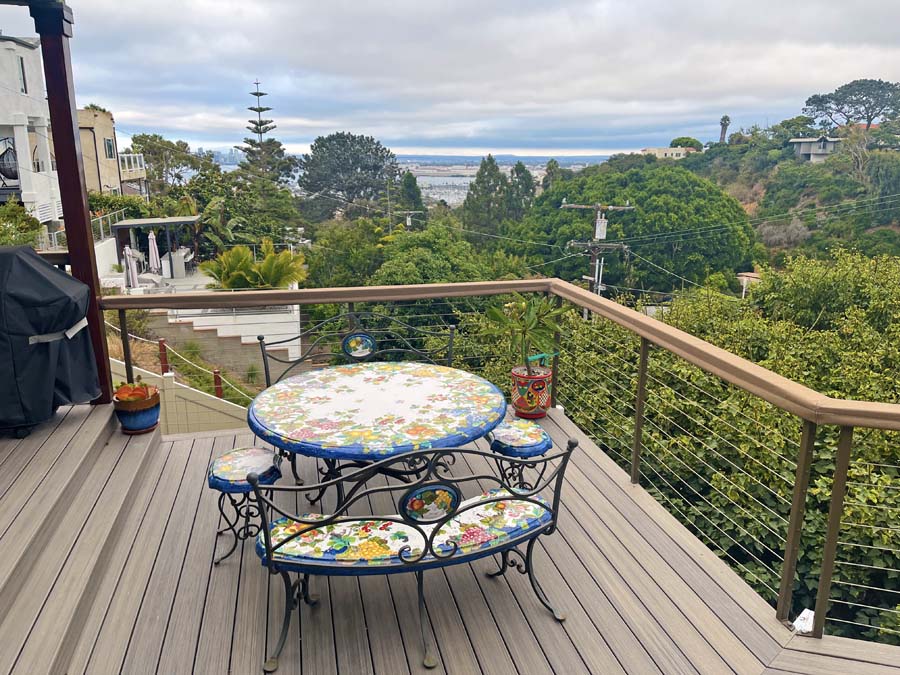 From left to right: Katherine (half cut off in the photo), Kendall, and Kyle.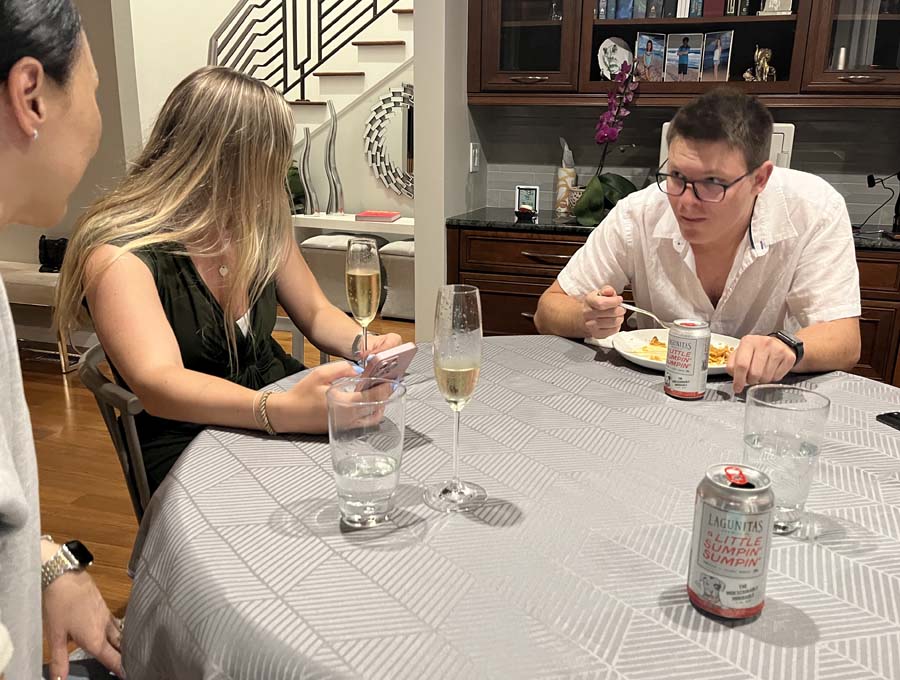 Kendall picked up Angus and cuddled with him.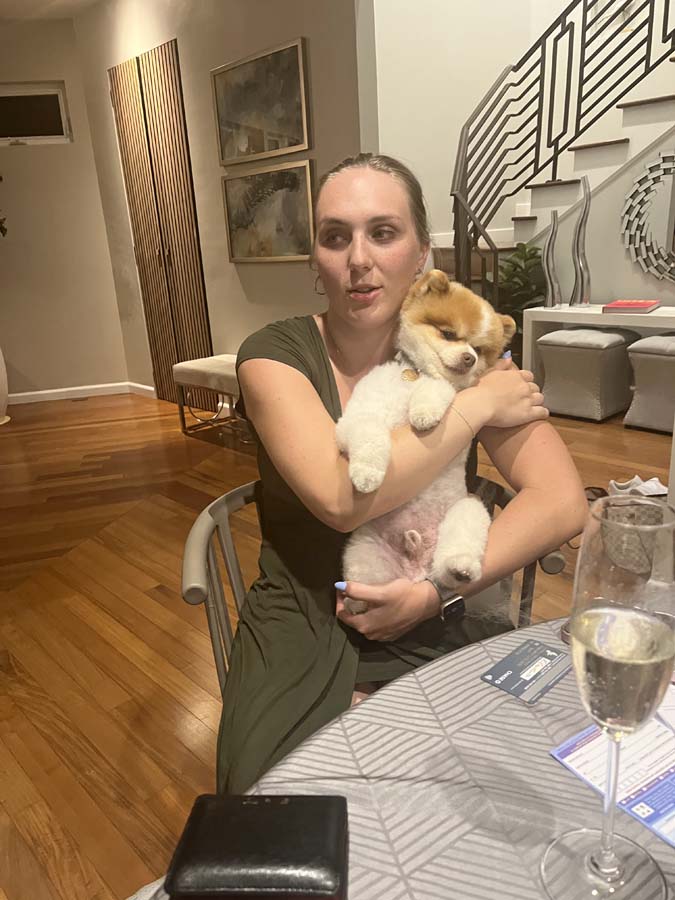 Kendall kissing Angus, it was really cute how Angus responded. Angus just melts in Kendall's arms and seems to really enjoy it.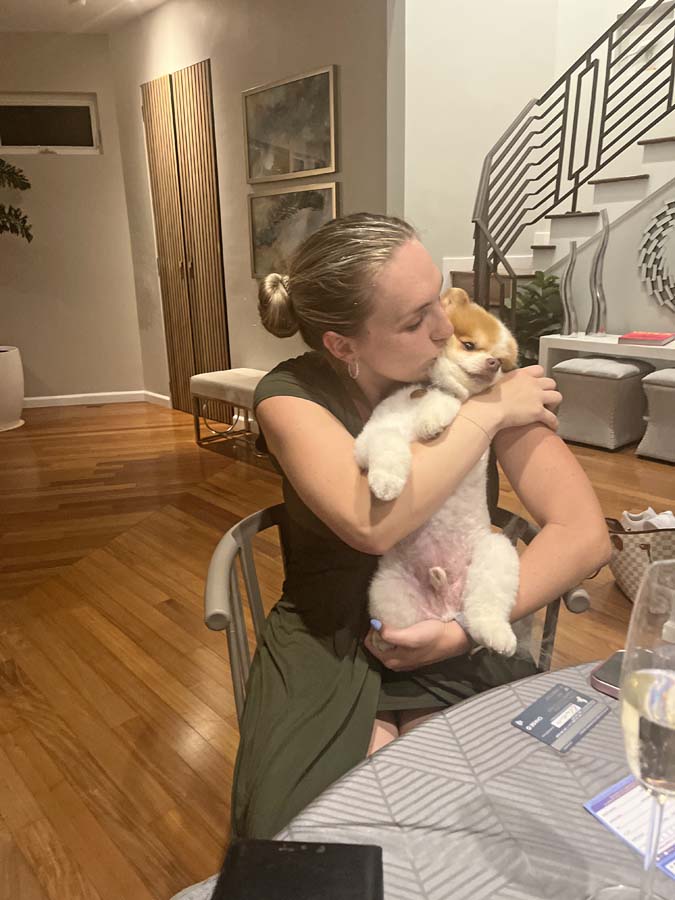 The next day (August 10th) I flew home alone leaving Katherine with her "Austin Girls Trip to San Diego" for a few days. Our dog Ava (pictured below) was glad to see me and stayed close to me.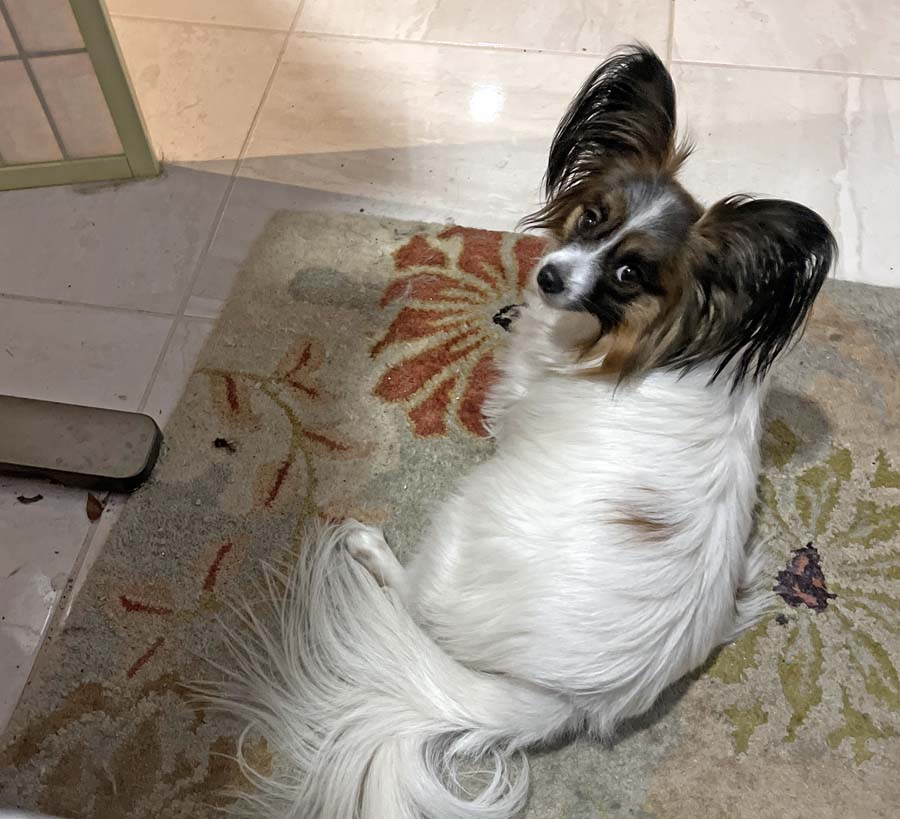 When I got home, Katie (our house sitter while we were away) and Zack were in the pool drinking champagne as the sun set. In Austin it is ridiculously hot these days of August, and it's nice they can cool off. The picture below is taken through the "porch bug screen" (it goes up and down, you can see the "brush" along the bottom edge of it). I think the diffusing effect of the bug screen on the sunset is unexpectedly nice.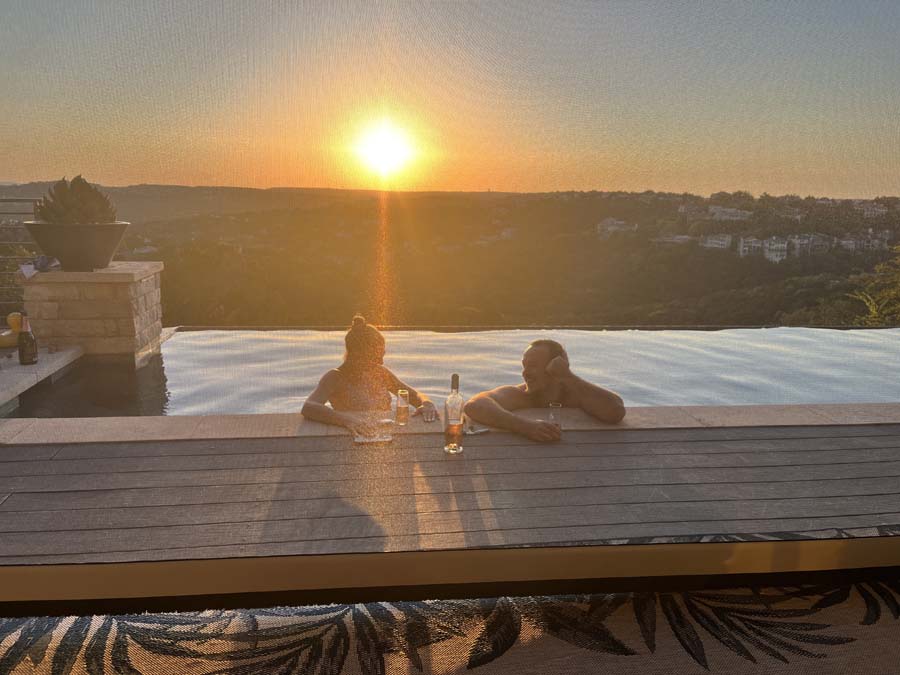 That's it! That's all the pictures and movies. All done!