Old Photo Album of Fort Peck Reservoir, Montana
(scanned in 11/16/03, but pictures from various years around 1975 - 1985)

This is a collection of photos from a photo album stored at the Crabin' Cabin in Newport, Oregon. The photos are irreplaceable, so I decided to scan them in as a backup. Click on any photo for a HUGE (1 Meg or larger) extremely high resolution copy.
Bruce on the left, Grandpa (Ralph 1st, also known simply as "Ralph"), and his son Ralph Jr. This picture was probably taken around 1975.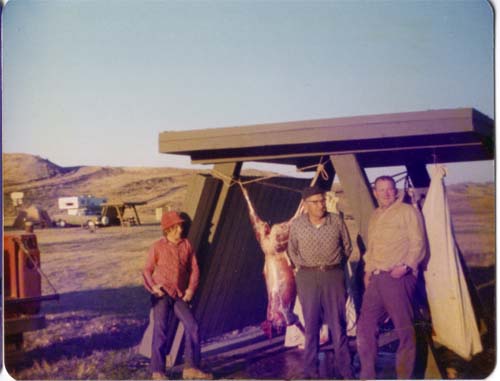 That's Robin (Ralph III's wife) in the lawn chair, and if that's Grandpa's white pickup, this picture would be from around 1984 or later.
This show's Grandpa's red pickup and camper (on the right), so it is an earlier picture than the one above, maybe from around 1980? Is that Chip's (Ralph III) Ranchero in the back right?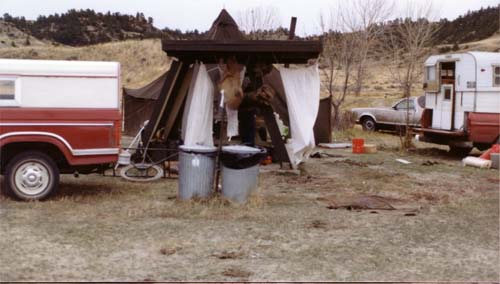 A picture from the hill of the tent. Compare with this picture from 2003, the area is built up more nowadays, but hasn't changed that much.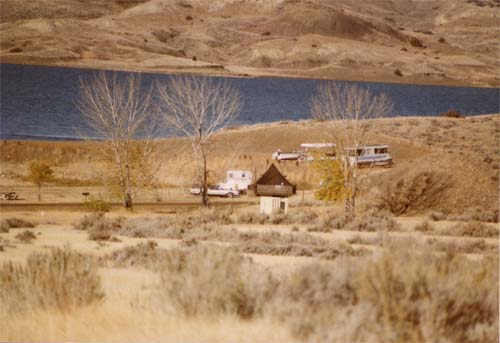 Grandpa skinning an antelope. This picture probably taken on his last Fort Peck hunting trip in 1985.
Ralph Jr. and Uncle Lawrence.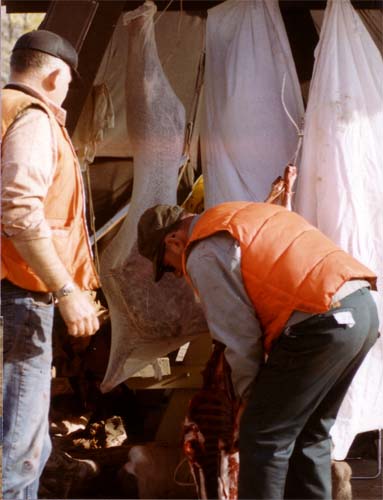 Ralph, Lawrence, and Ralph 2nd. Since that's the white pickup, I estimate the date on this to be around 1985.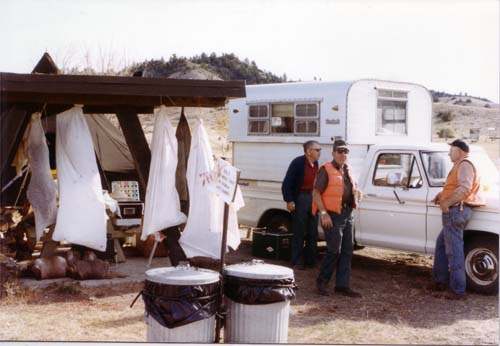 Deer and antelope hanging.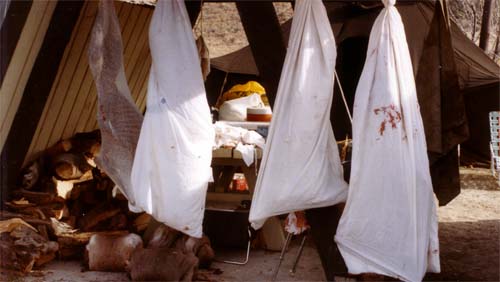 Deer on a ridge.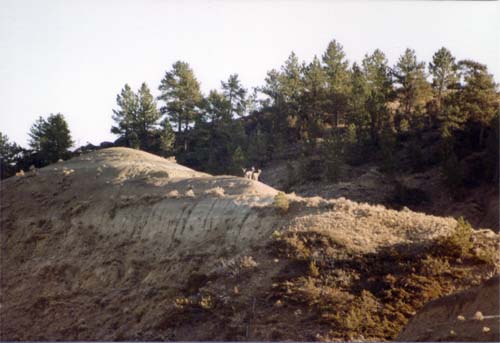 From Ralph III: "This set of images is from Devil's Creek (about 40 miles west of Hell's Creek). This is the "ditch" where they threw the Lynne-Dee-Lou off the trailer and into the gully when leaving the area after a hunt. We camped in Devil's creek one year (~1977 - I came up from college to join in) rather than Hell's creek. The road into Devil's Creek was little more than a two track winding down through the breaks. It had one tight "S" turn in the middle where it crossed this gulley. Dad (Ralph Jr) was driving G'pa's (Ralph) pickup out with the Lynne-Dee-Lou behind. The left tire of the trailer slipped off the road into the gulley and bounced the boat right off the trailer and tail-down into the gulley. The E-Z load trailer came in handy, as they just backed it up to the boat and winched her back onto the trailer. This set of pictures was taken a trip or two later when we were camped again at Hell Creek, but ran over to hunt/visit the Devil's Creek area.
Lawrence, Ralph Jr sitting on a pipe, and Grandpa.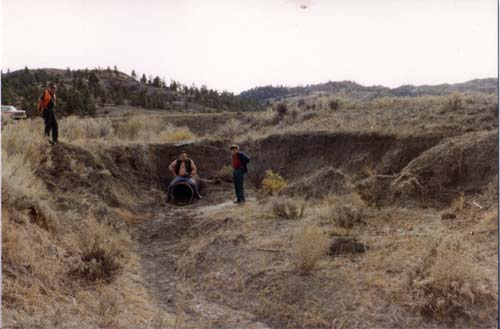 Different picture of the gulley.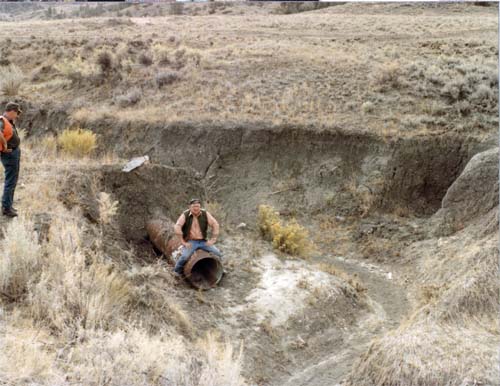 Uncle Lawrence with a deer on his back.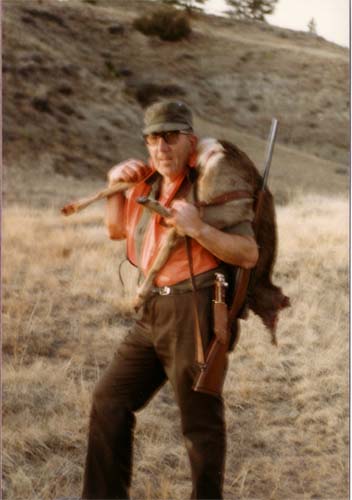 Two hunters crawling towards the antelope in the distance. Chip (Ralph III) took the picture, he thinks it's Uncle Lawrence and Bruce stalking the antelope.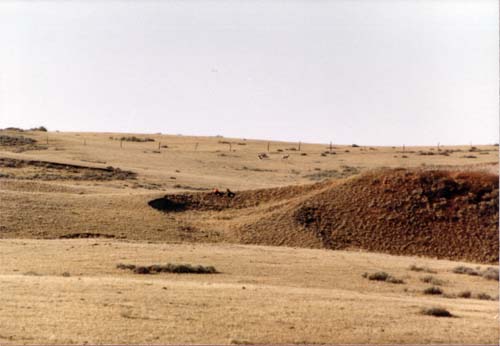 Ralph Jr at Devil's Creek. Ralph III writes, "this is one of my favorite pictures".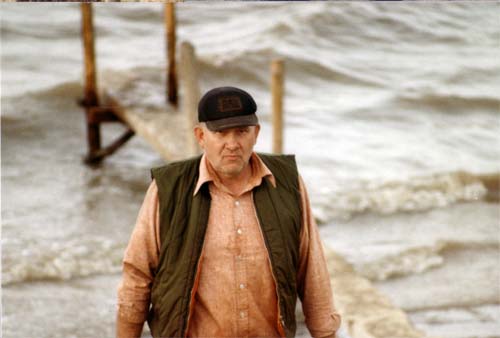 On some small dock at Devil's Creek.
Picture of Fort Peck Reservoir from a high point.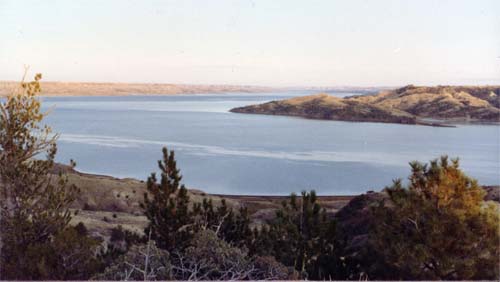 Deer.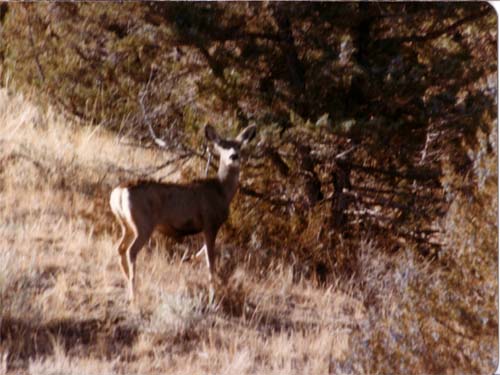 Antelope.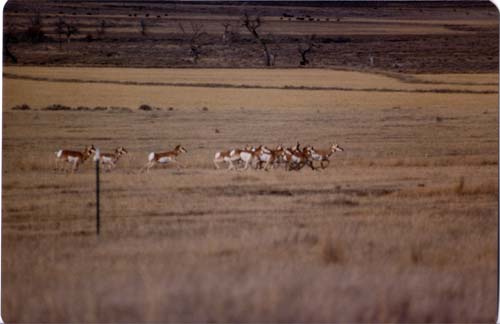 Birds overhead, lots of them. We saw a few masses in 2003. Chip (Ralph III) writes "As we were getting ready to leave we heard honking, looked north, and saw coming up off the reservoir 1000s upon 1000s of geese. "V" after "V' after "V" flew over us - I'd be willing to bet there were over a million - They almost blackened the sky for an hour or so.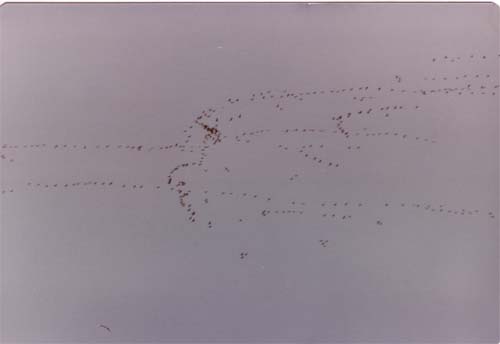 A nice picture of a hunter prone. This is Robin's dad, Lloyd Scoles.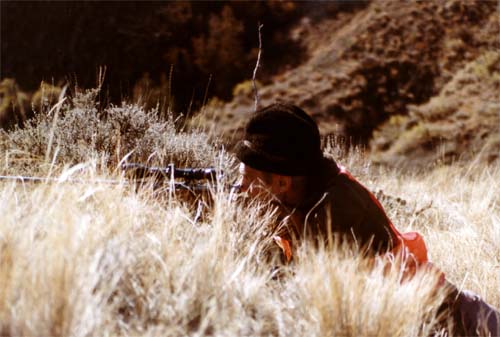 Lawrence and Lloyd Scoles with a deer on the cart. This deer shot in the ravine to the west of where all the private houses are just north of the campground at Hell Creek.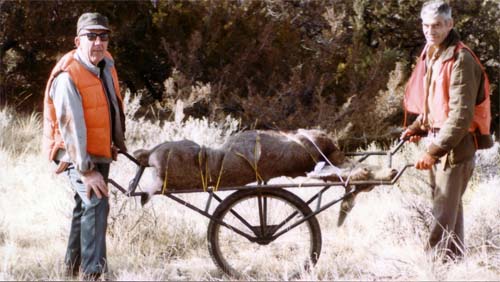 Antlers!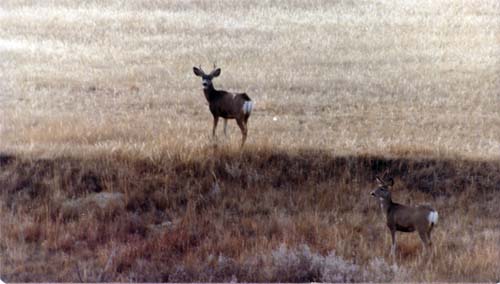 Antlers running.
Picture of camp.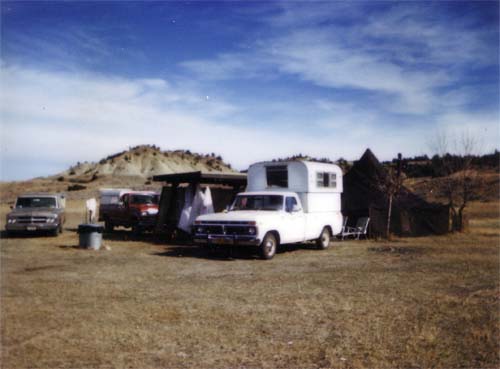 Row of deer heads.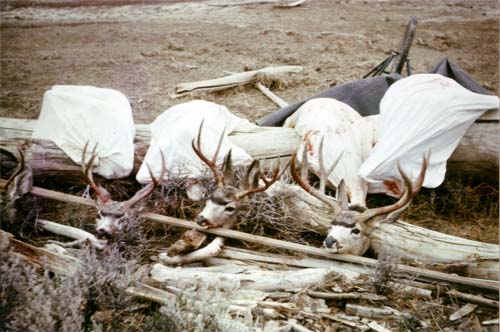 Bruce with 6 deer heads on the boat.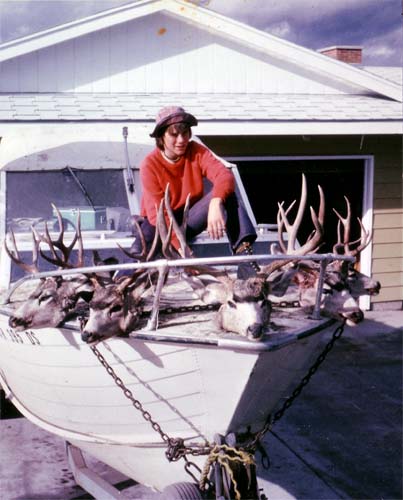 This is a beautiful sequence of photos showing the boat and deer cart and gang-plank in action.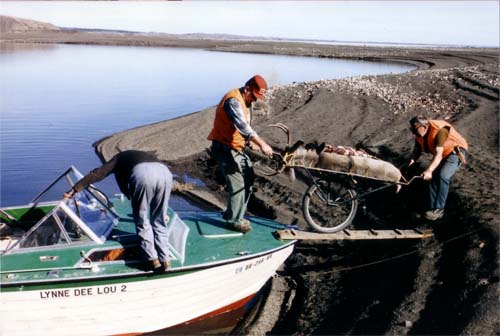 Lawrence, Grandpa (Ralph 1st) and Ralph Jr. Chip (Ralph III) writes, "This is G'Pa's last 'official' deer, and is now hanging as a full head mount on my wall. This was taken in 1985."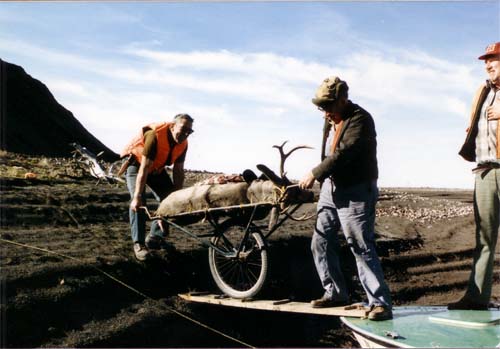 The name of the boat is the "Lynne Dee Lou", and the way the name is reversed in this photo points out that I mirrored these scanned photos accidentally when I scanned them. Dang it!! The boat is named the middle names of Grandpa's three grand-daughters. Grandpa is driving the boat in this picture.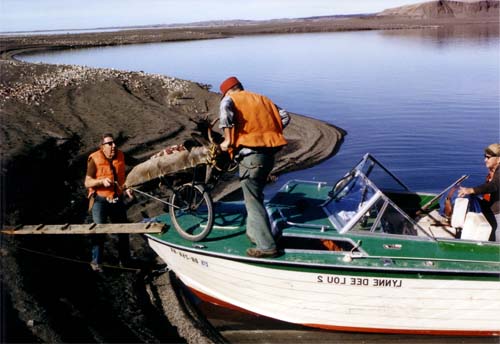 Bringing the deer onboard.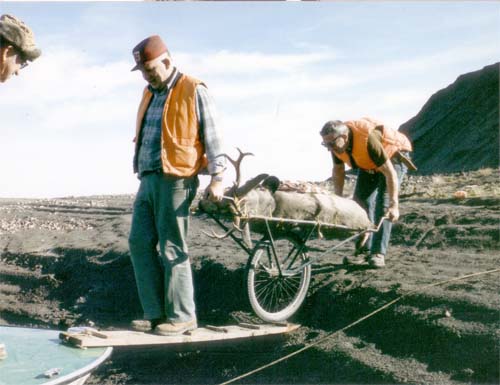 Deer to the plank.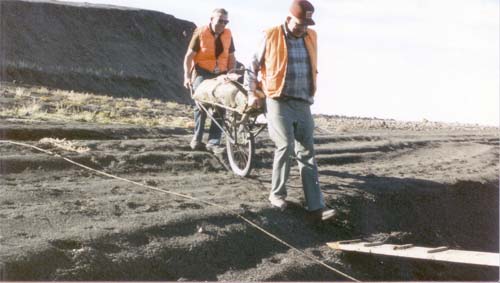 Ready to bring it home.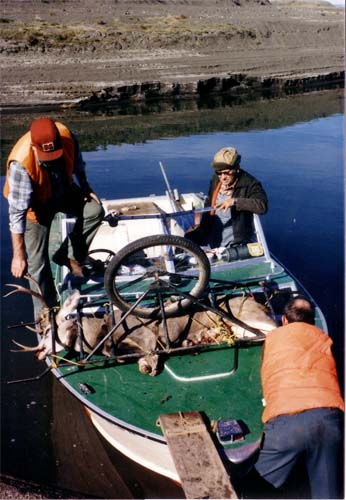 Grandpa waves.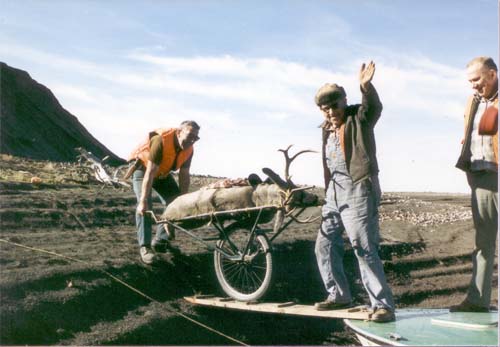 I assume this is a picture of the Lynn Dee Lou, maybe circa 1982?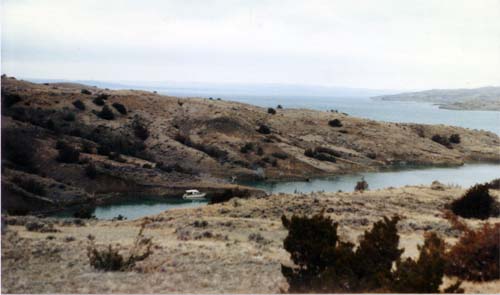 This sequence was in the end of the photo album, and not from Fort Peck. It is my Uncle Ralph (Ralph Jr) with a black powder rifle and a full curl Ram (sheep). Ralph III writes, "One hunting season Dad drew a big-horn sheep. So rather than deer hutning, or elk hunting - we went sheep hunting. This is up around Thompson Falls, MT (north west of Missoula). In the late 1980s.)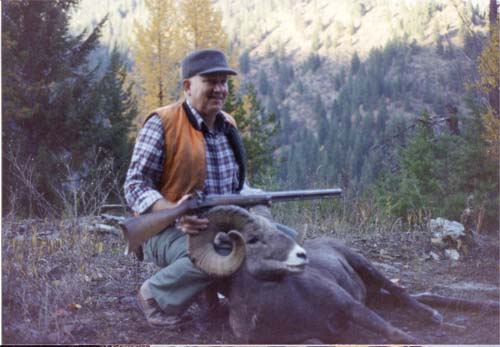 The sheep he shot is the left one in this photo. This photo taken seconds before he shot it.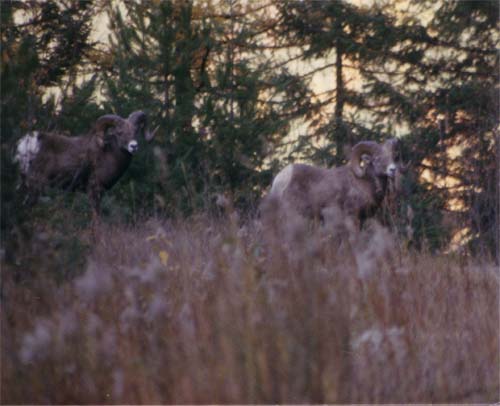 Nice curl.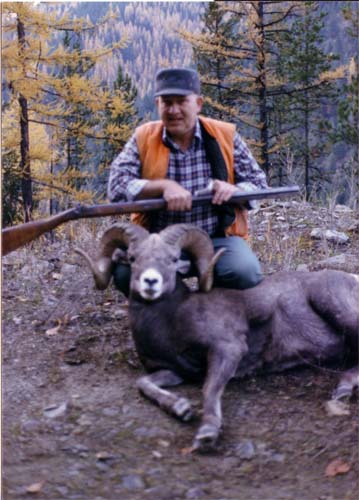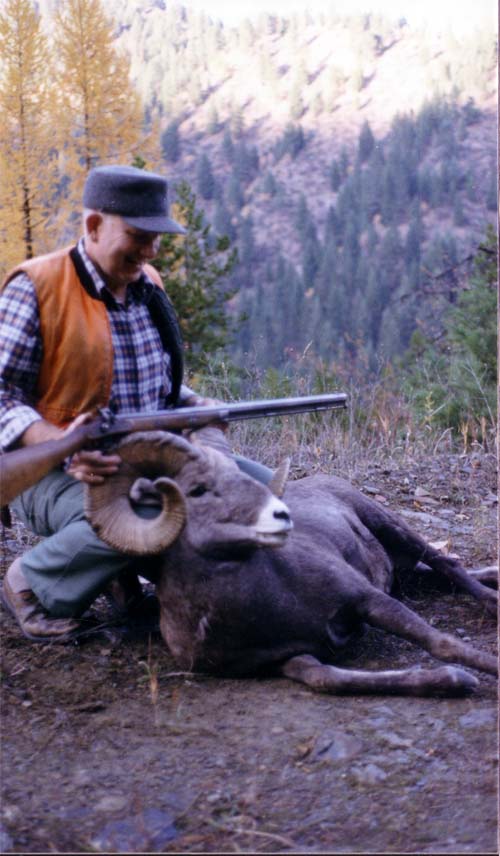 This is the OTHER sheep Ralph Jr got with his black powder rifle, not the one in the previous photos.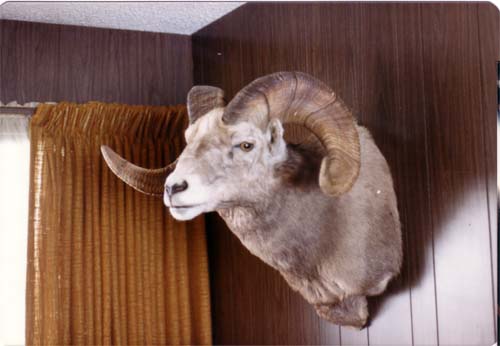 A rack of black powder rifles on the wall. Must be Ralph 2nds collection.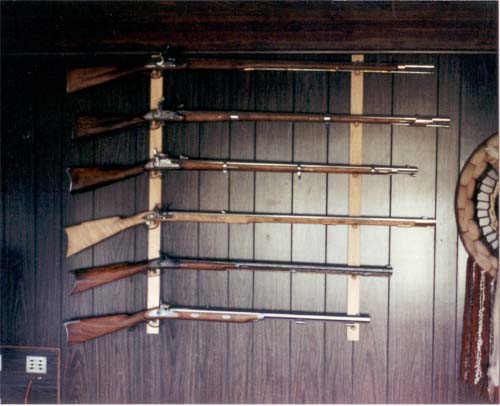 Ralph Jr's workshop in Missoula, Montana.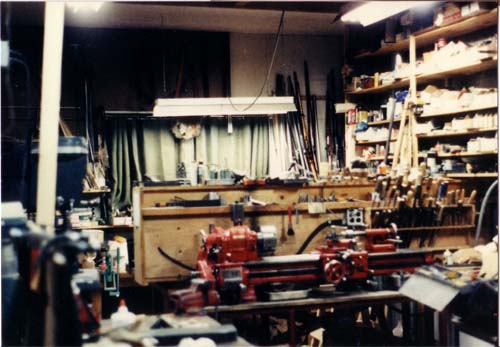 Click here to return to Random Links.