Breckenridge Gallery
Click on any picture to get a HUGE (about 200k) version.
This page contains some pictures from my day at Breckenridge (2/27/99).
Breckenridge review: Breckenridge is quite the resort, very nice. The town is very cute, and I would love to stay there sometime. The ski hill is pretty large, and every mid-mountain lodge is nice and modern, but most of the hill is groomed out beginner or intermediate runs. Even the black runs for the most part seemed to have very long intermediate "run outs" at the bottom to get back to the chair lifts. I did find a few nice black sections by some short lifts that I enjoyed, but not enough to keep me interested for more than a day. To be fair, I did NOT ride the T-bar up to the summit, because it was howling wind up there (I rode chair 6 up to the next highest spot, and decided never to do that again). Supposedly high winds are fairly common at Breckenridge, but as long as you stay down lower on the mountain you are sheltered fairly well.
The parking lot is far from the hill, and you take a shuttle. Here is a picture from the parking lot: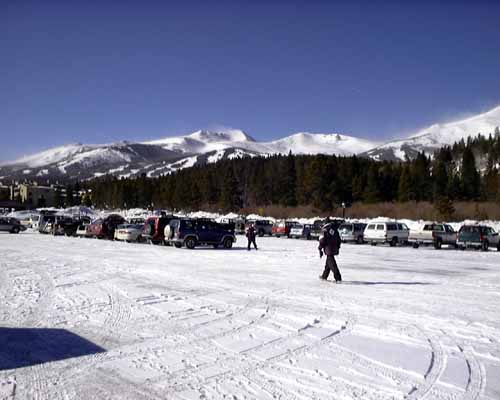 Here is a picture where you can see how exposed the top is. The highest chair you can see is chair 6:
Nice view of the town of Breckenridge: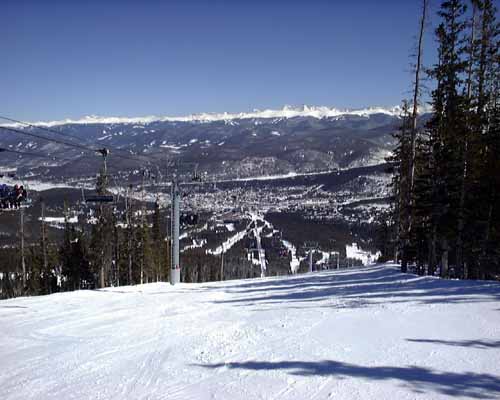 Ranom view: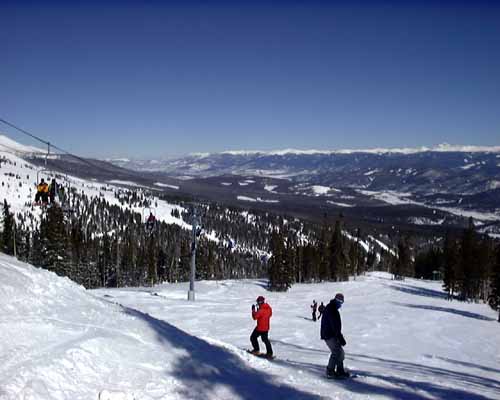 View from the top of chair 6. That "fuzz" over the picture is windblown snow. The wind is HOWLING up here: