Mammoth, California Gallery
Click on any picture to get a HUGE (about 200k) version.
Town maps and lift maps a different page.
On 3/30/99, I skied Mammoth, California for the first time. Mammoth is a HUGE hill, and very interesting. My first impressions are that it is a cross between the open, treeless Squaw Valley and Snowmass. "Cross" isn't the right word, more like "the best parts of each butted up against each other". On one side of Mammoth are these steep double black diamond exposed cornises on big bald treeless hills. If you drift over to the other side, there are miles of luscious intermediate terrain with wonderfully sparse trees dotted all over it. I'm hoping for a nice snow storm over the next few days so that I can go screaming through those trees. Half way inbetween the bald steeps and the intermediate trees are a LOT of groomed intermediate cruisers (miles of really well groomed trails). Anyway, this hill is WELL worth spending a few days at to get to know. I was shooting around all day, and I didn't quite ride every lift, and I only skied on half the trails. Here are some pictures from my day...
The town of Mammoth, California is OK, but leaves something to be desired. There isn't any centralized downtown area, more like sprawl that you have to drive through. I prefer ski towns like Telluride, Vail, and Jackson Hole where everything is within walking distance so that after you arrive, you leave your car parked for the duration of your stay.
This is a picture of the Main Lodge's parking lot. Notice the mono-rail, which is to access the parking. It is broken down this year, so I don't have any shots of it running: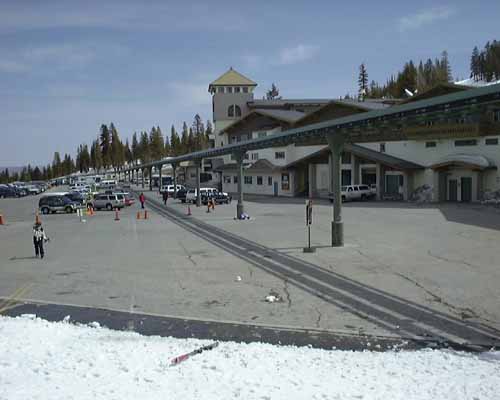 This bad boy Mammoth is in the parking lot also: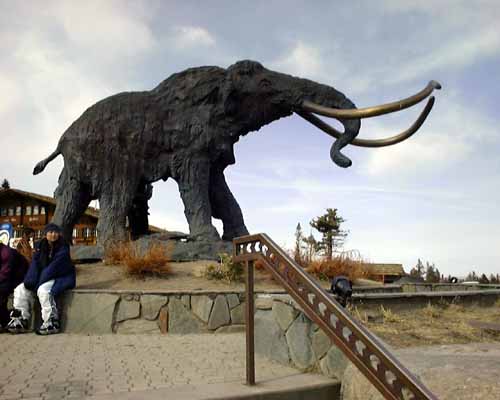 "Broadway Express" is the main lift leaving the lodge: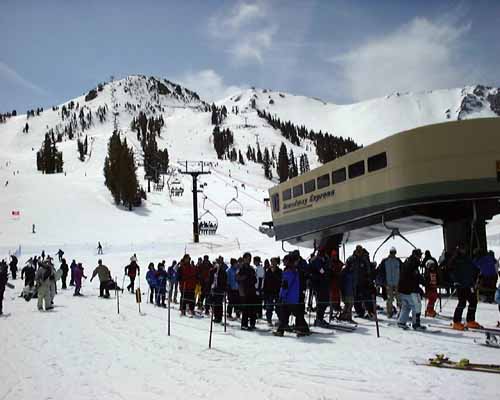 Random picture from the top: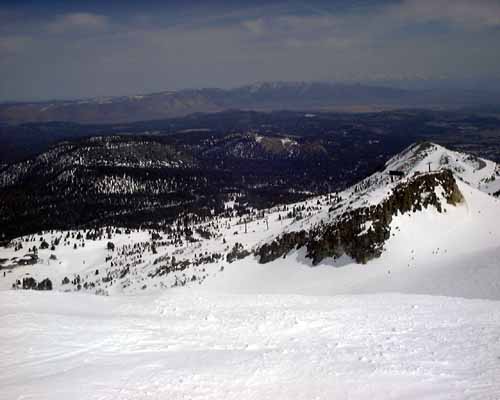 Another random picture of the steep, bald section of Mammoth: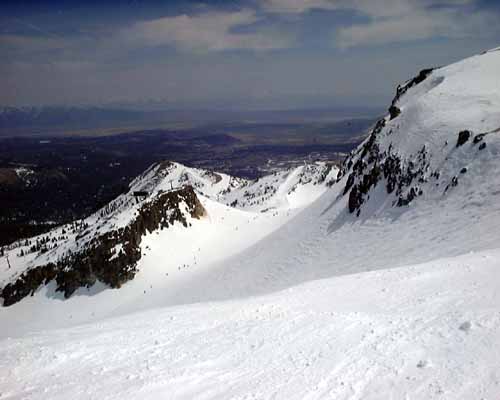 Doesn't this remind you of Squaw Valley? Look, no trails, and no trees. And some of that slope is DARN steep (you can avoid the steeps pretty easily, but they are there):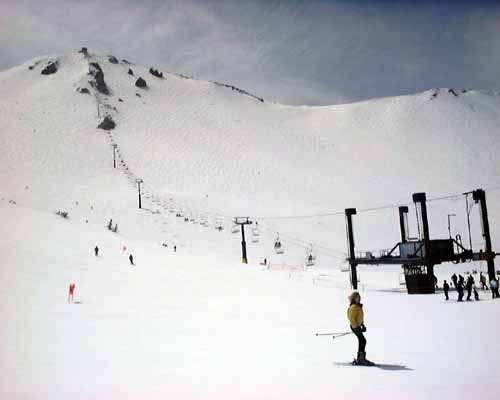 This bad boy bear was outside the OTHER main lodge (the "Canyon Lodge") which is another one of the main access points to the ski hill: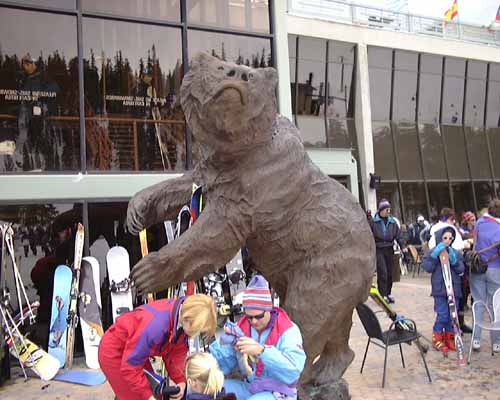 This picture shows some of the sparse trees I mentioned earlier. This is over on the "Canyon Lodge" side of the mountain, and you can see the terrain isn't as steep, but it's very pretty and still quite fun (blue-black levels):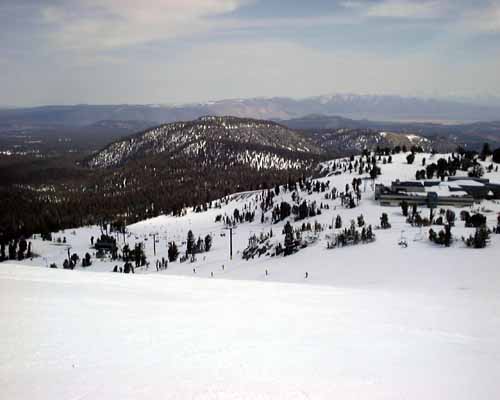 This brick structure housing the lift operator looks like a military bunker, and it's at the top of chair 9 (Ricochet) which is at the very far skier's right of the hill. The lift operator inside the bunker isn't going to be able to hop out quickly and help you if you fall, 'eh?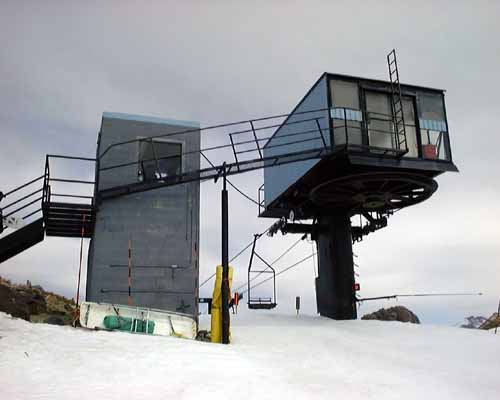 More sparse trees, random view: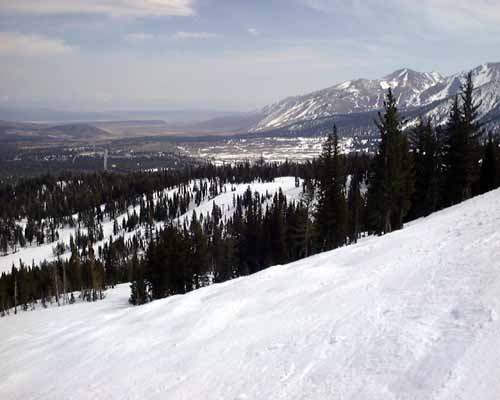 Here I am inside the sparse trees I like so much. The snow under my feet SUCKS (ice hard and ridgy and unturnable), but with some fresh powder these runs would be epic. And they go ON and ON and ON like this: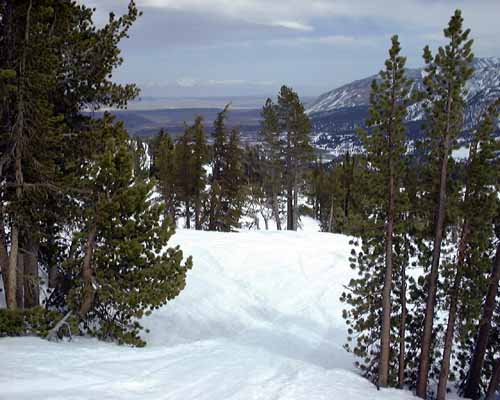 More sparse trees: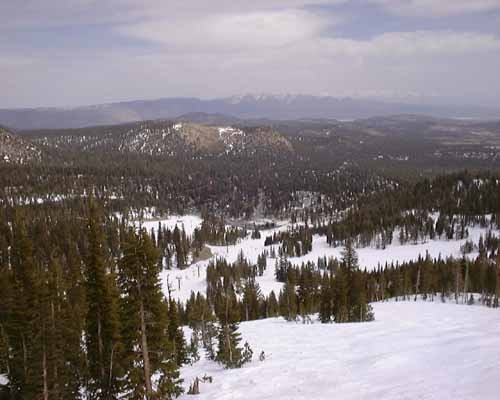 Random view of the middle of the mountain. A lot of groomed out blue-black runs: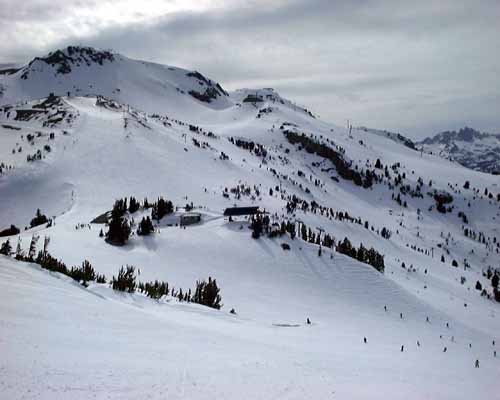 Random view: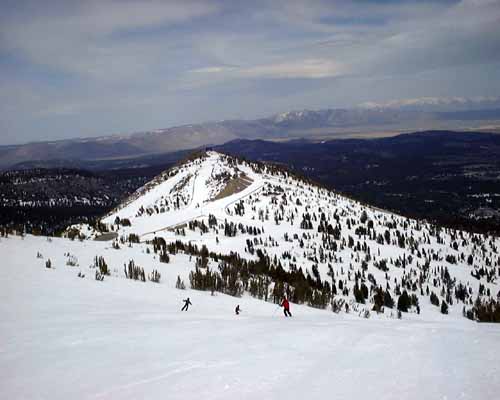 A few days later, a powder day! Here are some images->
Here I am waiting for the bus in the morning to get to the mountain. It is POURING down snow here: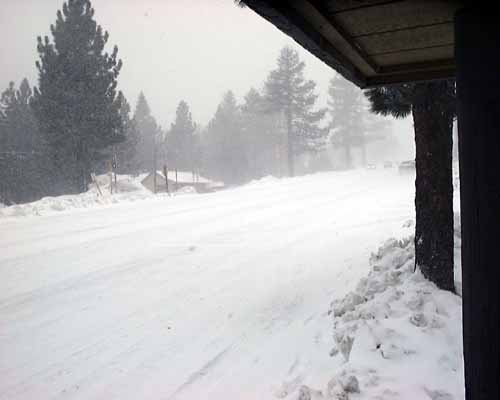 Look at all the untracked fresh powder between the trees here! It just makes me drool: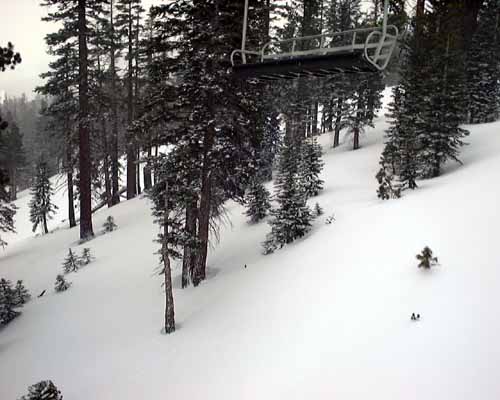 More snow and fresh powder. After taking this picture, I skied down this untracked slope: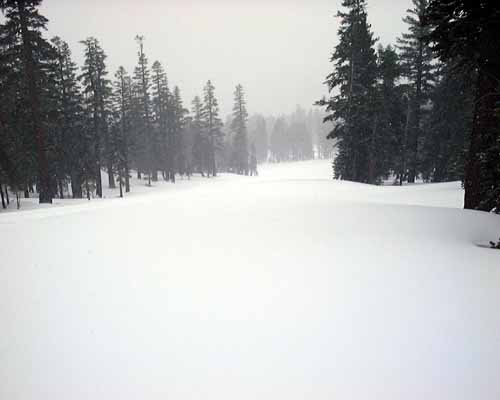 Here I am in the trees, in 18 inches of fresh powder, about to ski down through these trees: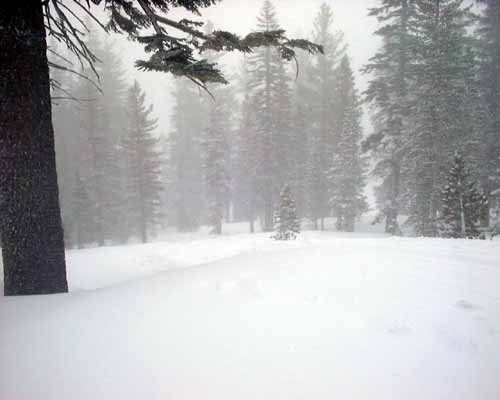 From the lodge, this picture of the snowstorm: