Papua New Guinea Photos 1972 (Goroka)

(this page created 5/22/08)
Quick Explanation: in 1972 my family lived in Papua New Guinea. These are some of the old slides from that time scanned in for safe keeping. Click on any picture for the VERY LARGE original. The comments around the pictures are gleaned from an old notebook of my Dad's hand written notes plus hand-written comments on the borders of the slides. Click here to go to the top level of all these pictures.
A note on Papua New Guinea Pidgin English - When we lived in Goroka, we found that many of the locals spoke "Pidgin English". For example, the term "pikanini" means "child". I found the Wikipedia Article calls it Tok Pison or Pidgin English. Also, this is an excellent dictionary that includes all the terms I remember: http://www.june29.com/HLP/lang/pidgin.html.
Pigs in rubbish near Goroka, Papua New Guinea.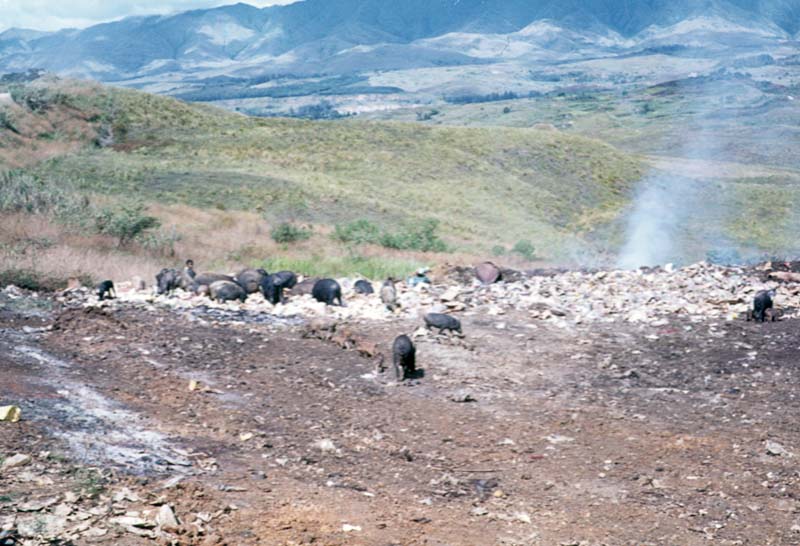 Stuck truck and bird for sale.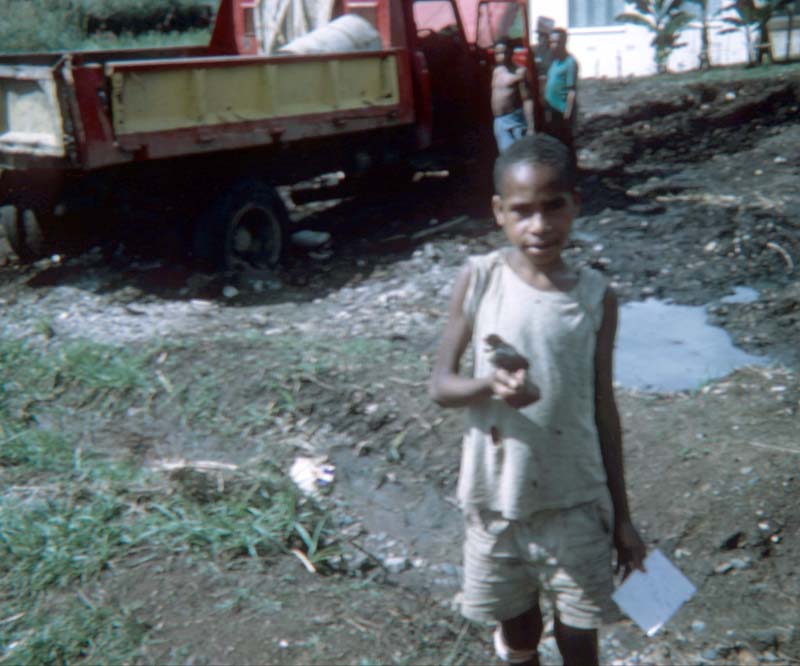 I think this is another picture of the same stuck truck as above. The truck is being overhauled in the mud just beside our house, which is the road to the local "village" (cluster of native huts just outside of town).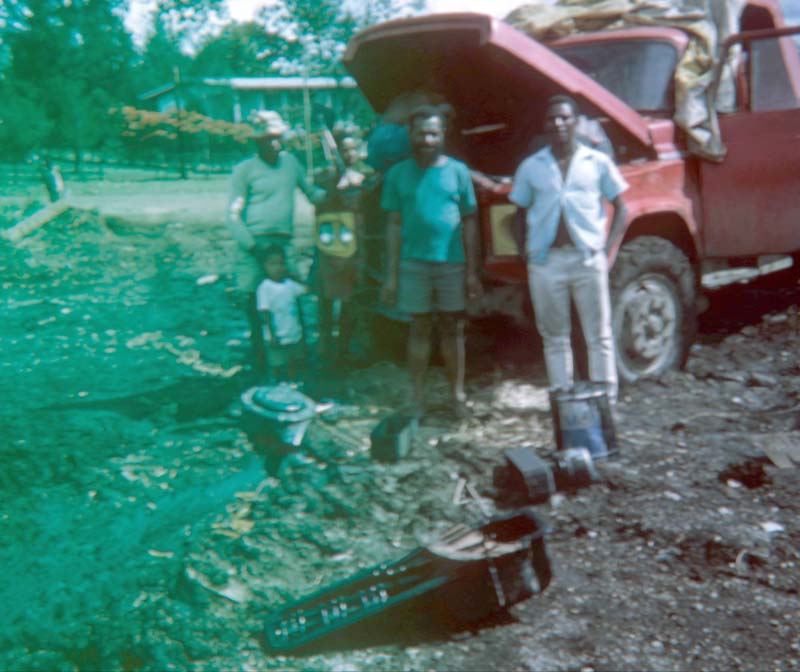 "Local residences near High School". Note the outhouse in the center of the picture.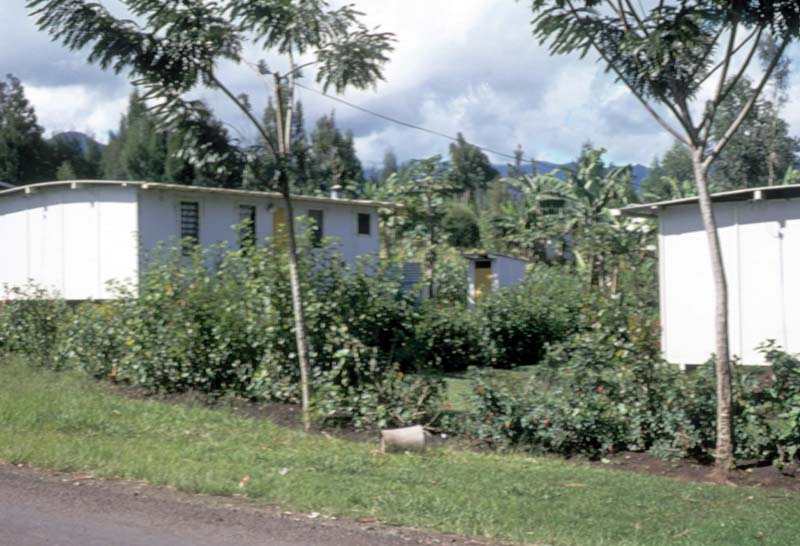 Local "pikininis" near high school. The term "pikinini" means "child" in Pidgin English, we would use the term to mean native children.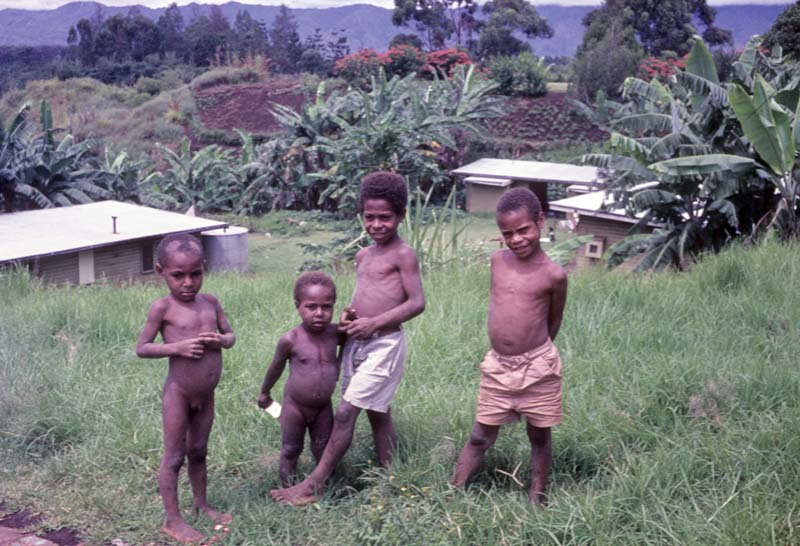 "Dok kai kai all man" is written on the sign at the corner of the house (over the dog's head you can barely see). - This translates directly as "Dog eats everybody" and more accurately as "Beware of the dog".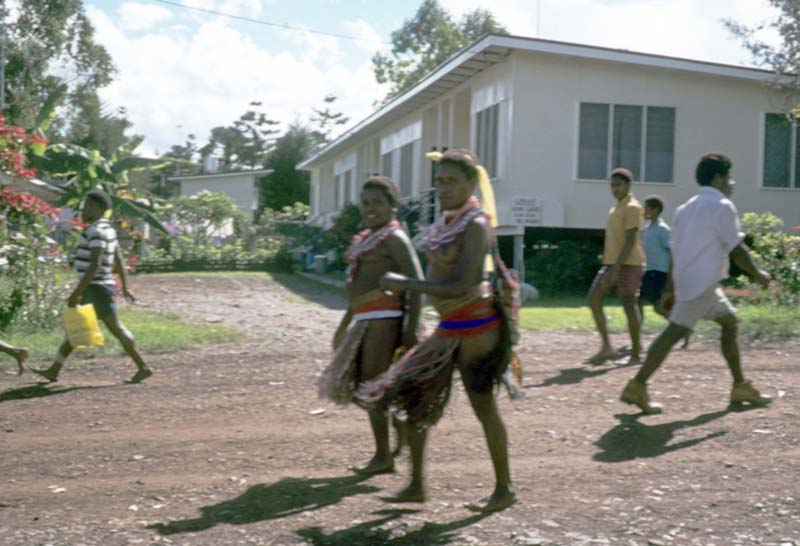 Bicycle tin rims and dress in Goroka, Papua New Guinea.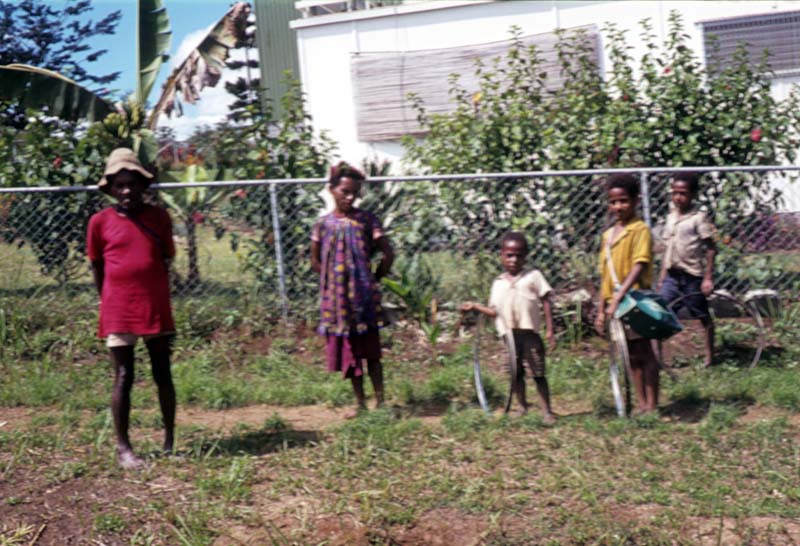 "Dry season towards the Barton's". The Bartons were another couple in the UNESCO team with my father, specializing in
English. The road up and to the right led straight into the hospital.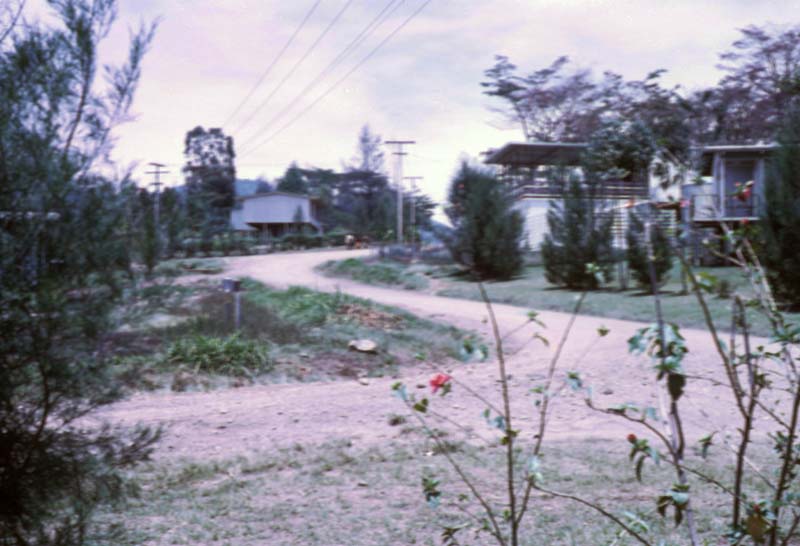 "Road to village." This is taken the other way from the above picture from our front side yard and looks towards the native village (a cluster of gass huts) just outside of town.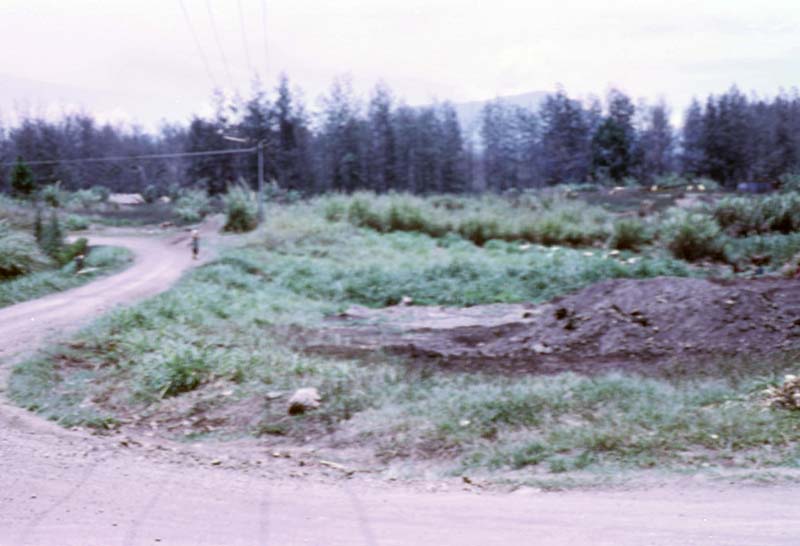 "Swimming Pool larger part".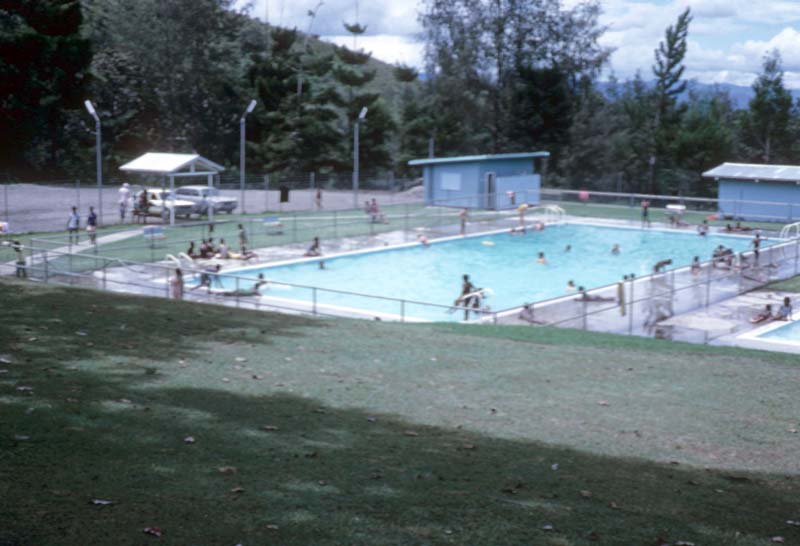 Local kids at the swimming pool in the "Wading part" of the pool.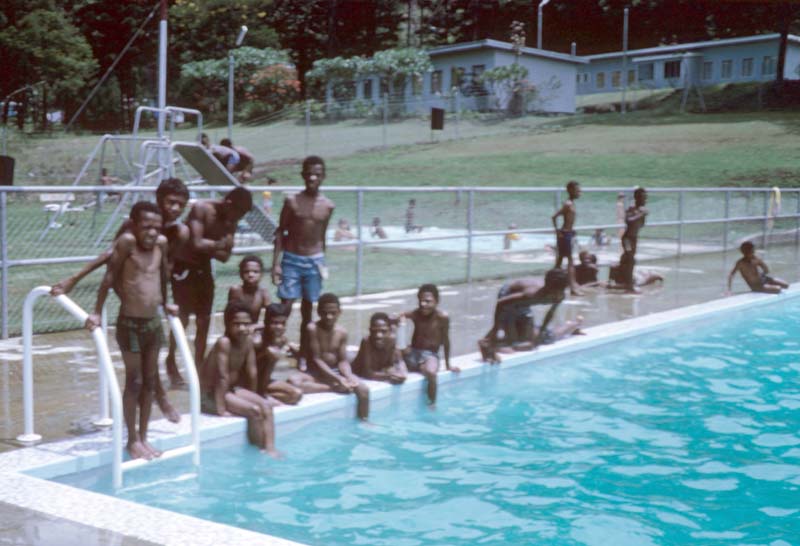 The Goroka Hospital, Papua New Guinea.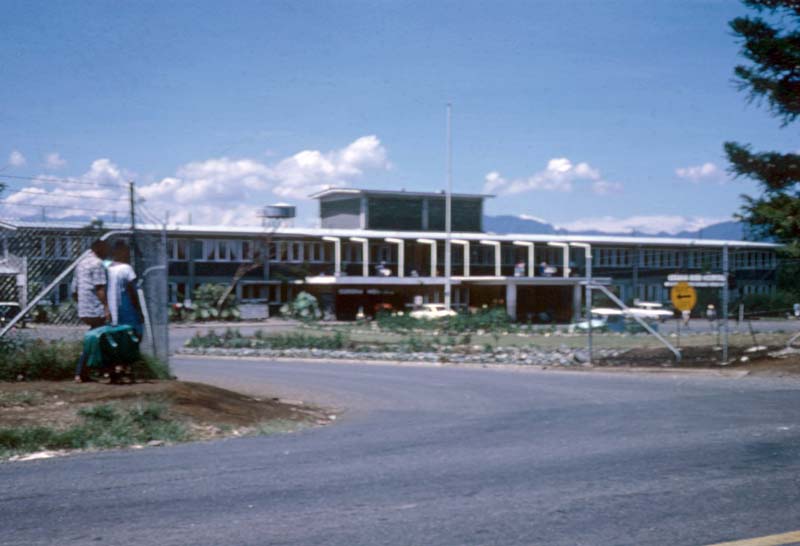 "Microwave post office and telephone". The sign reads "Goroka Post Office tele<communication?> Center". Notice the contrast between the dress of the people -> primitive (almost naked) and western (stitched clothing, pockets, shoes) walking around together ignoring each other.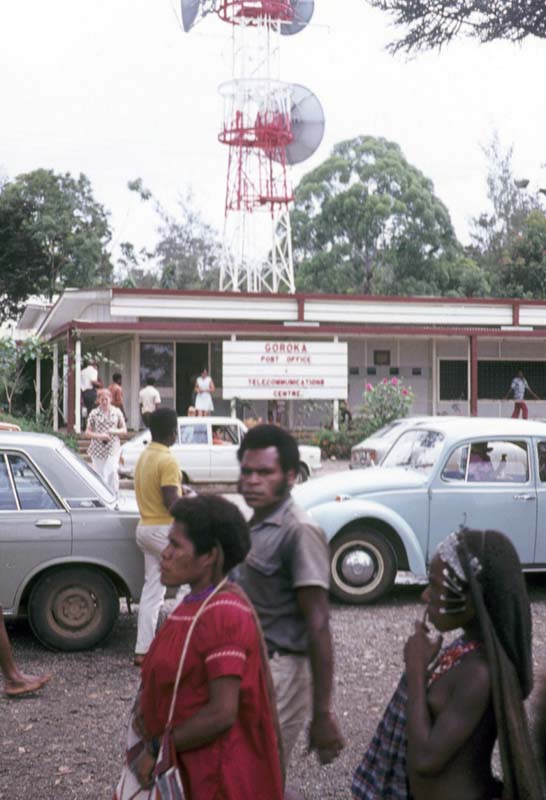 Expatriate residence. The government officials and expatriates lived in nice homes with cars, gates, flowers and green lawns and plumbing, the natives lived in grass huts and outhouses.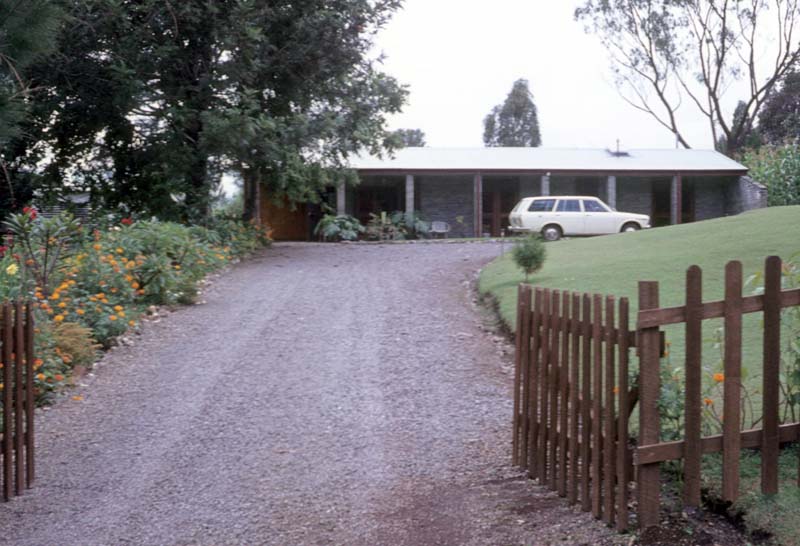 Locals at drinking fountain, Goroka, Papua New Guinea.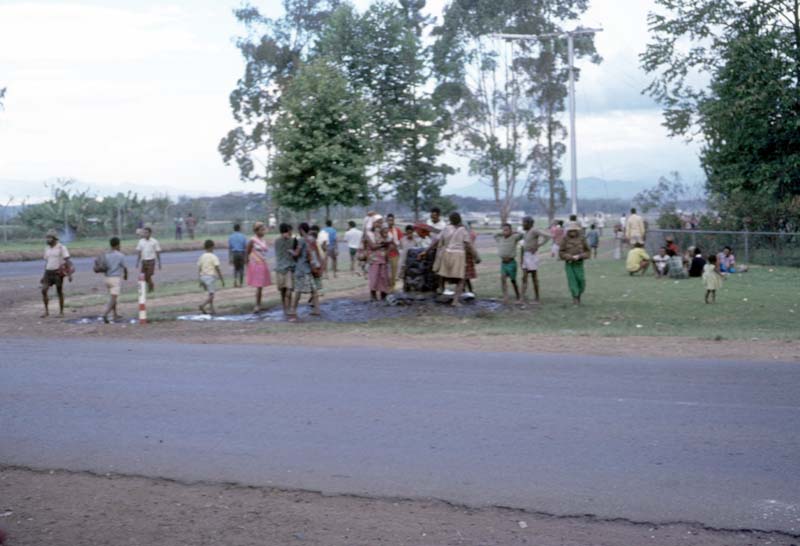 "Goroka from above Minogere, a suburb of Goroka." Notice the airport runway to the left.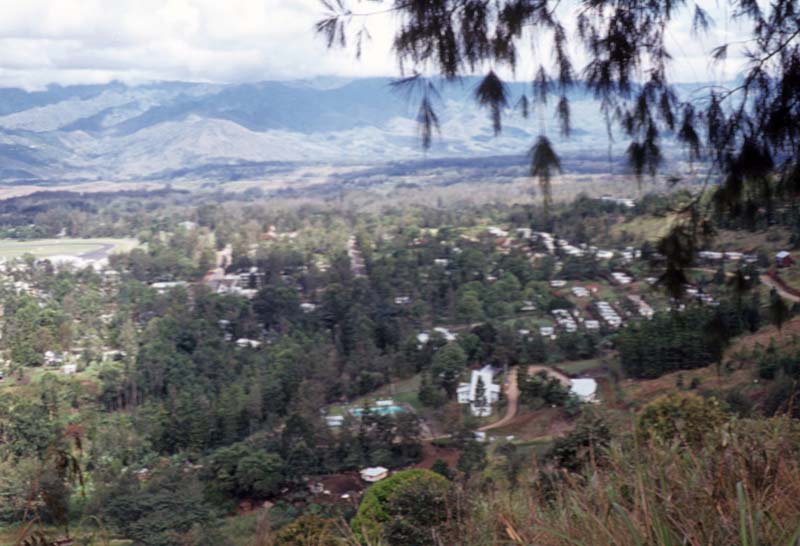 Goroka airport from lookout.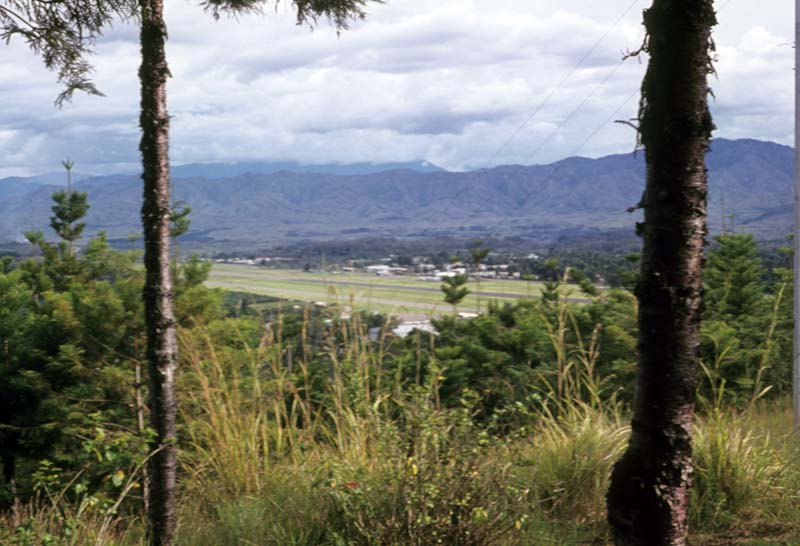 "Goroka airport F27s and Twin Otters." The blue airplane pictured below is a Fokker F27 Friendship turboprop. This picture was taken around 1971 at the Goroka airport in Papua New Guinea. Just before independence, PNG was served by two airlines, TAA - Trans Australia Airline and Ansett -TAA was blue and silver and used F27s and Ansett used the red planes pictured below which are "Twin Otters" (DHC-6 Twin Otter built by "de Havilland" of Canada). Both had larger planes used within Australia, but used the smaller planes in PNG.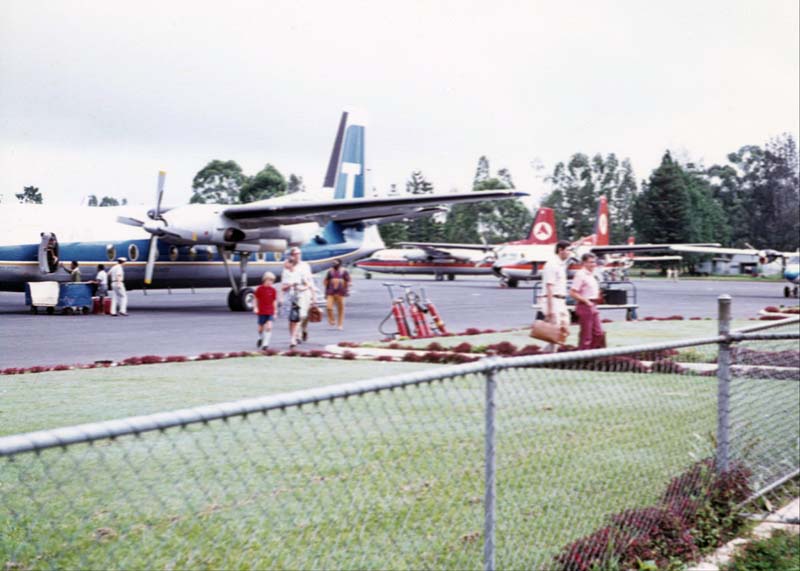 "Goroka Saturday to market along airport road". One of the "big events" in Goroka was the market every Saturday. Natives would come in from the bush to sell their crops and to buy things in a big crowded open air market. Goroka was a major trade hub for the area.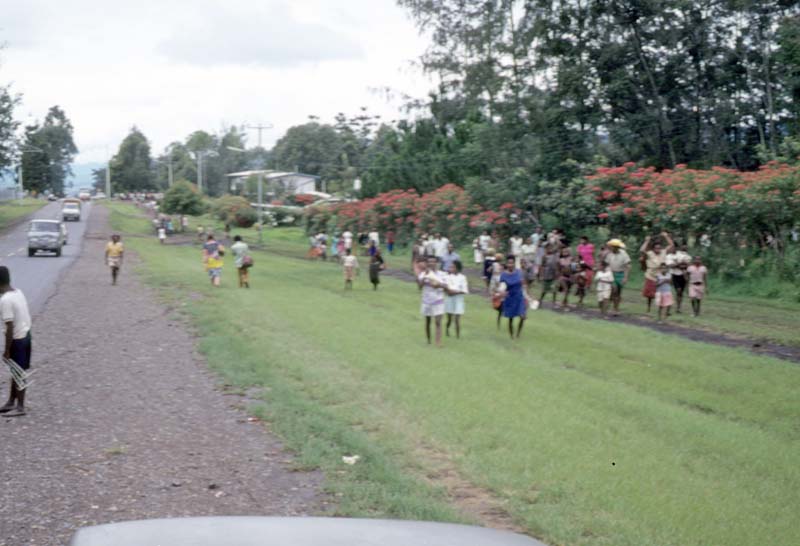 Goroka hotel public bar.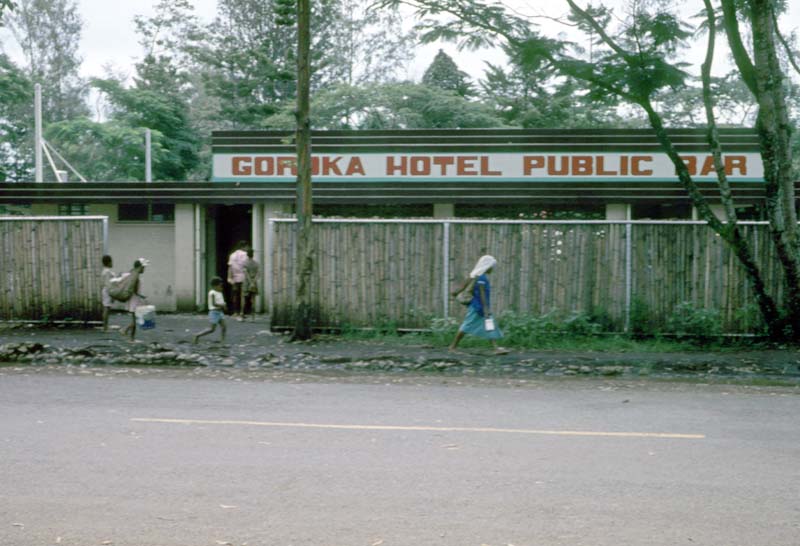 Goroka Zokozoi Hotel.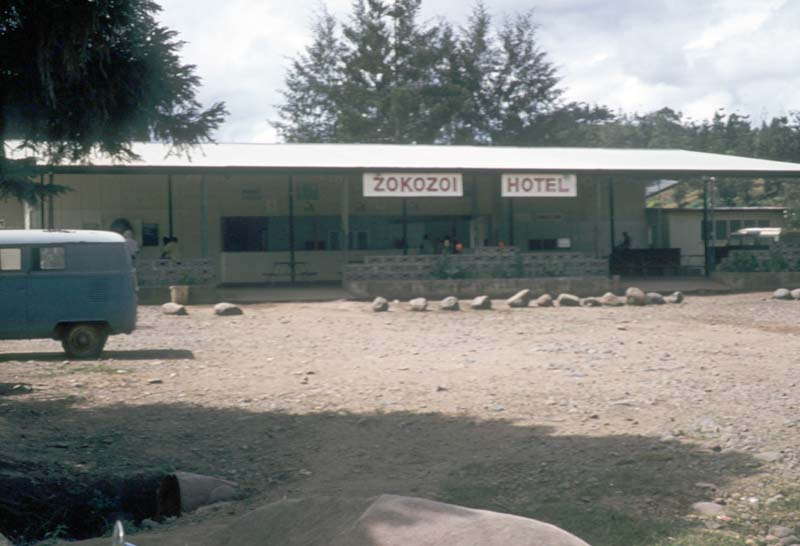 The Goroka Pharmacy and Shopping Center in downtown. This picture was taken around 1971 in Goroka, Papua New Guinea.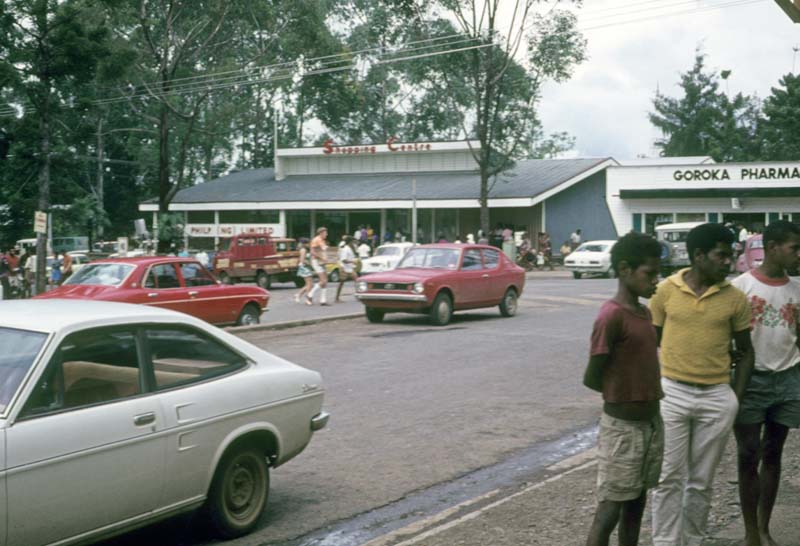 Another picture of the downtown of Goroka in 1971.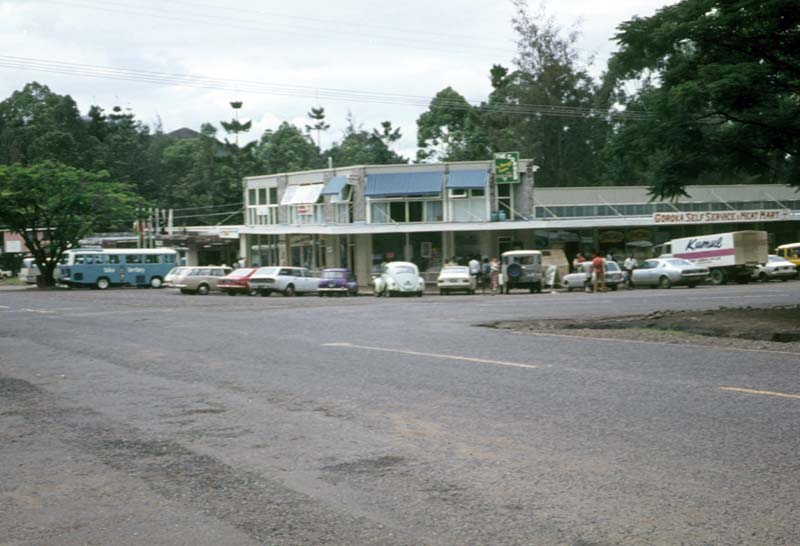 TDE - the sign on the wall in the picture says "Turner and Davey Electrical".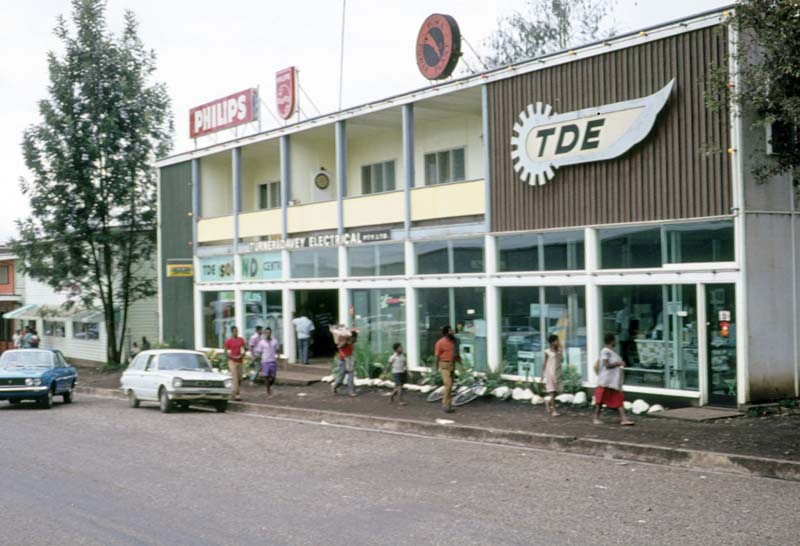 Steamis Hardware and Honda.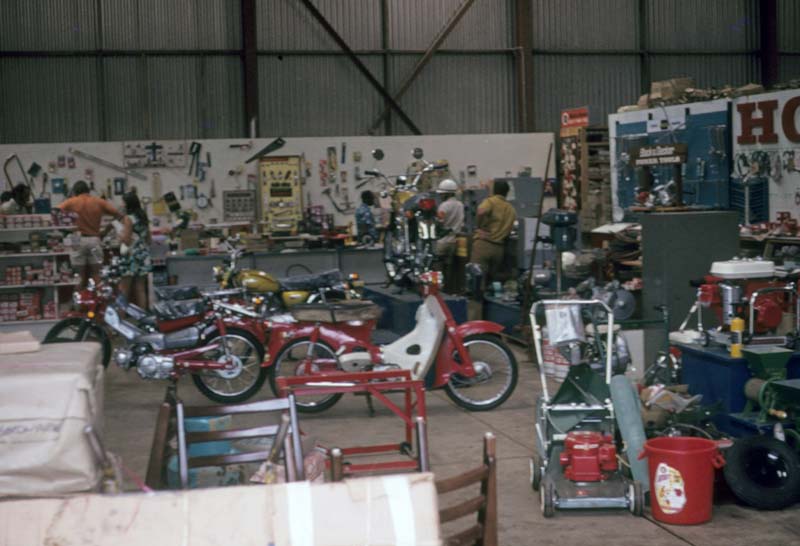 Boroko Motors, Nissan, Datsun, Ford. In Goroka, around 1971.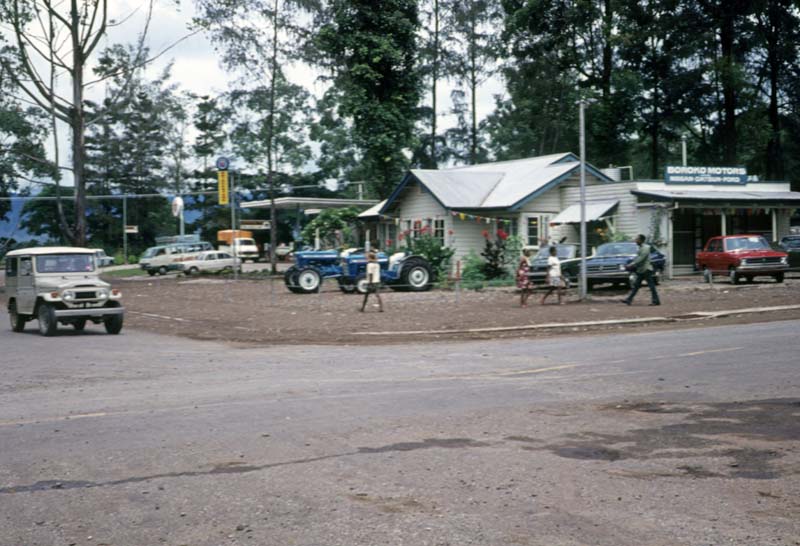 Goroka highland "meris" with christmas decor. The term "meri" means "woman" in Pidgin English. We would use it to describe more native (primative?) local women without Western ways and education. You can see much more "Western influenced" (modern?) local women in the back left of the picture. This picture was taken around 1971 in downtown Goroka, Papua New Guinea.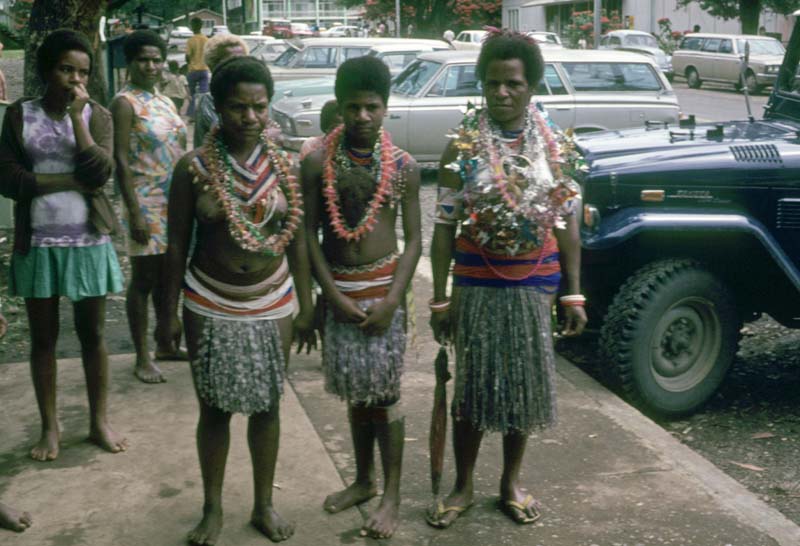 A truck full of people in West Goroka on Saturday. These trucks would come into town carrying many people that wanted to buy or sell at the Goroka Saturday market.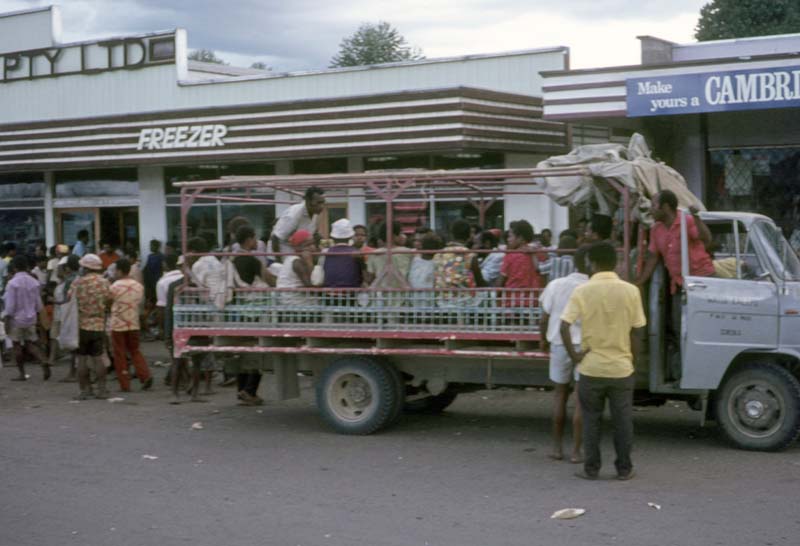 Saturday West Goroka.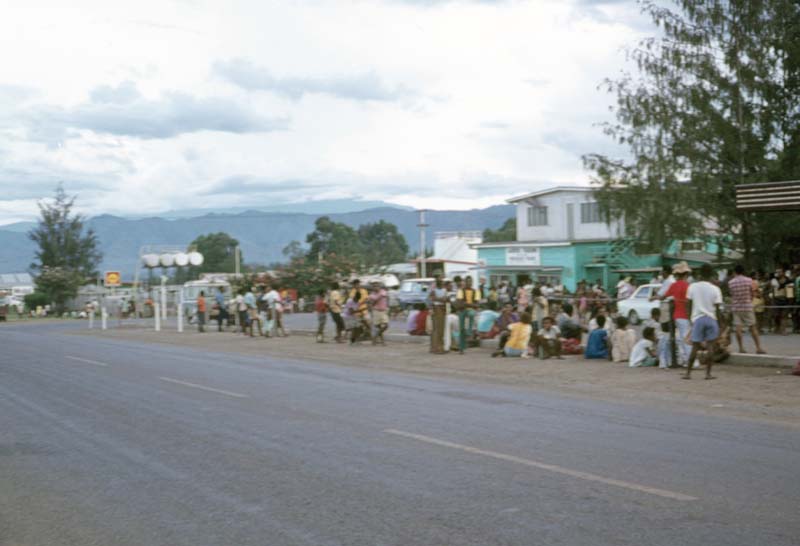 "Saturday afternoon west west Goroka."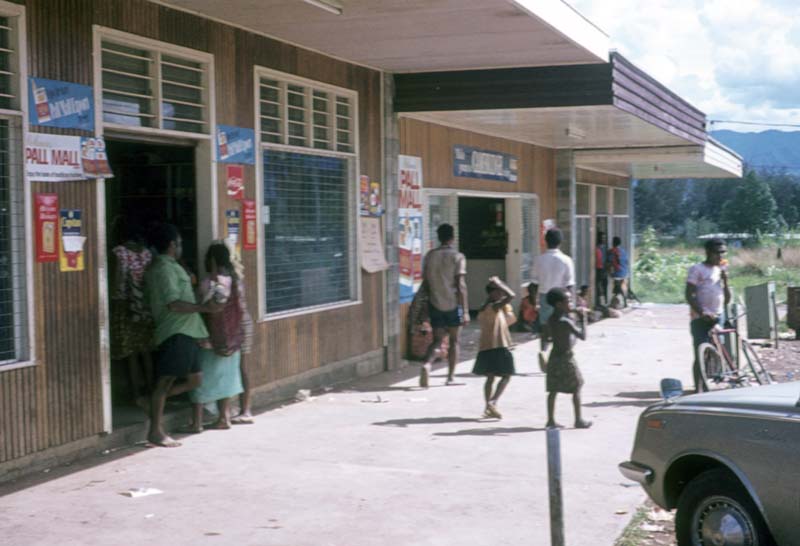 "Goroka Market Loaded Meris" - again, the term "Meri" describes a native woman in Pidgin English. Notice these women aren't wearing any shoes and carrying large loads of produce to market. The mesh bag hanging off the woman's head is called a "bilum", and is a common way to carry loads by the natives in Papua New Guinea.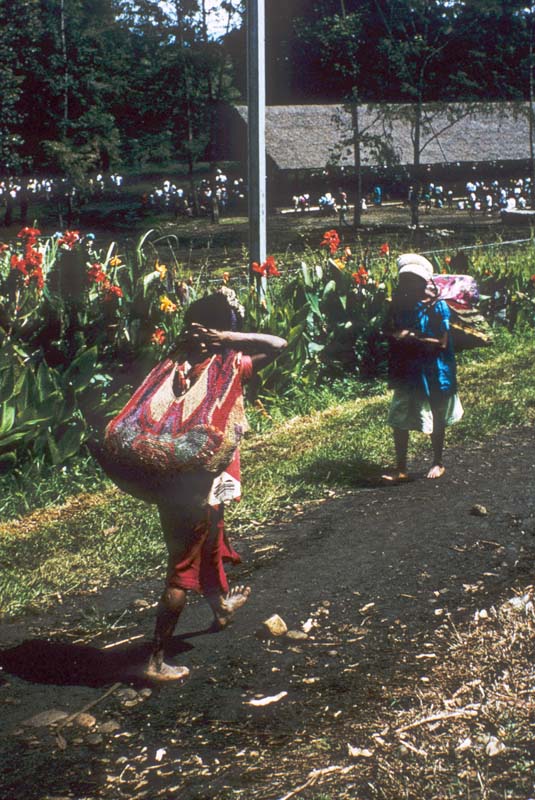 "Goroka market from entrance with two men". This is a good picture of the Saturday Goroka market scene circa 1971.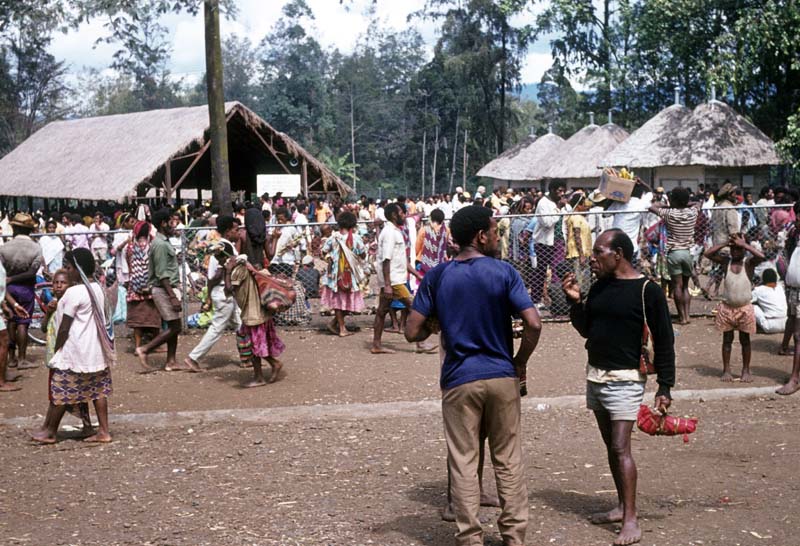 "Goroka market unloading people from trucks" - as mentioned above, these trucks would come into Goroka on Saturdays bringing big loads of locals out of the highlands that wanted to buy or sell at the market.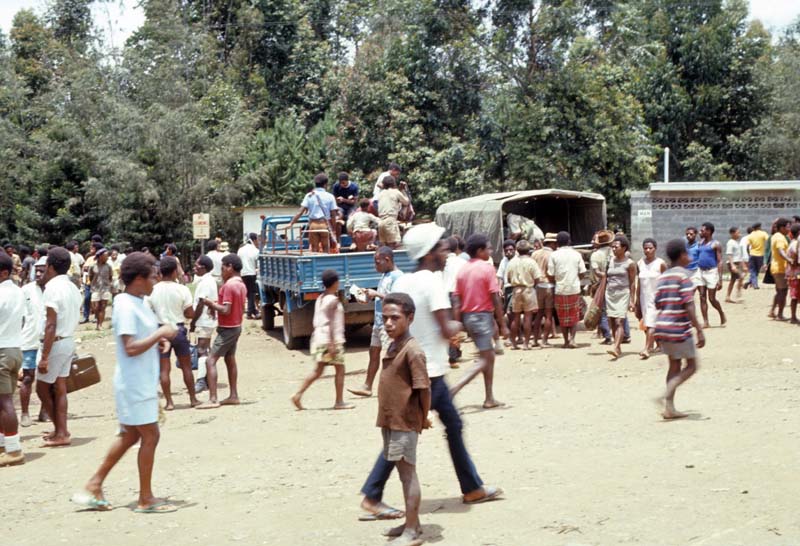 This is a good picture showing the mix of primitives (scant clothing and beads and necklaces and no shoes) wandering around in amongst the more Westernized locals (button shirts, shoes and socks, kaki manufactured shorts). Everybody is accepted and bought and sold from each other at the market, it was just a stark contrast of cultures within the same country.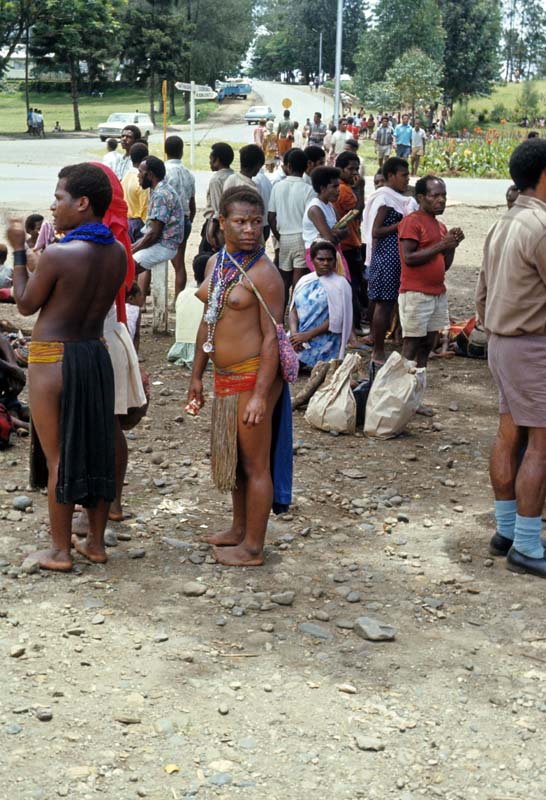 "Goroka market making bread individual" - I'm not sure what is going on here?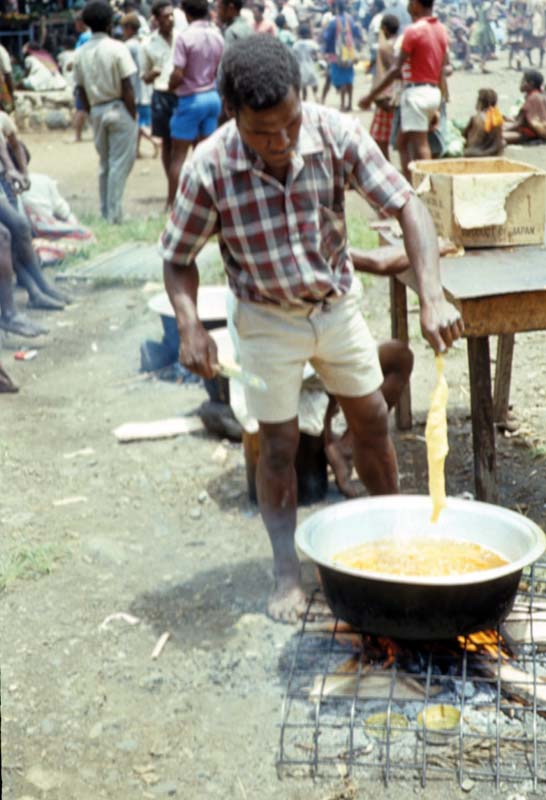 "Goroka market making bread line" - still not sure why this is going on? Why so many people baking bread over the open fires?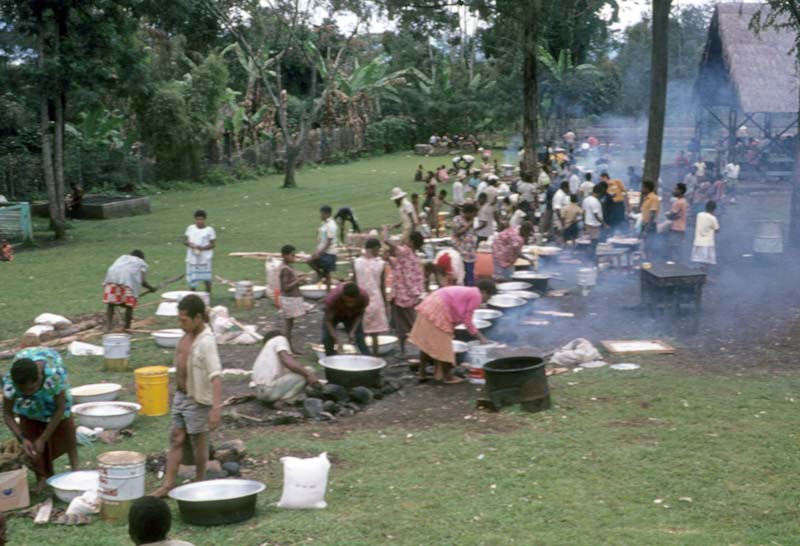 "Goroka market Kaunsol Price Board". It says "Kaunsol ibin makim pei long ol kain kaikai" which translates loosely to "Council established price and amounts of all kind of food". This is a GREAT picture showing some names of produce like "Paw paw" and "Kau kau". All food is sold in 10 cent piles. Each "pile" in the picture below is worth 10 cents (this was 1972). So one "paw paw" (papaya) is worth 10 cents, or 8 "kau kau" (sweet potatoes or yams) is worth 10 cents, etc. This was the "starting point", then to bicker over price you would reach over and add 1 more "kau kau" to a pile and the person selling would either agree or disagree.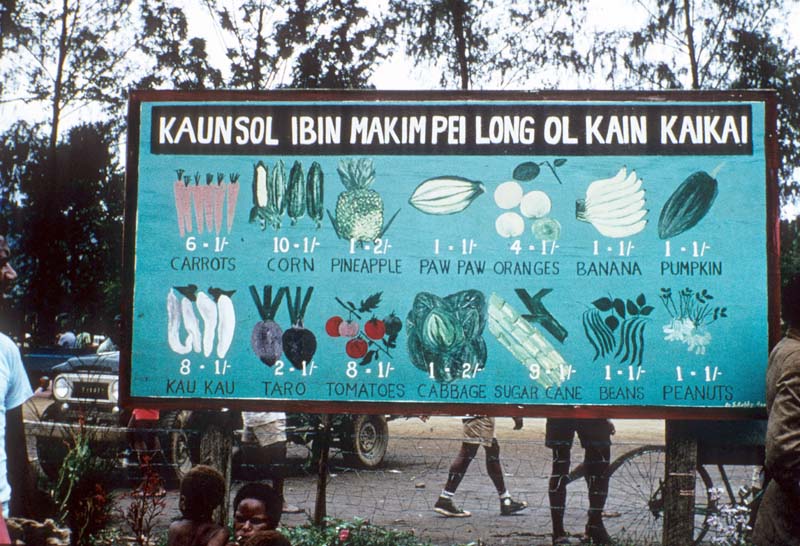 "Goroka market kau kau and bananas." - the people lay out their produce like kau kau (yams) on blankets and you could bicker (negotiate?) over price with them. The negotiation took the form of reaching in and adding an additional one or two items, and the seller would either agree or disagree before exchanging the 10 cent piece with you. Normally any "pile" of one type you see is worth 10 cents.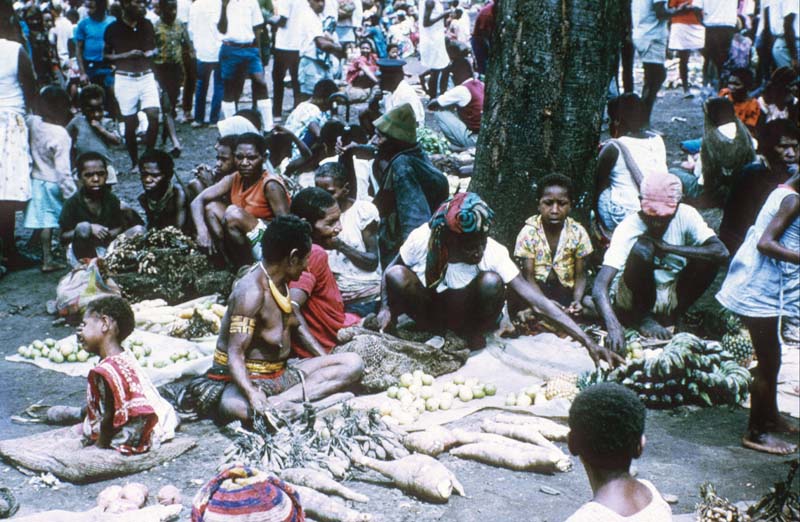 Displays of tomatoes, corn, onions, pineapples.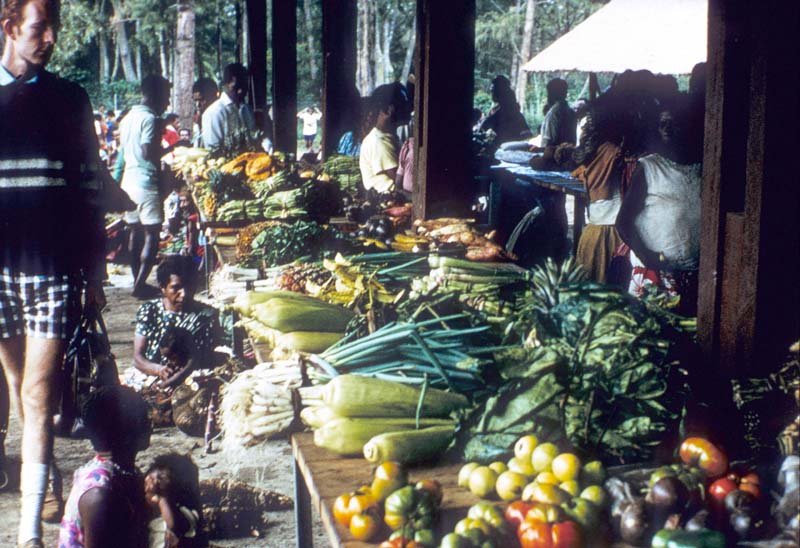 Goroka market in Papua New Guinea in 1971. Kau kau (yams), corn, peanuts for sale.
More from the Goroka Saturday market.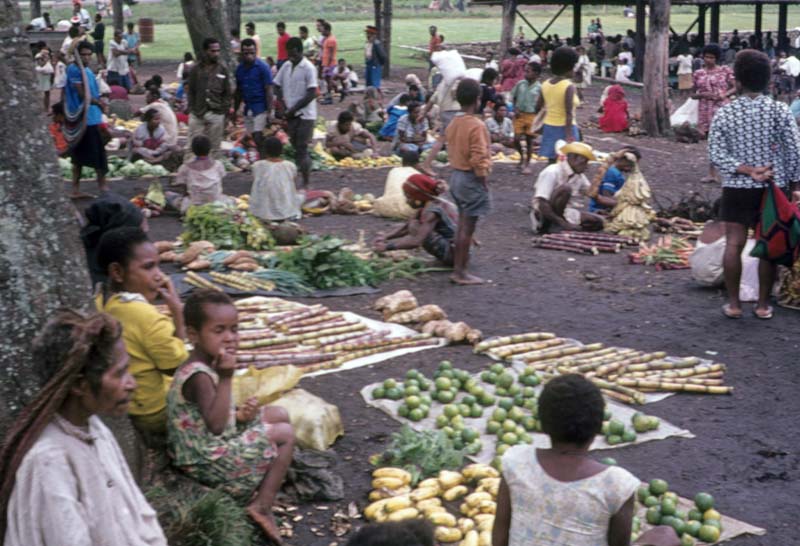 Pineapples, lemons, peanuts for sale.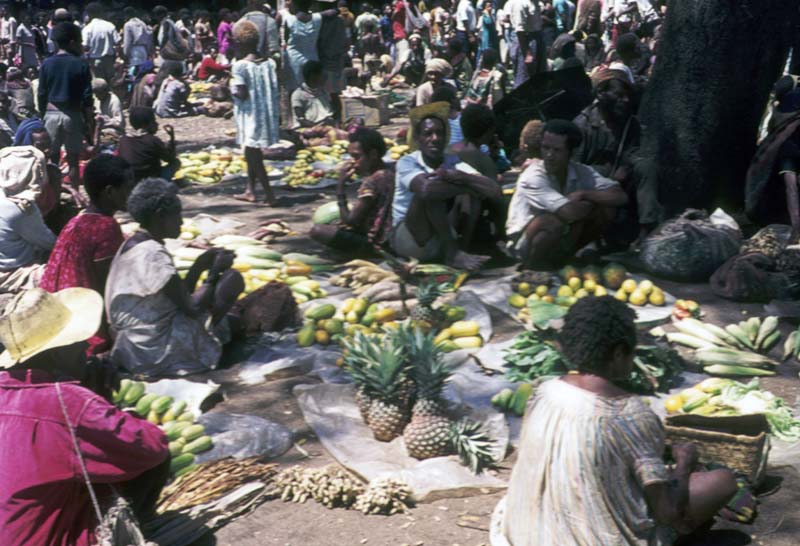 The "under roof" portion of the Saturday Goroka market.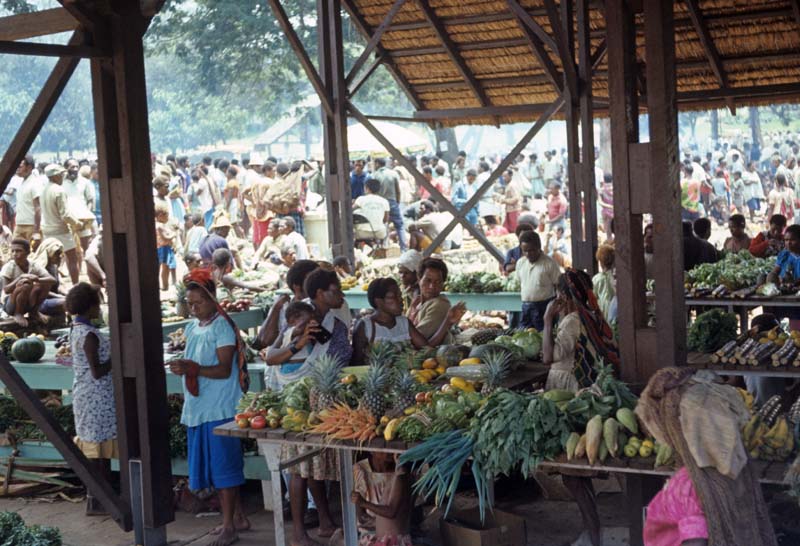 The note attached to this slide said, "Chair with 29 lemons 10 cents". So we were able to purchase that pile of very nice, high quality lemons for a mere 10 cents.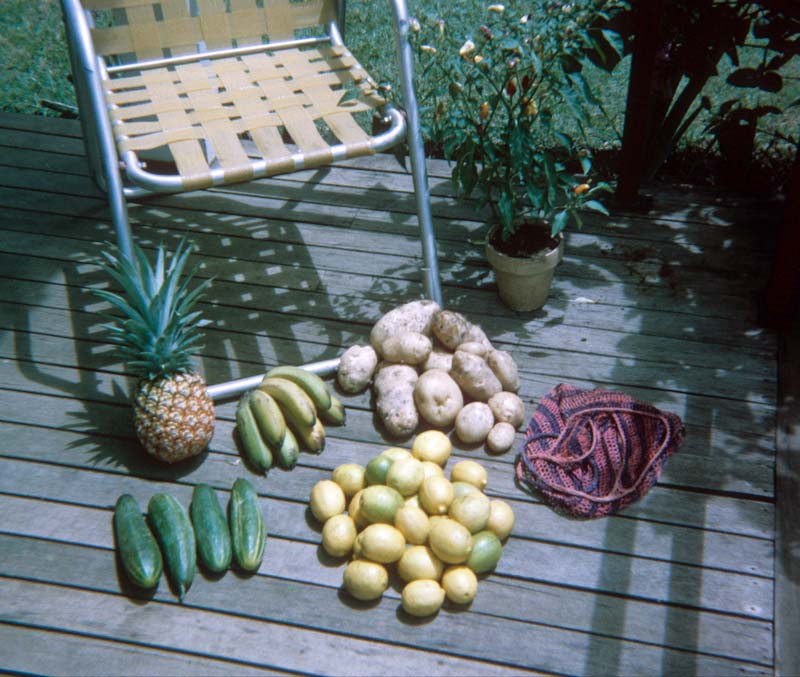 "Goroka market clothing cottage industry". I guess this was all hand-made clothing?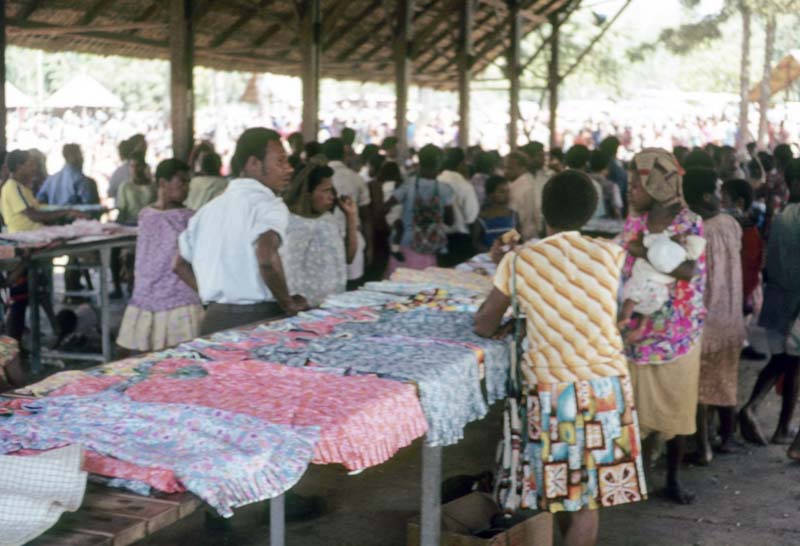 "Goroka market Christian Fellowship used clothing." - Used clothing would come into the highlands, usually via church missionaries, in large bales. Then broken apart and sold for very small sums. However some of the items were weird for the place and time.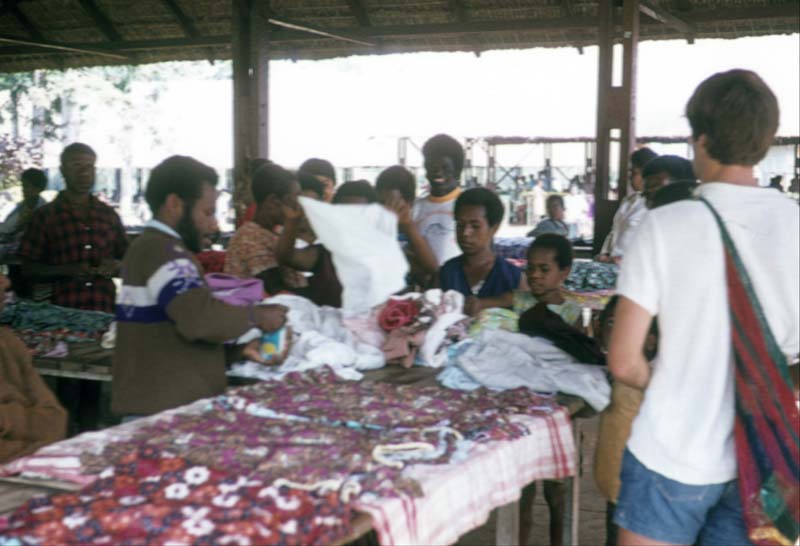 "Goroka market pig counter". Pork was a very special item and was to bought and sold only by senior tribesmen. It was used to pay debts and establish obligations on someone. Not always very healthy.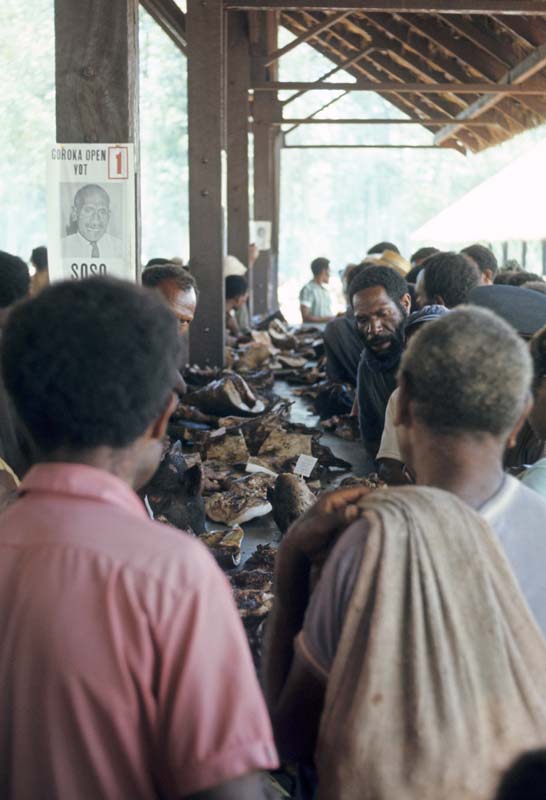 "Goroka market chocolate wheel game". - Put your money down on a number and spin the wheel. A form of gambling. Card games were outlawed. Only one chocolate wheel was allowed per day. Very lucrative for the operator.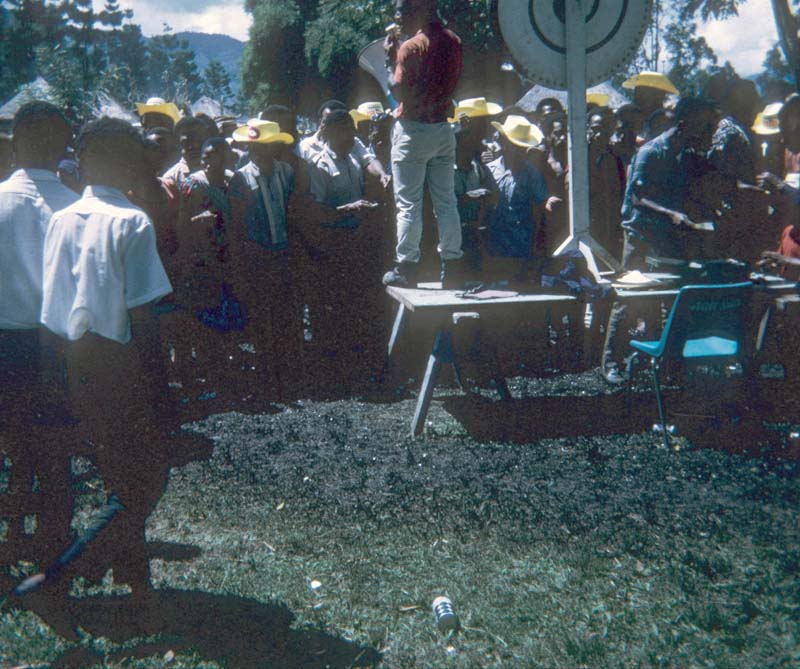 The local Papua New Guinea term for floating down a river in an inner tube or on a raft was called "gumiing" (the inner tube is a "gumi"). Below is a picture from "gumi days" where people would act silly like dress in bunny costumes and float down the river past the crowd on the beach.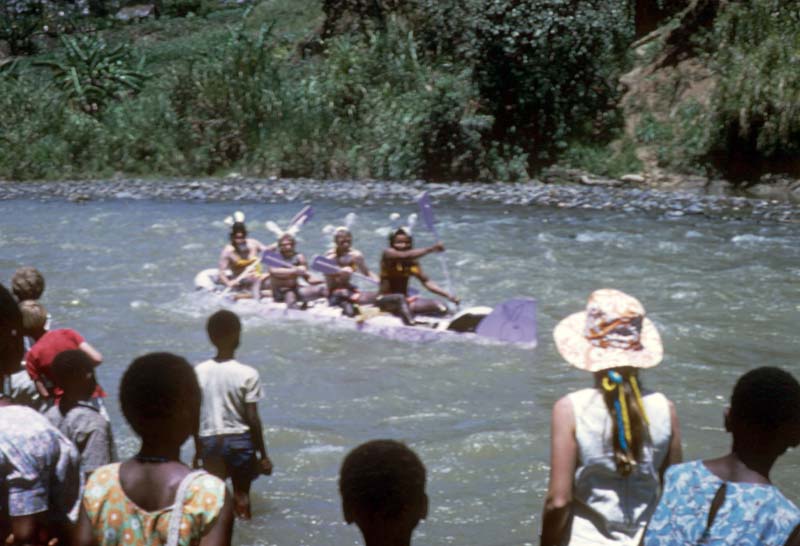 Another man alone on an air mattress floating by.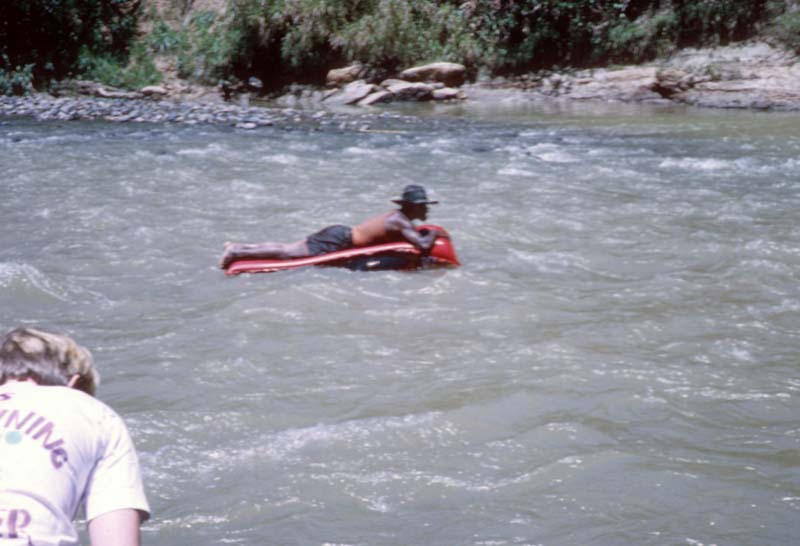 "Teachers college elephant on a platform". The elephant was from the Sydney zoo to be an attraction at the Mt. Hagen festival (alternates with the Goroka show). The natives did not think it was an animal, they thought it was a spirit. No such thing had ever been seen before. Notice the chain around it's ankle and it's performing tricks in Goroka, Papua New Guinea in 1972.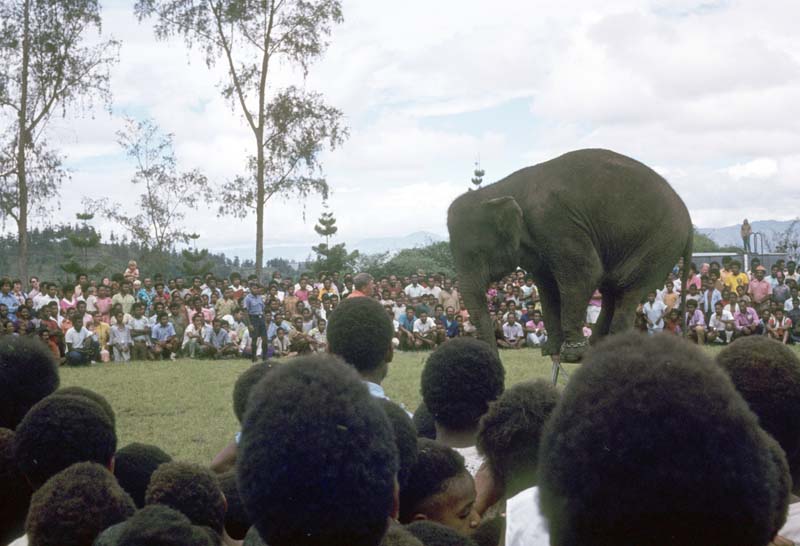 End of this group! Click here to go to the top level of all these pictures.