Recipes & Meals

(started 2/20/2012)
Recipes:
Turkey Breasts
2 boneless turkey breast halves, skin on (about 2 to 2 1/2 pounds each)
prepare with butter pushed under skin
450 degrees for 45 minutes
Let rest for 10 minutes
Bone In BBQ Turkey Breasts from modified Wilson Family Recipe (first created Xmas 2014)
turkey breast BONE IN (looks like whole turkey with no legs), started with skin on but I skinned it
24 hours before BBQ - marinate in 1/3 peanut oil, 1/3 white wine, 1/3 soy sauce (half gallon zip log bag worked - double bag it)
at some point (I did it 1 minute before BBQ) use kitchen shears to split carcass in two halves.
BBQ instructions: Lay on grill bone downwards, keep gas grill at 400 degrees for 45 minutes, flip for 8 minutes, flip back 10 min
Let rest for 5 minutes, then slice and serve. Review: awesome, moist, a bit salty
Stuffing ala Brian (modified old Wilson Family Recipe)
3/4 cup minced onion
1 1/2 cup chopped celery
1/2 cup butter (this is "one stick" usually)
9 cups bread crumbs (NOTE 1: we don't like "sourdough" because too salty, best would be white wonder bread cubes)
2 teaspoons salt
1/2 teaspoon pepper
1 1/2 teaspoon crushed sage
1 teaspoon thyme
1 can of poultry broth (NOTE 2: I like to have 1 extra if it is too dry)
Instructions:
- Melt button in microwave, add chicken broth to same measuring cup, microwave to get hot (this speeds up cooking)
- In large skillet, cook and stir onion and celery in some cooking oil until onion is tender.
- Stir in 1/3 bread crumbs, turn into a deep bowl
- Add rest of ingredients and toss (mix well)
NOTE 3: if not moist enough, add more chicken broth from second can (in a pinch use water)
NOTE 4: over the years I've been increasing the sage and thyme - possibly twice as much or more.
- Put in glass "bread pan" and microwave 6 minutes to get core temperature up
- Cover glass bread pan of stuffing top in aluminum foil, put in oven at 350 degrees for at least one hour
- For a "toasted top" - remove aluminum foil for 10-15 minutes in over.
Dinner Baked Potato A
1 large potato per person
Current favorite recipe: coat with olive oil, bake at 450 degrees for 45 minutes, then microwave for 3 minutes to finish the inside to fully cooked
sour cream, diced green onions, butter, "grated Mexican mix cheese" (Monterey Jack, Mild Cheddar, Queso Quesadilla and Asadero cheeses)
Dinner Baked Potato B - Faster (done in 10 minutes)
- remember chili con carne (Katherine likes it with chili)
- take one large potato, scrub well, stab with fork several times and place on small desert microwaveable dish
- coat with olive oil, ton of ground pepper
- microwave 10 minutes total (microwave 5 minutes, flip over, microwave 5 more minutes)
- toast in toaster oven for "one medium toast duration", flip over and toast it again for "one medium toast duration"
- Split in half
- Chili Con Carne (optionally put this on top)
- top with sour cream, diced green onions, butter, "grated Mexican mix cheese" (Monterey Jack, Mild Cheddar, Queso Quesadilla and Asadero cheeses)
Macaroni & Cheese (ala Katherine)
2 tablespoons extra-virgin olive oil
3 tablespoons minced garlic
3 cups heavy cream
3/4 cup grated Cheddar + Parmesan (or other combination of cheese)
In a sauté pan over medium heat, add 2 tablespoons of extra-virgin olive oil. Add garlic and lightly caramelize.
Add the heavy cream, increase the heat to a simmer, and reduce the cream sauce by half.
When the cream sauce is to desired consistency, stir in 1/2 cup cheese, nutmeg and ground pepper.
Calzone (old Wilson recipe)
2 loaves Rhodes frozen bread dough - each loaf is 1 pound (use 1/2 pound for each Calzone)
1/4 cup ground beef (Brian now omits this entirely)
1/2 cup sausage (Jimmy Dean spicy is good - one full "roll" is too much for 4 Calzone - might be good for 6)
- chopped green onions (maybe 2 small bundles from Safeway, a little goes pretty far)
- sliced mushrooms (maybe 1 large mushroom per Calzone sliced up - not a major ingredient, again, a little goes a long way)
- sliced ripe black olives (1 half size small can)
- grated cheese - Equal amounts cheddar, mozzarella, provolone cheese
- 1 jar "spicy premade spaghetti sauce" (like Ragu, last time was "Newman's Own Sockarooni"
- OPTIONAL but helpful: small amount of white flour for rolling pin
Thaw bread dough, can be done in 45 minutes, put each loaf individually in zip lock bags submerged in warm tap water.
Cut loaves in half and roll each piece to a circle of 8" in diameter (use rolling pin and touch of white flour).
Put thin layer of cheese down first (can help hold circle of dough open) then fillings, then lots of cheese.
Seal edges of dough (hints: use a small amount of water if not sticking, pinch, and use extra dough held aside as straps and glue)
Bake at 400 degrees for 15 minutes on a greased cookie sheet, should be slightly brown.
Serve with spicy spaghetti sauce.
Italian Meat Sauce (ala Katherine)
2 TB olive oil
2 tsp red hot chili pepper (more if you want it to be super spicy)
4-8 cloves of garlic - minced (depends on how much you love garlic)
1 c chopped onion (approx 1 large white or yellow onion or 4-7 shallots)
1 1/2 c chopped carrots
1 c chopped celery OPTIONAL
1 TB dried Italian seasoning (any combo of oregano, thyme, rosemary, etc.)
1 lb ground pork
1 lb spicy Italian sausage (casings removed)
3/4 c heavy cream (whole milk works too)
3/4 c full-bodied red wine (Cabernet, Merlot, Zinfandel)
1 32-oz can crushed tomatoes
3-5 Bay leaves
1 TB beef or chicken bouillon OPTIONAL
Salt & pepper to taste
Lemon pepper OPTIONAL
Directions:
In a large Dutch oven (or large pot with lid), add olive oil, red hot chili pepper, garlic and chopped onion. Turn on heat to medium / medium high and cook the onions 'til they've started to soften. Stir and mix periodically so that the onions and garlic don't stick to the bottom. Cook for ~3 minutes.
Add carrots and stir. If you're using celery, add that as well. Stir periodically to soften. Cook for ~5-8 minutes, just make sure they don't get mushy or stick to the bottom.
Add Italian seasoning and stir. Cook for ~1 minute.
Add pork. Break pork apart and mix with other ingredients. Stir occasionally and cook until no longer pink. ~ 10 minutes.
Add heavy cream and stir. Cook for ~10 minutes until the cream is absorbed by the pork or evaporated away.
Add red wine and stir. Cook for ~10 minutes.
Add can of crushed tomatoes and Bay leaves. Give it a stir. Lower the heat to a simmer and cover. Cook low and slow covered for ~30-45 minutes. The longer the better. Taste periodically. This is when I add salt & pepper (and bouillon and optional lemon pepper) to adjust seasoning.
Serve with spaghetti, penne, etc.
Top with Parmesan, fresh basil or flat-leaf parsley.
Spinach and Mushroom Frittata breakfast Casserole (ala Katherine)
4 large eggs
3 large egg whites
1/2 tsp salt
1/4 tsp pepper
3 tsp olive oil
1/4 tsp red hot pepper flakes OPTIONAL
1/2 bag of frozen chopped spinach
8 oz sliced white (or brown) button mushrooms
4 cloves of garlic
1/2 cup minced onion (or shallots)

1 square baking dish sprayed with vegetable oil

Directions:
1. Preheat oven to 350 degrees.
2. In a small bowl, whisk the eggs and egg whites with 1/2 tsp of salt. Set aside.
3. In a large non-sick skillet pan, add 2 tsp olive oil, the onions and pepper flakes
and put onto the stove on a medium flame. Stir and let the pepper flakes release
their heat into the oil for ~ 2 minutes.
4. Add frozen spinach to pan and defrost/cook in pan - no need to thaw/defrost/squeeze
out extra water. Cook until the spinach is no longer frozen and the water has
evaporated. About 8-10 minutes. Pour contents of pan into the baking dish and set aside..
5. Add 1 tsp olive oil to pan, garlic and sliced mushrooms. Add a couple of shakes of
pepper flakes to the mushrooms. Stir often til they give off most of their liquid and
they shrink in size. About 5 minutes. Add spinach back to pan and give it a quick stir
with the mushrooms. Then pour both into the baking dish.
6. Beat the eggs one more time to make sure they're creamy and pour into the baking dish.
7. Bake for about 25 minutes until eggs have set.
Curried Egg Salad (Click Here for Link from Epicurious):

1/4 cup bottled mayonnaise
3/4 teaspoon curry powder
1/8 teaspoon celery salt
3 to 4 drops of Tabasco, or to taste
3/4 teaspoon ground cumin
1 teaspoon Dijon-style mustard
1 tablespoon fresh lemon juice, or to taste
1 1/2 tablespoons bottled mango chutney, chopped
6 hard-boiled large eggs, chopped
1/4 cup finely chopped celery
3 scallions, chopped
Directions:
In a bowl stir together the mayonnaise, the curry powder, the celery salt, the Tabasco, the cumin, the mustard, the lemon juice, and the chutney. Stir in the eggs, the celery, and the scallions and season the salad with salt and pepper.
SOMETHING TO TRY:
Sweet Potato
Ground turkey
Red spicy tomato salsa
Green tomatillo salsa
Sour cream
Gyeran Jjim (Korean Steamed Silken Eggs)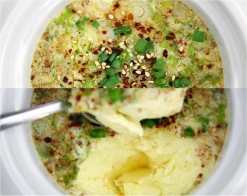 Ingredients (Serves 2 people as a side dish):
3 eggs, beaten
water (1:1 water:egg ratio)
1 tsp salted shrimp*
1/2 tsp gochugaru (Korean red chili pepper flakes)
1 clove garlic, minced
1 green onion, chopped into thin rings
1 tsp toasted sesame oil
1 tsp crushed toasted sesame seeds

*Note: For a vegetarian version, salted shrimp can be substituted with sea salt.
Start with 1/2 -2/3 tsp of sea salt. You can always add more to taste once cooked.

Directions:
In a pot that would fit a steamer basket/insert, bring about an inch of water to a boil. While the water is heating up, lightly beat the eggs in a bowl. Stir in rest of the ingredients. Transfer to a ramekin (or other "steamer-safe" bowl).

Place the bowl in the steamer basket/insert and lower it into the pot. Steam for 10 minutes covered with tight-fitting lid. Alternatively, you can microwave it for 3-4 minutes – covered. Remove from heat. It will still be jiggly when you give it a light shake. Let stand for a few minutes. Don't overcook! It should have a custard/flan-like texture. If it looks spongy, you have overcooked it.

Meals and Ideas:
Dinner Steaks
Filet Mignon 6 oz cuts from Draegers (222 East 4th Avenue San Mateo, CA)
Small baked potatoes with sour cream and green onions
Caesar salad
Carrot Cake and ice cream for dessert
Dinner Shepard's Pie
recipe from Katherine?
Dinner Crab Louie & Extra Crab Legs
1 large crab louie from "Nicks" for each 2 people
1 extra "cracked crab"
Garlic bread (homemade)
For 4 or more people, extra Linguini in Marinara (red) sauce with meatballs
Dinner Paxti's Pizza Take Out
Deep dish Paxti's Pizza
- Favorite = Pepperoni, fresh sliced mushrooms, black olives
- Caliente = Spanish Chorizo, Hot Coppa, jalapeños
- Spinach Pesto with Chicken = Chicken, fresh spinach and basil-garlic-Parmesan pesto

Dinner Calzone
See recipe above.
Dinner Baked Potato
1 large potato per person
Current favorite recipe: coat with olive oil, bake at 450 degrees for 45 minutes, then microwave for 3 minutes to finish the inside to fully cooked
sour cream, diced green onions, butter, "grated Mexican mix cheese" (Monterey Jack, Mild Cheddar, Queso Quesadilla and Asadero cheeses)
Lunch BBQ Gorilla
Take out from Gorilla BBQ
Martinelli's individual serving sparkling apple juice
Lunch Simple Sandwiches
Sandwiches - multi-grain bread, mayonnaise, sliced turkey, cheese (tomatoes and lettuce optional)
Half an apple, or left over fruit salad
Martinelli's individual serving sparkling apple juice
Breakfast Cheesy Eggs & Bacon & Croissant
2.5 eggs per person, scrambled, mixed in Mexican grated cheese (Monterey Jack, Mild Cheddar, Queso Quesadilla and Asadero cheeses)
fry up a pan of bacon or sausage
cook scrambled eggs in leftover bacon grease
heat croissants up in oven
fresh fruit salad
Individual Odwalla Orange Juice
Breakfast French Toast & Fried Egg & Bacon
bread dipped in egg batter fried
bacon or sausage
one fried egg per person
"real" maple syrup
Breakfast Simple Cold Cereal
Fruit Loops for Katie, Granola for Mom
fruit
Delicious Breakfast "Sausage and Egg Casserole"
Ingredients:
1 pound Italian sweet sausage, casings removed
1 pound Italian hot (spicy) sausage, casings removed
1/2 cup chopped shallots
2 garlic cloves, minced
1/2 cup chopped drained oil-packed sun-dried tomatoes
4 tablespoons chopped fresh parsley

5 large eggs
3 large egg yolks
1 cup half and half
1 cup whipping cream
2 cups grated mozzarella cheese
1/2 teaspoon salt


Preparation:
Preheat oven to 375°F. Butter 13x9x2-inch glass baking dish. Sauté
sausage in medium nonstick skillet over medium heat until brown and
cooked through, breaking up with back of fork into small pieces, about
10 minutes. Add shallots and garlic and sauté 3 minutes. Add sun-dried
tomatoes and 2 tablespoons parsley; stir 1 minute. Spread sausage
mixture in prepared dish. (Can be made 1 day ahead. Cover and
refrigerate.)

Whisk eggs, egg yolks, half and half, whipping cream, 1 1/2 cups
cheese, and salt in large bowl to blend well. Pour egg mixture over
sausage mixture in dish. Sprinkle remaining 1/2 cup cheese and 2
tablespoons parsley over. Bake until top of casserole is golden brown
and knife inserted into center comes out clean, about 30 minutes. Let
stand 5 minutes before serving.

Adapted from:
http://www.epicurious.com/recipes/food/views/Sausage-and-Egg-Casserole-with-Sun-Dried-Tomatoes-and-Mozzarella-106411

Potatoes Au Gratin
From: http://www.foodnetwork.com/recipes/tyler-florence/potatoes-gratin-recipe.html
Total time: 1 hr 10 min
Ingredients:
2 pounds baking potatoes, peeled and sliced paper-thin
2 cups heavy cream
2 garlic cloves, split
Leaves from 4 fresh thyme sprigs
3 tablespoons chopped fresh chives, plus more for garnish
1 cup grated Parmigiano-Reggiano
Sea salt and freshly ground black pepper

Directions:
Preheat the oven to 375 degrees F. In a large bowl combine all the ingredients, tossing to coat. Season with salt and pepper. Put the potato mixture into a casserole dish, flatten it out with a spatula, and bake for 40 minutes, until the potatoes are tender and the gratin is bubbly. Let stand for 10 minutes before serving. Garnish with fresh chives.

Sesame Peanut Butter Noodles (Crunchy Noodle Salad)
From: http://www.foodnetwork.com/recipes/ina-garten/crunchy-noodle-salad-recipe.html

Total Time: 35 min

Ingredients:
Kosher salt
1 pound thin spaghetti
1 pound sugar snap peas
1 cup vegetable oil
1/4 cup rice wine vinegar
1/3 cup soy sauce
3 tablespoons dark sesame oil
1 tablespoon honey
2 garlic cloves, minced
1 teaspoon grated fresh ginger
3 tablespoons toasted white sesame seeds, divided
1/2 cup smooth peanut butter
2 red bell peppers, cored and seeded, and thinly sliced
4 scallions (with and green parts), sliced diagonally
3 tablespoons chopped fresh parsley leaves

Directions:
Bring a large pot of salted water to a boil. Add the spaghetti and cook according to package directions. Drain and set aside.

Meanwhile, bring another large pot of salted water to a boil, add the sugar snap peas, return to a boil, and cook for 3 to 5 minutes, until crisp tender. Lift the sugar snap peas from the water with a slotted spoon and immerse them in a bowl of ice water. Drain.

For the dressing, whisk together the vegetable oil, rice wine vinegar, soy sauce, sesame oil, honey, garlic, ginger, 2 tablespoons sesame seeds and peanut butter in a medium bowl.
Combine the spaghetti, sugar snap peas, peppers and scallions in a large bowl. Pour the dressing over the spaghetti mixture. Add the remaining 1 tablespoon of sesame seeds and the parsley and toss together.

Shoo Fly Pie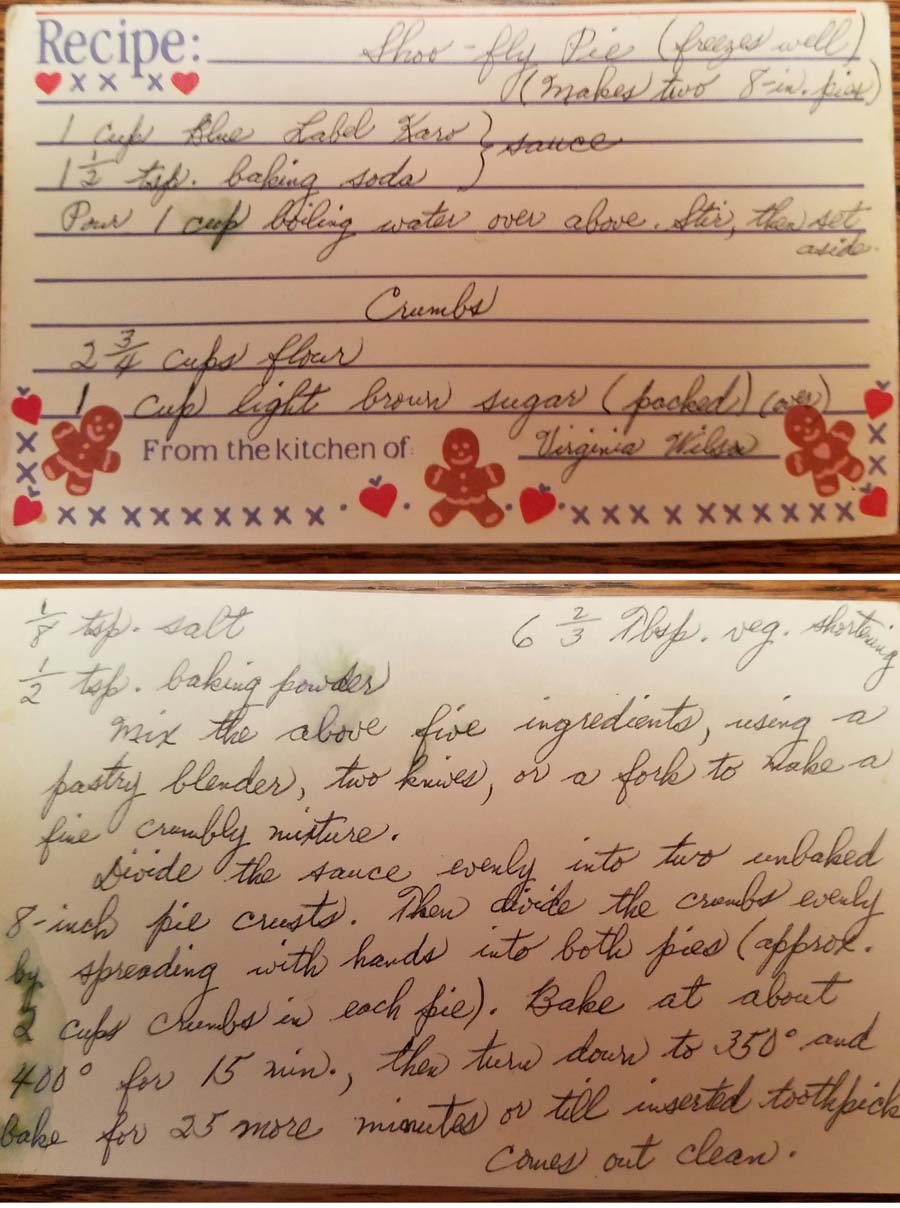 Pork Shoulder recipe from reddit (WARNING: CONTAINS SWEARING!!)
http://www.reddit.com/r/AskReddit/comments/cidla/i_have_13_until_my_next_pay_check_in_15_weeks_so/c0ssm6d
Article Text (language cleaned of the worst swear words):
"Take a lesson from the Puerto Ricans. Millions of us have managed to survive in one of the most 
expensive cities on earth with recipes like this:  Find a supermarket that has black beans on sale. 
Buy as much as you can. Then buy 5 or so pounds of Carolina rice, a bag of onions, a few bulbs of
garlic, and a box of Goya Sazon.

Set 2 cups of water to boil
Dick around on reddit until the water is boiling
Throw in one cup of rice, turn the heat down to simmer and lid that shit
Slice up a small onion
Smash up a clove of garlic
Throw some olive oil or butter into a HOT pan.
Throw the onions and garlic into the pan and fry them till the onion gets glassy. Throw some salt in there.
Grind some pepper in there for good luck.
Toss in half a packet of Sazon and stir till you get a paste. Now you have a ghetto sofrito.
Dump in your can of beans bean juice and all.
Stir that shit up.

Add a pinch of Cayenne pepper so you remember that you have a set of cojones
Set that shit on simmer

Your rice is done.
Throw the beans on top.
Win

You should get at least 2 meals out of one can of beans, and if your lucky you 
can get black beans 2 for $1. Adding the cost of the Garlic, Sazon and a small 
onion and you still eat a tasty, hearty, relatively healthy meal for less than $1.

Now. You are a growing lad. You need MEAT
OK, first of all, screw eating hotdogs. There is a much, much tastier option that 
has kept millions of starving boriquas alive for generations: PORK SHOULDER.

In my neighborhood in Brooklyn, Pork shoulder is 79 cents a pound. 
That's right. 79 cents. A package of hot dogs at $2.50 is more than 
double the price and has offal and all sorts of vile shit inside.

Buy yourself a nice meaty pork shoulder. 5 lbs should do nicely.
Bring that bad boy home and get out a long, thin knife.

In a pilon (that's a mortar and pestle gringo) smash up a few cloves 
of Garlic, some sazon, some, salt, some pepper, and some oil. Grind 
it up GOOD. Now you have another ghetto sofrito.

Take your knife and stab some holes in the pig. Twist the knife 
around so the holes get nice and wide. Now, take some of your sofrito 
and stuff it into the holes. Don't be shy blanco, ram it in there. 
Use the remainder to roughly coat the outside of the pig. RUB IT. 
CARESS IT. This pig died so that you may eat. Salt that shit all 
over the outside and crack some pepper on there.

Set your oven for ~300 degrees
Throw the pork in skin side up and WAIT.
It's going to take like 45 minutes a pound...

A warning: The smell is going to drive you INSANE. You have to wait 
this part out. Farm work is the best cure. After an an hour and a half, 
jab it with a meat thermometer, but remember to not rest it on the bone, 
or you will get a bad reading.

You should be at around 150-160 degrees. Now comes the fun part. 
CRANK the stove up to 400 degrees. This will give you an orgasmic, 
crispy skin that will make your pork rinds taste like year old 
carboard comparison.

At 170 ish? Pull that bad boy out, but DON'T carve it up. You need 
to wait at least ten minutes otherwise all those sweet, sweet 
pig juices will dribble the hell out. WAIT.

Congratulations. You just made Pernil. A five pound Pernil 
should give you meat for at least a week. SAVOR IT BROTHER. SAVOR IT

Edit: Forgot the best and cheapest recipe!!!

TOSTONES!!!!!!!!!
Screw me. Green plantains are usually like 5 for a damn dollar!
Here's my mom's recipe:

Fry up some bacon. Set the bacon aside and save that lovely, glistening fat.
Take a plantain and run a knife down the side and split the skin off 
without breaking the plantain. This takes a bit of practice.

Slice up the plantain into ~1/3 inch thick slices. Throw them 
into a bowl of ice water. You have a fry daddy? You're golden papi. 
No? Pour around half an inch of oil into a frying pan. Corn oil 
works best, olive oil smokes too easily. Get that shit hot! 
Throw in your bacon grease.

Take your sliced up plantains out of the ice water and drain 
them or even pat them with a paper towel till they're dry.

Fry em up until they just turn golden.
Throw them in the freezer for 10 minutes.

Now, here is where you become a MAN: Get yourself a flat 
bottom glass and a cutting board or a plate. Throw some flour 
on there. Smash the plantains with the cup. You may need 
a spatula to get them off the board...

Fry em AGAIN until they are golden and crispy
Make all three of these things together and you have 
an incredibly delicious and cheap meal!

*TLDR; Learn the lessons of my people: The Nuyoricans. (New York Puerto Ricans) 
We have survived for DECADES on no money in one of the most expensive cities on the planet.


That's it!