Lake Tahoe, Heavenly, New Years (Dec 2004)
(12/30/04 - 1/1/05)
A couple of friends and I went up to South Lake Tahoe and skied Heavenly to celebrate the end of 2004, and the new year of 2005. Here are some pictures. Click on any picture for a much larger version.


(Read a personal description of Backblaze here.)
On the way up, we were stuck in traffic for a while waiting for "avalanche safety" which means they bomb the sides of the mountain to make all the snow slide, then if it covers the highway they plow it back out. I made a snowman on our car while we waited.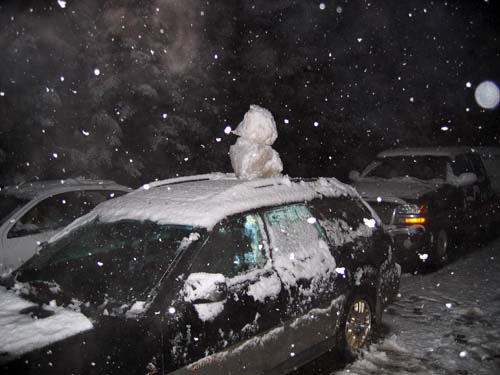 Picture from our hotel room in the morning of 12/31/04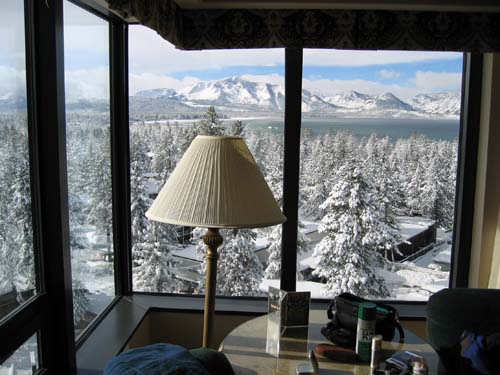 In the morning, the view from our hotel room at Harvey's casino. You can see the gondola cut the vertical path through the trees to the top of the mountain at the far left. Lake Tahoe is on the right.

Picture of South Lake Tahoe casino area in the morning of 12/31/04.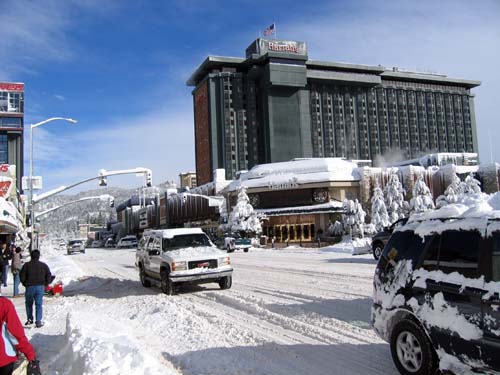 We couldn't get to the slopes on 12/31/04 because most of Heavenly was closed due to too much snow, and what was open was too crowded, so we hung out here at "Fire & Ice Cafe" at the bottom of the gondola for a few hours.
View from the bottom of the gondola around 4pm on 12/31/04. (Scroll right and left to see the whole panorama, click for a HUGE version.)

Panorama of the inside of the casino, pan right and left to see the entire scene.

New Year's eve party in the streets between the casinos in South Lake Tahoe on 12/31/04, they close Highway 50 which is 4 lanes wide here and people all spill out and mill about. It's kinda crazy.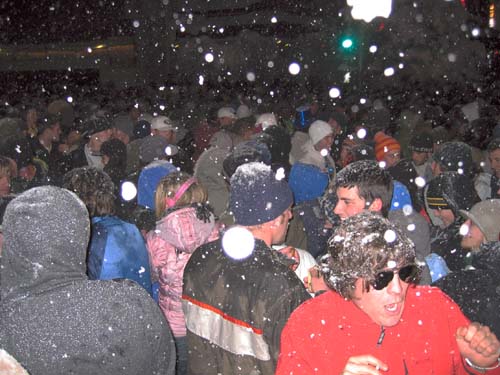 Below are pictures looking down Highway 50 between the casinos at about 10 minutes until midnight, New Years Eve, 12/31/04.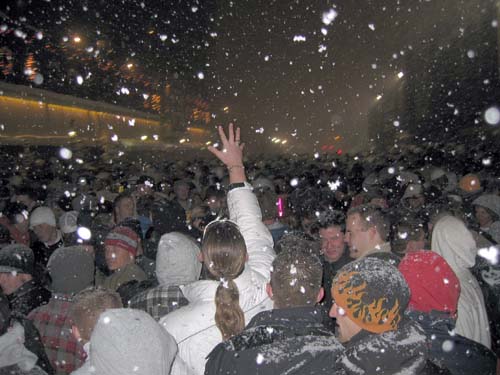 Another picture.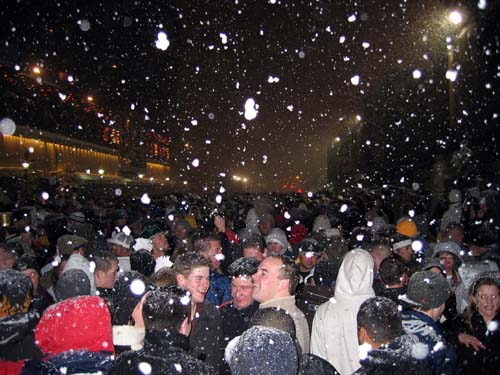 The next morning, Saturday, 1/1/05, Heavenly opened and there was a ton of snow. Notice the snowboarder in this picture.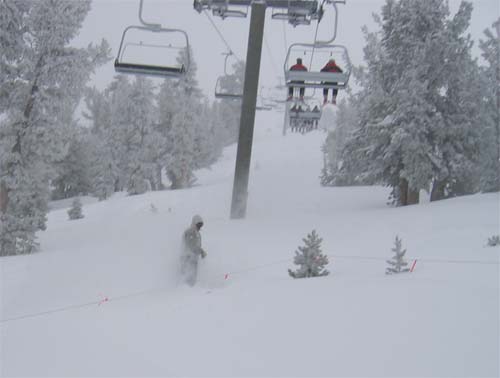 This next picture taken pointing backwards on the chair to see this snowboarder through the powder.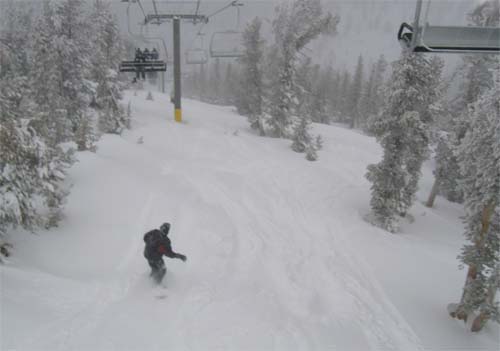 Notice this boarder up to his knees in powder.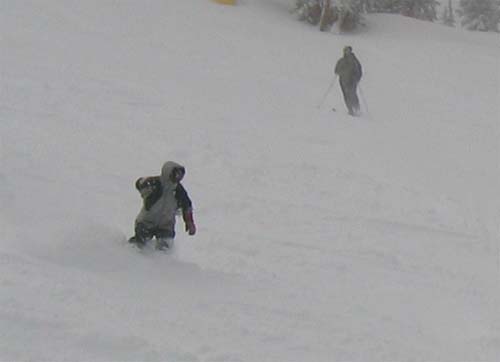 Same picture as above, but zoomed out.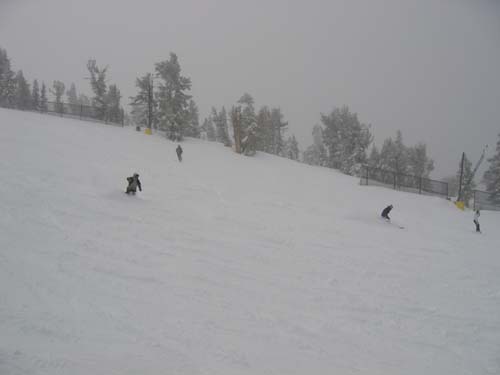 A skier waist deep in powder.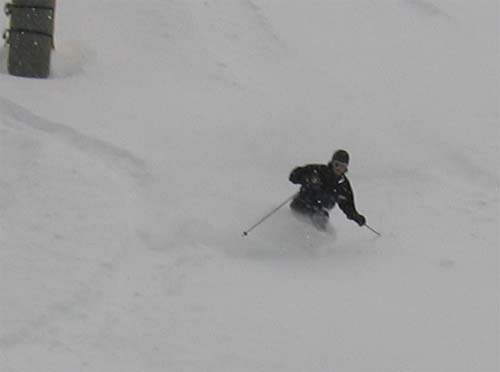 Same picture as above, zoomed out.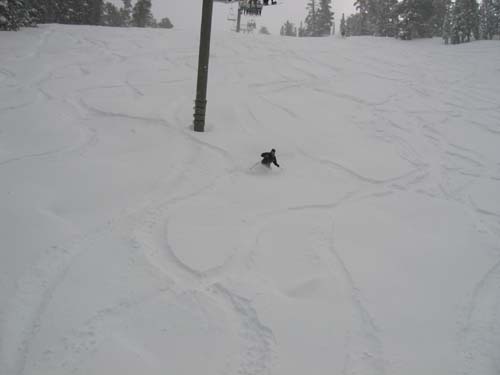 Snowboarder zooming along waist deep in powder.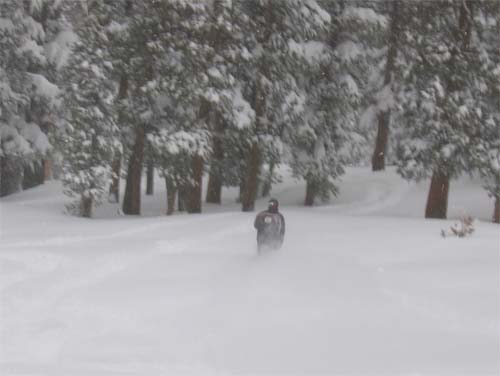 We ran into Vlad Bolshakov and his friends. From left to right it is: me (Brian), Vlad, Sarah, Mike.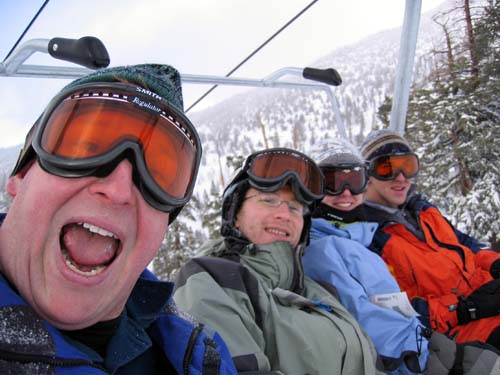 Vlad and Mike at the top of Gunbarrel, about to snowboard down it for the first time.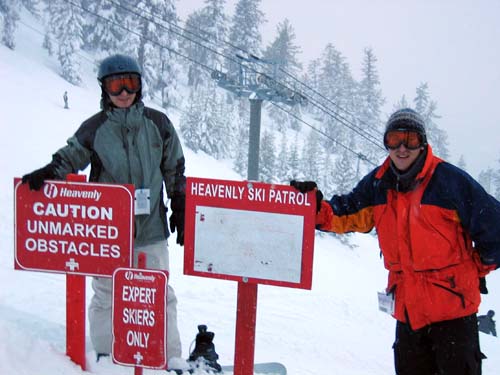 (Read a personal description of Backblaze here.)