Ostentatious Log Cabins of the Filthy Stinking Rich in Telluride
...or...
The Way I'd Like To Live and Look Down On Poor People Like Me
Click on any picture to get a HUGE (about 200k) version.
Town maps and lift maps on a different page.
Some background: The Telluride ski area was created mostly on federal land which is leased and cannot be developed with private houses. However, immediately beside this federal land is one big, fairly gentle hill that is PRIVATE land and absolutely perfect for development. The Telluride Corporation builds and sells private houses on this beginner hill, and hooked the hill into the lift system with chair 10 (Sunshine Express), which became known as the "Real Estate Chair of Telluride". There is also a public road winding up this hill, so the owners of the houses can drive up to and park at their homes, but at the same time ski right out of the front of their houses and at the end of the day take chair 10 up and ski back down to their home. There are very cute bridges allowing skiers to cross over and under the road at key intersections.
One other thing: most of these homes are log cabins, and are absolutely HUGE. I'm not kidding, they must be 10,000 square foot cabins with huge rock walls and multiple balconies and chimneys sticking out everywhere. It's the most grotesque display of wealth I've every seen congregated on a ski hill, and I just wish I owned one.
Here is a log mansion beside a run on chair 10. Look closely, this beast is absolutely enormous. And remember, I'm standing in my skis on a ski run taking this picture, so these people can ski in and ski out of their home (or more likely their "vacation home"):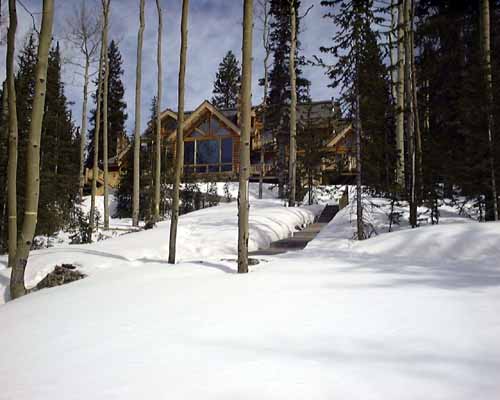 This picture shows one of the bridges which allows skiers to ski under the road, and cars to drive through the ski area. There are about 8 to 10 of these bridges on the chair 10 hill: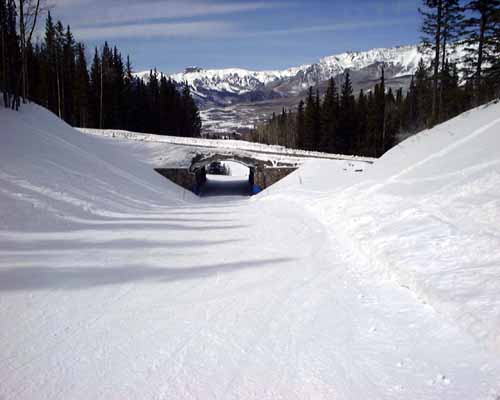 I took this picture while sitting on the chair 10 ski lift, which is why I was too close and couldn't get the whole log cabin in the picture. Have you ever SEEN anything this big before?? And all day long poor people like me drift by staring in through their windows, trying to get a peek at how the rich people live. Notice the hot tub to the far FAR left of the picture. That could fit 7 people comfortably, which gives you an indication of the scale of this monstrosity. I was told later by a random person on the lift that this particular log cabin belonged to Oprah Winfrey, but she sold it a year or so ago: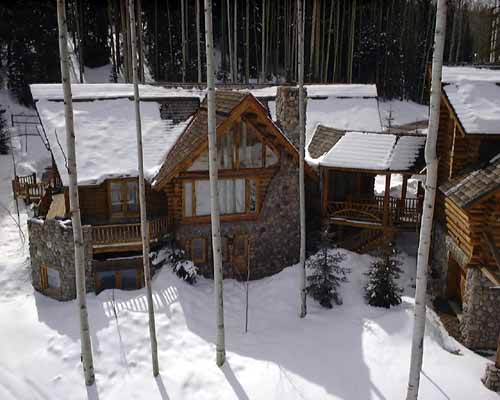 Here I am on lift 3 (you can see the metal from the chair I'm sitting on in the left side of the picture). This is not technically on chair 10, but very close. From my random guess, this beast is 15,000 square feet of rich person's vacation home: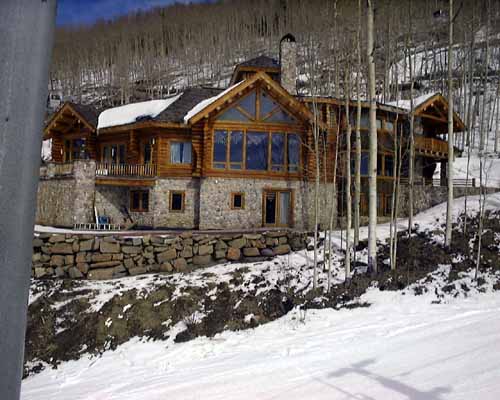 This is taken from a ski run off chair 10. Notice the two parallel ski tracks in the lower left of the picture, showing where a filthy stinking rich person skied away from their home: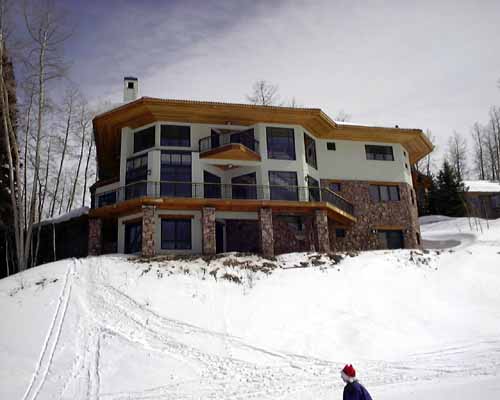 This picture was taken from a ski run, but also shows the road leading up to this particular monstrosity of a log cabin: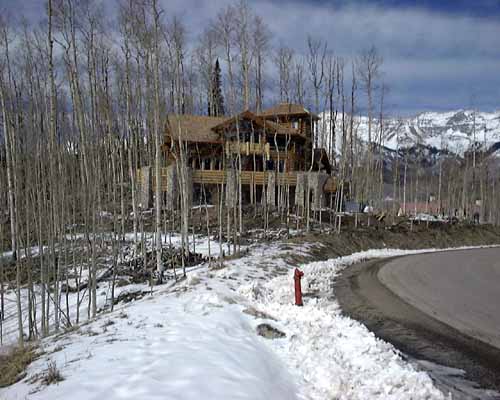 I cannot even begin to guess how many square feet this beast is. Take a look at it! It's 3 floors high, and it stretches ON and ON and ON. How do these rich people furnish all the rooms? How big is the staff to keep it clean? I'd love to get a peek inside: