2006 Canada Motorcycle Trip (Picture Set 7/27/06 - 7/30/06)
(7/8/06-)
On this page are pictures and descriptions from 7/27/06 - 7/30/06. Click on any picture or panorama for an ENORMOUS version. Click here to go to the homepage and get a description of what this is all about.


(Read a personal description of Backblaze here.)
In the morning of 7/27/06 (Thursday), I left Detroit, and drove my motorcycle south to Columbus, Indiana to visit Brian Beach, wife Sharon, and family. So to avoid confusion, I will call this Brian "BrianB" (for "Brian Beach") on this page.
Below as I was leaving Detroit on my Honda ST1300, I passed "8 Mile Road". This was the name of a movie (8 mile) starring Eminem that I never saw, and I didn't know it was about Detroit. It turns out "8 Mile Road" is the dividing line between the Black/African American areas of Detroit and the white areas.
A little while on, I have heard of White Castle hamburgers, but never seen one. It was way too early in the morning for hamburgers, so I didn't try one.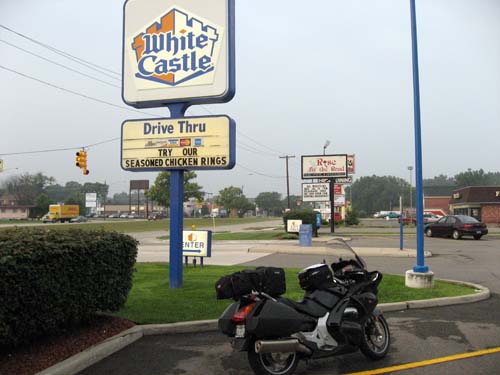 I guess "White Castle" burger joints look like castles.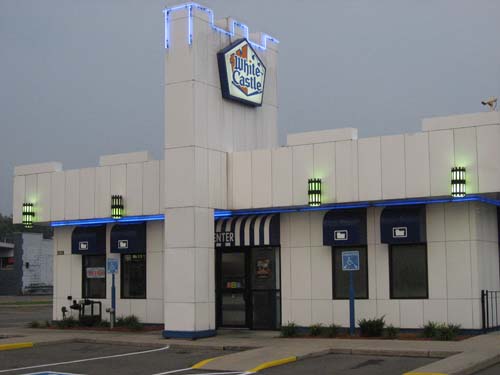 As I enter Indiana on my Honda ST1300.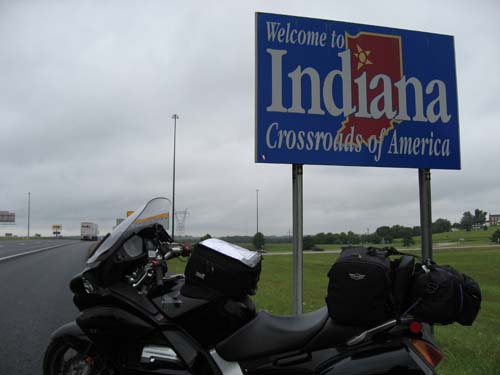 In the town of Columbus, Indiana, this is the home of Brian Beach (BrianB) and his wife Sharon and their family. I've been on a couple motorcycle trips with BrianB (click Europe Motorcycle Trip 2004 or Europe Motorcycle Trip 2001) and Sharon was my boss at SGI for a while, and I have worked with BrianB at a couple companies (SGI and Tivo). I see BrianB every month or so when he's back in the Bay Area, but it was very fun visiting their home, and seeing Sharon again. Below is their home which is on a small private, man-made lake development called Tipton Lakes.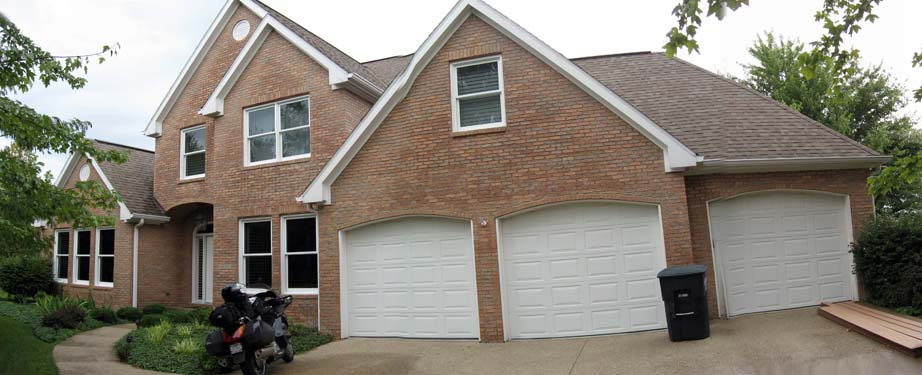 They have their own private boat dock right up against their home here in Tipton Lakes, here they are in front of their boat in it's slip in their backyard. On the private lake, residents are only allowed electric 10 horse power motors. We went for a little cruise together to tour the lake. BrianB on the left, Sharon on the right.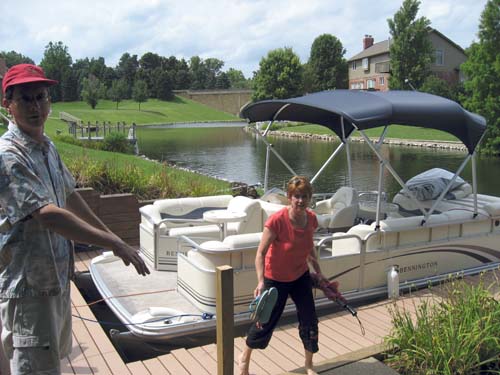 BrianB and Sharon, cruising along in the lake in their boat.
Below is a picture of their house and backyard taken from the boat, you can see their dock on the very lower right of the photo.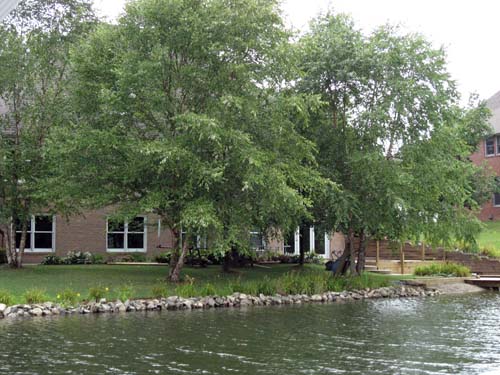 There are three lakes the size of the one you see below, plus little connecting canals. The three lakes that make up "Tipton Lakes" are "North Lake", "East Lake", and "West Lake" (not very imaginative :-).

The home surrounding the lake can be large and very nice. Below is a big one.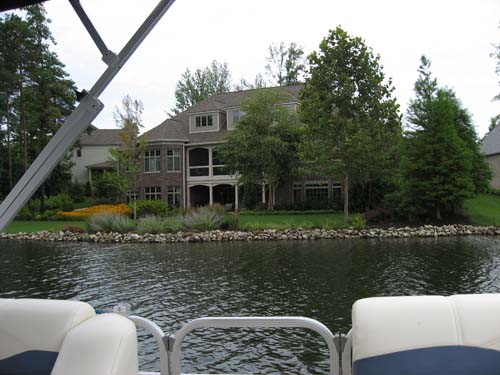 A *really* large home with a nice yard on the left in the picture below.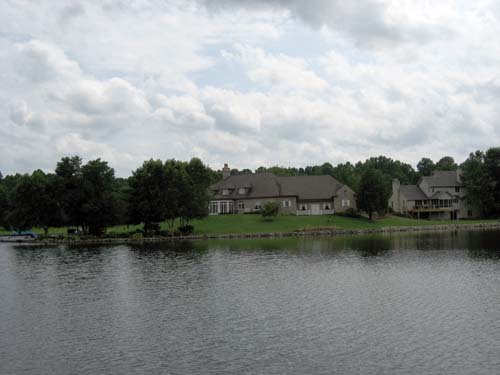 Random picture of a home, with a Canada Goose in the foreground. They are a protected species, but there are many in this area.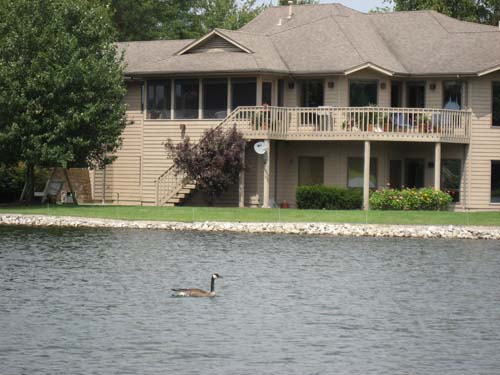 Another random home with a few boats out front.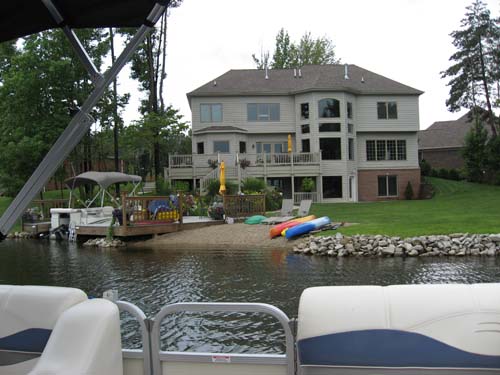 Back at their house, I wanted to get a picture of Sharon's tattoo she got in the last couple years. Sharon Beach's tattoo means "freedom" in both Japanese and Chinese: the Chinese word is "ziyou", and the Japanese word is "jiyu". The first character means "self" and the second character means "cause" or "reason".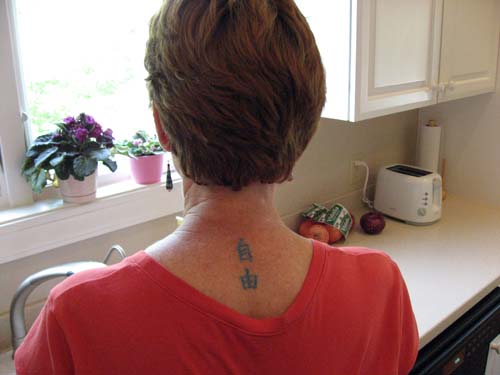 Their kitchen.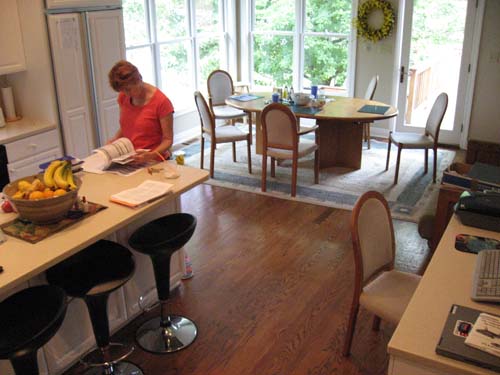 Living room.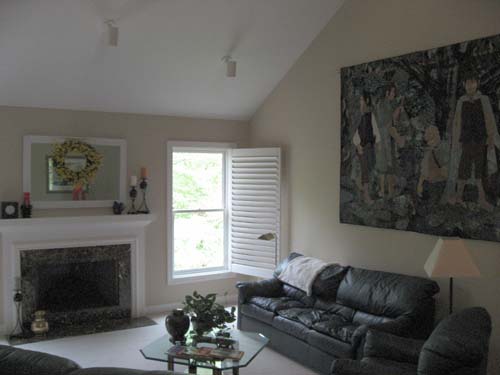 The picture below shows the boat dock out the window in their basement (it is under construction), then to the right Martin (their son) playing video games on a big screen TV. Some of Sharon's quilting/sewing equipment is in the background.

Their dining room.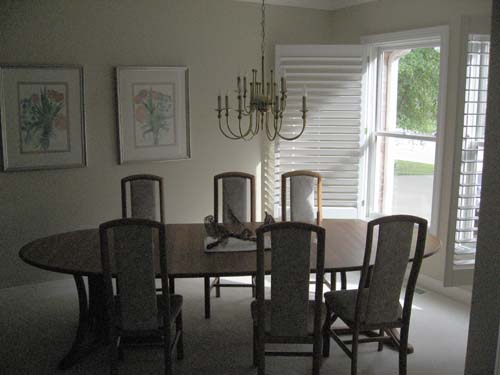 Then on the morning of 7/28/06 (Friday) I got up early and left Columbus, Indiana and drove my motorcycle to Chicago, Illinois to visit my cousin Chip (Ralph Wilson III) and his wife Robin and their family. Chip and Robin actually live in a rural area outside a small town called "Elburn" which is northwest of Chicago a few miles.
I had a lunch date with Chip and Steve Sanders (I have hunted in Montana with Steve before, click HERE for a picture where Steve is on the far right). I barely made the lunch.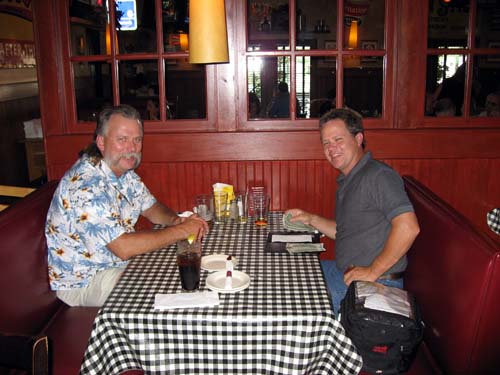 Chip gave me a tour of his Lucent office. Below is my cousin Chip (Ralph Wilson III) in his office at Lucent.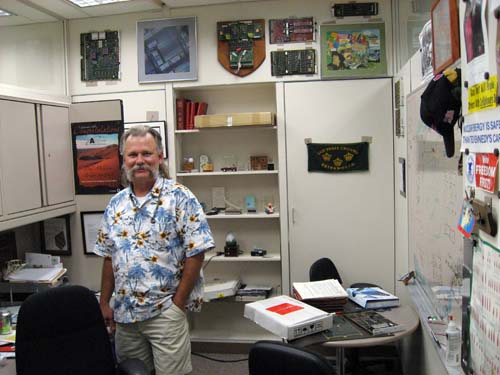 We drove to Chip and Robin's home, which is outside of the small town of Elburn, Illinois. Here is my motorcycle parked in Chip's garage/shop.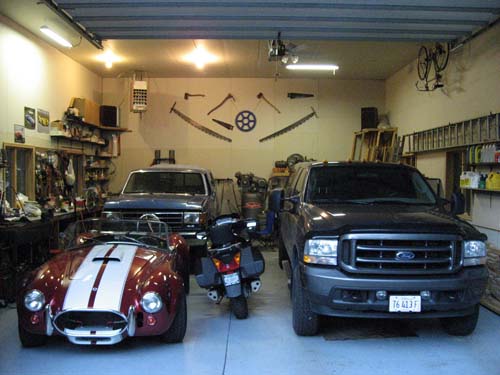 Another perspective.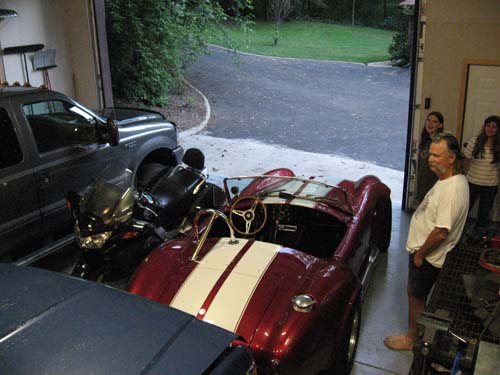 If you spin around from the garage/shop, the picture below is what you see -> Chip and Robin's home. They have lived here for 17 years, and this is the first time I've ever visited (I'm a bad cousin. :-)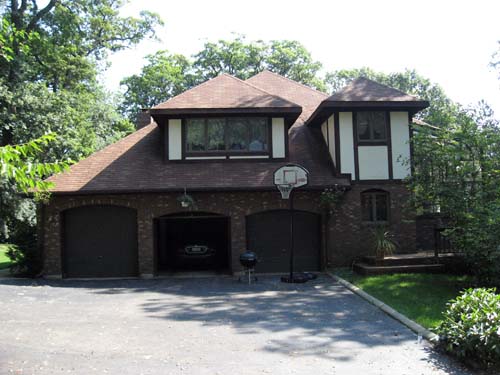 Below is dinner with Jessica, Kaitlyn, Robin, and Chip.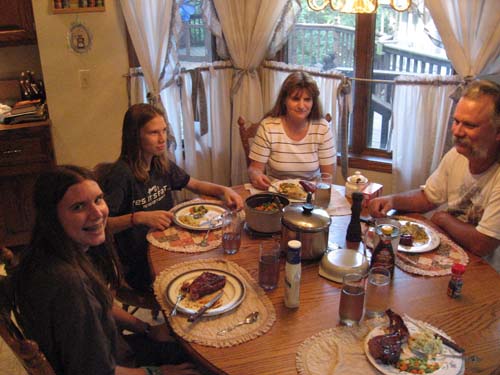 The picture below is out on their back deck, they are looking at a wasp nest in the tree house. (Click on the panorama below for a HUGE version showing the wasp nest clearly.)

The next day (7/29/06) Saturday, I took a break from the motorcycle because it was so hot. Chip took me for a ride in his Cobra. It is a "Kit Car" that Chip built that is a replica of a 1967 Ford (AC Shelby) Cobra 427SC. Click here for Chip's Page on this particular Cobra. Click here for a lot more information on Cobras and Shelby Cobras. Here is a quick blurb on the Cobra: The original 427 Cobras were manufactured between 1965 and 1967. These cars were primarily built for racing, but to help pay the bills, Ford/Shelby also built street versions, called 427 SC, which most believe stands for Street Competition. Production of AC Cobras ended in March of 1967 after a total of 1011 Cobras were built, of which about 350 were 427 SC versions.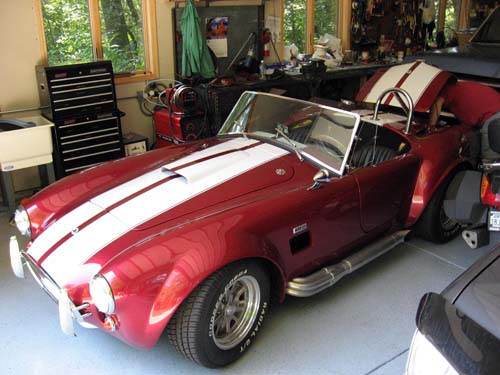 A close up of the cockpit of Chip's Cobra.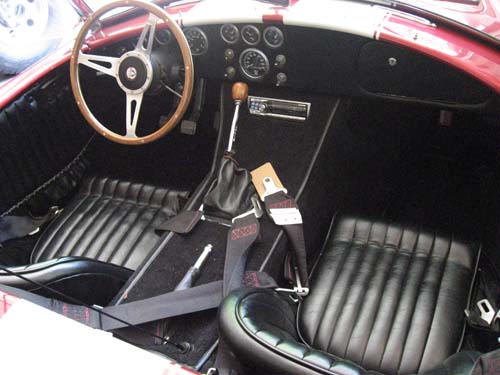 Here we are driving down the Illinois roads.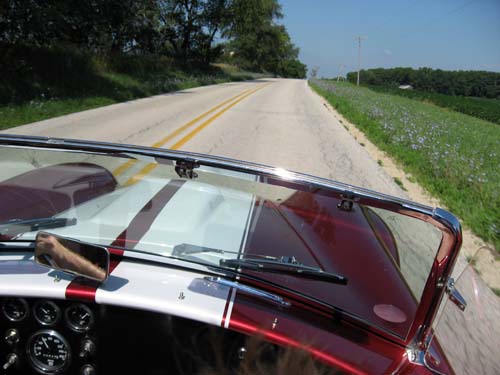 I'm proud of the picture below. :-) I took it by holding the camera out and taking it "cold" without knowing how it would turn out. That's me on the left (Brian) and Chip driving his Cobra.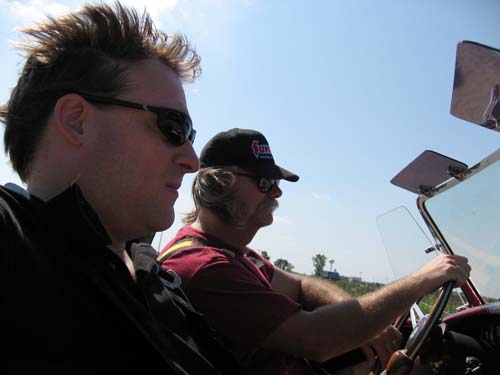 We went about 20 miles to take care of some DMV stuff unrelated to the Cobra. Here is where we parked.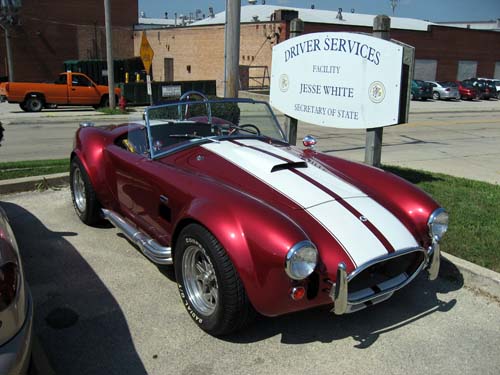 Click the picture below to download a 7 MB movie of the Cobra accelerating. I had to ZIP it for some server reasons, it is in Windows Media Format which should be playable on both Mac and PC, but you have to WAIT FOR THE DOWNLOAD (sometimes no progress bar shows, just wait and wait, up to 30 minutes).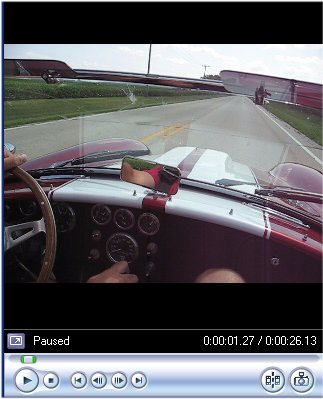 Here is a quick tour of Chip and Robin's home they built 17 years ago. Below is the front entry way with the stairs going up to the second level.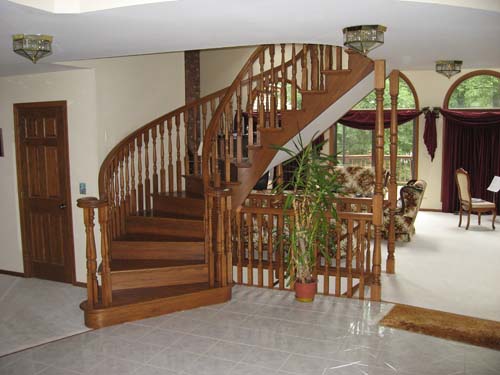 A little further in, a panorama of their living room.

This picture is from the top off the stairs, you can see stairs ALSO going down into the basement.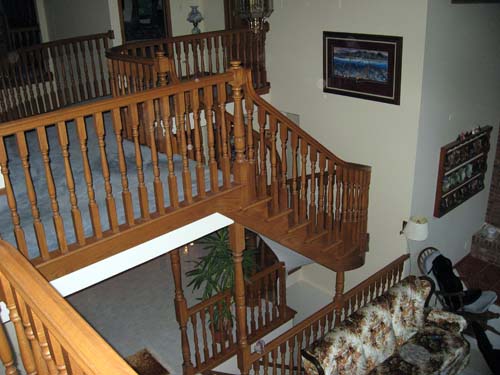 Their "day room/sun room" taken from the second floor.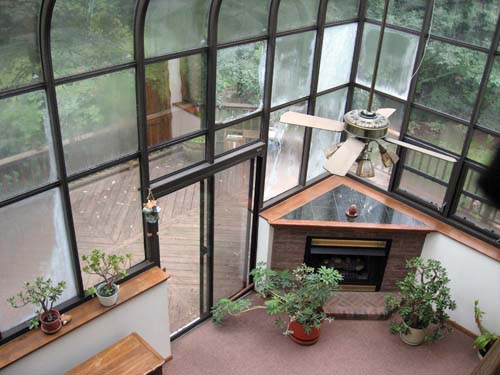 Kitchen.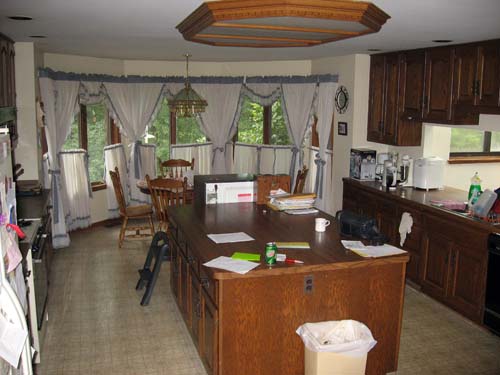 Below is a panorama of their back deck.

Same back deck from the other end, this also shows their back yard a little better.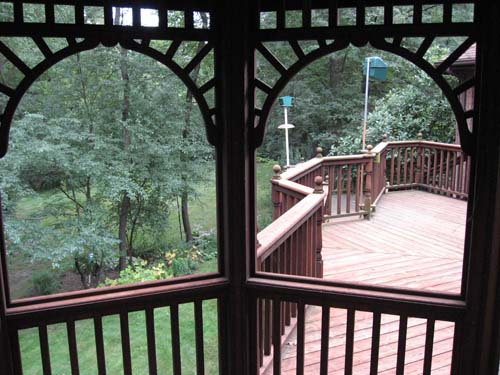 A picture of the deck, taken from down in their back yard.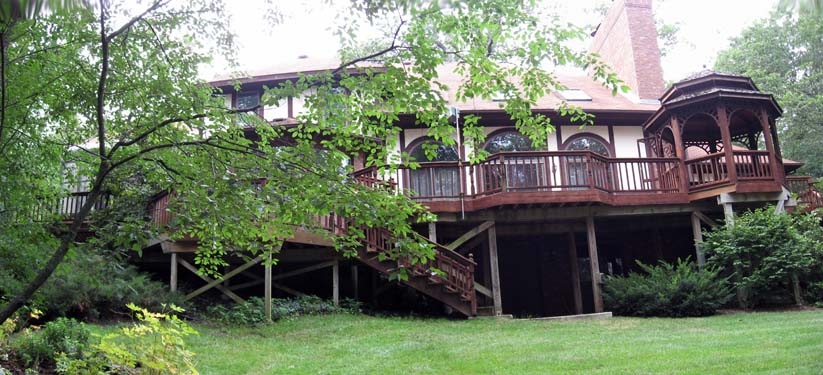 Slightly different perspective, same shot.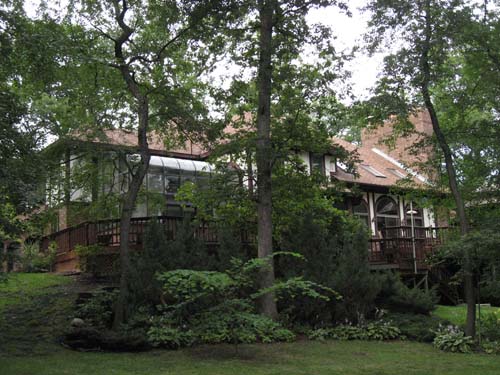 Then on the morning of 7/30/06 (Sunday) I got up early and left Chicago, Illinois at 5am and started driving west on Highway 20 and made it as far as Sioux City, Iowa before the heat drove me to get a hotel at 3pm. Below it shows my Honda ST1300 dash showing it is 8:01am on 7/30/06 and it is already 79 degrees Fahrenheit. That does NOT bode well for the rest of the day.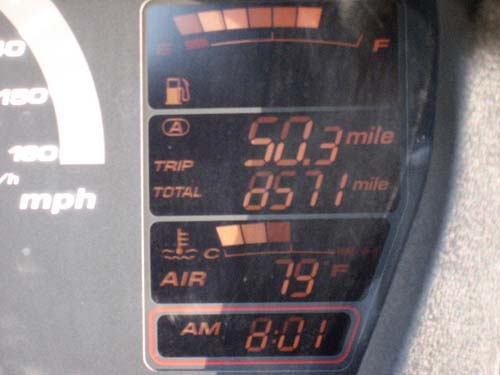 Here is Highway 20 in Illinois, very scenic.

Another panorama of Highway 20 in Illinois.

I saw this set of signs in Iowa along Highway 20. It says "Road to Freedom", "From Foreign Oil", "Soy Biodiesel". If the US farmer wants to give Big Oil a run of competition, I say we give 'em a chance. I don't care if it's soy, wheat grass, or corn, any competition they can muster is welcome in my world.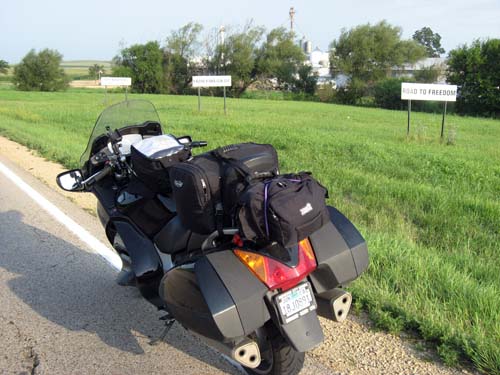 Now it is 2:17 pm, I'm just outside of Sioux City, Iowa, and my Honda ST1300 shows it is 108 degrees Fahrenheit. I took off my Aerostich safety suit when it hit 90 degrees and drove in a T-shirt. When it passes 105, THIS DAY IS OVER!! I'm getting a hotel and starting again tomorrow!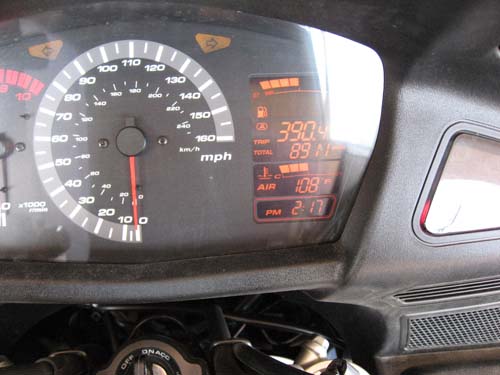 Click Here for Next Set Of Pictures
Return to 2006 Canada Motorcycle Trip


(Read a personal description of Backblaze here.)