2006 Canada Motorcycle Trip (Picture Set 7/31/06 - 8/02/06)
(7/8/06-)
On this page are pictures and descriptions from 7/31/06 - 8/02/06. Click on any picture or panorama for an ENORMOUS version. Click here to go to the homepage and get a description of what this is all about.


(Read a personal description of Backblaze here.)
In the morning of 7/31/06 (Monday), I left Sioux City, Iowa and drove my motorcycle west to Laramie, Wyoming. I passed through the South Dakota Badlands (Mount Rushmore and Sturgis Motorcycle Rally) on the way. Since it gets hot, I get up SUPER early to avoid the heat, the picture below shows just me and the police are up at 4am getting breakfast. We sat next to each other, and these two cops recommended a slightly different route for me than Highway 20 (a little north to Highway 50).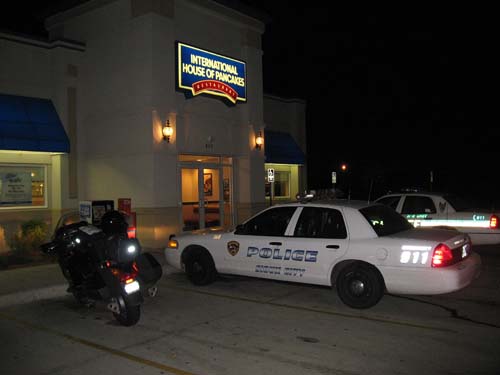 As the sun comes up, I cross the Missouri River. I'm all alone, so I take this panorama in the middle of the bridge.

In Iowa and South Dakota they grow lots of corn and soy. I saw several signs like this "Soy Diesel Sold Here".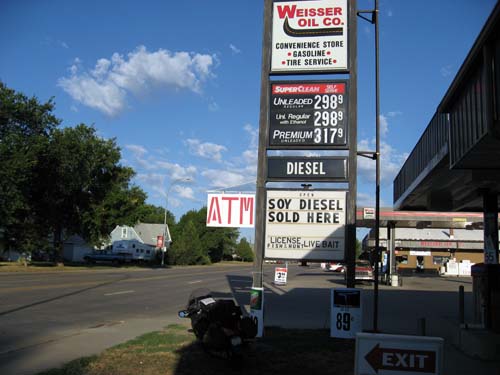 Entering the South Dakota Badlands, there was a wicked cross wind (bursty gusts of 30 mph). After 9,000 miles without a problem, one gust tumbled my magnetic tank bag off the bike. It hit the pavement, and then tumbled 40 yards because I was going 70 mph at the time. The damage below shows the tankbag, this also caused a dead pixel to appear in my new digital camera's back display (the camera was in the bag).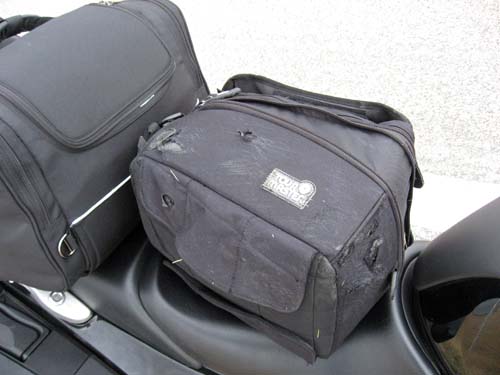 I passed this sign a few minutes later.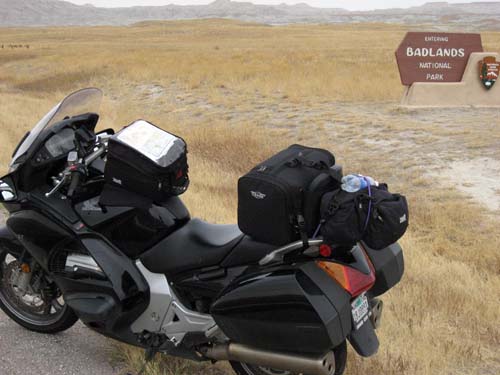 The very famous "Sturgis Motorcycle Rally" starts a week from now (on 8/7/06), this happens to be the 66th rally. Here is some more information on "Sturgis Bike Week". In a nutshell, it is a pointless festival about motorcycles (Harley Davidson in particular) that about half a million (that is 500,000) people come to participate in. It has been going on for 66 years, originally it was about motorcycle stunts and racing. The Town of Sturgis is already heating up with tons of motorcycles, so I went a few miles north to Sturgis, South Dakota. Here I am on main street (photo by a friendly biker).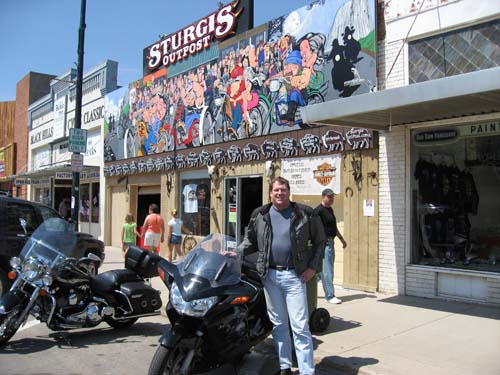 Below is a panorama of main street.

Sturgis is all about Harley Davidson motorcycles, and the riders have a certain look. Below are some of those bikers and their motorcycles at Sturgis, 2006.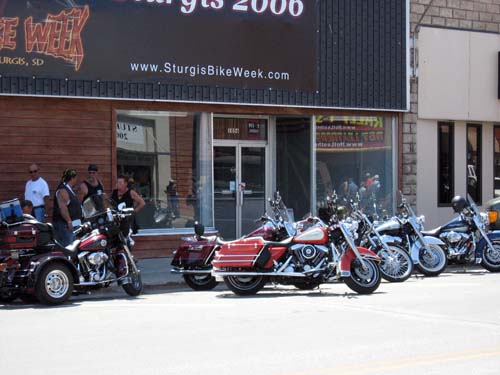 This guy rode by, I was a little slow on the trigger.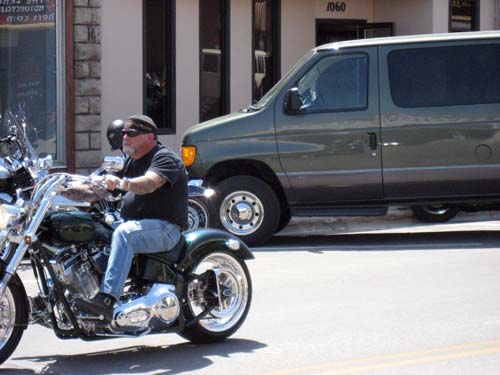 A row of Harley Davidson motorcycles at Sturgis, 2006, this is on main street.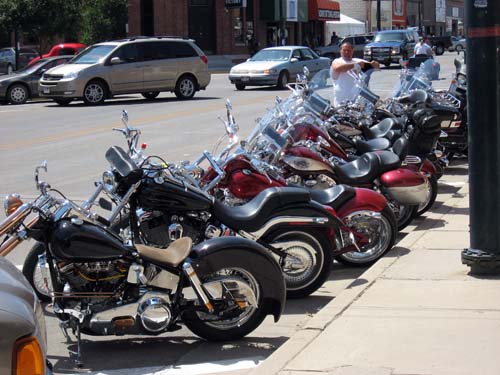 More motorcycles at Sturgis, 2006, this is on main street.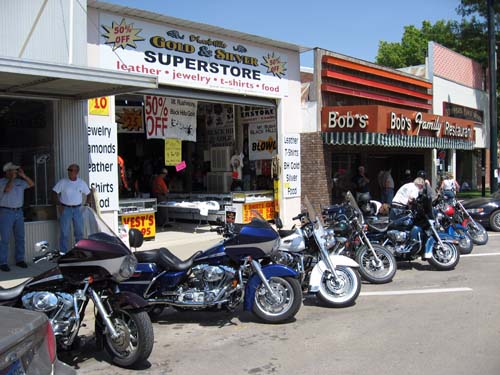 Below is the happiest vender in town, the liquor store in Sturgis.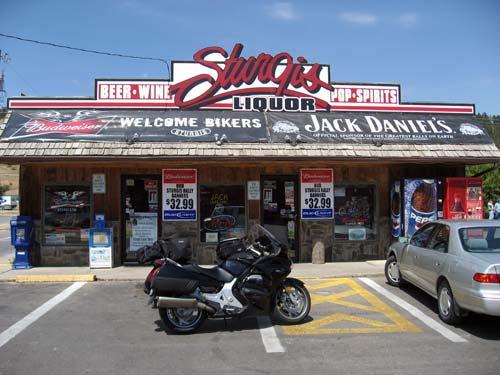 I was driving along taking live action pictures, below is one. Notice few people are wearing a motorcycle helmet.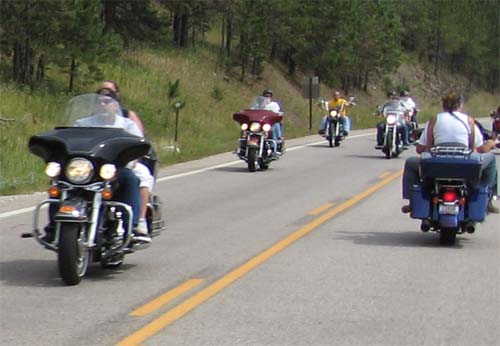 I followed this group of motorcycle friends for a while, going towards Mount Rushmore. Notice they all have their girlfriends along, but mine didn't come! Also notice NOBODY is wearing a helmet in this photo (no helmet law in South Dakota I guess). Also no leather jackets or synthetic protective suits.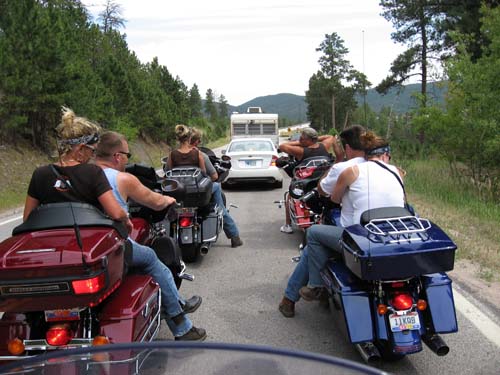 Click the image below to play a movie of our group moving along.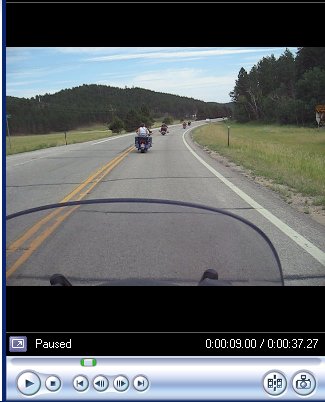 Mount Rushmore is around the corner. You can see George Washington's head in the center of the picture above my motorcycle.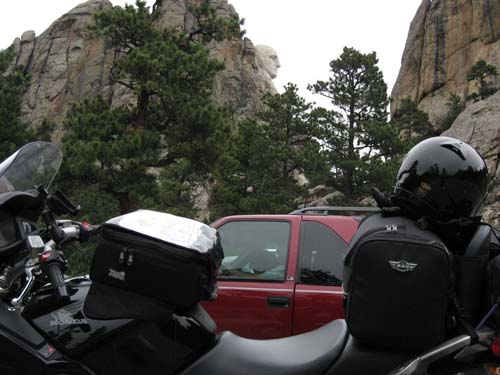 A close up of George Washington's head on Mount Rushmore.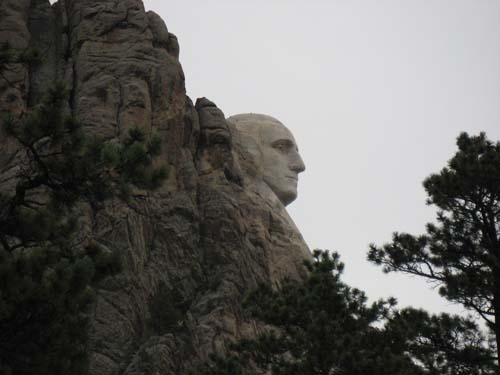 The whole Mount Rushmore with my Honda ST1300 to make it much prettier.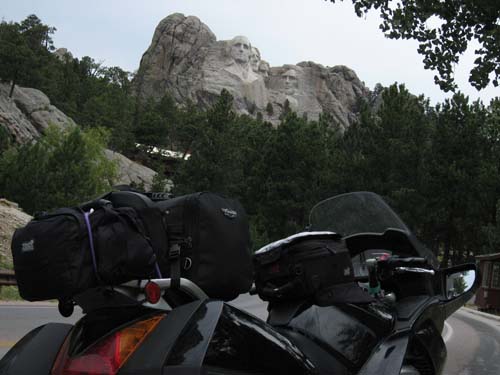 I have no idea why I took this next photo, everybody has seen Mount Rushmore, without a motorcycle in the picture it's pretty boring. :-)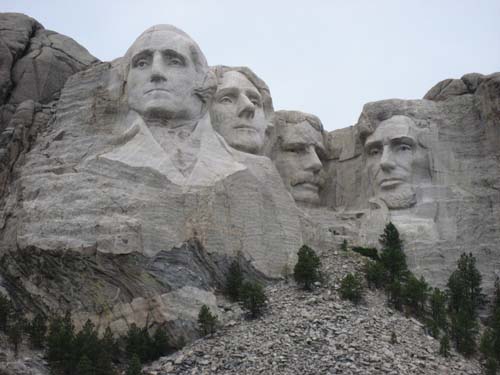 A little more original picture below showing the audience.
A little way down the road is the "Crazy Horse Monument", which is like Mount Rushmore (carved into solid rock). I remember when this started when I was a child, and it has been moving along (very slowly). Below you see the Crazy Horse Monument with my Honda ST1300 in the foreground.
As zoomed in as I can get it.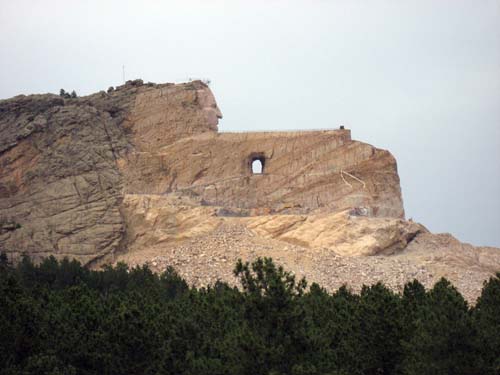 I put this photo together to show what it is supposed to turn out like eventually (at the current rate, it will not be completed in our lifetime).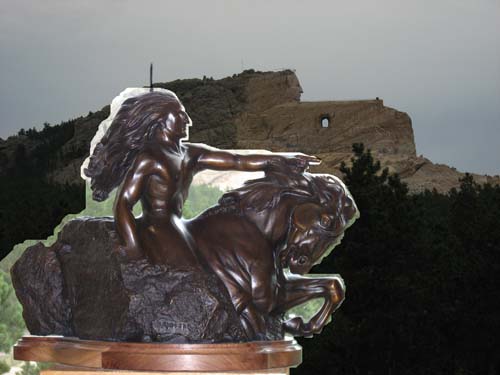 This sketch was on the wall in the observation deck.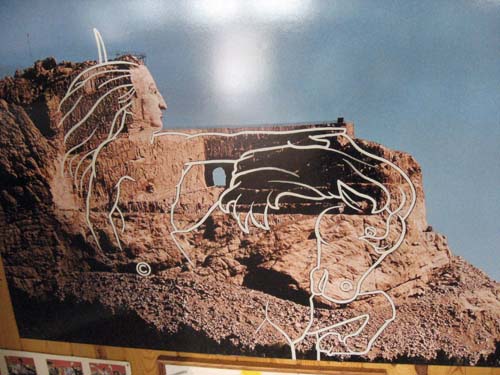 This shows the progress over the years. Click on the image below to get a better look at it.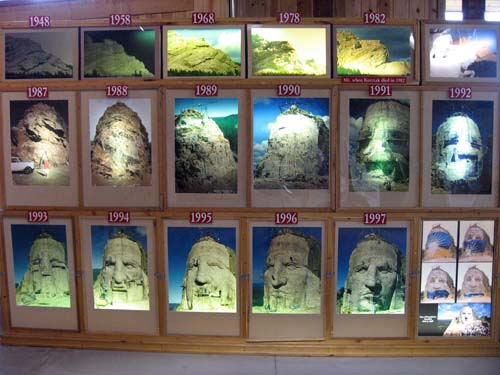 A little way down the road, and I enter Wyoming.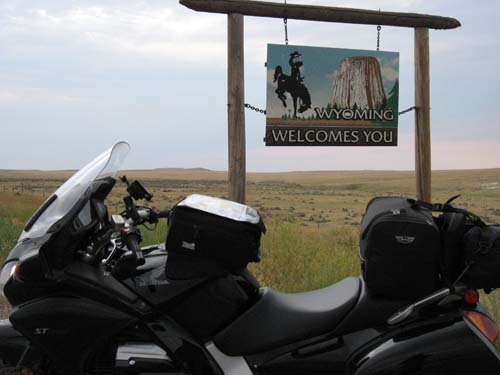 This picture was of 3 deer on Highway 34 in the lower right corner of Wyoming (going South into Laramie, Wyoming). I can't see the deer in the picture, but I must have seen 25 deer or more during the two hour drive on this highway (it should have taken only one hour, but I decided to go 30 mph to avoid hitting the deer).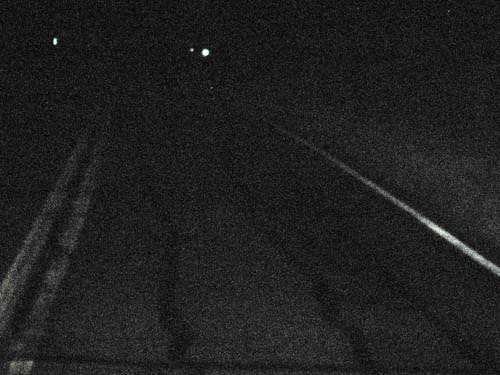 The next morning of 8/1/06 (Tuesday), I left Laramie, Wyoming and did a BIG day of full burn, highways all the way, west as far as I could reach, which was to Tonopah, Nevada. I went through Utah along the way. I took highway 80 across Nevada through Green River, and then dropped just south of Salt Lake City through Coalville and Heber City and Provo then picked up US Highway 6 west across Utah then across Nevada all the way.
Nothing of any motorcycling interest occurred all day long, but there were some pretty views of really BIG FLAT desert with mountains in the distance. I took the picture below to capture the strange rainbow (directly above the windshield of my motorcycle in the blue sky). This picture is a failure, it isn't at all the beautiful scene I witnessed.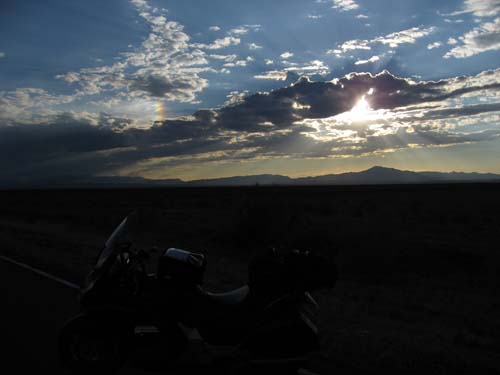 Another dramatic scene with the sun that I couldn't capture. :-)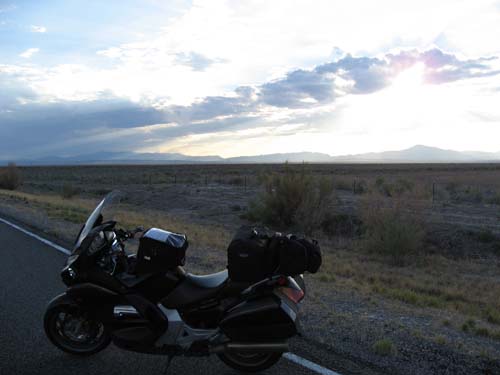 At sunset, as I entered Nevada. I have driven this road (Highway 6) before and taken pictures, so I didn't mind driving the rest of the way at night. Click here for pictures from Ely to Tonopah, Nevada in 1999 about the Extra Terrestrial Area 51 Highway. WARNING: first of all this was a different trip, and second of all the stuff about Area 51 and Extra Terrestrial Highway is just a joke! (Too many people emailed me debating the existence of aliens the first time I posted those photos, it's just a funny web page people, humor!)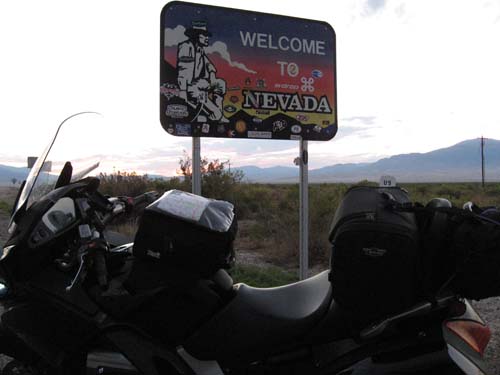 The next morning (8/2/06, Wednesday) was my final day of the trip, the ride home to Palo Alto, California from Tonopah, Nevada on my Honda ST1300 motorcycle. Along the way I drove through Yosemite National Park. Much of this highway is "Open Range", and below I saw a strange twist-> open range horses! This herd of horses (don't know if they are wild or not) was wandering around near the open highway, there is no fence between my motorcycle and these horses.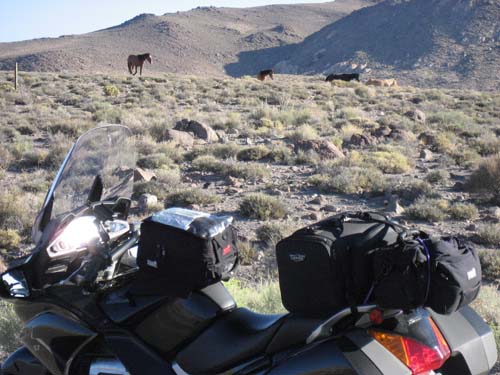 A little further on, entering California (which I call "home" now).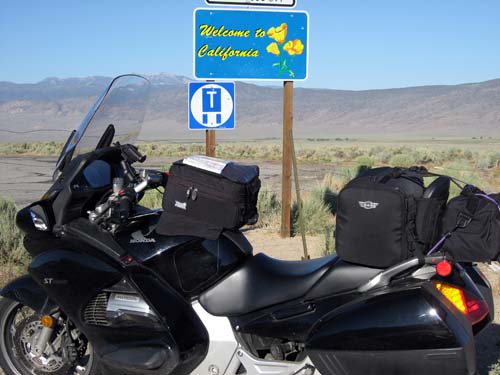 Road repair outside of Yosemite National Park. This is on California Highway 120 west of Lee Vining, California. I waited around for 10 minutes here talking with these Harley Davidson motorcycle riders. Oh, let me put in a plug for this little section of highway 120 (just west of Lee Vining, California). It has these tight rolling hills where on a motorcycle at 70 mph you pull an extra "G" or two at the bottom, and get light headed at the top of each hill. I was laughing the whole run. It was also the first interesting piece of road I had driven in two days, so I was giddy to let the ST1300 do what it does best again. After that, it climbs up into Yosemite which has a really European "Big Swiss Alps" type of feel to it, half above the tree line and dramatic big mountains with curvy switchback and scenery, really worth the ride.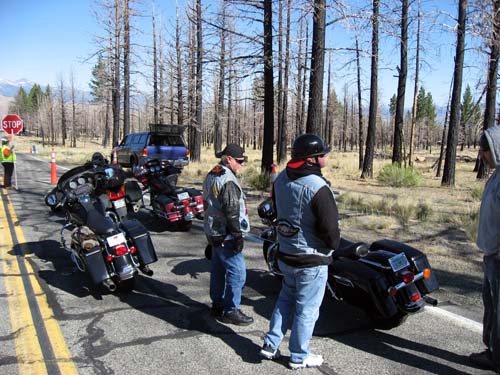 A little further on, you pay $8 to drive through Yosemite. Here is the toll station. I didn't take many photos because A) this is a Canadian Motorcycle Trip and Yosemite is in my back yard here in California, and B) I was just glad to be driving along interesting roads again so I ripped it up a little. :-)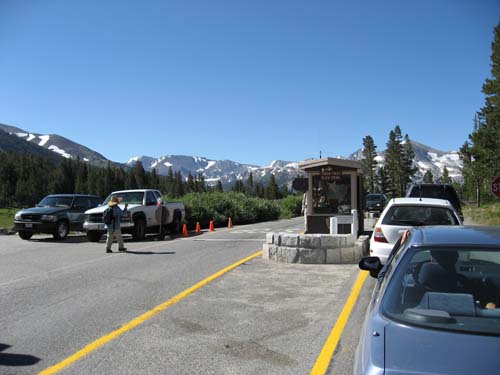 A close up of the Tioga Pass toll booth entering Yosemite National Park. I was stuck in this line of cars all paying their toll to ride it so I had time to take a photo.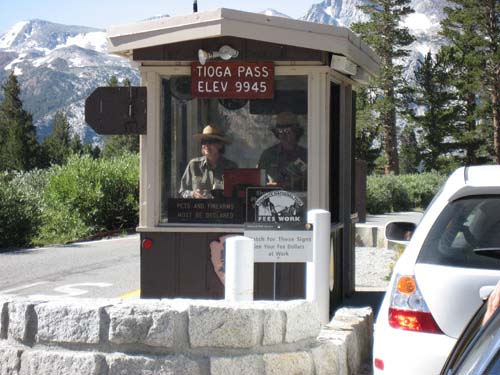 Ok, one gratuitous stop with pretty scenery of the motorcycle in Yosemite National Park on California Highway 120. I will be back here on a future (one or two day) trip for more pictures and riding. Check out the photo, it's like that all the way through (takes about an hour to drive through it all).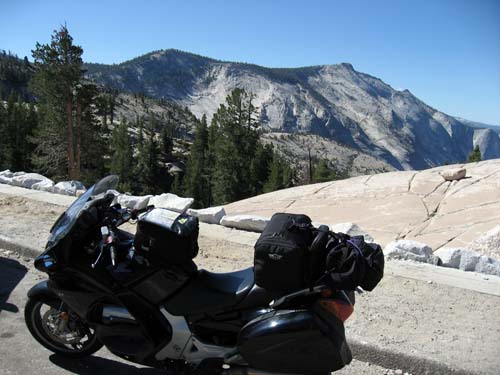 HOME!! Below is my Honda ST1300 motorcycle just after arriving home, a little bit dirtier but in the same spot as when I left. Click here for picture of same spot, same motorcycle, 26 days earlier. Wow, it was much cleaner back then. :-)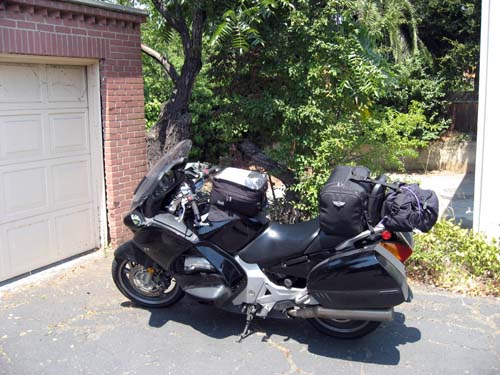 That's it, this trip is over! My odometer says I drove 10,468 miles on my 2006 Honda ST1300 motorcycle in a big circle through Canada in 26 days. Thanks for reading this web page, I hope you enjoyed it. Below is a picture of me taking a bow at the end (taken with the "timer" feature of my camera).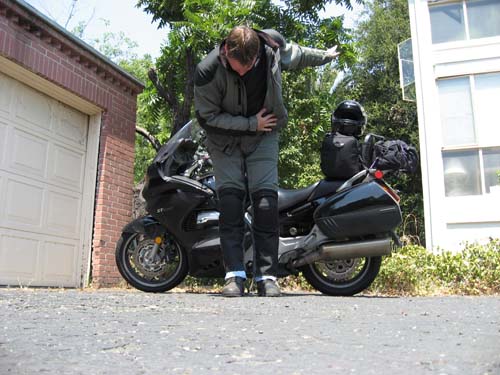 Return to 2006 Canada Motorcycle Trip


(Read a personal description of Backblaze here.)