Backyard BBQ with Firepit 2006
(4/1/06)
I threw a BBQ to celebrate the final MailFrontier stock payout on Saturday, 4/1/06. Some pictures are found below. See MailFrontier Company Timeline to learn about the history and timeline of MailFrontier.
Below is Ishani (Pavni & Stuart's daughter) watching the fire. Click here to see a photo of Ishani at the moment MailFrontier first got funding.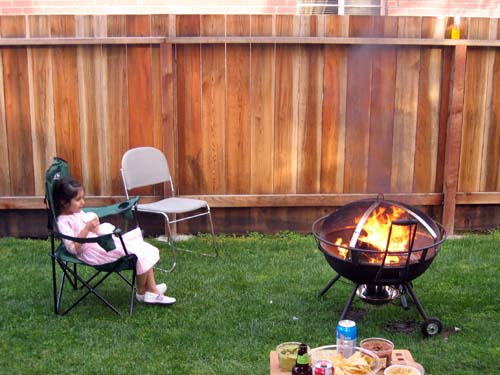 As the sun is going down, that is Tim Nufire in the colorful shirt on the left, his wife Ali, then the fire, then Bryan Kim facing away, Leon Hilton facing away in the blue shirt, Scott Eikenberry's small blond head in the background, Mike Farace in the black shirt, and finally Eric Hawkes on the far right in the striped shirt.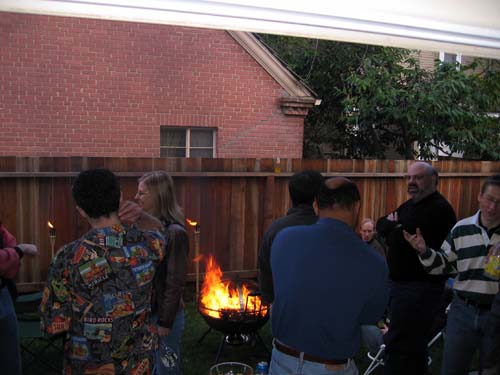 A different perspective on the same crowd. You can see Scott Eikenberry holding his son Alex on the far left, then Casey Jones, Vlad Bolshakov, Mike Farace, Bryan Kim, Eric Hawkes, in the front red sleeves is David Koblas, Tim Nufire, and Bob Adler on the far right. To see some of these same people 4 years earlier at the start of MailFrontier, click Random MailFrontier Pictures.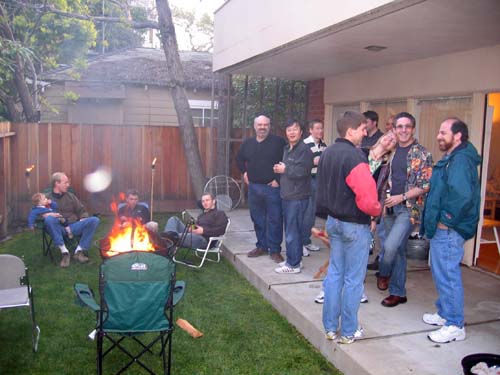 Later at night I took two pictures around the fire, the one below is with flash. Eric on the left, Vlad in the middle, Paul Wieneke, and finally Howard Chartock on the far right.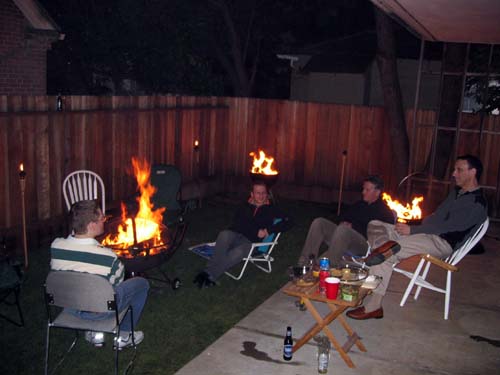 This photo is without flash, and I think shows a little more what the back yard was like.