I moved into my Pacifica beach rental on 1/7/2010. I have always wanted to live somewhere that I could open the window and hear the waves crash, and I stumbled upon this rental and pounced on it. It was a REALLY fun five and a half years, filled with interesting experiences. But like all things, they have their time and place and it came to an end on 5/21/2015 when I moved to Portola Valley. Below are some pictures and descriptions and stories about it. The address is 305 Shoreside Drive Unit A, Pacifica, CA, 94044 and it is on San Pedro Point, Pacifica. Below is a view of it from the air. Click on any picture for a much larger version.
Here is the location as seen from the air. I lived in the yellow two story house. Click here for some history about the "Pacifica Boat Docks" where this house is located.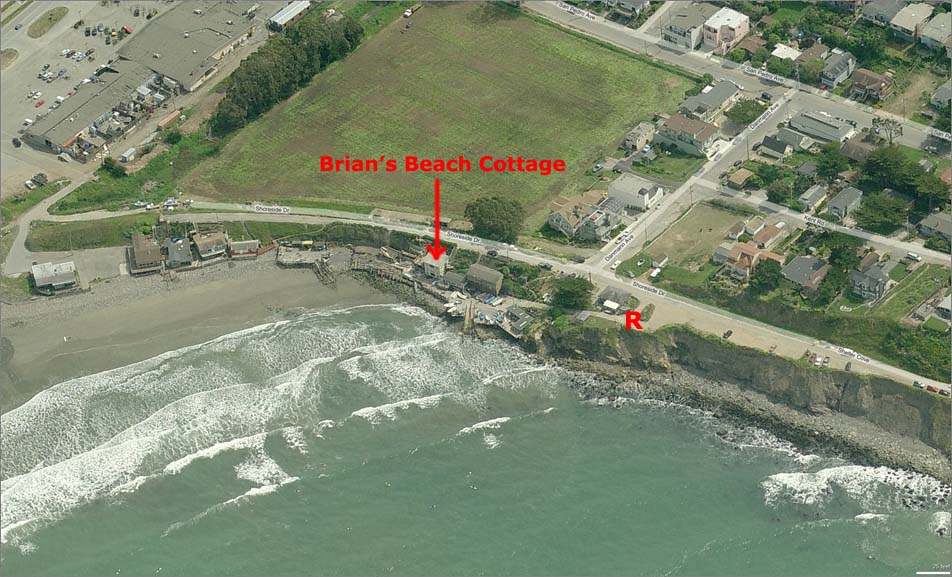 In the picture above, the red "R" marks the Ocean Shore Railroad's Tobin Station. The railroad closed in 1920, and the station is now a small private home.

Below is a different photo, higher resolution and zoomed in more:

Here is a view out the main window at the surf and surfers in Pacifica.

A panorama of the insides of the cottage:

It is located in Pacifica, California which is about 10 miles south of San Francisco. A map of the location is shown below: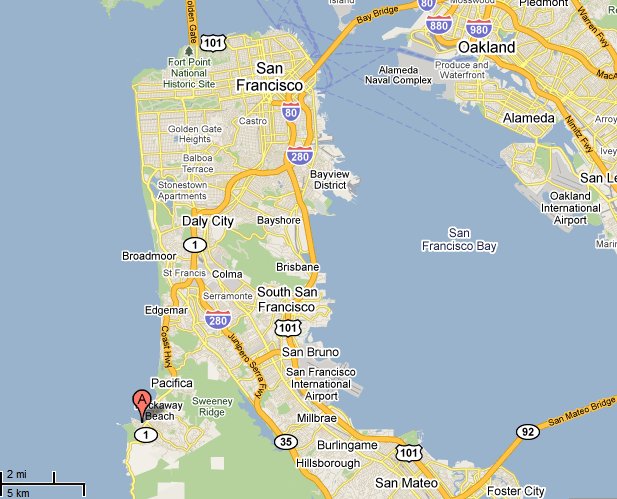 Here are some interesting links about the area, and things to do:
Below are some more random pictures from around the weekend of Jan 31st, 2010 which was the highest tide (and lowest tide) of the year. Below is a panorama of the lowest tide of the year.

Below is a high tide to compare with the above picture.

Here is a video of the way boats are "launched" at the Pacifica Boat Docks. Click here for the very highest quality version I have. In the video below, there is a "skateboard" with two wheels that they use to maneuver the boat around on the dock. It slides off the skateboard and down the ramp into the water. When the boat returns, they use a winch to haul the boat back up the ramp. These are local amateur crab fishermen. They keep their boats stored on the boat docks for about $100/month each. The launch is on Dick Keating and his wife Penny's dock.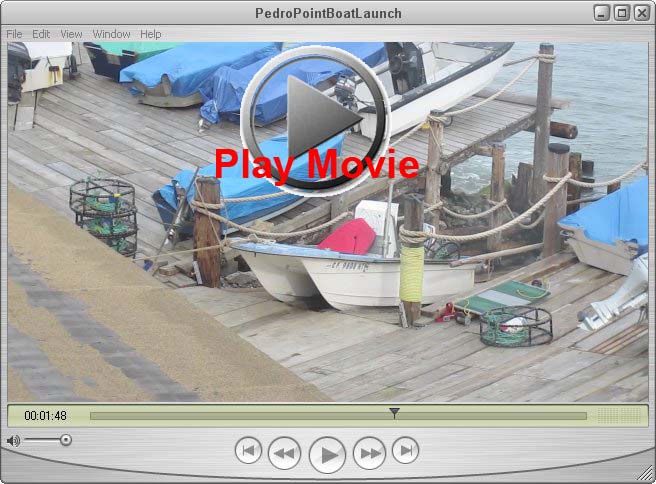 A picture of the beach near Pedro Point at low tide.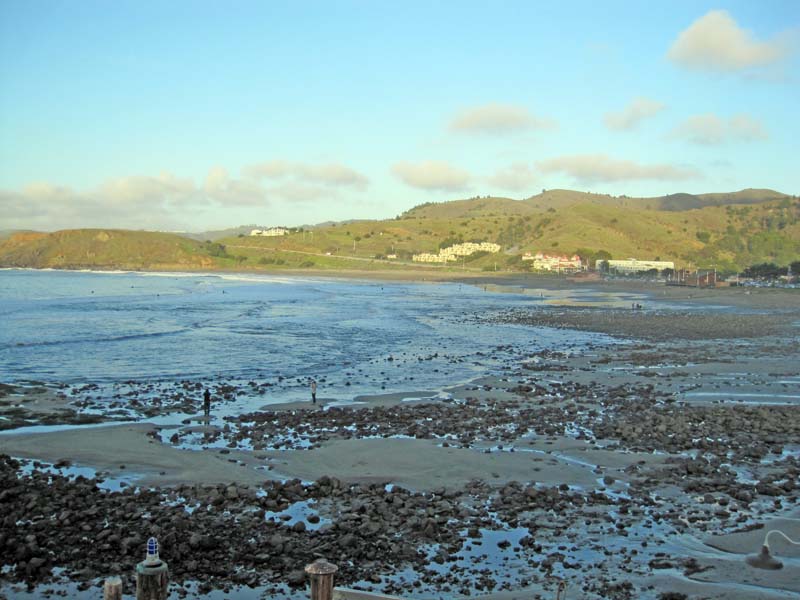 The dock I live on, which is at Pedro Point, Pacifica. This is an unusually low tide which is why I can stand where people normally surf.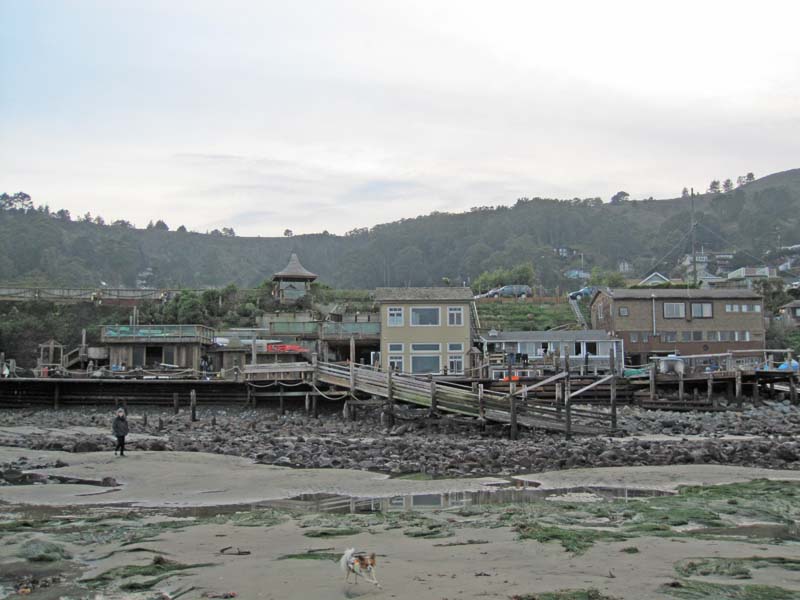 At this particularly low tide, there are hundreds of starfish (Sea Star?) seen clinging to rocks. Click on the picture below for a version NOT marked up with red arrows and much larger.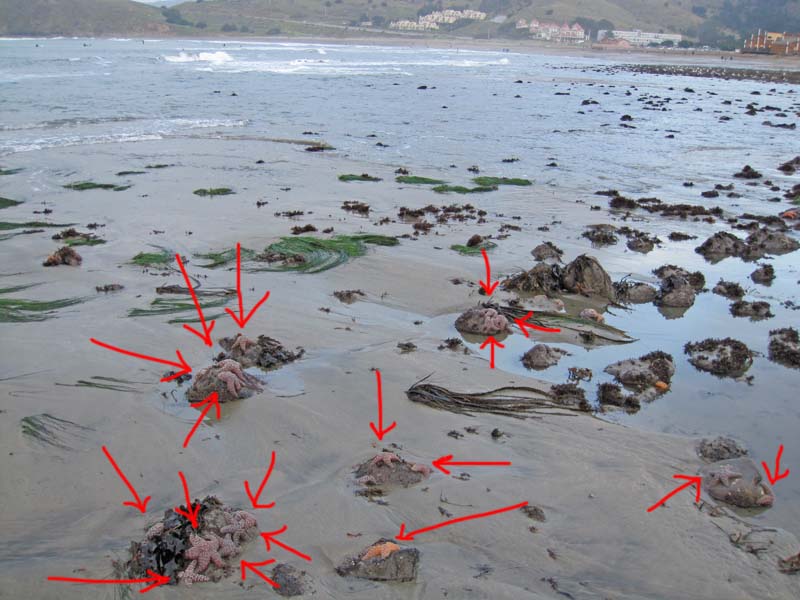 Below is 305 Shoreside Drive, Pacifica, but picture taken from the beach at low tide looking up at the house I live in.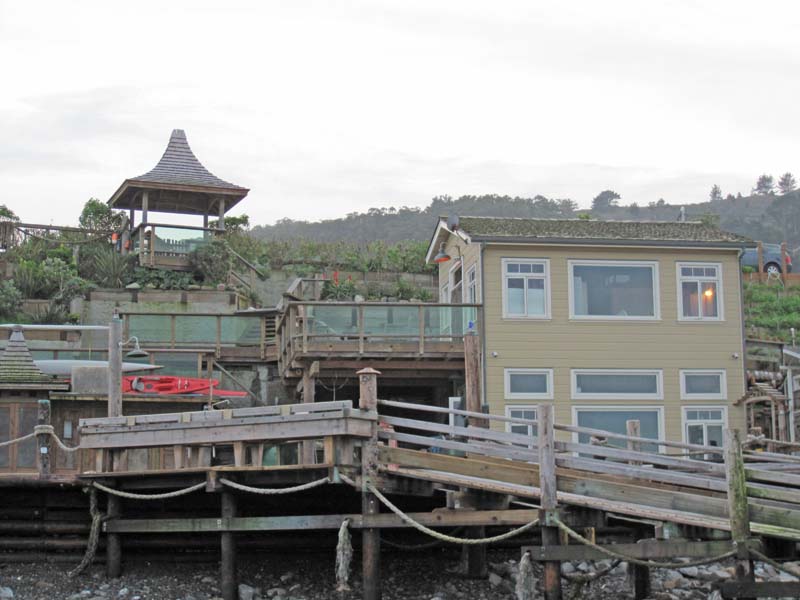 Another picture of the rest of the dock at this very low tide.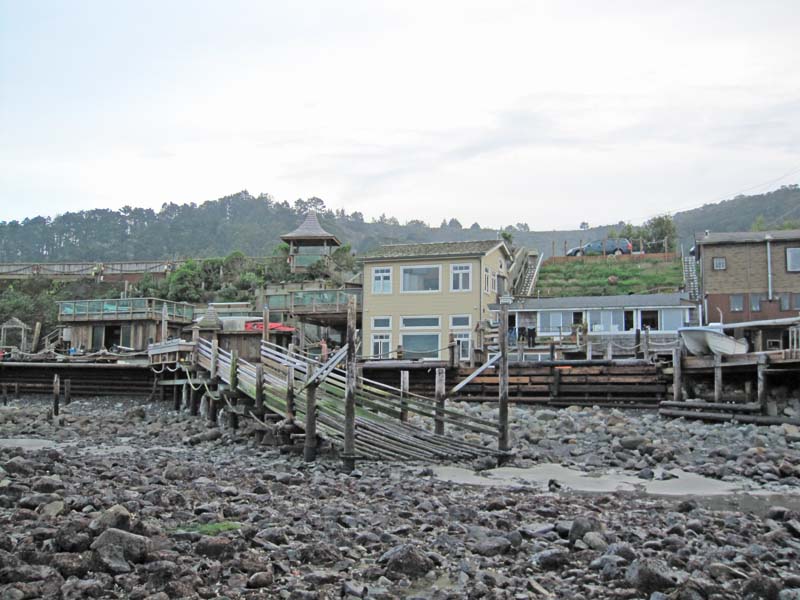 A lone duck swimming in the creek that is spilling into the ocean here in Pacifica.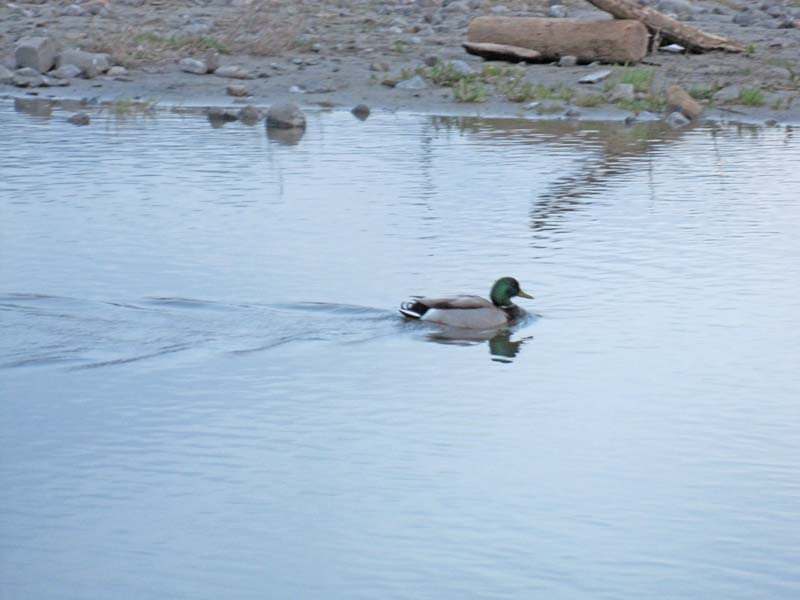 Just around the corner from my home is the furthest out location on "Pedro Point" which is Shelter Cove, Pacifica. This private strip of beach front land is only accessible by a walking path, the residents need to hike in their groceries. The road leading there washed out 10 years ago (?). There used to be a bar and restaurant named the "Clipper Ship" here.

Shelter Cove, Pacifica, from above.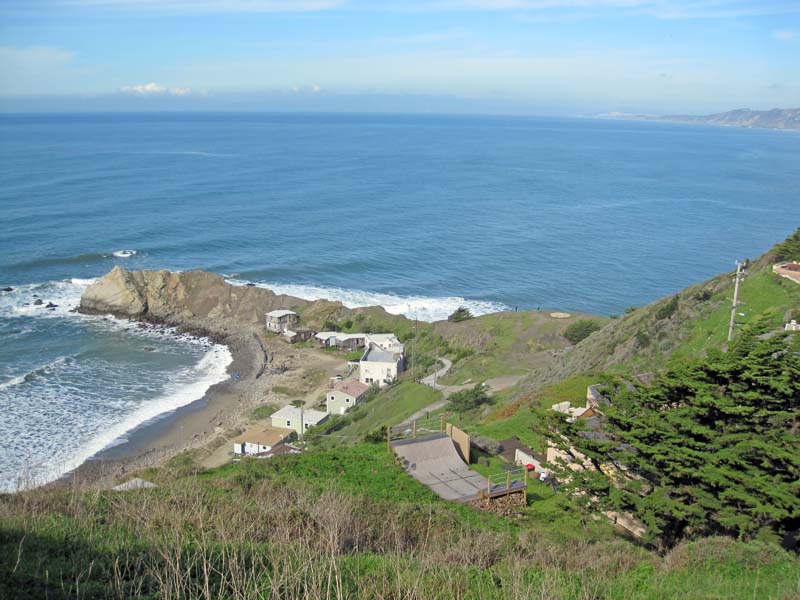 On 3/17/2010 a swimmer went missing off the coast in Pacifica. Below are two pictures of a coast guard cutter looking for the swimmer. A coast guard helicopter also passed by in the air every 10 minutes or so looking.
Here is a zoomed in look at the same boat: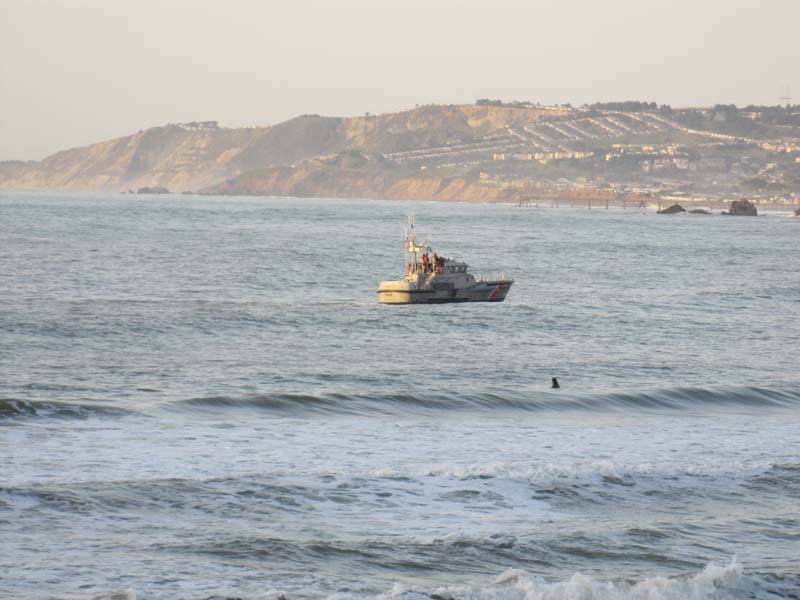 This next picture is a FABULOUS picture of the dock in a storm in October of 1998 taken by a resident of the boat docks (not my picture). Passed on to me by Saa.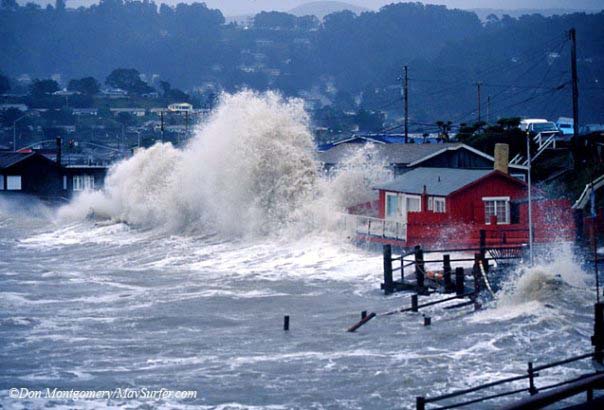 Back to modern times, this is January 2011, Katherine and Chou Chou walking on the beach back towards the cottage as the sun goes down.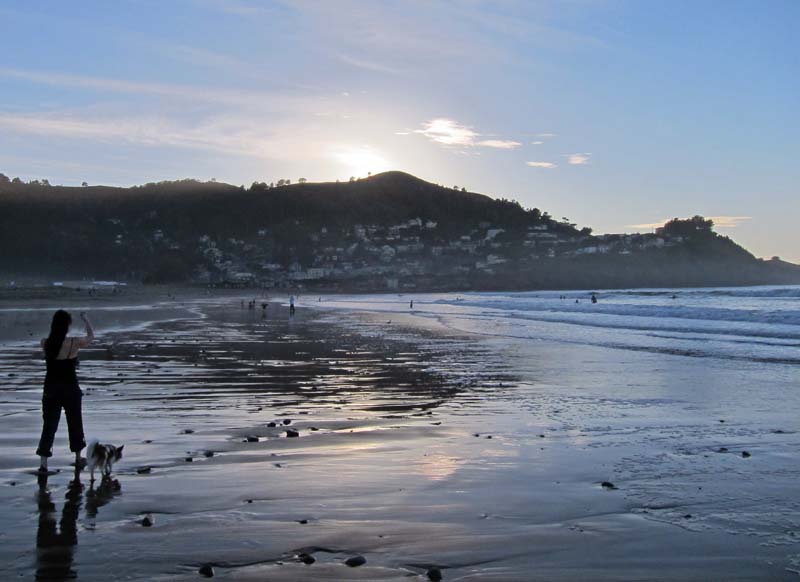 The flame throwing flower was put up on a pole for a party, and a few months later the pole broke in the high winds. Here is Jim taking it down on March 27, 2011: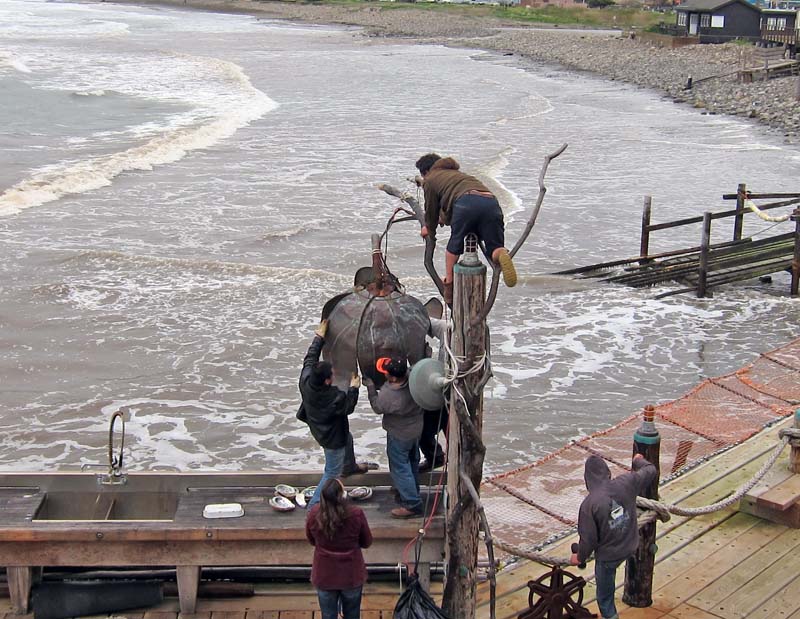 Seen on webcam at 7:20am on Wed, June 15, 2011 by Rick: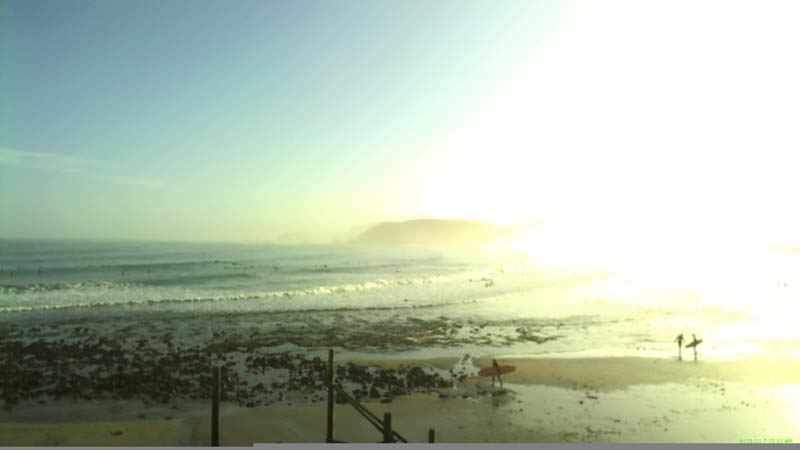 Two dogs on paddle surf boards with their owners, seen on Tuesday, June 28th, 2011. The water was very calm.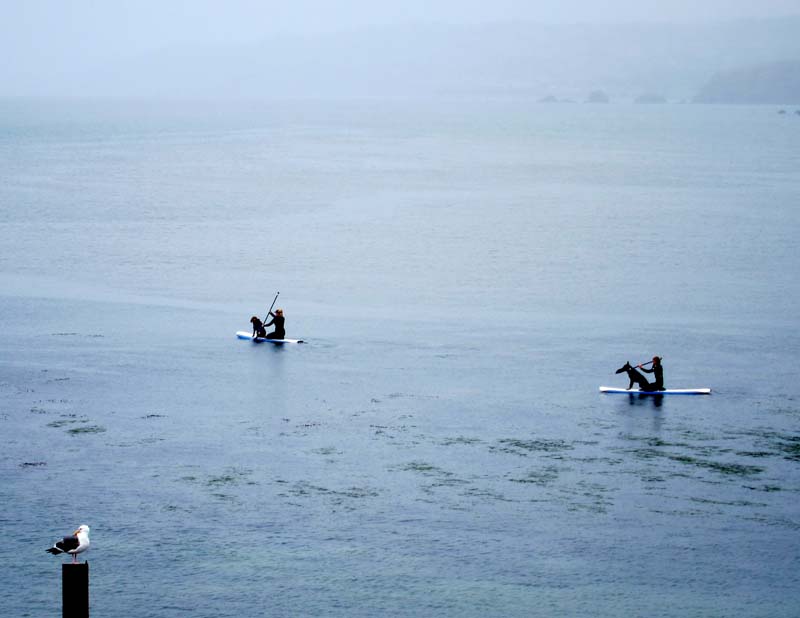 One of the owners and dogs capsized, below is a series of pictures showing them recovering.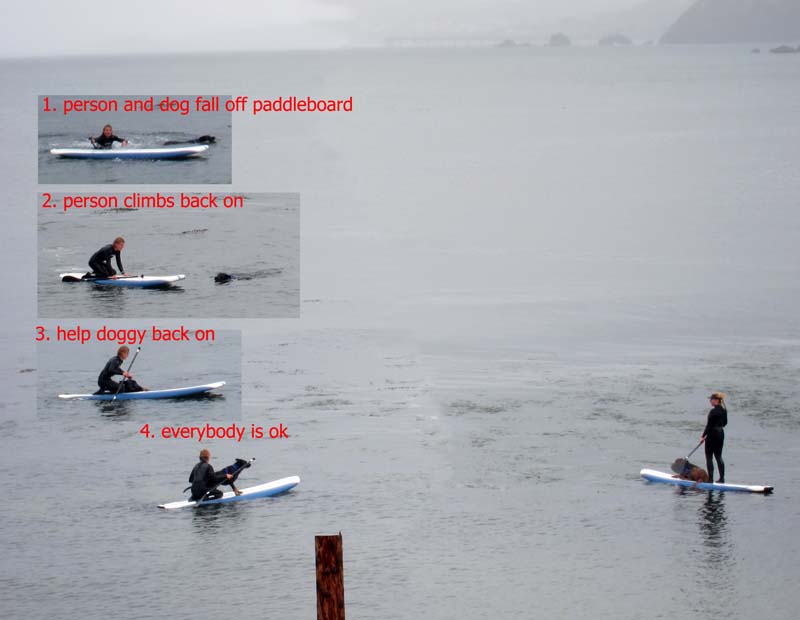 On 7/17/2011 a JetSki owner launched a JetSki from Linda Mar beach in Pacifica and ripped around in the surf for an hour towing a friend on a small board. It was the very first JetSki I had ever seen on this beach, I assumed they were banned here (probably are!)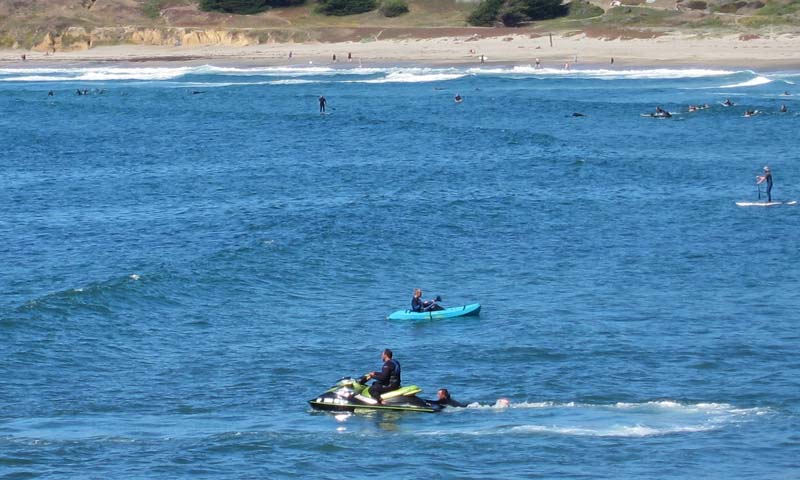 On 7/18/2011, Monday, around noon the weather was really nice with calm seas, so I went for an hour paddle in my sea kayak. Here is a picture back at "The Docks" in Pacifica where I live.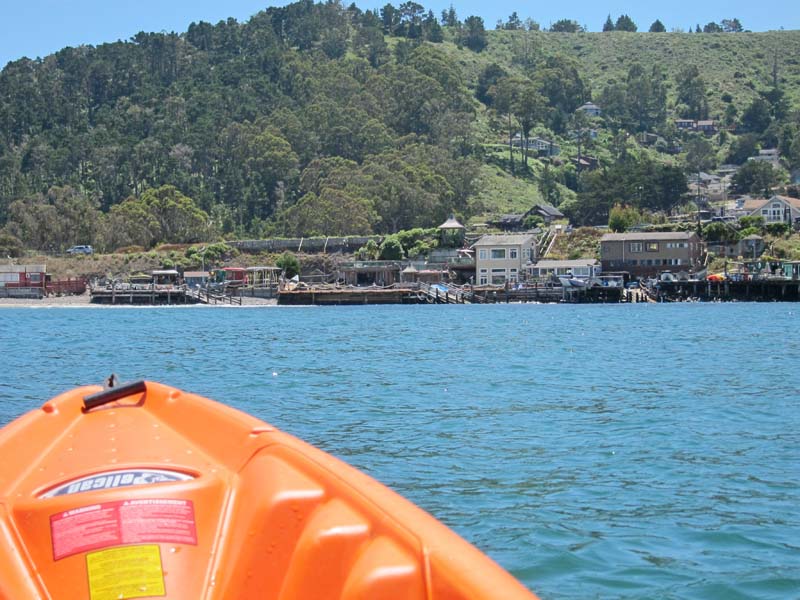 Same subject matter, just from further away from the docks.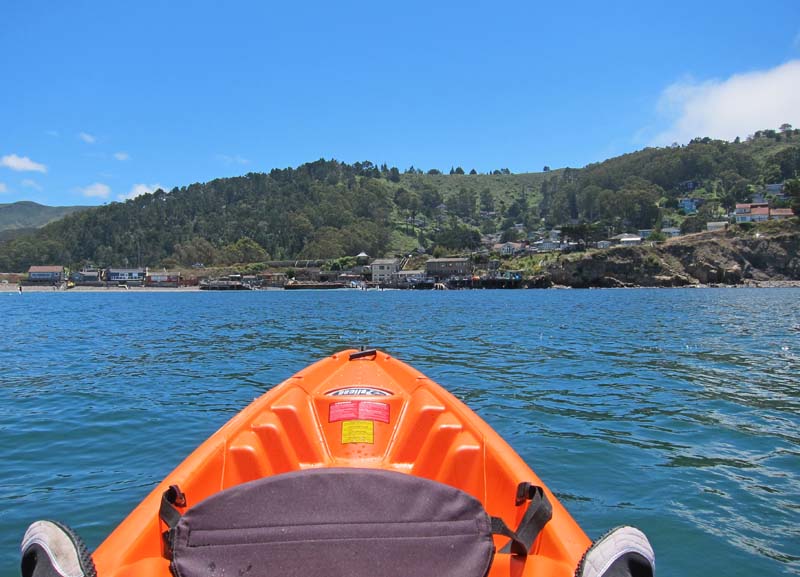 This is the tip of "Pedro Point" in Pacifica, picture taken from my sea kayak.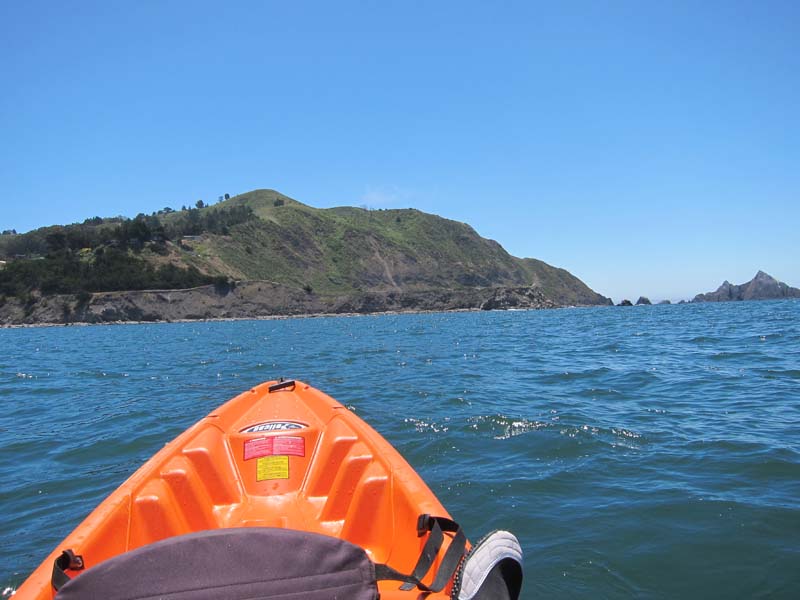 Awesome little surfer seen on 8/1/2011 surfing out front of the docks. Click here for a high quality QuickTime original.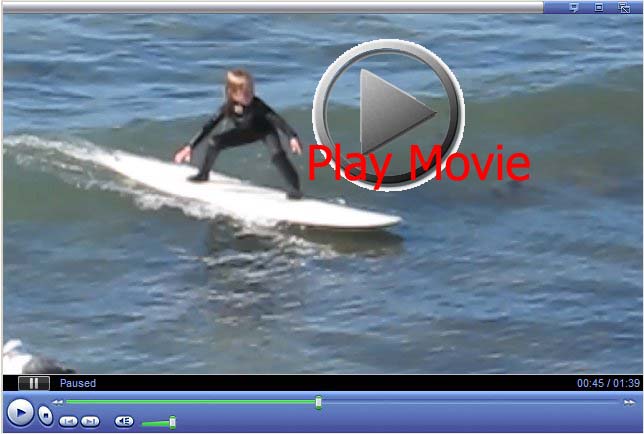 The picture below was taken soon after I took possession of the downstairs guestroom, it is "Kahn The Stuffed Tiger". You can see more pictures of Kahn at the very bottom of this web page.

On 10/25/2011 a film crew used the dock as a background for a scene in the 2012 surf movie "Of Men and Mavericks". Here they are on the beach. Notice the guy with the camera, the two guys sitting down staring ahead are actors?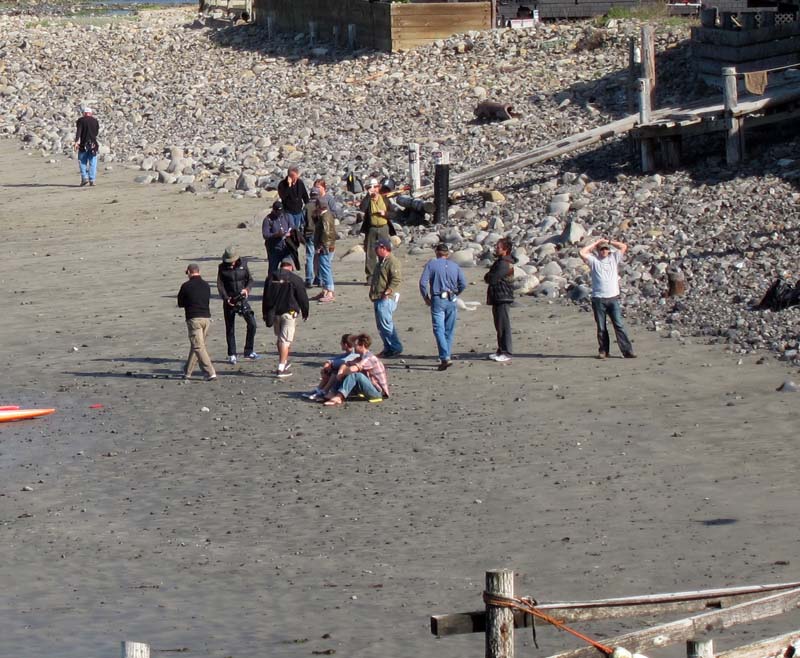 Another: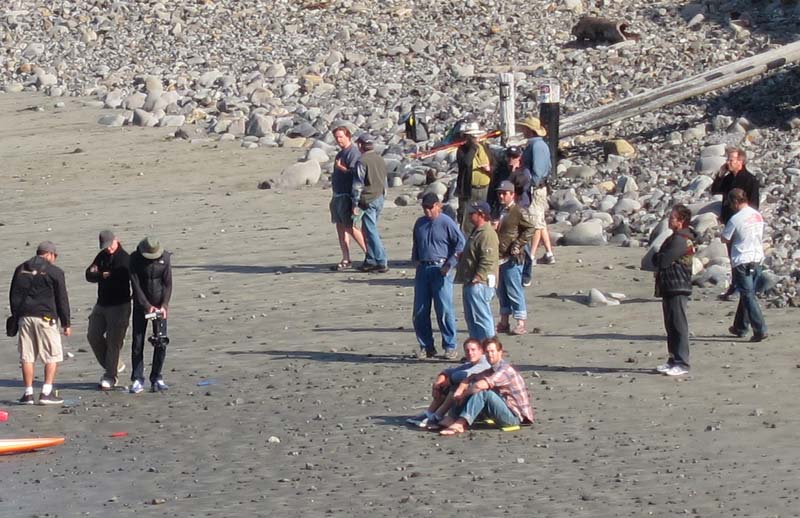 In the picture below they are filming the movie. I didn't take this picture, I copied it off another website for safe keeping here.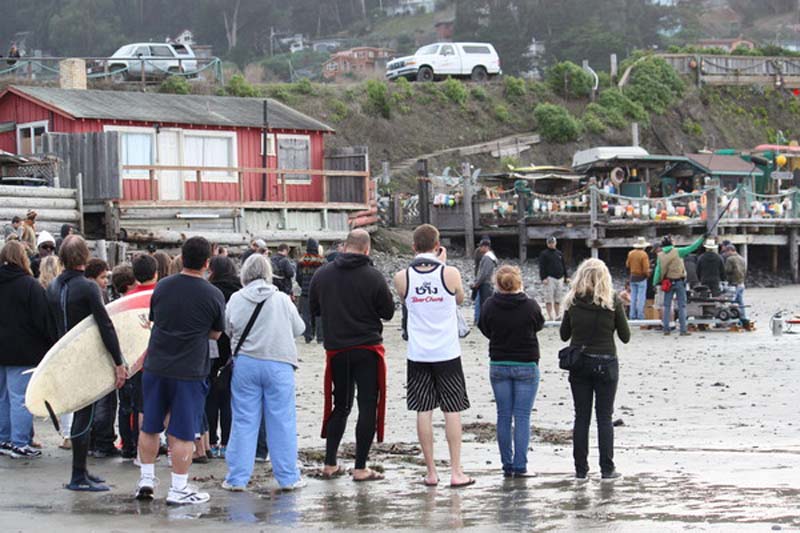 Below is Gerard Butler with the Pacifica boat docks behind him. I didn't take this picture, I copied it off another website for safe keeping here.
I received my new Canon SD100 camera on January 4th, 2012, and here is the very first picture I snapped of a sunset in Pacifica: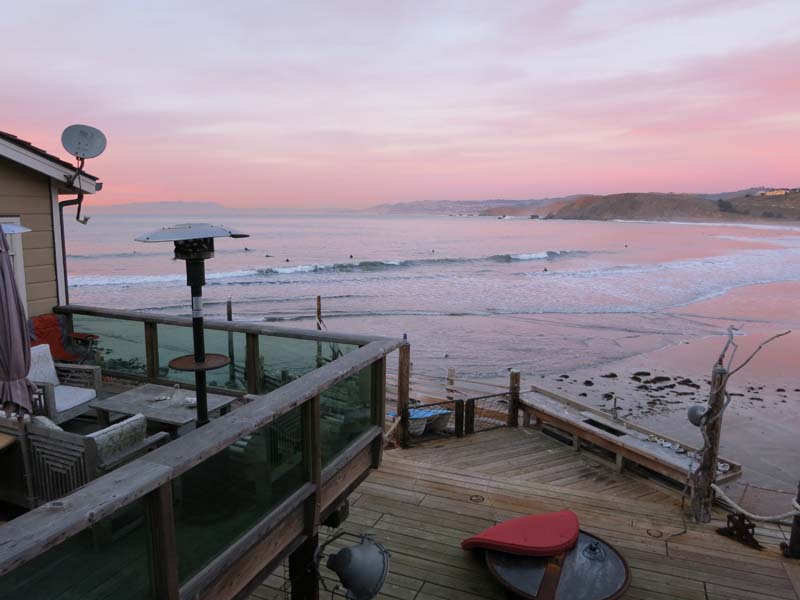 The moon rising over Linda Mar Beach in Pacifica, California on Sunday, January 8th, 2011: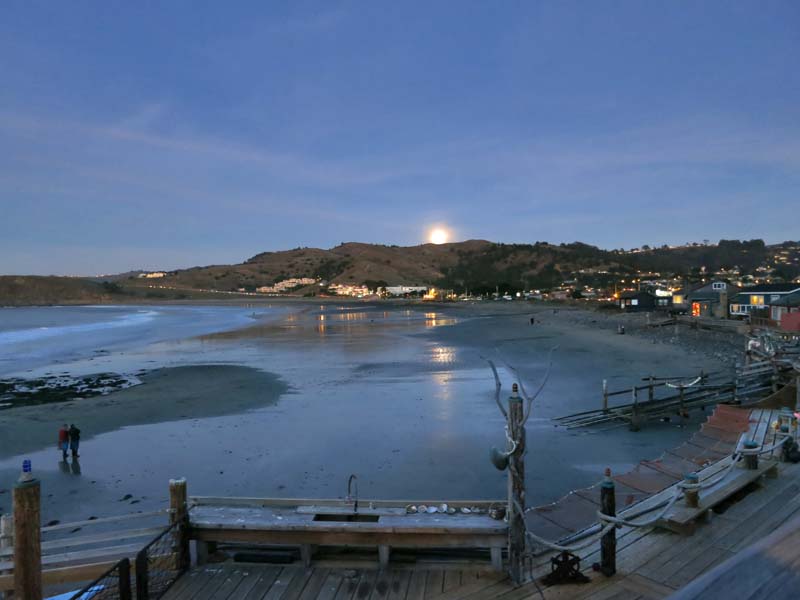 On January 29th, 2012 there was a "paddle out" (see the ring of people in the water) and a Coast Guard Helicopter of type Europcopter HH-65 Dolphin flew overhead.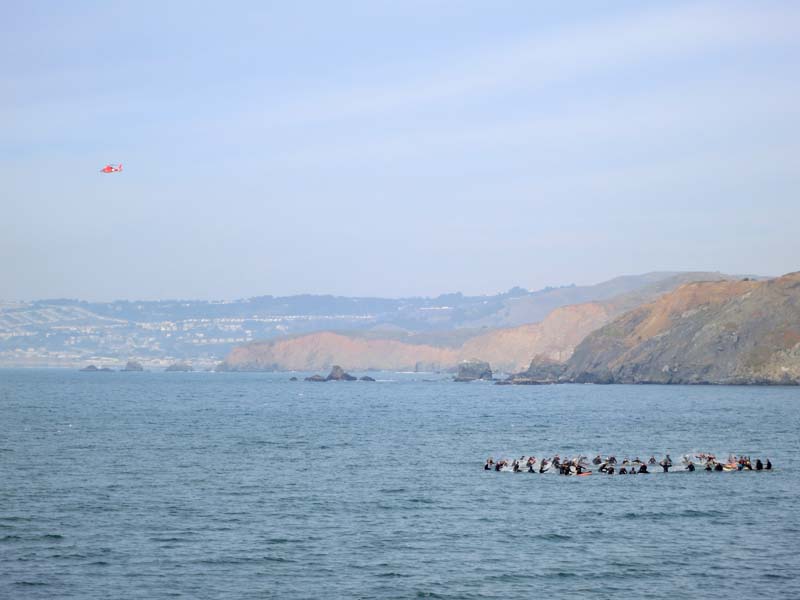 On 6/6/2012 Scott Keeler came by with his nice camera and stayed in the guest house with Pixie and took the following pictures: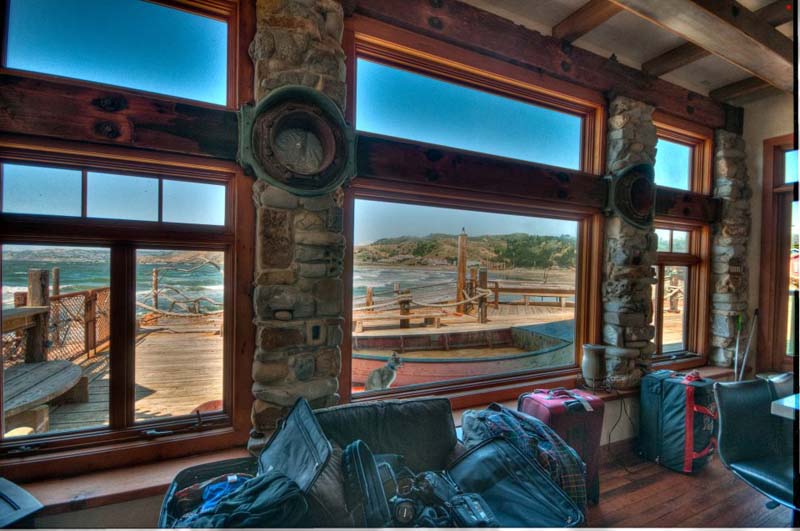 Picture below by Scott Keeler.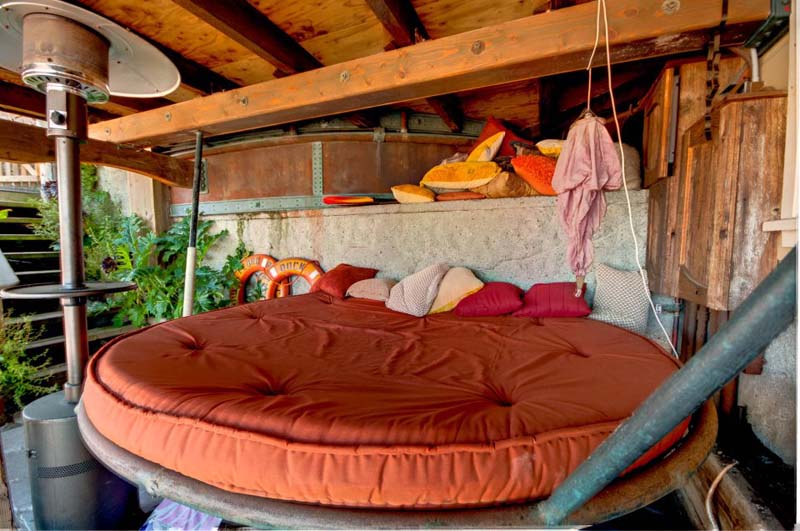 Picture below by Scott Keeler.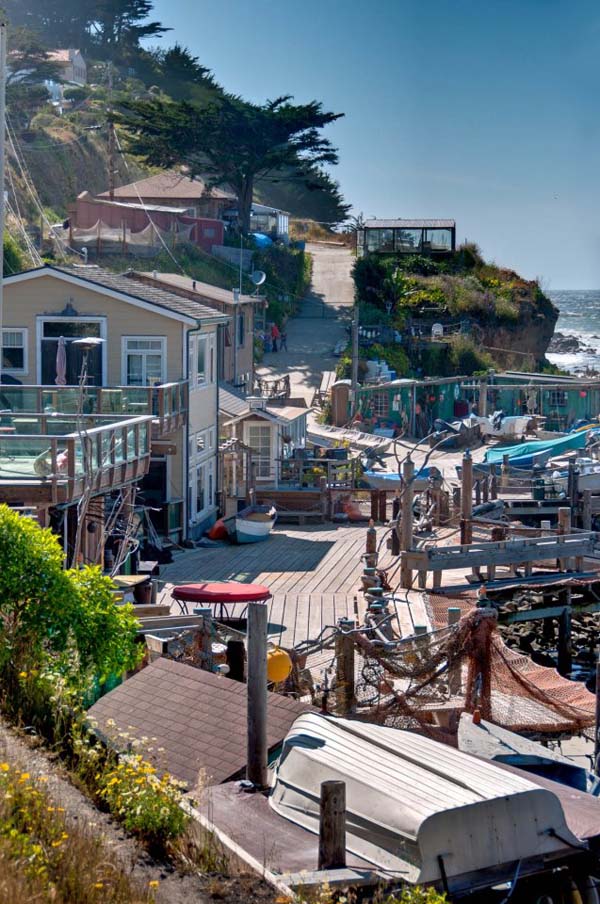 Picture below by Scott Keeler.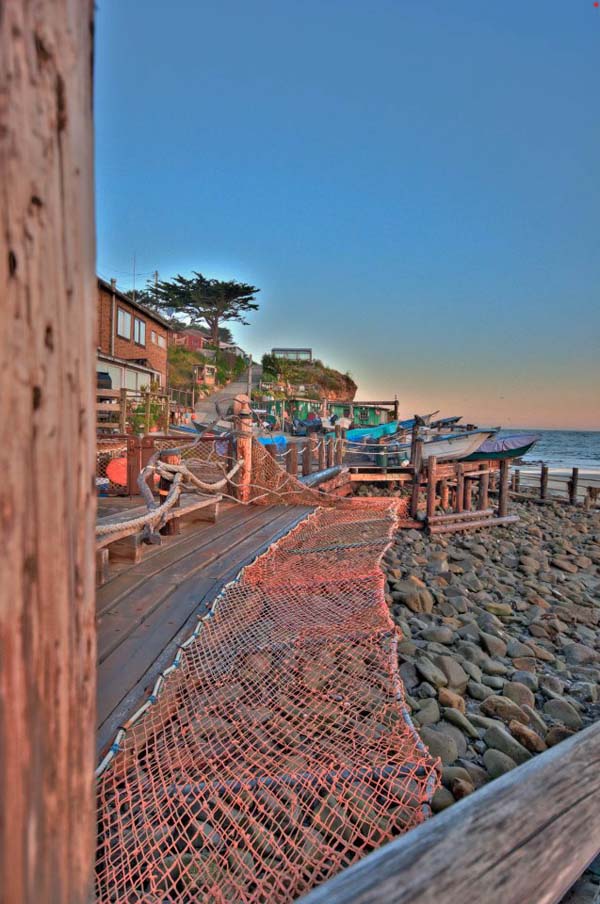 Picture below by Scott Keeler.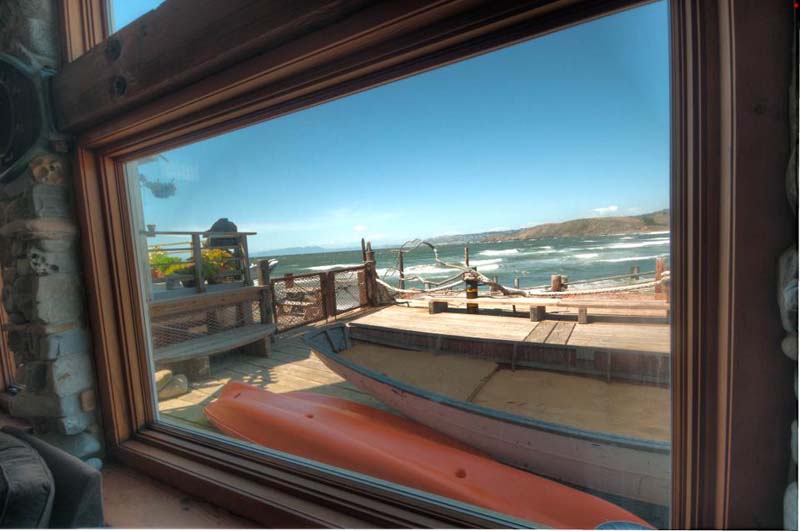 Picture below by Scott Keeler. On the paddle board is Jim Kibblewhite.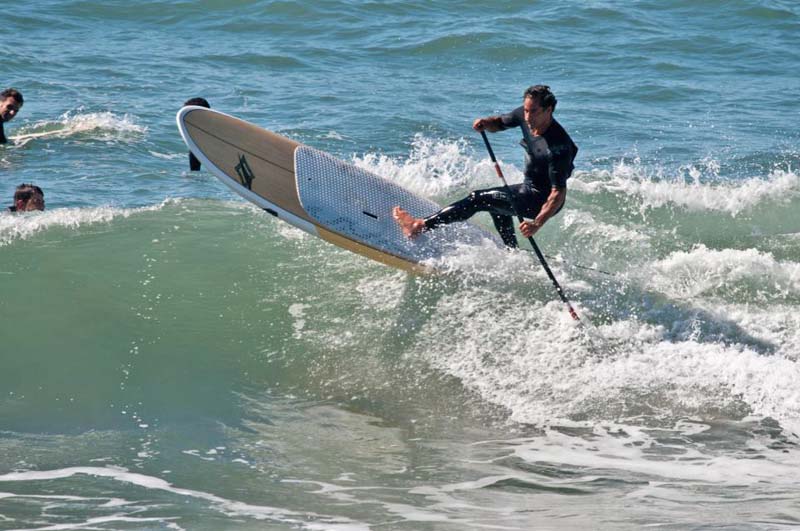 Picture below by Scott Keeler.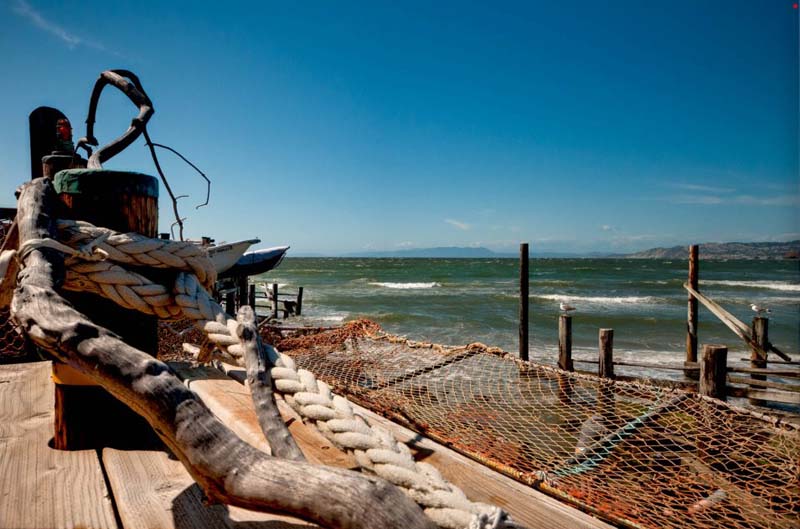 Picture below by Scott Keeler.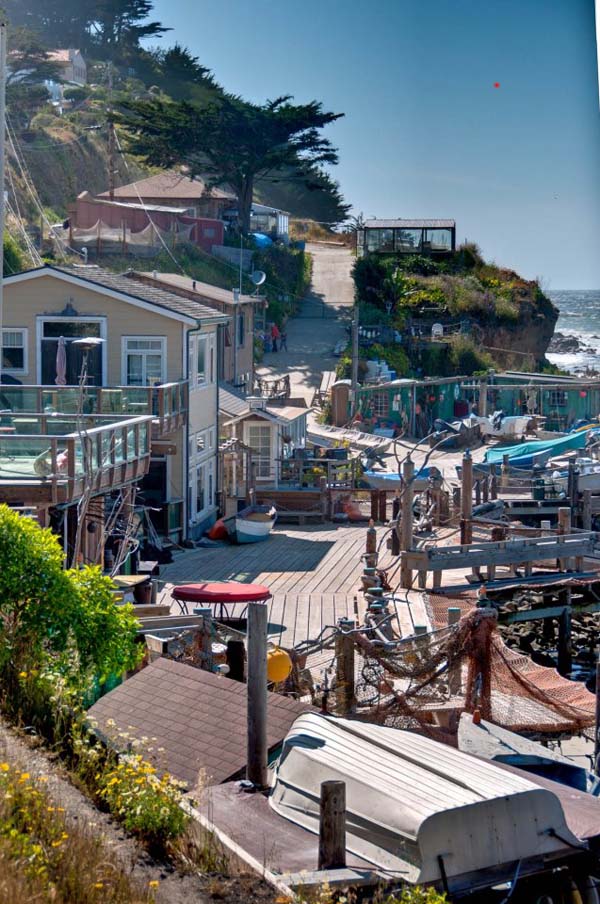 Several dolphins playing in the surf on the morning of Wed, 6/20/2012, the one below accelerated to catch the wave and surf.
A dolphin close in with some surfers, Linda Mar Beach, Pacifica, CA.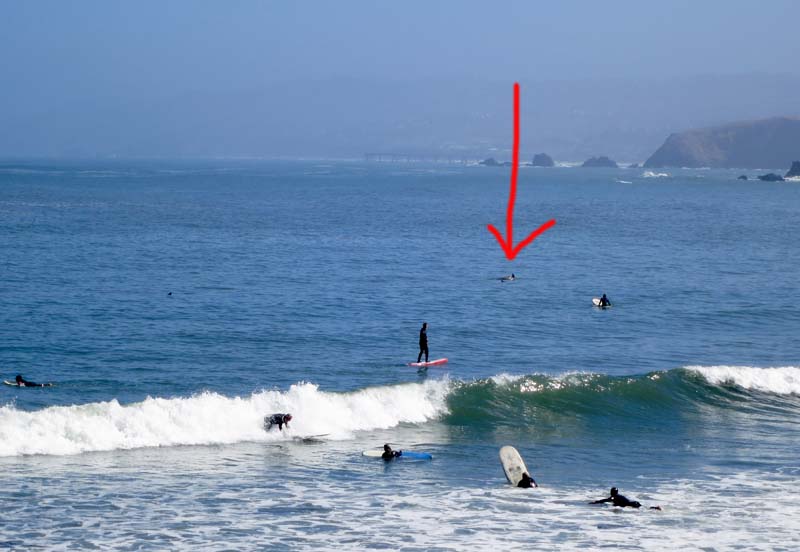 Dolphin.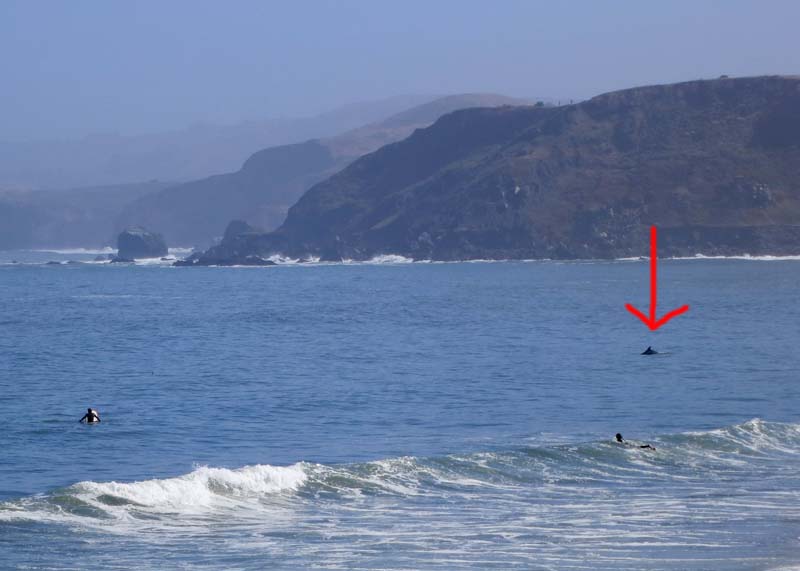 The sea air is hard on anything metal, here we are replacing my Loewen Windows that are rusted to pieces.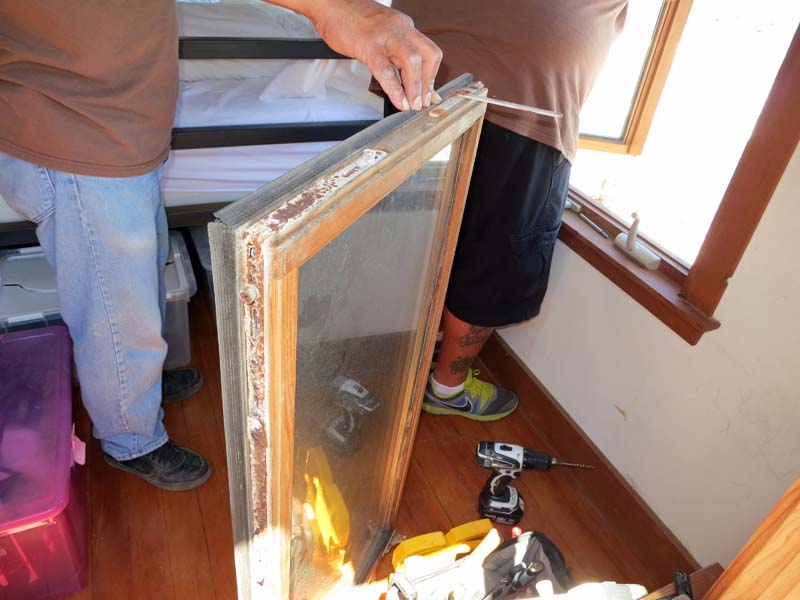 One more closer: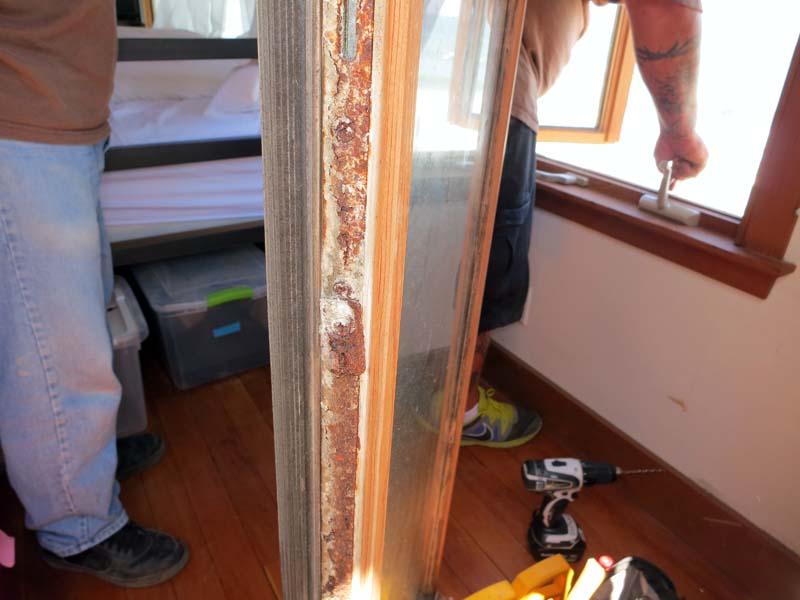 Tiny little surfer seen on 9/23/2011 surfing out front of the docks. Click here for a high quality QuickTime original.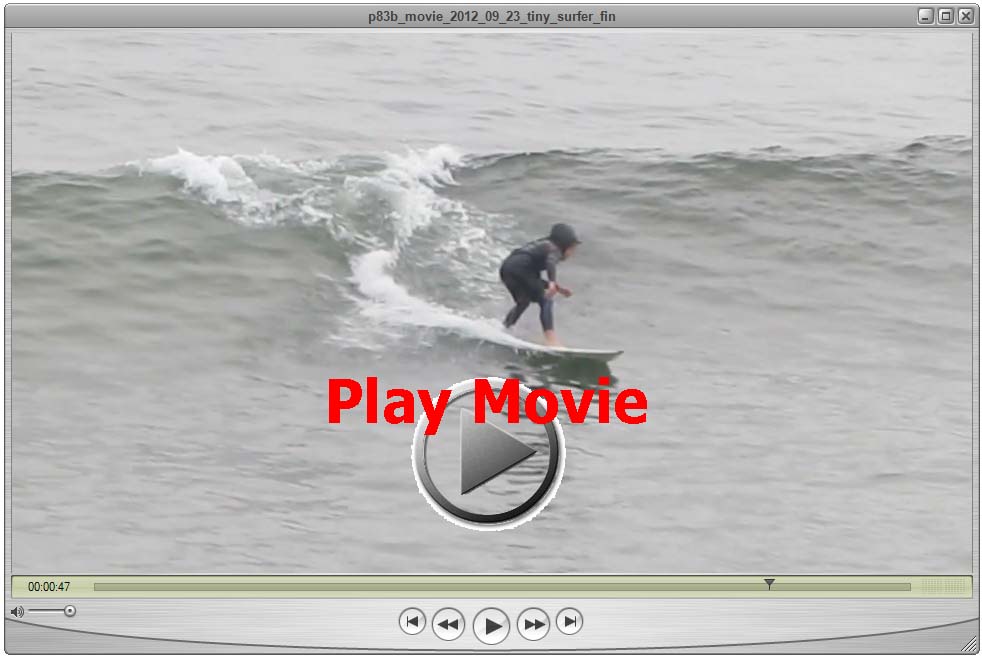 On December 12, 2012 (12/12/12) at 8:30am a double rainbow appeared, here it is from the deck: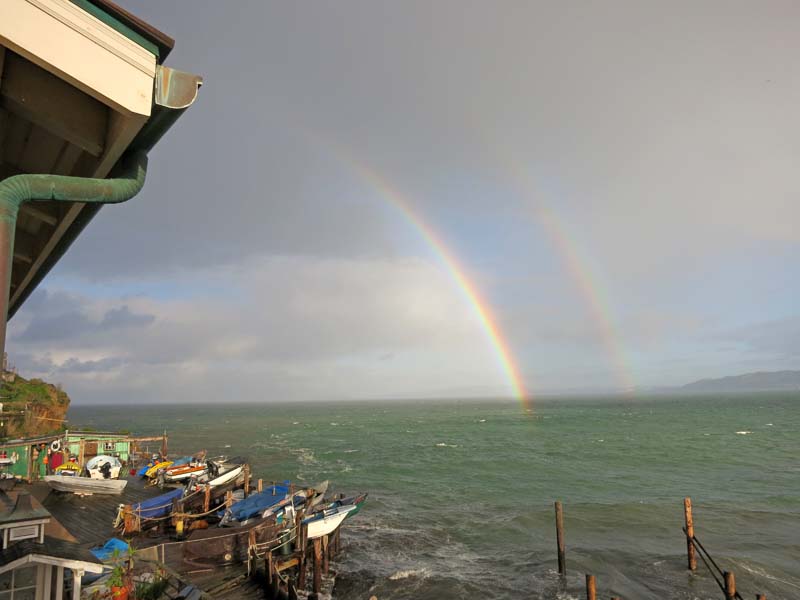 A close up (zoomed in) of the same rainbow: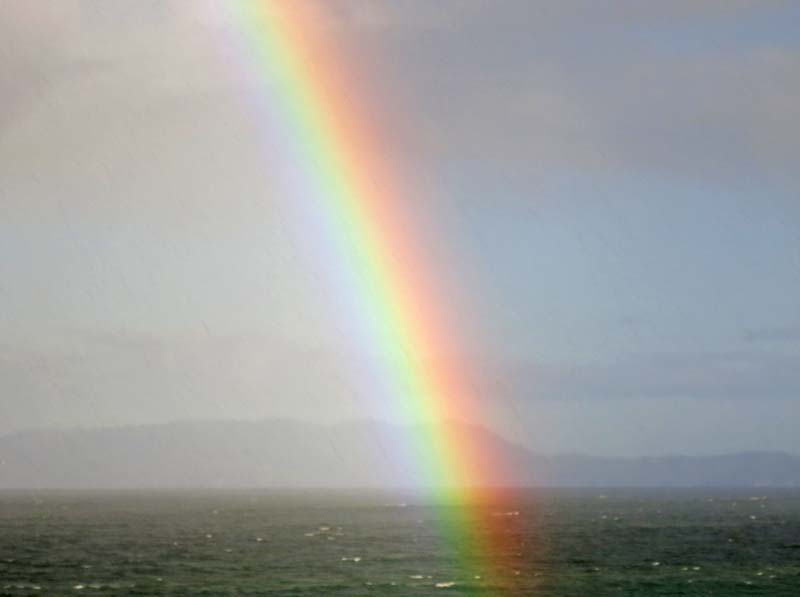 Christmas dinner, December 25, 2012. Tania Stoose, Katherine Chung, (me - Brian) and Tofu our new kitten.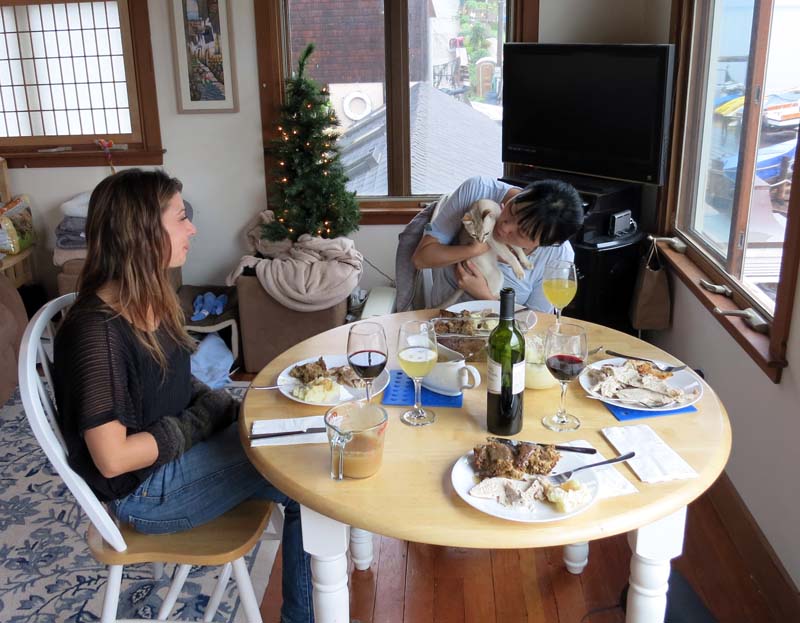 On March 4th, 2013 a Sailboat beached itself on Linda Mar Beach out front of our window, here is a shot from somebody else (shows our house in the background):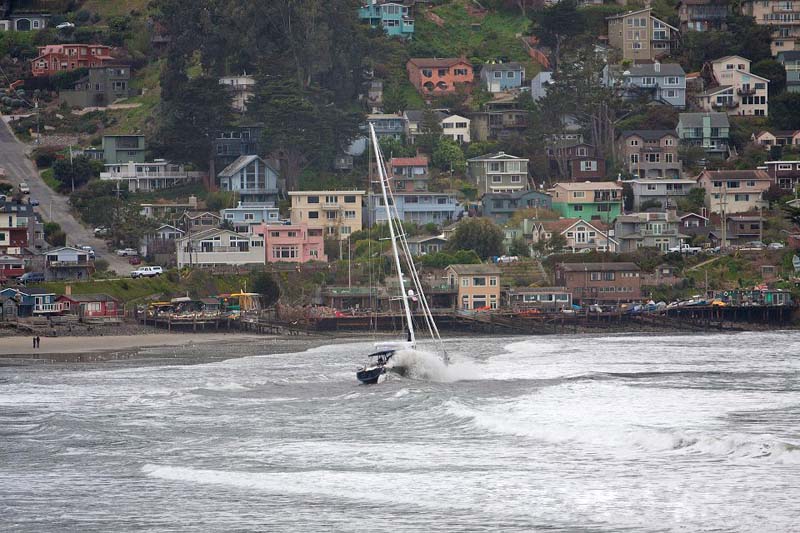 A rainbow (almost double rainbow) appeared at 6:30pm on 3/30/2013.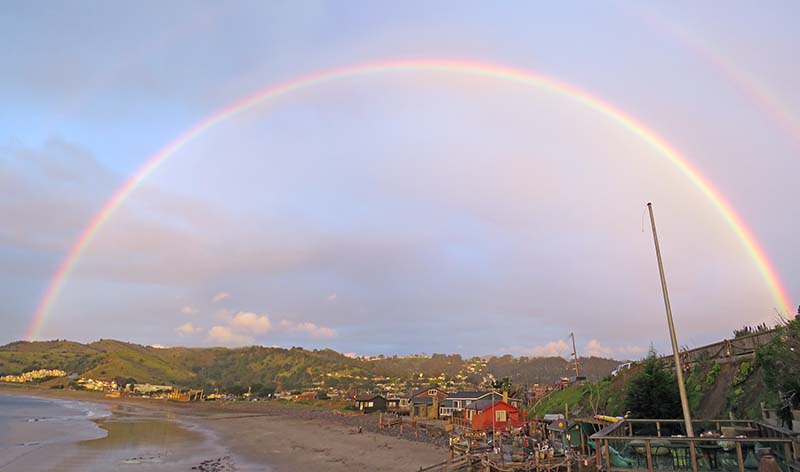 4/13/2013 - Saturday - waffles on dock. Below from left to right is Yev (black shirt), Cherie (in light hat facing away), Sam (blue hat facing away), Mercedes (red shirt), Cole (facing away at the railing), Andrea (facing away in big floppy hat) and Erica on the far right with hand supporting her face.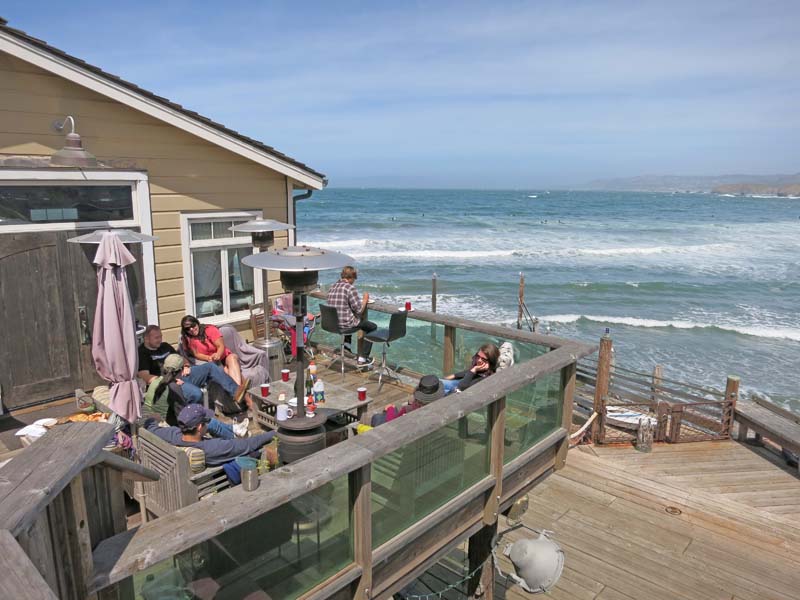 Same crowd, different angle.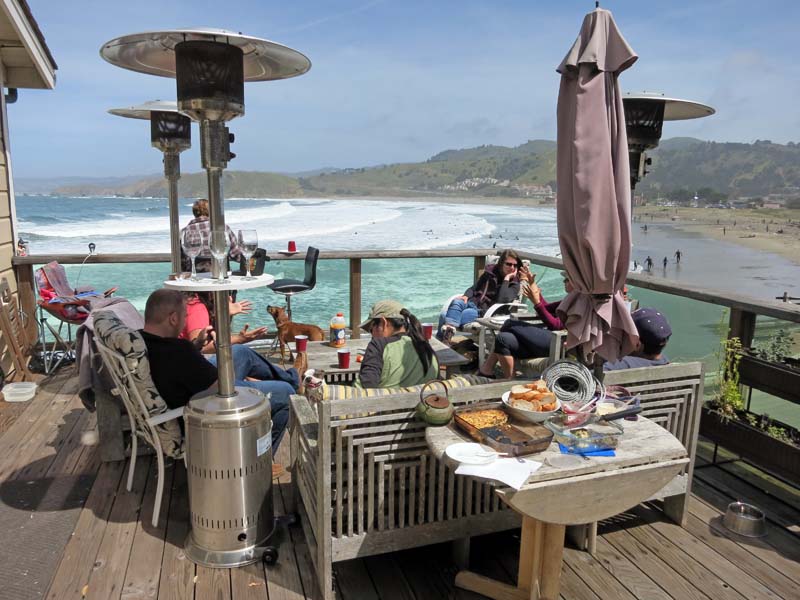 Dolphins seen out in the bay on 5/4/2013: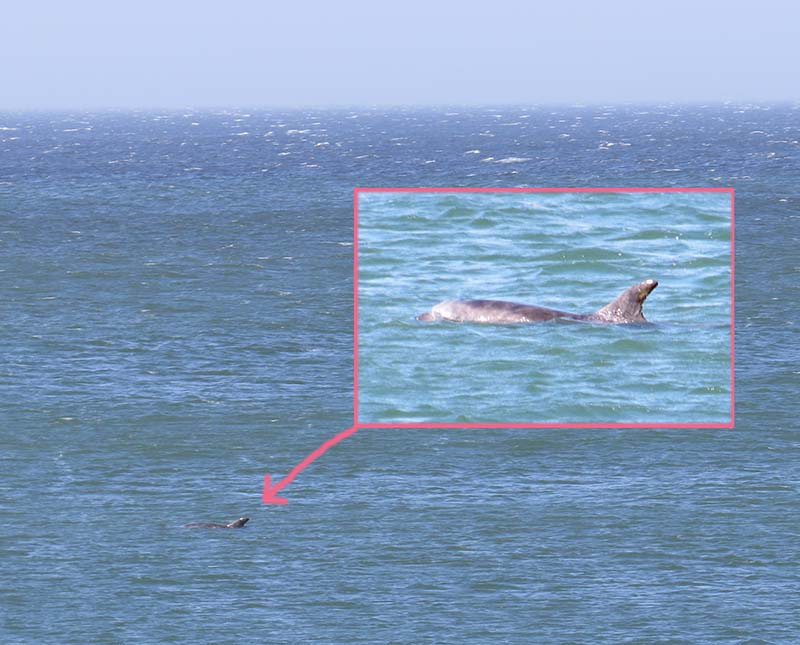 Erica Falk listening intently to Katherine speaking on 5/2/2013: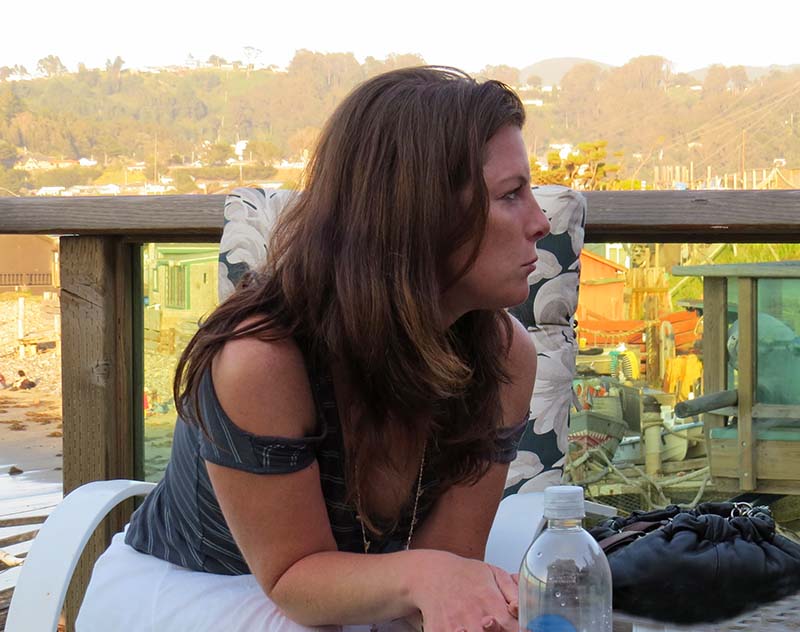 An informal gathering turned pretty big on 6/22/2013 (see guest list for pictures of Kyle), below is Jessie: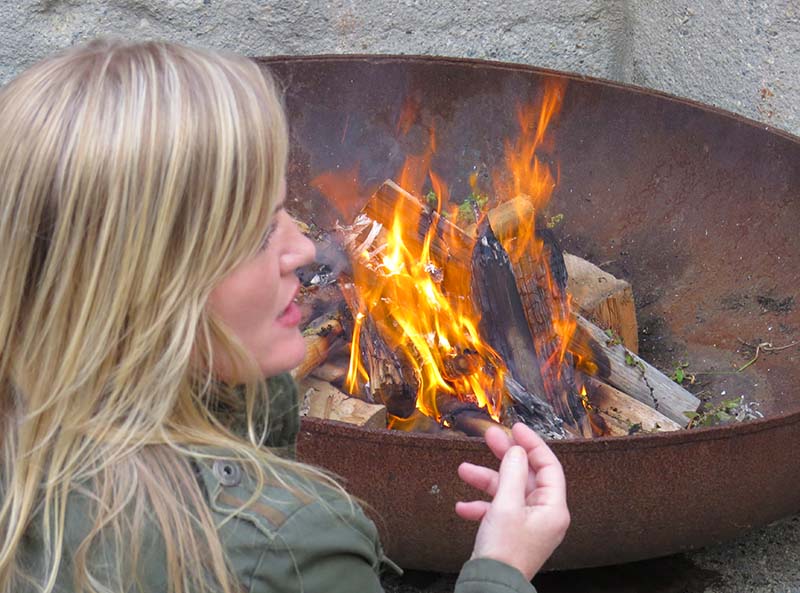 On the morning of 6/30/2013 I went for a walk at sunrise to take this picture of Pedro Point, Pacifica, California:

7/21/2013 - Jeremy Mustille and Phoenix surfing together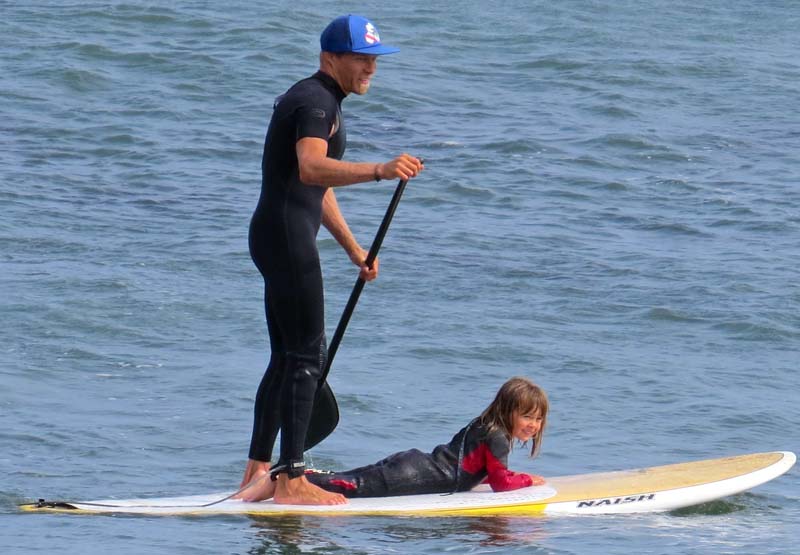 And below is a movie of Jeremy and Phoenix catching a wave on the same day as above: Click here for a high quality QuickTime original.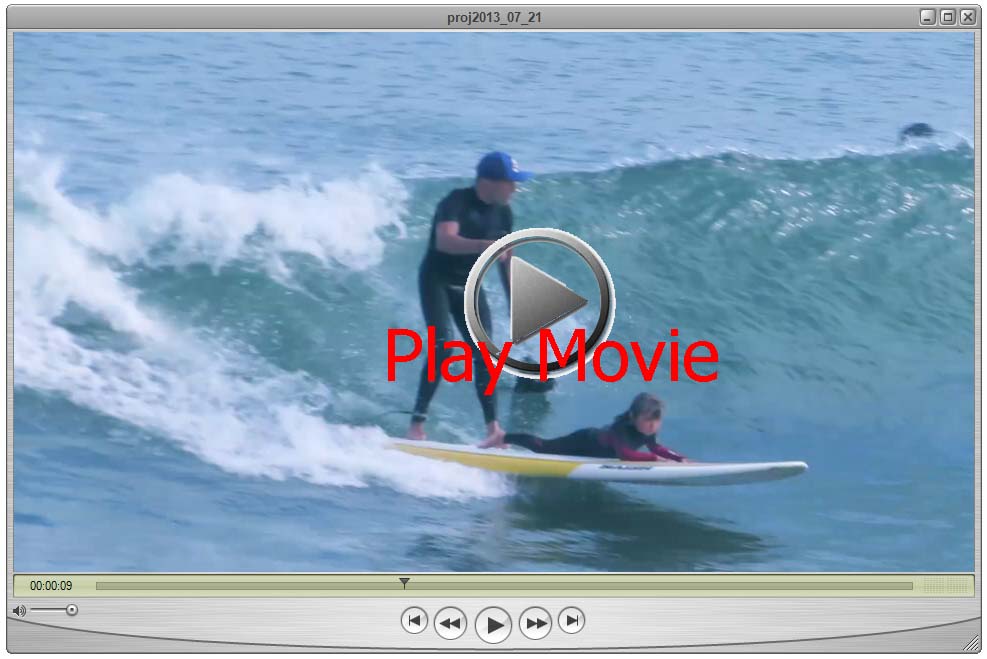 11/26/2013 - Simple thanksgiving with Yev, Katie, Brian, and Katherine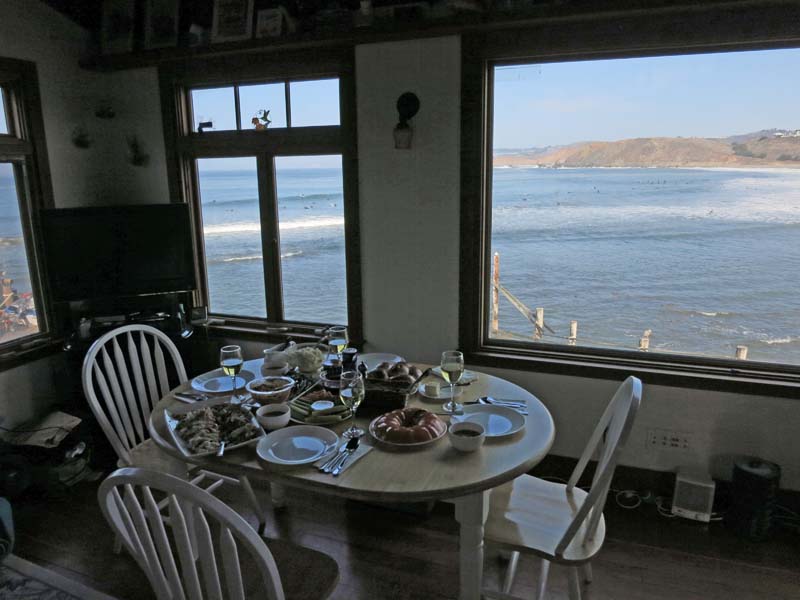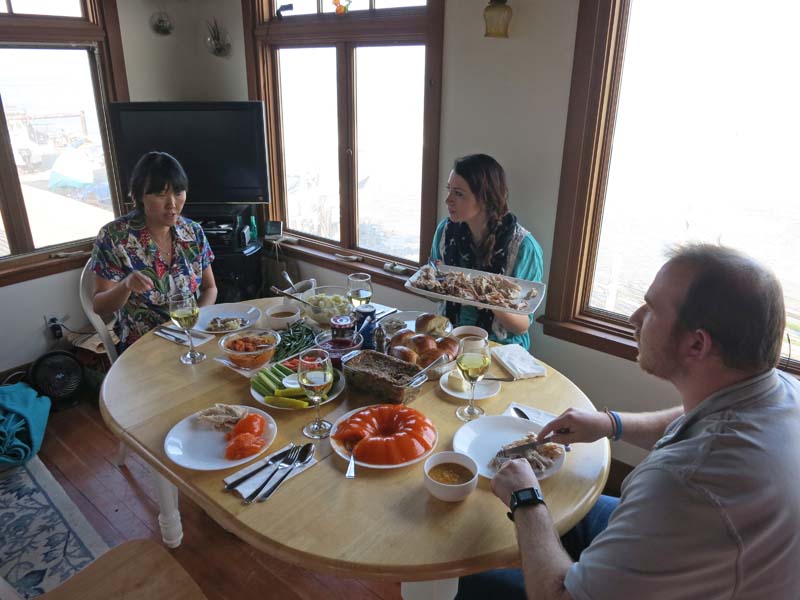 On 3/14/2014 - Friday - A woman's body was found in the surf on Linda Mar Beach, her name was Uma Keshavan and she was 48 years old, and she was not wearing a wetsuit (which means she was NOT from Pacifica and specifically she was NOT a surfer - the water is very cold here and surfers all wear wetsuits) when I watched the fire fighters drag her body out of the ocean. From a distance it looked like she was wearing underwear or a bikini. I've been told she fell from Lands End in San Francisco and was carried here by currents. Below is a picture immediately after they covered her with a yellow tarp. Click here for a news story.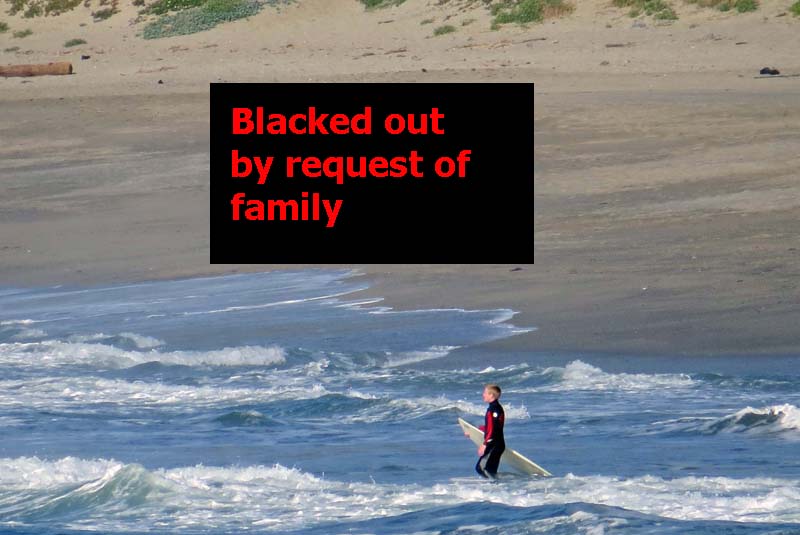 Mercedes and Katherine and Chou Chou walk by the scene on Pacifica State Beach where Uma Keshavan was found.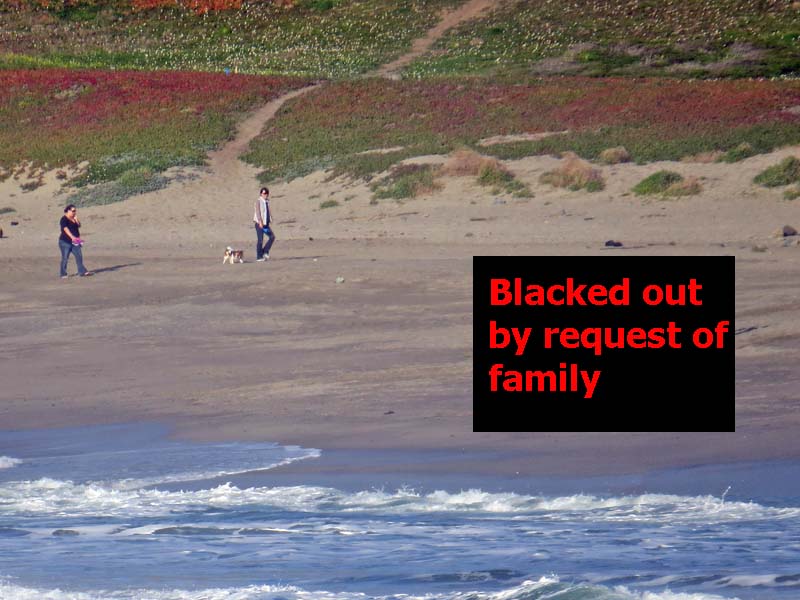 Mercedes and Katherine and Chou Chou walk by the scene on Pacifica State Beach where Uma Keshavan was found.
On 3/15/2014 - Saturday, there were HUNDREDS of surfers out because of warm, blue skies, and reports of good surfing.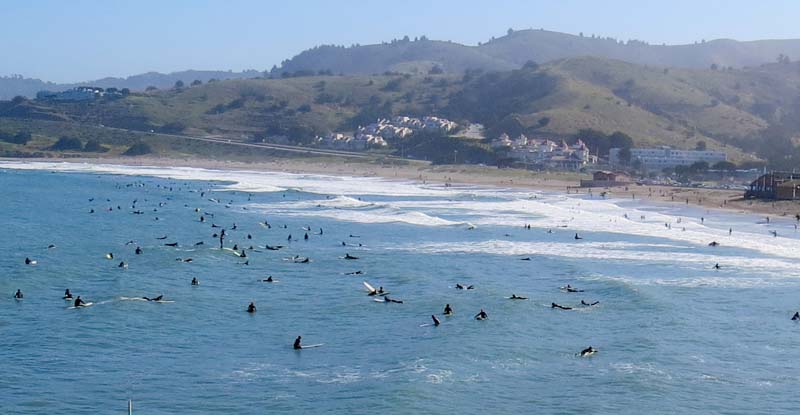 On 5/1/2014 - Thursday - the movie below shows 15 hours in a 90 second time lapse. (Click here for the highest quality original.)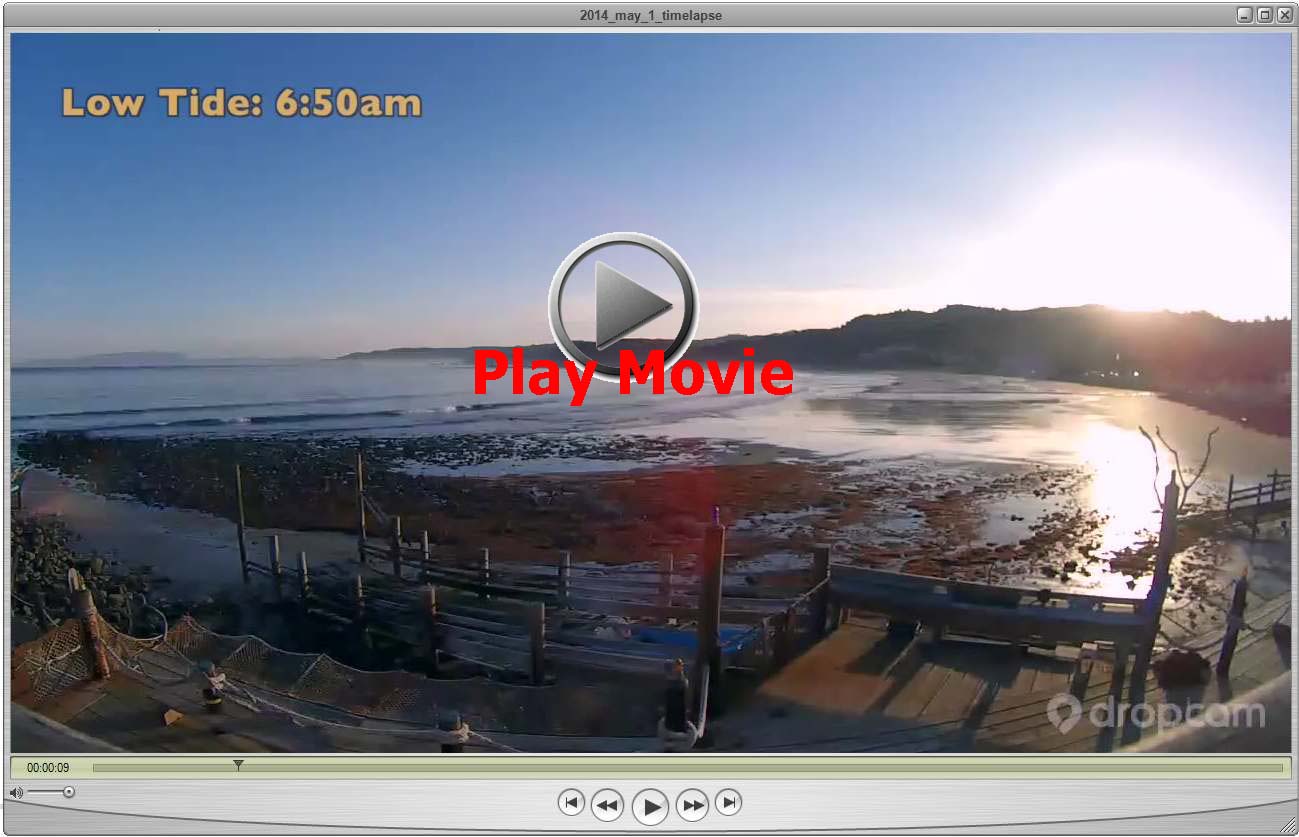 5/7/2014 - Wednesday evening, 7:03pm - 7:43pm - Clayton Tallman catches 20 waves in 40 minutes, here is a video. (Click here for the highest quality original.)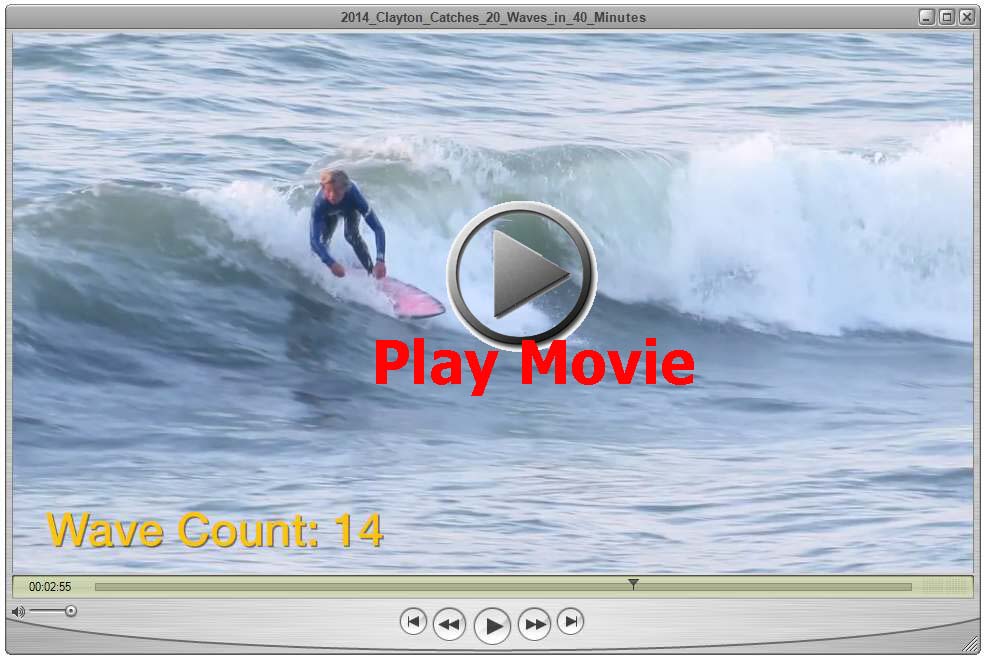 5/22/2014 - somebody repairing a dock: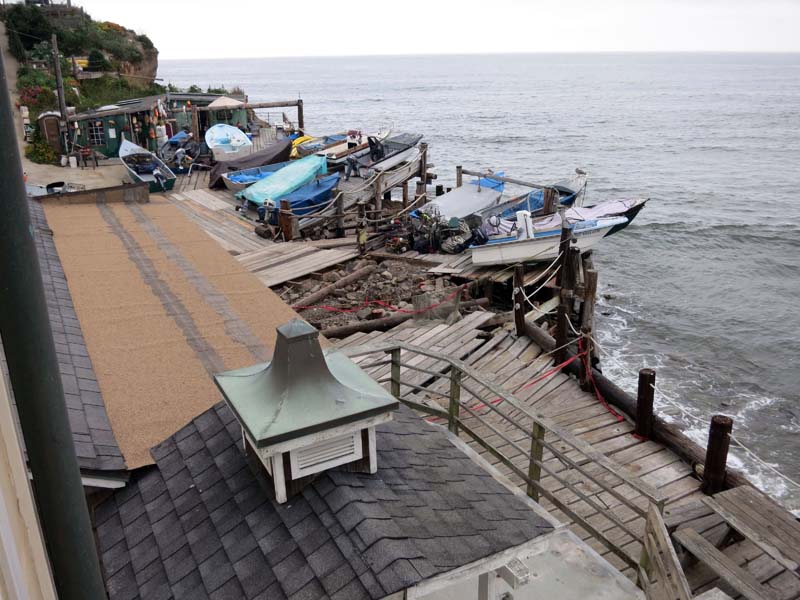 On 6/17/2014 - Thursday - the movie below shows 15 hours in a 30 second time lapse. (Click here for the highest quality original.)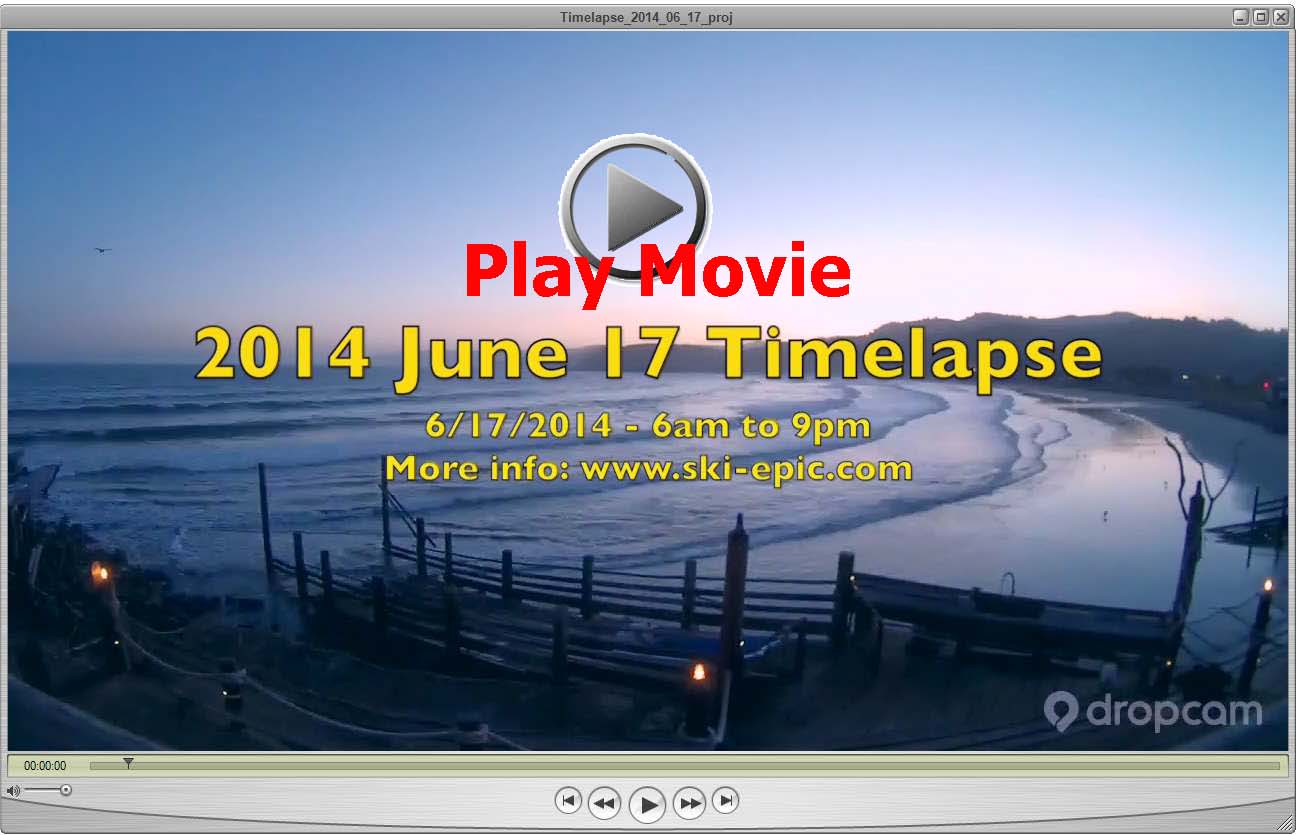 On Saturday, 6/21/2014 there were a lot of surfers, here is a panorama:

A close up of the surf break called "Taco Bell":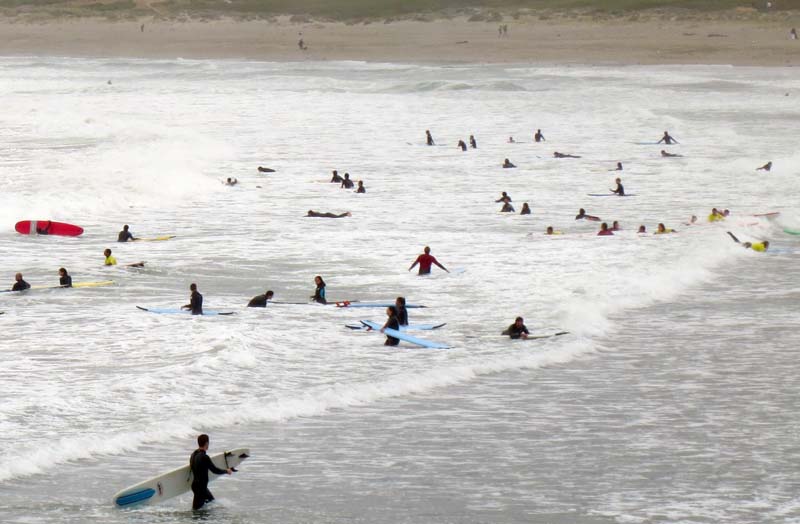 Not really related to the beach cottage, but just as I was driving home (by the Fresh and Easy) a police officer pulled me over and scolded me for turning right from the WRONG LANE. Here is the video vindicating me. Do you think police sometimes make mistakes? Then buy yourself a Dash Camera - it records EVERYTHING while you are driving. Click here for a very high quality original.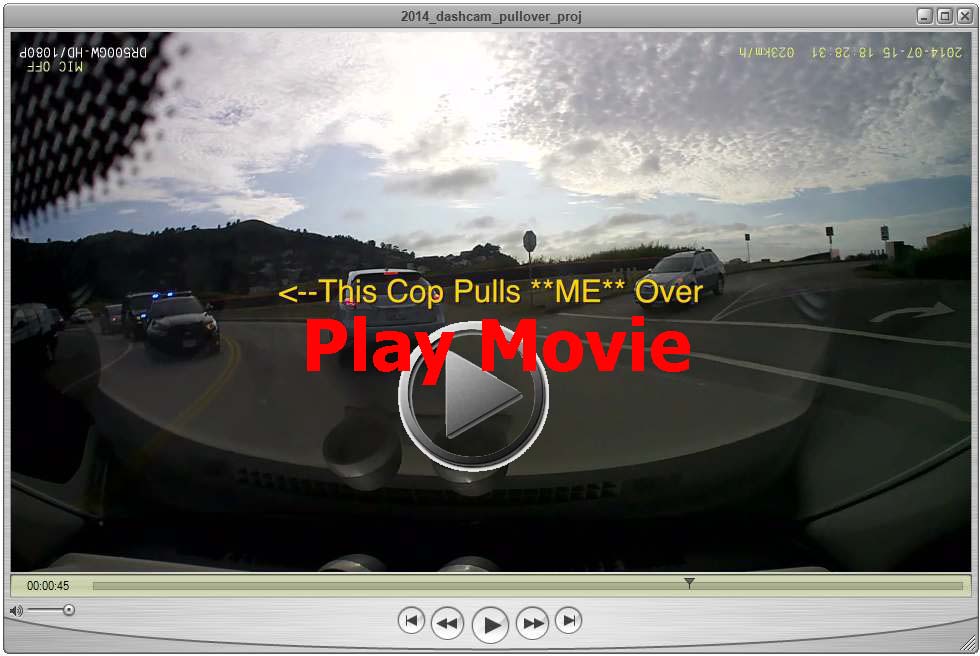 7/21/2014 - DJI Phantom FC40 First Flight. CLICK HERE for the highest quality original.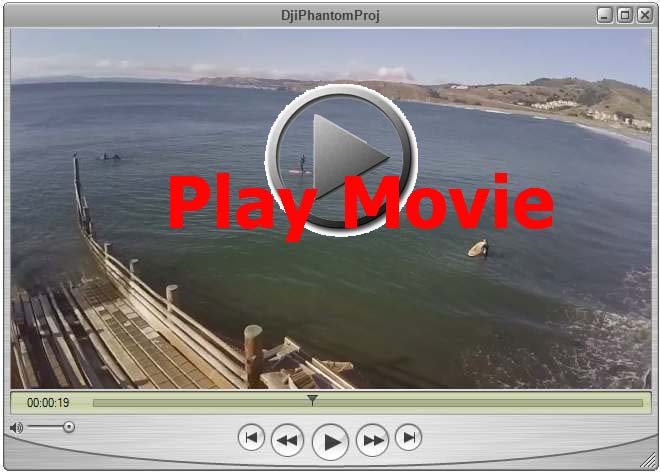 Picture from the DJI Phantom first flight, below Eli gets the DJI Phantom ready on the beach.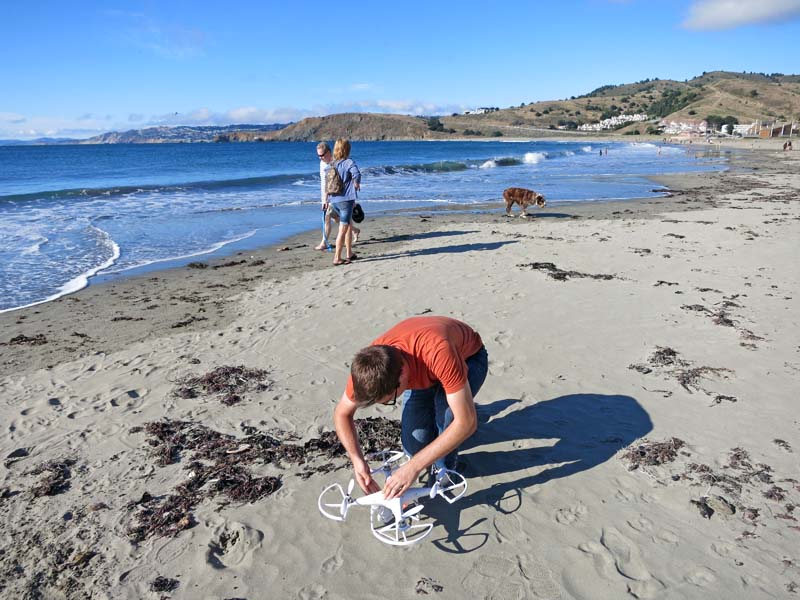 Here is the DJI Phantom hovering over surfers.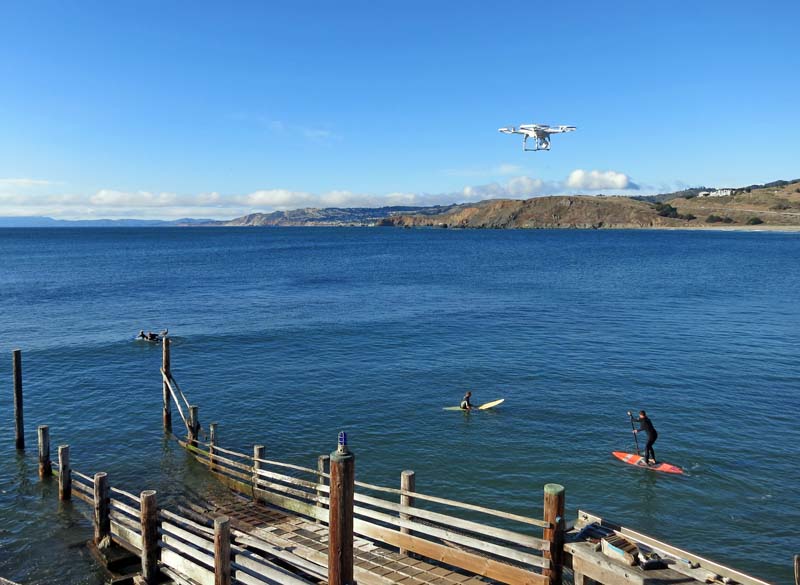 9/18/2014 - For three weeks Director Arnold Grossman and actor Christopher Lloyd came by the docks everyday "on the set" filming "The Boat Builder Movie (2015)". I met Christopher Lloyd after lunch one day, he was very polite and nice to us. Below you can see the film crew setting up, Christopher Lloyd is in the picture below wearing a blue apron and blue stocking cap.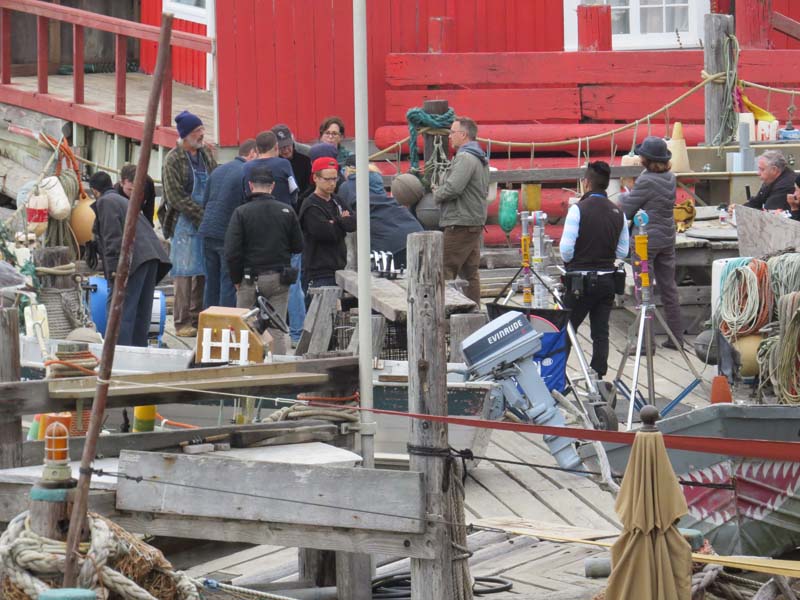 Slightly zoomed out shot showing the surrounding areas.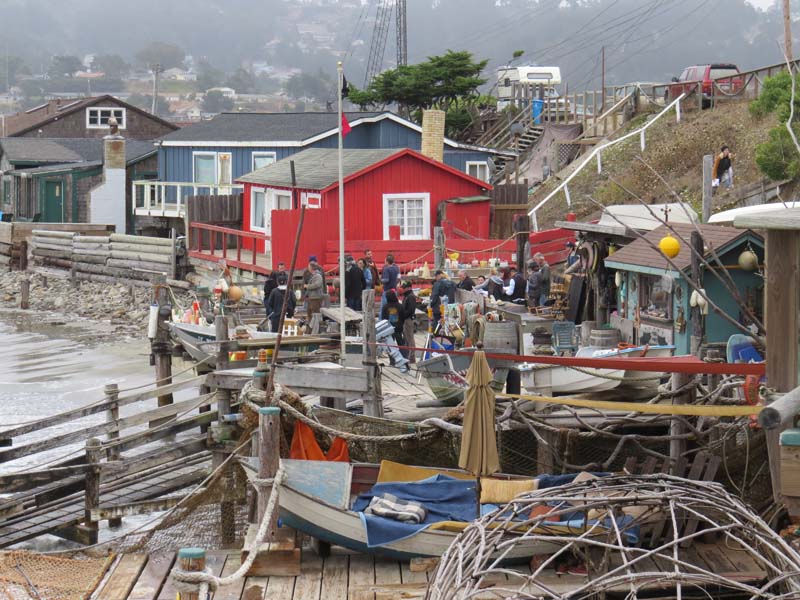 Close in showing Christopher Lloyd on set standing next to director Arnold Grossman (in baseball cap and glasses).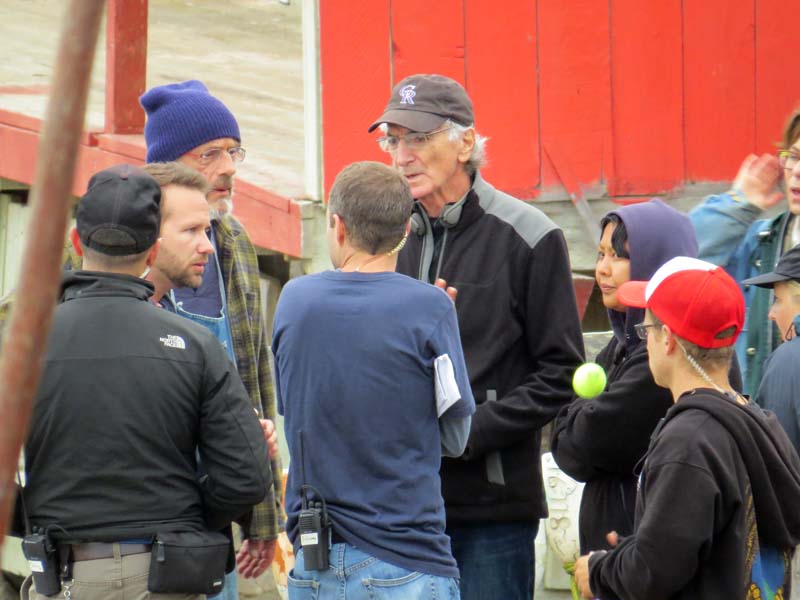 Below is a zoom shot showing the camera they were using this day, on the side is "Arri" which might mean this is an Arri Alexa motion picture camera.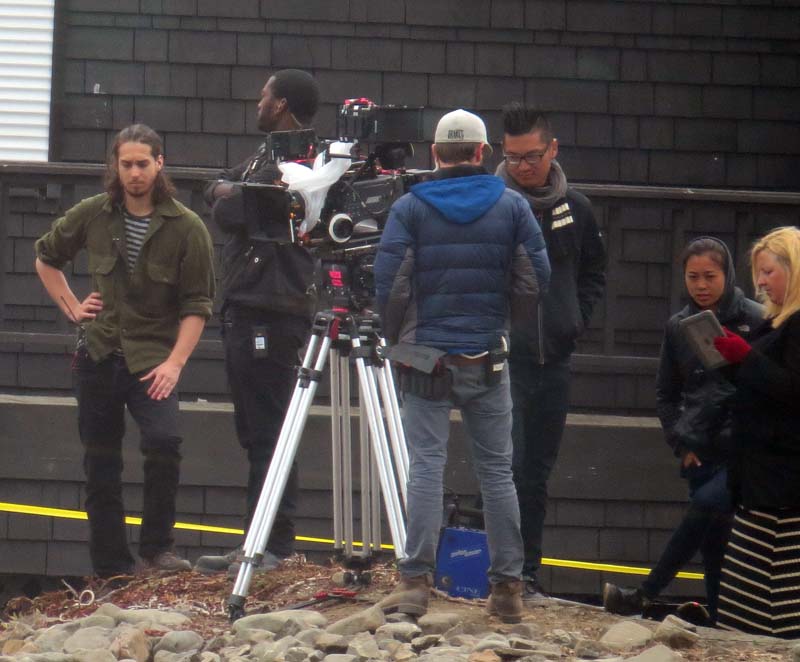 On Saturday, 10/4/2014 it was a beautiful day with calm water, and Camille (my neighbor) took her two dogs on a stand up paddleboard seen below. I think this is really adorable, the dogs seem to enjoy it and Camille grew up on the water and is so ridiculously balanced and smooth that the dogs don't even get wet. She can even catch waves with the dogs on board.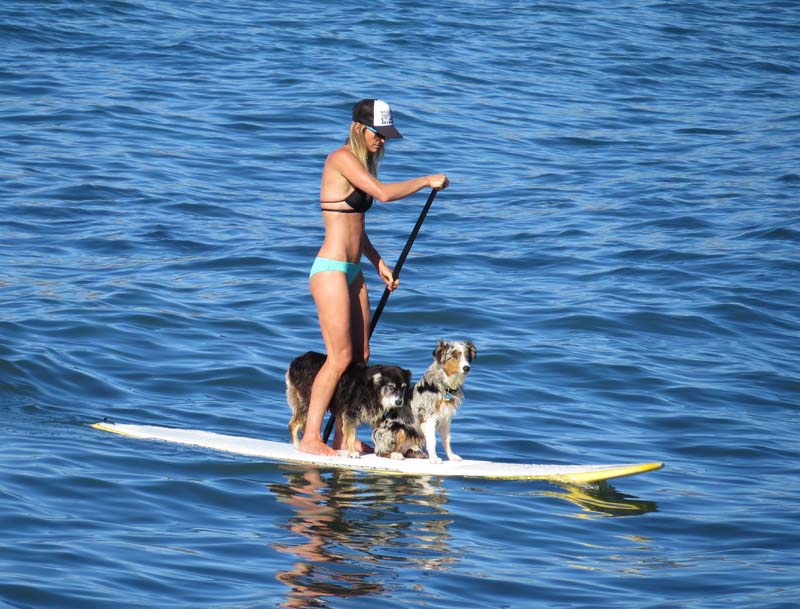 One more picture of Camille and her two dogs doing SUP (Stand Up Paddleboarding).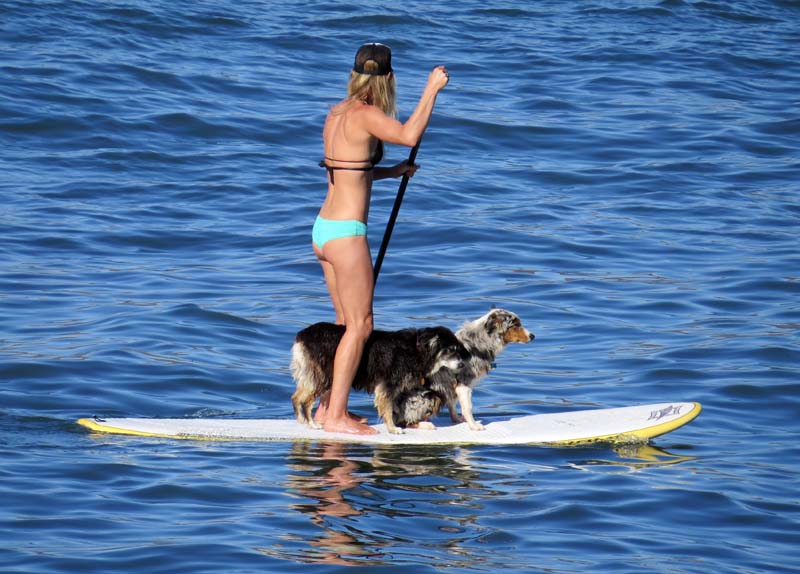 On 10/11/2014 the next door dock started getting repaired, that's Mitch starting to disassemble the dock.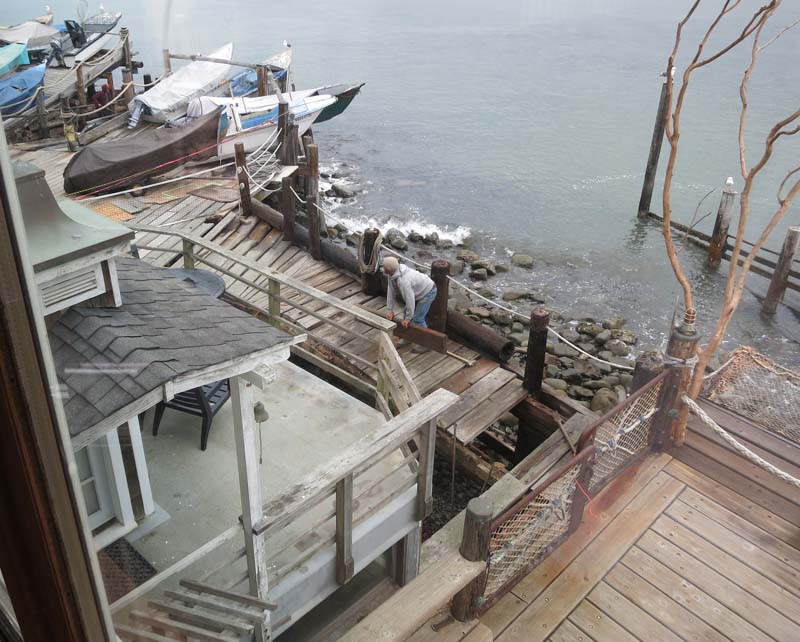 The dock almost completely disassembled: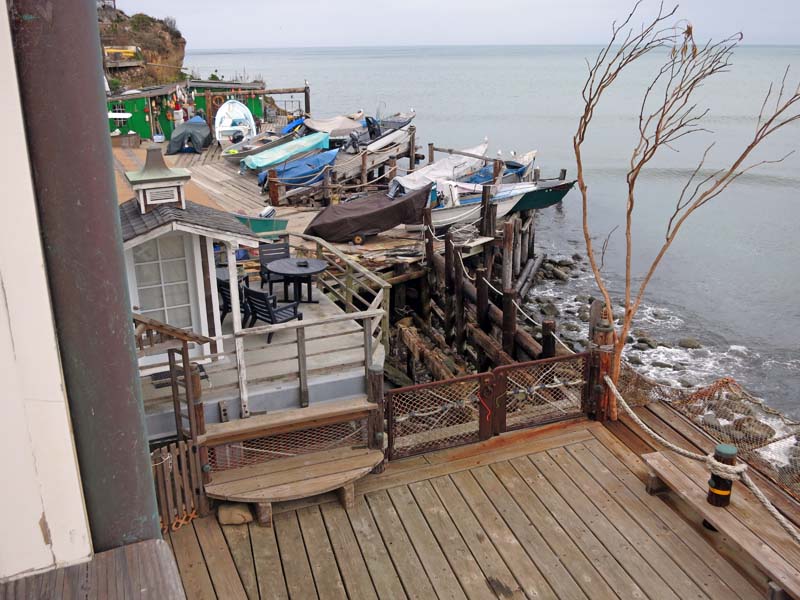 Close up of the disassembled dock. You can see the boards are fairly rotten, they will be replaced with good solid fresh boards that hopefully will last 10 years.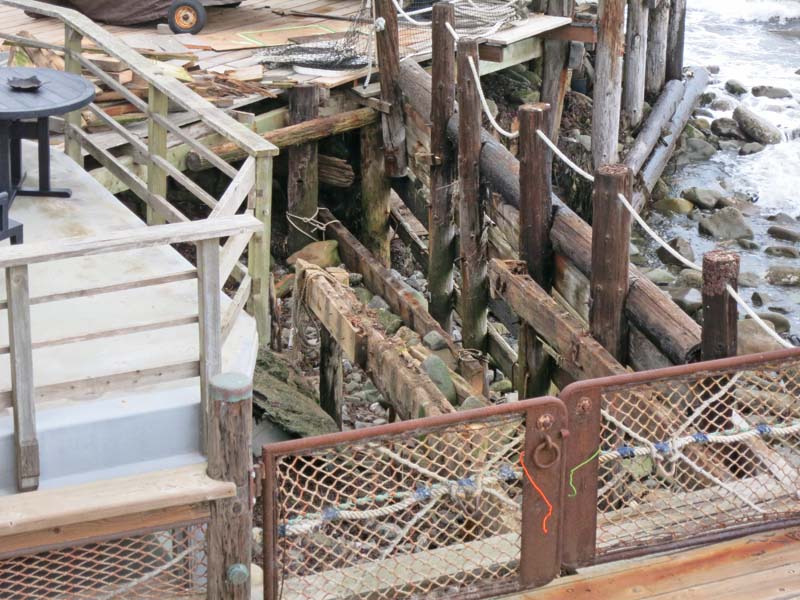 On 10/19/2014 it was Pumpkin Fest which means we couldn't leave the house because traffic was too bad. We had to scrounge for supplies, here we decided on Sunny Delight Memosas:
11/2/2014 - surfers on a Sunday. This is the first picture I took with my new Canon G7X camera.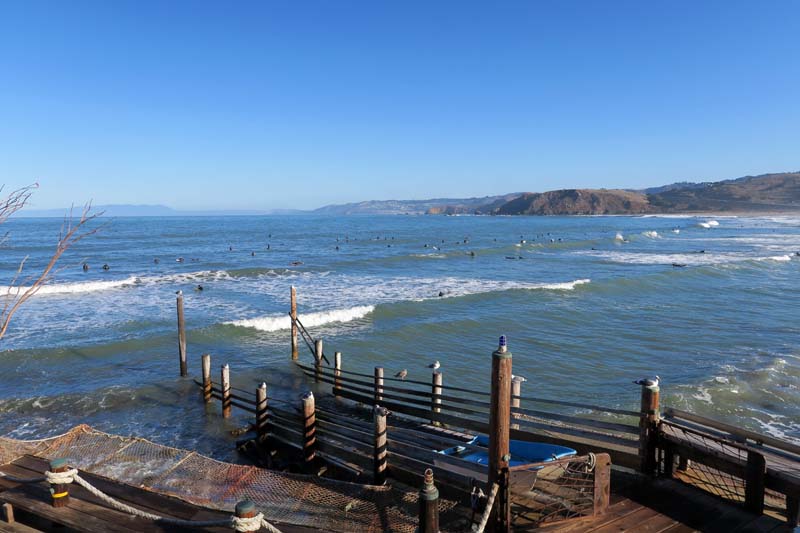 On 11/19/2014 there was a few surfers, a rainbow, and some commercial crab boats:
The night of 11/20/2014 - the commercial crab boats anchor off Linda Mar Beach at night running really bright lights. In the picture below, the bright spots of light off to the right of the boat are seagulls flying around the boat getting hit by the lights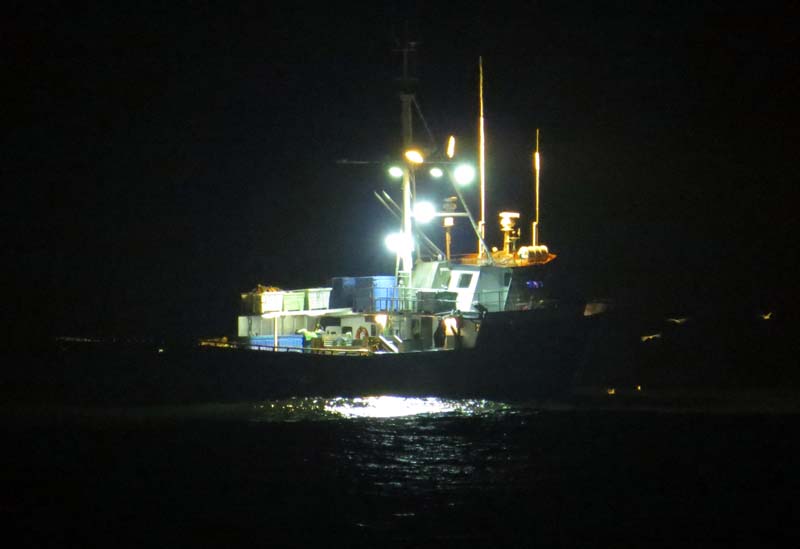 On Saturday, Nov 29, 2014 there was a "paddle out" for Matt Dorn, a resident of the Pacifica docks. Matt Dorn passed away October 15, 2014. The first picture below you see a few people on Matt's deck of his house (he lived by the water) and some surfers entering the water to do the paddle out.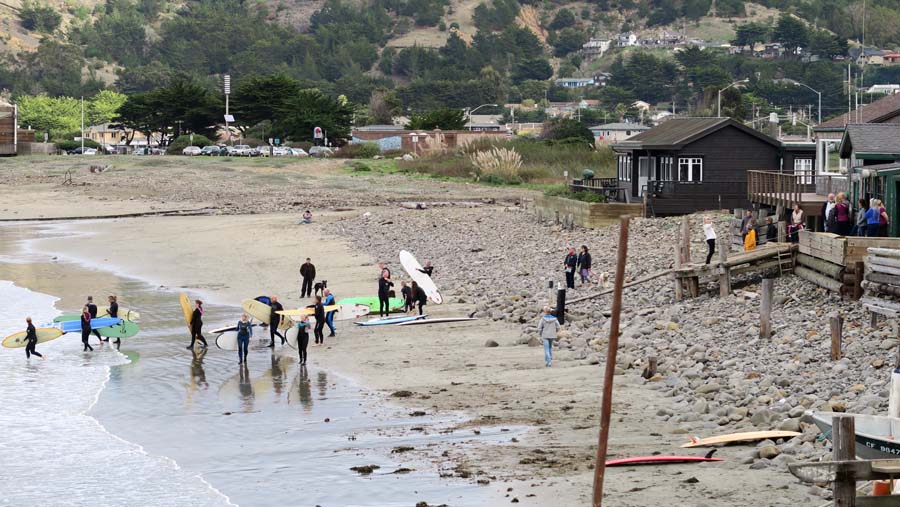 The surfers departing for the paddle out for Matt Dorn.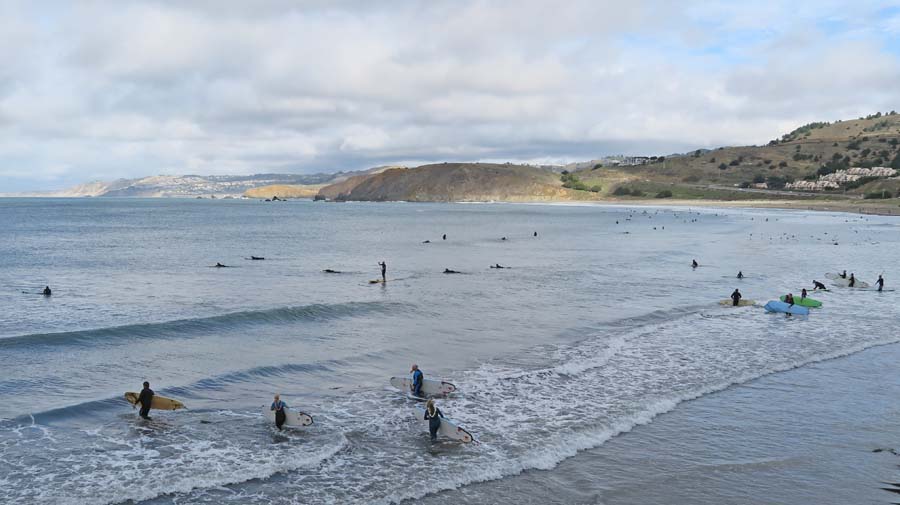 In a paddle out, the surfers and boats gather in a floating circle. People say a few words about the person who has passed away, and it finishes with everybody splashing water and sometimes hoots and shouting.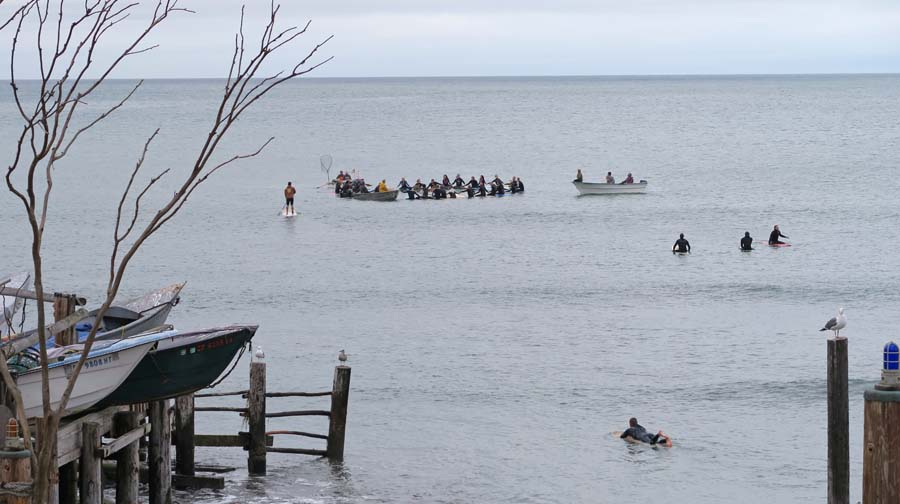 A close up of the circle forming for Matt Dorn.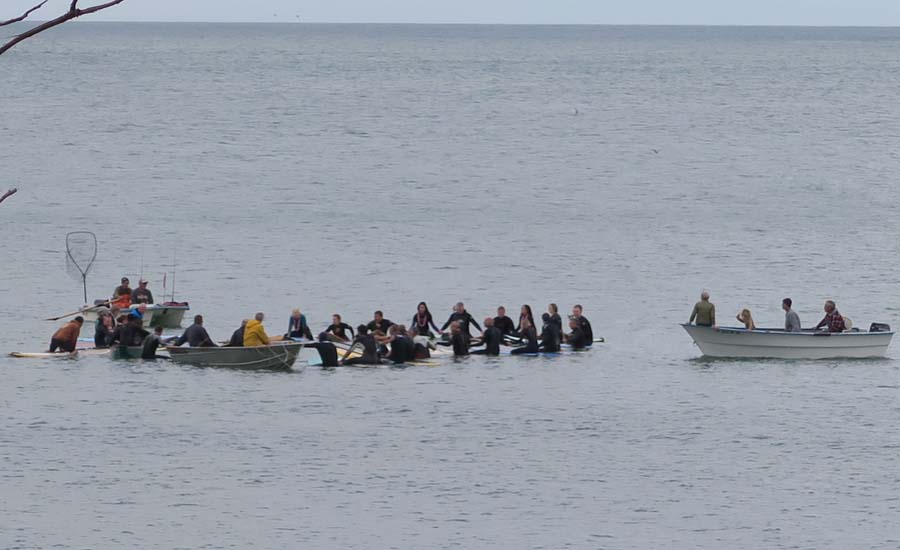 Matt Dorn was best known as a fisherman, thus the presence of more boats than you would normally see at a paddle out.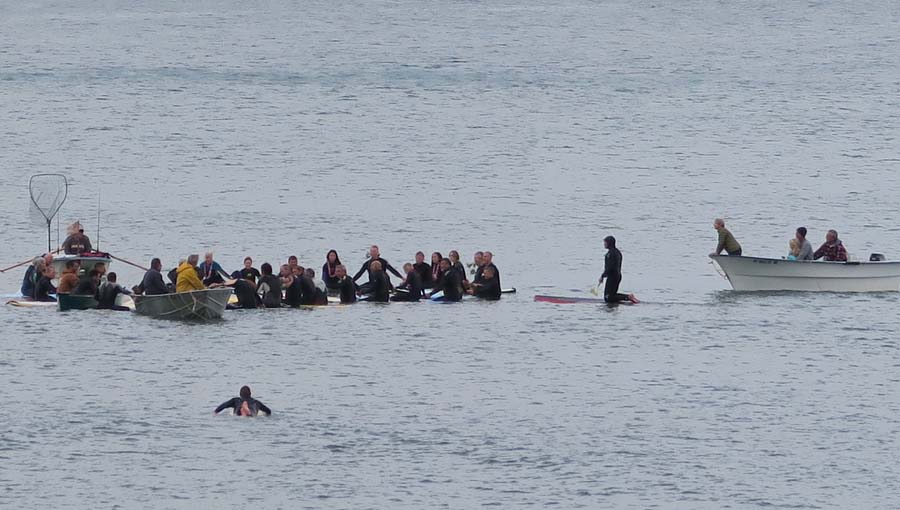 On 12/5/2014 these little black and white duck-like birds appeared, they have white on the BACKS of their necks, we don't know what they are. UPDATE 12/10/2014 - they have been identified by a person who emailed me as "surf scoter"! Thanks Ronald!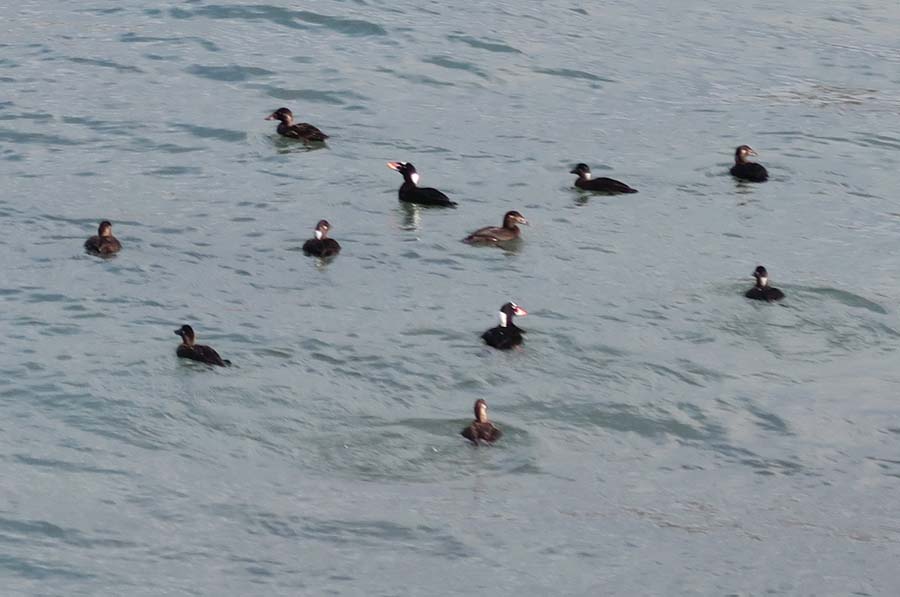 A close up of one of the surf scoter birds with white on the back of their necks.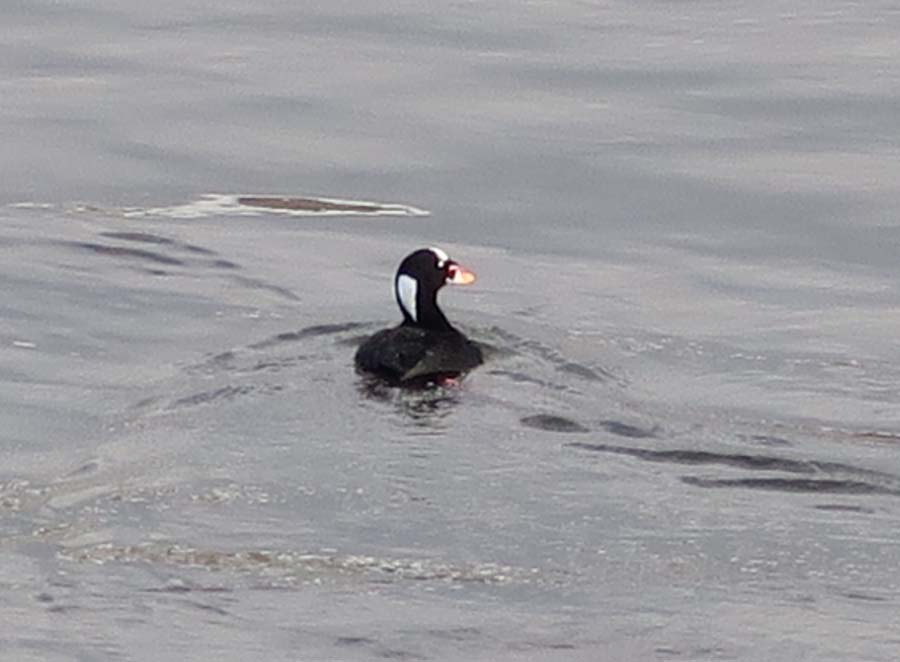 On December 21, 22, 23 of 2014 California experienced a "King Tide" (where the Sun, Moon, and Earth are in alignment causing large tides). Here is a movie from the waves hitting the Pacifica Docks. Click here for the highest quality original (probably will not play on Microsoft Windows).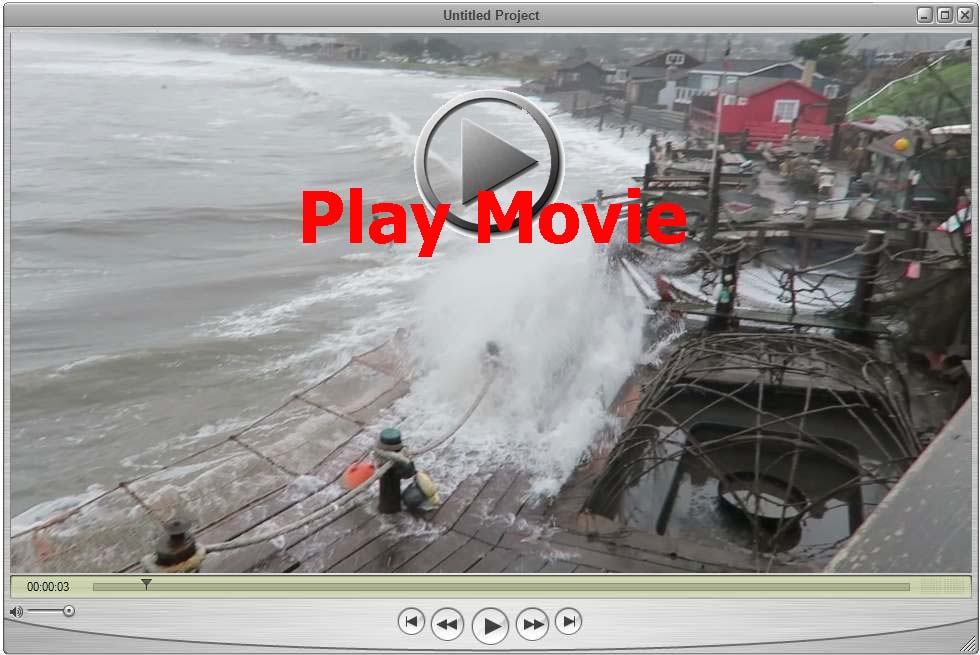 Here is a static picture pulled from the movie for other uses: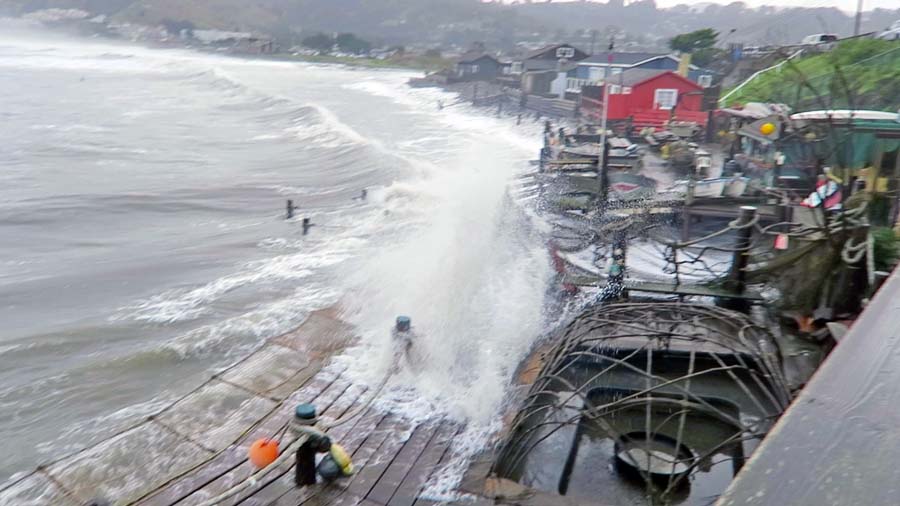 Christmas day (xmas day) December 25, 2014. A very California Xmas day with wind, waves, and sunshine: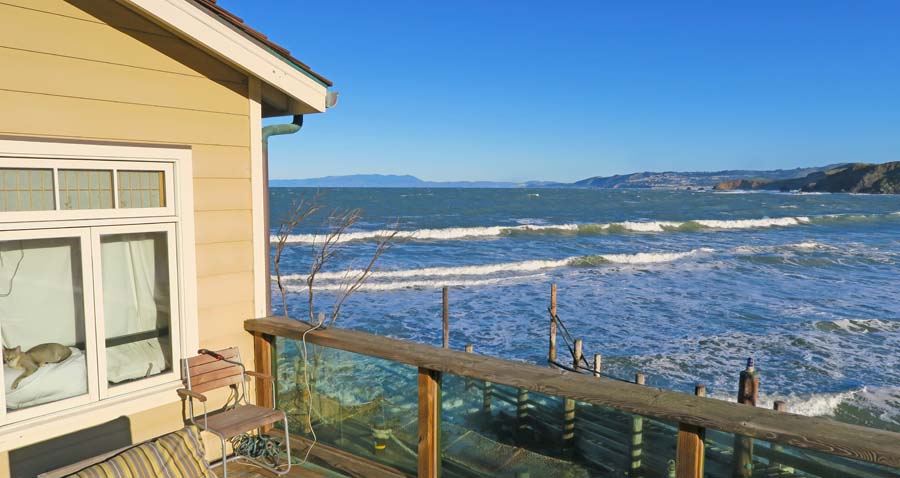 A close up of the cat in the above picture, if you missed her. This is Pixie in our bedroom window sneaking sunshine: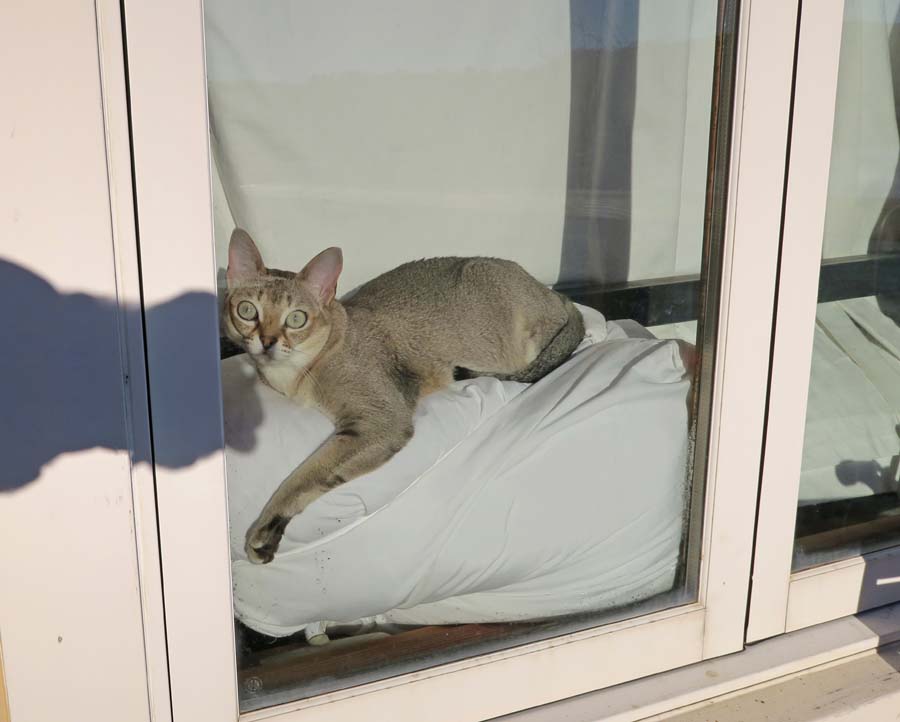 We have a tradition of making waffles on Christmas morning for some friends in the downstairs guest room. Below from left to right are: Cole Tallman, Tania Stoose, Clayton Tallman (white t-shirt facing away) and Marlies Tallman in blue hoodie facing away, and Katherine Chung on the far right.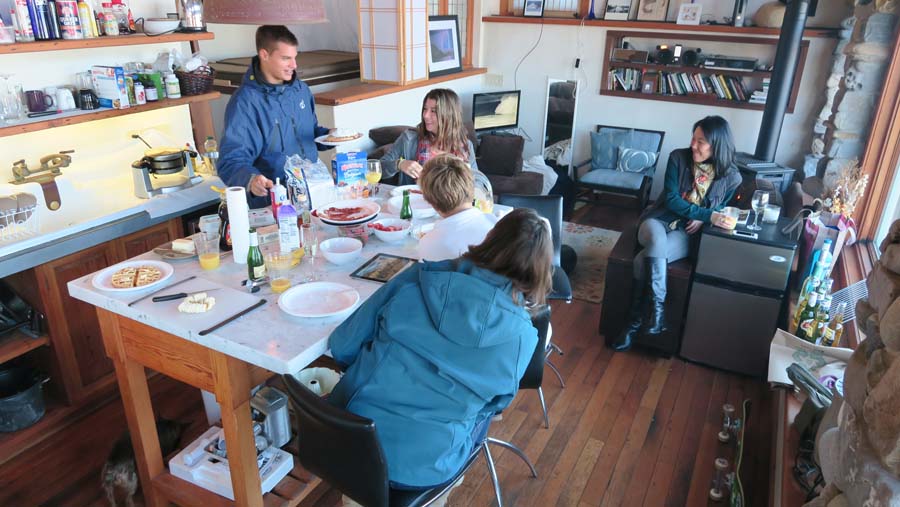 That night Katherine and I had a quite Christmas day dinner to ourselves. The turkey was an experimental combination of recipes where I marinated the bone-in turkey breast overnight and barbequed it. It turned out quite well!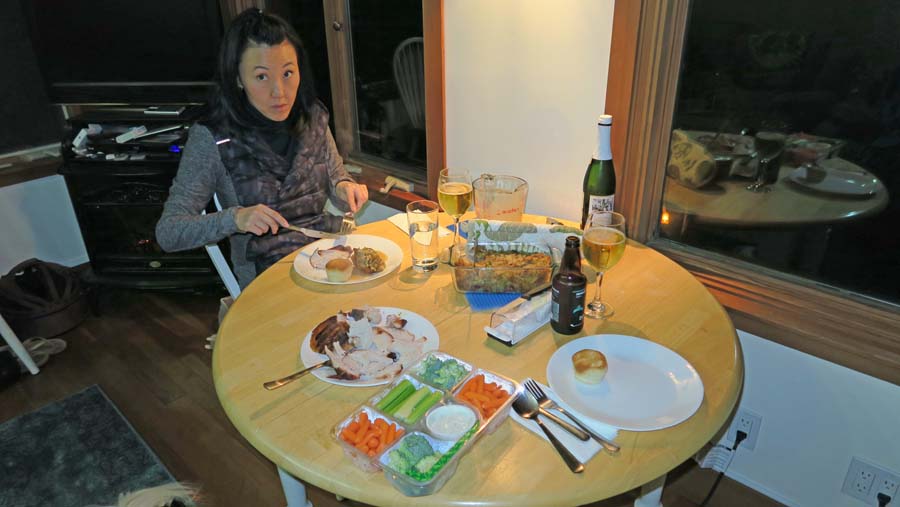 Pretty sunrise on January 4th, 2015 - this picture was taken at 7:21am in the morning.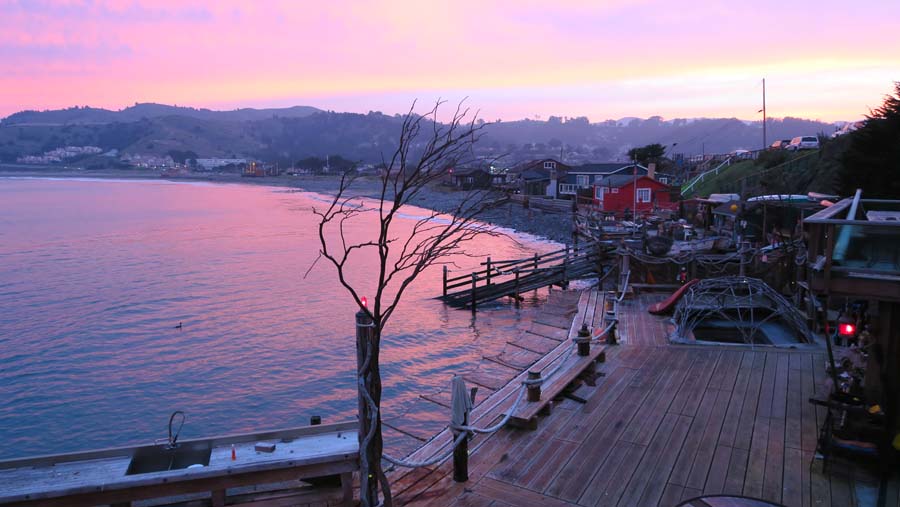 On January 27th, 2015 the neighbor's dock is now half finished. Well, the top is half finished, I think the majority of the work was the foundation and is all done.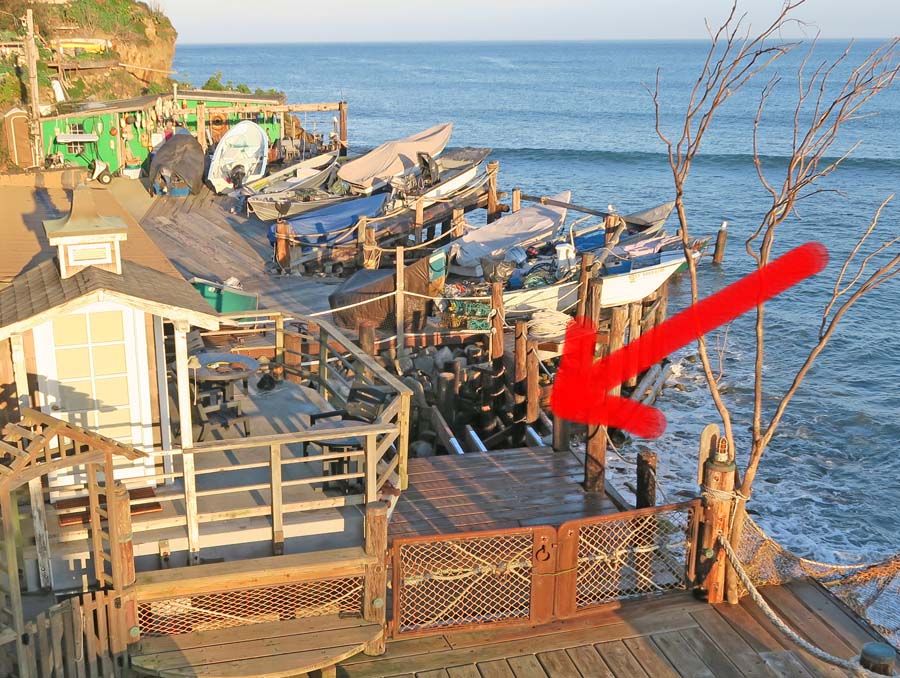 Picture from January 27, 2015. There has always been a precarious path to the beach through this private property, below the property owners have decided to improve the path at their own expense to make it nice and safe, and prevent the levee from sliding into the ocean. Below you can see some of the brand new construction, which are the fences on both sides of the path, boards braced on the inside edge making a wall, and the new dirt filling in the path plus gravel on top of the path.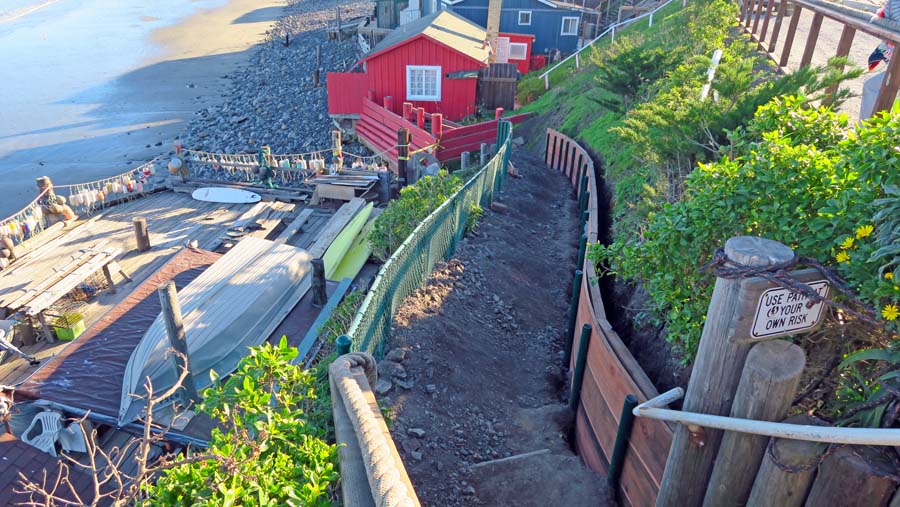 On March 6th, 2015 the neighbor's dock is now three quarters finished. Just a tiny bit more!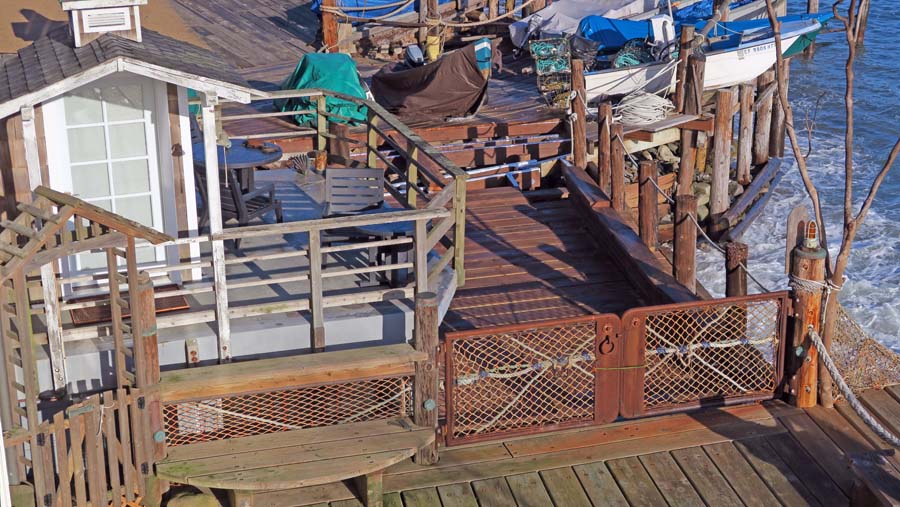 And finally, on April 18, 2015 the dock repair is done! You can see in the picture below the dock is back to "complete" with a full deck.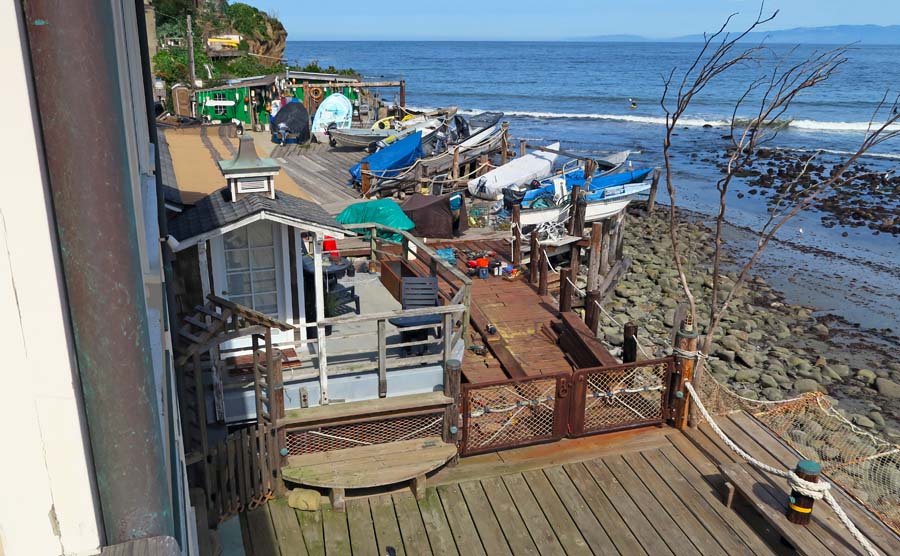 A random sunrise on May 7, 2015 at about 6am with pretty colors at Linda Mar Beach, Pacifica, CA: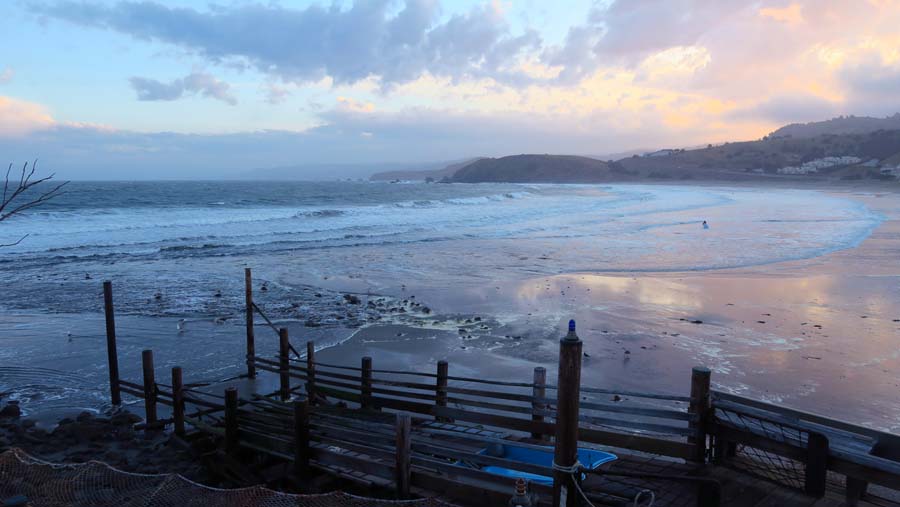 On May 20th, 2015 Katherine and I had our final dinner in the beach house - a simple pasta and white wine (the TV is gone behind Katherine, already packed). When got up to take this picture, the two new kittens (Bentley and Cooper) jumped up on the table.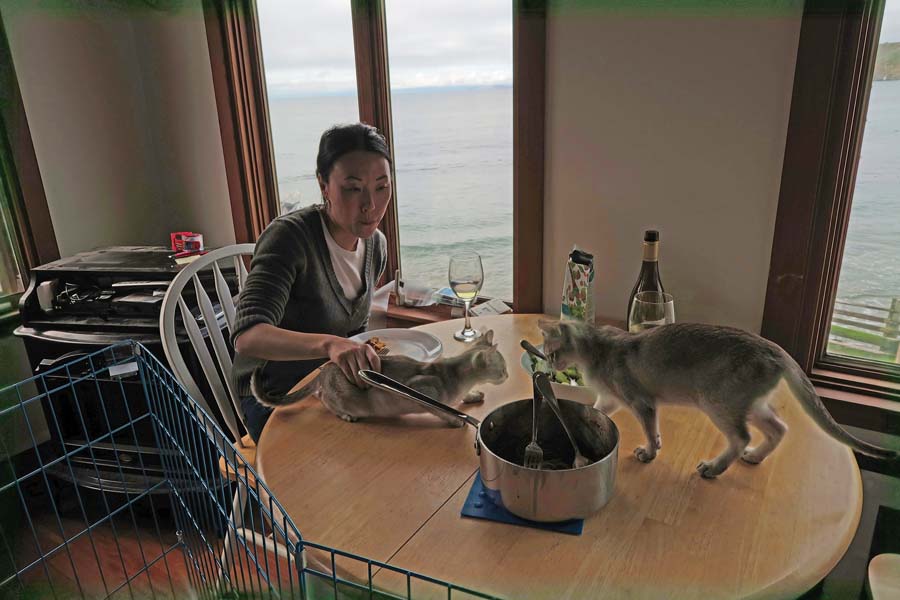 Katherine blocking Bentley and Cooper from having any of her food.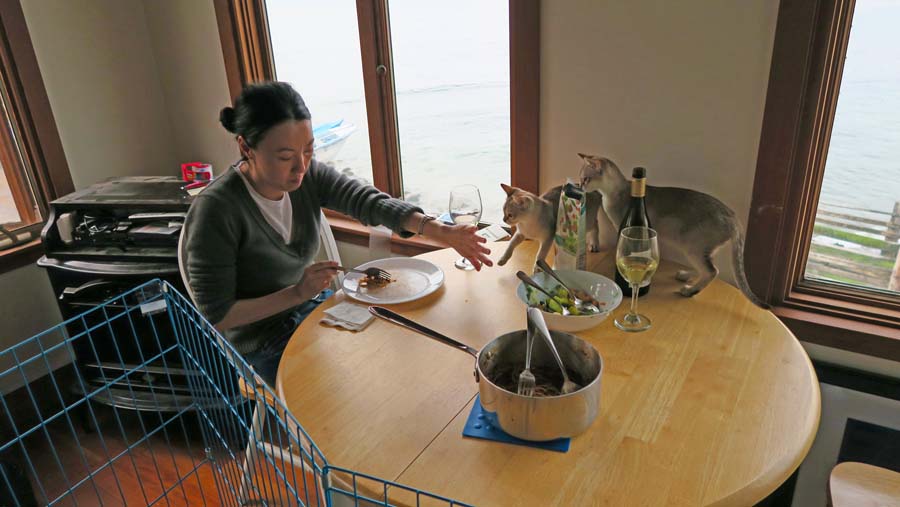 On May 21st, 2015 we moved out. I took this one picture of the mayhem before Katherine yelled at me to get back to work. :-) I was also sick and could barely function, plus it was raining slightly. I got up in the morning at 5am and drove all the animals (cats: Pixie, Bentley, Cooper and dog: Chou Chou) to Portola Valley, then returned to the beach house to help pack and give instructions to the moving company (Delancey Street Movers).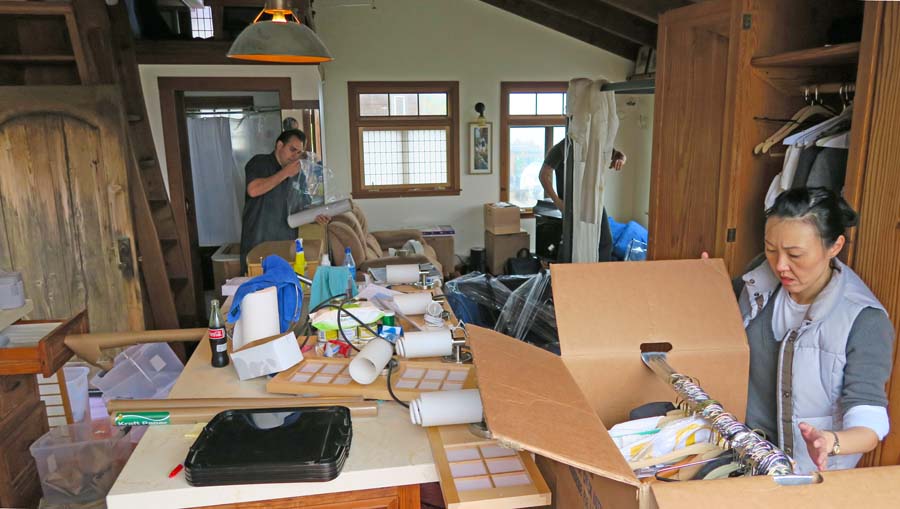 On May 21st, 2015 Katherine and I moved out of the beach house. We used Delancy Street Movers, who are AMAZING. Click here for the highest quality original. They showed up around 9:15am (15 minutes early) and moved us to Portola Valley and left Portola Valley around 3pm.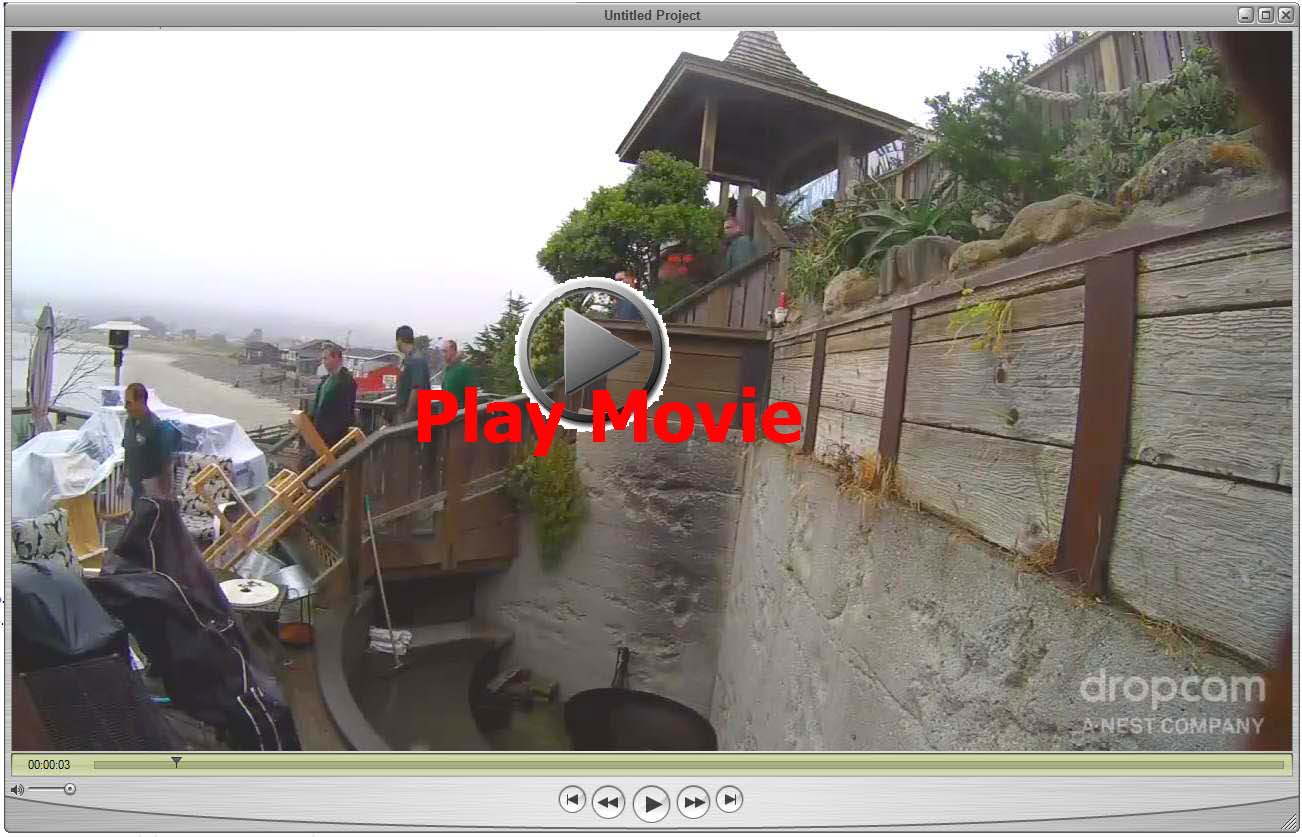 On May 26, 2015 a few days after we moved, I came back to vacuum and take a few last pictures of the empty beach house, here they are. Below shows I left behind the custom shoji screen that gives some privacy from the next door neighbor. These shoji screens are custom sized, which means they won't fit any other window on earth. The two closet doors on the floor and the bathroom mirror are the originals I had been keeping for the landlord, I replaced them with better versions, but preserved his to give him the choice when I left. (He is very proud and probably won't admit that mine are better. :-)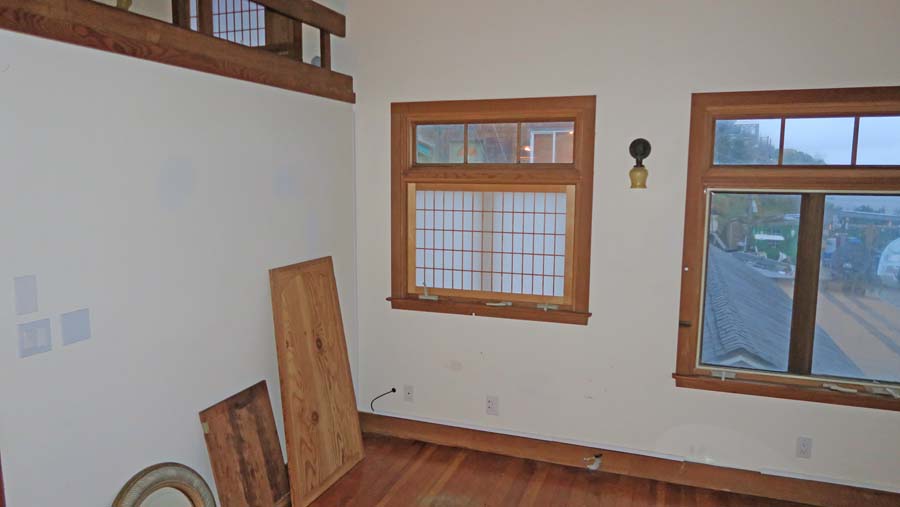 The front windows looking towards the Keating dock. We left behind a couple of pictures on the high mantle there of nautical and train scenes that go well with the house, but it is Ok if the next resident throws them away.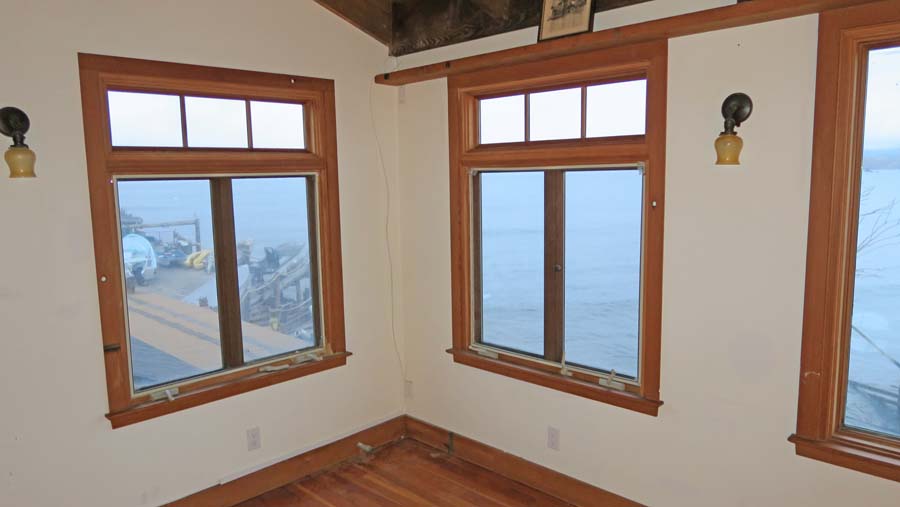 Since I still paid rent for 35 more days after this day, I left my networking up and running to preserve my security cameras for the last 35 days. It is technically still my rental, and I don't want anything to happen to it under my watch.
The kitchen.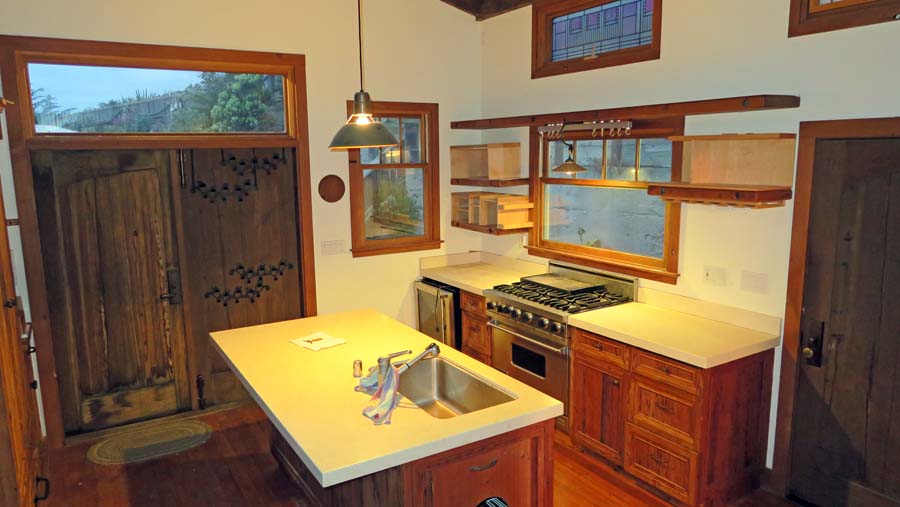 The loft and bathroom area.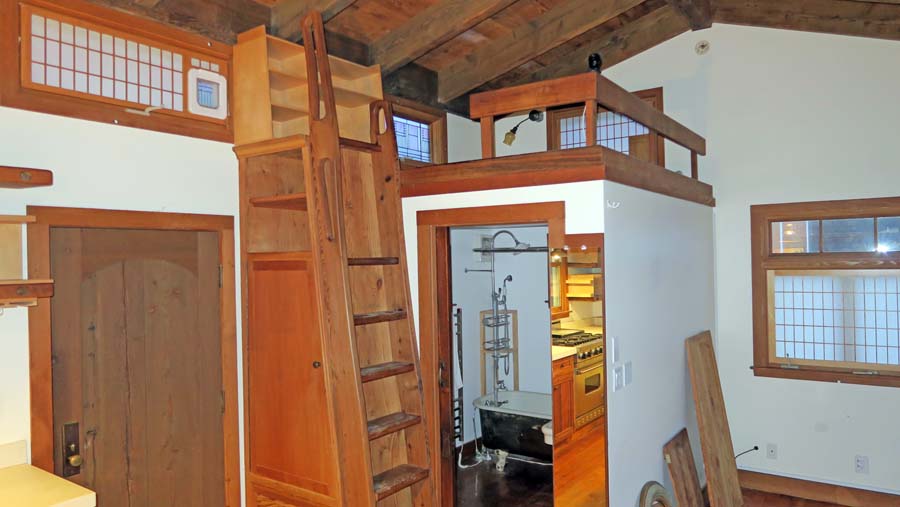 A closer view of the 6 burner Viking range and the custom shelves we are leaving behind for the next resident. The beach house came with just the large almost unusable horizontal shelves, so I had the custom inserts made (they just "rest" on the big built in shelves) which help subdivide the shelf space. They won't fit anywhere else on earth, they are completely custom, so we left them. If the next resident doesn't want them, they can throw them away.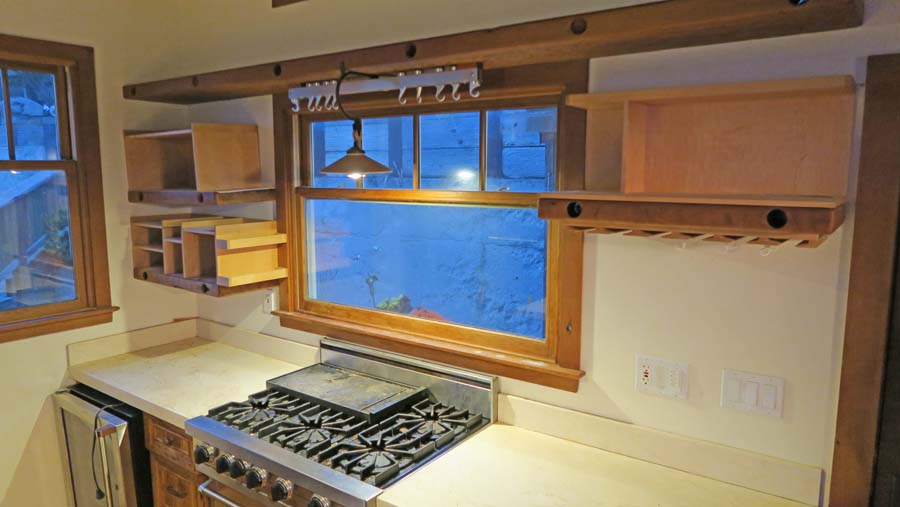 On June 7, Sunday, 2015 a "paddle out" was held for Doug Rhodes. Douglas Rhodes passed away on Monday May 11, 2015 at 9:47 am, after a 2 year long battle with cancer. On June 7, 2015 a "paddle out" was held at Linda Mar Beach in his honor. This video was captured by the http://www.surfslow.com web camera I ran for 5 years. Click here for the highest quality original.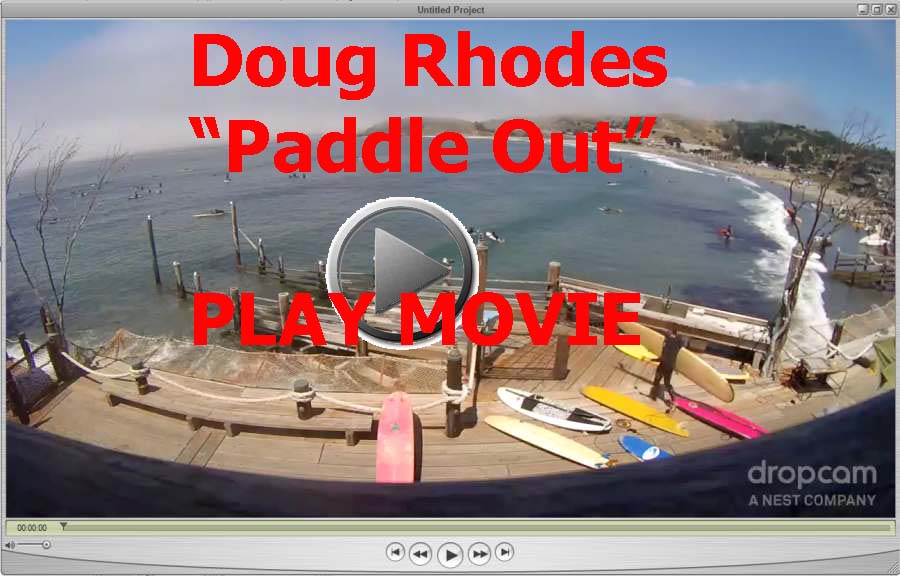 Late at night on 6/21/2015 (actually at 2am after midnight so technically the next day) this raccoon just walked into the beach house because the doors were left open to air out new paint smell. Click Here for the very highest quality original.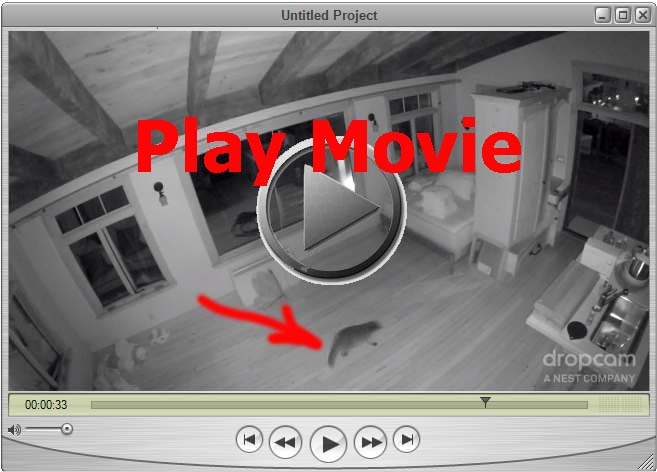 The next door neighbor missed my webcam, so we brought back http://www.surfslow.com/ on his "cupola" using his WiFi connection.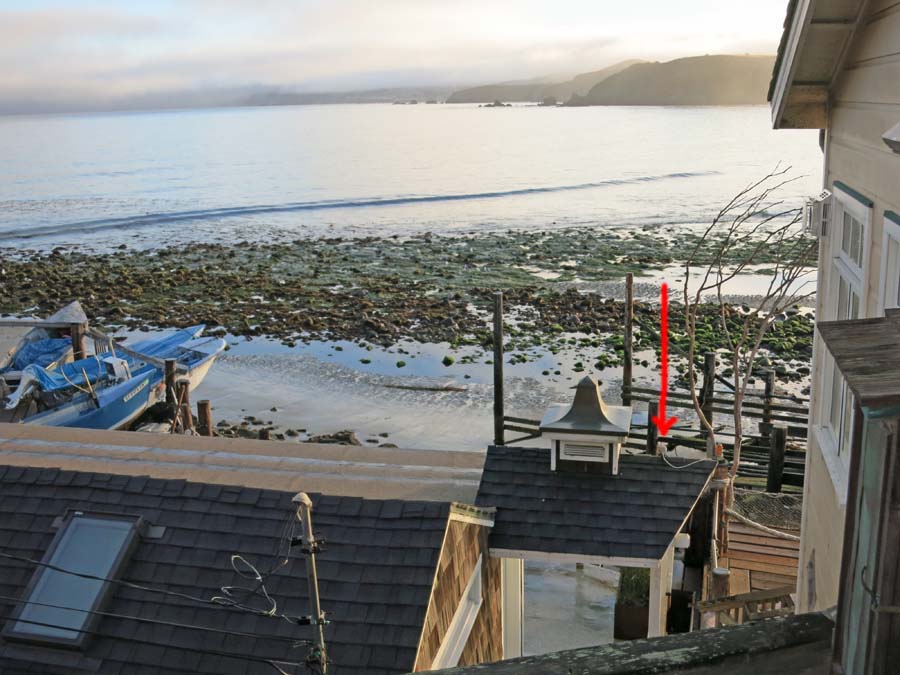 I was emailed this photo of a painted picture on 11/4/2015 - it is a painted picture of the Pedro Point boat docks. The artist is Erin Dertner.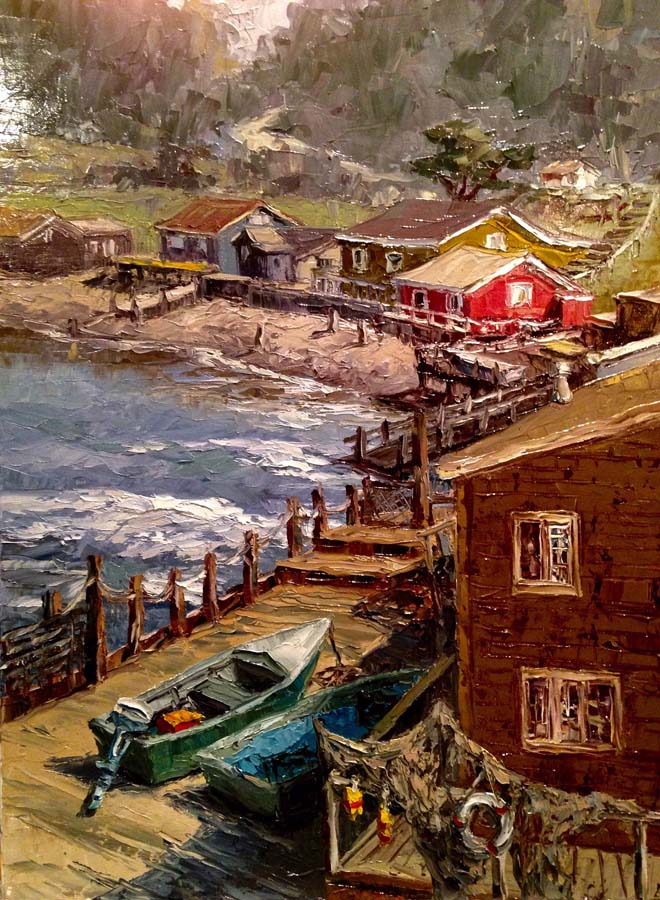 Kenny (Kenneth Robbin Jones) passed away sometime around 2:30am on Oct 26, 2015 in Pacifica, California from a long battle with cancer. The paddle out in his honor was on Nov 28, 2015. I only met him a couple of times, but EVERYBODY talked about him as somebody full of happiness. Below is a movie of his paddle out, captured on http://www.surfslow.com plus a few extra photos. The highest quality "original" version of the movie is here.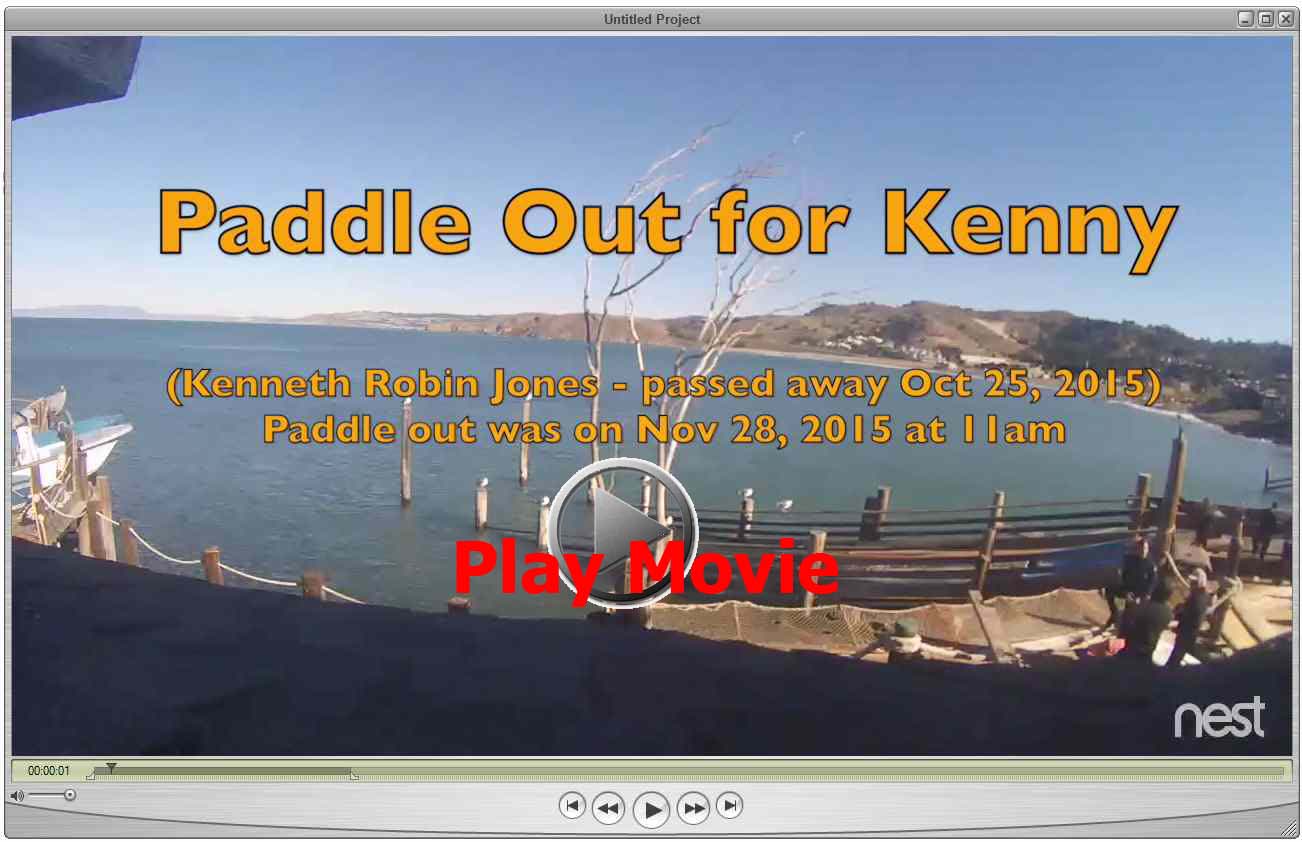 All done!