2015 Scotland Edinburgh and Loch Ness and Balvenie Distillery Tour

(8/23/2015 - 8/27/2015)



On Sunday, August 23 in 2015 Katherine and I went to Scotland to attend Will MacDonald's 50th birthday party (and in general just to visit Scotland for the first time). Click here for a Google map of interesting locations. This web page is only about the parts BEFORE the party where we did touristy Scotland things like go to Loch Ness and take a Balvenie Distillery Tour. Click here for the pictures from Duns Castle with Will. Our itinerary looked like this:
Itinerary:
Sun - Aug 23 - 10am - United flight departs SFO->Chicago (4 hrs). 2 hr layover. At 6:15pm depart Chicago->Edinburgh/EDI (7.5 hours).
Mon - Aug 24 - 8am - arrive Edinburgh, check into Hotel "The Glasshouse". Relax, sleep.
Tue - Aug 25 - 8pm Michelin diner at "Number One" 1 Princes Street.
Wed - Aug 26 - 8pm diner at "The Observatory" in the Glasshouse
Thu - Aug 27 - 2pm Balvenie Distillery Tour (reservation has been made). On the way, swing by Lock Ness and take a touristy picture.
Fri - Aug 28 - Check out of hotel by 10am, then go to Duns Castle (do not arrive before 2pm). Casino night at Duns Castle.
Sat - Aug 29 - Highland games and Falconry displays followed by dinner and Ceilidh (Gaelic social gathering and dancing) in the evening
Sun - Aug 30 - noon - United flight departs Edinburgh/EDI->New York/EWR (8 hrs). 1.5 hr layover. At 4:30pm depart New York->SFO (6.5 hrs).

Below is a screenshot of some of the important areas for our trip: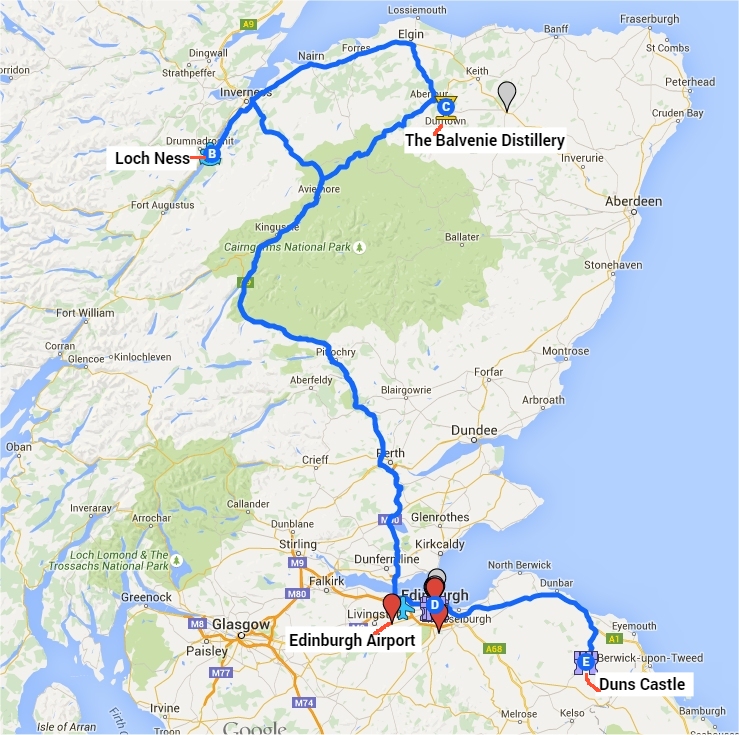 A zoomed in map of Edinburgh downtown with some locations important to us: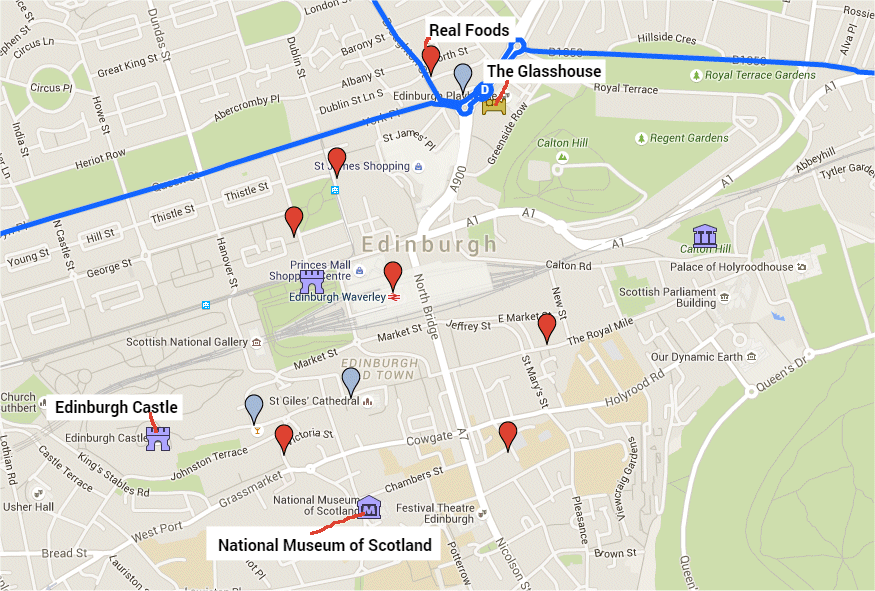 Onto the pictures! In the picture below, this is our aircraft departing San Francisco Airport (SFO). I never found out what happened, but this "Aircraft Maintenance Technician" was trying to fix something.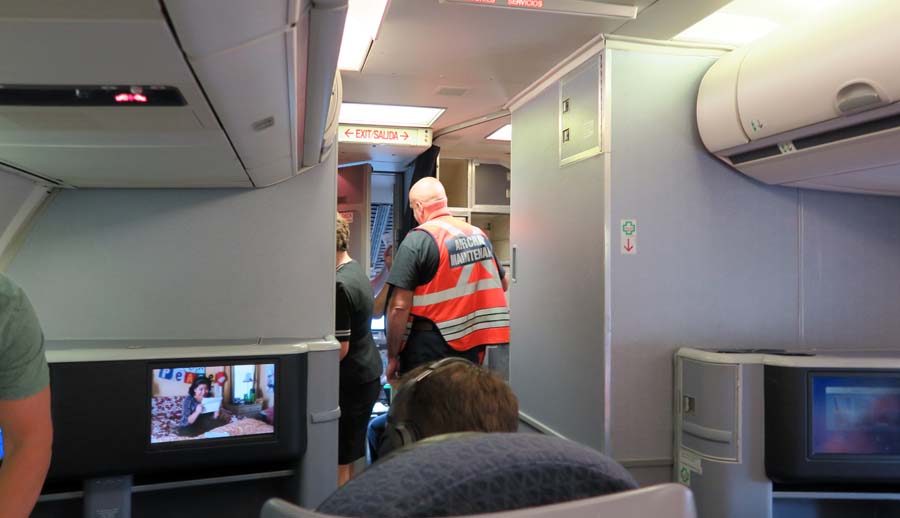 And then my entertainment system rebooted, showing its soul is made of Linux. :-) If you don't understand the picture below, that's Ok. If you do understand the picture below, you work in technology like I do. My company Backblaze owns and operates over 1,100 Linux servers.
Because the entertainment system runs Linux, I looked around and noticed it was also sporting a round VGA mini din-9 connector. On my next flight I think I'll bring the proper cable and see if I can log into the entertainment system and control it from my laptop. This was on a United Airlines flight.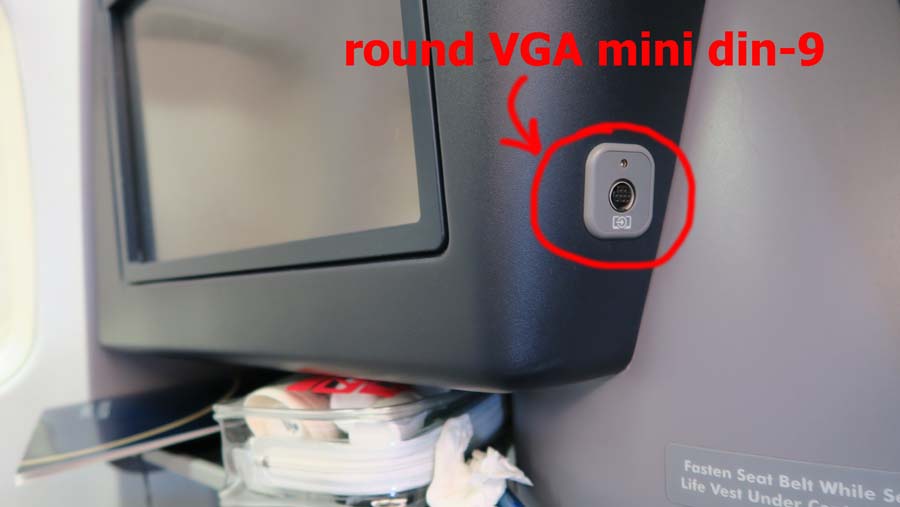 About 12 hours later, here we are arriving into Edinburgh Airport (EDI). Picture below taken through the window of the airplane.
This is the first time I've ever been to Scotland, below I see large green lawns and a castle as we land.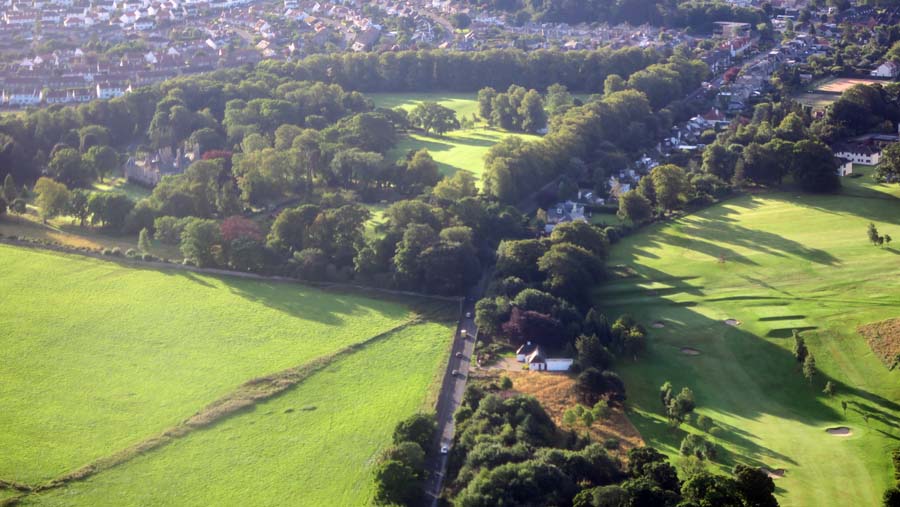 Welcome to Edinburgh Scotland!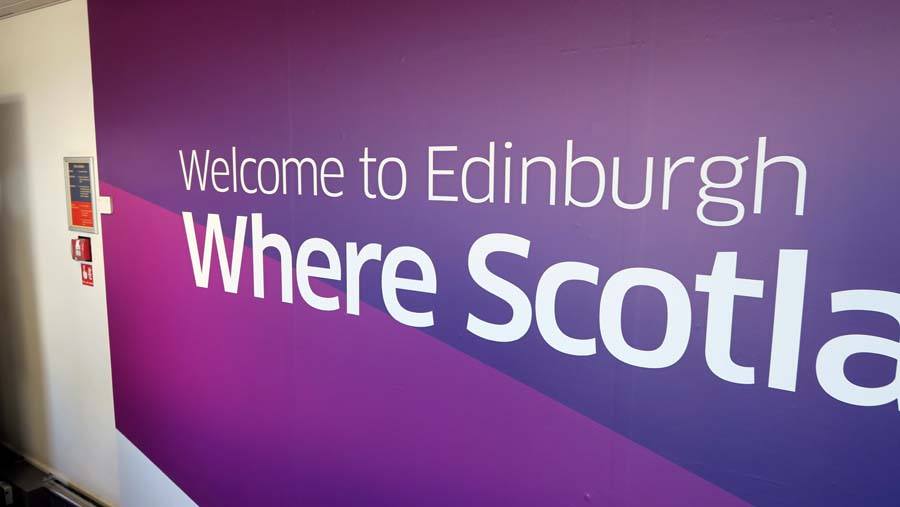 This is a VERY IMPORTANT SIGN that explains you should NEVER use photography while going through immigration and customs and passport controls when entering Scotland. I took a picture of the sign to remember it. I'm sure they have 100 percent compliance with this rule. (Hint: governments all over the world are filled with stupid people enforcing ridiculous rules for reasons that no longer apply. It is not just the USA government like you might think if you live in the USA.)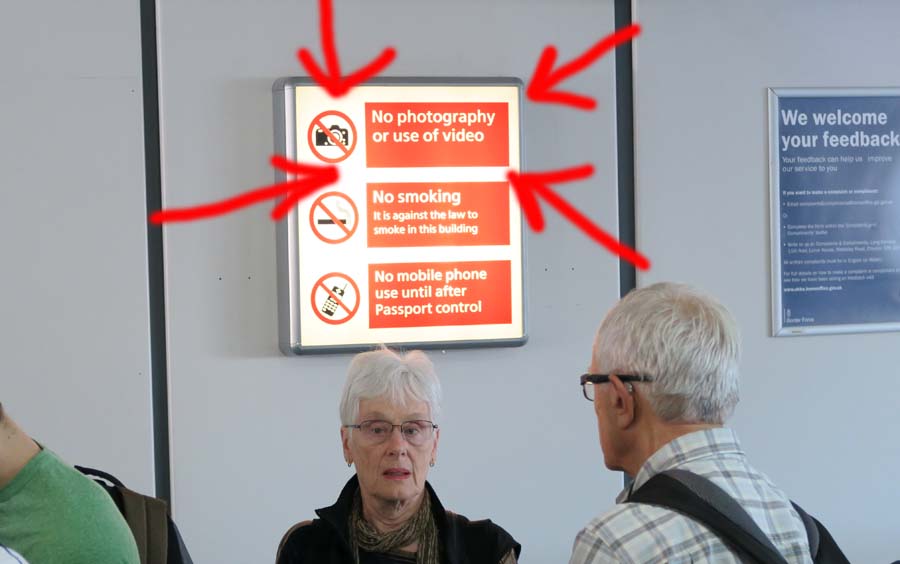 Technically Scotland is a country, but it is part of a larger organization called the United Kingdom (which is made up of England, Scotland, Wales, and Northern Ireland) which is in turn loosely part of a larger organization called the "EU" or European Union. At the UK border, you must not use a phone or photography, and the sign pictured below makes that really clear. By the way, saying "no phones" in 2015 is a nonsensical statement, do they include checking Facebook or not? Can you use a calculator? What about a calculator app on your phone? Does Google Glass count as a phone? What about an Apple Watch? What if your flight information is only stored in your smart phone, and they ask you what flight you were on? So the only conclusion ANY thinking human can come to is that the "Border Force" is technically incompetent. They prove it by printing random dumb stuff on signs like the one below.
We pass through all the silliness to be welcomed to Edinburgh by pretty much everybody. Seriously, Scots remind me of Canadians, really nice, welcoming people in general.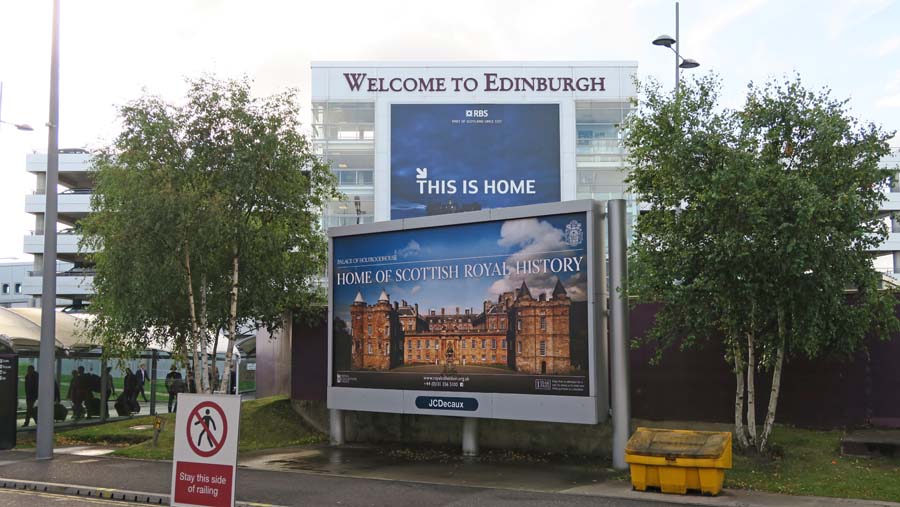 We stayed at a hotel in downtown Edinburgh called "The Glass House" seen below from the street. It was quite nice, I would recommend it highly.
One of the interesting features of the hotel is that there is a rooftop garden that is very pleasant. The back of our room opened out to the garden. In the picture below Katherine Chung is standing on the roof top garden of our hotel with Edinburgh in the backgorund.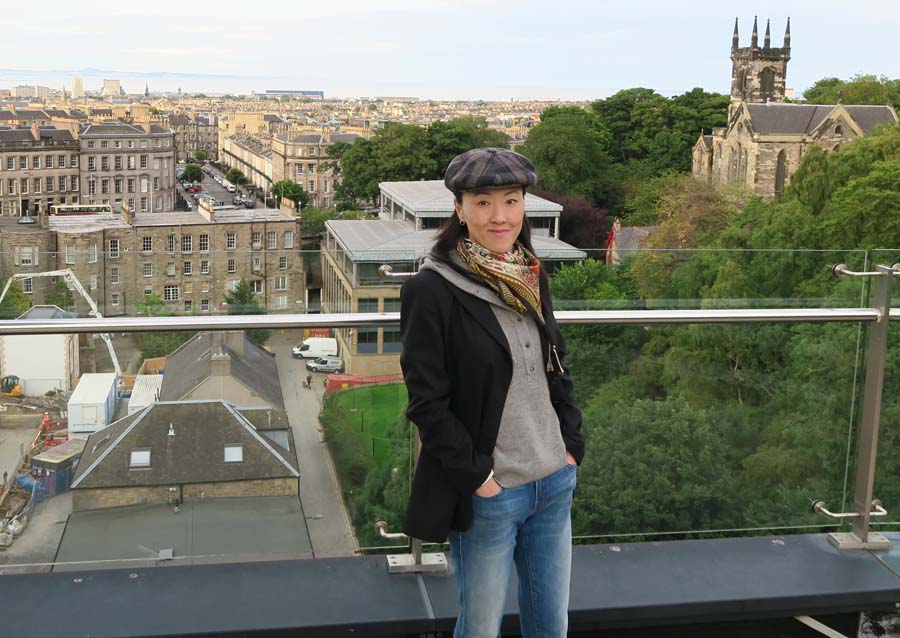 I was standing in the EXACT SAME SPOT taking the above picture and the one below, but by facing a different direction you can see the side of the hotel down to the street level, and see part of the pleasant garden on top of the hotel. Our room is at this level in the building on the right, just up and around the corner.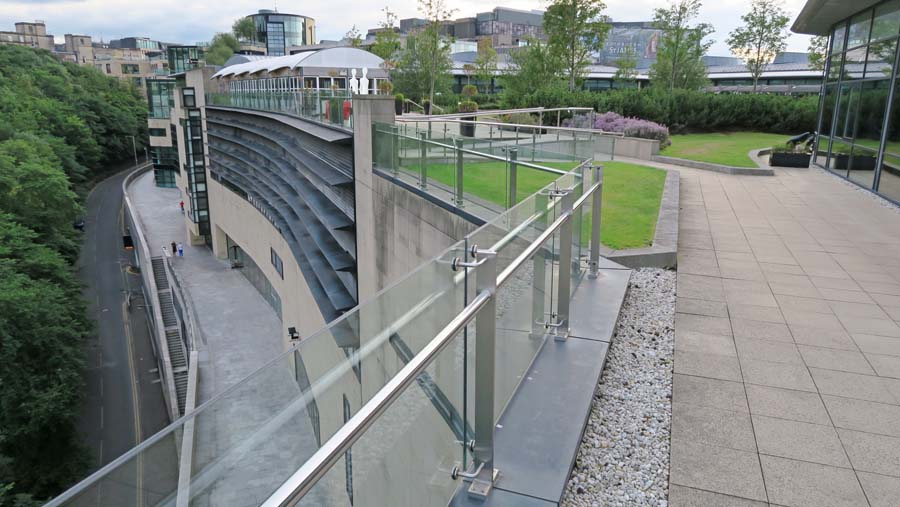 I reversed one of the chairs in front of our room (click on the picture below and look closely) so that I could figure out which one was our room if I left through the back door!! That is one-way mirror glass, you can see out from the room clearly but cannot see inside from the garden.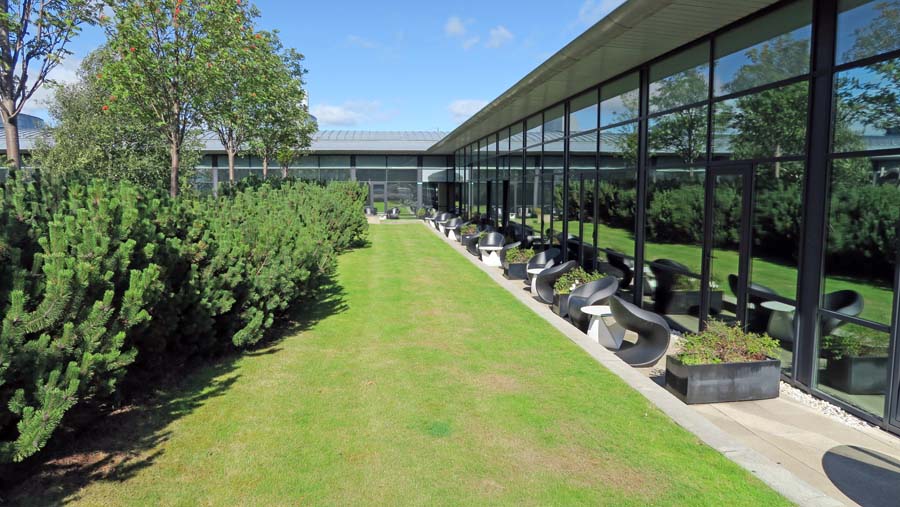 Statues (lit up at night) and BBQ grill in the upstairs garden on the roof of "The Glass House" hotel.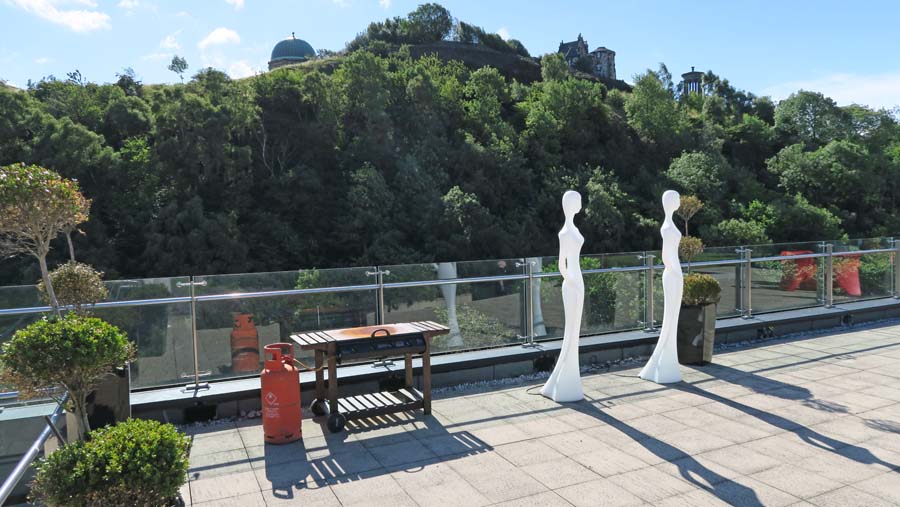 This day was mostly overcast, yet the random people next door decided to sunbath on their roof? It does look like a very quiet, nice spot, these two people think out of the box and I like that.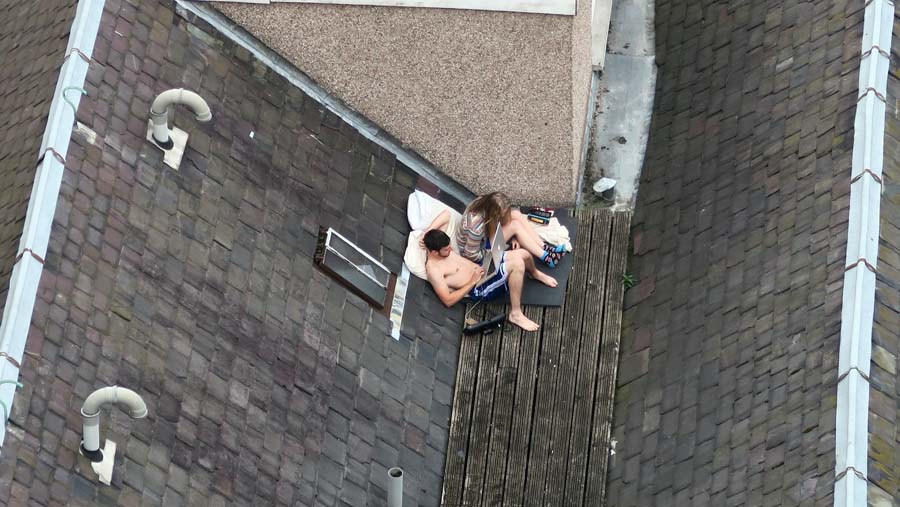 We went for a walk around Edinburgh, below (behind the red sign) is "Old Town, Edinburgh".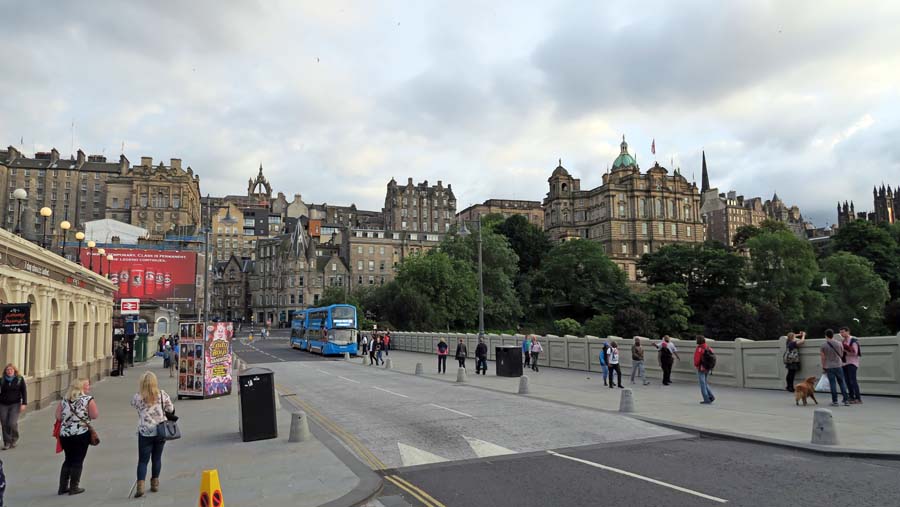 This is the train station entrance. The train station is a VAST complex filled with trains and shops buried beneath the center of town in Edinburgh, it is a really nice system hidden away. I wish we could have nice trains and designs like this in San Francisco where I'm from.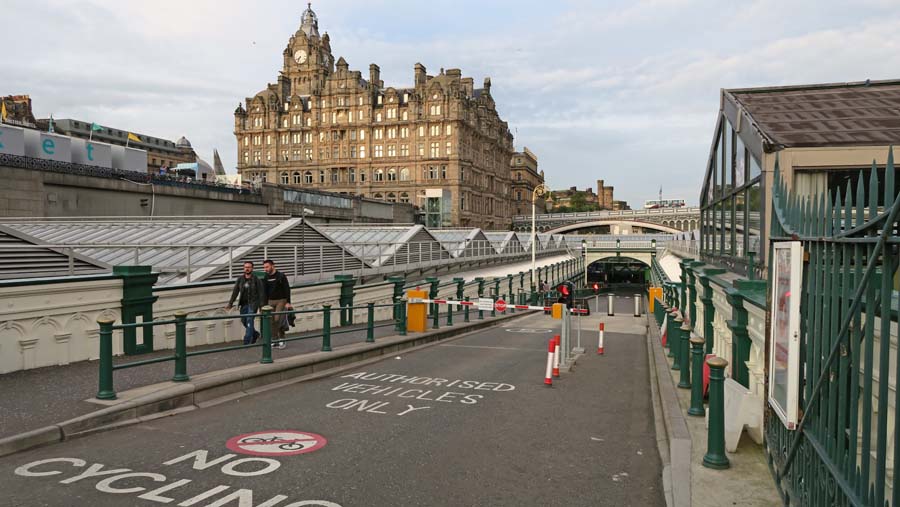 While we were in Edinburgh the Fringe Festival was occurring, so we saw all sorts of strange stuff. The street performer below wearing an Alien outfit was hilarious, he would dance a jig to Scottish bagpipes (if a bagpipe player was around) or do other amusing things.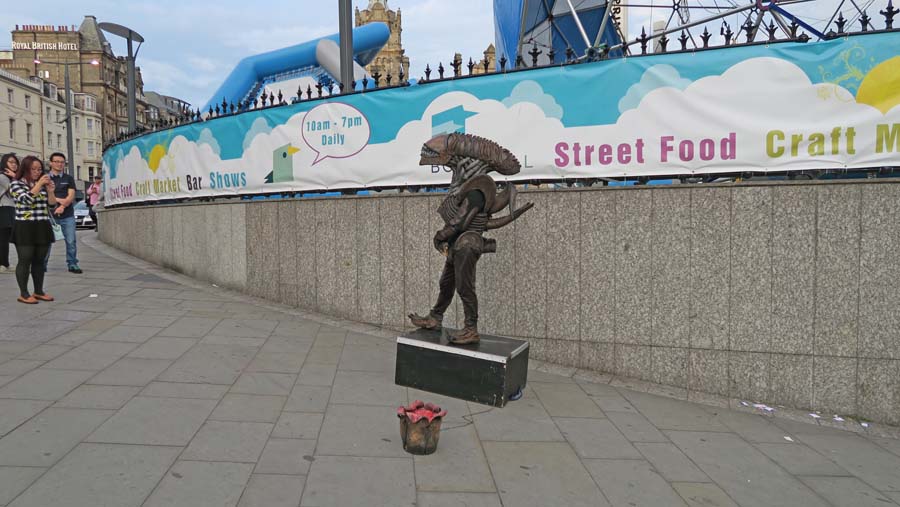 Katherine and I had dinner and drinks at "The Devil's Advocate" down the very long, thin street seen below.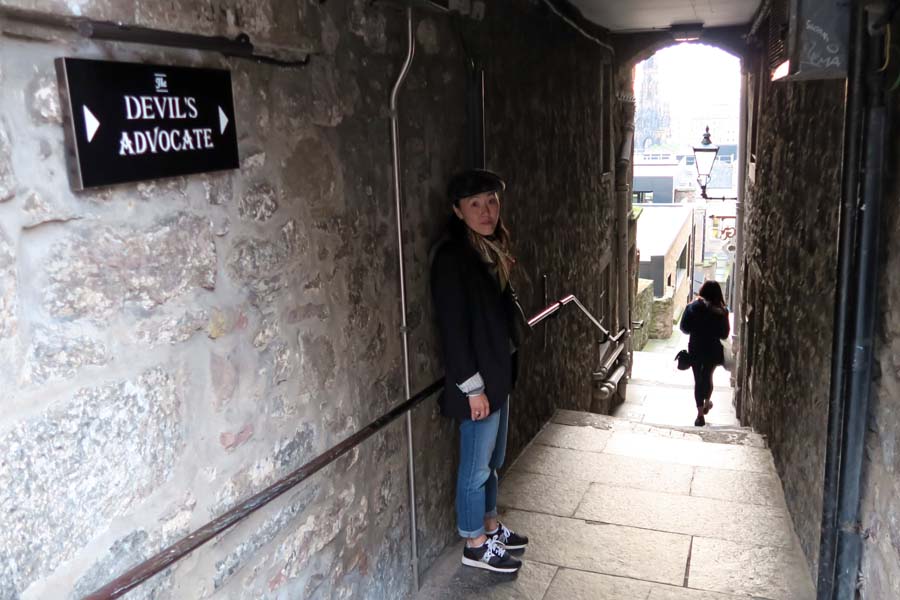 Our table at "The Devil's Advocate" bar and kitchen: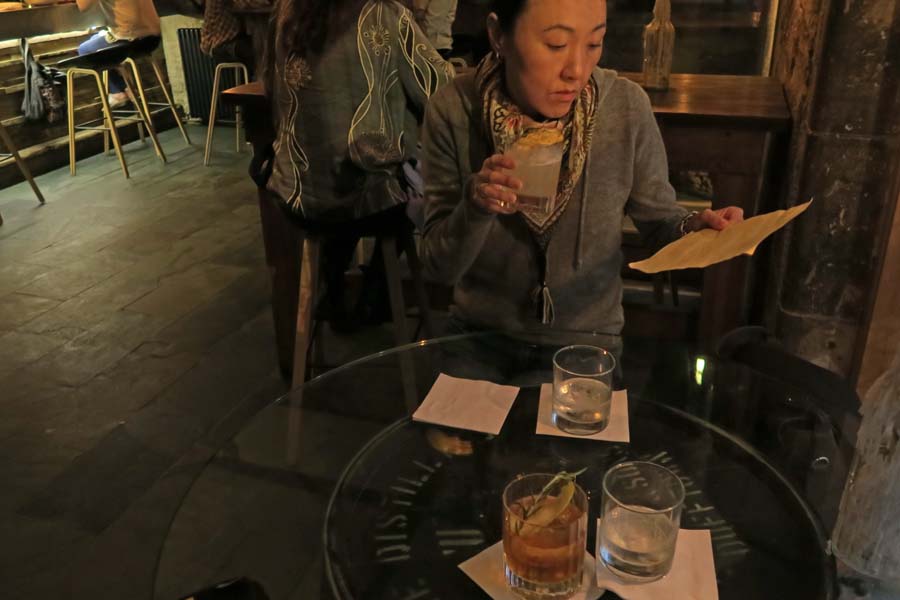 The menu at "The Devil's Advocate":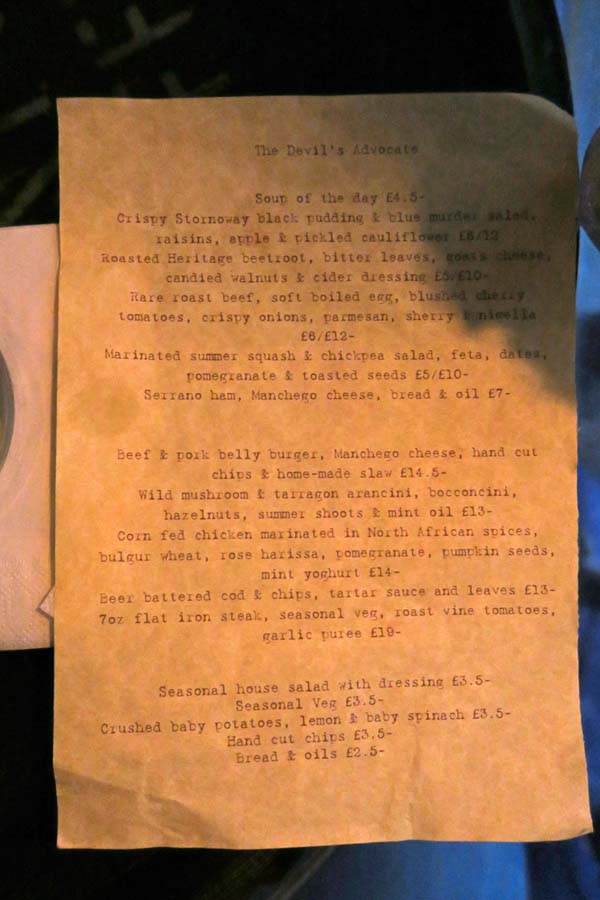 Walking towards Old Town Edinburgh.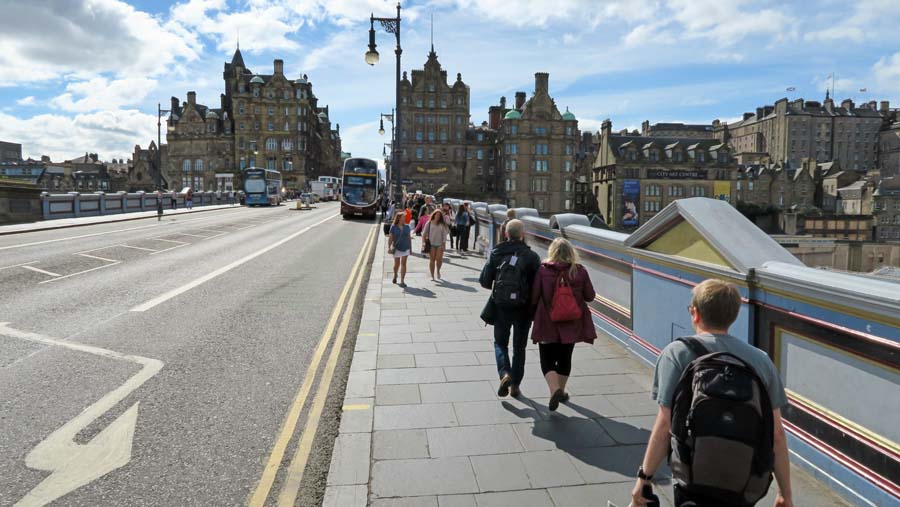 The Fringe Festival makes Edinburgh busy during August.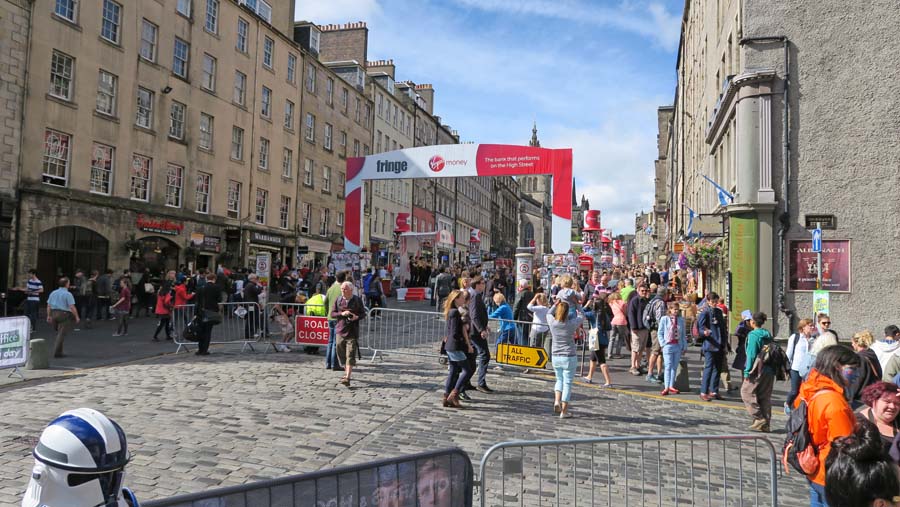 We decided to wander up to Edinburgh Castle.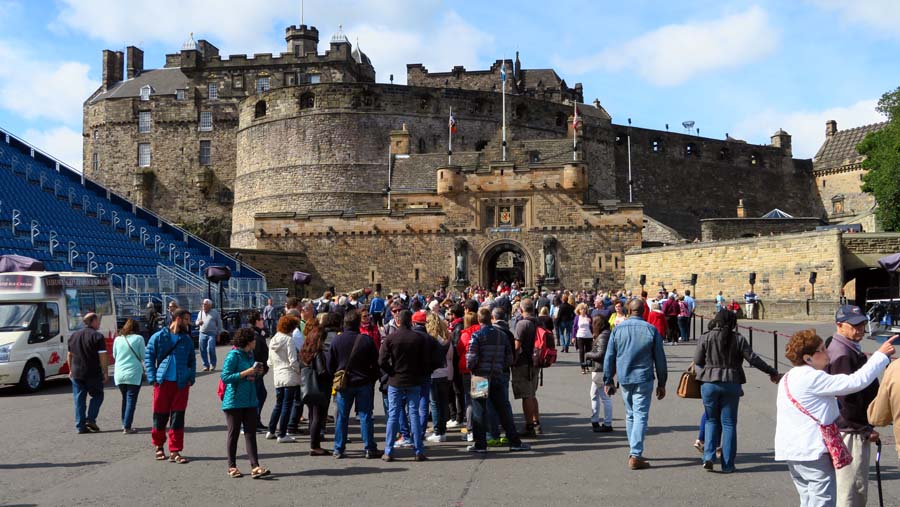 I took this picture standing in line for admission tickets to Edinburgh Castle. That is a row of cannons peaking out of the wall above.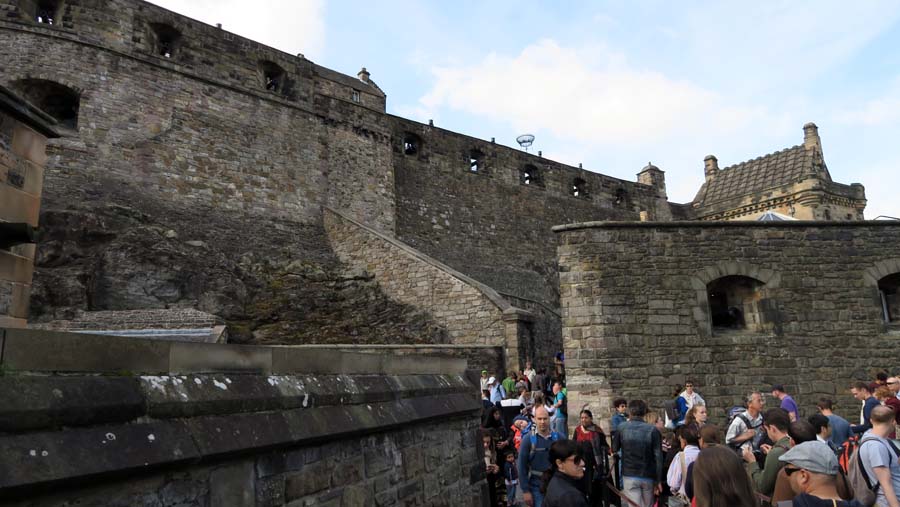 Standing inside Edinburgh Castle I took the panorama picture seen below of the city. It is a beautiful day (for Scotland) of sunshine and white fluffy clouds.

Below you see the "Argyle Battery Cannon" on the wall of Edinburgh Castle. I'm not sure why it is called Argyle, but it is probably explained here.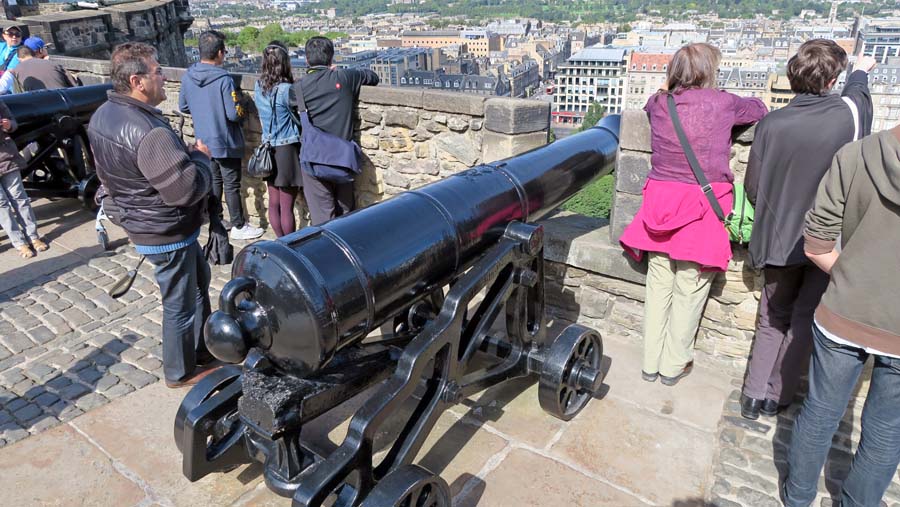 The plaque below identifies this as the Argyle Battery at Edinburgh Castle.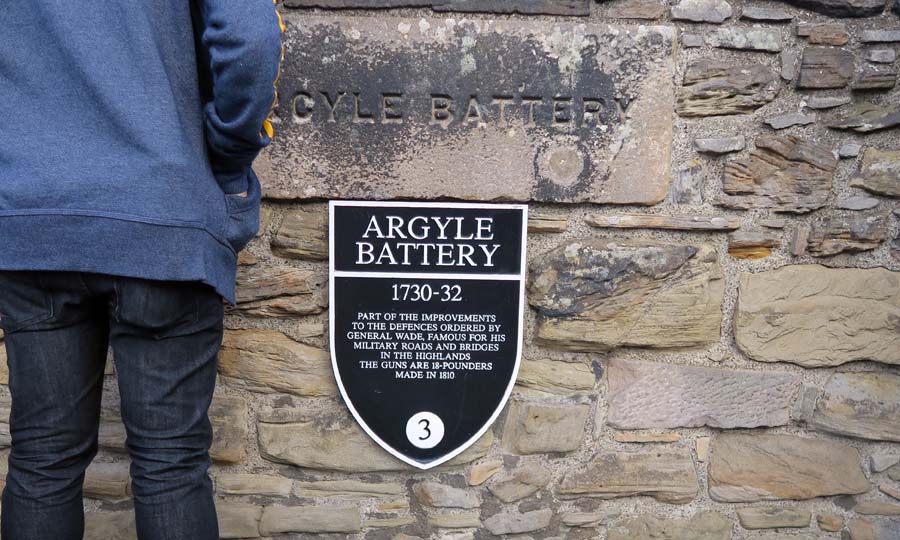 Another picture showing the row of cannons. I really wouldn't want to be storming this castle in the 1700s with these cannons lobbing cannon balls at me.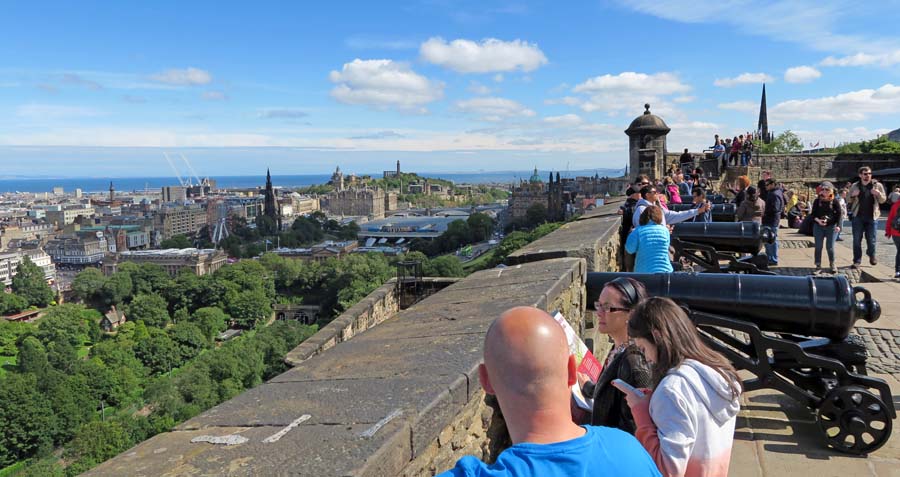 A few street signs inside Edinburgh Castle. (Click on the picture to zoom in and read them.)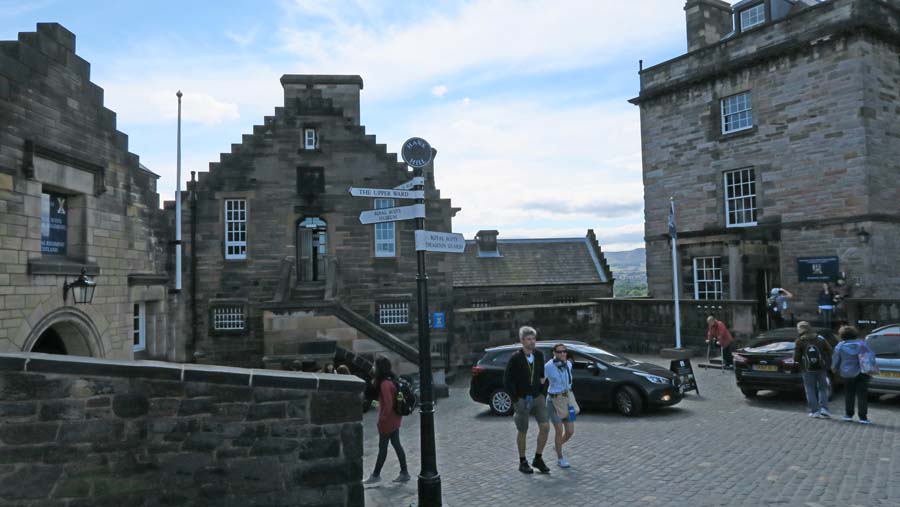 We walk up to the tippy top of Edinburgh Castle. The archway seen on the left below is "Foog's Gate". Nobody knows why it is called this! There has been a castle here since the year 1200, so a lot is lost to history.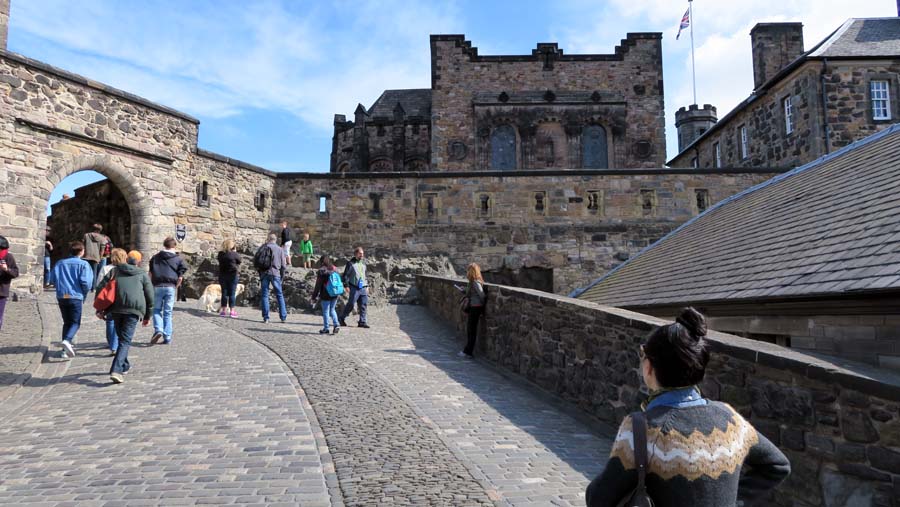 There is a cemetery for all the dogs that were military mascots at the castle.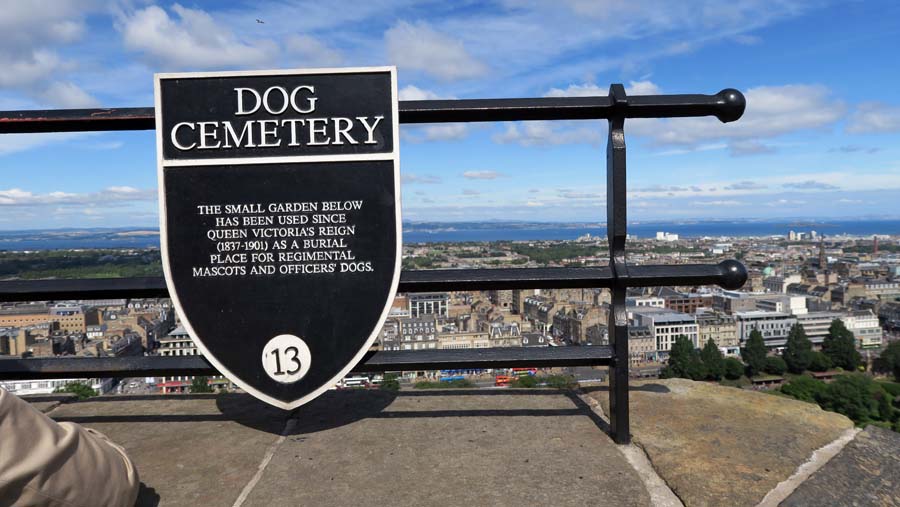 The picture below looks down on the dog cemetery from above, and still keeps the city of Edinburgh in view. See the little doggy headstones?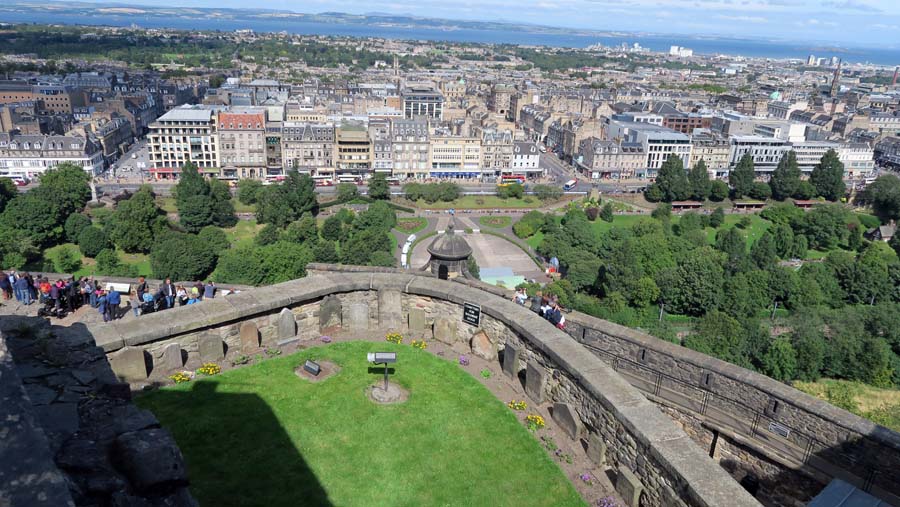 Looking straight down at the doggy cemetery.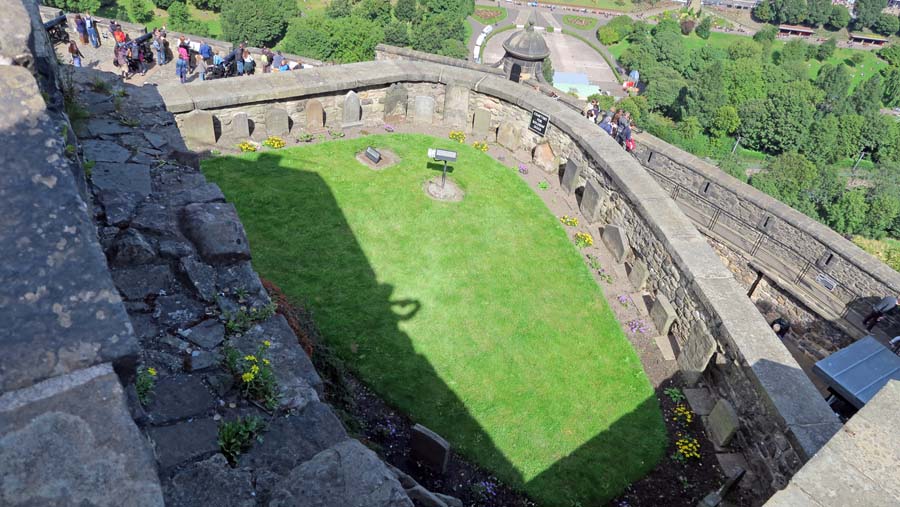 This monster cannon below is called "Mons Meg". It was forged in 1449 and used in sieges for a hundred years, then retired to be fired only on ceremonial occasions, and finally the barrel burst when being fired in 1680.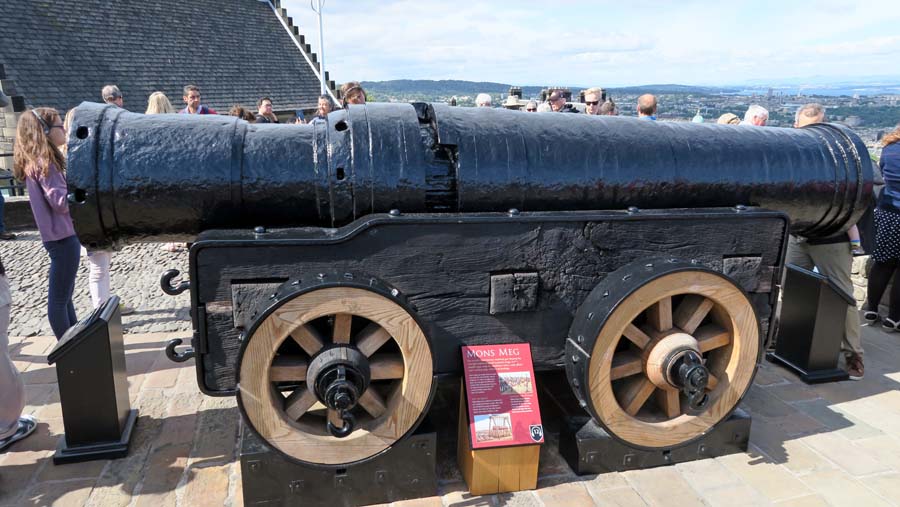 Katherine and I went into the "Saint Margaret's Chapel" at the top of Edinburgh Castle.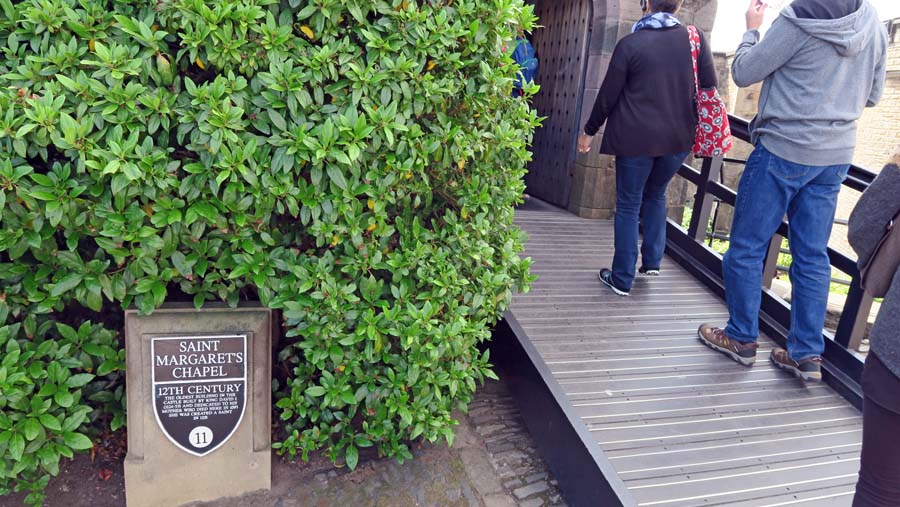 Katherine is about 5'6" tall and the entrance is just tall enough for her.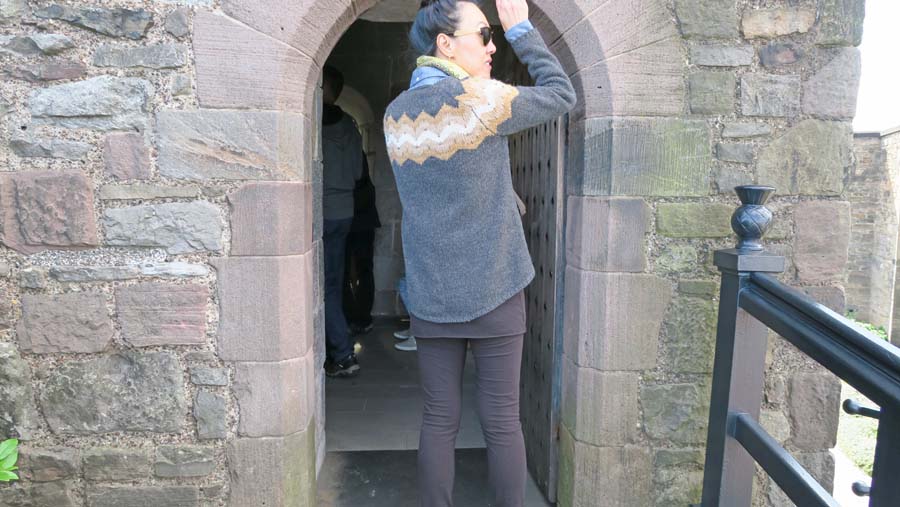 I'm 6'2" and I look like a giant crouching to fit through the door (Katherine took the picture below). I think people in the 12th century were shorter than Americans in 2015.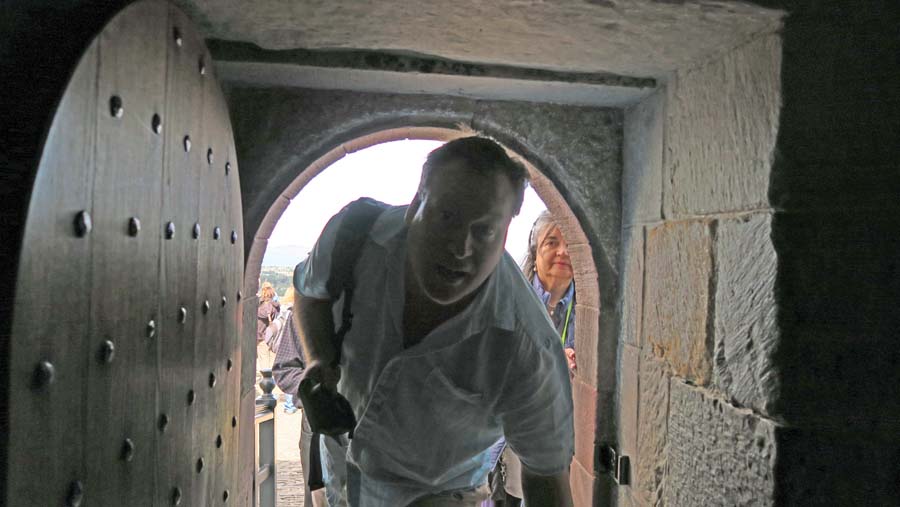 I'm standing inside Margaret's Chapel taking the picture seen below. Katherine is near the only door to get in or out.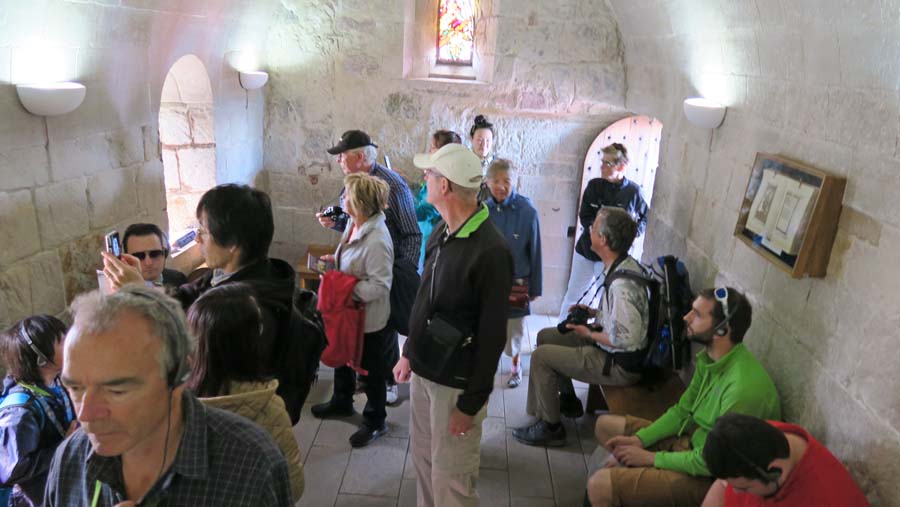 The building below is the Scottish National War Memorial built in 1927 here inside Edinburgh Castle. It was built to commemorates Scottish soldiers that died in World War I.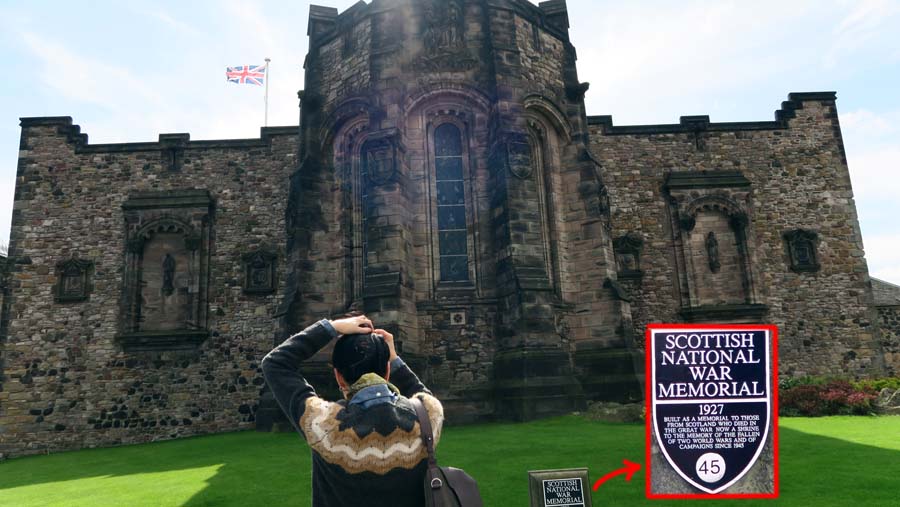 A signpost in Edinburgh Castle points to the Scottish Crown Jewels.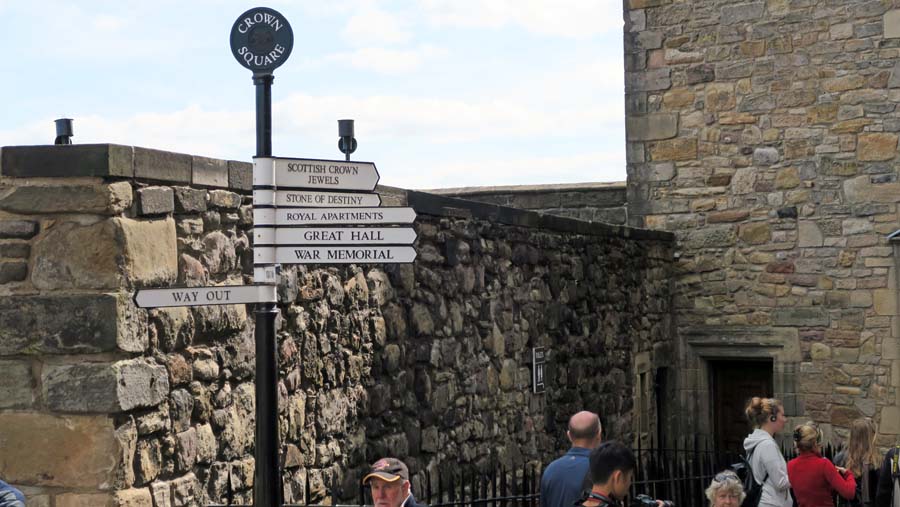 The Scottish Crown Jewels (also known as the Honours of Scotland) are found in the building seen below. We didn't go in to see them. These are the oldest crown jewels anywhere in the United Kingdom, and were crafted in 1543.
Scotland's royal coat of arms includes a Unicorn and a Lion and a sign saying "IN DEFENS". Here is the coat of arms (notice the goofy looking lion sometimes described as brain damaged):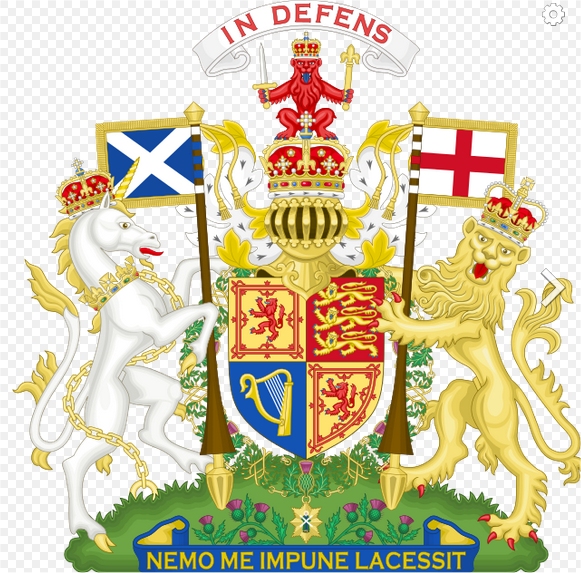 At the top of Edinburgh Castle, there was this entrance but the Unicorn is missing his horn? Maybe it broke off?

Random Factoid: Canada (part of the British Commonwealth) sometimes uses an amusing version of the lion and unicorn where the unicorn looks high on drugs or brain damaged and is trying to hide an erection as seen below in statues guarding the Canadian Parliament: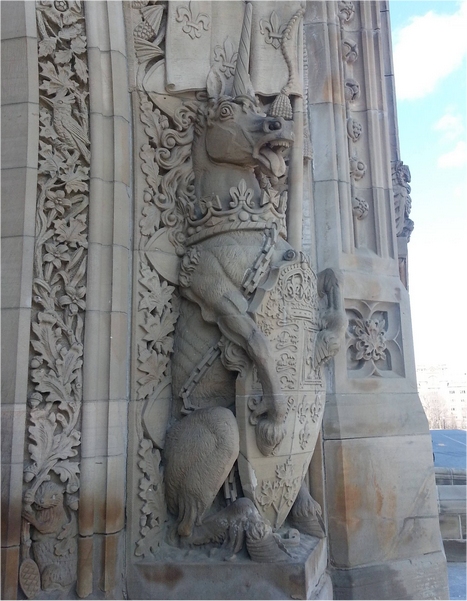 Back to Edinburgh Castle in Scotland, as we depart the castle we see this Korean Wedding Party with the groom wearing the traditional Hwarot (활옷) and the bride and bridesmaids wearing the traditional Hanbok (한복) brightly colored dresses. Katherine thinks this is part of a Fringe Festival performance of some kind.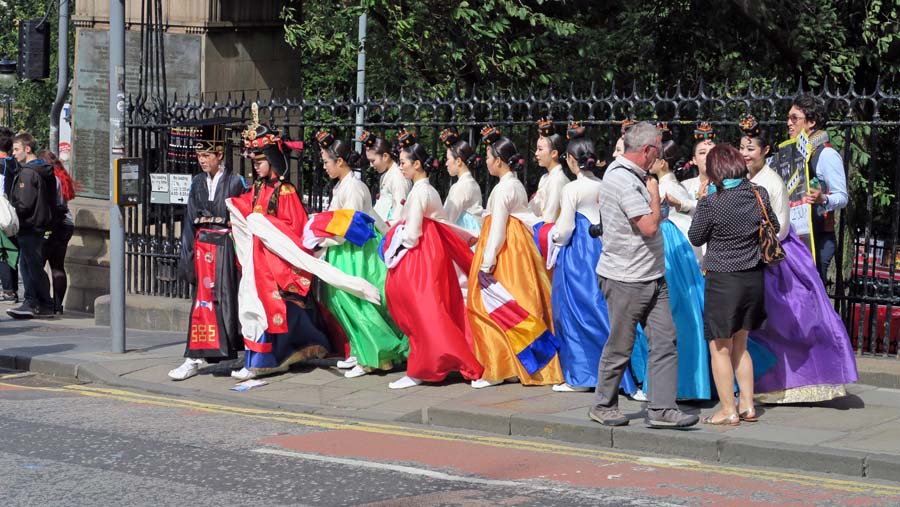 The traditional Korean brightly colored dresses crossing a street in Edinburgh Scotland.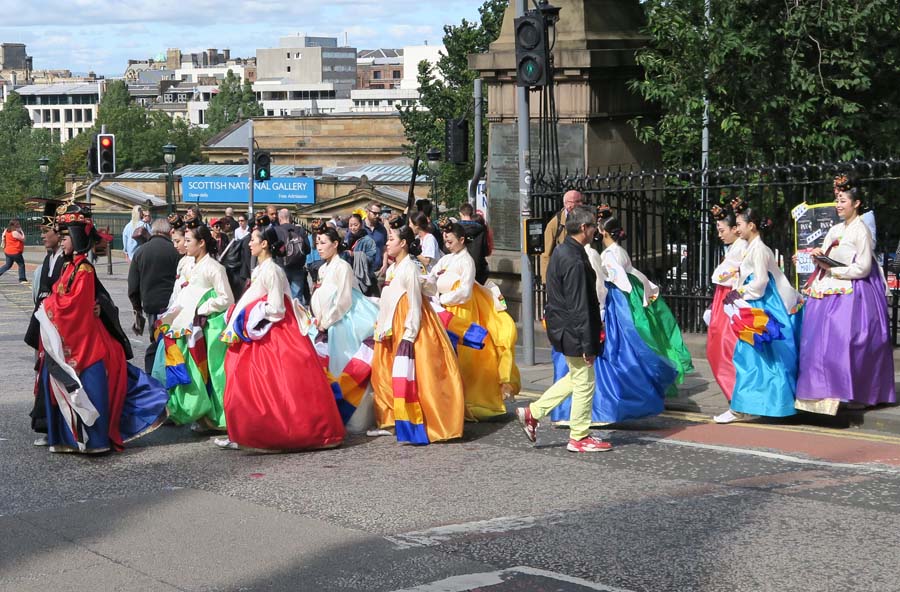 Late in the afternoon we stopped in a local cafe just outside of our hotel called "The Newsroom". I had a 25 ml pour of single malt Scotch whisky (which I like to call a "Wee bit a' Scotch" in a Scottish accent) and is about half an American shot and a standard serving size here. In the picture below, see that they serve the Scotch whisky "straight" (undiluted) and beside it serve a small amount of water with a straw that allows you to add a few drops of water according to your preference to the Scotch Whisky. Undiluted whisky burns your mouth from the high alcohol content, and a little water can "open up" some flavor and take the harsh edge off the burn. Some people prefer more or less water, and there is no right or wrong amount of water - thus why they bring water and let you add your own. I also had a beer with it. :-)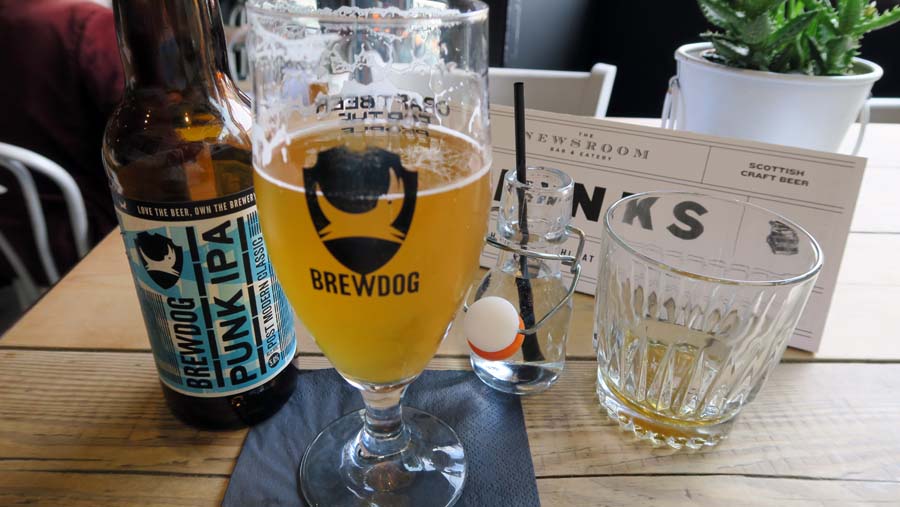 That night Katherine and I went to dinner at "The Number One" in Edinburgh. That's the name of the restaurant, not a ranking. This restaurant has a Michelin Star. which is kind of rare and is supposed to denote "great food". There is definitely some controversy around the Michelin Star, like it favors French food which the French think makes sense but other cultures don't necessarily think French food is the only type of food. :-) Either way, Michelin Star restaurants tend to be expensive and they really care very deeply about service and presentation. The picture below is Katherine waiting for our table in the sitting area looking beautiful and elegant.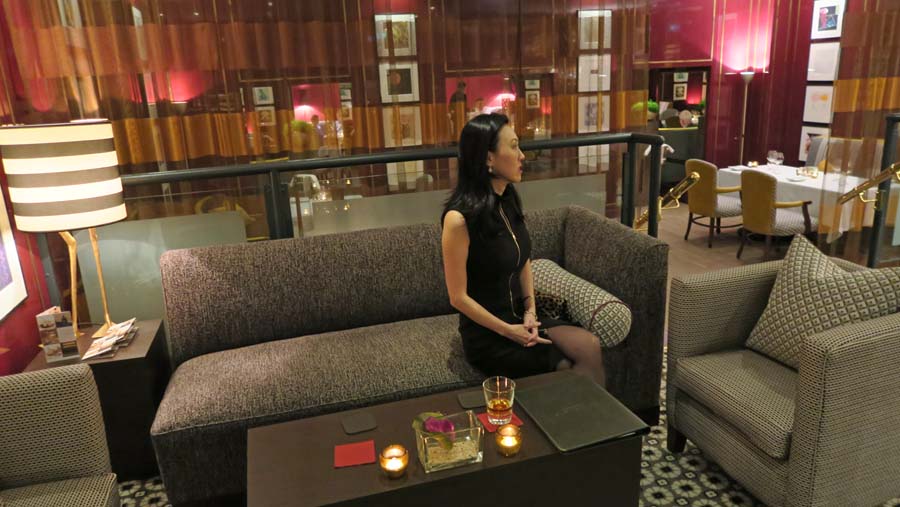 During the meal we had Glenlivet Sparkling water. That was amusing to me because Glenlivet is a famous Scotch Whisky brand, I didn't know they sold sparkling water.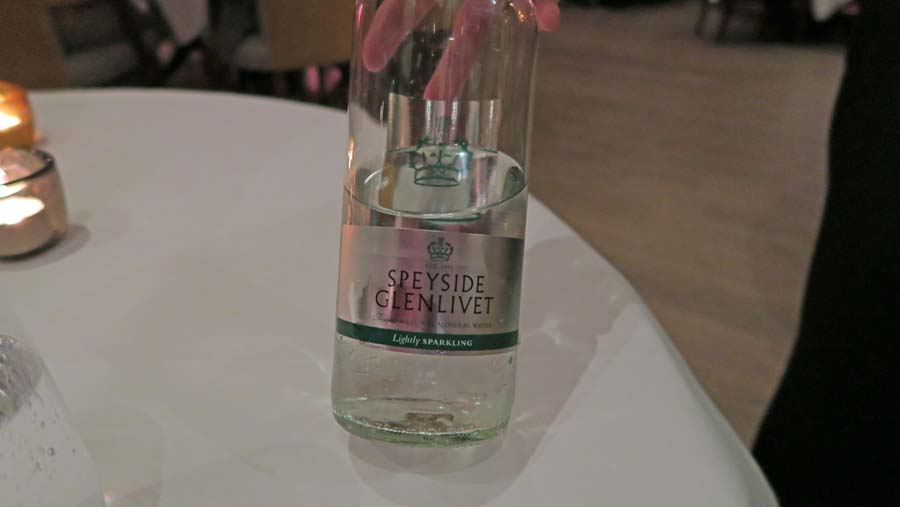 Our view from one corner in the main dining room at "The Number One" in Edinburgh Scotland. Notice the lighting on the walls and ceiling kind of lights up the table but doesn't shine in anybody's eyes.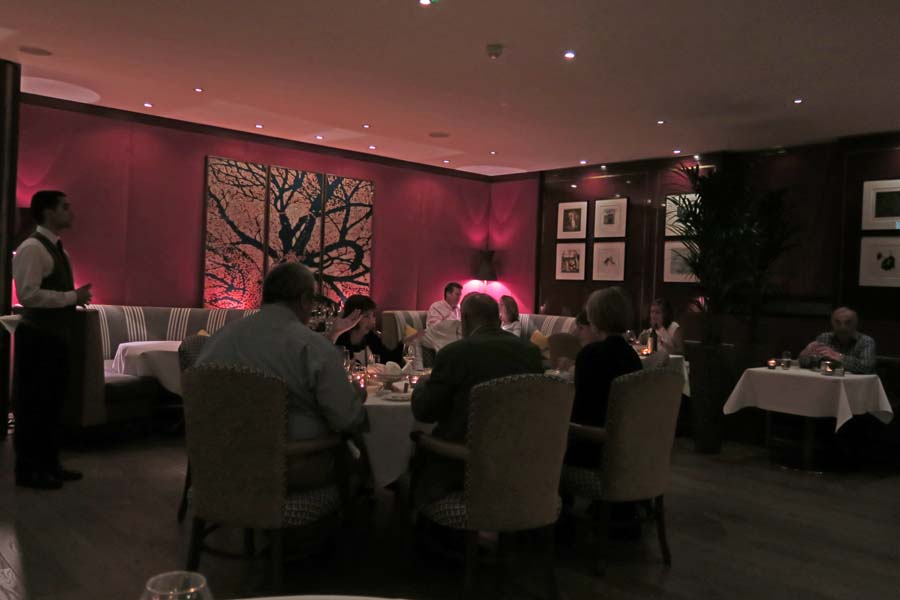 This is the 7 course tasting menu Katherine and I had. We also got the "Wine Pairing". It was really good, but it's slow and they talk about each course, which is kind of pretentious and would get tedious if you ate here every day. Definitely worth it for a once or twice in a lifetime experience.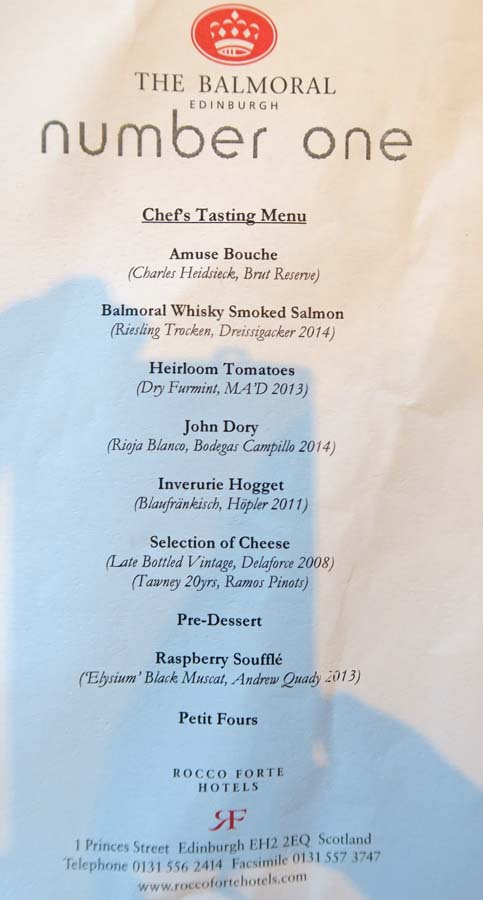 A picture of the cheese course at "The Number One" in Edinburgh Scotland. They presented all 20 types of cheese and you chose a few. It's a bunch of effort and presentation for one single dish of one single meal, but I guess fun if you are in the right mood? We tried to stick with Scottish cheese as much as possible.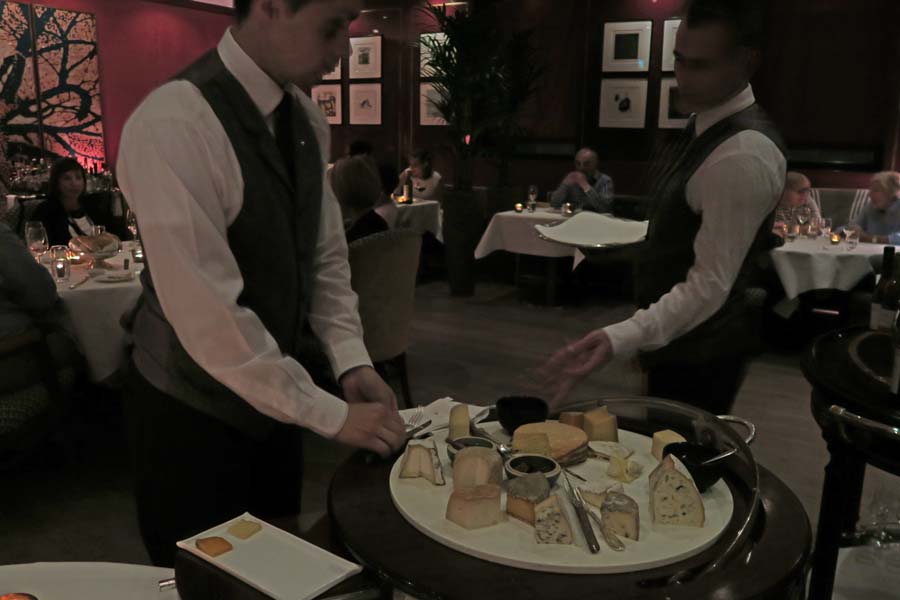 Done with dinner, Katherine and I returned to our hotel. We decided to have a final drink before bedtime, and so we wandered by "The Snug" which is a little bar on the same floor as our hotel room inside the hotel. "The Snug" is manned during peak hours, but 24 hours a day you could pour yourself a drink and on the honor system write your name and room number in a book to get billed later. Below I take a picture of their Scotch whisky selection.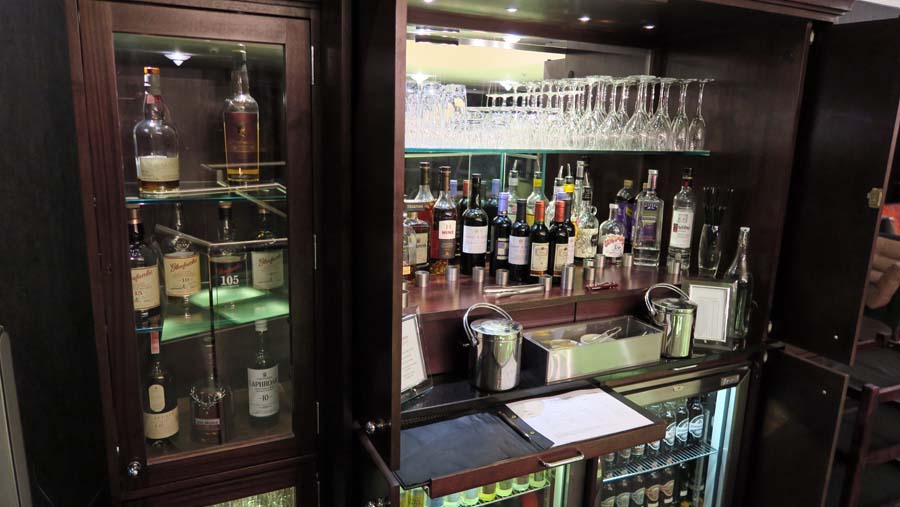 Loch News and Balvenie Tour Day Starts Here!
The next day (Thursday, August 27, 2015) we wanted to see "The Highlands of Scotland". So we had a really big day starting early (7:30am) and ending late to visit the famous Loch Ness (hopefully seeing the Monster) and also take a Balvenie Distillery tour at 2pm to see how Scotch Whisky is made. Because of the whisky and because Scottish people drive on the opposite side of the road from Americans, we hired Iain Simpson (seen below in drivers seat) to drive us. Iain runs ReelPrivateTours and he really took care of us getting us to all of our destinations on time. Iain was a pleasure all day, providing background and conversation, he was really good to us and was willing to do this CRAZY day of driving for us despite how silly it was.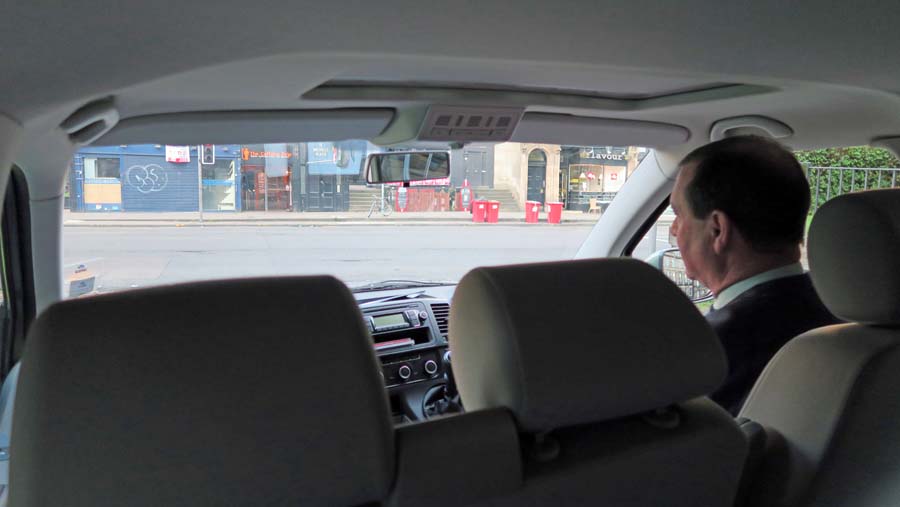 Below is a screenshot of the interactive map created by my DeLorme InReach GPS tracker on this day of driving where we drove 362.33 miles to take a selfie up at Loch Ness plus do a Balvenie Distillery tour all in 14.5 hours of driving by Iain Simpson of http://www.reelprivatetoursofscotland.co.uk/.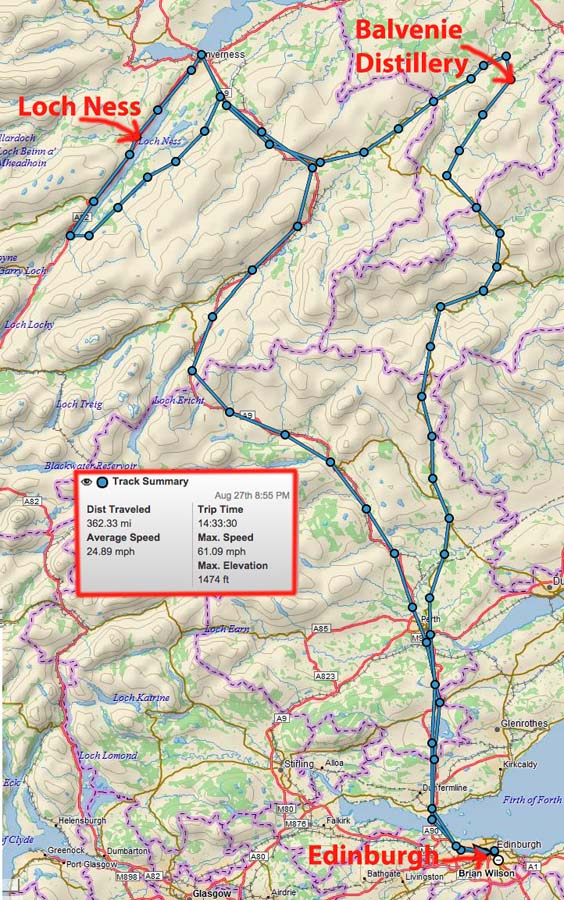 Here we are in the morning heading north over the Forth Road Bridge north of Edinburgh Scotland.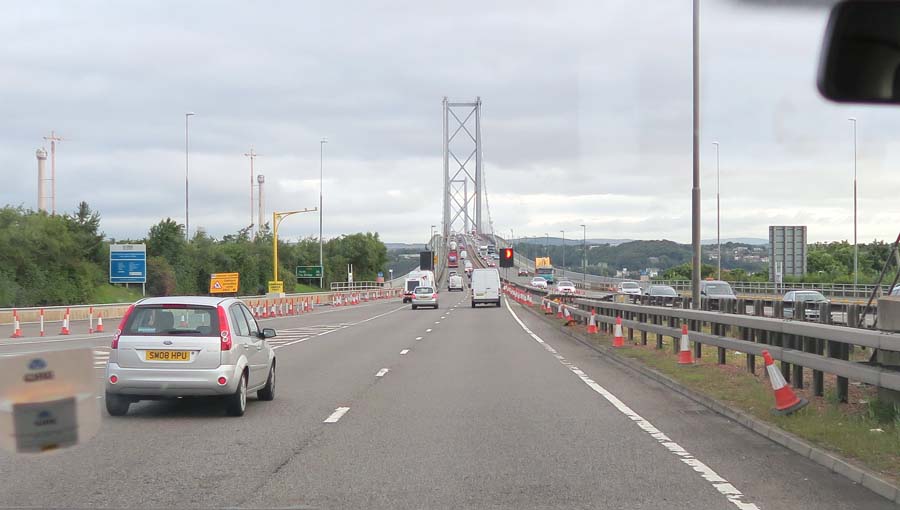 Scotland is famous for the purple heather shrub and agricultural farms. Below is a picture of both.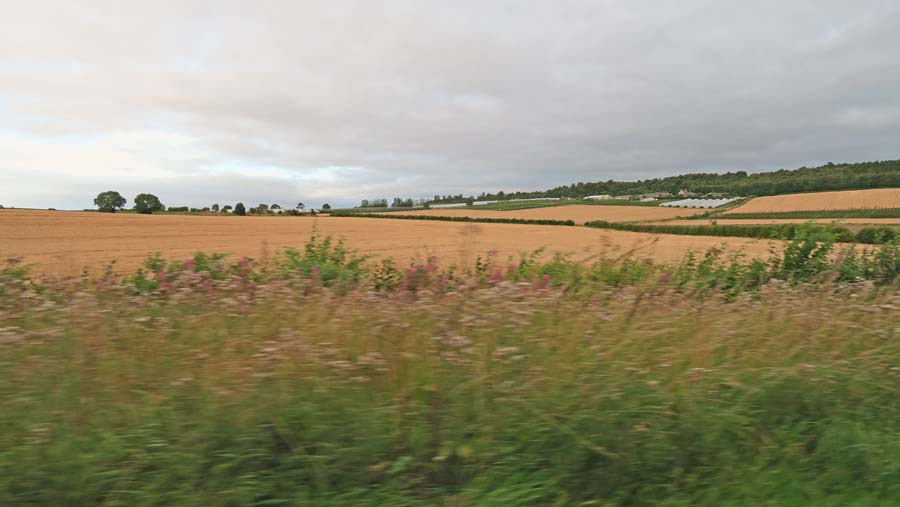 Scotland is also famous for having a lot of sheep. All day long we drove through fields like the one below with thousands of sheep happily roaming around.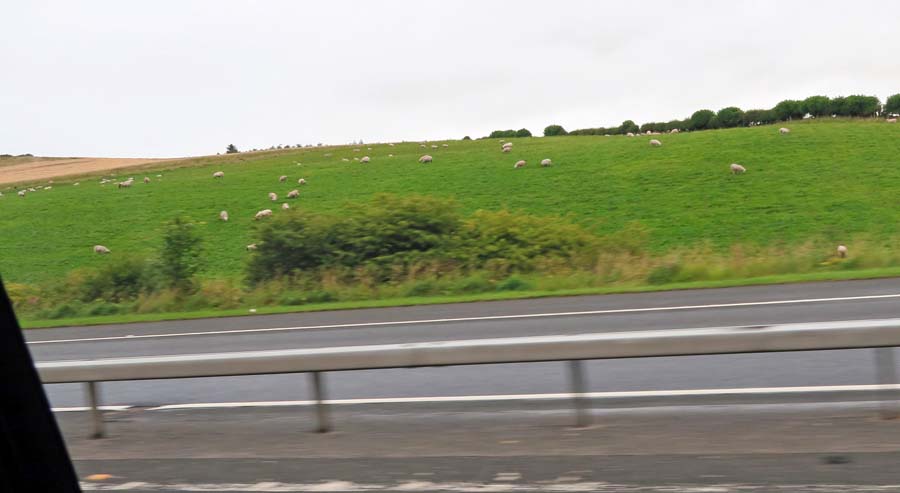 Coming up on the city of Perth.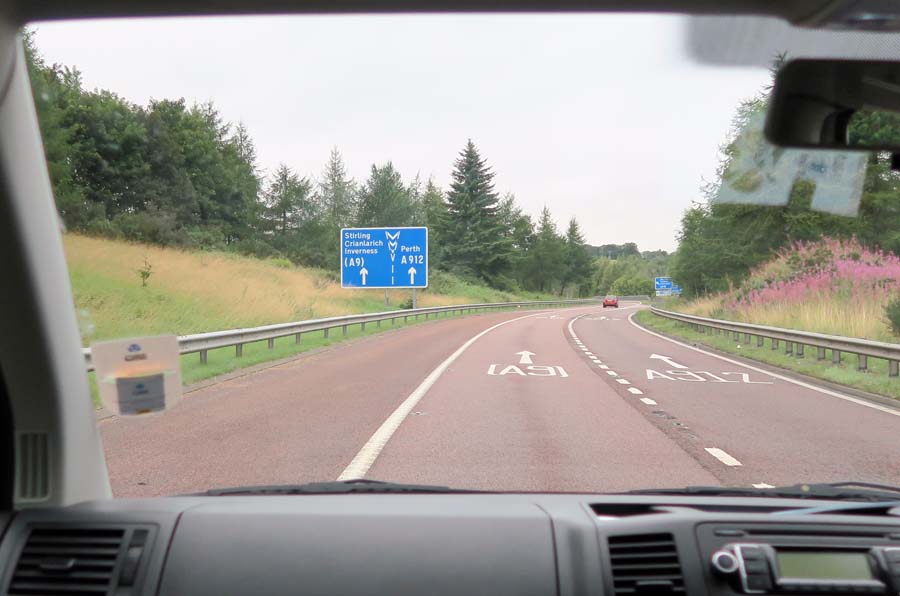 A random Scottish castle spotted from the highway as we kept to our strict itinerary.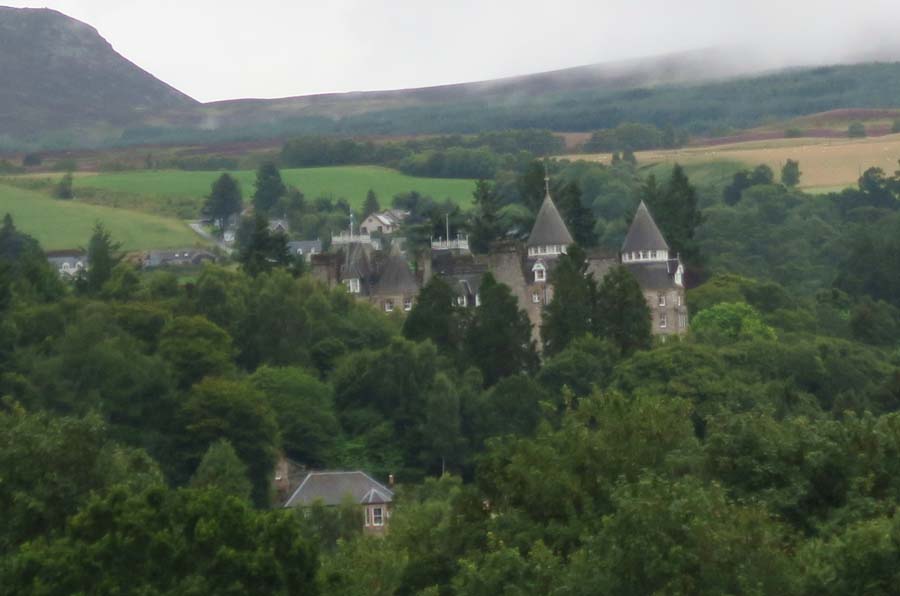 As we got further north and up in the Scottish highlands, we saw more and more of what you see below: huge treeless wild areas filled with beautiful purple heather and green grass. It's very pretty to visit, but it looks a little harsh to live up here.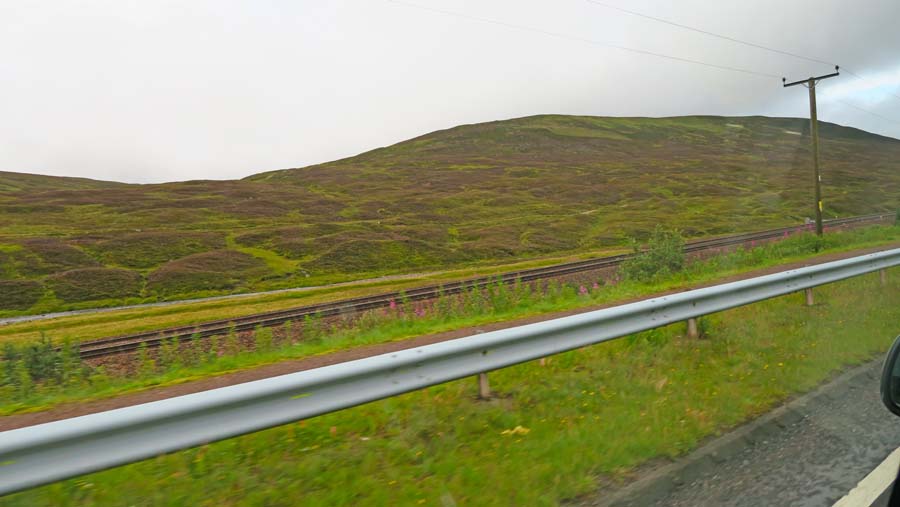 More purple heather plants covering treeless hills in the highlands of Scotland.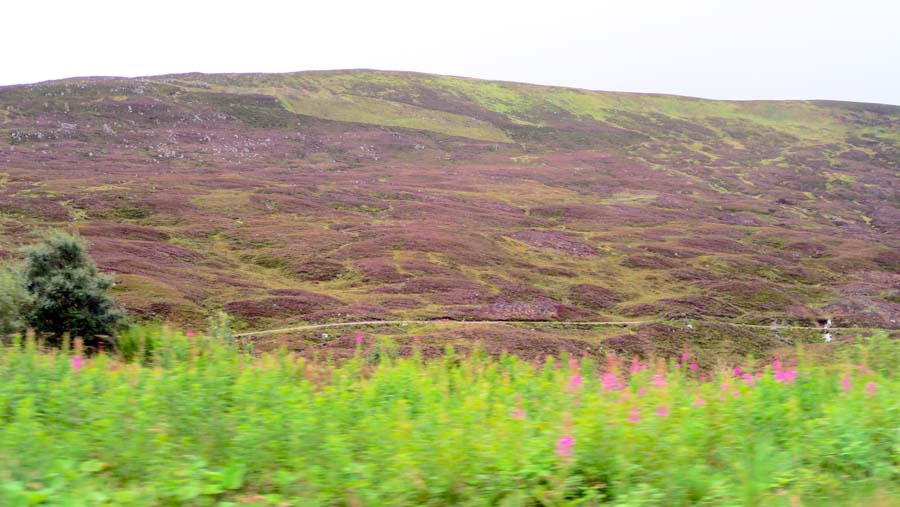 As we neared the Loch Ness lake, we decided on a route that went around the southern tip of the lake and up the far side. This gorgeous little road leads towards the southern tip. It is a one lane road, with "turn outs" to negotiate past other vehicles in the road when you meet them (which was not very often).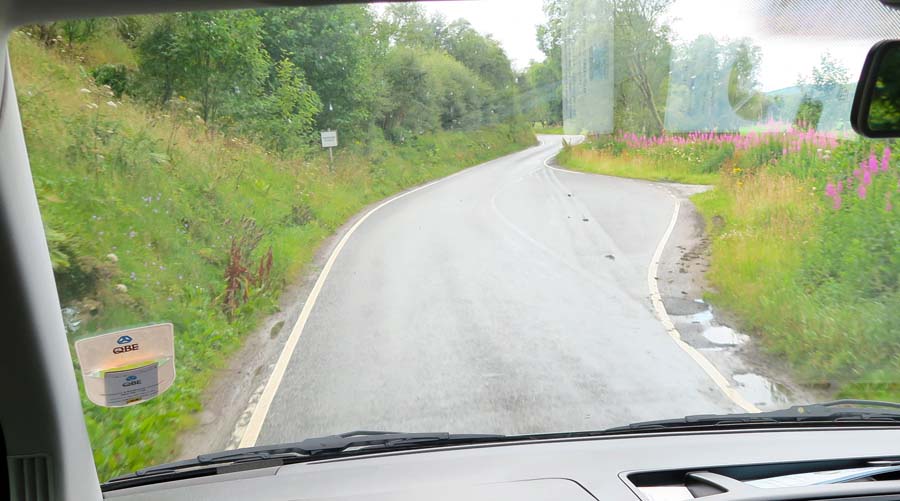 Inverness is a town of about 65,000 residents and is where Will and Alastair (the main reason we are here in Scotland) grew up and met each other. The sign below points to it.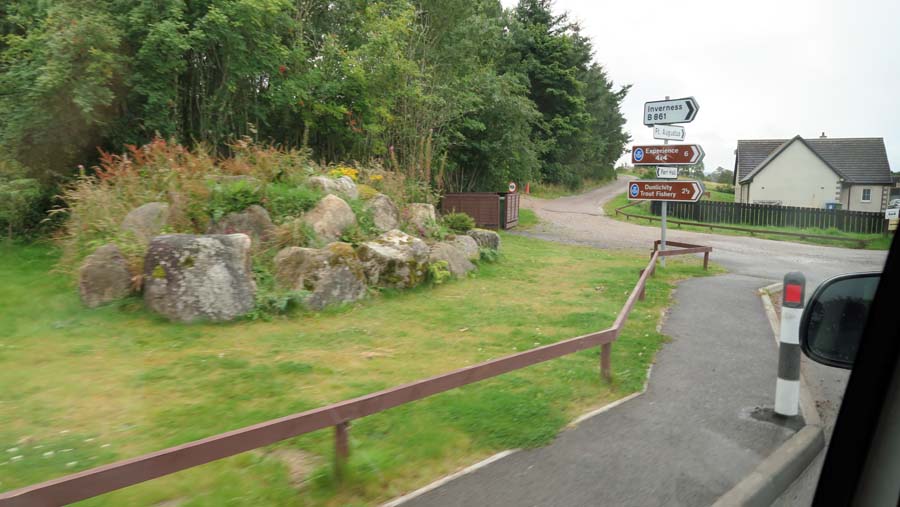 We stayed on the "Single Track Road" and we did "Use passing places" like the signs below requested.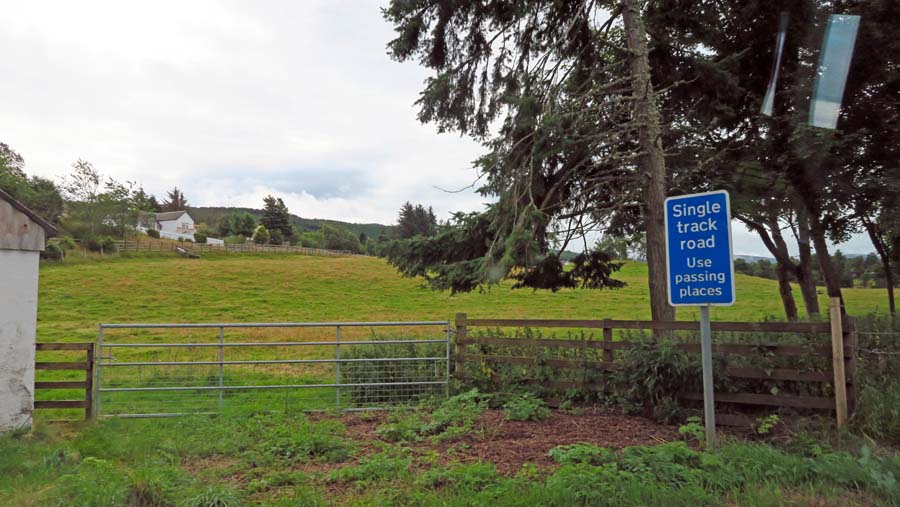 A "passing place" sign.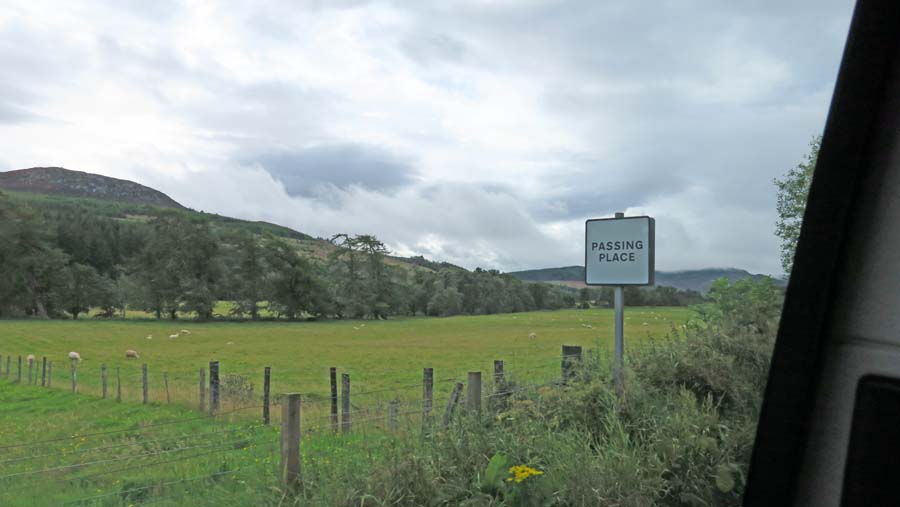 A small one room Free Presbyterian Church near Loch Ness.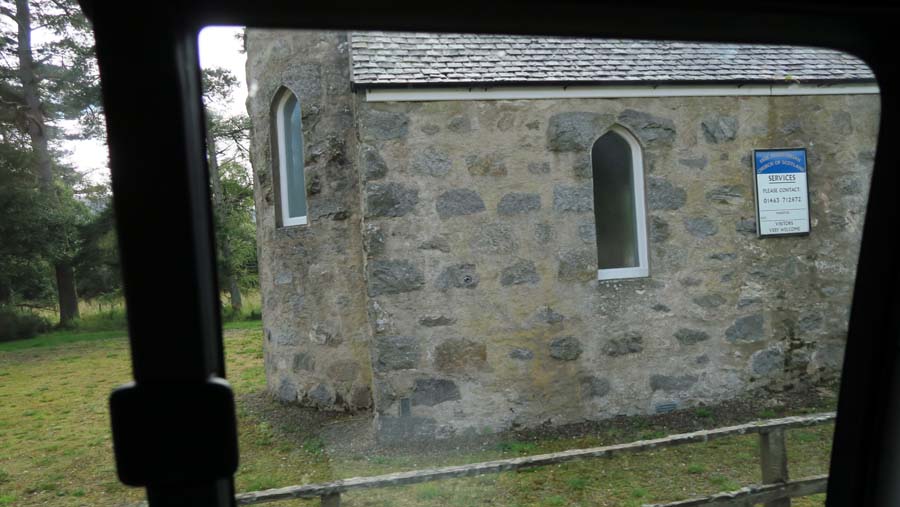 We stopped here for a little biology break, and I had a moment to stretch my legs and take this picture outside of the moving car. It really was beautiful (and rural) like this the whole day, this is what a lot of Scotland looks like.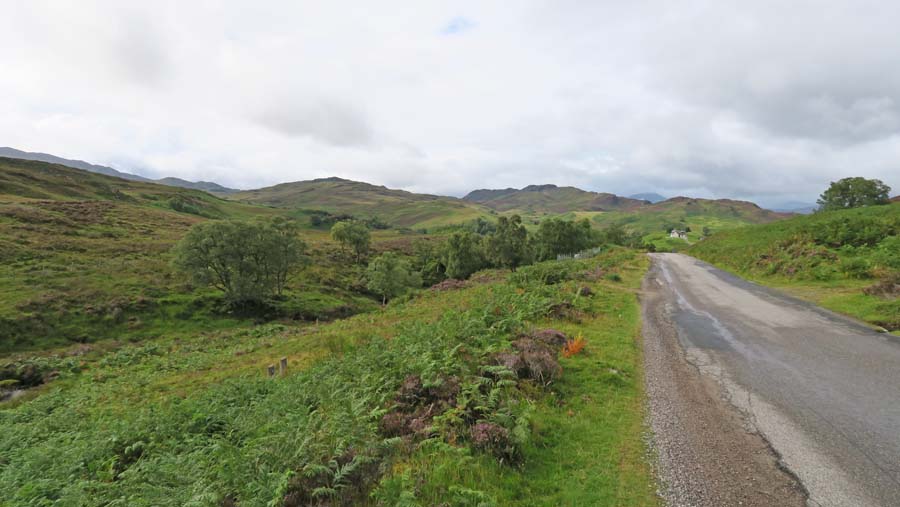 The signs in this area of Scotland are dual language signs in both Scottish Gaelic and English. See examples below.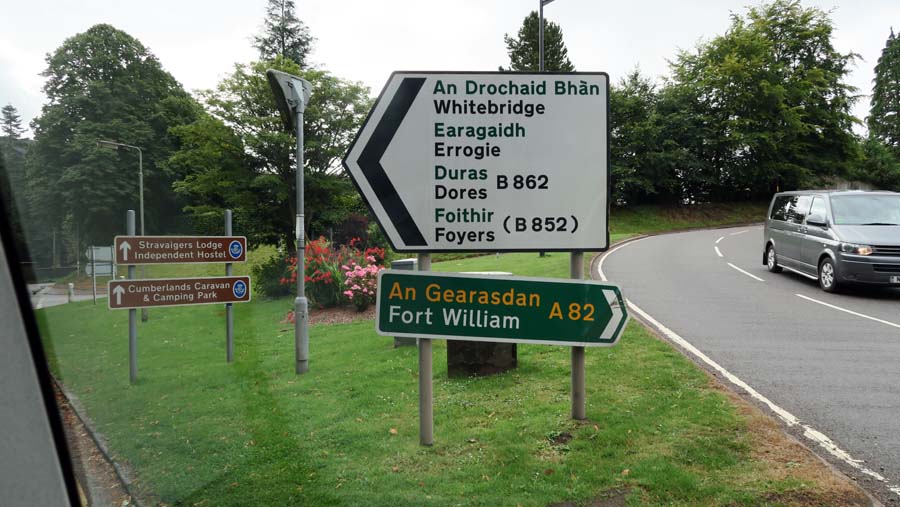 Passing through the very cute and small town of Fort Augustus which is on Loch Ness (loch is the Scottish Gaelic word for Lake).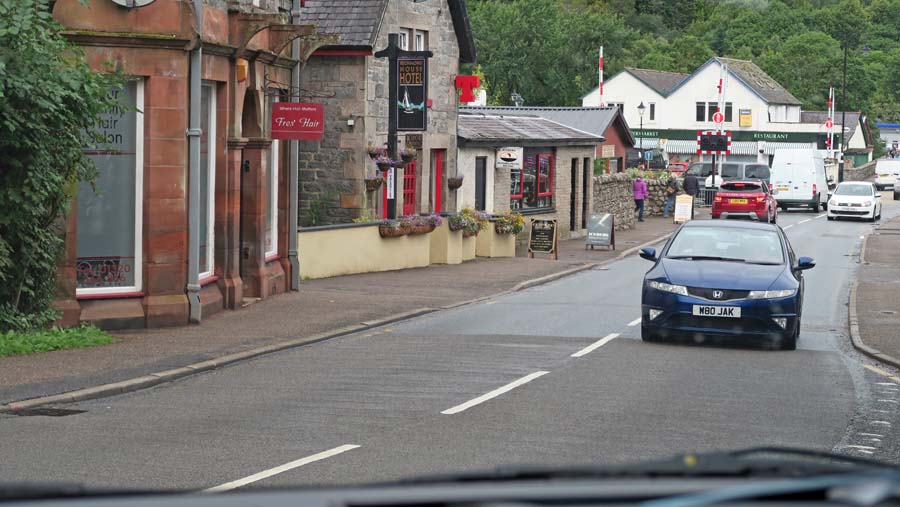 And through the trees it appears! The famous Loch Ness. I felt very silly and like a tourist asking to be driven 4 hours to see a lake. But 40 years ago as an 8 year old child I wrote a book report about this place (and the monster named "Nessie" that lives here). I never thought I would actually lay eyes on the actual lake, and so it was a bucket list kind of thing to see it in person and take a picture.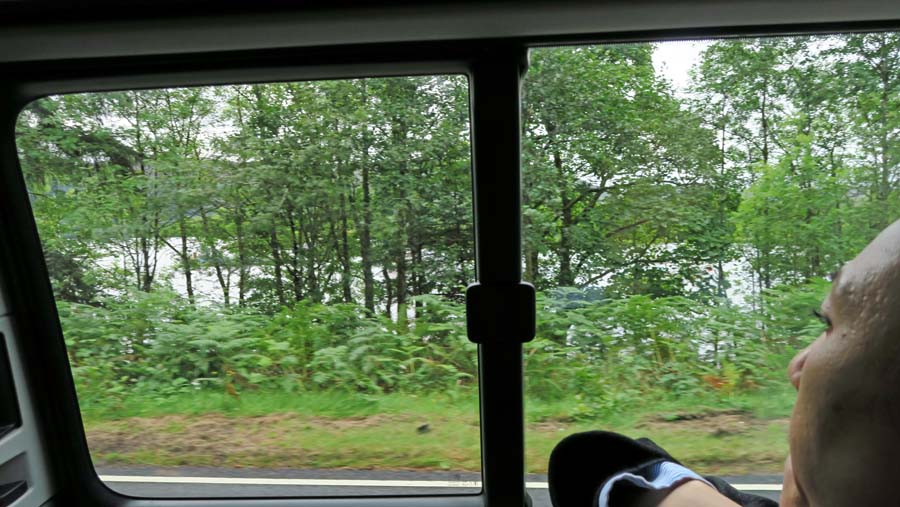 Another clearer picture of Loch Ness in the highlands of Scotland.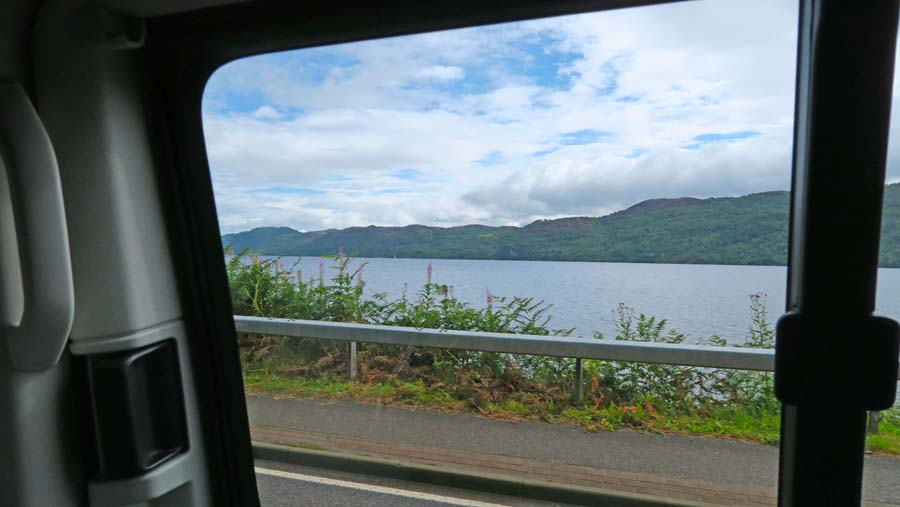 We stop so I can take the panorama below of Loch Ness. (Remember you can click on the picture below for a GIGANTIC high resolution version original.) Notice there are power boats on the lake. It's also PERFECT conditions for a Nessie sighting - if you click on the picture and look at the high res original, the boat wake mixed with wind waves can play tricks on your eyes. I quite enjoyed seeing Loch Ness, it was worth the trip.

A picture of Brian Wilson and Katherine Chung in front of Loch Ness. Iain Simpson our tour guide took this picture for us to remember the trip.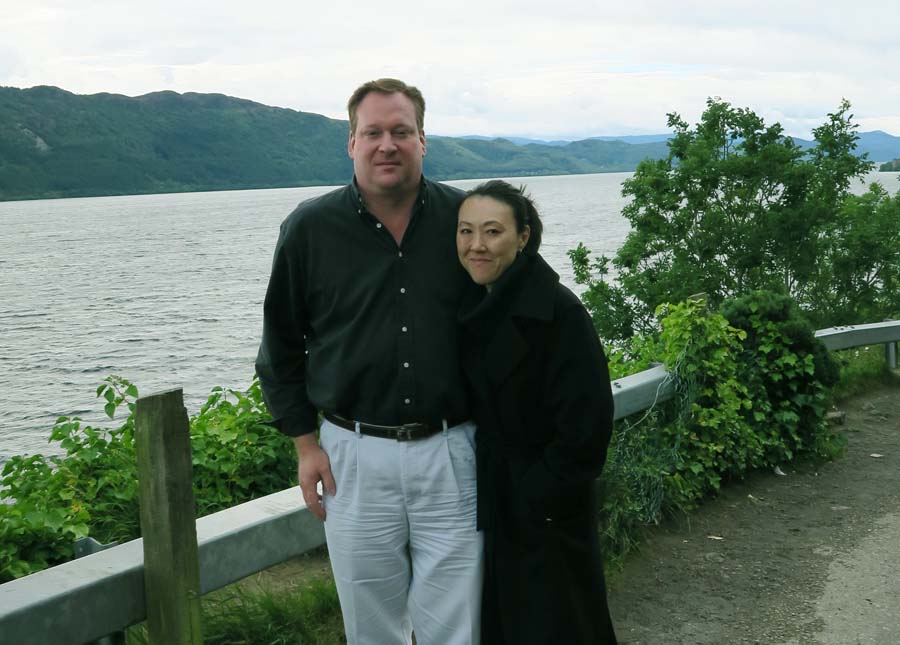 Katherine and Brian clowning around before piling back into the car to make it to the Balvenie Distillery Tour. (Katherine says she looks evil in the picture below but she's just smiling and enjoying herself and got a bit of red-eye in the picture.)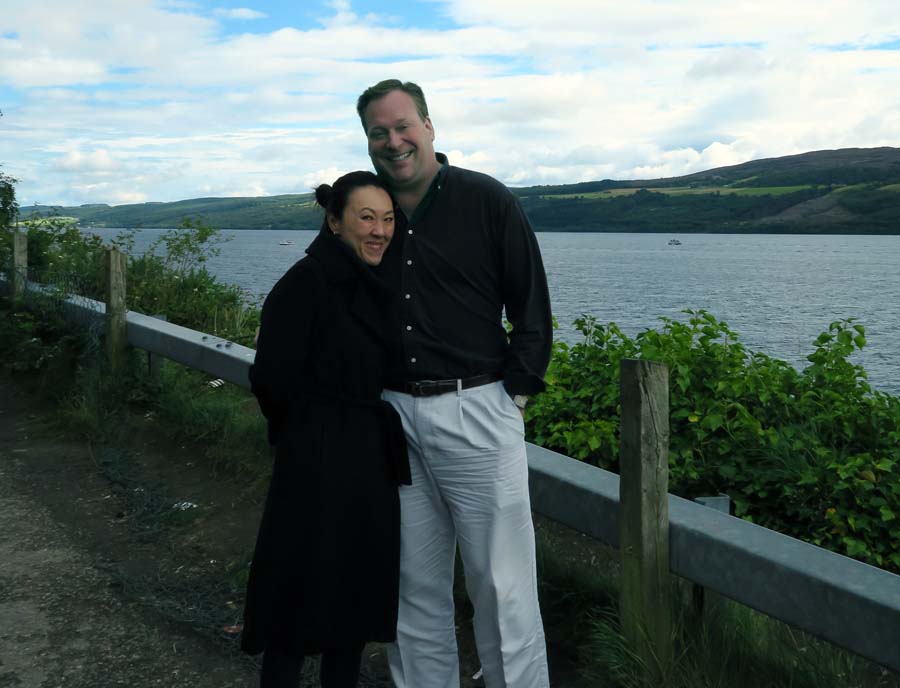 Ok, with the Loch Ness achievement unlocked, time to hurry on to the main event of the Balvenie Distillery Tour! Our guide hustles us along.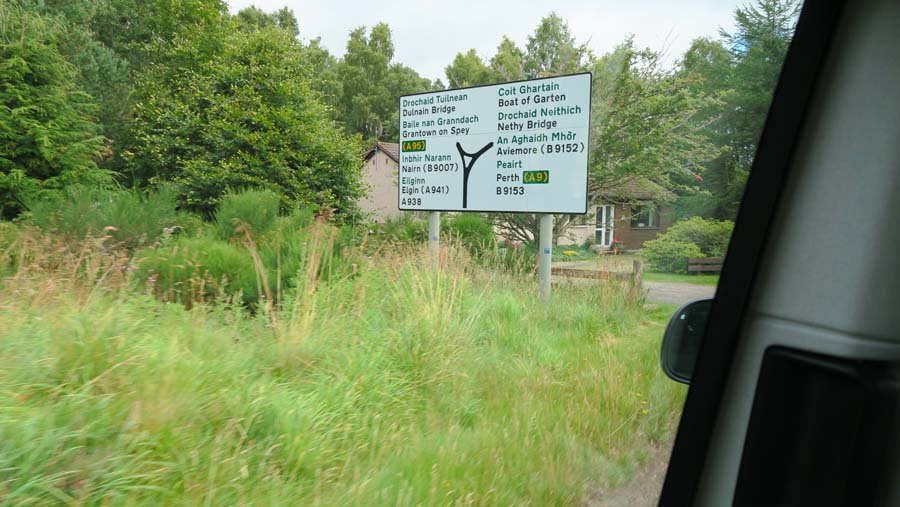 I'm not exactly sure what town this is, but it's still very near Loch Ness.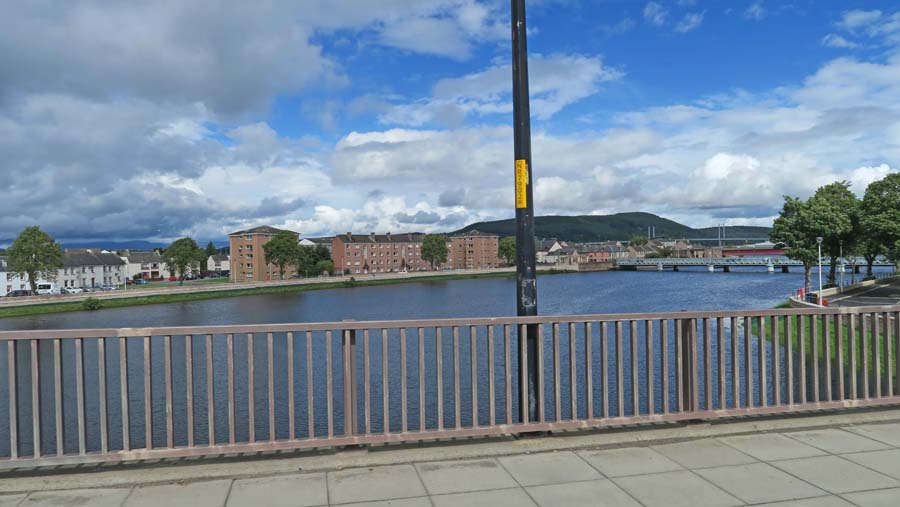 And now we enter "Scotch Distillery Wonderland". Below I snap a picture of The Tormore Distillery as we drive by.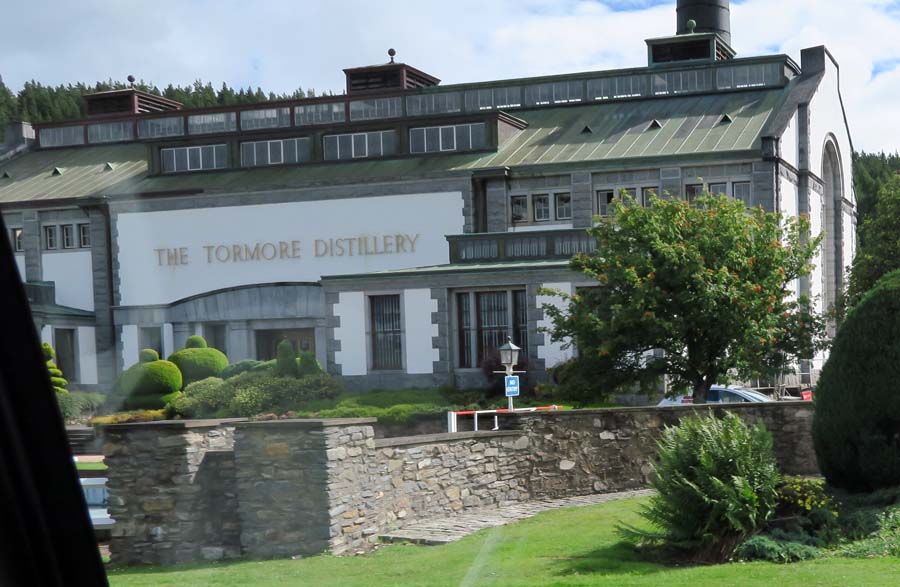 Only 5 miles to the town of Glenlivet which is where Glenlivet Scotch Distillery gets its name.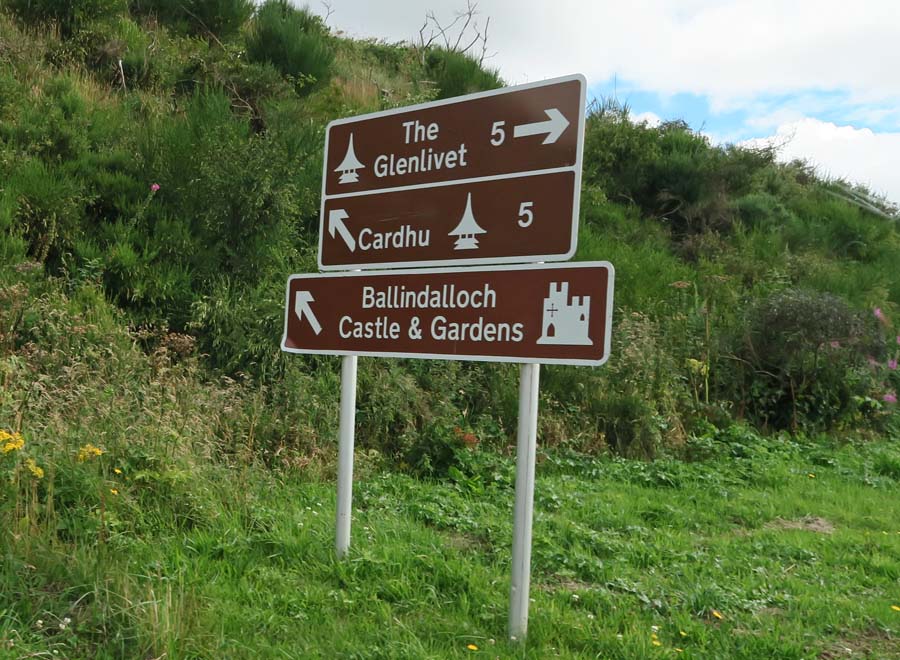 A sign welcoming us to the "Malt Whisky Trail". Is the sign blurry because you have been drinking whisky all day? (That's a joke, it's blurry because of my poor camera skills.)
The "Welcome to Moray, Malt Whisky Country" sign.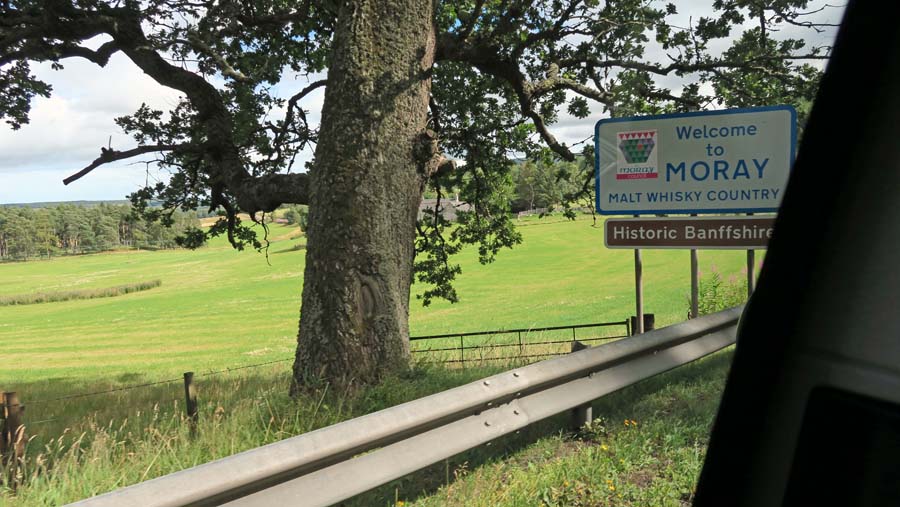 Sign to the Cragganmore Distillery.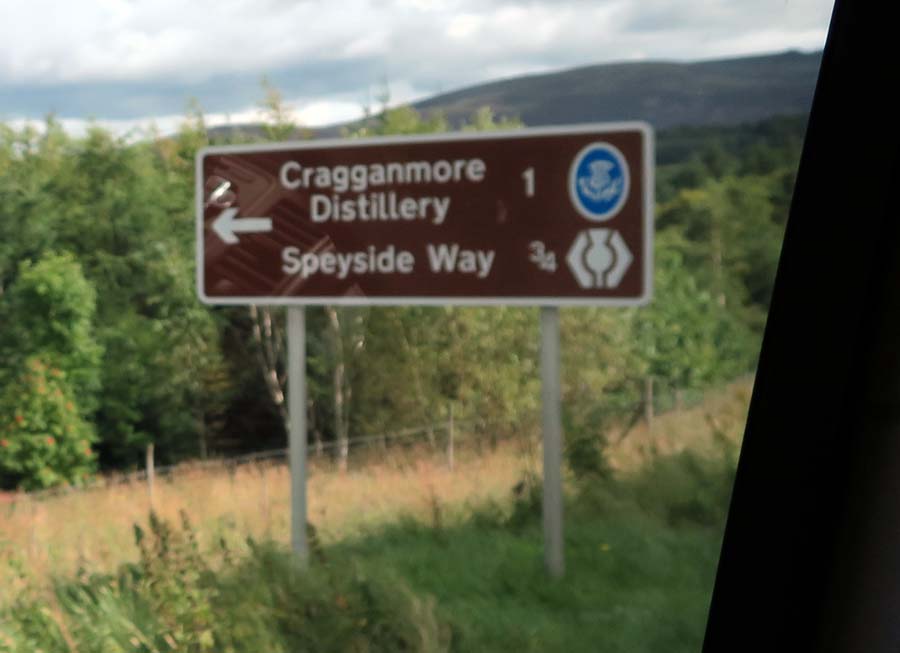 A sign on the Ballindalloch Distillery as we drive by.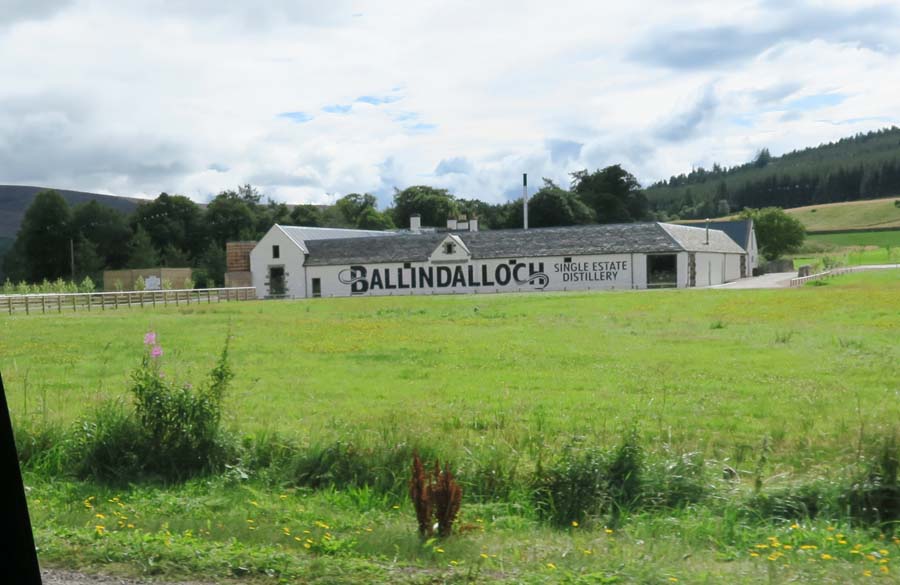 Scenic entrance to something here in the highlands of Scotland.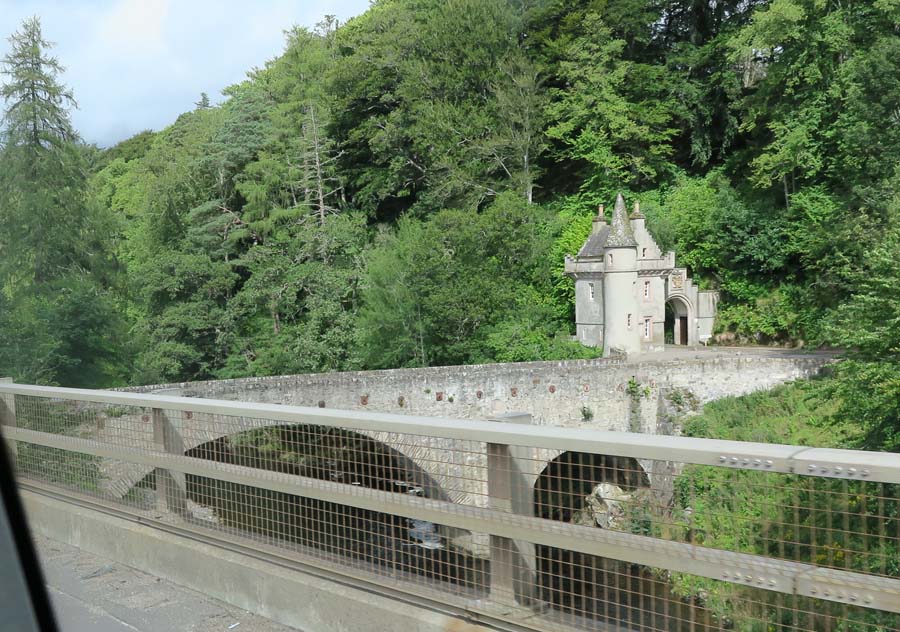 We pass by the Aberlour Distillery looking for the Balvenie Distillery. All of these distilleries make AMAZINGLY great whisky all within a few miles of each other in this region.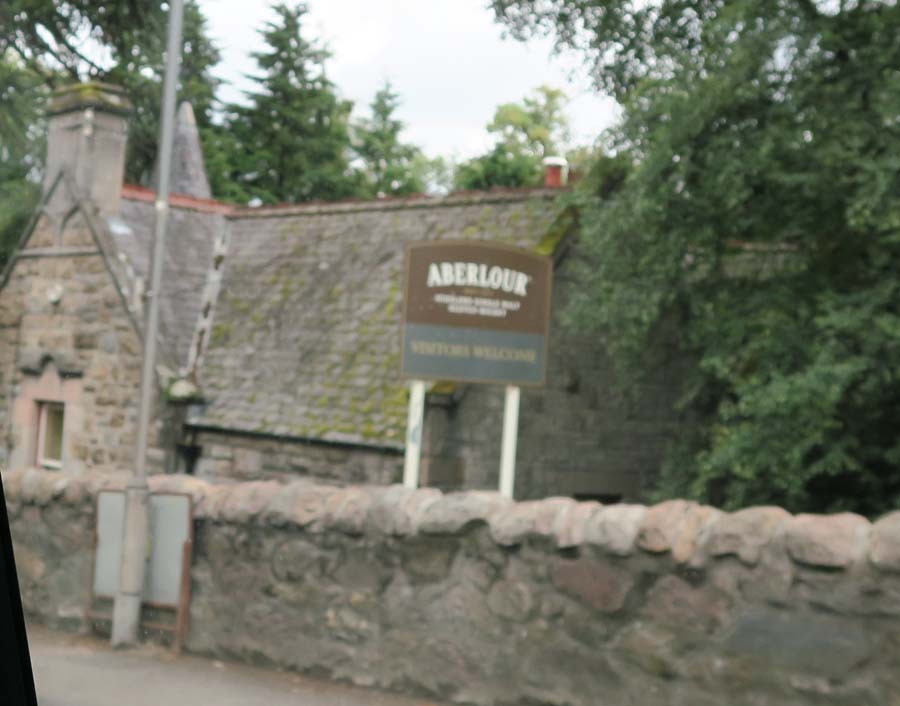 We arrive just in the nick of time to take our tour. The Balvenie Distillery is pictured below. They make the Balvenie Doublewood 12 year Scotch which is my favorite whisky. It's kind of surreal to see the world's supply of this comes from this little unassuming farm here. The distillery is owned by William Grant & Sons which owns Glenfiddich (just a mile up the road), Balvenie, Girvan, Convalmore, Kininvie, and Ailsa Bay Distilleries. The gate below is locked, we have to find a different entrance.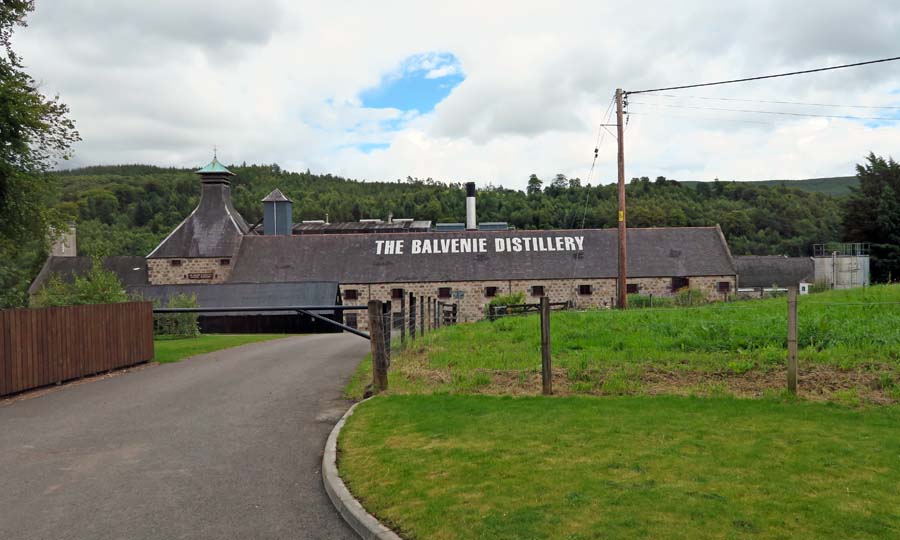 It's a little hard to find the visitor's entrance due to this tiny little sign is the only indication. But we find it, and progress down the pleasant little lane.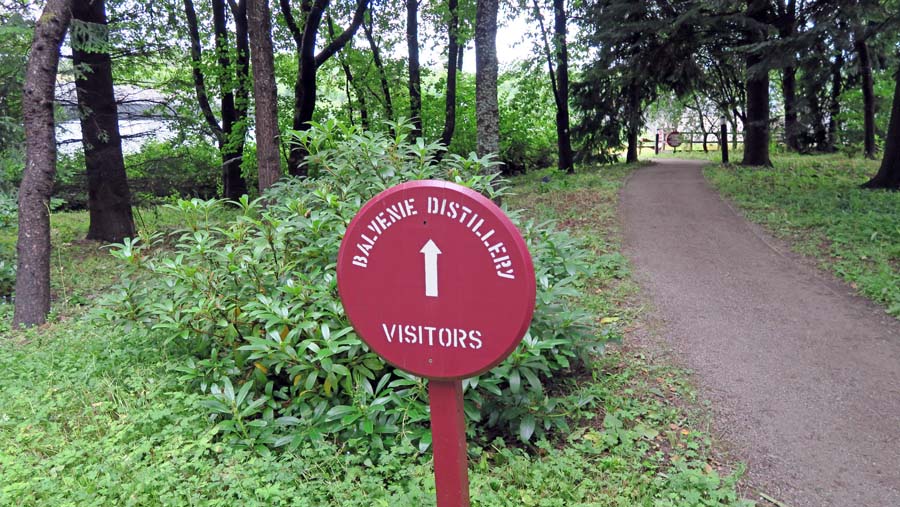 Luckily we have a reservation for a tour that starts in a few minutes! While we were on our tour, a few random people were turned away at the entrance because they didn't make a reservation and the tours start at very specific times and only take a few people.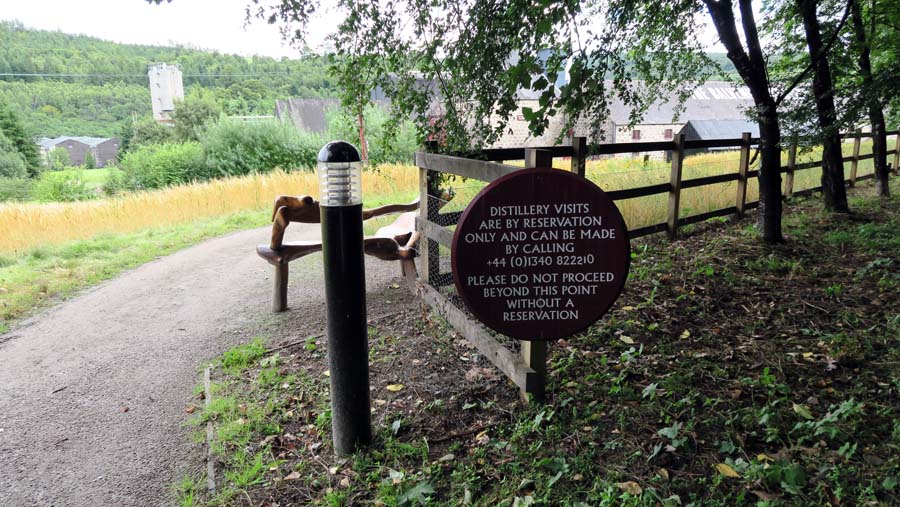 Iain Simpson our guide in red pants and Katherine Chung walking onto the Balvenie Distillery property. We still haven't found any people here yet.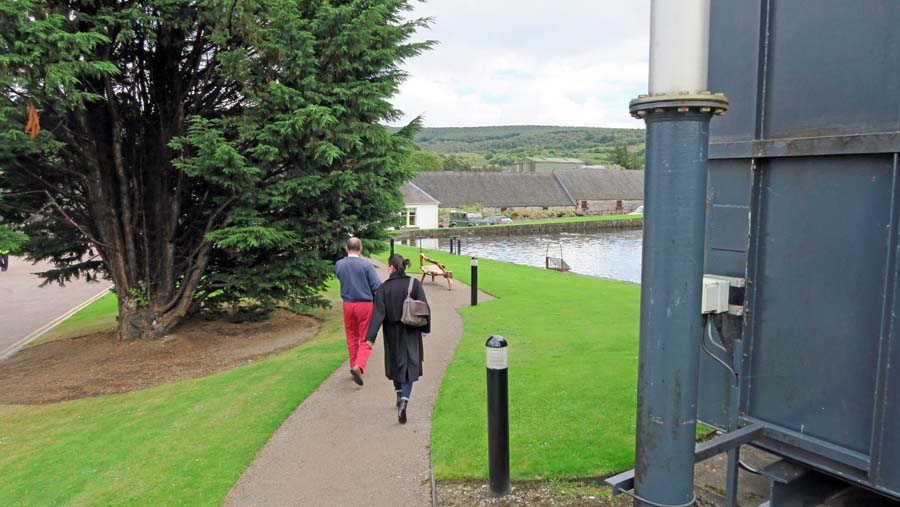 One more picture of the Balvenie Distillery building signage here in Scotland.
The main compound behind the front brick building. You can see the very top of the copper distillation cooling columns in the right side of the picture with white pipes around them.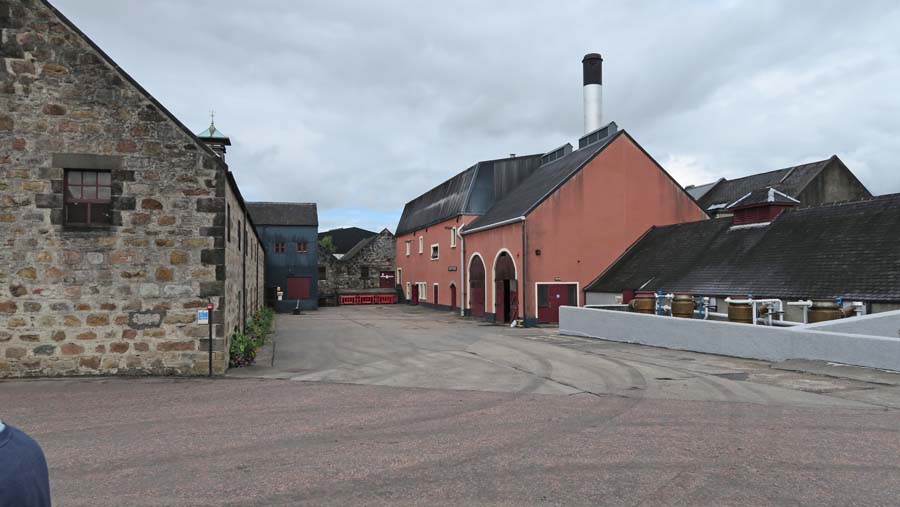 The Balvenie tour is given by David Mair (in the yellow safety vest on the left). The tour (and David) are amazing. He's not in a rush, and he walks us through the entire process of making Scotch whisky over the next three hours. Along the way we are free to taste things as we go along like the malted barley or the mash and at the end of the tour the final product (which in some cases takes 17 years to age properly). In the picture below we are at the "start" which is raw barley. Scotch whisky is only allowed to have three ingredients: barley, water, and yeast. Plus they are allowed to add a drop or two of caramel food coloring to make the color look correct. Also, by law Scotch whisky must be aged at least three years in barrels.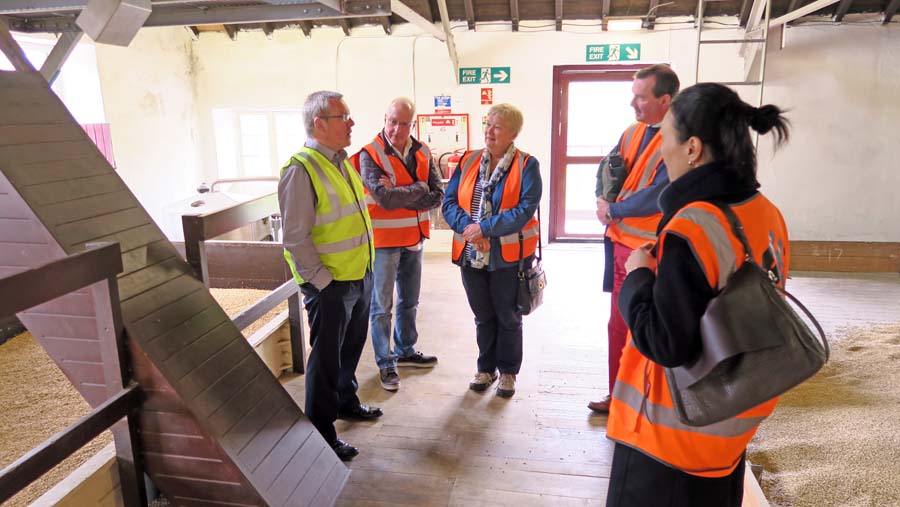 The first step is to add some water to the barley and "sprout" it, also known as "germinating". It grows for a few days, then they dry it to stop the germination at a certain point. The result is malt.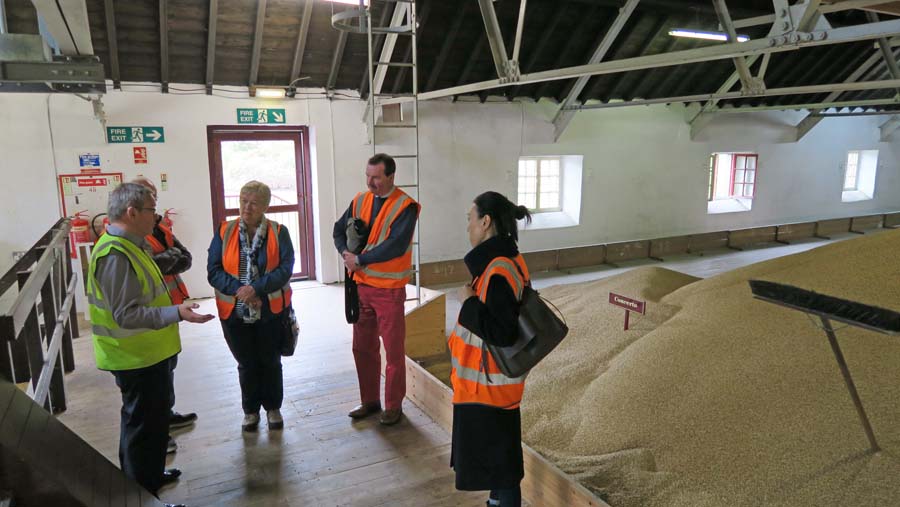 While it is germinating, the barley gets slightly warm and is spread out on the floors seen below and "turned" to germinate equally. Traditionally workers used wooden shovels to turn the barley and worked long hours leading to "Monkey Shoulder" which has been jokingly used as a name for a blended Scotch whiskey. Nowadays there is a little device that looks like a manual lawn mower (seen behind the guy with the broom in the picture below) that turns the barley over in little rows without much effort.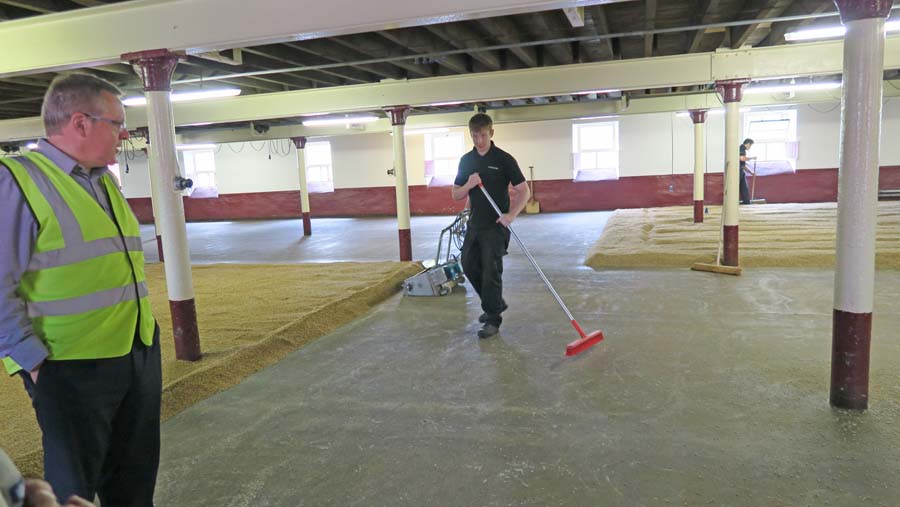 After a few days of sprouting the barley, it is dried to halt the germination process. The furnace that dries it is fired with peat which I think originally was the cheapest thing to burn in a fire in this region. A pile of peat is in the picture below. Also notice Katherine is wearing an orange safety vest with a picture of three monkeys on her shoulder.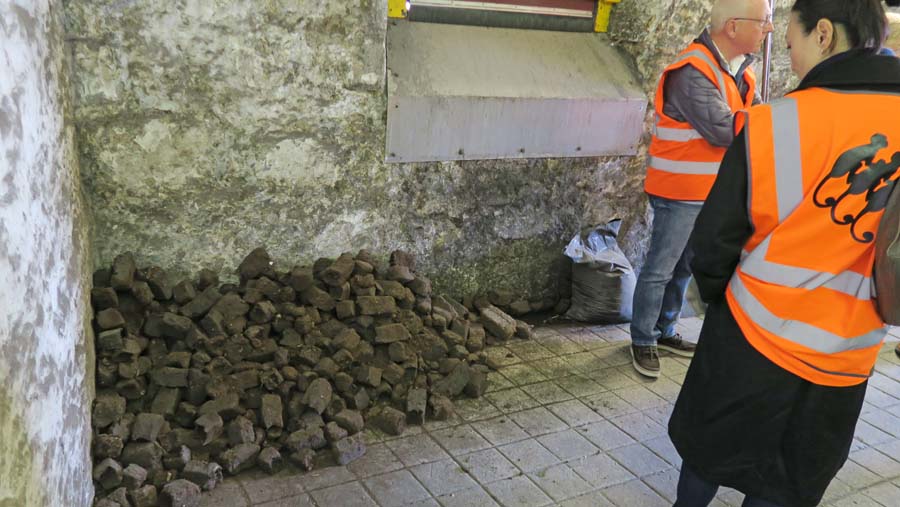 This is a close up of peat in the Scotch factory. I put my camera case in the picture to give an idea of scale. It looks like mud and grass.
The peat and a little coal is loaded into the furnace in the picture below.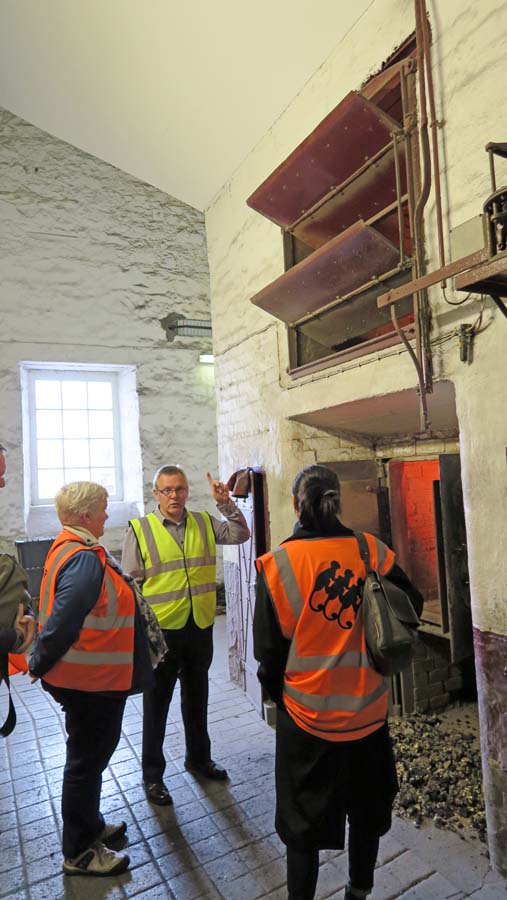 A picture of the open furnace. There were no temperature gauges anywhere or much automation, they just kind of load it up with peet and coal as needed.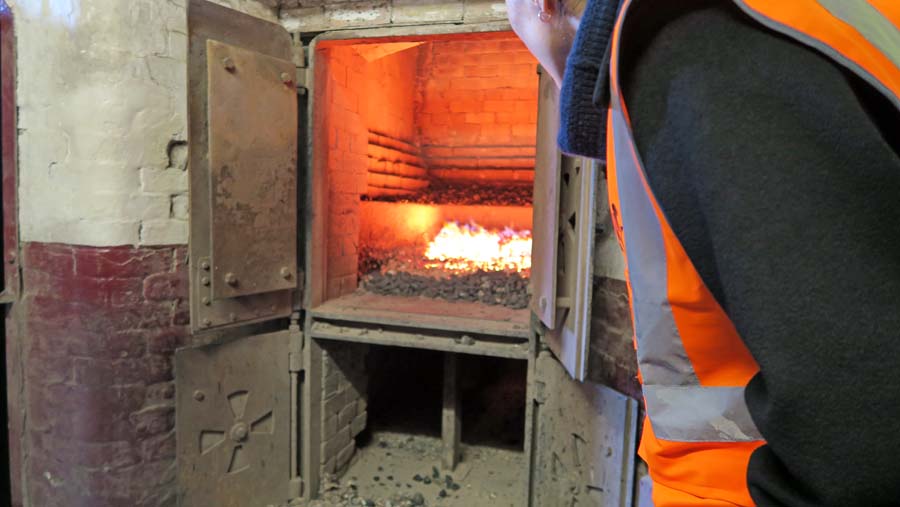 The pile of shiny black rocks in the picture below is coal. Drying the barley with peat imparts a certain taste to the final product, I think they mix in about half coal to temper that flavor.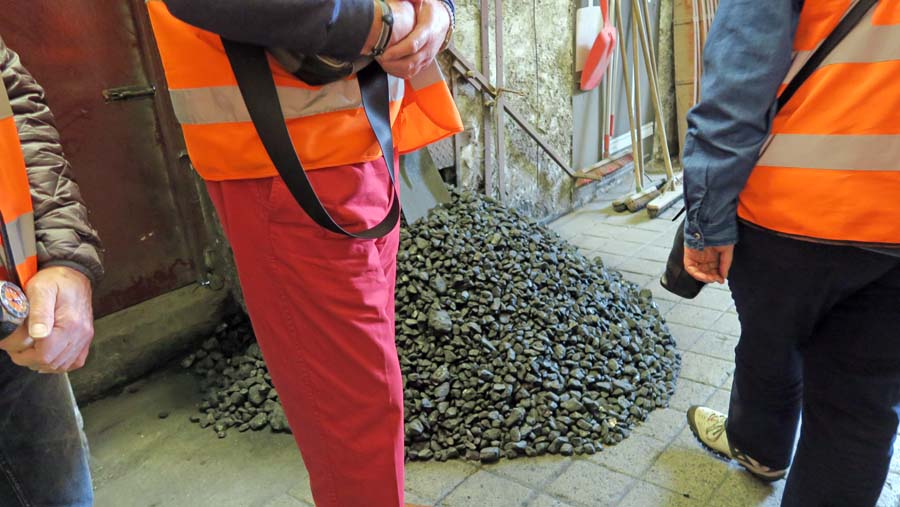 This display of peat and old wheelbarrow shows how peat might have been loaded a hundred years ago. The thing is, not much has changed.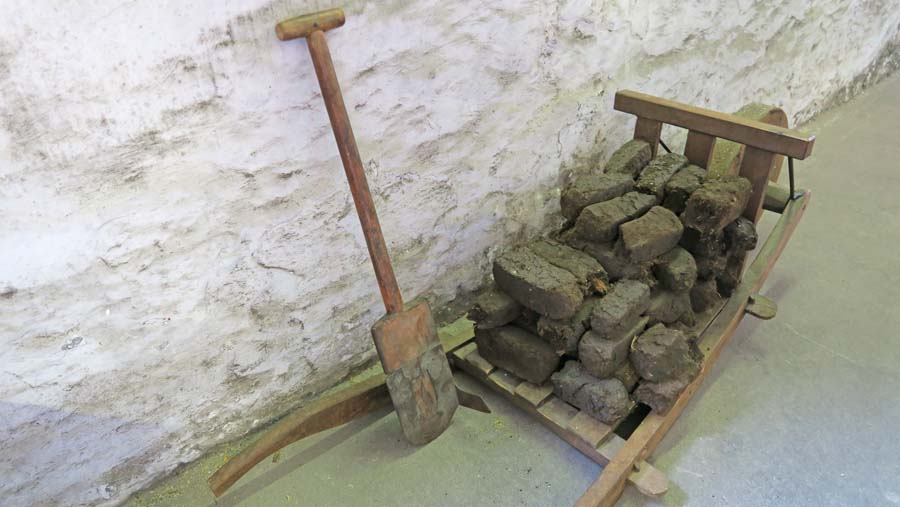 After the malted barley is dried, it is run through a roller mill and "cracked". The cracked barley is then mixed with hot water to make mash. When you extract the undesireable solids that don't have any of the sugar, the result is liquid wort which is a sweet liquid they add yeast to convert the suger to alcohol. Wort is basically sugary water. Below are pictures of the wort being produced.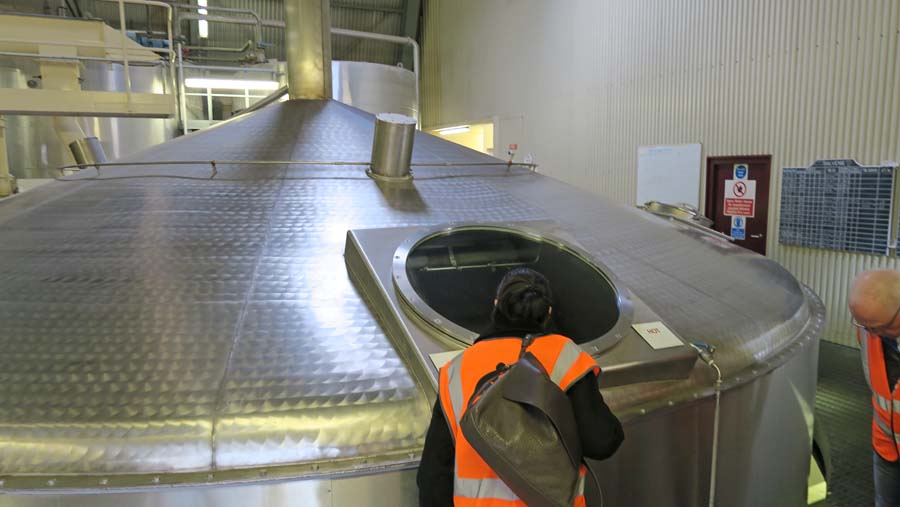 Walking to the next stage in the tour, the wort (hot liquid with barley sugar in it) is cooled in the Balvenie Wort Cooler seen below.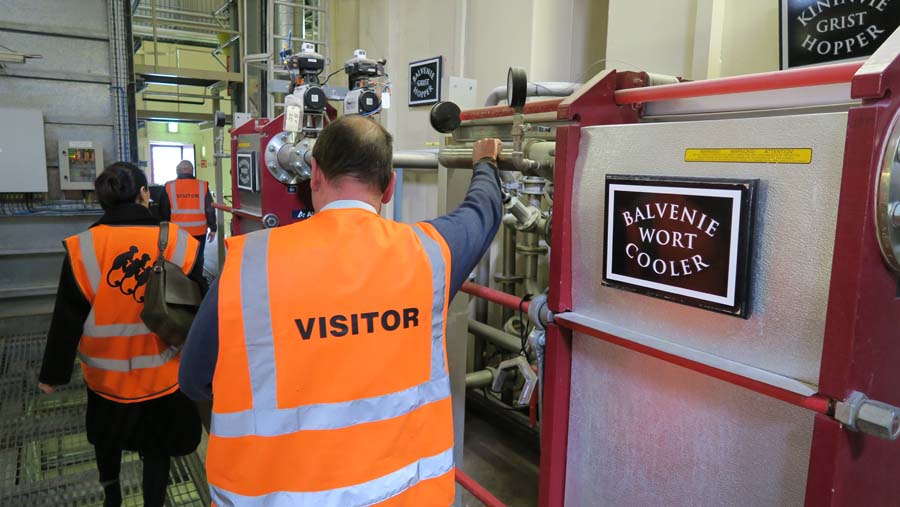 Once cooled, yeast is added and the mixture spends a few weeks in this room seen below fermenting. It is a production line, each of the big containers you see is at a different point in the process. When a big container is finished, they empty it, clean it, and start over. 24 hours a day, 7 days a week.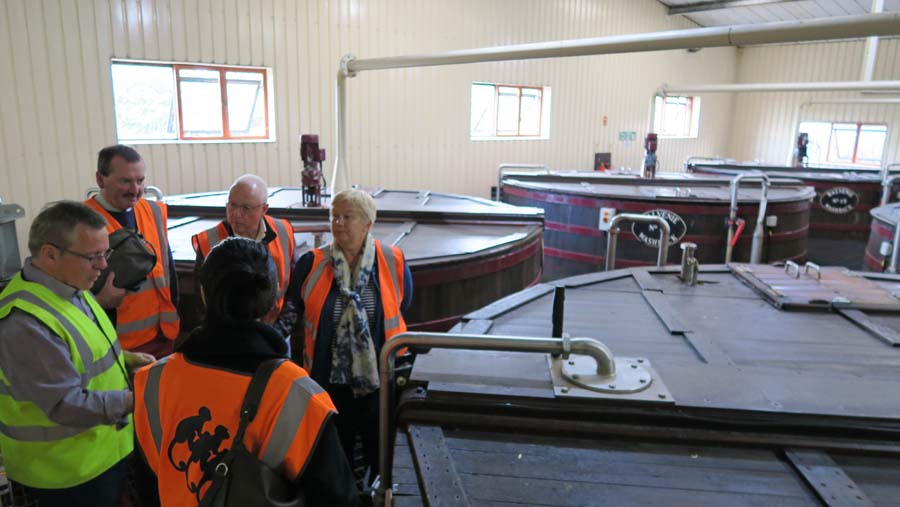 Another picture, same fermentation room.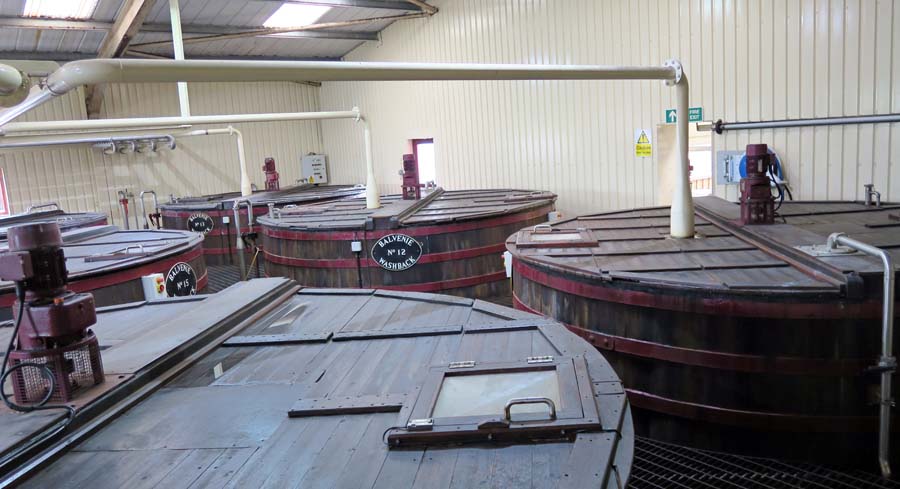 We opened several of the large containers and tasted the mixture in our hands. It tastes like a sweet beery mixture, like not quite correctly made beer. As it got older you could DEFINITELY taste the alcohol content.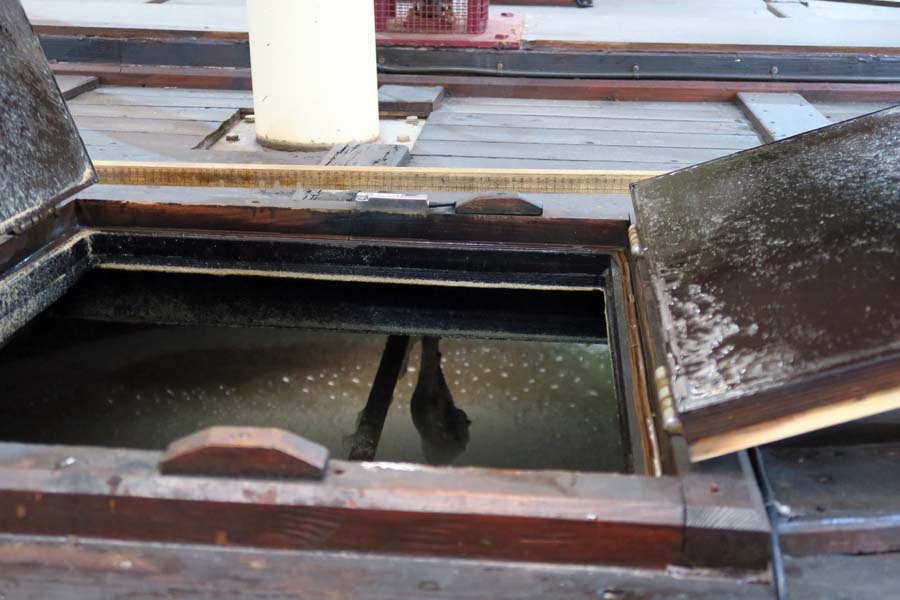 Next step in the process and next stop on our tour was the distillation room. This is where the mixture is heated and the alcohol vaporizes off the top and the other parts stay behind. Vaporized alcohol is explosive if lit on fire.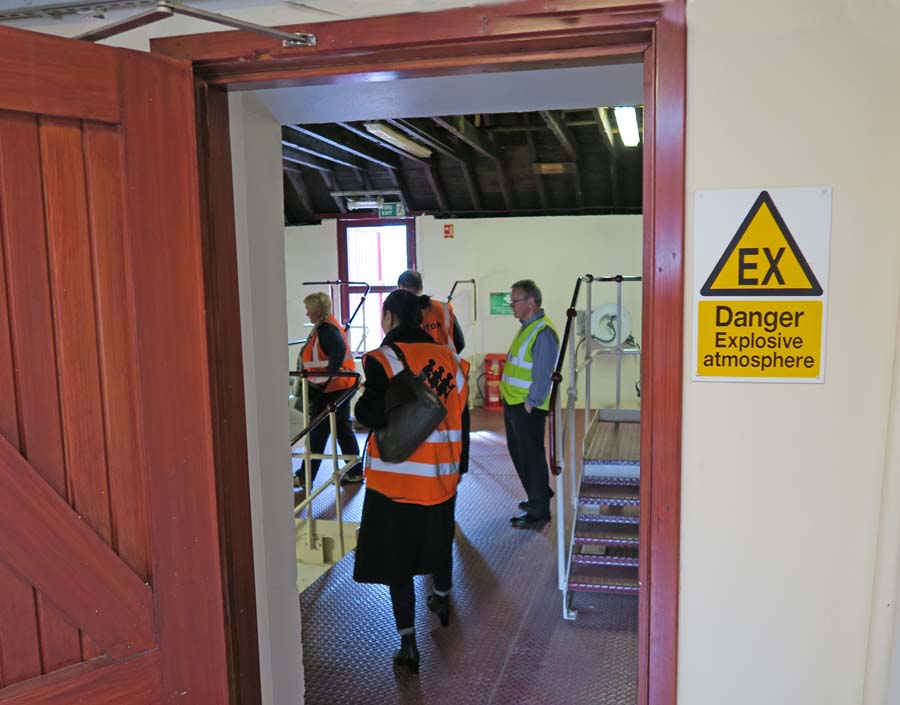 In the picture below, the big copper boilers on the right are all the same shape. A long time ago they were created that shape, and they last about 20 years until they wear out. New ones are created shaped just like the old ones, and the existing ones are repaired. Some parts that have alcohol running over them wear out faster than other parts, so they inspect them periodically to make sure they aren't about to wear through. They used to hit them with hammers and listen, but now it is higher tech.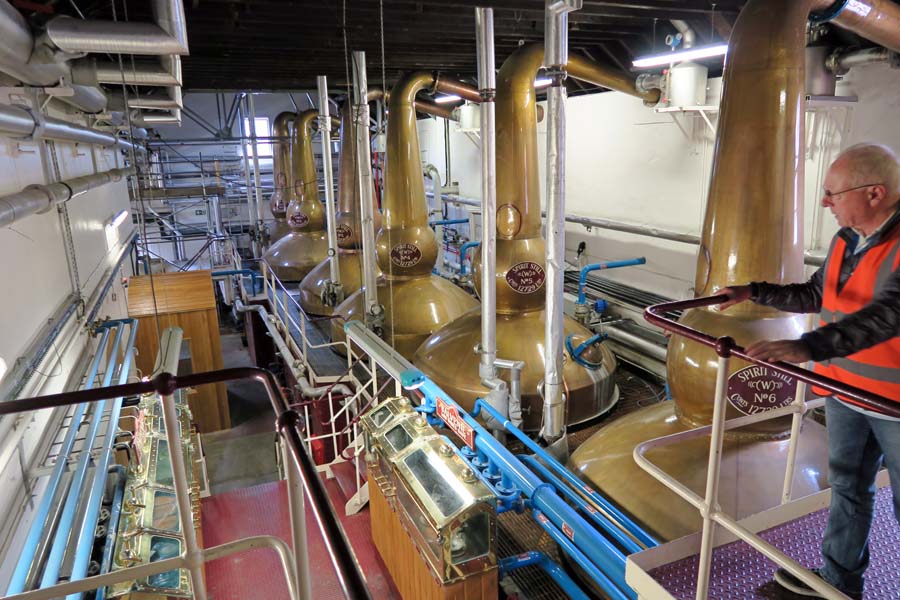 In the "Spirit Safe" below, the idea is you don't actually want the very most concentrated alcohol that comes off, and you don't want the really low percentage alcohol that comes off, so you are taking away the middle "sweet spot" to put into barrels to age.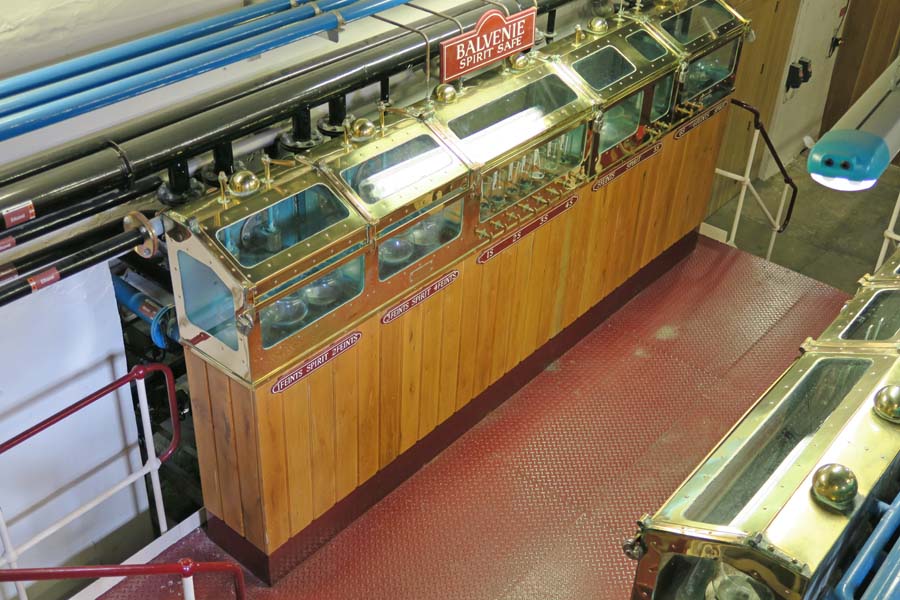 Stepping outside, the very tops of those huge copper boilers feed out of the building into these distillation cooling towers where the alcohol vapor is cooled and thus condensed back out of vapor into liquid and gets piped away.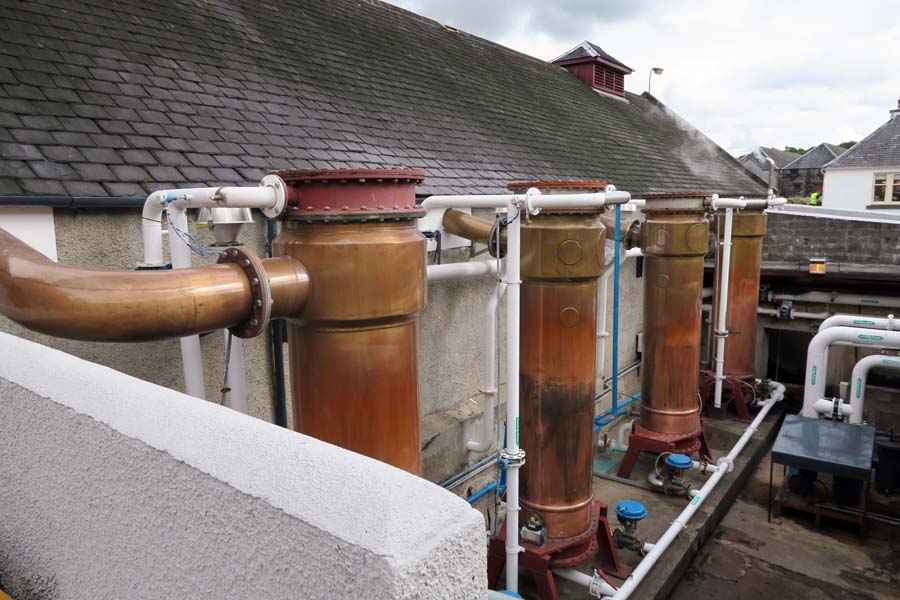 Ok, so the NEXT STEP in the Scotch making process is to put that high alcohol liquid into barrels and let it sit for a decade or so. So we hop into the car (that's my driver Iain in back coming along on the tour with us) and go to the barrel making facility.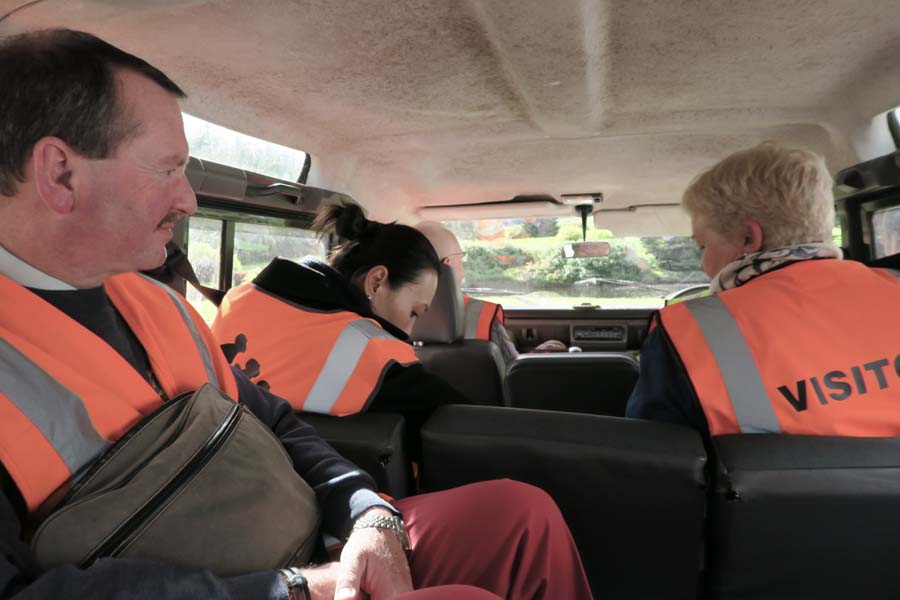 Below you see "Barrel town", hundreds (thousands?) of empty barrels awaiting repair and to get filled with whisky to age.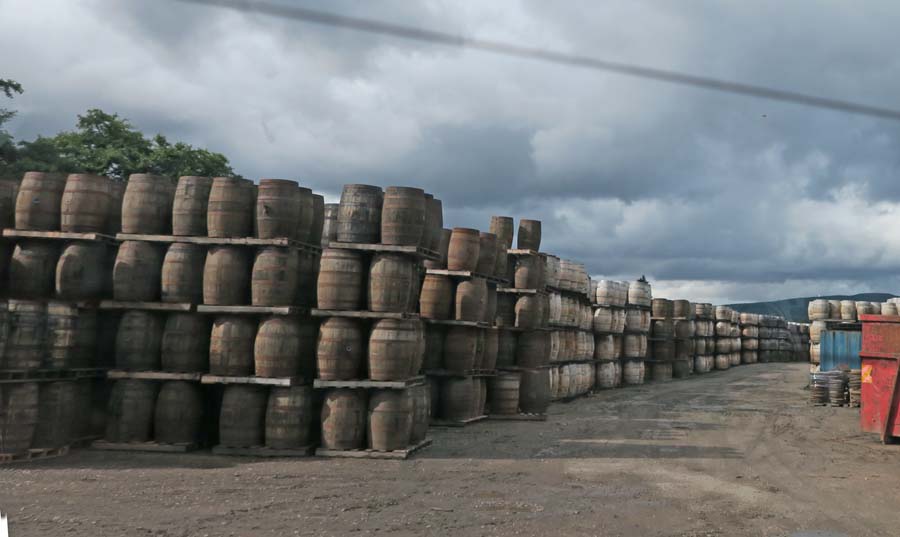 The shop building on the right is where barrels are repaired.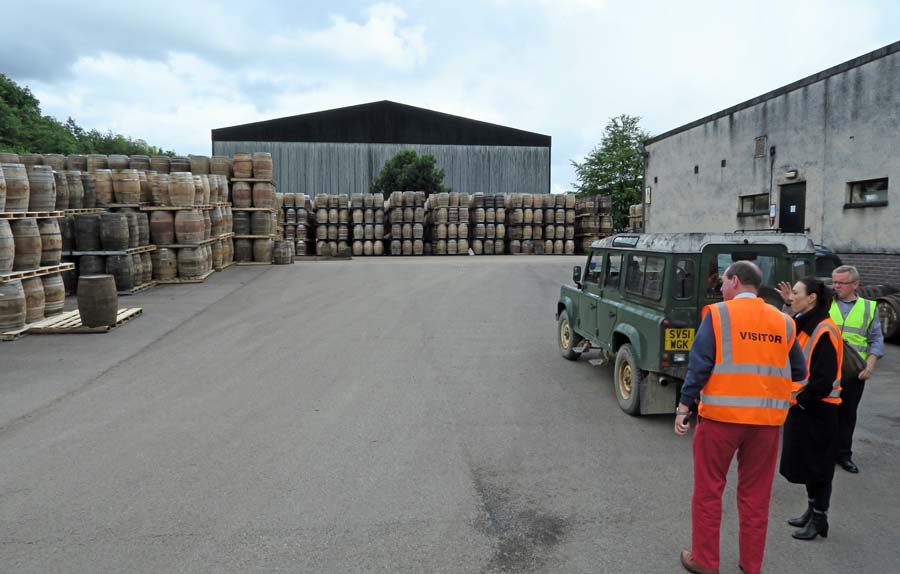 Balvenie employs about six full time coopers who build and repair barrels and make sure they won't leak valuable whisky over the 10 years they will hold it. Below is the area they work, we watched them repair barrels for 20 minutes. It looks exhausting, they bang things with mallets half the time.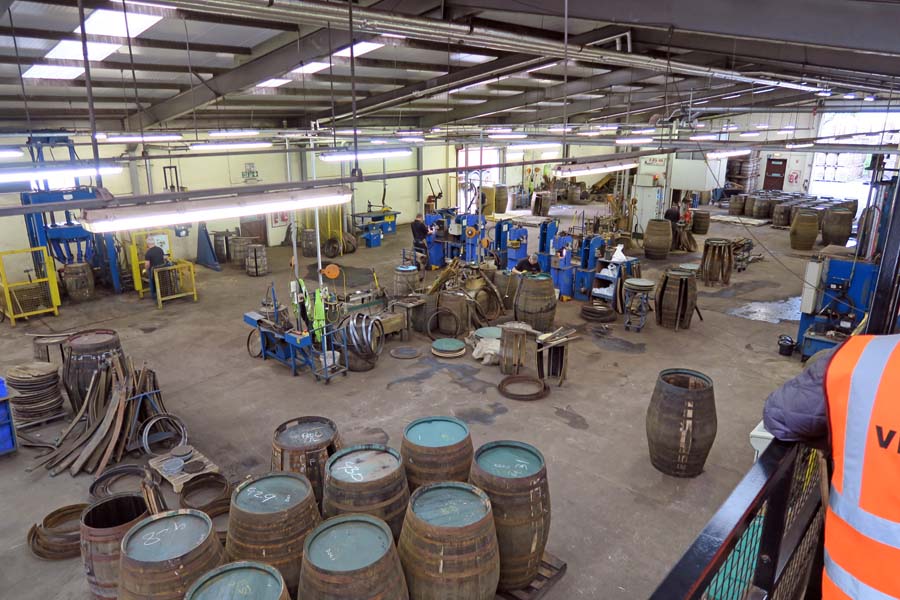 A picture of cooper tools to make barrels.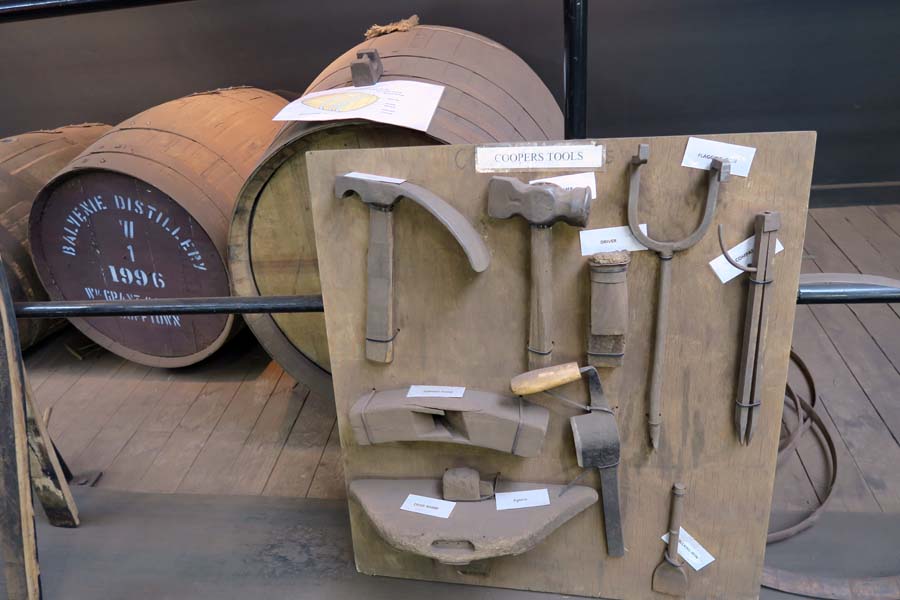 A diagram of barrel parts including the staves, bung hole, bilge, bilge hoop, quarter hooop, head hoop, rivit, cant, head, chime, croze, and stave joint.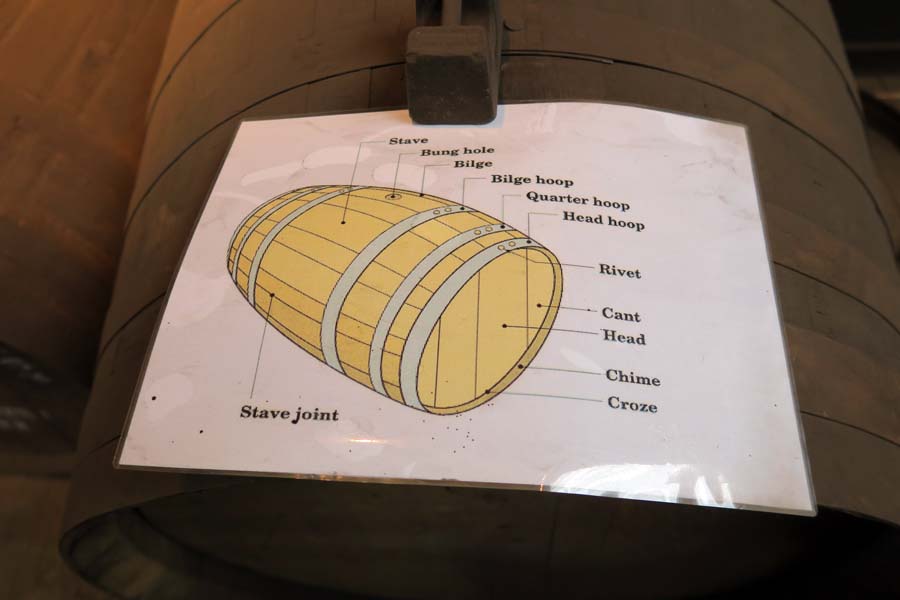 I guess the Balvenie coopers get bored sometimes and make cooper art. Below is Dalek art by a barrel cooper. It is a fictional creature from the show Dr Who.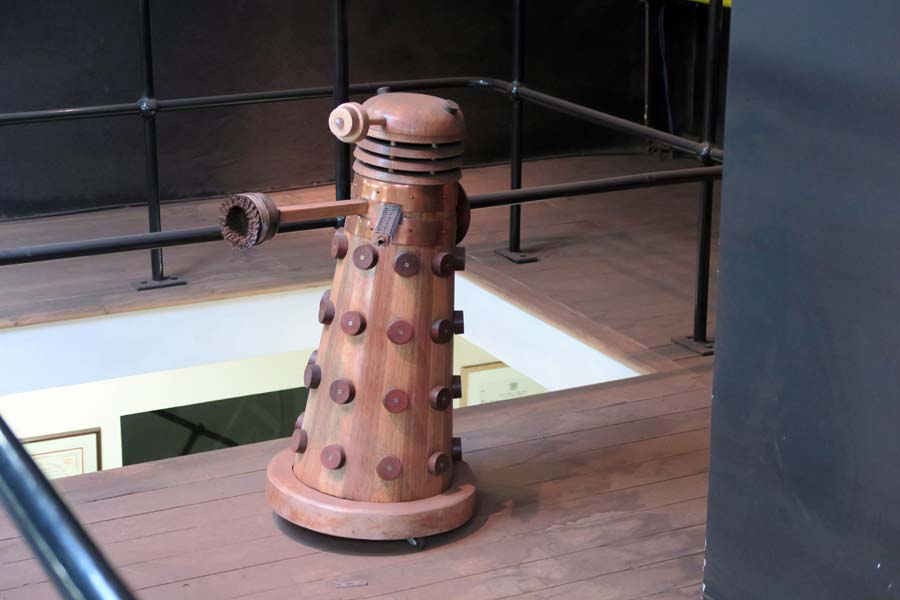 Another cooper got bored and made a Microsoft Windows Logo on a barrel.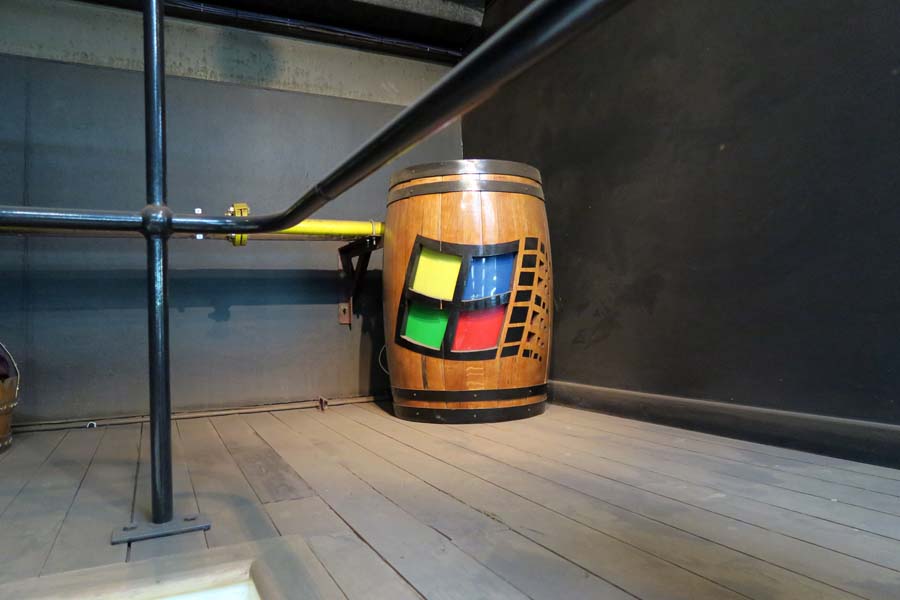 Some old barrels lined up outside the cooper's shop.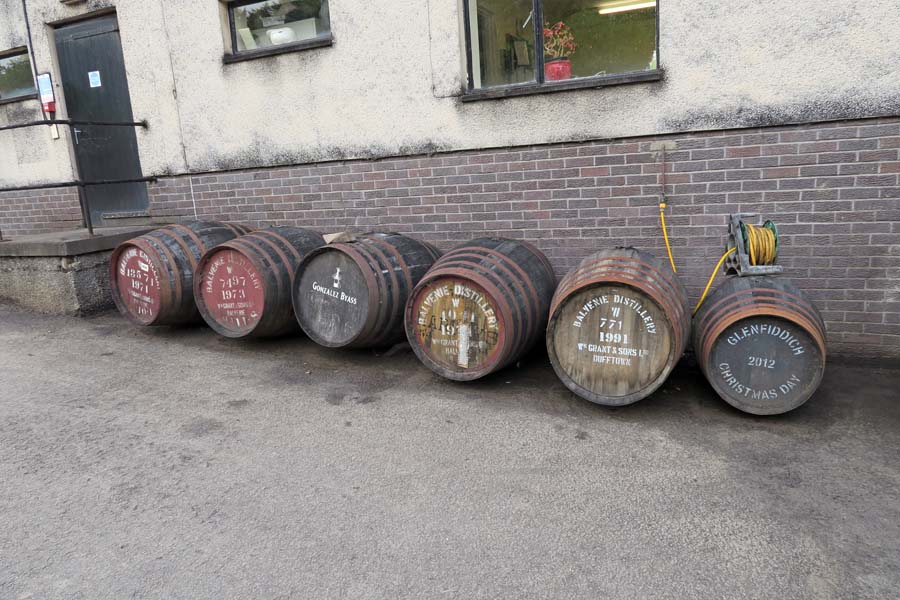 Next we entered duty free warehouse no 24 at the Balvenie Distillery. This is the oldest surviving part of the distillery, it is a converted basement from a very old building now used to store and age whiskey. I was not allowed to take photos because the inventory inside here is all whiskey and old flash bulbs could ignite the air. I'm using modern LED flashbulbs that don't pose that threat, but the contents of this warehouse are worth millions of dollars so the owners are slow to adopt new rules and allow anybody to take a picture. Inside here I dipped a dog (a 100 ml cylindrical copper container) through the bung hole of a barrel and drew out the whiskey and bottled it myself, then smuggled it back into the USA in my luggage.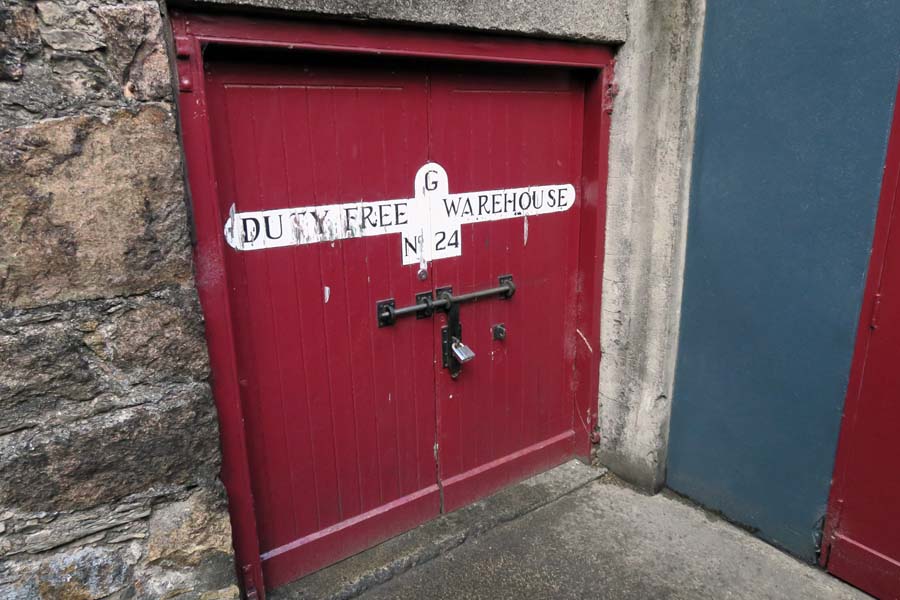 After the tour, we had a Balvenie whisky tasting. Below is all the whiskey poured out for tasting from the different bottles.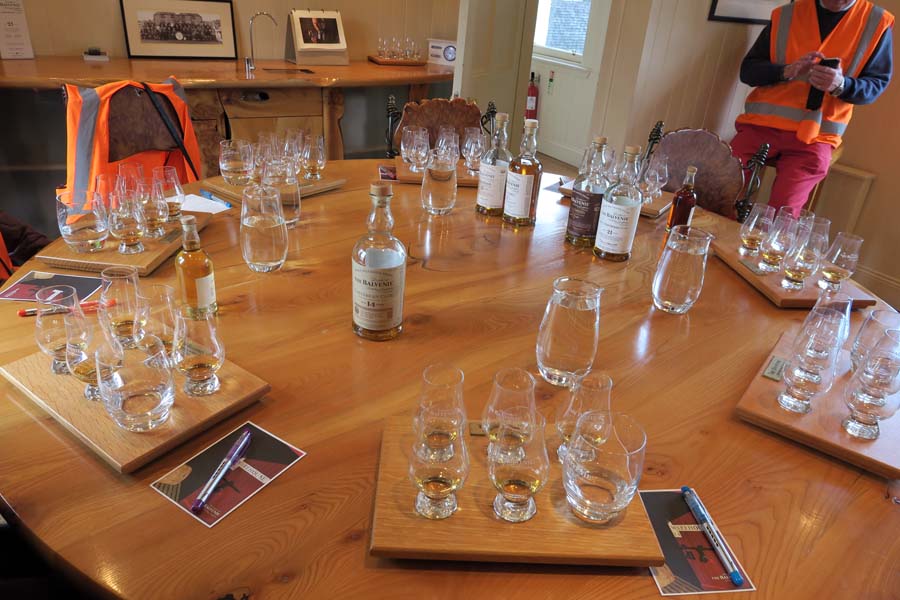 David Mair (in green/yellow safety vest) explaining about the different whiskys and how they are made. We even had a special taste of a 43 year old barrel. It honestly wasn't my favorite, but it is exotic and they don't actually bottle it because there isn't enough left of it to bother.
The Balvenie distillery has a special TUN 1509 they do ever so often. A "TUN" is a large mixing vat, and TUN 1509 sits in the corner (the 1509 doesn't mean anything special, it is just the serial number of the TUN) and the head Balvenie scotch taster/blender guy (David Stewart) picks a few barrels, tosses them into the big TUN 1509 mixer, and swirls them all around, and bottles the result. A bottle of this is around $400. I haven't tasted any.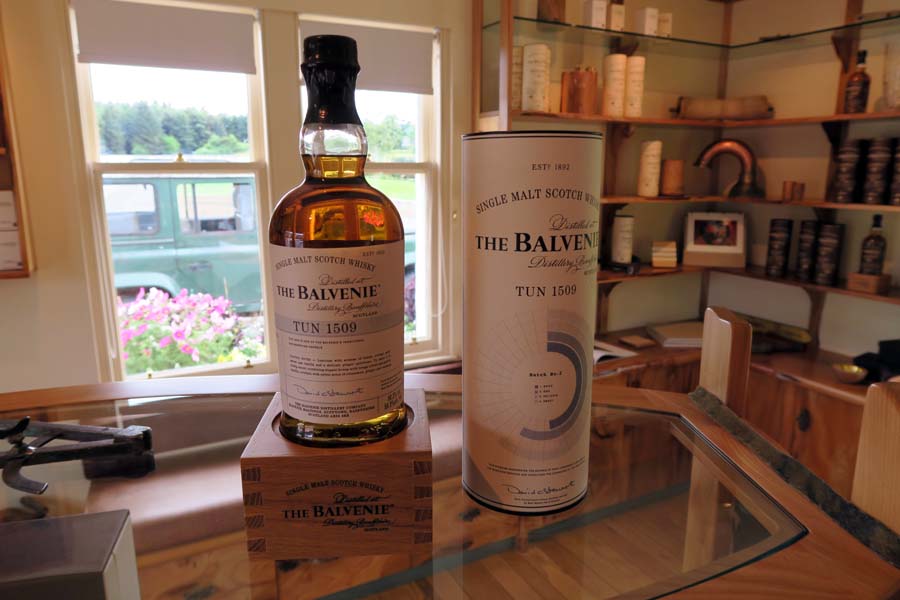 A display of some of the Balvenie Scotch whisky bottles you can buy here in the gift shop at the distillery.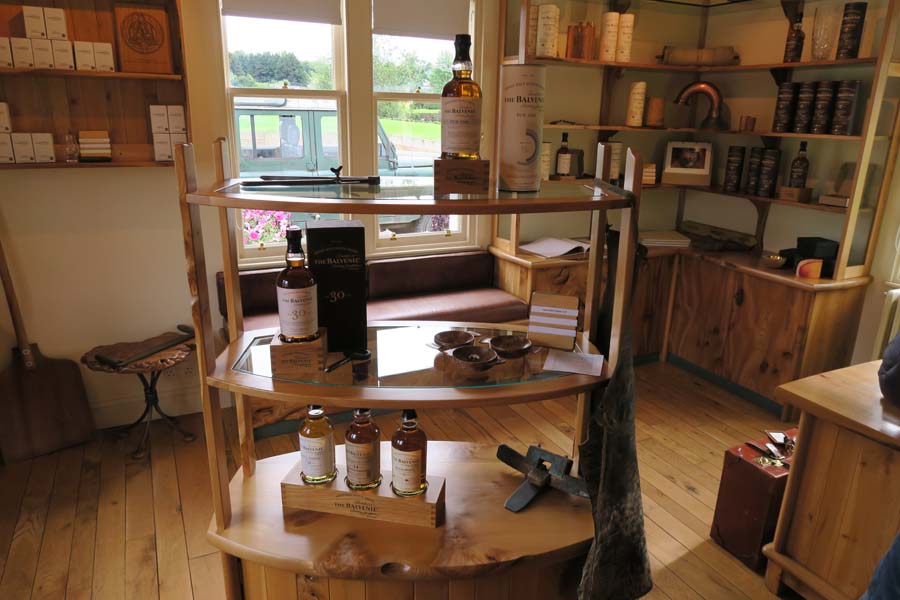 Inside a glass cabinet is a few rare and some not so rare Balvenie scotchs. I see one that says 50 years old, that goes for about $37,500 per bottle of Balvanie 50 Year Old Whisky.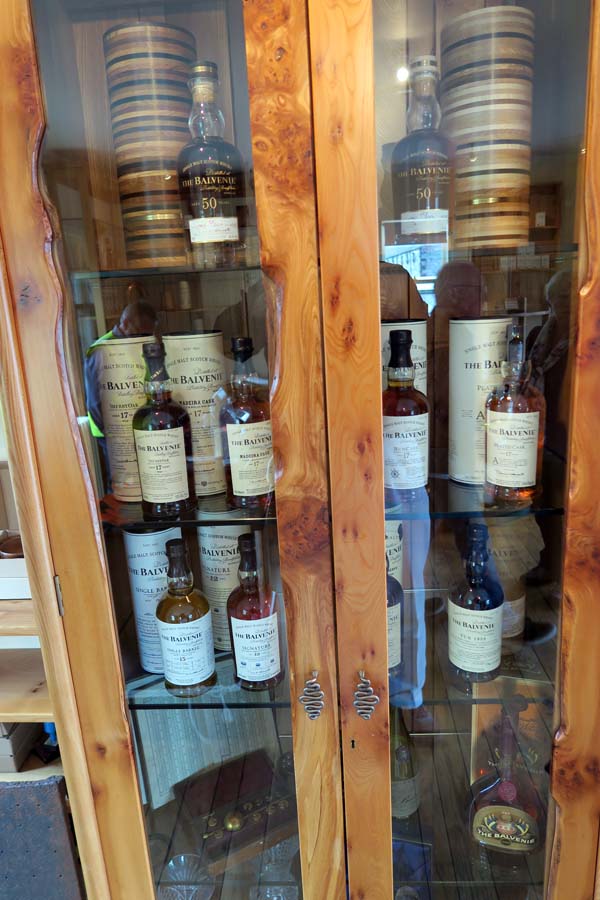 At the lower left of the photo you can see a pile of peat and a pile of coal. We saw the furnace just inside that building on the tour (in the pictures above).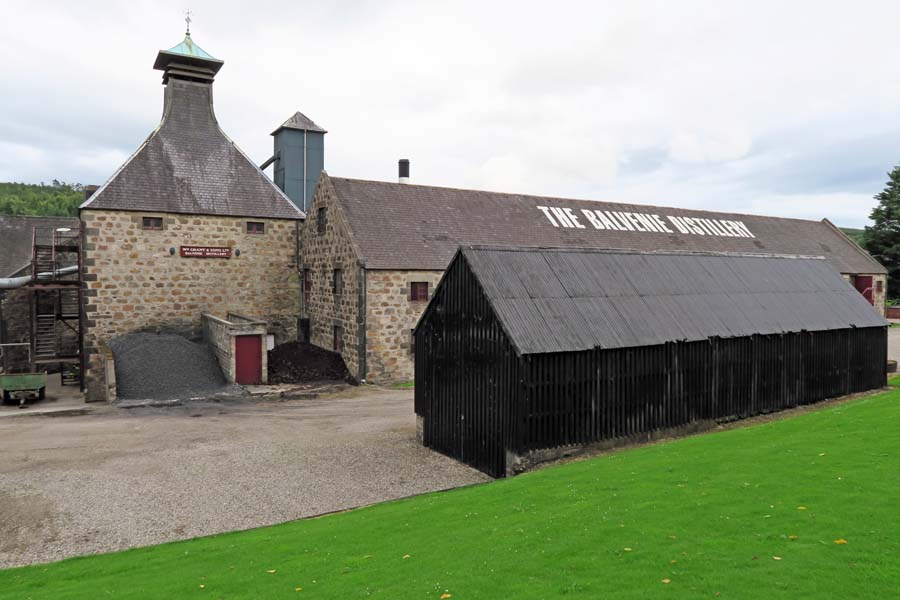 After the tour we drove on home to Edinburgh. On the way I took this picture of the Dufftown clock tower in the highlands of Scotland.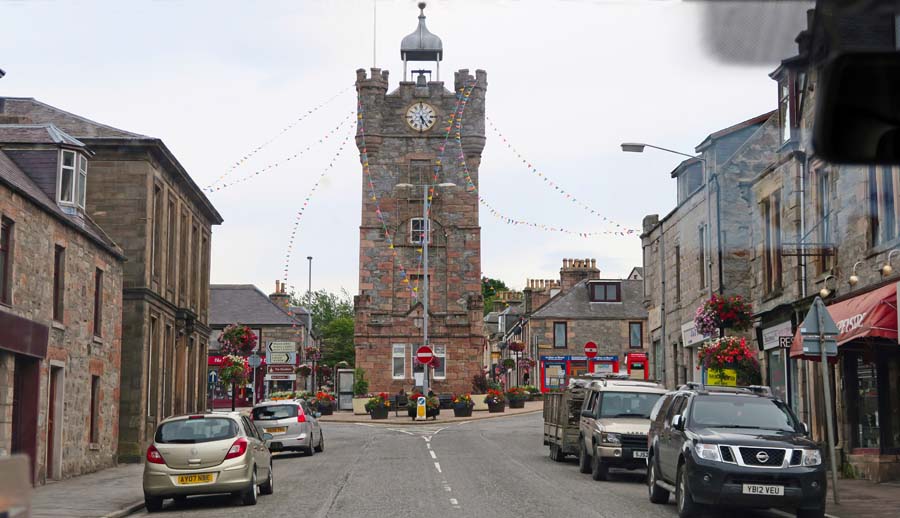 On the way home, we saw some of the famous hairy highland cows of Scotland. A picture of them is seen below.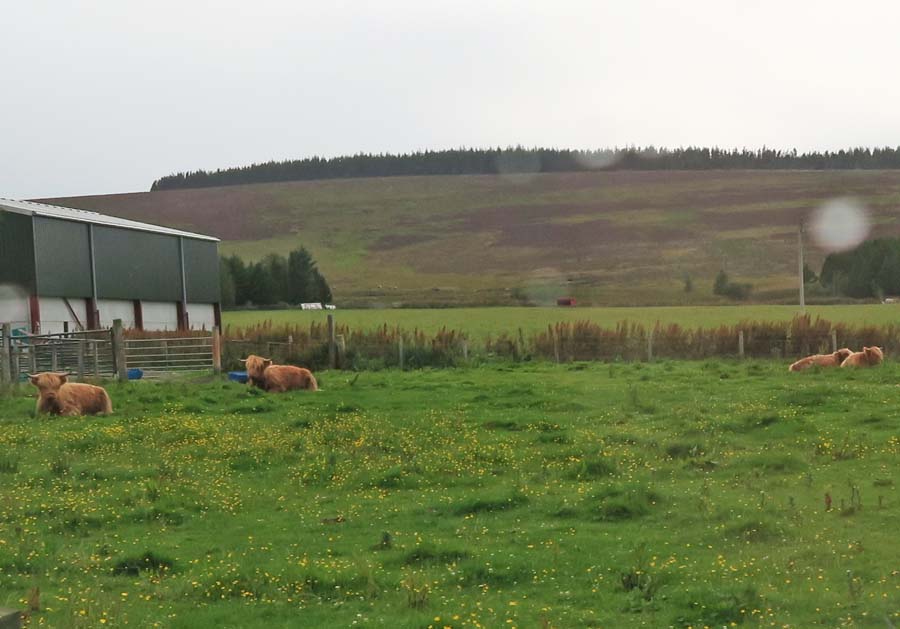 I really like my photo below. We stopped and I got a nice portrait of this lovely happy hairy highland cow hanging out.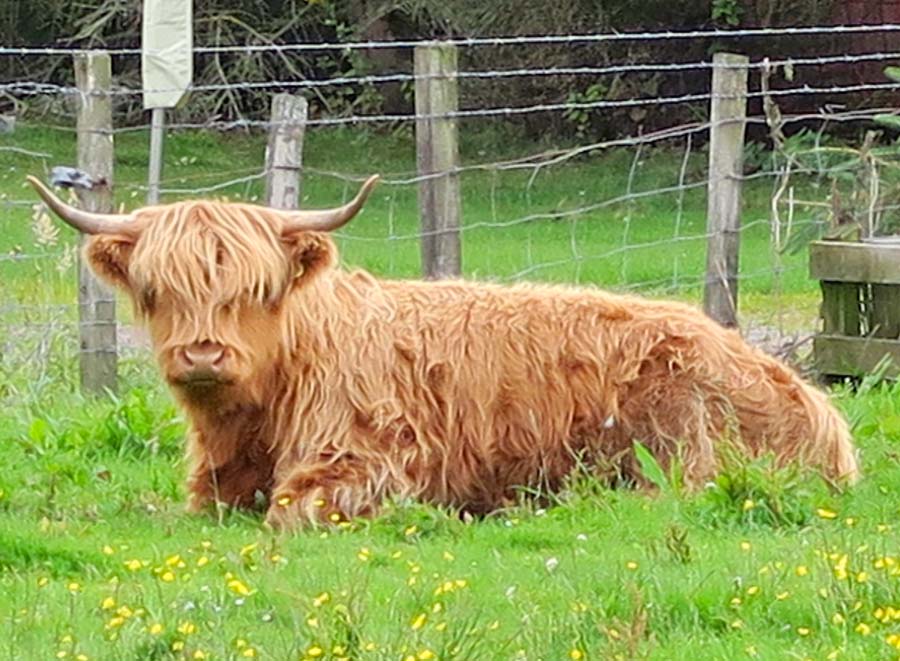 A black colored hairy highland cow.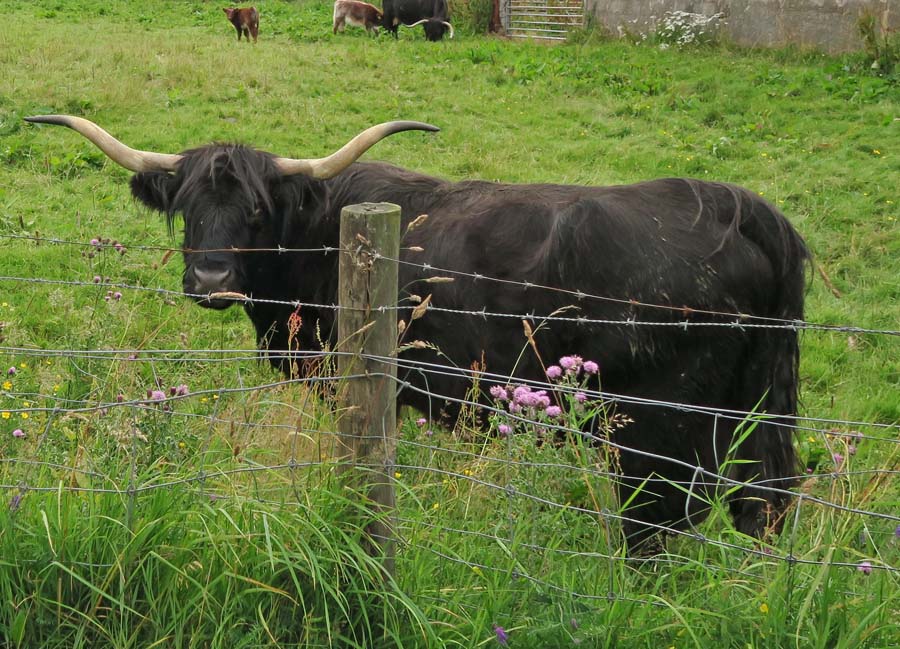 It turns out Scotland has a few ski slopes. One is pictured below.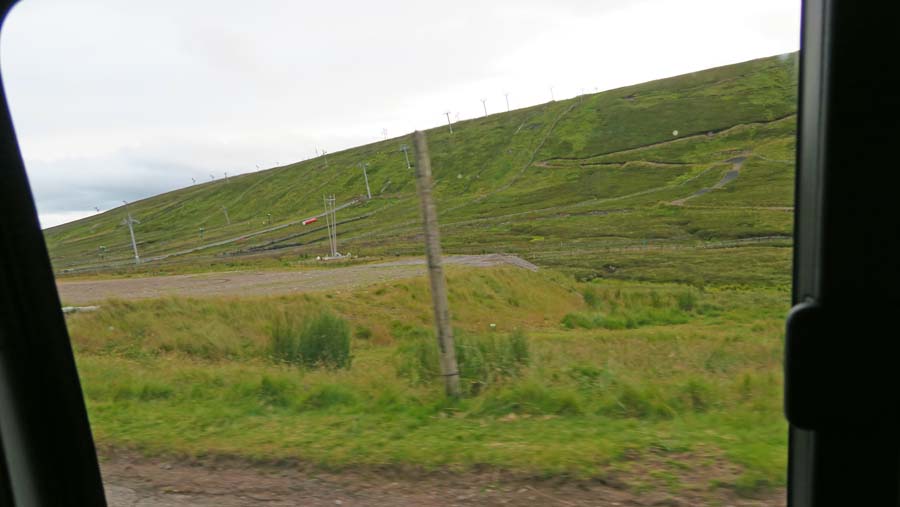 This is the Lecht Ski Centre in Scotland.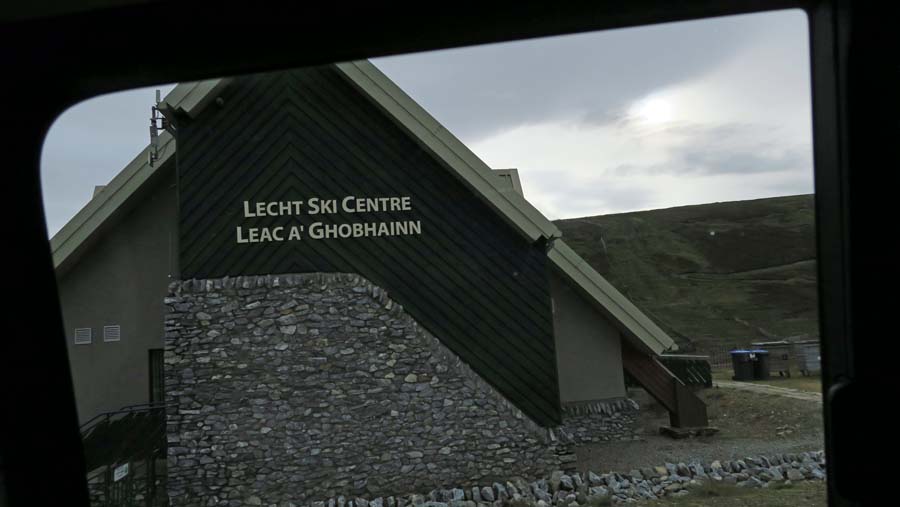 The red ringed post at the side of this road is a guide for snow plows. We have them in the USA also. When it snows, the top red part still sticks out of the snow giving the snow plow a guide as to where the heck the side of the road is hidden under several feet of snow. It gives you an indication that in a deep winter this whole area could be under a lot of snow.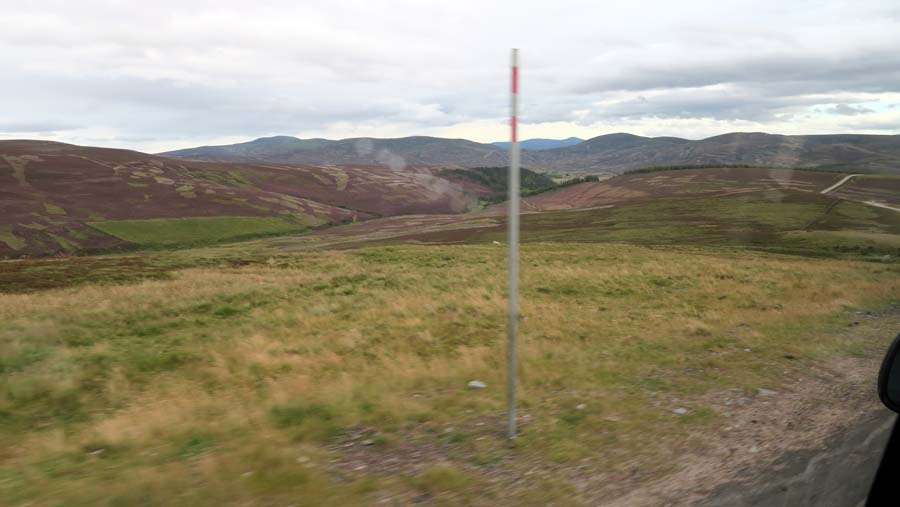 Every few miles in Scotland highlands you might see an old croft, which is an old subsistence farm that in the old days would be run by a "crofter" (small farmer). These are all over Scotland, and they were very small fenced off farms often owned by a larger owner but farmed by the tenant farmer (crofter) who had tenure. In the 18th and 19th century there were some pretty horrible and brutal actions by governments and clans that wiped out the local clans of the highlands such as the Highland Clearances, and the land was taken and given to large land holders (lords, etc). Crofts got special status in 1886 and got more security of ownership where the crofters could not be evicted and had rights to graze livestock on common pasture. Below the smaller of the two houses is what I saw all over as "old crofts".
Below is a picture of a very scenic, pretty, old single lane bridge over a stream in Scotland.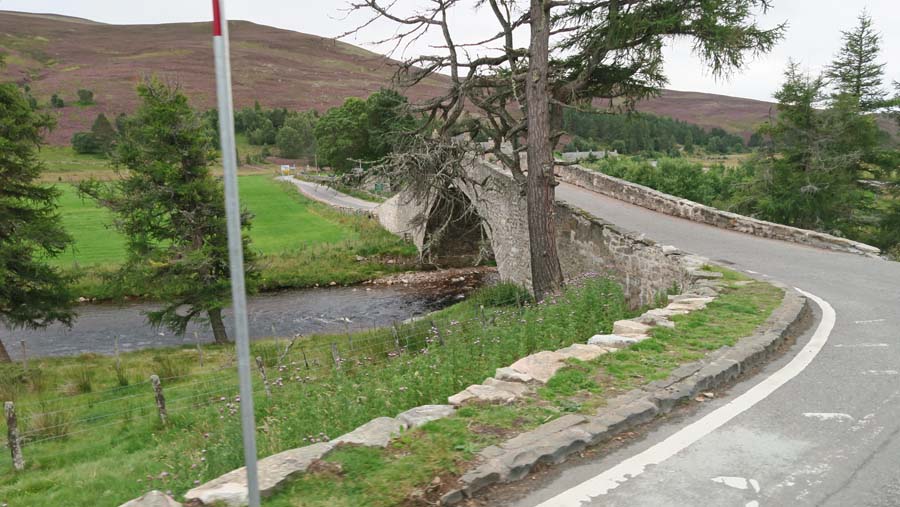 And returning through the fields of purple heather in Scotland.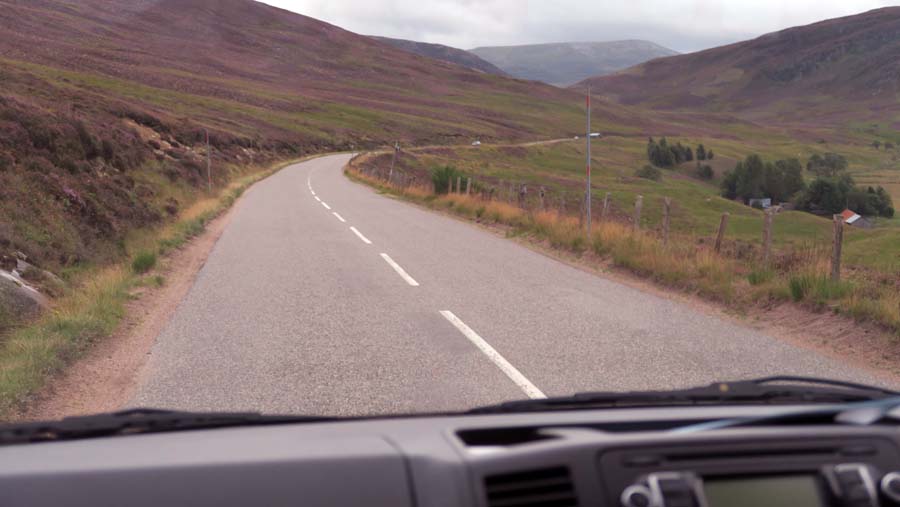 We pass another ski area just north of Perth.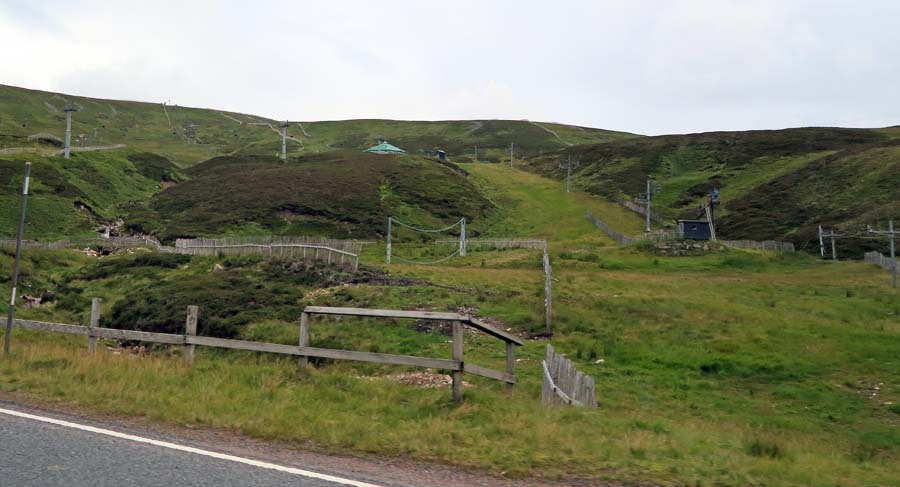 In the picture below you can see snow making equipment. If you notice the domain of the URL you are reading this webpage on, I care about lots of skiing related technology and activities. :-)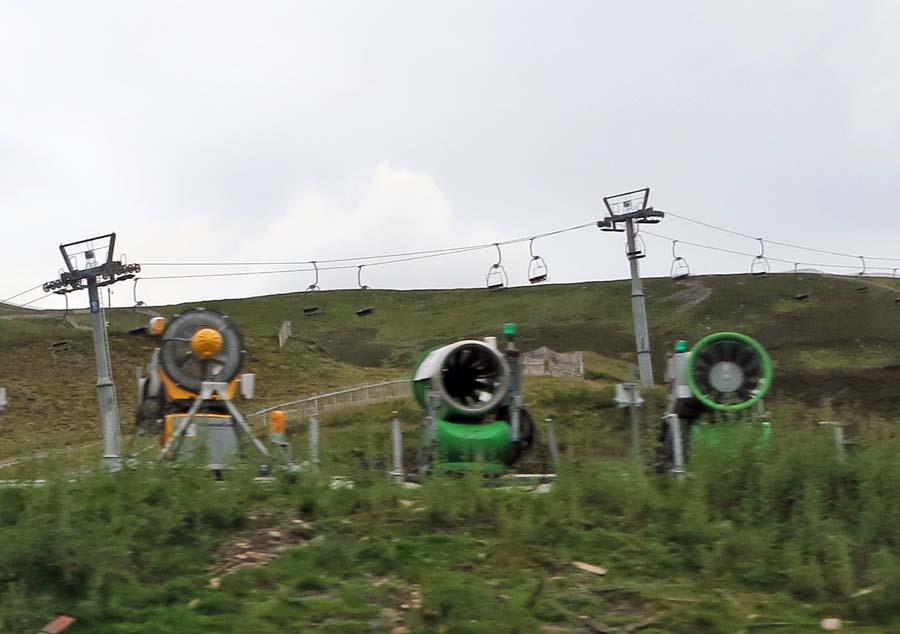 And back over the Forth Bridge as the sun sets in Scotland.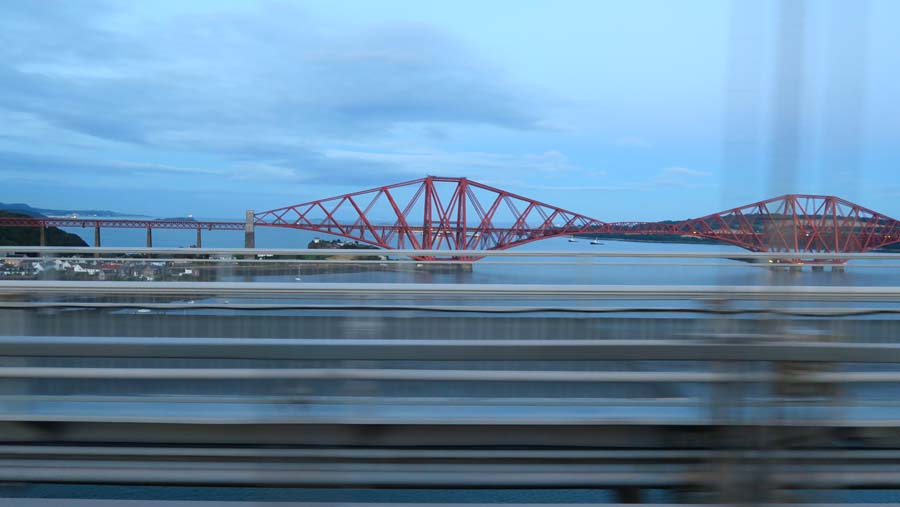 Whew! Some quick bar food in the bar across the street and to bed!
We got a great night's sleep and the next day we caught a London Cab to the main party at Duns Castle (I suppose it is a Scottish taxi but the style of vehicle is a TX4 built by the London Cab Company). I really like the design of these London Taxi cars. In the picture below, you can see that since Katherine and I only need two seats, the "jump seats" in front of us have folded away up leaving more room for our legs and luggage. It's a really clever design that can accomodate up to 6 passengers while providing luxurious space to fewer passengers.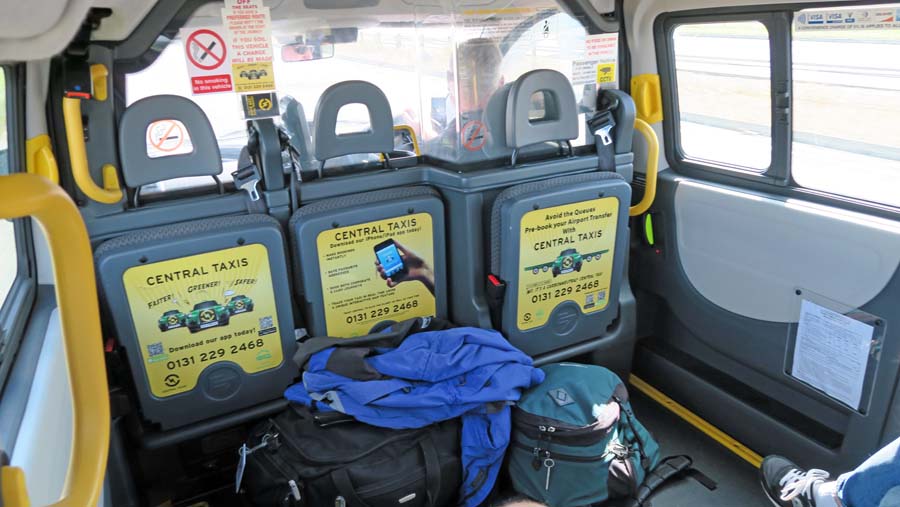 We drive the 30 miles or so to Duns Castle, to the main event, Will's party. Click the link below to keep reading!
That's it! Now on to Duns Castle and a 50th Birthday Party for Will MacDonald-->