2015 Scotland Will MacDonald Birthday in Duns Castle

(8/28/2015 - 8/31/2015)



On Friday, August 28 in 2015 Katherine and I went to Scotland to attend Will MacDonald's 50th birthday party. We arrived a little early, click here to view our OTHER Scotland activities. This web page is only about the birthday party portion. Click on any picture below for a REALLY LARGE high quality original of the photo.
Itinerary:

Fri - Aug 28 - Check out of hotel at noon, then go to Duns Castle. Casino night at Duns Castle.
Sat - Aug 29 - Highland games and Falconry displays followed by dinner and Ceilidh (Gaelic social gathering and dancing) in the evening
Sun - Aug 30 - noon - United flight departs Edinburgh/EDI->New York/EWR (8 hrs). 1.5 hr layover. At 4:30pm depart New York->SFO (6.5 hrs).
NOTE: United cancelled our flight home, so we were forced to do an extra overnight through London Heathrow and stay in a dive hotel.

Here is everybody that attended the two day party in Duns Castle, Scotland.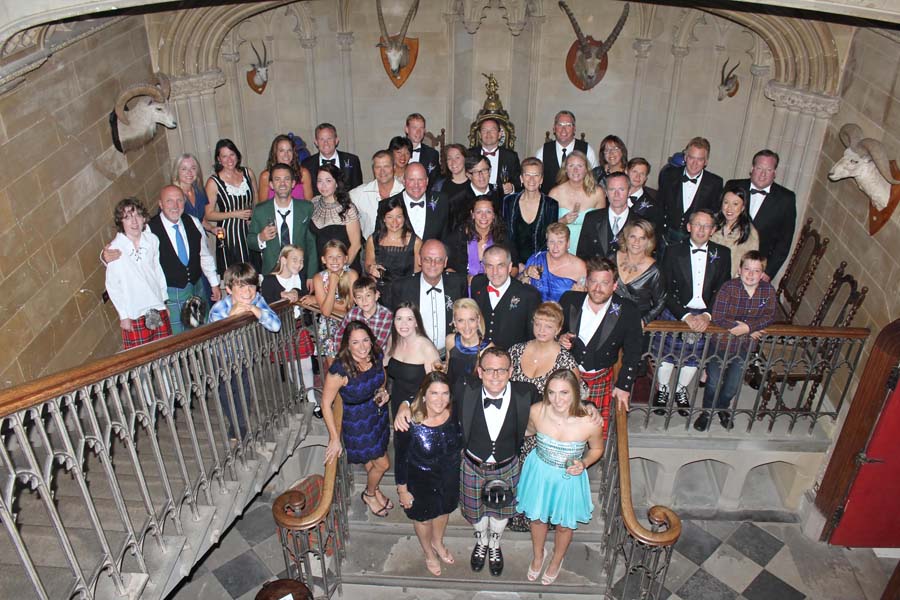 Same picture as above but with names on everybody. CLICK ON THE PICTURE BELOW FOR A LARGER VERSION WITH NAMES.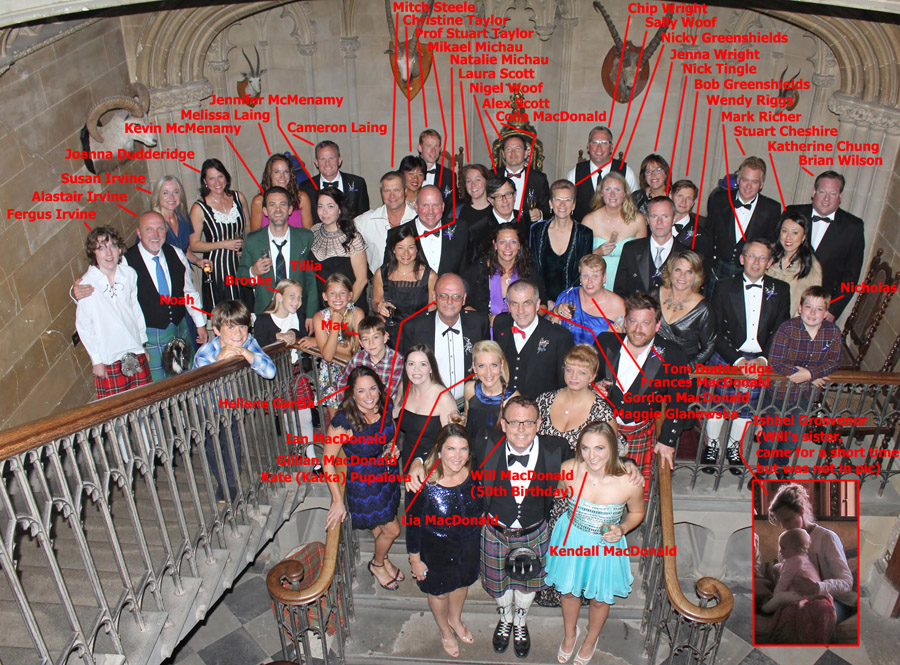 Below is a map to Duns Castle (created by my GPS tracker which is a DeLorme InReach):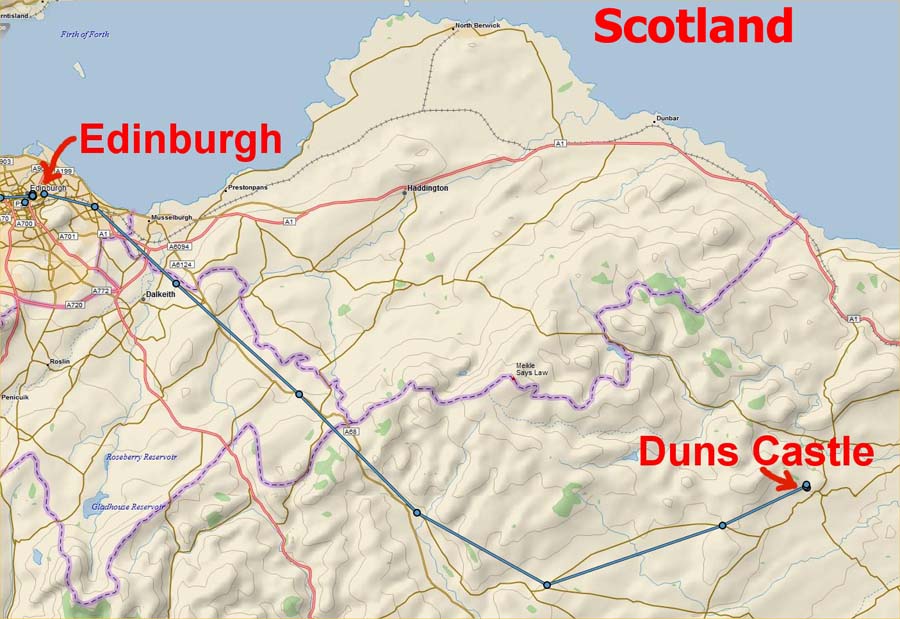 On our drive from Edinburgh to Duns Castle I saw several electricity generating wind farms like the one below.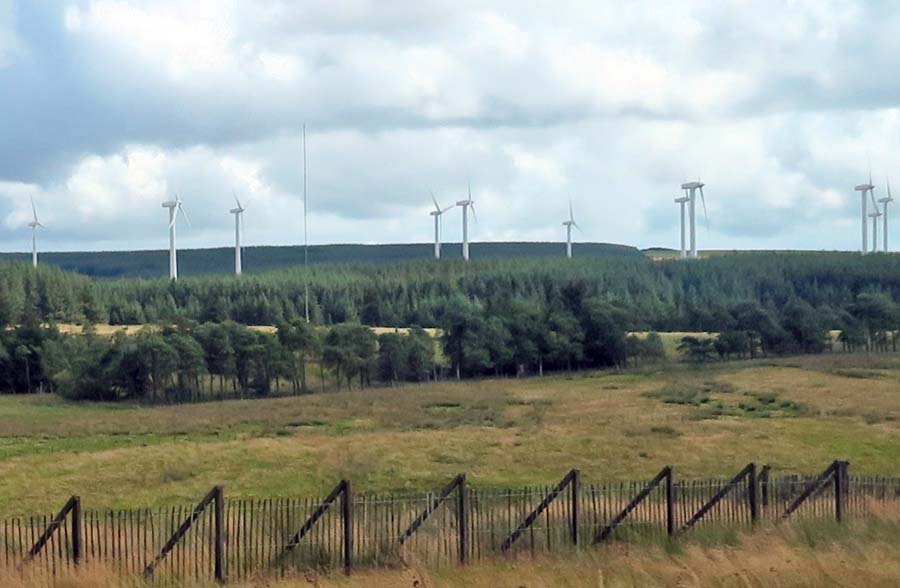 We are the first people to arrive at Duns Castle in Scotland (seen below). Katherine is standing in the entrance with our luggage for the weekend.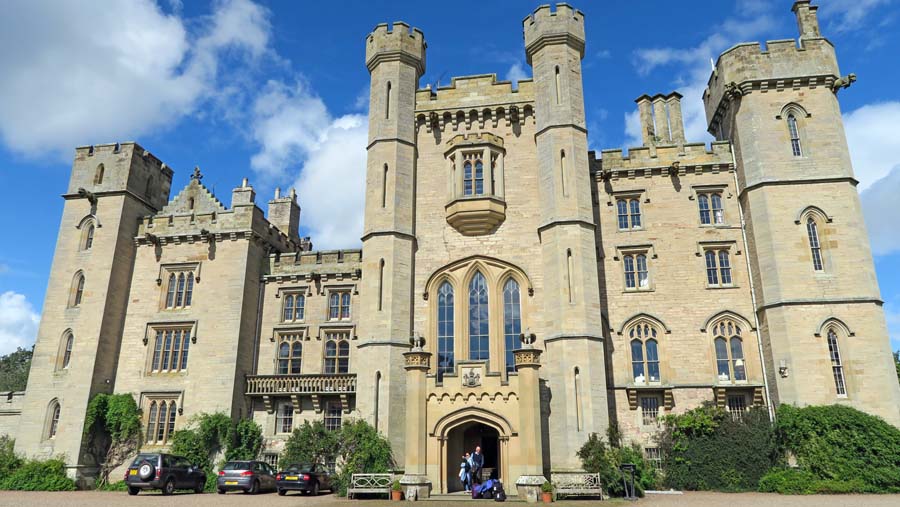 A few pictures of our room in the old castle. We stayed here for two nights, Friday night and and Saturday night.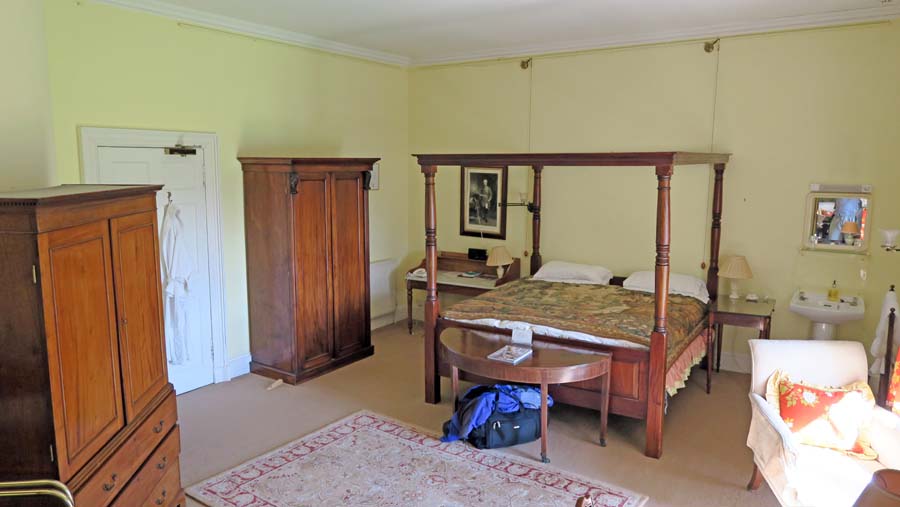 Looking back the other direction.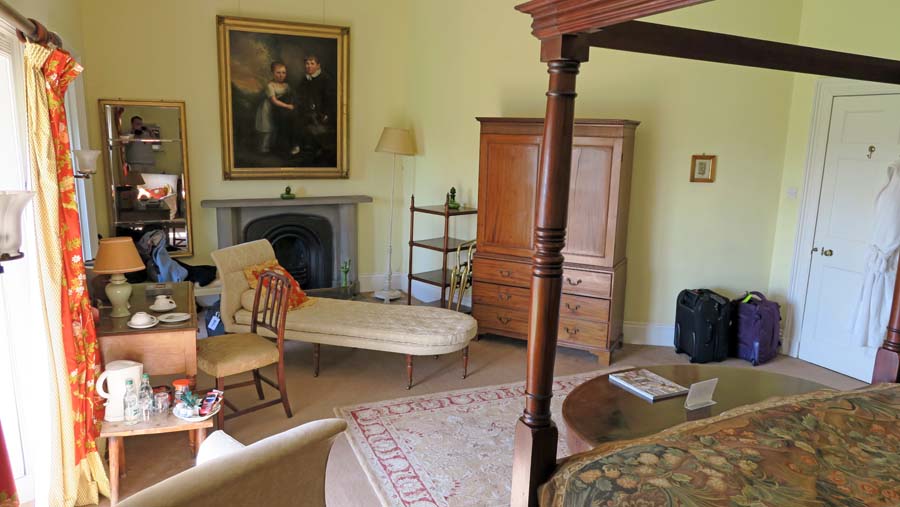 This picture is looking out our window towards the front of the castle. If you look closely, you can see the Ha-Ha Wall. It surrounds the really nicely manicured lawn, and prevents livestock from coming up on the nice lawn. The design is such that you don't see it when looking out from the castle, much like an infinity edge pool.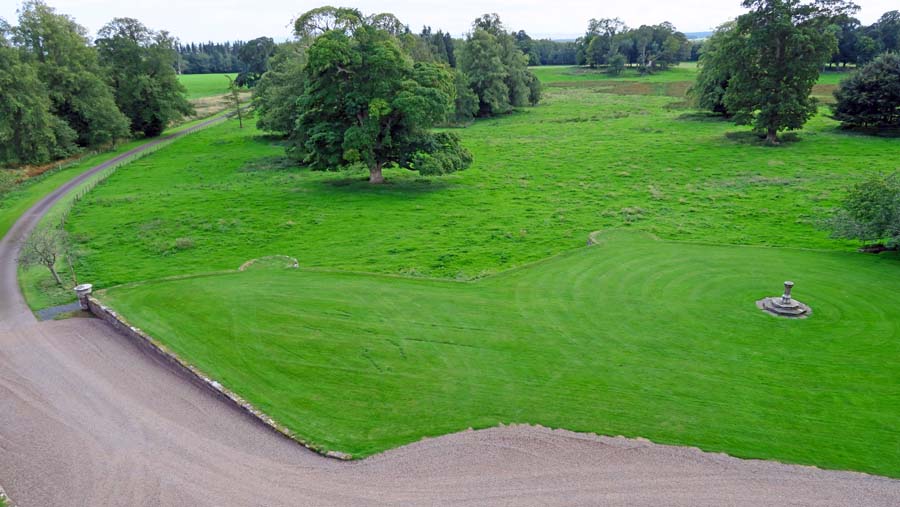 Looking down, I notice Will MacDonald walking around (seen below). Will is turning 50 years old, and this party is for him.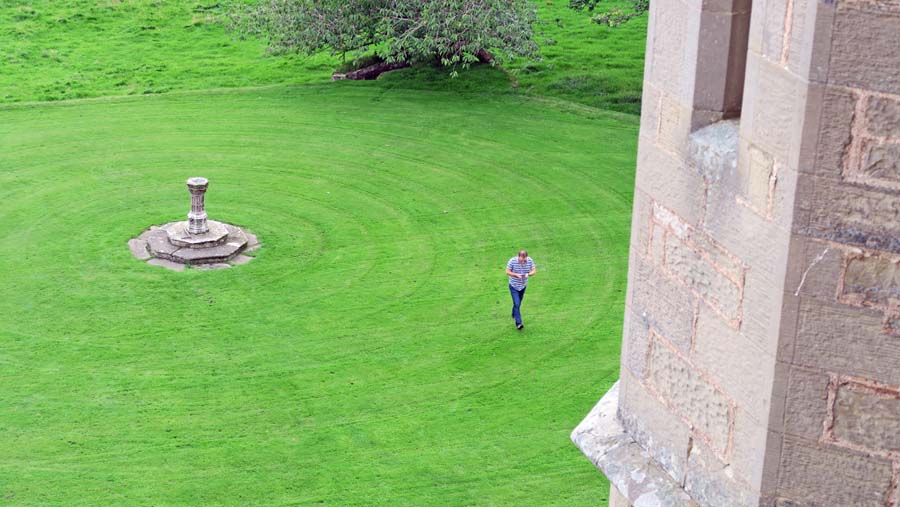 We had a HUGE day yesterday, and since nobody else has arrived Katherine fell asleep on the chaise lounge for an hour.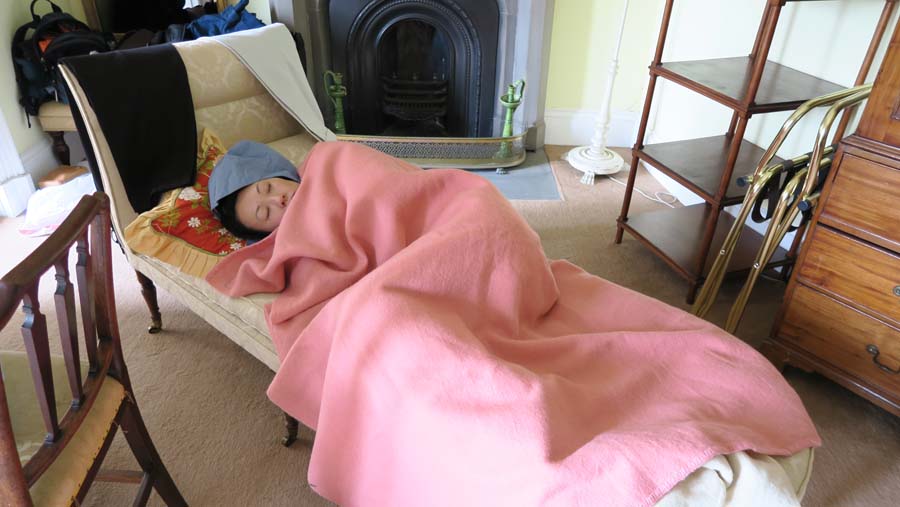 This is a stone spiral staircase leading from the basement up to the top floor and even up to the roof, we used this staircase to get from the party to our rooms and back.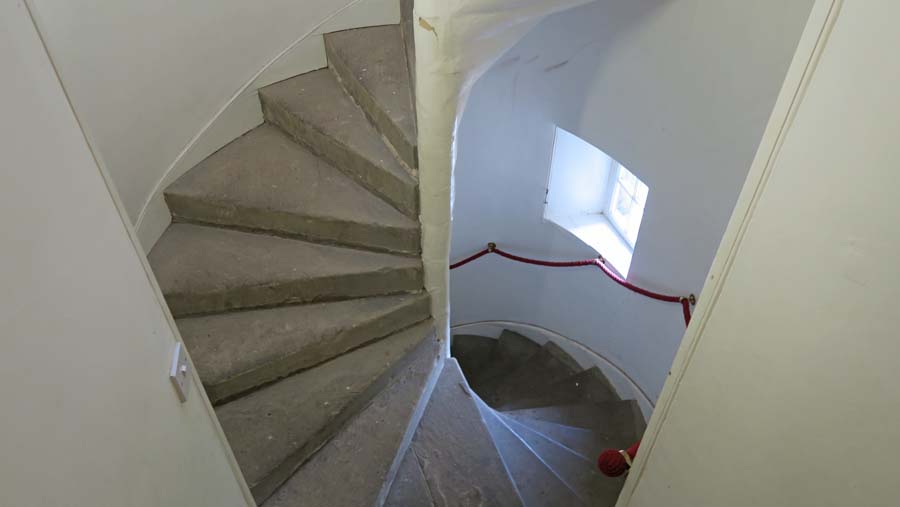 From left to right: Tom Dudderidge in a kilt, Brian Wilson (me) in shorts, and Stuart Cheshire in a suit. This shows the variety of dress that is acceptable at this party. :-)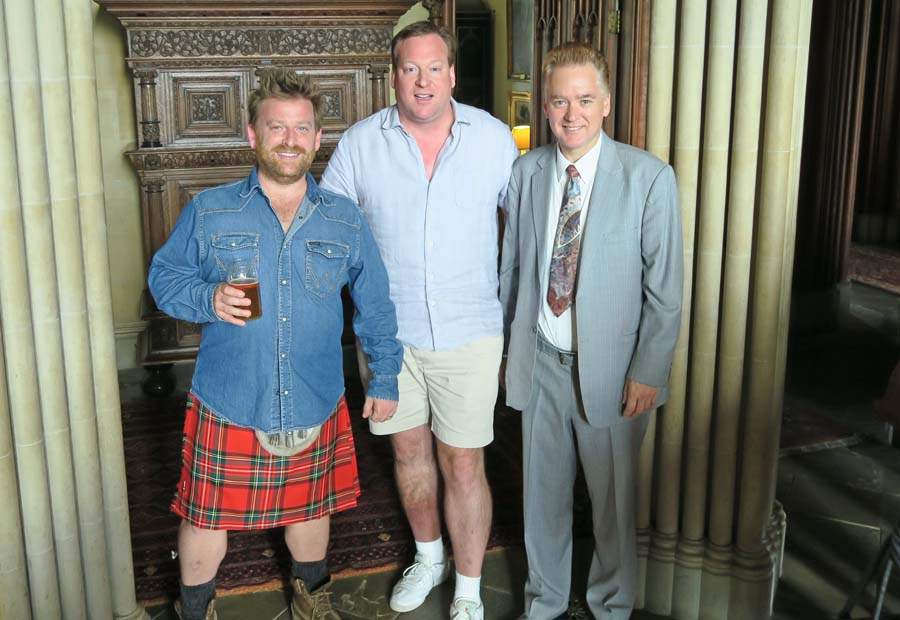 As more people show up, we hang out in the "bar area". The bar area is at the top of the staircase that leads to a sitting area and the formal dining room where all of our dinners were served.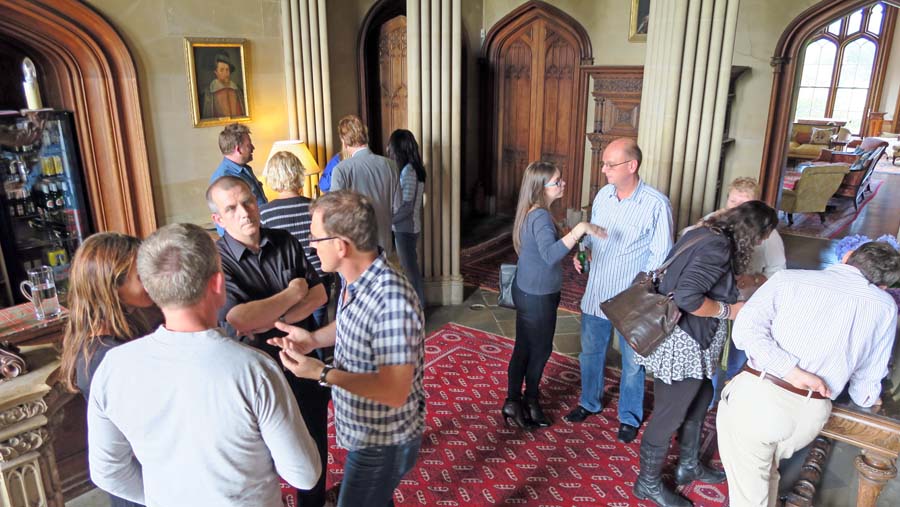 Lia MacDonald (Will's wife) on the far left posing for the cameras with Will. Katherine Chung smiling at them in the background holding a champagne glass. Notice that Katherine has an orange Post-it note on her jacket. Because the group was an accumulation of Will's 50 years, a lot of us were meeting each other for the first time. Hence name tags were created on the fly by the Birthday Boy.
Here we are sitting down to dinner on Friday night (no food has been served yet).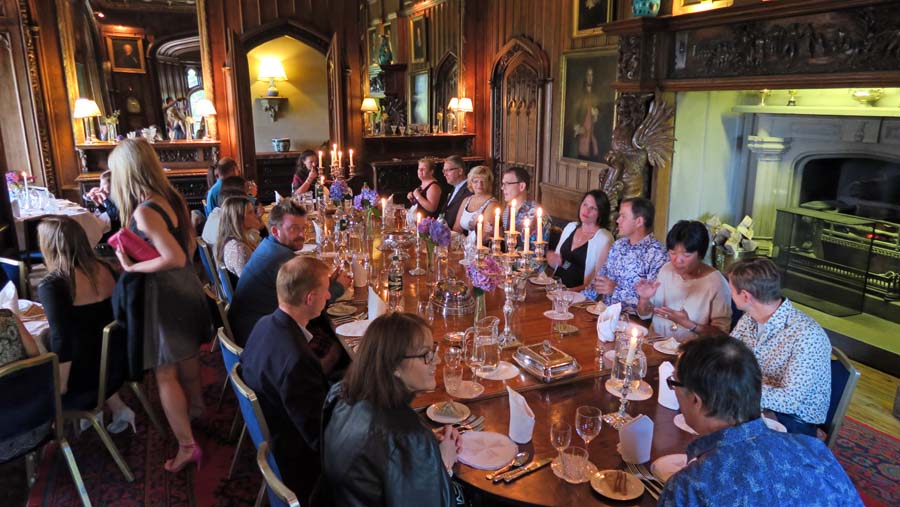 From left then going around the table: Kendall MacDonald (facing camera), Jennifer McMenamy, Nick Tingle, Nicky Greenshields, Kevin McMenamy, and Wendy Riggs facing away and finally Kate (Katka) Pupalova (facing away from the camera towards Kendall).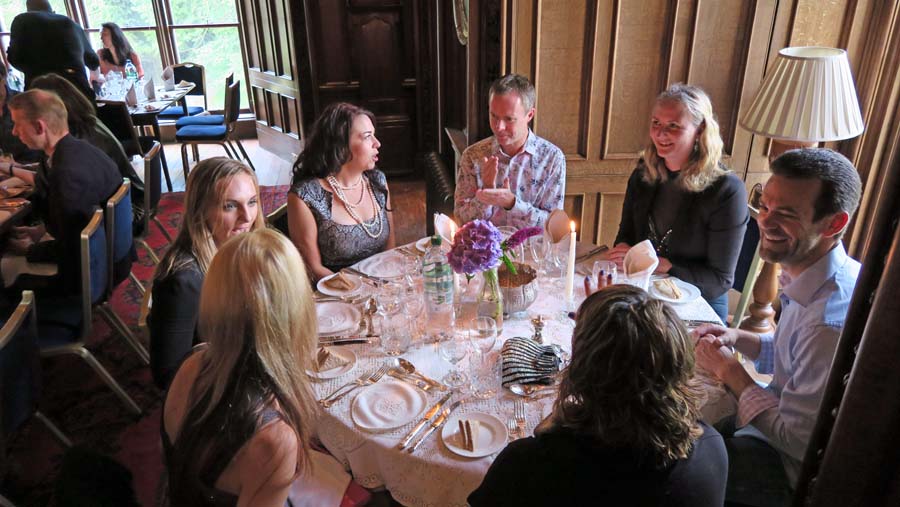 Same table, different angle to see more faces.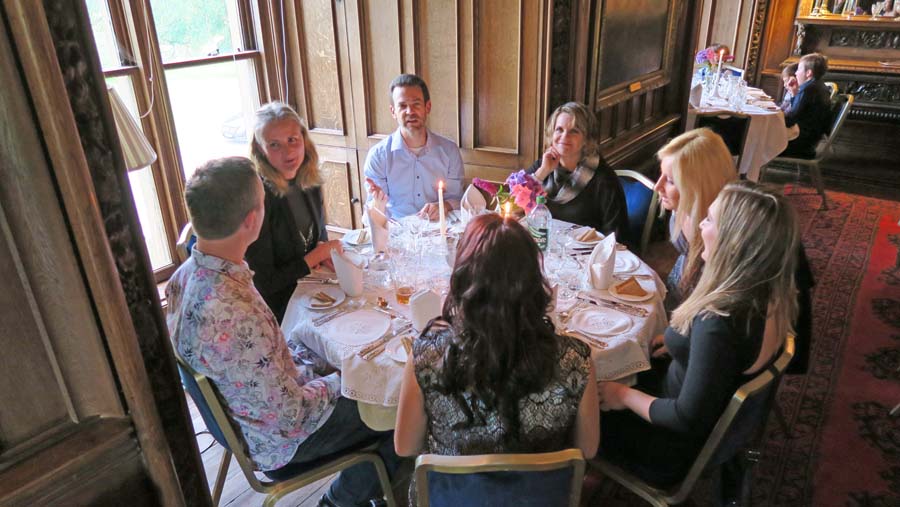 A different angle, same room, same dinner.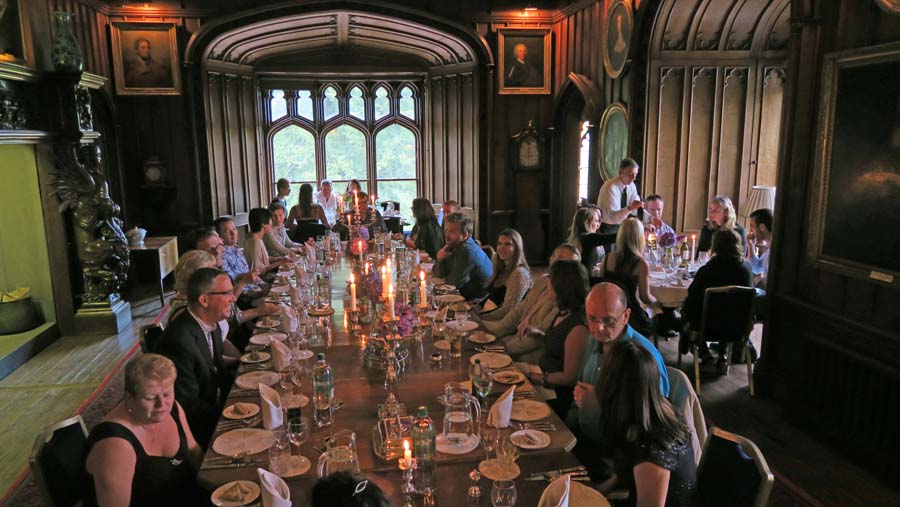 Same as picture above, not sure why I took two. This one shows some different faces turned towards the camera I guess.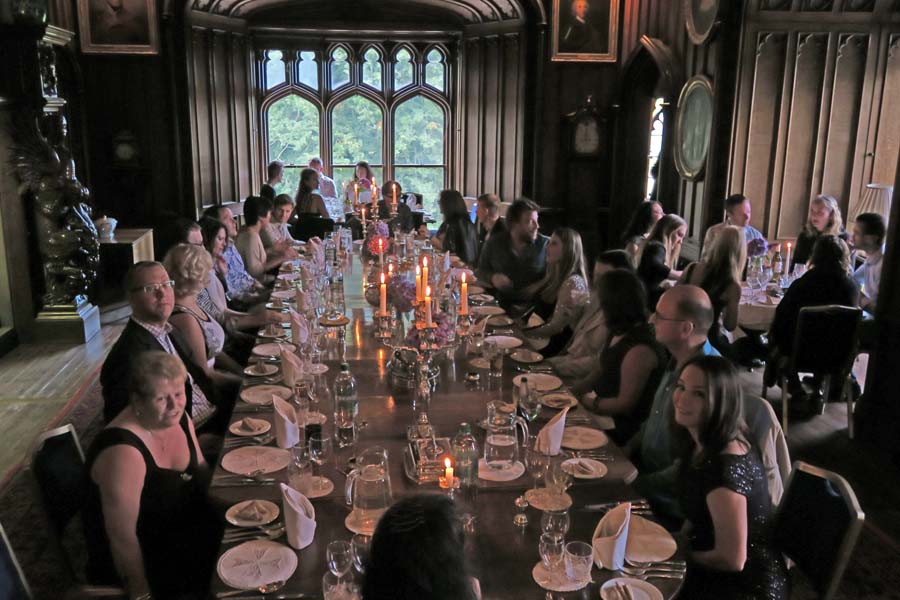 The kid's table. From left to right it is Brooke (black shoulders),
(in red),

, Max, and Nicholas.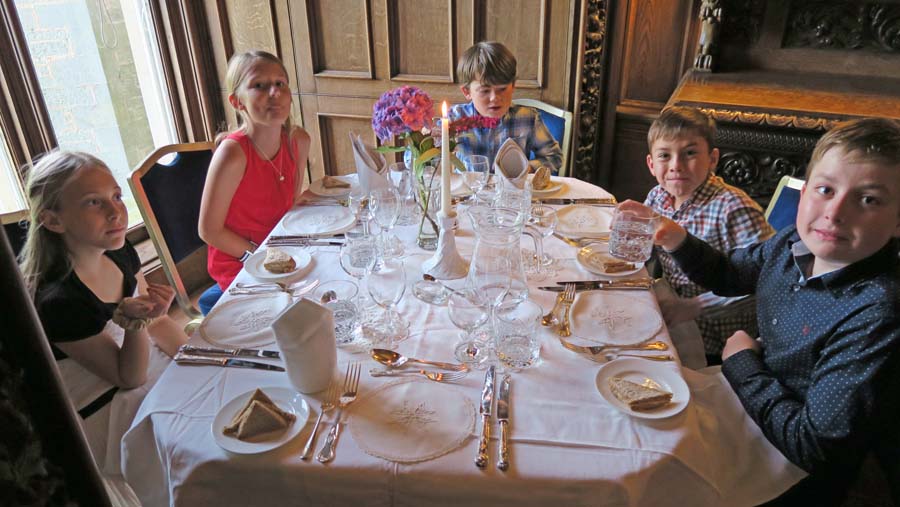 The picture below is of the table Katherine and I ate ate. From left to right that is Sally Woof, Cameron

, Katherine Chung, Alastair Irvine, Susan Irvine, Mikael Michau , Gillian MacDonald, Gordon MacDonald, and Melissa

(facing away from the camera).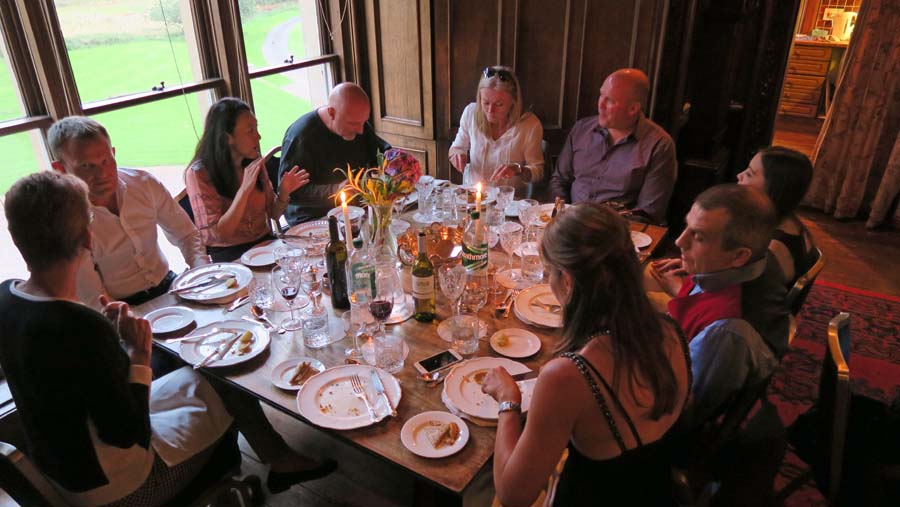 Starting with the blonde woman at the end of the table below: Maggie Glanowska, Mark Richer (wearing glasses), Joanna Dudderidge, Nick Tingle, Christine Taylor, and on the far right in a tie is Stuart Cheshire.
Same dinner, random different angle.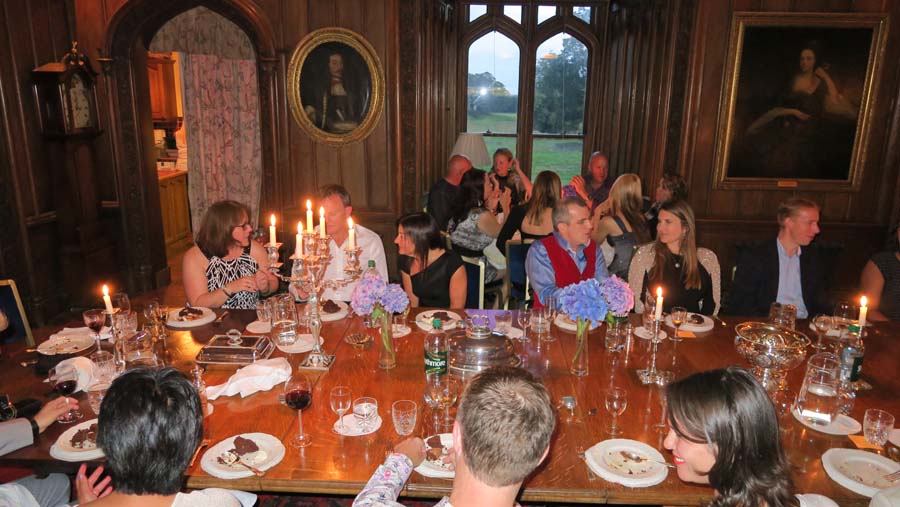 Same dinner.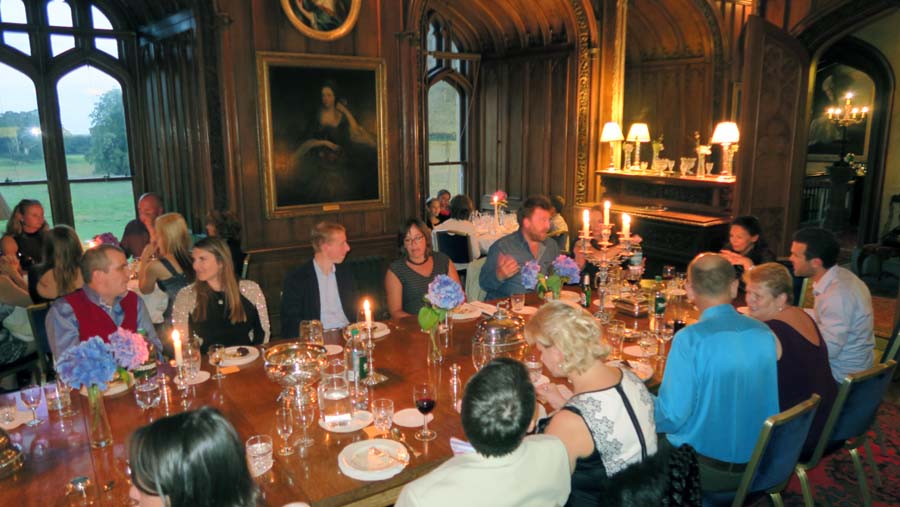 The furthest left person is Frances MacDonald, and in blue long sleeve shirt is Ian MacDonald.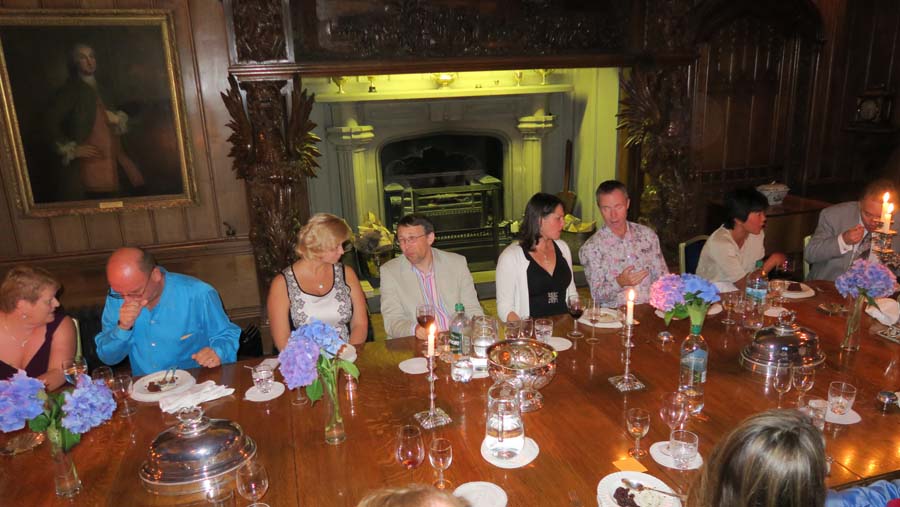 Alexander Hay is standing in back left in the sweater vest talking with Will. Alex is the owner and lives in Duns Castle. Around the table from left to right is Chip Wright, Melissa

, and Sally Woof.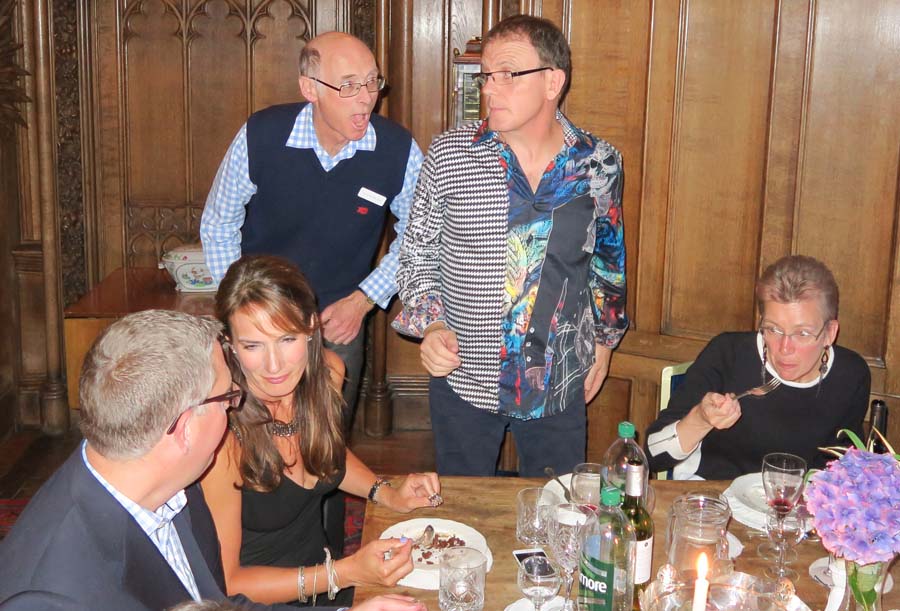 Immediately after dinner as the sun set we were treated to a Scottish bagpipes and drum performance by the City of Edinburgh Pipes and Drums band. They were very good.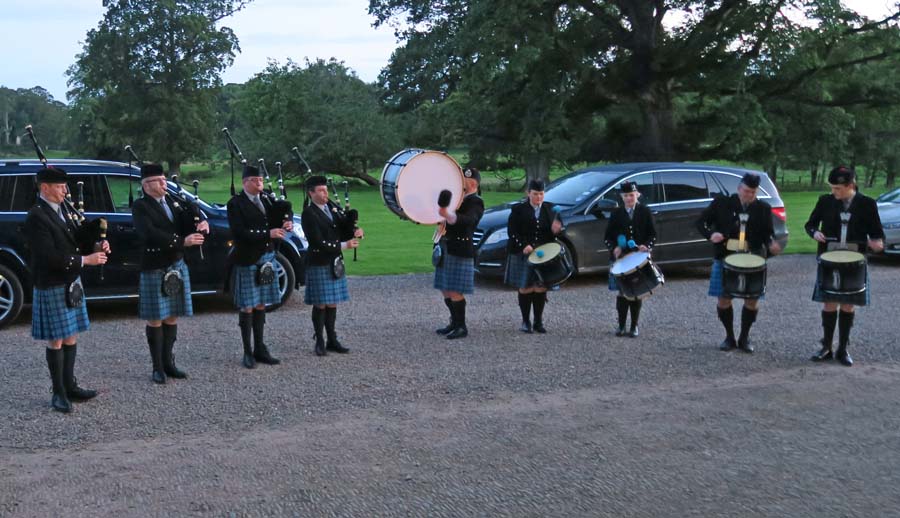 Susan Irvine, Fergus Irvine, and Alastair Irvine.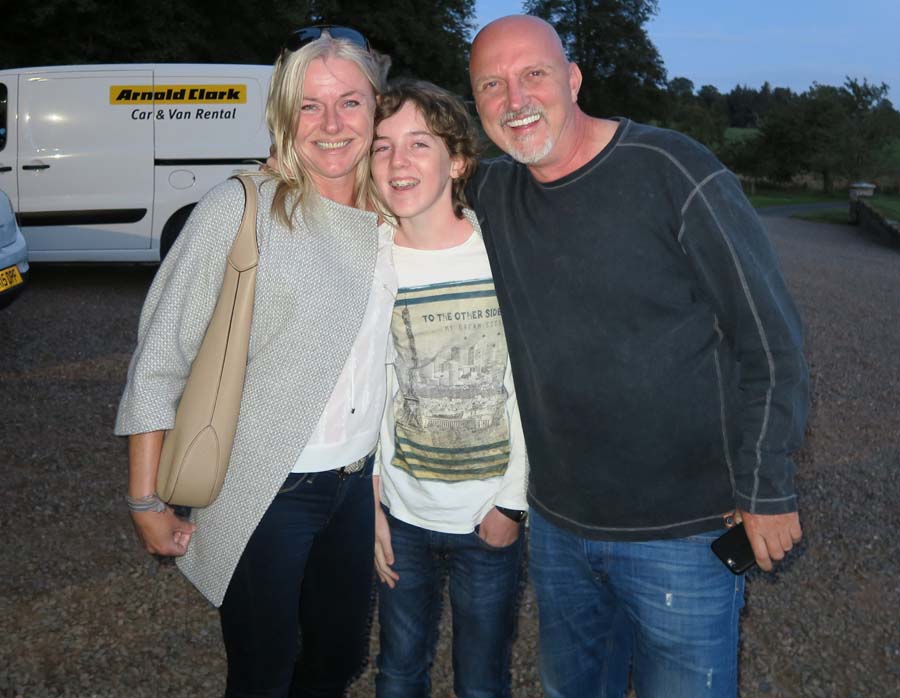 Presenting: Tom Dudderidge. Tom ran out and posed for cameras like this, I respect that. :-)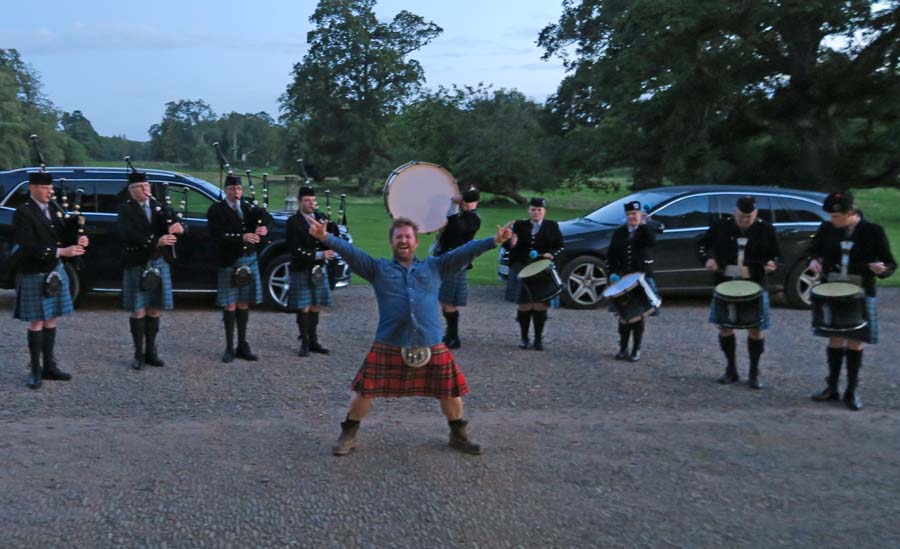 After the bagpipes, we had a "Casino Night". Here are some of the party goers gambling (all with plastic chips). The winning strategy was to steal more chips when the dealers weren't looking.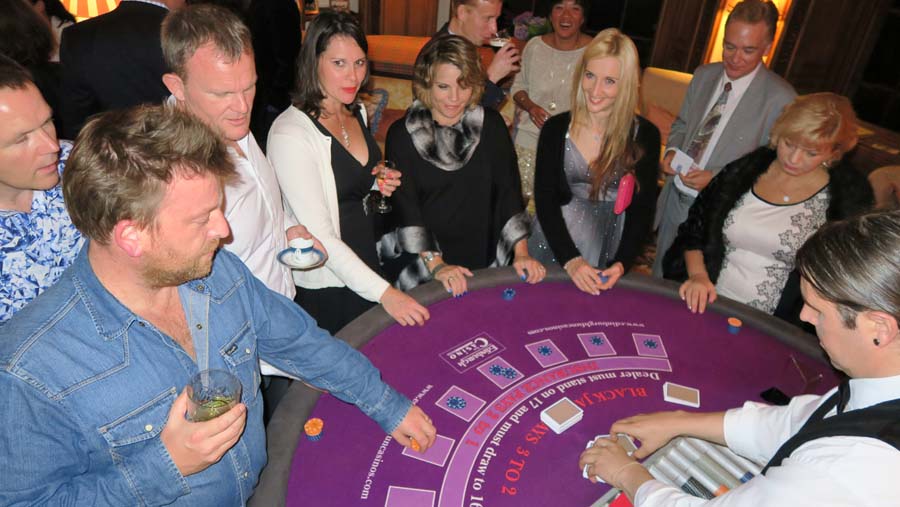 At the roulette wheel is: the dealer (name unknown?), Ian MacDonald (in blue shirt), Gillian MacDonald, Coila MacDonald, Nick Tingle, Bob Greenshields, Nicky Greenshields, and on the far right looking at the camera is Lia MacDonald.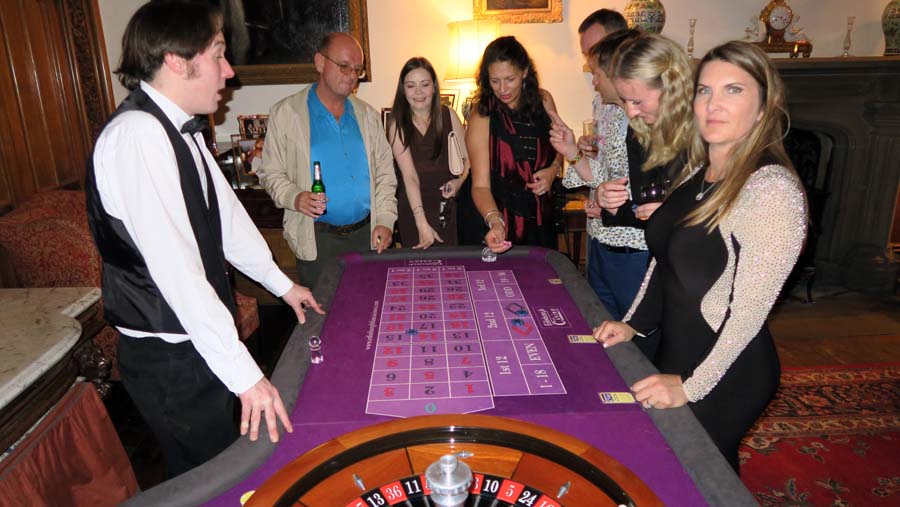 From left to right: Kendall MacDonald, Mark Richer, Sally Woof, Fergus Irvine. Fergus was the big winner of the evening.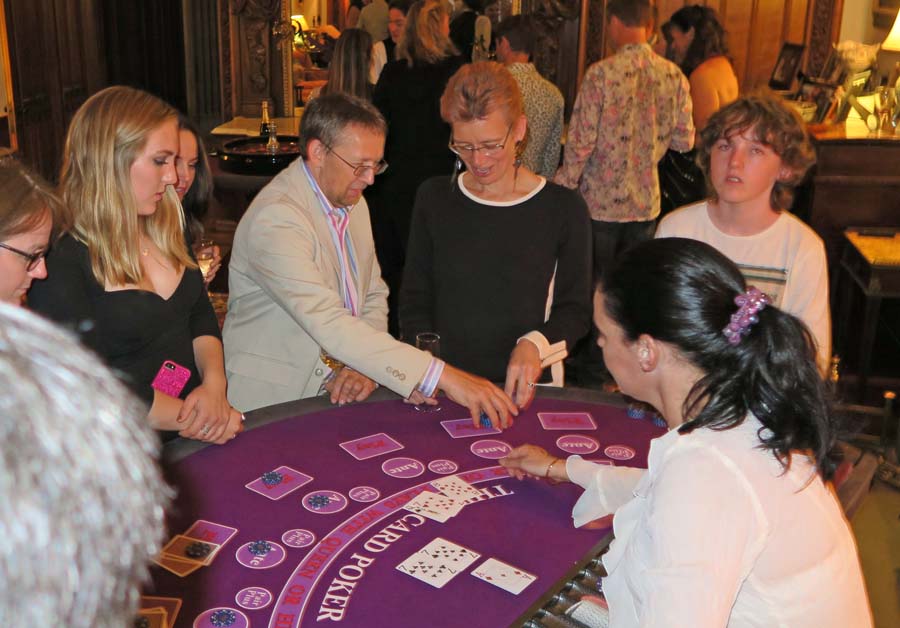 As the night went on late, Tom (on right in kilt and blue shirt) ran out for haggis, French fries (called "chips" in Scotland), pizza, and some other mysterious deep fried food (possibly "white sausage" or "white pudding"?)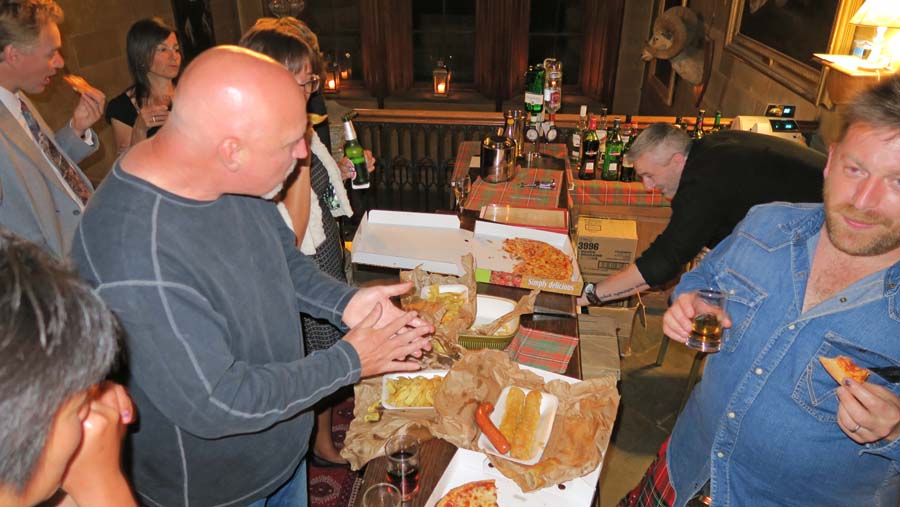 Susan and Kendall getting some late night fried food.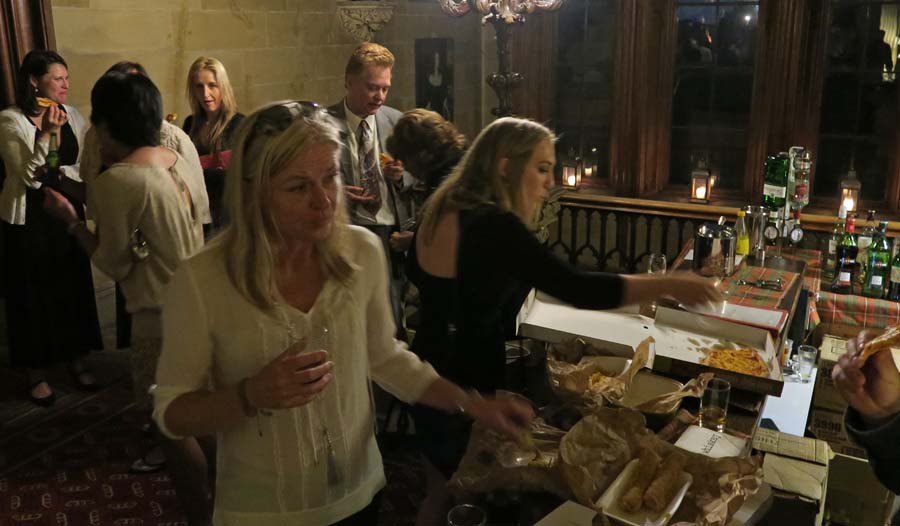 Talking and snacking. It's close to midnight in this picture, and if you look in the lower left corner you'll see some of the ladies in high heels have stepped out of them. I think that's adorable. :-)
Susan and Coila on the left, the bartender, Katherine, and Tom on the right all having some food.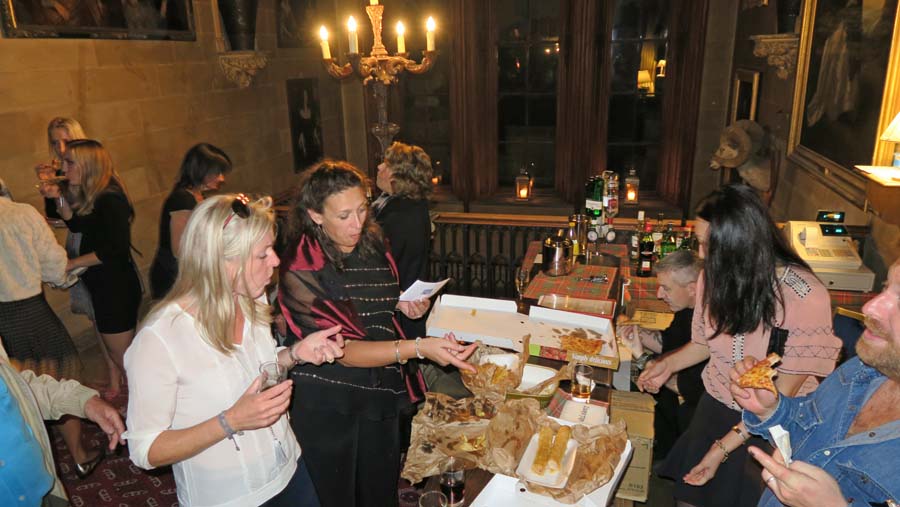 The next morning we had a traditional English breakfast of fried eggs, mushrooms, tomatoes, and black pudding. I have emotional hang-ups about the black pudding (it is made of blood) so I stay away from it.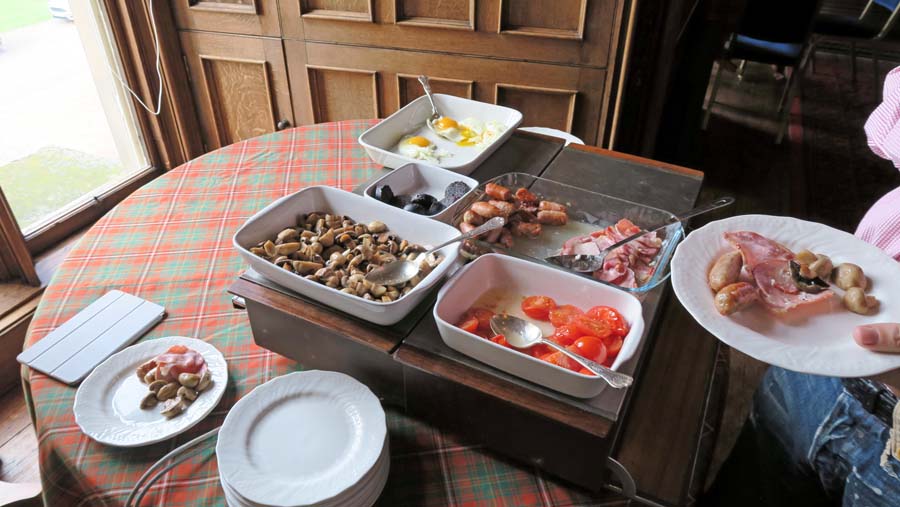 The Irvine family at breakfast.
Talking after breakfast.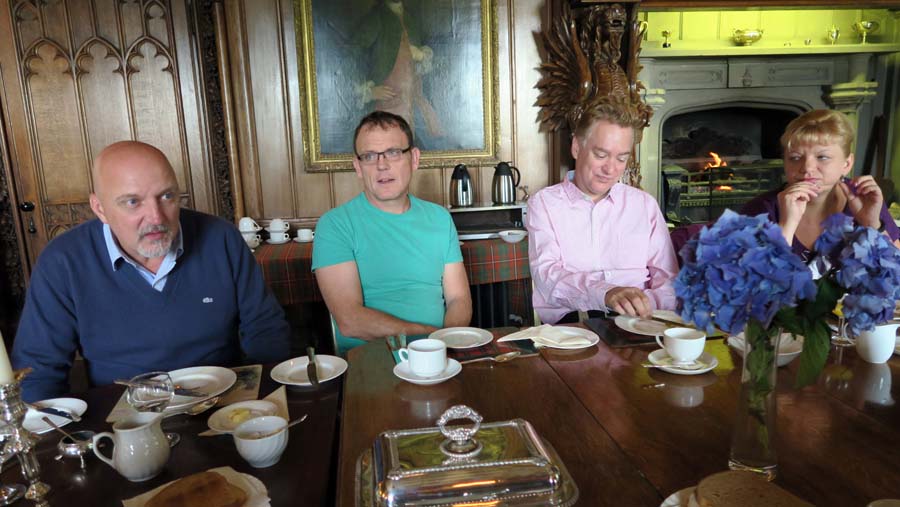 After breakfast, Alexander Hay (the owner of the castle standing below) gave a short talk on the history of Duns Castle. The original Peel Tower was built in 1320 and was small in footprint and still here, then it was added on, then the final castle you see today was built between 1812 and 1822.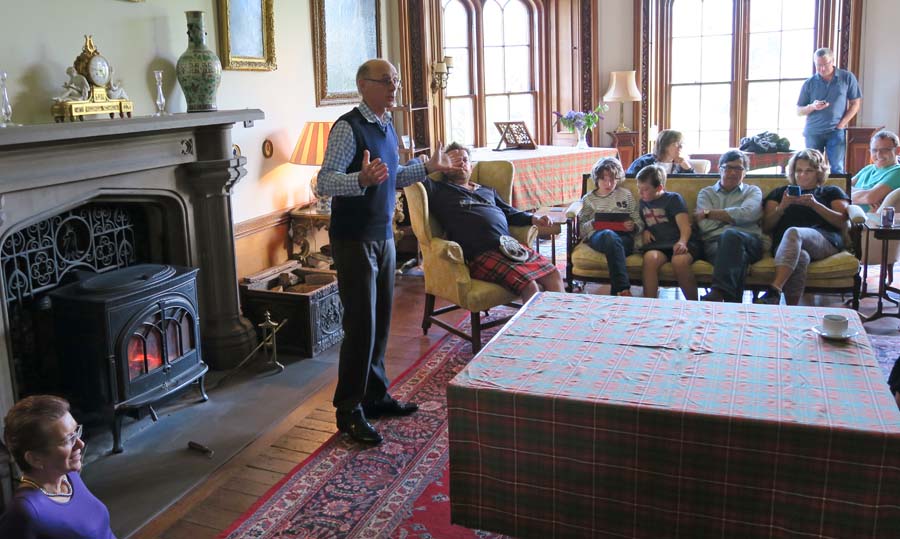 A central spiral staircase in the castle.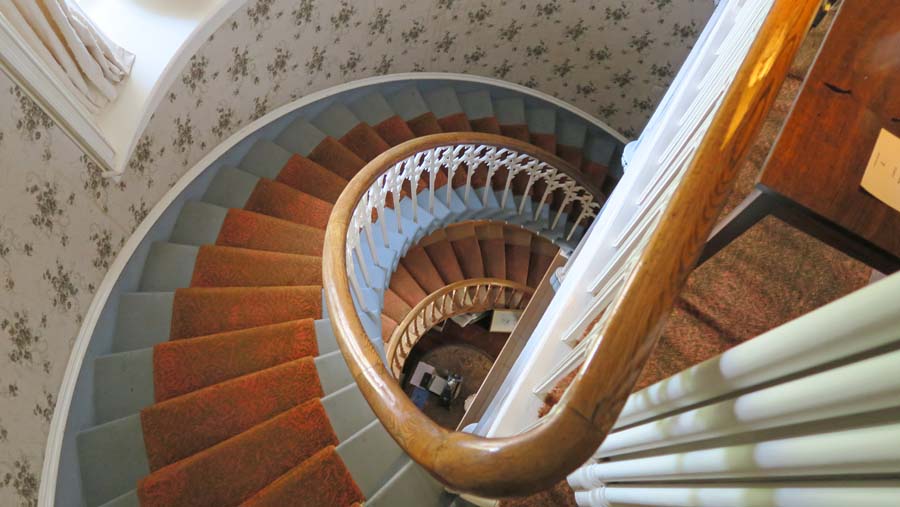 At 11am there was a falconry demonstration by Graeme Neilson of Strathblane Falconry. Below you can see Graeme brought 6 birds including the largest named "Artemis" who is a Steppe Eagle, and also a few owls and falcons.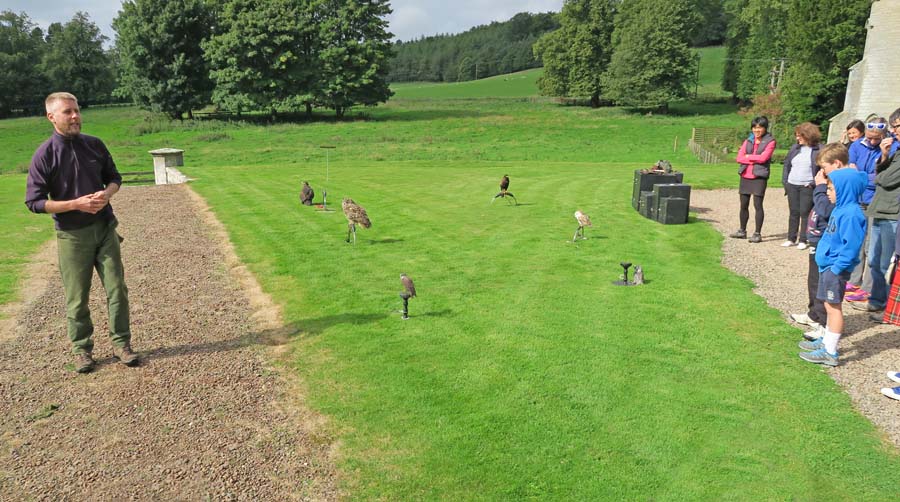 Graeme giving us some background on the birds, how they think, how long they live, how to handle them.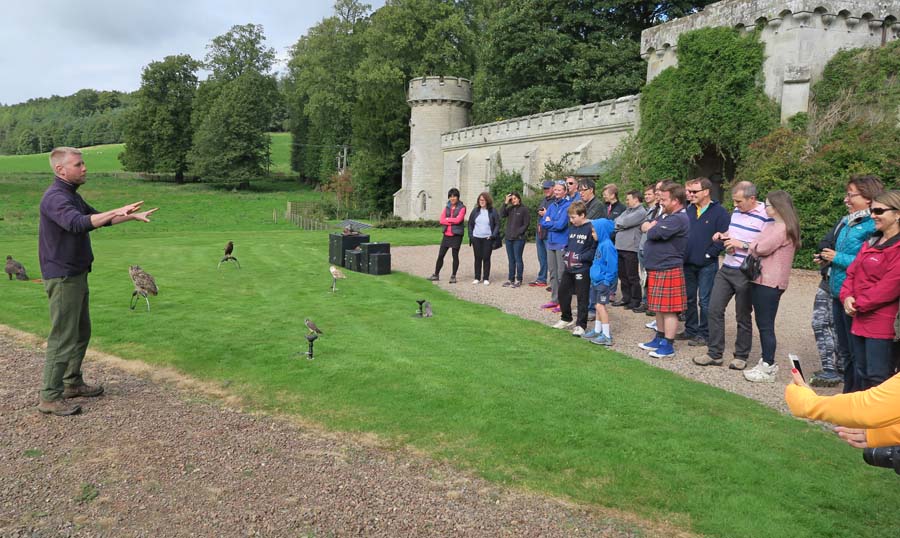 Graeme holding a falcon on his thick leather gloved hand.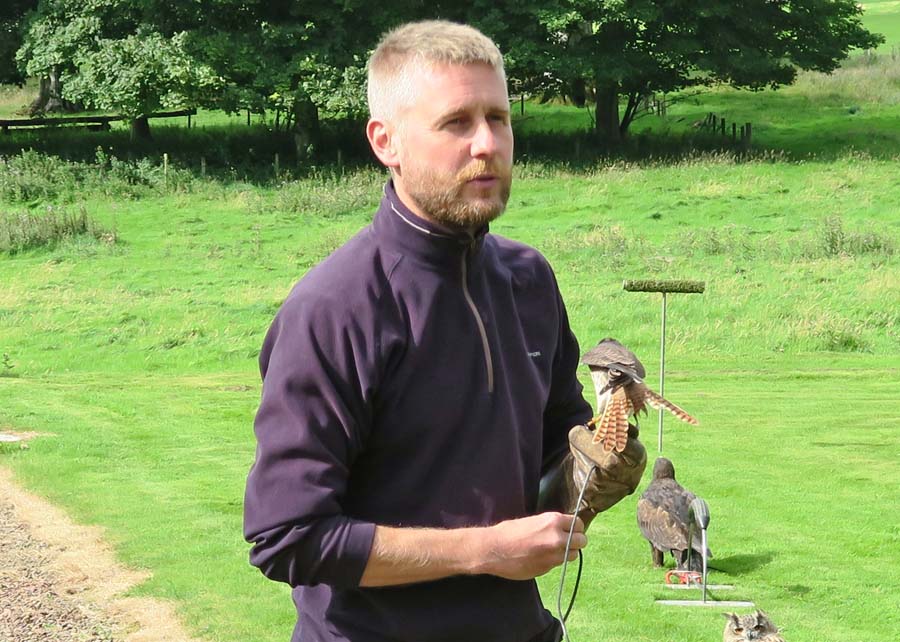 Brooke has the falcon on her arm, and Graeme is explaining how to hold it safely.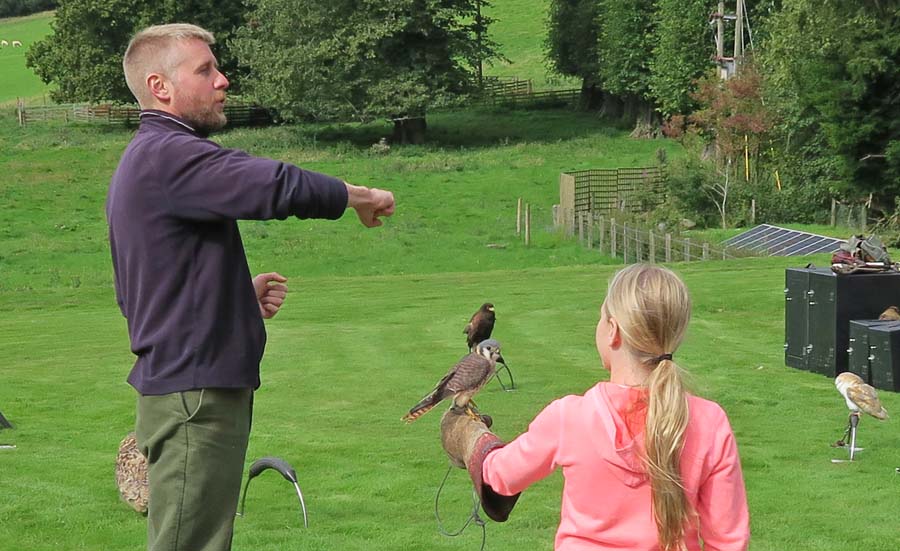 A close up of the falcon on Brooke's arm.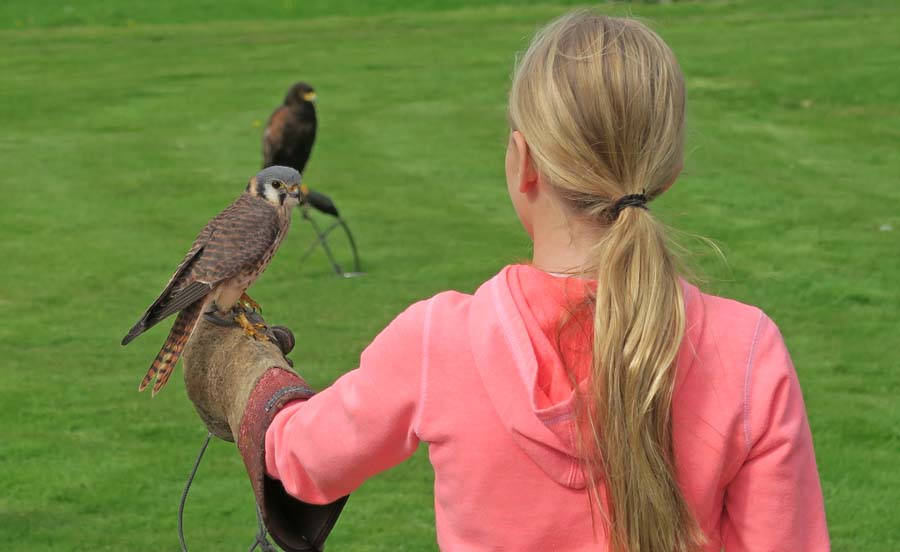 A close up of the falcon standing on the glove.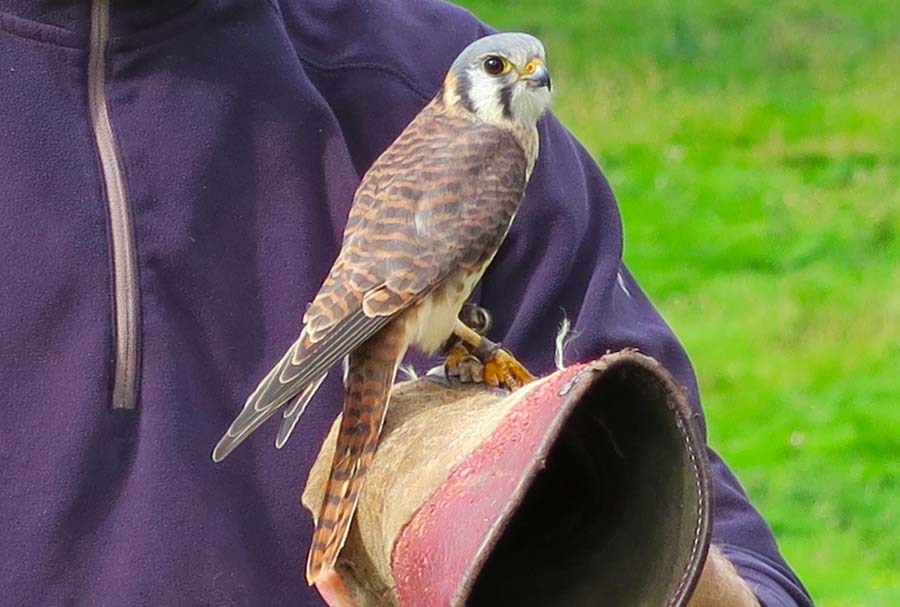 A boy holding a falcon.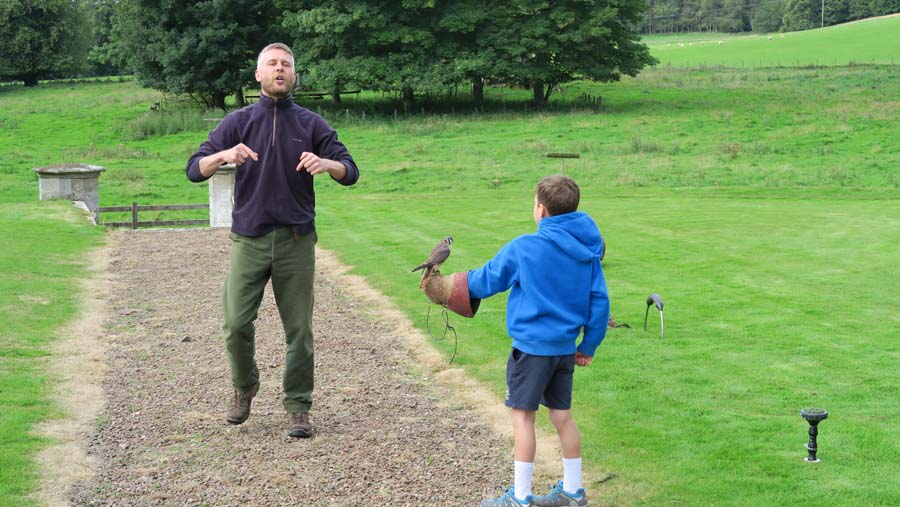 In the picture below, you can see Duns Castle and the falconry demonstration in front.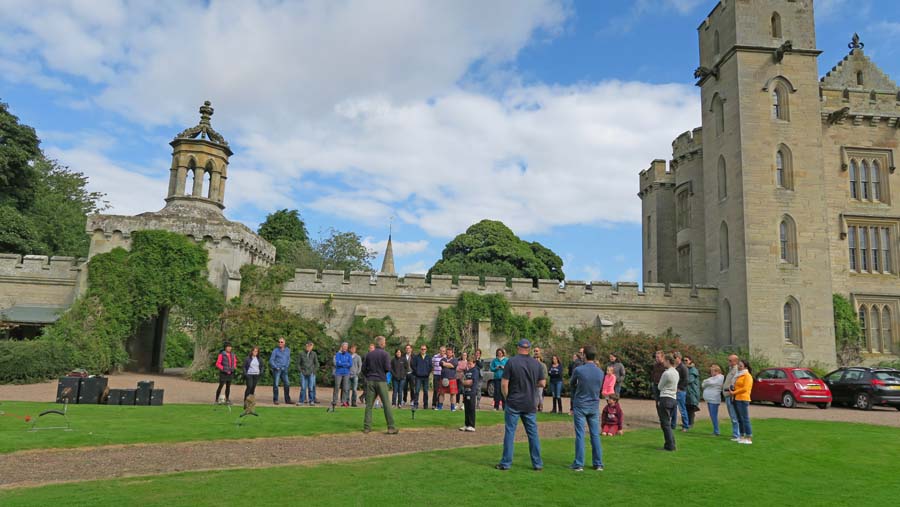 Graeme is holding "Artemis" who is a Steppe Eagle.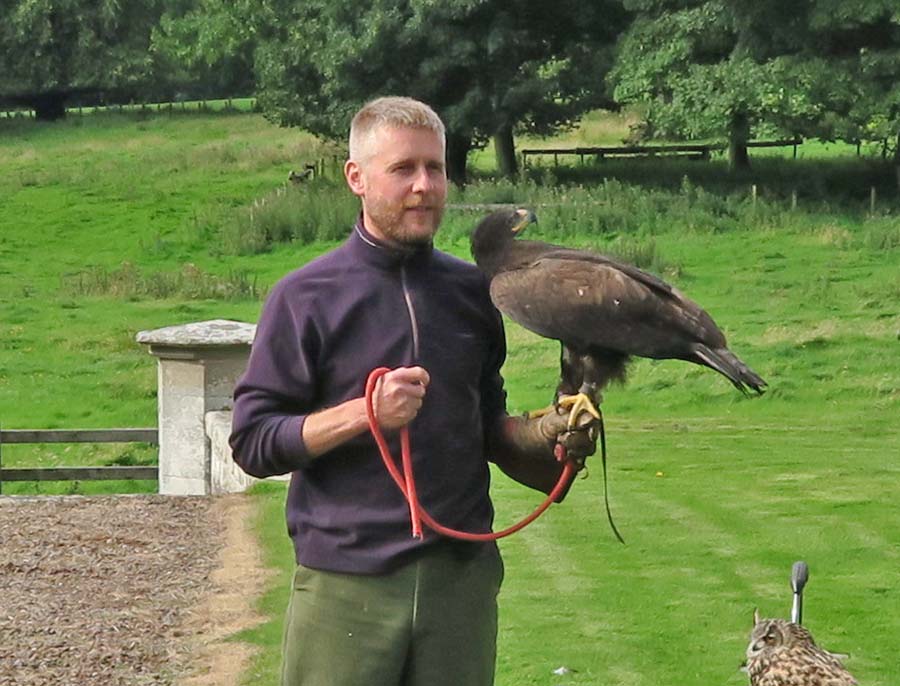 Artemis looks angry at Graeme. All the birds (including Artemis) are hungry. As soon as they are full they would fly away or stop being useful in the demonstration (they would no longer fly for bits of raw chicken).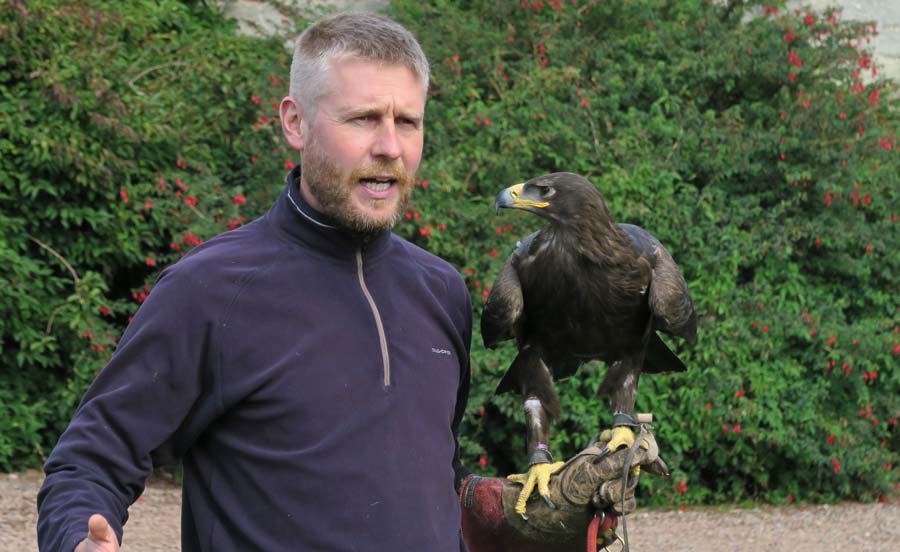 Graeme seems comfortable with his eyes this close to Artemis's beak, but it freaks me out a little.
holding the little owl. The owl is full grown, but the breed is small.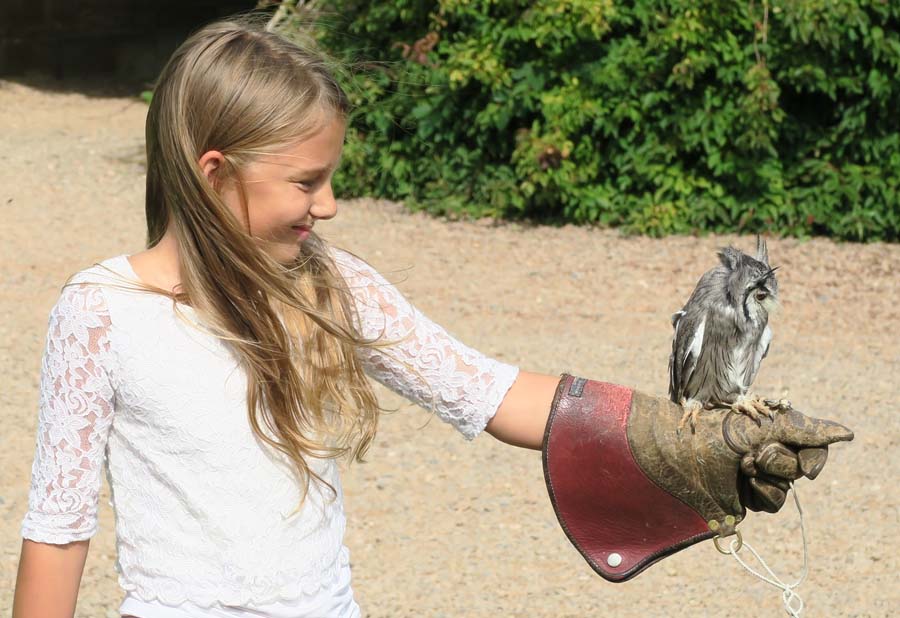 Lia holding the owl.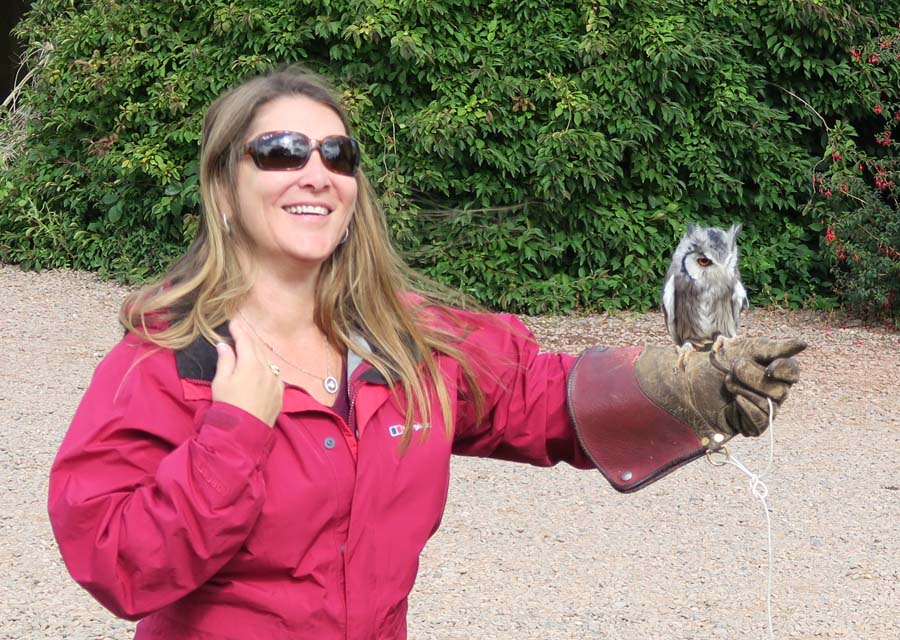 In the lower left of the picture below you see the boxes where the birds are put inside to transport. Only one bird per box, they all would attack each other if given the chance.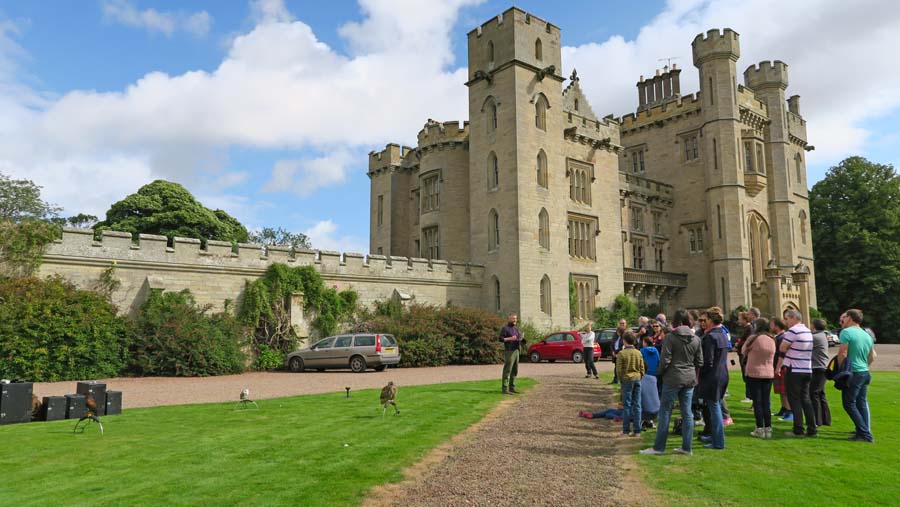 Mark Richer wearing a Codian jacket. Mark was one of the founders of Codian which sold to Tandberg in 2007 for $270 million. Mark and Will have now started anther company called StarLeaf which is doing really easy to use video conferencing.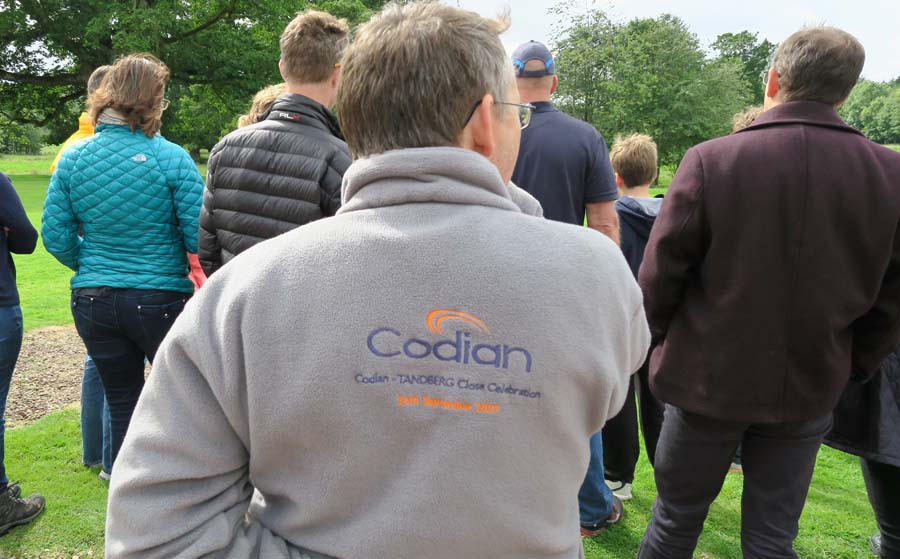 After lunch, we all played traditional Scottish Highland Games The strangest one of these is called "Wellie Hurling" (sometimes called "Wellie wanging" where a "Wellie" refers to a Wellington boot (simple rubber boot). You throw the boot trying to land it in a circle on the lawn. Scottish people are very strange.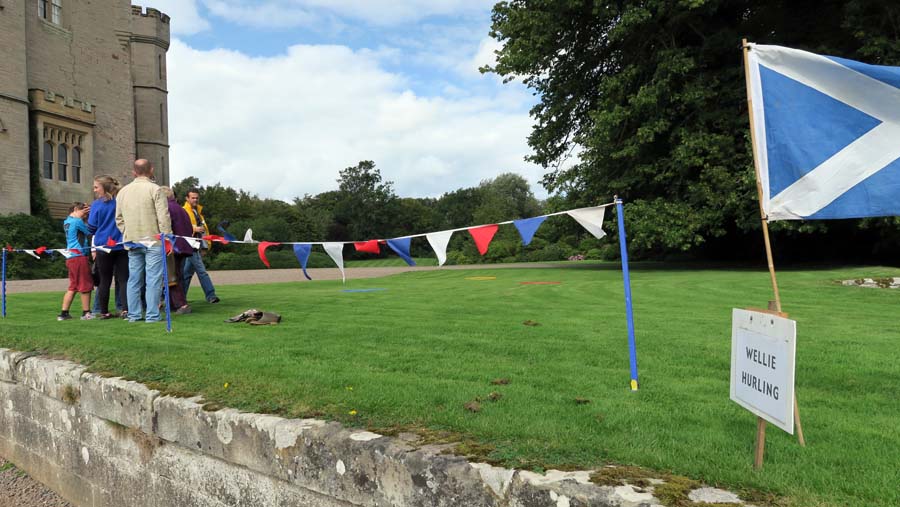 In the highland games, we were "Clan Campbell", famous for killing MacDonalds in their sleep. From left to right: Alex Scott, Tom Dudderidge (bearded team captain), Brian Wilson (in sunglasses), Christine Taylor, Jenna Wright,

(little girl in front), Joanna Dudderidge. We won the whole competition with the highest score of any team.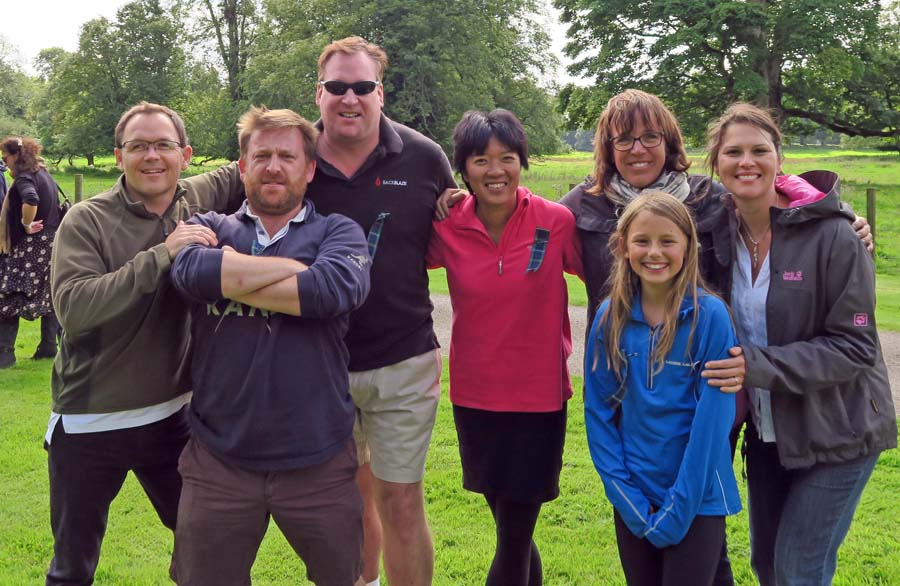 At this station, our team was ";Putting the Stane". It is like a shot put but with a large stone instead of a steel ball.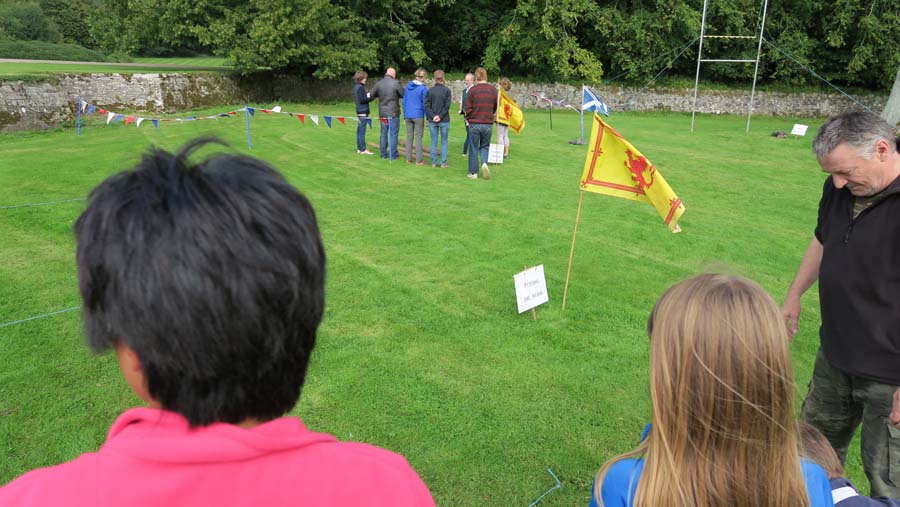 A picture of the castle and a few teams (archery on the left, Wellie Hurling on the right).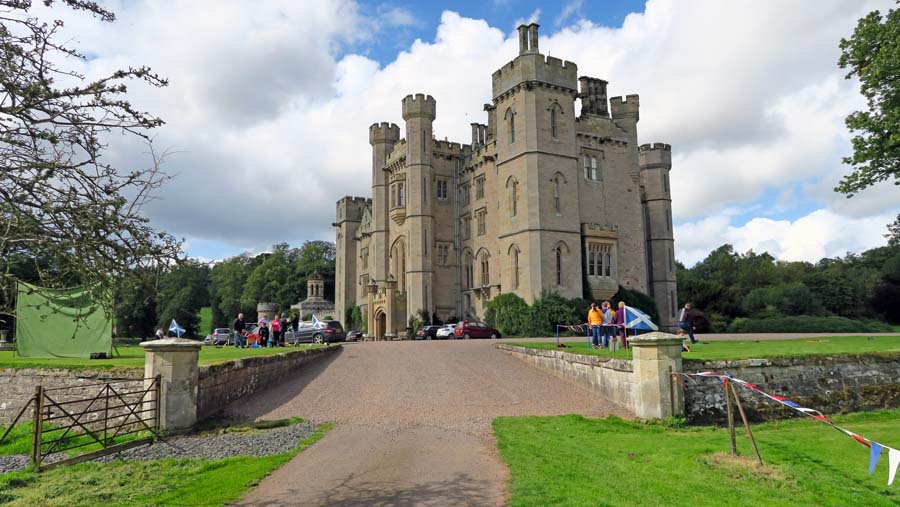 Tom (our team captain) is getting conditioning from Christine (our team doctor and a doctor in real life).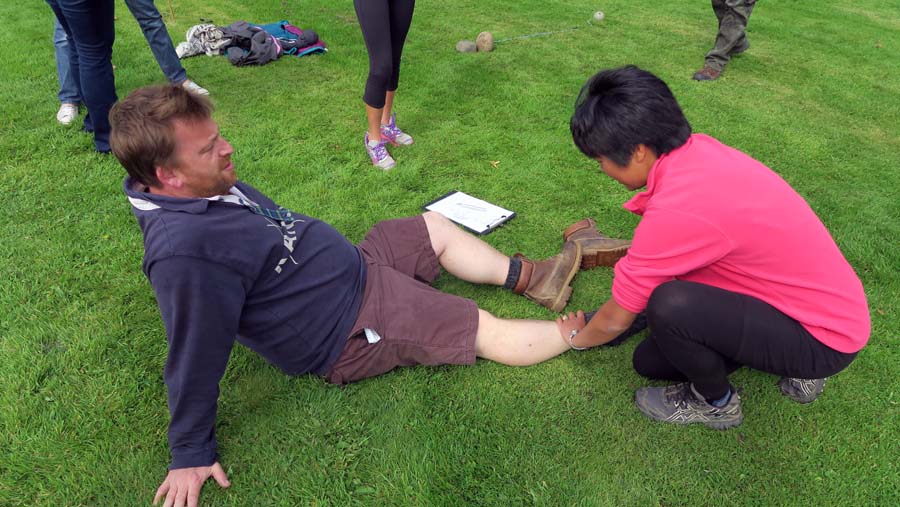 One of the most famous highland games is the Caber Toss. "Caber" is a tree trunk, and the objective is accuracy, not distance. You are trying to land the caber in a specific spot oriented a specific direction.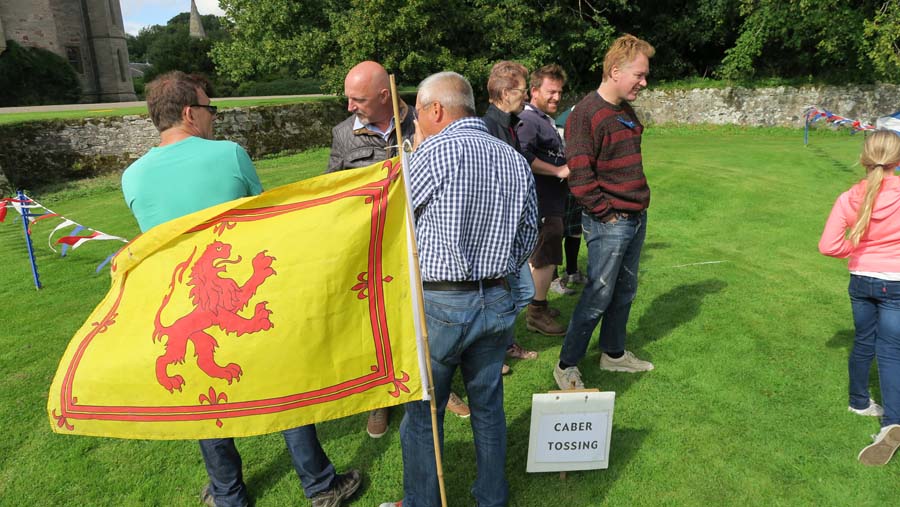 In the picture below, Christine demonstrates the caber toss. The caber is airborne in the picture below, just having left Christine's hands. The caber will flip exactly once before landing.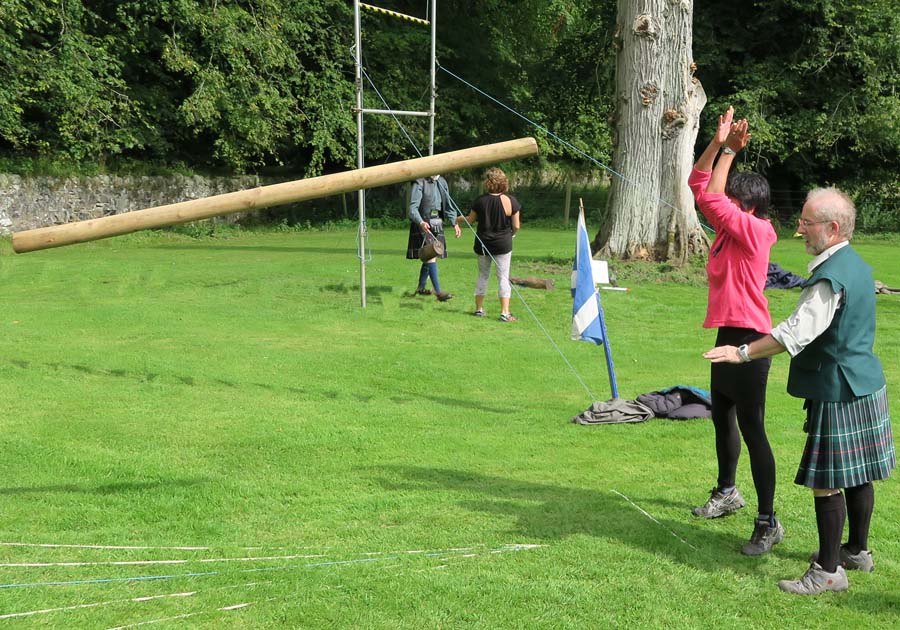 The highland game below is called "Weight over Bar". It is a log with a rope attached you toss backwards over your head over a high bar.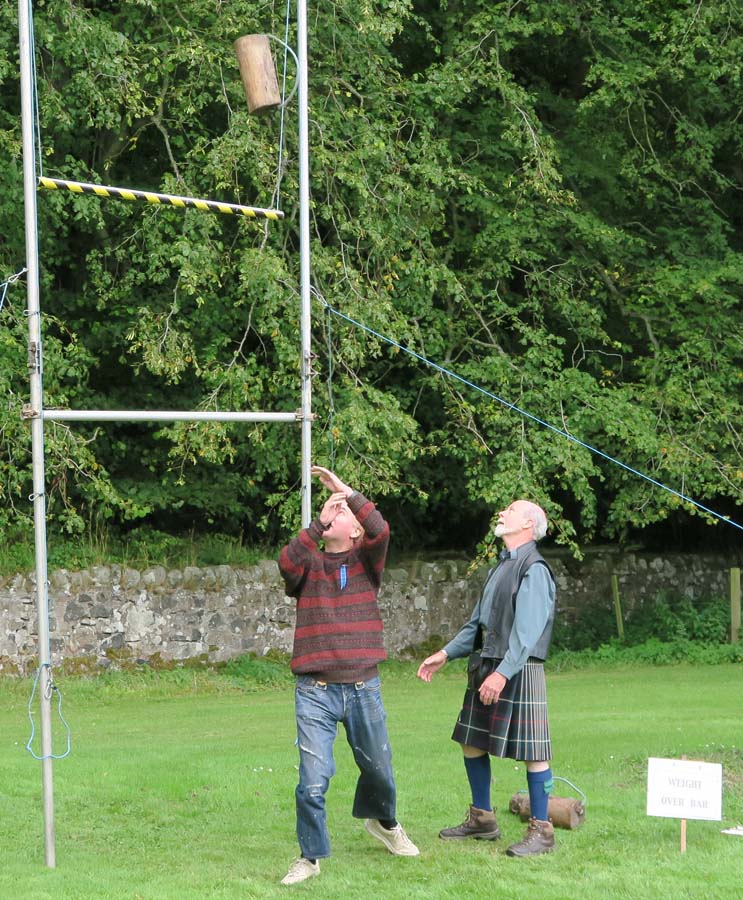 One of the highland games is horseshoes. In the picture below, Jenna Wright got the maximum score by throwing a "ringer" (spins around the pole and stops on the pole).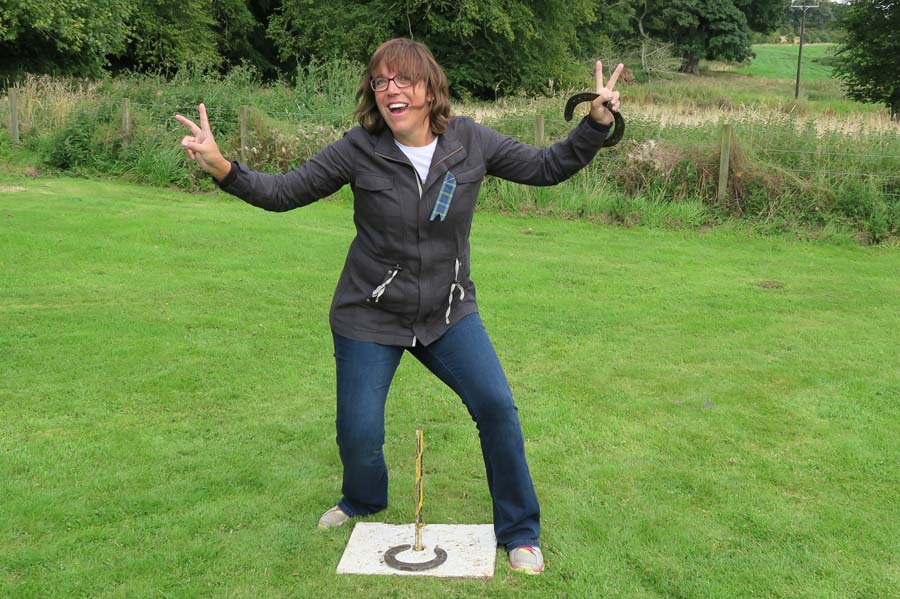 Here our team is doing the Wellie Hurling (boot throwing). The way this was scored was your whole team had a set amount of time and as many scores as you could get were added up, so we had a fast assembly line going. In the picture below, Joanna Dudderidge is holding the boot by the toe in the middle of a throw.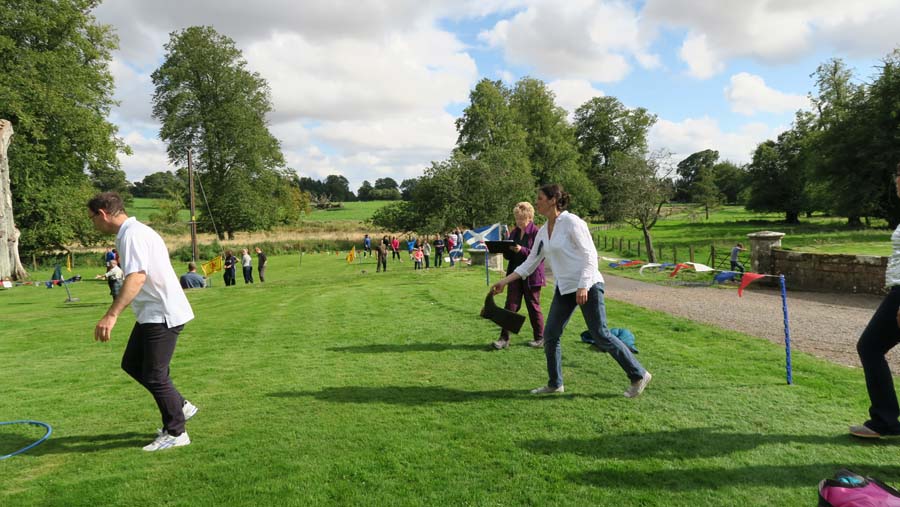 Jenna Wright was our best Wellie Wanger, seen below tossing the boot in the air to accurately land in the circle.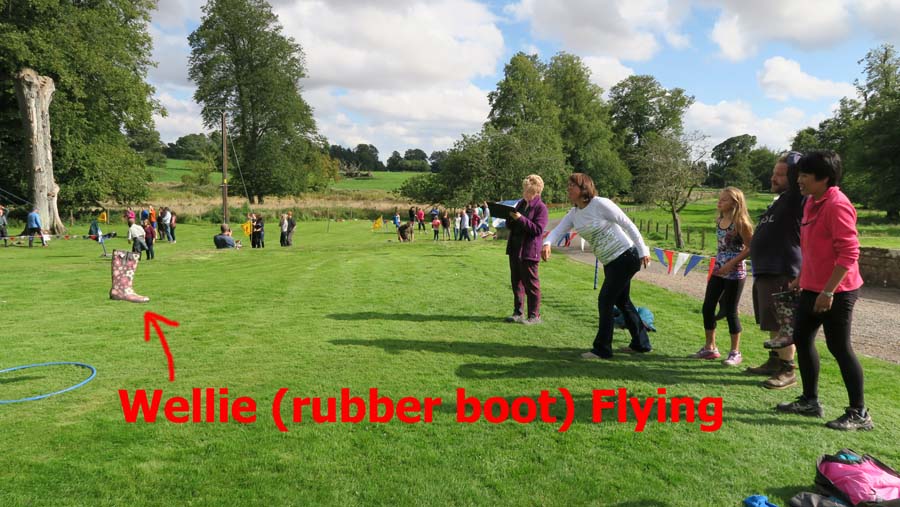 There was only one injury in all of the Highland Games. Kevin McMenamy carefully put Brooke's 11" iPad on top of his tire of his car (under the wheel well) to keep it out of the sun. Later he got in his car and drove away, destroying it.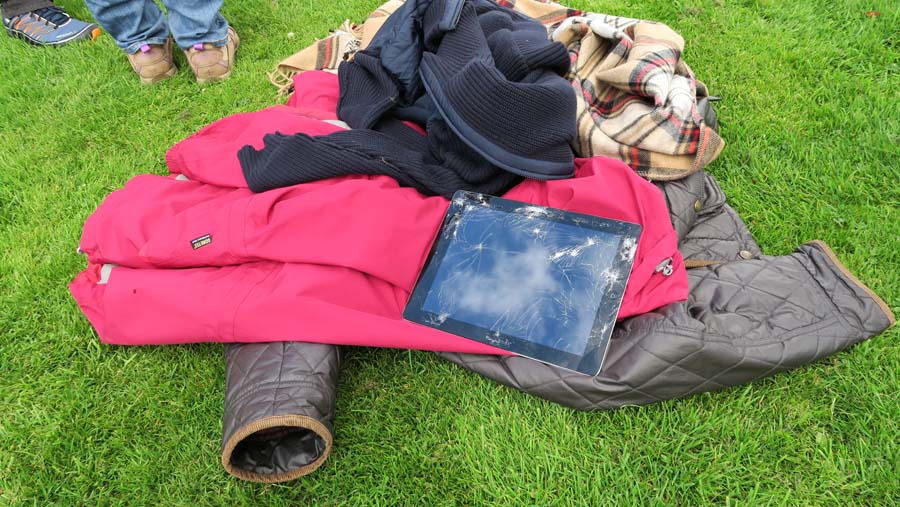 Will's family surprised him with a professional edited video and a custom song sung by the family with interviews from his friends. It made several people cry, it was very well done and sweet. At the end Will stood up and said a few words.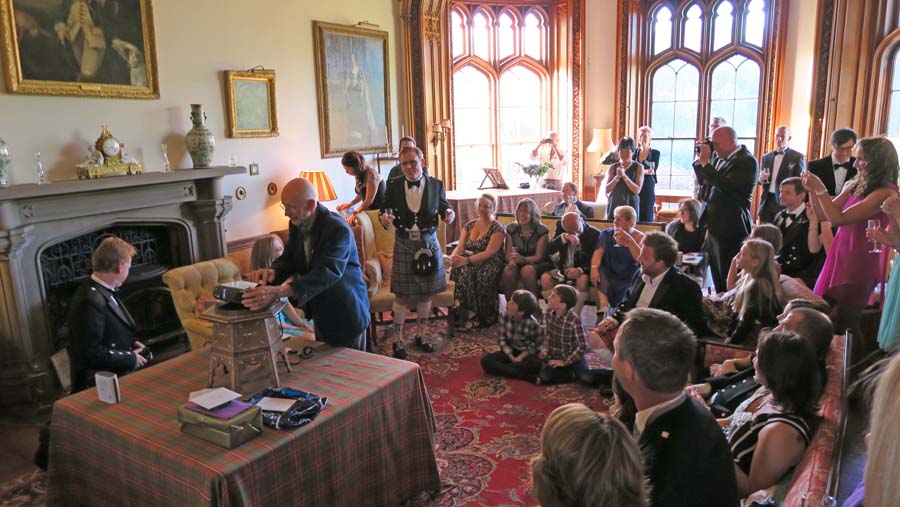 On Saturday night, we all dressed in kilts in honor of Will (who is a native Scotsman) for the evening dinner and dancing party called a Ceilidh (Gaelic social gathering and dancing). Below is a picture of Katherine and me (Brian) wearing my kilt in front of Duns Castle.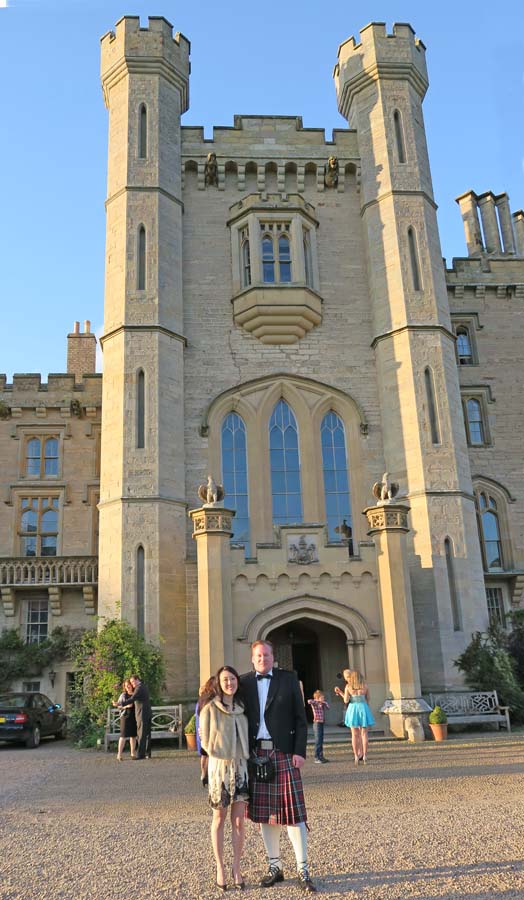 This picture below is cropped out of the picture above, just as a close up of me in a kilt with Katherine by my side. If you are Scottish you might notice my kilt is on backwards (the pleats are supposed to be in back, the front of a kilt is flat). Also, my shoes are tied incorrectly, there is a very specific way to tie them. In my defense, this is the first time I've worn a kilt and there was no WiFi in our rooms to get instructions on how to get dressed. :-) Right after these pictures Katherine helped me get everything put on correctly.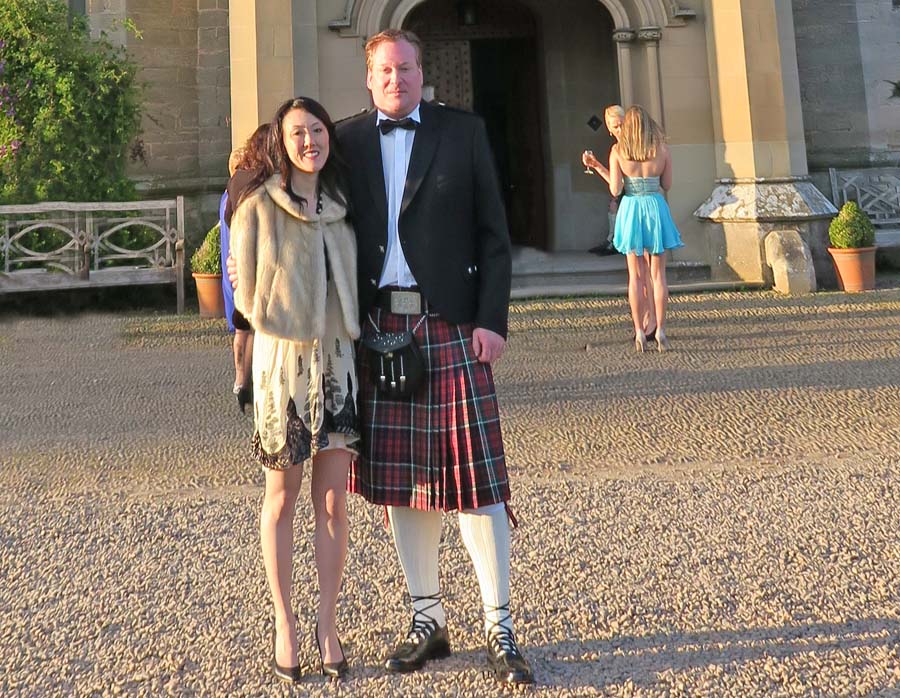 Alastair Irvine was taking photos with my camera, and Katherine and I were playing around with poses and Alastair caught this one as we began to kiss.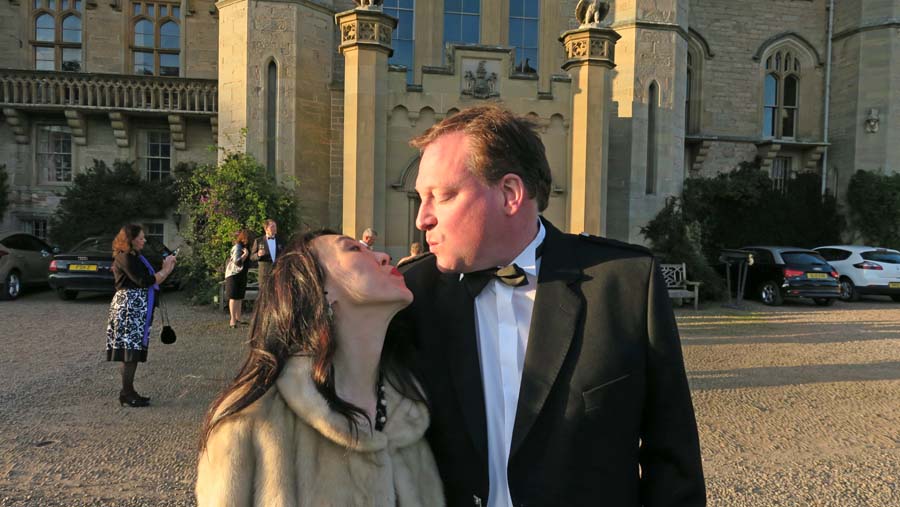 And we both broke out laughing because it was just silly.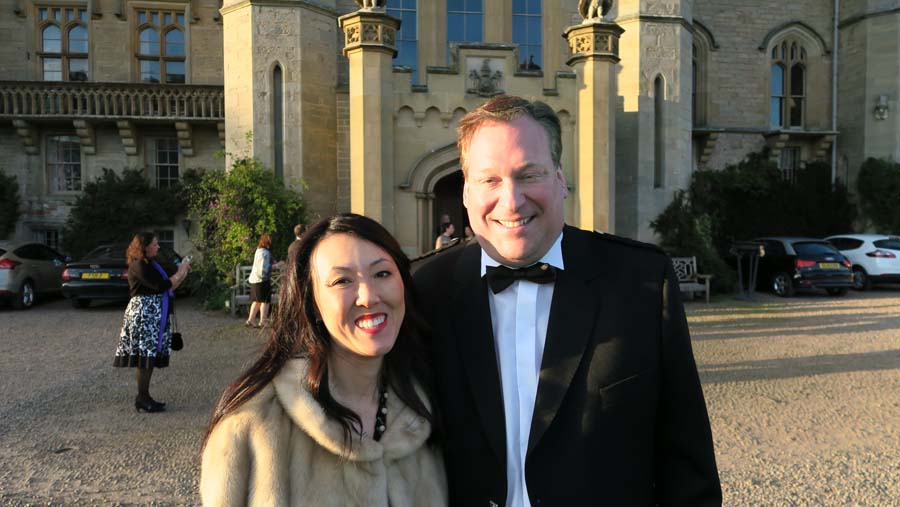 Here is another picture of Katherine and I, but I didn't take this, I nabbed it off of Facebook from another person at the party: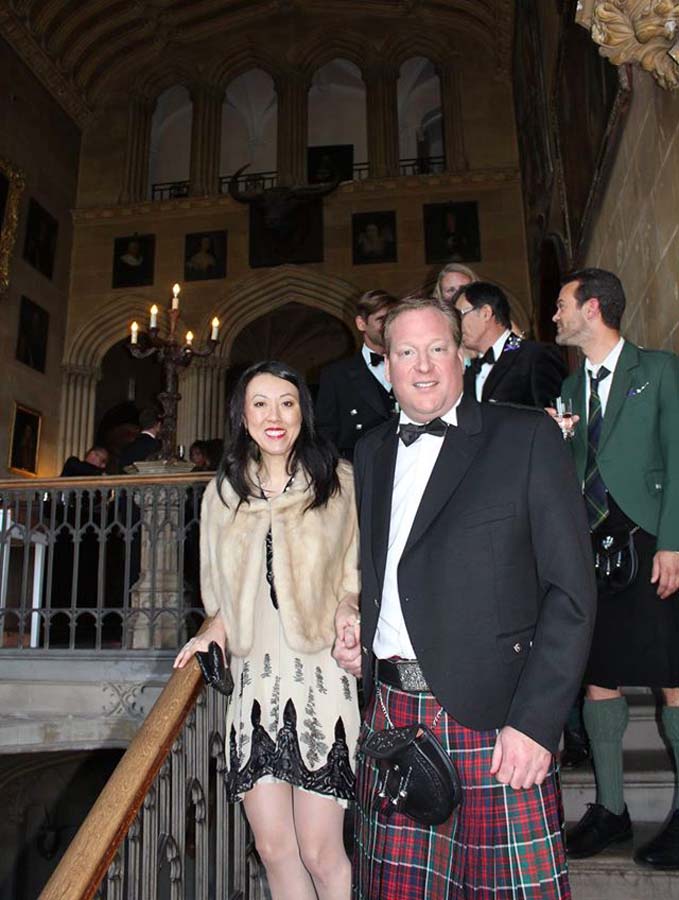 And one last one from another photographer (not my photo). The man on the left is Gordon MacDonald, and I'm on the right in a Kilt (Brian Wilson).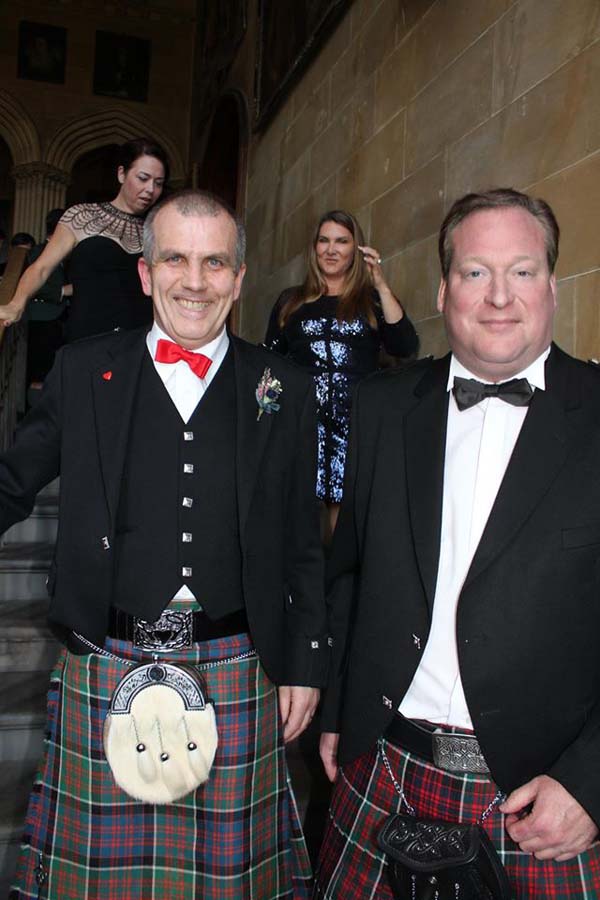 Kevin McMenamy in green jacket and kilt.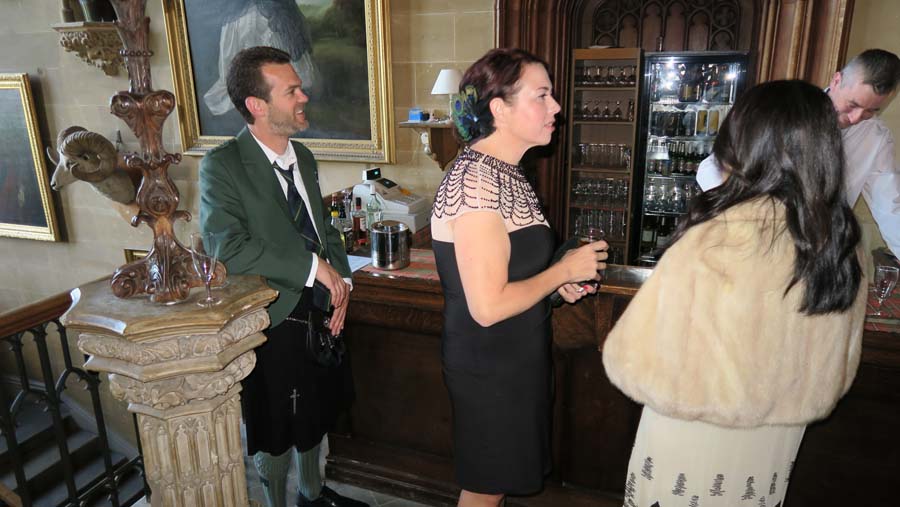 A few of them men showed up in more traditional suits or tuxes, but most wore kilts.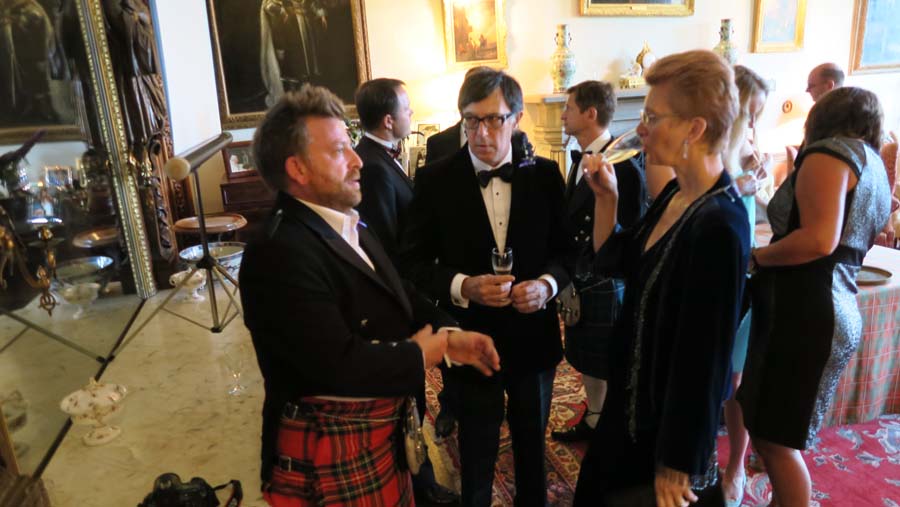 Alex Scott on the right and Professor Stuart Taylor on the right looking very handsome in their traditional suits (not kilts). Christine Taylor (Stuart's wife) is peeking out between them.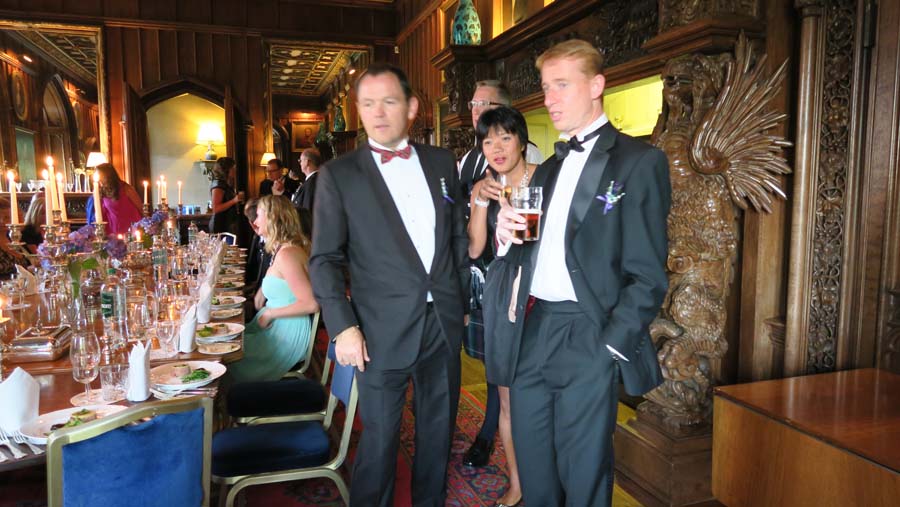 Dinner Saturday night.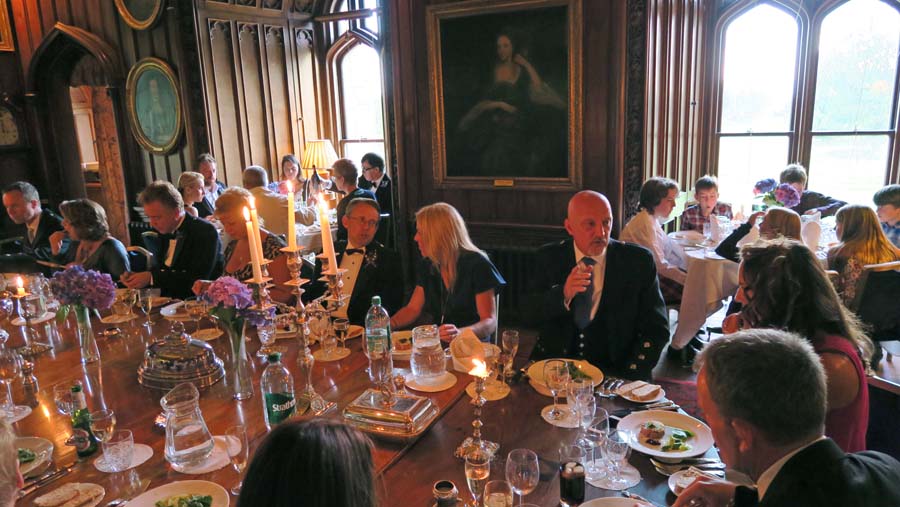 People in formal wear. Kate on the left is looking at the camera, and the guy in the white dress shirt facing away from the camera is Mitch Steele.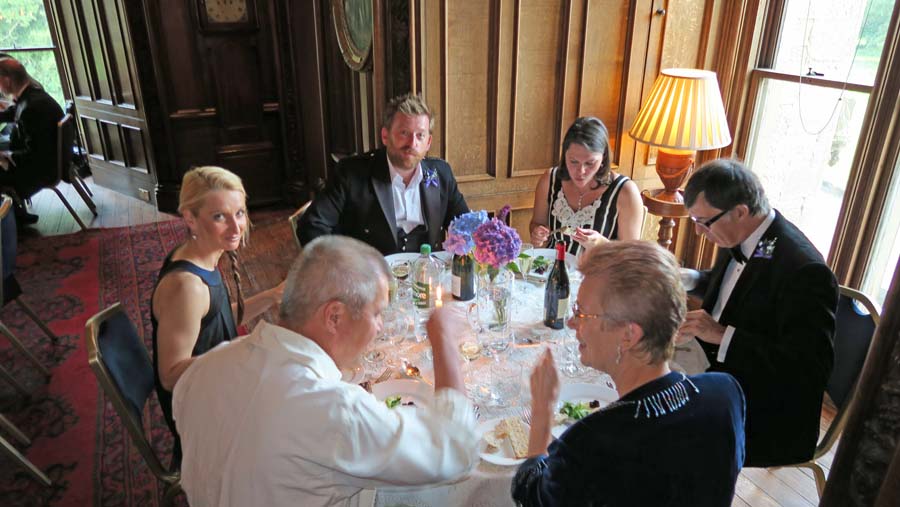 From left to right: Ian MacDonald and Gordon MacDonald (Will's two brothers) and Gillian MacDonald (Gordon's wife) and Bob Greenshields and Nicky Greenshields.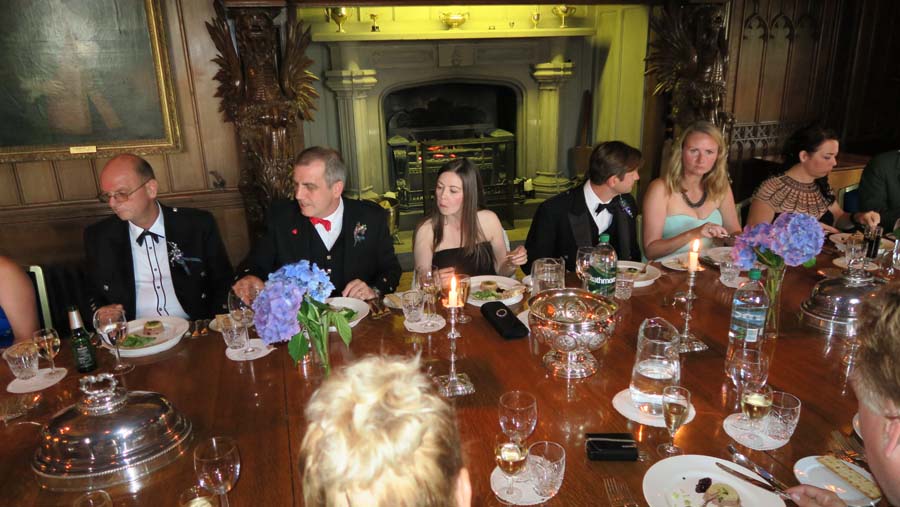 More people in formal wear at dinner.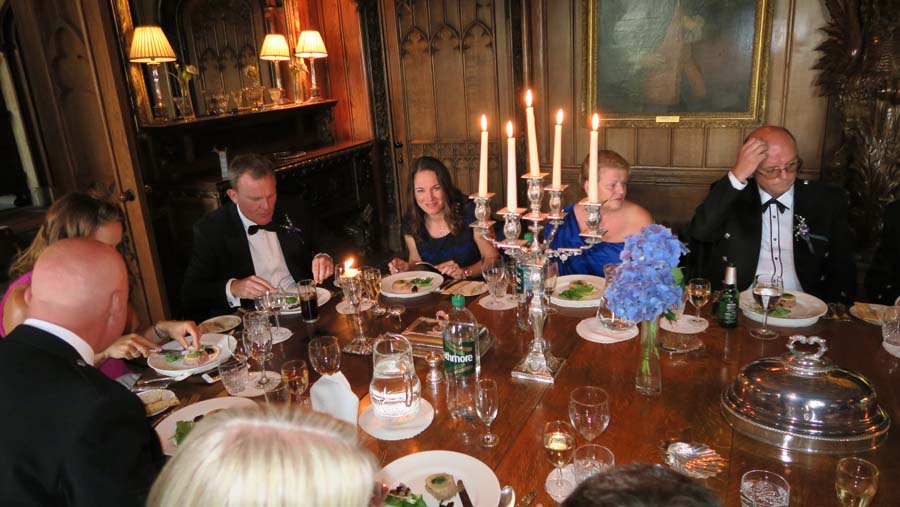 The children's table.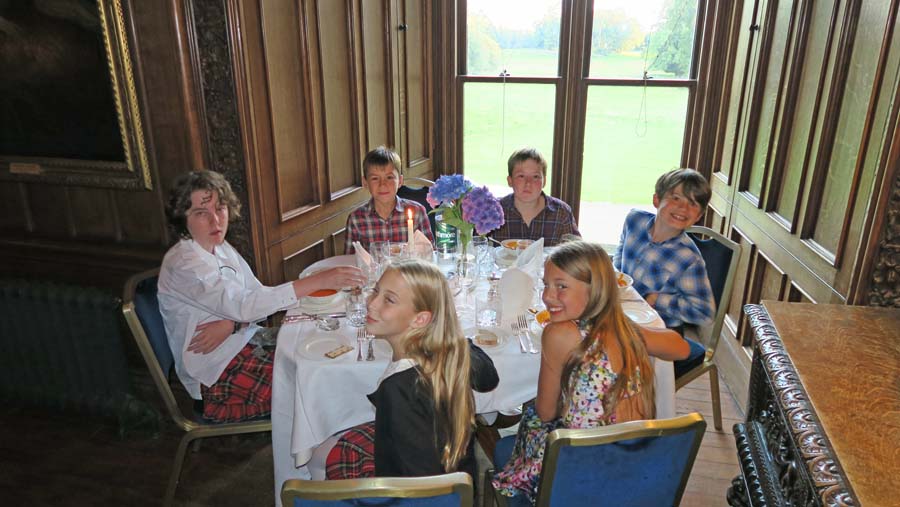 Our table (that's my empty chair next to Katherine).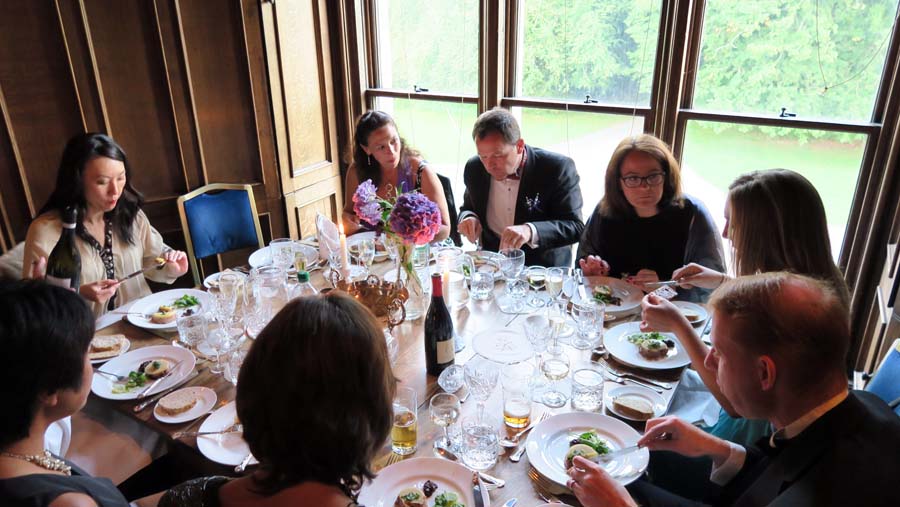 Dinner in formal wear.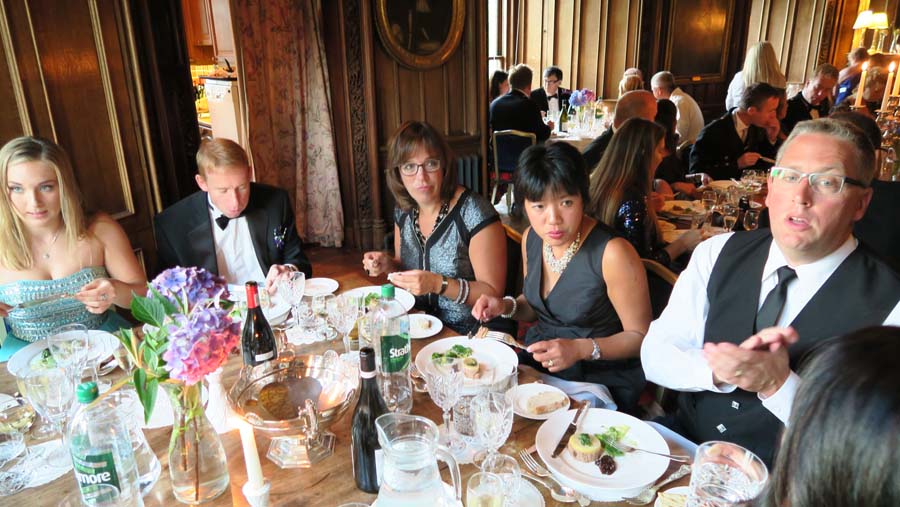 After dinner, there was Scottish dancing and some regular dancing in the Duns Castle dance room (on the first floor). Below is the dance floor.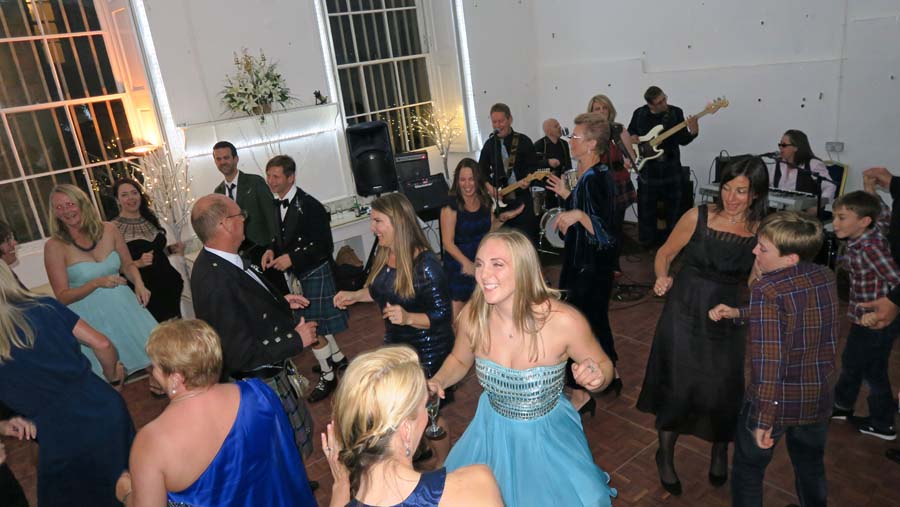 Scottish dancing which follows a script and confused the heck out of me. A lot of times most people stand and watch one or two or four people link arms and dance together.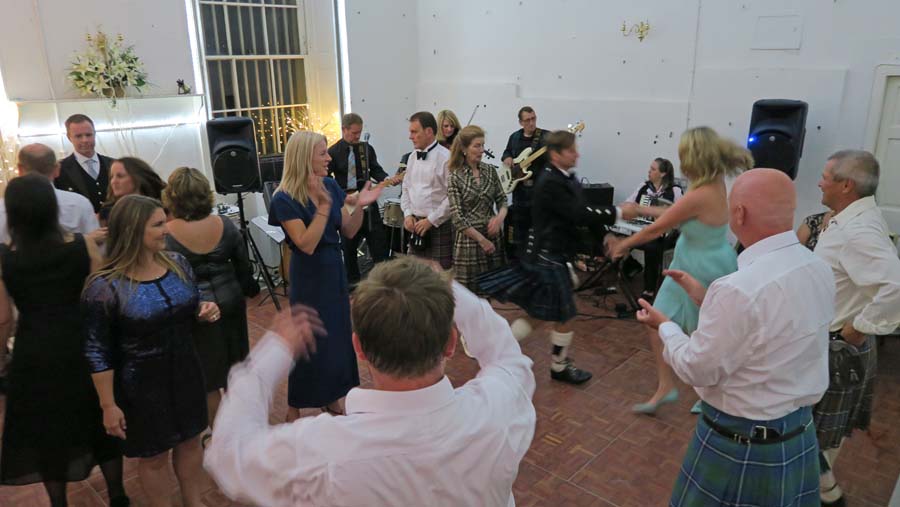 I really like the picture below. Susan Irvine on the left and Will MacDonald on the right are taking a break from dancing standing just outside the front door to Duns Castle in the cool night air. Susan is glowing from dancing, and Will's shirt is soaked with sweat. They are both smiling and happy. Both were born and raised in Scotland.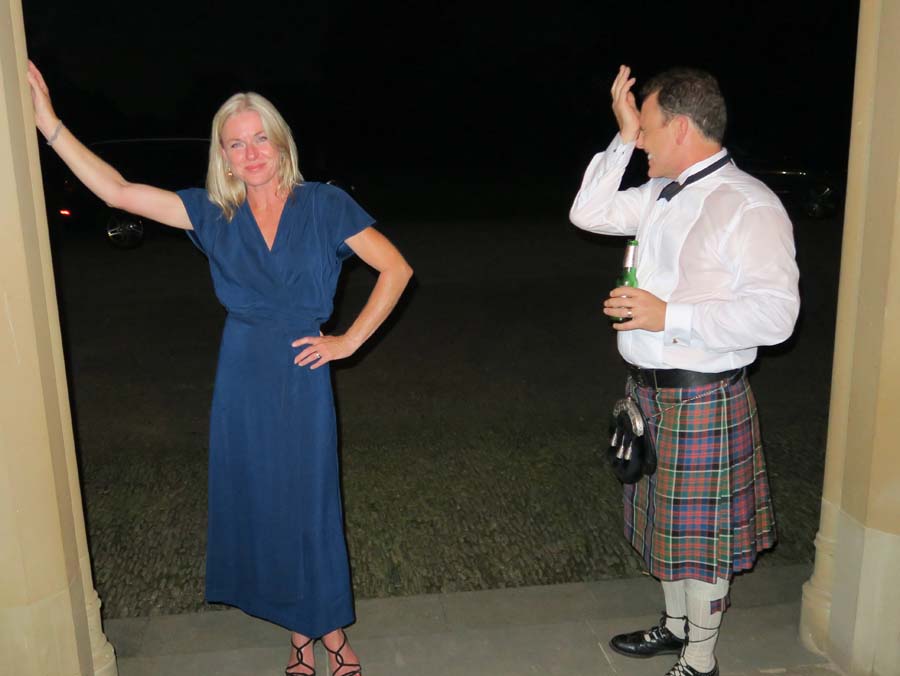 Will MacDonald, 50 years old this day, dancing with his daughter Kendall who is 17 years old. It was very sweet, they both had big smiles.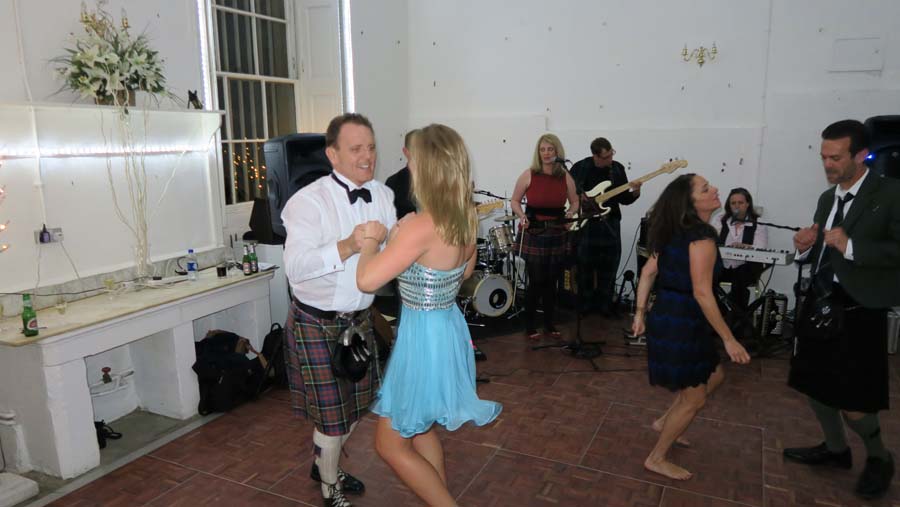 Kendall and Will moving fast while dancing.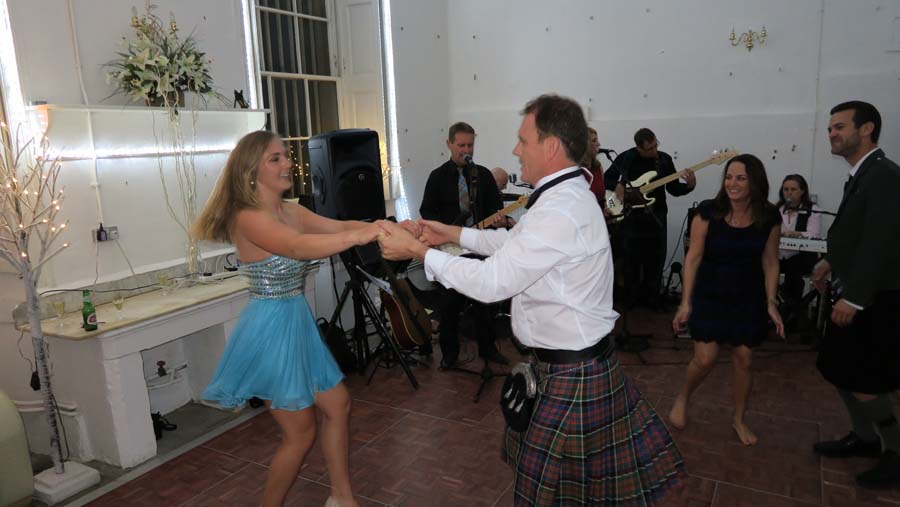 Just outside the dance room was a couch and bar area.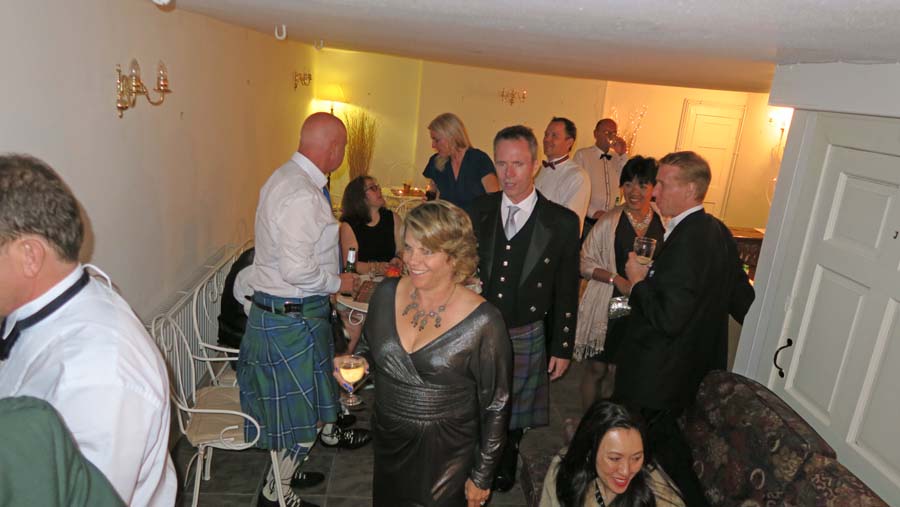 The band left slightly after midnight, and the party started winding down. These people ended up in the snooker room playing a game I think Alastair made up, which is a line of people in order grab the queue ball and have to keep it moving around the table and also keep a red ball moving. If you "miss" the red ball with your hand thrown queue ball you lose a life.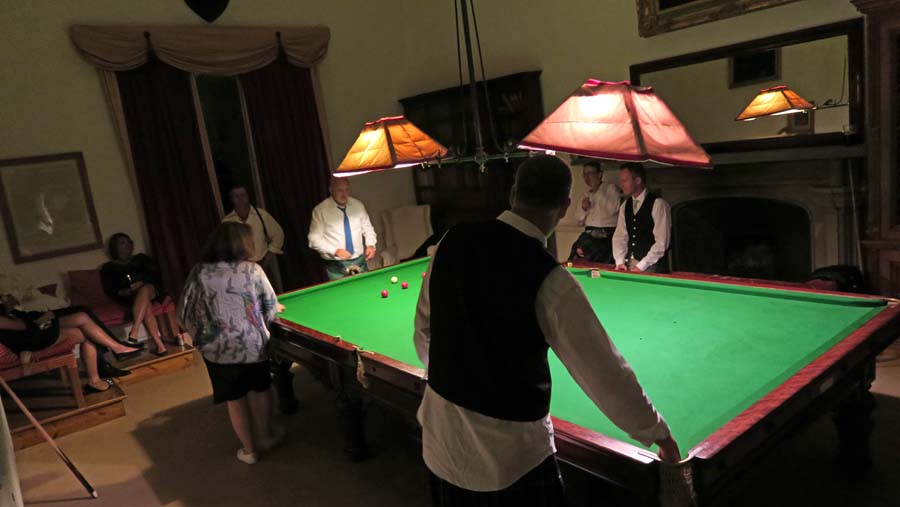 Hanging out in the snooker room at 1am. That's Mitch Steele hamming for my camera. :-)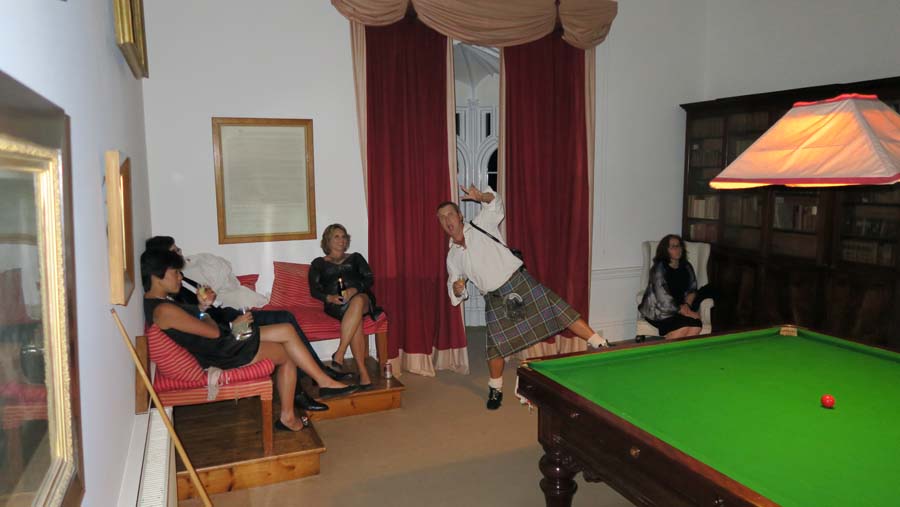 Winding down late at night in Duns Castle.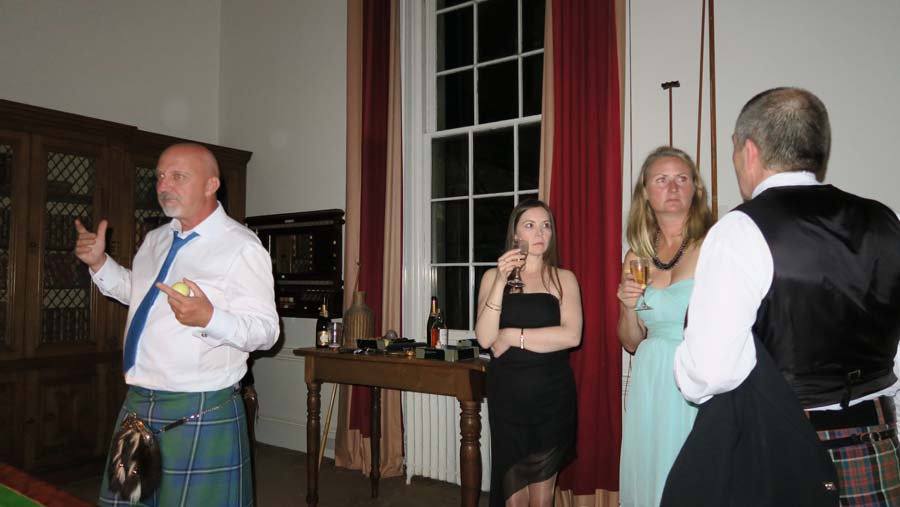 Men in Kilts playing snooker.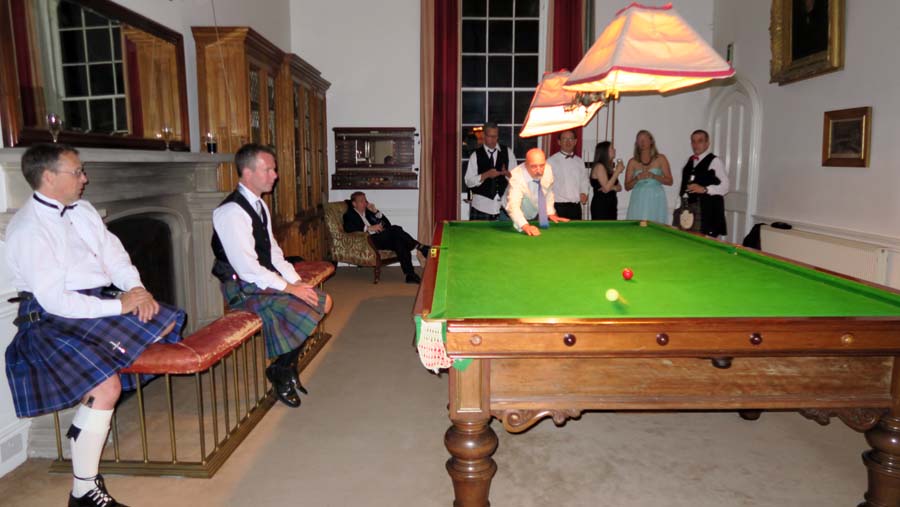 And that's it! I went off to bed at this point and only saw a couple people the next morning as Katherine and I zipped off to the airport early.
===== SOME PICTURES OF DUNS CASTLE AND GROUNDS - YOU CAN STOP READING!! ========
Most of what follows here came from me wandering around taking pictures of Duns Castle and the grounds surrounding the castle. You won't find any more pictures from the birthday party weekend or any people below here. Just random stuff I wanted to record for myself about the castle. Remember that you can click on any of the pictures below for the highest quality original I have.
This is the "back" of Duns Castle, I'm standing looking south at the castle.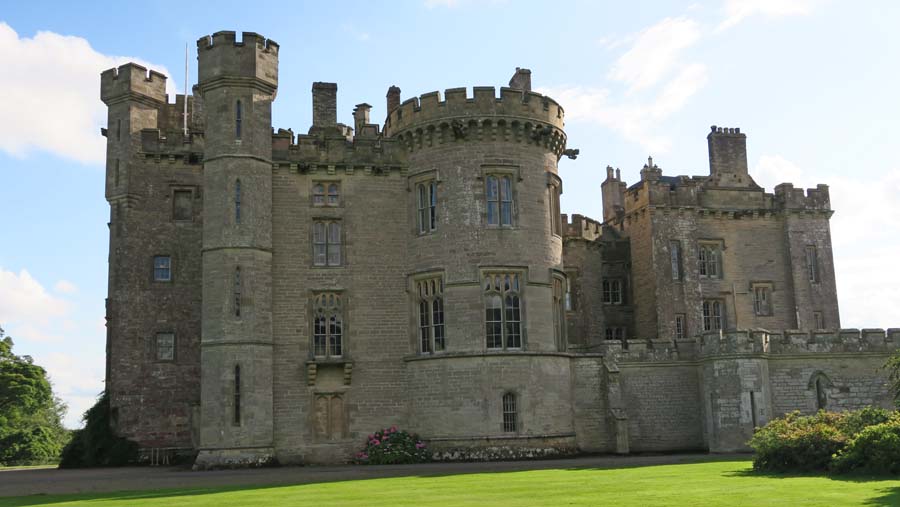 Below I have marked up in red some different sections of the caste. The original square Peel Tower (marked "A" on the map below) was built sometime around the year 1320. Around the year 1710 the section "B" was built which is called "The Henhouse". The final castle facade (not visible from this angle) and big semi-circle tower in back marked "C" were completed around years 1816 through 1822.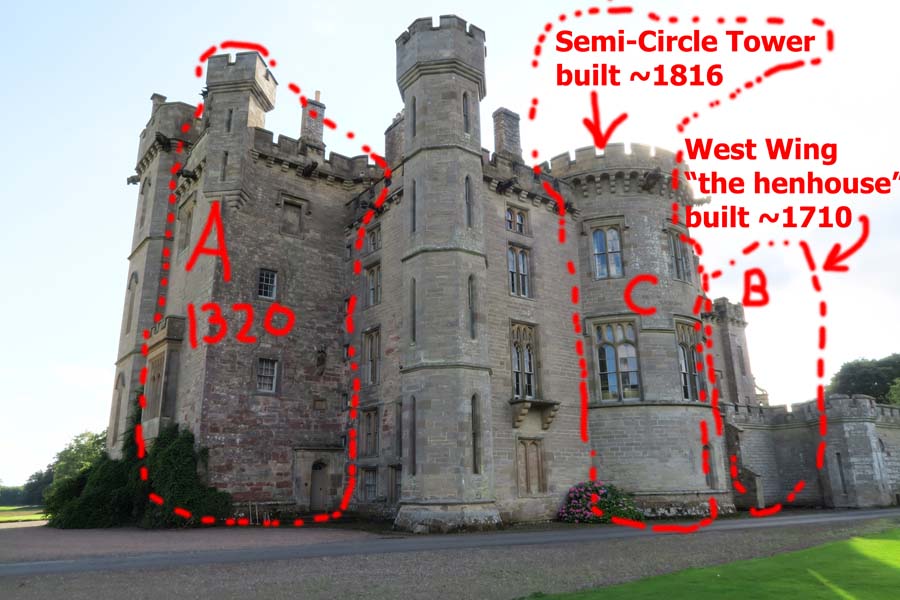 A close up of the original Peel Tower and a plaque giving the date.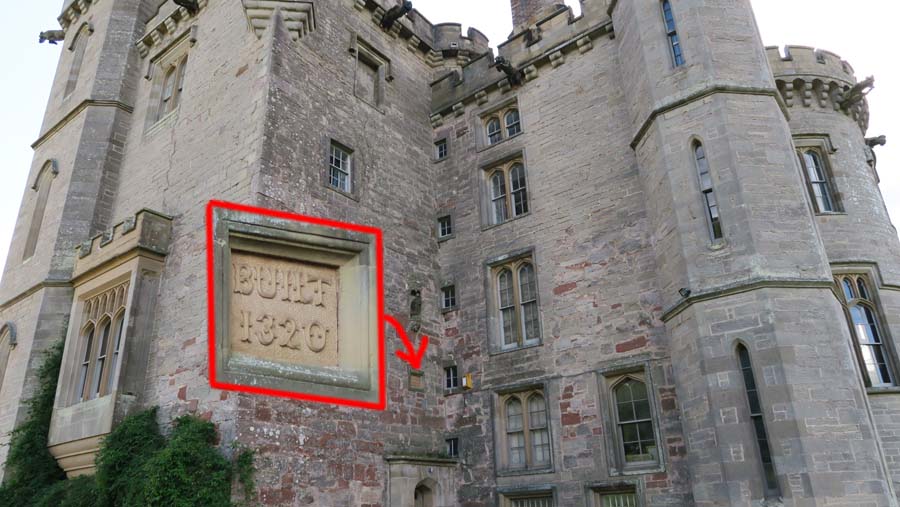 Same picture as above but not made all ugly with red markings.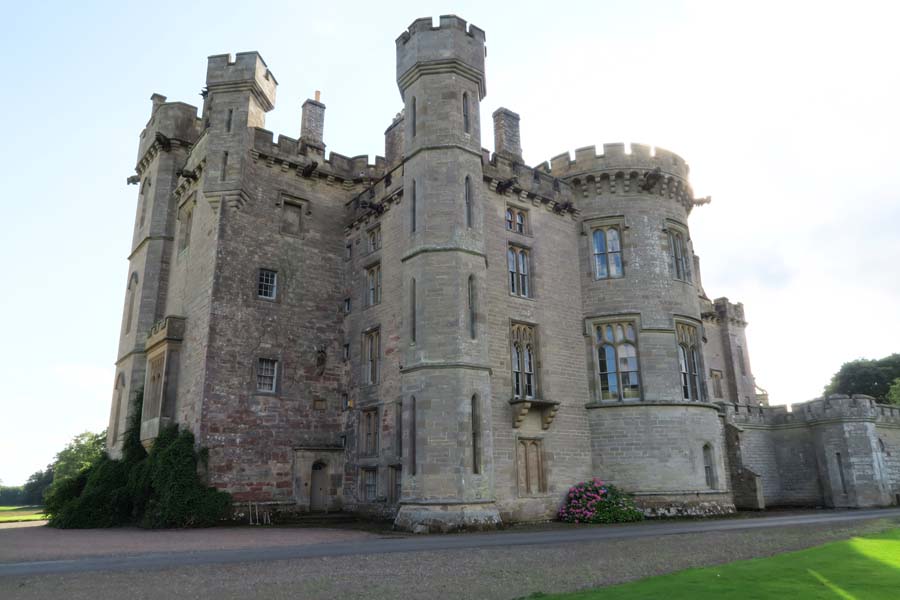 The castle was rigged with a bell pull system. It was no longer working (gears painted over so they don't move) but it was neat to see. I found the bells in the basement/first floor level where the servants would hang out waiting for bells to ring and they would then know which room to go to.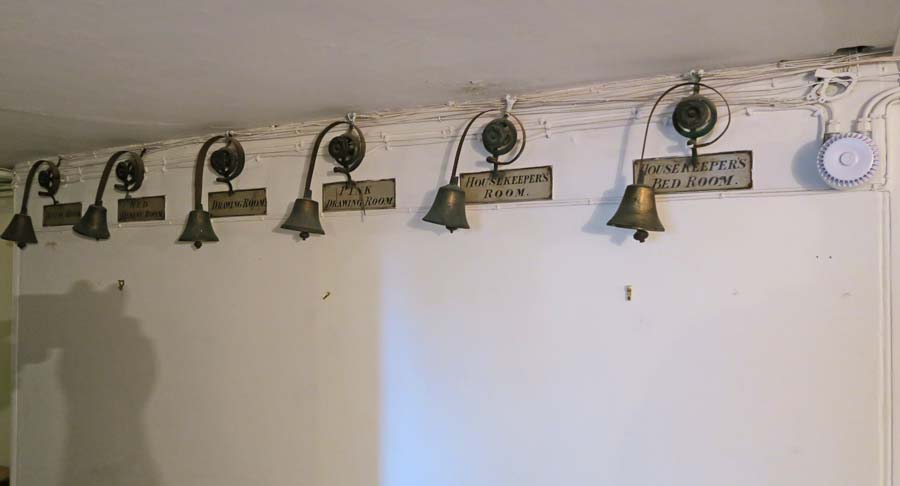 More bells in the basement.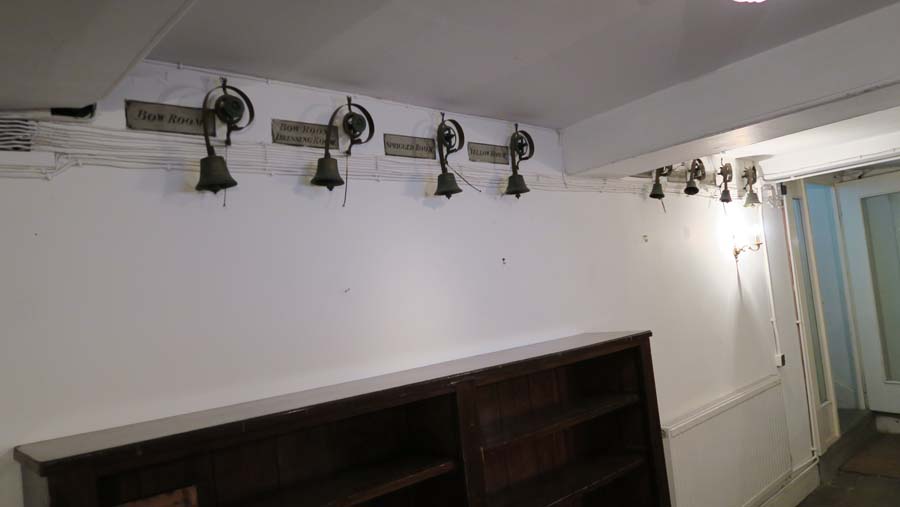 A close up of the lines and gears (all painted shut so they would no longer operate).
Below is a picture of the one room in the castle that had WiFi, so you would find people in here huddling with their devices feeding their internet addiction. It also had a lit wooden fire for the duration of our stay at the castle so sometimes you would see someone warming up in front of the fireplace.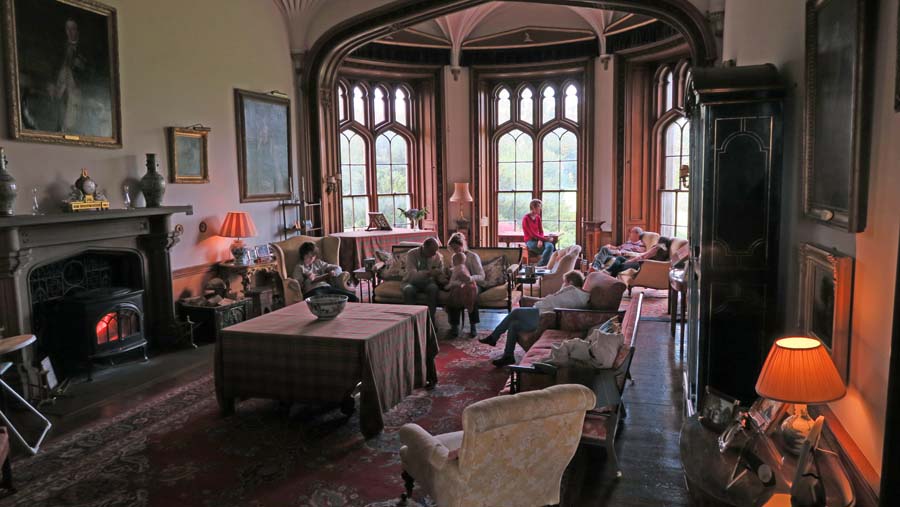 This is the front greeting room just inside the main front doors. There are dead animal heads on the walls here. This is the foyer of the castle. It leads up two flights of stairs to the "bar area" mentioned above.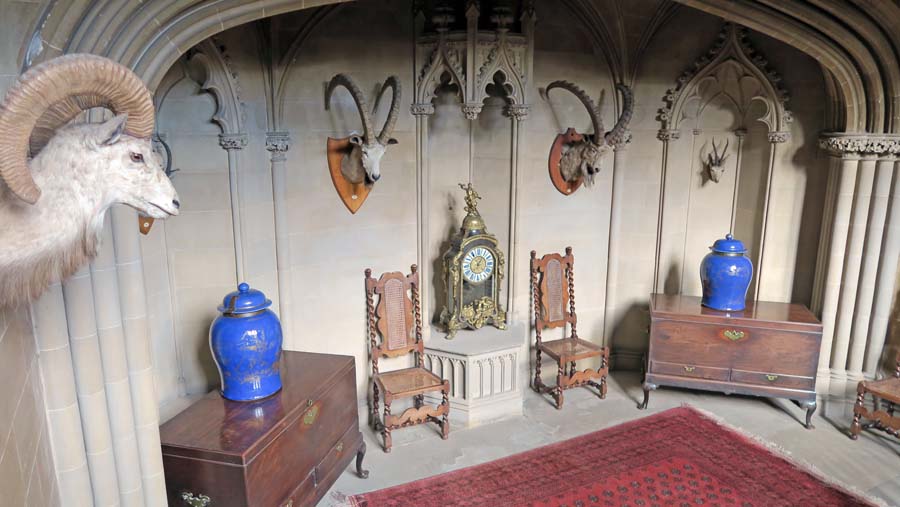 Walking around the castle grounds, I found these solar panels. I like the juxtaposition of castle walls from the 1600s and solar panel technology collecting energy from the sun in 2015.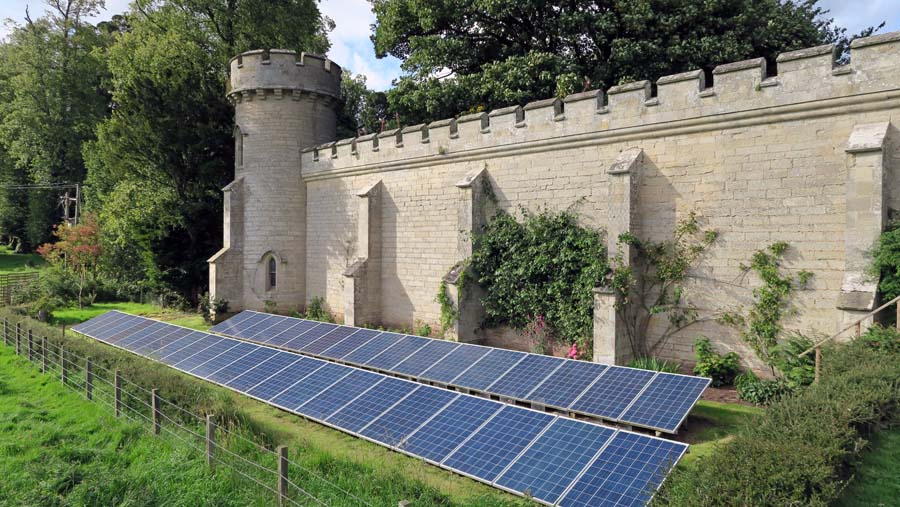 In the picture below you can clearly see the "Ha-Ha Wall", which is the wall that prevents livestock from coming onto the lawn directly surrounding the castle. The gate and stairway on the lower left of the picture below is how people can get to both levels.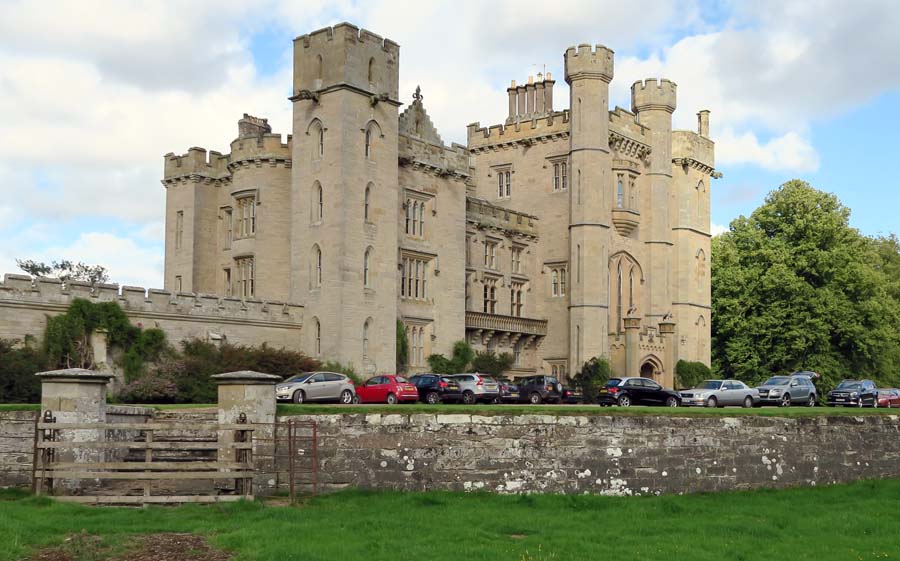 A closer up view of the gate and stairs to ascend the ha-ha wall. They had an interesting livestock proof "airlock" system I hadn't seen before.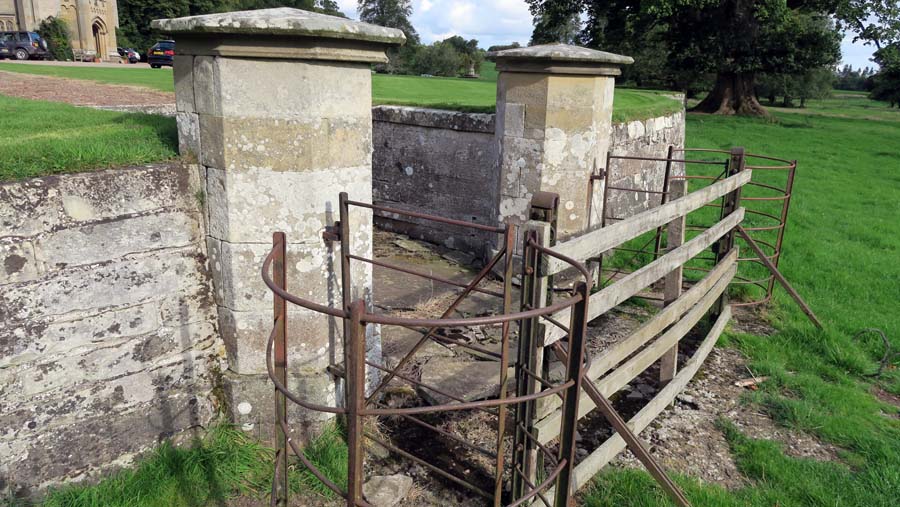 In the picture below I'm pulling back on the spring loaded gate slightly. A cow could never navigate this but a person (standing vertically) can easily operate it.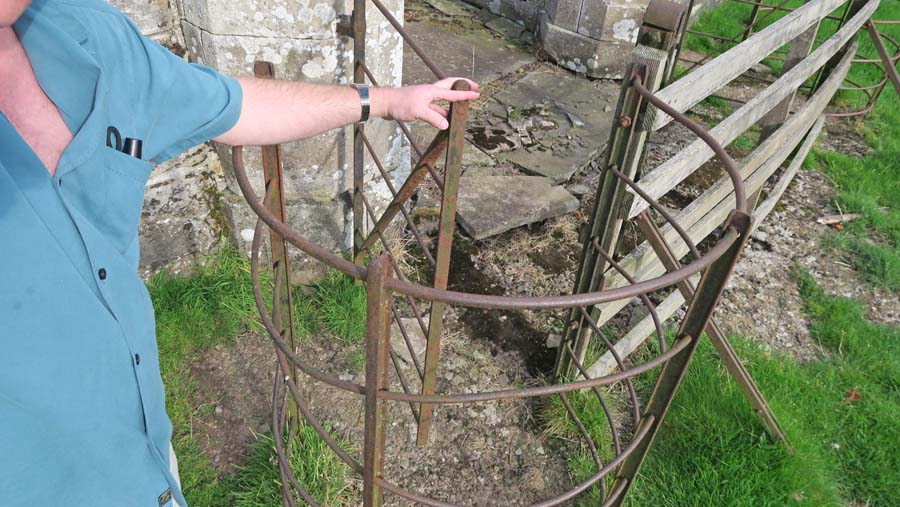 Another picture of the ha-ha wall in front of Duns Castle.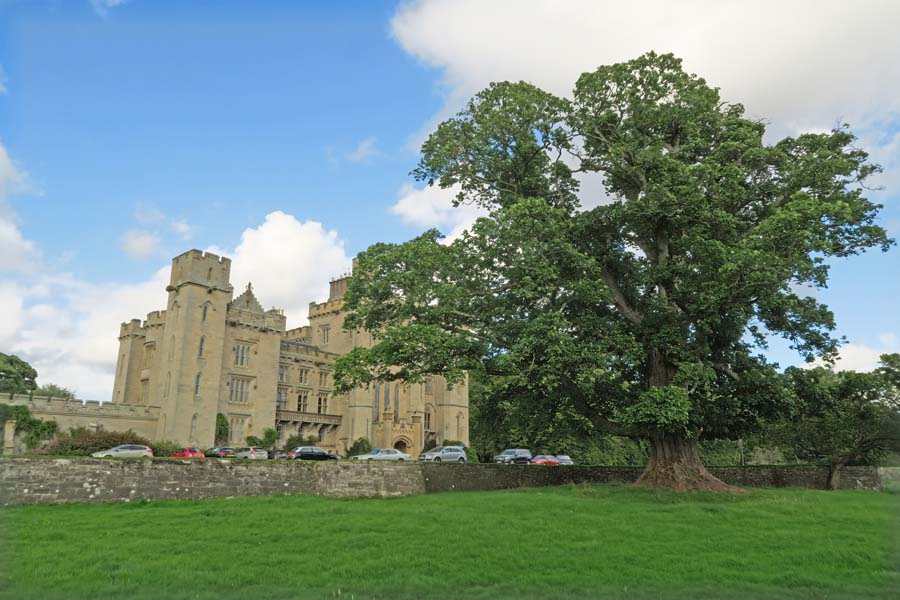 Walking around the castle I found this "quad" area back compound.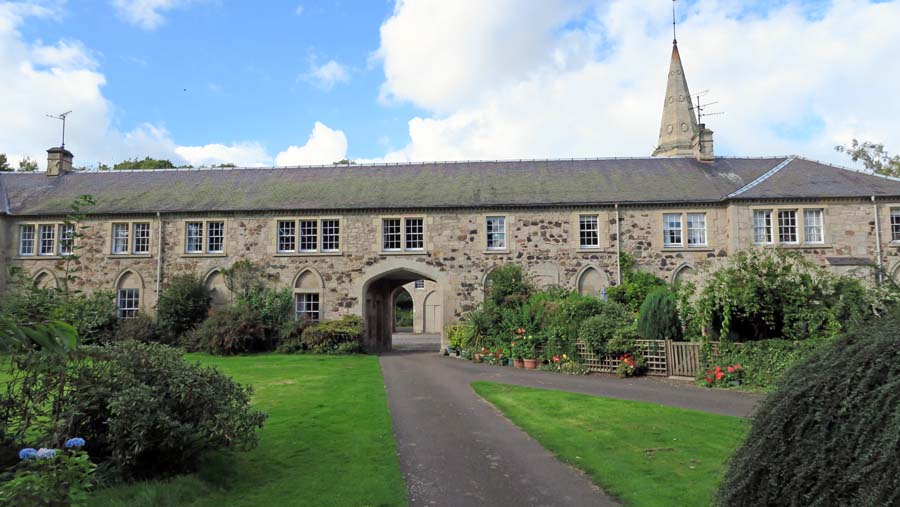 Below is a panorama of the inside of the quad compound area.

I think these originally were open air or maybe windows, but were bricked up years ago.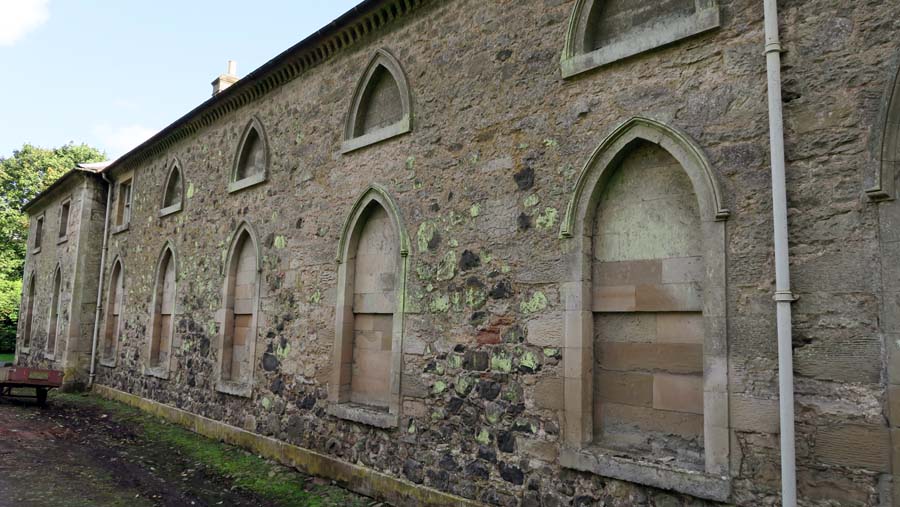 There is a lake at Duns Castle, seen here from a distance.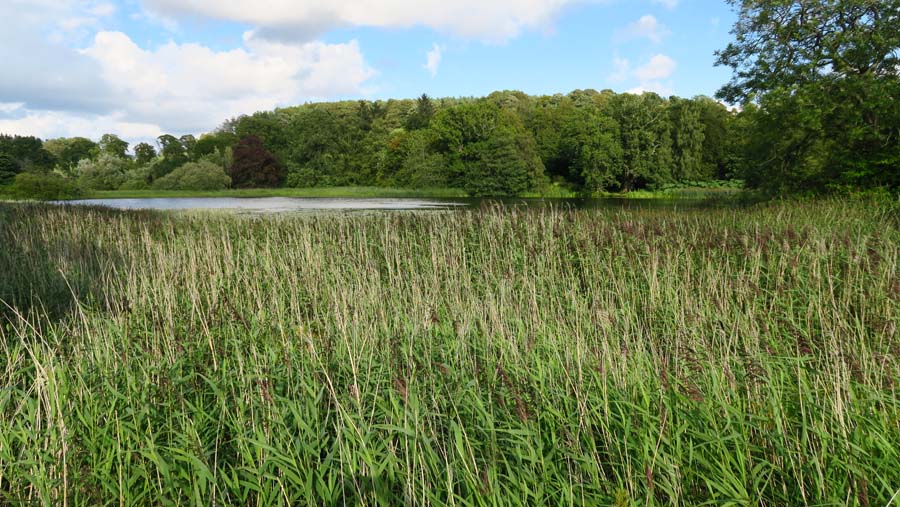 A zoomed in picture of some ducks on the lake.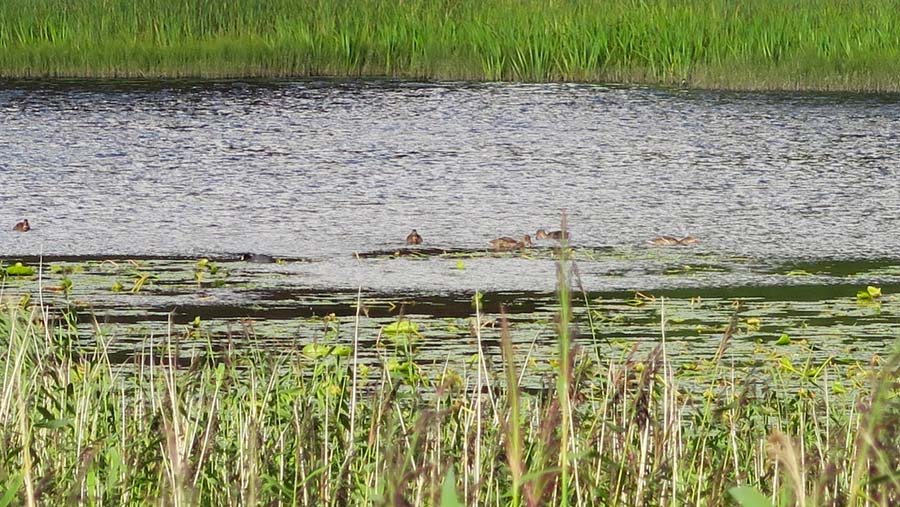 Duns castle has a large, beautiful lawn well manicured behind it.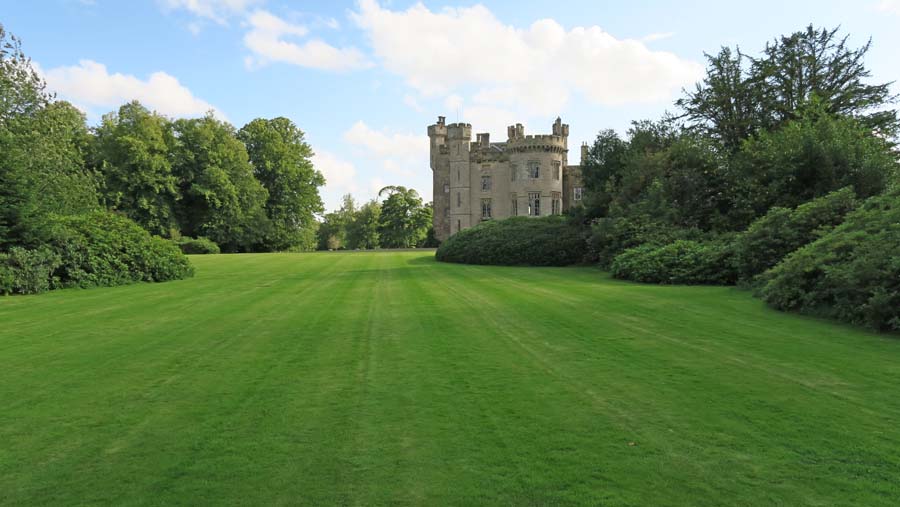 Duns Castle has gargoyles in odd places around the castle walls. It is rare to see these in Scotland, you see more of this in France in medieval castles and cathedrals.
Close ups of the strange gargoyles on Duns Castle.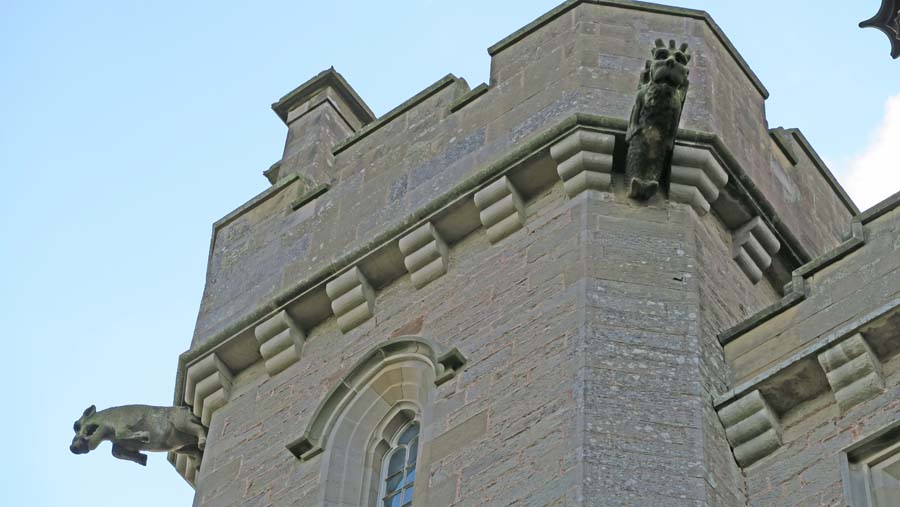 More gargoyles on Duns Castle. And a coat of arms.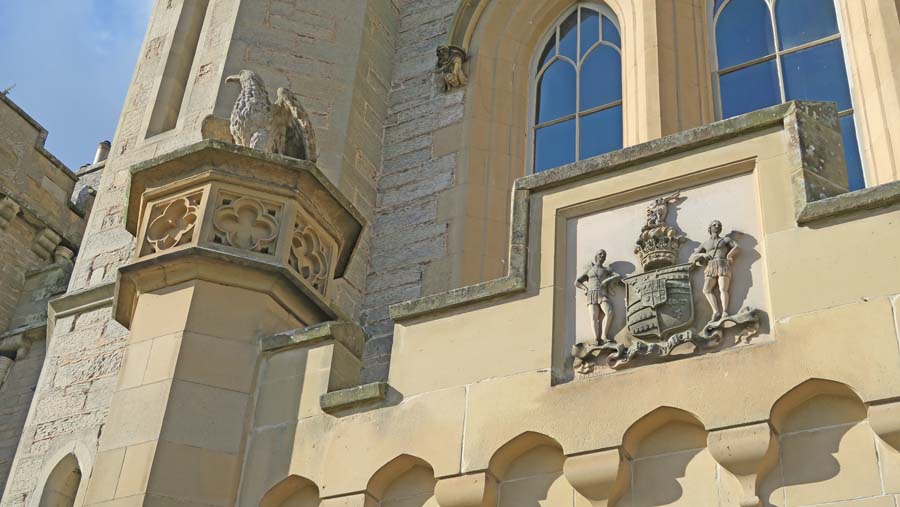 Two bird statues and some gargoyles on Duns Castle.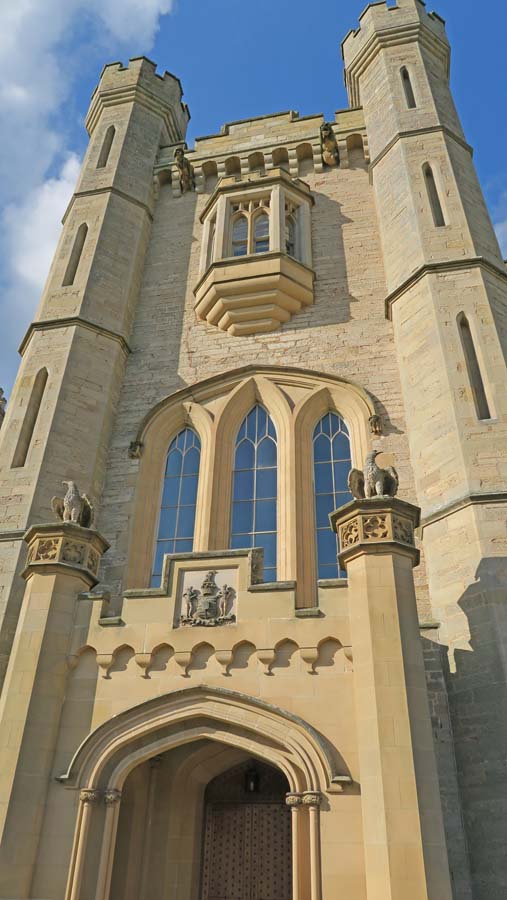 Close up of three gargoyles on Duns Castle in Scotland.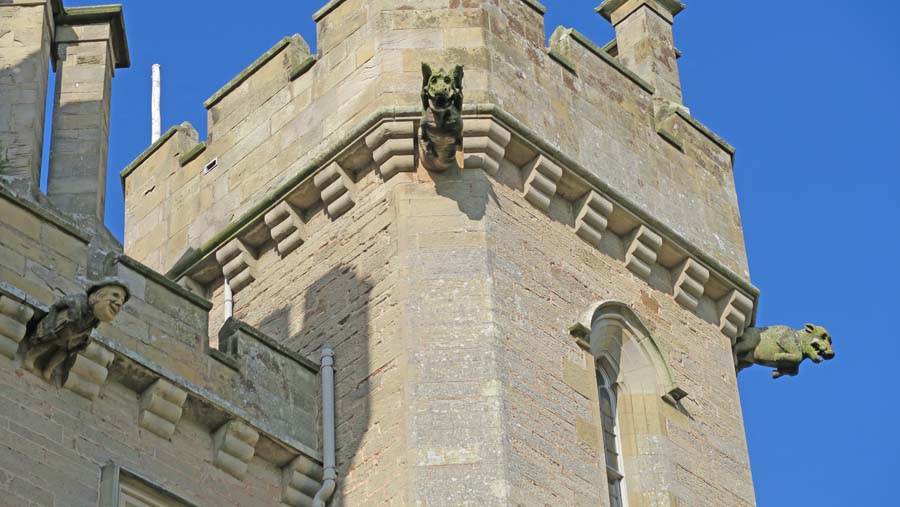 Close up of kind of a gargoyle thing on the outside of Duns Castle.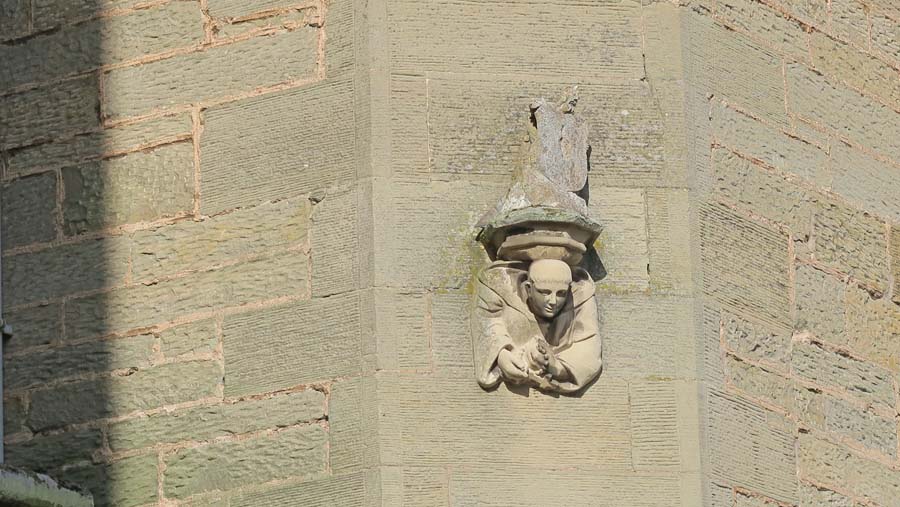 One last close up of some of the gargoyles.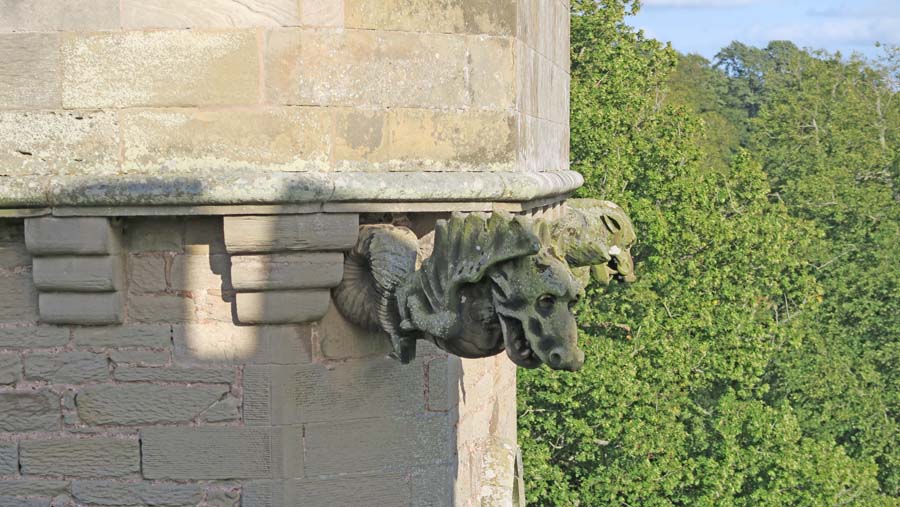 The snooker table in Duns Castle lives in the room seen below. On the wall above the window lined in red that is a rhino head.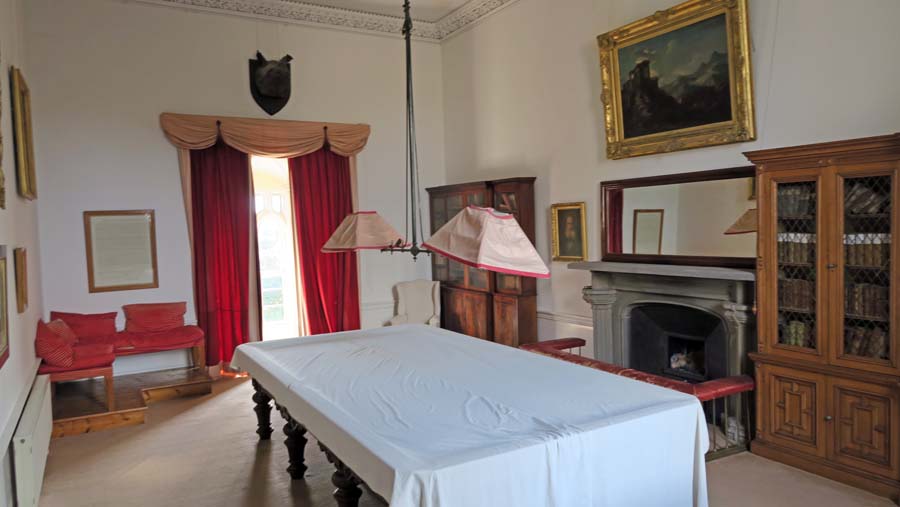 A close up of the rhino head mounted on the wall in Duns Castle.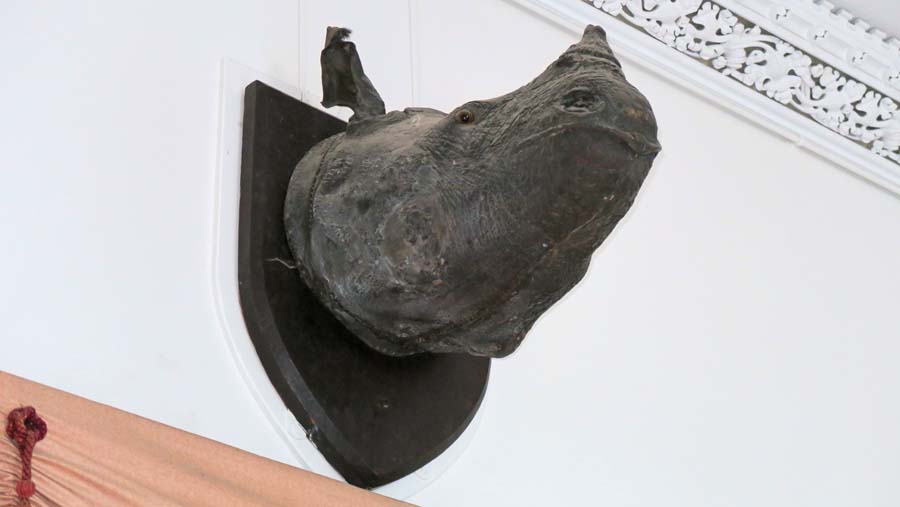 A nice scoring system for snooker hangs on one wall.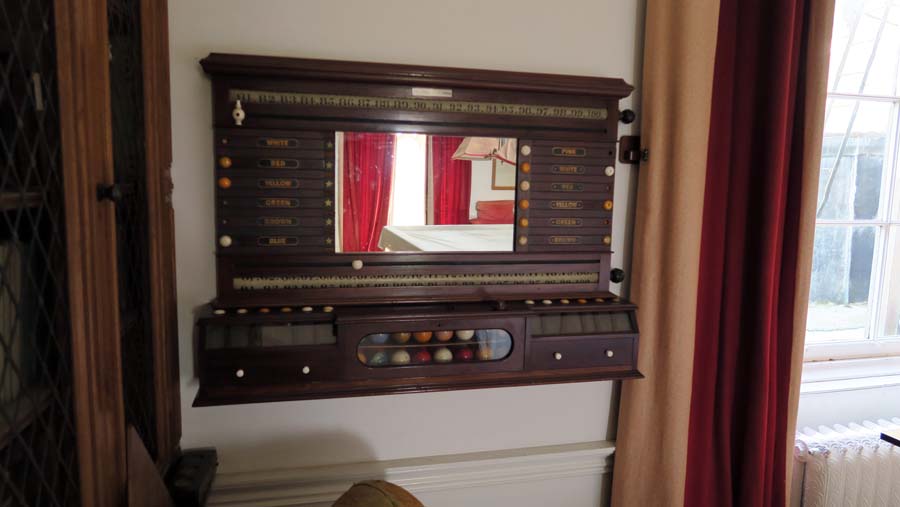 I went up on the roof of Duns Castle hoping to find walkways where archers would stand behind the battlements and merlons, but actually it's just a roof surrounded with a facade of merlons of a medieval castle. On the up side, it is a really interesting roof that has evolved over the years as the castle was built up and out.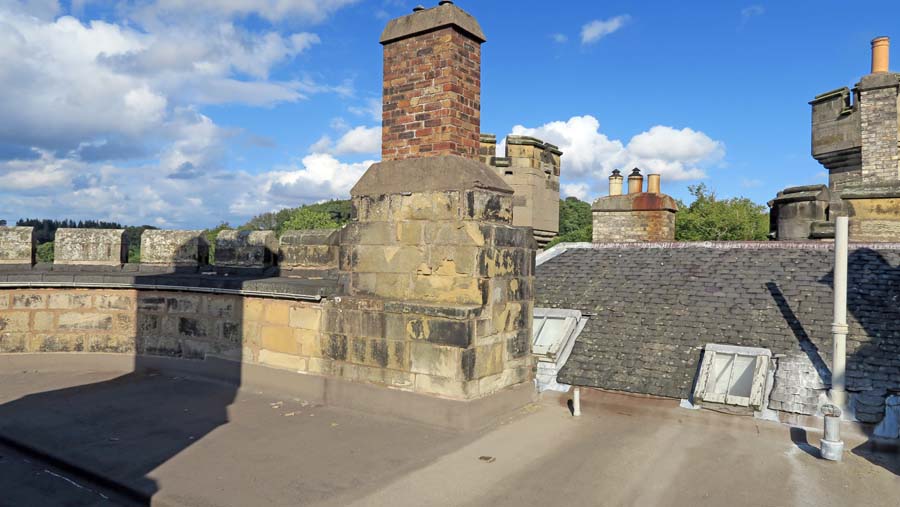 There are access ladders permanently affixed to climb around on the roof..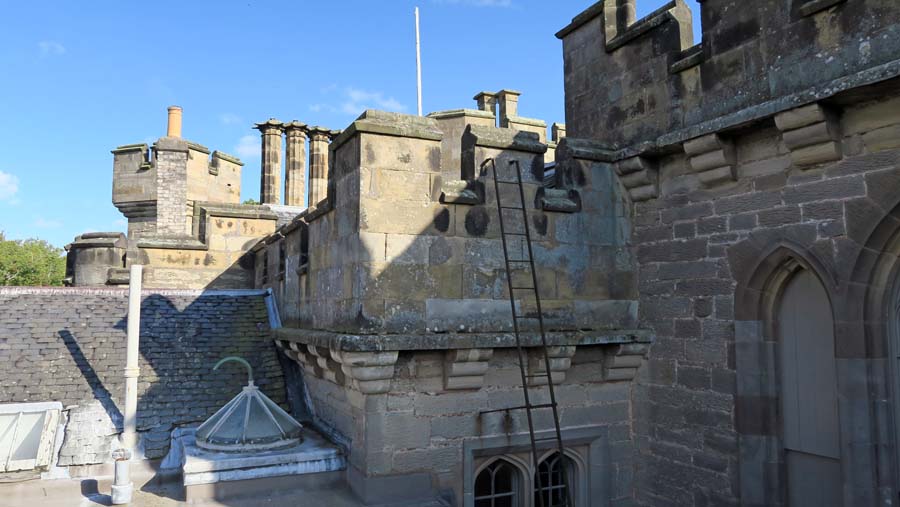 The roof of Duns Castle.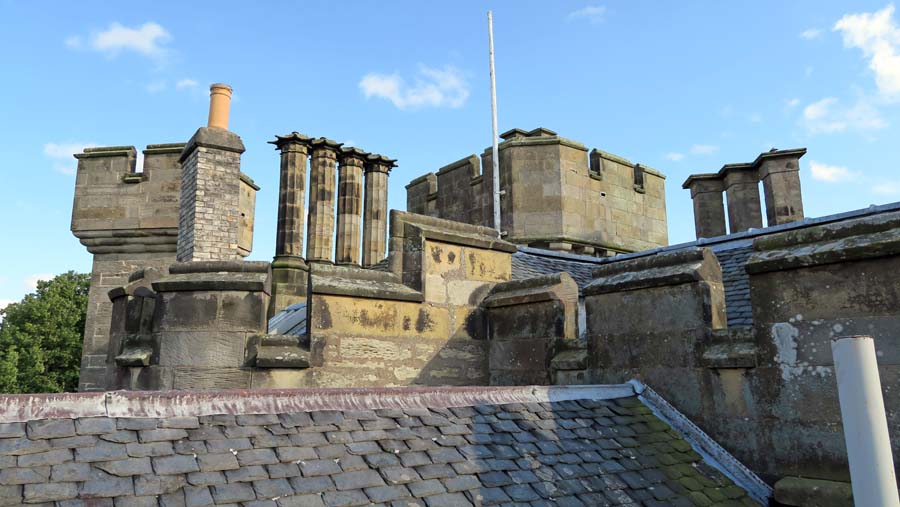 Looking down on the various roof levels of Duns Castle. You can see the lake in the distance. Also notice the stone stairs in the lower right corner.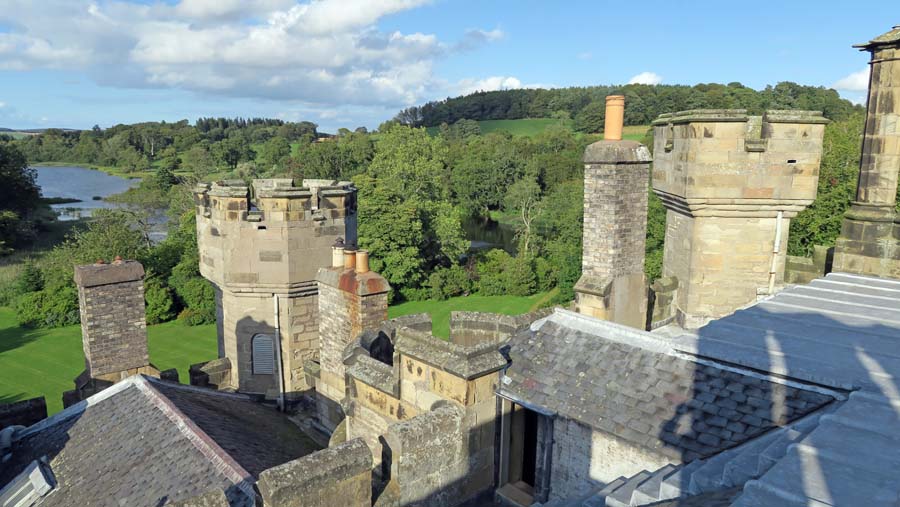 Pictures looking down at different parts of the roof of Duns Castle.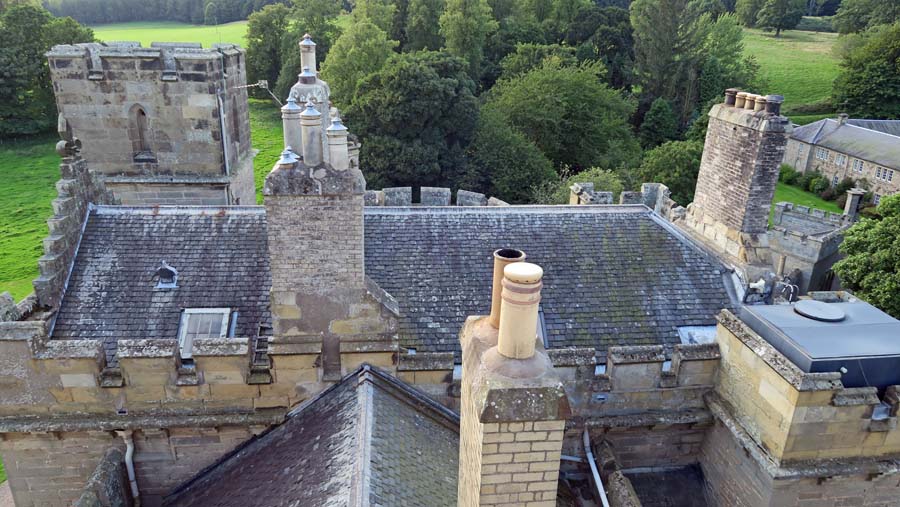 =========== END OF DUNS CASTLE PICTURES ==========
The next morning Katherine and I show up at Edinburgh airport with plenty of time to spare, but our flight home to the USA was cancelled (due to mechanical issues).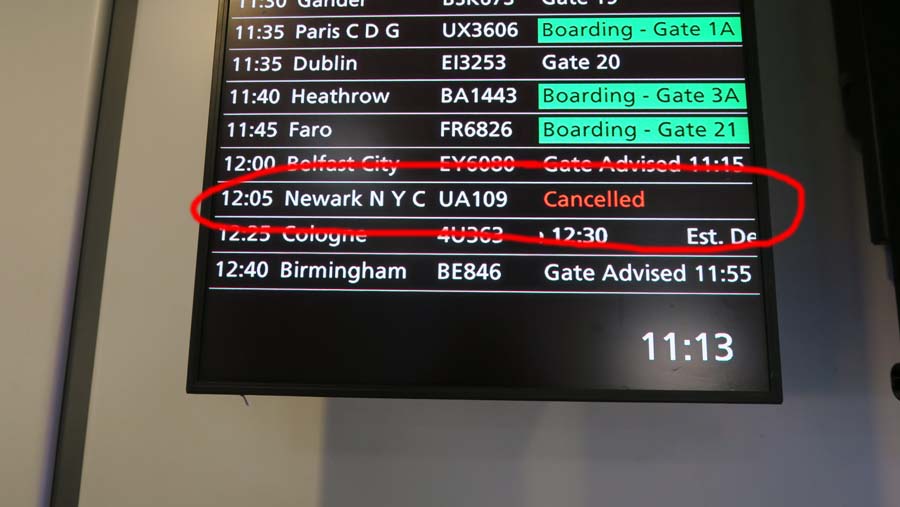 Jennifer McMenamy and Brooke (seen in the picture below) from the party got the LAST SEAT HOME to the USA on another flight. We were literally 3 minutes too late to get home this day. :-(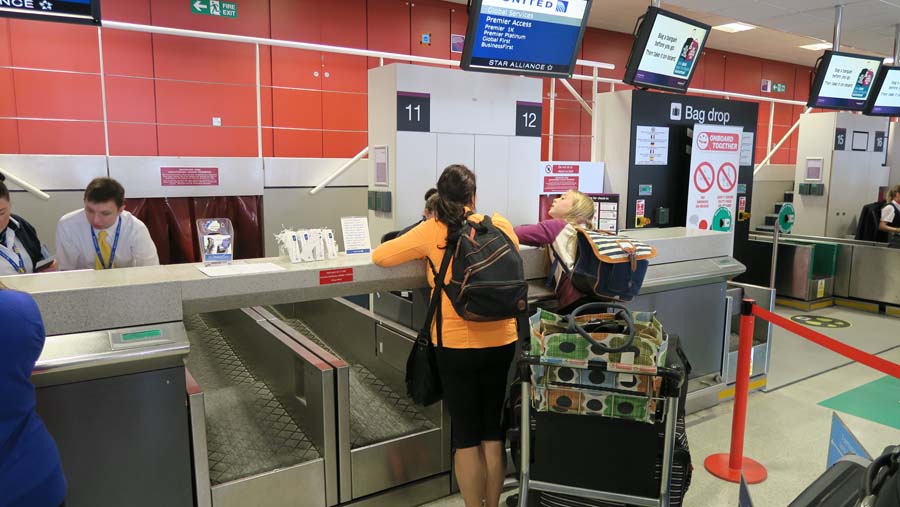 United Airlines sent us to London Heathrow Airport in England and put us in a tiny cramped hotel room overnight and flew us home direct LHR->SFO the next day. Below is Katherine showing how you can't even turn around in this room.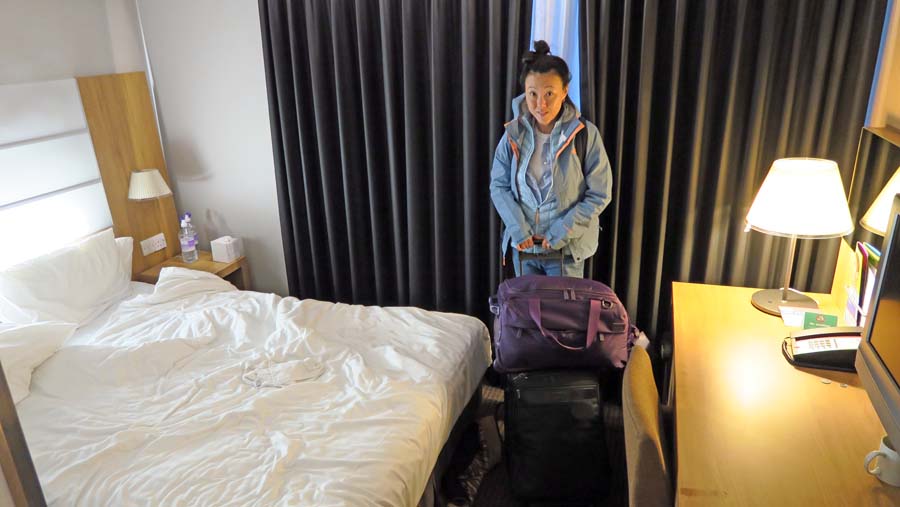 Looking back the other direction.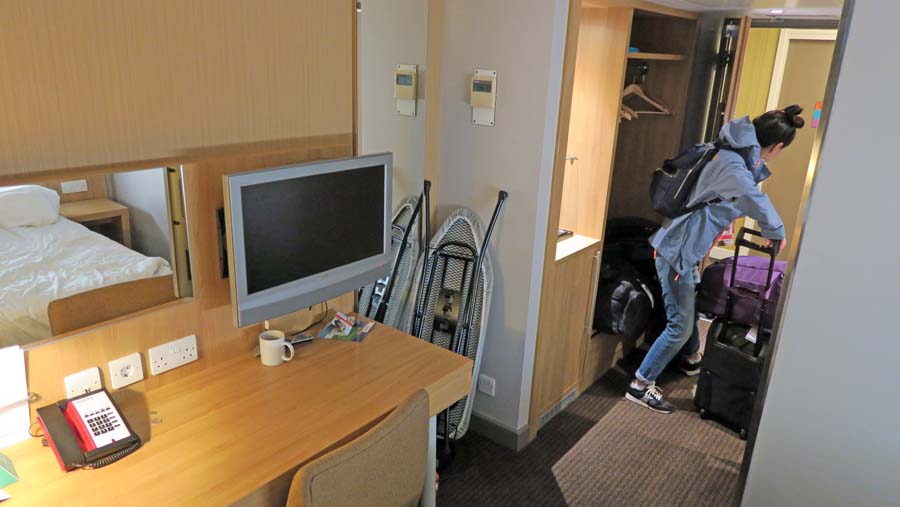 Tiny bathroom, without any hooks to hang things so the towel is hung over the door. No bathrobes supplied. BARELY enough towels, with scratchy awful towels. I know these are first world problems, but I really wanted to be home in my own bed at this time.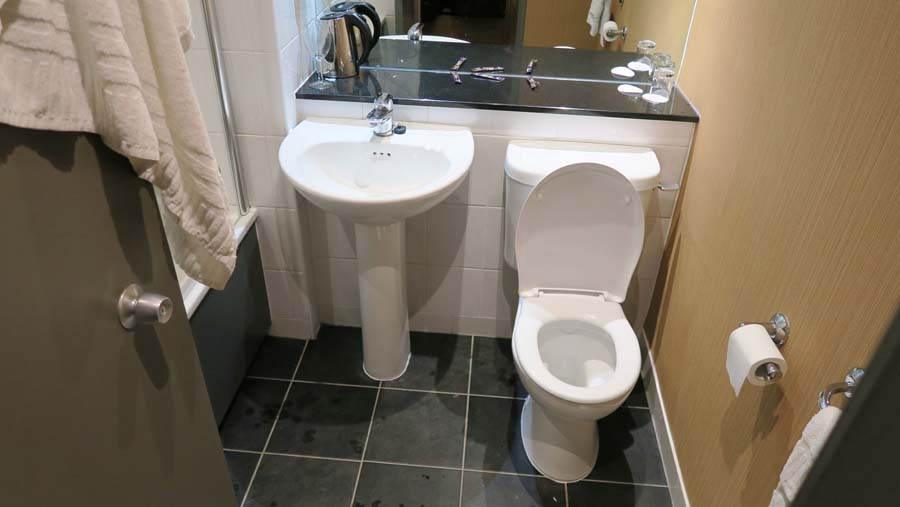 No shampoo, no soap, just these squeeze containers on the walls. Also the insane European shower thing where there is no shower curtain and the water sprays everywhere. The only working shower head is on the wand and the cord isn't long enough to stand up and wash your hair.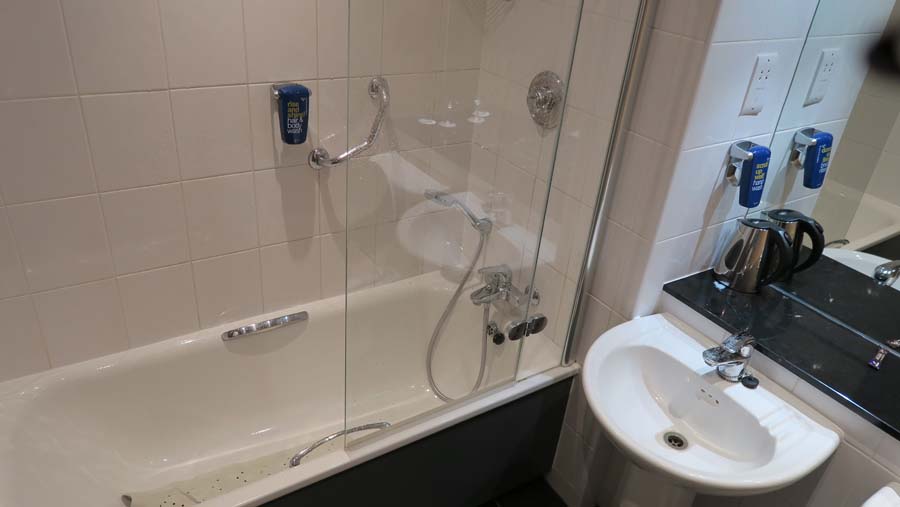 Finally, back in the USA in customs.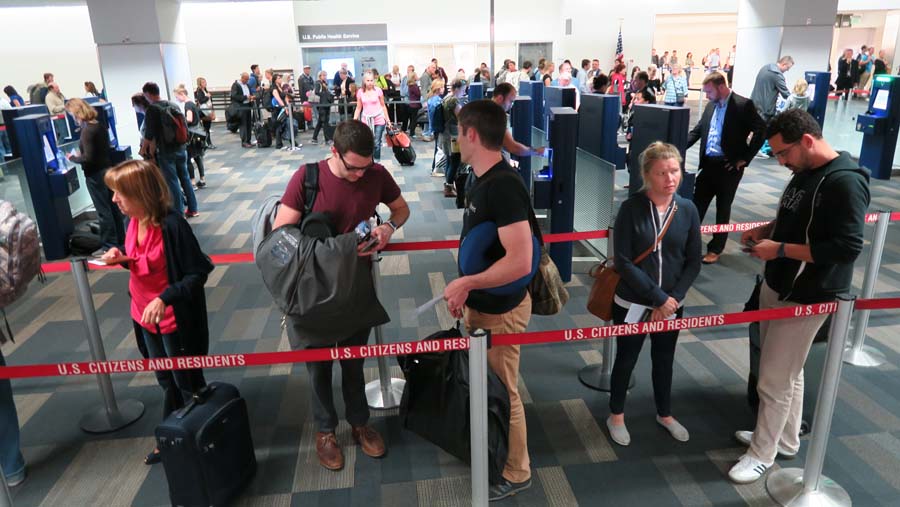 Final random note: I left my global GPS tracker (DeLorme InReach) turned on and propped in the airplane window for the international flight home from London England to San Francisco. Below is a screenshot of the map it created automatically for me! It worked really well, and if you click on one of the little points you can see the airplane was travelling at 558.05 mph at an elevation of 35,563 feet. Near the start of the flight the speed was as high as 635 mph, then settled to around 560 mph. It also reports we were at 41,000 feet whn over Canada and the United States, which is higher than the rest of the flight, I don't know why that is.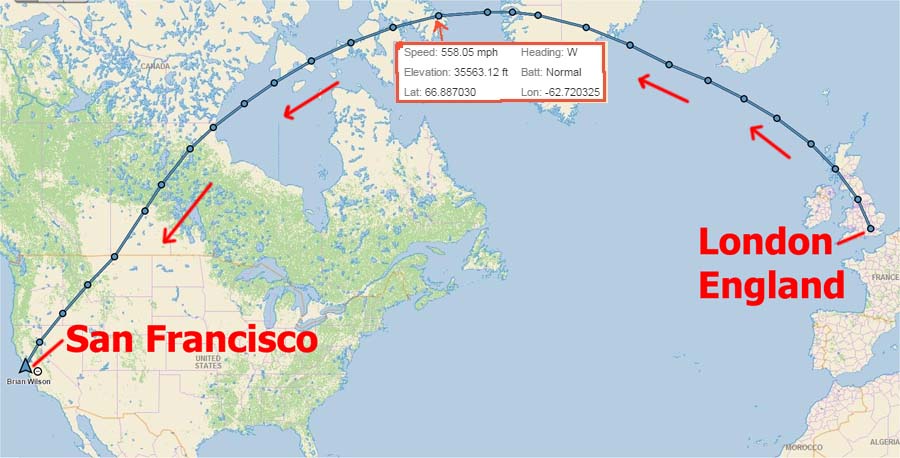 All done!