2016 Moscow Russia Bolshoi Ballet

(6/16/2016 - 6/20/2016)
On 6/16/2016 Brian and Katherine and Ari flew to Moscow Russia for a couple days to attend a performance of Giselle at the Bolshoi Ballet. Along the way we got to check off some bucket list items like visiting Russia, tasting Beluga caviar, and seeing Lenin's body on display in Red Square. Click on any picture below for the GIGANTIC original highest quality version.
WARNING: there are no pictures of the ballet!! I know it is strange because that was the main point of this trip, but pictures are forbidden during the ballet performance. So this webpage is hopelessly mis-named and really it's all about the "journey" and the people watching and some onion domed cathedrals. :-) Ok, on to the pictures...
Below is how all of Katherine and my adventures start, on the AirTrain at SFO airport.
Katherine had extra fun getting through security.
On our first leg (SFO -> LAX Los Angeles). Katherine and I have a fast airport lunch we carried onto this flight, plus wine to celebrate the start of the journey! I think Katherine is cute mid-bite.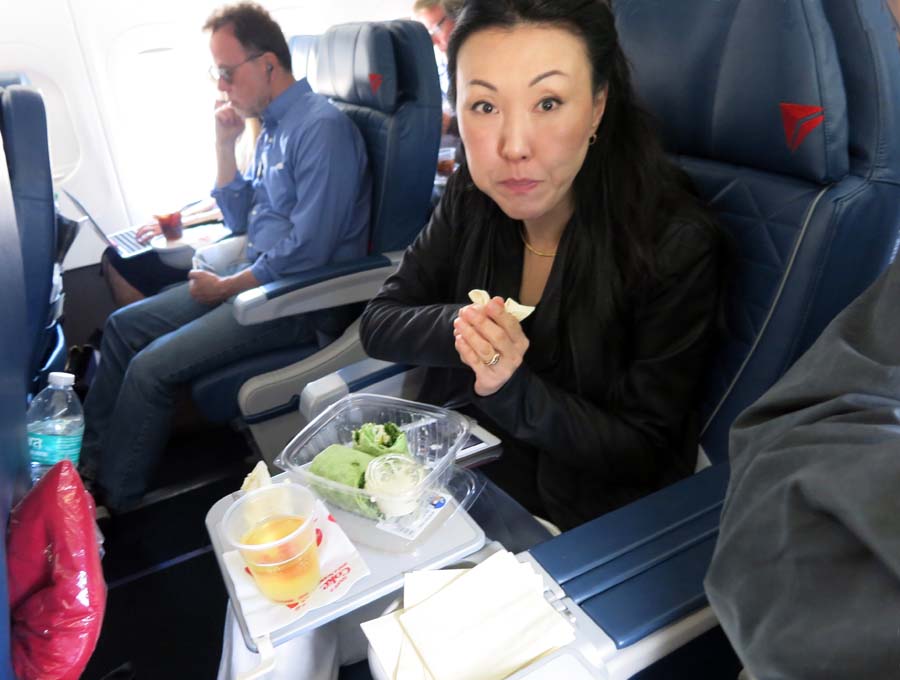 As we depart, we fly over Pacifica! Below is "Shelter Cove, Pacifica" and if you squint you can see our old home on the docks.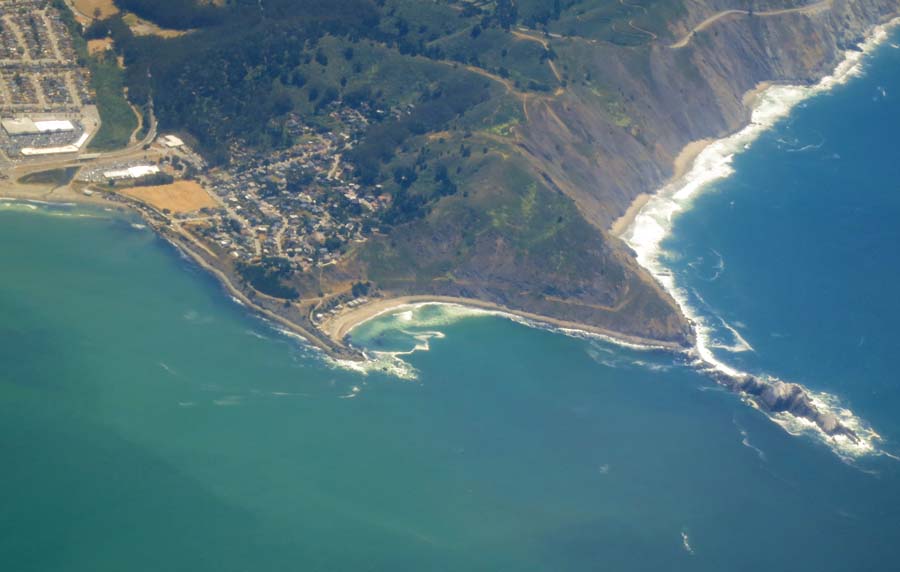 Flying into Los Angeles to meet up with Ari Echt-Wilson.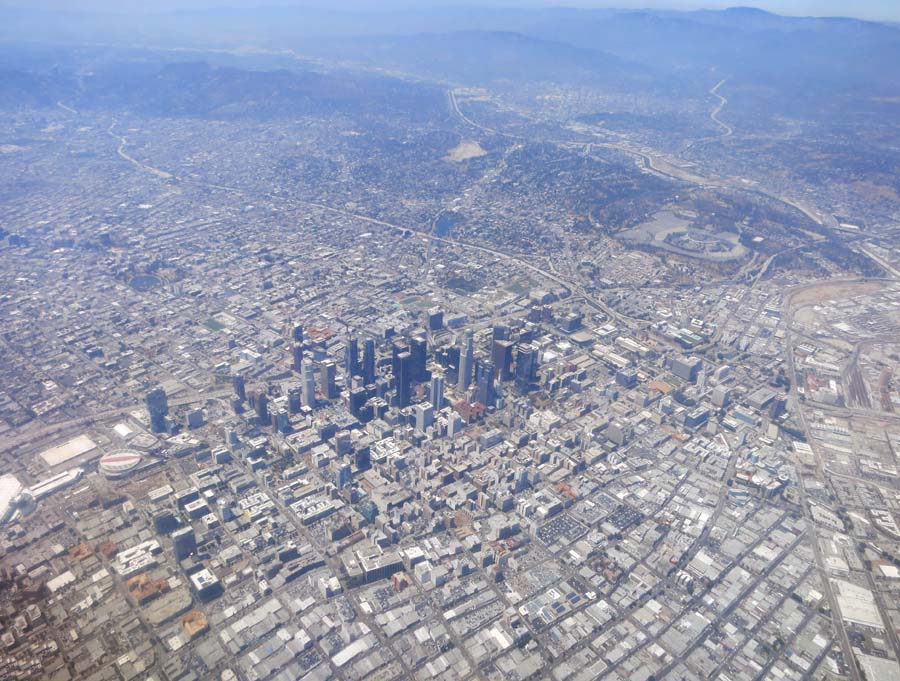 Below we are in the Tom Bradley International Terminal T of the LAX Airport. We are actually inside the Korean Air Lounge which we get access to because our tickets to Moscow Russia are "business class" on Aeroflot Airlines (a partner of Korean Air).

We are lining up to get on our Aeroflot direct non-stop flight from LAX (Los Angeles) to Moscow, Russia.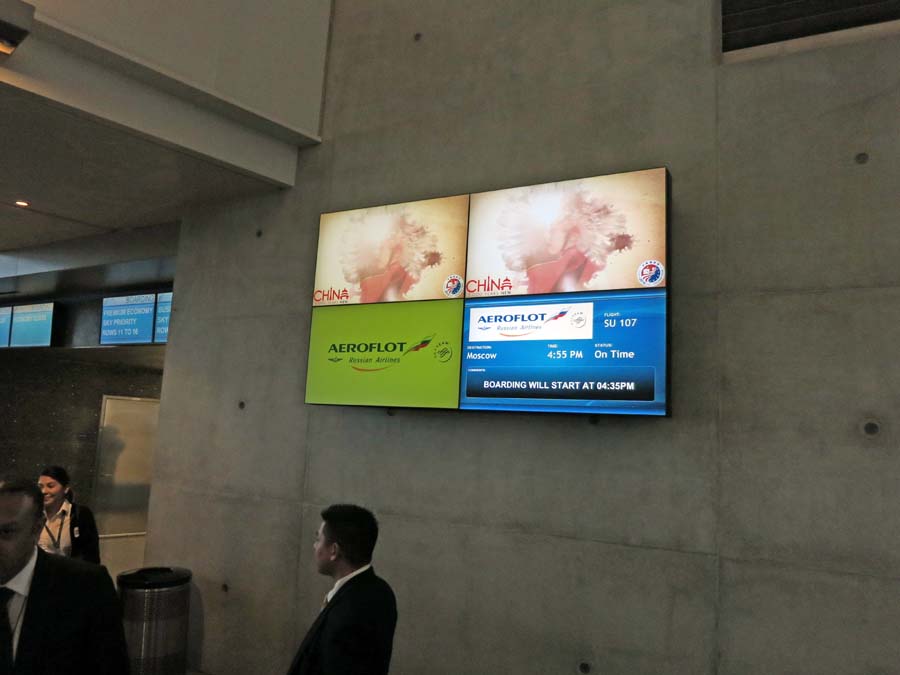 Below you see an excited Ari (on the right) sitting in business class for the first time and excited to go visit Russia for the first time. Katherine (on the left) looks amused at Ari's youthful enthusiasm. :-)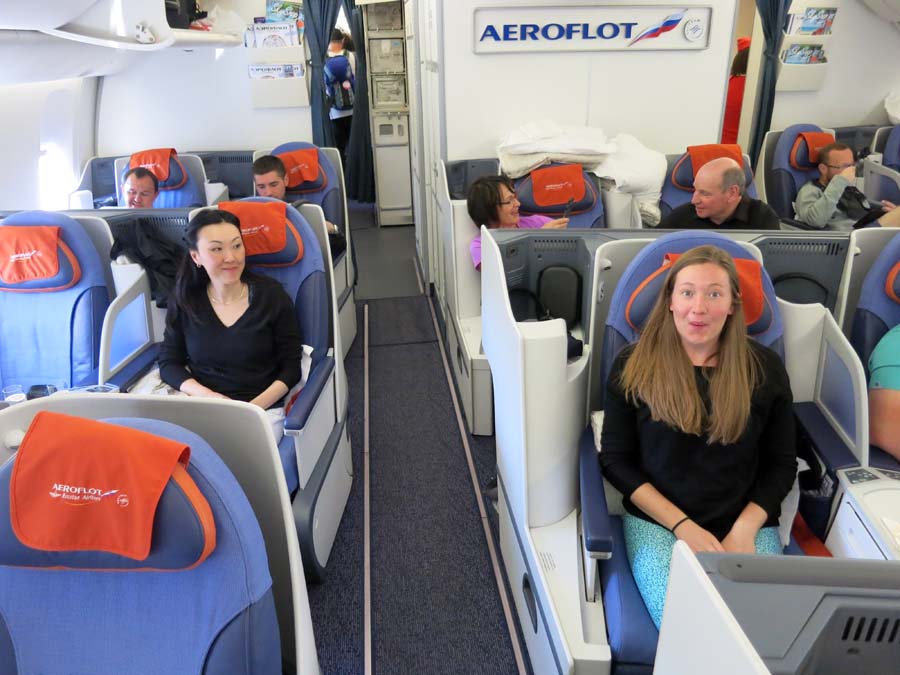 The reason we fly business class is so we can lie down and sleep on the 11 hour flight. I told Ari to "practice" the fully flat configuration of her seat before we took off so I could take a picture.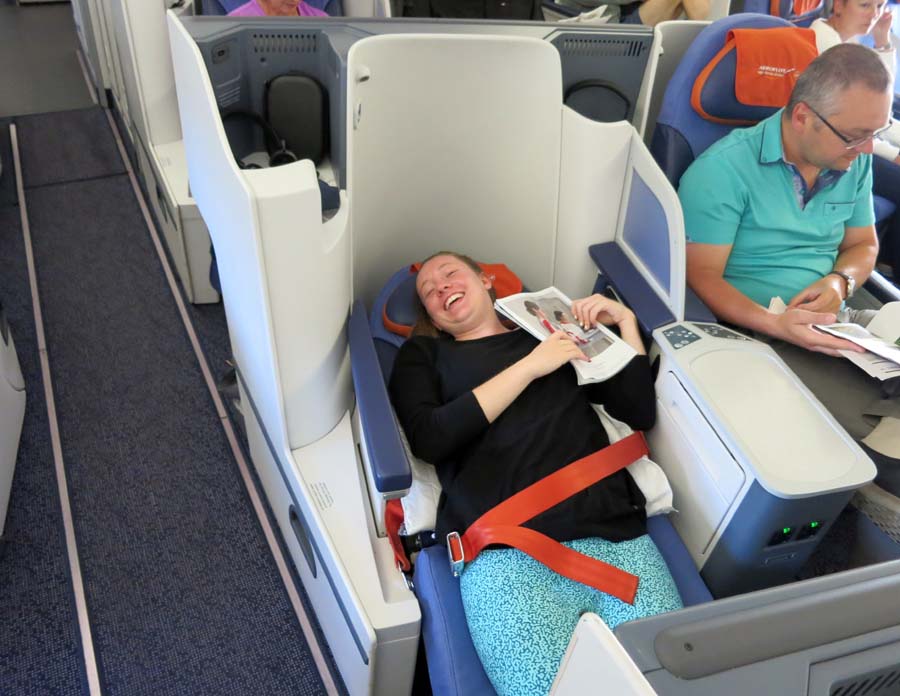 I bring along my DeLorme inReach two way Satellite communicator and tracker seen below in the window. It updates my position LIVE as we fly.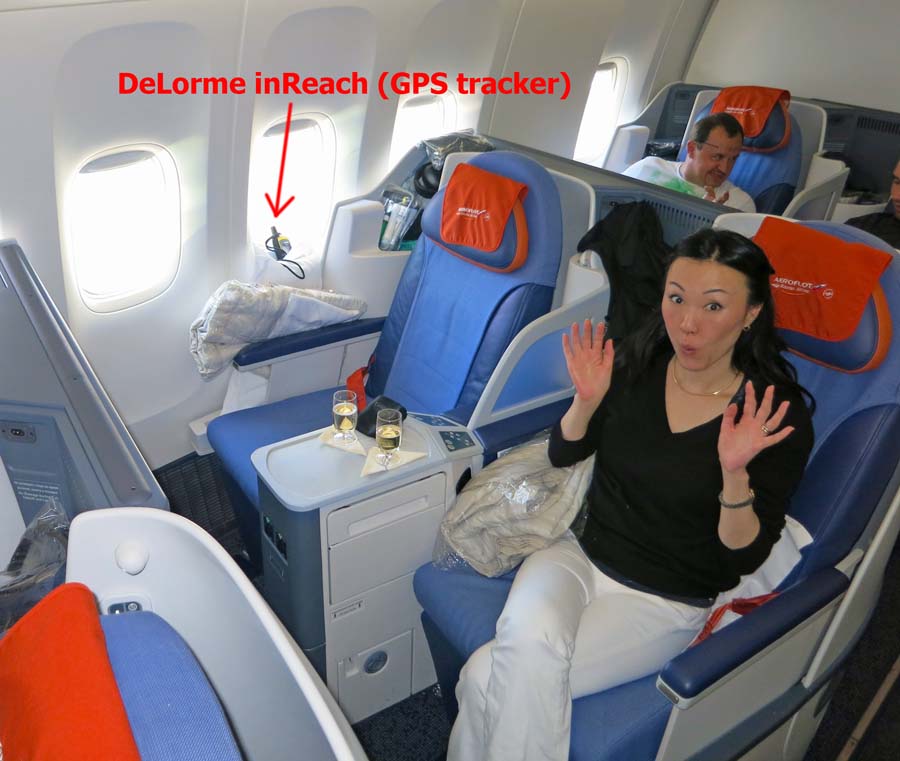 This is what the DeLorme inReach produces on the fly (live) as we fly. It is able to transmit our location. I can also use it to communicate when I'm out of cell phone range.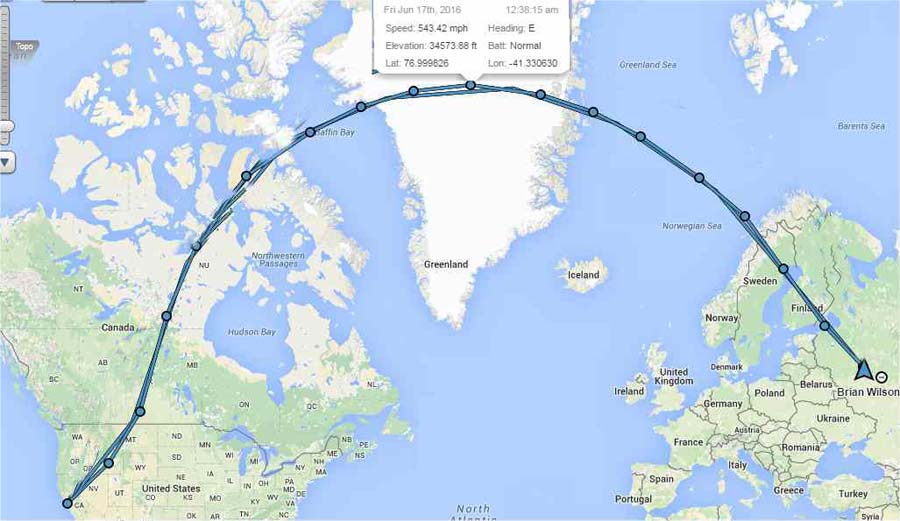 The signs on the airplane are all in both Russian and English. Like the one below.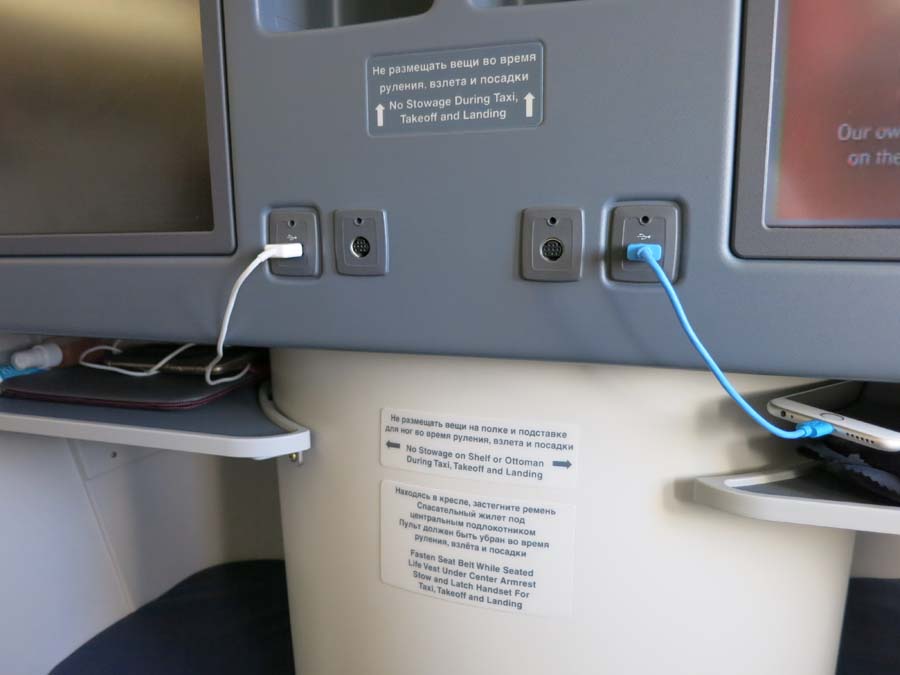 Aeroflot stewardesses have unique uniforms, kind of a throw back to the 1950s.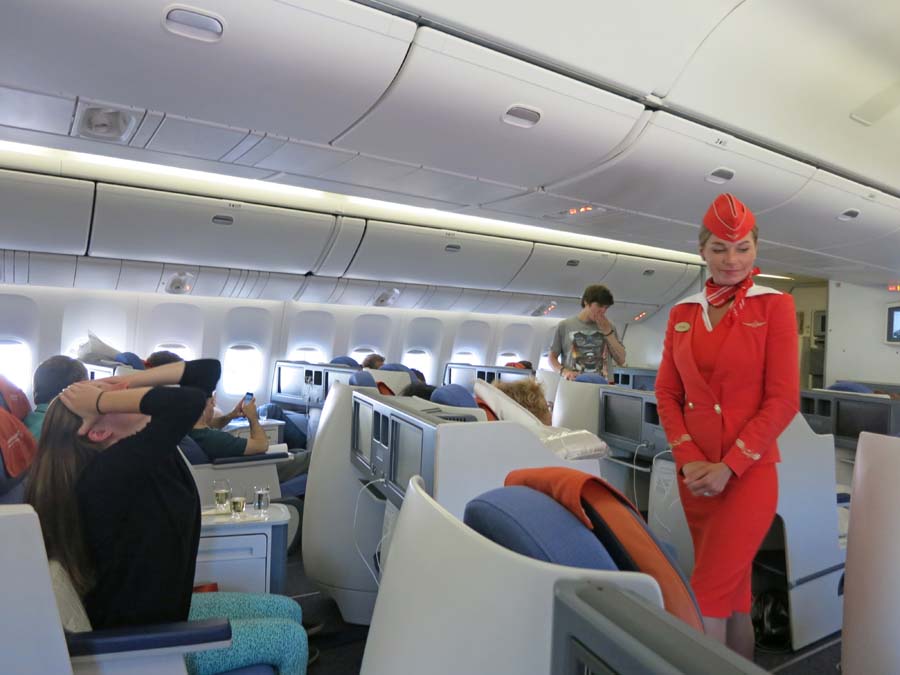 After sleeping for 8 hours, I wake up and find this screen in my "personal entertainment system" which shows our progress towards Moscow.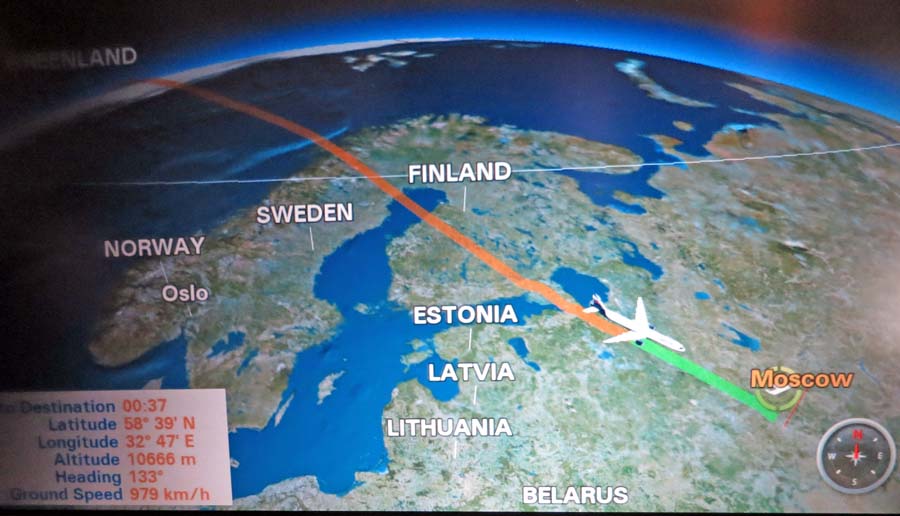 Looking out the window as we land in Moscow, this is the first time I've ever seen Russian country side. I'm 49 years old, and was in high school at the very height of the cold war. In high school I really never thought I'd be a tourist in Russia. To be honest, most of us at the time gave it a 50/50 odds the USA and Russia would end the human race in a nuclear apocalypse. The leaders on both sides acted like petulant school children (and still do?)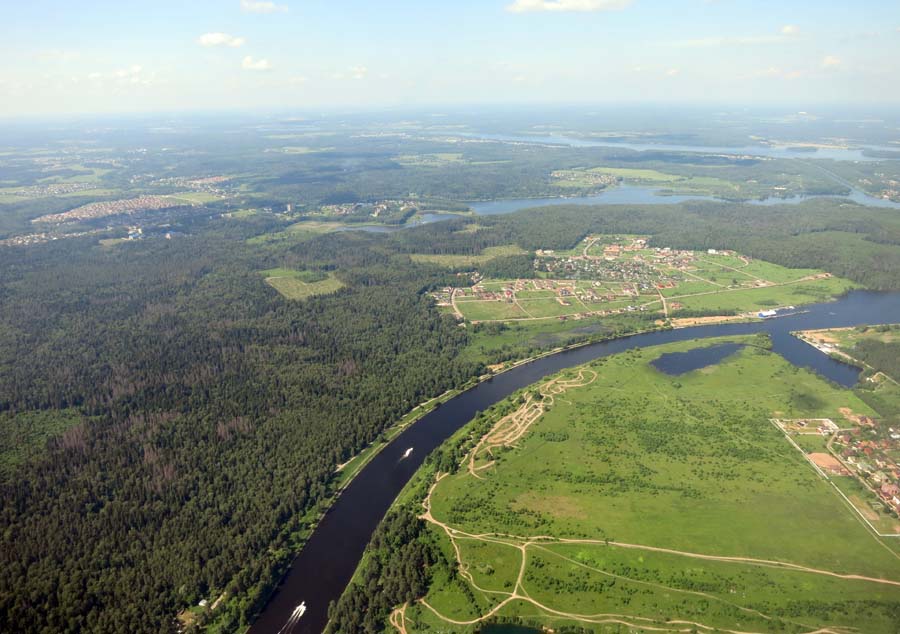 One thing I was worried about this trip was getting around in a world of Cyrillic signs (I don't speak Russian). But as we arrive into the SVO Airport I see that English and Russian are BOTH displayed. No other languages!! It's lucky to be a native English speaker in this world.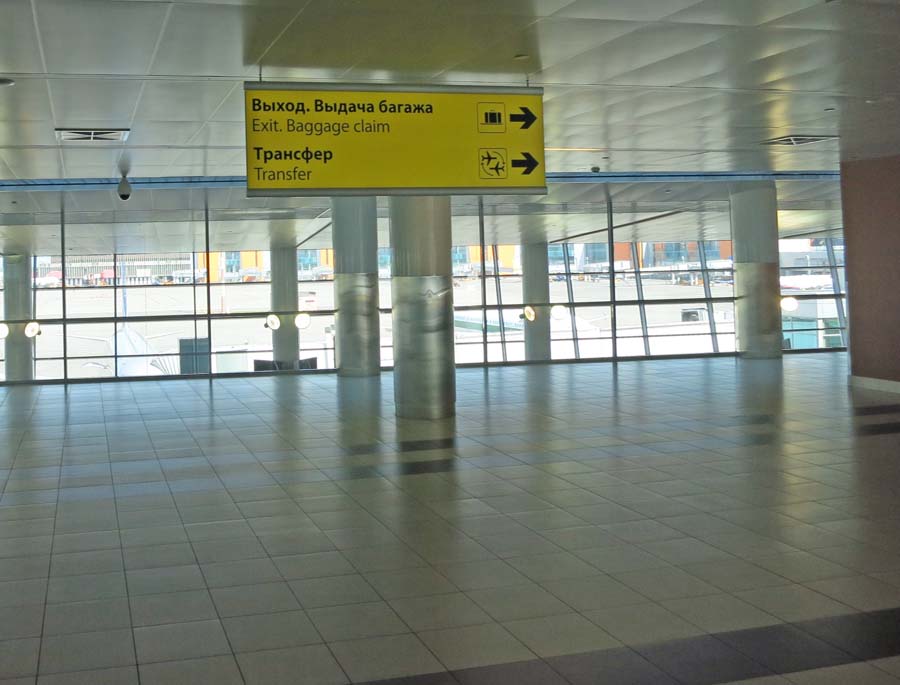 Important signs in English. :-)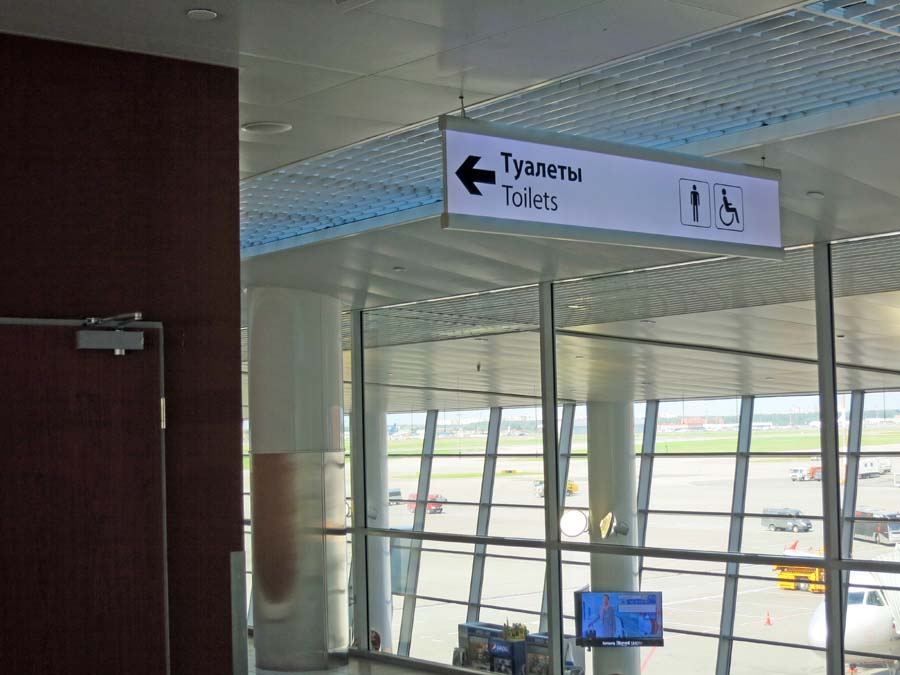 We had the hotel arrange a driver for us. On the drive from the airport to the hotel in Moscow, I saw this sign that was in Mandarin and English!! Very interesting target audience on a Russian freeway sign. My buddy Vlad (originally from Moscow) writes: "It's not even a product. It's an ad for shopping mall (the one between your hotel and Bolshoi theatre). The ad is very funny to me for some reason: it says "Milan's prices on everything!!!"... Why Milan's? Are the prices there lowest in the world? And three exclamation points!!!"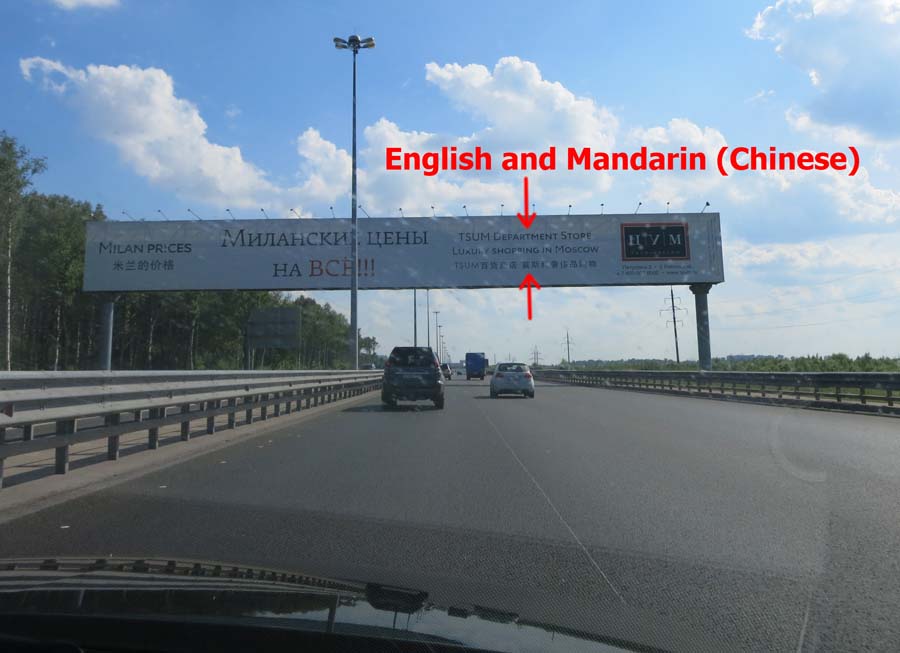 Ari, Katherine and I stayed in the Ararat Park Hyatt Moscow which is one tiny block away from the Bolshoi Ballet building. We never used a car or taxi or Uber our whole trip other than to get from the airport to the hotel and back. Below is the entrance to the Ararat Park Hyatt Moscow.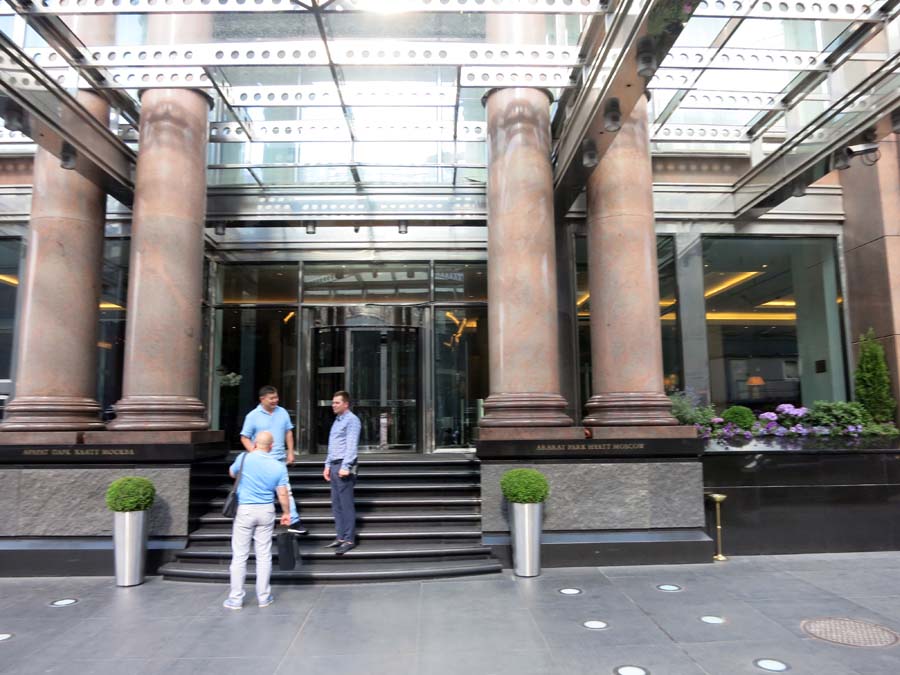 The picture below is of our "living room" in the Hyatt. The sun rises at 3:30am (Moscow is far north) and so the room had excellent "black out shades" you could raise or lower at the press of a button. Generally the room and the hotel were awesome, with one exception: the air conditioning in the room was weak, meaning it was 90 degrees and hot and muggy (humid) outside and the room would only get down to about 78 degrees during the day and maybe 70 degrees at night even though we ran the air conditioner at maximum the entire time we were there.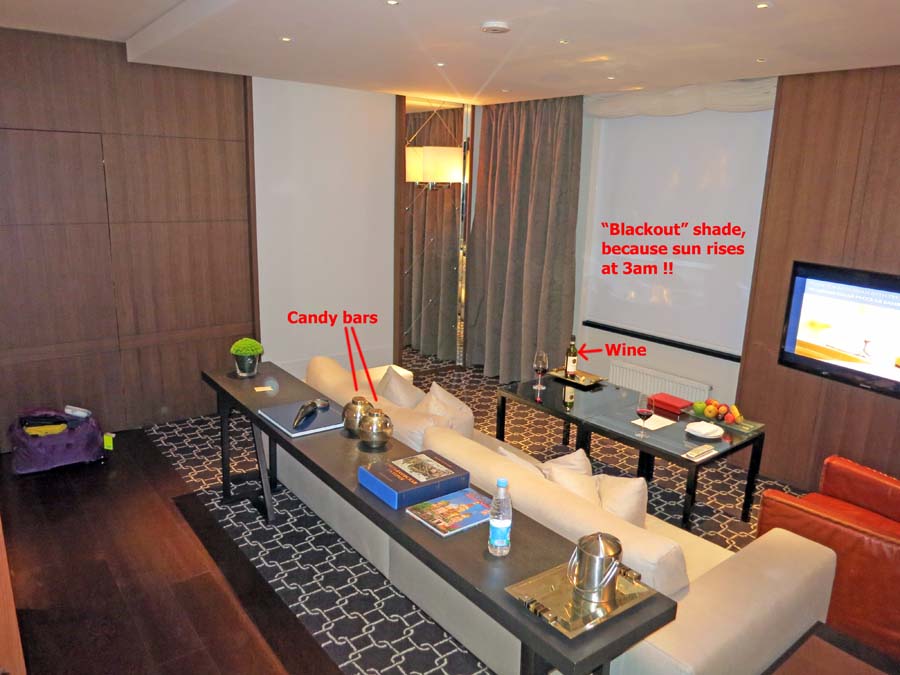 For dinner the day we arrived (Friday) we went up to the roof top restaurant in the Hyatt (our hotel) which is VERY pleasant as you can see below. The restaurant is called "Conservatory Lounge & Bar at the Hyatt Moscow". The Bolshoi Ballet building is visible near the crane on the right.

I took the picture below sitting at our table. It points out the Bolshoi Ballet where we will attend a performance the following night, and it also points out the sculpture that sits above the front door of the Bolshoi called the "Quadriga Sculpture" which means four horses pulling a chariot.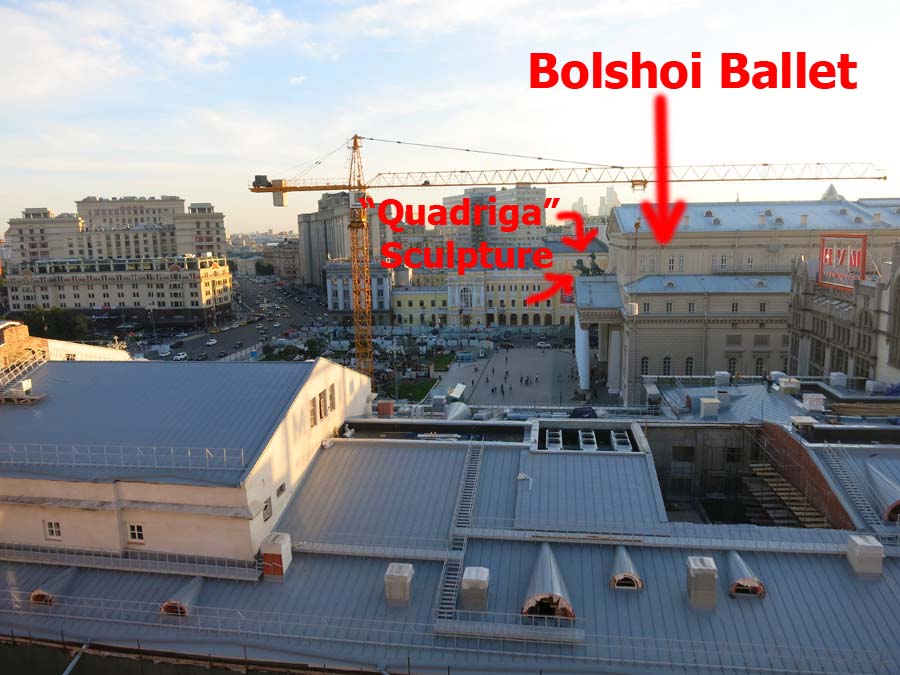 Another picture taken from the same spot pointing out the locations of other interesting places we can see from the roof top restaurant in the Hyatt Moscow. Saint Basil's Cathedral is in the distance (more pictures when we visit it lower down on this web page). And Moscow's famous "Red Square". We walk from our hotel the following day to visit both of those - a pleasant 5 or 10 minute walk.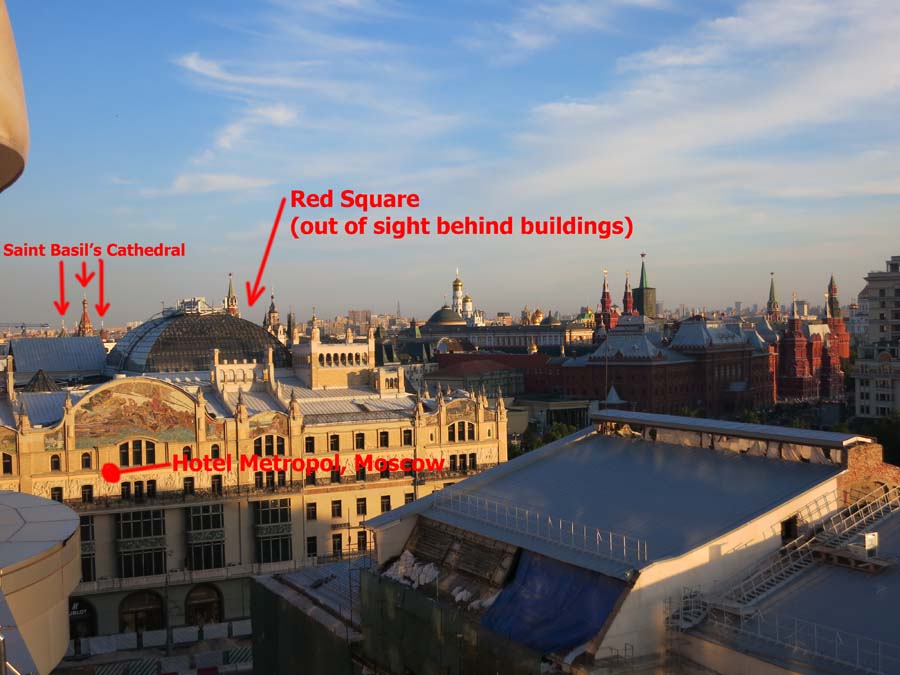 Caviar (fish eggs) is very Russian, and the most famous and most expensive is Beluga Caviar from a Beluga Sturgeon Fish. Beluga caviar is banned from importing into the USA from time to time because the Beluga sturgeon is critically endangered. We ordered 50 grams of caviar for about $270 US dollars. Reading closely I don't think it was actually "Beluga" but instead the less endangered "Ossetra Caviar" which is still from a Sturgeon but not a Beluga Sturgeon.

Below is a picture of our caviar "tin" and the food that comes with it. The pancake looking things are called "blini". You spread a little sour cream, button, chives on the blini and smear on some caviar. The drink pictured below is not water, we had "Russian Standard Vodka" to drink with it.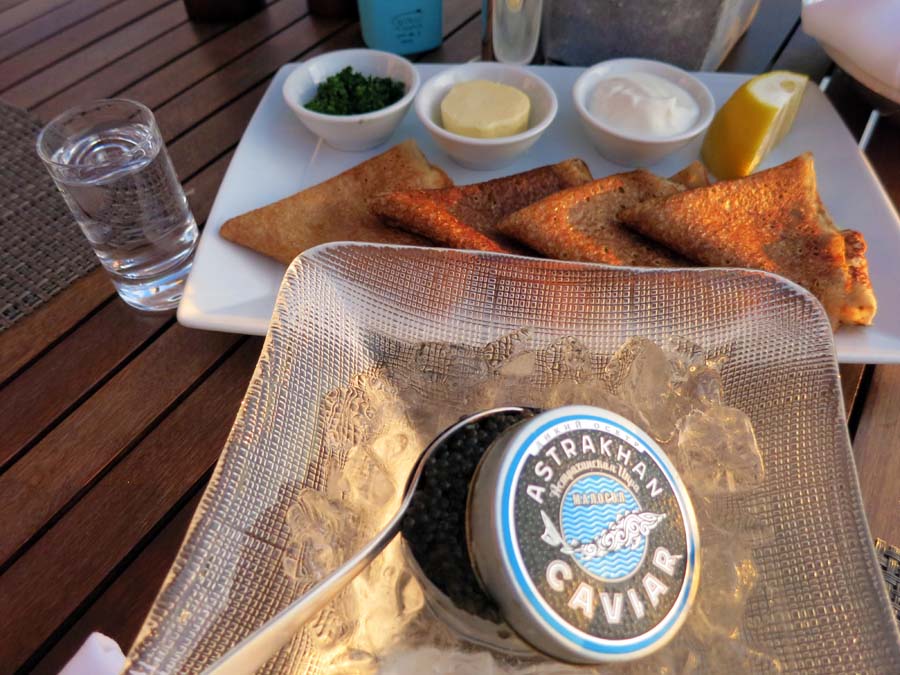 A close up of the tin. If you know for certain if this is Ossetra or Beluga please email me:

My buddy Vlad reports: "The can says 'wild sturgeon' on the top, doesn't say which particular species of the sturgeon family it is. I'm sure at that price it must have been authentic."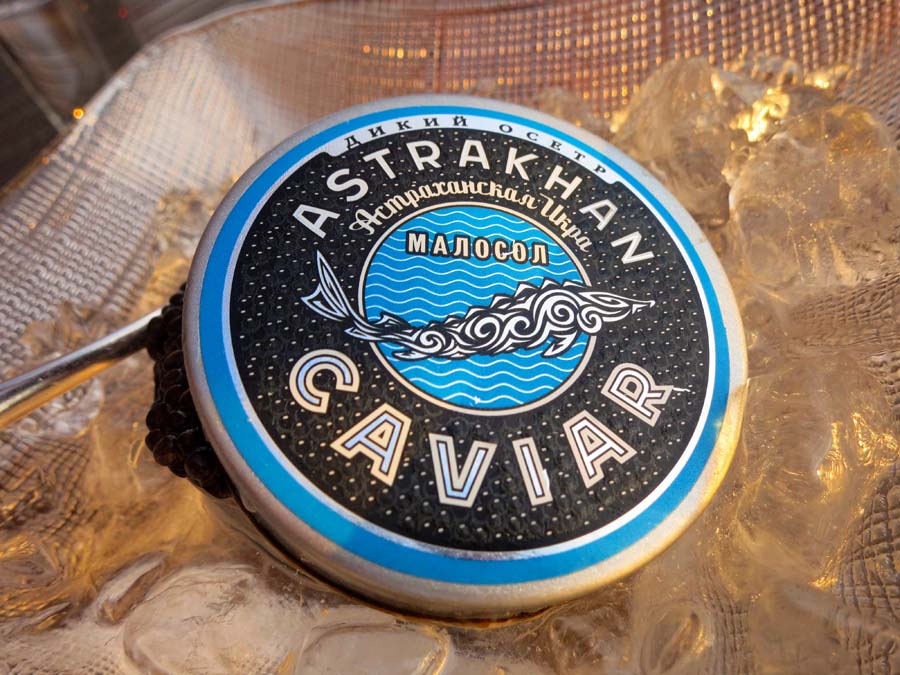 Below is a picture I took on my iPhone of Ari trying caviar for the first time in her life. You can see the Bolshoi Ballet through the glass railing.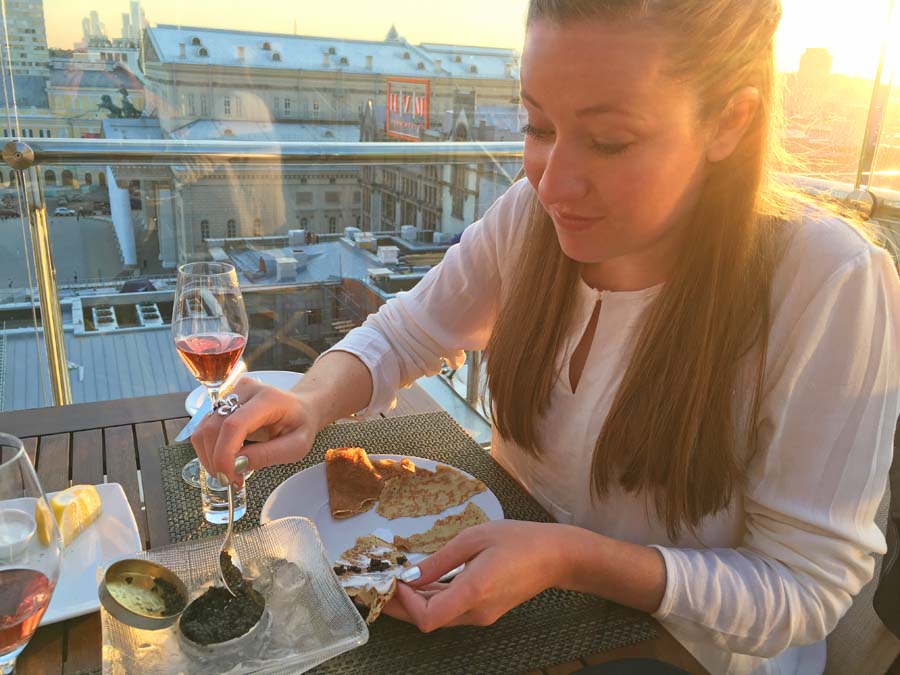 The waiter recommended we try an Armenian Artsakh Mulberry Gold vodka, and it is pictured below. It is very unusual for vodka to be anything but absolutely clear. This vodka is stronger than what I call "regular" vodka. The Armenian vodka is 62% alcohol instead of a "regular" 40%.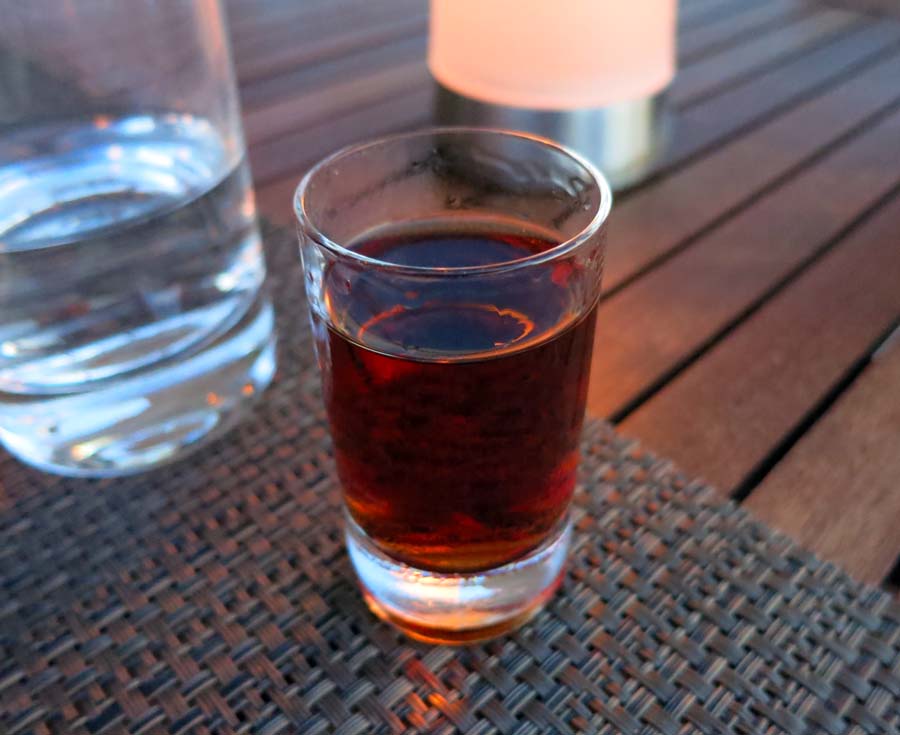 The sun sets over Moscow as we have dinner of Caviar on the roof top of the Hyatt.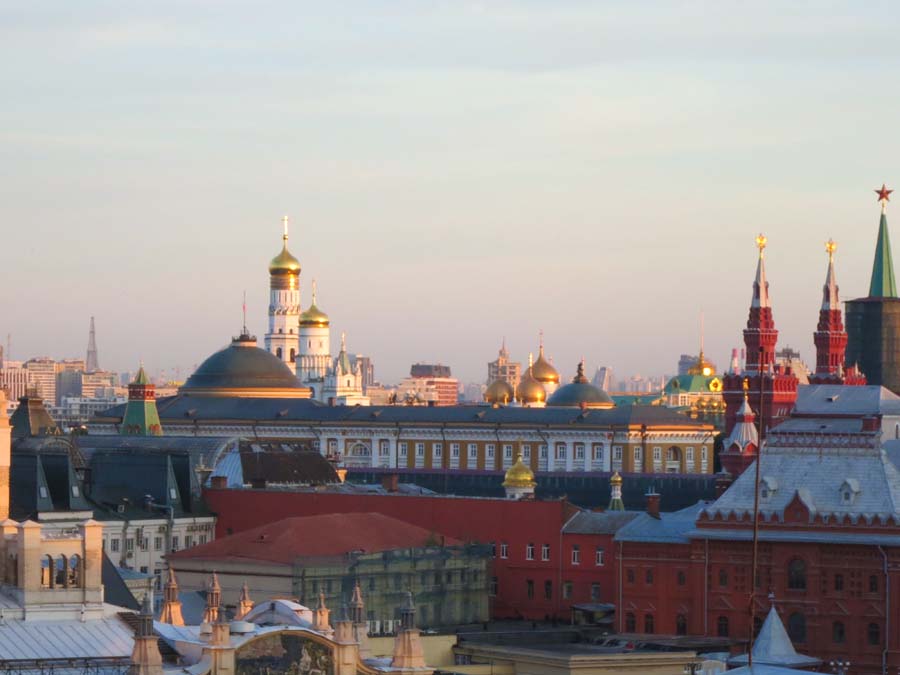 The sunset in Moscow on Friday, June 17, 2016 as seen from the roof cafe in the Ararat Park Hyatt Moscow, Russia.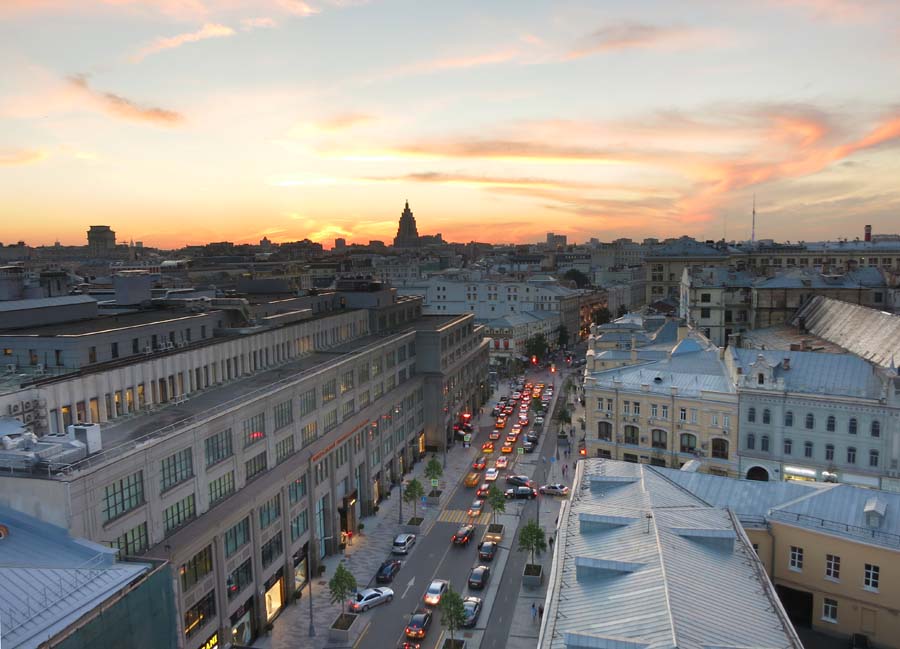 A few minutes later just after sundown in Moscow Russia.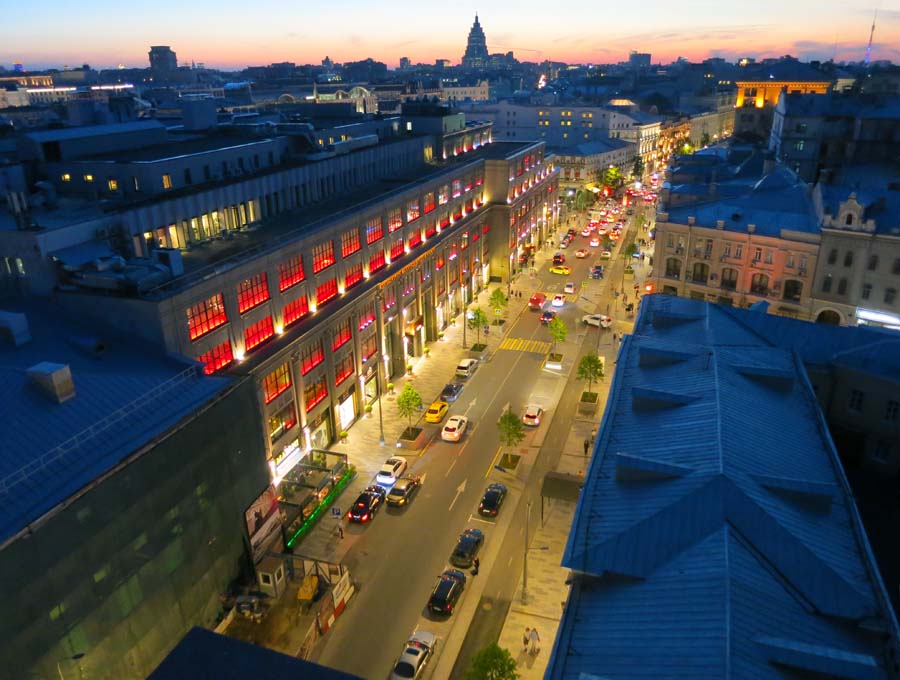 We realize after the sun goes down that the "stars" on the very top of the towers of the Kremlin in the distance are lit (most of them bright red). Very pretty. And it's been a long travel day, so it is time to go to bed.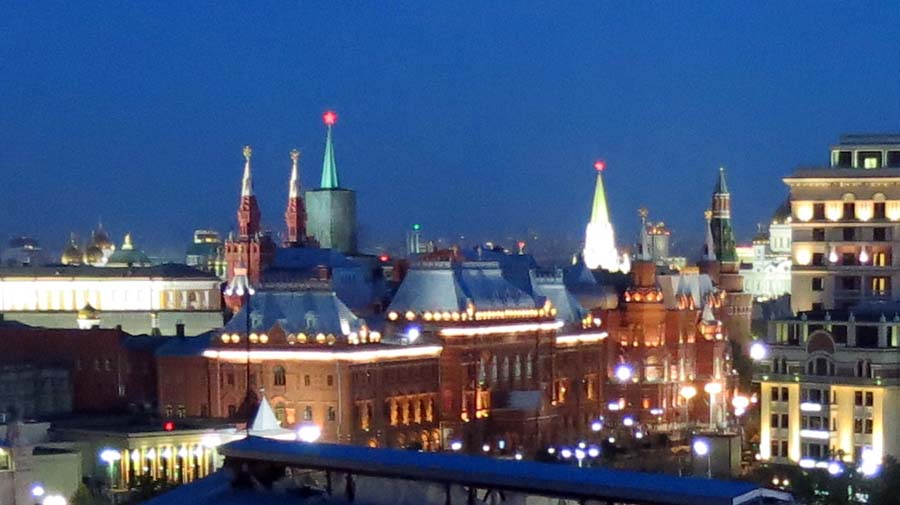 The next morning (Saturday) Katherine is exhausted and stays in bed to sleep. But Ari and I (Brian) get up to go explore Red Square and see Lenin's tomb! Below is Ari at breakfast.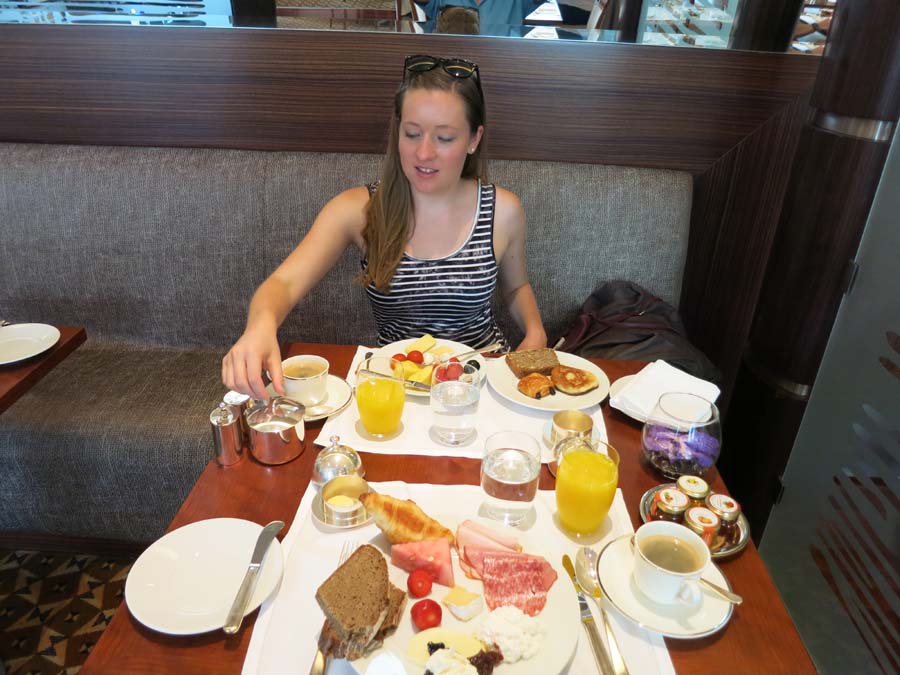 Later this same day (at 7pm) we will go to the Bolshoi Ballet, so Ari and I wanted to "scout it" to make sure we knew where it was. It's a close 3 minute walk from our hotel, the front is pictured below.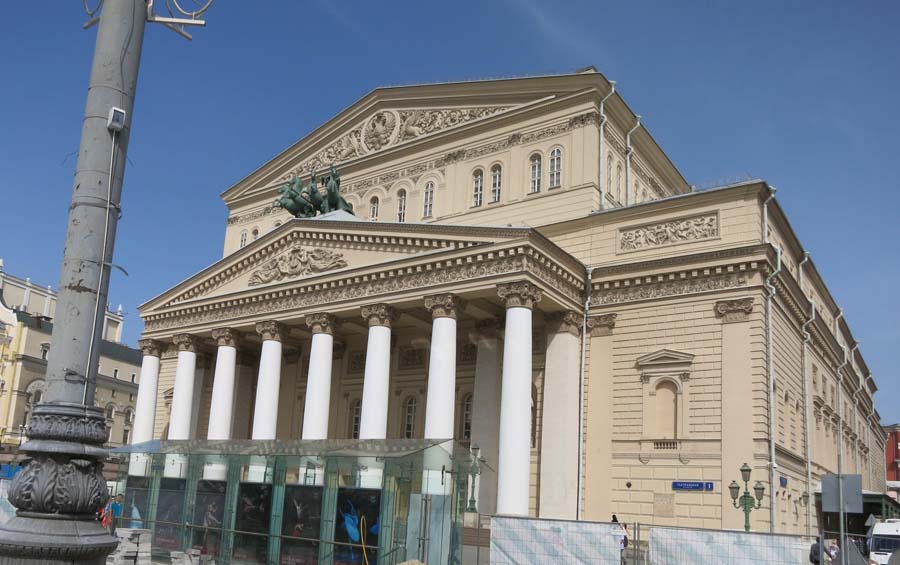 A sign on the front of the Bolshoi Ballet building in Moscow is both in Russian and in English. I wasn't sure they would be so accommodating to English speakers in Moscow, but it was VERY easy to get around with most signs like the one below also in English.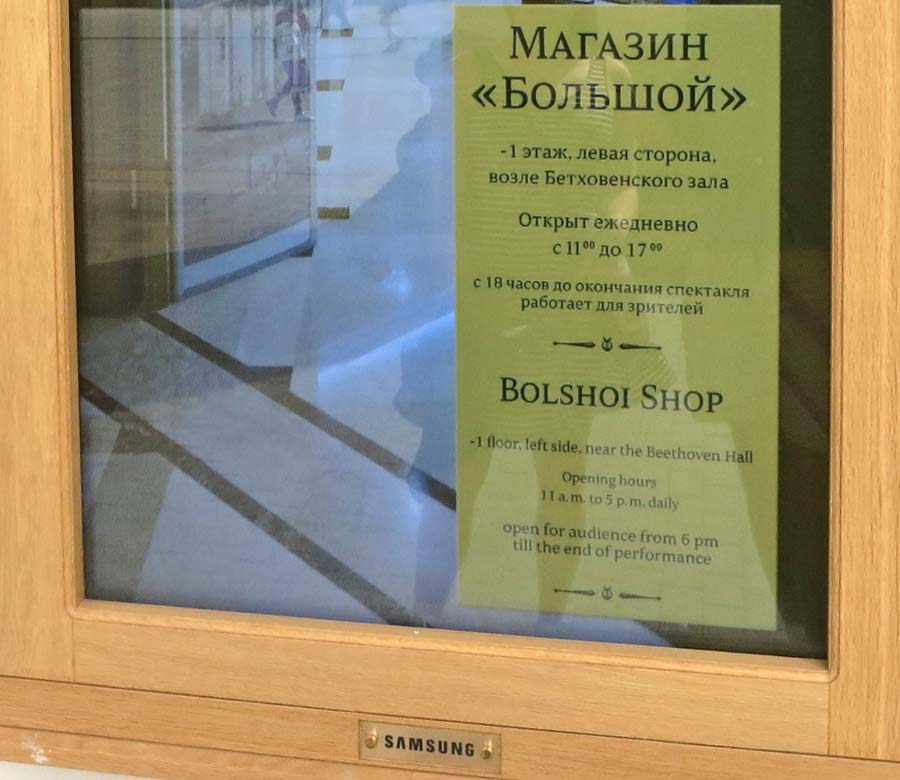 Another plaque in both Russian and English.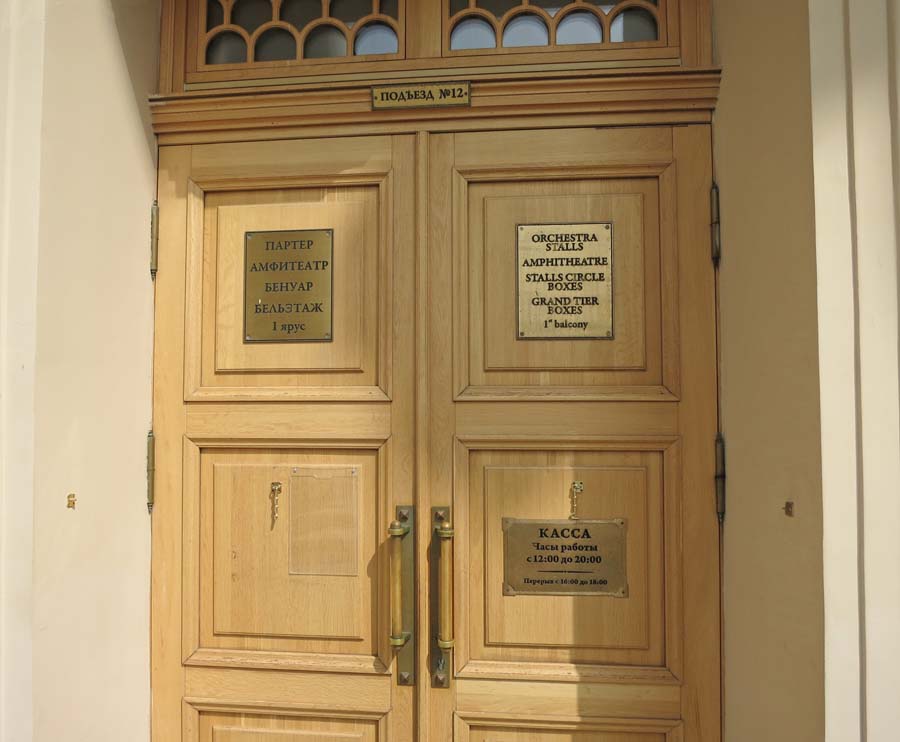 Below is a picture I took standing on the front steps of the Bolshoi Ballet building facing outward. The little group of temporary buildings is part of a themed market (closed at the time).

This is the sign at the little themed market. It is a festival featuring traditional Russian type products.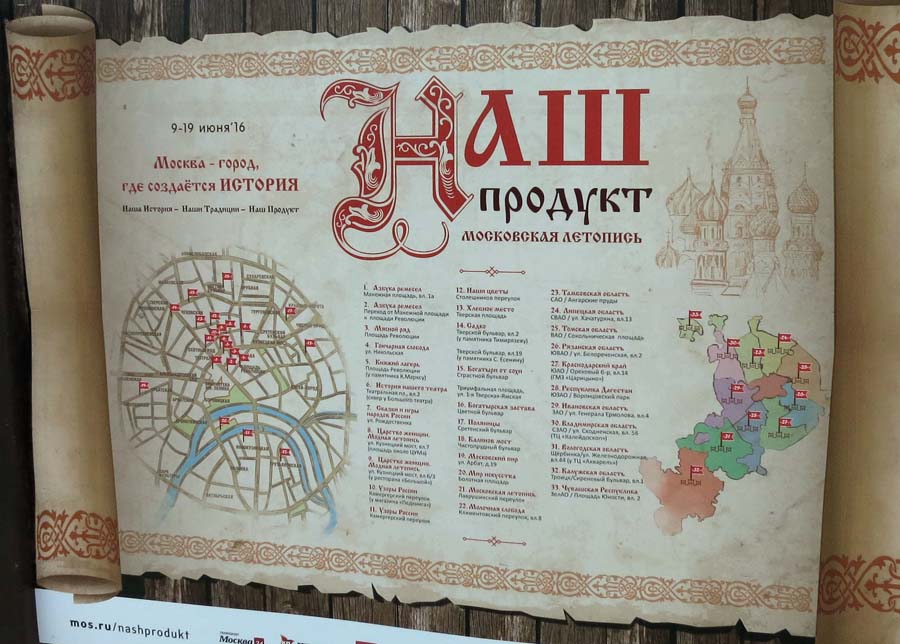 Ari and I continue our exploration walking towards Red Square. We pass by this statue of Karl Marx with the inscription (in Russian) of "Proletariats of the World Unite" (sometimes translated as "Workers of the World Unite". The big yellow metal beam in the picture is from a construction crane.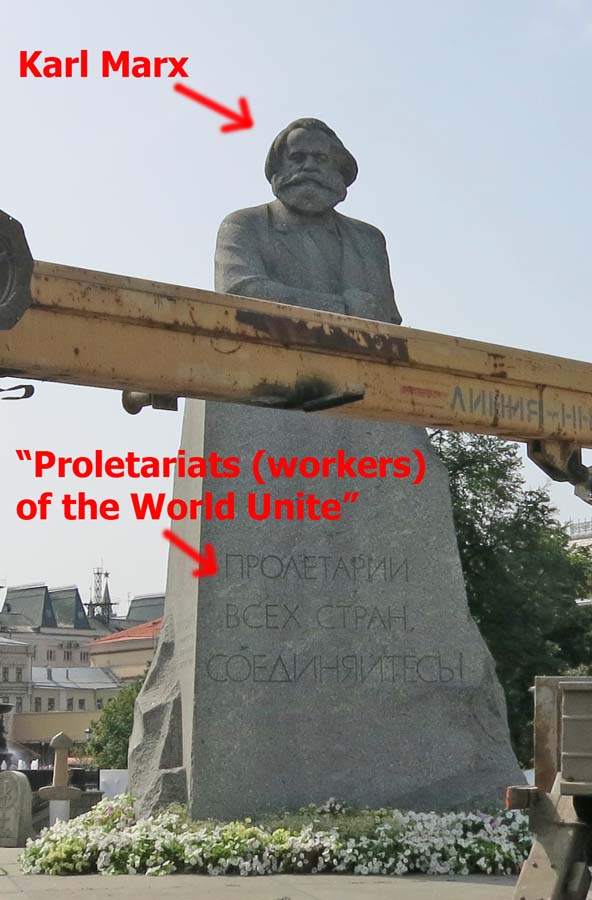 As Ari and I continue our exploration, we come across this statue of "Marshall Zhukov" on horse back.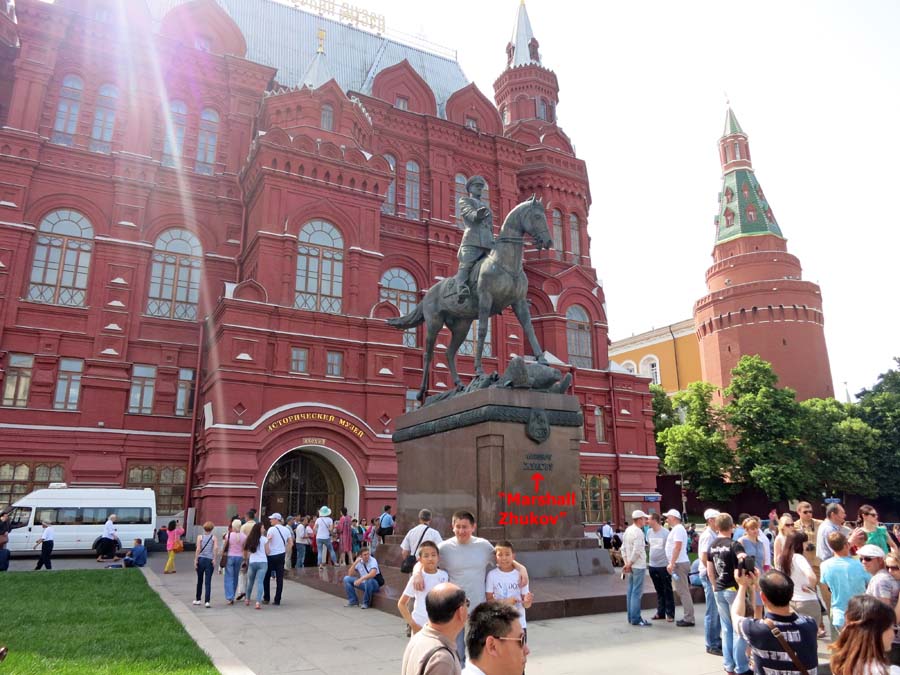 Same statue of Georgy Zhukov on horse back from a different angle. I like this statue because the horse is trampling a swastika and iron eagle banner pole. It's a great big "screw you" to Nazis. The iron eagle atop the swastica is called a "Parteiadler".
Strolling along we enter Moscow's famous "Red Square". Below is a picture of Ari standing in front of the "State Historical Museum" in Red Square Moscow, Russia.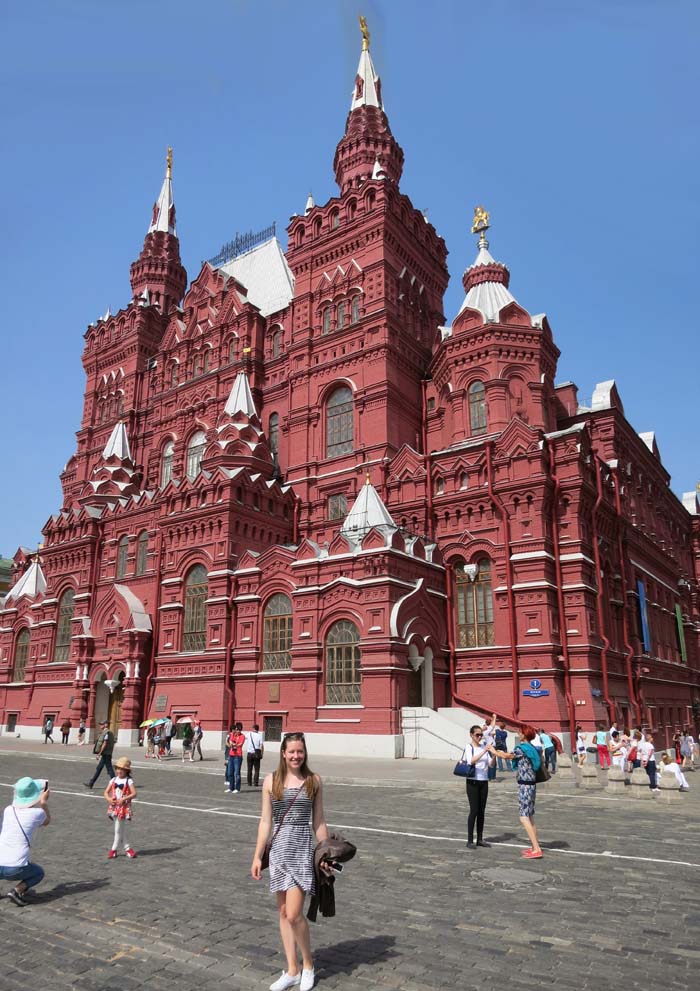 Another picture of the State Historical Museum.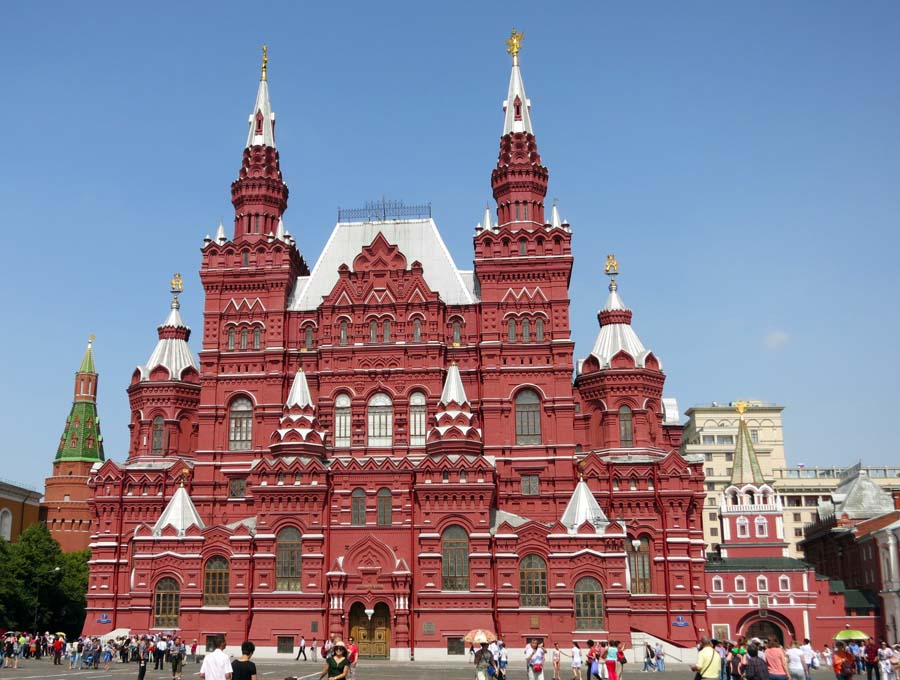 At the opposite end of Red Square is Saint Basil's Cathedral which was built in 1561. It looks like a ginger bread house. :-)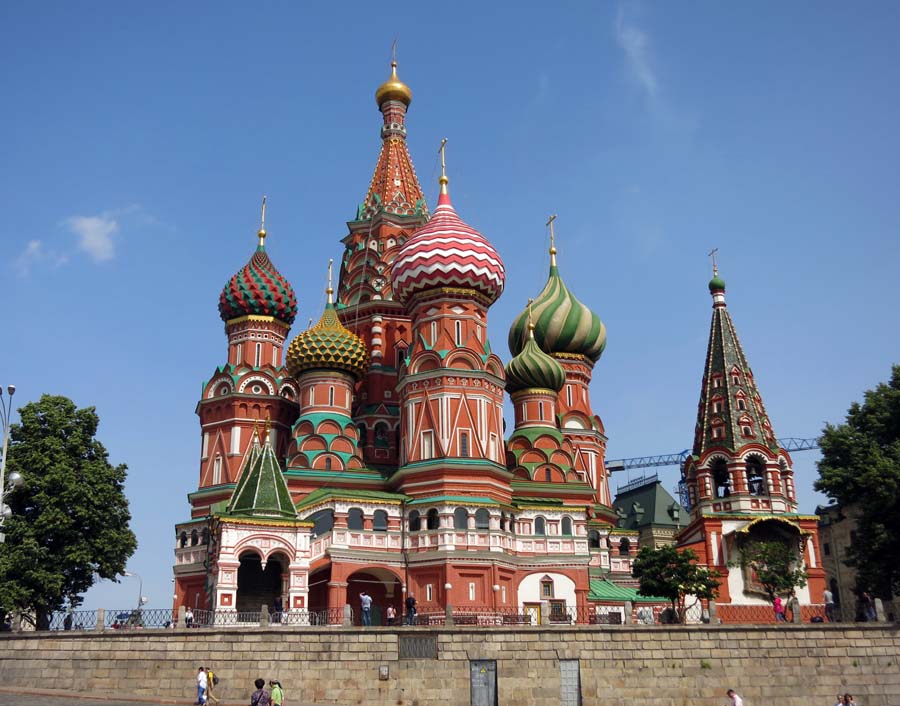 Another picture of Saint Basil's Cathedral. I took too many pictures of it.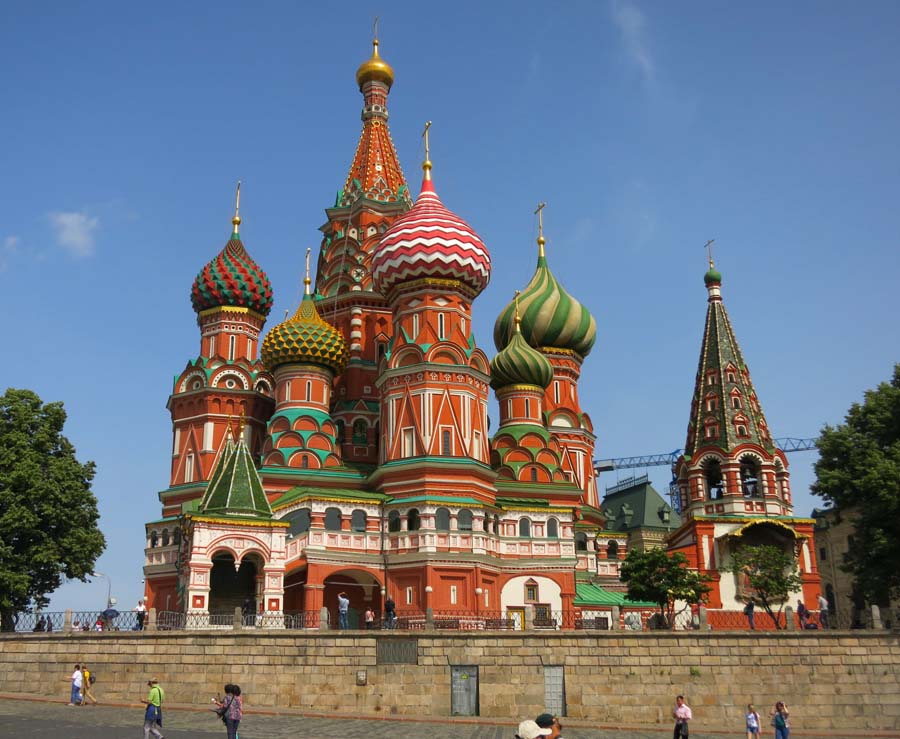 Another picture of Saint Basil's Cathedral and the surrounding parts of Red Square and some tourists (like us).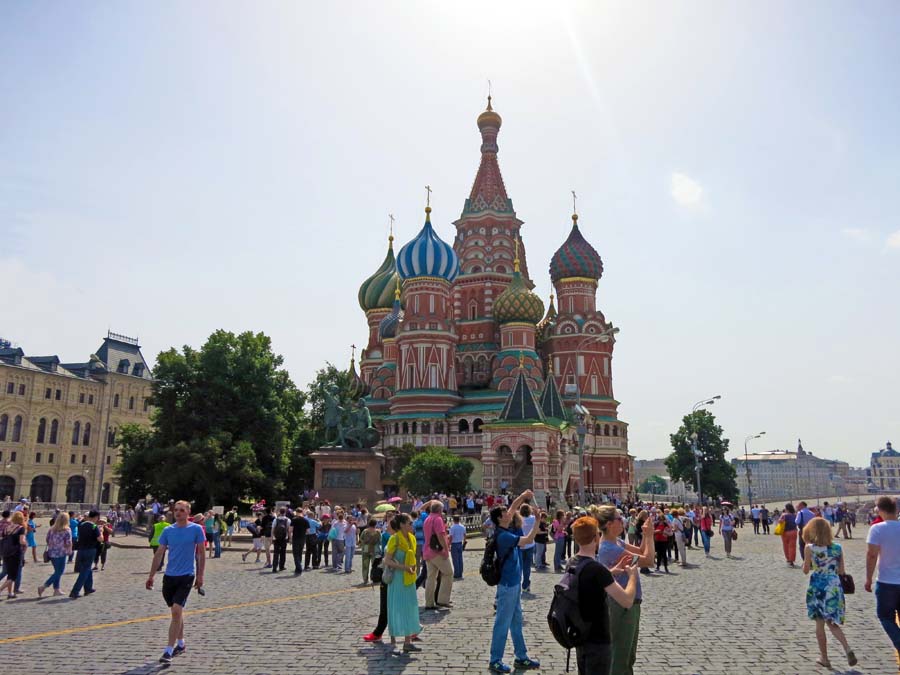 The panorama below (use your horizontal scroll bar to see it all) shows all of Red Square facing AWAY from Saint Basil's Cathedral. The big red brick wall on the left is surrounding the Kremlin and Lenin's Tomb (where his body is on display) is the squat red building just outside the Kremlin wall.

Ari and I waited about an hour in line to view Lenin's body in person. Below is a picture from the line of people.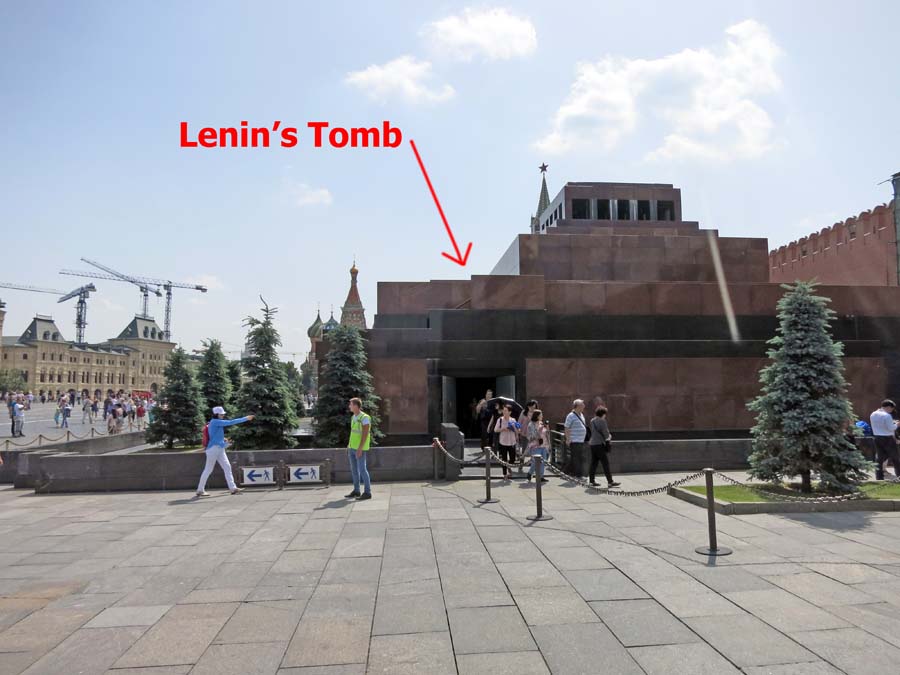 There were three guards inside the tomb hushing people from speaking and preventing anybody from taking pictures so the next few pictures are not mine, I found them on the internet. But this was about what Lenin looked like. In the picture below, you can see one hand is closed and one open, that was the situation when we viewed him. Vladimir Lenin died in 1924 (92 years ago!!) and they have been preserving his body here ever since. It really, really looked like a figure in a wax museum and at this point it doesn't matter at all if there is a skeleton inside the wax or not - it's simply a plaster and wax and makeup effigy of Lenin.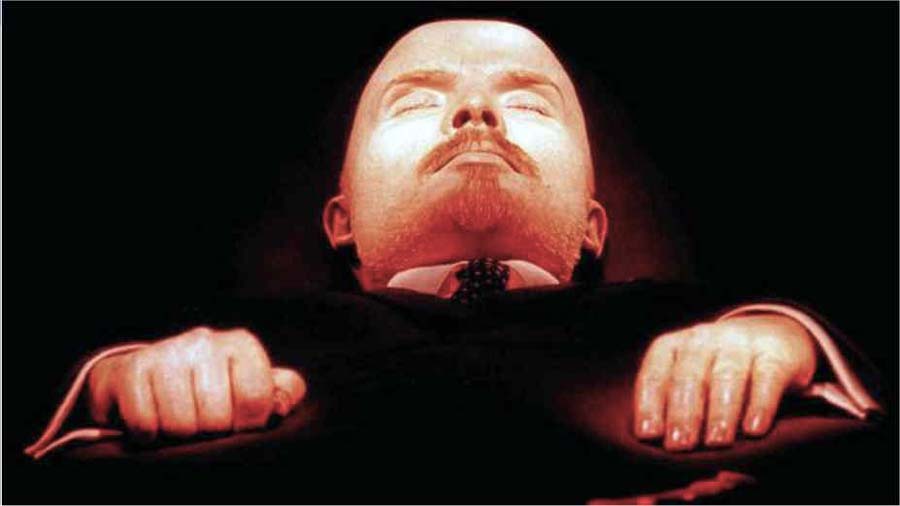 If you look at early pictures right after Lenin died he looked older. Over the years they have covered the corpse with wax and plaster and made him into kind of a "younger Lenin" looking thing. Here is an article in Scientific American about it. The whole thing is super strange since Russian's don't have any history (other than Lenin) of keeping their dead dressed up and above ground for a hundred years.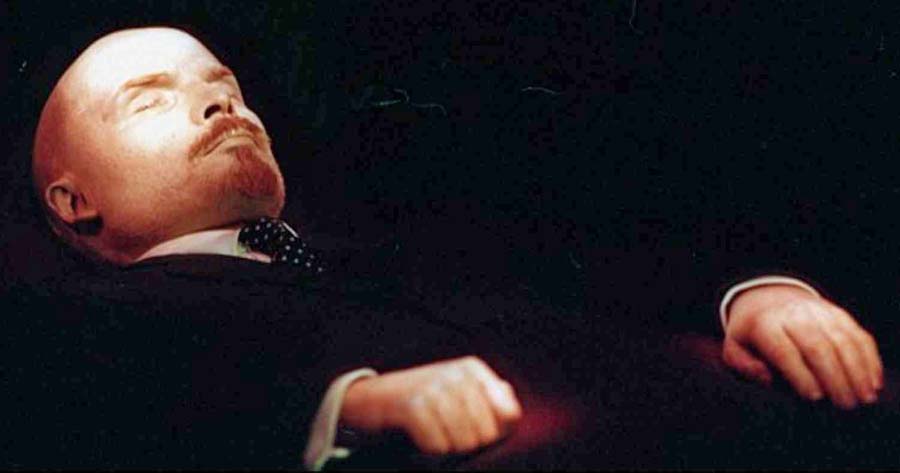 The picture below (I found on the internet) is precisely what I saw, which is kind of a smallish man, shiney, wax looking. Seriously, it's not even a GOOD fake. According to the Scientific American article they employed 200 people in the 1950s and slowly replaced parts of him like little patches of skin would go missing. That's just super strange and creepy. A local Russian man (about my age, maybe a bit younger) was behind us in line and as we departed he spoke with us about how this was the first time in his life he ever saw Lenin and how he wanted to see him. There is talk of "burying" him properly in a couple years. The local said "Lenin ruined Russia" and they want to return to a pre communist time of Russian art and culture. I asked about freedom of speech and the local proudly waved to the guards in the distance and said you can walk right up to them and call them names. I attended high school in the very height of the cold war (35 years ago), and I never thought I would visit Moscow as a tourist and see Lenin's body and exchange friendly conversation with a Russian man on the street. It was a profound experience for me.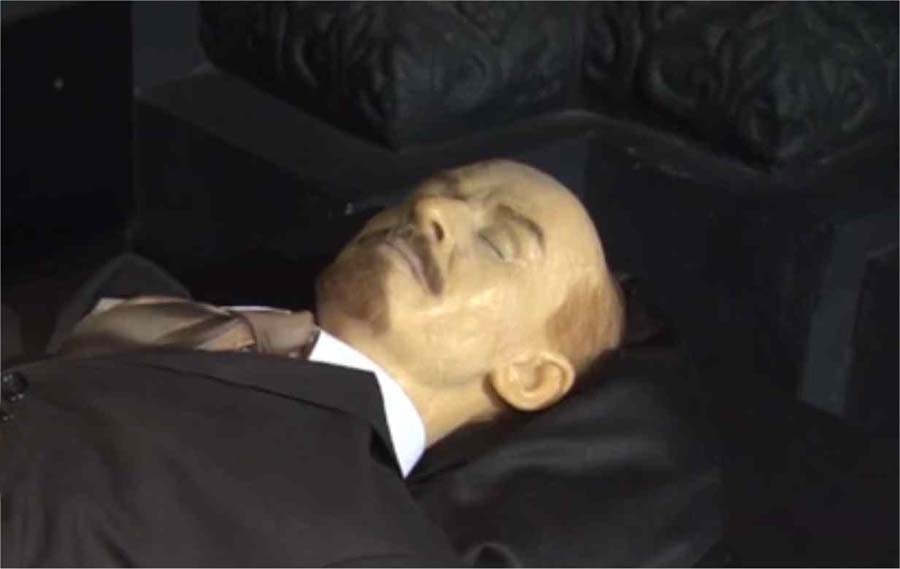 As you exit Lenin's tomb, you walk by this set of statues (busts) passing them in this order (special thanks to Yev for helping find English names). I don't know the pattern of why this particular list of people have busts! Some of them are heros, but they throw in Stalin?
A bust of Konstantin Chernenko: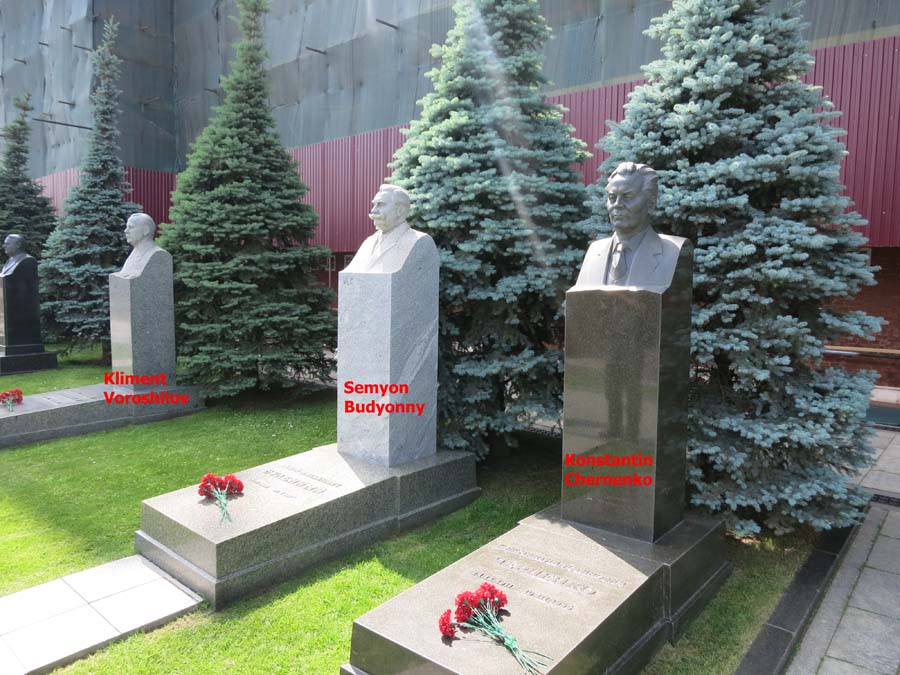 A bust of Semyon Budyonny: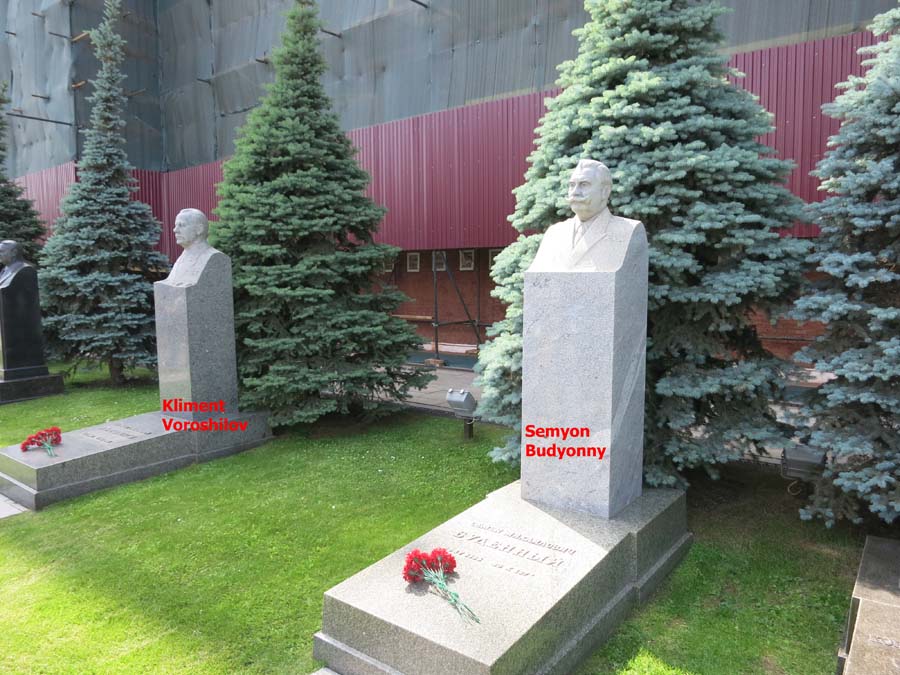 A bust of Kliment Voroshilov: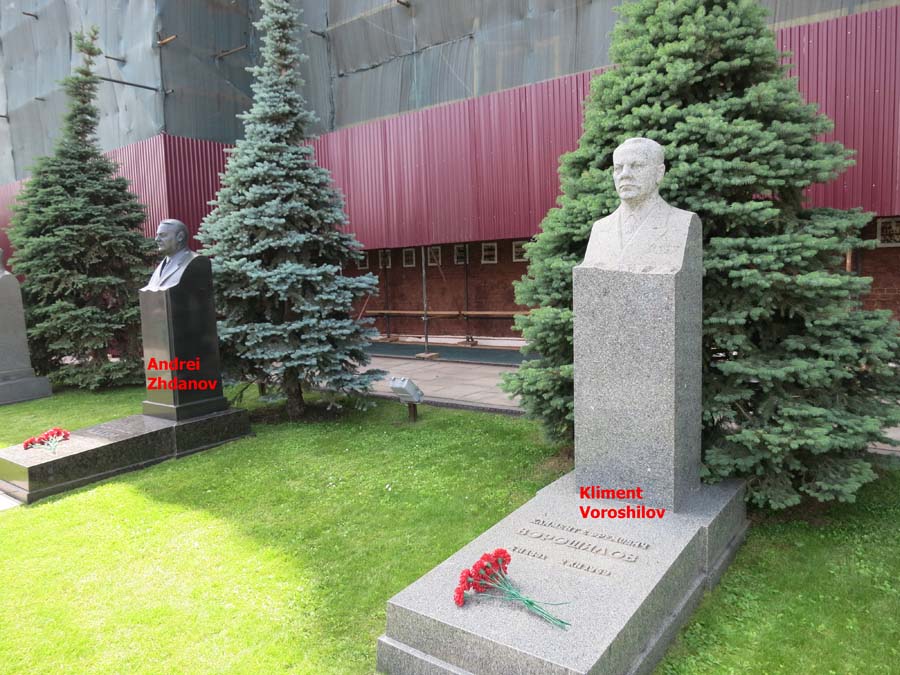 A bust of Andrei Zhdanov:
A bust of Mikhail Frunze: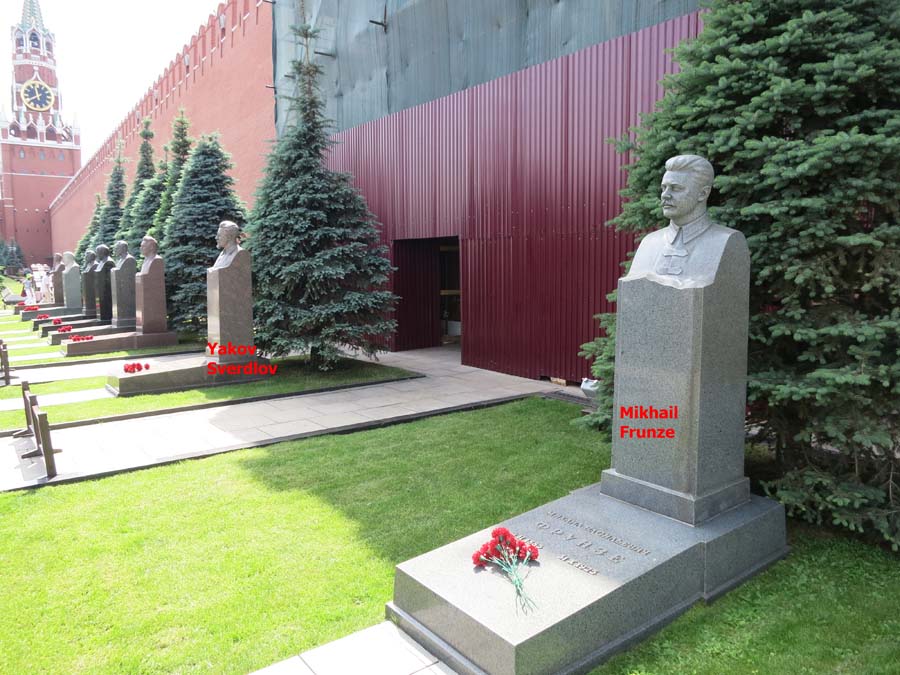 A bust of Yakov Sverdlov: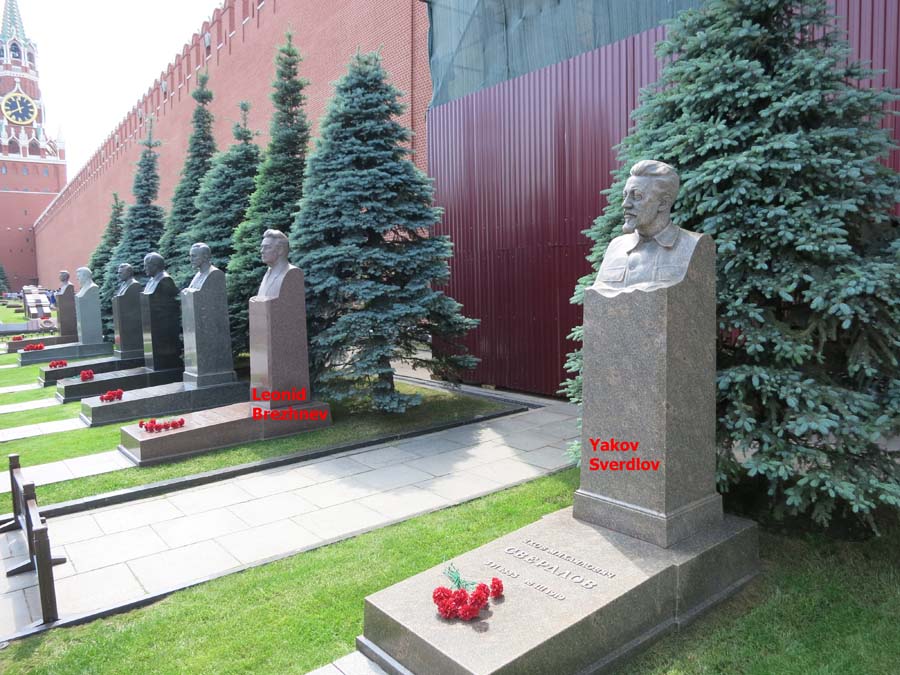 A bust of Leonid Brezhnev: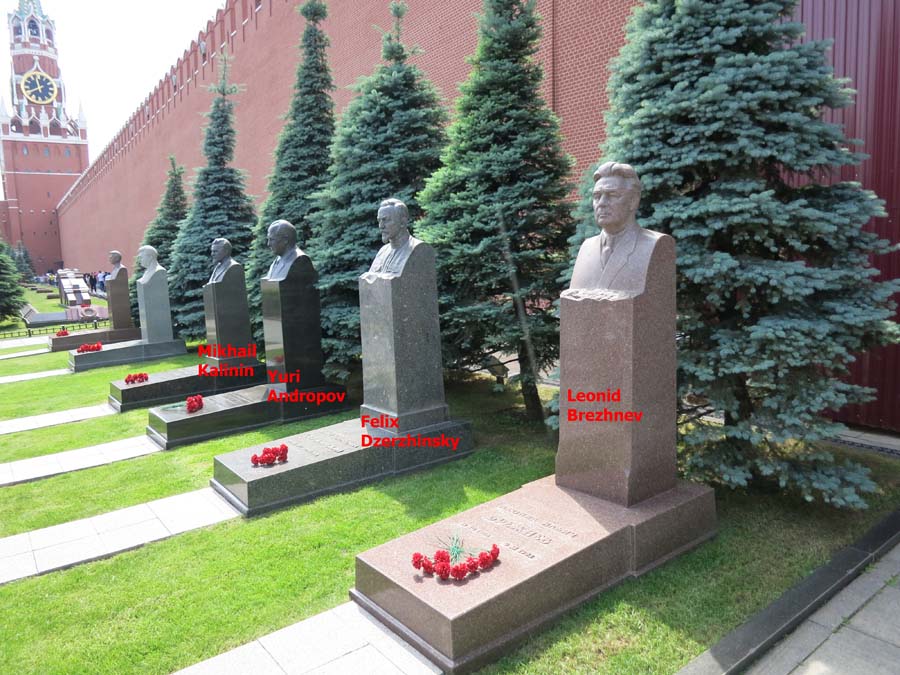 A bust of Felix Dzerzhinsky: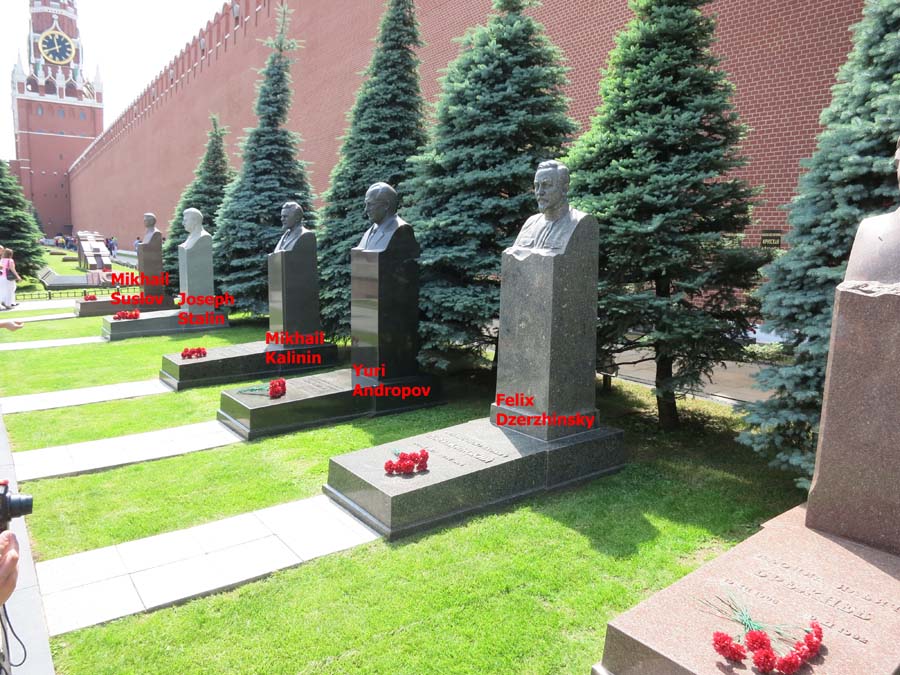 A closer view of the bust of Felix Dzerzhinsky: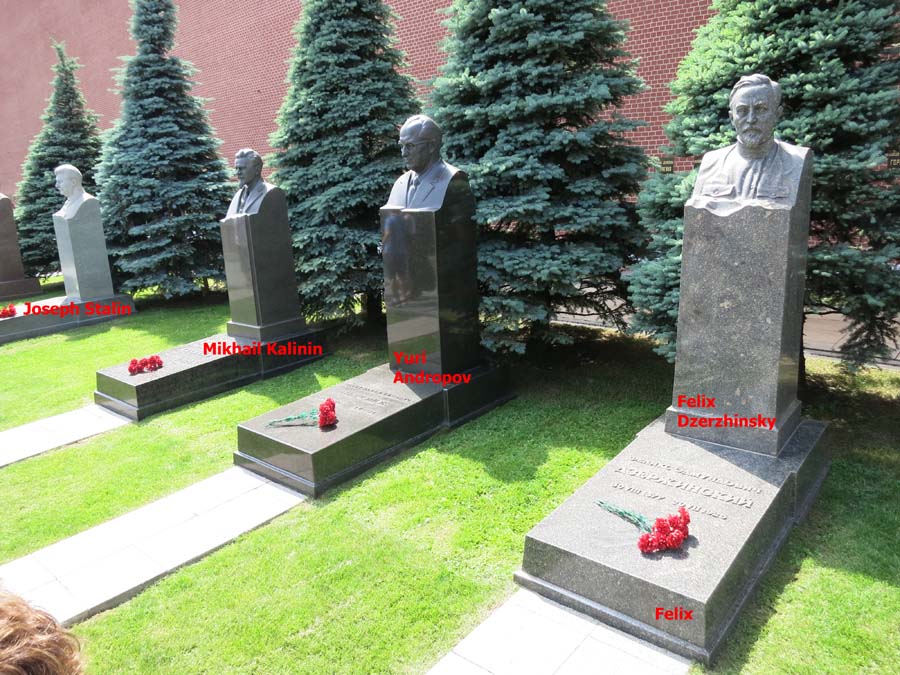 A bust of Yuri Andropov: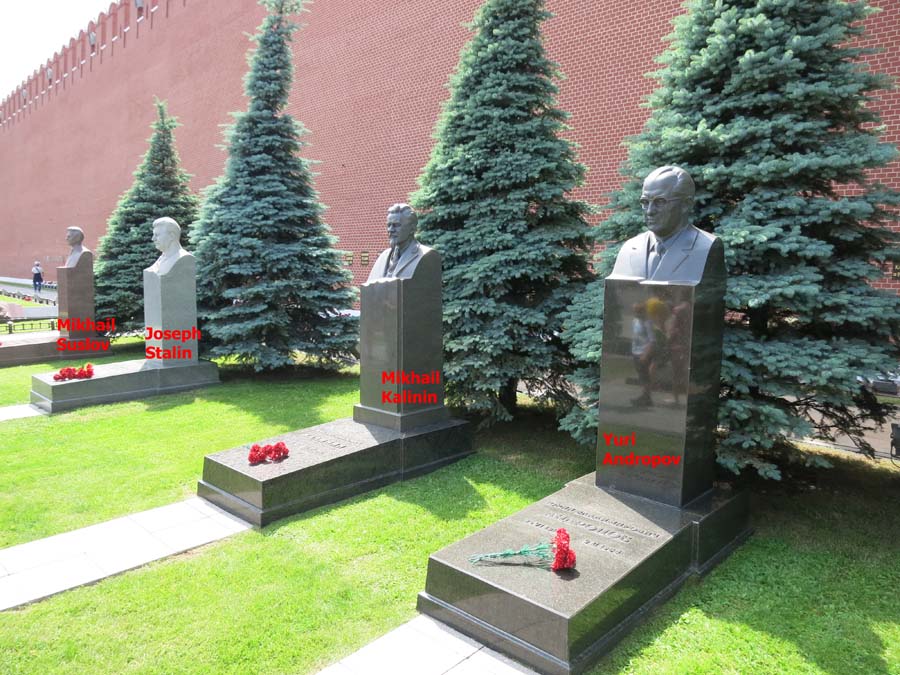 A bust of Mikhail Kalinin: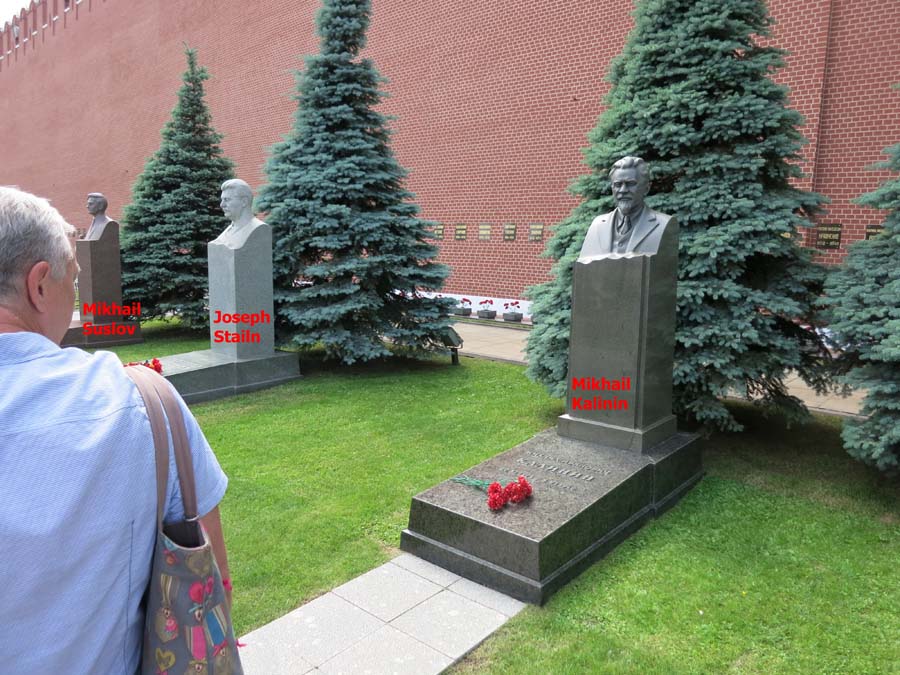 A bust of Joseph Stalin. He has TWO bouquets of flowers. Stalin was not a nice person who killed about 30 million people.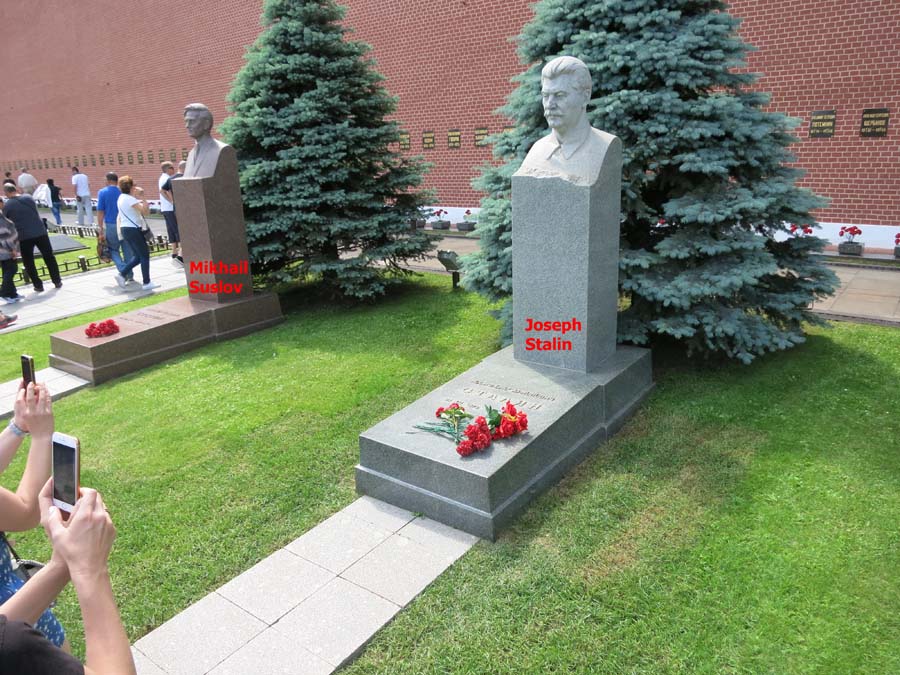 And the final bust was of Mikhail Suslov: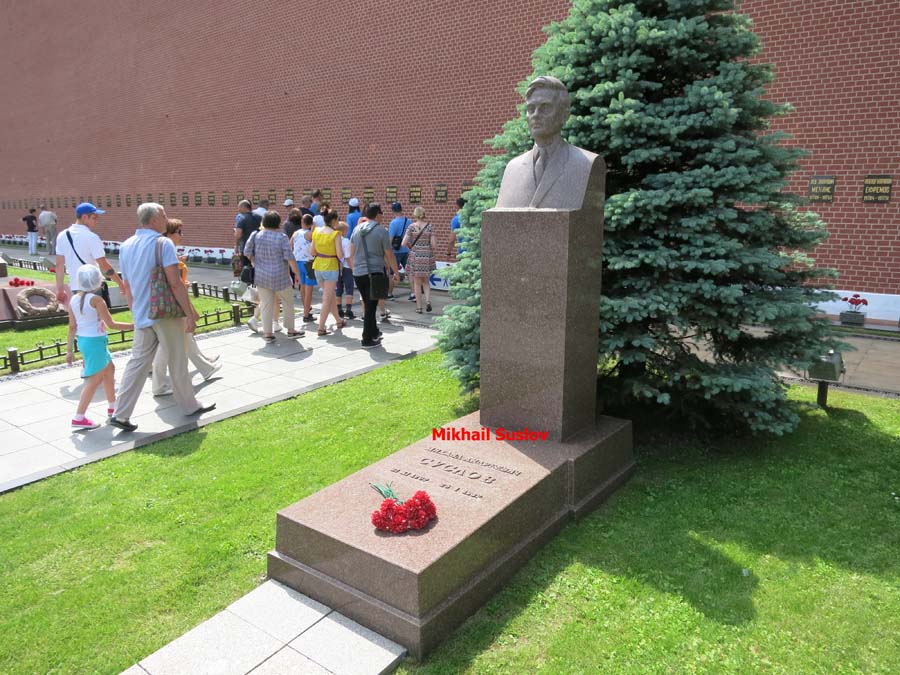 Ari is intrigued by the wall of plaques after the walk of busts. The red wall Ari is looking at is the Kremlin.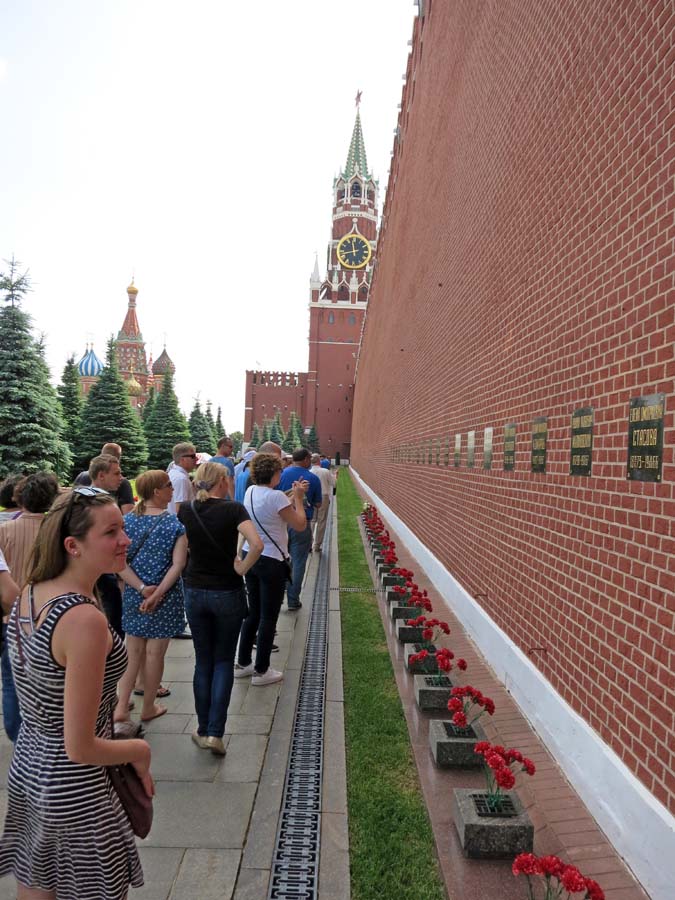 Yet another picture of Saint Basil's Cathedral, but this one has Ari in front of it!
Ari and I decided to walk all the way around the Kremlin. I'm glad we did it, but it was a hot day. :-) Below is a picture I took where I had no idea what it was at the time, but it reminded me a lot of the United States "Tomb of the Unknown Soldier". I looked it up when we got home, and it turns out the Russians have the IDENTICAL THING! Below is the "changing of the guard" at the Tomb of the Unknown Soldier Moscow.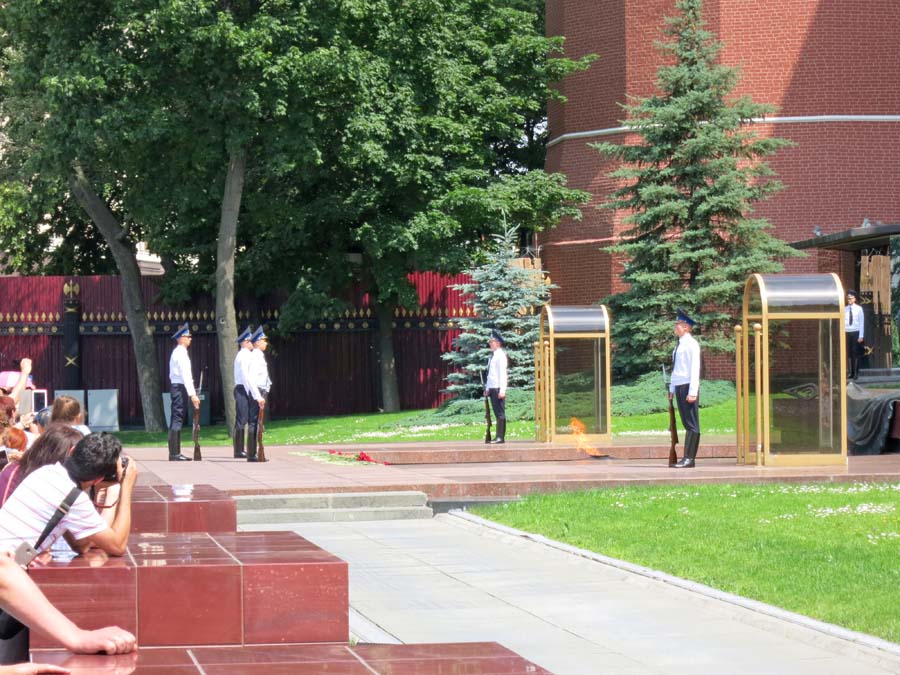 A front on picture of the Tomb of the Unknown Soldier Moscow. This is just outside the Kremlin.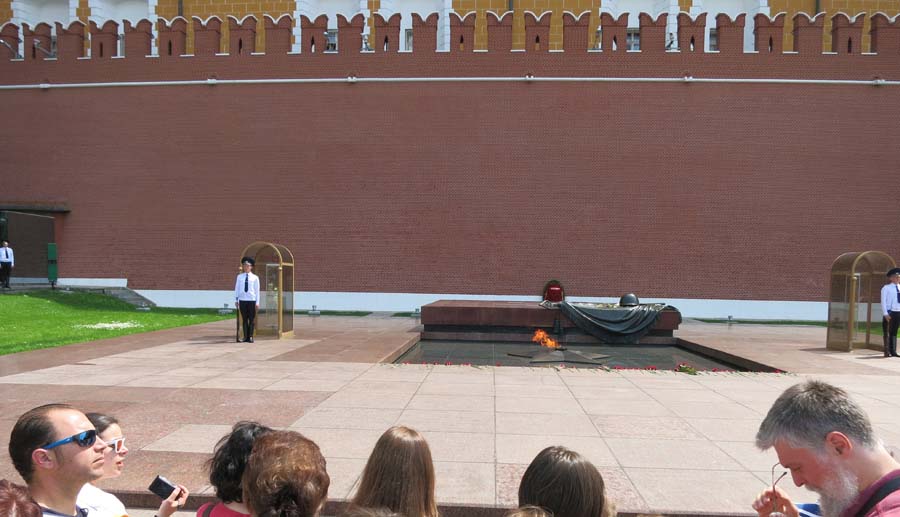 As Ari and I circumnavigate around the outside of the Kremlin, we see this statue of Alexander I of Russia. Alexander was a big deal in Russia, and this whole little area is dedicated to him as the "Alexander Garden in Moscow Russia".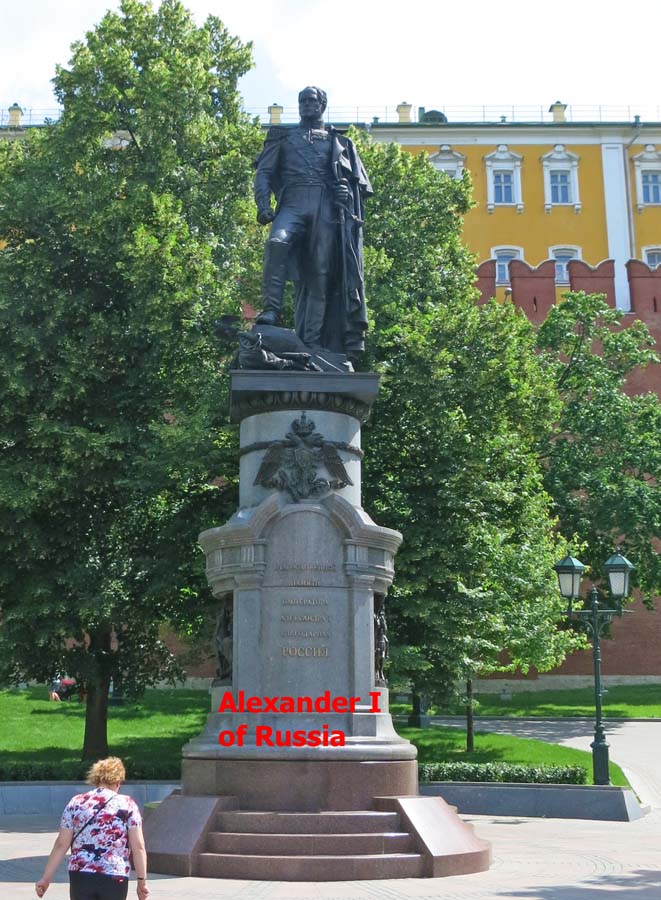 Below Yev translated the plaque as follows: "To tell future generations of this glory and as a heartfelt thanks to the person responsible for it, set in the capital city, this monument bears an inscription for Alexander the Blessed, Emperor of Russia, wielder of immense but generous power, and the restorer - from a grateful Russia. - The Synod of the Senate, Council of the State - August 3, 1814". Yev and Brian guess this is around the time near the end of the Napoleonic wars that happened in 1803 - 1815. The Russian's call the French invasion of Russia in 1812 the "Patriotic War of 1812". In Russian: "Отечественная война 1812 года, Otechestvennaya Voyna 1812 Goda".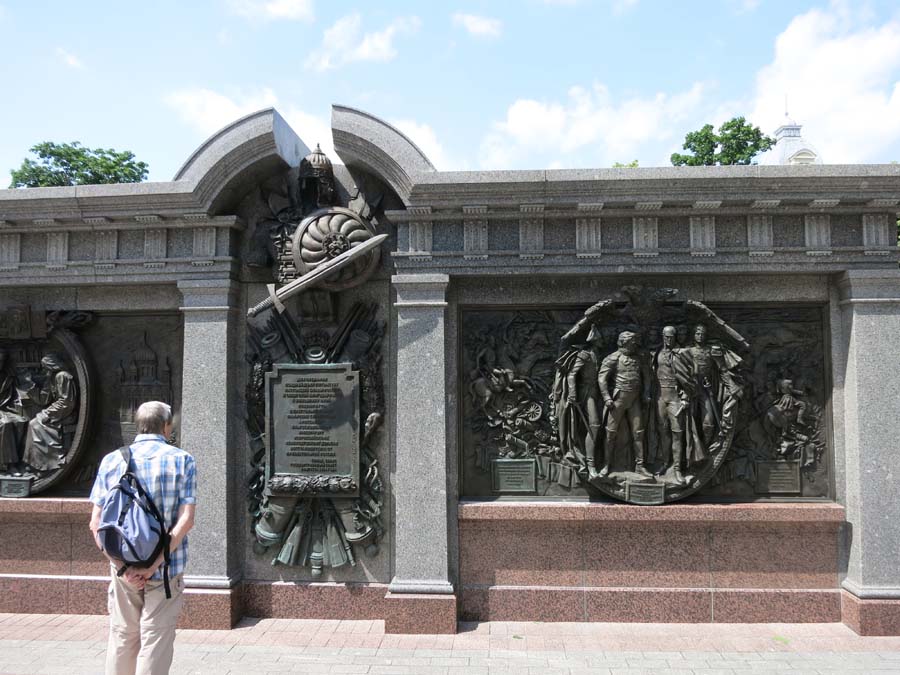 Ari and I complete our walk all the way around the Kremlin ending back at Saint Basil's Cathedral so OF COURSE I take yet another photo of it. I'm a dork.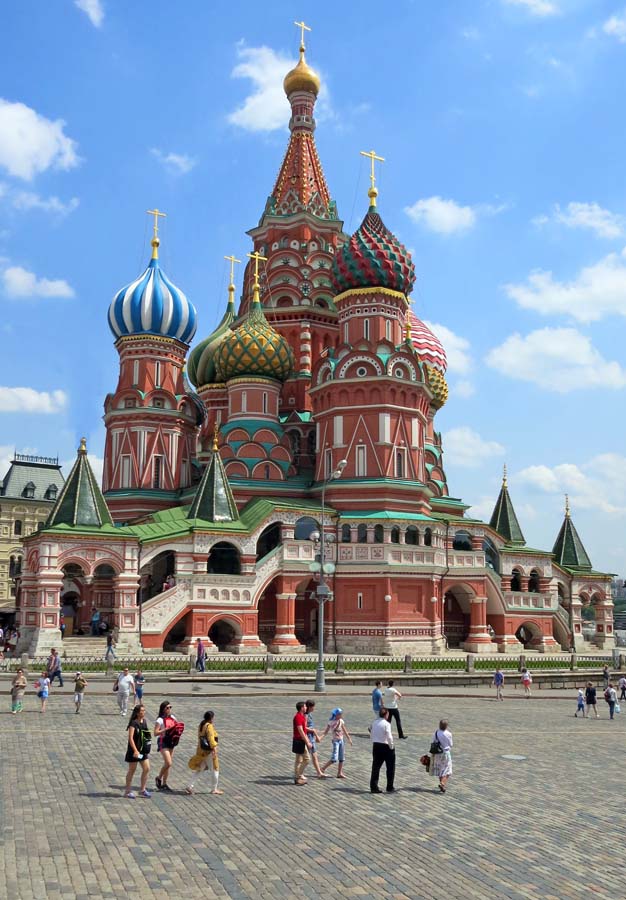 As Ari and I make our way back to the hotel to dress for the ballet, we run across this demonstration by the Communist Party of the Russian Federation! Yes, communism is missed desperately by a few lunatics in Russia. This political party was formed because the main "Communist Party" was banned by Boris Yeltsin (first freely elected president of Russia). Banning political speech never works, just ask the communists! (That is irony.)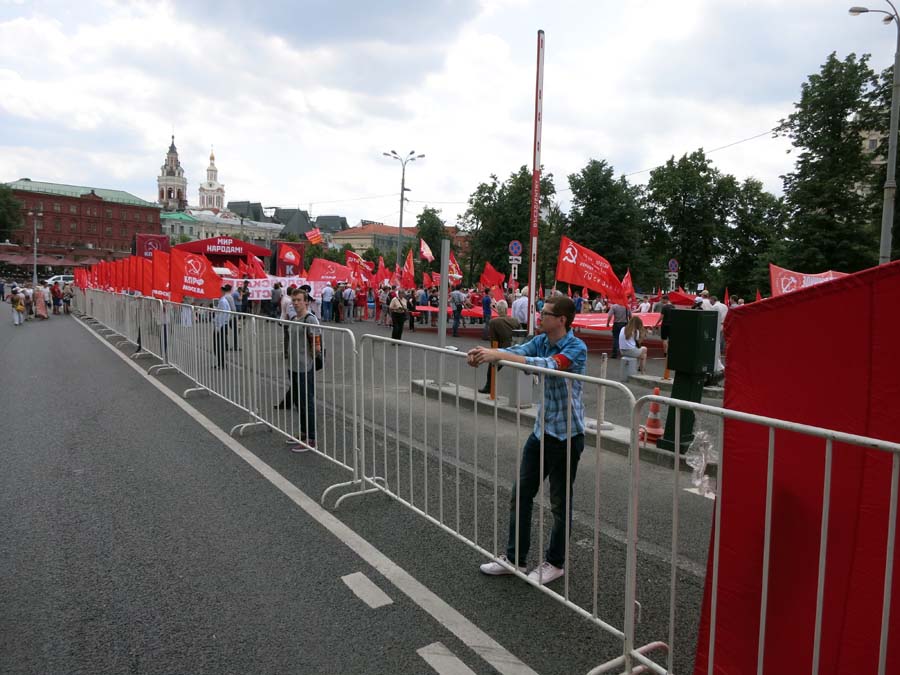 A random street in Moscow, Russia as we walk back to our hotel.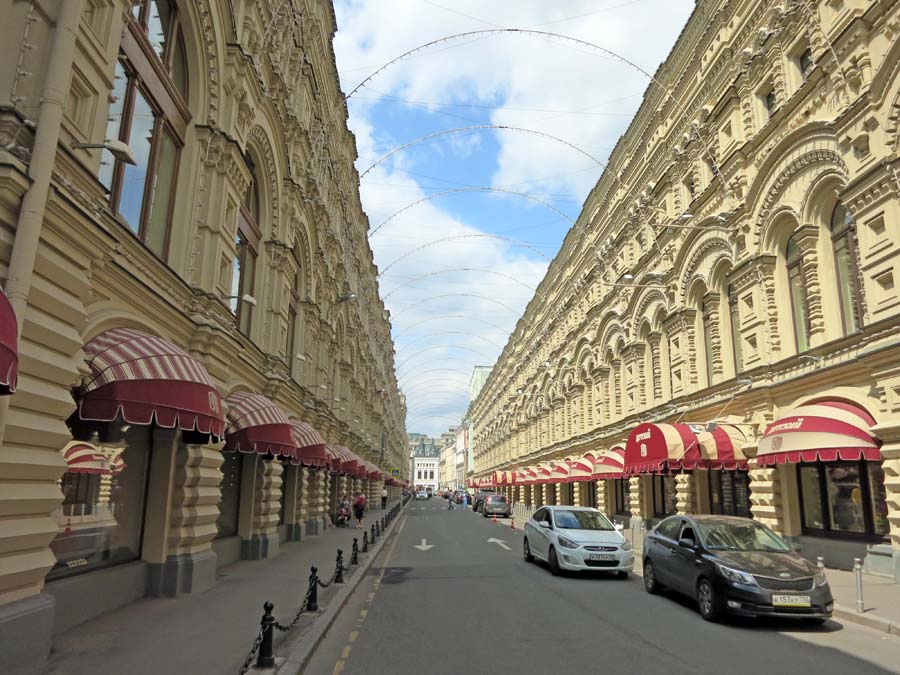 Ari spotted this, we THINK it is Krispy Kreme donuts based on the font and colors. But we are not sure. If you know, please email me!

My buddy Vlad reports: "Криспи Крим" - phonetic spelling of kuh-rees-pee kuh-reem in cyrillic on the shop. also says "Кофейня" or coffee shop to the left.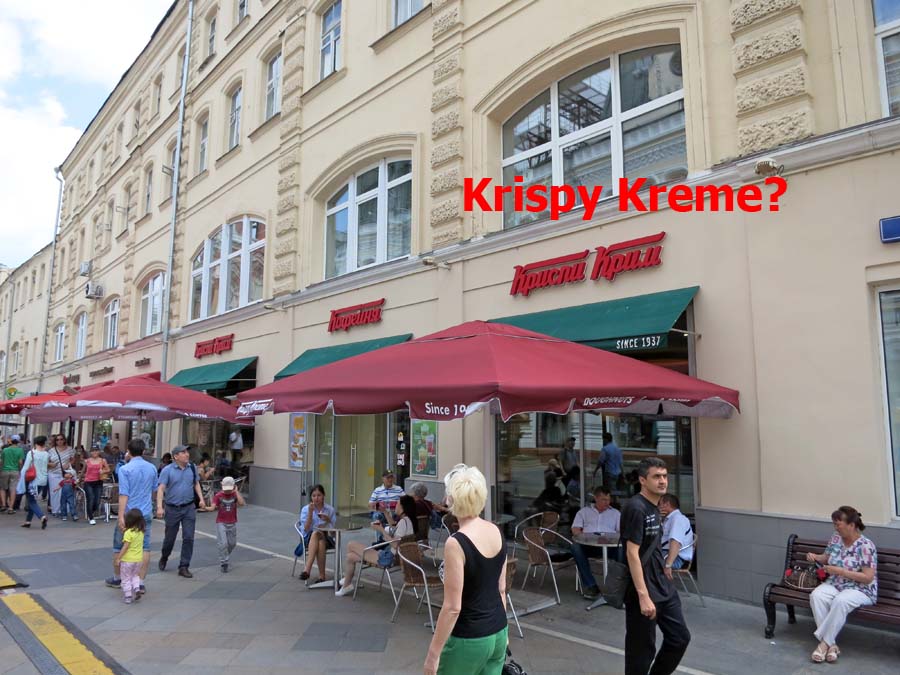 Some high end brands anywhere in the world: Ermenegildo Zegna (Italian suits), Ferrari, and Maserati (Italian cars).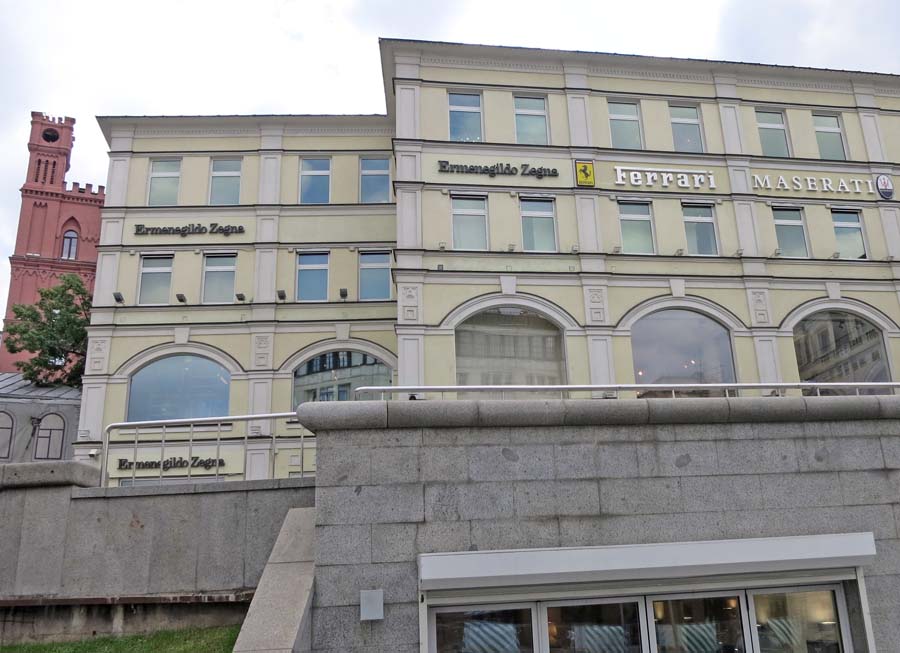 It is 6:45pm on Saturday night, June 19th, 2016 so we dress up and head to the Bolshoi Ballet!! Below we are in the Hyatt elevator and I take this picture of Katherine (left) and Ari (right).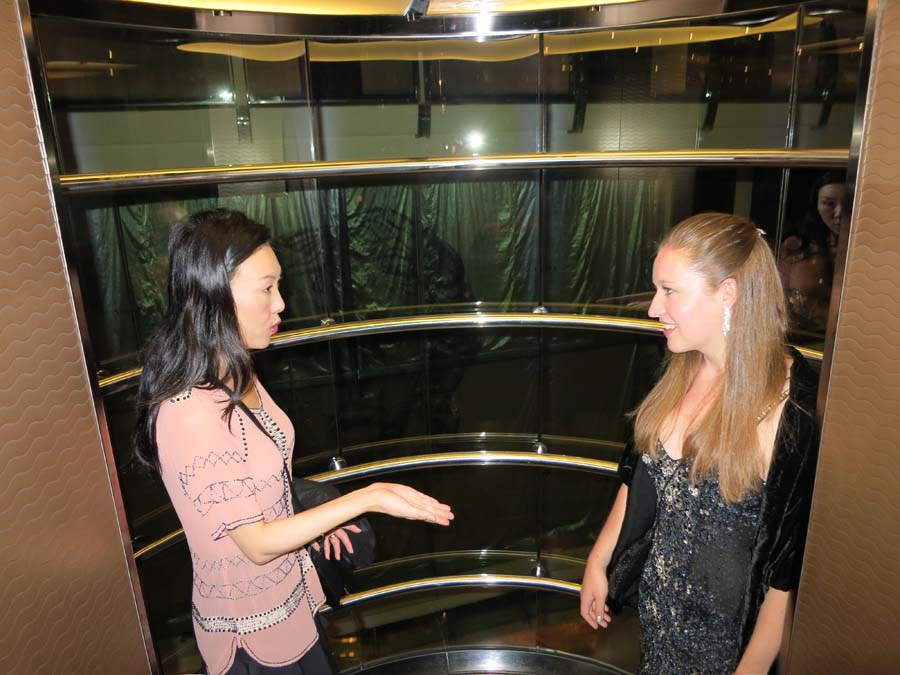 When we get to the Bolshoi Ballet (three minute walk in the rain later) here is a sign INSIDE the Bolshoi, all in English (which is convenient for us).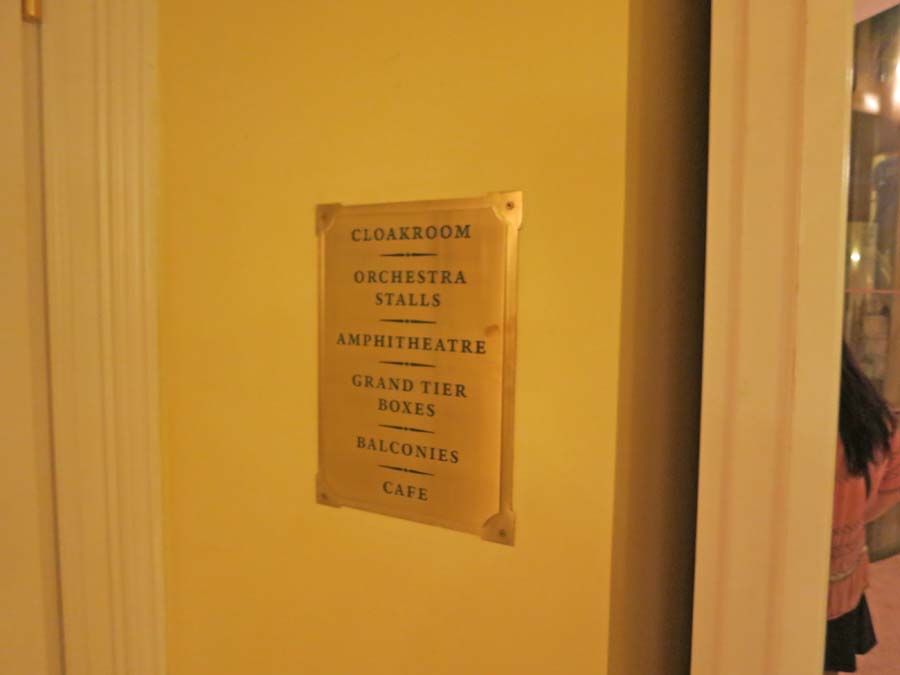 Below is a panorama picture I took of the inside of the Bolshoi Ballet theater. Use your horizontal scrollbar to see the whole thing. Also remember you can click on any picture for a enormous zoomed in "original". Notice a couple of things going on here: This is before the performance and there are people (like myself) taking pictures with cell phones EVERYWHERE. Also, up high on the left are children leaning over the very top balcony, I think they just run around up there during the performance.

Katherine and Ari up against the stage looking beautiful.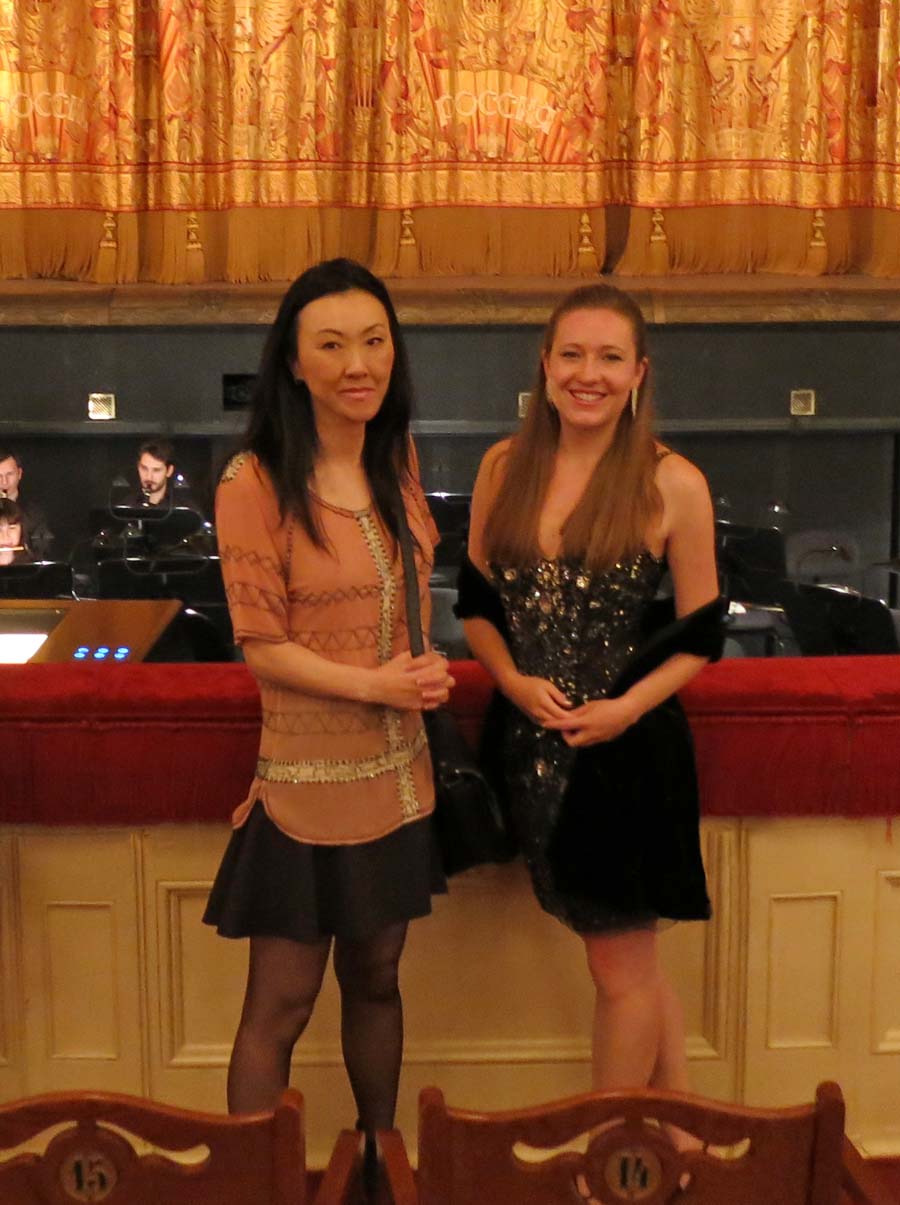 A picture of Katherine and Ari facing the opposite direction (towards the audience with my back almost against the stage).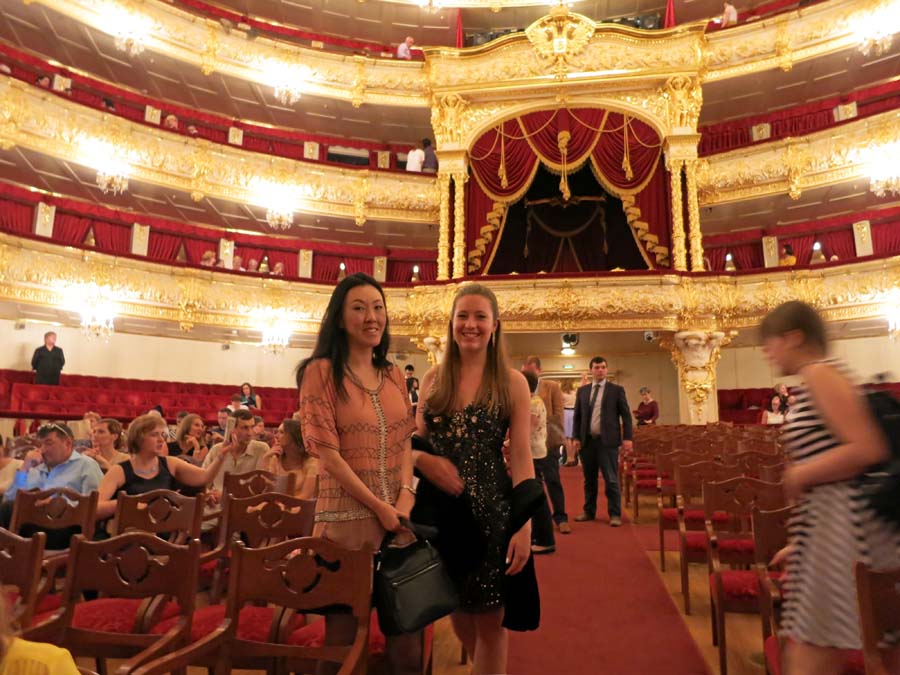 A picture of the stage in completeness.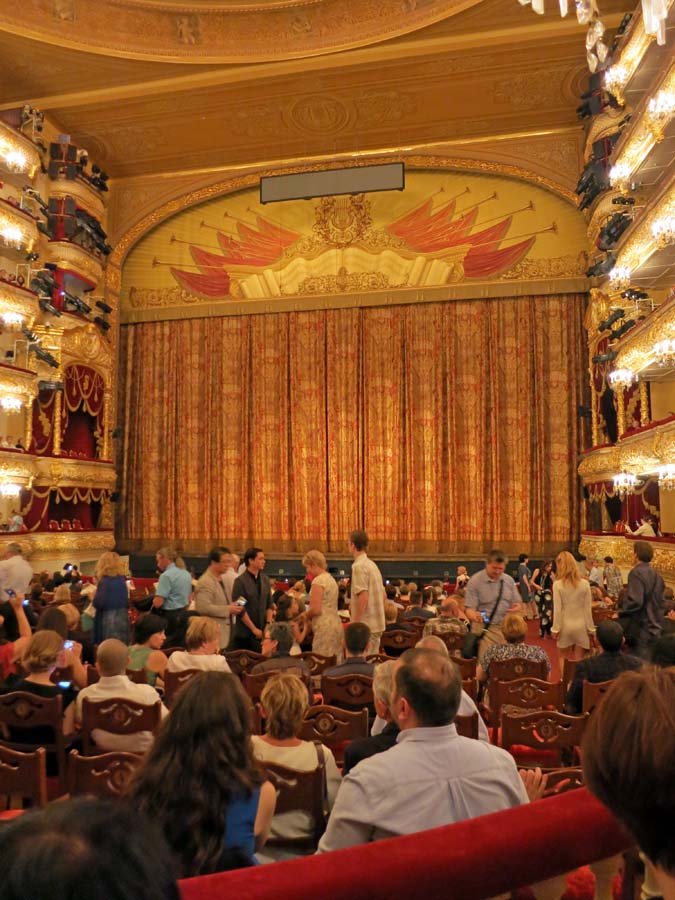 Before the ballet performance and during intermission, cell phones were EVERYWHERE taking pictures. Below a woman uses a "selfie stick" in the balcony to take a selfie!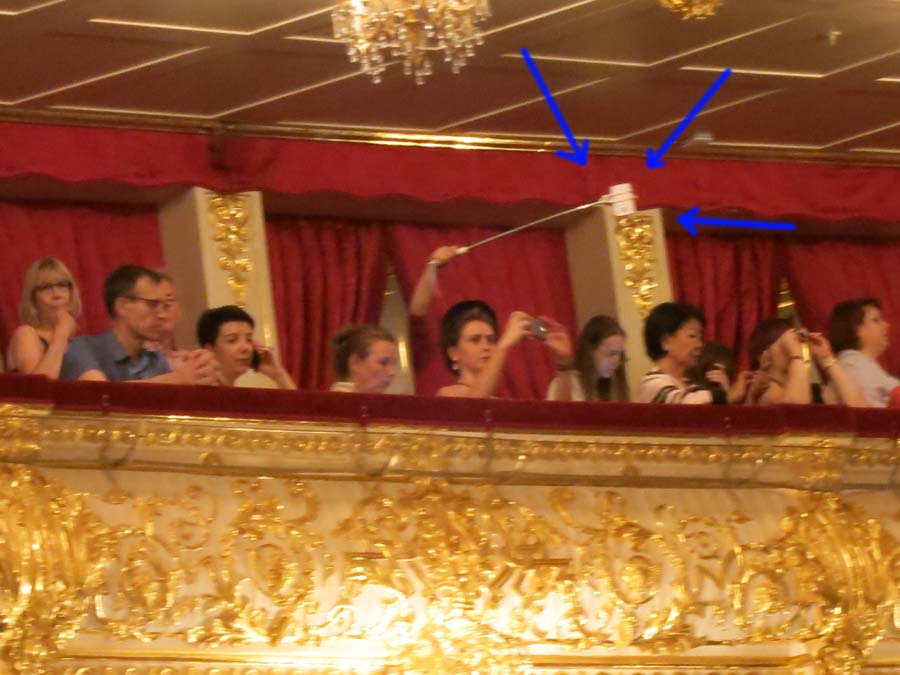 Another woman taking a selfie with her cell phone.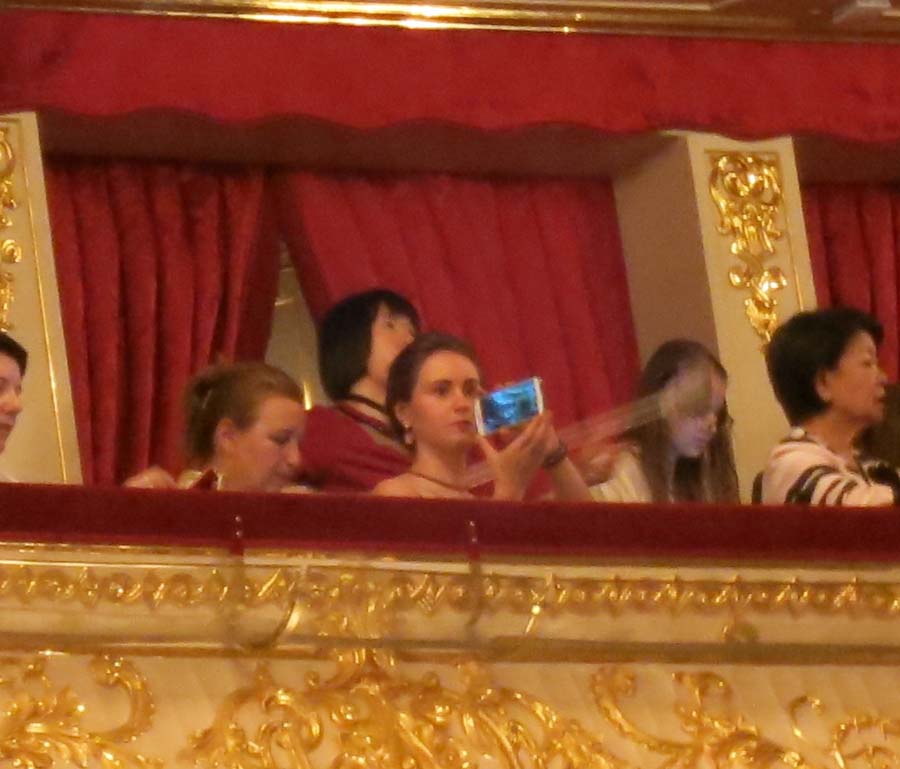 A younger looking couple taking selfies of their coupleness.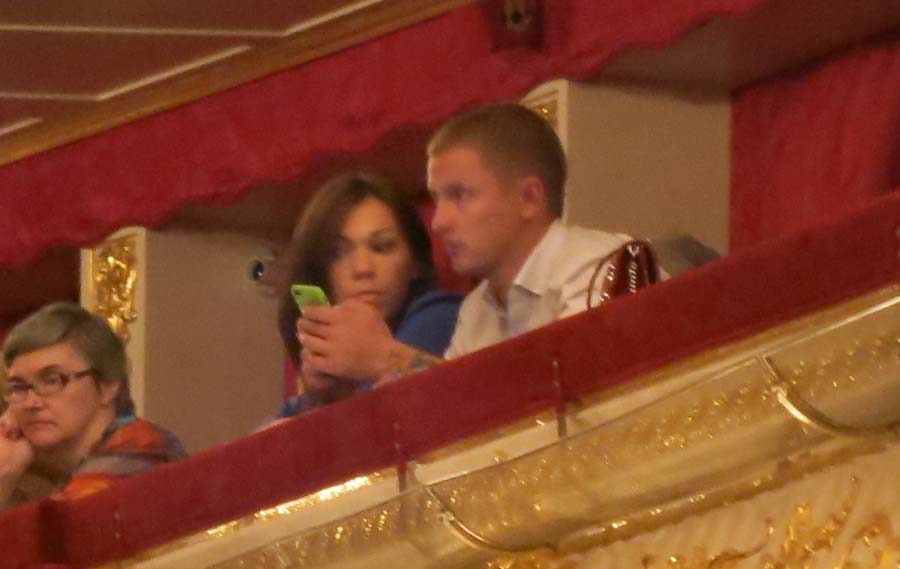 A HUGE number of the Russian women would strike glamorous poses (like the one below) as their dates would take their picture on a cell phone. Other than my camera, I didn't see a single solitary dedicated "camera", only cell phones everywhere.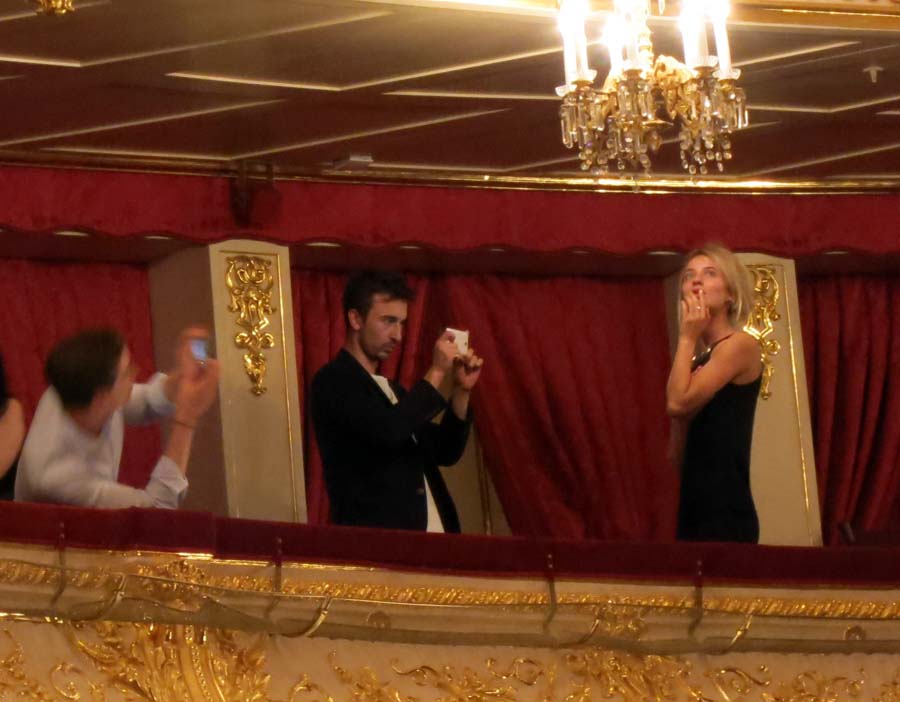 This woman changes her pose. I'm trying to figure out what EXACTLY her date is seeing or what the photo will show? The back side of her head?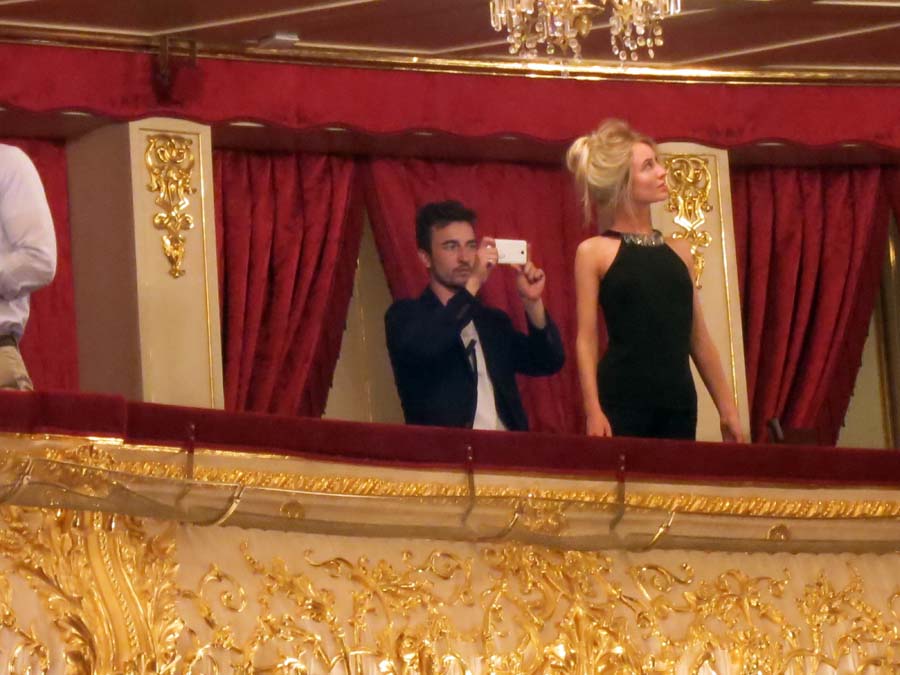 The same woman changes her pose again, this time reaching up to touch the chandelier.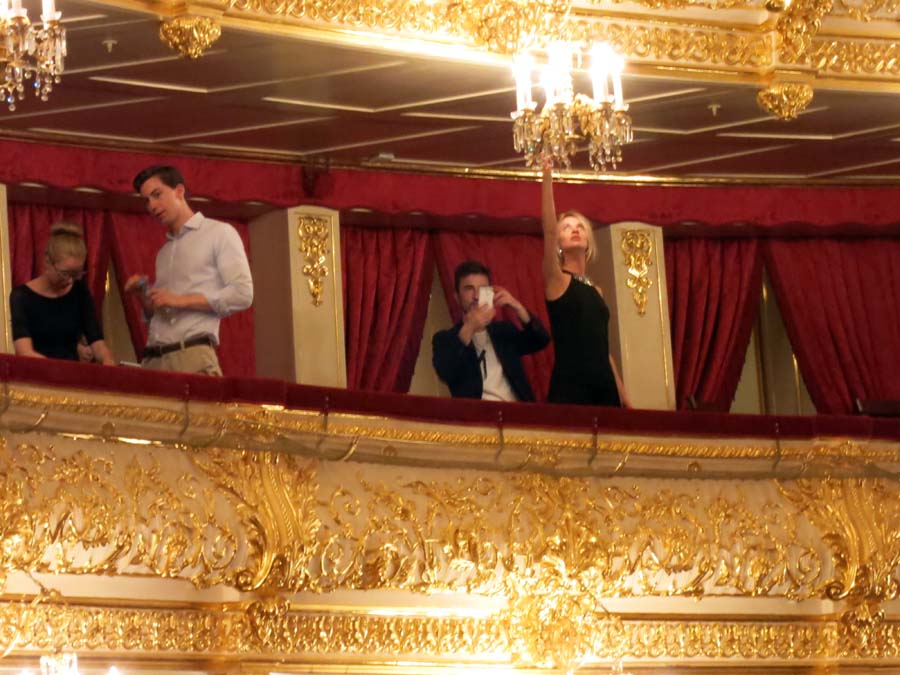 Below is a gorgeous Russian woman in a backless dress posing for her date to take a photo.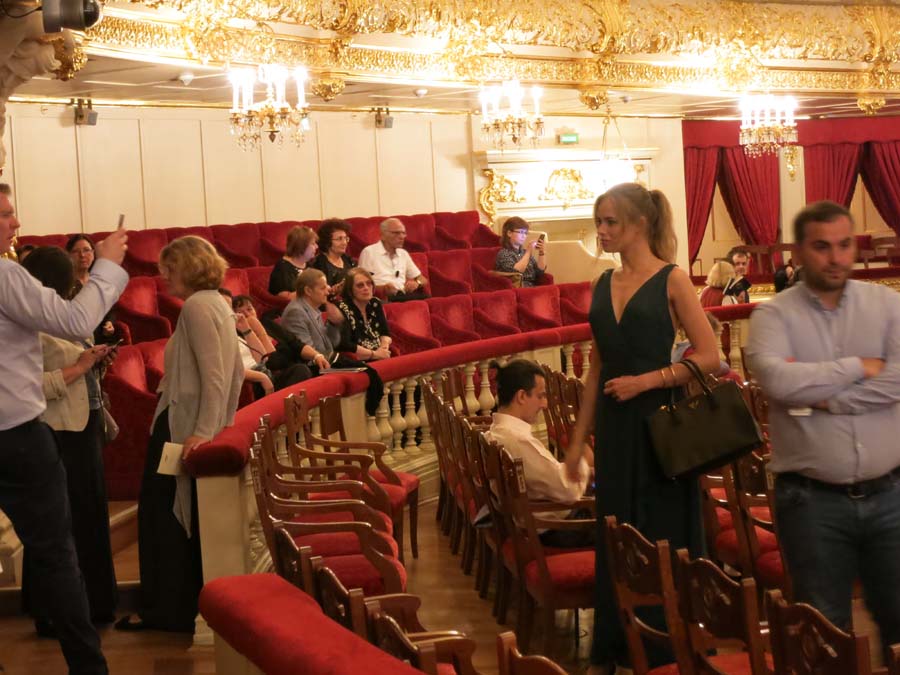 This is a ridiculously beautiful woman.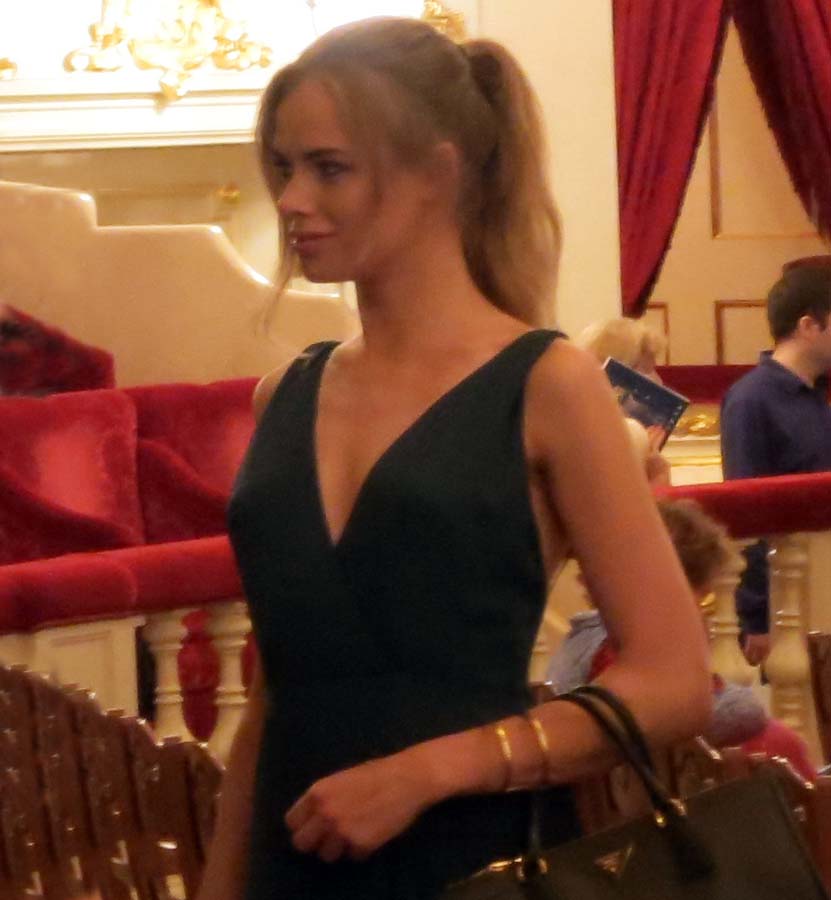 This is the same woman as she turns and uses her OWN cell phone to text message somebody. It shows some of her backless dress. The blurring is unfortunate and is due to the low light of the theater and my small camera and some motion.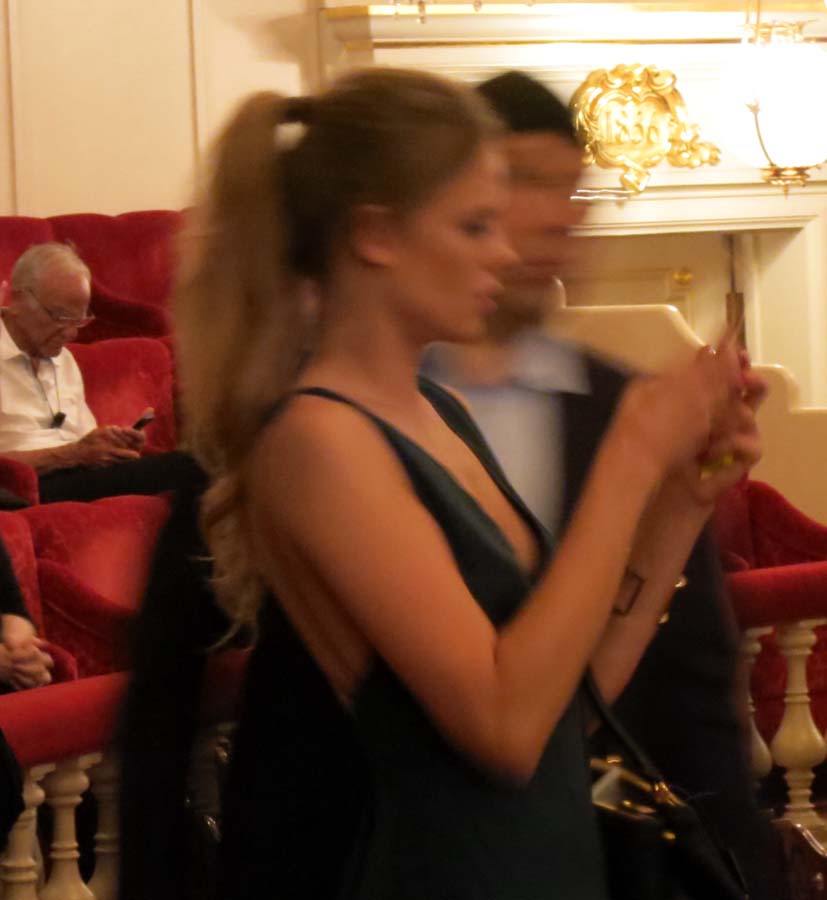 Yet another woman striking up a pose and taking a selfie. The dress style she is wearing is called a "BodyCon Dress" and was popular all over Moscow. It restrains the woman's tummy REALLY tight.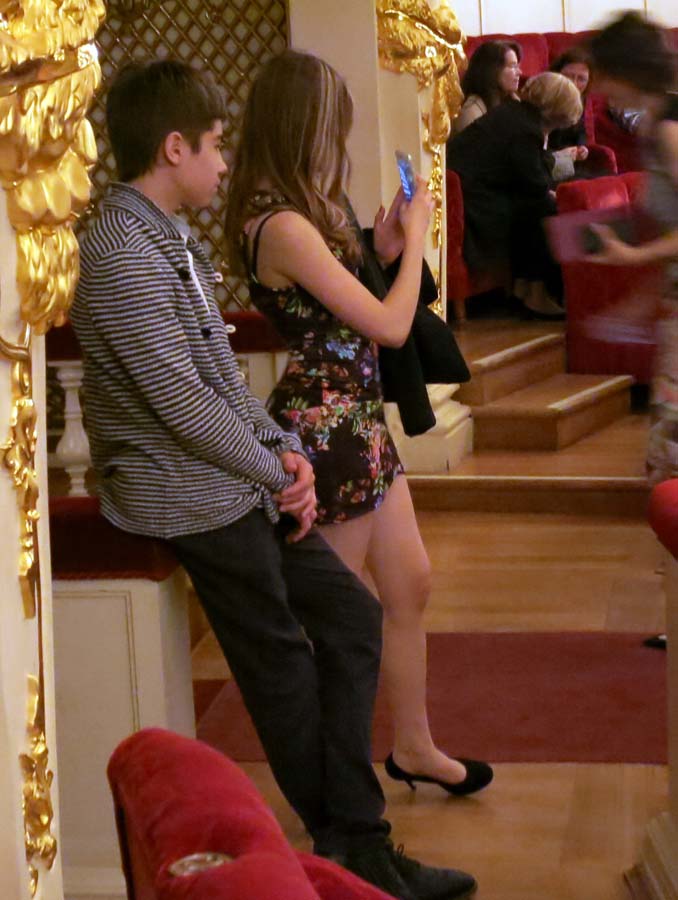 The woman below is also wearing a "Bodycon Dress" and is taking a selfie looking down past her face to her dress. Also notice ANOTHER woman in the far upper right corner of the same picture is doing the same thing with her cell phone camera.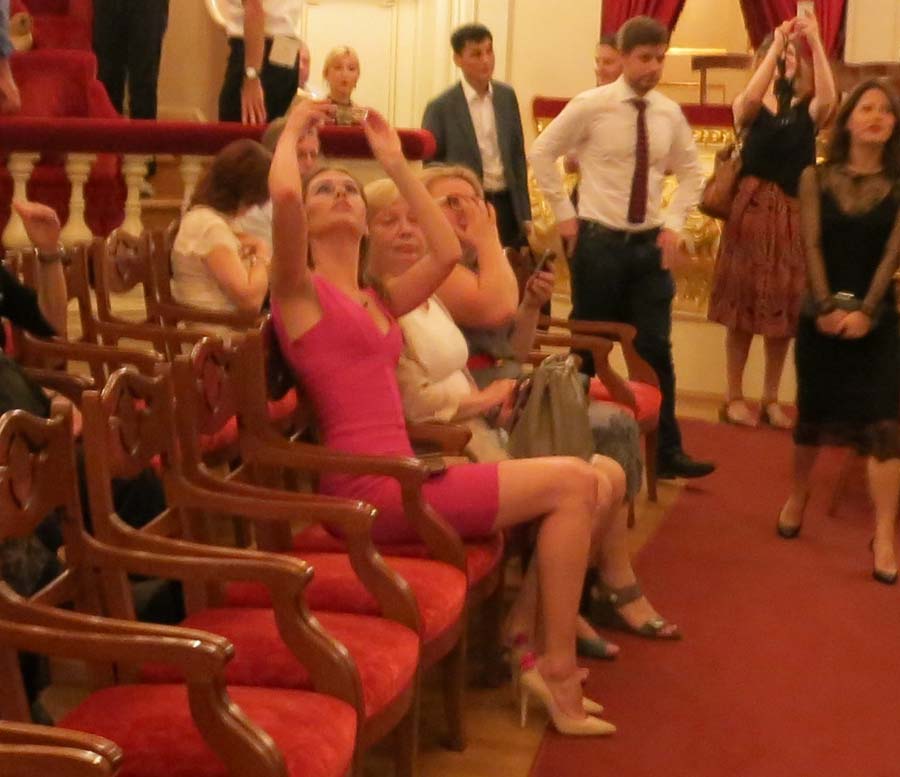 A woman strikes the "chicken wing pose" which was really common. Her friend helps take her picture on a cell phone.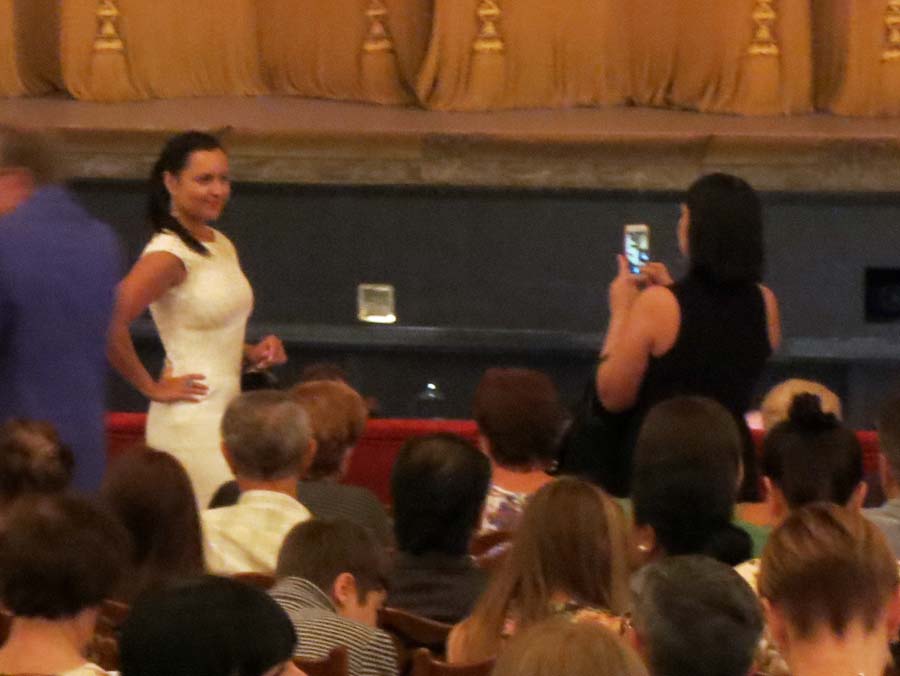 The woman in yellow and the woman behind her in white both walk by watching their cell phones during intermission.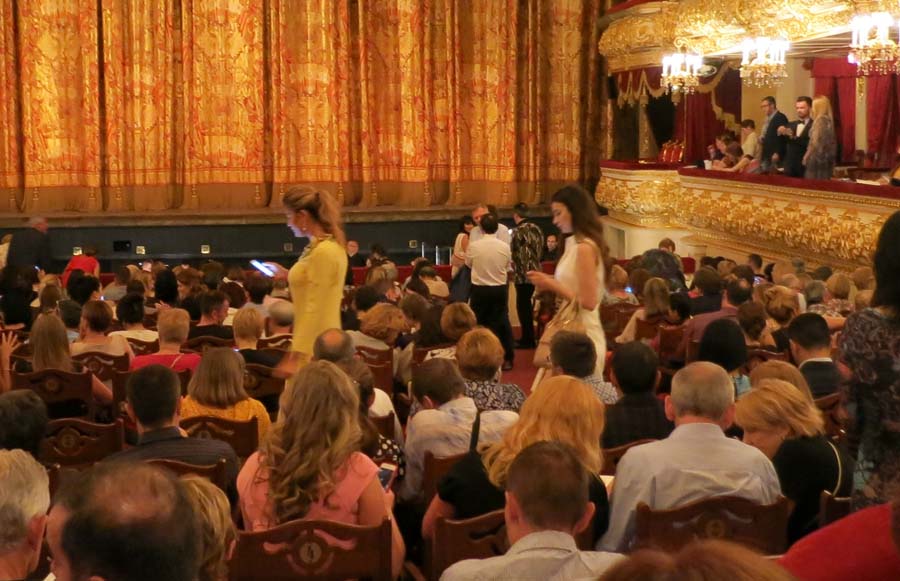 Yet another ballet attendee strikes a pose while her date takes her photo with a cell phone camera.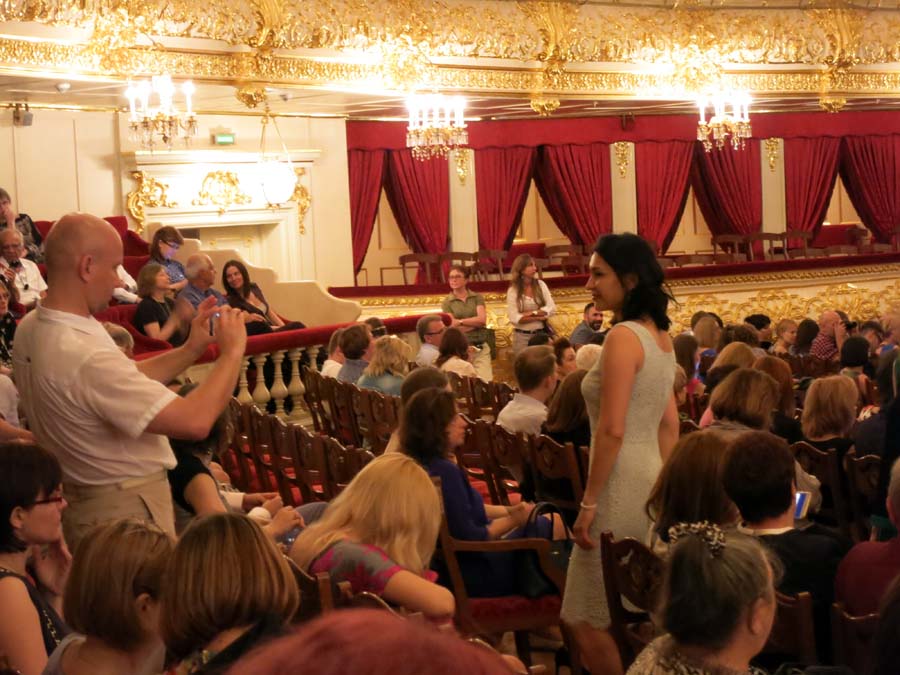 These two ladies lean back against the stage while a man takes their picture with a cell phone.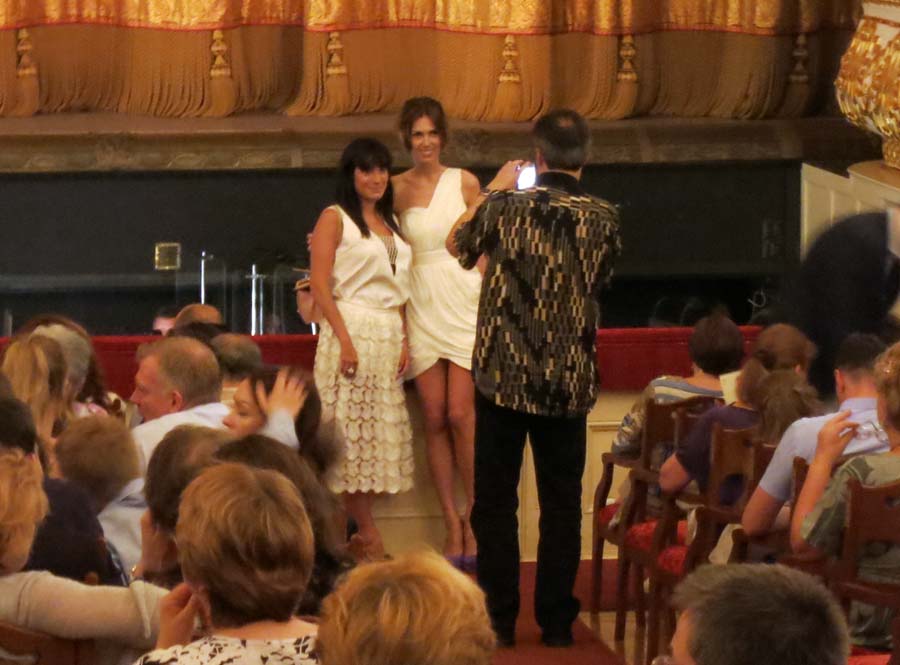 If you look closely at the picture below, a COUPLE is posing in the balcony together and the woman is pregnant and holding her hand under her belly to highlight the baby. I think it's cute. :-)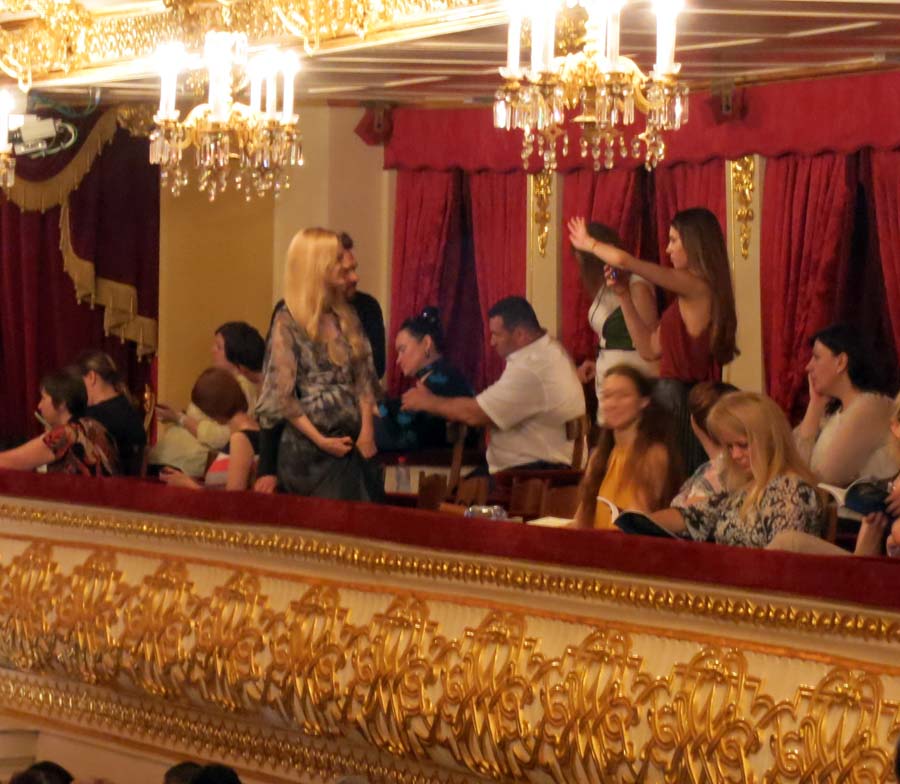 ANOTHER pregnant lady posing for a picture at the Bolshoi Ballet.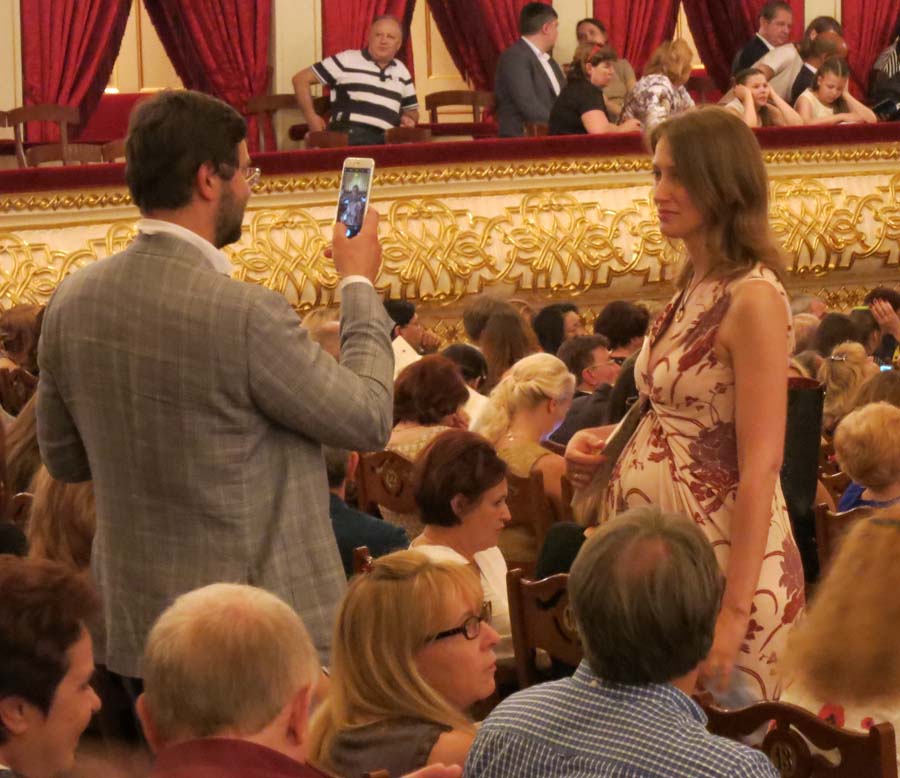 An amused woman during intermission.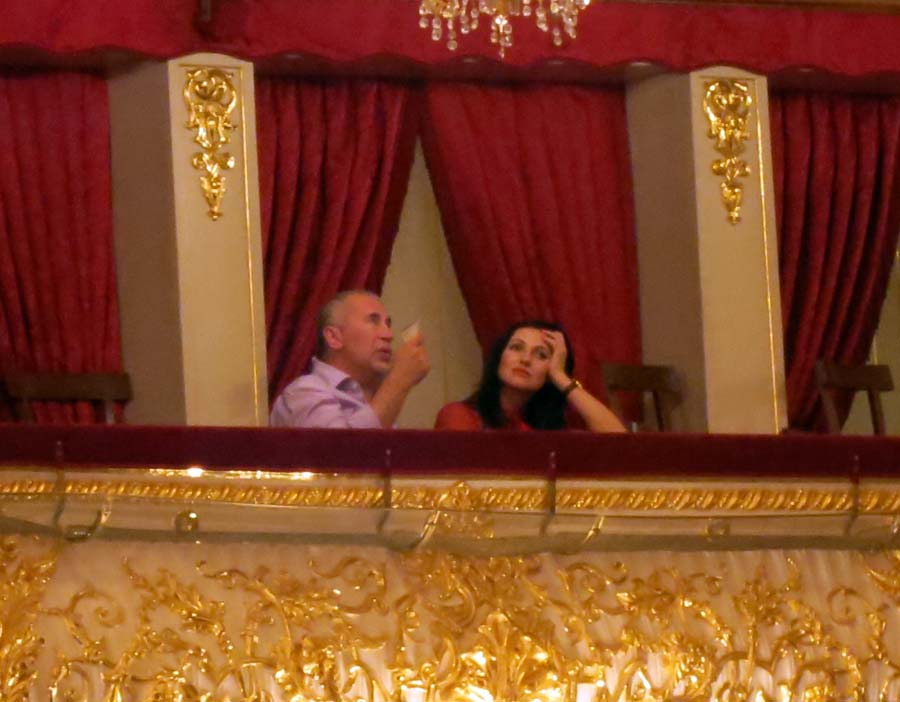 A random woman in white walks by (thus the blurred photo). She had a bare mid-drift, I liked her dress.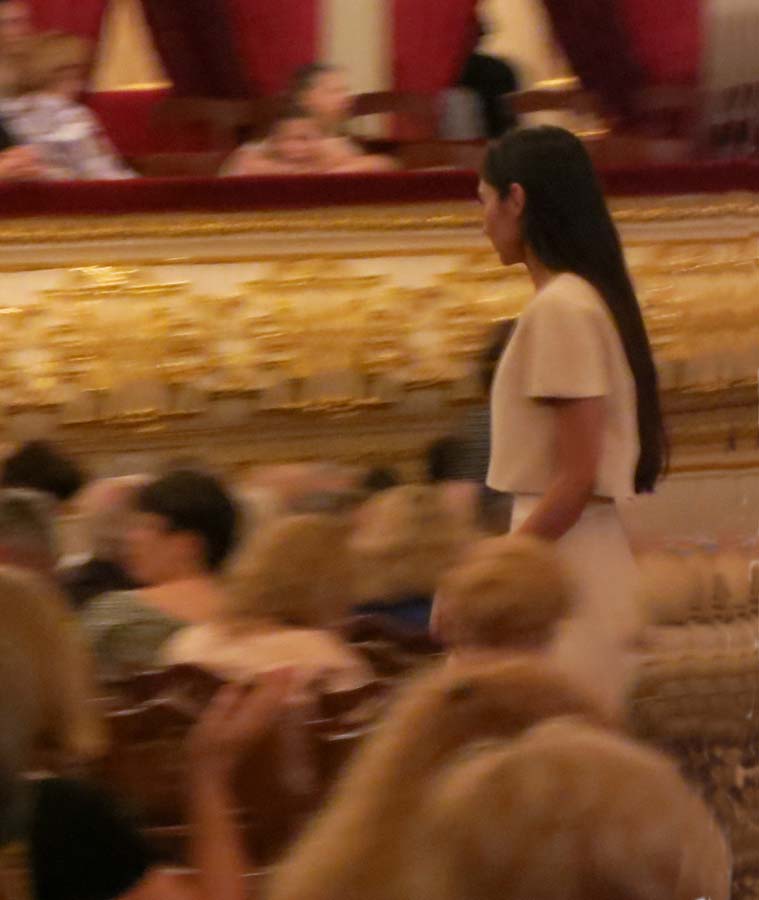 The couple that was taking posed pictures in the balcony earlier now back at their seats on the main floor.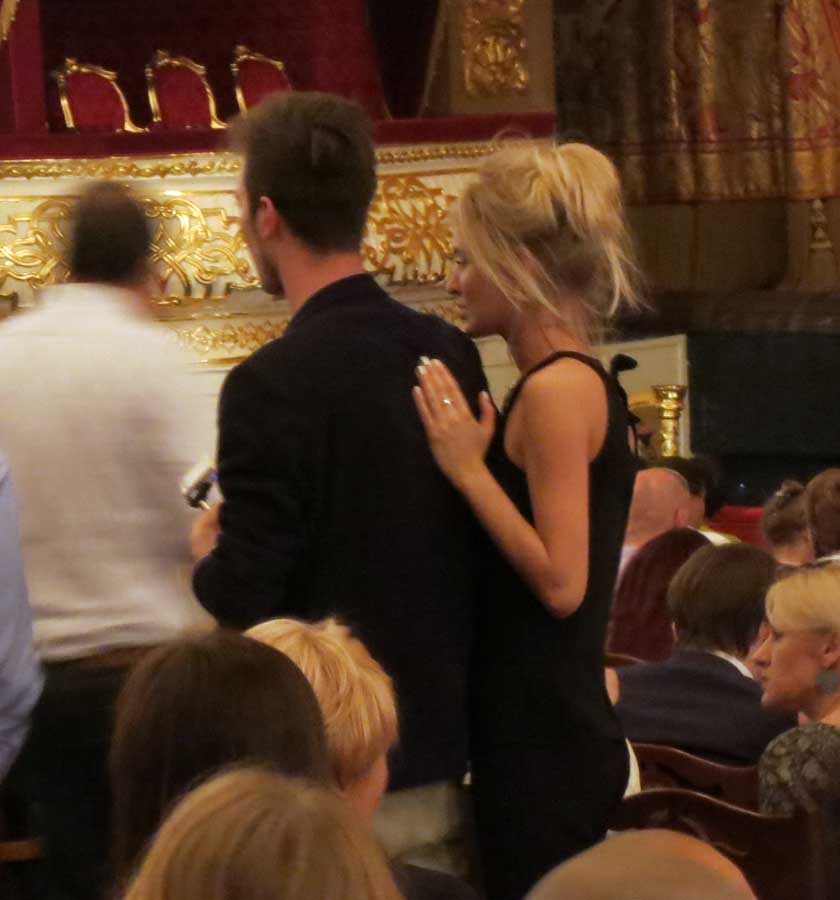 Always cell phones everywhere. It was amazing.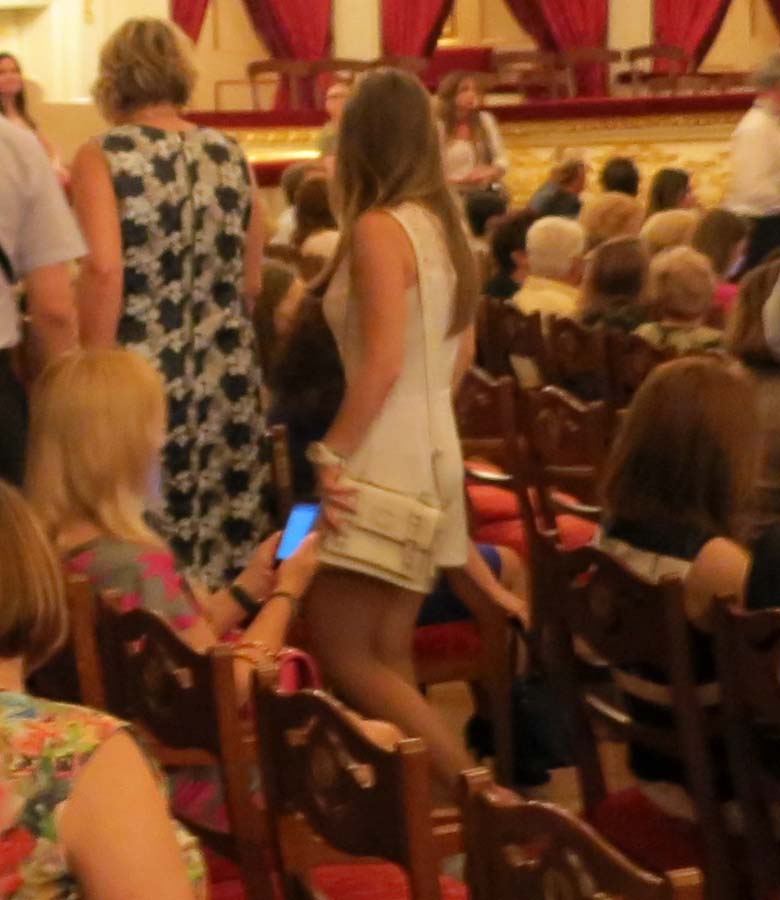 Random woman in dress.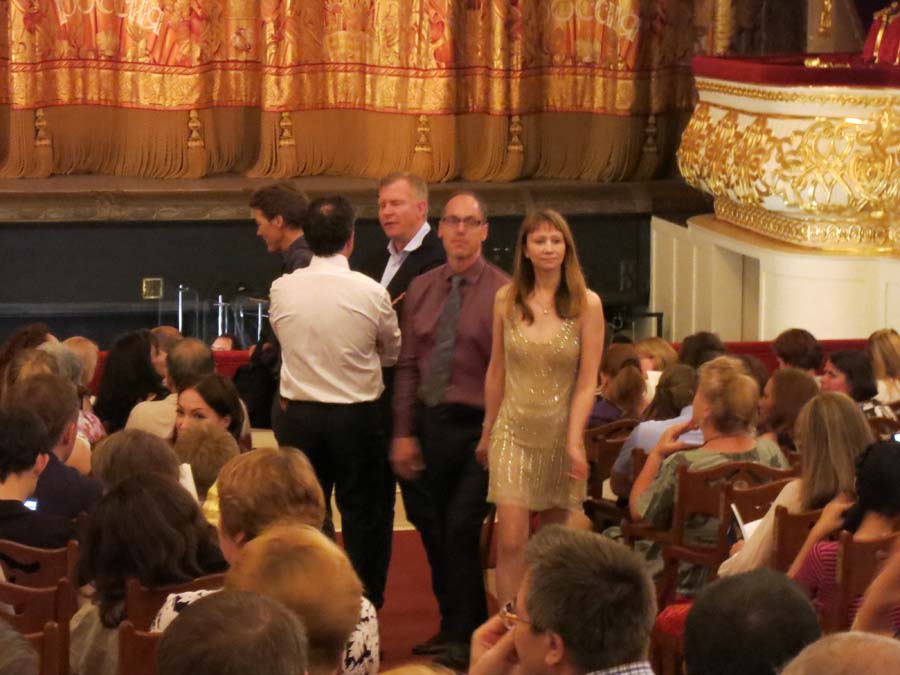 General pictures of the gallery during intermission.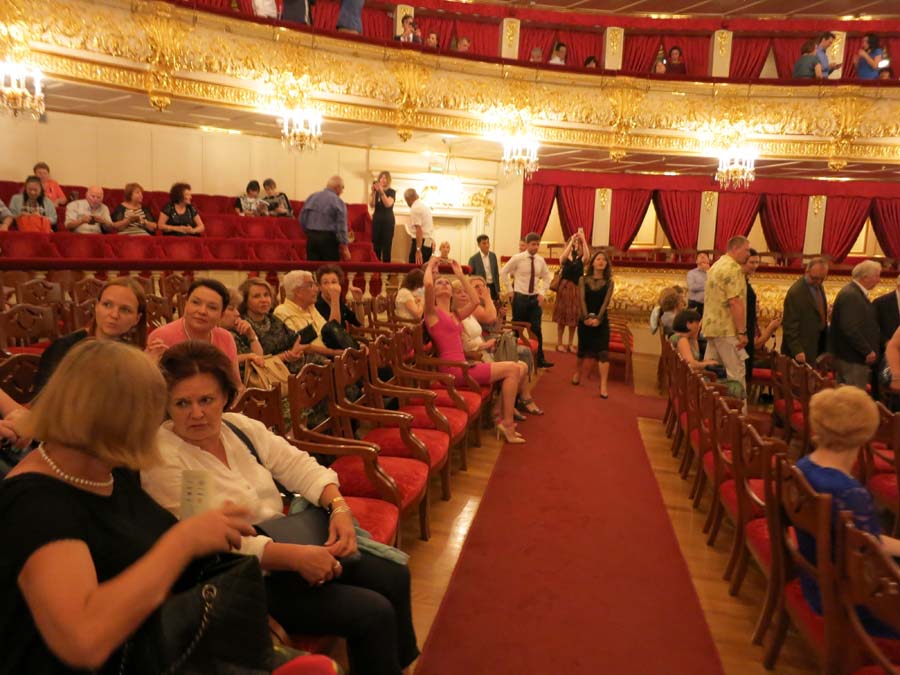 Another picture of the people walking by during intermission.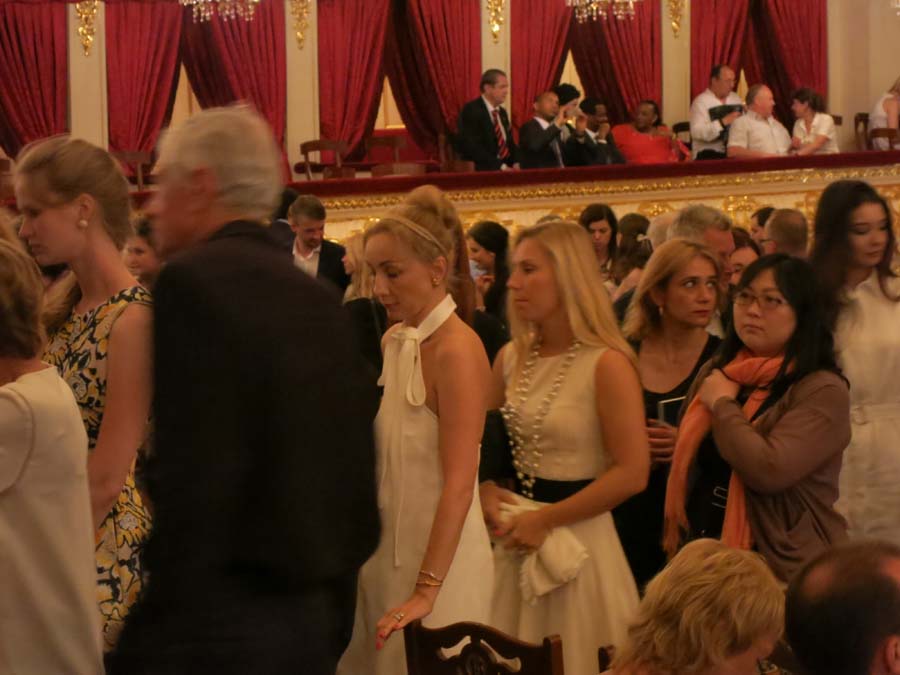 Two women in the balcony had the VERY good idea to bring folding hand fans. The Bolshoi Ballet theater is warm in the summer and I was sweating in my long sleeve shirt.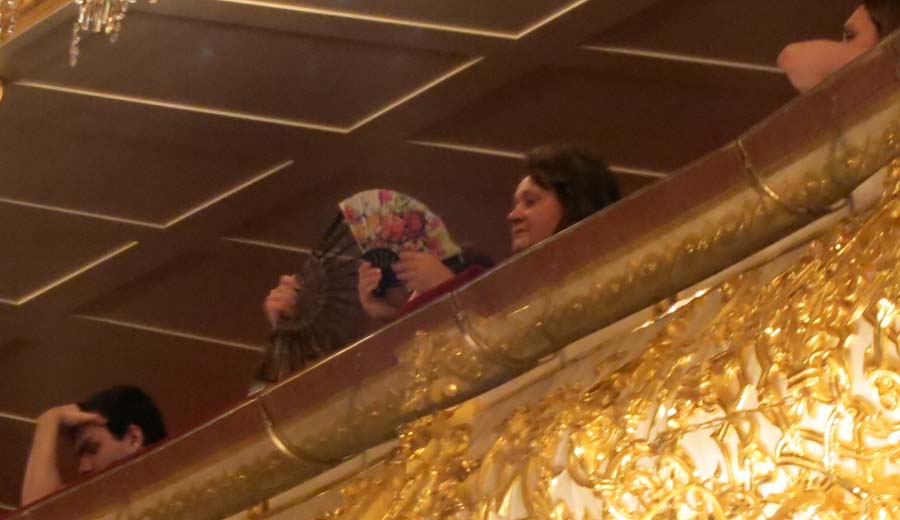 A zoomed in picture of the children hanging out in the VERY top level balcony.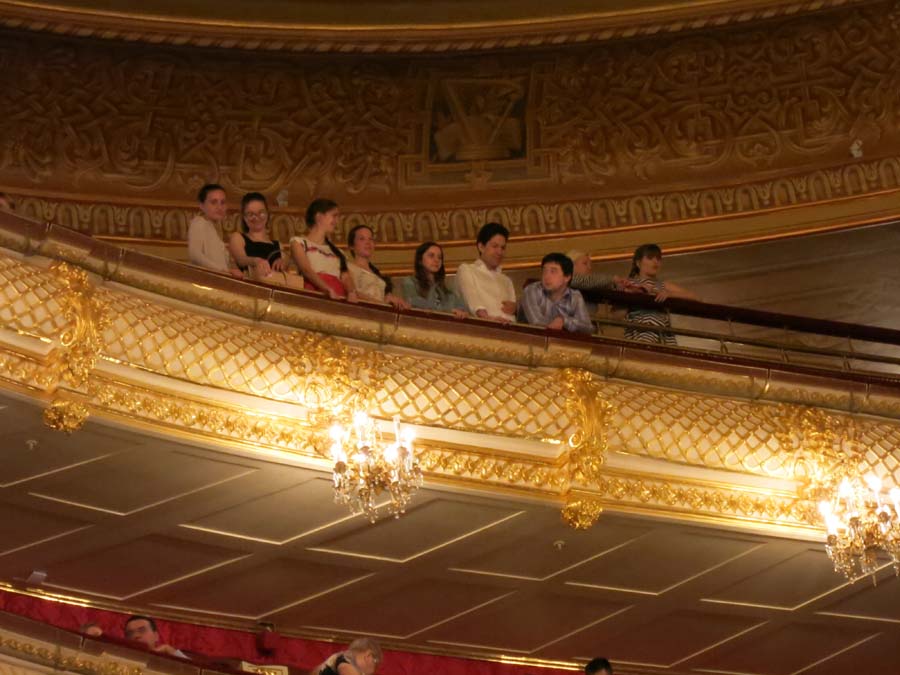 This is the same picture as the above, just zoomed out to see where the children are on the very very top balcony.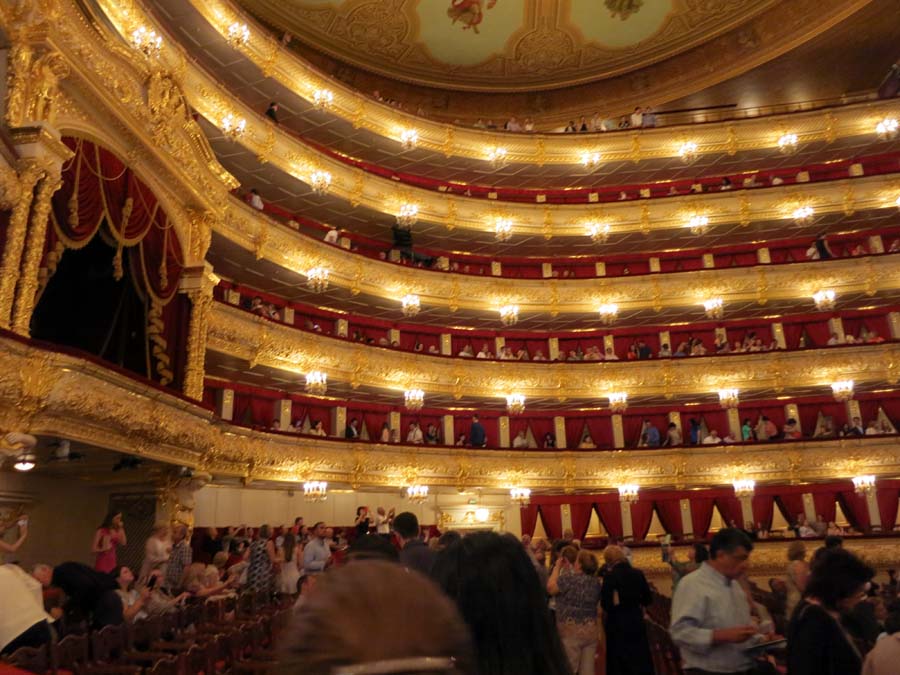 Yet another random picture of the inside of the Bolshoi Ballet during intermission.
Random closer up picture of the balcony row of seats.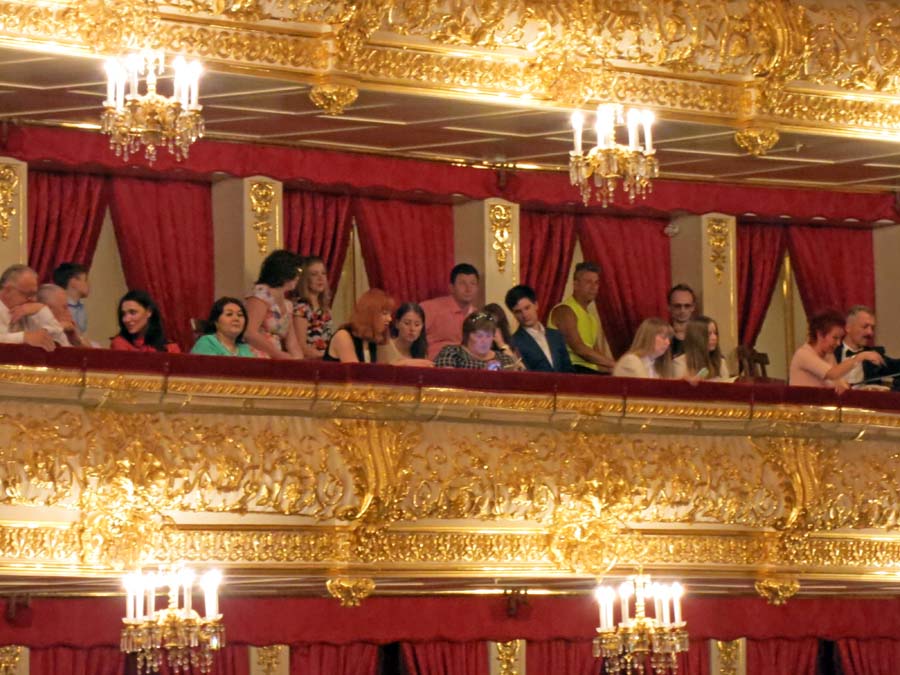 Ok, this is the ONLY picture I have of ANY of the actual ballet dancers. :-) During the actual performance you cannot use your camera, but I point out in the picture below EVERYBODY pulled out their cameras to take pictures of the final bow of the lead two dancers. The blue arrows point out the lit screens of cell phone cameras raised above the audience's heads.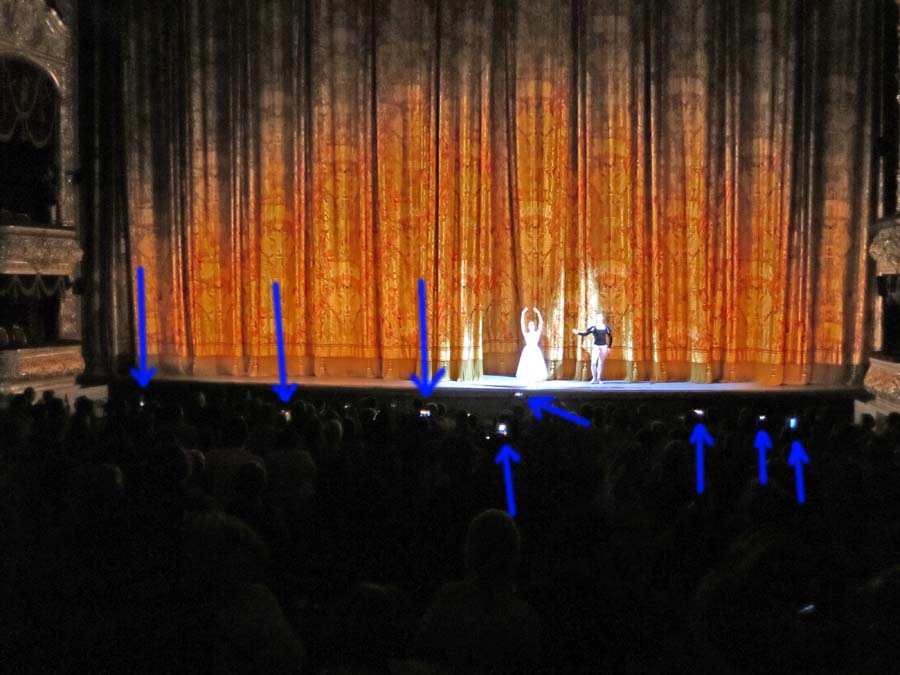 Below is a short 15 second video of the "final bow" after the performance of the ballet Giselle at the Bolshoi ballet in Moscow, Russia. Click here for the very highest quality original video.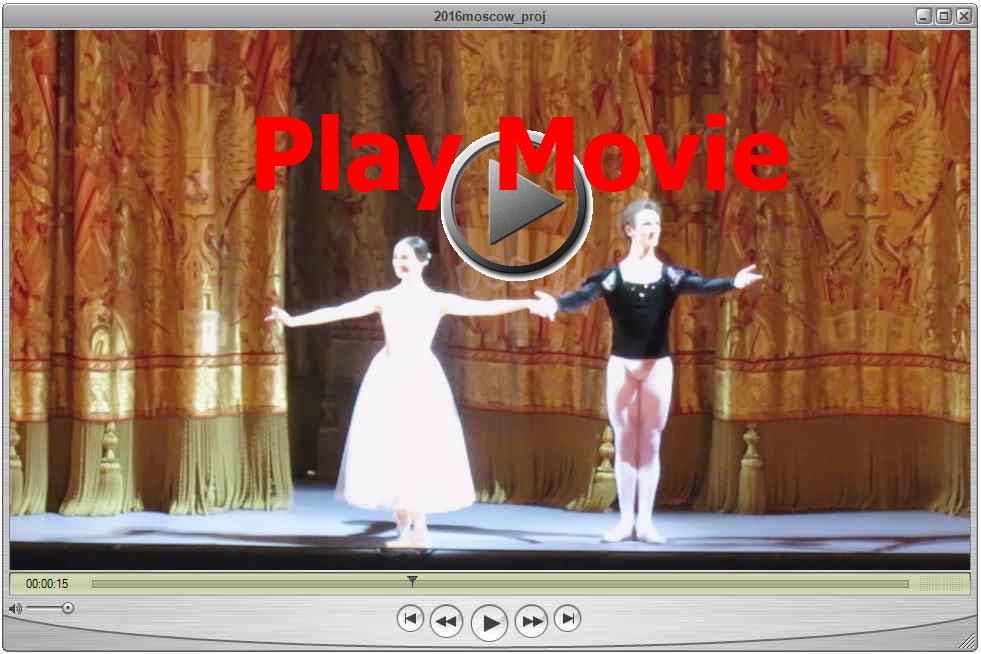 A final picture (low light makes it terrible) of the lead two ballet dancers who performed Giselle on Saturday, June 19, 2016 at the Bolshoi Ballet in Moscow, Russia.
The picture below is after the final bow as the lights come up and people are leaving: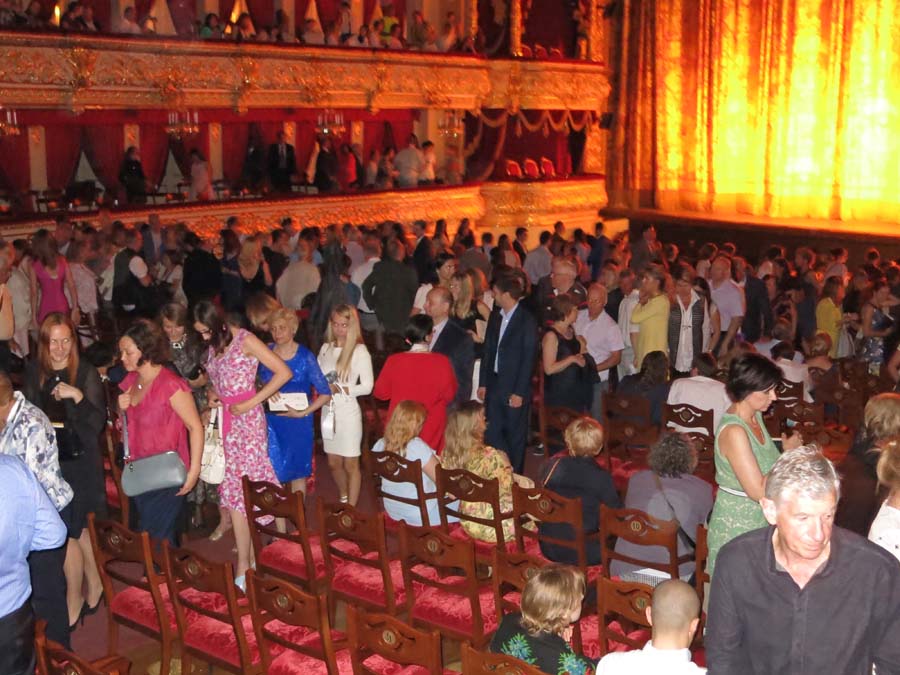 It is POURING rain outside as we leave the theater. Below is Ari with an umbrella in front of the Bolshoi Ballet theater in Moscow, Russia.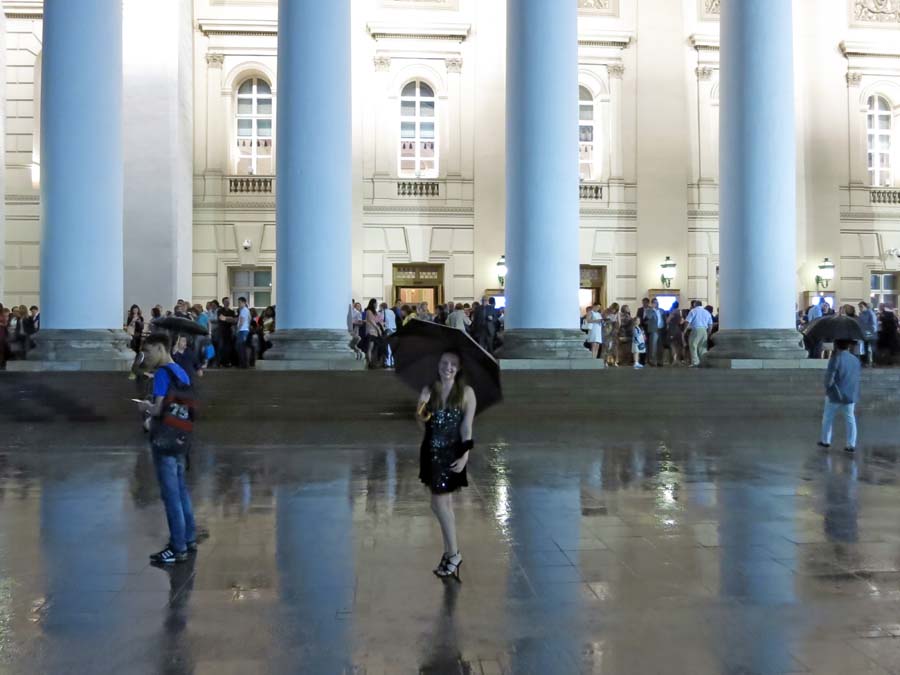 A zoomed out picture of Ari with an umbrella in front of the Bolshoi Ballet theater in Moscow, Russia. You can see the Quadriga (four horses pulling a charriot) statue on the top of the entrance to the Bolshoi Ballet.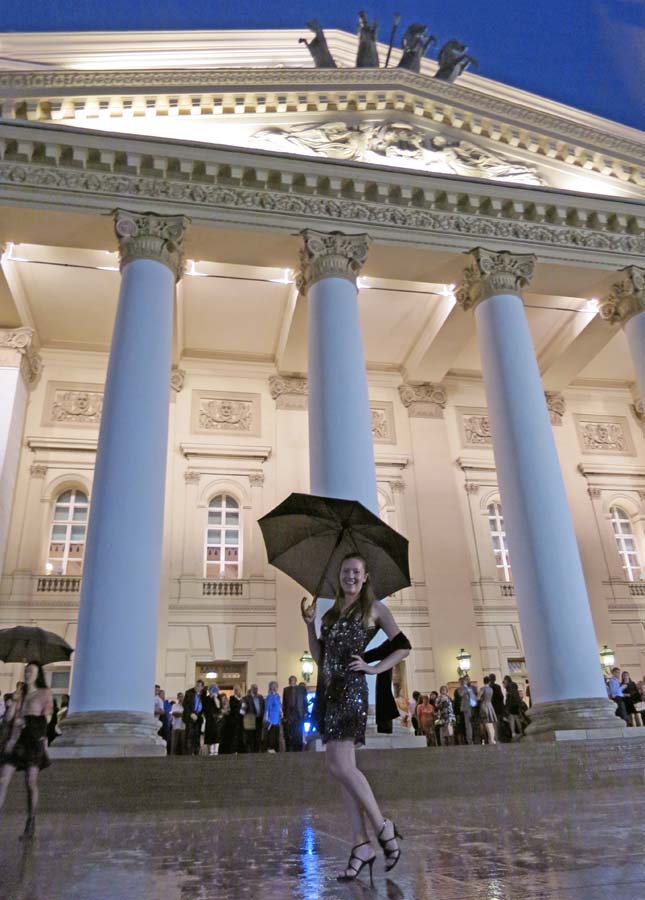 We walk the one block back to our hotel after the ballet and it is POURING rain, just HAMMING down here in Moscow.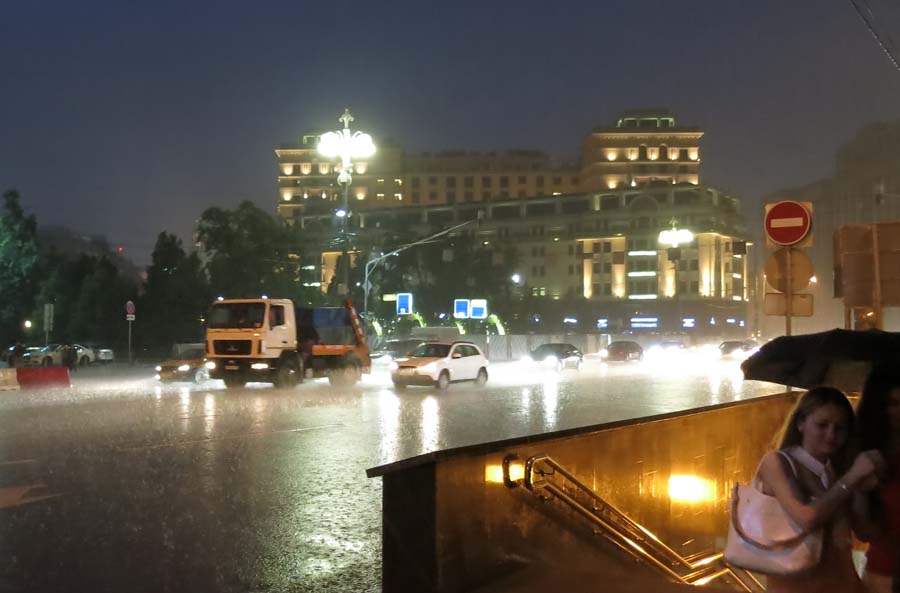 A picture showing the rain blasting off other rain in the road.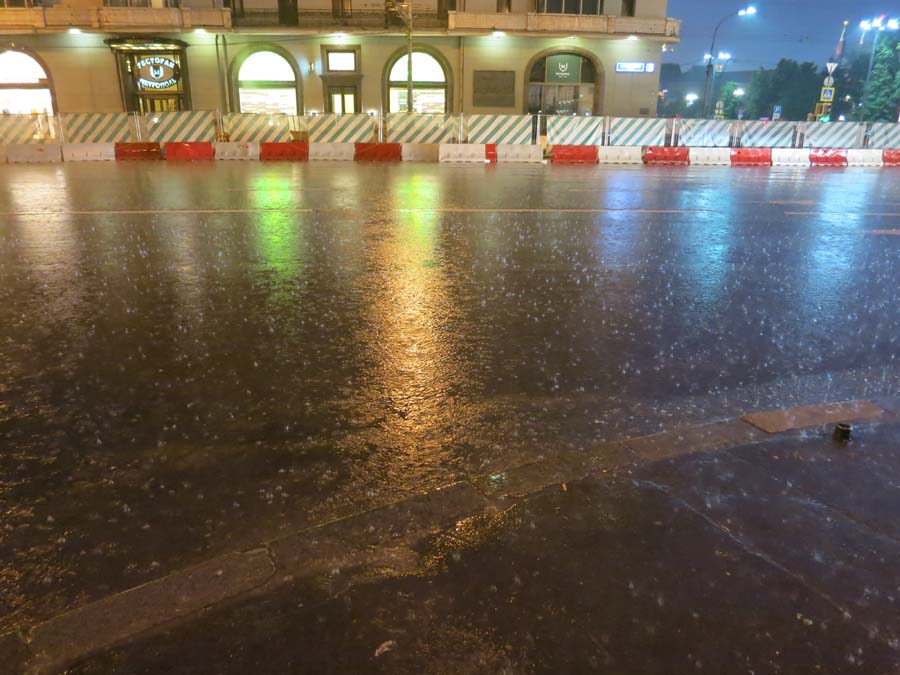 We changed out of our soaked clothing into more relaxed clothing and we wanted to go see a couple of Moscow "clubs/bars" and walked out of the Hyatt 20 minutes later to completely clear skies and no more rain. (sigh) the picture below is of a very pretty, lit street in Moscow Russia.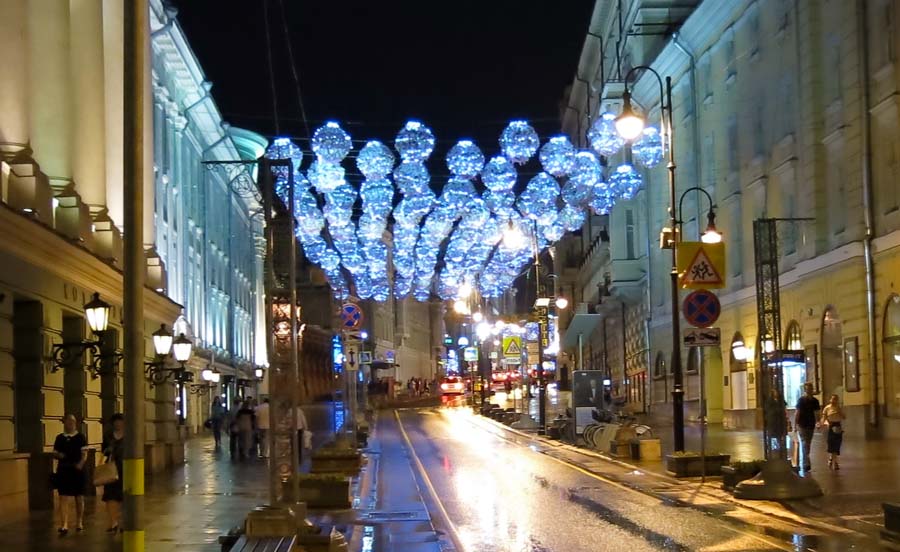 Our first stop was to get a little food and some drinks at the "O2 Lounge" in Moscow, Russia. It has views of Red Square and the Kremlin and would be gorgeous during the day if there is no rain (there is a roof top deck). This is on the roof of the Ritz-Carlton Moscow. Below is Ari on the right relaxing after the ballet.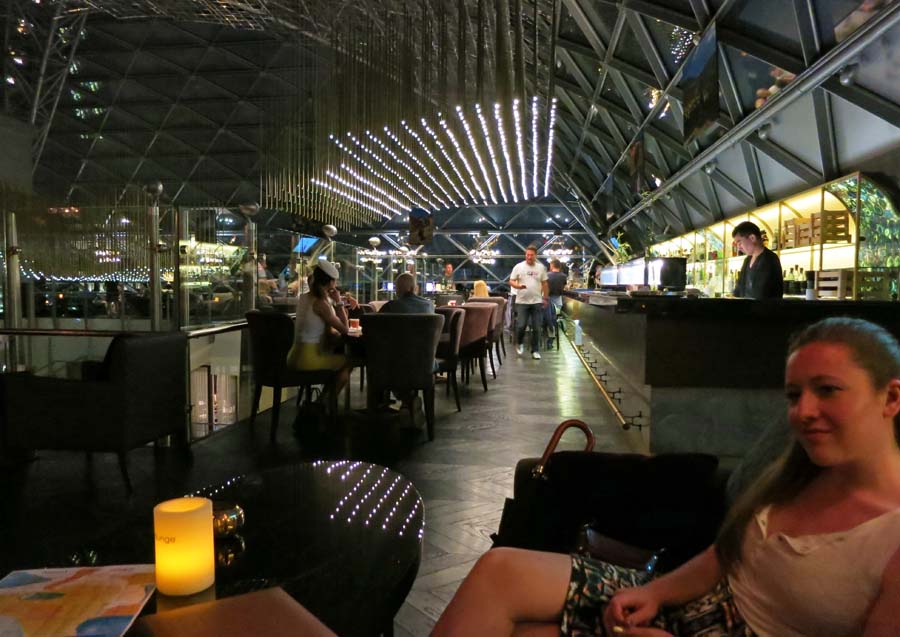 Some fancy colored drinks at the O2 Lounge in Moscow, Russia.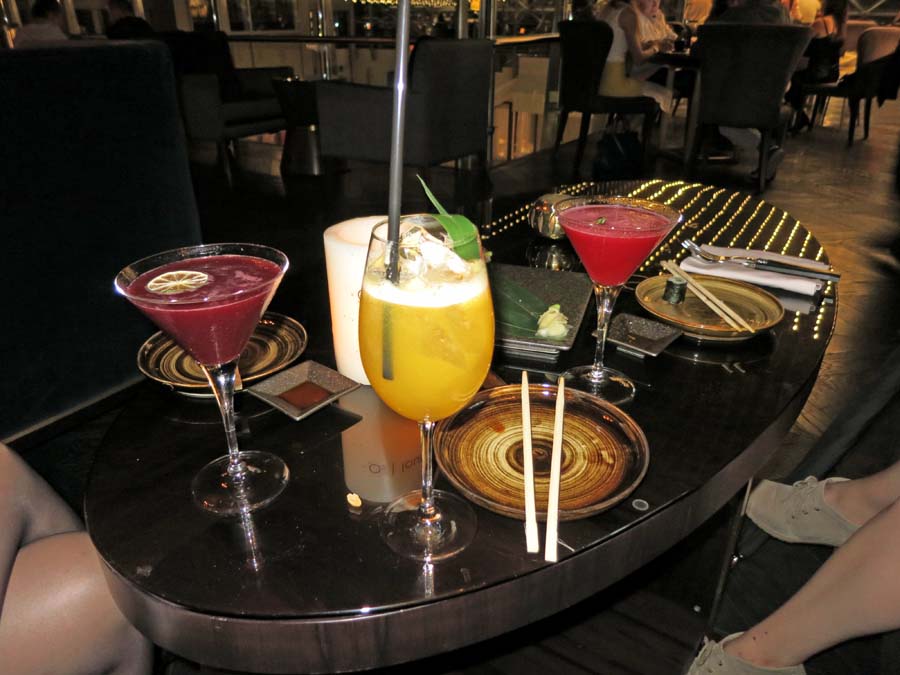 Below is the view from the O2 Lounge "outside deck seating area". We sat inside because it was sporadically raining, but if it is not raining this would be a fabulous place to spend an afternoon in Moscow.

Below is my best picture of the Kremlin at night. The Kremlin Towers are really interesting: each is completely different and built hundreds of years apart. Almost all of them have nick names, but two are just "towers with no names".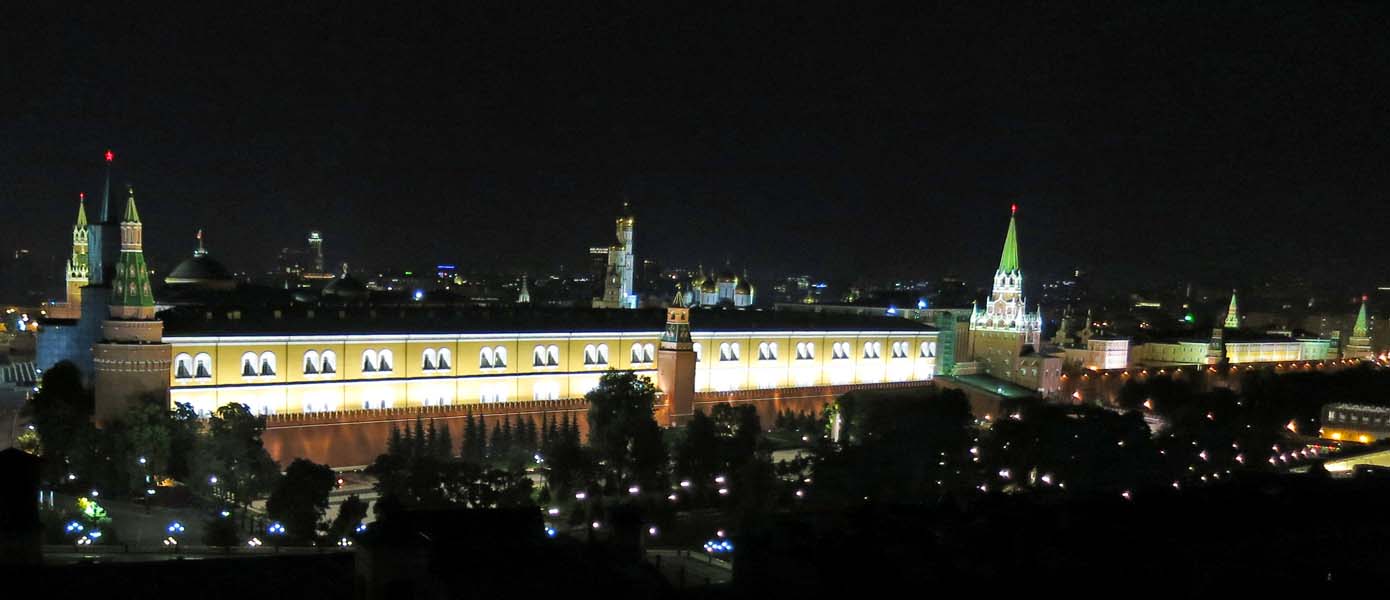 After our really fabulous time at the O2 Lounge, we decided to hit just ONE MORE dance club to check out the famous Moscow night life. Google maps turned up an Ok review for a place not far away called "Night Flight". This ended being a mistake. Below are Katherine and Ari BEFORE we realized we had just made a mistake. Afterwards we walked home and decided to leave Moscow.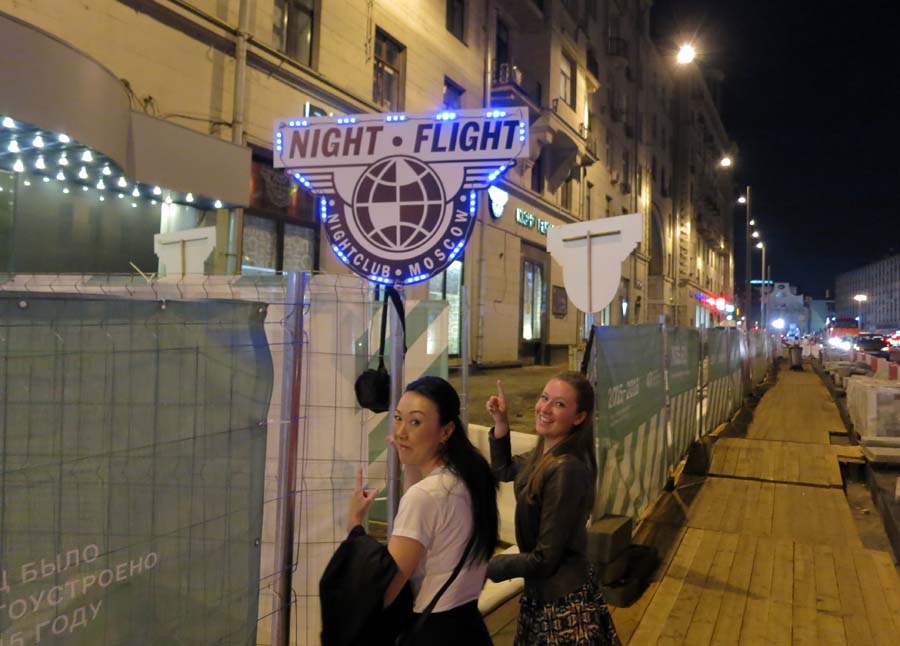 After swearing to myself I would never again think about "Night Flight" and never visit it again, the very next morning the driver took us to the airport to leave Moscow Russia forever. He took this strange back route for a while and this is where it popped out onto the main street: "Night Flight". (sigh)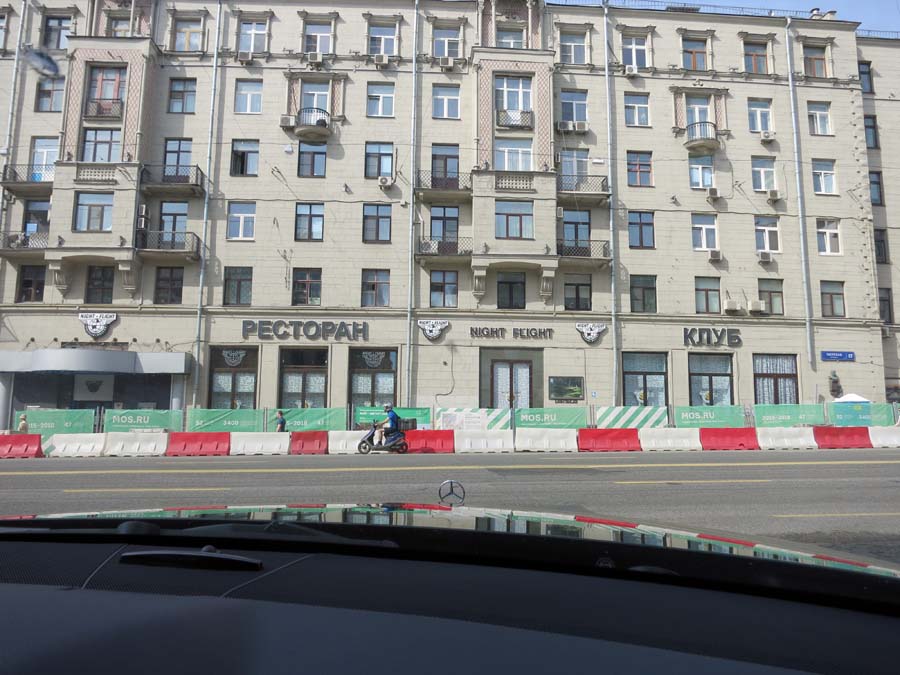 At the Aeroflot Business Class Lounge at the Moscow SVO Airport. Notice the signs are in both Russian and English. SOOOOO easy to travel in Russia for an English speaker!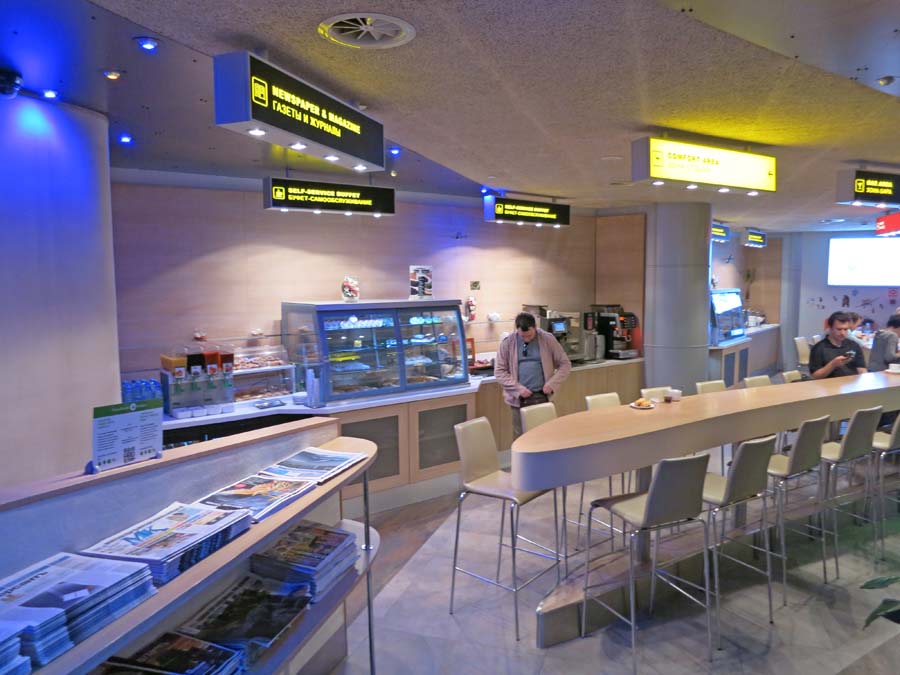 A dispenser for free cocktails in the business lounge in the SVO airport. I need some translations for what the drinks are that look Russian (Cyrillic lettering). If you want to help:

My buddy Vlad reports: The bottle on the right is famous brand of Armenian cognac: Ararat (you should know, you *stayed* at Ararat hotel), named after the tallest mountain in Armenia, but the bottle is probably not the most expensive one judging by it being only 5 years old. A 20 years old Ararat might be ok, but I'd be afraid of fakes. Next to it is another cognac: "МОСКОВСКИЙ" (the word means "Moscow's" as in "belonging to Moscow", or "made in Moscow"). This I would drink only out of curiosity and only for free, although I know nothing about it, it may be a good cognac.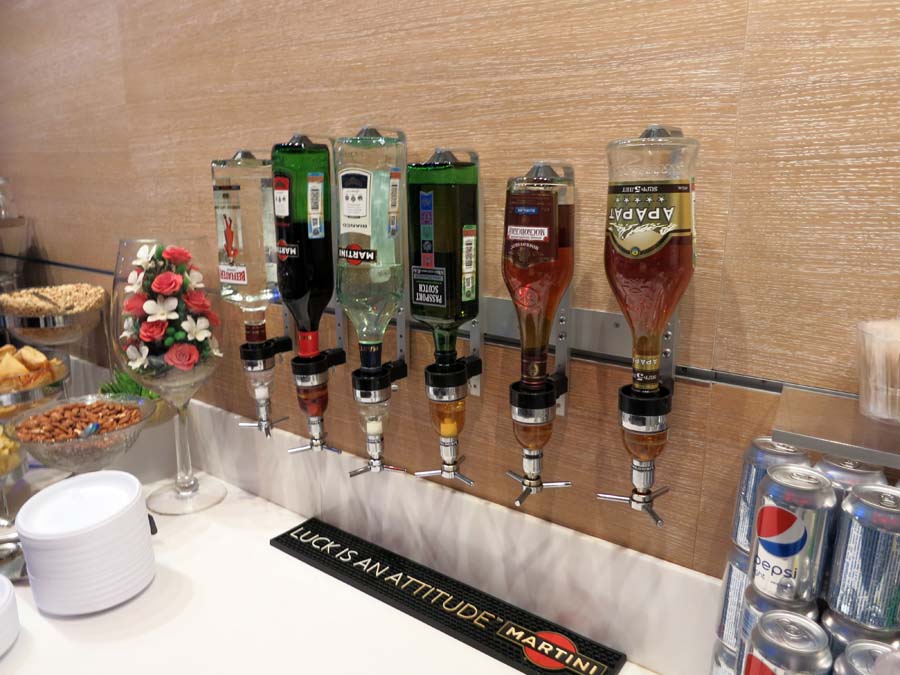 And after a fun filled two days in Moscow, here are Katherine and Ari in their business class seats in Aeroflot ready for the 11 hour direct non-stop flight home to Los Angeles. Katherine and I are getting tired, but look at Ari, still has that youthful energy. :-)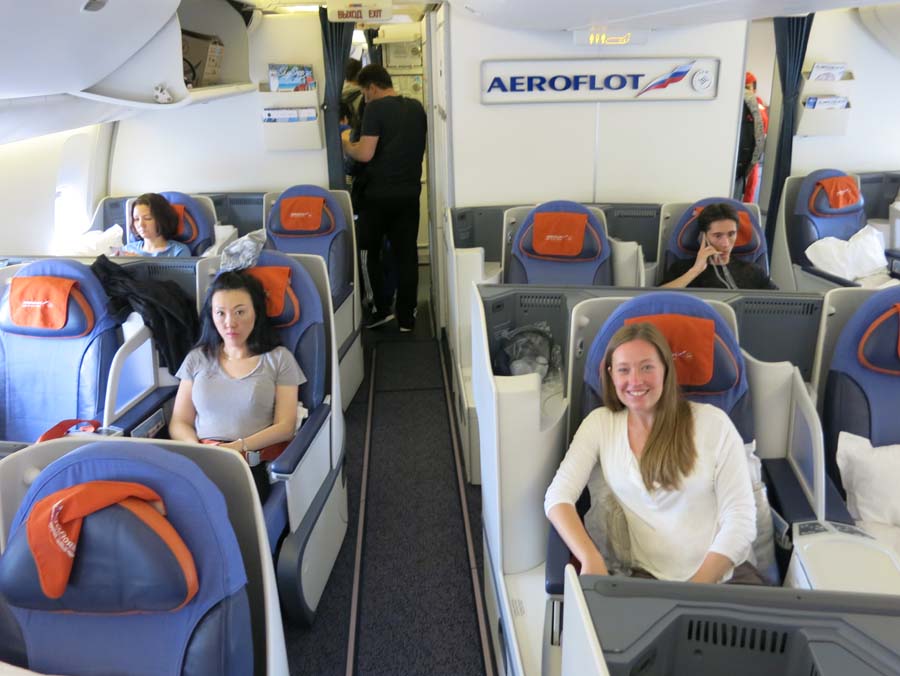 As we taxi away from the terminal I see that term that has been haunting me and I kept seeing for the last three days: "Москва". I kept wondering what the significance is, what this term meant. Was it important? Was it a national brand? Well, my Russian friends tell me it means "Moscow". (Yes, I'm a dork.) So the sign below says: "Moscow Sheremetyevo Terminal F" (probably).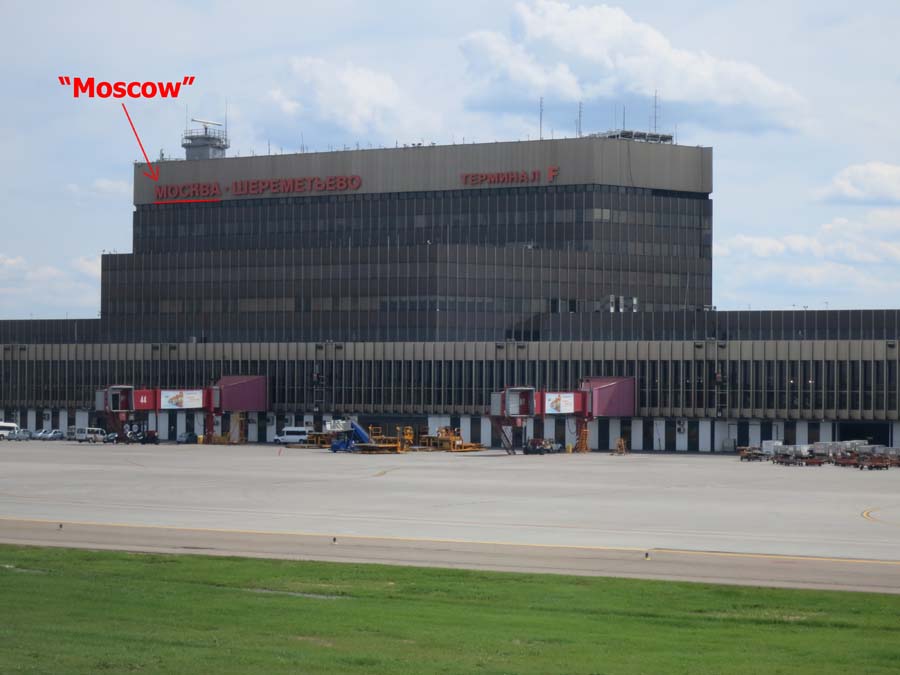 Last view of Mother Russia (In Russian: Россия-Матушка) from the air as we leave it behind. Bye bye!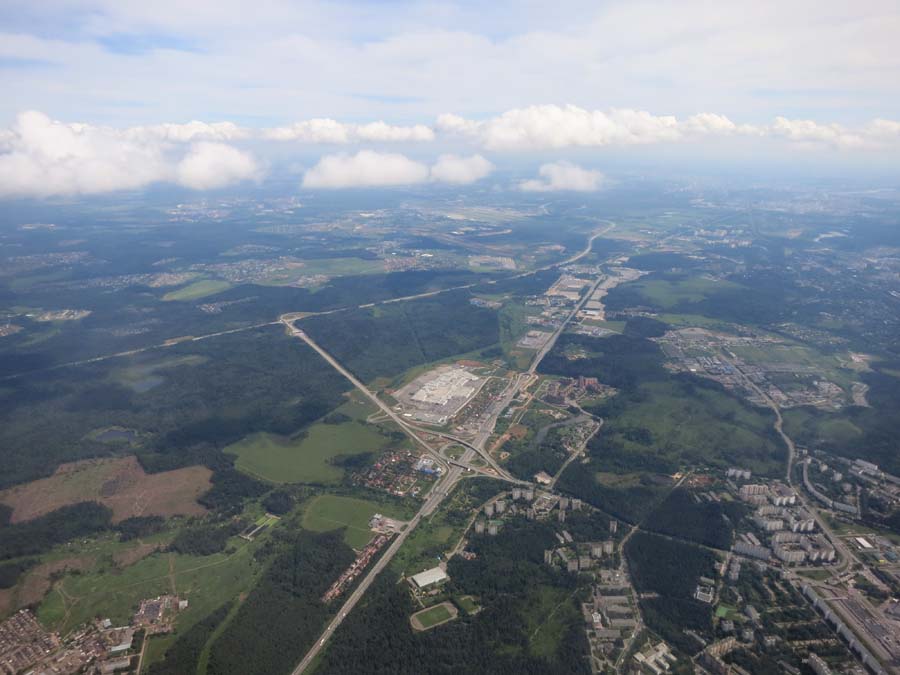 Ari eating dessert an hour later.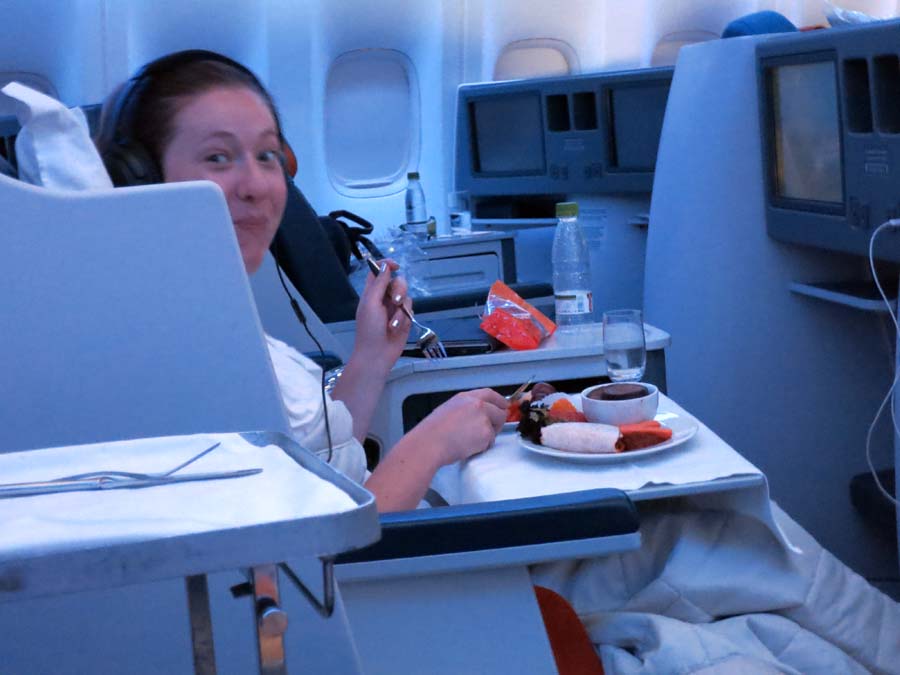 I think this is dessert. I can't even remember taking this picture because I was tired.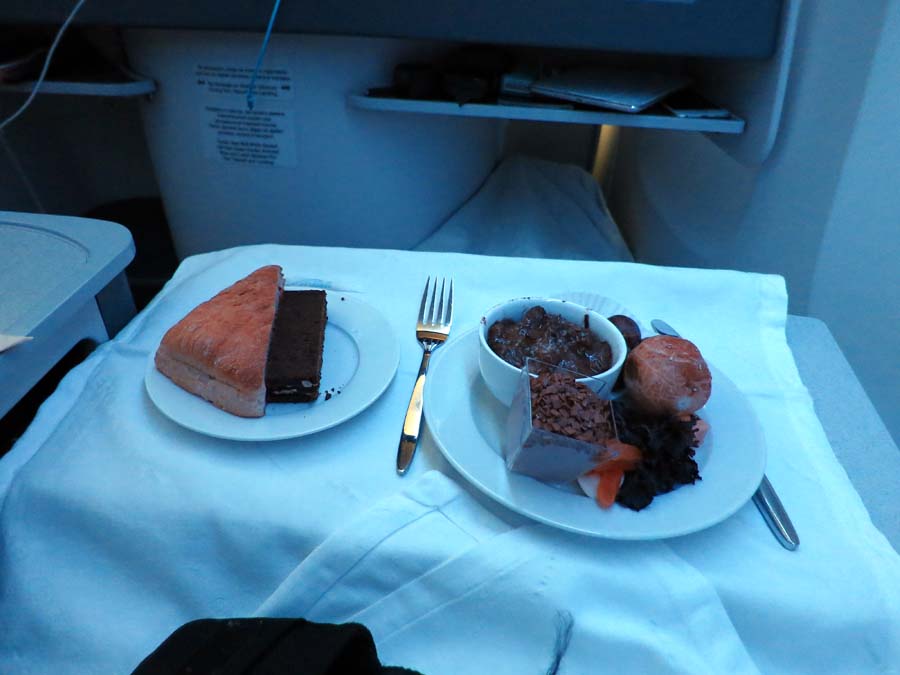 Where I prop my two way Satellite Tracker GPS when I'm sleeping. I took this picture as we are landing in Los Angeles (LAX Airport).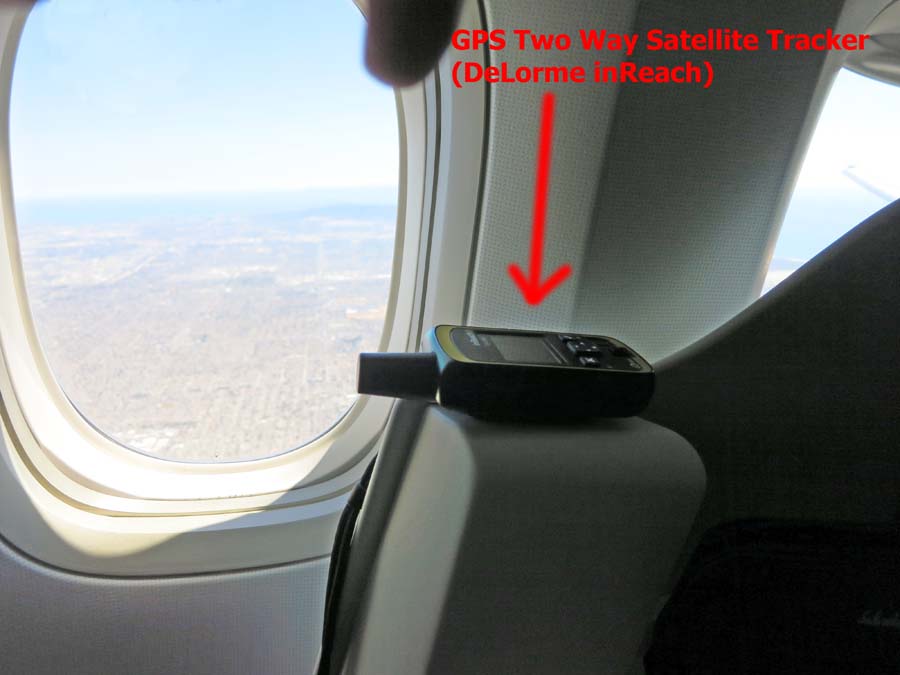 Los Angeles sprawl. I vastly prefer the Los Angeles weather to Moscow Winters, but I prefer the density of Moscow.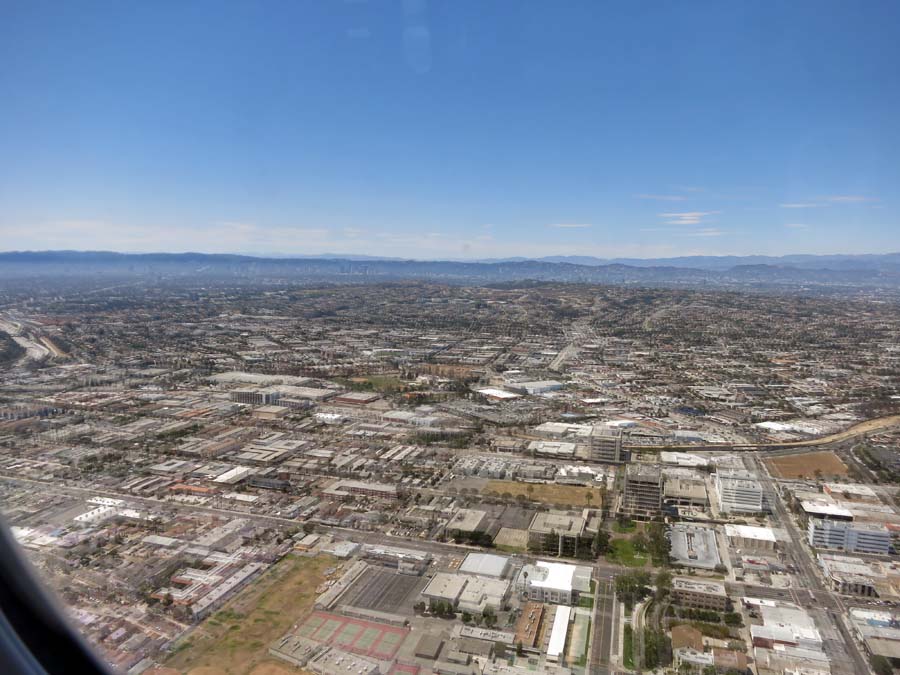 The modern looking LAX Los Angeles airport.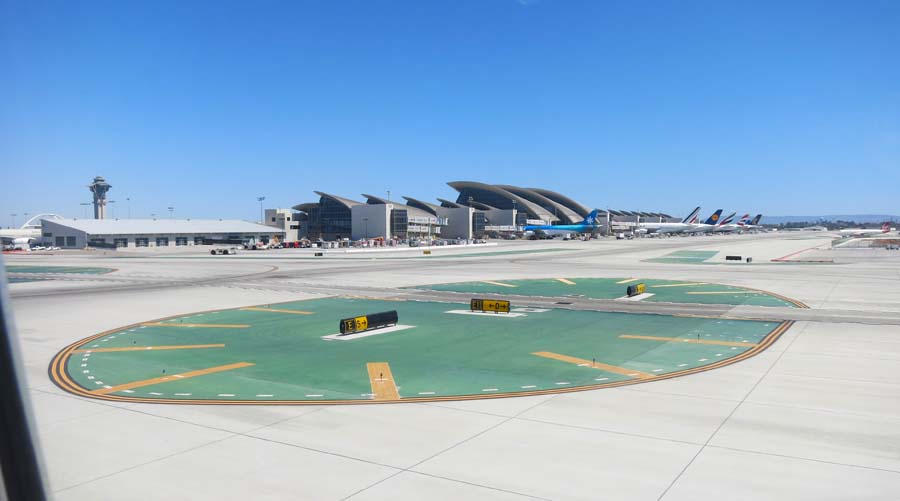 The stewardesses from Aeroflot line up to say goodbye. Good bye!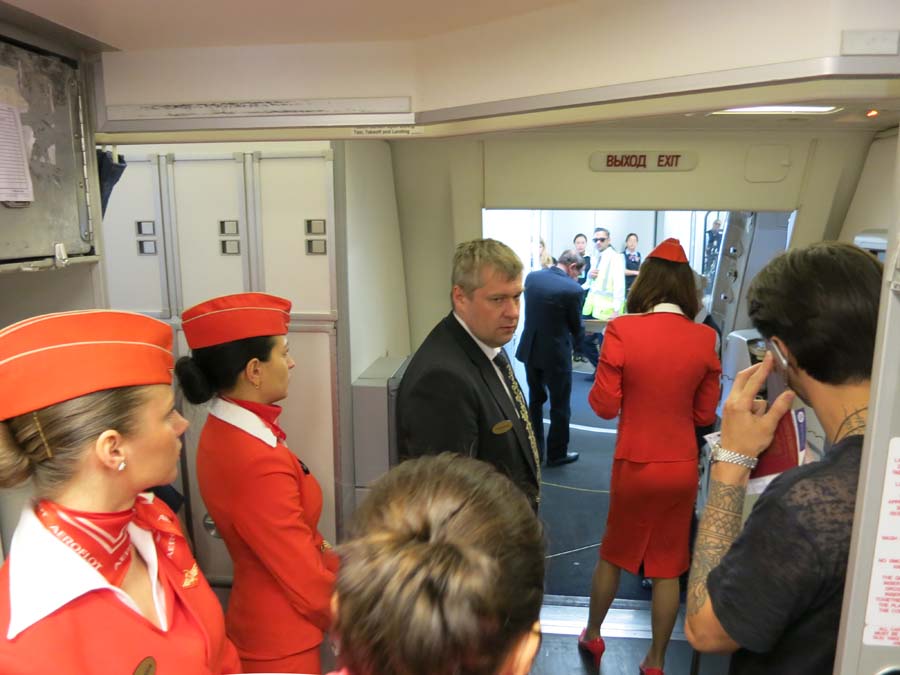 And finally, the FIRST picture of the three of us in LAX as we go our separate ways. In order of energy level: 1) Ari still full of energy and ready to go, 2) Brian (me) looking a little tired, and 3) Katherine is shattered and just wants to go home and sleep. :-)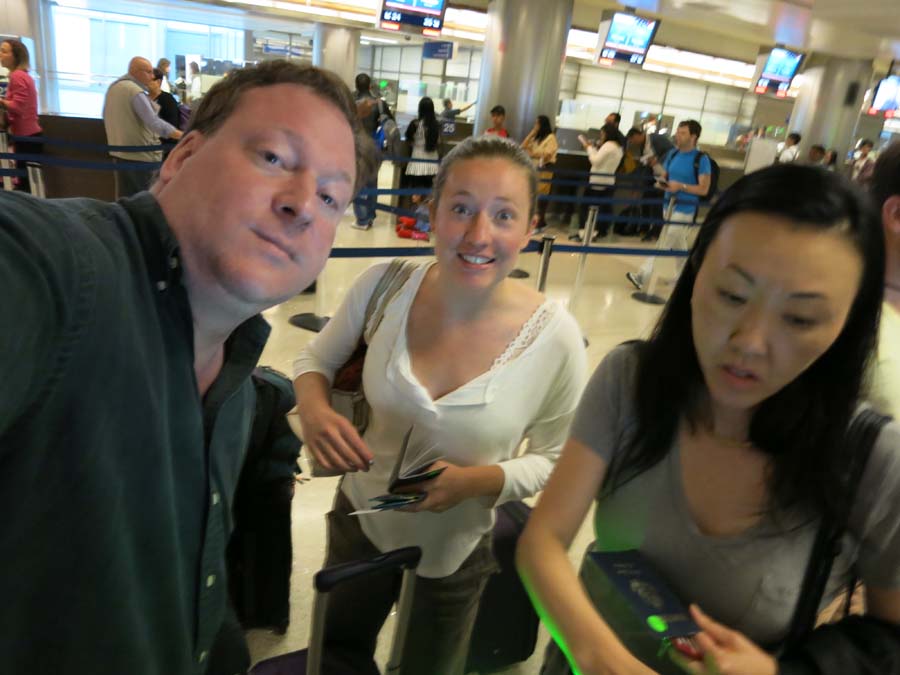 That's it! All done!
================ BELOW HERE IS SUPER BORING, these are pictures of various boring things just for the record ===========
================ SERIOUSLY, WHY ARE YOU STILL READING? =======================
========= Some pictures of the Ararat Hyatt Hotel Room and Driving Around in Moscow, Russia =========
We stayed in the Ararat Park Hyatt Moscow in rooms 527 (Katherine and Brian) and 528 (Ari). Here are some pictures and a small review. The first picture is of room 527 "bedroom" area: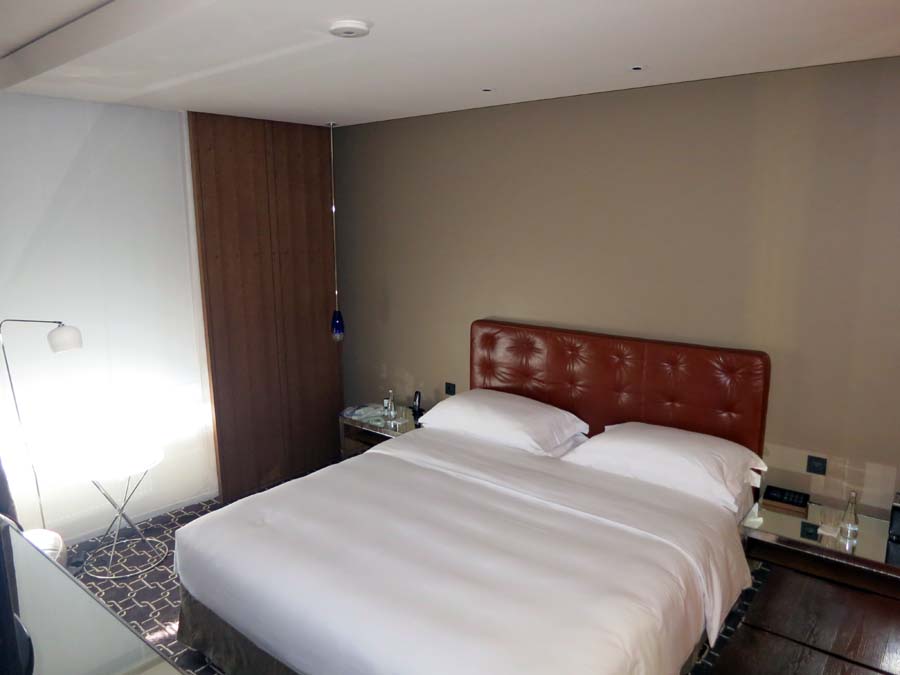 The picture below is standing in the same bedroom looking toward the main living room.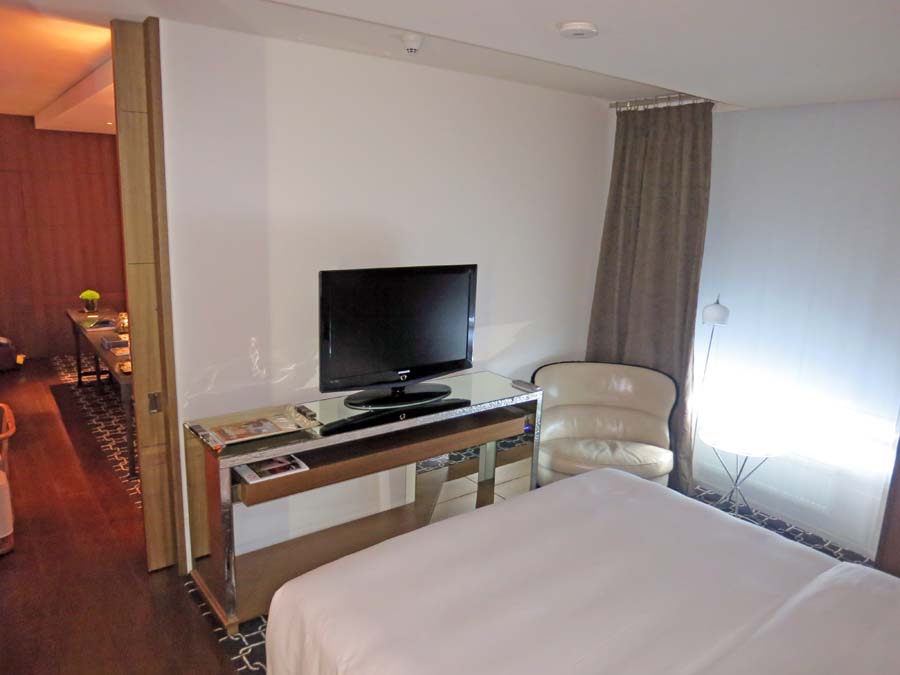 Here is a picture of the main living room.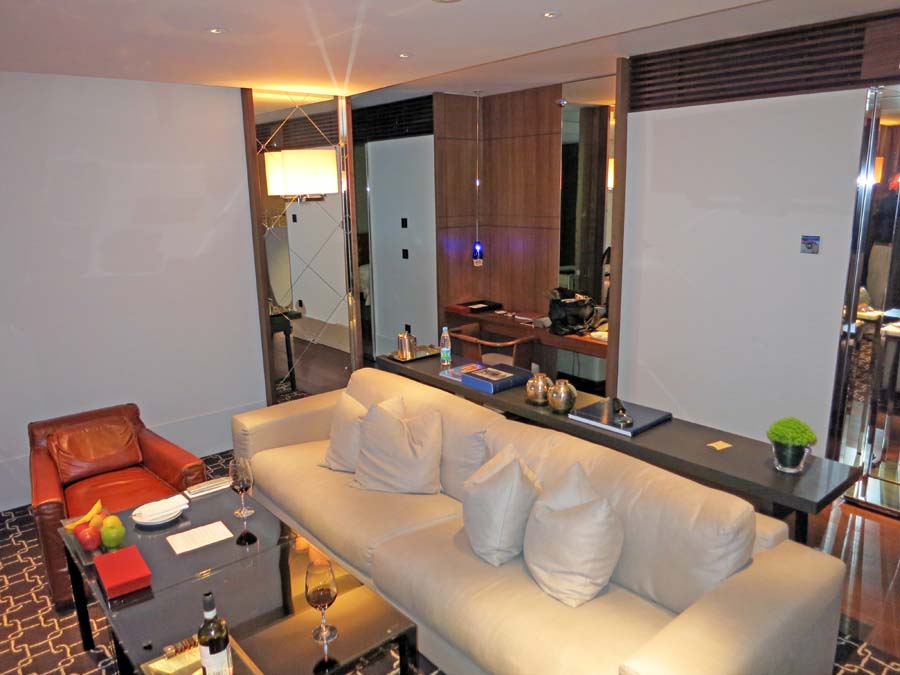 Same main living room, pointed the other way. The picture below is of our "living room" in the Hyatt. The sun rises at 3:30am (Moscow is far north) and so the room had excellent "black out shades" you could raise or lower at the press of a button. Generally the room and the hotel were awesome, with one exception: the air conditioning in the room was weak, meaning it was 90 degrees and hot and muggy (humid) outside and the room would only get down to about 79 degrees during the day and maybe 71 degrees at night even though we ran the air conditioner at maximum the entire time we were there.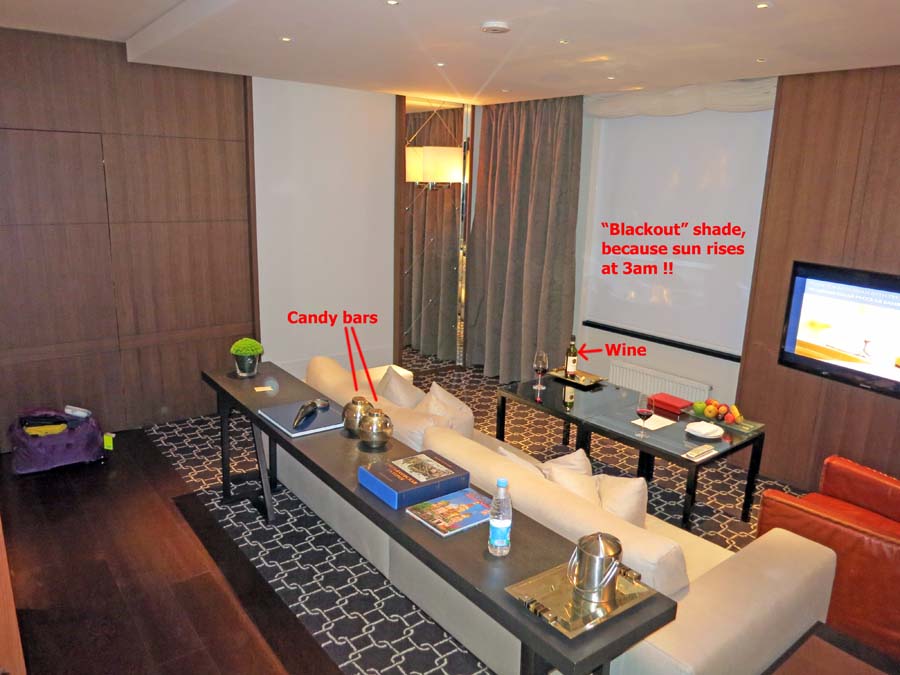 This is the TV listings for the TV in the Hyatt Moscow. I never actually turned the TV on, but I thought this was extremely international: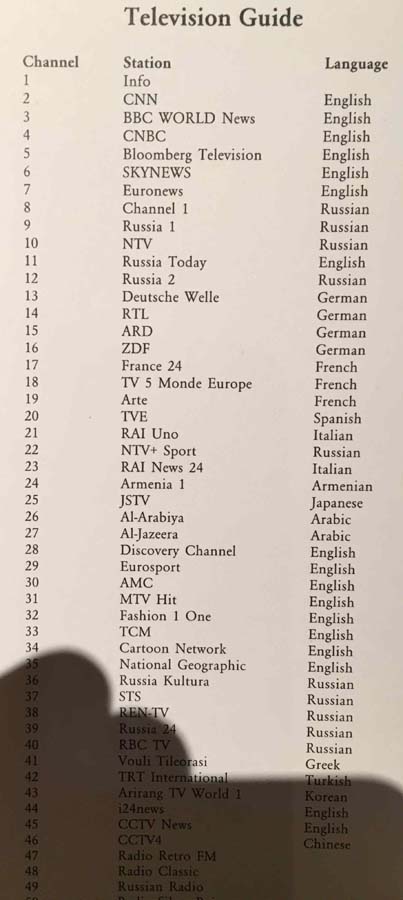 The mini bar was convenient and well stocked. The coffee maker Nespresso depth charge coffee was convenient and we used it often.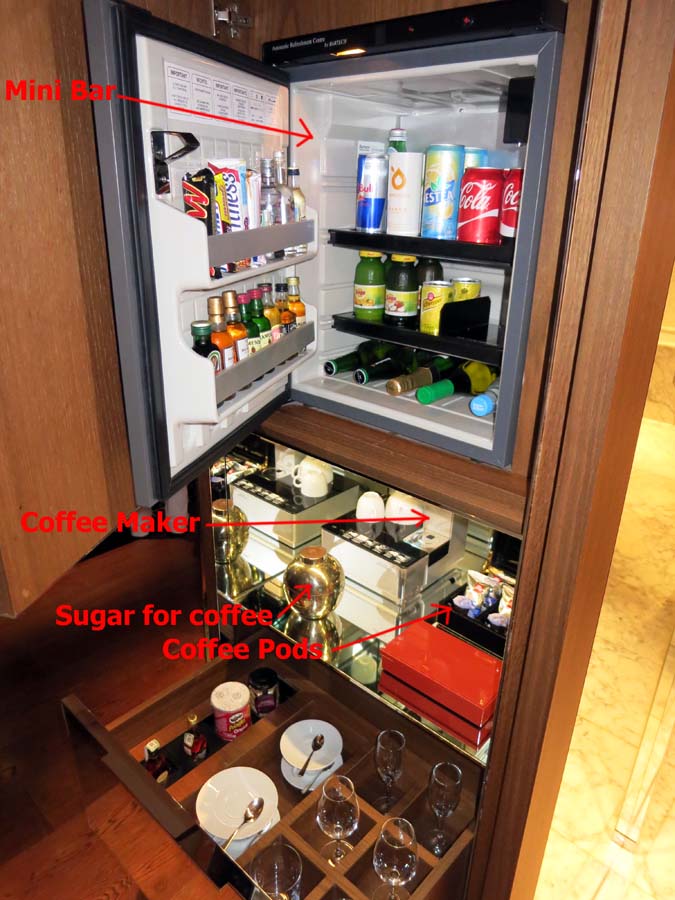 Half the floor space of room 527 is dedicated to a dressing room and bathroom and toilet. Here is a panorama (use your horizontal scrollbar to see it all). Two sinks, a tub, a walk in shower. Walking through the doorway at the far left of the picture below walks into a reasonable size walk in closet/dressing room/make up application desk. And mirrors EVERYWHERE, it's like a mirror fun house. I would see Katherine three rooms away through mirrors bouncing around corners.

This is the walk in closet area.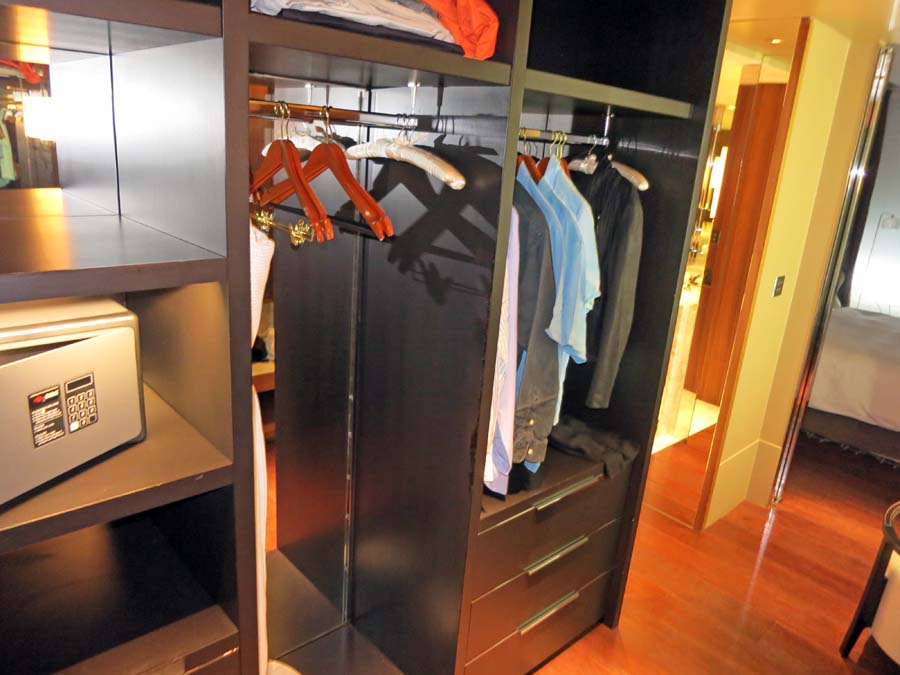 This strange sculpture was sitting in the corner and it kind of bothers me on an emotional level. It looks like a possum Buddha or something. I just don't know why it exists or why they would place it in the room?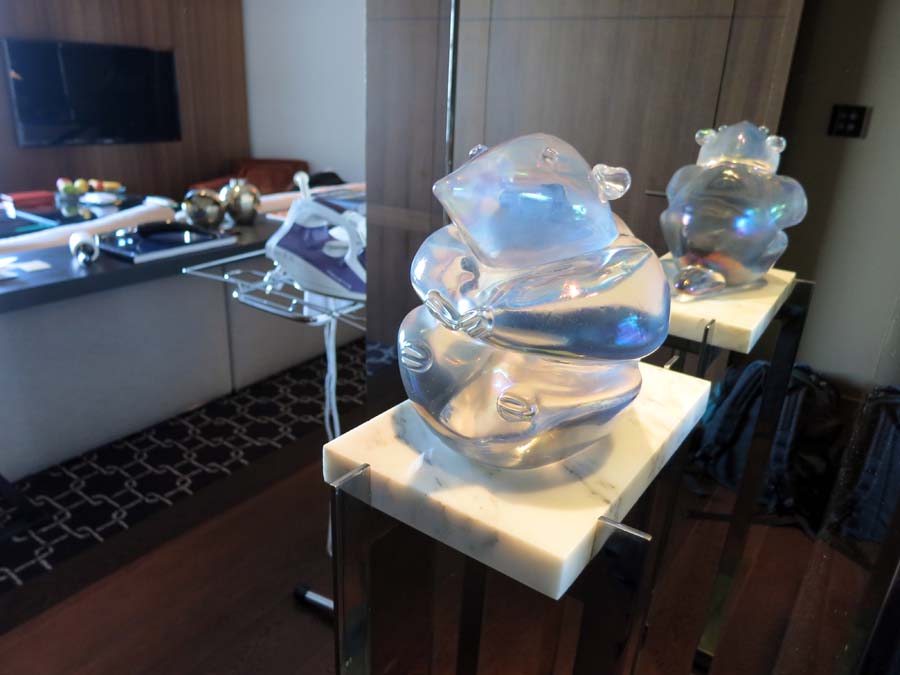 The center of the Hyatt Moscow is hollow with a glass sunroof and a glass elevator in the center.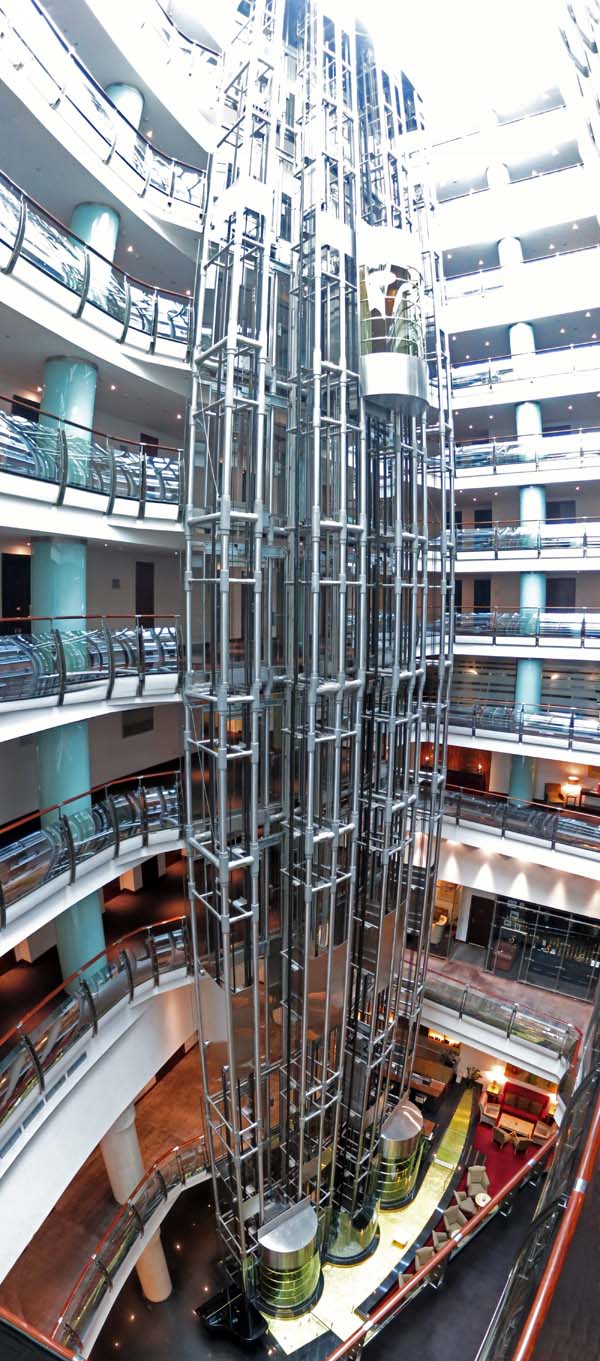 A clearer picture of the ceiling and top of the elevator because the previous (tall) photo kind of washed out at the top: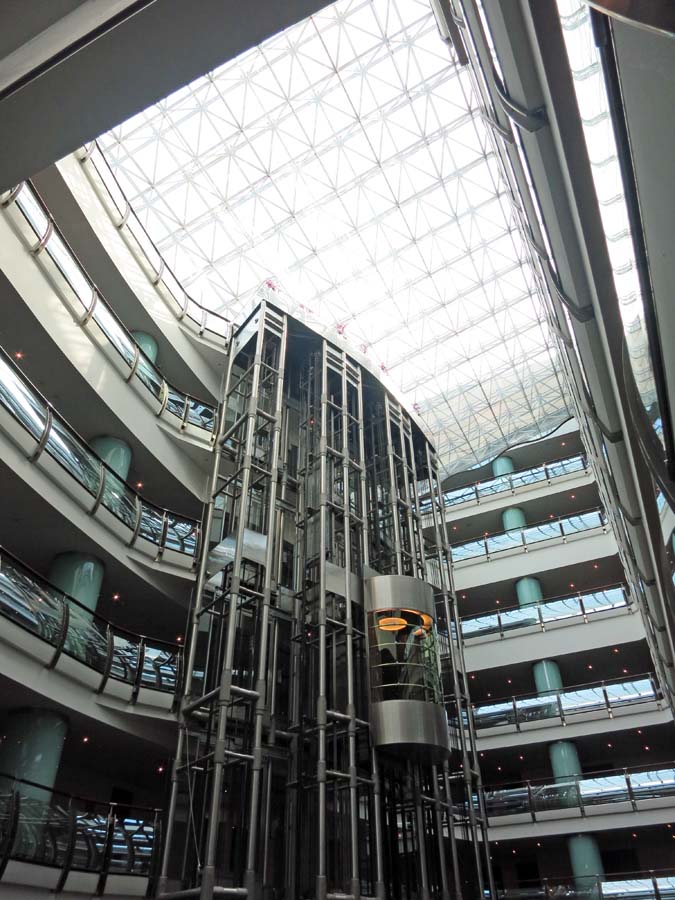 The hotel breakfast buffet was simply outstanding. Below is Ari at one of three tables (scroll down for more buffet pictures):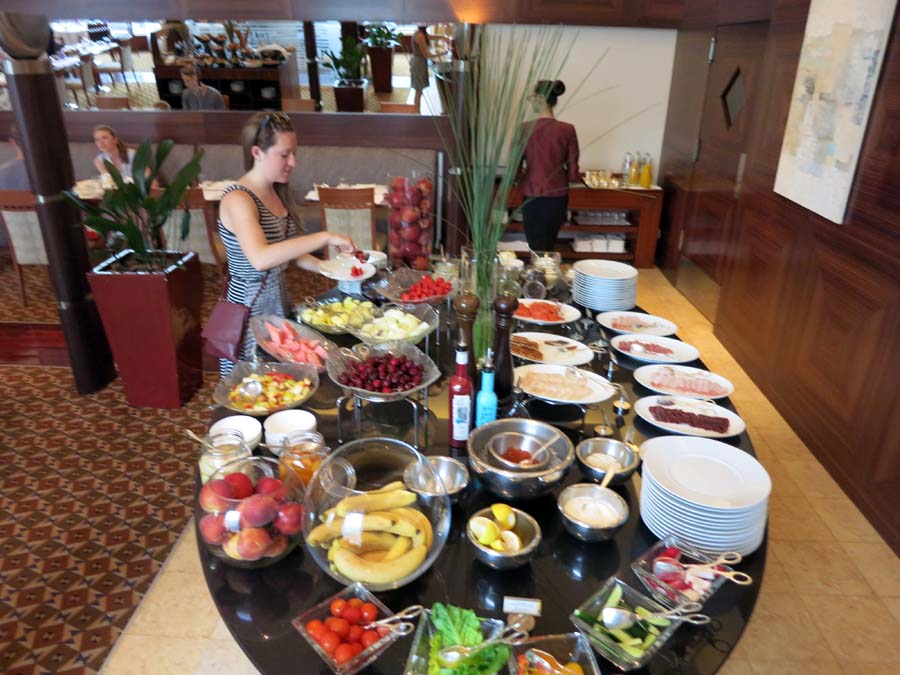 Below is the "bread table" at the breakfast buffet: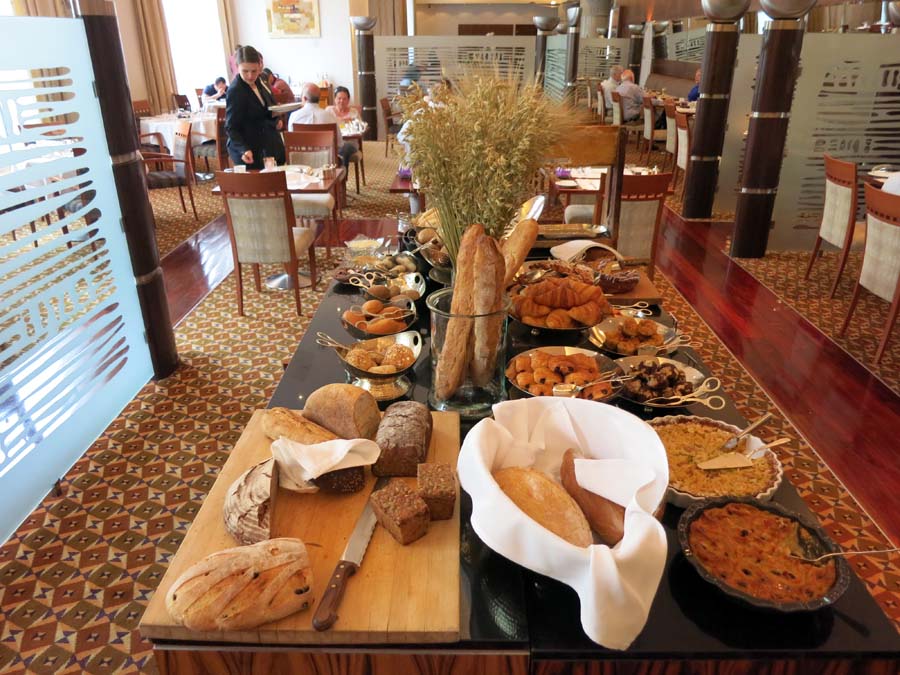 Below is a picture of the cereal/milk/yogurt table: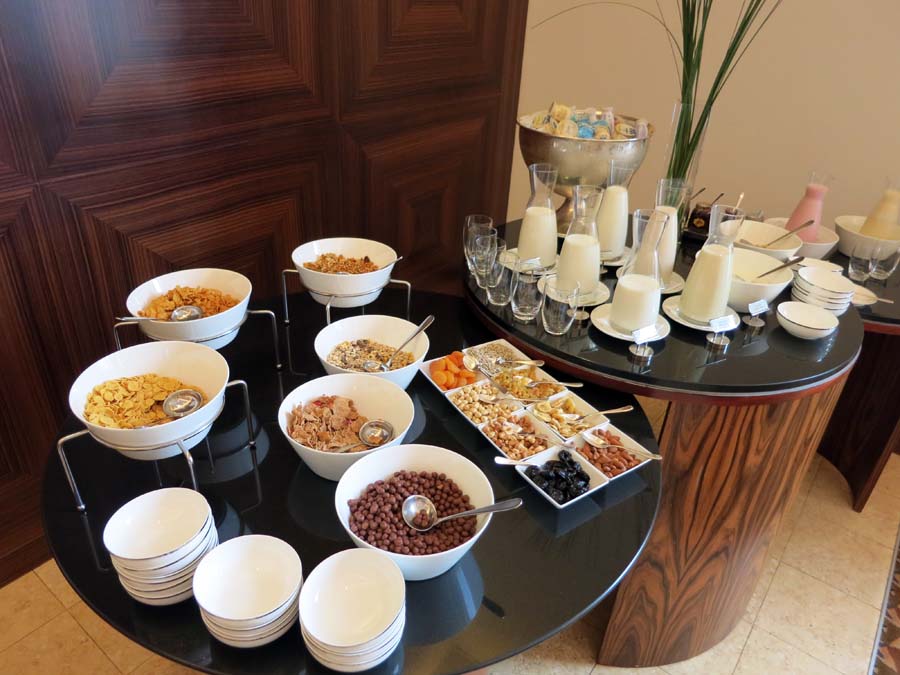 In addition to the buffet, you can order off a menu. Below is Ari and my breakfast we collected from the buffet and off the menu.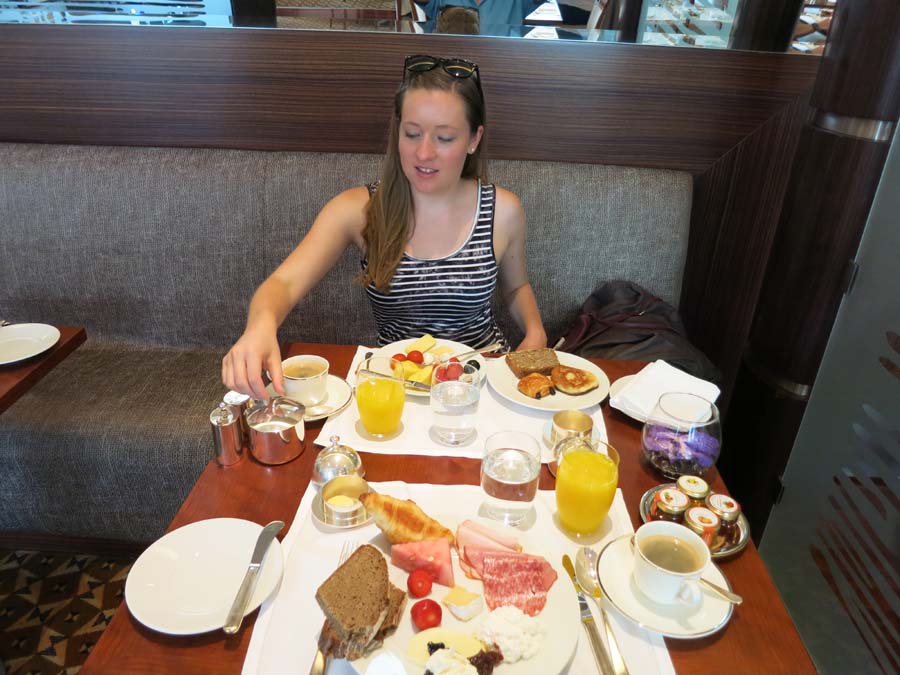 ============ SOME EXTRA PICTURES of our driving from the SVO Moscow Airport to our hotel and back ================
The remaining pictures are all of Moscow Russia on the drive to and from the airport. Just some random observations and interests to me as an American, I'm sure most of this is completely boring and pointless. Starting with this: there were a lot of international brands and American brands (like Ford cars) in Moscow that surprised me. Moscow is a city of like 10 million modern high tech people so I don't know why I assumed they wouldn't have as much outside influence. Below you can see IKEA signs. There is an IKEA store a mile from my home in California.
The sign below is interesting for two reasons: 1) it is an advertising billboard that spans over the highway which I've never seen in my whole life (not a highway sign, it is an advertisement for a product) and 2) it is in Mandarin (Chinese) and English. This is driving down a major highway in Russia. I assure you there are no Russian signs in the United States!!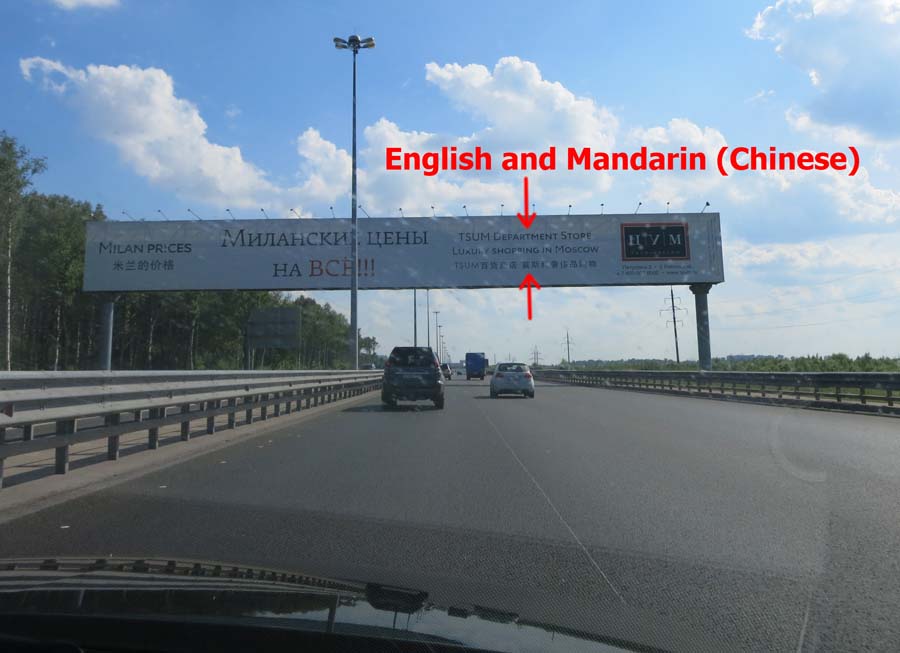 There is nothing as American as McDonald's Hamburgers (the golden arches). And you can get them in Moscow Russia.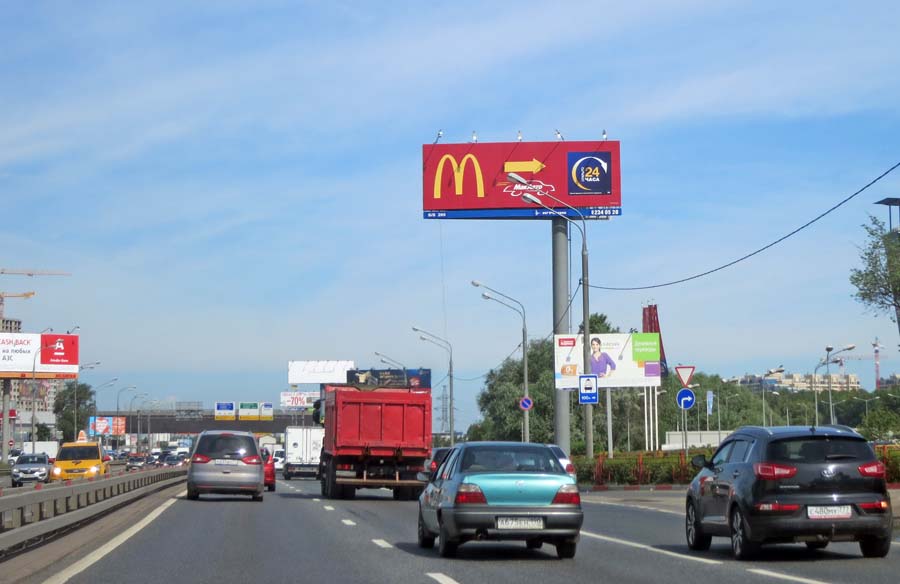 The "K" in KFC stands for Kentucky, a state in the USA. But you can buy a bucket of chicken here in Moscow: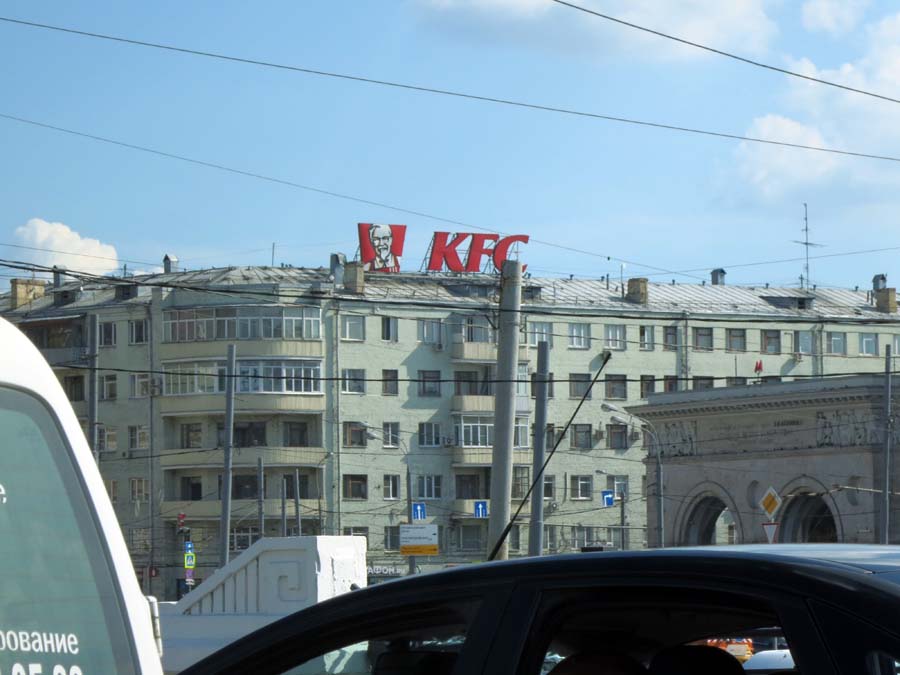 Cars were a surprise to me. I didn't see many bad old Russian cars, mostly nice cars like the ones below: a BWM, a Ford, a Volvo or a CitroŽn.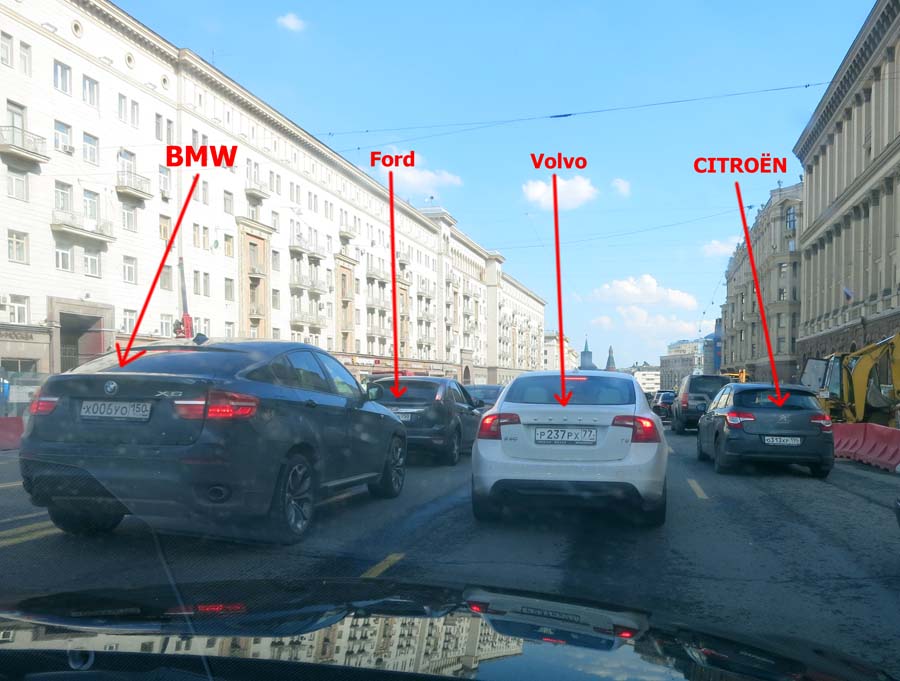 Or a Mitsubishi, Kia, or Renault like below.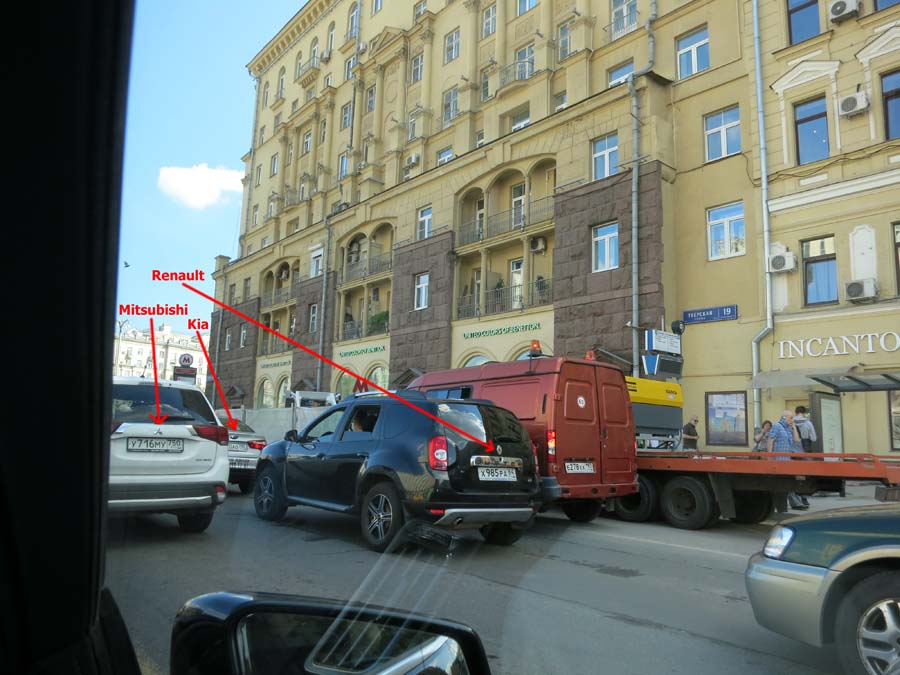 You can also shop for a Ferrari or Maserati here in Moscow Russia if you have enough money (see below). Or shop for a fine Italian suit from Ermenegildo Zegna.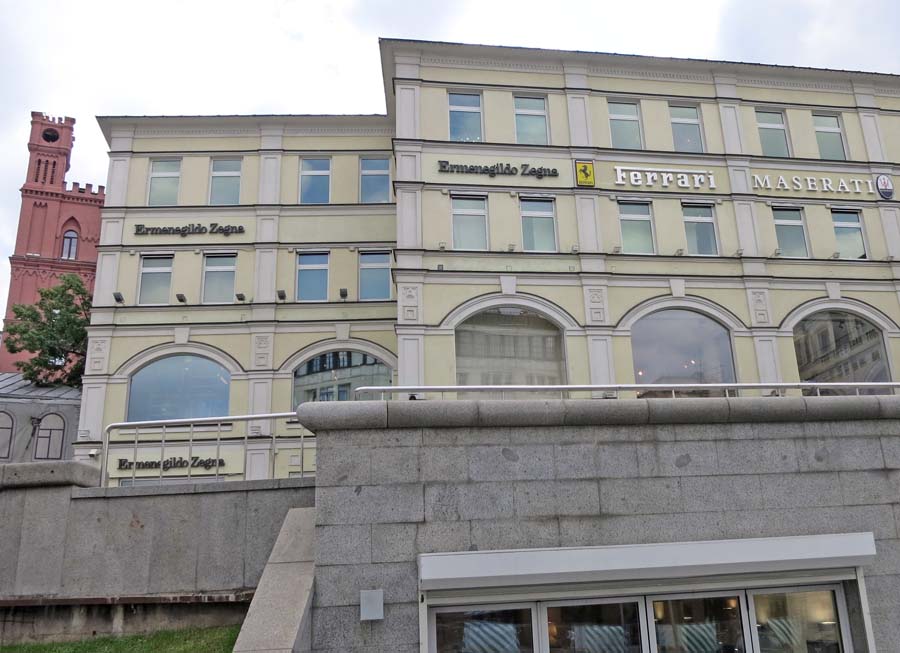 You can also shop at Benetton in Moscow Russia: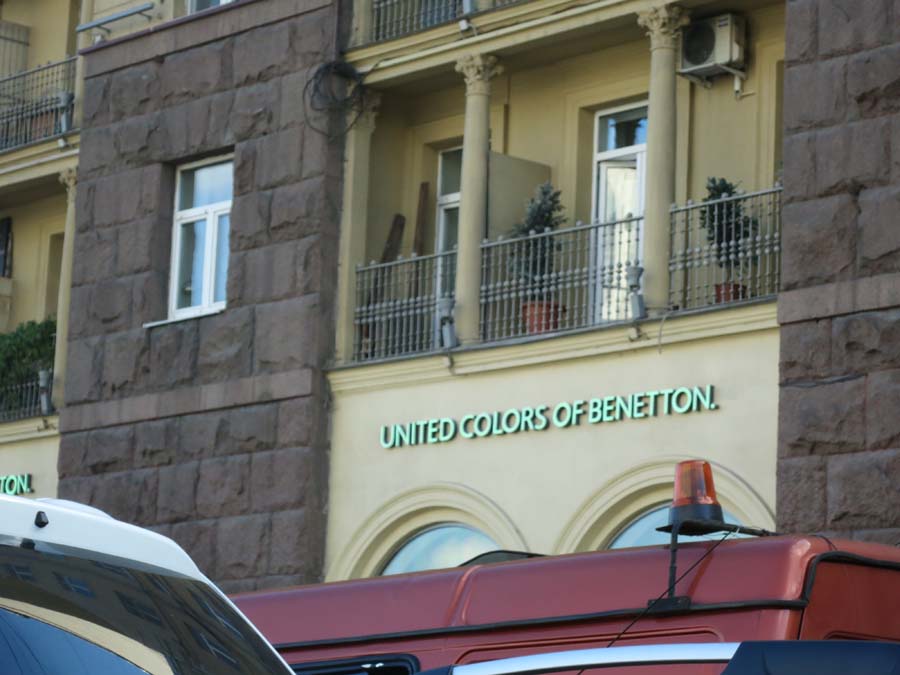 There was a TON of construction going on all over Moscow (see below for possibly a new stadium with 4 or 5 cranes helping out). Construction is a sign of a healthy growing city providing for it's citizens. Moscow FEELS vibrant and healthy.
There were a ton of big ugly concrete apartment buildings all down the highways between the airport and downtown Moscow. There were also a few VERY high tech and interesting buildings like the one below: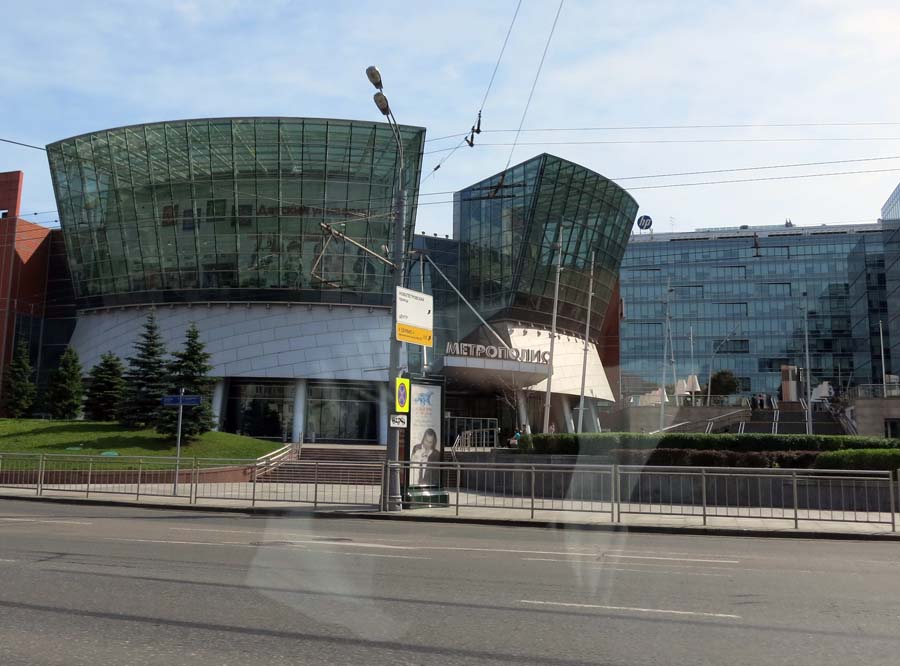 And here is another very cool, high tech looking building. Any building that gets WIDER as it gets TALLER is super totally awesome and the designers have taste and brains. Too many people are stuck back 2,000 years ago thinking like the Great Pyramid builders - that buildings must be pointy on top and wide at the bottom to support them. That was only true when you used rock as your ONLY building material.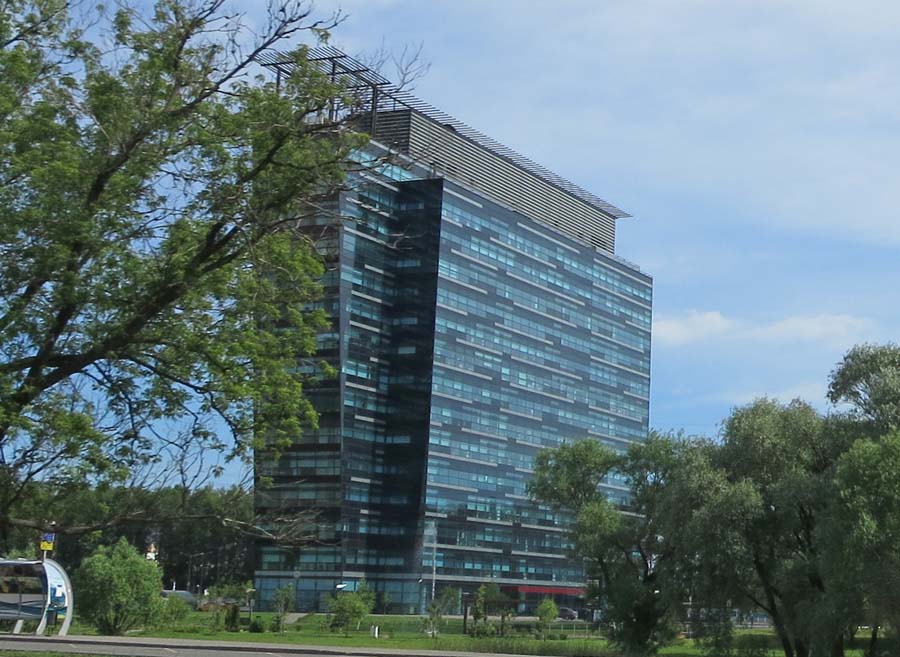 You would need to click on the picture below to see the round buildings and the penguin advertisement, but the buildings look nice and high tech and the penguin advertisement confuses me (I don't speak Russian). There are also a few of the big boring ugly concrete buildings on the far left. My buddy Vlad writes: The traveling penguin is pun on the text on the sign that says "the Internet price will not soar when you travel. 10gb and roaming within Russia." It must be an ad for some cellular provider, but the name of the provider is either too small to read on the top, or hidden behind the truck or not mentioned.
Vlad (originally from Moscow Russia) also wrote this observation: The "boring ugly buildings" are actually rather nice 90s-style apartment buildings. I say nice, because I compare them to much less nice 80s-style, and truly ugly 70s-style that I lived in growing up. 90s and later are free-market buildings, beautified to attract people buying apartments with their own money. 80s and earlier are built by the government and given for free (to young families). And that explains why you can still see people with red flags, demanding the return of pre-history. I can't really blame people for preferring freeUgly over unaffordableNice.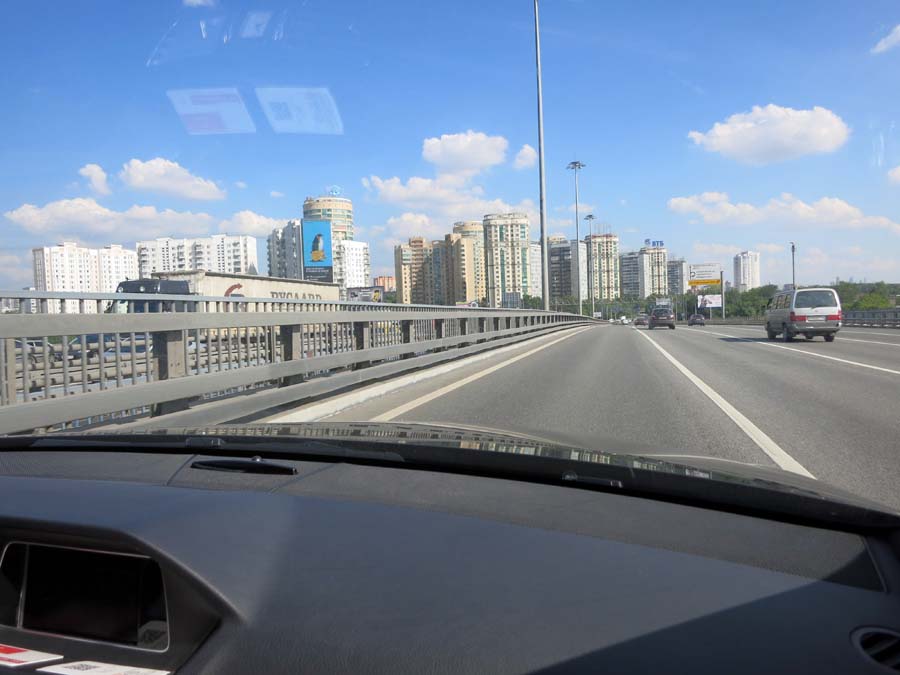 This is COMPLETELY random but I noticed this guy rappelling down the side of the building to clean the windows (or possibly paint the trim).
A close up of a Moscow Russia window cleaner rappelling down the side of the building to clean windows.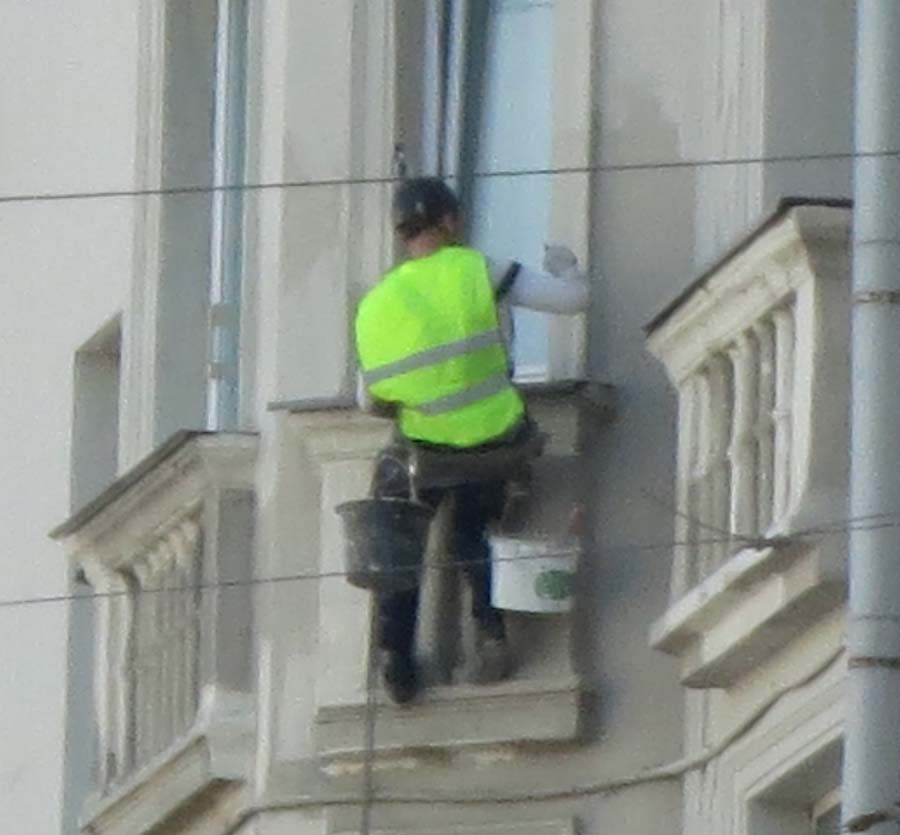 My final photo has no purpose. It shows the big wide road we drove along with lots of "mixed use" buildings on the left. By "mixed use" I mean the first floor was all businesses like clothing stores and food stores and it looked like people's apartments above them.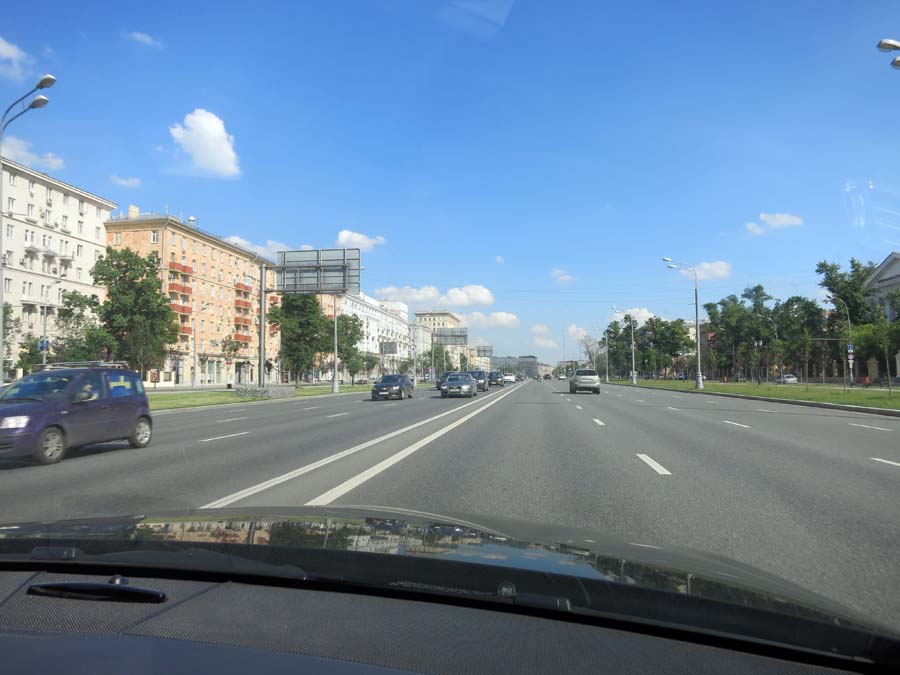 Final picture is of "Red Moscow Perfume", also known as "Krasnaya Moskva". A woman I know from Russia requested we bring this back, and she hadn't smelled it in 20 years. Quoted from the internet: "Krasnaya Moskva is known to every citizen of the former Soviet Union and its name is rife with emotional associations. The fragrance is a classic example of a soft floral chypre , with a cool head note (bergamot, coriander, neroli, aldehydes), a spicy floral heart, based on carnation, rose, jasmine and ylang-ylang and a base note, made up of woody and balsamic notes such as iris and Tonka bean.

A typical scent of its time (a spicy floral), the composition combines cool, almost metallic notes with warm floral and woody accords. It is pleasantly hefty, a bit tangy and it develops beautifully on the skin. Krasnaya Moskva (in perfume strength, as well as others) and other fragrances by Novaya Zarya are available for purchase in the factoryís boutique on Nikolskaya Street (in the shop center of Gostiniy Dvor),
as well as via Internet.

People think this fragrance reminds them of:
http://www.fragrantica.com/perfume/Guerlain/L-Heure-Bleue-208.html
http://www.fragrantica.com/perfume/Christian-Lacroix/C-est-La-Vie-6012.html
http://www.fragrantica.com/perfume/Coty/L-Origan-6071.html
..."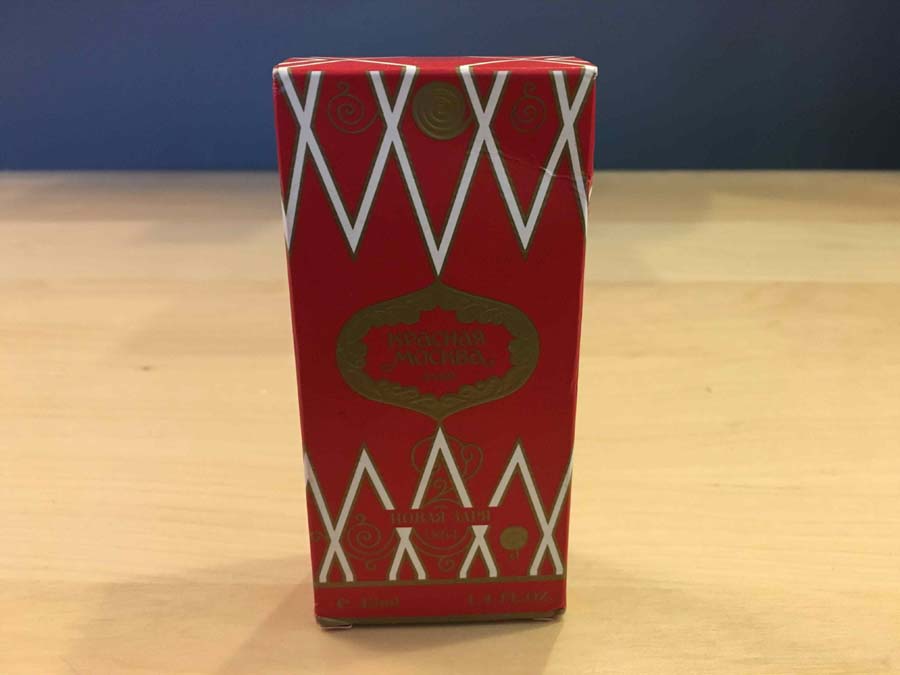 ============================== ALL DONE!! ====================
That's it!