2021 California Oregon Trip

(8/4//2021 - 8/9/2021)



On the 8/4/2021 Katherine and I flew to San Francisco, I attended a very odd Backblaze board meeting outside (due to California changing rules about meetings indoors). Then we flew up to Oregon for a small family reunion. Click on any picture below for the highest resolution photo that exists.
Click here to see a video of our landing at SFO Airport on 8/4/2021. This is part of a longer term project I have, it's just the airplane landing.
When Katherine and I arrived in San Francisco, we checked into Hotel Via (across from the ball park in San Francisco). Below is a picture of our room on the top (12th) floor.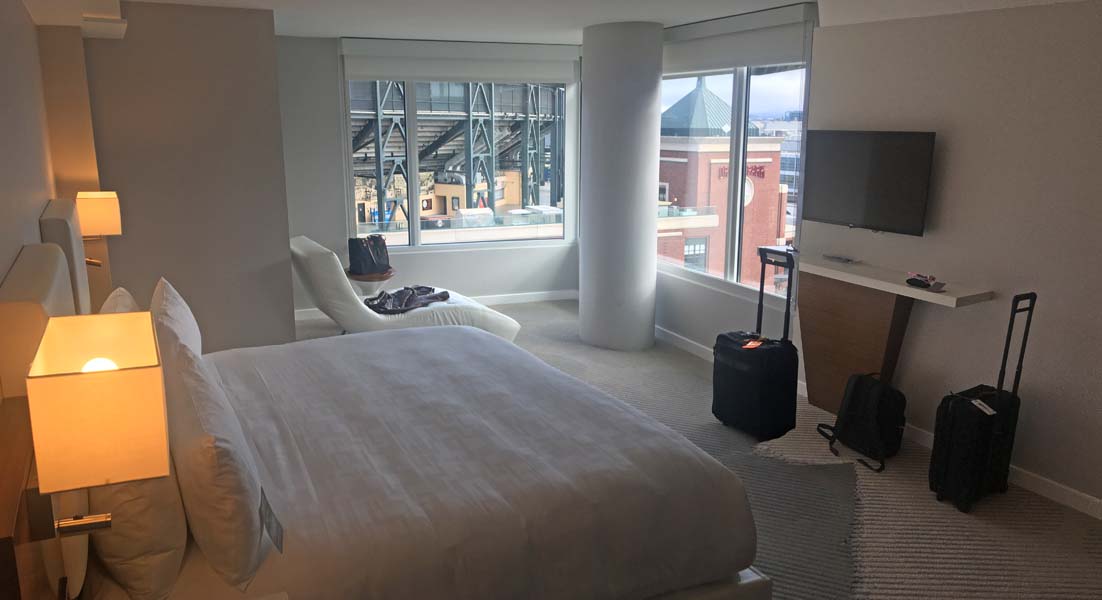 The view out the corner window in this top floor room.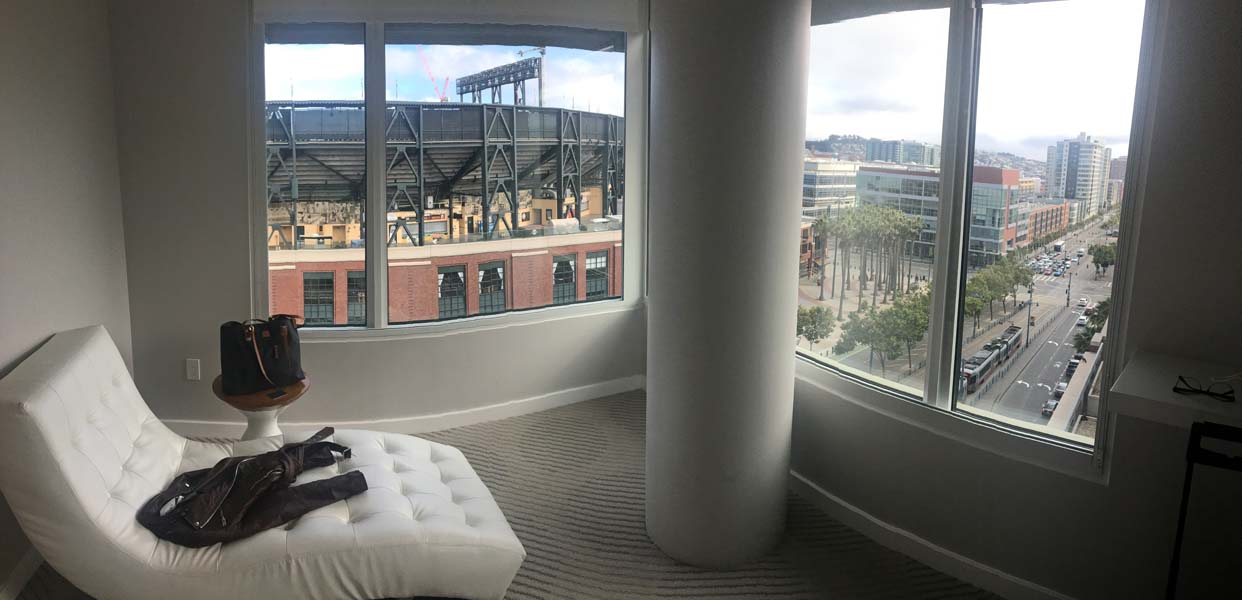 That night we met up with Lise (seen below with Katherine) and had dinner at "Waterbar" in San Francisco. We had not seen Lise in maybe 2 or 3 years (?) because of the pandemic. In an amusing development, we discovered that Lise would be in Corvallis, Oregon at the same time as us in 3 days time, so we ended up meeting Lise twice on this trip.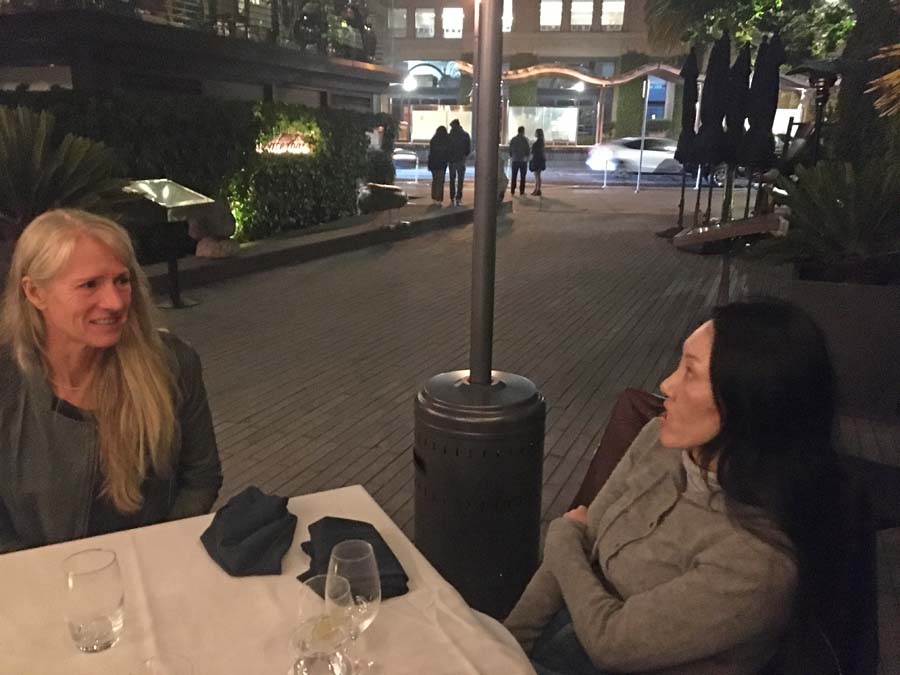 After dinner we are waiting for our Uber ride back to the hotel. This is Katherine under the Bay Bridge which is lit up at night.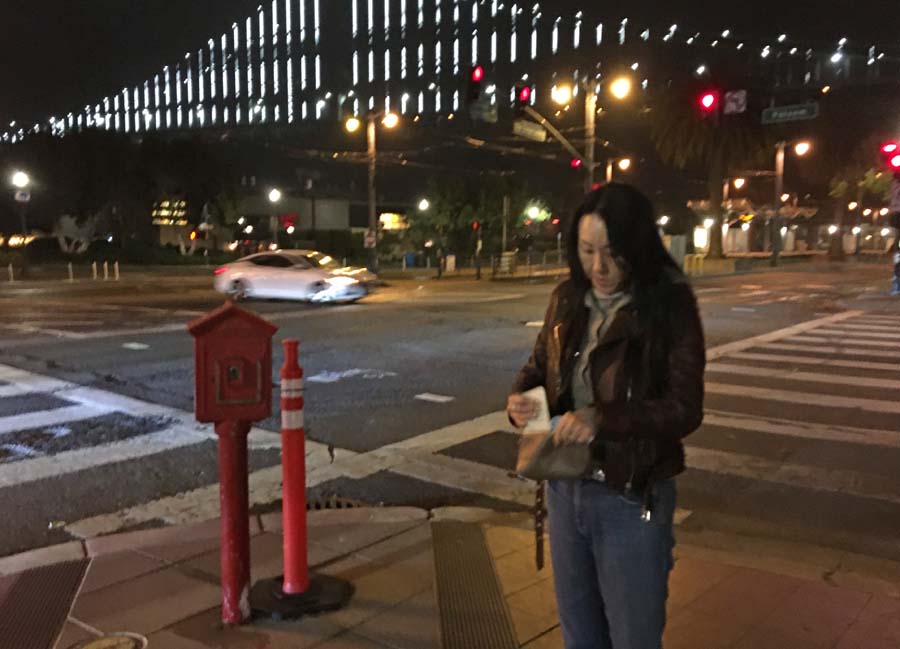 The next day I dropped by the San Mateo Backblaze office, then went to our board meeting. This is a video of me trying to badge into the office (before the board meeting). The old lock system we used for years worked "ok", the new one we installed barely functions at all: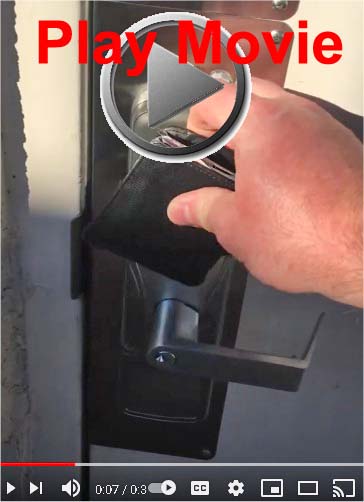 After seeing a few people in the office, I headed over to the Backblaze board of directors meeting. California just started locking down again and we could not legally meet inside without wearing masks all day, so we rented this outdoor patio at "Bay Club" in Redwood Shores. It was one of the stranger board meetings I've ever been to. This trip had been planned to be "in person" a few months earlier so we could finally meet several people "in person". From left to right below: James Kisner (far left - I had never met face to face), Damon Uyeda, Igor Shoifot, Tom MacMitchell (I had never met face to face), Gleb Budman in foreground in pink shirt, Barbara Nelson (I had never met face to face), Jocelyn Carter-Miller (obscured behind Barbara, I had never met face to face), Frank Patchel, and Amy Kunde driving the video gear at the front. And me, Brian Wilson (not pictured). Tim Nufire and Billy Ng and some others attended by video. You can see a page about most of us here: https://www.backblaze.com/company/about.html

Frank (our CFO) giving updates on financials of Backblaze.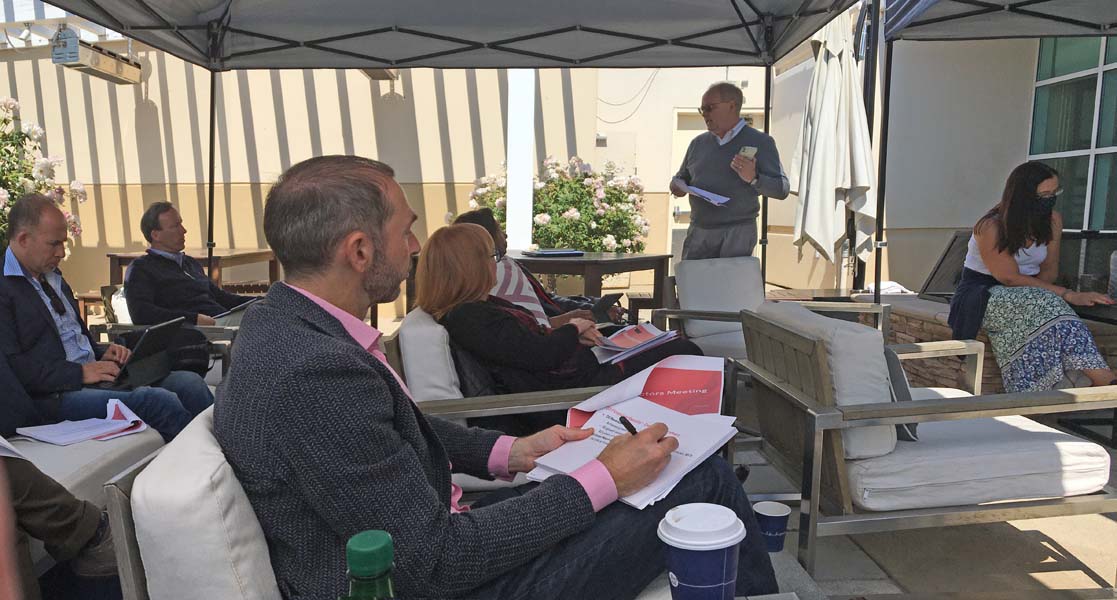 A picture focused on the Google Meet setup outdoors. Just surreal.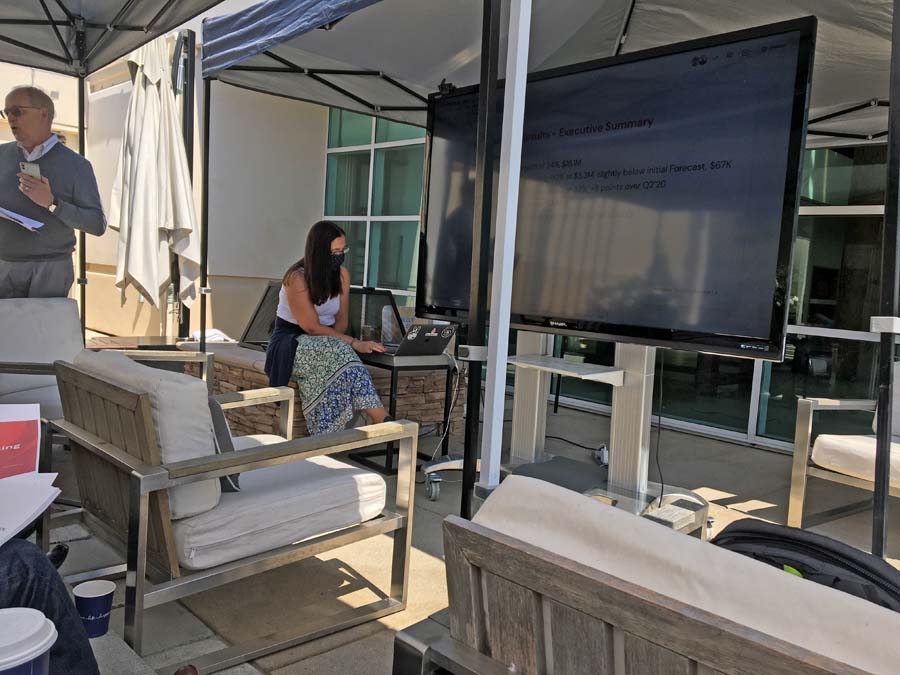 After the board meeting, we took a tour of the new Backblaze office. We will keep the old office also, this is expansion room across the street. In the picture below you can see Gleb, Tom, and Derman Uzunoglu.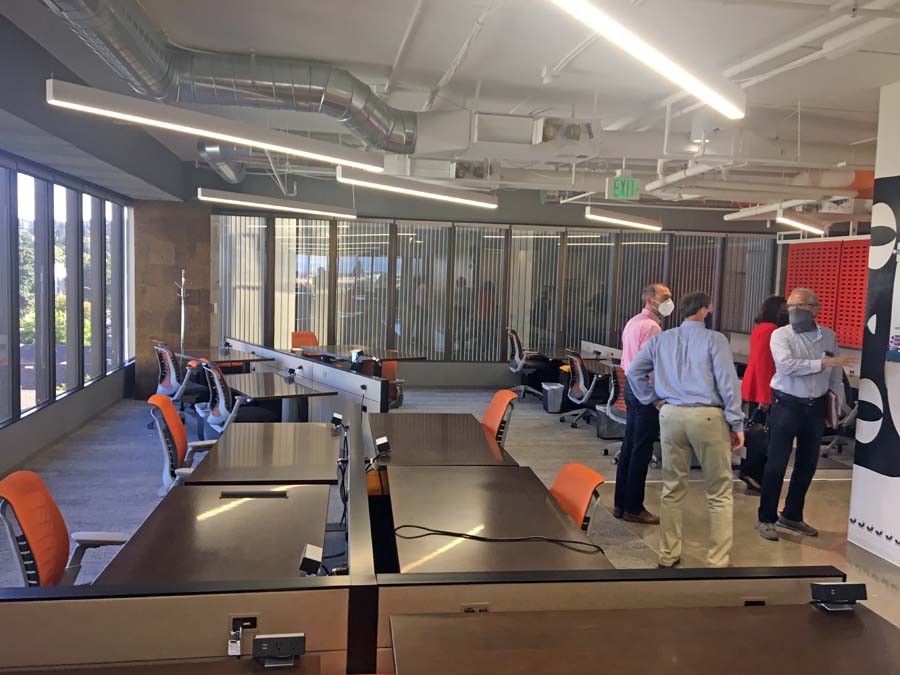 You can see our old office building in the lower left of this picture from the new office space.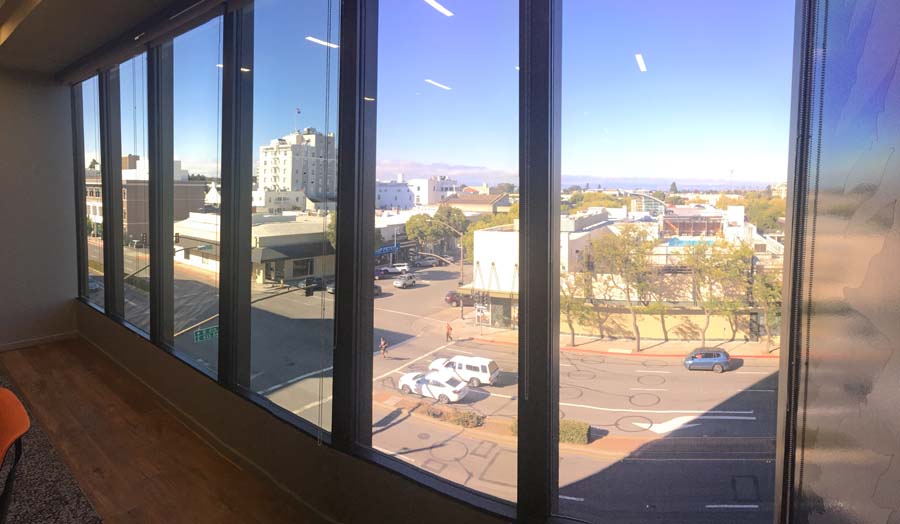 After the board meeting Katherine and I went to our previous neighborhood where we lived in Portola Valley to meet up with friends. We have eaten here at what we call "Ladera Mexican" (Amigos Grill) something like 200 times in the last 6 years. We know the owner pretty well, and it was nice seeing him and talking with him again. We ALSO ran into Christina Galindo (a very old friend of 20+ years, she helped setup our previous startup and also Backblaze.)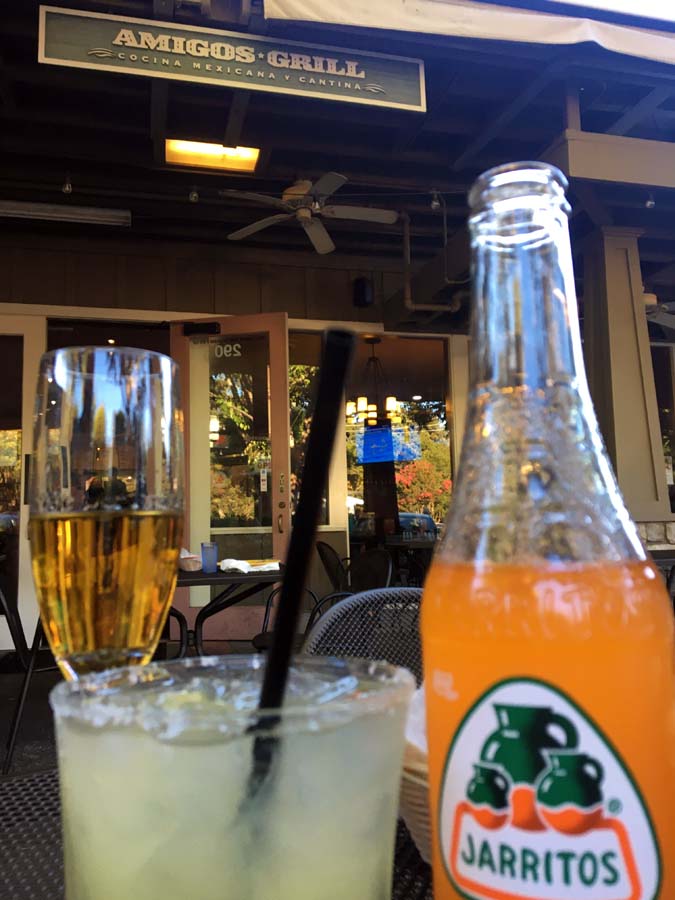 A panorama of our previous neighborhood eatery. Of all the things we don't miss about California, we do miss Portola Valley.

We drove back to our Hotel Via in San Francisco, and when we arrived we went up to the Hotel Via rooftop bar. Below is a panorama taken at the top.

The person to the left center of screen is Katherine.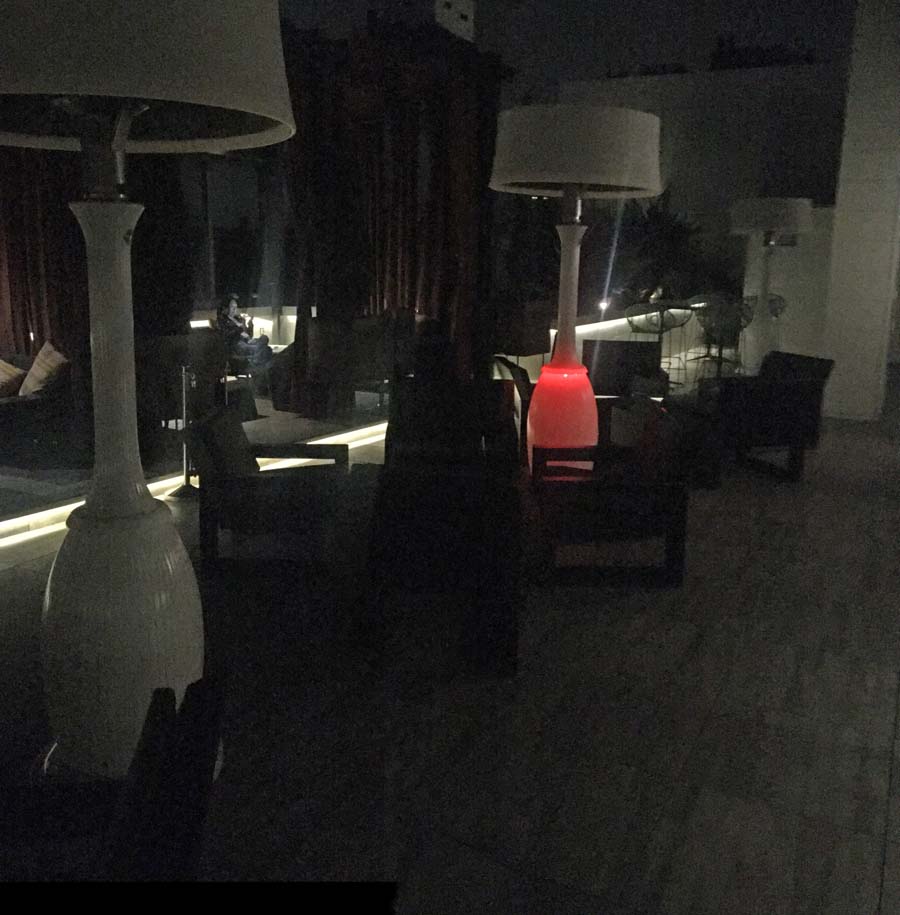 The next day we saw this "Amazon Go" store. This is where Amazon invented this new concept where customers can walk inside the store and browse around, and if they see something they like they can pay for it and leave. Amazon coined three new phrases to describe this concept: "brick and mortar", and "store front", and "convenience store". Amazon is the most innovative company of all time, how do they come up with this stuff? There are no reservation required, and it doesn't "ship" to your home - instead you "carry" it home yourself. I think this is going to be the biggest idea ever, I'm so glad Amazon invented it. Can you even imagine not waiting 2 days to get stuff you buy? Or to pick up things on shelves and hold them before you decide to walk out with them? It's the most brilliant idea of all time. I could have never imagined this kind of a "brick and mortar" store would exist in my lifetime, Amazon brings us the future!! Why has nobody ever tried this before? Heck, it might even put the shipping business out of business because it's so convenient and faster. I heard a rumor that Amazon was going to invent a place people can go meet other people and drink alcoholic beverages. Amazon has named this a "bar" for some reason, I'm not sure why. But hey, if Amazon invents it, they should get to name it, right?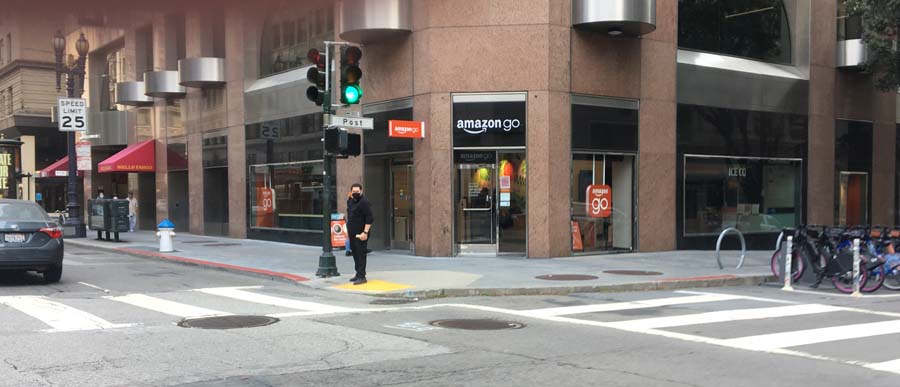 We flew up to Eugene Oregon, and our rental car has Texas license plates. So did our rental car in San Francisco. I think that's funny.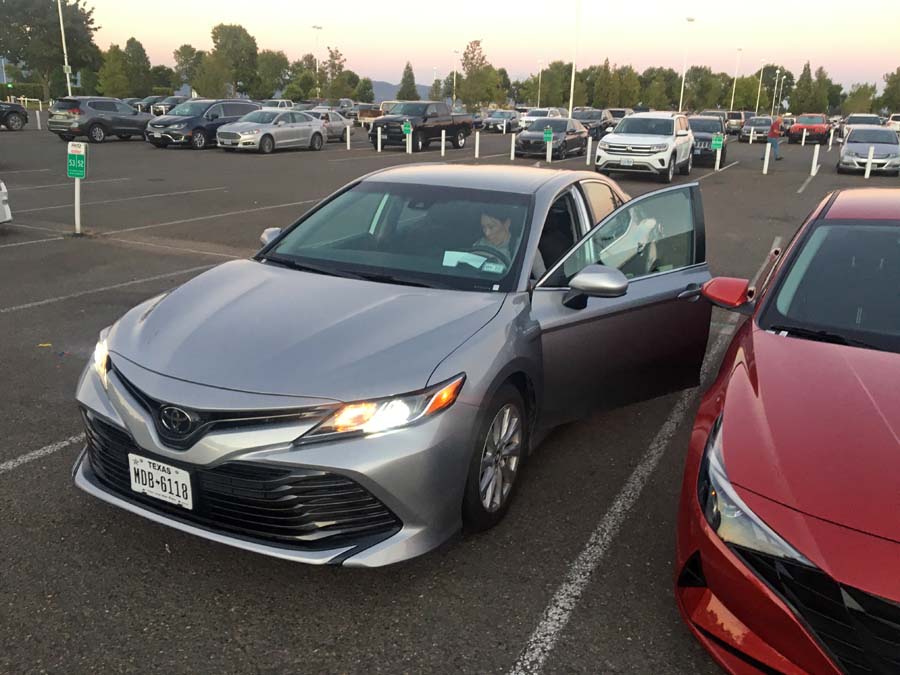 This Hertz rental car is displaying an error saying "Maintenance Required".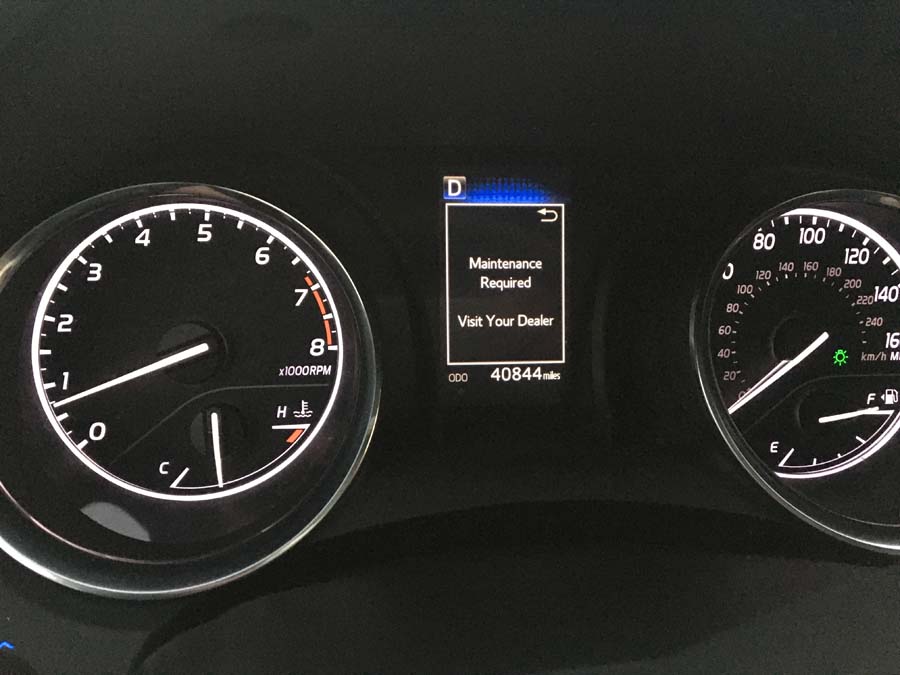 Katherine and I rented an VRBO from "Fernwood Circle Guest Houses" in Corvallis. It was nice, and provided a nice venue for our family reunion. The address was 5684 SW RedTop Place, Corvallis, OR.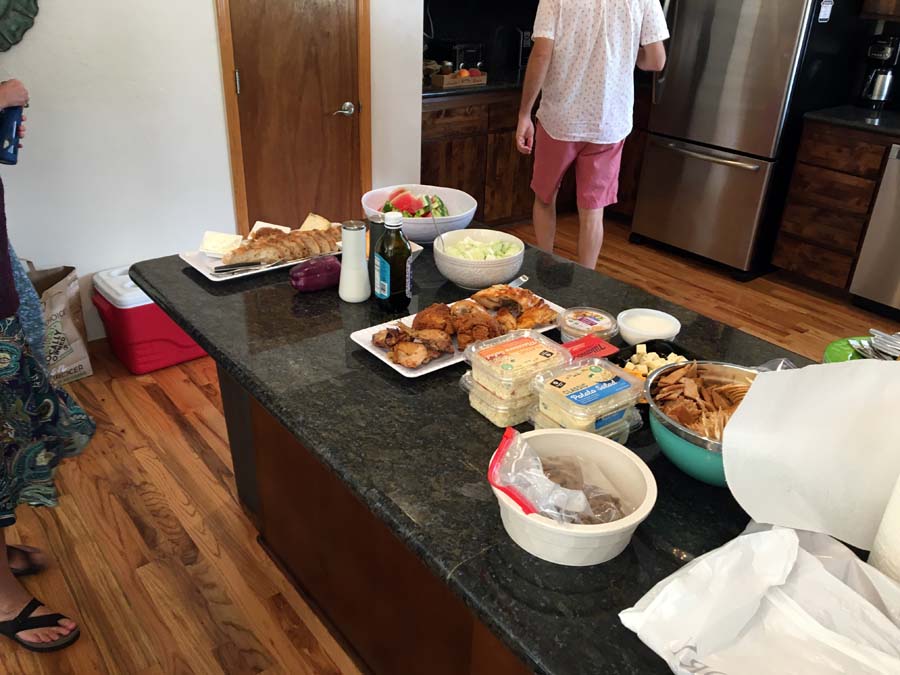 From left to right: Katherine Chung, Mark Hoffmann, Cheryl Hoffmann, Randy Wilson, Ramey Echt, Howard Wilson. Howard is the father of Cheryl, Randy, and Brian. We grew up in Corvallis Oregon.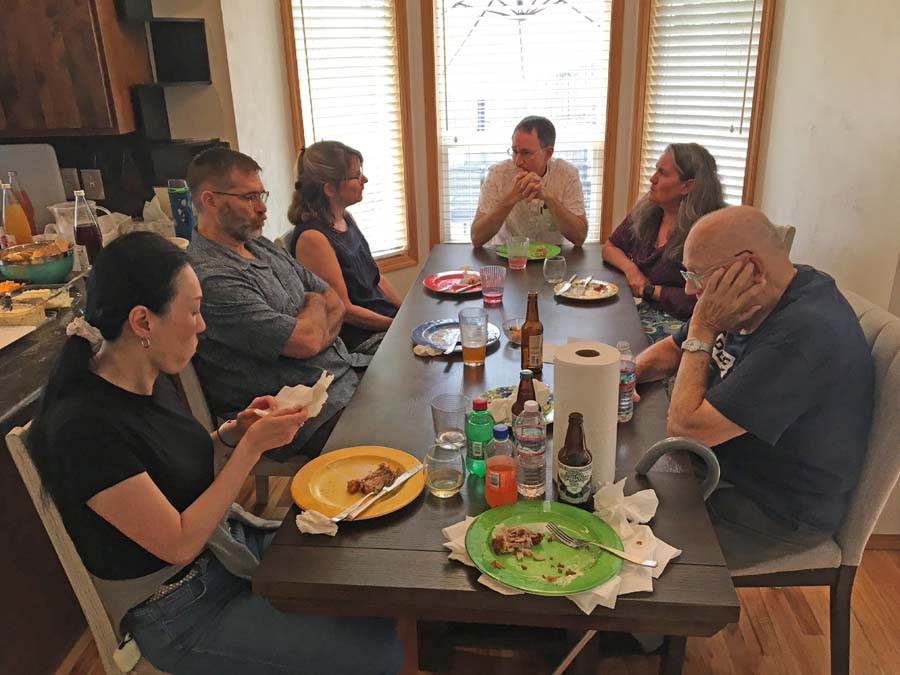 Howard Wilson.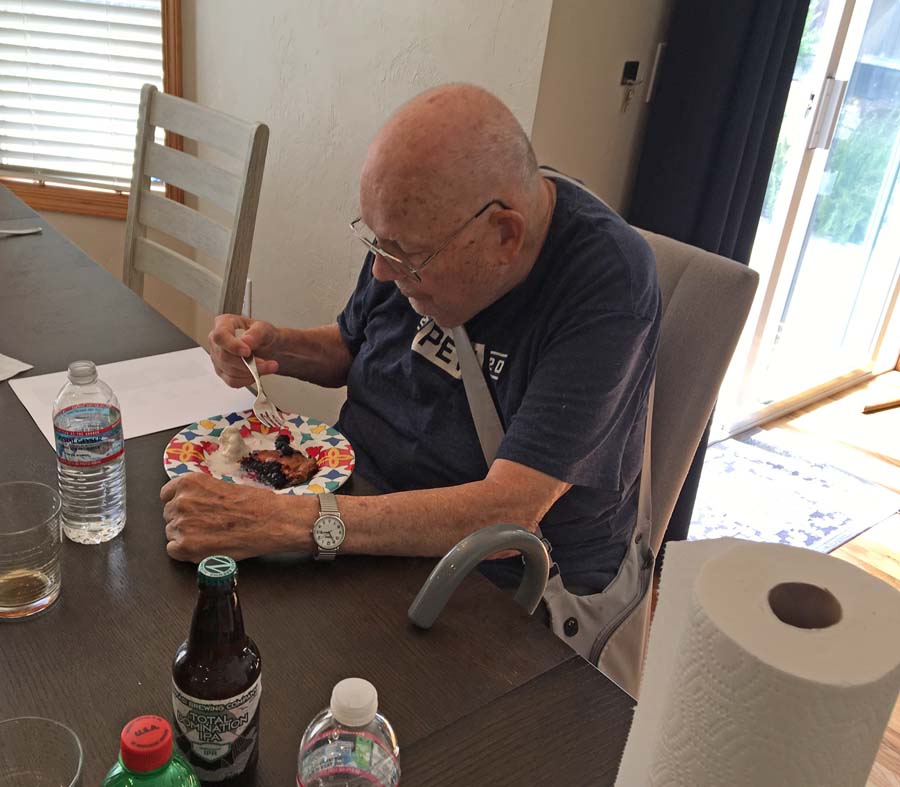 Randy Wilson.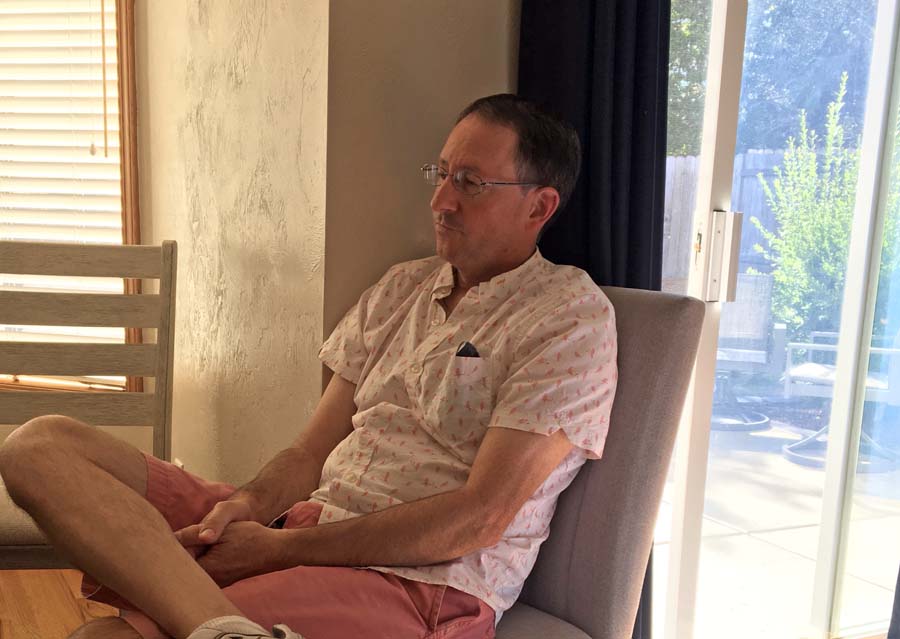 The Waring clan stopped by! We grew up down the street from the Warings. From left to right: Laura Colbert, Howard Wilson, Willa, and Lance Waring.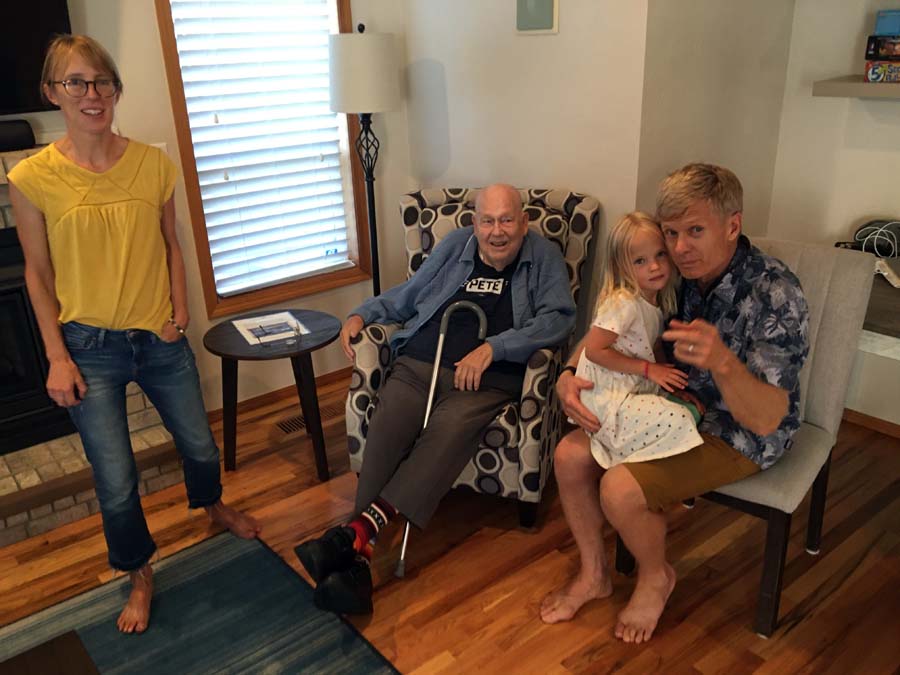 The Waring clan and Wilson clan mixing. Katherine and I just saw Lise (center) in San Francisco a couple days before.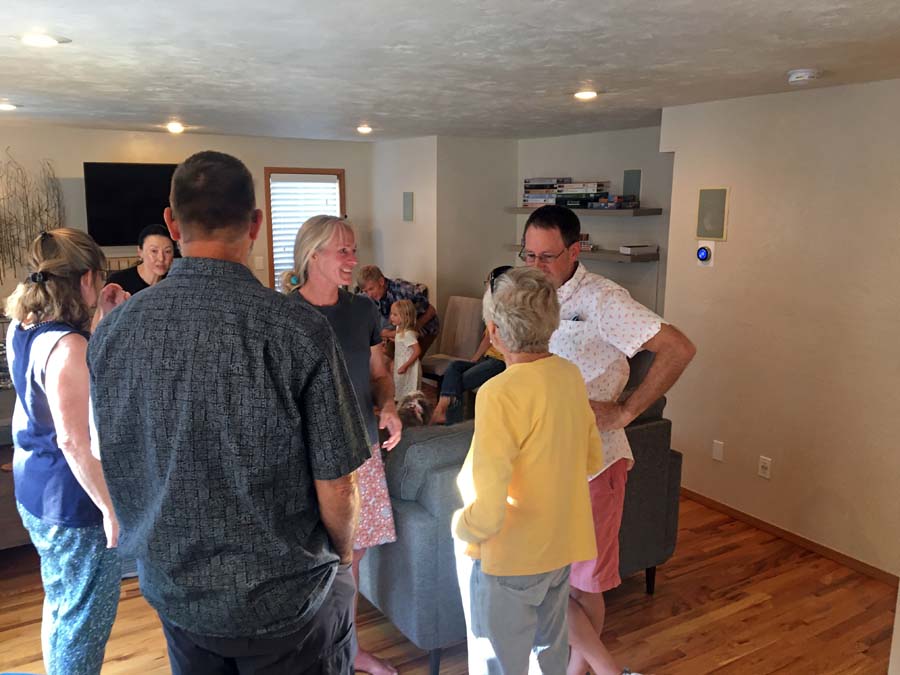 Catching up.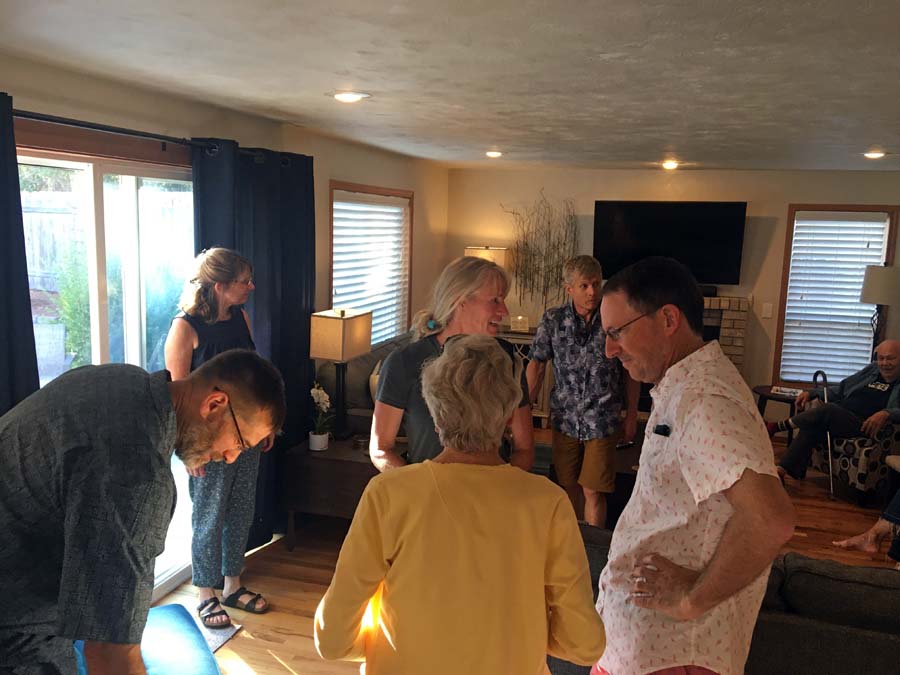 More catching up.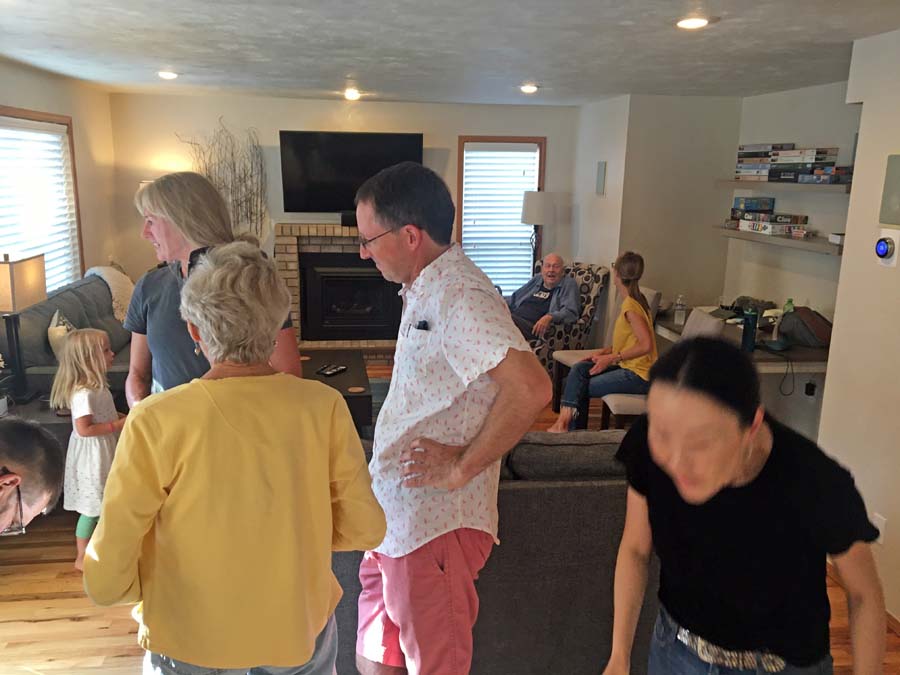 Lance and Willa go searching for Oregon strawberries. They are in season. If you aren't from this region, you probably have never had a strawberry that tasted good. All the strawberries you purchase in stores are designed to "travel" which means they are firm, look nice, but they have no taste like a strawberry is supposed to have. Oregon strawberries don't travel, and are only harvested for a month and a half each year (July and August). They are as rare as truffles and don't travel as well as truffles so very few people know they exist.
Lance finds a precious few strawberries for Willa.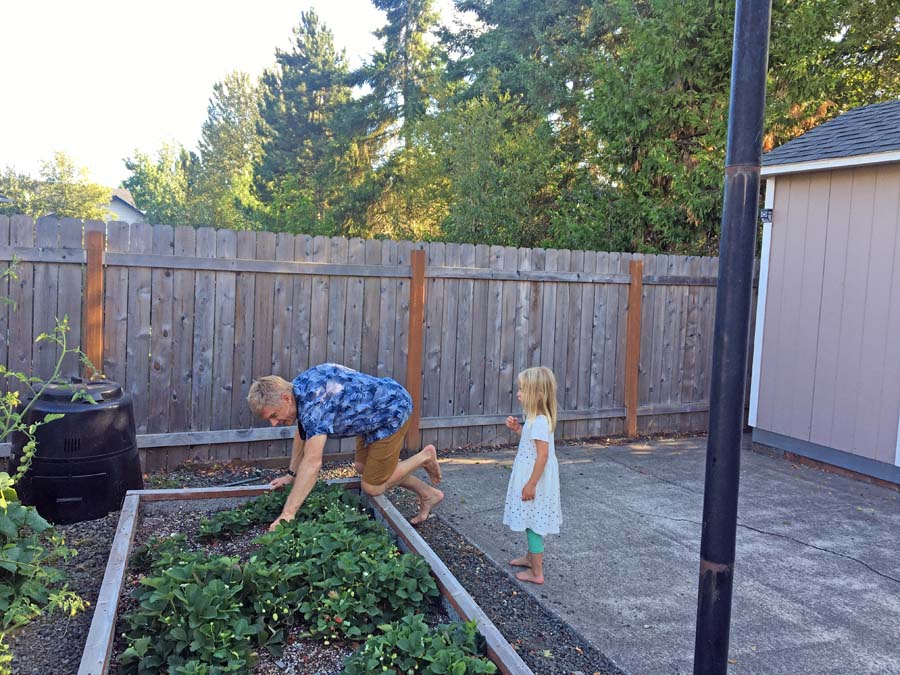 Lance hunting for strawberries.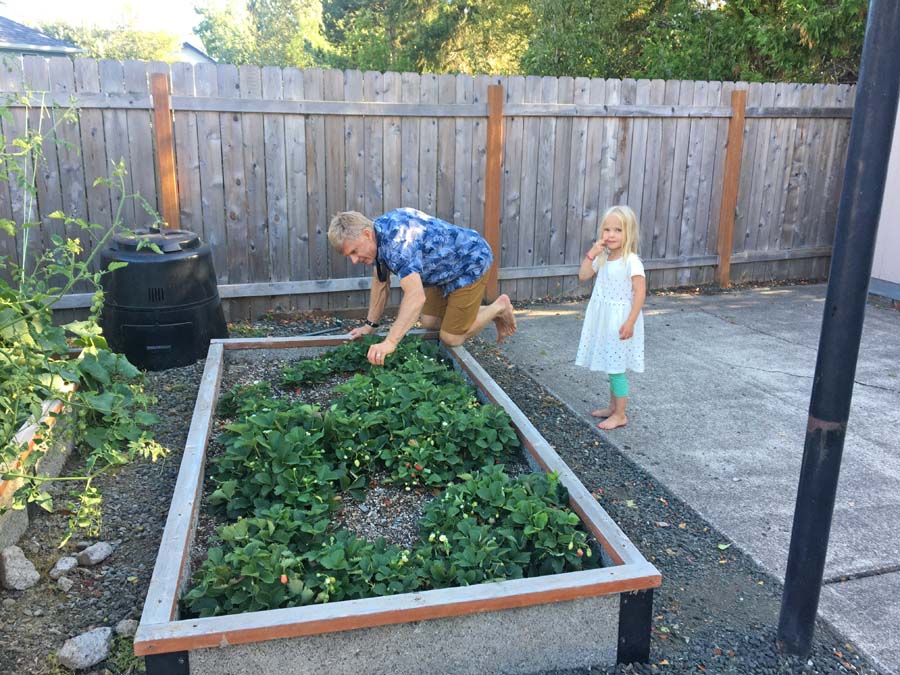 From left to right: Howard Wilson, Cheryl Hoffmann, Doris Waring, Randy Wilson.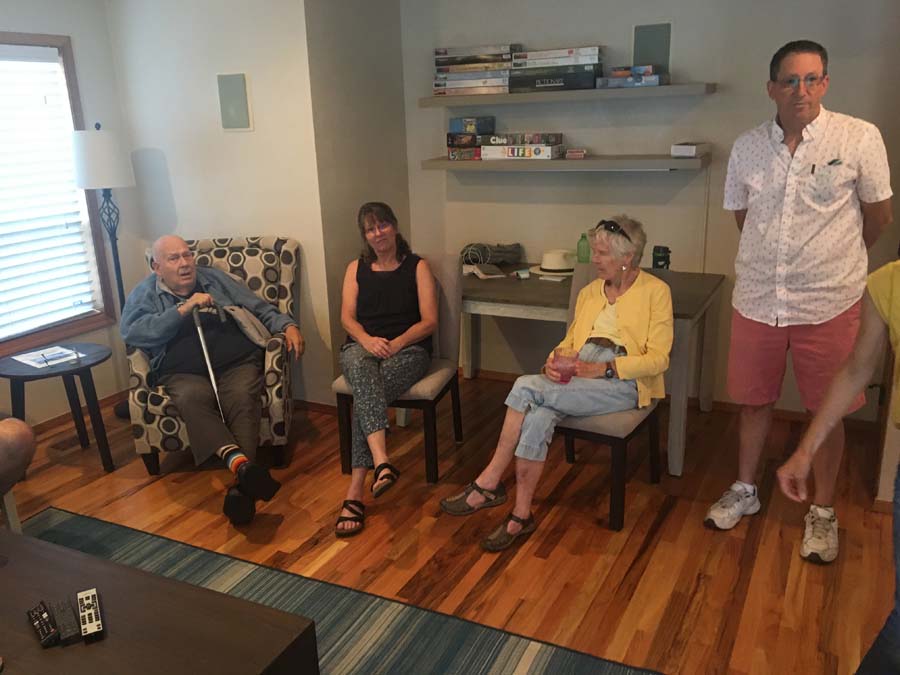 The Wilson and Waring clan mixing.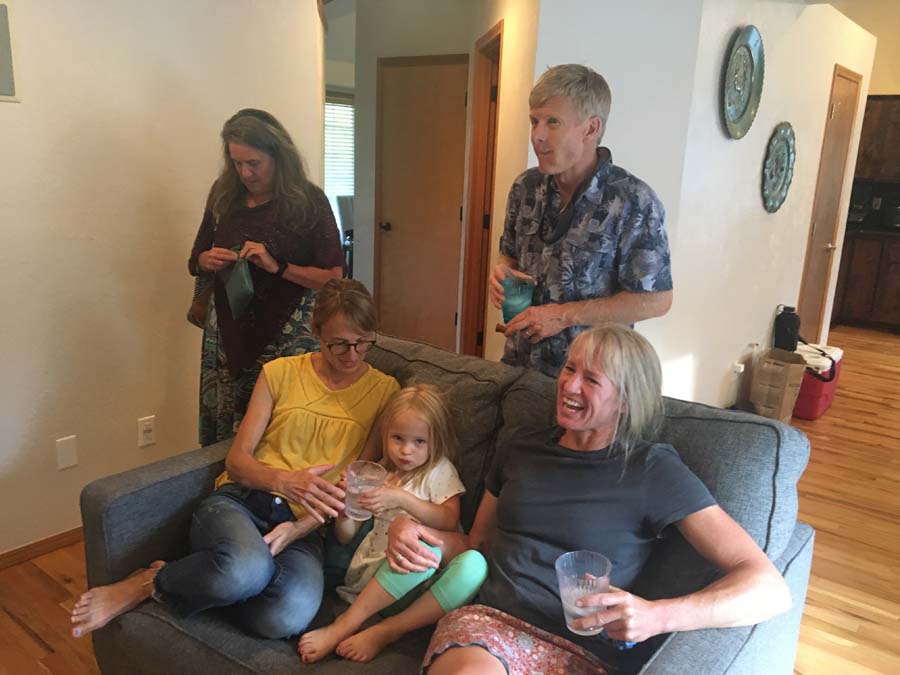 The Wilson clan, from left to right: Brian Wilson, Katherine Chung, Ramey Echt, Mark Hoffmann (in chair), Randy Wilson (in chair), Howard Wilson (with cane), Cheryl Hoffmann.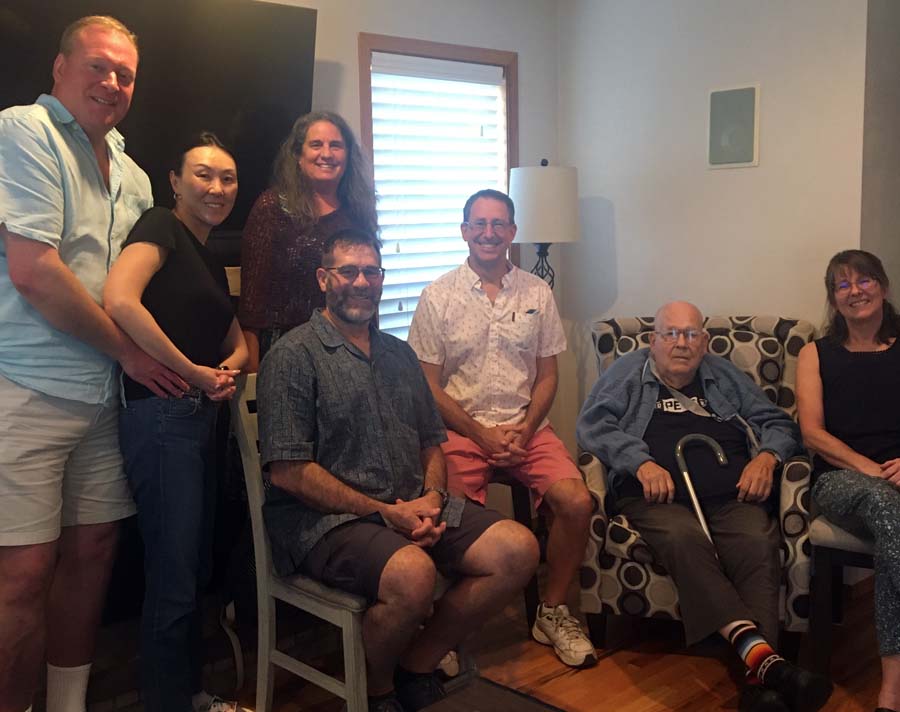 The Waring clan, from left to right: Doris Waring, Willa (on couch), Laura Colbert, Lance Waring, Lise Waring (holding glass sitting on couch).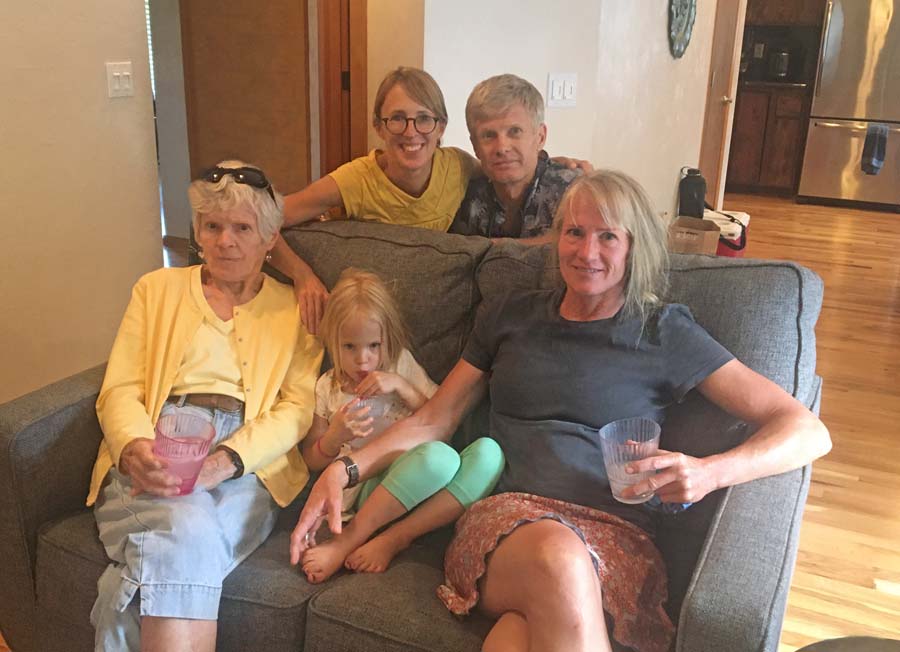 Later that night when I took my father Howard back to "The Caring Place" I noticed this piano donated by my mother Virginia Wilson who passed away a few years ago.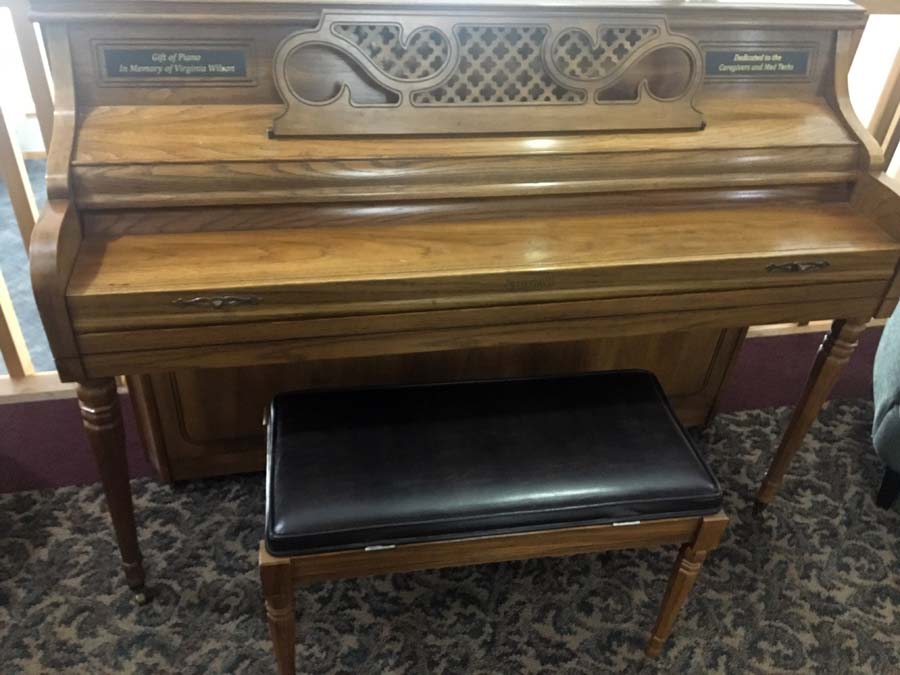 The next morning (Sunday morning) Katherine and Brian left Corvallis bound towards home in Austin. Here are a few last pictures of the VRBO. Below is the kitchen.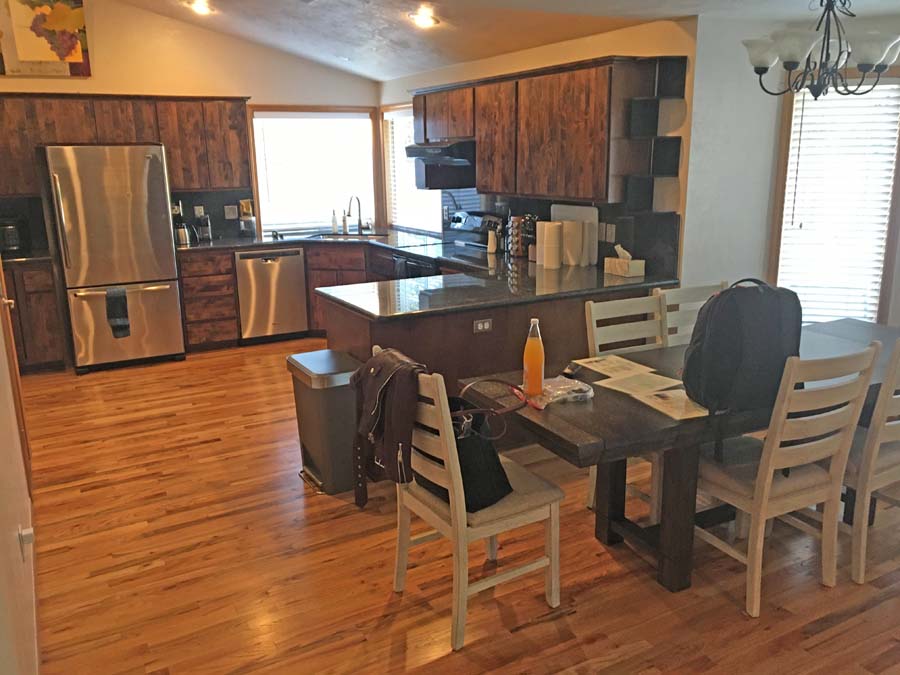 The dining room: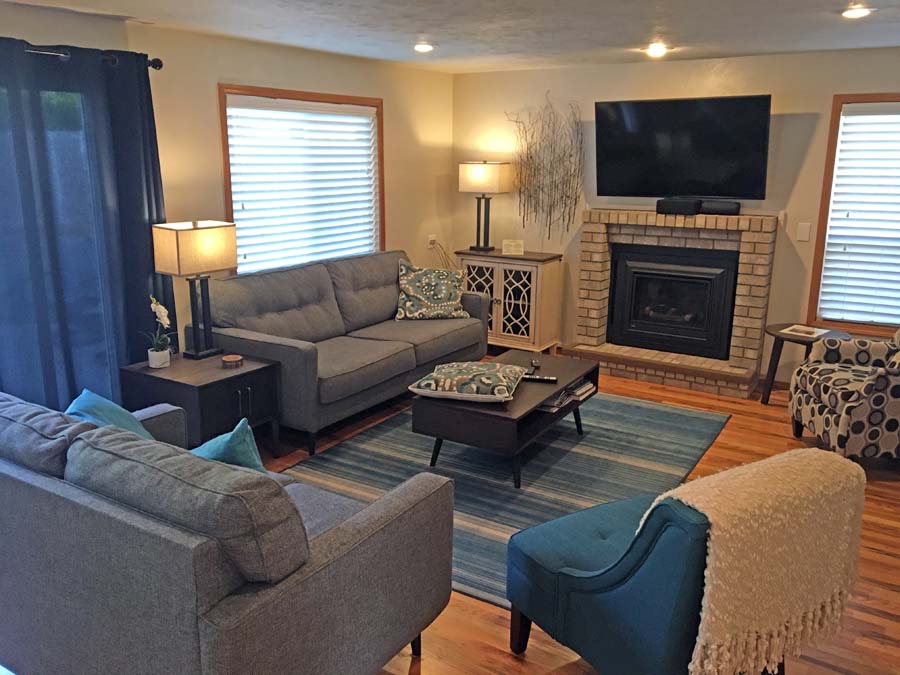 The upstairs master bedroom:

The front entrance way.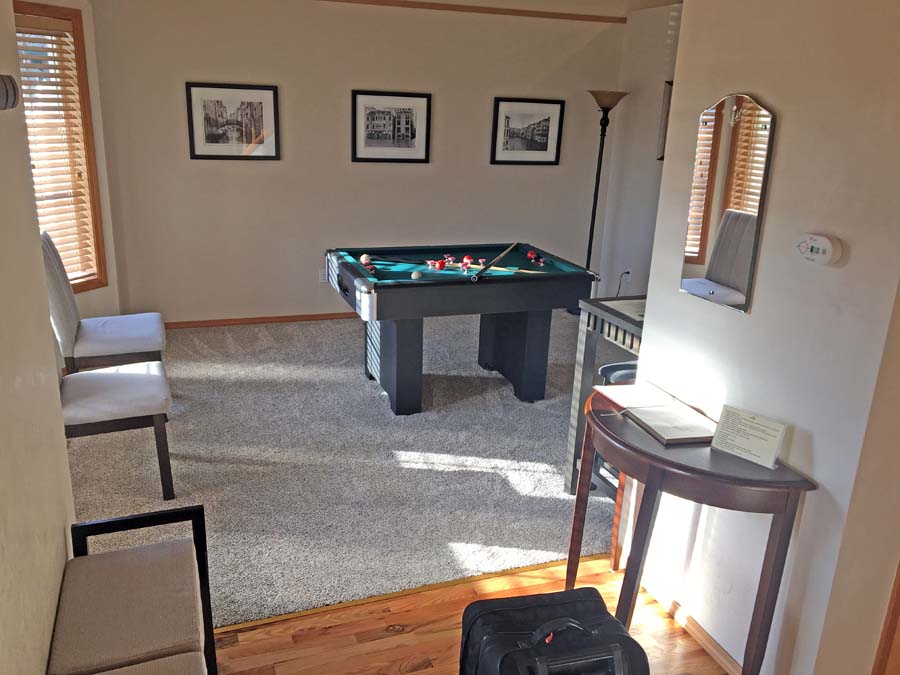 That's it! That's all the pictures and movies.
Things to bring on California/Oregon Trips: (this isn't for you! Stop reading! I'm old and forget things.)
- Alaska and United don't have USB chargers on airplane, bring wall wart. American doesn't have any power source at all!
- alarm clock
- glasses (? mostly I just use my "thin lenses" from my wallet anyway ?)
- swimsuit
- car GPS holder
- iron
- blow dryer
- shoes and crocks
- complete change of clothes to fly home
- dop kit with toothbrush, toothpaste, caffeine, nasal spray, band aids
- jacket?
- umbrella? check weather
- vaccination card picture.
- ipad
- drug patches to ease withdrawal symptoms
- Travel CPAP
- coffee kit for Katherine
- ear plugs for flight
- remember: Hotels room service is touch and go. Hotels no longer have paper handouts and paper menus anymore in the rooms - maybe book mark the menu before we leave. Covid changed things..
All done!