Sun Valley Ski Area
Above Boise, Idaho Vicinity
(Click on any map to see an extremely detailed version. About 200k in size.)
Pictures from the mountain and town on a different page.
Special thanks to Nan Emerick (nemerick@svidaho.net, www.nanemerick.com) at "Sun Land Investments, Inc." who allowed me to borrow her flatbed scanner to do this page. If you're looking for real estate in the Sun Valley area, look her up.
Sun Valley Lift map. There are two entry points to the hill, the one at the VERY bottom of this picture is called "River Run Lodge", and the access more to the right edge is called "Warm Springs Lodge".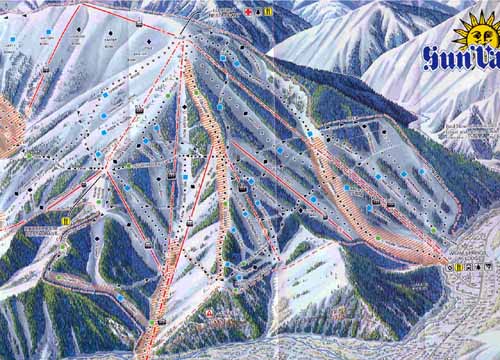 The town of Ketchum (at the base of the Sun Valley ski area):