2015 Ski Whitefish Montana Big Mountain

(3/5/2015 - 3/8/2015)



On 3/6/2014 some friends and I went skiing at Whitefish Mountain Resort (formly known as "Big Mountain") in Whitefish Montana. Here is who showed up from left to right in thumbnail above: Brady Nilsen, Mike Chow, Karl Dohan, Brian Wilson (me), Brian Wohletz, Garth Eliason (orange helmet far right). Below are some pictures from the trip. Click on any picture to get a HUGE version of that photo.

This trip (with this group of friends) is an annual trip we have taken for 19 years. Each year we decide a new location and all meet there. Here is the list of locations and the dates we skied there.
12/20/97 - Crested Butte, Telluride, Vail, and Aspen, Colorado road trip.
1/20/98 - Park City, Utah (during the Sundance film festival)
2/14/99 - Taos, New Mexico (Click here to see pictures from that trip.)
3/26/00 - Whistler, Canada not full group (Click here to see pictures from that trip.)
3/11/01 - Banff, Canada not full group (Click here to see pictures from that trip.)
3/3/02 - Steamboat, Colorado (Click here to see pictures from that trip.)
3/9/03 - Jackson Hole, Wyoming (Click here to see pictures from that trip.)
4/17/04 - Lake Tahoe, California (Click here to see pictures from that trip.)
3/11/05 - Big Sky, Montana (Click here to see pictures from that trip.)
3/3/06 - Mammoth, California (Click here to see pictures from that trip.)
3/3/07 - Chamonix, France (Click here to see pictures from that trip.)
4/2/08 - Breckenridge, Colorado (Click here to see pictures from that trip.)
2/13/09 - Reno, Nevada skiing Squaw Valley and Mt Rose (Click here to see pictures from that trip.)
2/25/2010 - Sun Valley Idaho (Click here to see pictures from that trip.)
3/9/2011 - Park City, Utah (Click here to see pictures from that trip.)
3/3/2012 - Taos, New Mexico (Click here to see pictures from that trip.)
2/16/2013 - Vail, Colorado (Click here to see pictures from that trip.)
2/21/2014 - Whistler-Blackcomb, Canada (Click here to see pictures from that trip.)
3/6/2015 - Whitefish Montana "Big Mountain" (the page you are currently looking at!)
A quick note about my Delorme inReach SE 2-Way Satellite Communicator Location Beacon - When skiing, hiking, or hunting my favorite new safety tech is my location beacon. This thing is pretty awesome - the battery lasts about 4 days, and it reports my GPS location every 10 minutes. Plus I can use the two way Satellite text messaging to communicate EVEN WHEN OUT OF CELL PHONE RANGE (it's global, based on the Iridium Satellite Constellation). Click here for the live map, but below is a screenshot of my movements over the last three years (the red annotations I added with a paint program).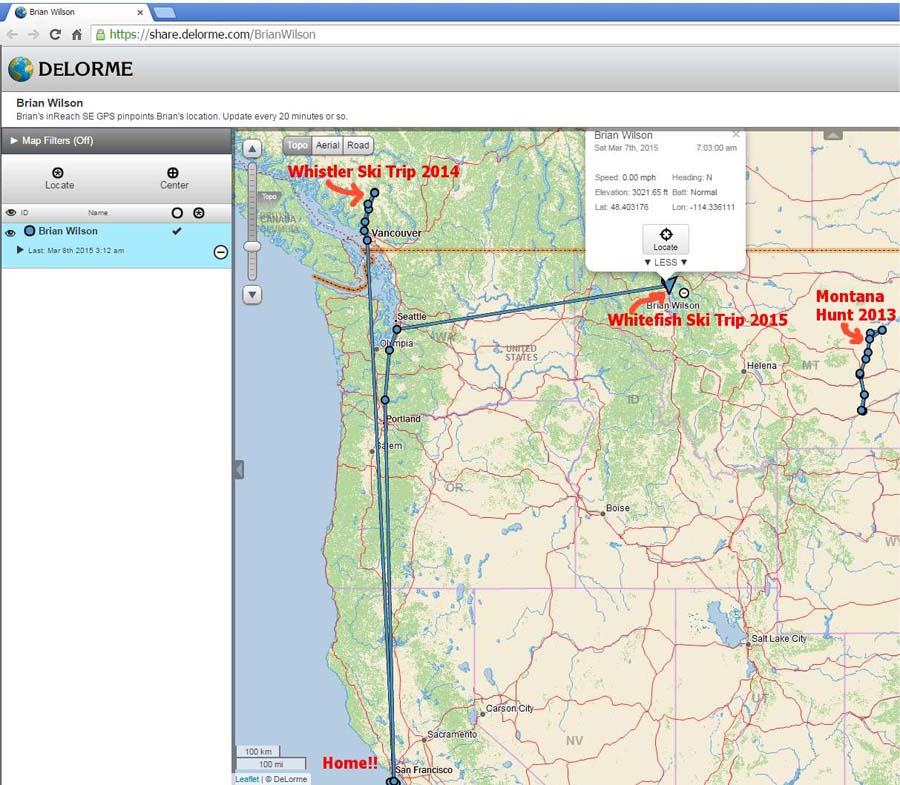 Below is the zoomed in map of this trip and my motions. Click on the map below to zoom in to see what it looks like, or CLICK HERE for the live version to play with it. The little "white speaking bubble" appears on the map when you click on an individual location where I have been. It reports my location in latitude and longitude, speed at the time, altitude, etc. The idea here is if I get lost or break a leg, I can both communicate out, but if I'm so incapacitated or out of signal at least a rescue party can see where I am (or was recently).
Ok, on to the pictures! Below I'm starting out before driving to the San Francisco SFO Airport in my Smartcar. Yep, skis and big bags fit in a Smartcar just fine!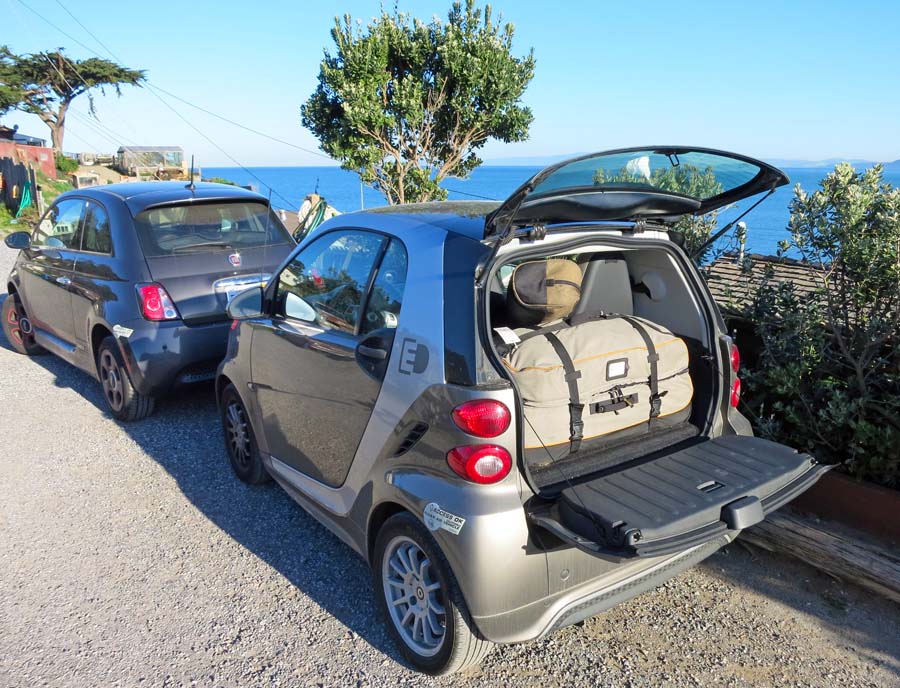 Slightly different angle, same picture of a Smartcar containing skis. The end of the ski bag is the brown little tiny brown square at the top back left of the trunk of the Smartcar. The other end of the ski bag is in the passenger's foot area.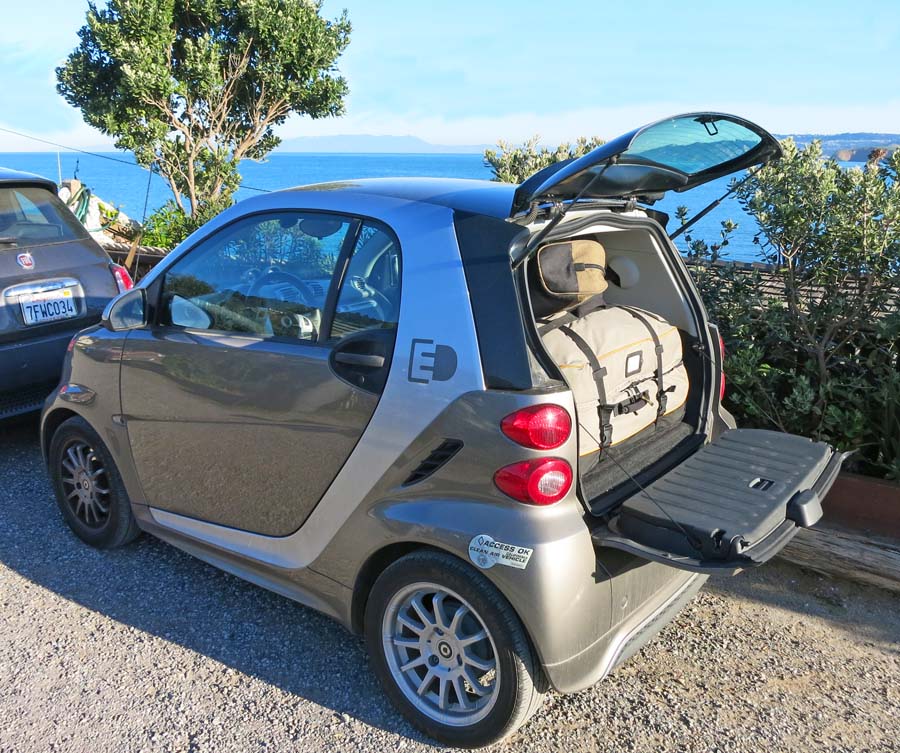 All closed up, ready to drive to the airport with the skis inside.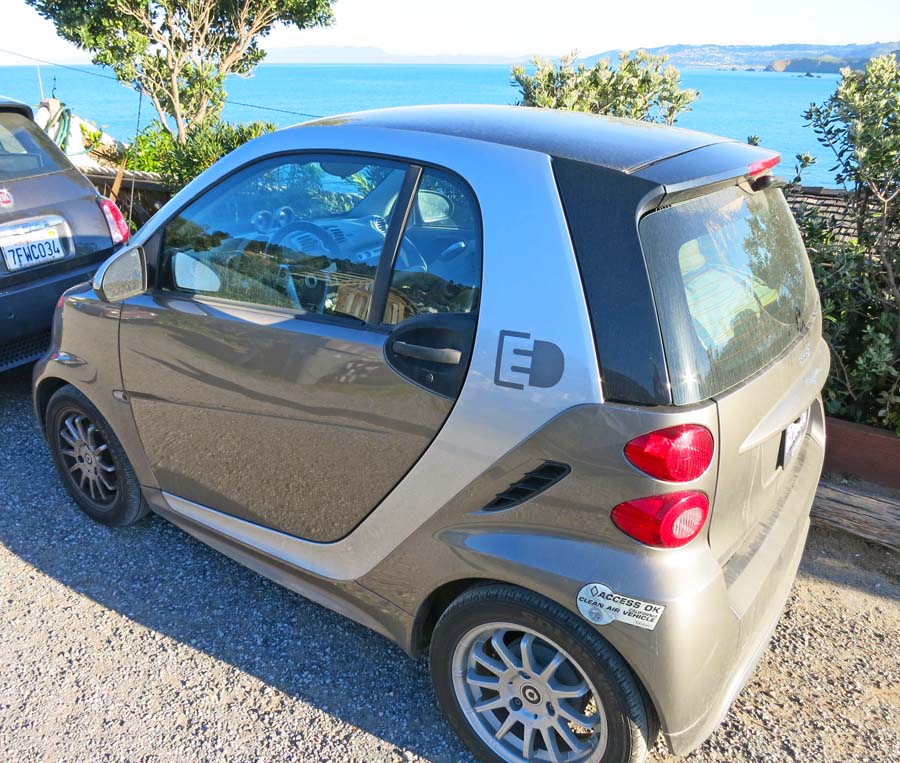 At SFO airport through security. I don't like airports much, I especially despise TSA security theater.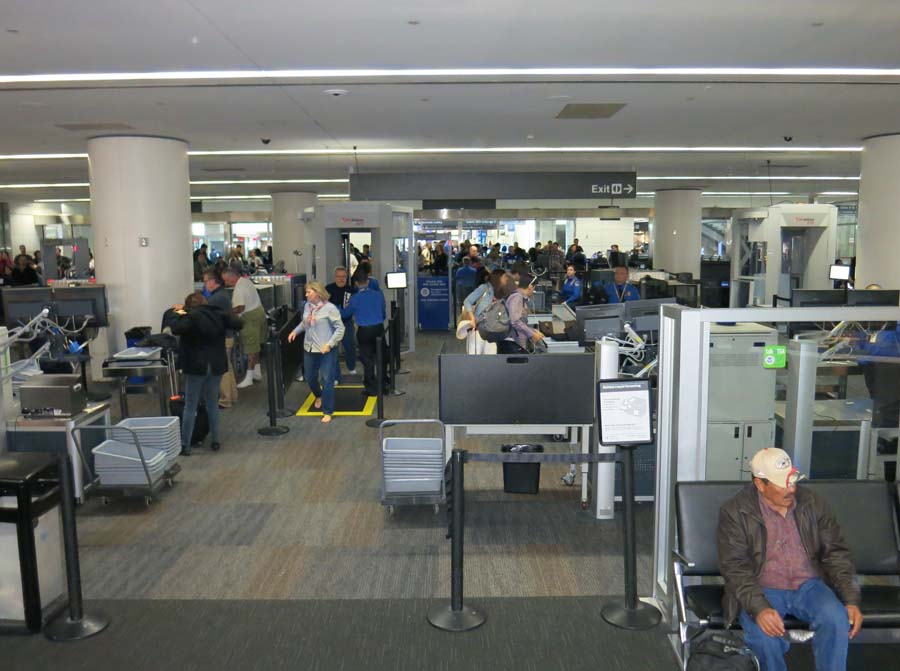 I saw this mountain out the window of the airplane, I *think* it might be Mount Rainier, but I'm not completely sure. Do you know??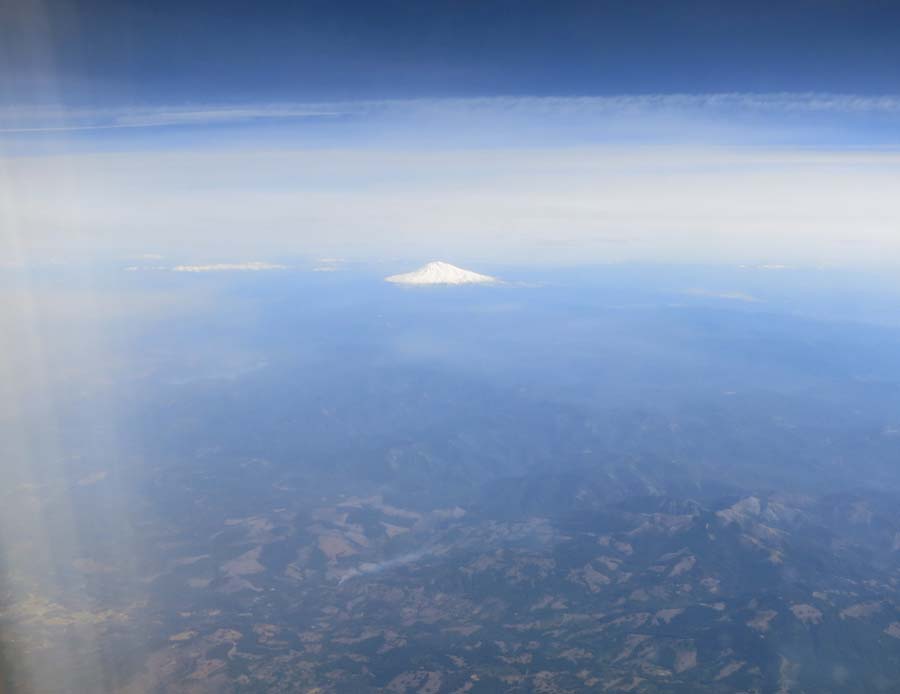 A close up of what might be Mount Rainier taken from the airplane window.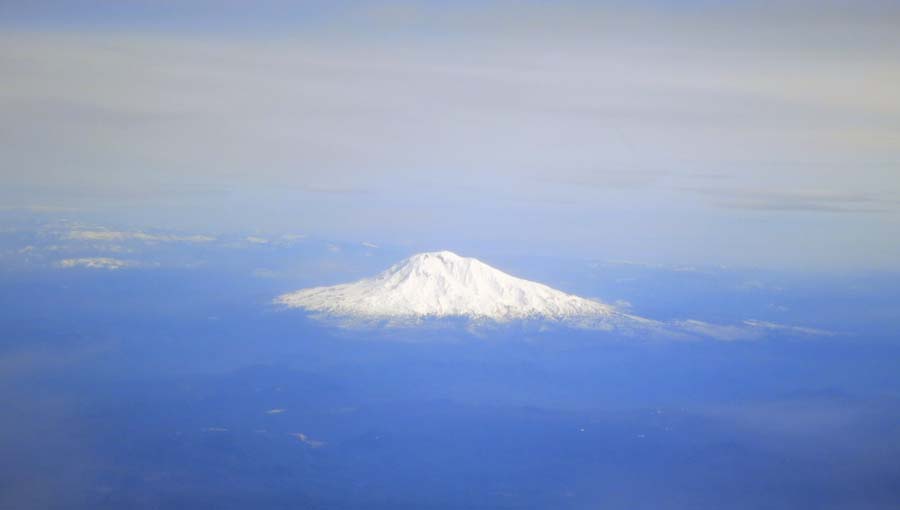 My flight hops through Seattle, here we are approaching Seattle Airport with call letters SEA (sometimes nick named "Sea-Tac").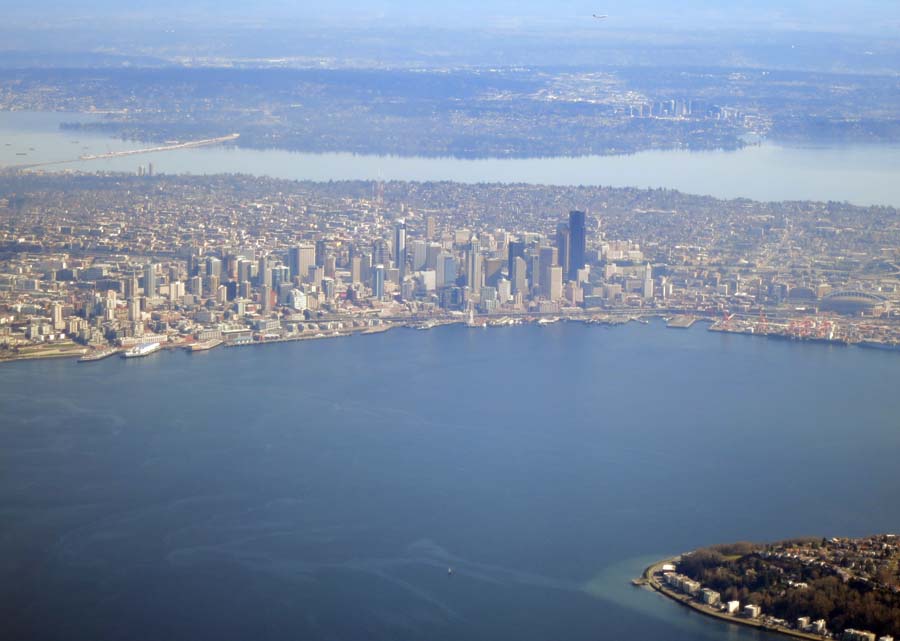 The next hop is painful. It is an Alaska flight from Seattle to Kalispell Montana on an unbelievably cramped configuration of the Bombardier Dash 8 (also known as a Q400). This is well known as the worst aircraft to fly in, and especially when operated by Alaska Airlines or Horizon Air. They pack an unholy amount of the smallest seats into this airplane, none of them recline, there is no "first class" to purchase, the only way to get to Kalispell is potentially life threatening through "Coach Class Syndrome".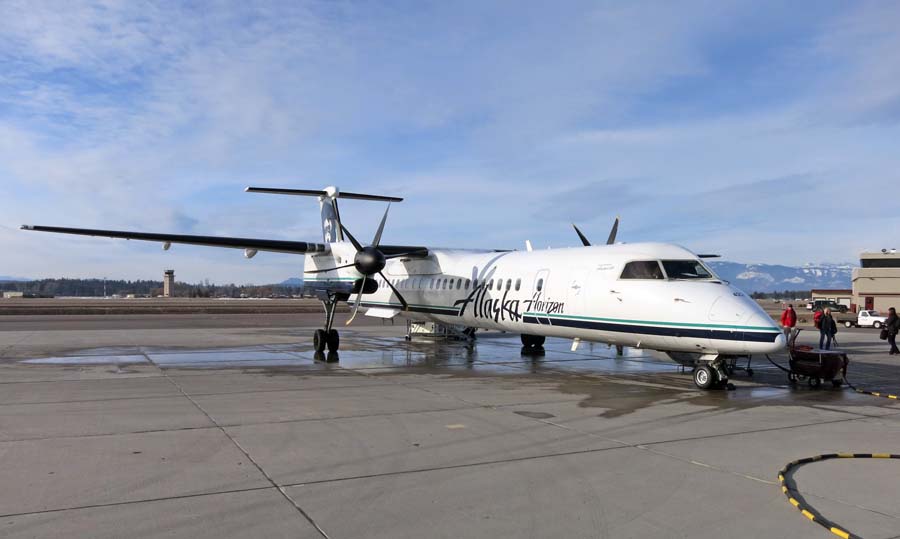 Arriving into Kalispell Montana Airport, which is named Glacier Park International Airport call letters FCA. This is a pleasant small airport, except for only really terribly cramped airplanes fly here. In the picture below you see Brian Wohletz with backpack in the lower left, he came from Las Vegas but took this last leg of the journey with me.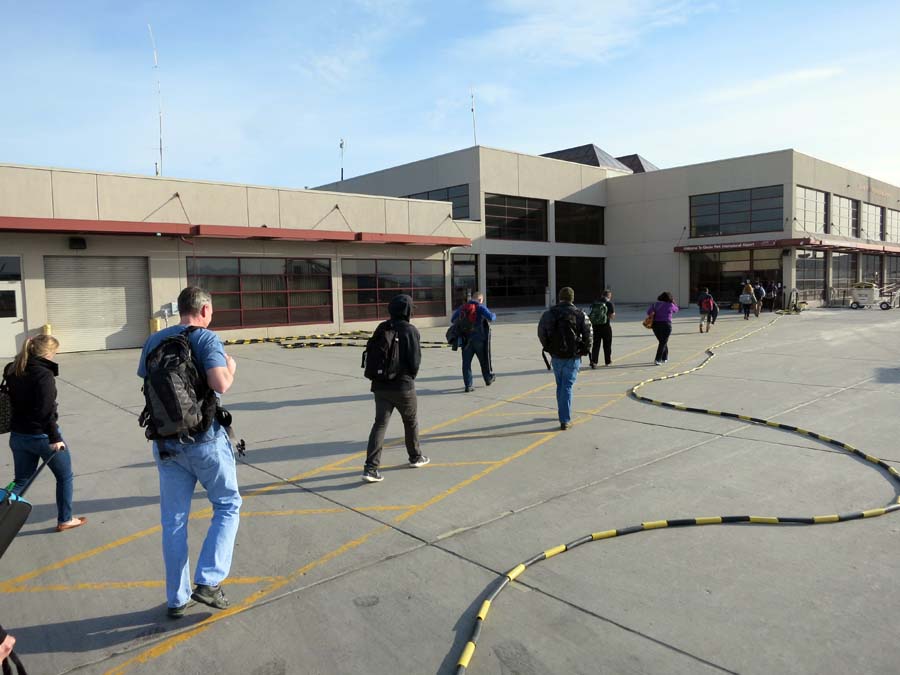 Outside the Kalispell airport we wait for our shuttle to our hotel.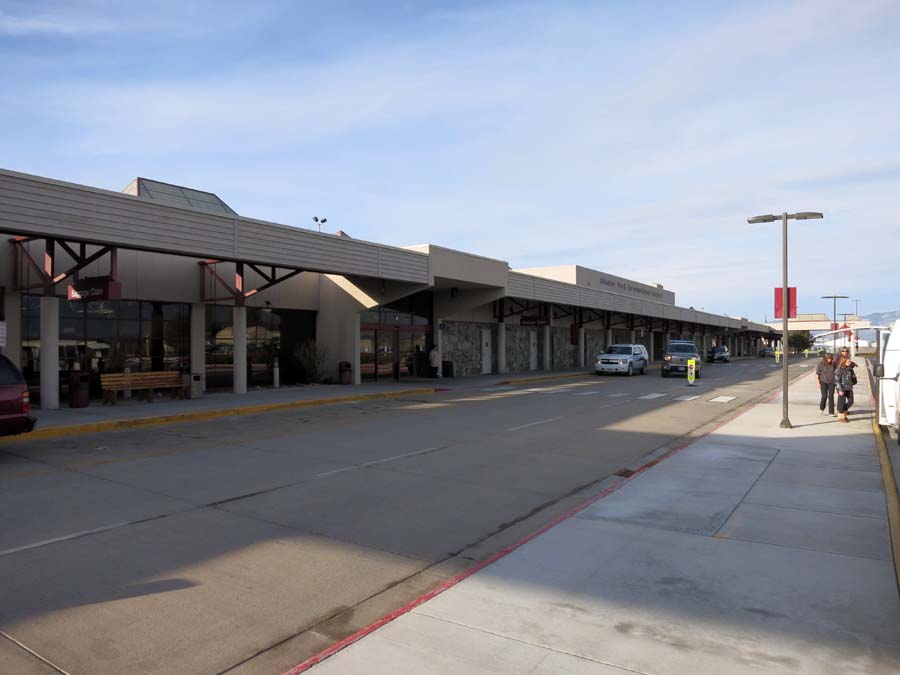 And away we go in the shuttle. That's "Rusty" driving, Brian Wohletz in the back seat, and me (Brian Wilson) in the front seat taking a selfie.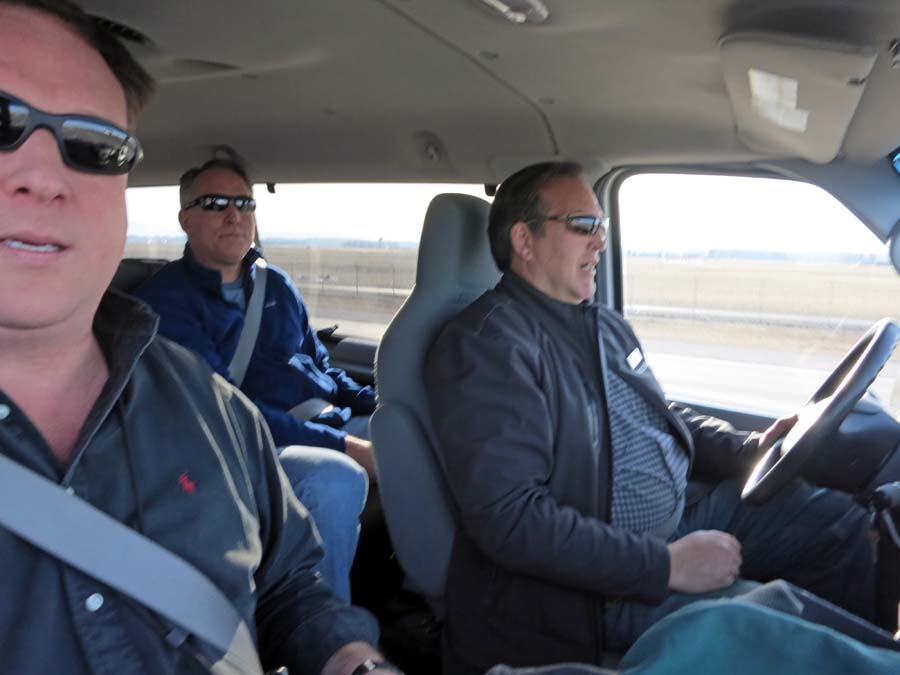 Here we are driving from the Kalispell airport to Whitefish Montana which is 11 miles. You can see the ski area in the distance straight ahead of the van.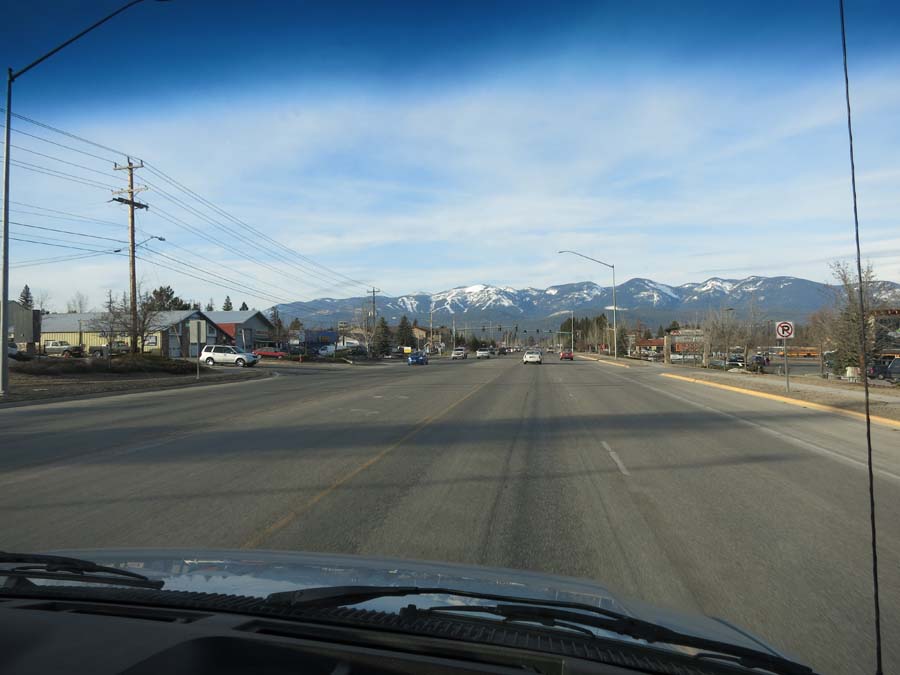 My hotel room at the Pine Lodge in Whitefish Montana. It's not terrible, about Super-8 quality. We walked into downtown Whitefish a few times from here, maybe a casual 10 minute stroll. Plusses: it's cheap and there is a refrigerator and microwave in every room, and in rooms with a king bed there is a couch to sit on. Minuses: the carpet and walls aren't exceptionally clean, the rooms are a little "worn". It's a basic hotel.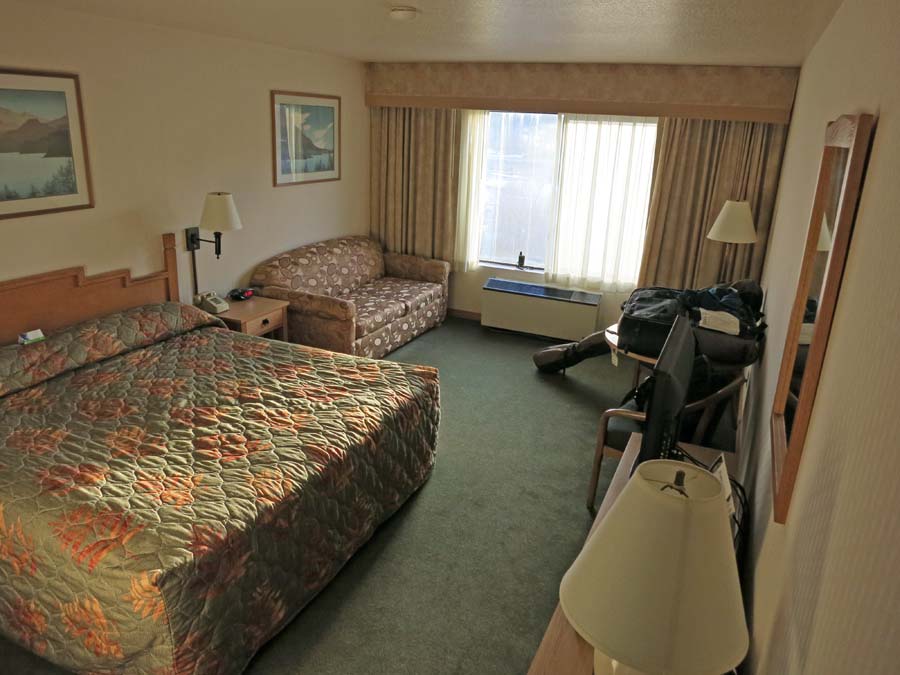 A different angle on the room.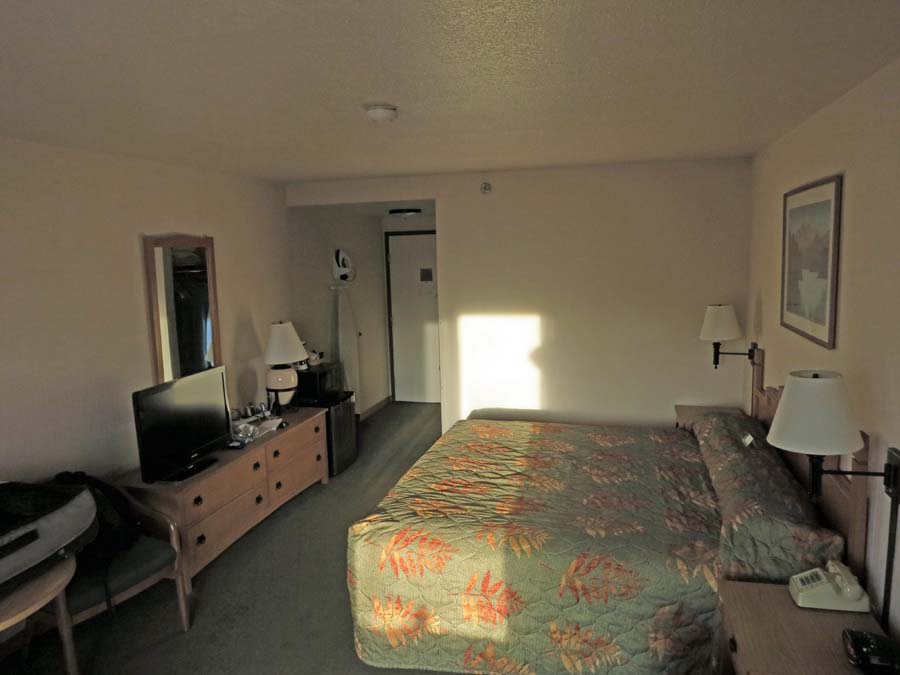 Basic hotel bathroom, a little on the old worn side but cleaner than some.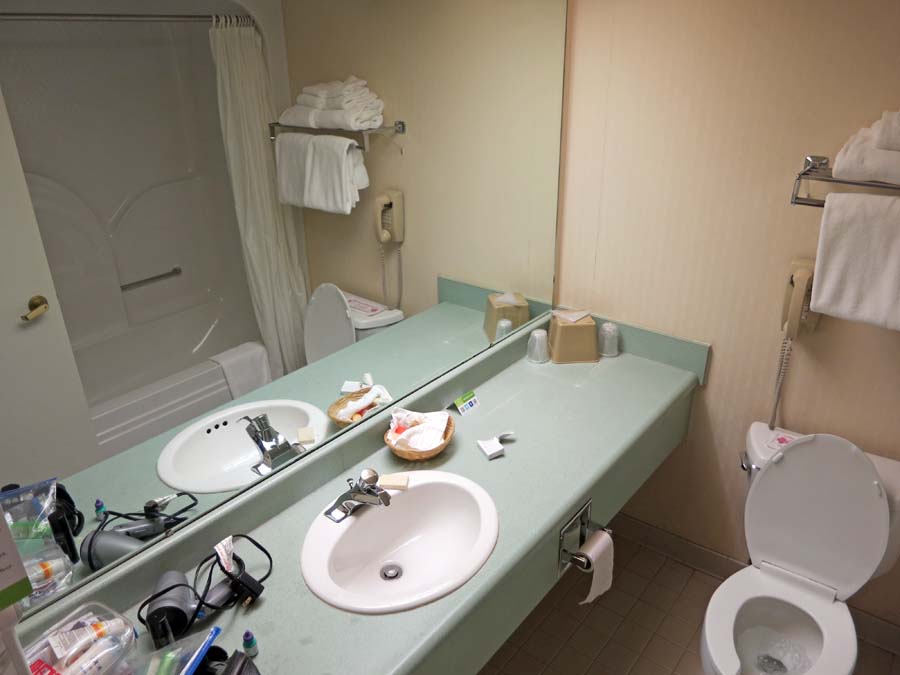 We stop off at the local Safeway (a 3 minute walk from Pine Lodge) to pick up some supplies: Beer and Cookies. That's Mike Chow on the left and Brian Wohletz on the right.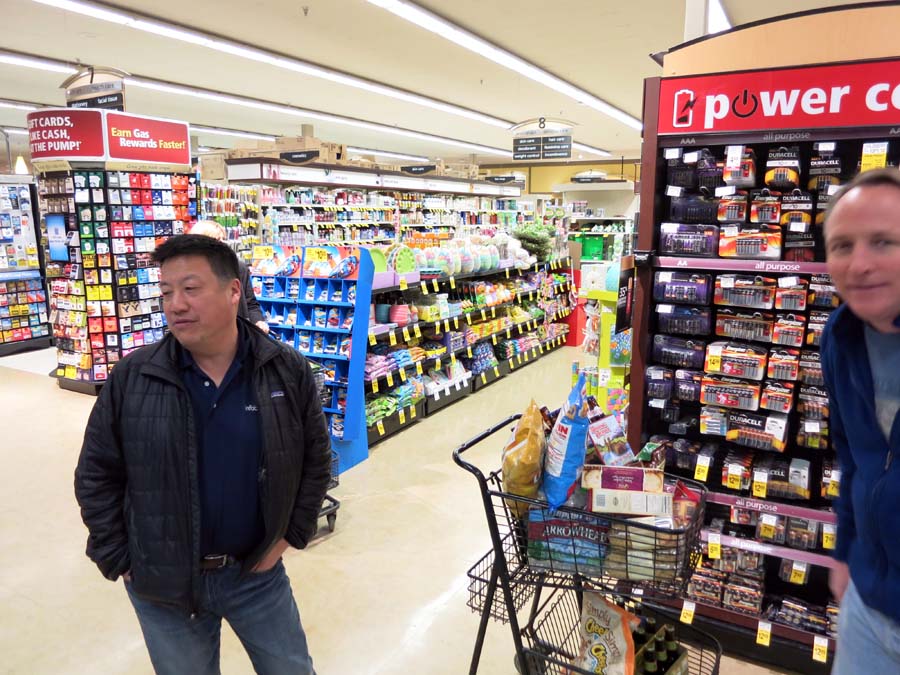 I upgraded my room to one with a balcony, here the three of us are waiting for the others (Garth, Brady, and Karl) to arrive the next morning on a train.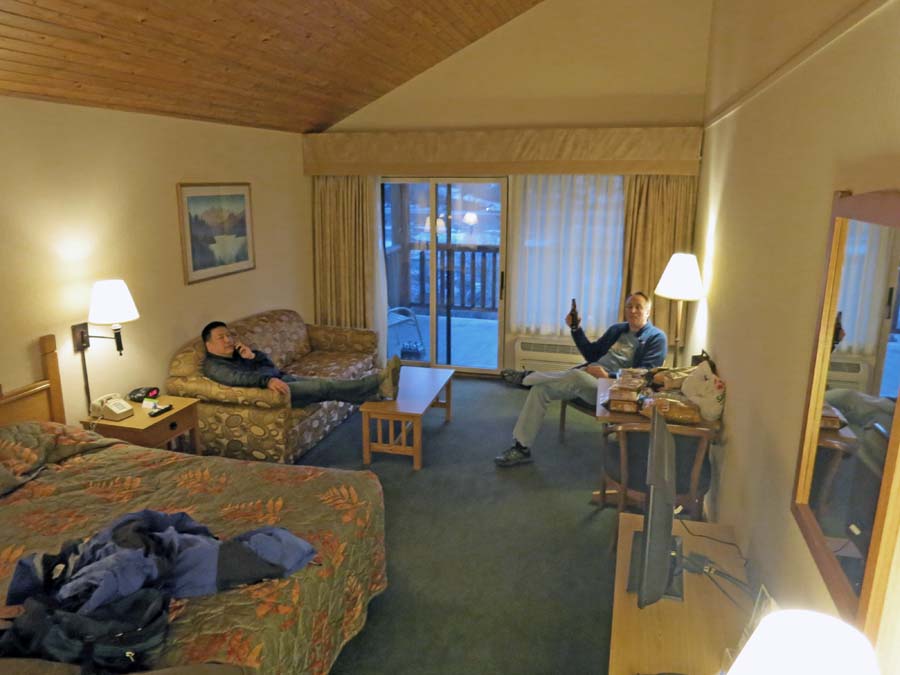 MORNING OF Friday March 6, 2015. The complimentary Pine Lodge breakfast is pretty solid - the waffles are fresh and can be toasted to warm them up, there are hard boiled eggs for a little protein, and coffee and juice. Small ding for TINY TINY juice glasses. :-)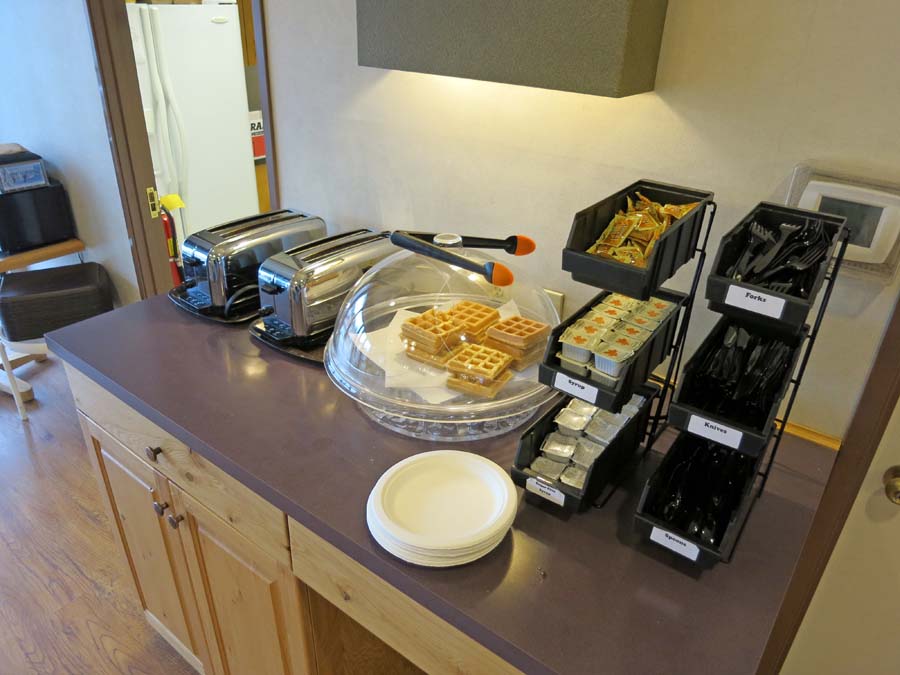 Juice and bagels and toast and coffee and cold cereal.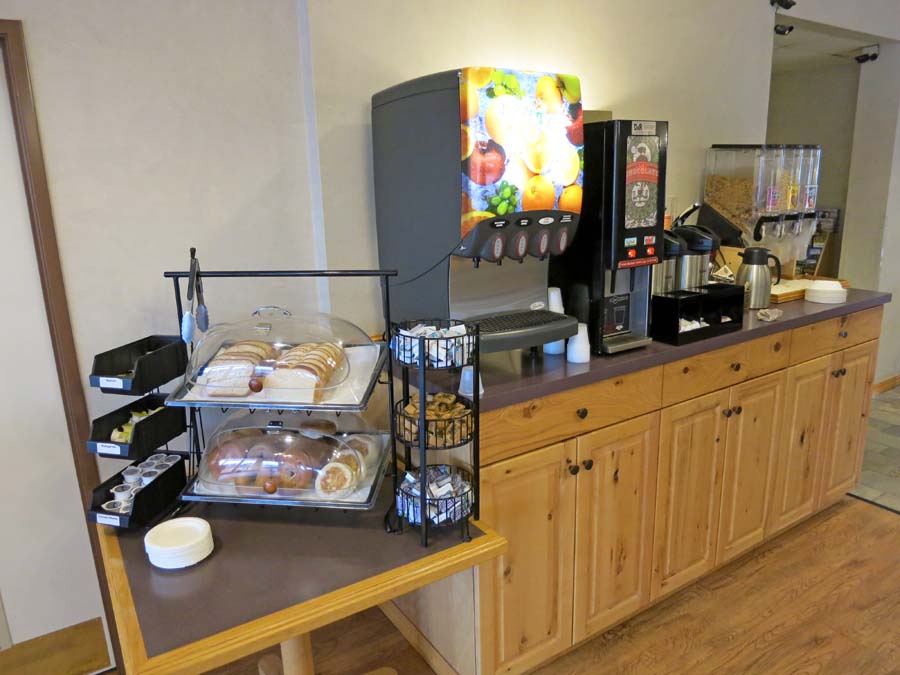 After breakfast we walk directly across the street from the Pine Lodge to pick up the shuttle to the ski hill. Here we are, it's a balmy 45 degrees or so.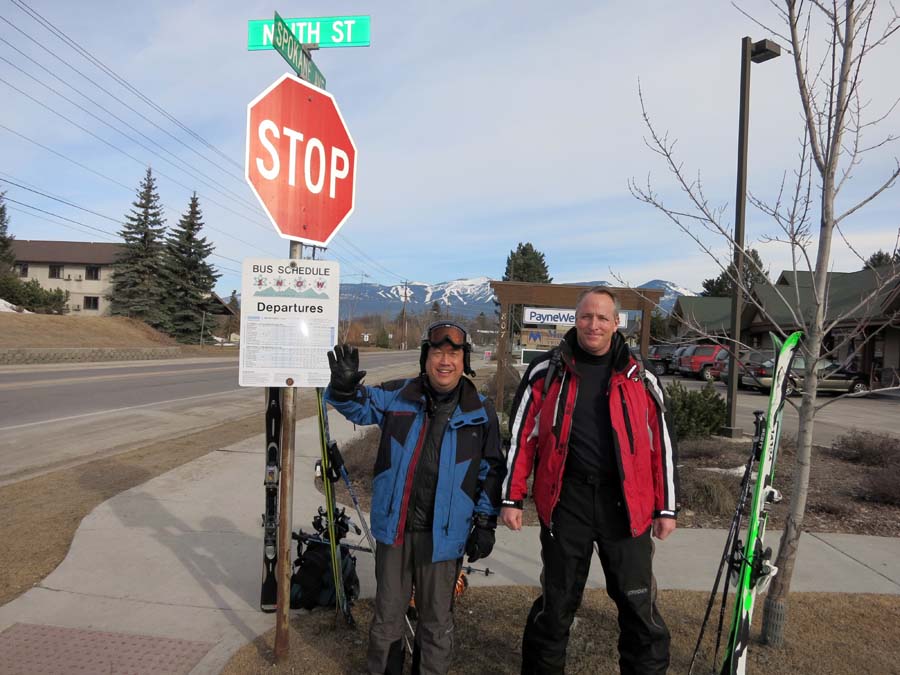 The first we see of Brady Nilsen (on the left in blue) and Karl Dohan (on the right in orange). They arrived on the train an hour or two ago, and are coming up skiing with us.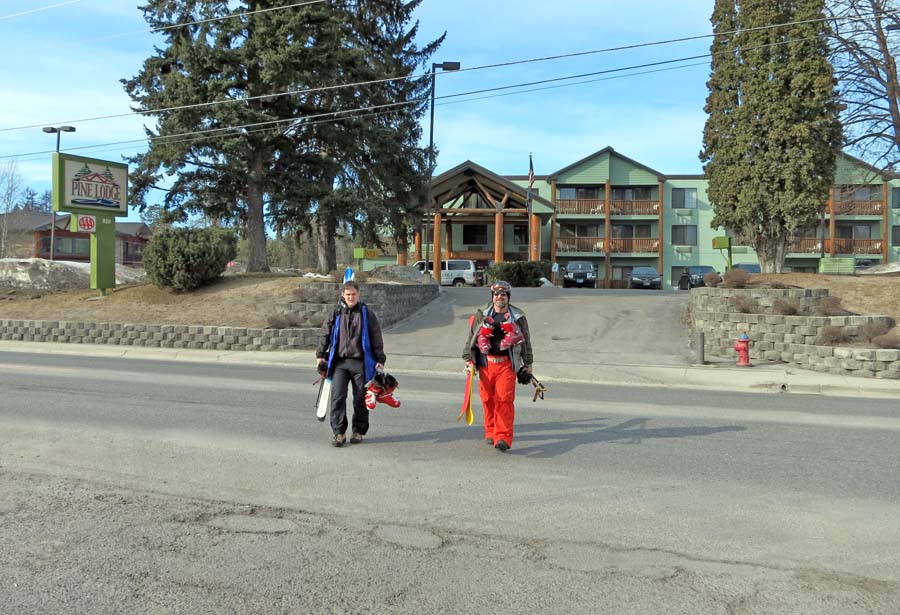 And Garth Eliason (red pants) shows up, our group is now complete!
And finally, half way through this web page, we are standing on what is now called "Whitefish Mountain Resort" and has historically been called "Big Mountain". It is a GORGEOUS day with actually very reasonable snow conditions. Plenty of coverage, and the sun and warm weather softens the snow to make it skiable.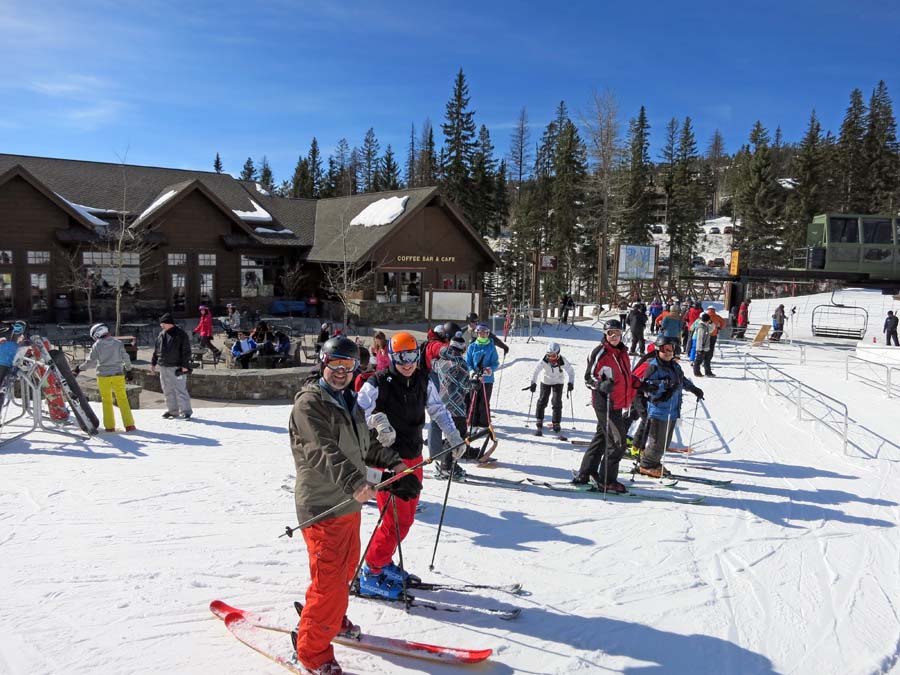 Here is our whole party (6 of us) at the summit from left to right: Brady Nilsen, Mike Chow, Karl Dohan (in orange pants), Brian Wilson (me), Brian Wohletz, Garth Eliason (orange helmet far right).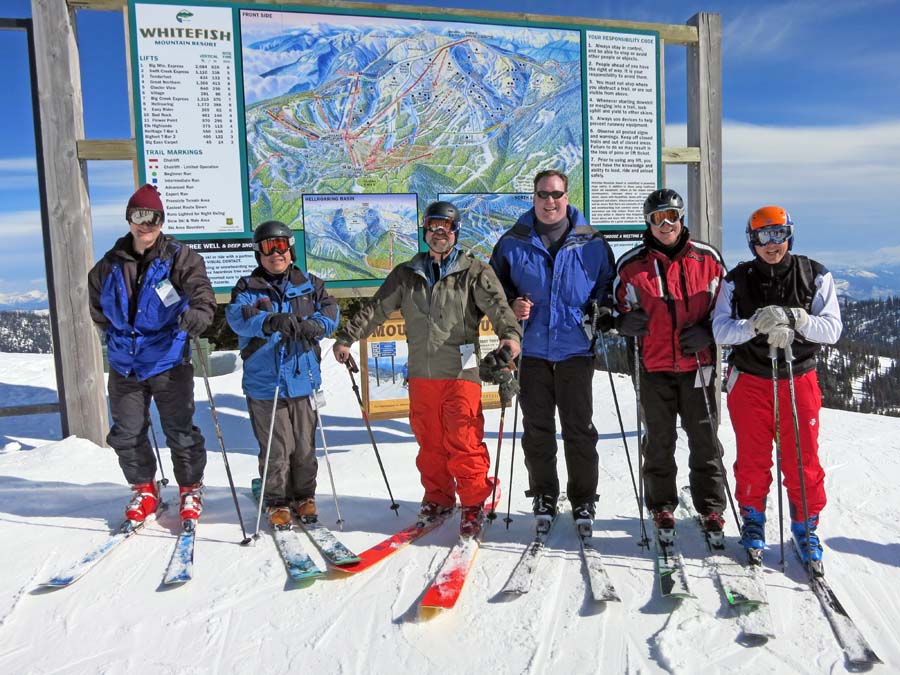 A truly gorgeous day with friends, blue sky, sunshine, warm weather, actually pretty decent snow conditions. Very skiable - although 95 percent groomers today.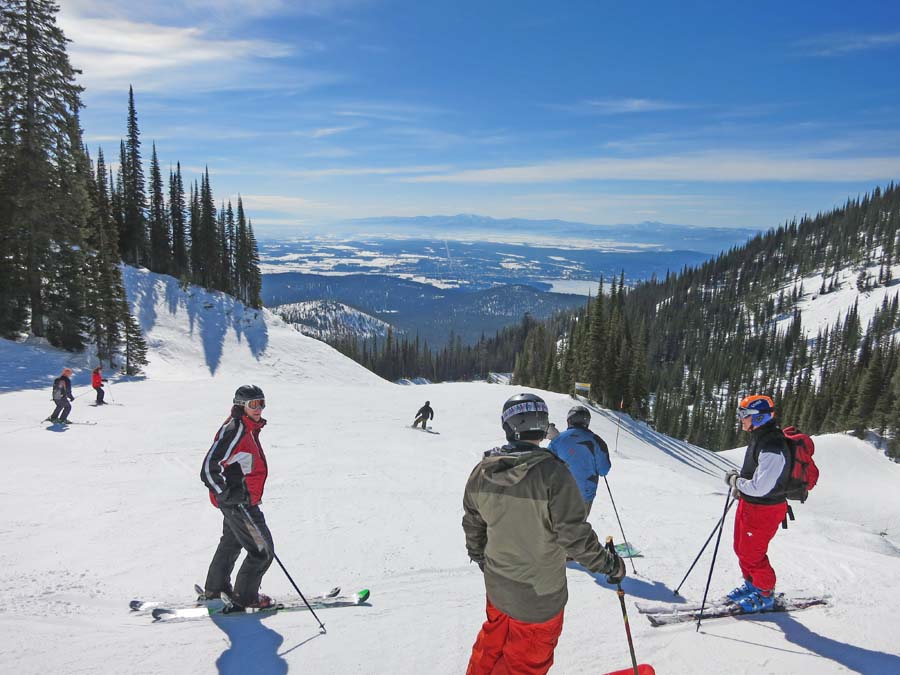 A picture of us on the chairlift.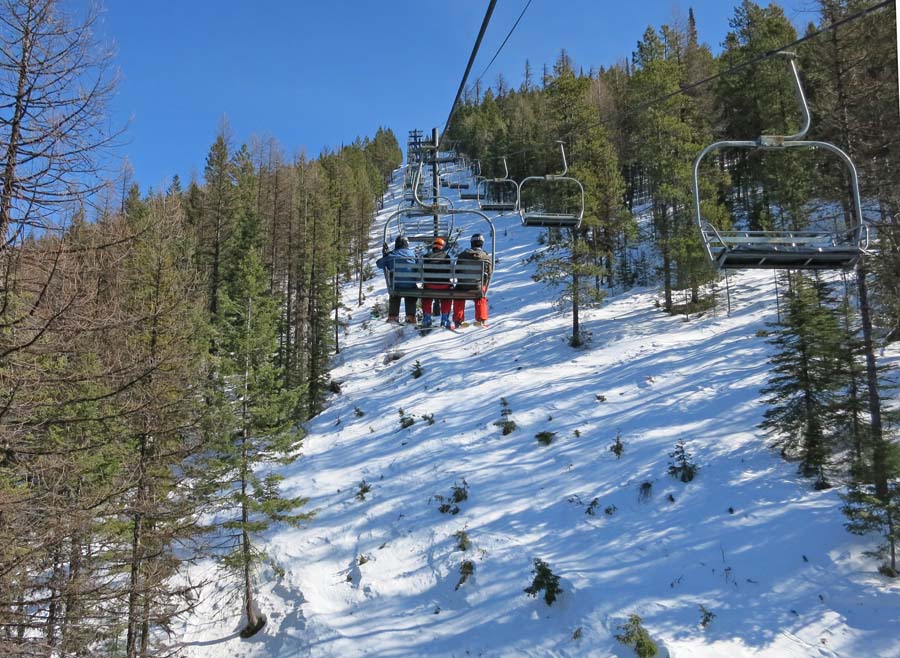 A selfie of me (Brian Wilson) on far right, Brady Nilsen noticing the camera, and Brian Wohletz riding the chair lift together.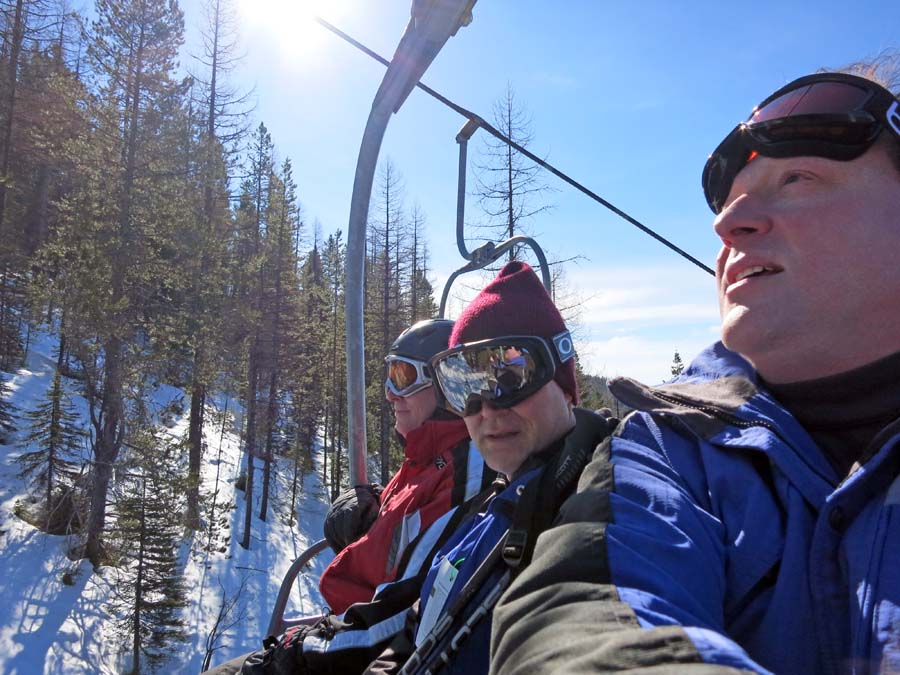 A picture over my shoulder on the chair lift.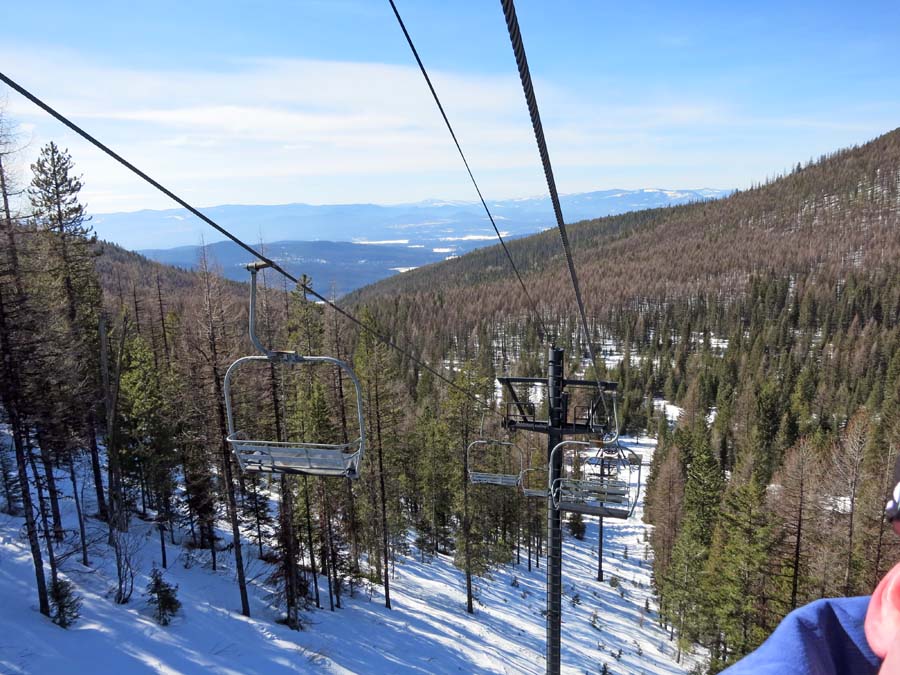 We came across "Mountain Jesus" (seen below) on a ski run in Whitefish Mountain Resort in Montana. He has been here for 50 years, erected by American Troops who came home from World War II and saw shrines in the mountains in Italy and thought it was a nice idea. I think it's a bit odd, but pretty harmless as 50 year old shrines go. Karl is in the picture to show Mountain Jesus is about real size. Although Jesus was probably not a Caucasian male. :-)
A really pretty view of a frozen Whitefish Lake (the large body of flat white snow below). There is also Flathead Lake out there somewhere.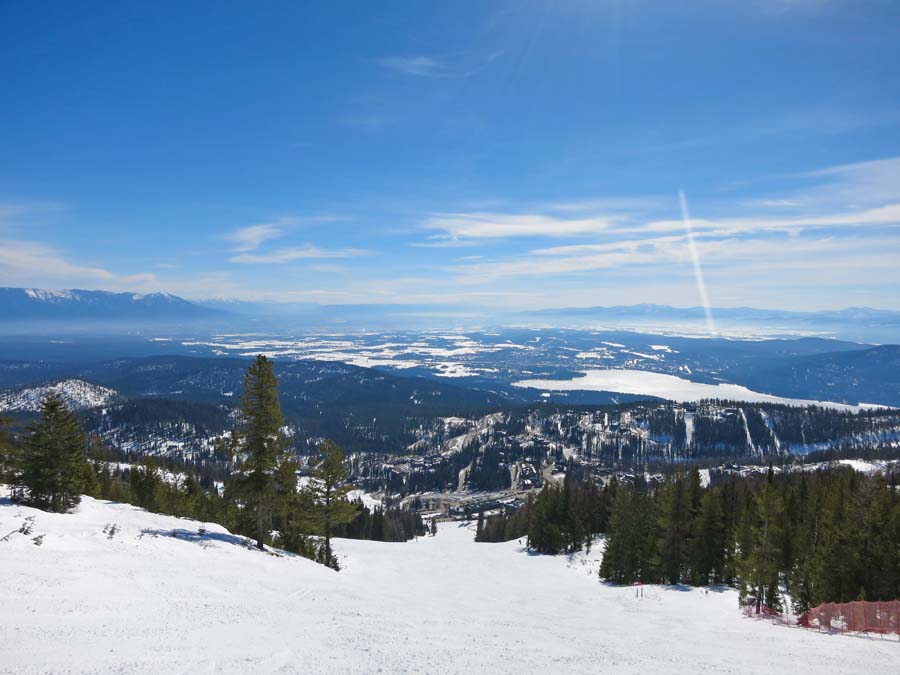 Here we are at lunch at "Hellroaring Saloon and Eatery" on Whitefish Mountain Resort.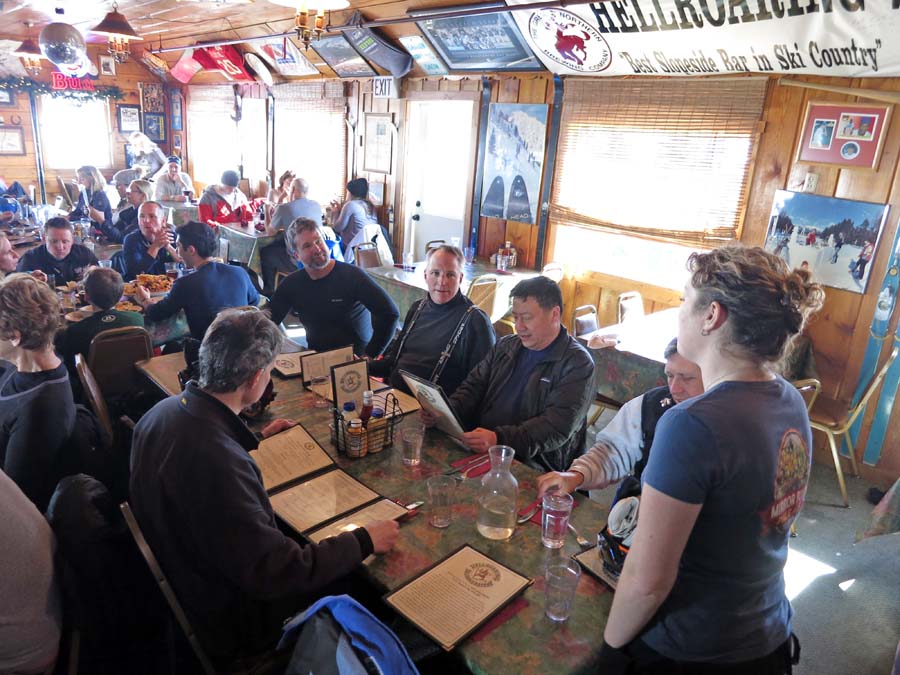 Hellroaring Saloon as the largest nachos I've ever seen. Below we are admiring the ridiculous pile of food. Prices are also quite reasonable here in Montana.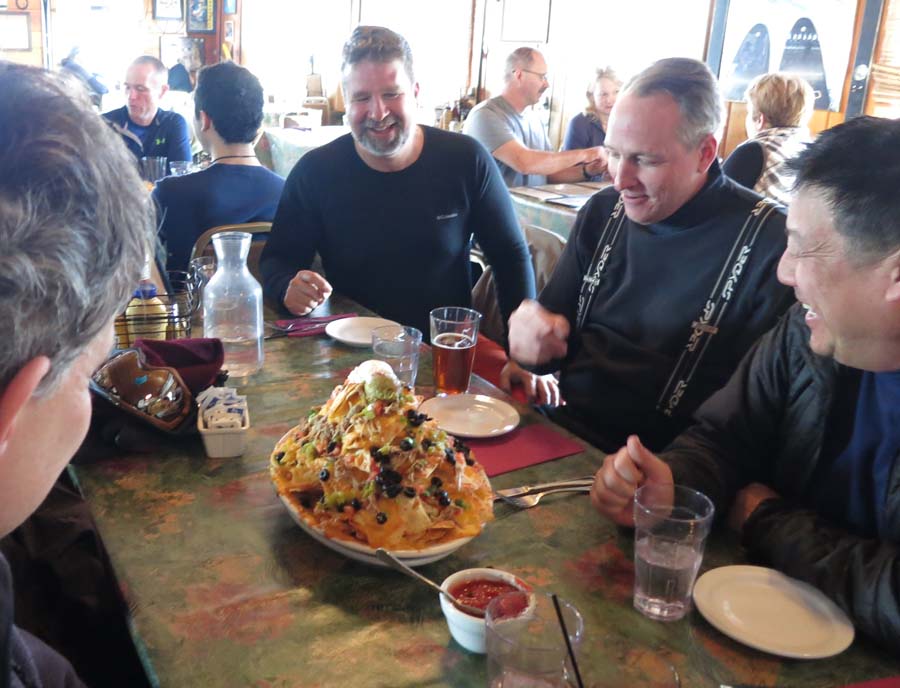 A close up of the largest pile of Nachos I've ever seen in my whole life.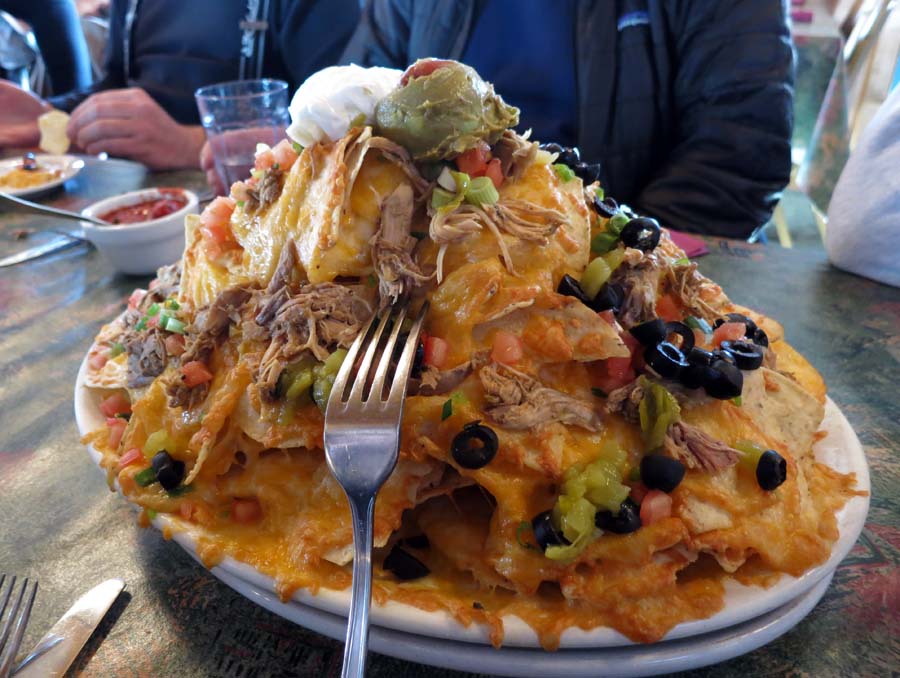 After lunch, a random picture of one of the main chair lifts: "Big Mountain Express Chair 1".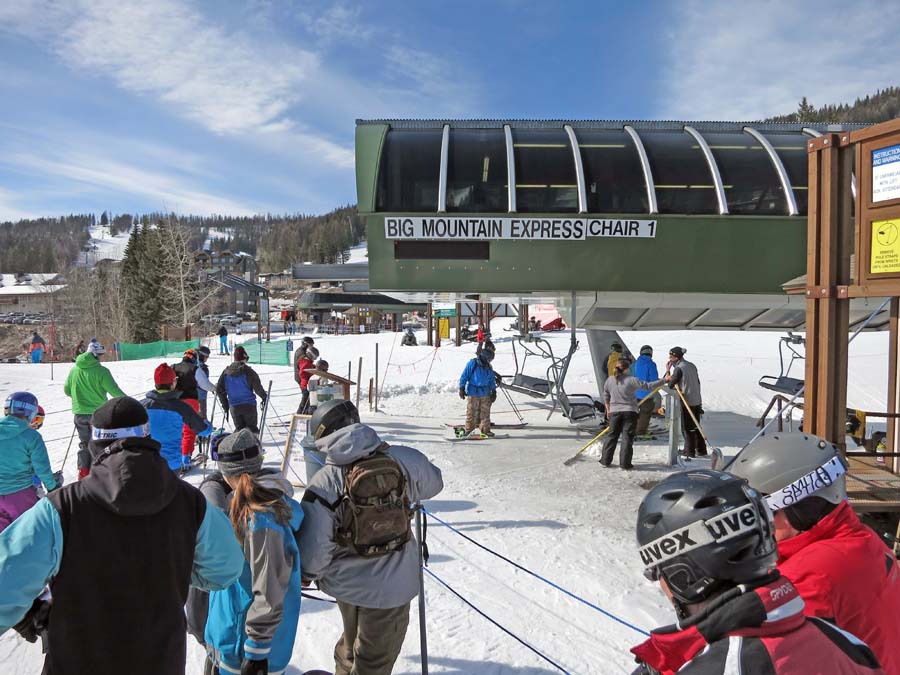 Our group about to ski "North Bowl Face", which specifically claims to be a single black diamond. Yeah, in the middle there it looked steep enough to be a double black to me, but I hobbled down without falling. :-) It was a nice run out through the trees at the bottom, really nice skiing and conditions.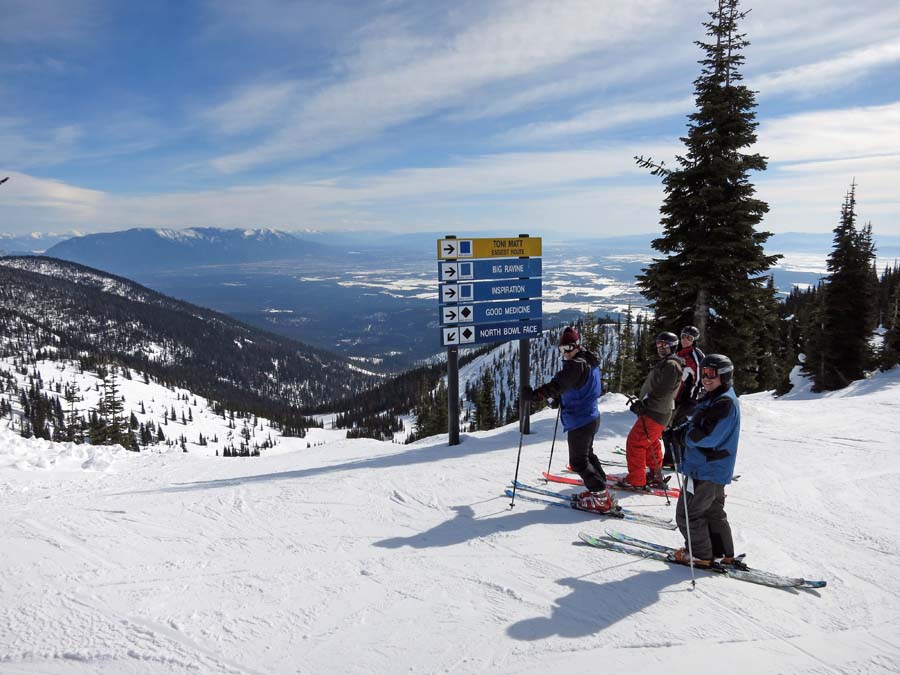 A picture of a few from our group, and the beautiful valley beyond.
A movie of our group skiing down the hill. I'm holding the camera in one hand and both poles in the other hand, so my skiing isn't fabulous, but it's an easy intermediate run.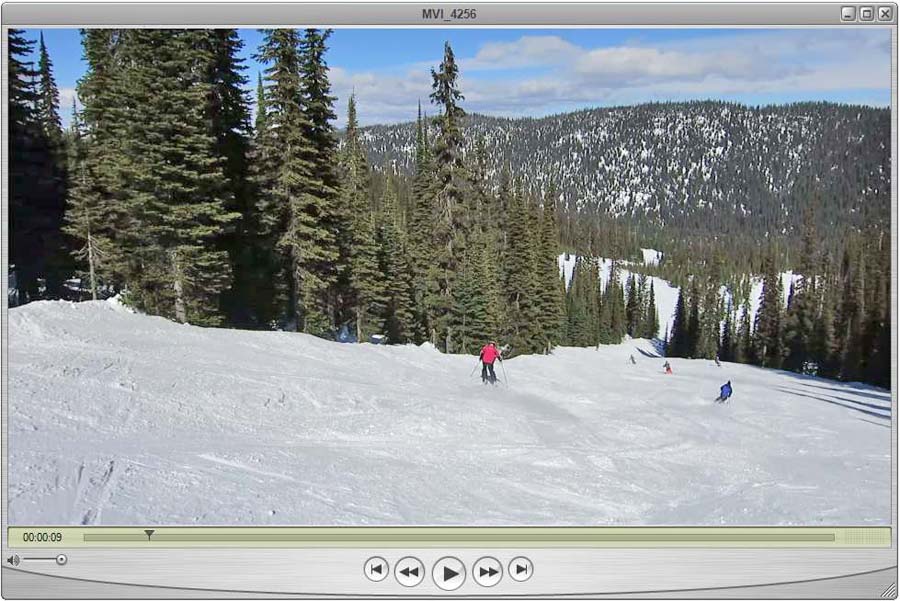 At the end of the day, we search out "Bierstube Bar" - a Montana bar at lower mountain village.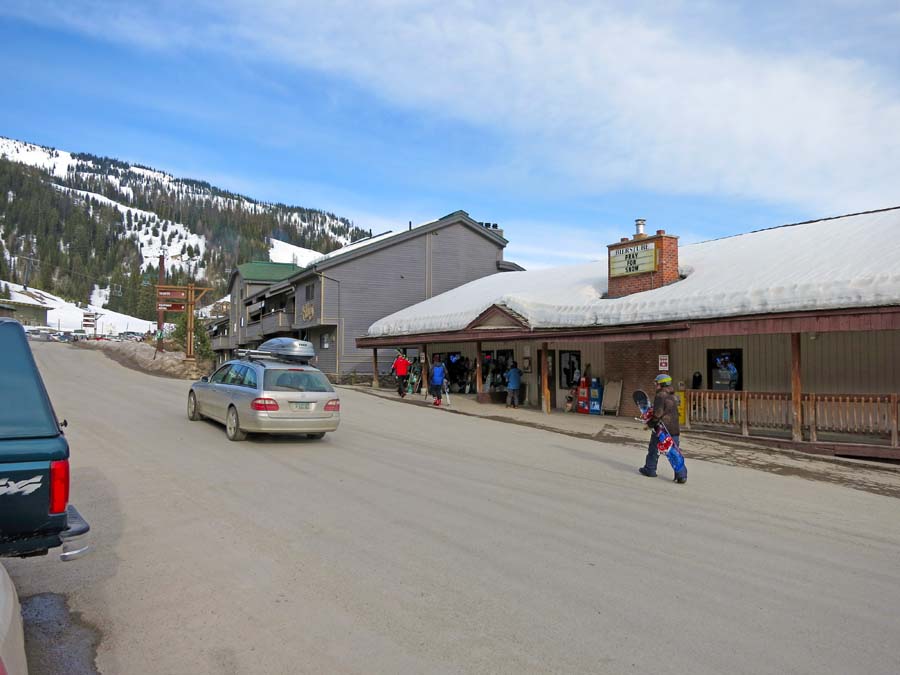 The inside of Bierstube in Whitefish, Montana: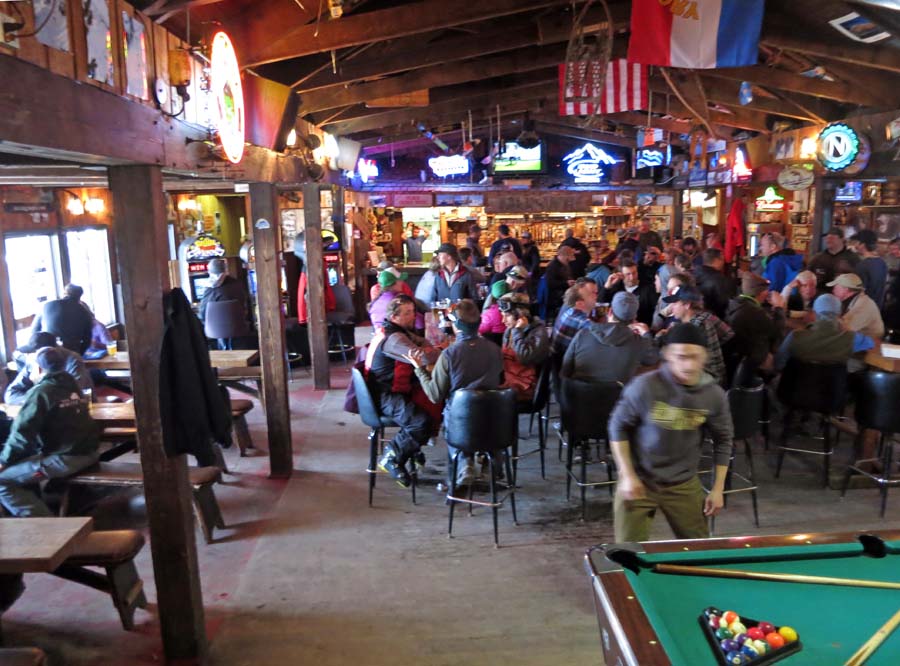 Later that night we have dinner at "Ciao Mambo" an Italian restaurant in Whitefish, Montana.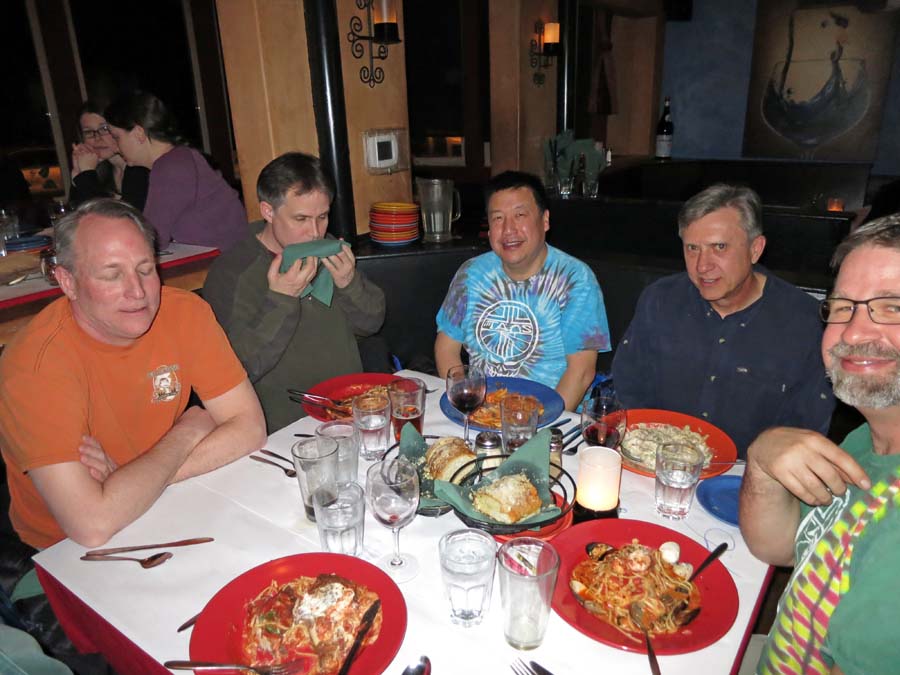 Next morning of Saturday, March 7th, 2015 - Here we are a bunch of old men at breakfast:

And another day up in the blue sky slopes! There are three flags at the top of Big Mountain (Whitefish resort): American Flag, Canadian Flag, and a Switzerland flag. I wonder why there is a Swiss flag at the top of Whitefish Ski Area? Heck, why a Canadian flag? Are they saying Swiss and Canadians are welcome, but we don't want any of those English or French citizens to come here? :-)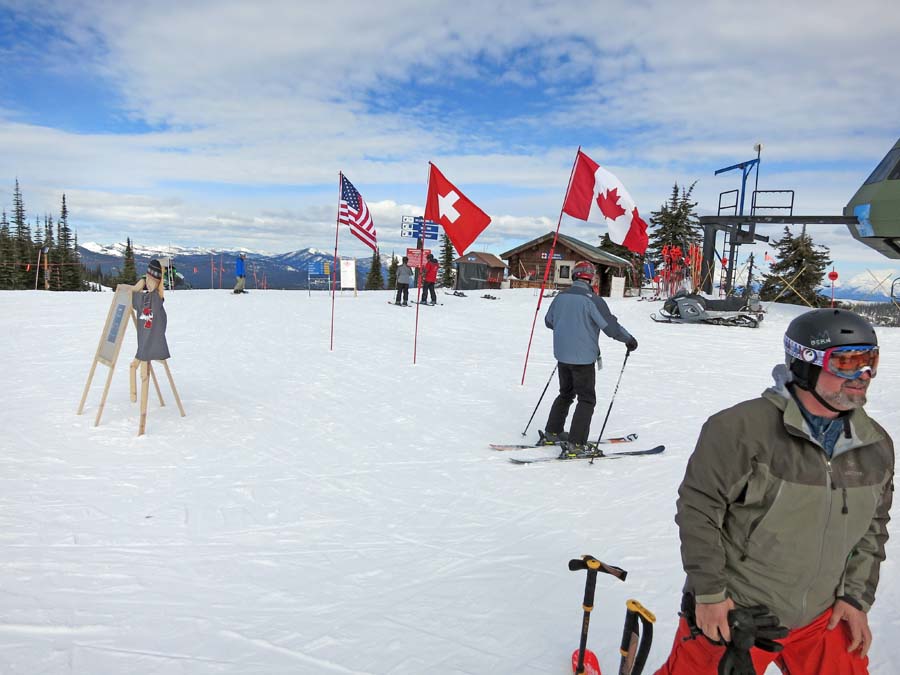 The trail report at Whitefish Ski Resort.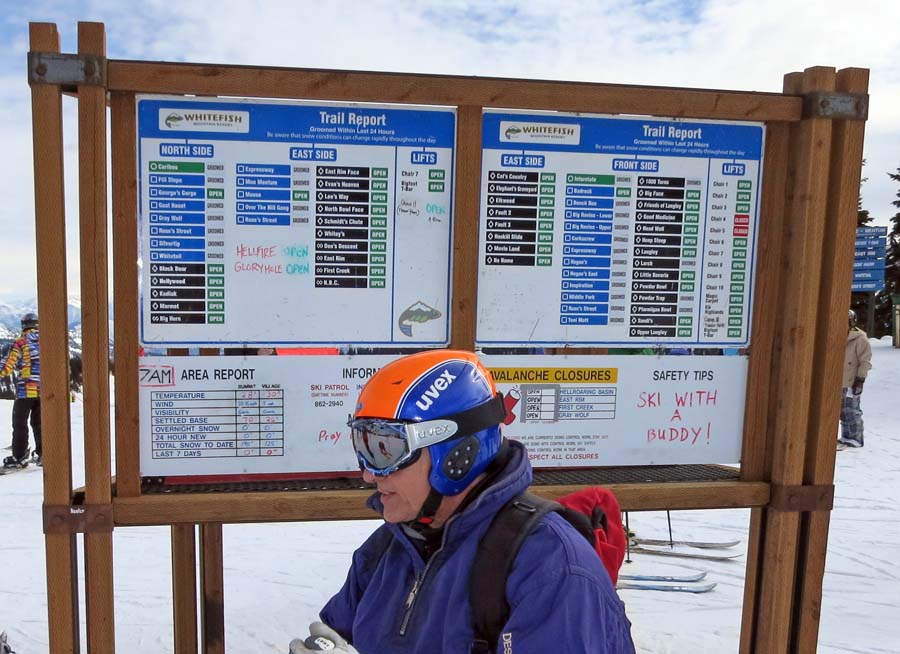 Some people (seen below) are hanging out at the top of the lift tower, probably repairing something.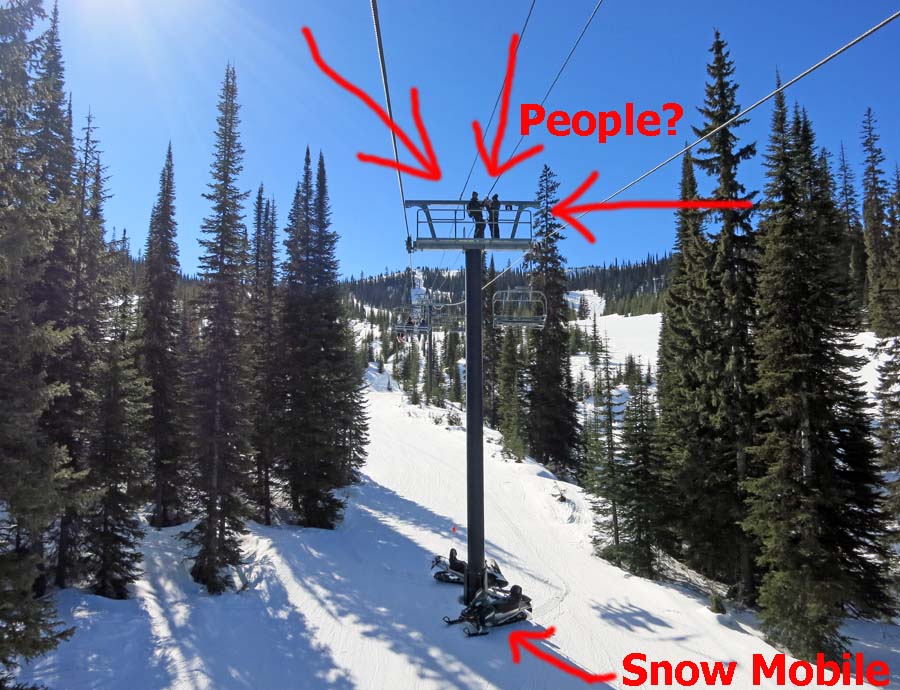 I took this picture as we passed the people on the lift tower. They are either sabotaging it or repairing it, I'm not sure which?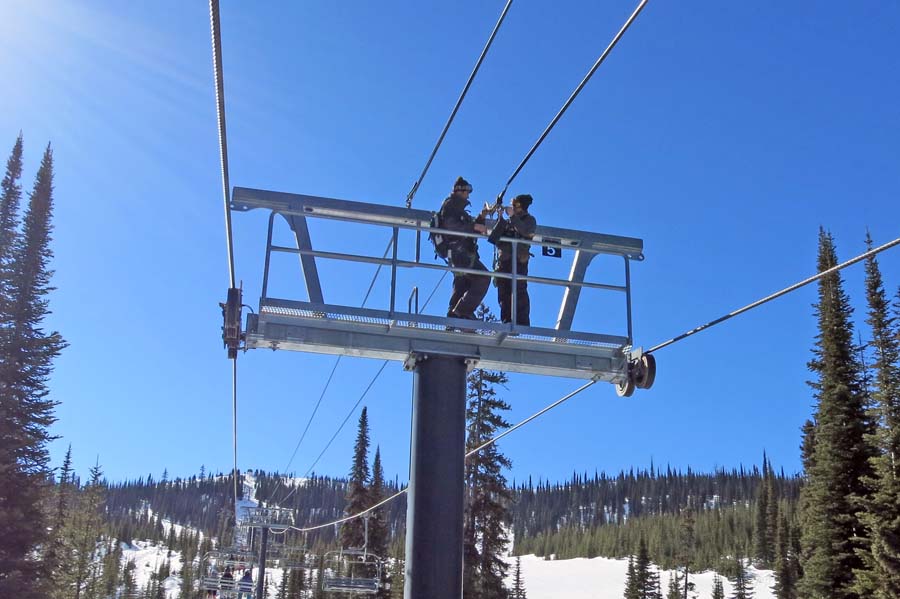 A view from lunch at "Summit House" at the top of Whitefish ski resort in Montana.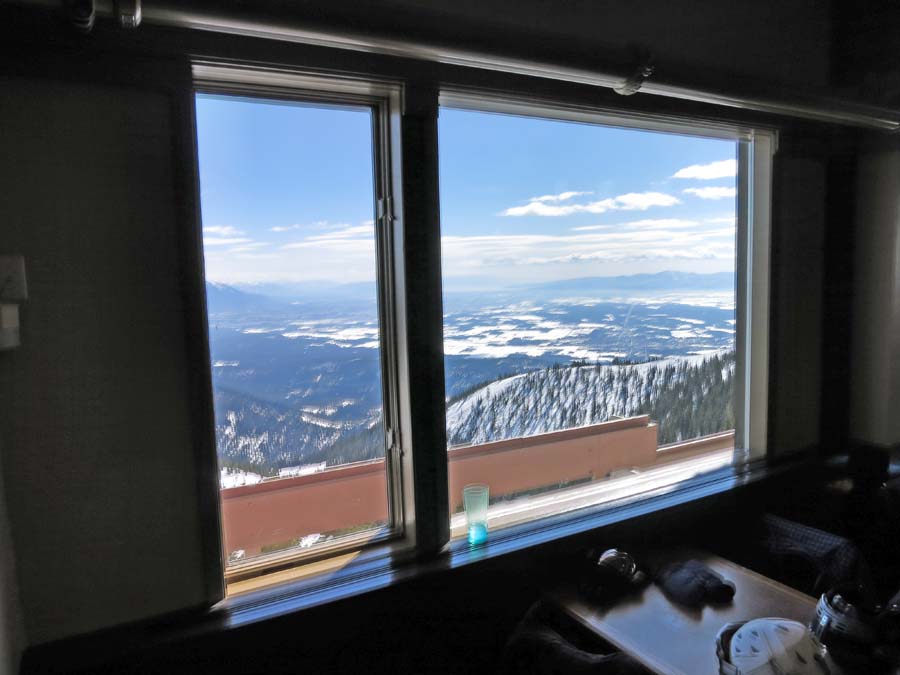 After lunch, a beautiful day.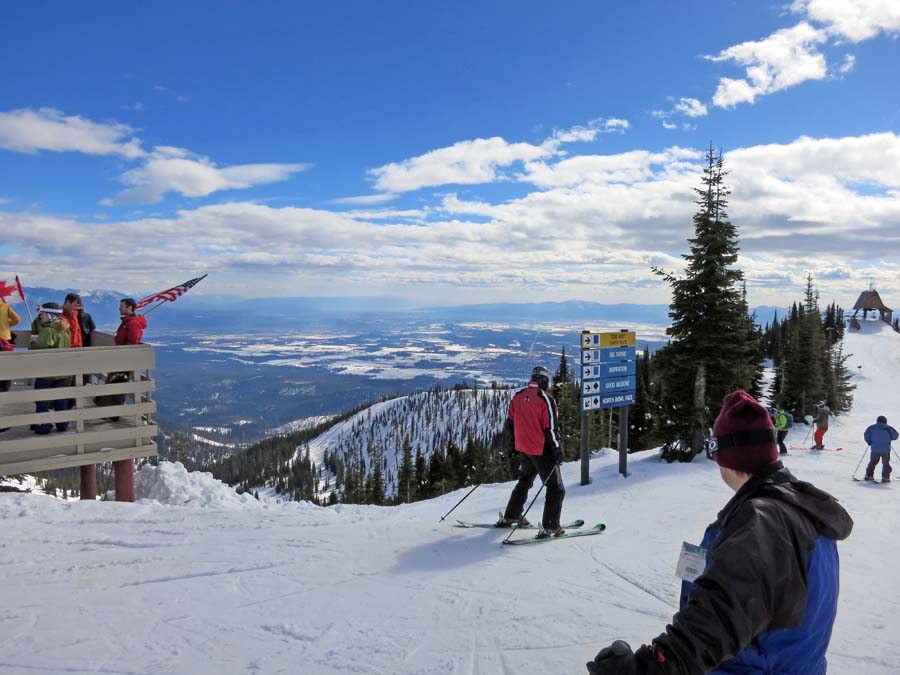 A panorama of the slope at Whitefish Ski Resort in Montana, plus the valley below.

It is a beautiful day at Whitefish Ski Resort in Montana.
That's "Whitefish Lake" below.
I got separated from the rest of my buddies, I ended up at "Chair 4 - the extra friendly triple" (it's kind of crowded with 3 people but it works). I'm too low, I missed the turn off, but it was Ok, I had a nice time for a few last runs of the day then met them all at the bar. :-)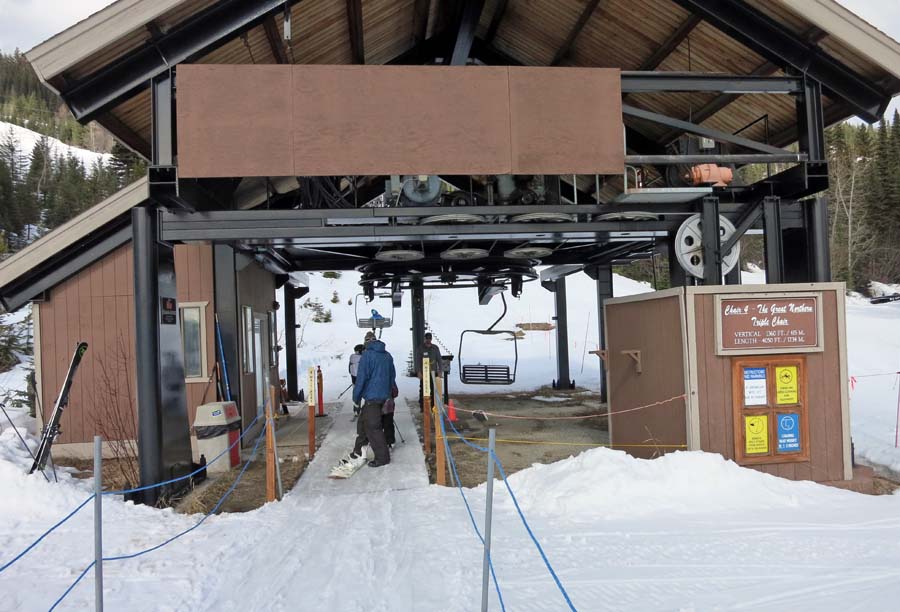 Another view of the ski hill.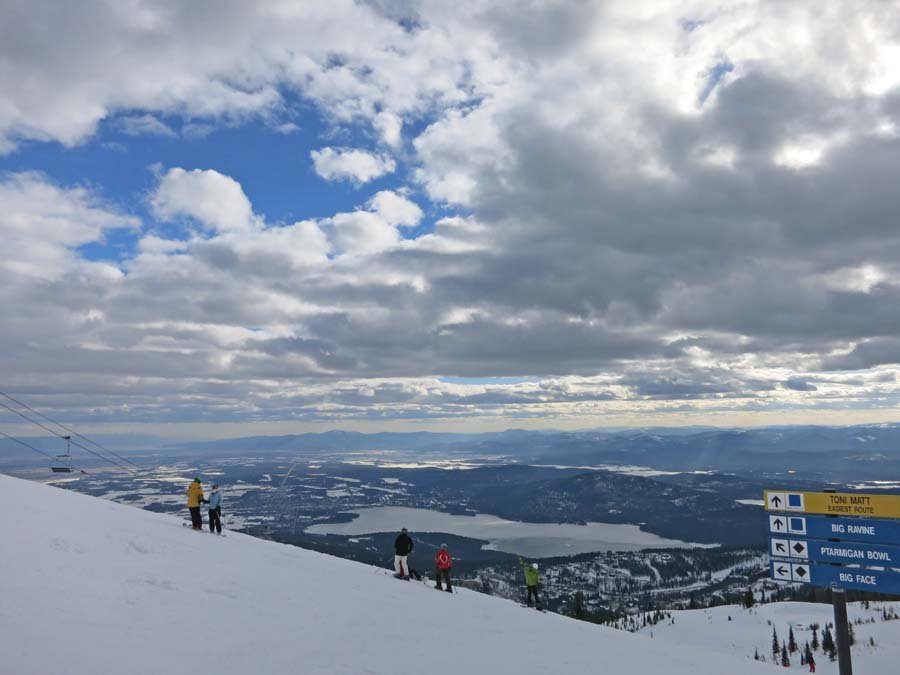 We're not actually done with skiing. We are at "upper village" here having a few drinks at "Ed and Mully's Bar" before taking the final ski run of the trip.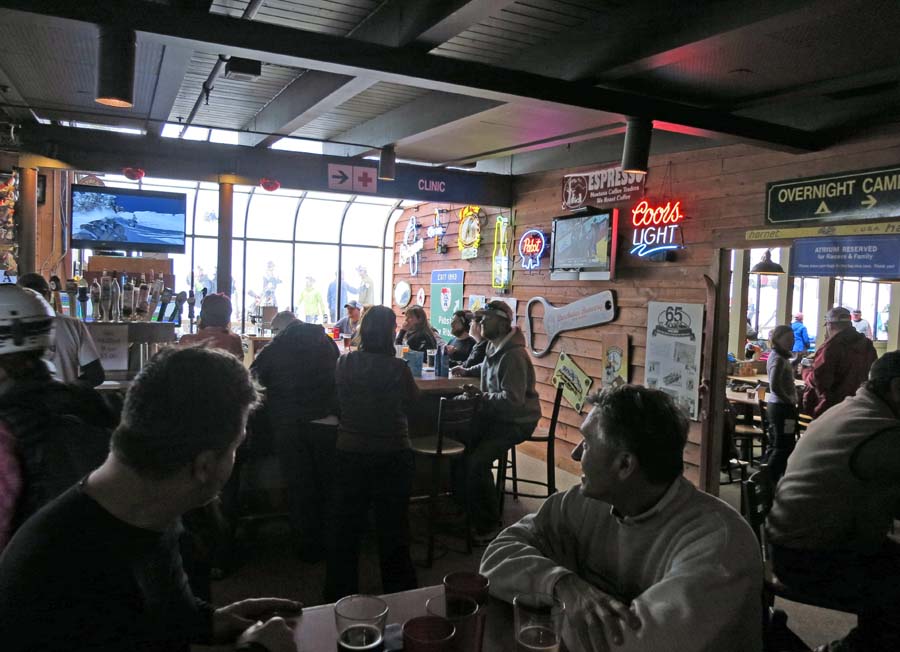 Watching ski videos.

And as the sun sets, we put the skis back on for a short slide down to "Lower Village" where we stashed our stuff in lockers. In the picture below it's probably 5:30pm, the sun is going down, and this is the last run of our trip!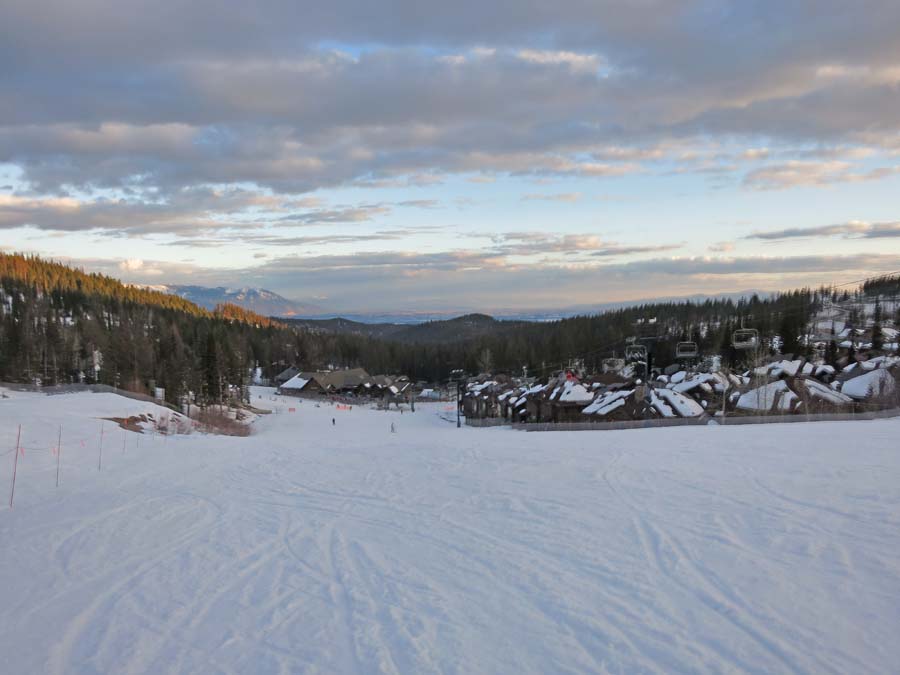 The final night's dinner is at "Latitude 48", the menu is below.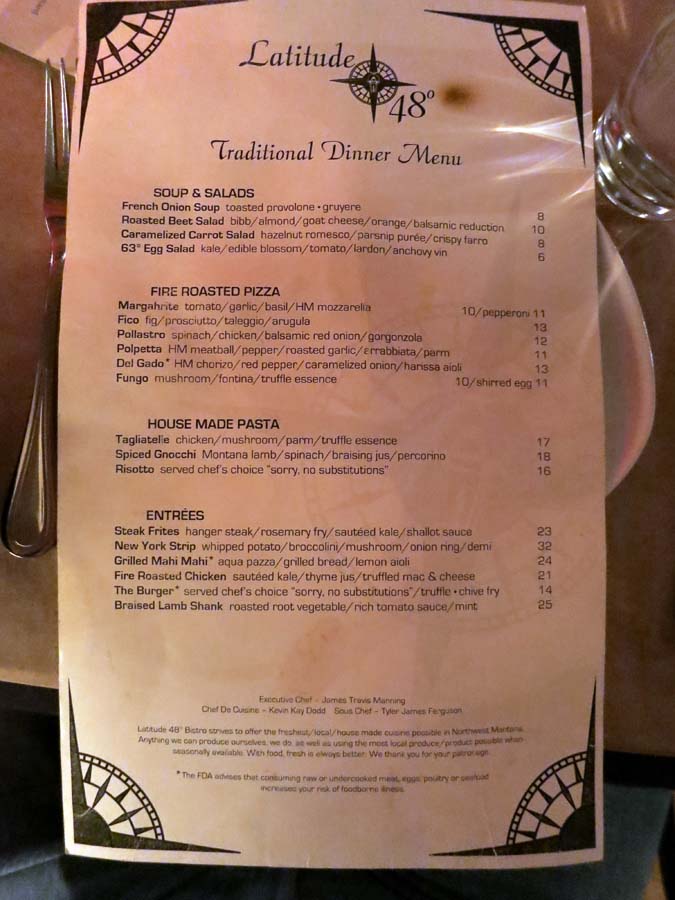 All done! That's it!
Lists of Things to Bring on a Ski Trip
This is not for you! Stop reading! I'm old, I forget things.
Pre-trip Section:
7 full days in advance, mail 80 pound bag ahead if possible ($31 FedEx) - airlines hate heavy bags
"On Slope" Ski Equipment Section:
Skis
Ski Boots
Poles
ski goggles (NOTE: gave Karl the POCs, I have new Bolle that I prefer)
Jackets (North Face Shell, Fleece)
Chamois Shirts
Ski Pants - currently prefer the Mountain Hard Wear (despite not being able to open waist)
Long sleeve mock turtleneck ski shirts

REI high tech long johns

sweatpants - extra layer for really cold days
ski socks - special long grey socks for boots
hat - Mountain Hardware
gloves (thin neoprene liners, medium gloves, heavy gloves)
balaclava
neck gaiter
sunglasses
"Off Slope" Ski Equipment Section:
boot dryers - I have new ones now, look like orange "paddles"
sharpening stone
hiking boots (waterproof, waffle tread for ice and snow)
moleskin
medical tape (for blisters on toes)
first aid kid
duct tape around pen
swiss army knife
Electronics Section:
Camera (and charger)
Cell Phone (and charger)
radios FRS/GMRS - not used much in cell phone world now
GPS - rental car Nuvi, handheld for backcountry (and chargers)
iPod Nano (Apple charger)
speakers for condo - jambox
iPad Mini or laptop?

MiFi on Verizon internet connection device to allow iPad to get online

Car USB cigarette lighter adapter (charge things in car)
Car A/C converter to charge things in car (big trips)
Street Clothing:
levis - 1 pair for every 3 days (worn after showering)
belt
dress shirts (button down) - 1 for every 2 or 3 days
grey/blue t-shirts for under dress shirts
white socks
underwear
shoes (hiking boots, tennis shoes, dress shoes?)
Bedtime/Toiletries:
dopp kit (toothbrush, toothpaste, comb, eye drops, etc)
razor - now have travel razor
blow dryer
caffeine pills (for coffee emergencies)
pajama shorts
pajama white t-shirts
ear plugs (individually wrapped, bring extras, condo mates might snore!)
white trash bags - for laundry
small clear sandwich bags - for cell phone, etc
travel alarm clock
Misc:
book for plane? - no, moving over to iPad mini and Kindle in recent years.
small umbrella
backpack

glasses & case for glasses?