2017 Ski Telluride Colorado

(3/8/2017 - 3/12/2017)



On 3/8/2017 ten friends and I skied in Telluride, Colorado. Here is who showed up: 1. Brady Nilsen, 2. Karl Dohan, 3. Tamara Dohan, 4. Lance Waring, 5. Lise Waring, 6. Brian Wohletz, 7. Mike Chow, 8. Peter Sebestyen, 9. Doug Fults, 10. Katherine Chung, and 11. Brian Wilson (me).
This trip (with this group of friends) is an annual trip we have taken for 21 years. Each year we decide a new location and all meet there. Here is the list of locations and the dates we skied there.
12/20/97 - Crested Butte, Telluride, Vail, and Aspen, Colorado road trip.
1/20/98 - Park City, Utah (during the Sundance film festival)
2/14/99 - Taos, New Mexico (Click here to see pictures from that trip.)
3/26/00 - Whistler, Canada not full group (Click here to see pictures from that trip.)
3/11/01 - Banff, Canada not full group (Click here to see pictures from that trip.)
3/3/02 - Steamboat, Colorado (Click here to see pictures from that trip.)
3/9/03 - Jackson Hole, Wyoming (Click here to see pictures from that trip.)
4/17/04 - Lake Tahoe, California (Click here to see pictures from that trip.)
3/11/05 - Big Sky, Montana (Click here to see pictures from that trip.)
3/3/06 - Mammoth, California (Click here to see pictures from that trip.)
3/3/07 - Chamonix, France (Click here to see pictures from that trip.)
4/2/08 - Breckenridge, Colorado (Click here to see pictures from that trip.)
2/13/09 - Reno, Nevada skiing Squaw Valley and Mt Rose (Click here to see pictures from that trip.)
2/25/2010 - Sun Valley Idaho (Click here to see pictures from that trip.)
3/9/2011 - Park City, Utah (Click here to see pictures from that trip.)
3/3/2012 - Taos, New Mexico (Click here to see pictures from that trip.)
2/16/2013 - Vail, Colorado (Click here to see pictures from that trip.)
2/21/2014 - Whistler-Blackcomb, Canada (Click here to see pictures from that trip.)
3/6/2015 - Whitefish Montana "Big Mountain" (Click here to see pictures from that trip.)
1/23/2016 - Ski Hokkaido Japan (Click here to see pictures from that trip.)
3/8/2017 - Ski Telluride (This is the page you are looking at!)
Main Street Telluride (Colorado Ave):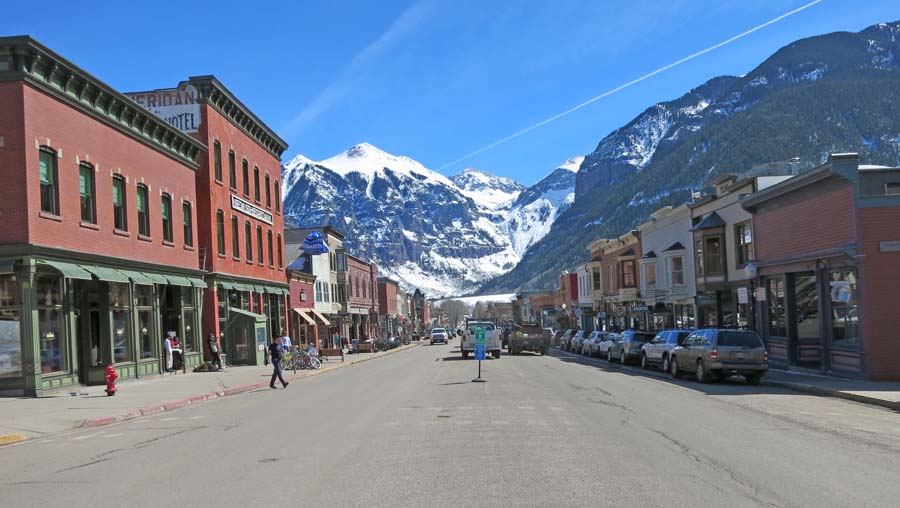 The rest of the pictures are in chronological order which can get kind of boring so scroll quickly! Most of our trips start the same out of San Francisco Airport (SFO). This picture was taken from the AirTrain: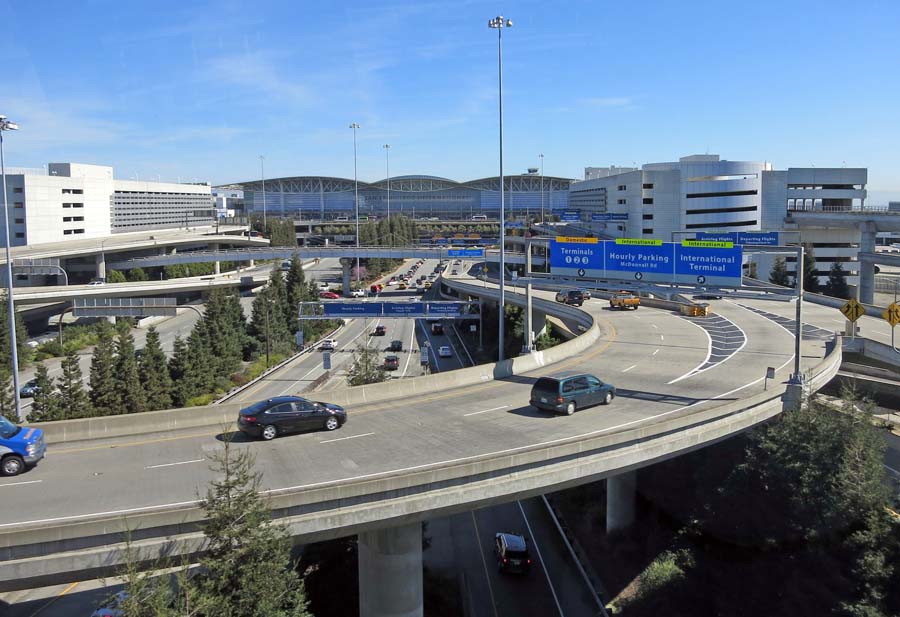 Katherine and I met up Lise in SFO airport to take the same direct flight to Telluride (actually to Montrose which is an hour from Telluride).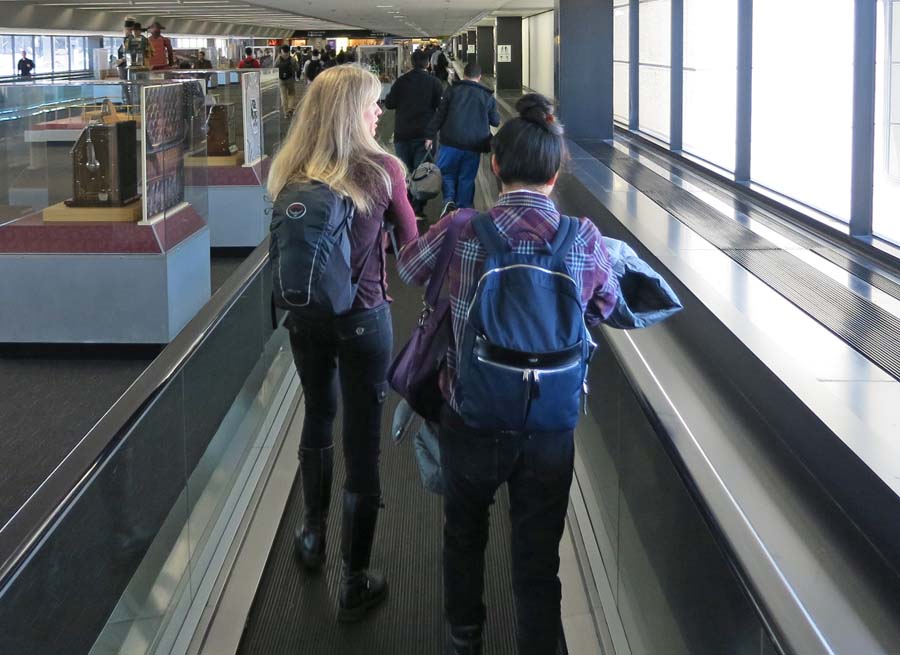 Waiting for our flight, we toasted to Lise's (big round number) birthday with champagne!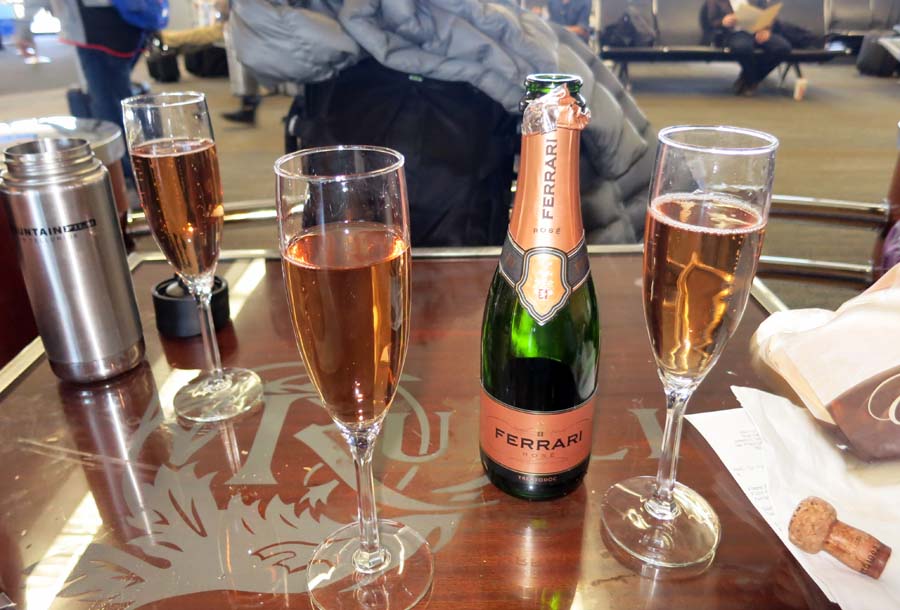 Katherine is leaning back trying to stay out of my photo.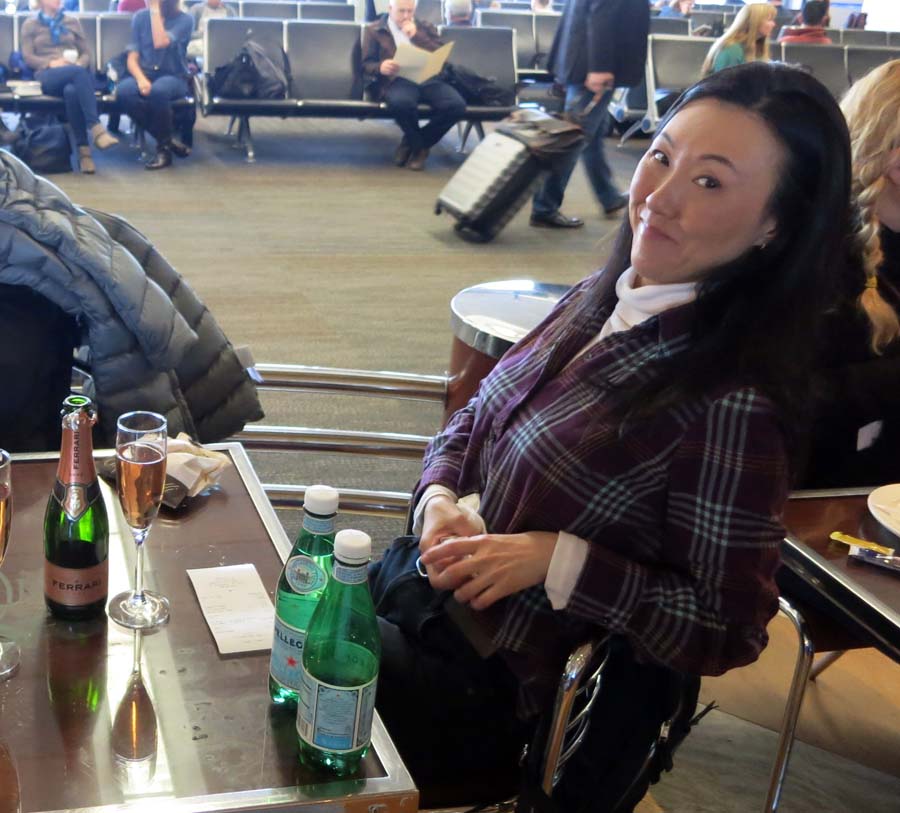 Our airplane this day was an Embraer EMJ-175.
Lise setting foot back in Colorado at Montrose airport: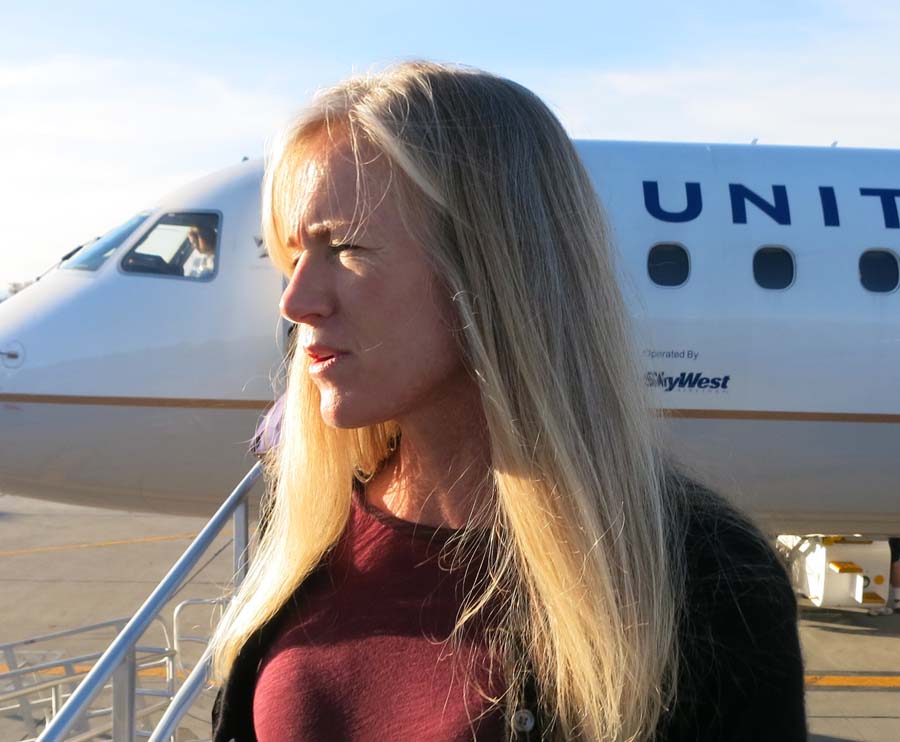 Welcome to Montrose!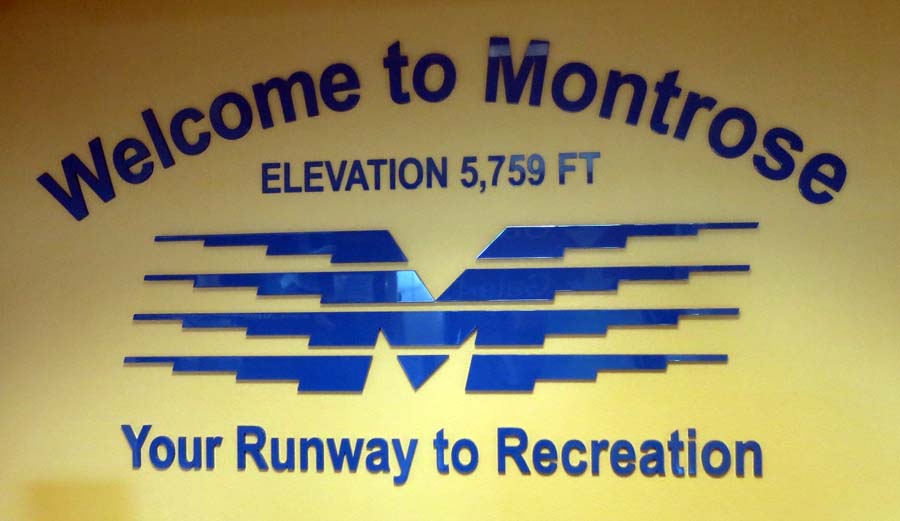 We took "Telluride Express" with driver (Chris maybe?)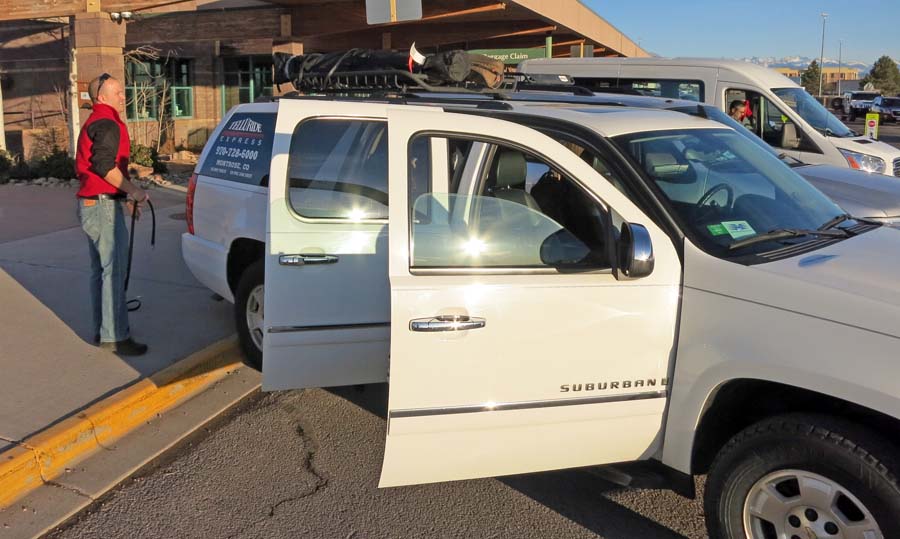 As the sun goes down we head off from Montrose to Telluride.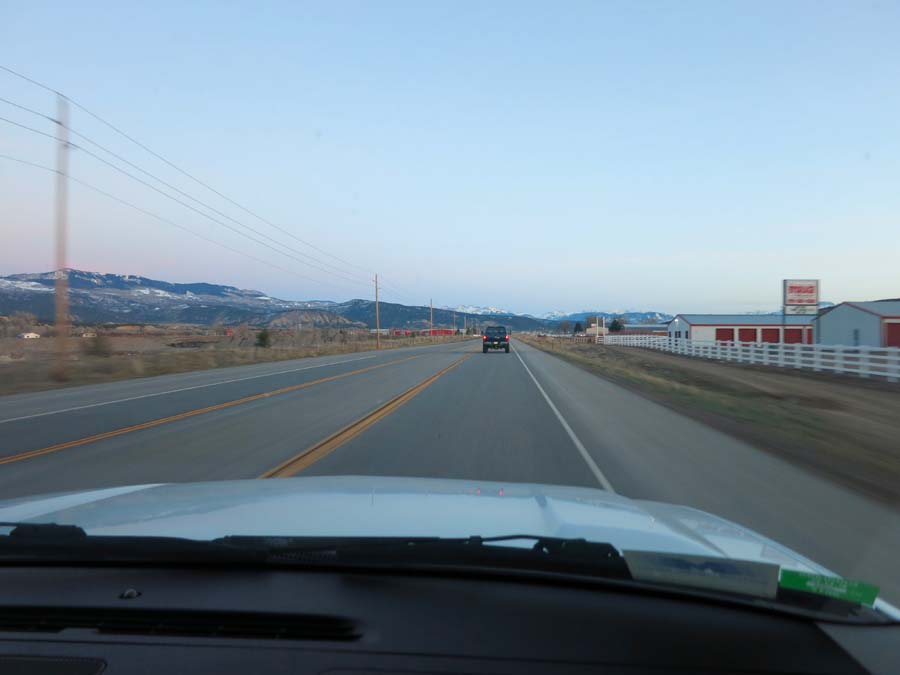 Katherine and I arrived one day earlier than most of the group so we could take a direct, non-stop flight. We stayed at the "Camel's Garden Hotel" for a couple nights. The entrance is below.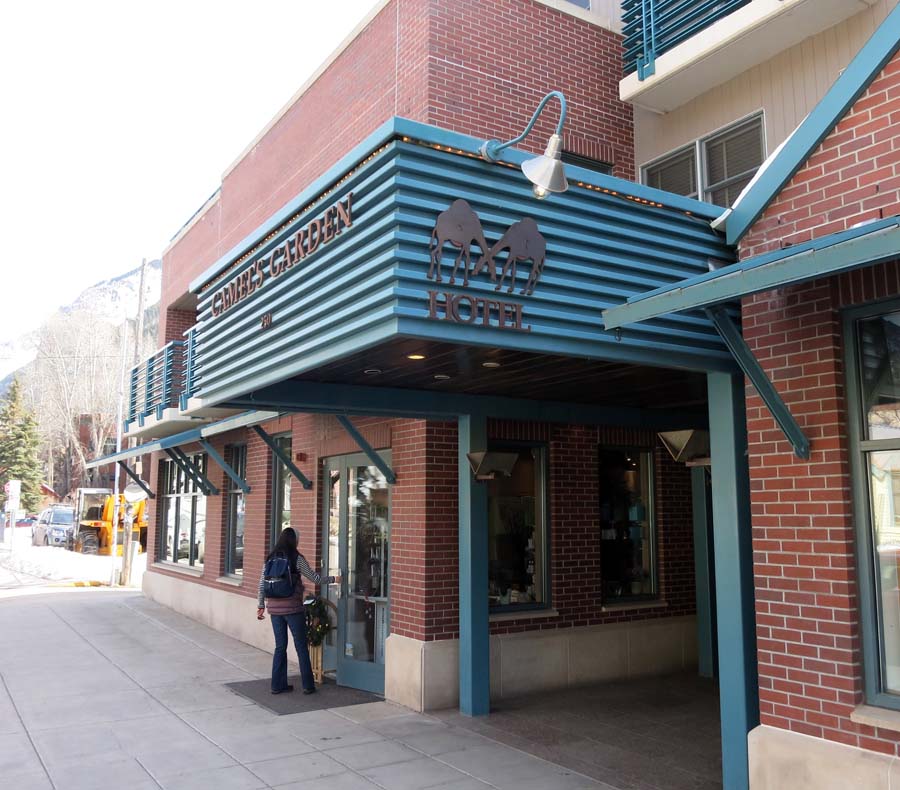 That night in Telluride Katherine and I walked next door to our hotel to eat at "La Marmotte" restaurant. It was good, but I was a little sick and maybe a touch of the altitude sickness and had a massive headache so the experience was lost on me. :-)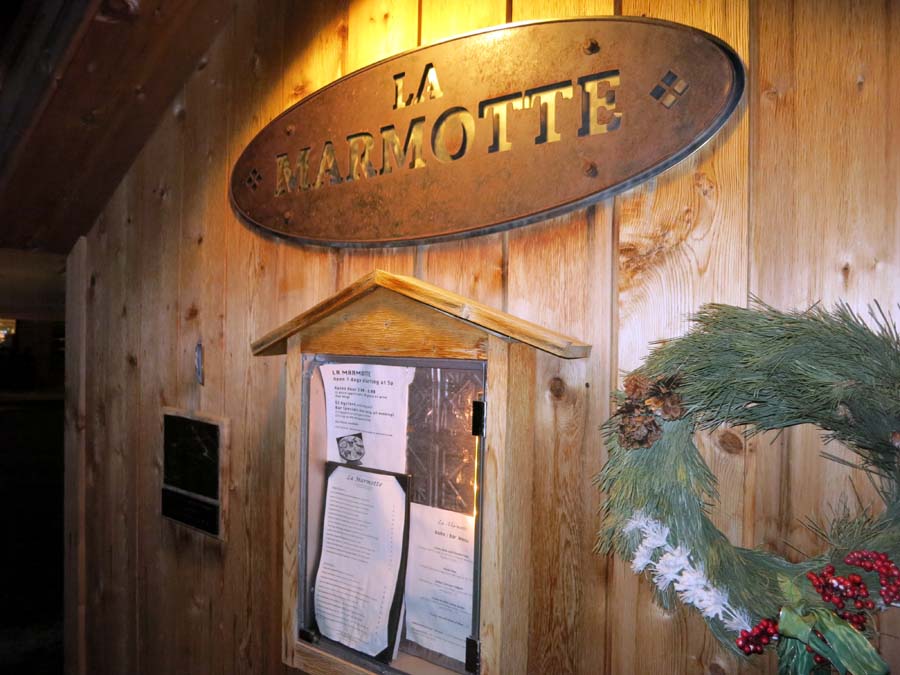 The next day Katherine and I walked around Telluride. I don't know if it is the same dog, but the last time I was in Telluride there was a husky in this same yard. :-) This guy seems plenty happy sleeping in the snow. This is about half a block from the bottom of the Gondola on South Oak street.
Zoomed out a little.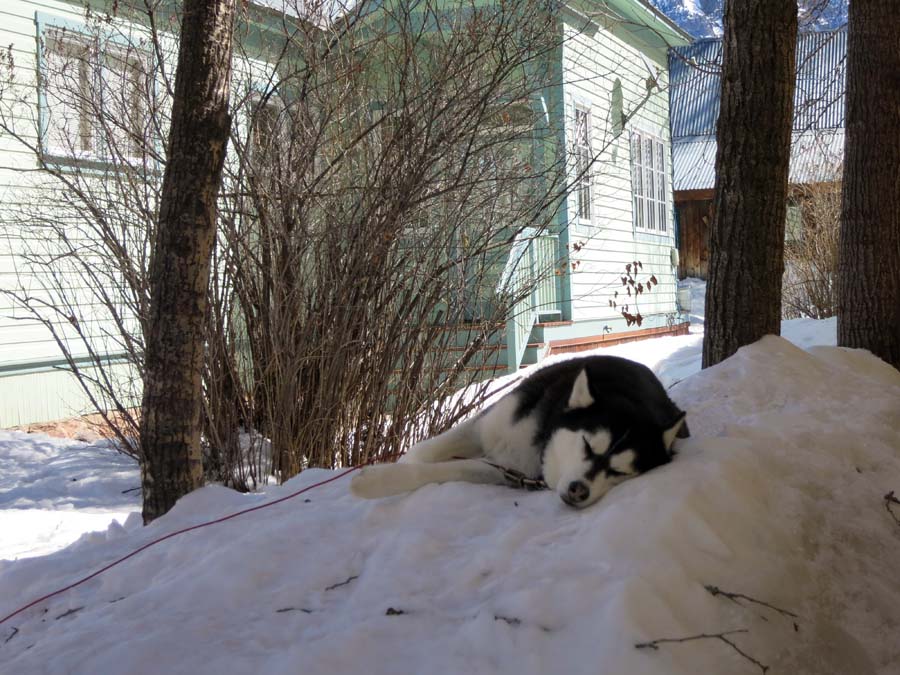 Walking up Oak Street there is a small park and this sign below.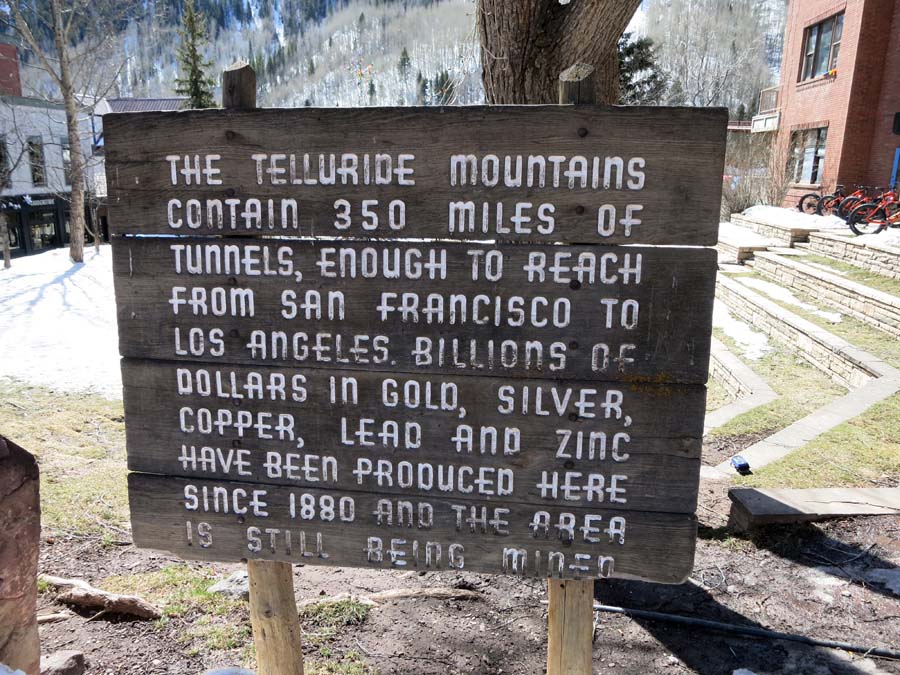 Below is a classic shot of Telluride's main street (Colorado Ave) looking down towards the box canyon. (Toward Bridal Veil Power station).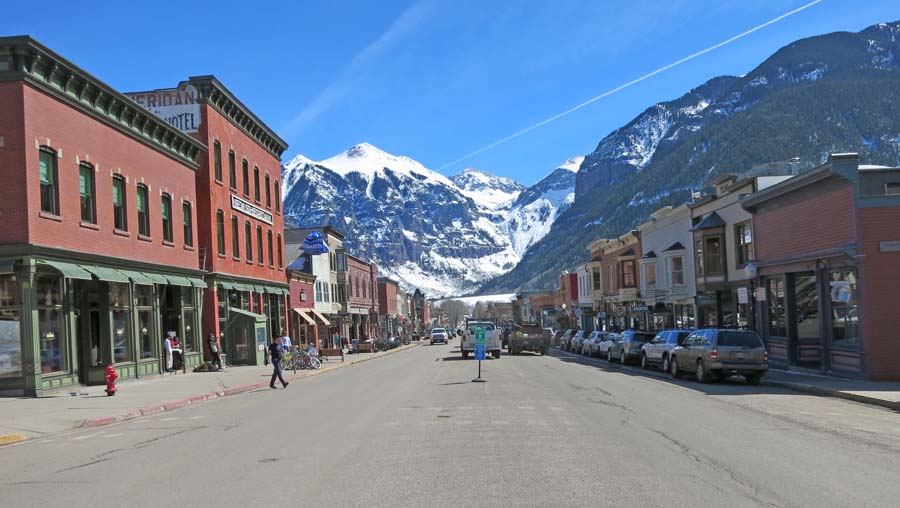 We have no idea what this bird is. Do you? Email me at:

UPDATE 3/17/2017 - Lance says it is a Magpie.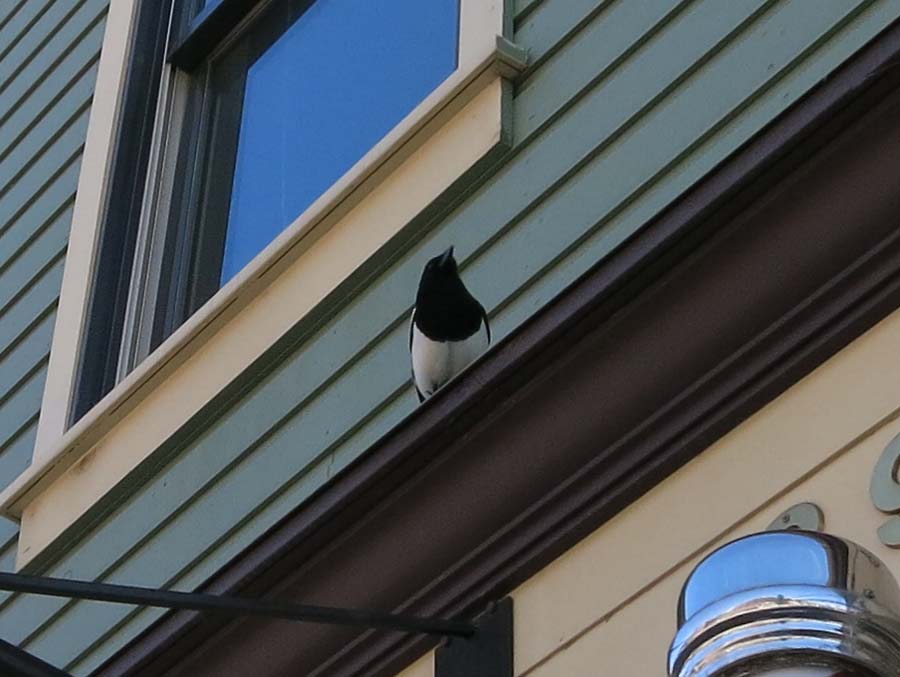 "Fat Tire Bicycles" seem to be trendy, you can rent one here on main street.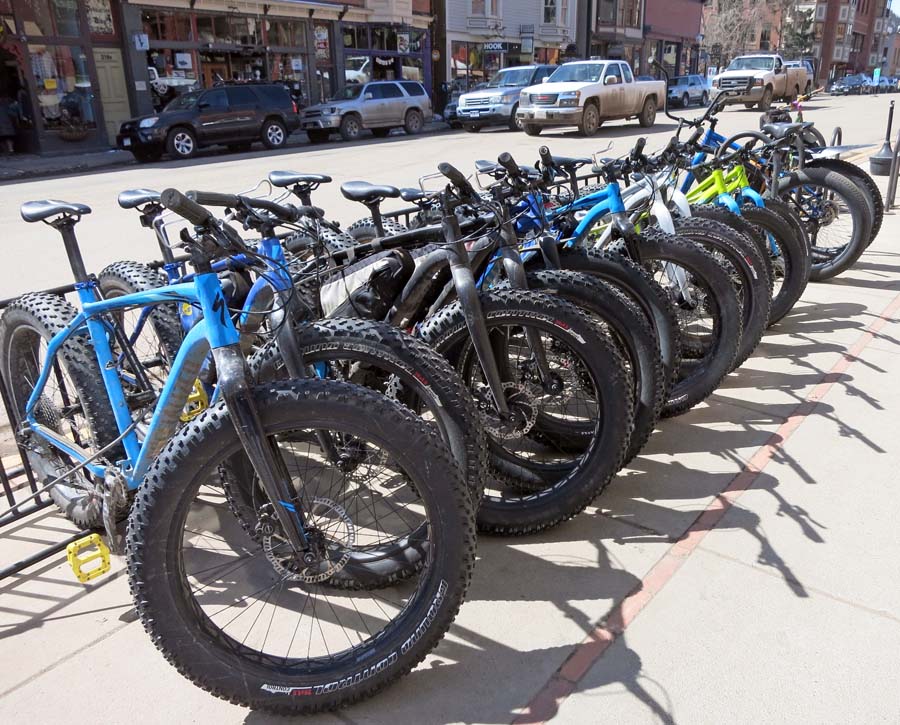 An average looking photographer in Telluride getting the same classic shot I took a few minutes earlier.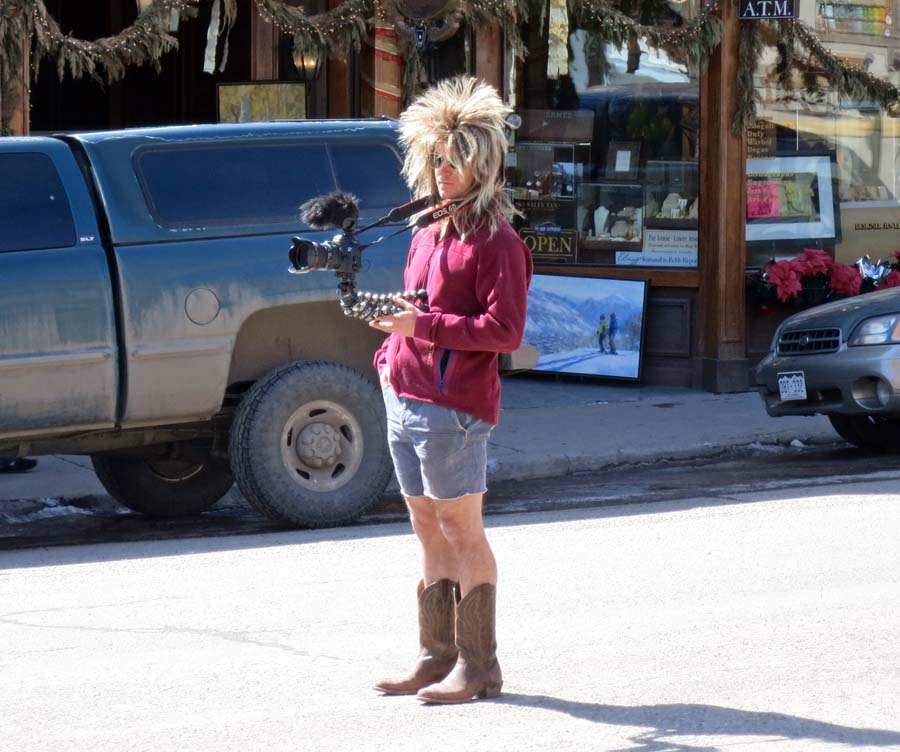 These two guys with wigs on said they were making a ski movie.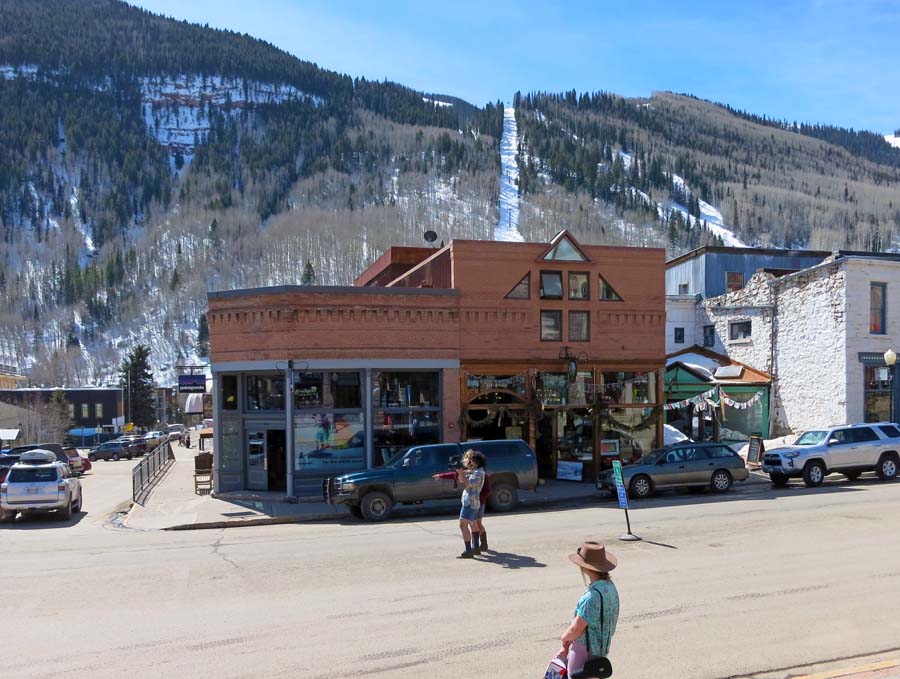 Telluride has a tradition of always maintaining this "Free Box". You leave anything you don't want anymore here and somebody else might come along and claim it for free. Lise (on our trip) wrote a book about it once.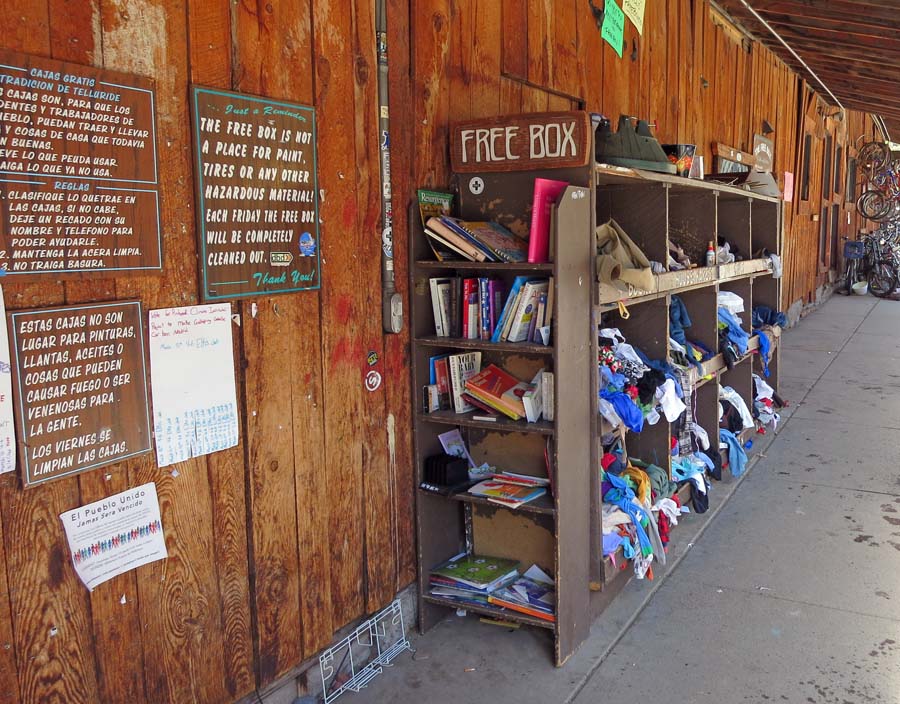 Below is a picture of a totally random house in Telluride that really needs a new coat of paint. I wonder what the owner of this house does for a living?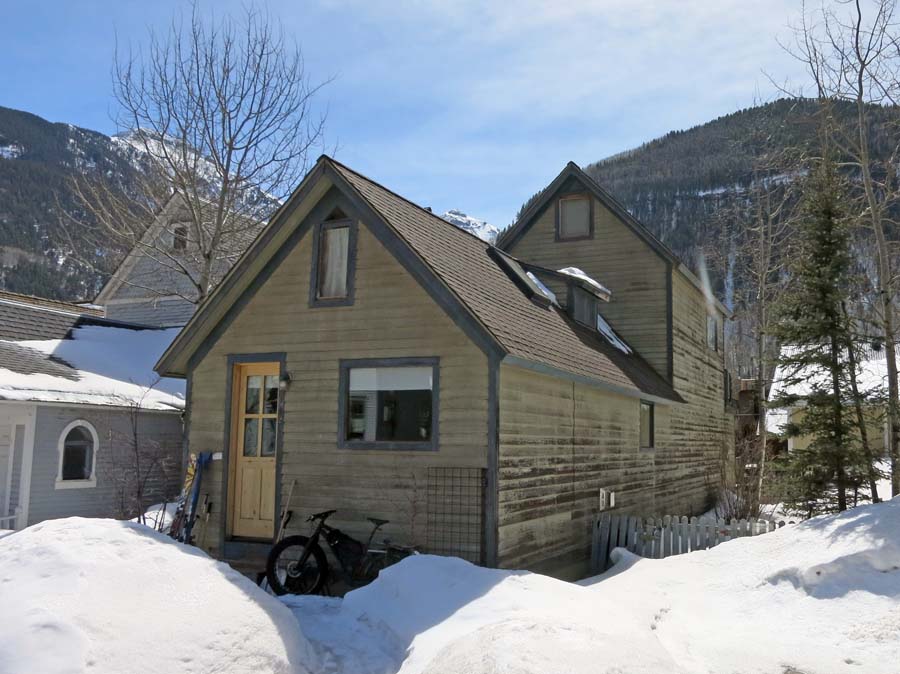 Katherine on main street standing behind a large statue of a big dog (Great Dane).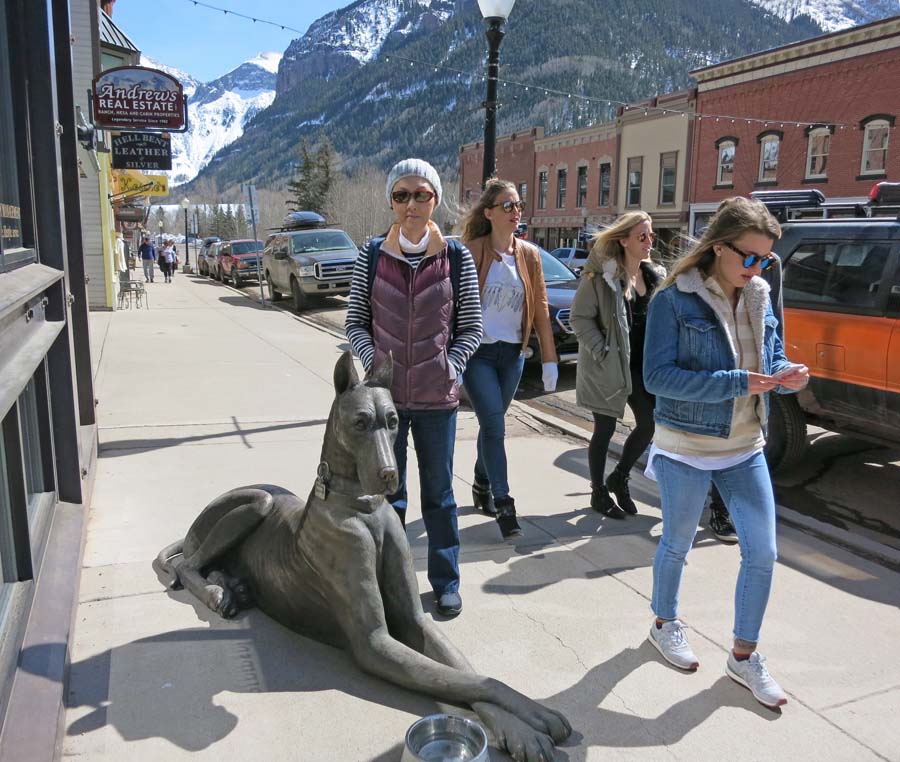 Laura Colbert and Lance Waring brought Willa to lunch with us! Lance and Laura live in Telluride. Below is a picture of Laura and Willa. Willa is 3 months old.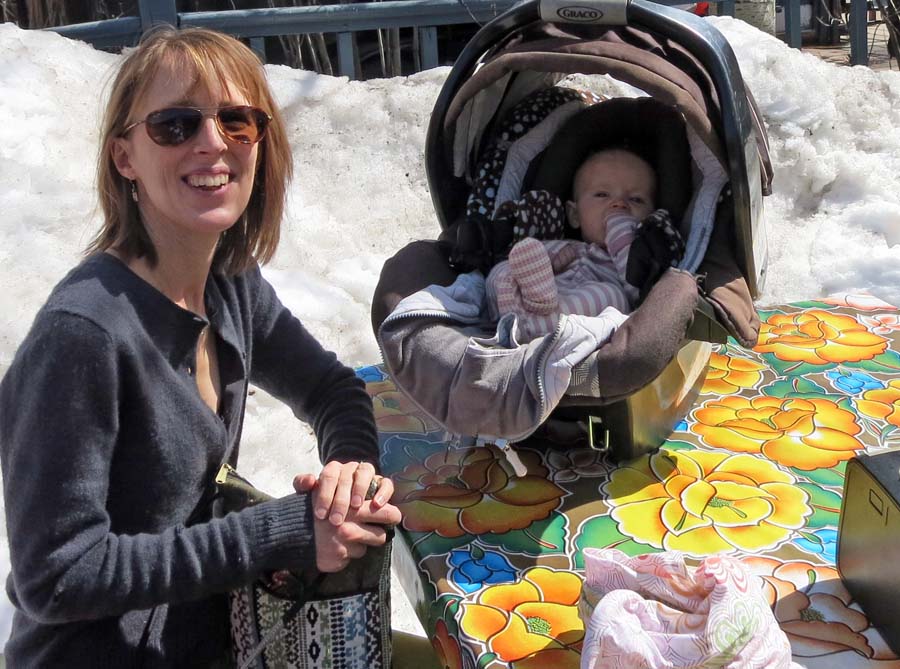 From left to right: Lise Waring (Willa's aunt), Lance Waring, Laura Colbert, and Willa. We are right next to "Coffee Cowboy".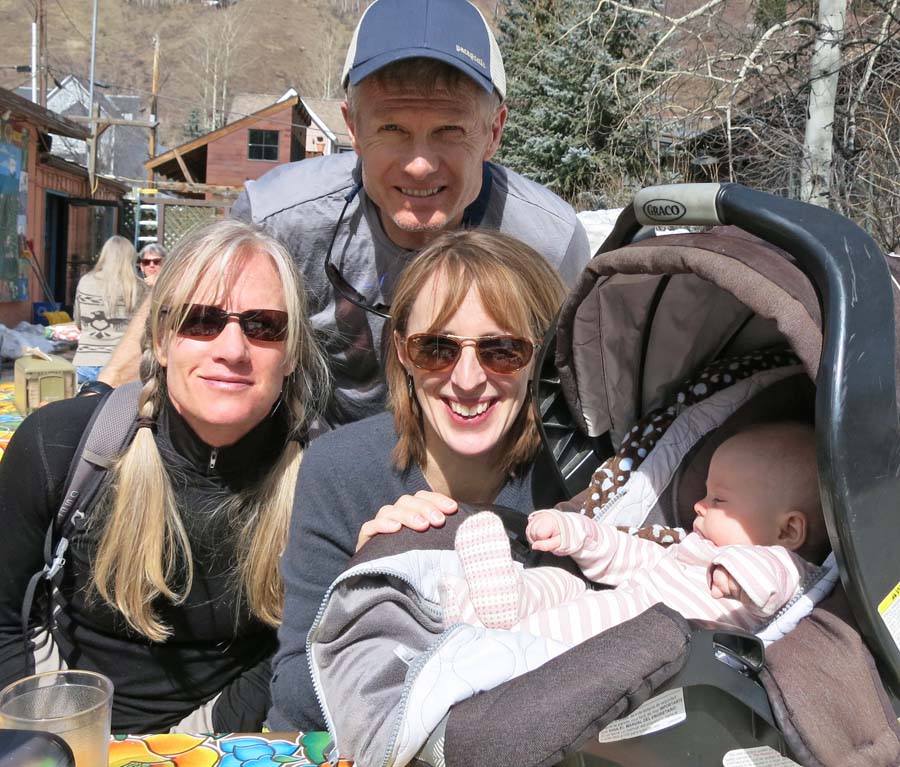 A panorama of main street (Colorado Ave) in Telluride. The "Free Box" is on the right.

The Gondola in Telluride is free to ride and provides a wonderfully scenic way to travel between Telluride downtown and "Mountain Village". Katherine and I rode it up to see Mountain Village.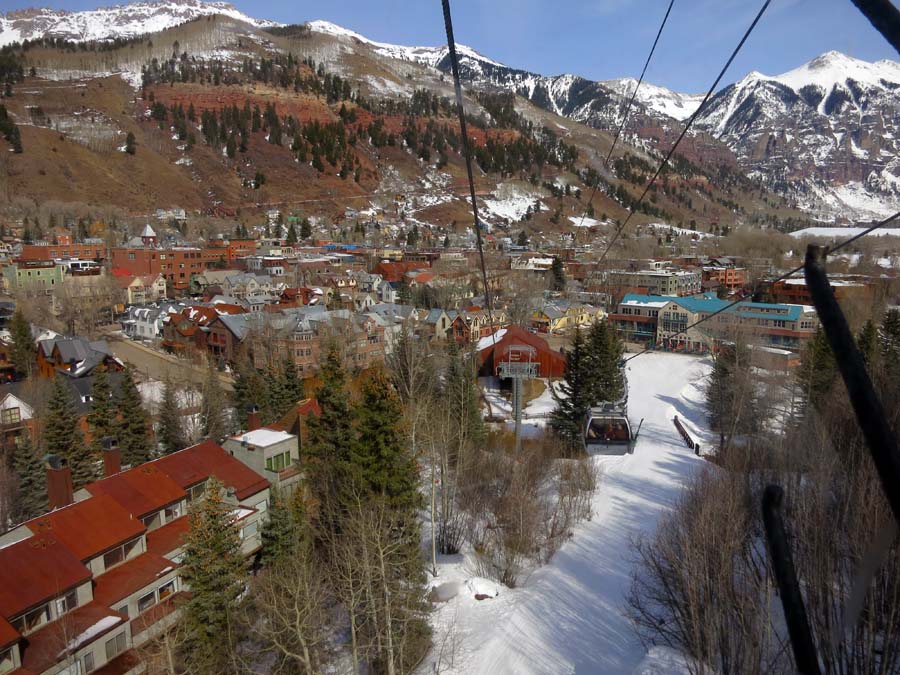 Here we are in Mountain Village getting lunch!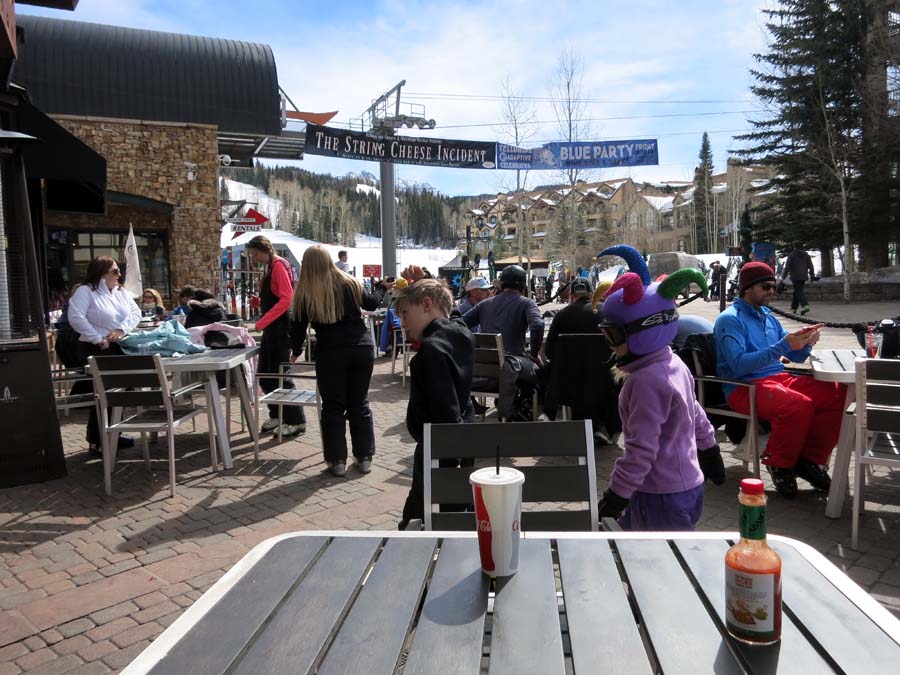 And riding back down the Gondola.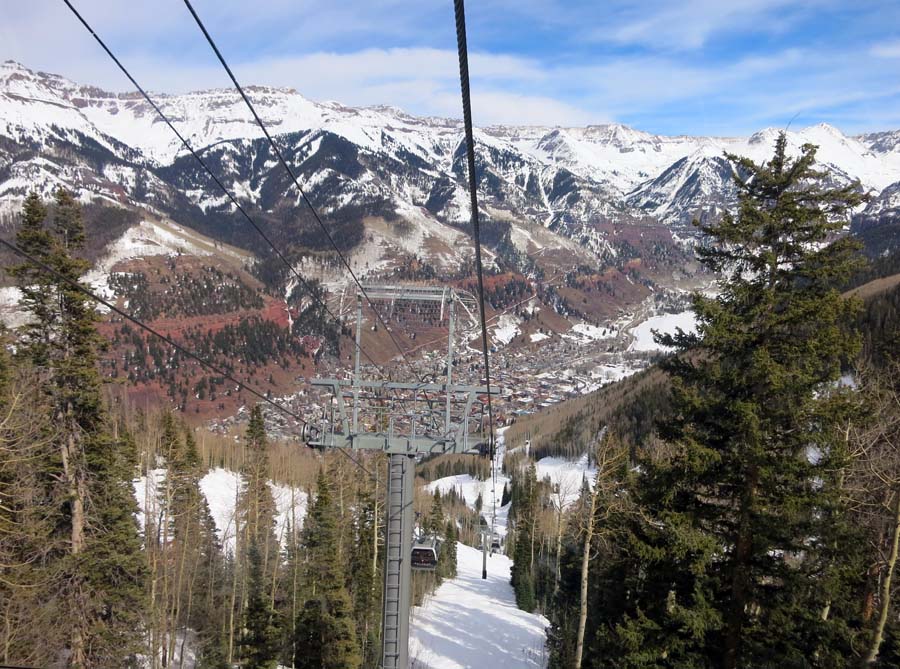 Here is a quick 15 second movie showing a bit of the descent. Click here for the very highest quality.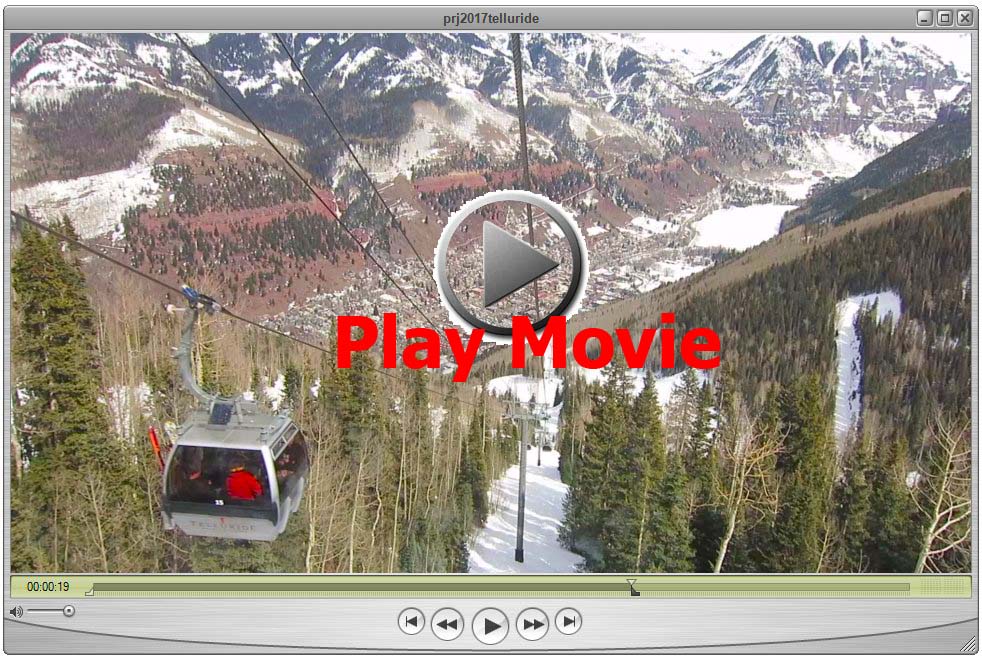 That night others arrived. Below from left to right is Peter Sebestyen (white shirt), Brady Nilsen, Brian Wohletz, Doug Fults, and Mike Chow (holding glass).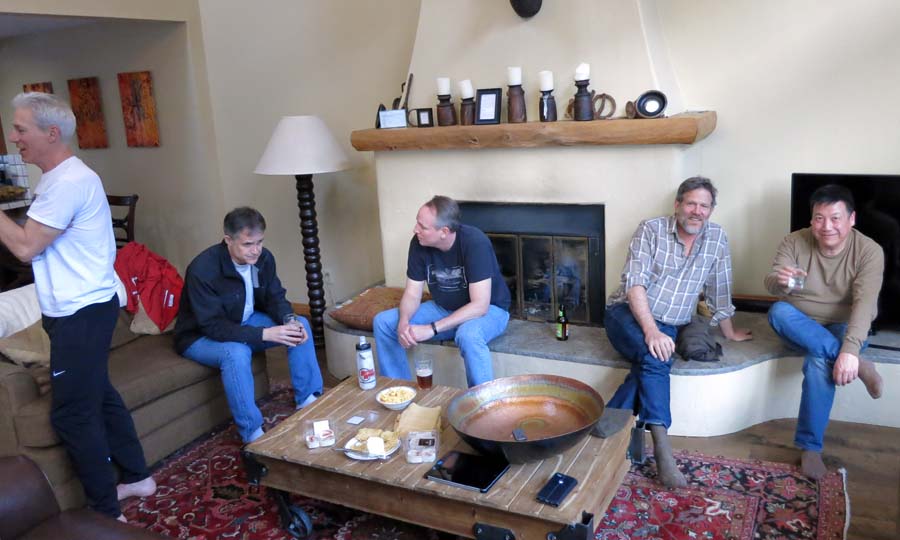 From left to right: Karl Dohan, Katherine Chung, Tamara Dohan, Peter Sebestyen, and Brady Nilsen.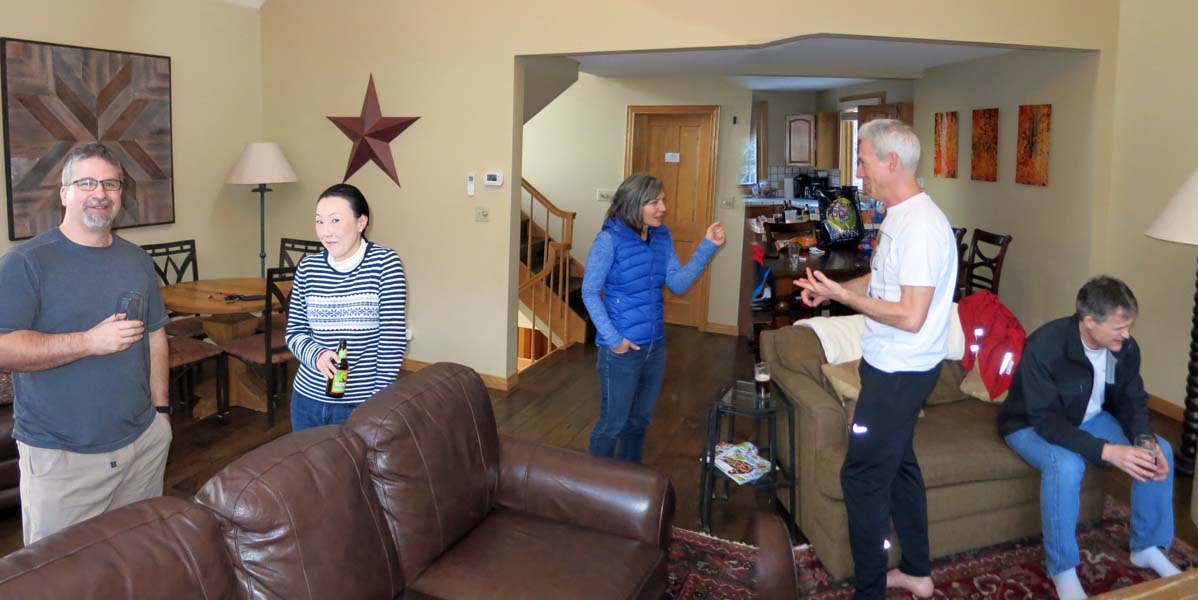 Katherine and I moved out of our Camel's Garden room. Our room is pictured below. That door you see doesn't open to a deck, that opens up and you basically sit down on Chair 8. It was an Ok room (the gas fireplace was very pleasant), but it could be a GREAT room if these things were fixed:
When we checked in, they didn't give us a WiFi password. Later when we asked they supplied one. (I know, first world problems.)
No coffee/tea setup in room. They had complimentary breakfast that was pretty good, but it means leaving the room first thing in the morning.
No refrigerator in room (also no mini-bar). We put a few things that could spoil out in the snow outside, which seems ghetto for slopeside accommodations. I like having the option to have a bottle of water or a glass of wine without leaving the room, and I'm willing to pay for the experience. Luckily in Telluride there is a grocery store just a block away so we stocked our own supplies, but it's sad to put them in the snow outside the room where a dog could find and eat our food supply.
Humidifier smelled moldy
Spa hours not listed anywhere
No "deck", really a strange door to nowhere/outside with a bizarre locking system that was confusing and the door always looked "cracked open" because the doorframe was bent.
No iron or ironing board
We thought there was no hair dryer, but it was "hidden" in a drawer in the main room, not in the bathroom.

A picture of the bathroom.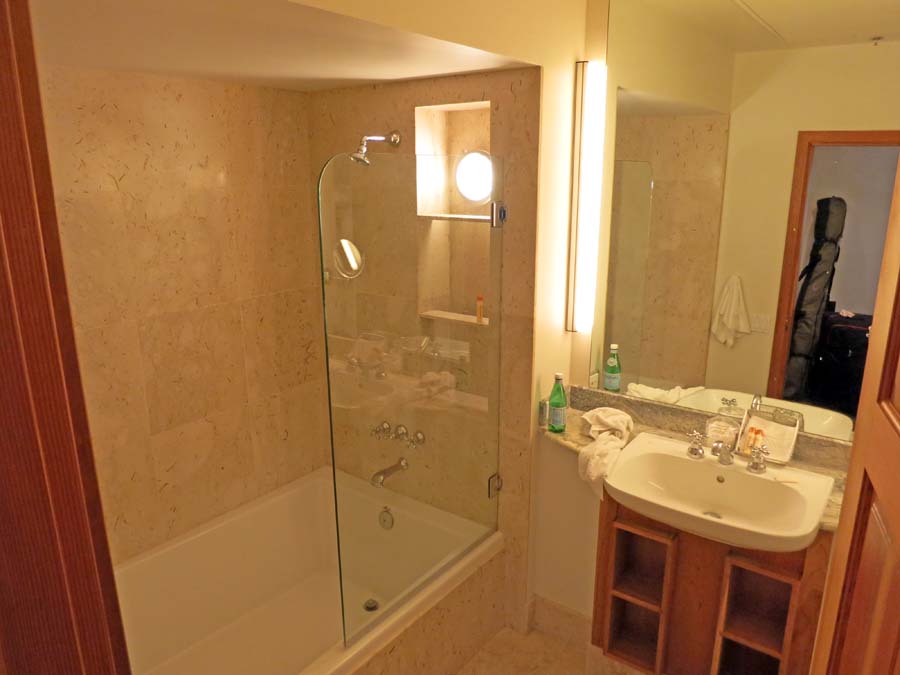 Front entrance.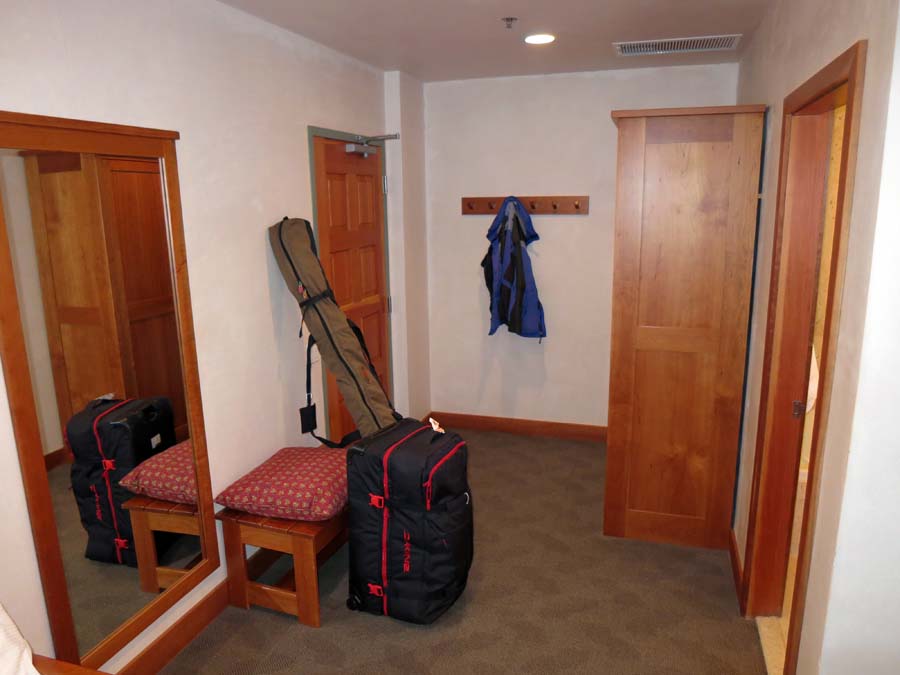 Deep construction in Telluride. I think they are secretly mining for gold (or lead, or whatever they mine for here).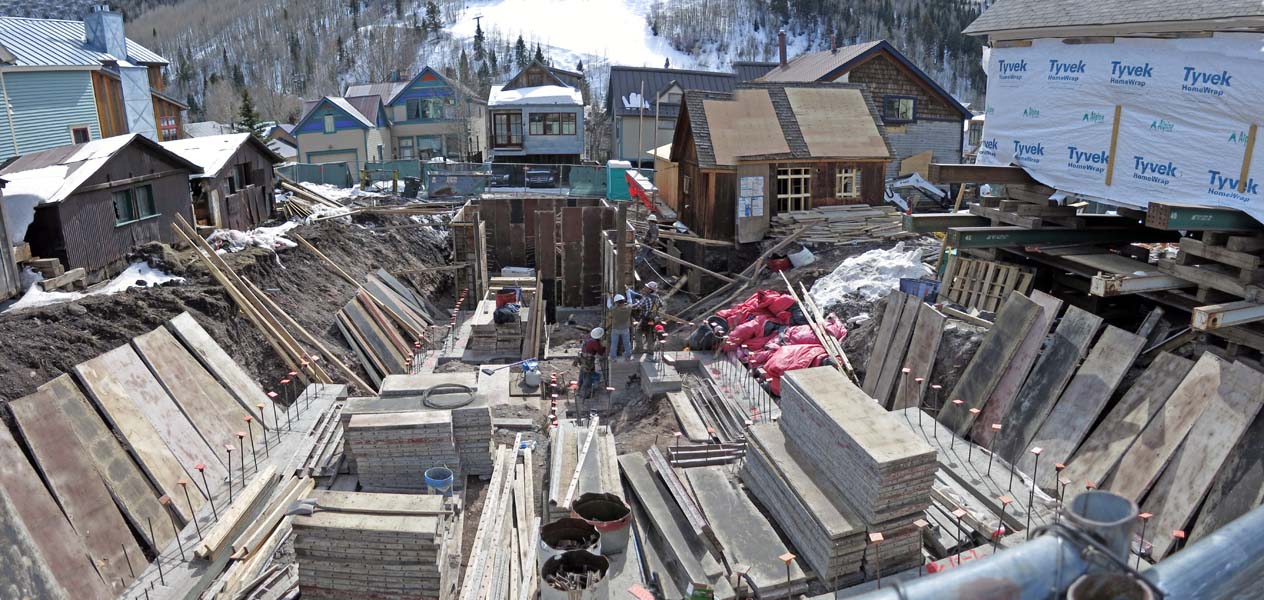 Construction that involves propping houses up on stilts.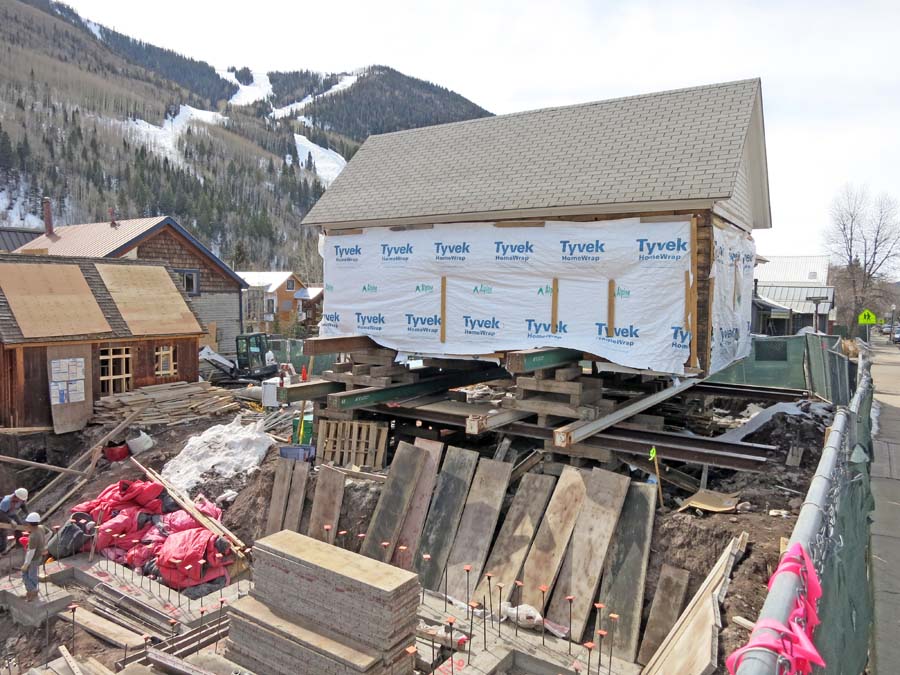 This picture was taken by Brady or Mike Chow and includes Doug Fults on the ski day I felt sick and stayed in the condo: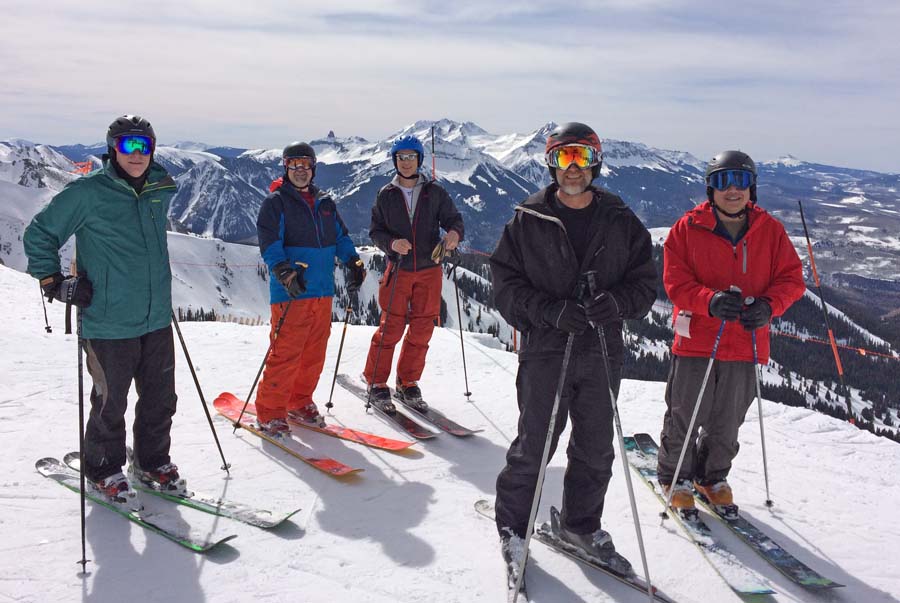 Hanging out in the condo.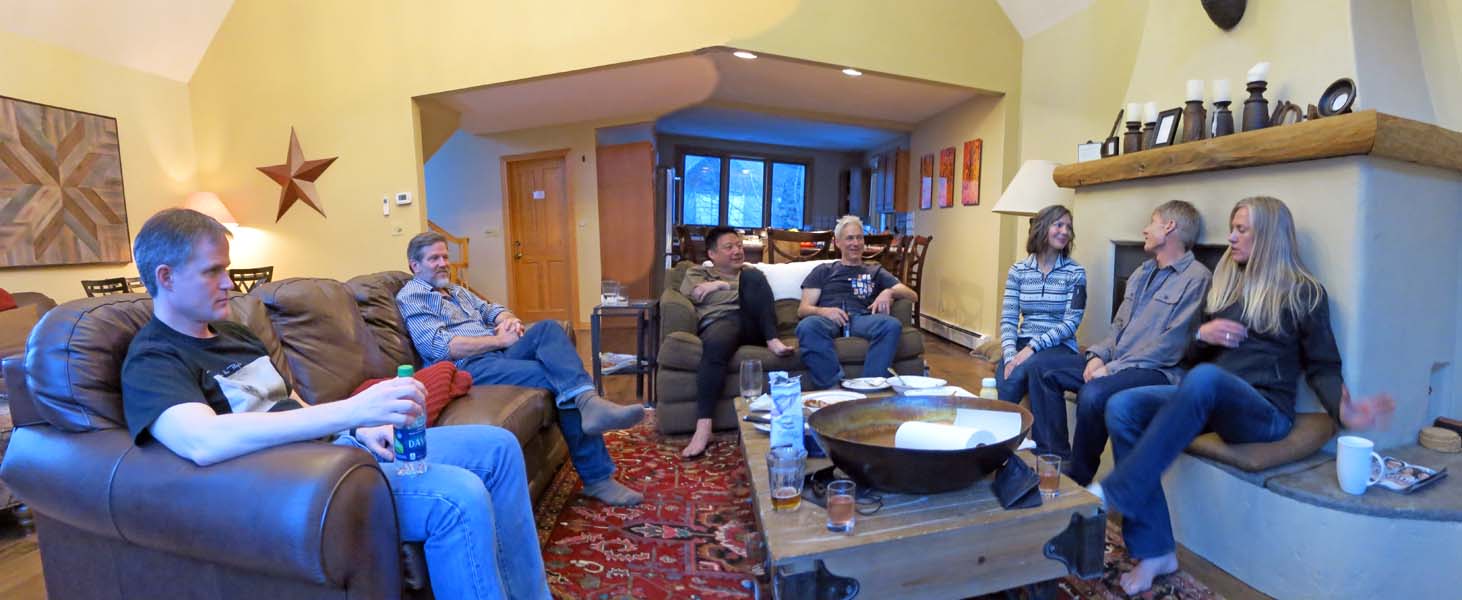 We went out to dinner at "There" restaurant.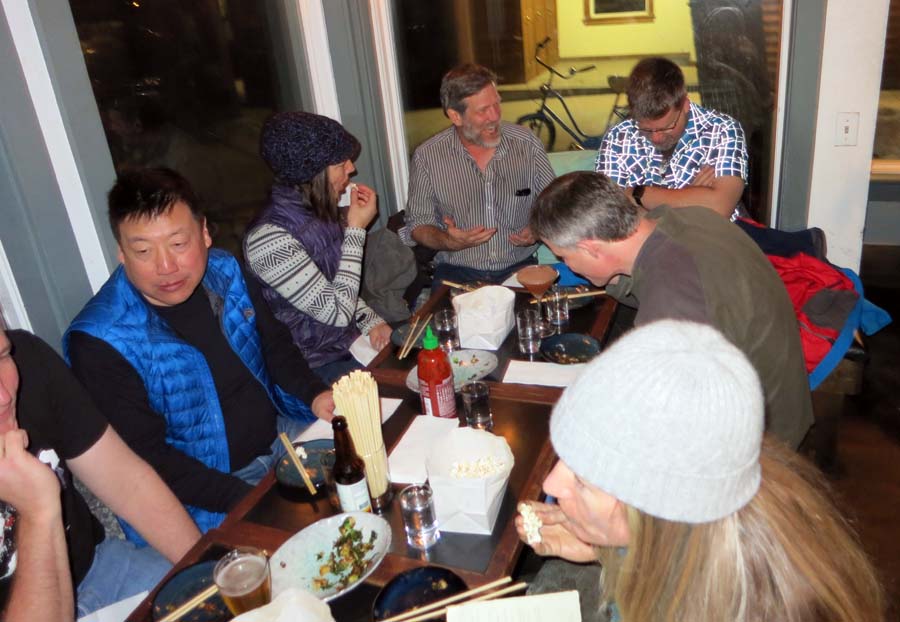 Here is the menu for "There" restaurant: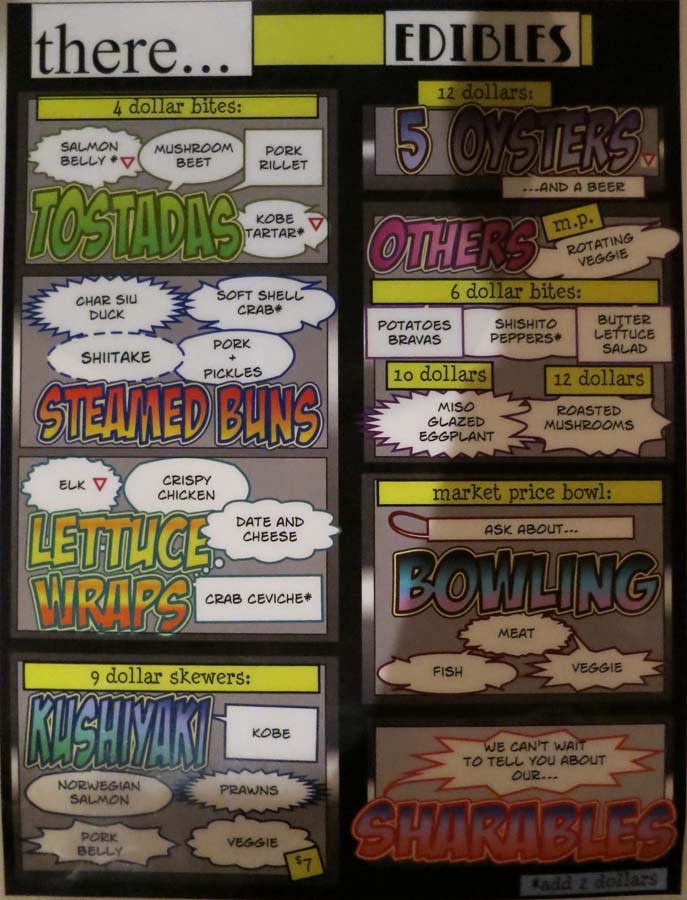 Dinner at "There" in Telluride.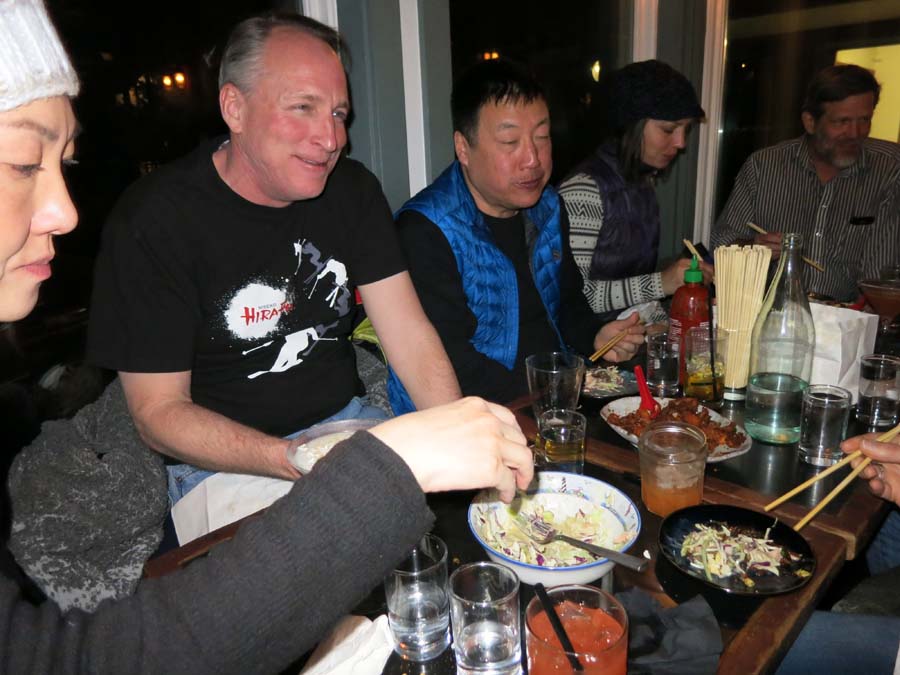 The ski group on the slopes together! From left to right: Tamara Dohan, Karl Dohan (red pants), Brian Wilson (me), Brian Wohletz, Brady Nilsen (red hat), Mike Chow (red jacket), Doug Fults, Lise Waring, Lance Waring, and on far right Peter Sebestyen in red jacket.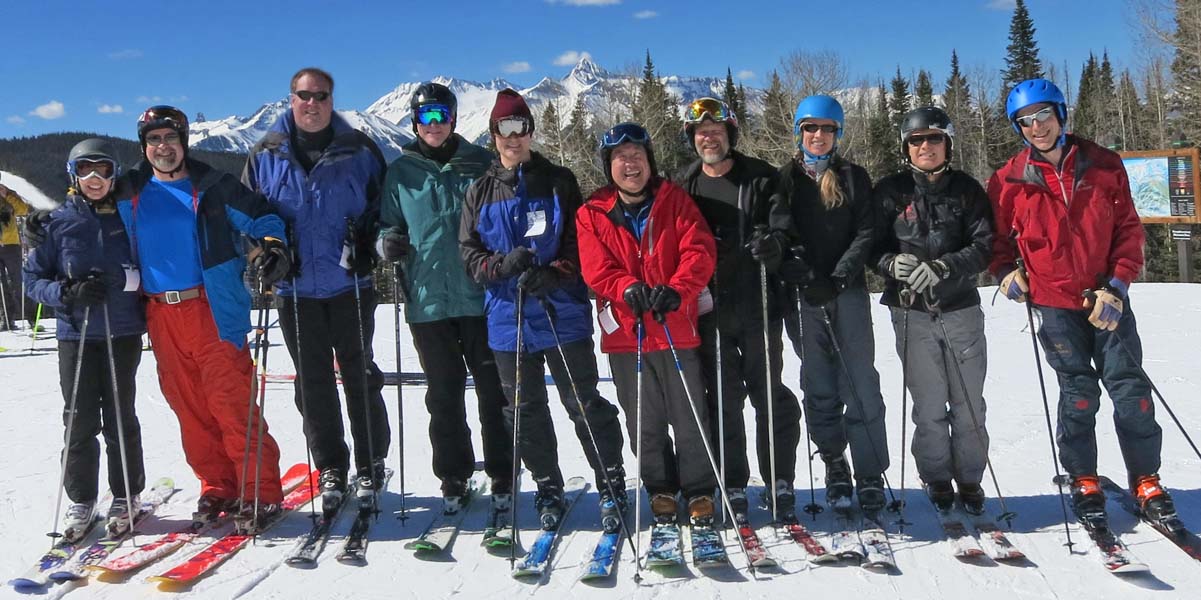 At the top of "Chair 10" is a children's area called "Enchanted Forest" which I like, so I took a few people on a tour.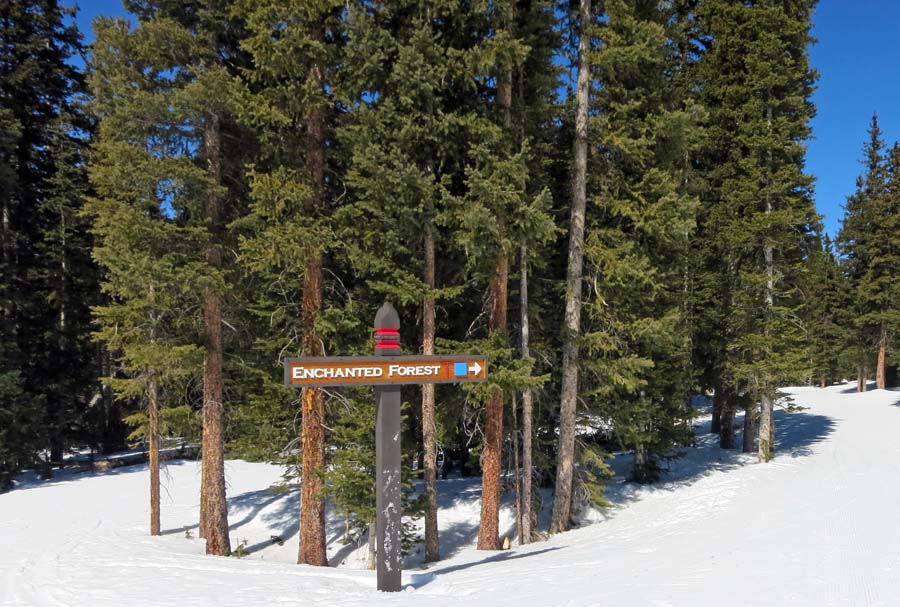 Below is a panorama view from the top of Gold Hill. Very near the center of the photo you can see Telluride Airport's runway (see the following picture with red arrow to point that out).

The view of Telluride Airport (TEX) as seen from the ski slopes.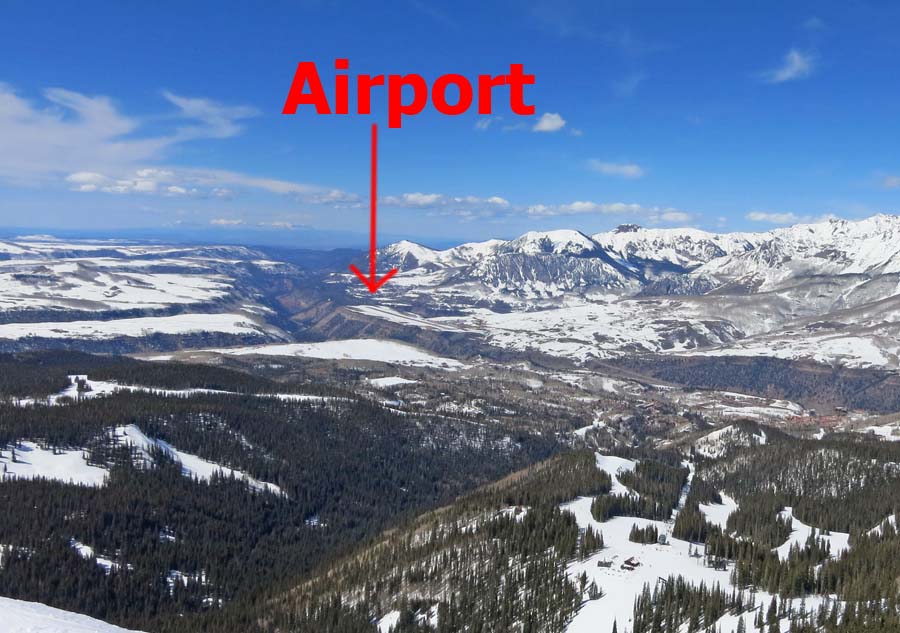 In 1999 there was no Gold Hill Ski Lift and I hiked up the hill seen below (this is at 12,000 feet elevation). Click here for pictures from that day 18 years earlier. It is a lot easier nowadays. The little house you see in the picture was there in 1999 and was a private residence owned by Eric Trommer, but in 2009 Eric sold it to the ski area and now it is a very pleasant wine bar. :-)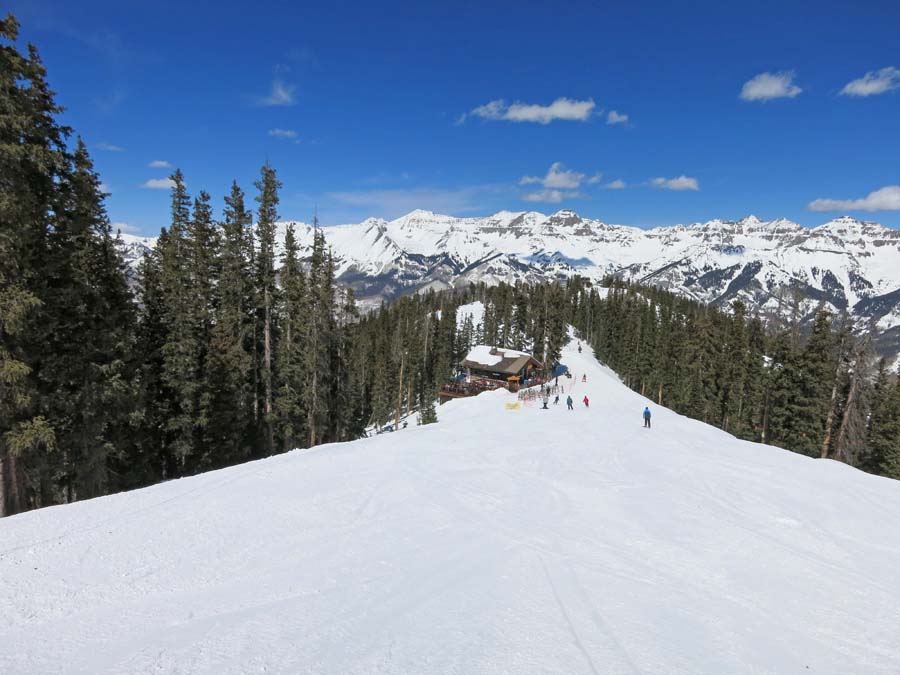 Seen below is the entrance to "Alpino Vino" which is the highest restaurant in North America at a stunning 11,966 feet.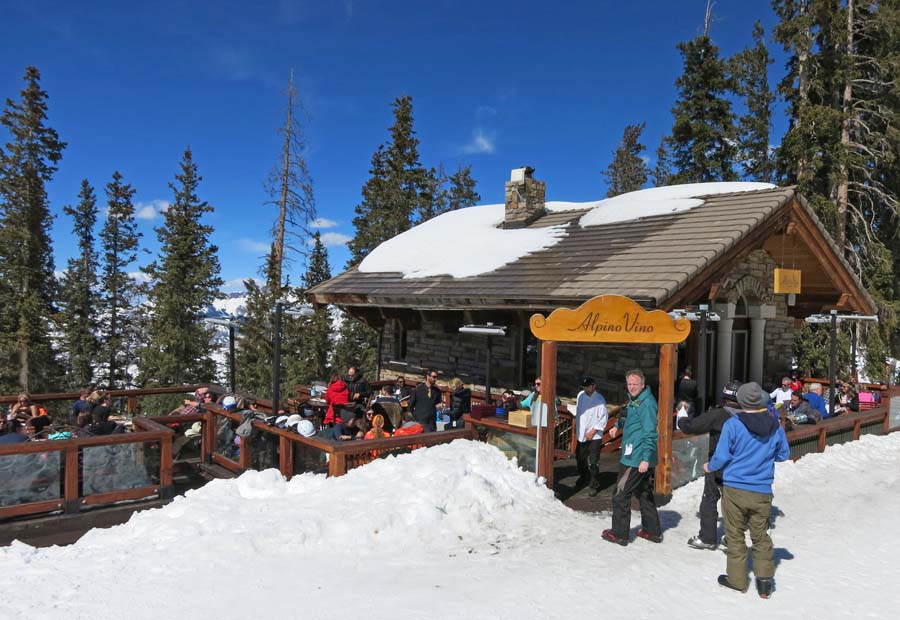 Another picture of the deck of Alpino Vino in Telluride Colorado.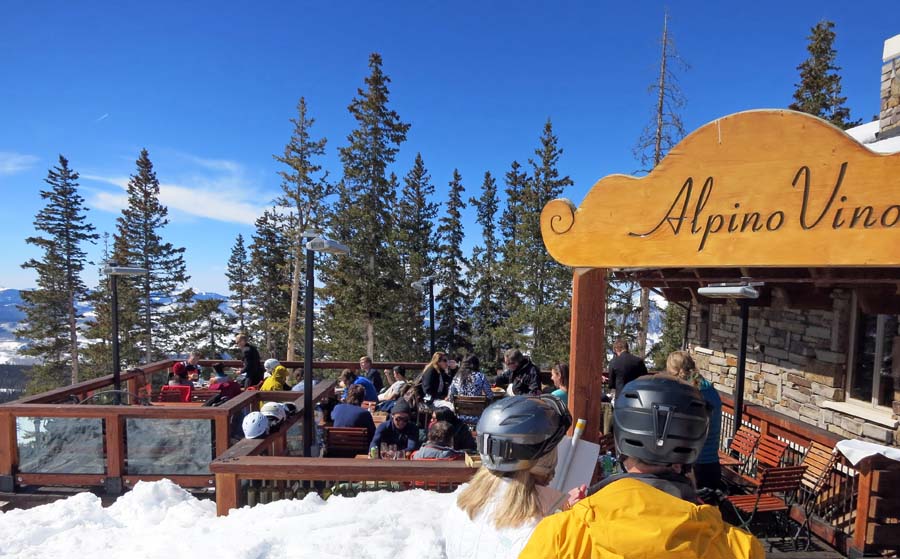 One last picture of the deck.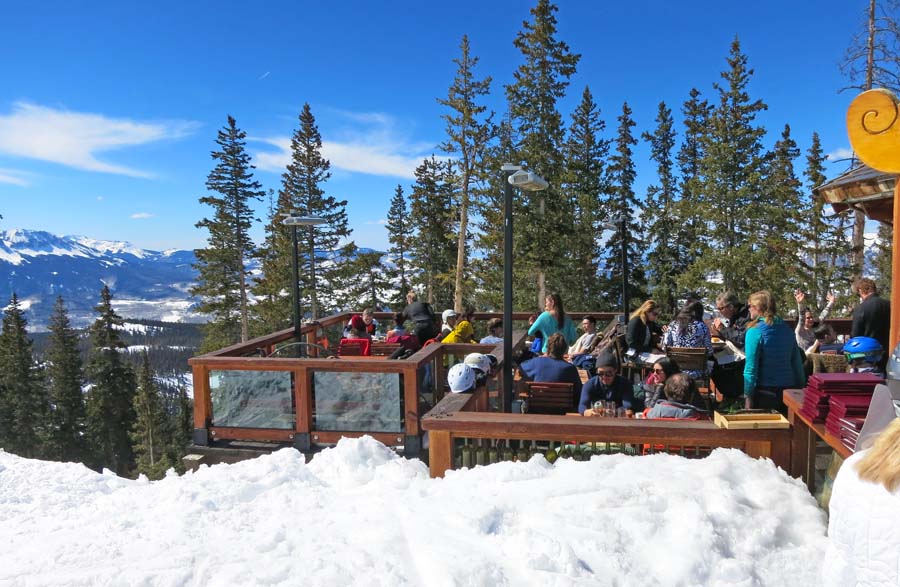 The menu of Alpino Vino.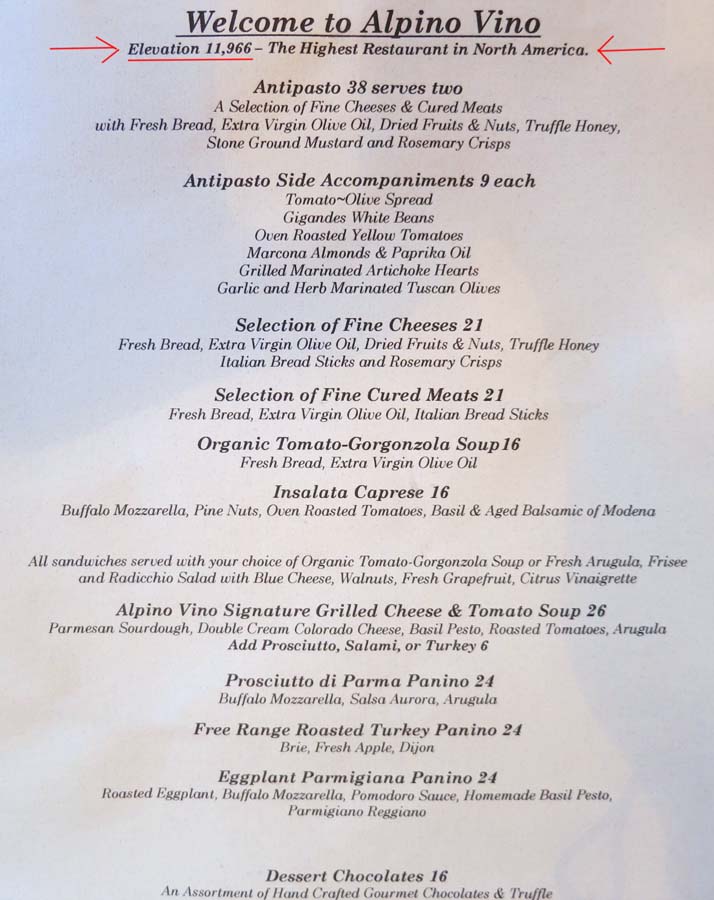 Part of the wine list of Alpino Vino.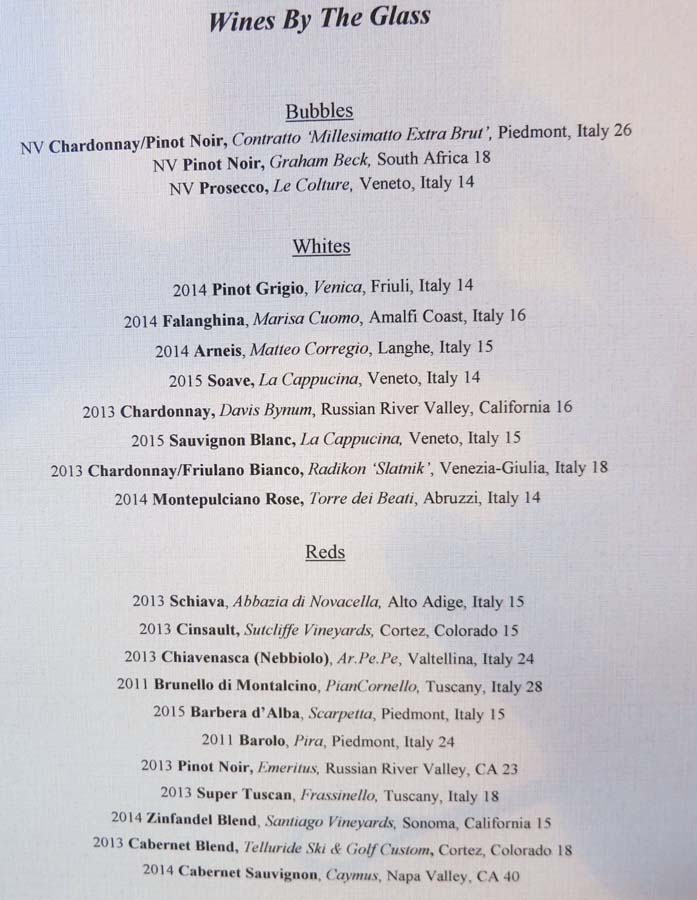 Here is our half group of: Brady Nilsen, Tamara Dohan, and Mike Chow (and on my right is Doug Fults and Brian Wohletz off camera). If you look really closely at the wooden beam above Mike Chow's head there is a carved wooden bat (animal) hanging up side down. This is inside the Alpino Vino wine bar. I took pictures of the outside of Eric Trommer's house 18 years ago from the OUTSIDE peeking in, but this is the very first time I set foot inside. It is beautiful inside.
After a light lunch, I showed Doug and Tamara one of my favorite runs in Telluride called "The Log Pile" (see picture below). It is a gladed area of trees with gentle moguls that is very beautiful to ski through. I have not been back to Telluride in the last 9 years and I was very glad to get back to this spot.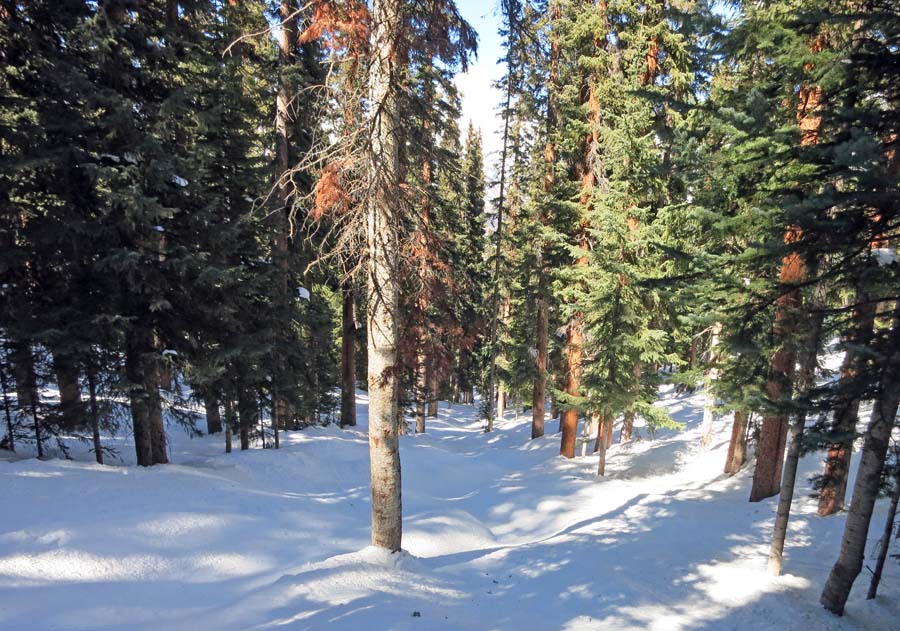 One more picture taken while stopped in the middle of "Log Pile Ski Run" in Telluride.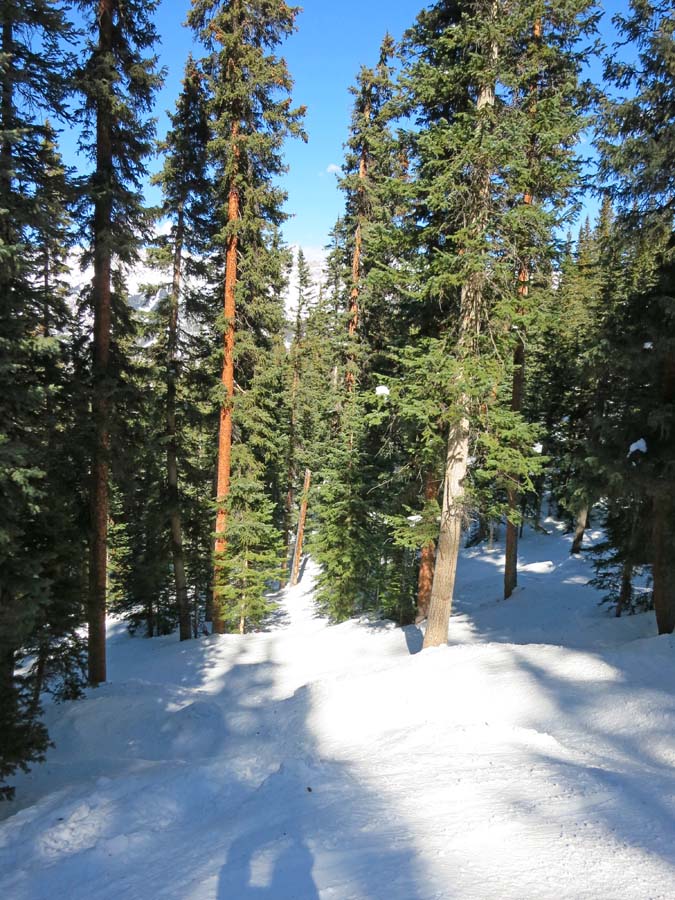 Another lap and here we are at the top again looking down at the beautiful day.

The building below is called the "Gorrono Ranch Ski Lodge" at Telluride. Gorrono Ranch was one of the two ranches the very original Telluride ski developer (who built the first lift) purchased in order to develop the ski area. I think "Mountain Village" is entirely built inside the original perimeter of Gorrono Ranch. I'm not sure what the history of this exact building seen below is, but it LOOKS like a rustic old place but serves food and hosts live music. Can be a fun way to spend and afternoon.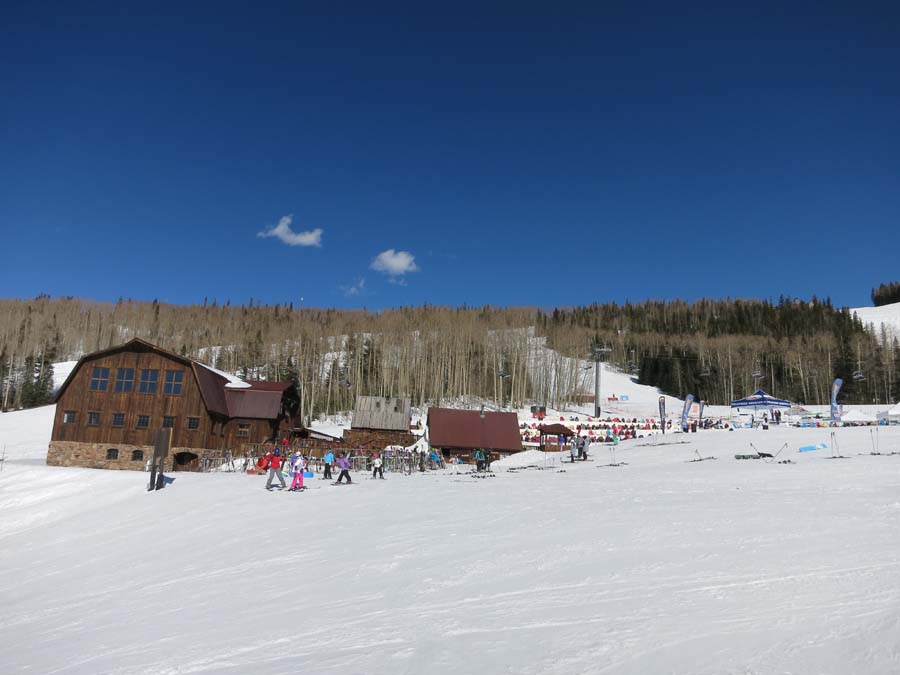 Click on the photo below to see more detail, but you can see some people sitting on chairs in the snow waiting for a live performance to start.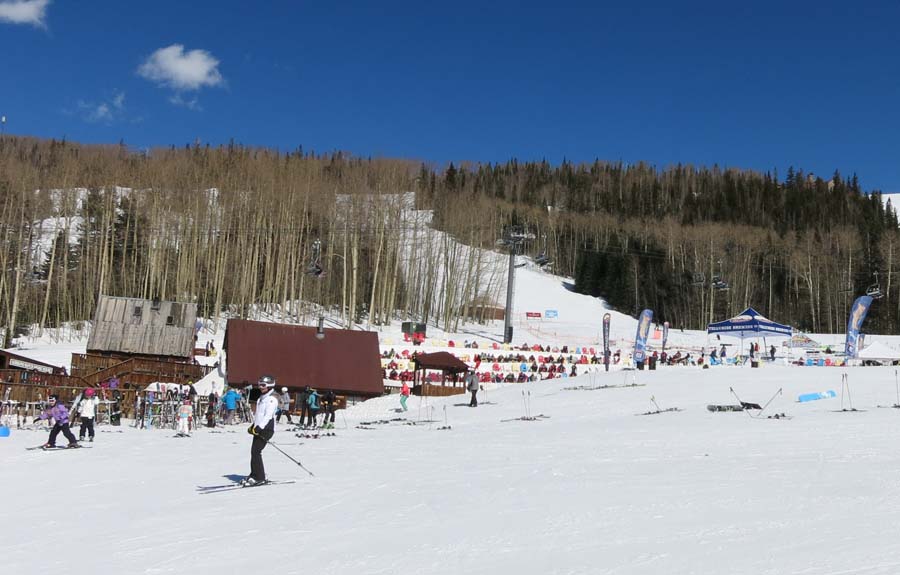 This picture was by Brady or Mike Chow and shows the INSIDE of the venue above: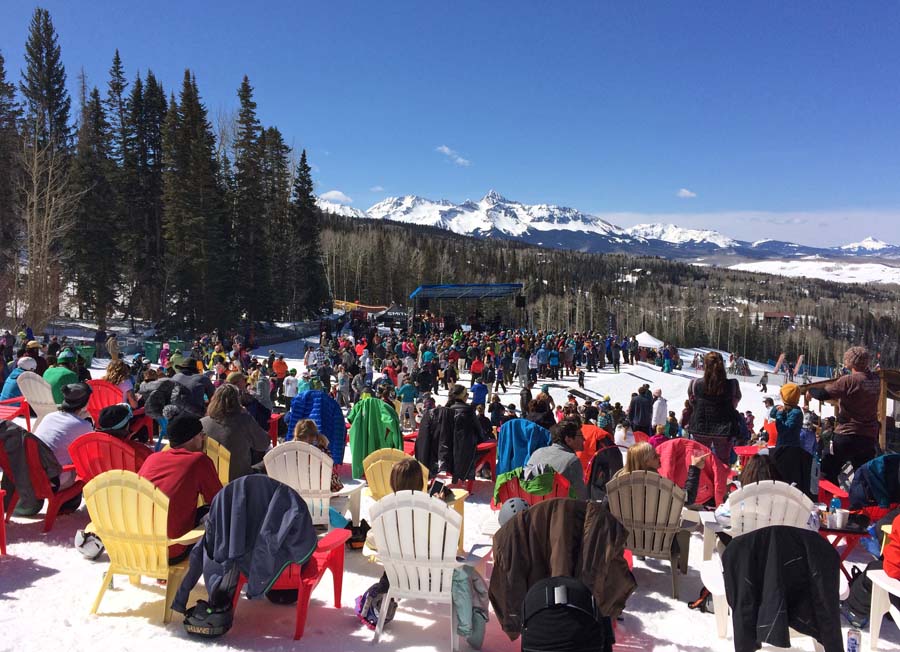 The ski lift seen below is "Chair 9" which was originally built in 1985. From 1985 until 2001 this lift was the access point to pretty much all the famous black diamond (technically difficult) ski runs at Telluride including Bushwacker, Kant Mak'm, Mammoth, and "The Plunge". This was the highest spot in the ski area accessible by chair lift during that era. In the distance directly below the chairs on the lift you can see the town of Telluride.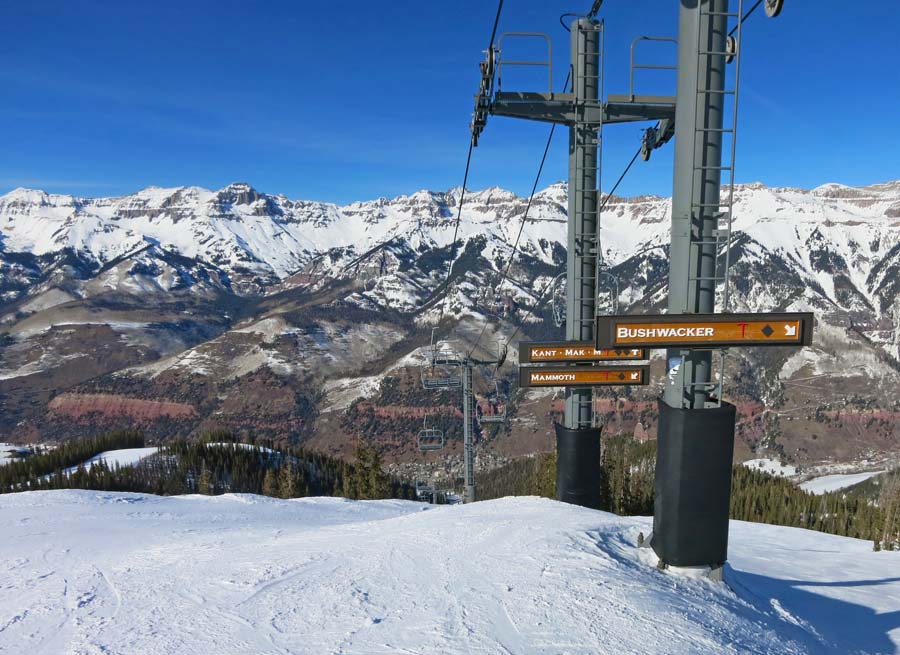 On the final run I recorded this silly video of Doug and Tamara. Click here for the highest quality version.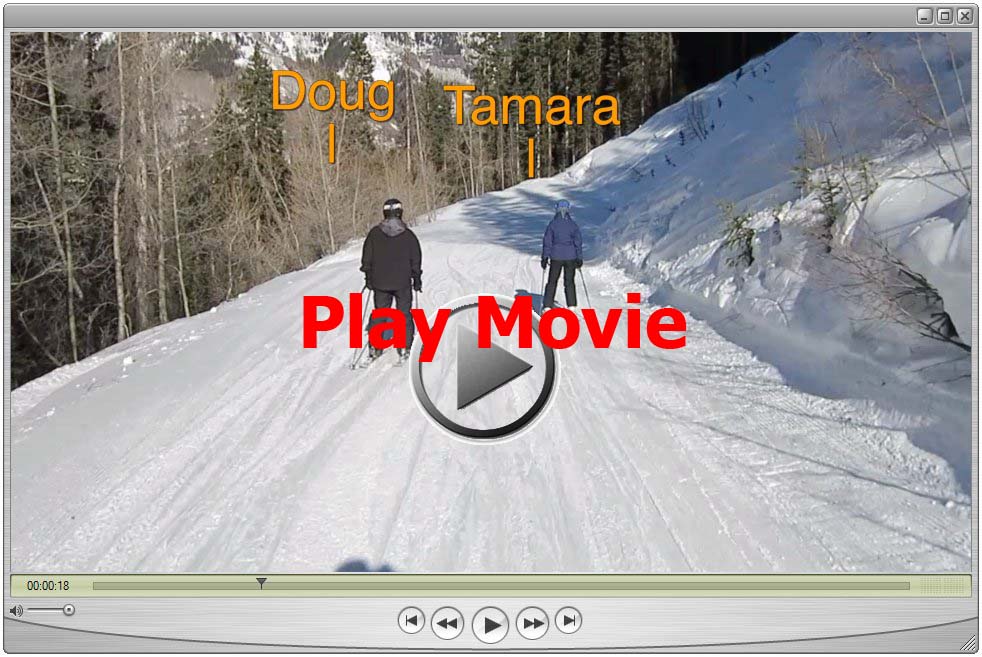 At the end of this day of skiing here everybody is hanging out in the condo. Katherine is seen working in the kitchen all alone in the distance with nobody helping her.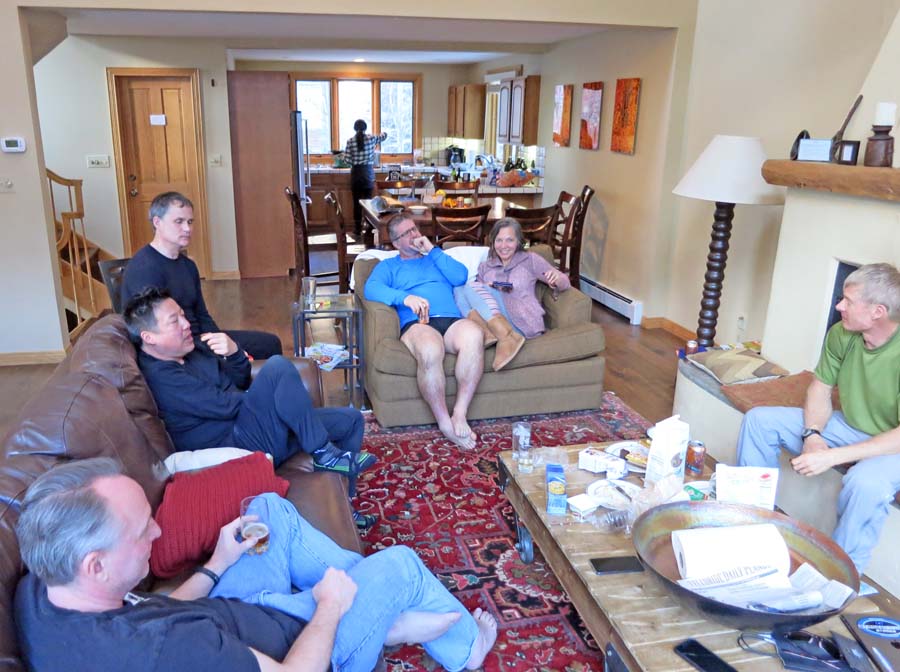 Katherine preparing dinner for everybody without any help. (She kept sending us away.)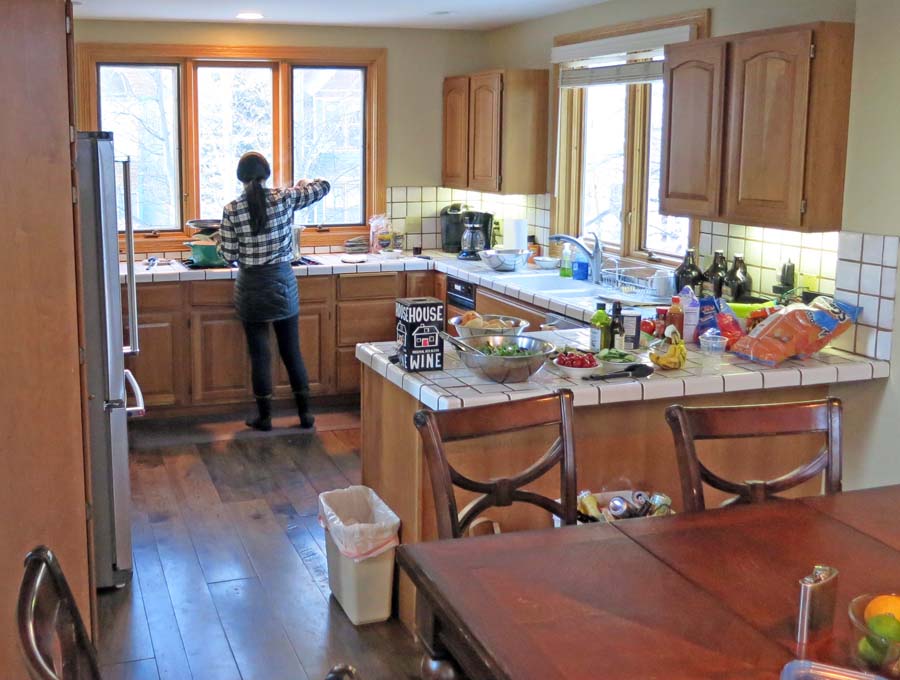 Eating the dinner Katherine prepared. The pasta was gluten free (some of our group members have dietary restrictions) and I thought it tasted unique and interesting.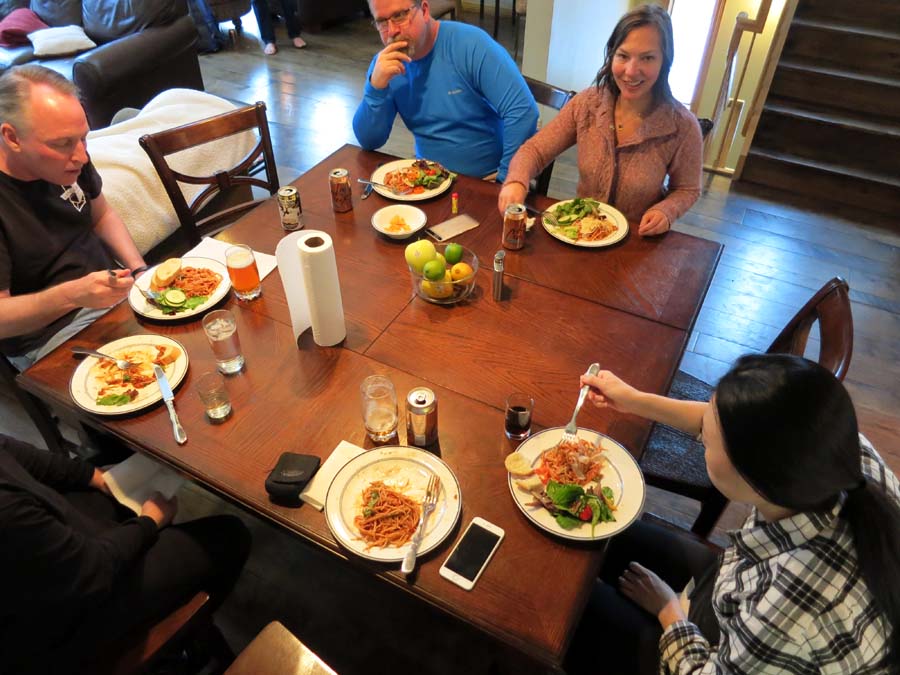 That night (Saturday night, March 11th) we walked through town then took the Gondola to Mountain Village to see a band called "The String Cheese Incident" perform. On the way I took the picture below which I call "Moon rise over Condos". :-)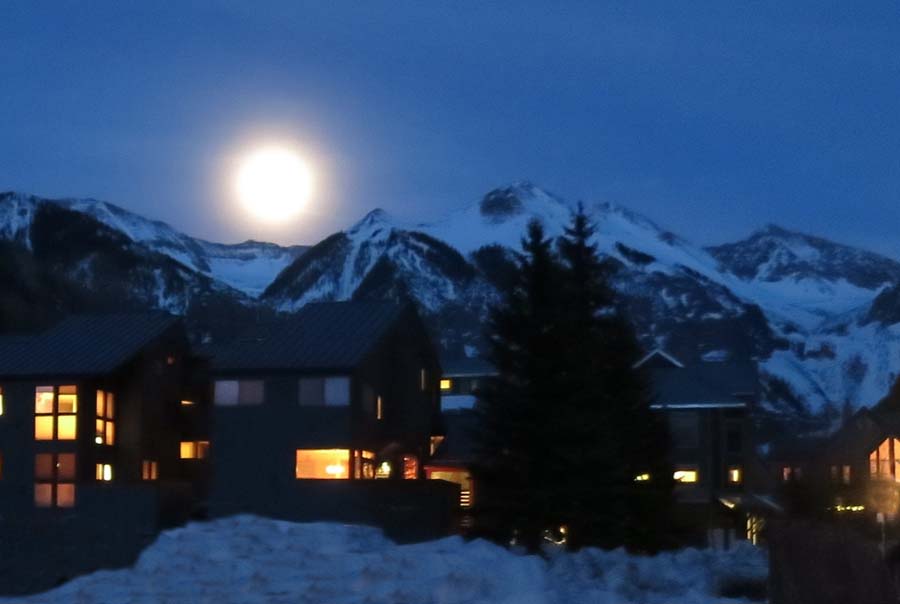 Arriving at the venue.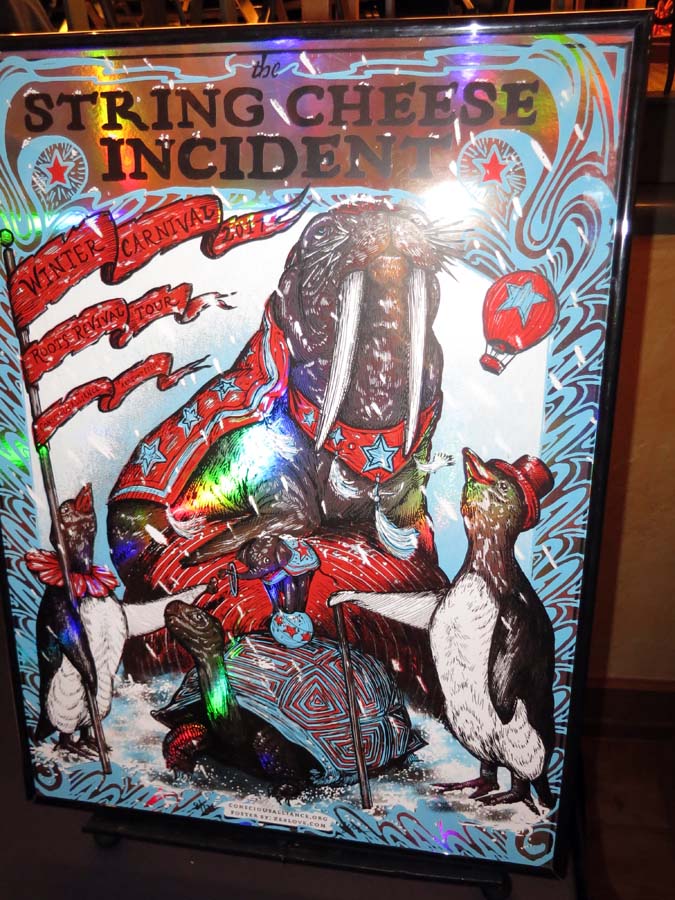 Lance, Lise, Peter, Katherine, and Brian (me) attended this night.
Here is the venue at Mountain Village (I think this is called "The Conference Center").
The band "The String Cheese Incident" performing live in Telluride.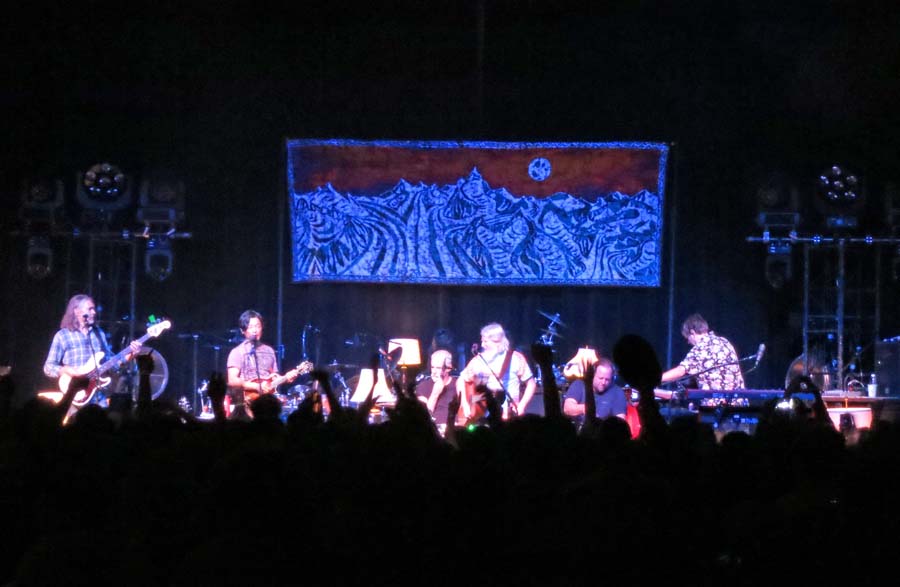 I feel bad about the picture below because my camera's flash accidentally went off. That is annoying and I did not mean to use the flash. Somehow the camera settings got changed when I pulled it out of my pocket.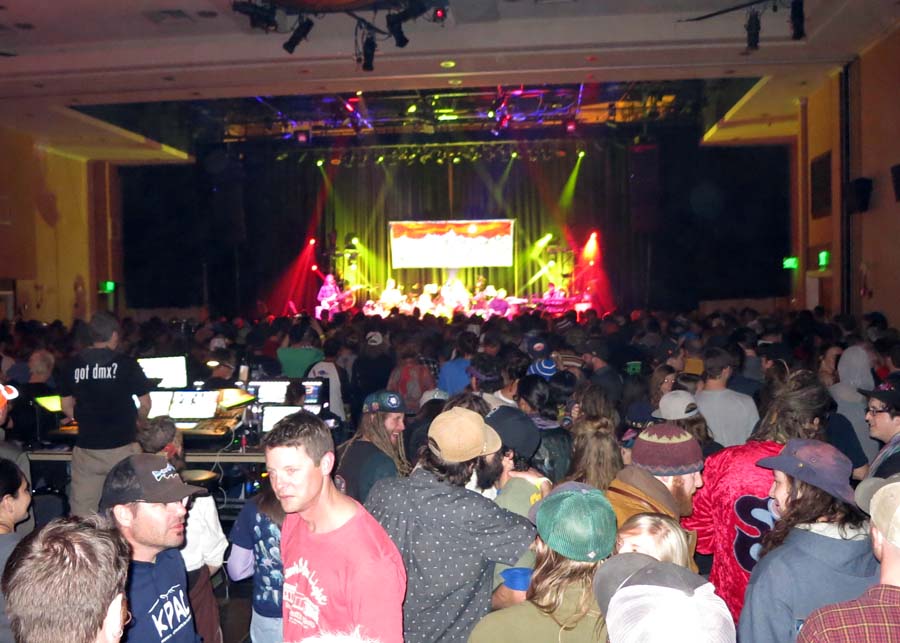 About 2/3 of the way through the concert Katherine and I needed a break from the crowds and music so we wandered around Mountain Village. Below Katherine is in front of a sculpture.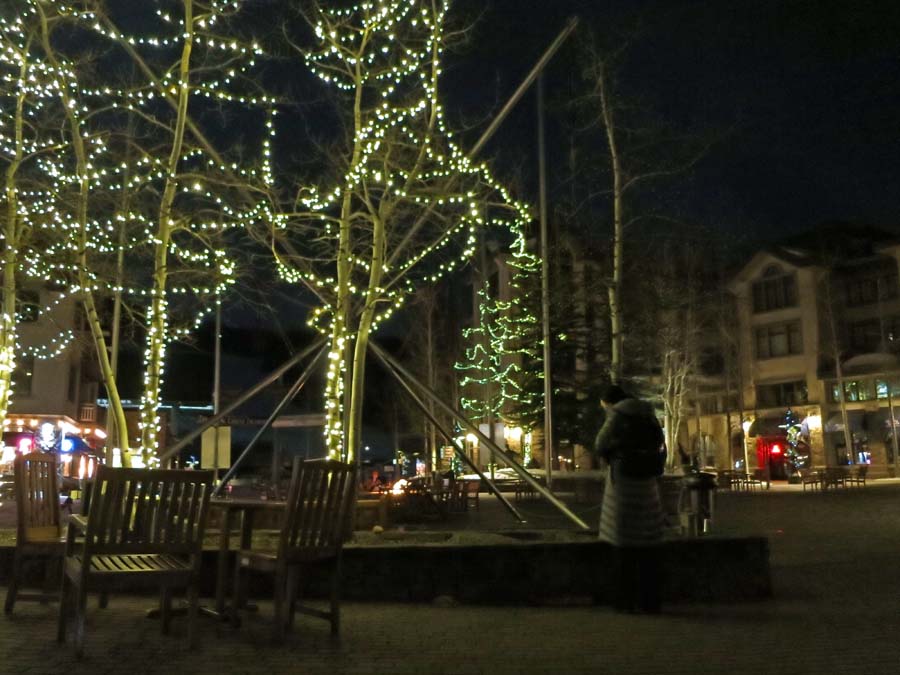 I'm working on getting better at taking low light or night-time photos, below is my best attempt at capturing Mountain Village's main square area.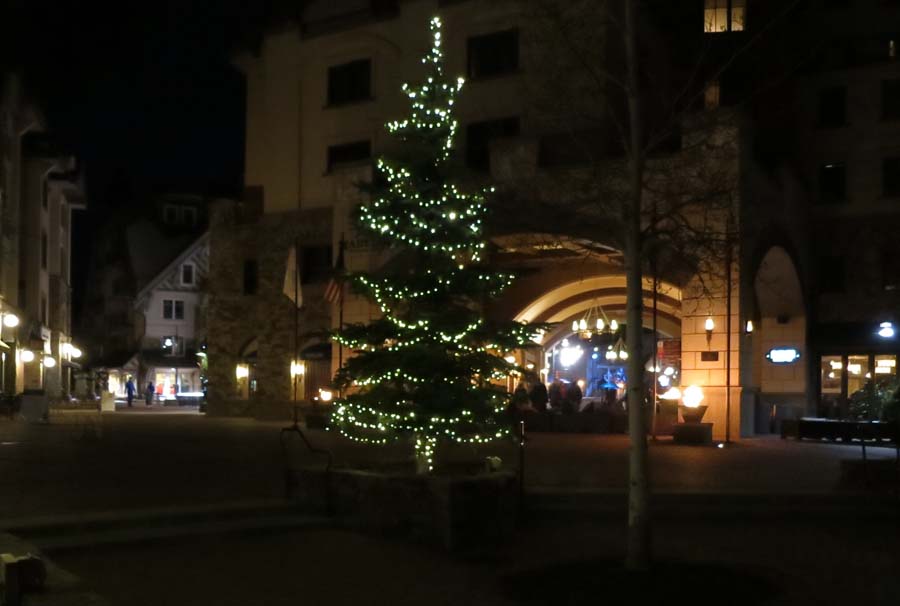 The Gondola runs until midnight and is totally free to ride on, and we take it back down to town where we are staying. Here is a picture through the Gondola's plexiglass shell of what it looks like at night as we descend to town.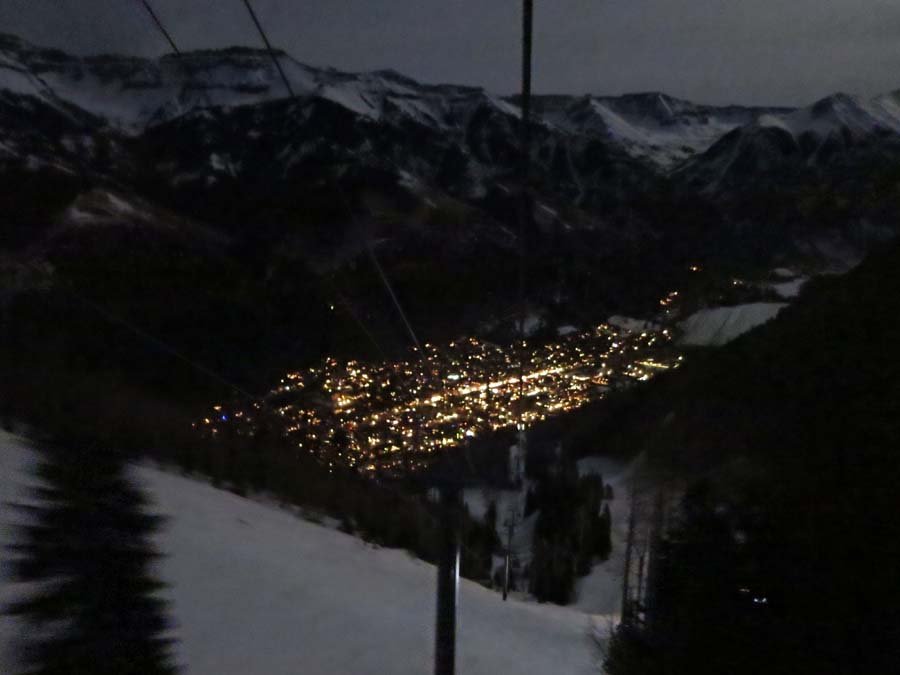 The next day I wanted to go find a couple of old landmarks that I remembered from the last time I was here (a decade ago). Below is the "Cornerhouse Grille" which is at the corner of N Fir and W. Columbia Ave. I remembered it as called "House". It is a relaxed little place where I liked the tater tots and beer.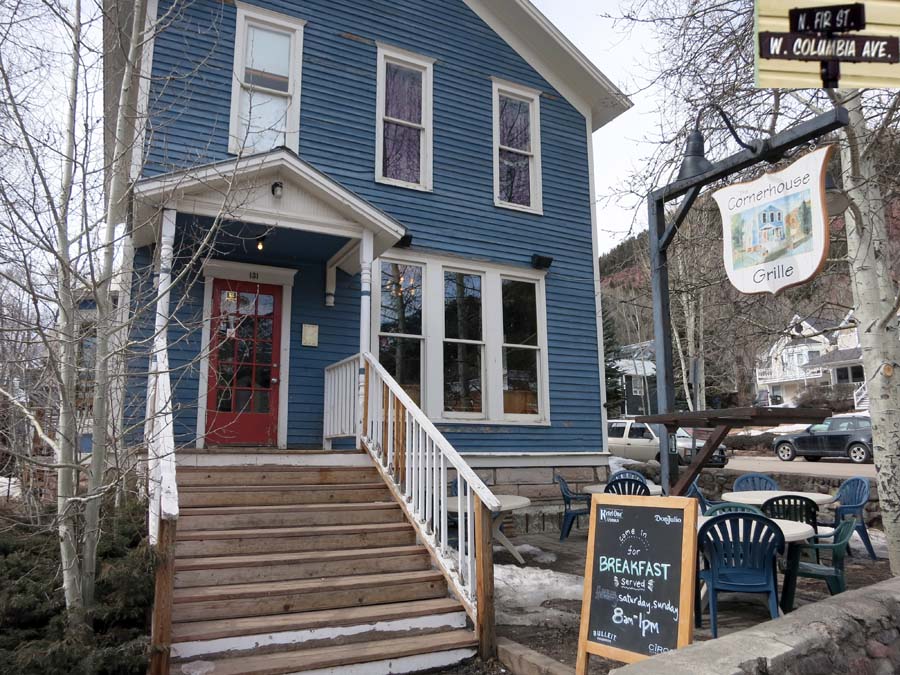 The address of Cornerhouse Grille is 131 N Fir St, Telluride, Colorado. There is a plaque (see below) describing some of the history. Our friend Lance Waring (pictures on this page) actually lived inside this place with interesting roomates before it was a restaurant many many years ago when he was new to Telluride.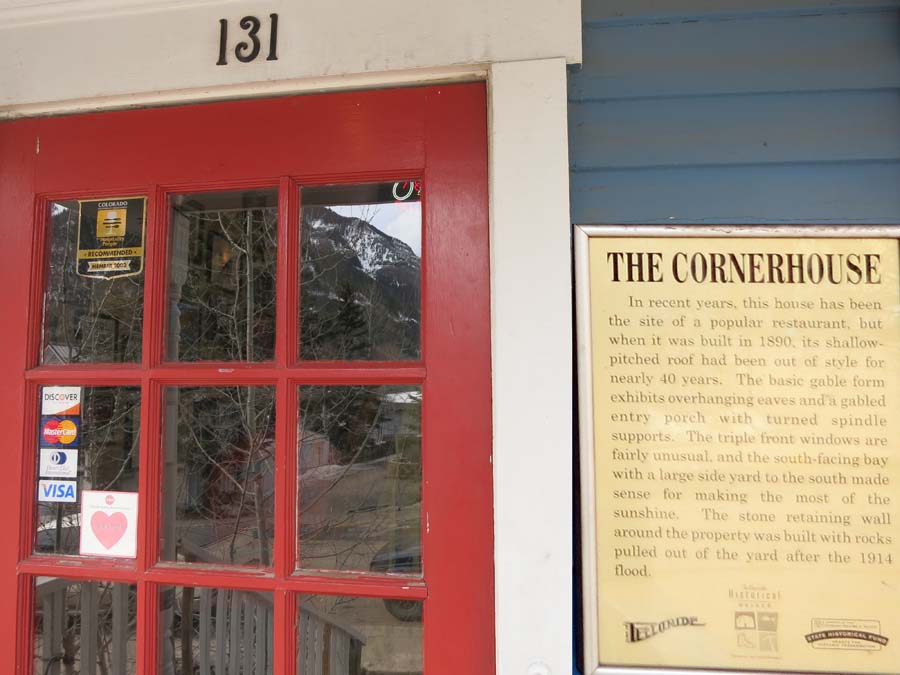 The main bar area of "Cornerhouse Grille".
Later back at the condo, Lance drops by with Willa (the baby).
Katherine holding Willa. Katherine looks like she might want one of these?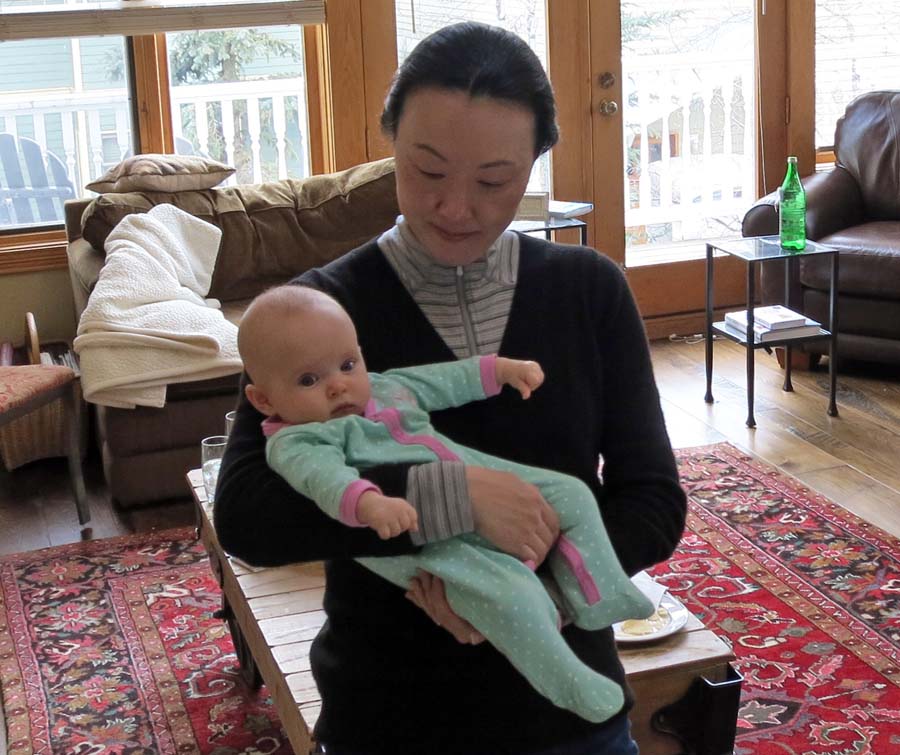 Laura (Willa's mother) holding a happy Willa on the couch.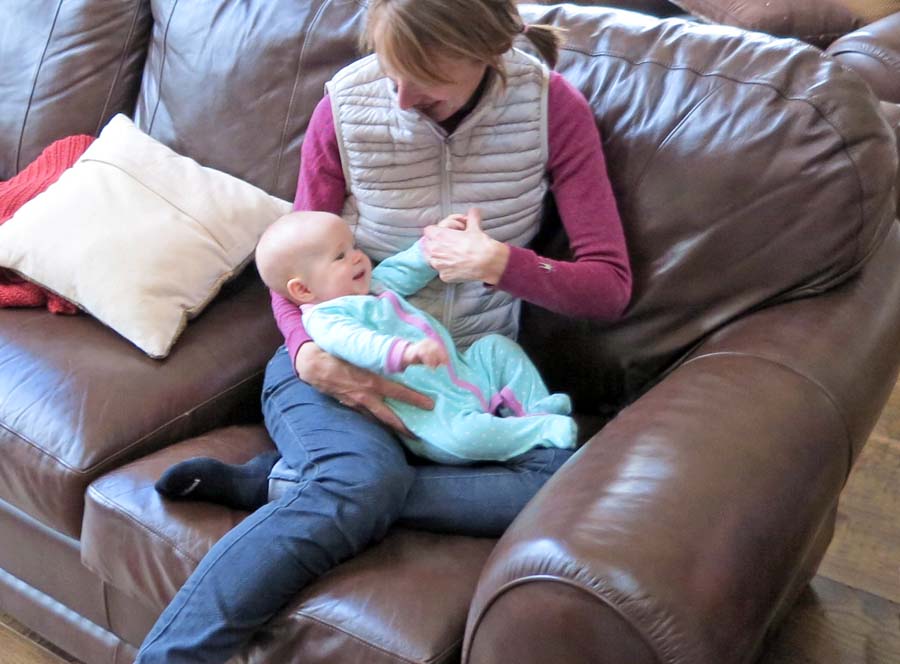 Hanging out in the condo talking.

The place we stayed had two master bedrooms, Katherine and I stayed in the one in the very very top floor of the place seen below. It was spacious and had a private shower and toilet and was quite nice. The door to the stairway (on the far left) is open in the picture but can be closed for privacy.

The master bedroom (seen above) is technically a "loft" that you can close the blinders on for privacy. Here is a picture looking down from the loft into the main living room.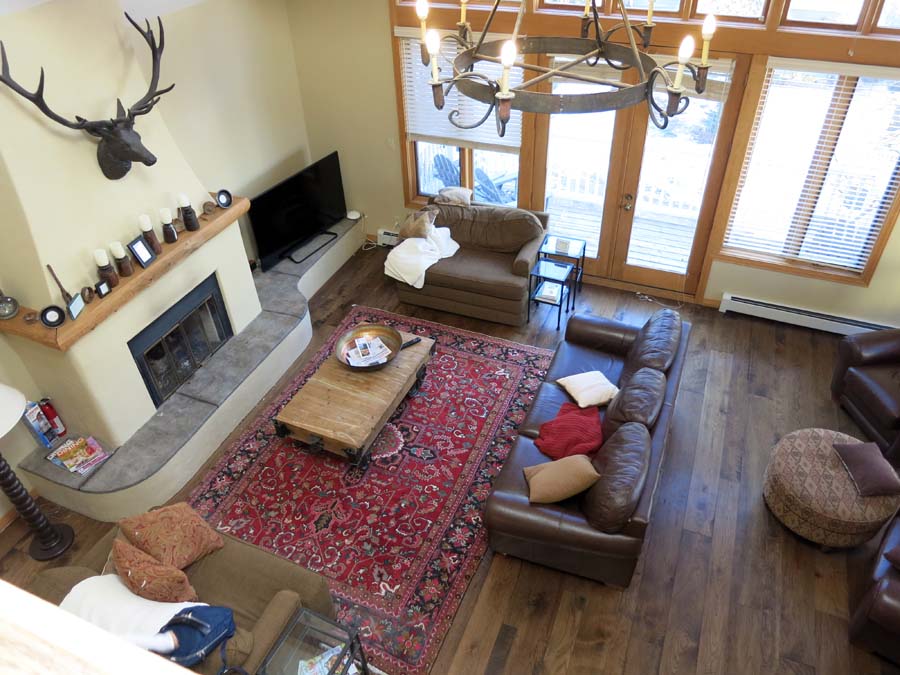 The condo we stayed at (764 Prospect Ave, Telluride) had an odd "indoor hot tub room". Several people on our trip used the hot tub. This is a dedicated room that was all steamy inside (the sign says to keep the door closed at all times). We were just renting, but I would worry that after a few years mold and mildew would grow in the walls of this room?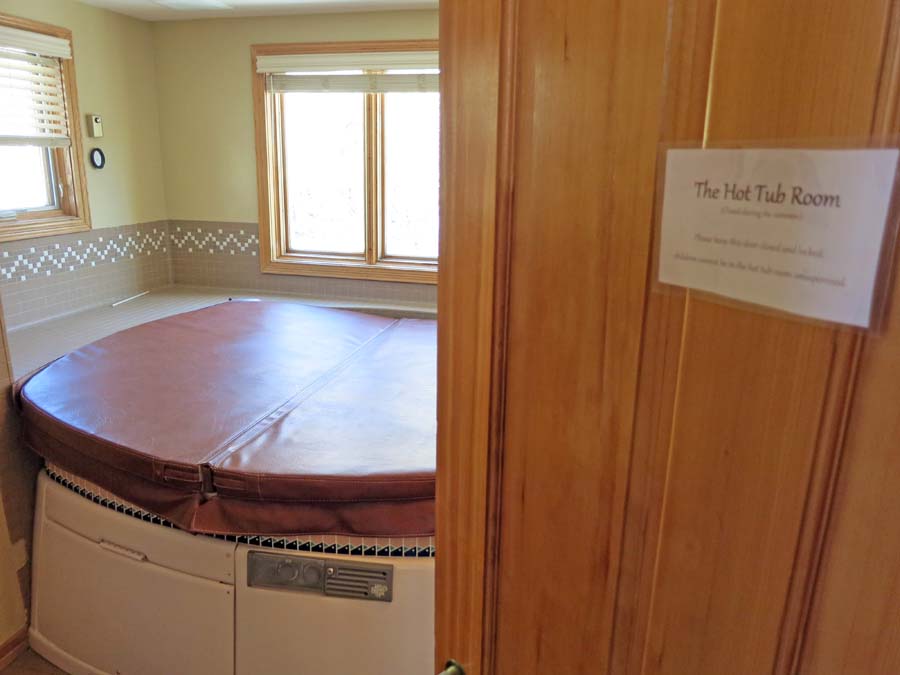 The next morning Katherine and I flew home, departing out of Telluride Airport (TEX). Brian Wohletz gave us a ride to the airport which is only a couple miles outside of town. Telluride is the highest commercial airport in the United States at altitude 9,070 feet.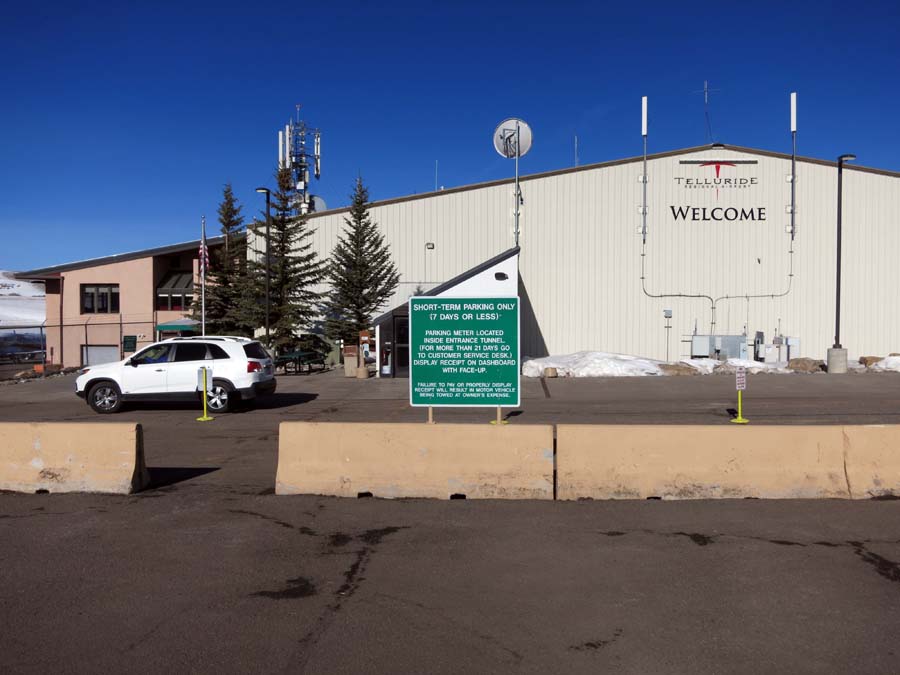 In addition to United Airlines and other commercial flights into Telluride, there are private airplanes that fly in and out. The blue colored airplane seen below I recognize as a Pilates PC-12 that we have flown as part of Surf Air. This one looks privately owned.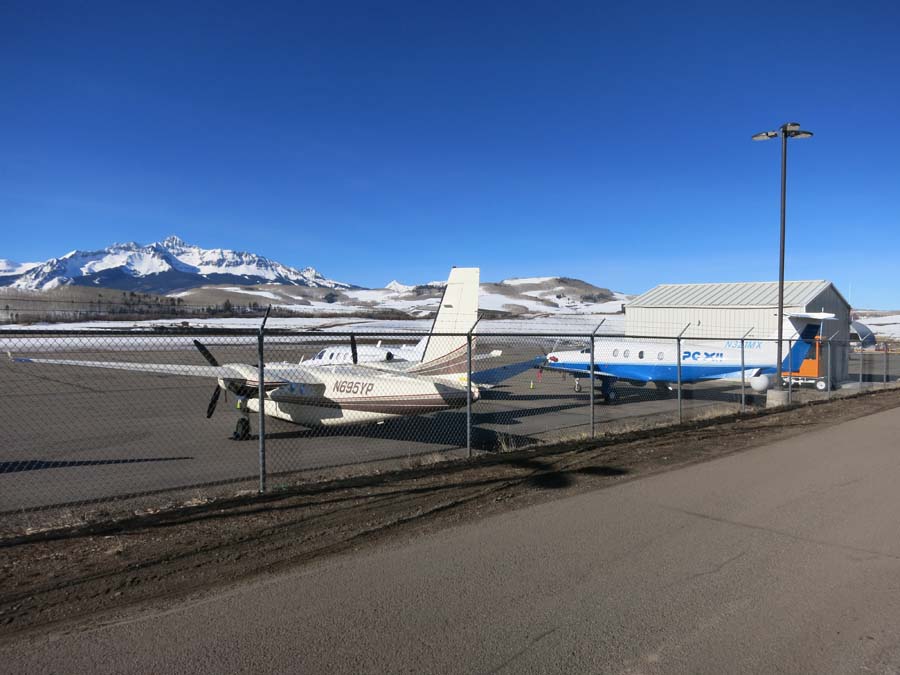 The privately owned jet on the right in the picture below is a Learjet 45 worth more than $10 million. Just quietly parked on the runway. The owner is probably skiing.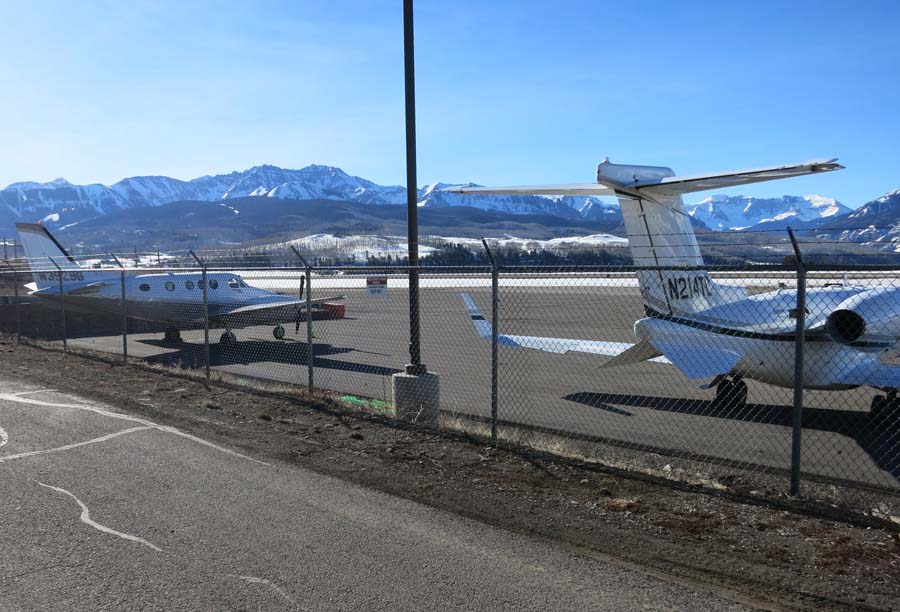 Inside the relatively small and informal terminal building at Telluride Airport.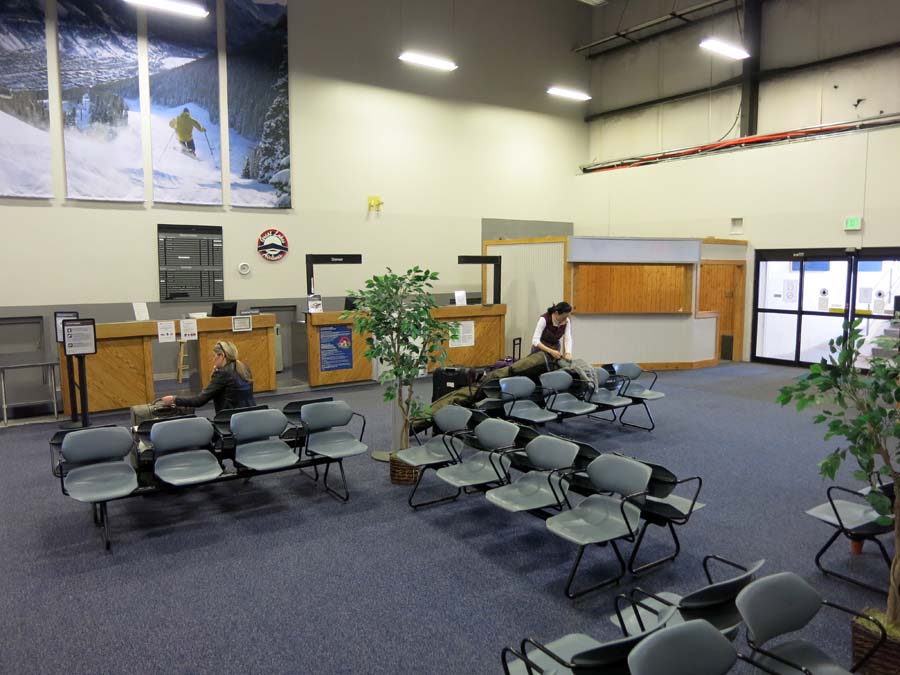 What you see below is the extent of the restaurant and concession stands of things to purchase and eat at Telluride Airport. It comes down to some gumballs, M&Ms, and some Advil and Tylenol for your altitude sickness headache that is caused by being at this distance above sea level.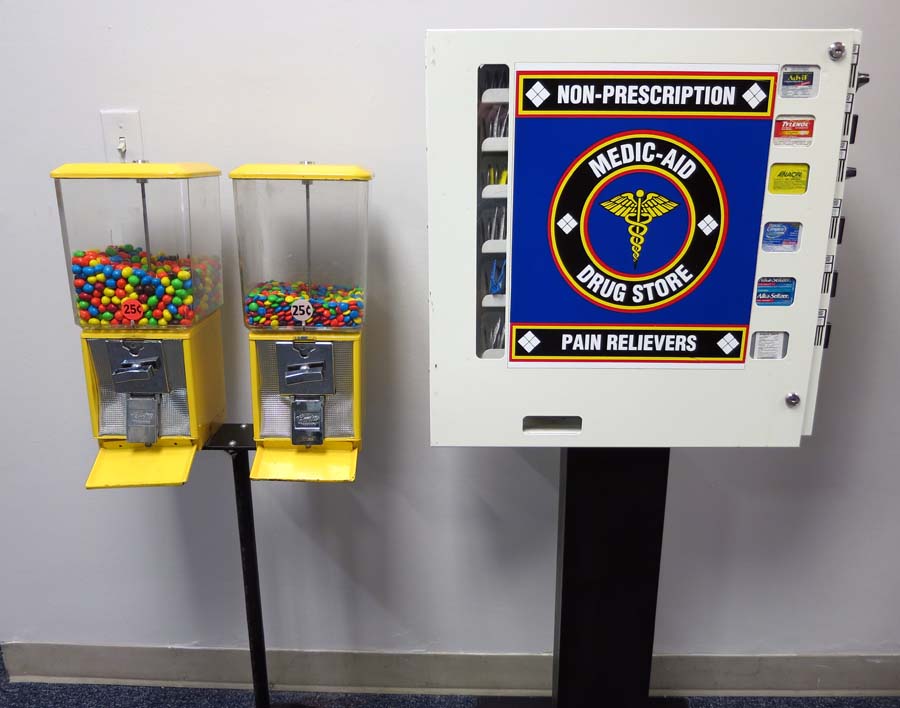 A sign in the Telluride Airport saying "Some fly at 9070 feet, WE LAND. (Highest commercial airport in the U.S.A.)"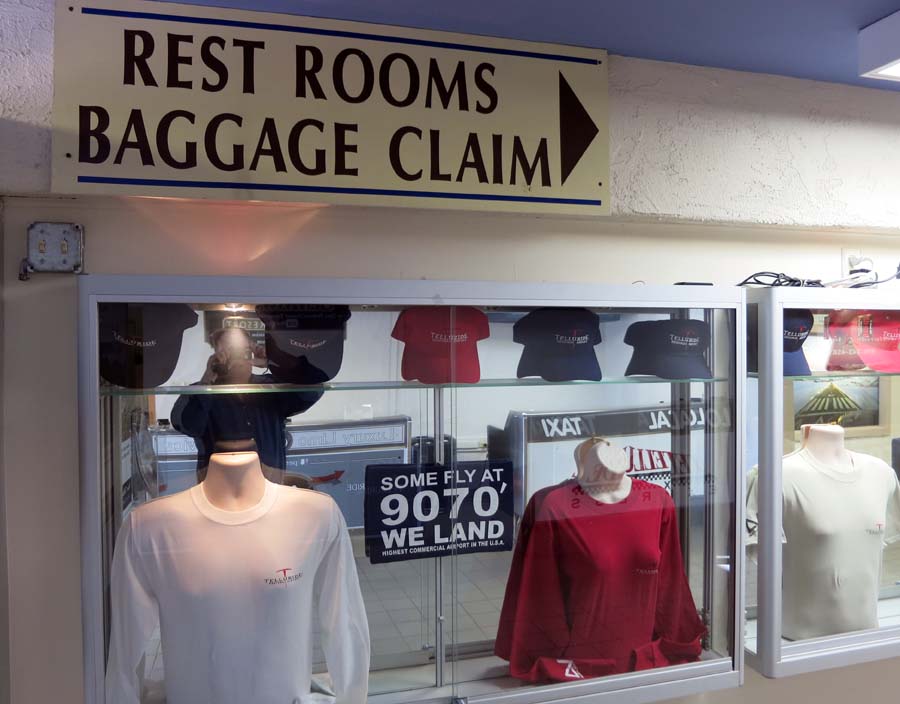 The picture below is a bad photo of a 3D model showing where all the old mines are in the area surrounding the town of Telluride. I found it really interesting and I'd like to go tour the old mine entrances sometime during the summer.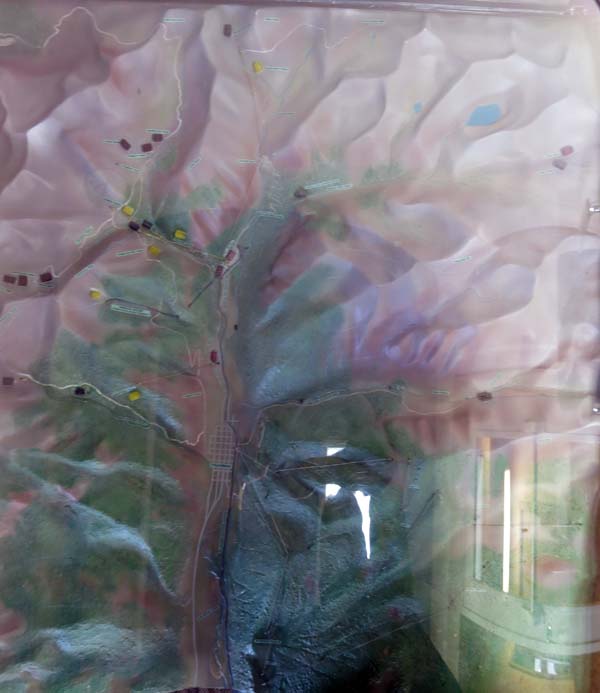 The "Departures" sign board in the Telluride Airport is the epitome of crappy design. We are flying on flight 2974 at 12:02PM on a Monday. The sign says "EXC Wed/Thu/Fri" which I finally figured out means that flight leaves everyday EXCEPT Wed/Thu/Fri. A much better design that would be more simple, less space, fewer characters would have been simply: "Sat/Sun/Mon" which would agree with the system invented for the TOP flight in that column which says: "Fri/Sat/Sun/Mon". ALSO NOTICE the white "NO FLIGHTS ON TUESDAY" at the bottom of the board just to make it even more confusing. I cannot imagine what they were thinking.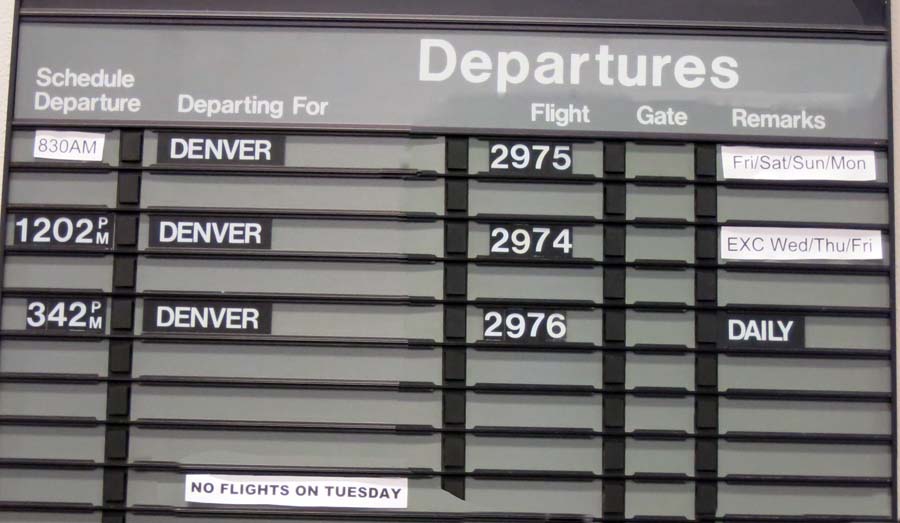 This is our airplane that went from Telluride Airport to Denver Airport (DEN or also DIA). It is a Beechcraft 1900D operated by Great Lakes Airlines (which is operating it for our "United Airlines" flight number).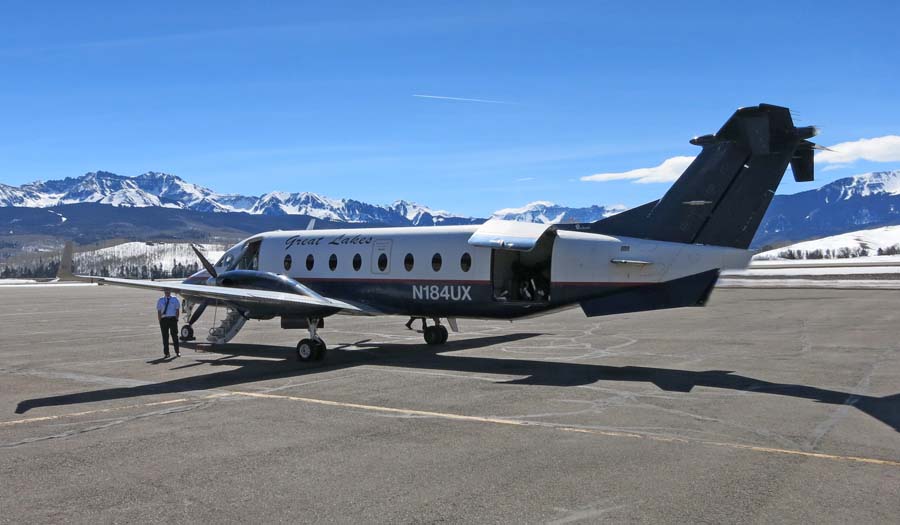 Here we are inside the Beechcraft 1900D about to depart Telluride Airport taking off at an altitude of 9,070 feet.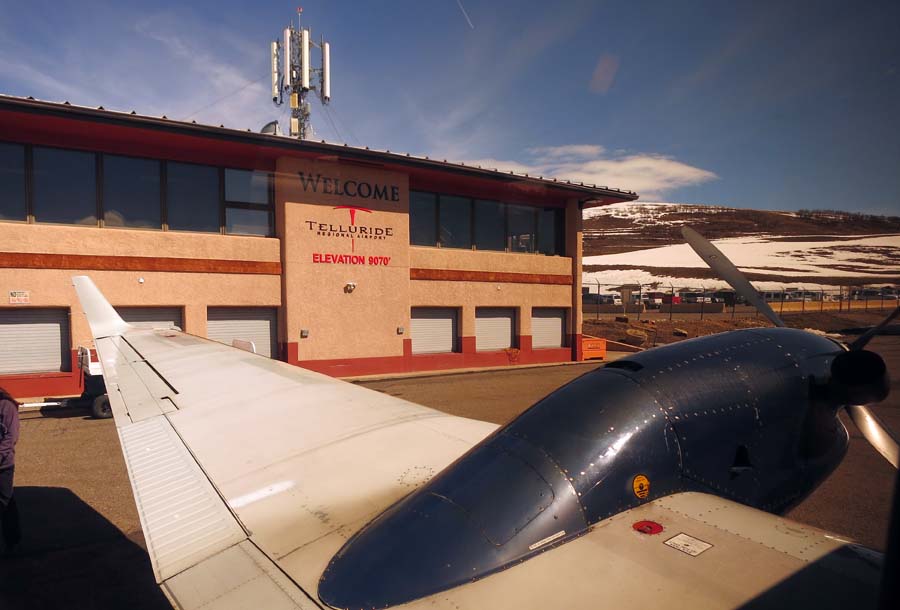 Below is a picture of the inside of the Beechcraft 1900D. Every seat is both a window and an aisle seat. During the one hour flight to Denver we experienced the worst turbulence I've ever experienced.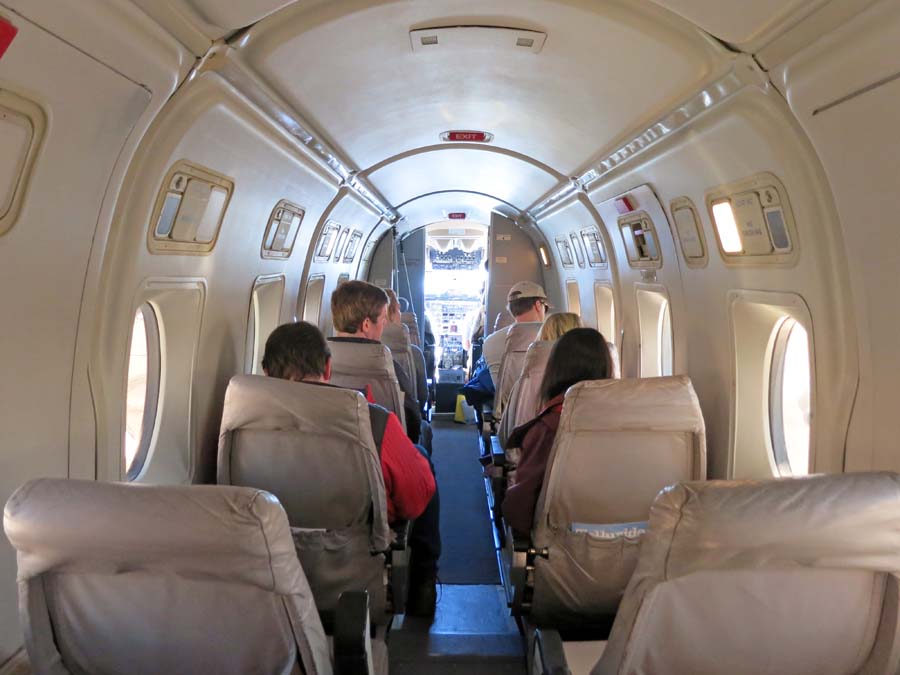 I took the picture seen below once we were airborne. Under the wing you can see the Telluride Ski Area and the Telluride Airport Runway we just took off from.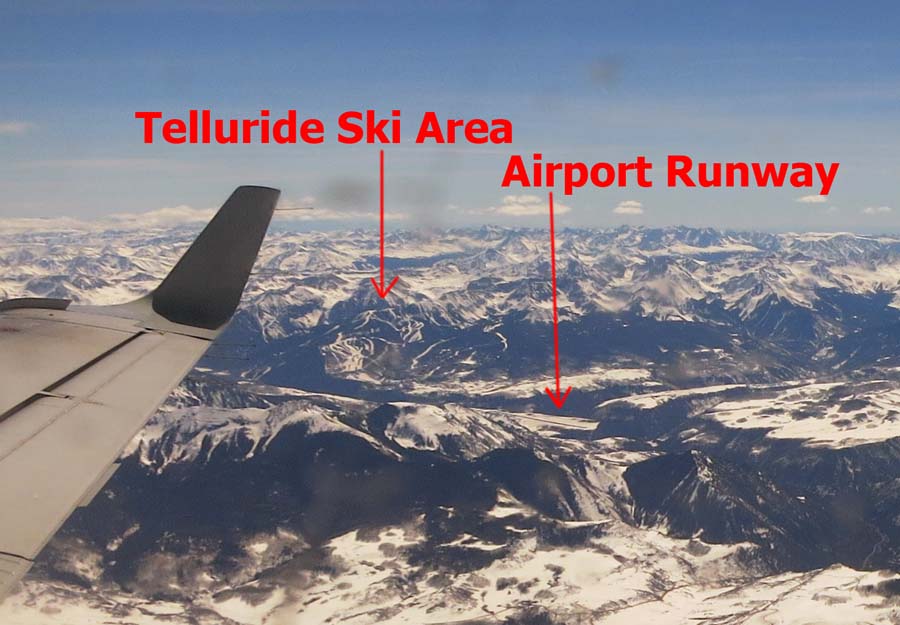 A final picture kind of zoomed in (through the airplane window) of the Telluride ski runs. Bye bye Telluride! See you in another couple years (I hope)!!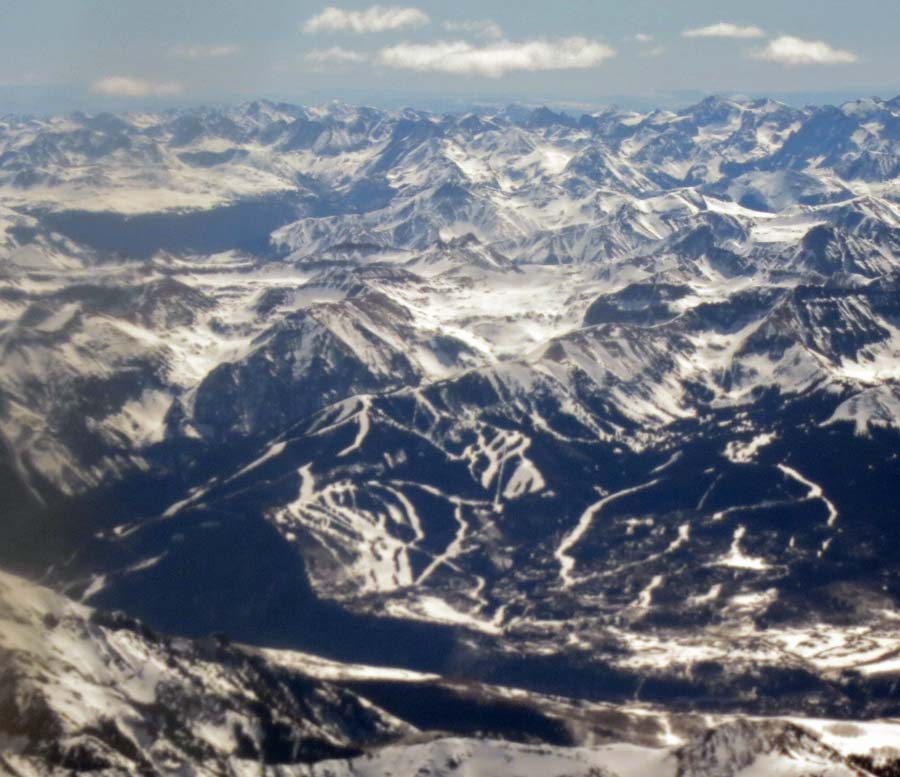 All done! That's it!
Lists of Things to Bring on a Ski Trip
This is not for you! Stop reading! I'm old, I forget things.
Pre-trip Section:
30 days in advance - check Passport - also, am I buying new fat skis or maybe renting there?
5 days in advance - haircut, practice pack, check bags.
Probably not for international trips - 7 full days in advance, mail 80 pound bag ahead if possible ($31 FedEx) - airlines hate heavy bags
"On Slope" Ski Equipment Section:
Skis
Ski Boots
Poles
ski goggles (NOTE: I have new Bolle that I prefer)
Jackets (North Face Shell, Fleece)
Chamois Shirts
Ski Pants - currently prefer the Mountain Hard Wear (despite not being able to open waist)
Long sleeve mock turtleneck ski shirts
REI high tech long johns
sweatpants - extra layer for really cold days
ski socks - special long grey socks for boots
hat - Mountain Hardware
gloves (thin neoprene liners, medium gloves, heavy gloves)
balaclava
neck gaiter
sunglasses
Sports Watch - cheap Timex (don't wear nice watch on slopes)
"Off Slope" Ski Equipment Section:
boot dryers - I have new ones now, look like orange "paddles"
sharpening stone
hiking boots (waterproof, waffle tread for ice and snow)
moleskin
medical tape (for blisters on toes)
bandaids - I bleed easily and it takes time to stop
first aid kid
duct tape around pen
swiss army knife
Electronics Section:
Camera (and charger)
Cell Phone (and charger)
radios FRS/GMRS - not used much in cell phone world now
GPS - rental car Nuvi, handheld for backcountry (and chargers)
iPod Nano (Apple charger)
speakers for condo - jambox
iPad Mini or laptop?

MiFi on Verizon internet connection device to allow iPad to get online

Car USB cigarette lighter adapter (charge things in car)
Car A/C converter to charge things in car (big trips)
Street Clothing:
levis - 1 pair for every 3 days (worn after showering)
belt
dress shirts (button down) - 1 for every 2 or 3 days
grey/blue t-shirts for under dress shirts
white socks
underwear
shoes (hiking boots, tennis shoes, dress shoes?)
Bedtime/Toiletries:
dopp kit (toothbrush, toothpaste, comb, eye drops, etc)
razor - now have travel razor
blow dryer
caffeine pills (for coffee emergencies)
pajama shorts
pajama white t-shirts
ear plugs (individually wrapped, bring extras, condo mates might snore!)
breathing mouth guard
white trash bags - for laundry
small clear sandwich bags - for cell phone, etc
travel alarm clock
moisturizer for body
Misc:
book for plane? - no, moving over to iPad mini and Kindle in recent years.
black plastic and electrical tape to cover airplane display
small umbrella
"sports watch" (cheap water resistant watch)
backpack
glasses & case for glasses?
Katherine liked the travel coffee solution of "travel collapsible Molita"